by B.B. Pelletier
I've had something come up and have to go out of town for a couple days, so I won't be able to answer any questions until Friday. Plerase help out while I'm out of the loop.
The UTG M4 is an automatic electric gun (AEG), so the 8.4-volt battery has to be charged. That takes 16 hours the first time. After that, it takes about 4 hours.
The battery stores in the butt, balancing the rifle well. With the oversized handguard and the rifle's general stoutness, this gun feels big!
I started with 0.20-gram BBs, even though I thought they were too light for the powerplant. Sure enough, at 10 yards they gave groups in the 2.5″ range. That's not what you want in a battle rifle – not even a CQB gun. But I knew 0.25-gram BBs would make things better, and they did. I used TSD Competition Grade AEB BBs that I had laying around. As you can see, they worked quite well.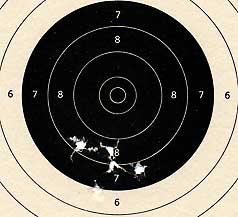 TSD 0.25-gram BBs did the trick! I was using a 6 o'clock hold, so they went just above the aim point.
Great open sights!
All shooting was done with the peep sight supplied with the gun. It works the same as an M4 firearm peep, and the front sight does, as well. Both front and rear sights have elevation adjustments, and the rear has windage, too. The top of the receiver is a Picatinny rail, so you can use optics if you like, but I wanted to see how good these iron sights were. They're great!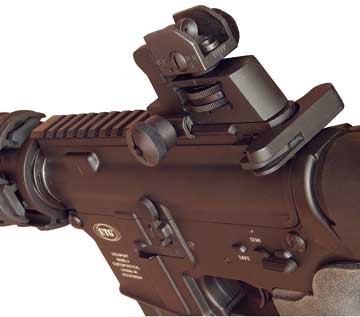 The rear sight is quite a piece of machinery! It's just like a firearm sight, because it was MADE for firearms!
Velocity
Next I tested velocity. I tested 0.12-gram BBs, though you'll never use them, because all the other AEGs report velocity with them. It's just for comparison.
0.12-gram=461 f.p.s.
0.20-gram=353 f.p.s.
0.25-gram=323 f.p.s.
Naturally you're only going to shoot the most accurate BBs, which are 0.25 grams. Remember that all BBs are not made the same, so do some comparison testing before settling on a brand. Don't just buy on price.
Let me get my thoughts together, and there might be one more part to this report. If not – please remember the most important thing. This airsoft gun is built right here in the U.S.A.!
Tom Gaylord, gunfighter
In college in the 1960s, Tom worked at Frontier Village in San Jose, California. He was a ride operator and a gunfighter. Some of you have asked us to post a picture, so here is one taken around 1968. Tom was the Deputy Marshal shooting it out with the outlaw, Dakota, who is Randy Mitchell (not the airgun hunter, though they do know each other).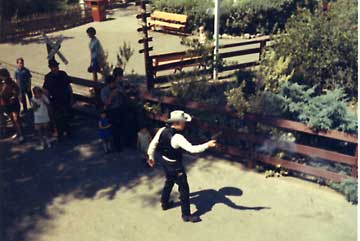 Back in '68, Tom had more hair and a shorter belt. Gunfighting at Frontier Village.
by B.B. Pelletier
I wrote like crazy to get yesterday's post out on time, but I only touched on a small portion of the show. Today I'll just show you some more pictures, so you can appreciate how things went.
For the several people who suggested that Pyramyd Air sell dented tins of pellets and used guns on their website, the problem is time. They have three people updating the websites (there are two primary sites) all day long and they still get behind at times. The idea is a good one and I think after seeing the reaction at the show, they will try to do something about it.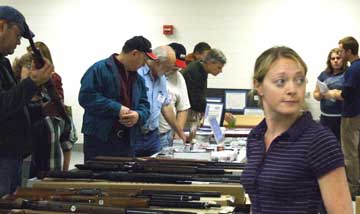 Another shot of Pyramyd Air, with customers everywhere.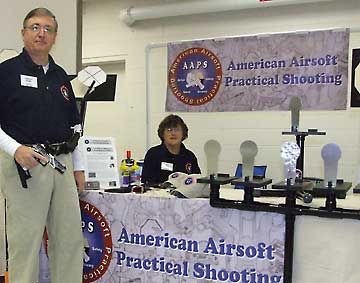 The American Airsoft Practical Shooting Federation is starting leagues for action pistol competition. We will be covering them in the near future.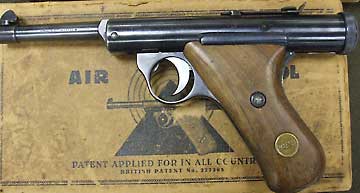 I blogged a Haenel model 28 for you, but this beauty came in the original box!
The two Model 40 Daisys on the bottom both have their original bayonets.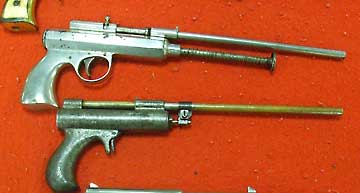 A pair of spring pistols from the 19th century.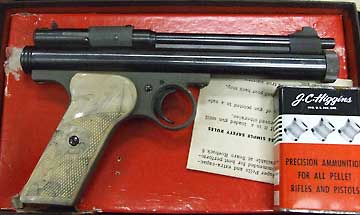 The Crosman model 150 isn't a rare air pistol, but the one marked J.C. Higgins is!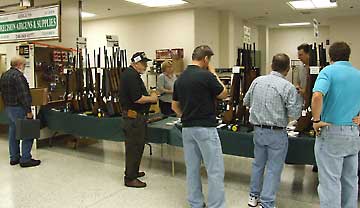 Precision Airguns and Supplies was the other dealer at the show. They had traffic, too!
This is the last post I'm doing on this show, though I'll write an article, also. Tomorrow, we'll get back to airguns. Oh, and I have a special treat in store for you!
by B.B. Pelletier
First, I would like to thank all of you who helped me out with the reader comments while I was on the road. Actually, I'm writing this in Johnson, TN, on my way home, so I'm still relying on you.
My wireless modem went south the first day out and the first hotel's WiFi was bad, as well, so I was pretty frustrated for a while! Your help was certainly appreciated.
Now, to the show. About 20 people came up and introduced themselves as blog readers, but only Joe in NY was one who actually signed in. I had hoped to meet more of you there.
The show was the biggest, finest airgun show I have every attended. Usually a show will have one or two things that stand out – like the time the guy walked in with a military Girandoni and sold it in the aisles for $3,500! One like it just brought over $50,000 in a European auction. Or the other time a Daisy second model changed hands with two other rare rifles for $41,000 cash! Things like that make you take notice.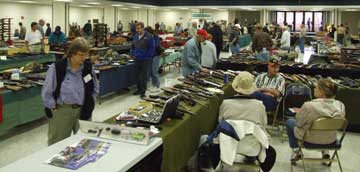 A quarter of the show floor looked like this just before the doors opened on Friday. There must have been 140-150 tables in all.
Well, I didn't see any super sales this time, but advanced collectors like Wes Powers and Bob Spielvogel both told me this was a wonderful show for them. Those guys have such advanced collections that they are as hard to satisfy as Paris Hilton in a dollar store. So when they are both pleased, I know good things have happened.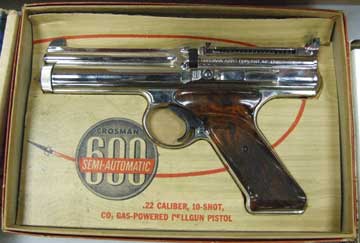 There were many working Crosman 600s for sale, but this rare nickel-plated one was for display only.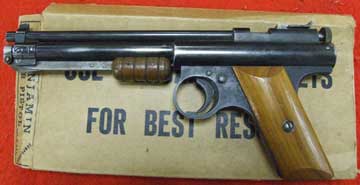 If you collect Benjamins, this near-perfect transition model 117 in the box might have lit your fire! For everyone else with a shiny brass "Benjamin Franklin" pistol, this is what they are supposed to look like.
I sold quite a few old Airgun Revue and Airgun Illustrated magazines but only one of the four R1 books I had held back to take there. That was a surprise. I also sold several guns and accessories, so my show was really good.
But Pyramyd Air set the record. They brought 12 PALLETS of airguns and related stuff to sell, and they spread it out on six tables. At first the four salespeople were afraid there wouldn't be any business for them, but an hour after the doors opened they were each addressing four to six customers at once. And why not? When you have a perfectly good used AirForce Talon SS that normally retails for $475 and you are selling this one for under $400, don't think they will last!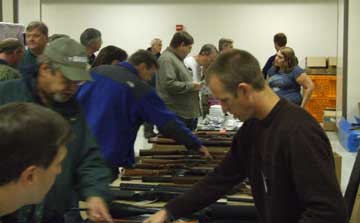 The crowd at the Pyramyd Air tables never went away on Friday. Each salesperson served about four to six customers at once!
Of course, the good stuff was in limited supply, so the Friday attendees got the pick of the litter, so to speak. Pyramyd also brought MOUNTAINS of pellets in dented tins, and the priced them at 4 tins for $20, or five dollars a tin (you had to buy all four to get that price). They told me if they had known how popular dented tins were, they could have brought more. By Saturday morning, there wasn't much left. We're talking Kodiaks and JSB Exacts and other pellets like them in these packages!
There were many more new-style airguns at this show than I've seen before. Besides Pyramyd, which brought several hundred of the most popular (yes, there were several CFXs, TX200s and .22 caliber RWS 34 Panthers!), Precision Airguns and Supplies also had many Daystate and Air Arms guns. And throughout the room, private individuals, such as Paul Watts, brought several other current model guns.
John Allen of the Blue Book of Airguns had a table there for the entire show and got to see first-hand what a bunch of crazy old men look like when they are having fun. I think he was impressed at how serious this hobby is when you get to this level of collector.
Speaking of serious, Charles Ward and his wife set up a booth to demonstrate the American Airsoft Practical Shooting Federation (AAPSF), a governing body for action pistol shooting with airsoft guns. Not just ANY guns. I'm taking about Tokyo Marui Hi-Capa pistols that have another $800 worth of gunsmithing and custom parts on them so they can produce half-inch groups at 25 feet! Add another couple hundred for the speed holster, belt, and 3 mag pouches, and you're ready to double-tap your way into heavy-duty fun! Pyramyd Air will be looking at this federation, with an eye toward promoting serious action pistol shooting here in the U.S.
There is so much more to tell that I'm going to have a second blog about it. This was just a first glimpse at the most successful airgun show that has ever been held! I hope you enjoy it.
by B.B. Pelletier
Let's take the Gamo Whisper to the range, although the day was not good for shooting. I also tried to shoot some 75-yard groups with the Air Arms S410 sidelever, but a 15 mph gusting wind ruined that attempt. I haven't given up, but I do need to adjust the scope mounts before returning for a second attempt on a calmer day.
However, I do have more to report on the Whisper, because this day I had a gallery of four other airgunners to watch me shoot and handle the rifle. To a man…even though one was a woman, they liked the light weight. She was surprised by the light cocking, so it wasn't just my imagination.
One person, who is in advertising, was most impressed with the TruGlo sights. He said he would feature them plus the light weight in an ad, but he would avoid mentioning the one thing the gun isn't, which is quiet. Not that it's noisy, mind you, it's just not that quiet. It sounds like most other spring guns in its power class, though perhaps on the quieter side of all of them.
I tried to sight-in the rifle, and I had it on at 10 feet, but at 20 yards the wind blew the pellet clear off the paper. It's not fair to the gun to report the groups I got, so I'll return on a better day. But from what I saw at 10 feet, my gut tells me this rifle can shoot.
Trigger not so good
Remember that trigger I've been praising? Well, off the bench it's positively bad! Too much second stage for any hope of good work. It's not particularly heavy, breaking at between 5 and 7 lbs. I know, I know…Charlie Da Tuna. Give me some time.
Velocity was a pleasant surprise!
Gamo advertises the Whisper at 1,000 f.p.s. with light lead pellets and 1,200 f.p.s. with PBA Gamo Raptors. So, I shot it with Crosman Premiers (7.9 grains) and Raptors (5 grains), and I'll be darned if it didn't get pretty close! Raptors went an average 1175 f.p.s. and Premier lites went 918. So, Hobbys might go 950 or so, and that's pretty close to the advertised velocity.
The powerplant now buzzes more than it did, and that's where the bulk of the noise is generated. I'm not going to tune this rifle, but if it were tuned to be quieter, then the muzzle reduction might begin to matter, as it does with the TX 200.
In the next installment, I'll scope the rifle and go for accuracy. After all, you guys don't care how lousy a shot I am with open sights.
by B.B. Pelletier
WARNING – Today's post contains airsoft content. Read at your own risk.
Remember that I will be on the road from today through next Monday. Please help out with the answers for new readers. I will be online once a day at least, but there are so many messages that I will need your help. Thank you.
What's this "Built in America" stuff? Airsoft is Asian – everybody knows that. Well, not any more! Leapers is now building their new UTG M4 automatic electric gun (AEG) in Livonia, Michigan. You might think that another M4 AEG is about as novel as a reliable Toyota. They no longer surprise anyone. So, is this gun even worth talking about or is it just the same old story?
As it turns out, when you make something that everyone else makes, you have to do things differently, and I believe they have accomplished that. So, let's take a look at a different M4.
Even the box is great. Really!
Snore! How can a box be exciting? I know several ways they can be really disappointing, and airsofters should be able to relate. I'm talking about the Asian boxes with the flimsy pasteboard and the crumbly styrofoam that are partially disintegrated by the time they make it to your doorstep. I've had guns that took 20 minutes of cleaning just to get the styrofoam particles out of the mechanism. And, what about those boxes where all the parts are loose and banging into each other? Or, they've broken out of the box and you're not sure whether or not you have the whole gun?

Everything is held in place by non-crumbly styrofoam. If you've bought Asian airsoft guns, you know this is a big step forward!
The UTG M4 comes in a box that would make a $3,000 target rifle proud. Heck, it has a carry handle on the side and this one is actually strong enough to be used! Everything is in a separate compartment, AND the owner's manual has an inventory list for you to compare with what you actually received. That's the way all airgun boxes should be made!
The manual takes nothing for granted…it gives you ALL the info you need to shoot, use & enjoy the gun
The manual is a dream come true. Instead of a straight pictogram or a sloppy Chinglish translation, "Please to always obey the command of official and righteous party when use the gun," this one is written correctly and loaded with detailed line drawings that actually show what they're talking about!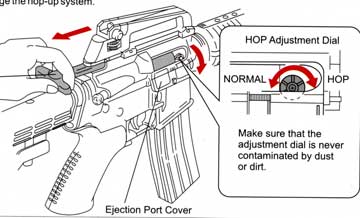 A small section from one page of the manual looks and reads like this.
What comes with it?
With the rifle comes:
8.4-volt battery and charger
Rear diopter sight
1 magazine
Cleaning rod
RIS vertical foregrip
Front sight adjustment tool (yes, the front sight adjusts for elevation just like the firearm)
Magazine winding key
Owner's manual
I've never seen or used a key to wind a magazine before. The mag has the normal wheel winder on the bottom, but the key is easier. So, use it when you're sighting-in and use the built-in wheel in the field.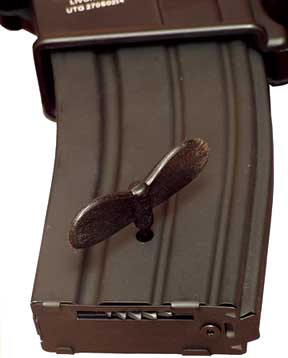 First time I've seen a magazine winding key like this. The standard wheel is also present.
It's as solid as the Rock of Gibraltar
This M4 is a heavyweight that feels very solid. No flexing like some cheaper AEGs. The loaded weight is 8 lbs., 14 oz., which is a right solid chunk when it's a carbine. The rifle feels right in your hands. Although I didn't skirmish with it, I think it will hold up well.
Steel gears, no less!
The guns the M4 competes with are also very good, so Leapers put all-steel gears in the gearbox. The bushings, however, are nylon. The manual cautions you to let the gun rest 5-10 minutes after 500 continuous shots. Metal bushings might stretch that time out.
Firing rate
The cyclic rate of 750-850 RPM is right up there with the Colt M4 spec of 750-900 rounds per minute. It's impossible to count the rate, but a burst of a few seconds left enough BBs in a container to determine it pretty close.
Some might be tempted to put a 9.6-volt battery in the butt, because there's enough room for it in this Commando version (the Tactical version has an extending butt and stores the battery in the handguard). If you want to upgrade, I'd advise you to get a larger 8.4-volt battery (2300 mAH ) for a longer runtime, but don't go to a higher-voltage battery unless you re-bush the gearbox and lube everything, because you'll overheat the gearbox.
Next, I'll take a look at accuracy & firing.
by B.B. Pelletier
Well, Joe in Maryland explained that a 50 percent reduction in noise is only 3 decibels, so in that light, I can accept Gamo's claim of a 52 percent reduction. Sorry, but I was thinking in different quantitative terms (i.e., percentage of loudness).
A well-rounded stock
Let's continue our look at the features on this Gamo Whisper breakbarrel. First, let's look at the stock. It's a black, synthetic stock with a fairly wide forearm and a deep pistol grip. The cocking slot is short because the rifle has an articulated cocking link I'll talk about in a moment. The Monte Carlo cheekpiece is low, and the cheekpiece is on both sides of the stock. In all ways, this rifle is ambidextrous. The thick, black rubber buttpad is very nicely contoured to the butt and looks terrific. The pull is slightly short at 13-3/4″, so the rifle is well-suited to shooters of smaller stature.
What's behind the easy cocking?
Archimedes said, "Give me a place to stand and I'll move the world." He was referring to the ability of levers to multiply force. That same science works on breakbarrel air rifles. The length of the barrel (the lever) and the location of the fulcrum (the cocking link pivot point) determine how easy or hard a gun cocks to a greater extent than the power of the mainspring. Gamo designed the Whisper right in this respect. On close examination, I see they've reduced the baseblock by a huge amount, so they can place the anchor point of the linkage exactly where they want it.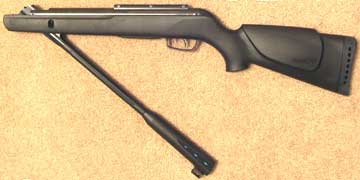 The barrel breaks back an incredible distance. This is relaxed. It comes back another 4-5 inches!
They also employ an articulated 2-piece cocking link that's longer than a single piece. It allows the barrel to pivot more on the pivot pin, which means they use the cocking force over a longer distance. The net result is a lighter effort.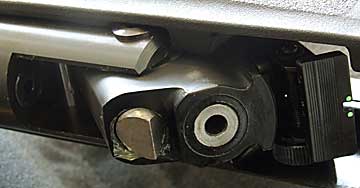 There's that small steel barrel I mentioned in the first report. Note the chisel detent. The easy cocking includes breaking the barrel open.
A nice set of fiberoptic open sights
The front is a post and bead that's hooded for protection. After what happened to the RWS Diana 34 Panther front sight, I'll accept that fiberoptic sights need protection. The rear sight is fully adjustable and is fiberoptic as well. Both windage and elevation adjust in smooth clicks, and the windage has a reference scale. They are so nice that I thought it would be nice to test them first, before mounting the scope that comes with the rifle.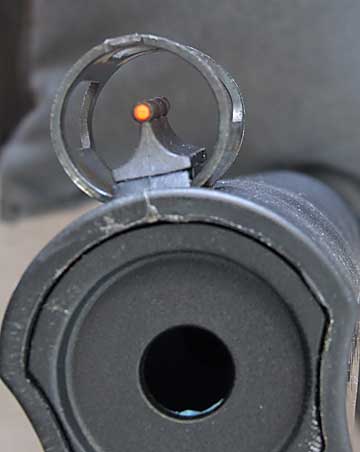 A red fiberoptic post and bead front sight is protected by a steel globe.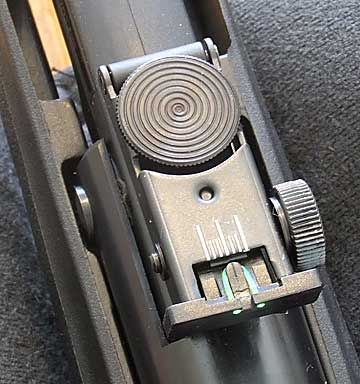 The rear sight is fully adjustable and also fiberoptic.
Nice trigger!
And somebody remarked, "If the trigger becomes nicer with use, what is it nicer than? Itself, before the use?" Obviously the answer to that is yes. And you readers all chimed in and made sure I knew about Charlie Da Tuna's GRT-III drop-in replacement. I have looked at his website, and I'll see what I can do about working him into this blog.
A trigger replacement will probably void the Gamo warranty. That wouldn't bother me if this were my own rifle, but it's not. Maybe I'll scare up a cheap, used Gamo at Roanoke.
And I heard the usual anti-plastic remarks made on the first report. What I wonder is how do you wood-and-steel types every buy a modern car? When I have a choice, I'll pick steel over plastic every time. That's why I'm a 1911 fancier and don't care for Glocks. But, I would never make the mistake of thinking that just because an airgun has plastic it won't work well. I like the synthetic-stocked RWS Diana 34 Panther over the traditional wood-stocked 34, and I'm hoping this Whisper will show me the same great traits.
I may have to postpone the shooting, as I'm leaving for Roanoke in two days and the weather isn't cooperating. But don't despair; we'll get there.
by B.B. Pelletier
Before I start, I will be on the road from Wednesday through next Monday, attending the Roanoke Airgun Expo on Friday and Saturday, Oct. 26 & 27. I will answer those comments I need to, but my capability is limited, so will you old hands please help out? Thank you.
Nate in Mass. asked if it's permissible (possible, without damage to the gun) to shoot pellets loaded backwards. He was thinking of them acting as extreme hollowpoints.
Well, Nate the short answer is "yes," and so is the longer answer I will give today. Diabolo pellets loaded backwards work fine in most guns. On principle, I would avoid loading them that way in repeaters, though I have shot some that way when they were misloaded.
My experience is limited
I don't make a practice of shooting pellets loaded backwards. I have limited my testing to 10 meters, so others may be able to expand what I'm about to say. The guns I shot them from were all low- to mid-power. No magnums were used, though I did shoot several from an HW77.
Not as accurate
They don't group nearly as well as when loaded the conventional way. The rifles I've tested seemed not to mind them at all, and at 10 yards I could see no evidence of them trying to turn around in flight.
Good for pests
I haven't tried this but I've read for the past 30 years that pellets loaded backwards make good critter-gitters, for obvious reasons. The thin soft skirt opens rapidly when contacting tissue and is especially good on rats.
The "flying ashtray"
I borrowed that nickname from the defensive hollowpoints used in some handgun ammunition. It means a wide-open hollowpoint that hits its target in an attitude that's ready to expand dramatically. There used to be a pellet made that way, and very curiously, it resembled a diabolo pellet loaded backwards – hence the title of today's post. I'm referring to the Vortek Lamprey.
Makarov 9mm pistol bullet of the flying ashtray design.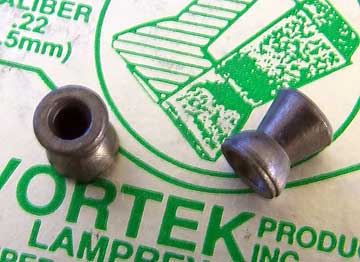 Vortek Lampreys were remarkable hollowpoint pellets that looked like they were flying backwards. The pellet that's standing shows the deep hollowpoint. The rounded skirt is shown on the pellet lying down.
The Lamprey has a huge mouth (Vortek called it a hollow head pellet), like its namesake, and a tiny shallow skirt. It seems wrong to load it the right way – as though the maker somehow reversed the directions. Yet, it's reasonably accurate and is one of the few hollowpoint pellets that performs well at slower speed. The walls of the hollowpoint are thick, but this is a pure lead pellet, so it mushrooms well and holds together even better.
Lampreys are no longer made. The new crop of hollowpoints seem to have learned some things from them because the hollowpoints are now much deeper than in the past.
So, Nate, your idea will work. Give it a try!