by B.B. Pelletier
This one is for anybody who's looking for a great airgun at a reasonable price. Wouldn't we all like that?
Internet gun auctions
There are some great airguns on the gun auction sites, but first a big warning. There are also a lot of shysters who prey on honest people. The following is an auction description. See if you can spot the problem.
BSA CADET-MAJOR .177 AIR RIFLE – The gun is not visably marked – I had a hard time finding info on this gun – It is listed on page 35 of Hiller's "AIR RIFLES THIRD EDITION" – The rear sight is the type that BSA used on their pre-war air rifles (the sight alone is worth at least $40.00) – Their gun had no visable model and name as well since the make and model was lightly etched on top of the receiver –
Know what's wrong? BSA always marked their airguns. There is no such thing as an unmarked BSA. There are, however, copies of every BSA model…but made in India, Japan or South Africa. These guns are also well made by today's standards, but they aren't in the same class as BSA. Sometimes, the Japanese guns have a few characters on them, but I have seen guns without any markings.
If a BSA Cadet-Major is worth $350, one of these guns is worth $150 or less. So, don't get suckered in. I wouldn't bother conversing with the seller, but if you do, be kind. He may not have known what he had was not the genuine article. However, I have seen a few who did know and tried to prey on the newer airgunners.
Another common ploy
Here is another very common trick that I see all the time. It's found on the auction sites, and on classified ads, as well. Can you identify it?
Seller's Description:
Sheridan Products Inc., Racine, Wisconsin – Made in the USA. "Silver Streak" 5m/m Caliber. Front Pellet Pump Rifle. Fixed iron sights – rear adjustable. Safety is behind bolt. Bore is shiny. 37″ overall length. Used – there are some nicks and scratches in the wood. There is some surface rust here and there. Some surface wear and pitting. All seems to function – I have never used it.
Know what's wrong? It's the last sentence. "I have never used it." Some common variations on this same theme are, "It uses CO2 cartridges and I don't have any to try in it" and "I really don't know how this thing works." Yeah – right! They know how it works and they can get a CO2 cartridge the same as you, but when they did, it didn't work. They want you to accept that it might not work, while not telling you outright. I avoid dealers with sales jargon like this, and I advise you to as well.
So, are there any good airgun buys to be had?
Yes! There are TONS of them, if you know where to look. For starters, visit a local gun store and ask them if they ever get airguns. Chat them up and you might find they see a lot of airguns, even though they don't officially handle them. If you give them your card they may call you when a widow comes in to sell her late husband's gun collection. Or, when someone wants to sell them an entire gun collection, they will enjoy having someone to sell the airguns to.
Pawn shops are another good place to shop. Make friends with several local pawnbrokers by visiting their stores once a month. One day, they'll surprise you with an Anschutz 250 target rifle that's about to come out of pawn. Ask what they loaned for it and pay them 20 percent more. A typical buy would be an Anschutz 250 for $120, because they don't loan much on airguns. So you save a cool $400, as I have done more than once. Don't think for a moment that the pawnbroker will take the time to buy Blue Book of Airguns and look the gun up. If they can make a quick turnaround on something they don't normally stock, they're very happy.
Airgun shows
Bring a pocketful of money and just walk the aisles and talk. Sooner or later you will find the deals. Someone always wants to buy something else and needs money, so they're willing to make a super deal. This is so common at airgun shows that I see it at every show I attend. In fact, you really have to be up on your airguns, so what I do is limit my deals to guns I know a lot about. I take a super sleeper like a BSA Meteor and wait until I find it for $80 in excellent condition. Or a Diana 27 for $150. You get the idea. I can probably do this with over 100 different models today, only because I have been doing this for the past 15 years. You'll get there too, if you start today.
by B.B. Pelletier
I'm in Albuquerque today and all settled down for the evening.
Today's question is: What came before the 10-meter target rifle? Knowing what came before and how it evolved tells us a lot about today's 10-meter rifles.
The Zimmerstutzen was the ancestor of the 10-meter target rifle and extends back to at least 1840. Zimmerstutzen is the rough translation of "parlor rifle" in German. The first zimmer was powered by a percussion cap that propelled a small lead ball through a short rifled barrel. The barrel was located toward the end of what looked like a conventional long rifle, although only the final 8 inches of the barrel were used. The striker for the percussion cap, and later the firing pin that was used on cartridges, was very long – running from the rifle's action to the rear of the short barrel.

American Bandel Zimmerstutzen from about 1870 uses percussion caps to power a lead ball loaded in a breech about 8 inches from the muzzle. Note that the hammer is attached to a long striker that runs up to this breech.
Breech mechanism of Zimmerstutzen from 1910 shows the loading/extracting mechanism that handles the fixed cartridge.
Course of fire
The course of fire was 50 feet indoors and always offhand. Because zimmerstutzens were associated with shooting Vereins (literally "unions," but meaning clubs) where the summer was devoted to shooting outdoors at 200 meters with schuetzen rifles. In fact, a lot of American shooters think the word Zimnmerstutzen should really be spelled and pronounced zimmerschuetzen (it shouldn't). It may have had its origins that way, but zimmerstutzens soon developed their own rules and evolved into a different sport.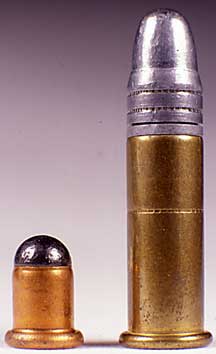 Fixed 4.3mm Zimmerstutzen cartridge (left) next to a .22 long rifle. The zimmer round uses a primer, only.
Characteristics
By 1890, zimmers usually had double-set triggers, superfine adjustable aperture sights and stocks that defined the breed. A high, cupped cheekpiece and usually a thumbrest were common features, as was a deep hooked buttplate. By the year 1900, the Zimmerstutzen had evolved to its highest level and would remain that way until the start of World War I.
Caliber
A Zimmerstutzen comes in the nominal caliber 4mm, but in fact there are over 25 discrete calibers that range from 4mm to 5.55mm, in half-milimeter increments. They also come in fixed and separate ammunition. The fixed ammo looks like a standard rimfire cartridge. It loads, shoots and ejects just like a rimfire cartridge. Of course, all target-shooting zimmers are single-shots, just like 10-meter rifles of today. Target shooters believe that top accuracy comes from precise loading directly into the breech, and they get that partly from the Zimmerstutzen heritage.
Accuracy
This is where the story gets interesting. When I was a boy in the 1950s, Zimmerstutzens were revered for their accuracy. Had they shot groups in targets instead of single shots, their groups would have been around one-tenth-inch for the best shooters. Wonderful accuracy for 1955, mundane after about 1985. Today's 10-meter air rifles can out-group a Zimmerstutzen by about 50 percent, if not more. Of course the distances at which they shoot are different, but that doesn't explain the difference in accuracy. It's really velocity and the accuracy potential of a diabolo pellet. A round ball cannot keep up, and the Zimmerstutzen typically shoots around 1,000 f.p.s., while the air rifle does about 580.
In the next installment, I'll show you some more unique things about Zimmerstutzen rifles and tell you where they went when the 10-meter rifles displaced them.
by B.B. Pelletier
You may recall that I went shooting a couple weeks ago. I took both my Taurus PT 1911 and my new Wilson CQB Christmas gun. This is an update on the Taurus and a first report on the Wilson.
Little things mean a lot
The Taurus had several major problems. The factory magazines do not work, even with the reliable Wilson. So, until I rebuild them with new springs, they're out. On the other hand, my one Wilson magazine works flawlessly in both guns.
The other problem was the Taurus extractor. It had a large burr, the part that fits over the cartridge rim was not smooth, but worst of all, the extractor was not properly tensioned. I corrected these faults and the last time out, the pistol fed 125 rounds perfectly. The rounds were a mixture of Winchester and Remington hardball plus two different reloads.
I'll keep shooting the Taurus to test reliability, but I think I have it. The next thing I was interested in was a comparison of the two guns. You may laugh, but I found the Taurus easier to shoot than the Wilson. The sights that I've now become so familiar with are much faster to acquire.
Not all is perfect
Faster doesn't mean better in all cases and definitely not in this one. While the Taurus sights come up very quickly, they're very distracting…to the point that I cannot aim them intentionally. For a minute-of-bad-guy gun, the Taurus is great out to 25 feet, but the Wilson is incredible!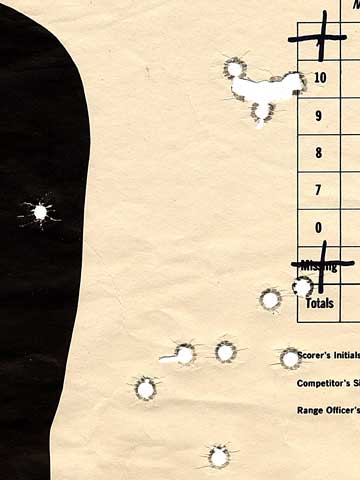 Two groups tell all. Top group is 8 shots from the Wilson CQB. Bottom group is 7 shots and 1 flyer (to the left) from the Taurus. The crosses indicate the aim point. Clearly the Wilson out-shoots the Taurus. From 20 feet.
The groups were shot at only 20 feet, so don't get too excited. However, the Wilson shows its pedigree, and the Taurus suffers from combat sights that do not encourage precision.
How about that Wilson!
Several of you are curious about my new CQB, and here's where I'll make a tie-in with airguns. You could think of the Taurus as Gamo Shadow with which I've had growing pains. The Wilson is like a TX200…perfect right out of the box. You could buy 5 Tauruses for one Wilson, so there IS a reason the Wilson is a better gun. However, the Taurus is advertised as a $2100 value in a $600 package. While it's a very nice gun, there is no way it can be a $2100 value. The Wilson shows what painstaking work can do. The Taurus shows how far modern manufacturing can take you.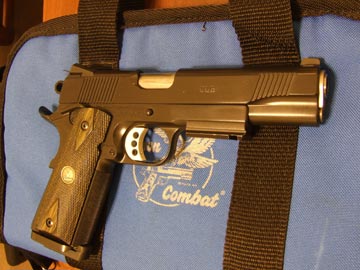 Wilson CQB Light Rail is their standard custom gun with a Weaver rail underneath.
Good morning all. As you read this, I'm in an RV on my way to Las Vegas and the 2008 SHOT Show. Because I'm on the road and driving all day, I'm asking you veteran readers to please help out with the answers for the next two weeks. I'll return on February 11. Of course, I'll post the blog every day and answer those questions I have to, but I have to write a blog while I drive each day or am attending the SHOT Show, so I'll be pretty busy for the next two weeks.
I won't be doing any gun reviews during this time, but I have taken along photos, material and data to use for blogs, so things shouldn't be that different. I'll also give you a glimpse of anything extraordinary I see at the SHOT Show.
One of our readers sent a link to some good air rifle shipping boxes. If you need some, check with Cameron Packaging.
Today's post was provided by /Shooter, who has spent some time with a .22 caliber IZH MP 513 rifle….
More on the IZH MP 513M in .22 cal. Mine is about broken in now after 1000 or so shots, and I may seem like I'm stuck on this gun, but that's only because I really like it! I also have a .22 long rifle bolt-action made by IZH that I really like.
The 513M looks pretty utilitarian. It's like you said in your review of the .177 cal. 513M – it's not going to win any beauty contests. Not like owning a Daystate or a TX200 that you'd (well, I would) be afraid to scratch, this is definitely a hunting/knockabout rifle. It does look a little better with the Leapers 5th Gen 3-9×50 red/green illuminated mil-dot reticle scope on it.
I don't use the red/green illumination on the scope, but it looks like it'll be useful in low light. I use my scope at about 7x most of the time, and I'm still shooting 0.17 – 0.19″ groups at 10 yards on a good day. If the groups look a little wide for 10 yards, it's because (I forgot to mention in the other posts) these aren't shot off a bench, but standing with my supporting forearm resting up against my Weider Crossbow exercise machine's bow arms.
Also, the velocities and muzzle energy are probably adversely affected by the fact that I live at 5500 ft. elevation and because the first screen of my ProChrono Digital chronograph is about 3.5 ft. from the muzzle. I don't figure I'm losing that much velocity in 3.5 ft. though. It's not like I'm bucking a stiff head wind in my basement. You'll get more down around sea level, but I don't know how much. With that, here are the velocities and energies I've been getting. I really like the muzzle energy calculator on Pyramyd Air's site. I used it for all of the conversions here. Ten-shot groups for each type of pellet.
JSB Exact Jumbo, 15.8 gr.- 725 fps. av.- ES-22, 18.45 fp, 25.01 joules
Beeman Silver Arrow, 19.9 gr.- 693 fps. av.- ES-22, 18.03 fp, 24.44 joules
RWS Superpoint, 14.5 gr.- 753 fps av.- ES-19, 18.26 fp, 24.76 joules
RWS Super H-Point, 14.2 gr.- 741 fps av.- ES-13, 17.32 fp, 23.48 joules
RWS Meisterkugeln, 14.1 gr.- 760 fps av.- ES-8, 18.09 fp, 24.52 joules
RWS Hobby, 11.9 gr.- 833 fps av.- ES-12, 18.34 fp, 24.87 joules
H&N Baracuda Match, 21.6 Gr.- 554 fps av.- ES- 8, 14.72 fp, 19.96 joules
JSB Predator Ultra Shock, 15.8 gr.- 717 fps av.- ES- 6, 18.04 fp, 24.46 joules (Best Accuracy)
Daisy Precision Max, 13.4 gr.- 808 fps av.- ES-14, 19.43 fp, 26.34 joules
Beeman Ram Jet, 16.5 gr.- 697 av.- ES 17, S17.80 fp, 24.14 joules
Crosman Hyper-Velocity, 14.2 gr,- 755 av.- ES- 25, SD- 8, 17.98 fp, 24.37 joules
Crosman Premier (boxed), 14.3 gr.- 761 fps av.- ES- 40, 18.39 fp, 24.94 joules
Notice the drop in power for the H&N Baracudas. Too much weight at 21.6 gr. while the 19.9 gr. Beeman Silver Arrows delivered most of the gun's energy down range. Too bad, the Silver Arrow's accuracy at 10 yds. left something to be desired. I almost thought the Baracudas had broken my gun, but I shot the JSB Predator Ultra Shocks immediately after them, and the power and consistency were back to where they should be.
The Predator Ultra Shock (no plastic penetrator point, just a big yawning hollow) gave me the most consistent accuracy, while the Baracuda Extra Heavys, even with their really low extreme spread, were all over the place with this gun. I also noticed that the RWS Hobbys, while being the lightest, did not deliver the most energy. That was done by the Daisy Precision Max, which beat them out by over a full ft./lb. Too bad their accuracy was so mediocre. For accuracy in this gun, I'll go with the JSB Predator Ultras followed closely by the group of RWS Meisters, Superpoints and Hobbys.
I haven't needed the extra seals or mainspring that came with this rifle. Although it kicks pretty hard and buzzes a little with the lighter pellets (didn't get to the tar yet), I really enjoy it so far. Now, if I can just get some time outside without freezing my tail off, I'll shoot it for accuracy at about 25-30 yards and see what it'll do.
by B.B. Pelletier
Today, we'll look at the accuracy of the Beretta PX4 Storm. This has been an interesting review from the standpoint of all the comments I've seen. One reader said he was surprised that the velocity was so low (450+ f.p.s. in his gun with Silver Eagle hollowpoints) because the blowback made it feel more powerful. I never thought of that, but perhaps that is the big draw for blowback action – the power it conveys to the shooter.
Start close!
Because I had no idea of the potential accuracy, I started shooting at 12 feet. I normally reserve such close distances for BB guns, but with repeaters that have blowback I know the accuracy will probably not be great. Starting close keeps everything safe. Naturally, I wear shooting glasses; because this gun shoots Crosman Copperhead BBs as well, I used a Quiet Pellet Trap.
Gamo Match
One of the PX4 customer reviews mentioned success with Gamo Match pellets, so those were the first ones I tried. The first group looks great until you realize it was shot from just 12 feet. I'd normally group like this at 33 feet (10 meters) with a really accurate Umarex pistol such as the Colt M1911A1 or the S&W 586 revolver, so this isn't as good as it looks. Yes, the PX4 Storm is also made by Umarex, and I wanted to say the blowback was the problem until I remembered that the Desert Eagle also has blowback and is very accurate. Something else is at work in this case.
This looks good until you realize it was shot from 12 feet. Eight Gamo Match pellets.
BBs were next
For BBs I stepped up to just 10 feet, because they can really spray wildly. You can see from the resulting group that they aren't as accurate as pellets, but they're not that bad, either. Certainly they're minute-of-pop-can at 20 feet. However, as I was going to back up to 25 feet and BBs were already drifting to the left, I stopped testing them here.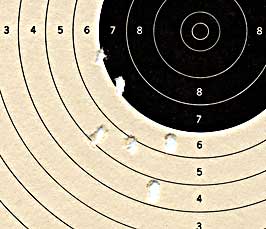 Crosman Copperhead BBs opened up at just 10 feet! They'll tag a soda can at 20 feet but you'll have to aim to the right. There were only 7 BBs, due to one falling out of the magazine just before loading.
Other pellets
I also tried RWS Hobbys, Crosman Silver Eagle wadcutters and H&N Finale Match to see if there's a difference. If there is, I couldn't see it. In fact, the Hobbys seemed to perform just as well as the Gamo Match. The H&Ns were slightly less accurate, though I didn't shoot them enough to confirm that. Because they cost more, I figured why bother with them in an action pistol?
25 feet
I shot from a strong side barricade position, which means I rested my right hand against a door jamb and used my left hand to steady the pistol. I used a strong spotlight on the target, so the sight picture would be clean for me, and I disregarded the three white dots on the sights. However, I still had my bifocals on and they were causing some double images of the front sight blade. That's never good. The groups that resulted were in the 3″ range, though curiously centered in the bullseye. The better sight picture did away with the gun shooting to the left.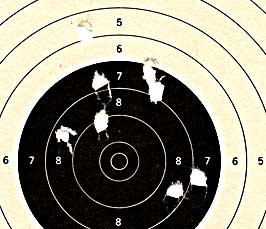 Shooting from a strong side barricade at 25 feet, 8 Gamo Match pellets opened up like this.
Glasses off!
Finally, I took off my glasses so the sight picture would not look double. That gave me the best results from 25 feet, though the shots moved to the left again. All shooting was done using a 6 o'clock hold.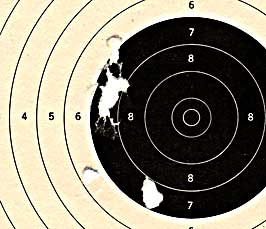 Glasses off made the front sight sharper, but this is still the best I could do.
So what?
The PX4 Storm isn't for target shooting, so why am I shooting it that way? Because you can't accompany me as I plink at pop cans and balloons. I have to have something to show you and targets are a good medium ground. Shooters who buy the PX4 Storm are not looking for one-hand target accuracy, they're seeking a fast-action pistol that can keep up with their shooting fun. I believe this pistol can do it.
What about jams?
There have been some reports of jams with this gun. I bet I know how they happened, too. After shot number 32 (or 40, if you followed my earlier report) the shooter kept on shooting even though the gun sounded weaker and weaker. That's a typical error for a new shooter with an action CO2 pistol. It happens with green gas airsoft guns as well. I think if you pay attention to the number of shots fired and to the sound of the gun, you can avoid any jams. I certainly had none in over 300 shots.
The bottom line
This is the least-expensive pellet pistol with true blowback action and a rifled barrel. If that's what you're looking for, this is a fine airgun. If you want more accuracy with blowback and a rifled barrel, consider moving up to the Desert Eagle.
by B.B. Pelletier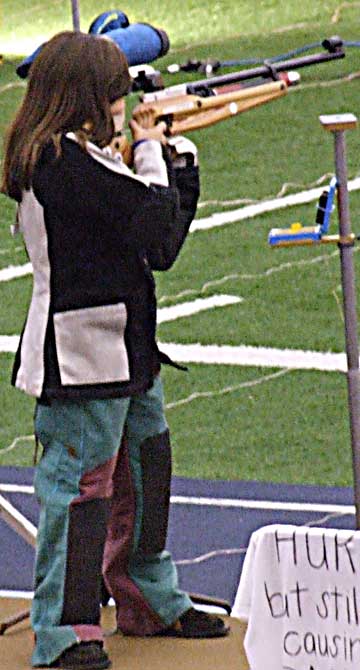 She's 10 and that's an FWB P70 Junior rifle she's shooting. This 10-meter competitor placed well at the 2007 NRA/Pyramyd Air National Airgun Championships in Akron.
Several readers requested this report, and I'm glad to finally start it. Before we begin, allow me to define the sport as I will report it. Ten-meter air rifle competition is divided into men's and women's divisions. Men fire a course of 60 + 10 shots per event and women fire 40 + 10. Men have 105 minutes for the first 60 shots and women have 75 minutes for their first 40 shots. I will explain what "+ 10 shots" means in a later report.
The U.S. National Rifle Association (NRA) also has 10-meter competition, but their rules and equipment differ significantly from the formal rules of the International Shooting Sports Federation (ISSF). The ISSF rules prevail in the World Cup and Olympic competition, and that's what I'll report.
Shooting position
The only shooting position in ISSF competition is standing. The NRA uses kneeling and prone as well as standing; but at the world level, the competitors stand.
Target
The ISSF target is also used by the NRA, but the hits are scored differently. The NRA credits a pellet hole that touches the highest scoring line, while the ISSF requires that the line be broken by the pellet hole to score. Actually, in ISSF competition, targets as we know them are not used. Instead, they use a paper roll in a target frame that is instrumented with three sound transducers. The transducers can detect where the pellet tore through the paper by triangulating the sound of the paper tearing. Then, they plot the hole on a standard target overlay, and it appears on a video monitor at the shooter's position. This method has been demonstrated accurate to the thousandth of an inch, so arguments about scoring are a thing of the past.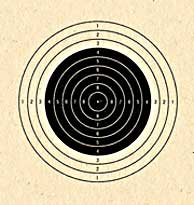 This is the real deal – a German 10-meter rifle target sized pretty close to the actual size. The dot in the center is the "10-ring." The paper is a stiff, tan non-reflective paper that doesn't tear along any grain. Pellet holes are as clean as they can be.
The shooter sees a black spot that looks like a target and functions like one because of the electronic system in place. Not only is scoring easier, all tabulation of scores is entered into software, so what was once a laborious project is eliminated, plus the scoring and tabulation is faster and more accurate.
Caliber
The .177 caliber is mandatory. All scoring equipment (optical, mechanical and electronic) is built around .177 caliber and nothing else is permitted in ISSF competition. All guns and related equipment (pellet boxes, etc.) are available in .177 caliber only.
Wadcutter pellets
Wadcutter pellets are the only type of pellet used by 10-meter shooters. This follows the bullyeye pistol crowd that converted to wadcutter and semi-wadcutter bullets decades before world-class airgun competition commenced in the 1960s. When the scoring was done mechanically, a crisp hole left by a wadcutter was essential.

There are many variations on the theme, but all wadcutter pellets have a flat nose to cut a perfect circle in target paper.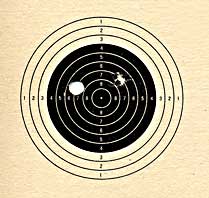 Hole on the left cut by a wadcutter, domed pellet cut the hole on the right. Which would you rather score?
Velocities
Although velocity isn't regulated, per se, no 10-meter target rifle shoots a pellet faster than 600 f.p.s., with the average muzzle velocity being around 575 f.p.s. Velocity for rifles has declined since the 1960s, when the first true target air rifles were built. In the days of the FWB 300 and the Anschutz 250, the muzzle velocity was more on the order of 640 f.p.s., but a shift to CO2 and precharged pneumatics has brought about a reduction in speed, which also conserves the number of shots from a fill of gas or air. Having a lower velocity that match officials can rely on has made the construction of ranges and pellet traps easier, plus it's made it easier for insurance companies to write policies for events.
Powerplants
Ten-meter guns no longer have spring-piston powerplants. The Chinese BS-4 is the last hanger-on, but you won't see one in any national competition. In the 1960s, spring guns were very popular, but when CO2 rifles came on the scene, the springers vanished from the world scene. Clubs still have them, but top shooters prefer their own rifles and no longer choose springers.
CO2 is still used, but fewer and fewer shooters choose it as time goes by. It's one of those things where a shooter has a rifle that shoots and it happens to be CO2. They aren't about to change because the rifle does so well. There's still a small contingent of single-stroke pneumatic users, which keeps rifles like the FWB 603 on the market. But, PCPs have really taken over as the powerplant of choice.
I plan to cover the rifles in some detail. I'll also address sights, shooting equipment such as jackets and gloves, and shooting positions. Please tell me what else you'd like me to address.
by B.B. Pelletier
Continuing our look at the Beretta PX4 Storm, let's examine functioning and then shoot it for velocity. I'll also record the number of available shots per 12-gram CO2 cartridge, because there's a lot of interest in that number.
Trigger
The trigger is both single- and double-action and is a bit strange in the single-action mode (when the hammer is cocked). The first stage is there and light as it should be, but the second stage divides into two distinct parts. The first part is a pull that stops at a definite point, and the second part is the letoff. If you're familiar with old (pre-1930) Colt double-action revolvers, you'll know they "stack" toward the end of the double-action pull…meaning they come to a definite pause in the pull as the effort to release the sear increases. You can use this stacking to control the release of the hammer if you're careful. The single-action trigger on the PX4 Storm feels remarkably similar to those old Colt double-actions. I suspect it has to do with advancing the 8-shot clip to the next chamber. It releases in the single-action mode at 4 lbs., 12 ozs.
Two types of shooting
I tried the gun two different ways in an attempt to learn how to get the maximum number of shots from a CO2 cartridge. The first method was to pause 30 seconds between shots to let the pistol recover from the cooling effect of the CO2. Using that method, I got 5 full magazines and half of a 6th, which amounts to 40 shots on a cartridge. At the end, the power was definitely falling, meaning that all liquid CO2 had evaporated and the gun was shooting on gas, alone. I dry-fired a few more shots; within four more shots, the slide was not cocking the hammer.
Gamo Match pellets ranged in velocity from 226 f.p.s. to 356 f.p.s., but the 226 was an anomalous shot. All other shots were above 332 f.p.s. The average for this pellet with a fresh CO2 cartridge (and excluding the lowest shot) was in the low 340s. Gamo Match were also the final pellets I shot under this technique, and the final string went from 292 to 360. The average was about 350, 10 f.p.s. faster than the first string, which proves that CO2 acts as a pressure regulator, as long as there is liquid CO2 remaining. The final shot at 292 f.p.s. was the result of the liquid being gone.
Crosman Silver Eagle lead-free wadcutters averaged 410 f.p.s. Of course, they're 2.3 grains lighter than the Gamos and H&Ns, so an increase is to be expected.
I also shot H&N Finale Match pellets on this CO2 cartridge. They weigh almost the same as Gamo Match pellets and produced an average velocity of 337 f.p.s.
When the cartridge ran out, I swapped it for another and started shooting with a string of Crosman Copperhead BBs. They're made of steel and are 2.4 grains lighter than the lead pellets I shot, but they averaged only 370 f.p.s. They're quite a bit smaller in diameter than the pellets and therefore allow some gas to blow past the BB in the barrel. They're held in the magazine by a magnet in the center of the revolving clip.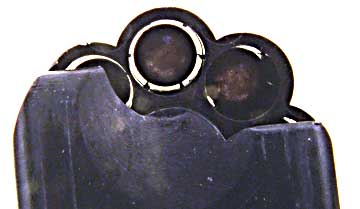 Steel BBs leave a lot of room in each chamber. The BB is held in by a magnet. Those ribs in the chamber are there to hold the pellets.
Fast shooting
This time, I shot as fast as the Chrony could register, which is about a shot every 1.5 seconds. The strings went down in velocity from the first shot to the last, as you might expect. For example, the first shot with Gamo Match went 360 f.p.s., while the 8th shot with the same pellet went only 328. Gamo Match went from a first-shot high of 334 to a last-shot low of 290. However, shooting this way did improve the total number of shots I got from the pistol, from 40 to 48. On the final string, I waited 30 seconds between shots and the average for Gamo Match was 318 f.p.s. So, if you want more total shots per cartridge, shoot the pistol rapidly. The temperature on my office range was 70 degrees F throughout the test.
Impressions
I didn't know what to think before starting this test. I've read reviews both praising and condemning the PX4, so I was ready for anything. I like the trigger and the way the gun feels in the hand. It's on the large side for me, so shooters with big hands are going to enjoy it. Next, we'll see how it does on paper.