by B.B. Pelletier
Troubleshooting
Today, I'm helping a couple readers with some problems. First is Frank B., who owns a Marksman model 70 that he asked a question about. Seems his rifle is missing the trigger adjustment screw. So, Frank, I pulled the screw from my BSF 55N rifle, whose trigger unit is very similar, and I photographed it. For you photographers, I painted the screw with light. I didn't get a perfect exposure, but it's good enough for this job. Also, this is a macro done with my nicer camera.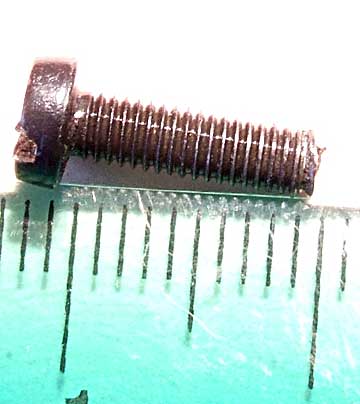 The shank is 10mm long.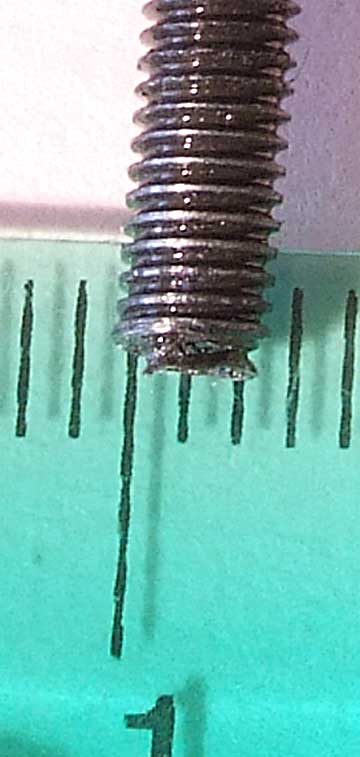 I told Frank the screw was 2.5mm, but seeing it enlarged like this I think it's a 3mm screw.
I hope this helps you locate a screw for your trigger. Remember, the BSF trigger that your rifle has is very prone to slipping off when cocked, so never let go of the barrel when its broken open.
Discovery problems
Today's blog is really an emergency report to help our reader, Andreas, who is having an accuracy problem with his new Benjamin Discovery. Normally, that wouldn't be so bad, but Andreas lives in Cypress and doesn't have the same airgun opportunities that we have here in the states. He bought the Discovery after reading my reports, and I want him to enjoy the gun to the fullest.
Room to improve
On Saturday, Andreas sent me the links to some groups he'd fired with his rifle. They look okay, but since they were shot at just 18 yards, they do have room for improvement. Andreas doesn't have access to JSB 10.2-grain Exact domed pellets, which my tests showed were the best in the .177 caliber he owns, so he is shooting 10.5-grain Crosman Premiers, which are pretty close.
Premier benchrest technique!
I want to share with him and all of you the best technique for shooting a firearm or a pneumatic rifle to get the most accuracy. This technique was developed in the late 19th century. It's called the double bag technique. To use it, you need two shooting bags.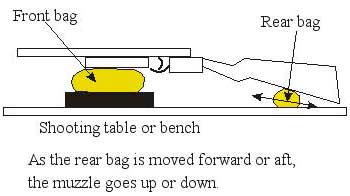 Look at the arrow that indicates how the rear bag is to be adjusted. Sliding it back and forth raises and lowers your aimpoint. You never have to touch anything but the trigger.
The front bag should be long enough that the rifle, when rested on the bag, won't fall off. A rolled blanket or towel usually isn't good enough. A bag with "ears" is always best for this, though if it is too long it won't allow the rear bag to work its magic.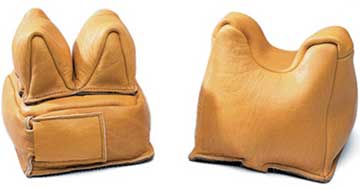 These Beeman benchrest bags are perfect for the two-bag technique. The front bag is on the right.
Rear bag controls the gun
The real secret of this technique is the rear bag. It stabilizes the rifle so you don't have to hold it to your shoulder. I've watched several of you caffeine-hyper shooters on the range, and I know that not holding the rifle can be a real plus! The rear bag also adjusts the muzzle of the rifle, ever-so-slightly, because of the angle on the bottom of the butt. You can raise and lower the crosshairs by very small amounts by sliding the bag forward and back. That's how you center the sights, and since you aren't touching the rifle anywhere other than the trigger, the sights stay on target. Your breathing and heartbeat cannot move the rifle when you use a two-bag rest.
I should have shown you this type of rest long ago, but so many of you shoot spring guns. You can't use this rest with a springer because it has to be handheld.
Andreas, please let us know if this helps you with your Discovery.
by B.B. Pelletier
Let's take a look at close-up detail shots. Before we do, another little tip about lighting your subject that will come in handy when doing close-up shots. It's called painting the subject with light.
Yesterday I showed you how the scope mounts went on to the Ruger Air Hawk Elite rifle. What I DIDN'T show you was the trouble I had taking those photos.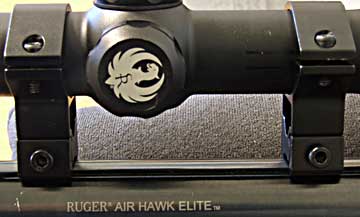 Initially the photo of the rings came out like this.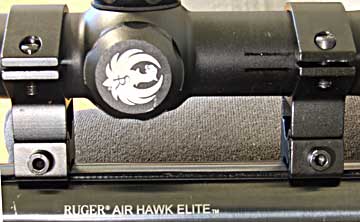 But when I painted them with light, they looked like this. Notice the extra detail that comes out in the mounts.
I didn't take my time setting up the shot. As you can see, the rear ring got more light than the front, but the image that I painted with light looks far better than the one I didn't. Rather than retaking the shot, which I would have done if the photo were going into a print publication, I accepted it when it was good enough. However, on the next shot, I adjusted what I was doing and improved the exposure.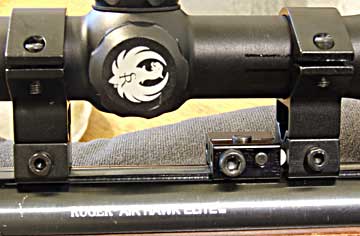 For this shot, I changed the direction of the light sweep, coming from the right instead of from the left. You can see the improvement in the evenness of the lighting of both mounts. This time, however, the specular highlights from the light blew out the Ruger name at the bottom. Gun companies don't like it when that happens.
To paint the image with light, I used a Crosman tactical flashlight that puts out a white light of 60 lumens (means it's pretty darn bright). While the shutter was open for about four seconds, I wiped the light through the subject in about a quarter-second. By "wiping the light," I mean I shined the beam at the subject while moving it through the subject from side to side, so it was on the subject a total of about a quarter-second. That's painting with light.
Close-ups
Now we'll talk about close-ups. This will take more than one report, so I'm splitting it into two sections. I'll tell you what will be in the second section at the end of this one.
Close-ups are called macros, and many good digital cameras have a macro setting. You saw the dime I photographed in Part 1, so you know what I'm talking about. You will have to focus very close to your subject, and lighting will become more of a problem but painting with light will help you.
If you have a film camera, you need a macro lens. I have a special Nikon 55mm lens that lets me make a 1:2 image. That means the image on my 35mm slide is 1/2 the size of the original subject. If I have used fine-grain film, I can enlarge that image many times, so a .177-caliber pellet can appear 6 inches tall and still be in sharp focus. If I want even more enlargement, I have a special attachment called a bellows that enlarges beyond 1:1. But that one eats light like crazy, and often I cannot get enough light on the subject to get the shot. That's where Photoshop software comes in, but I'm not ready to talk about that yet.
Now I'm talking about digital cameras, only. The international symbol for a macro is a flower, so if you don't have the camera manual anymore, look for the symbol that resembles a tulip. It will often show in the viewing window as a yellow symbol. On some cameras, it will be the opposite choice from a mountain symbol or the symbol of a group of people. Your camera also makes sounds, if you haven't turned them off. There is a most familiar sound that your digital camera makes when the subject is in focus. If you don't hear that sound, the image will be blurry. However, if you don't shoot from a steady rest or a tripod, the image may be blurry even though it was in perfect focus. So put the camera in macro, use a tripod or steady rest and make sure the feedback sound says the camera is in focus.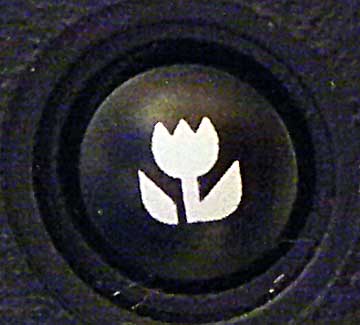 On my primary digital camera, a button is dedicated to the macro function. This photo was taken by my little point-and-shoot camera in the macro mode. I used a tripod. The button is 7/32″ across (5.5mm). That's smaller than a quarter-inch.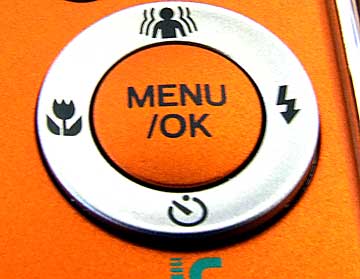 This is the macro setting on my point-and-shoot camera. I took the photo with my primary camera in the macro mode. To set the macro mode on the point-and-shoot camera, you press on the silver ring where the flower is shown. The camera taking the picture was hand-held, because this camera is really steady! The exposure was 2.1 seconds. The button in the center is 3/8″ across (10mm).
Next time
In the next installment, I'll cover more macro tips, including these:
How to photograph pellets
How to take macros without a macro mode
What kind of camera I use
When you see features on the camera I use, you'll see why I like digital photography so much and why I can do things that maybe you can't. Don't despair – my camera currently sells for as low as $335, so it isn't a backbreaker if you need high-quality images.
by B.B. Pelletier
The Norica Young air rifles went on sale yesterday morning. There are just a handful of them, so act quickly if you want one. I'm not endorsing the rifle, because I've never tested one. All I can tell you is that Norica is a good maker, and the price for this gun is very low. They are new-old-stock, so expect some discoloration and possibly handling marks. Some will have boxes while others don't.
A reader asked whether the Ruger logo appears on the rifle. Here it is.
On to today's report, where I test the Ruger Air Hawk Elite for accuracy. You may remember that the 11mm dovetail scope rail grooves have no provision for a scope stop. Readers have suggested I use BKL scope mounts that hold by clamping pressure, alone, or put valve grinding compound on the dovetails to seize the scope ring clamps (not a bad idea!) or that I just back the scope mount bases up to the rear of the dovetails, where they'll bottom out at the end of the cuts.
I've decided on a slightly different method, and we'll see how successful it is. I put the rear ring at the end of the 11mm dovetail, where it stopped, then I added a separate scope stop behind the front ring for added resistance. The AirHawk Elite has a pretty hefty kick for a lighter rifle, so these two measures will be tested well.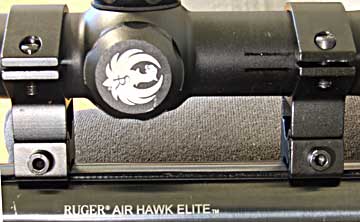 The rear ring is backed up in the dovetail as far as it will go.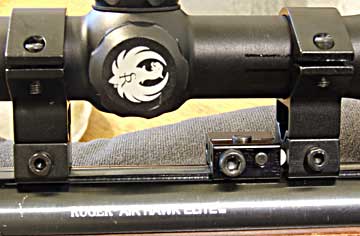 A separate scope stop is anchored behind the front ring.
I sighted-in the rifle and shot all groups at 21 yards indoors. It was windy outside, and this was a way to move the test along.
The test pellets
Not one of the pellets used for the velocity test proved accurate in this rifle. RWS Hobbys shot 1.5″ groups, as did Beeman Kodiaks. Gamo Raptors turned in the largest group of the day. Five of them stumbled through the target with a spacing of 1.912″ between the centers of the two farthest apart. Not a pellet to pick for this rifle! Beeman Trophy pellets did better, but still weren't good enough.
Five RWS Hobbys went into this 1.438″ group at 21 yards. This is representative of both Hobbys and Kodiaks in this rifle. Note that all four shots in the white have tipped a bit, indicating they are not stable.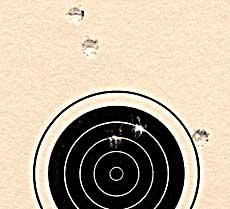 Five Raptors wandered through the target in this loose 1.912″ formation. Like herding cats!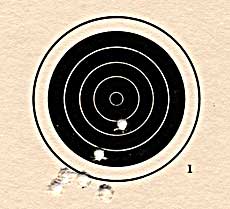 Here are six Beeman Trophy pellets. They're better than the others, but still not good. This group measures 0.946″.
Then I tried JSB Exacts
I'm sorry to always do this to you, but it's the truth. JSB Exact 10.2-grain pellets are often the best in most guns. When they aren't, try Crosman Premiers and Beeman Kodiaks. But this time the JSBs won hands-down.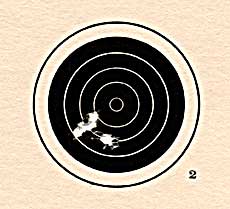 Five JSB Exact domes made this pretty little group. It measures 0.330″.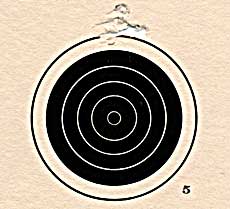 I shot this one for the guy who wanted me to shoot more groups with the Walther Falcon Hunter last week, after I said I knew it could shoot. I knew this Ruger could shoot, too, and here's the proof. A second group measuring 0.330″. It only looks larger because of the way the paper tore.
I'm not done with this one yet
Normally, I'd finish here, but I want to visit this rifle one more time. The way it vibrates with every shot, it loosens the stock screws and the muzzlebrake screws. I had to tighten the muzzlebrake twice during this report. I can live with that, but the trigger I want to examine in more detail. As is, the pull is far too long and the release feels indefinite. I'd like to see what, if anything, can be done.
by B.B. Pelletier
See – I didn't forget about this. I just let a little time elapse. Today, I'm going to talk about taking your score up from the high 400s to the mid-500s. There are only two things you'll need to do that. When you examine them closely, you'll discover they're two parts of the same thing.
How did I get here?
Let's review your 10-meter progress to this point. When you started shooting 10-meter pistol, your score for 60 shots ranged between the high 300s and the low to mid-400s. You were all over the place, and often threw shots into the white. Go look at a target here if you forget what one looks like. Better yet, buy a couple hundred because you're not getting into the 500s without them.
See?
After a period of regular practice, your scores were always in the 400s, and sometimes above 450. By then you were getting critical of your trigger and you had the sights adjusted to a fair-thee-well – unless you're like old Ed. Old Ed was a shooter who shot 10-meter with us every Monday night. He shot in the mid-400s, but he was consistently a little low and left. After watching him for a couple weeks, I asked him about it. Turns out, he'd put his pistol in a bench vice and sighted it in that way. He knew he was shooting low and left, but in the vise the gun was drilling the center.
Several months later, I convinced Ed to adjust his sights. Lo and behold, he shot a 520 that evening! I don't know what that did to his bench vise's score, but who cares? It never showed up to any of our matches, while Ed was a regular. Believe it or not, there comes a point in almost every shooter's life when a simple sight adjustment will add points to his score. Maybe not 30-40 points, but take what you can get.
Breaking 500
Breaking 500 is usually a tough nut for most shooters. But, after adjusting your sights, the one thing that'll add more points than any other is the front sight. By which I mean learning to concentrate on the front sight to the exclusion of almost everything else. At this point in the game, you've mastered the grip, mount (raising the gun before shooting) (Part 2 and Part 3) stance (Part 1)…and you've found the best pellet. From this point until you are averaging 550, the front sight will add all your points. Non-target shooters cannot understand this, and world champions talk about little else. Let's see why.
A perfect diagnostic
When you concentrate on the front sight to the exclusion of almost everything else, you start to notice little things that were previously below the radar. Things like how the pistol pulls slightly to the left just before the second stage of the trigger breaks (yep – gotta get a gun with a better trigger). You notice when the front sight starts diving below the bull and nothing you do with your arm can hold it up (holding the gun on target too long). And you start getting real good at calling your shots – as in, "That was a nine at 9 o'clock." You used to be happy about just knowing which way the pellet went; now you're scoring the target that's too far away to see clearly. "Oh my gosh, I just flipped at 8! What's wrong with me?"
A month ago, you went down to the target like a gold panner – anxious to see what you had. Now you go down having scored your five or ten shots to within one point – all without being able to see them from the firing line.
Then, a day comes when you CAN see all your shots, because they all touch and they're all inside the nine-ring. Now you start to put pressure on those around you who see the same thing. You're averaging 525 points out of 600, and you finally grasp the importance of the front sight. Now you'll have to practice daily to get the next 25 points.
Practice make nearly perfect
Daily practice consists of a routine of at least 100 dry-fire shots followed by a full 60-shot match. Your score floats upward five points at a time until it starts bumping into the number 550. As you practice, you realize that all you're doing is becoming more intimately familiar with that all-important front sight. It now dawns on you that practice has revealed that the front sight may be the secret to shooting, which is what I meant by these two things being the same.
What I'm not saying, but what is happening just the same, is that your stance is now perfect. You can no longer stand any way but the right way, with the right amount of tension in both legs. Your grip and raising of the pistol are perfect, as well. You start shooting perfect scores of 50 with five shots – and believe me when I say that the first time you do it will be no less of a celebration than a golfer's hole-in-one or a 300 game in bowling. As you approach an average of 550, you'll shoot a lot of 50s – many more than any golfer ever shot holes-in-one.
Now, grasshopper, this is as far as I can take you from my own experience, because I never had a 550 average. My best score in practice was 545 and in a match 537. I got to the place I'm now describing, but I never went on. However, I do know how to go beyond 550, because several world champions and Olympians have written descriptions of the journey. Maybe I'll tell you how to do it next time, though I must warn you, it does sound very strange and new-age.
by B.B. Pelletier
I've wanted to write this report for a long time, but I didn't want to get you all excited about something you couldn't buy. Now I hear that Leapers will be shipping the scope mount bases they designed for RWS Diana rifles in July. Since it will take several reports to cover these bases adequately, the time has come to break silence.
The year 2007 was busy for me. Besides developing the Discovery with Crosman, I was also working on this base. Here's how the project got started. Some time in 2006, I told a reader how to mount a scope on an RWS Diana rifle. That must have been the thousandth time I had to go through that litany, after which I had to convince him that these problems really do exist and then I recited what I had done to try to convince Diana that their scope base needed to be changed. Weary and desperate, I met with David Ding of Leapers at the 2007 SHOT Show and asked him to make this base.
My buddy Earl "Mac" McDonald was with me at that meeting, and his contribution turned out to be equally important. I just wanted a base that would provide a positive mechanical scope stop for most Diana rifles. I was tired of hearing that some people had sheared-off screws and long grooves cut through the steel bases of their rifles. The only way to positively afix a scope to a Diana spring rifle (with the exception of the models 46, and the Schutze), is to hang a vertical scope stop pin in front of the scope base. This looks dorky, not to mention the crudeness of having to do it that way. But the holes on the rifle's scope base are too shallow to hold a scope stop pin, and the large-headed screw at the rear has a thin shank that will not take the strain of a scope mount bearing against it under repeated recoil. If you're using that screw as a stop, you need to know that it will shear off.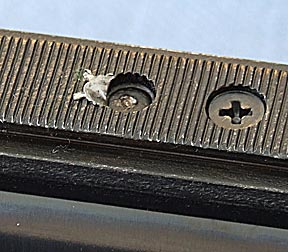 This is what happens every time! The scope stop holes are too shallow and the pins rip out the back, cutting a groove backwards. This rifle had only 200 shots (approx.). The large-headed screw was already sheared off.

Don't butt the rear ring against the large screw head at the right. With the new base, you won't have to.
My contribution was the design of a plate that fits in front of the rifle's scope base. I even named the plate the recoil shock shoulder to convey the message of what it does. Leapers executed it beautifully, and you can't tell that their base is mounted any way but correctly. It just looks right. They radiused the bottom of the shock shoulder to conform perfectly to the spring tube diameter, so this base looks organic to the rifle. I also asked for a relief slot to protect the fragile large-headed screw from contact with the base.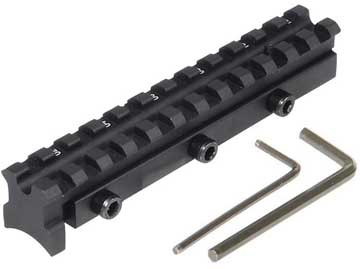 Leapers' new bases for RWS Diana rifles are well-engineered for the job. They have a Picatinny top to fit all Weaver-type rings. Note the recoil shock shoulder in the front. It hangs in front of the Diana rifle scope base to provide a positive mechanical lock for the scope rings.

Notice how well the new base fits over the existing rifle base. It looks right on the rifle.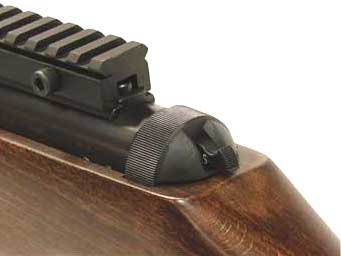 We didn't forget that fragile big screw! Leapers made a cutout so the base doesn't touch it.
Long job becomes short
Because the new base conforms so perfectly to the base on the rifle, it mounts in just seconds. The technicians at Pyramyd Air will find their scope-mounting time is cut drastically when they start using this new base. And, if that were all the new base did, it would be worth the money, but that's only half the tale.
Remember that Mac was at that meeting, too. After I made my pitch, he chimed in by asking if they could possibly engineer in a forward slope to cure the barrel droop problem some of the guns had. Oh my gosh! I'd completely forgotten that necessary step! Once you solve the anchoring problem, there may still be a barrel droop issue.
What is barrel droop?
Barrel droop means that the barrel's bore is pointing downward in relation to the plane of the scope base. When a scope is mounted, the barrel shoots noticeably lower than the scope looks. To compensate has always meant cranking up the elevation knob to bring the pellet back up to where the crosshairs are looking or inserting a shim. With some RWS Diana rifles, this isn't always possible or there's too much shimming that has to be done. Some of them have a large enough angle of droop that the scope cannot be zeroed at 20 yards, which is the most common zero point for most air rifles.
Diana wasn't convinced
For several years, I asked the management at Diana to fix this problem. Whenever I met them at the SHOT Show or at IWA, I would lobby for a change to the barrel droop problem. My suggestions fell on deaf ears. I'm sure I sounded like some airgun fanatic to them. After all, their guns were easy to sight in with the open sights that are installed on the barrel. What's the problem? They hadn't responded to the hundreds of people who called and wrote to ask what they were doing wrong. I had! Again and again, I told people how to either shim their mounts or, better yet, how to use B-Square adjustable scope mounts – mounts, I might add, that Dan Bechtel, the founder of B-Square, developed specifically for the airgun barrel droop issue.
So, when Mac spoke up, he saved the day. As long as a new base was being developed, let's solve ALL the mounting problems at the same time. Well, hearing that gave me another idea. Since this was just going to be a scope BASE, why not make it the best base we possibly could, which would be a Picatinny rail that accepts Weaver rings? That way, after the base was installed, the rings would just snap into the grooves and the mounting job would be complete.
That meeting lasted for 20 minutes, and David Ding decided right then that he would develop the base. I would test it and when it was ready for the market, the problem of scope-mounting a Diana rifle made after 1985 would be over. Instead of a 20-minute tutorial, all I'd have to do would be give the link to the part they needed.
In the next installment, I'll tell you about the testing I did. It lasted all year and pretty much revealed that this base won't be easy to copy. There's a lot more to show you and more that you need to understand about this base, so please stay tuned.
By B.B. Pelletier
Who's your pal? Pyramyd Air has just uncovered a very small number of new-old-stock Norica Young breakbarrel spring rifles from the 1990s. These were left after an airgun dealer went out of business and they've been sitting around for years. While they are brand new, a few may have some age discoloration and handling marks.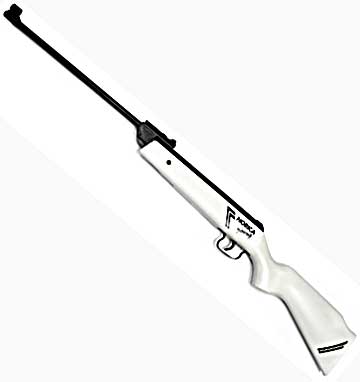 The Norica breakbarrels come in several different colors (color choice not possible because of short supply).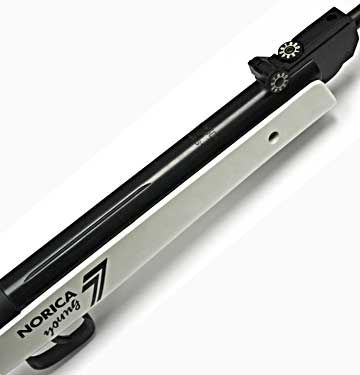 Here's your chance to grab a new rifle from the '90s at a '90s price.
The Norica Young is a youth model breakbarrel with a colorful painted wood stock. Norica is the quality Spanish airgun maker that made several models for Beeman. I imagine this .177 rifle will produce velocities in the low to mid 600 f.p.s. The gun has no safety and the non-adjustable trigger is very heavy for safety. The price for this time capsule air rifle will be only $75. Quantities are very limited, so act as soon as I alert you they are live. Don't call before because until it's live on the website, there's nothing to sell.
Field target course in jeopardy
Things aren't looking good for a field target course in 2008. So far, only Wayne has said he'll attend. We're issuing a press release to locate more students. If we don't have any more takers before the end of the month, we'll have to postpone this course until the summer of 2009. We understand that we gave you very short notice this year, and if it doesn't work out – so be it. We'll sure get a head start on a 2009 course!
Here comes the Diana scope base
Tomorrow, I will start a report on the new Leapers scope base for Diana air rifles. They'll be available in about a month. I'll explain in detail what this new base has going for it.
Now, let's get back to Ruger's Air Hawk Elite and test for velocity. The rifle had a few shots before this testing took place. The first one was a powerful detonation, but not a sound after that. The rifle is rated to 1,000 f.p.s. I shot a few dozen times before recording these velocities, just to get any excess oil out of the compression chamber.
RWS Hobbys
RWS Hobbys (7.0 grains) used to be the lightweight pellet of choice. Unless the manufacturer had some compelling reason, like they made their own pellets, they used Hobbys for velocity tests. And, every airgun writer used them for the same reason. In the test rifle, Hobbys averaged 920 f.p.s., with a range from 912 to 930. That's 18 f.p.s., which is considered pretty tight for a spring rifle. The average muzzle energy is 13.16 foot-pounds.
Crosman Premier 7.9-grain pellets
The Crosman Premier 7.9-grain pellet is another test standard. For .177 spring rifles you use the 7.9-grain weight unless the gun's power dictates otherwise. This one did not. The average was 815 f.p.s., with a spread from 791 to 833. That's surprisingly slow and also a larger velocity spread than I expected from this pellet. Muzzle energy averages 11.65, which you can see is a large drop from the Hobbys.
Gamo Raptors
Every dog has its day, and this time the Gamo Raptor (5.4 grains) surprised me completely. Not only were they surprisingly fast at an average 1072 f.p.s., they also had a relatively tight velocity spread from 1059 to 1081. The muzzle energy was the highest, at 13.78 foot-pounds. The first time Raptors have lead in any test I've conducted. They earned a place in the velocity test with this performance. Wouldn't it be fun if they were accurate, too?
Pellet choices
We have a rifle in the sub-14 foot-pound category that performs well with lighter pellets. Popular wisdom says it won't do as well with heavyweights. Just so we'll all know for sure, I also tested the rifle with Beeman Kodiaks. Before I get to that test, though, let me explain why I say this. A spring rifle operates on a balancing act of spring strength, piston weight and the length of the piston's stroke. If the rifle does well with light pellets, it means the piston is probably too light to also do well with a heavier piston. Tuners can actually adjust the gun to a certain pellet by adding weight to the piston until performance peaks. But let's see how this works in practice.
Beeman Kodiaks (10.6 grains)
Beeman Kodiaks (10.6 grains) also astonished me. I expected a velocity around 690-710, but the rifle averaged 747 f.p.s. What's more surprising is the tight velocity spread from 743 to 751. The average muzzle energy was 13.14 foot-pounds, only a little behind the Hobbys. Conventional spring gun tuning wisdom suggests this isn't possible – that a rifle be good on both ends of the pellet weight spectrum. So much for conventional wisdom. Clearly, this powerplant loves both Raptors and Kodiaks.
So, the gun is right on the money as far as power is concerned. I think Ruger may be on to a good thing with this rifle. Accuracy testing comes next.
by B.B. Pelletier (AKA Tom Gaylord)
This series is for Wayne in Ashland and for anyone else who thinks that he or she is the only airgunner on the face of the earth. I don't care where you live, you can start a field target club. Okay, you guys in New York City and Chicago will have to drive a bit, but I had to drive 27 miles to my local FT club.
I identified myself today for two reasons. First, we have a lot of new readers, and I just wanted them to know who is behind the keyboard. More importantly, I was one of four guys who started the DIFTA field target club in Damascus, Maryland. You can check out what I tell you with current DIFTA members, one of whom – Joe McDaniel (signing on as Joe in MD) is both the match director at DIFTA today and the webmaster and one of the governors of AAFTA.
Here's how we started. Phil Dean called to ask if I would come out to the Damascus Izaak Walton League to set up and run a demonstration adult airgun range during the 1996 Chevy Sportsman's Team Challenge. My wife, Edith, and I had just returned from a disastrous public event at Aberdeen Proving Ground, where we had been asked to do pretty much the same thing. At Aberdeen, we were left on a range by ourselves (just Edith and me). The show's promoters were announcing elsewhere that we were running "BB-gun competition for the kids!" So we got nothing but 4-10 year olds and their moms to shoot TX 200s and super-tuned R1s at field targets. Talk about a mismatch!
I finally gave up and went home when a boy who was helped by his father got hit in the eye with the scope of my recoiling R1 and THREW the rifle on the concrete pad! That rifle and stock still bear those scratches. Dad offered to pay, but when I told him what the highly modified gun was worth (about the same as his Chevette) he excused himself and, as they say in the fireworks industry, "retired quickly."
So, I put Phil Dean through hell on the phone. I DID NOT want a repeat of that disaster! Had I known Phil, I would have known he would never let something like that happen on his watch.
We reluctantly went to the Chevy Sportsman's Team Challenge, ran our public course (with Phil's help, I might add), and we enlightened a bunch of old farts. Phil then asked if we could start a field target club at the Izaak Walton league. Inside one month, we held our first match, and I learned how a club gets started from nothing. For the record, the two other DIFTA founders are Jim Piateski and Ed Burrows.
You need three things to start a club
You need shooters, a place to shoot and targets to shoot at. Surprisingly, it's easier to solve all three problems at the same time, than to tackle them individually. Here's how you do it. You start with one friend. Now, don't tell me you don't have any friends, because I'm the original loner. You gotta find a friend.
Before Phil, Jim and Ed came into my life I had found a shooting friend at a local gun show. We were just talking and the conversation got around to airguns. I owned a Career 707 but had no place outside my basement to shoot it and Wayne owned a farm and had always wanted to see one of those big pellet rifles shoot. Long story short, we went to his farm and shot – a lot. Then we each bought a field target that was made for a .22 rimfire, believe it or not. It has a 2-inch kill zone which is perfect for two old doofuses (doofi?) like us.
Anyhow, I owned this one totally inappropriate field target (plus four legitimate ones), but I'd shot with a field target club in Virginia a couple of times. Their match director, Trooper Walsh, offered to lend our new club 20 old targets his club no longer used. Wayne didn't want to shoot with us, but Trooper put the word out in Maryland and Virginia and we had about 10 total shooters show up at the first shoot.
So, to summarize, find a friend, he'll bring in his friends and one of them will know of some land you can use. And here's a tip when meeting the landowner for the first time. Don't take your Career 707 along. Let him see your Gamo Whisper or RWS Diana 34 Panther – a gun that doesn't sound like something a sniper might use.
Let's pretend your friend is the loan officer at your bank. His sister's husband's parents own a cherry orchard about 35 miles from where you live. They will let you use five acres of brushland situated off to one side of the orchard, plus the landowner husband is sort of interested to see what these adult airguns can do. His best friend is a home remodeler who has a woodworking shop, so he gets the plans for field targets off the internet and quickly builds 10. You pony up $30 for target reset strings and related materials and within two weeks you hold your first match. Three other shooters show up and you squad the five new shooters (the landowner, his best friend and the three new guys) with you and your buddy, so everyone can share the two air rifles you have between you.
The landowner is hooked and buys a TX200 for the next match. Your pal suggests you charge everyone $10 per match and give a $5 discount to the people who help set up the course. He tells you those funds will offset the $200 he's going to put up to buy 10 field targets from Pyramyd Air.
For match No. 2, you have 20 targets (the 10 he bought plus the 10 the guy made). Two more new guys show up (one of the three new guys from last time invited them), plus your friend's sister's husband, so now there are 10 of you. The landowner's wife barbecues hamburgers and hot dogs for which she charges a very low price, plus there's a cooler full of sodas and iced tea.
Honest-to-gosh, this is how it's done! I didn't make up anything to write this blog – just changed an occupation or two. Phil Dean really did buy a TX200, after I let him shoot mine at the Chevy Sportsman's Team Challenge. Ed Burrows bought a Maccari custom TX200 a couple months later, and Jim Piateski was our carpenter. I used to let guys shoot my TX or my FWB 124 until they got rifles of their own. We didn't have to make our own targets, but another club that formed in northern Virginia did just that. And it was at Trooper's club in Virginia where the barbecue was served.
The most important part of starting a field target club is to find a friend.