by B.B. Pelletier
So I was just standing there looking at a table when this man walked up and introduced himself. Said he had a Benyamin pump rifle and would I like to see it? Would I?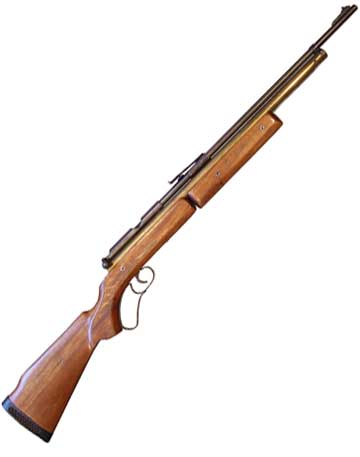 This Benyamin multi-pump is a sharp-looking air rifle – from a distance. The image breaks down with examination.
What he had is indeed a Benyamin – not a Benjamin – though in one place on the gun the name is spelled that way. The black rubber recoil pad, which is held to the stock by two nails (!), says Benyamin, and the steel receiver says Benjamin. The gun is .177 caliber, or .177 call. as it says on the receiver.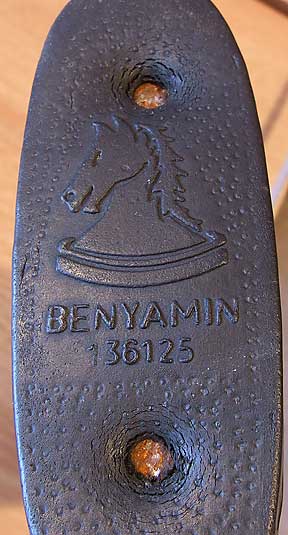 This is how it's spelled on the recoil pad. The horse also appears on Beeman's example. Notice the two nails that hold the recoil pad to the gun!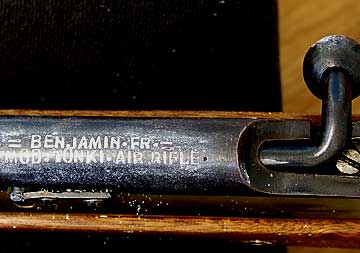 On the receiver BENJAMIN is spelled with a J. After that are the letters FR. (France – as in French Indochina?). Under that is "MOD. TONKI AIR RIFLE"

The caliber on the receiver. All letters appear hand-stamped.
Think you don't know what a Benyamin is? If you own the Blue Book of Airguns 7th Edition, think again. You'll find it at the bottom of page 124, just after the Benjamin listings. Robert Beeman wrote the single paragraph description that begins "Maker unknown…"
But I like the last sentence the best. It reads, "Extreme rarity precludes accurate pricing on this model." That's what I'm talking about! I showed that passage to the gun's owner before we continued our talk.
Beeman speculates the gun might possibly be of Philippine or even U.S. origins, but at the show I got a different opinion. Davis Schwesinger, the former owner of Air Rifle Specialists, who lived in the Philippines, said he thinks it might be an Indonesian gun. And a friend of mine who was born and raised in the Philippines looked at it and said the same thing.
My wife researched the Benyamin name and found that it could have originated in French Indochina (Laos, Cambodia and Vietnam before 1954). They spell Benjamin with a Y.
The fact is, however, we do not know for sure where this rifle was made. Maybe a reader from that part of the world can help.
The gun is larger than any American Benjamin multi-pump. It seems 20 percent bigger in every way. The steel barrel is about 23″ and the length overall is 40.25″. Length of pull is 13-15/16″. The rifle weighs 6 lbs. on the nose. Compare that to a Benjamin 392 that weighs 5.5 lbs. and has a 19.25″ barrel on a 36.25″ rifle.
The strangest feature, from a host of strange ones, is the sheet steel triggerguard that has been fashioned into a finger lever shape. The rifle is a bolt-action single-shot, but it has this deceptive lever-looking guard that, although immobile, looks ready for action.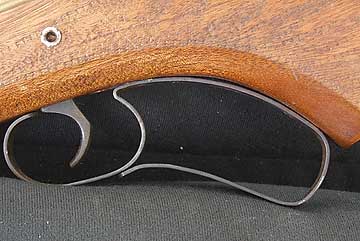 Here you can see the sheetmetal triggerguard that's formed into a finger lever. It doesn't move. This is a bolt-action single-shot. One of the stock rivets is seen at the upper left.
The barrel appears unrifled. It's too dark inside to see any detail, but a pellet run down the bore emerged without the characteristic land marks of rifling. However, the pellet was squeezed down quite a bit, so the bore is tight. From the feel of the pellet's traverse, the bore is as rough as a city sewer pipe.
The stock is strangely shaped with angles and flat spots not found anywhere else. The cheekrest is scalloped slightly, like a subtle Tyrolean. The pistol grip is stippled with a striped pattern of large dots. The pump lever wood is held on by four crude rivets. Two more rivets sit just above the triggerguard on the buttstock.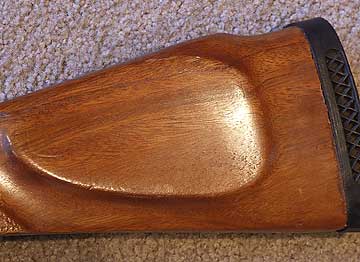 The cheekrest is slightly scalloped – a nice touch.
The steel sleeve that holds the rear sight leaf has what would be called filework on a handmade knife. The top of the rear sight leaf is also filed in a coarse crosshatch pattern. All the steel is blued, but patina and some rust have replaced about half of it. The pump tube is brass with no finish.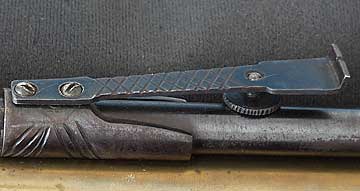 File work on the rear sight is hand done.
This rifle does not pump and will not cock. It would probably be simple to restore to operation given the overall simplicity of the design, but there's little point. As rare as Dr. Beeman says it is, this rifle is for collecting, not shooting. Uncharacteristically, I won't be doing a test-fire for you.
I saved the best for last. This is not the same gun Beeman shows in the Blue Book. It's a completely different model. So, Benyamin comes in at least two separate models.
I imagine that in this rifle's country of origin, it may not be that rare. But here in the U.S., it's very uncommon. Are these the only two in the U.S.? I doubt it. Talking about the gun may reveal many things we didn't know before, and more guns may yet pop up in collectors' hands.
Yes, I bought the gun. It practically jumped into my hands at the show. Like I said, the 2008 Roanoke Airgun Expo was the best airgun show I've ever attended.
by B.B. Pelletier
The next deal I got at the show was earth-shattering! It was a once-in-a-lifetime kind of thing that seems to happen to me more and more the older I get. I was admiring some airguns at a table and a fellow walked up with a strange airgun in his hands. He wanted me to examine it. On the rubber recoil pad it says it's a Benyamin, but on the receiver, it says Benjamin. This maker is listed in the Blue Book of Airguns, right after the Benjamin listings. I won't get into the specifics now, because I'm going to do a separate report on the gun for you, but listen to what Robert Beeman says about the price.
"Extreme rarity precludes accurate pricing on this model."
Now that's music to any collector's ears! However, my Benyamin is a different model than the one Beeman owns, so what does that say about rarity? Almost nothing is known about these multi-pump pneumatics, so I am going to do a report in my Shotgun News column to try to publicize it. If anyone has another gun like this, they may see that article or this blog and the learning will begin.
The seller was very motivated to sell the rifle, even though we showed him the passage about the value, so I could not refuse the deal. I'll show you the rifle tomorrow.
Another rare air rifle
At the table behind the one where the Benyamin came into my life, there lay a Parker-Hale Dragon single-stroke pneumatic sporting rifle. I didn't get a still photo of it, but you will see it in the first part of the video. For most of the show, I thought it was a Daystate Sportsman Mark II, and so did Davis Schwesinger, the owner of Air Rifle Specialists. However, while we were both examining it at the end of day one, we asked the seller what it was and he told us. You will remember that I made a special report on the Dragon from the 2008 Little Rock airgun show. Well, you don't often see a rifle like this for sale (only about 100 were made) and for only $750, to boot! I told you the dealers were making sweet deals at this show.
Field targets
Dick Otten had several tables for his field targets and action targets. He has a new tree mount that works sideways. Field target clubs will want to get several. Dick also showed a challenge-type target that pits one shooter against another in a timed match. And his standard field targets are now the tops in the industry.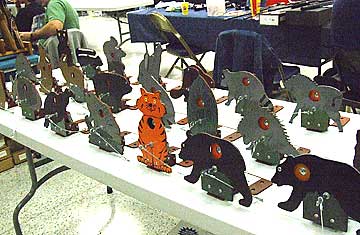 After Hours field targets by Dick Otten of Florida.
BB guns
If there's one thing Roanoke is famous for it's collectible BB guns. This is the show where they all come out of the woodwork. It's also the show where more than one first model Daisy wire-stock gun has walked in the door, though I don't think that happened this year. If you like cast iron and tinplate BB guns, you really should attend this show.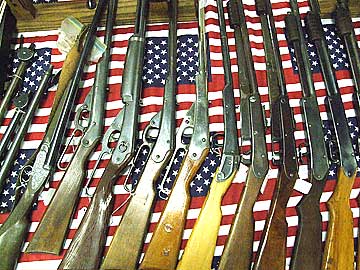 One of many tables of collectible Daisys.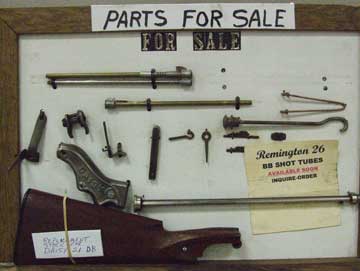 Roanoke is one of the few places where you can find specialty parts for antique and vintage BB guns. You won't find these things anywhere else.
Custom guns
One of our readers walked up to my table and showed me a Sheridan he had modified for easier pumping. He extended the pump handle backward for better leverage, so he could run a large scope on his blue Streak and still be able to pump the gun.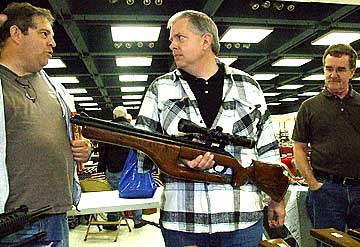 Look at the pump handle on this Sheridan Blue Streak. It comes all the way back to the triggerguard, so the gun can be held at the wrist while pumping. The owner is a blog reader, as is Lloyd, to his right.
Scarce modern guns
There are some very modern collectibles, too. The Kalashnikov BB gun is one example. BATF has stopped importation into the U.S., so the handful that made it through the first time are all there are. Though the gun is still being manufactured, it's very hard to find one for sale in the U.S.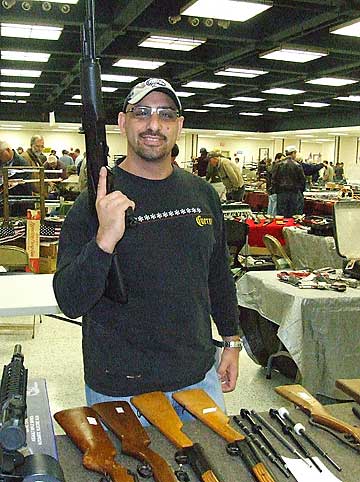 This blog reader was thrilled to find this rare Kalashnikov BB gun at the show.
Back when the war in Vietnam was still going on, the Defense Department was hot on instinct shooting. Daisy supplied the guns to the Army, but Crosman was invited to bid on the contract. They converted a few of their V350 guns for instinct shooting and there was one at the show. It's just the second example I have seen.

Crosman made up a handful of these special V350s to compete on the Army's Instinct Shooting contract.
The auction
At the end of the day on Friday, the show held an auction. Dealers may enter guns for auction and they split the proceeds with the show. You might think that the only guns they sell are junk, but that's not the case. Knowing that this crowd has money, dealers will auction off some very nice specimens.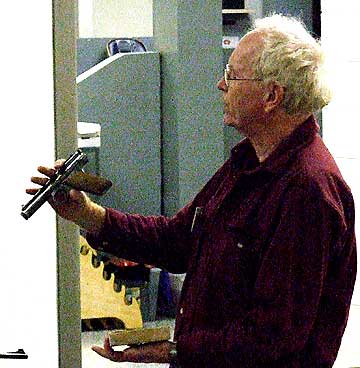 Show host Fred Liady ran the auction. This looks like a 250-series Benjamin pistol – which is definitely not junk!
Day two
On day two the locals come out in droves. They're mostly interested in new and modern airguns, so this is the day those things sell well. The attendees often bring in guns of their own to sell.
Day two is also the day the gun show opened upstairs. Show dealers are admitted free, so I ran up there and bought some reloading supplies and some World War II-vintage magazines for my M1 Carbine. I ALMOST bought an 8-bore (about .90 caliber) muzzleloader that stood about 74″ tall. It would have been a bragging rights gun, because at just 17 lbs. the thing would have kicked my head off. I was also severely tempted to buy a TM Dowell hunting knife. Ted Dowell was a contemporary of Lovelace, but his knives have not risen in value as fast. You can still buy one for under $500 if you shop, while a Lovelace goes for over $5,000.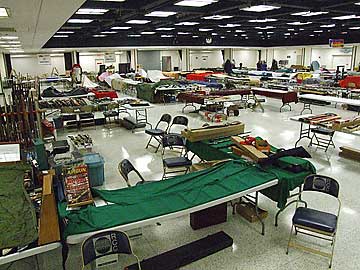 Day two, before the show opened at 9. This is the day the local public comes in force.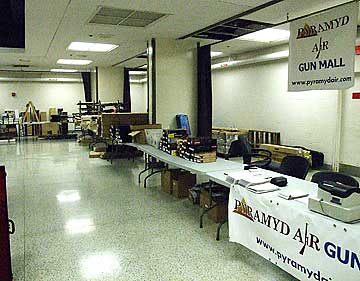 Want to buy new guns? Pyramyd Air had them in pallet loads!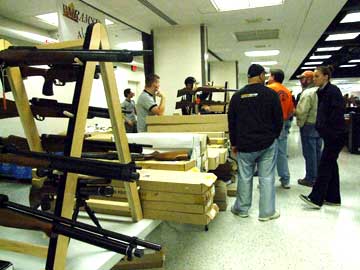 Once the show opened on day two, the Pyramyd booth filled up fast. And, yes, their 4 tins of pellets for the price of 3 was available, but the tins were prepackaged in sets.
For those looking for tunes on their spring guns, Paul Watts had several tables and was selling guns he'd already tuned. Watch the video to see more on this. I'll have it up pretty soon.
So – whadda ya think?
As much as I've told you, there is still more to this show. I thought it was the best show ever, but I managed to sell a lot and to find some really super deals. I guess if you didn't do the same, you might not have felt the same about the show. This year I had deals already made; so when I arrived, the show was already a success. But the deals I made while the show was open were as sweet as the ones I'd arranged. I know it's difficult for some of you to make an airgun show, but if you can only make one, this is probably the one to attend.
Many who flew in had arranged to FedEx their buys back home before they left, so travel didn't prove to be a problem. Maybe you'll want to pencil in this time next year for the biggest and best airgun show in the world.
by B.B. Pelletier
Lots of interest in this show, so I'll do a multi-part report and a long video, to boot. Give me a few days for the video, because that's a whole different editing process.
The first thing I want to say about this show was that it was both the best show ever and a huge disappointment. It just depends on who you listen to. This time I listened to many of the attendees talk about the show in progress, and I could hear whether they were going to make a good report or not. I guess this is human nature at work; and since I'm a positive person, I'm warning you right now that I think this was the best show ever.
A good show is one where you sell most of what you want to sell and find interesting things to buy. I did both. Since my interests are not necessarily universal, I'll describe everything I saw.
For starters, this is the largest airgun show in the U.S.–and probably the world. There were over 100 tables of airguns. If you're a collector, you can find pretty much anything. The setup began before 7 a.m. on opening day and lasted until noon, though most tables were set up by 9:30. Then the dealers, who are the biggest buyers of expensive guns, began making the rounds. In many cases, guns that were priced very low were purchased and relocated to other tables with an appropriate markup. For example, an FWB 300 Universal sold for $425 and landed on another table at $650. That's the way things go at shows. A couple of my guns wound up that way on other tables.
The doors opened at noon and the public came in, but not in the numbers I've seen in recent years. Attendance was off a bit from last year. The buyers who had money seemed less willing to part with it this year, but the dealers had bargains galore. Both things seem based on the perception that the economy is in trouble, though I find it difficult to follow how a man who drives a 2008 Ford F-350 truck and pulls a 28′ fifth-wheel trailer can think the economy is bad! He ought to be dancing in the streets if he can afford the gas for a 10 mpg rig like that!
Honored airgunner
At each show, an airgunner who has done a lot for the hobby is honored before the show opens. This time the recipient was Fred Liady, the host of the Roanoke show. Dennis Quackenbush puts this award together and makes the presentation every year.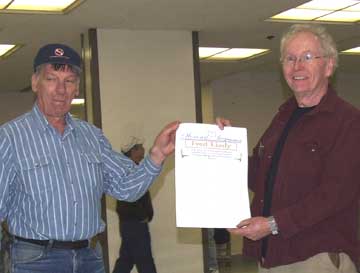 Dennis Quackenbust, left, presents the Honored Airgunner award to show host Fred Liady.
First buy
I had already made some prearranged deals before the show opened, but the first buy AT the show was a Diana 27. I talked to Richard Schmidt, from whom I'd bought my other Diana 27 at my first International Airgun Expo 1993 (in Winston-Salem, NC), and told him I was on the lookout for some nice 27s. He came over to my table a minute later with this rifle. It was made in March 1967 and is in slightly better condition than my other one. This one is a .177, which gives me one of each. Since there's so much interest in this rifle, I thought I might tune it here in the blog and give you guys a look at a vintage gun's guts. I'll also learn how healthy it is. That was such a major buy for me that it could have made the show by itself. But there was much more!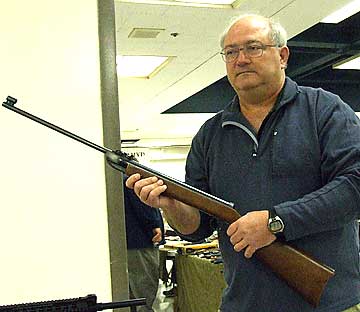 Reader Randy in VA holds the Diana 27, which was my first buy at the show.
First reader
The first reader to introduce himself was Randy in VA. He came right up to the table and shook my hand. For the rest of the show, he was often at my table, where I'm sure he got to see the show from a different perspective than most attendees. I was so glad to meet him and to introduce him to the other readers who stopped by. There was Lloyd and Fred and JDK from New York and several others whose names, unfortunately, escape me. It was a real pleasure meeting all you guys.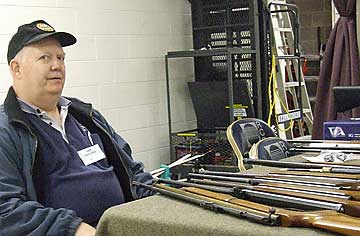 There's old B.B., waiting for the next good deal.
Buy the pound!
Crosman collector Ted Summers had a unique twist at his table. He sold Crosman 140 and 1400 pneumatic rifles by the pound! There was a scale on his table where you weighed your treasures for checkout. It was a clever idea that had a lot of people talking.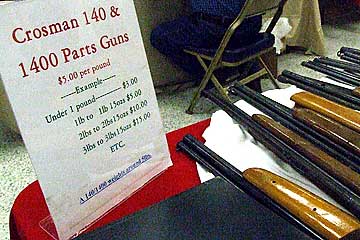 Airguns by the pound! A great way to stimulate a slow economy (and a sluggish show).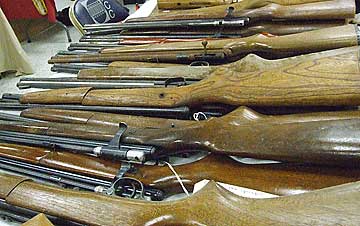 And here are the guns he's selling by the pound.
The theme of the show
Every airgun show has one or more themes, and this one was no different. For starters, this was the Hammerli show. I mean the real Hammerli airguns made in Switzerland. They were everywhere–rifles and pistols. If you were in the market for a nice one, this was the show to get it.
What was different at this show was a lack of bargains on FWB 124s. There were plenty of excellent and nice 124s present, but nothing was priced under $300. I think airgunners are now fully aware of the 124 and are driving the price up.

This 124 Deluxe is in nice shape, but it needs a piston seal and lacks a front sight. At $395, I felt it was a little pricey. I misread the tag and thought it was selling for $325, which would be about right. I was ready to buy, but the seller wanted at least $350.
Next big buy
My next big buy was a really large one for me. It was an electric air compressor from an M551 Sheridan Armored Reconnaissance Airborn Assault Vehicle. You might call it a tank, but it really isn't one. However, the point is that if this compressor can survive in a Sheridan, it will last for decades in a shop like mine. I used the compressor that AirForce has that came from a B25 bomber, and it's lasted for a decade of hard use so far.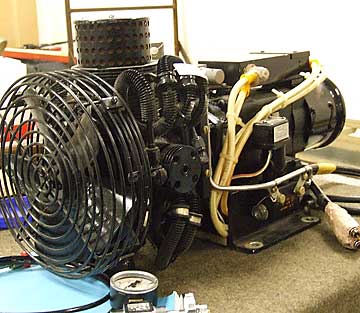 A mil-spec compressor for $1600 is a real bargain.
The compressor lived in this little tank.
The reason I'm telling you this is because this compressor cost $1,600. That seems like a lot of money, but compare it to the Swedish model that sells for $1900. The ruggedness of this one will prolong the life cycle many times longer.
There's a lot more show to come, and a video, but that'll have to wait.
by B.B. Pelletier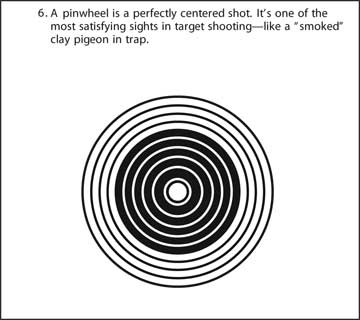 6: Pinwheels
A pinwheel is the perfect removal of the exact center of the bull. It's most dramatic on a 10-meter air rifle target shot with a .177 wadcutter because the hole is exactly framed by the 9-ring.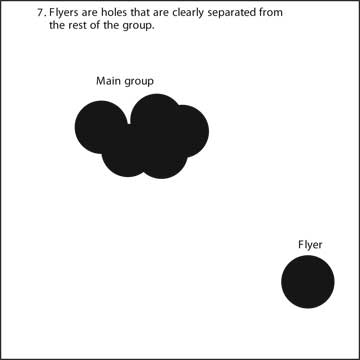 7: Flyers
A flyer is a hole that is clearly apart from the central group. There are many reasons for flyers, but they always represent a fly in the ointment of good target shooting–so they aren't welcome.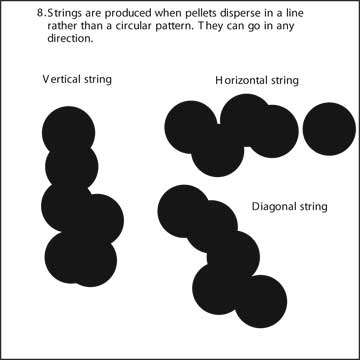 8: Stringing
Stringing is when the group resembles a line, rather than a circular dispersion. It's caused by many different things, but it's always an indication of something going wrong.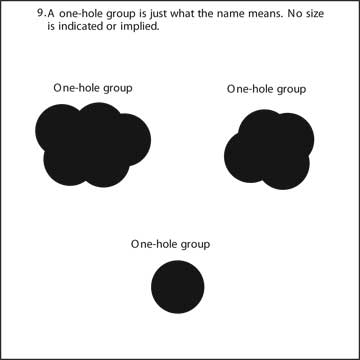 9: One-hole groups
A "one-hole" group is just that–a group in which there is only a single hole. Some interpret this to mean that the hole is the same size as a single pellet, but that's not always the case. Since caliber-sized groups are more theoretical than possible, they should be explained with additional terms. One hole means one hole–regardless of the size.
Calling your shots
We "call our shots" by referring to the target as if it were the face of a clock. This is a standard form of communication that all shooters use.
by B.B. Pelletier
I'm driving back from the airgun show in Roanoke, Virginia, and am reprinting this article from Airgun Revue #1. It was just a filler when I wrote it for that magazine, but it turned out to be very popular with readers. Apparently, shooters new to airguns and even seasoned shooters don't always fully understand terms many of us use every day. I hope you find this two-parter helpful.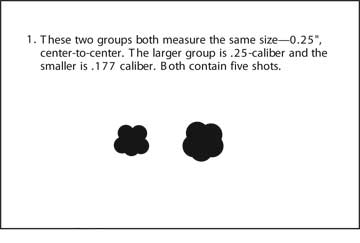 1: Center-to-center
The most popular way to state group size these days is a measurement of the extreme spread of the group, measured from the centers of the two most distant holes. The measurement is called center-to-center. As with many measurements, this requires some explanation.
Different sized pellets (calibers) will produce different sized groups, all measuring the same extreme distance center-to-center! In other words, a quarter-inch, 5-shot group made by a .25-caliber pellet will be larger than a quarter-inch group made by a .177 pellet.
Using this method, a group size of 0.0″ is theoretically possible.
Although the measuring process requires one additional step (see No. 3), this is the most widely used method because it gives the smallest-sounding group size.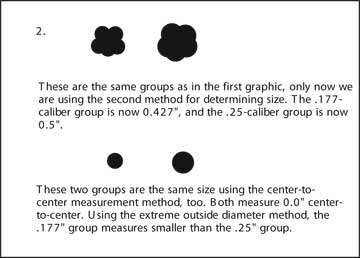 2: Extreme size
Another method for measuring group size is to measure the extreme spread of the group across the widest dimension of the hole. Doing it this way, all groups of a certain size (e.g., 1/2″) will be the same size, regardless of the caliber of the pellets.
It is impossible for group size to be smaller than caliber when this method is used. The method is not as popular as the first method because group sizes will always measure larger.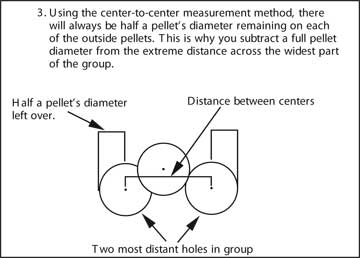 3: Center-to-center measurement
To measure group size using the center-to-center method, measure the length across the widest group dimension and subtract a pellet diameter. See the above graphic for details.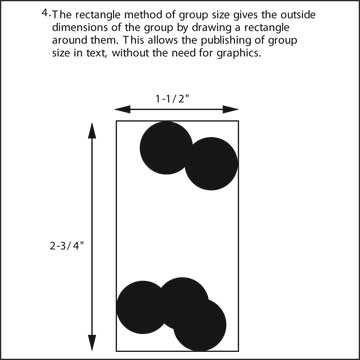 4: Boxing the target
An archaic measurement method is to give the outside diameter of a rectangle in which the group fits. This was used in the 19th century and the first part of the 20th century, but it has fallen out of favor. It was useful in the regulation of both barrels of a double rifle, but no one uses it for anything today.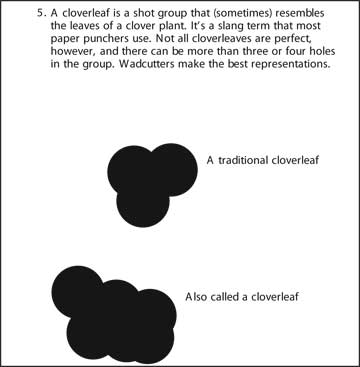 5: Cloverleaf
A cloverleaf is a specific type of one-hole shot group in which the shots overlay one another, yet the diameters of each pellet (or most pellets) can still be seen. This is best seen when using wadcutters.
I'll finish up on Tuesday.
by B.B. Pelletier
Reminder: Pyramyd Air's tech support department will be closed until Monday, Oct. 27, when they'll return from the International Airgun Expo in Roanoke, Virginia.
Kevin asked for this report. He was interested in all the vintage guns I report on and wondered if there are any airguns offered today that I consider to be time-capsules…classics that capture the present age of airguns and guns that will hold their value in the coming years.
As an example, a Feinwerkbau 124 was such a gun in the 1970s through the '90s, and we knew it at the time. You can still get used 124s, of course, but I sensed what Kevin wanted to know is if there are any guns being sold TODAY that belong in the classic category. Here goes.
The Beeman R-series guns are all classics, but two stand out. They're the R7 and the R1. Both rifles are probably in their last decade of production (just a guess…I have no inside information), and either one will become a treasured collectible after they stop being made. The R7 is probably the most desirable of the two simply because it's so petite and fun to shoot.
These Weihrauch breakbarrels have the desirable Rekord trigger and the American-style stock, making them the most western-style classics in the Weihrauch line.
The Beeman P1, which is also the Weihrauch HW45, is a classic air pistol. I have no idea how much longer it'll be made, but it's never been cheapened, so the gun you buy today is the same as the gun bought in the 1990s.
The Beeman HW77 is another Weihrauch classic. It was originally supposed to have become the R1; but with the power Robert Beeman wanted, the weight shot up to 11 lbs., like Steve Vissage's rifle, so Weihrauch had to scale it back to the smaller rifle you see today. It was the king of all springers until the TX200 came on the scene.
The TX200 in any configuration is a classic. Whether you have a first model, a Mark II or the current Mark III, you'll never make a mistake owning a TX200.
Any model Whiscombe air rifle is money in the bank. Right now, it's in the high interest-producing category. I paid $2,300 for my four-caliber outfit a decade ago, and today I wouldn't sell it for $5,000. John Whiscombe has ended production, but there are still a few guns being delivered, so there's a slim chance of getting one.
A Quackenbush Outlaw Long-Action big bore rifle is a sure bet to double your money at the present time. Dennis will never cheapen the product, and, when his order book opened last Saturday, he filled his 50 orders in two hours. I know a guy who buys one for $700 each time the book opens and resells it for $1200-1500. Dennis may bring one or two speculative rifles to the Roanoke airgun expo that starts today, but they'll be gone in a few hours.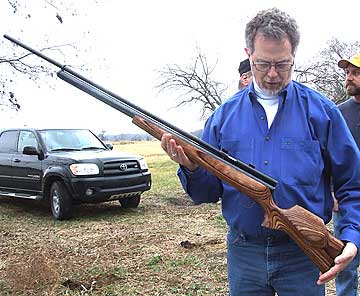 Examining a Quackenbush .457 long-action with a special-order long barrel.
The .457 Quackenbush is a PCP, so where are all the smallbore PCP classics? Are there classic PCPs among the vintage guns? Those who own certain models will argue that they deserve classic status, but the truth is that there aren't very many true classic precharged pneumatics. I believe the reason for that is the simplicity of the design.
A PCP is just a hollow tube with a valve connected to a barrel. One gun is a lot like all the others. To argue that a Daystate is better than an FX is to argue Chevys and Fords. Yes, Daystate has an electronic firing module, but that keeps it from becoming a classic in my opinion. Any rifle whose future depends on a reliable source of electronic boards is doomed to early obsolescence. If I were forced to nominate one PCP to the status of a classic, it would be the Falcon FN-19 rifle because of its rock-simple technology and utter reliability.

B.B. picks the Falcon FN-19 as the current classic smallbore PCP.
In January, Daisy will offer 1,000 replicas of their first 1888 BB gun. An original wire-framed Daisy BB gun sells for $3,000 and up. The replica's price hasn't been announced, but I expect it will be under $400. They will sell out in about 2-3 weeks, then the price will immediately double. After that, it should climb to a thousand pretty fast.
Remember, this is just my opinion. I'm not advising anyone to make any investments. While I don't own an R7 that I say is the top breakbarrel classic, I do own and enjoy a CZ 631 that I didn't include. It's the same for the PCPs. I don't own a Falcon FN-19, but I do have a prototype Benjamin Discovery in .22 caliber that I treasure, along with a Talon SS and a Condor. So, the list is not just the guns I own.
by B.B. Pelletier
Announcement: Pyramyd Air's tech support department will be closed until Monday, Oct. 27, when they'll return from the International Airgun Expo in Roanoke, Virginia.
Now, let's get to today's blog.
Volvo's experiences with his new Webley Raider are useful for everyone who's contemplating getting a precharged airgun. There are things you don't yet know and other things you're not even aware of. Now that Volvo has given us his experiences, I would like to reflect on them.
How will you fill it?
First, the problem of compatibility between your intended source of air and the gun you get. I don't care whether it's a brand-new gun or a used one. I don't care whether you get it from a dealer or from the last owner. There's always a great chance for a screwup–leaving you with a gun that can't be filled.
When I worked on developing the Benjamin Discovery with Crosman, I was adamant that the pump be included with the gun. At least until I realized that if a guy ever bought a second gun there was no reason he would also want to buy a second pump, too. We had to give him the option of not buying the pump.
And that was when Pandora opened the box! Because some brand-new buyers, not wanting to wait for the Benjamin pumps to be in stock when the Discovery was new, bought their guns without pumps. And then the forums lit up with distress calls–"What do I do?"
You'd think that anyone who buys a precharged pneumatic air rifle without a means of filling it would have worked out the solution beforehand. At least that's how the conversation goes in the conference room when everyone is sitting around trying to make a decision.
However, on the buyer's side of the fence, you'd think a gun manufacturer wouldn't sell a gun without a means to fill it. That seems reasonable, too.
So, who's right? The answer? It's the dealer's responsibility to question the buyer to ensure he'll be able to fill his gun the moment he unpacks it. But there's a problem with that. Some buyers dislike being questioned about things they think are trivial, and they fail to grasp the gravity of the topic until they come face-to-face with it. I call it the landmine syndrome.
Learning how to disarm a landmine in the classroom is boring. BUT, put someone in the middle of an open demolitions pit with a real mine and an instructor offering words of encouragement from a distant bunker over a loudspeaker, and the subject suddenly snaps into sharp focus. I've been there and got the t-shirt.
You don't appreciate the problems of filling a PCP until it's YOUR PCP that arrives on a Friday before a long weekend.
So, here's what we're going to do. Whenever YOU buy a PCP, you are going to ask the seller to guarantee that you can fill the thing the moment it comes out of the package. You want their assurances, on the promise of severe penalty, that YOUR PCP will be able to be filled by YOU. Do that, and I will be happy.
PCPs are noisy
Next, precharged airguns are loud. Well, EXCUSE ME! So are firecrackers! Do you know that someone actually RETURNED an AirForce Condor because it was too loud?
HELLO! Hot coffee is HOT. You shouldn't pick up a running lawnmower by the deck. And, it's not a good idea to skydive in a straightjacket.
Do you know why I don't do sound testing over the internet? Because an atomic bomb sounds no louder than a car backfiring over your cheap computer speakers. However, if you're ever able to witness an actual atomic bomb detonating, I have a sneaking suspicion it really is louder.
Angelina Jolie shoots two Desert Eagle pistols in all her Lara Croft movies. I wonder what she would think about shooting just ONE SHOT from a real Desert Eagle .50 AE?
I cannot make my analogies any stronger. Print is limited that way. Which is why we take our soldiers into the gas chamber periodically–so they can experience it for real.
Precharged airguns are loud. No, they absolutely are not as loud as a .22 long rifle, but your ears usually can't tell the difference.
Oh, yeah, I forgot one. Never drive a golf ball in a tile bathroom. I saw something very similar on TV just last week.
Suddenly, you're a good shot!
Precharged airguns are usually very accurate. Phenomenally accurate to those of you who have convinced yourselves that a $150 breakbarrel is a good thing. And PCPs don't require any special technique. Springers do, though to listen to people talk you wouldn't think so. You can sit down and shoot amazing groups with most PCPs.
Filling a PCP from a hand pump isn't difficult, but it is labor. Everyone feels differently about labor. Up to 2,000 psi, just about any healthy adult can pump a pump. I can do it sitting down and using one hand, though the last few hundred psi are a strain. After 2,000, pumping starts getting stiffer, and after 2,500 it gets real stiff. That's when the effort starts annoying some people. Smaller adults (under 140 lbs.) will have difficulty pumping past 2500 psi.
Please don't take these comments as criticism of anything Volvo said. What I'm doing is reinforcing his remarks, because they're on the money. Everyone who goes to a PCP has these experiences, and they usually line up just like his did. The one thing that may not be universal is the noise comment, because firearm shooters will have an entirely different perspective than spring gunners. They will be happy they don't have to wear hearing protection to shoot these guns…at least not outdoors.
I avoided the world of precharged guns for 15 years; but when I realized they were the coming trend, I decided to get my feet wet. I never looked back.