By Joshua Ungier
Introduction by B.B. Pelletier
Joshua Ungier, the owner of Pyramyd Air, has an interesting story to tell us about how he founded this business. Anyone who knows Josh knows that he has led a colorful life, so I was glad when he offered to share this story with you. We'll tell it in sections, starting with his childhood, which was somewhat different than most of ours.
My childhood
I grew up in the part of Russia that today is known as the Ukraine. As a kid, I was a typical know-it-all. I had no toys. We were so poor that even fleas abandoned us. Of course, there was no food, either. Stalin was starving us to death. I was not aware of this, though, because my parents made sure I ate. They had lost all of their families to the Nazis, but my mom and dad made sure I survived. I was way too young to comprehend any of this. My dad told me many stories later, when I could understand and appreciate the scope of the atrocities that were committed.
One thing my friends and I did not lack was firearms. They lay scattered all over the fields, ravines and woods. Among them, the remains of the soldiers–both German and Russian shared the same fate. They were now skeletons. Some still wore the rotting remains of uniforms.
As the German Army retreated ahead of advancing Russian troops, they dumped thousand of tons of weapons and ammo throughout the countryside. It was easy to find a mint Luger still in its Cosmoline, along with thousands of rounds packed in Wehrmacht boxes. Or, perhaps, we might find a Russian PPSH submachine gun. We found Schmeisser submachine guns, Bergman Bayard pistols and more. Some boxes contained magazines, boots, officers' daggers with swastikas and a bunch of other stuff we had no idea about. Some of the stuff we found back then is worth thousands of dollars today; but, of course, at that time, it had no value beyond captivating a kid's imagination.
The P08 is commonly called the Luger, after its inventor. A mint one is worth a lot today.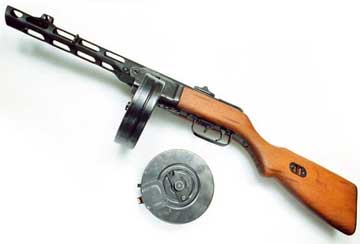 The Soviet PPSH submachine gun was widely distributed among Soviet troops during World War II.
Up to this point in my life, I 'd never heard of airguns. We didn't need them. My three buddies and I had our weapons hidden in an old mausoleum at the cemetery, which had been abandoned long before the war, so no one was ever there to bother us. Militia, as the police were called in Russia, were either too drunk or too busy harassing people to pay attention to the noises of our shooting. They bothered us only once, and they never found out where our hiding place was. My dad, instead of scolding us for doing what we did, gave us safety instructions on to how to "play" without getting hurt. He knew we would continue to find more guns and equipment, and it was safer if we knew what we were doing. There was never an accident. And that's how I grew up with firearms.
When I was nine, my family moved to Poland. That was the first time I ever saw an airgun. I remember that it was a German airgun–a Weihrauch! Don't ask me which model, because I don't remember. All I remember is that it was the most beautiful rifle I'd ever seen. And it was so quiet! Also, I knew we couldn't afford it. I did mention to my father once about the air rifle. He looked at me and started laughing, "What would you like for dinner?" he asked. "Food or an air rifle?" I got the message.
A friend got this Weihrauch for his birthday and invited me to go shooting. We climbed onto the roof of the building he lived in and placed a hand-drawn piece of paper with a bullseye on a brick wall, which turned out to be a big mistake. Philip reached into his pocket and produced a round tin of lead BBs. There were no pellets to be had. He showed me how to cock it, load it and I knew how to do the rest.
We then shot all day long. The ricochet from his third shot nailed him squarely in the chest. Brick wall, you know? That did not deter us. There was a tiny bruise on his chest, but the bragging rights were his. He thought the girls would love to see a wound like that on him.
I was thirteen at the time and got hooked on airguns for life. Hundreds of thousand of shots later I'm still hooked. Now, I can play with airguns all I want, because I own the store!
Some day, I'll tell you how that happened.
by B.B. Pelletier
Tomorrow, I'll head out to the Little Rock Airgun Expo, so I won't be answering as many comments as usual. I'll bring back some pictures and maybe a video! My wife, Edith, will monitor the blog comments.
This is the second test of the .177-caliber Air Venturi Avenger 1100, so today I'll test velocity. You will recall that this rifle is notorious for dieseling when new. That's because the piston has an oil-retention washer that soaks up all the oil put into the gun. Many people report that the gun calms down after this washer is dried and becomes pleasant to shoot, so maybe I'll look into that for you.
This is a large air rifle, though not a heavy one. It has a cocking effort of 35 lbs., which is about what the Beeman R1 takes. As the rifle is cocked, I can hear the mainspring moving–a sign of not enough lubrication. But I would not advise oiling this spring, given the rifle's propensity to detonate! Instead, maybe I'll put some tar (mainspring grease that dampens vibration, too) on it if I take the gun apart.
I was prepared for detonations and, sure enough, they came. When they did, the velocity didn't always increase. Sometimes, the gun slowed down, and a lot of gas exited from the breech joint. Now, let's test the gun.
RWS Supermags
I started with 9.3-grain RWS Supermag pellets to limit the amount of dieseling. Heavier pellets often seem to do that. They were the best-behaved pellet of the test, averaging 856 f.p.s. The high, which was not a detonation, was 956 f.p.s. The low was 814 f.p.s. At the average velocity, they generate 15.14 foot-pounds.
RWS Superdomes
RWS Superdomes were next. At an average weight of 8.3 grains, you would think they'd be faster than the Supermags, but they weren't. They averaged 847 f.p.s., with a spread from 692 f.p.s. to 1016 f.p.s. This is the same kind of performance I saw with the last Avenger 1100, but this time I understand the breed better and will see the test through to completion. At the average velocity, which by the way is fairly close to the velocity the rifle usually shot, the muzzle energy is 13.23 foot-pounds.
Gamo Raptors
Gotta try the trick pellets just to get a number for you. Gamo Raptors weigh 5.4 grains and were too loose in the breech. They also detonated a lot more than all the others tested. The average velocity was 1,213 f.p.s. and ranged from 981 f.p.s. to 1,479 f.p.s. Three detonations put the pellet in the 1,400 f.p.s. range, so the average velocity is artificially inflated. It would probably be around 1150 f.p.s. if the gun were not burning fuel explosively. But at the average velocity I recorded, the rifle is generating 17.65 foot-pounds.
Crosman Premier 7.9-grain pellets
Crosman Premier 7.9-grain pellets were the last ones I tested and also the ones with the biggest surprise. I expected them to average somewhere around 1,000 f.p.s., but I was surprised with an average of just 718 f.p.s.! The one detonation got me up to 959 f.p.s., but no other shot topped 840. The average velocity results in a muzzle energy of 9.05 foot-pounds! The velocity range was from 551 to 959. I don't know what to make of that. Maybe you can think about it for me.
The rifle fires with a pleasing thunk and just a hint of vibration. As reported in Part 1, the trigger is delightful and should be on more guns than just those made by Mendoza.
Next time, I'll look at accuracy using my new 20-shot system. I will scope the gun, though it comes with adjustable open sights. They're fiberoptic and difficult to shoot with precision, but for hunters and plinkers they're fast and probably very good.
by B.B. Pelletier
I forgot to mention yesterday that, while we were at Crosman last week, we watched the first 100 Marauders sell in 67 minutes! Seventy-eight were .22 caliber and 22 were .177.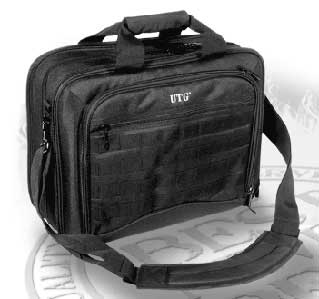 UTG Tactical Computer Bag is a real boon for travelers!
There are many non-airgun products that I want to test for you, like tactical flashlights and today's tactical bag. I know that not everybody will want or need these items, so I will space out these reports over time.
For as long as I have written about airguns, I've had to travel several times a year. There's the SHOT Show, various airgun shows and other events and meetings I have to attend. Sometimes, I drive, but I also fly; and when I do, I like to carry everything in a single bag, if possible. Since I carry a laptop, that means I need a special bag.
As it happens, Leapers makes one of the nicest computer day-bags I've ever seen. I used it on my trip to New York last week, and it worked out so well that I want to share the experience with you.
The UTG Special Ops Tactical Computer Bag is just what the name implies. I use a MacBook Pro with a 15-inch screen, and this bag swallows it with ease. It could take a 17-inch screen as well. All the accessories like my roll-up keyboard, mouse, power supply and all the cables fit easily in the bag with plenty of room for a couple day's clothes, office supplies, a couple DVDs for the evening's entertainment, plus other essential gear.
The bag comes with an internal holster and several ammo and clip pouches (seen in the third compartment) that I don't need and can't use on the airlines. They are Velcro-ed in so removal opens a huge storage space. When I drive through concealed-carry states, the holster carries my S&W snubby or my Makarov, if I'm pocketing the snubnose. But I don't need the other storage, so there's still plenty of room. In fact, I'm showing you this case partly because it's so spacious.
Thankfully, Leapers provides an overview video on the Pyramyd Air website of the case being opened, so I don't have to take tons of pictures. They show a camo bag, but the black bag I own is identical. They go through the bag pretty fast, so I'll point out a couple things for you in this report. The first thing is that they don't show all the storage areas in the bag–only the main ones. For example, there's a zipper pocket in front of the first section they show. It's on the outside of the bag and is very handy for quick storage of small items.
The computer (in the second bag section) is protected and also secured very well in this bag. It straps down with a wide Velcro strap, plus twin elastic straps going the other way. When the bag closes, there's no way the computer is going to move!
You'll be impressed by how heavy and rugged the bag actually is. That's the other reason I wanted to show it to you. Your computer is protected very well. There's a shoulder strap that's an absolute necessity, because this loaded bag will weigh a lot. That strap is sculpted to fit your shoulder and neck and has a large non-skid pad, so your hands are free for other things.
One thing I hate in an airport is slowing the process down, so when I go through the security checkpoint, I'm ready! That means all metal off my body, shoes untied, ID ready, computer out and, lately, my belt off because the buckle sets off the alarm. The front pouch of this bag is large enough for all my things like my watch, change, keys, etc., and the belt fits in one of the larger sections. After I'm through security, everything is handy to recover, and I'm on my way.
On the trip I took last week, I also had a checked bag with my clothes, so the tactical bag was carrying office supplies for the filming, plus my in-flight snacks, a paperback, my small camera with the download cable and battery recharger, an umbrella and my computer modem. All the hotels these days offer wireless internet, but about half of them are down or have crappy service, so I carry a Verizon wireless modem, which is a cell phone modem that operates at DSL speed. I can watch You Tube videos with it and it seems to outpace half the high-speed hookups I encounter at the hotels. Plus, I can use it at any airport and don't have to "join" (a term than means pay for) their wireless service.
Two of the four planes I flew on were those tiny regional jets. This bag didn't fit under the seat in front of me, but it did fit into the overhead bin on both planes.
This tactical bag is ideal for the person who travels with a computer, and it would also work for those who don't carry computers. You'll just have more space.
by B.B. Pelletier
Hello, everyone. The filming trip last week was successful and we now have several show episodes in the can. I got to see Arkville Productions' Camp Stogie and the Air Lodge and actually got to to work in them for several days. Paul has the ideal airgun testing setup on that property. I'll show you a little of it today.
Before I do, I want to thank everyone who stepped in to answer blog questions for me. Edith sent me only those comments I absolutely had to see, but I peeked in on the blog in the evenings and saw that the readers were well cared for.
Camp Stogie is on a piece of property Paul's brother bought across the road from his house. The location is 2000 feet high in the Catskills in Arkville, N.Y., and you couldn't wish for a more picturesque place to shoot airguns–at an altitude at which springers still work fine.
The studio and one editing suite are housed in an historic farmhouse on the property. For an old house, it has a surprising amount of electricity, as any film studio must have.
Somebody asked to see Paul's Air Lodge, so I'll show that now. The lodge is a quonset hut made of tough fabric over a metal frame. It's insulated so well that, when it was 35 degrees and snowing outside, we were sweating inside from just the heat of the lights.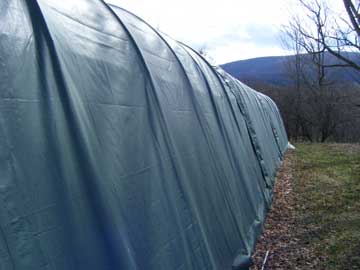 The Air Lodge is 80 feet long, with end panels that roll up to allow unlimited distance. It's insulated, so it's always comfortable inside. A great place for testing airguns!
There's also a small pond on the property stocked with three kinds of trout! The pond is fed from a year-round stream on the property, and the fish have grown to 12-18 inches! Paul's brother catches them and has special recipes for the barbecue.
We filmed for 3.5 days at the studio in Arkville before driving up to see the Crosman plant. We then spent two days looking into every aspect of their operation. They opened the entire plant to us, and we filmed things that no airgunner has ever seen. The show episode that features this visit will be pretty informative! I will tell you about a few of those things here. When the episode comes out, you'll get to see the plant in operation and hear the machines as they do their work.
Crosman's sign on Routes 5 and 20 is impossible to miss.

The Crosman campus is large, green and beautiful. The plant is huge and houses up to 350 employees, depending on the season.
We also got lots of footage that won't make it into the half-hour show, so I'm sure the website will run some of that as additional interest items. Of course, we have to give Paul and his editors some time to massage everything we did, so it'll take a while before things start showing up. Please be patient.
I won't show pictures from inside the plant, because you'll see them in the plant visit–either on television or on the American Airgunner website. I will, however, answer several questions I've been asked about Crosman over the years.
Barrels?
Yes, Crosman does make their own barrels. They rifle them right there in the plant on a conventional button-rifling machine. In fact, they must have more than one because they use so many hundreds of thousands of barrels for their guns.
We saw the 88-gram AirSource cartridges being made. They went from raw steel plate to fully formed, plated cylinders that were filled and welded shut. That should make it to the episode for you to watch.
We saw something very few airgunners have ever seen–how Crosman solders the barrels to the pump guns! They were running a batch of 392/397s while we were there. It's an interesting semi-automated process that requires one worker on the station.
History?
I was told Crosman got rid of all their old guns in the 1990s, but Paul and I stood inside the Crosman morgue. You won't believe what we saw! Hundrerds of airguns from the 1700s up to today.
The model shop
We were shown the model shop where a lot of prototyping is done. For most other airgun manufacturers, it would be large enough to be the machine shop, but at Crosman that place is ten times larger.
They do test 'em!
We saw the quality control test shop where airguns go to be tested to death or for several hundreds of thousands of cycles–whichever comes first. The test robots exercise the guns day and night–sometimes for months on end. When you see the program, you'll see what I mean. I will never look at a 760 the same way again!
We were also let in on a couple projects that are a secret right now but will be coming to market very soon. Because the episode will air after they have gone on sale we were allowed to see and film them! I can't wait to share what's coming.
We saw and filmed for the first time ever the making of pellets and BBs. Crosman has always been protective of how they do this, but they allowed us to film the processes, so you can see how they're made. I can tell you that just making BBs requires millions of dollars of equipment and a huge space, so it's not like they will be threatened by a little guy. But they must think of the big guys, too, and some of them may not have figured everything out yet. The BB line runs around the clock and pumps out 4 million BBs every day!
After those six days I was a worn-out dishrag! Naturally the return flight was the one during which the Atlanta airport shut down and diverted flights all over the southeast. It took a lot longer to return than anticipated, and my home office sure looked good again! The cats knew I was coming home. About 5 minutes before I pulled into the driveway, one of the cats woke up Edith and then sat in the living room and stared at the front door. It was 3:30 a.m. It was great to have a welcoming committee of cats and wife!
There are several more trips planned, and the TV show looks like it will be a first-class program. The hunting and fishing shows had better move over, because we're going to blow their socks off!
by B.B.Pelletier
Announcement: I already mentioned this in the comments section of yesterday's blog, but it's worth saying again. Crosman has sold the first 100 Benjamin Marauders, so Pyramyd Air will soon receive their shipment of guns. This is the time to put in your order so you can get a rifle from the first shipment they receive.
When I was young and stupid (as opposed to now–when I am older) I wanted a .22 rifle. We lived on several acres in the country and were surrounded by large farms, so the location was ideal. And, by this early teenaged time in my life, I had owned several BB guns and a .177 Slavia pellet rifle without breaking any windows. Plus, I'd taken an NRA firearms safety course. The parental barriers had been breached. I could get whatever I could afford to buy!
That usually stretched out to as much as a month (I lived in a time warp in those days) of researching the market. That consisted of walking across the street to the hardware store and seeing what they had on their wall. Just before I got the green light, they had carried Remington Fieldmasters and Nylon 66s. As soon as I was allowed to buy a gun, they went into a starvation mode. All they had was a Winchester model 67 single-shot.
So, I researched that! My 1948 Shooter's Bible told me that the Winchester 67 had a 27-inch barrel! Most sporting .22s had 24-inch barrels in those days, and several were even shorter!
Well, I'd been reading Guns & Ammo magazine for several months by this time and knew that the longer the barrel the faster the bullet went. I sort of overlooked the part where they related that barrel-length/bullet-velocity relationship to the type of powder being used, though, so I didn't understand that it didn't apply to .22 rimfires. Black powder works that way for sure, but smokeless doesn't nearly as much and rimfire bullets actually go slower with barrels longer than about 18-20 inches.
Fortunately, I knew none of that. Kind of like how new airgunners today don't understand that longer barrels hinder velocity in spring guns (well, they may not actually hinder, but they certainly don't help) but they do help with CO2 guns and pneumatics.
However, for once my ignorance didn't matter. I had an ace up my sleeve. I convinced that same hardware store that sold me the one Winchester model 67 on their wall to also special-order me a box of 250 .22 short gallery rounds with a special 27-grain "crumble ball" bullet. Made strictly for shooting galleries, these rounds had a muzzle velocity of over 1700 f.p.s.! And with that longer barrel, I was convinced that I would have almost the velocity of a .22 Hornet in my $50 single-shot.
Whether that ever happened or not, I never knew, for the personal chronograph was decades in the future and I barely had the money for cartridges. But one thing I did know for certain. With that ammo, I couldn't hit a barn wall while standing on the inside! In fact, they were such a disappointment that I still have that box of shells and about 200 remain! They're now considered very collectible because most were burned up by shooting galleries, where they were seldom shot farther than 20 feet.
With great reluctance, I learned that conventional .22 long rifle rounds worked best in my gun. They went much slower, of course, and they dropped faster over the course of 100 yards, but the harsh fact was–and still is–that ballistics don't change regardless of your personal desires and preferences.
And that lesson is the moral of my little tale, of course. I read the articles, I read the ads and then I created a universe from the pieces of fact that could not coexist with each other. I see a lot of similarity between those days and today, with the crowd of new airgunners who want to mix and match the best traits of guns that cannot be combined. They want a hypersonic, ultra-accurate, flat-shooting projectile of limitless power and the silence of a tomb. And, could you please put all that in a pocket pistol I can carry into the woods, scoped with a compact 40x night-vision scope that sights-in by itself as you change pellets?
No harm in asking, I guess.
by B.B. Pelletier
A quick correction about the HW30 price drop mentioned in yesterday's blog. Volvo brought to our attention the fact that this isn't the HW30S. In fact, it IS HW30S, which means it has the Rekord trigger and fiber optic sights. Apparently, the gun morphed at some time but the web page was never updated. It now has the correct picture and all other data has been corrected.
Guest blogger
I'm still in New York with Paul Capello, filming for The American Airgunner TV show that debuts on July 4. My wife (Edith) thought this would be a good time to do a guest blog about me. I blame Wacky Wayne for this. He pressured her into revealing inside info about me during my absence. Those of you who are married will see right through Edith's so-called revelations and not believe them.
Life with B.B. (aka Tom Gaylord)
by Edith Gaylord (Mrs. B.B.)
Don't believe B.B.'s preamble to this guest blog…except for the part about Wacky Wayne. If he hadn't suggested this, you'd never get the scoop on B.B.
Bacon guns
Ah, the aroma of cooking bacon…pork fat sizzling in the frying pan first thing in the morning. One problem. It's 3 pm, we have no bacon and I'm not in the kitchen cooking. That strange porky aroma wafting through the house is the smell of a Chinese spring gun dieseling. I can only assume the Chinese have a glut of pork fat and are stuffing it into every product they ship overseas.
I'll never forget the first time I whiffed that odor. I was sitting in my office and the cats (we had a whole tribe of them at the time) started lifting their noses to the air, as though they detected the odor of food being prepared. They rose from their sleep and followed their noses…to Tom's office. (If you're old enough to remember cartoon character Pepe LePew, picture him floating through the air as he followed a scent!) I followed the cats, and we stood in the doorway and watched as Tom fired shot after shot into a pellet trap. Yup, it was the arrival of the first bacon gun. After some more shooting, he was relegated to shooting them in the basement. Still, the odor found its way upstairs. So, over the years, I've grown accustomed to this smell. To make sure nothing's out of order and that he really hasn't started a fire with a ham as kindling, I still yell out, "Chinese gun?" So far, the answer's always been "Yep."
Hole-y…everything
Last year, my hubby confessed a lot of so-called "accidents" in a blog. Now, he's found out that his confessions have backfired on him. I use that blog as a reference. If something wasn't mentioned in that blog, then that means it's new. And, if it IS new but he didn't tell me about it, then he's involved in a cover up. I just want to know when something is damaged. I'll work it out in my own head after that. If I didn't yell at him for shooting the couch, then I'd say I'm pretty reasonable about these things.
Bringing you up to date, I noticed a hole in his office wall. When I commented on it a few weeks ago, he said he'd told me about it before…it was an older shot. I don't think so! Plus, the pellet was still in the wall.
The other day, I noticed a hole in the wall next to the grandfather clock, but he claims it wasn't a pellet hole…maybe just funny texture on the wall. Texture isn't dented in about 1/8 inch, doesn't have a gray tinge to it and usually isn't perfectly round. Plus, I just took a .177 pellet and it fit perfectly in the hole. A real "Cinderella" moment!
For longer-range indoor shooting that doesn't involve chronographing, B.B. often sets up the silent pellet trap on his night table. Through a series of doorways and hallways, he can get a pretty good distance for shooting. I just looked at the wall next to the night table and noticed a perfectly round, pellet-sized hole. Our bedroom walls are sand-colored. The hole is white. A round piece of sand-colored wall still rests on the carpet.
In the deep, dark recesses of my mind, I imagine that one day I'll try to pound a nail in the wall to hang up a picture, and the entire thing will crumble to the ground as a previously hidden network of pellet-sized holes have turned it into Swiss cheese sheetrock. In our next house, I think we'll forgo the sheetrock and just hang sheet steel.
Shopping with B.B.
I am a different kind of woman: I detest malls and most types of shopping. Yet, the inevitable happens and a-shopping we must go. No matter where we are, you can be certain it's going to be near a sporting goods store or a gun store. When I say "near," you're probably thinking it's on the way to our final destination or within 5 or 10 minutes of our destination. To B.B., it means it's on the same planet.
Recently, we were planning to dine in a restaurant located in a strip shopping center. B.B. wanted to stop at a military surplus ammo store "on the way." Giving it a great deal of thought, I couldn't see any common streets between the two places. Sure, they're both in Texas, but no one would consider the store to be on the way to or from the eatery. As it turns out, "on the way" really meant that it would become on the way if we planned to go to the store after we ate. I realize that I'm merely a woman and could never understand the intricacies of planning a travel route (other than traveling cross country several times by myself with a car full of yowling cats), so maybe B.B.'s logic is actually male logic and is not meant to be understood by the female brain.
We have several big box stores within striking distance of our home. Do you think they're selling pellets, BBs, airguns, scopes and other accessories that Pyramyd Air does NOT sell? I doubt it, but B.B. seems to think these stores could hold a treasure trove of previously unknown products. So, whenever we go out to eat, buy groceries or shop for other necessities, he mentions that a certain store is "on the way" (and you already know what THAT means). Our short trip turns into a much longer trek that involves scouring the shelves of stores that barely have a clue about airguns. I can only remember one time that we actually found something that Pyramyd Air didn't sell. In fact, it was a product that they DID sell, but the big box store had it repackaged under another name. Yet, this has not deterred B.B. from frequenting every big box store in the area "just in case."
This is just the beginning
Well, Wayne, I hope you're happy. Of course, there are more things I could reveal, but I'll save those for another blog. I'll continue to collect data to report to later. It's only fair that you get to know the real B.B.
by B.B. Pelletier
Announcement: Pyramyd Air has dropped its price on the HW30 rifle. It's been selling for $344.25, but the price has just been dropped to $299.99. That's a pretty big discount on a really fine gun. This is an easy-cocking breakbarrel that's going to become an all-day shooter for you and your family. It's fun to shoot and made with typical Weihrauch quality. This sale price won't last forever!
Today is different. Today is reader participation day.
Here's what you need. Get piece of card stock. Right now I'm sitting in the Philadelphia airport and I used my ticket stub from the last flight, so I don't want to hear any excuses that you don't have what you need. Tear one of the flaps off a cereal box if you need to. Or use that losing lottery ticket.
Poke a hole through the card with a ballpoint pen. Or use a pencil or the awl on your pocket knife or just the sheer force of your will. Make a hole!
How big a hole depends on your skill and control, but the smaller the better for this exercise. I made three holes and all of them worked–even the one that was a quarter-inch in diameter. But smaller is better. We're going to play the peep sight game.
Hold up the card so the hole is about an inch in front of your master eye. Peer through the hole you made but keep both eyes open. Look at a bright outdoor image, like a parked car or a light-colored house. Now, while looking at the image through the hole, close your non-sighting eye by squinting. Did you notice what appeared to happen to the hole? It got smaller and darker, didn't it? It probably became non-round, too. The hole is no longer the same size and brightness. Open both eyes, and the hole becomes round and bright again.
I'm 61 years old and have been shooting for over 50 years. I've always read that you're supposed to leave both eyes open when sighting, and I practiced that for decades but never really understood why. Two weeks ago, while shooting a new gun that has peep sights, I noticed that I couldn't see the target if I closed my other eye. The peep hole was almost the size of the bull I was shooting at. But when I opened both eyes, the peep hole became large and round and bright.
After all these years, I finally understand what not closing the off-eye is all about. Maybe you already knew, but as I said, I've been shooting for half a century and didn't get it until now.
Now, if that holds true for a peep sight, don't you suppose it also applies to open sights and scopes? I do. I've always taught my pupils to leave both eyes open "just because." Now I have a little exercise to demonstrate why they need to do it.