Norica Massimo - Part 3
by B.B. Pelletier
Part 1
Part 2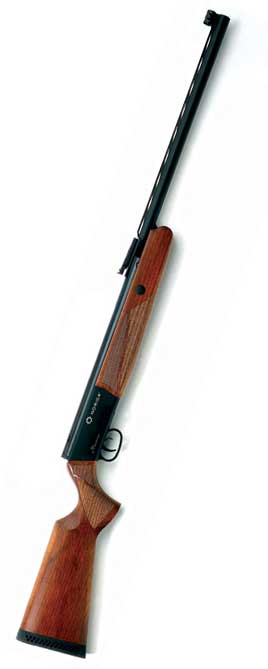 Let's test the accuracy of the Norica Massimo.
Today, I'll scope the Massimo to see how accurate it is. I promised to test the open sights first, so that's what I'll do.
The open sights are fiberoptic, so they don't have any precision; but where I shot was dark enough that the front rod did not glow. So, all I saw was a black bead, like a post-and-bead sight. I held the front bead in the center of a 10-meter pistol target placed out at 25 yards and shot some groups.
Crosman Premiers
Crosman Premier 7.9-grain pellets
were the first that I tried with open sights. Surprisingly I got the best group I was to get all day, with 10 shots going into a group measuring 1.255" between the centers of the two widest shots. I know that sounds like a large group, but look at it for a moment. It's round which means even distribution, and it contains seven shots that are about one-third the overall group size. Remember, too, that I was shooting with a bead sight, which is not high precision. This group tells me the Massimo wants to be accurate.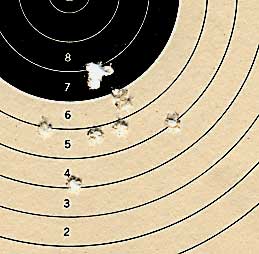 Crosman Premier lites grouped 10 in 1.255" at 25 yards.
JSB Exact
The first group was very encouraging, given the imprecision of the post and bead sights, so I selected JSB Exact 8.4-grain pellets next. Ten of them gave me a group measuring 1.4". Very close to what the Premiers had done and, again, there was the lack of sighting precision to consider. Again, the group was distributed in a fairly round pattern, indicating a tendency for greater accuracy if the aiming precision was increased.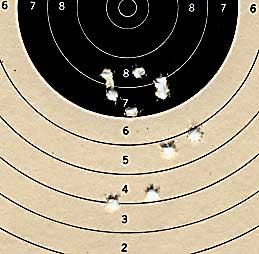 JSB Exacts went into this group measuring 1.4" c-t-c. Like the Premiers, this group shows some promise.
And then IT happened!
Satisfied with the groups shot with open sights, I mounted a nice four-power scope and proceeded to screw up what had been a good day up to that point. I will show you what I saw after 10 shots with JSB Exacts that I know can shoot because they just did with open sights.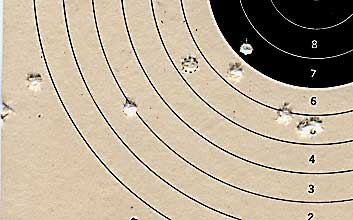 WHAAAT??? This is a 10-shot group of 8.4-grain JSB Exacts shot with the aid of--or perhaps I should say the hinderance of--a 4x scope. Only nine pellets actually seem to have hit the paper.
Well, that wasn't what I expected at all. Normally, I suspect something other than the scope when this happens, but in this case I knew it was the scope and I knew what was wrong. This is one of those scopes that has the base built into the scope. While that sounds like a good idea it isn't. When there's lots of barrel droop for which to compensate, as there seems to be with the Massimo, you can't compensate if the base and scope tube are made from a single casting. There's no way to shim or adjust the scope other than its internal adjustments. And when you run the elevation all the way to the top, the erector tube inside starts floating on top of its return spring. That's where all that lateral dispersion comes from.
When somebody else tells me their tale of woe about a scope that won't hold zero, I tell them to take it off the gun and use the open sights. But I had just done that, so I already knew the rifle could shoot. So, thinking I had found the problem, I changed scopes.
And then IT got worse!
I now felt jammed for time, because I was still testing the rifle after several hours had passed and wasn't done shooting--to say nothing about writing my report. So, after mounting a new scope, I decided to skip one step in my zeroing procedure.
You know my 10-minute zero procedure? If not you can
read about it here
. The step I skipped was the first one, which consists of establishing exactly where the scope is shooting after you have mounted it. In fact, I skipped ALL the steps after that one, too. Instead, I fast-forwarded ahead to the final step, where you just shoot the gun at the target 25 yards away and hope that the scope is aligned close enough to get you on paper.
Remember a few years ago I shot my couch? That was the fault of the gun. This time the fault was all mine as the pellet impacted the aluminum lip of the open window I was shooting through.
Remember the word I gave you to substitute for the word "accident"? That word was "stupident," and this qualifies as a big one. I decided to confess to Edith, who would have read about it here anyway, as she is my editor. The window still closes and the lip can be fixed with a little hammering and some paint. It's not unlike the hole I shot in my office ceiling a few years ago when the trigger of my BSF 55N let go without warning. Spackle fixed that one. Too bad they don't make spackle for couches.
Back on track
I finally got the new scope zeroed, and you know what? Steps one through four of my 10-minute sight-in procedure are important after all.
But nothing is as good...
And that's when the day became utterly confusing. Because the scoped gun was not as accurate as the same gun with open sights.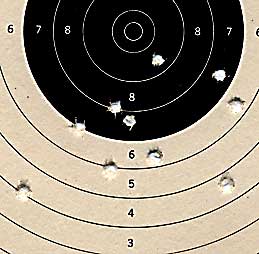 The scoped rifle shot this 10-shot group of Premiers. It measures 2.455" c-t-c. That's more than one inch larger than the same pellet shot with open sights.
Ten JSBs went into this group that measures 2.119" c-t-c. That's only a little better than the Premiers but still worse than the same pellet did when shot with open sights.
At this point, I had to back away from the test. I couldn't make any sense from the results. The hold can't be in question because I held the rifle the same way during the open-sight tests. The scope now seems to be working, although it certainly isn't as good as open sights.
Some days the bear gets you, and I've run out of ideas for this Massimo test. I believe the rifle is not only accurate but even a very good shooter. I know that if I try other pellets I may find a better one, but can anyone tell me why a rifle would shoot more accurately with a post-and-bead open sight than with an 8x scope? Am I having gross parallax issues (this scope has no parallax adjustment)?
I never even tried the Norica pellets that came packed with this rifle. Obviously there is more to do with the Massimo, but before I do it I want to figure the thing out.

Help!