by B.B. Pelletier
Announcement: Just a reminder that Airgun Arena is holding a shooting contest. There are rifle and pistol categories. Rifle categories are: spring, sporter (PCP/CO2) and target. Pistols categories are: sporter, custom and target. The contest started on April 15 and ends on May 15, 2010. Pyramyd Air is supplying prizes, and there's still time to enter.
Update on Tom/B.B.: I visited with Tom for 3 hours Thursday afternoon. He said he felt fantastic and was quite animated! He's improving day by day. I'll be spending quite a bit of time with him this weekend.
Today's blog comes from Airgun Revue #6, which was published in 2000.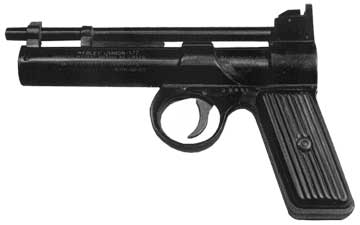 The Webley Junior was a solidly built English pistol…and I wish I owned this one.
I like Webley pistols, make no mistake about it! Although I haven't owned all models and variations, there have been a number of Seniors, Mark IIs and Premiers in my possession over the years. Except for the Junior. I'm not a real collector, but the solid feel of the gun keeps me coming back for more.
For some reason, the Junior has eluded my grasp. Like the Diana 35, the Junior is an air pistol I've admired from afar, never quite being able to reconcile the cost of a smoothbore when so many accurate rifled models are around. The Junior has its grips held on by a single screw. Its end cap (at the muzzle end of the gun) has but a single cross-screw instead of separate cross-screw and spreader screw. The cocking link has a single pivot instead of two, and the trigger has only 2 pins where the big guns have 3 to 5. In other words, it's the cheap member of the Webley family, and cheap is not why I got into airgunning. I'm here for the blued steel, the fine wood and the perceptible substance of quality-crafted airguns. With all its cost-cutting features, the Junior just doesn't sound like any of those things. But it is.
In 1999, I received an email request out of the blue from collector Eric Hall. He asked for information about a Webley Junior. To answer the query, I consulted my library copy of Hiller's third edition of Air Pistols book that has been read so much that the pages were starting to fall out. An answer was created in the form of 20 questions about the gun. After a day, the response came back, and I learned that the Eric had a fairly valuable Webley Junior, or at least a Junior as valuable as it can get.
Eric and I emailed back and forth for another week when I asked him to send me his gun so I could write about it. He didn't hesitate. Before you know it, I had this great-looking Junior in my hands.
The gun is the second iteration of the pre-WWII Junior to come from Webley. The first one had wooden grips with tighter ribbing than the ones on our sample gun, plus the rear sight was adjustable on many examples. Ours has the ribbed (for strength) steel grips that pretty much define the pre-war Junior. They're blued but are also the first metal part to rust and turn plum-colored, which these are doing. A single screw on the right grip passes through the frame and grabs a threaded escutcheon on the left grip.
The grip frame is straighter than those on post-war Juniors. It looks quite similar to the frame of the so-called straight grip Senior, a Webley that was also in its initial design iteration the same time as this one.
Actually, the grips of later Juniors never did become as slanted as those of later Seniors, but the bottom of the lower grip frame did become wider and more rounded after the war, which gave the visual impression of a greater rake. The early gun has a more rectangular grip frame by comparison.

As slick as can be, the back of the Junior exhibits none of the features found on the fancier models. The rear sight is fixed; but since the gun is a smoothbore, the sights are really for general reference and not for precision shooting. There's no access into the compression chamber from this end of the gun.
The frame is blued steel also, but on this gun the color is actually reddish brown. I understand that happens when the bluing salts are too hot. You see it on custom Mauser rifles from time to time. The frame is fashioned into two steel loops that encircle the steel spring tube/compression reservoir. The loop in the back is enclosed at the end, leaving no access hole at the front of the compression chamber, as is found on the Seniors. Hence, there isn't a Not to be removed warning around a screw slot that's always buggered by some anonymous airgunner's clumsy attempts to learn why. The back of the Junior is as clean as the deck of an aircraft carrier–from the bottom of the grip frame to the top of the sights.
A spring-loaded thumb latch holds the barrel closed and tight against the breech gasket. It's not as convenient for right-handers as the lever found on the left side of the larger pistols, and I'm sure the lefties feel a sense of revenge.
Cocking isn't easier than a Senior, even though the Junior has a weaker mainspring. That's probably because the cocking linkage is less articulated, which reduces the overall mechanical advantage.
The Junior cocks like all other Webley pistols–by pulling the barrel up and forward to compress the mainspring. The linkage is simpler than most of the larger pistols, which makes the cocking effort just about as hard.
As with all vintage Webley pistols, the Junior is a barrel-cocker. After releasing the rear (breech) of the barrel, you lift it up and forward while the cocking link pulls the piston straight back, compressing the mainspring as it goes. But back and front are reversed on a Webley. Back, when referring to the piston, means toward the muzzle of the gun, while forward means toward the shooter. Webley uses a compact folded cocking mechanism that employes the barrel as a handle to cock the gun. It's one of the defining features of the brand and was even used on two models of rifles–the Mark I and the Mark II Service.
Although the Junior is known as the runt of the Webley litter, it's not a weakling! Even though everything on the gun is smaller, the Junior holds its own in the power department. I've seen published velocities in the 250-300 fps range, but our test gun, which had been left cocked for more than a week when I got it, was much stronger.
The piston seal is a no-tech plug of leather on the end of the steel piston. It should be kept oiled with a good grade of gun oil, which will not diesel because the compression is too low. If you ever have to replace the seal and can't find one from the factory, it should be easy enough to make one from sections of an old leather belt. They would have to be stacked because the seal is quite thick.
The mainspring nests inside the hollow piston, which fits tightly enough to guide it well. Gun oil on the coils is good here, too. One surprising aspect was the round wire section of the spring. All the bigger Webleys use flat-section wire to get more coils into a short space. The round section will last longer, but it won't have quite the power potential of the flat-section wire.
The mainspring is under a fair amount of pretension, too. About 2 full inches are compressed when the end cap is tightened.
The end cap, which is on the front of the gun, has a hollow spring guide attached to it. You can oil it when the gun is disassembled or just let the slung-off oil from the mainspring do the job over time, which is what I did.
Next time, we'll look at velocity and accuracy.
by B.B. Pelletier
Update on Tom/B.B.: Tom's feeling better and his spirits are quite high. He had several liters of fluid eliminated from his abdomen. Turns out there was no fluid in his lungs, however the fluid in his abdomen was pressing on his lungs and made it difficult for him to breathe. His belly still looks a bit distended to me, but that might be due to having a very long needle poked into him at various angles. Tom said it was pretty painful, but he'd do it all over again if he had to.
Today's blog originally appeared in the September 1998 issue of The Airgun Letter.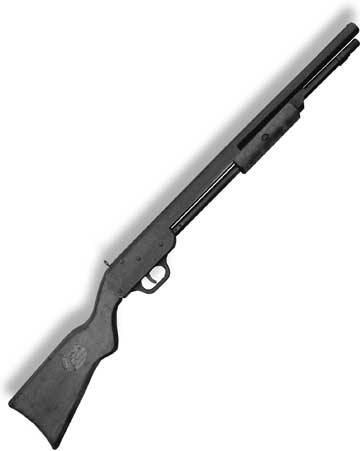 A toy gun made like a BB gun. The Savage ball-shooter must have been a young boy's delight!
It was before World War II, when the economy was recovering from the Great Depression, that Savage Arms Company of Utica, New York, offered a toy ball-shooting long gun with a pump action.
Airgunner Alan Johnson told us he'd been a Savage employee but had never heard of this toy gun. He told us that Savage had moved their plant from Utica to Massachusetts after the war, which was the first indication that the gun was made before the war.
I first encountered one of these in 1994 at the big antique/flea market in Carlisle, Pennsylvania. I remember thinking at the time how much the gun resembled the Remington model 26 BB gun in everything except size. The Savage is just 30-1/2″ long and weighs 36 oz.; the Remington is one of the largest and heaviest of all folded-metal BB guns ever made.
The dealer who had that gun was asking what seemed like an exorbitant amount for a gun in roughly the same condition as the one pictured here–$350, as I recall. The high price put me on the lookout for another example; but until I found this one, I never saw another.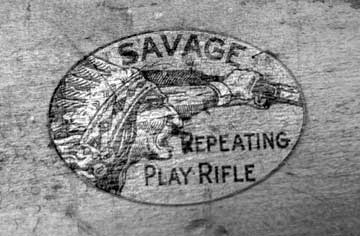 The original paper sticker has survived on our gun all these years later.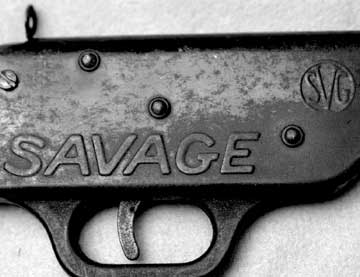 The Savage name is all over my gun. The right side of the receiver has both name and company logo in raised letters.

At Little Rock, Richard Schmidt had this beautiful example on his table.
After I purchased this one, though, I saw another at the 1998 Little Rock Airgun Expo on the table of collector Richard Schmidt. His was in almost-new condition, obviously having never been played with. Mine is rougher, showing lots of use but no real abuse. The one thing both these examples have in common is the original Savage paper sticker on the right side of the butt. The one I saw at Carlisle had no sticker.

This ad by Abercrombie & Fitch is for the Savage toy gun, which they call a Fox. Note construction of the foam "shot retaining target" at right.
Jim Buskirk, who publishes the Toy Gun Collectors of America newsletter, sent me a package of info that included an Abercrombie & Fitch ad for this exact gun. That ad said the gun was sold both as Savage and as Fox. The ad refers to the gun as the Fox model 31, although the drawing in the ad itself clearly shows the Savage name on the side of the receiver. It also says the gun is designed to shoot red wooden balls that are 3/8″ in diameter, and the power is supplied by the mainspring alone. They go out of their way to make the distinction that this is not an airgun–perhaps to soothe parents who might think that it is based on the general size and construction. The price was $3.00–not altogether different from what a low-end BB gun would cost in that era.
I bought a package of 3/8″ balls based on this information, hoping to chronograph the gun. But the balls I got are slightly too big for the barrel. So, I'll estimate the velocity at around 50 f.p.s., based on the norm for straight catapult guns that use a coiled mainspring. I could be off a bit on the low side, but the range of the gun is given as 10-12 feet, so it isn't much faster than that.

To load the gun: Place the butt on the ground, pull out the spring-loaded magazine follower and drop the balls into the hole (arrow).
The gun is loaded through a round cutout in the bottom of the magazine tube, about midway up the barrel. In fact, what appears to be the barrel of the gun actually houses both the mainspring and the true barrel, which is only half as long as it looks.
Savage was real big on the safety of their cocking mechanism.
The slide handle must be held firmly forward in order for the trigger to release, just like on the Remington model 26. Even as old as this gun is, the safety device works perfectly–probably having been better designed than the rest of the gun.
Buskirk also sent the summer 1992 issue of his newsletter, which has a reprint of an ad for a cork shooter that looks very similar, though not identical, to our subject gun. It's grouped with another toy gun from Fox–the famous double barrel that takes spring-loaded shells that shoot wooden "bullets." The implication is that the pump gun is also a Fox. It differs in shape somewhat from the one I have, plus it holds only 5 balls; and they're cork instead of wood, but it might very well be a version of my pump gun. They were sold for $2.93 by Montgomery Ward & Co.
Both ads include a target with the gun. The Abercrombie & Fitch ad has what looks like a foam target face, and they refer to it as a "shot retaining target," so I assume the foam would part to hold the ball by friction. It seems to be divided into small "fingers" to do just that.
Buskirk added in his letter that he felt Savage might not have been the actual manufacturer of the gun. He based that on the fact that Savage, as a firearms manufacturer, would not necessarily have the experience or tooling to work with folded metal.
What he says makes sense, but the top of the gun is stamped with the following: SAVAGE PLAY RIFLE MANUFACTURED BY SAVAGE ARMS CORPORATION, UTICA, NY. PATENT APPLIED FOR. If they didn't make it themselves, why word it that way?
As far as I know, Savage, Smith & Wesson, Winchester, Johnson, Remington and possibly Sharps are all American firearms manufacturers who have made toy guns or airguns at one time. When I include Winchester, I don't mean the German Diana models they imported in the '60s and '70s. I refer to the two beautiful prototype BB guns that are in Mike Burleson's collection.
Did other U.S. firearms makers ever make airguns? Perhaps the blog readers might like to contribute to a search of the literature to help answer this question. We know that Daisy, Sheridan and Quackenbush made firearms. Were there others? Time will tell.
Thanks to Alan Johnson and Jim Buskirk for their contributions to this story.
This gun once belonged to "R.M.," who carved his initials on the left pistol grip.
by B.B. Pelletier
Update on Tom: The hospital didn't get around to doing the procedures mentioned in yesterday's update…because people who were in critical condition were ahead of him. They hope to do everything today. Tom looks and feels MUCH better, and we think the hospital is on the right track. Without going into too much detail, they're working with his body's natural immune system and have seriously altered the medications and protocols of the previous hospital.
Todays blog comes from the August 2001 issue of The Airgun Letter. I remember when Umarex first brought out so many CO2 pistols that looked like firearms. People wanted them but didn't really know what to do with them. Popping paper targets got kind of boring after a while. These days, there are lots more CO2 guns, but we haven't seen a big growth in targets. So, this article is still pertinent.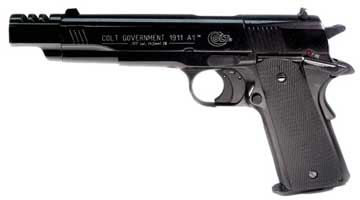 The Colt M1911A1 has a smooth, light double-action trigger-pull that makes rapid shooting a breeze. Rig up a target and start shooting! Gun is shown with optional compensator.
Give the public something to do with those action pistols! Something fun–something that's hard to quit will get them involved in the sport quicker than any other advertising. That's the way to sell CO2 airguns.
The action pistols made by Umarex and other manufacturers are fun because they're repeaters. Most are very realistic to look at and hold, so the shooter gets a tactile treat when he has one in hand. But people get confused when it comes to shooting these new guns, as in, "What do I shoot AT?" They often try to make target pistols out of them, and that's a role for which these airguns are poorly suited.
The accuracy of the average action pistol is about 1-1/8″ at 10 meters–and that's at their best. At their worst, accuracy is more on the order of 2-1/2″ to 3″. That's pretty far from target accuracy when there are guns like the Beeman P1 and Gamo Compact floating around. Either one of them and many others like them can hit a dime with every shot at 10 meters.
But, the action pistols can do something that very few of the target guns can do. They can shoot rapidly, and many can mount optical sights. Set up in this way, they become the airgun equivalents of the firearms they copy–true action pistols.
Velocity is the same for all these guns–360-390 f.p.s., give or take. You can expect 50-75 shots, depending on how fast you pull the trigger, because CO2 chills the gun as it flows through and a cold gun uses more gas.
Since this article first appeared in 2001, Gamo has come out with these great spinner targets. They're metal, so don't shoot at them with BB pistols.
Targets can be homemade or not
Juice cans with a string fastened through their bottoms can be stood on a flat board 15 feet away–each can standing over a hole in the board through which the string passes. Paint them black for contrast and have at 'em! The pellet should topple the cans and a pull on the combined strings at the shooting line should bring them each back to standing over their holes once more (you'll need some ground clearance under the board for the strings).
Gamo has made some spinner targets that are ideal for action pellet pistols. So, if you don't want to make your own, these are perfect. The nice thing is that they're not just spinners. You can tie balloons on them and one even has a paper target frame.
How does it shoot under pressure?
One thing I noticed as I shot magazine after magazine in preparation for this report is that the more you shoot, the better you get. Better means faster. I shot almost one full tin of RWS Hobby pellets–that's a full 500 rounds in just one session. And there was more than one session! I went through dozens of CO2 cartridges gathering data and experience.
I'm guessing there are plenty of people who buy a CO2 pistol, shoot it enough to exhaust a CO2 cartridge and then put it away because popping paper targets loses its luster after 75 rounds. Unique targets–homemade or otherwise–will heighten the enjoyment and make you more accurate, which is what I discovered.
What types of targets do you shoot at?
by B.B. Pelletier
Update on Tom/B.B.: Some time today, doctors will drain Tom's abdomen and the small amount of fluid that's seeped into his right lung. He'll get general anesthesia, so we may be in for some more funny stories if he goes through Sundowner's Syndrome again.
Now, on to today's blog which is a continuation of my experience with air rifle benchrest. This is an edited version of the article that appeared in the January 2000 Airgun Letter.
by Edith Gaylord
By the time our two-day benchrest tournament came around in September, I'd already shot a number of matches and was ready to compete against all comers. I didn't expect to win, but I didn't expect to be at the bottom of the heap, either.
Thinking about all the things I'd learned along the way, one of the greatest learning experiences was watching the top shooters perform. My scores increased, and I got the highest score I'd every made in BRV.
The equipment race…sort of
BRV is for .177 caliber only, and most people shoot Olympic 10-meter rifles. The distance for that class of rifle is 22 yards. Since my Barnes Ranger was not a stock Olympic 10-meter gun, I had to shoot at 30 yards. Only 8 yards difference, but it sure seemed a lot bigger at the time. When the wind's blowing and won't stop in time for you to get off all your shots during the allotted time, you have to shoot through the wind. And it's infinitely easier to shoot better at 22 yards than at 30.
Watch the winners and do what they do
A technique that I believe helped me increase my scores in the final matches in September is the same one that I used to acquire a higher level of skills in both tennis and racquetball: watch the winners.
When I was a sophomore in college, I took a tennis course. If you showed unusual talent, the teacher would spend more time with you to hone your skills. She spent no time at all with me!
One day, I was in a doubles match. I was with a student on one side of the net, and my teacher and another student were on the other side. In the middle of a volley between me and the teacher, she was surprised by my sudden skill and asked what had happened. I told her I'd been watching professional tennis players on TV and in live events in town. This was probably the first time in my life that I performed well under stress. It was a good day to pick because that match was the final exam for my course. My doubles team defeated the teacher and her teammate, and I got an A. Six months later, I transferred to the University of Florida in Gainesville, and more than one person thought I was part of the school's tennis team based on my skill on the court.
Back to benchrest. I knew who the best shooters were because I made it a point to find out who won previous tournaments and matches. The habits and manners of good shooters are the best textbook. So, I mimicked the moves, body position and actions of Dave Horner, who was the reigning BRV World Champion. Watching him was instrumental in increasing my scores. The way he held his gun, the direction of his body, feet, arms, head…everything. While I may have creeped him out, I was determined to extract every nuance that I thought would help me improve.
A final note…to field target shooters
While I've never seriously shot in field target matches, I've seen a lot of people who have. I observed that the best shooters have something in common. They're always interested in getting better. They observe other shooters and pick up habits that will improve their scores. Shooters who are always near the bottom of the pack and rarely improve aren't necessarily people who have the worst equipment. I knew a shooter who had some of the top guns, but he just didn't seem to do all that well. He was intent on blaming his equipment. If he'd just watch the winners and mimic them, he might have done well with the first gun instead of buying dozens of others to try to gain a winning score.
by B.B. Pelletier
Update on Tom/B.B.: On Sunday morning, Tom's white cell count skyrocketed and two more pancreatic cysts were discovered. He's been transferred to a regional trauma center to receive care from doctors and nurses who specialize in his type of medical situation. We were very relieved once he was situated in the new hospital. They immediately made changes to his protocols, medication, etc. An interesting discovery…the gallons and gallons of fluid in his abdomen is pure bile! I have no idea how long it would have taken the other hospital to discover this. This is progress, and both Tom and I are grateful for the change of venue.
Now, on to today's blog!
by Edith Gaylord
I originally wrote my air rifle BRV (benchrest) experiences for The Airgun Letter. Tom was already shooting field target matches, and our gun club wanted to hold air rifle benchrest. So, I decided to do the shooting this time to give Tom a break since he was also going to be the BRV match director.
Although I'm not a good shot, I discovered that I actually enjoyed the matches because I wasn't depending on my skills to hold the gun. Instead, I could concentrate on doping the wind, remembering to squeeze the trigger instead of pulling it, concentrating on shooting my targets instead of my neighbor's and balancing my gun the same way every time.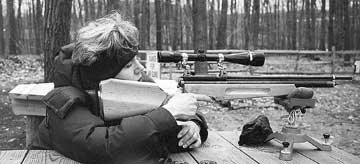 Our test match was held on a really cold day. If you saw this in color, you'd see that my fingers were just as blue as my jacket.
First, let's have a test match
Our club had to qualify to hold benchrest matches, so we had to hold a test match with at least three competitors. Two of the club's field target shooters volunteered to participate in the test match. I was the third. Match day was icy, rainy, even sleeting at times. Nevertheless, all three competitors stuck with it and finished the match…with blue lips and fingertips!
Cross-eyed
One of the things that I find most frustrating is being righthanded and left-eye dominant. I can shoot with my left hand, but not with any semblance of accuracy. We originally discovered that I was left-eye dominant when Tom handed me a camera (pre-digital), and I automatically put the view finder up to my left eye.
To make it easier for me to shoot benchrest without having to train to use my right eye for scoping, we needed to locate a suitable scope mount that would accommodate my cross-eyed dominance.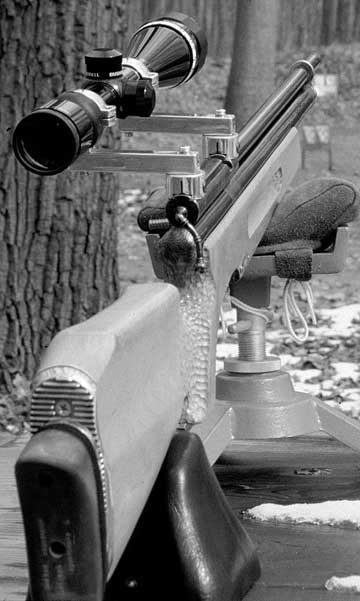 My "out-rigger" scope mount. I couldn't just rest the rifle when I was done shooting. I had to lay it down or lean it against something so it wouldn't fall over.
I tried everything to find a suitable offset mount, but nothing off the shelf worked for me. Dan Bechtel, who owned B-Square at the time, said he'd send us some mounts that might work. Those mounts moved the scope about an inch to the left, and I needed a shift of 2-5/8 inches. Gary Barnes, who made the Barnes Ranger I was using as my match rifle, agreed to make some custom mounts for the gun. Finally, I was set to go.
Early lessons learned
Here are some of the things I learned from my practice and the first match.
You can cant your rifle if you do it right
I had a level for my gun, which was more of a distraction than an aid. The Airgun Letter had run an article about canting guns, and it said that those who always shoot at the same distance can cant their gun the same way every time and not suffer accuracy problems. Since benchrest is always at the same distance (30 yards for the class I was shooting), I opted for a slight cant. I had to repeat that hold with each shot. But it was natural enough for me to be able to repeat it, and it was easier than trying to always find the exact same spot on the level, which was not a comfortable position for me. Tom always said I was half a bubble off plumb–and I guess this proves it.
Don't rest your reservoir on anything
Never lay a PCP gun's reservoir on a rest. You can put the gun's stock on a rest, but the changes in the reservoir's pressure will cause variations in point of impact if the reservoir is supporting the gun on a rest. At our first real match, airgunner Earl Brooks was shooting a Daystate CR 97, and he mentioned that where he rested the forearm of his gun also mattered noticeably. That's probably why Ray Apelles found that his free-floated Career 707 achieved even greater accuracy. The reservoir's pressure changes really have an effect when you're shooting at a point that is no larger than an aspirin. That's the size of the center "mothball" in airgun benchrest.
White bullseyes are much harder to shoot than black ones
It is MUCH easier to hit a traditional black bullseye than the white mothball centers on a BRV target. This was mentally confusing to me. When I mentioned this to BRV founder Larry Brown, he said it was deliberately designed that way. Devious!
Don't shoot when it's windy near the shooter
When the wind ruffled my hair, my shots would be off. However, when the wind was blowing only downrange, nearer the target and not around my bench, I shot closer to where I had aimed. Larry confirmed that my assessment was correct–when the pellet comes out of the barrel and is pushed off course immediately, it keeps going further and further off course. But when it leaves the barrel without a breeze, then it's going downrange on course and will be closer to the point of aim. Seasoned shooters already know this, but I was just learning when I took up benchrest.
Sometimes, harder is easier
Lastly, I found that Shakespeare can be applied to benchrest–"Sweet are the uses of adversity." I realized that I could estimate the wind downrange and hold a bit to the left or right of the mothball. In fact, I got a higher score than when I shot during a dead-calm moment and aimed directly at the mothball. How could this be? What I had learned was that it was easier for me to hold against something. Some people seem to find it easier to NOT shoot at precisely the perfect time, but at a time when things seem to be working somewhat against them. Maybe I'm just a person who enjoys overcoming obstacles rather than just doing things the easy way.
I shot three matches on my first day (the matches were held on two consecutive days). I tend be observant and was interested to see how minute changes affected my score. By the time I'd shot the third match, my score had tripled. Yes!
by B.B. Pelletier
Update on Tom/B.B.: Tom is still making progress, and things are moving in the right direction. (Woohoo!) Once again, today's blog is from B.B.
Pyramyd Air has some new products, so I wanted to bring some of them to your attention. They have a web page that lists new items, but all of you may not look at it. Plus, I can add my 2 cents here.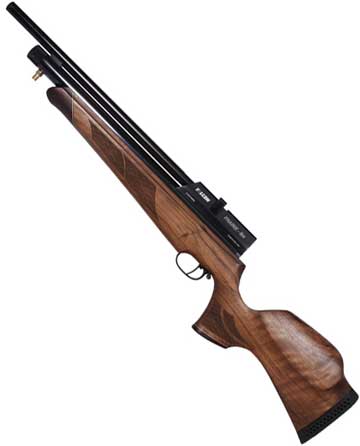 Beautiful, huh? It's even more gorgeous in person…rich walnut stock (beech also available), unparalleled blueing, accurate, powerful. What's not to like?
The Falcons are coming! The Falcons are coming!
About 10-12 years, Edith saw a female target shooter out-shoot her husband in EVERY field target match with a Falcon Light Hunter rifle with a skeleton stock. When she found out that Pyramyd Air was going to sell Falcons, she grinned from ear to ear.
Pyramyd Air is now stocking Falcon rifles, and the web pages will be available very soon. The guns are made in England, and their quality is superb–the equivalent of Air Arms. In fact, the company that owns Air Arms also owns Falcon Airguns (a relatively recent acquisition). They'll stock the Prairie Falcon, but there are other models coming, too.
Of course, last year, Beeman imported a Falcon rifle and carbine. These are branded as Beeman guns on the breech, but the new batch is coming direct from Falcon and will bear only that name.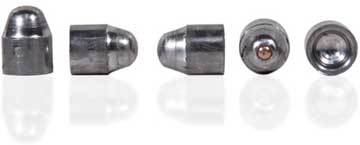 Several of the new .45 cal. pellets have steel tips embedded in the round nose.
.45 caliber pellets
Big bore airguns have really moved to the forefront, and Pyramyd Air is keeping up with the growth. They've just added 4 new .45 cal. pellets to their lineup. Three of them are steel-tipped round noses and the fourth is a hollowpoint. They run from 175 to 230 grains. These new pellets bring the total ammo for .45 up to 14. Lots of choice!
Beeman guns, pellets and mounts
As you already know, Pyramyd Air is now the importer for the high-end European Beeman guns, ammo and accessories. There's a transition period now, and that means you might find two product pages for one model of gun. One model might have iron sights while the other has fiber optic sights. One might be the model shipped from the Beeman warehouse in California, while the other model may be the stock we just received from the German manufacturer. As we found out the other day, there are two for the HW50S.
At this time, the Beeman guns that are being ordered by Pyramyd Air are starting to arrive, as are the pellets and mounts. The mounts are also a nice surprise, as Pyramyd Air has been able to significantly lower the prices on them. If you've avoided them before because of price, you might want to start checking them out again.
In-stock dates and why they keep changing
Contrary to popular opinion, Pyramyd Air is not playing games with the dates they use to indicate when an out-of-stock item will be in stock. In fact, we have several people who are tracking these dates. They contact the manufacturer or vendor to determine if a product has been shipped. If it hasn't, then they get an estimate when they think the shipment will happen. If the shipper doesn't know, then they remove the ADD TO CART button and just leave it at that. You can see the product but you can't order it.
When we're told that a shipment has been made, we estimate when it'll be received in Ohio. Often, the date listed is two weeks from the ship date. As is often the case, the products arrive earlier than expected and everybody loves us.
A manufacturer might tell us they're going to ship something in a day or so, and we should get it within a week. We put a 2-week in-stock date online but then find out that the shipment never happened. We move the date out even further. Occasionally, the shipper has pulled our leg a number of times, and the date keeps getting pushed out further and further, over and over. Think you're frustrated? Pyramyd Air doesn't like it either! It's maddening when manufacturers aren't straight with you. In some cases, though, the manufacturer was expecting a delivery (such as a shipment of guns from China or Turkey), and that shipment didn't arrive because the factory didn't ship it as promised. So, everyone's delivery date gets bumped.
Another issue is U.S. Customs. Sometimes things fly through customs without an issue…and sometimes they don't. Airsoft is especially vulnerable to customs delays. I've heard of delays as long as 6 months. I'll bet there have even been longer delays.
So, the next time you get an email that says the product you ordered didn't get delivered on time or you see an in-stock date constantly changing, don't blame Pyramyd Air. It's the manufacturer or their suppliers who have delayed delivery.
Now that we're talking about shipping and stocking issues, what are your other gripes?
by B.B. Pelletier
Update on Tom/B.B.: Things are still progressing smoothly. He's being fed intravenously and is now allowed to drink some water. Today's blog came from B.B.
Here's a little teaser: Pyramyd Air will be revealing something new and exciting on Monday, May 3. A lot of people have been working on this surprise for months. No more clues. And don't even think of trying to get any info out of Edith!
Ever wonder which airgun you'd want if you were on a deserted island (think "Gilligan's Island")?
On a deserted island and hunting for food? Hope you have the Sheridan Blue Streak with you!
The Sheridan Blue Streak, which I got in 1978, is my choice as a survival gun on a deserted island. Does that surprise you? You probably thought I'd pick the Discovery or the Beeman R1 (my personal R1 is an older model and has open sights, the current one does not). They're great rifles, but each rifle and all other powerplants just can't bring to the table the reliability and flexibility of a Sheridan Blue Streak.
Why I picked a multi-pump
Imagine the variety of critters you could dispatch with a multi-pump. Put 2-3 pumps in the gun, and you could easily take a rabbit at relatively close distances. A few more pumps, and birds (head shots, please) would be on the menu. Put in 7 or 8 pumps, and you'll be taking larger lizards and even some snakes. Again, head shots.
I suppose I could take a wild pig with 8 pumps. While I don't consider this humane, I'm talking strictly about a survival situation. And, you're well aware of a large airgun manufacturer that already advocates taking a wild pig with a head shot with a .177 cal. rifle. A Sheridan air rifle is .20 caliber, which offers a bit more punch.
The only thing that might need regular maintenance on a multi-pump is a seal. As I've stated for years, keep one pump in the rifle when you're not shooting, and you'll protect the seal. My 32-year-old Blue Streak still has the original seal because I've followed this procedure religiously.
What about oiling the pump lever? Pellgunoil is the best thing, but what if you didn't bring any with you? How about coconut oil? (I expect to find coconuts on my island!) That ought to do it for maintenance. Sounds simple. And that's the point. I don't want a gun that needs to be handled with kid gloves or has lots of areas that could fail or that might need special attention to keep it functional. The gun has to take care of me, not the other way around.
Why I didn't pick another powerplant
Here are the reasons I eliminated all the other powerplants from my list.
Spring-piston: I own quite a few spring guns and have extolled the virtues of this dirt-simple powerplant. However, there's one hitch. The mainspring could break. While it IS a remote possibility, I'm totally out of luck if that happens. Gas springs don't usually fail, but this is a life-and-death situation, and I don't want to risk even the slightest chance something could go wrong if I'm depending on an airgun to survive. Plus, the piston seal could get nicked, and the piston would lose compression. There's very little you can do once that happens.
Single-stroke pneumatic: This powerplant just doesn't have enough power to take small and medium game. While I could use the stock to club an animal, that's not really what I had in mind.
CO2 gun: My deserted island is warm enough for CO2, but where will I replenish my stock? Plus, I'll need Pellgunoil or the gun will start to leak after a short period of time. I don't think coconut oil will be a good substitute.
Precharged pneumatic: For those of you who thought my choice would be the Condor or Marauder, I'm sorry to disappoint you. I won't have air to replenish a scuba tank or electricity or gasoline to power a compressor. I could take a hand pump, but that's just one more piece of equipment that could break or need maintenance. Remember, I'm trying to make this as simple as possible with the least number of things that could go wrong.
The variable power of a multi-pump was one of the deciding factors. I don't want a gun so powerful that my pellets rip through a critter and exit the other side. I want the ammo to stay inside and create a larger wound channel. This ensures that the animal will die faster.
One final thing that no on talks about is the shooter's ability to operate the gun at lower levels that involve less stress. The Blue Streak (and the Benjamin 397 and 392) is already a very under-stressed airgun. But you have an ace up your sleeve if you own one of these in a survival situation.
Remember that nick I mentioned on the compression seal of the springer? There's probably no less chance of nicking the seal on the pump head of a multi-pump pneumatic. What you do with a multi-pump pneumatic, you can't do with a springer…pump it more times. So, if your multi-pump pneumatic seal leaks a little–but you can add more strokes to compensate for that leak–you're back where you want to be.
What else would I want/need?
Pellets! I can easily pop out 1,000 pellets on a weekend, but I could make that many last a year or more. My first choice would be Crosman Premiers, as they deliver very consistent velocities.
I'd also like to take a sharp knife, a multi-tool and a flashlight. I could get along without these, but they'd be nice to have.
Which gun and what equipment would you take to your deserted island?