by B.B. Pelletier
Testing and photos by Earl "Mac" McDonald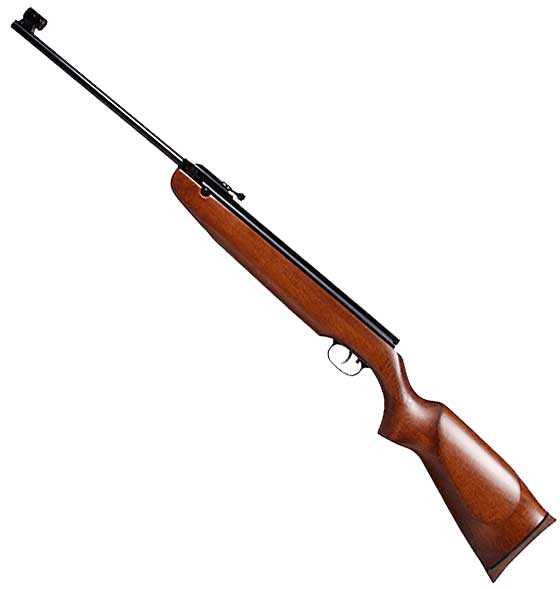 HW50S
Today is accuracy day, and the way I figure it, you guys are waiting for this report and the Beeman P3 accuracy report with about equal interest. The HW50S has delighted Mac, reminding him that great airguns are still being made. And, as Kevin pointed out days ago, the power of the new larger powerplant is approximately equal to the old Beeman R8, whose accuracy report I still have to do. So, if you lamented the passing of that great rifle, it's still here by another name.
Mac mounted a Leapers Accushot 4-16x56AO SWAT scope. It has a 30mm tube and was mounted in Leapers Space Age 30mm high rings. The globe front sight and the rear sight were left in position and caused no problems with the scope.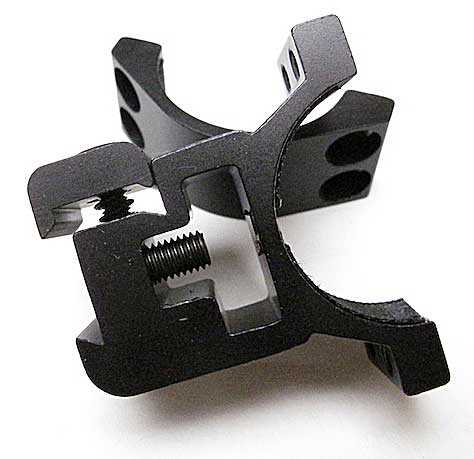 The Accushot Space Age rings have a vertical scope stop screw to adjust down into one of the three scope stop holes on the rifle.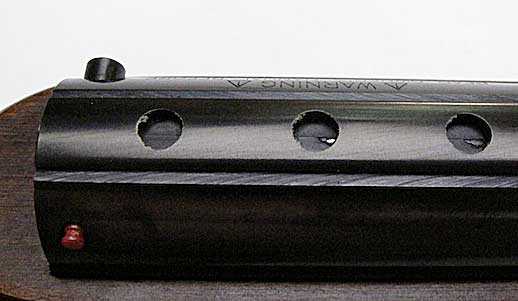 Put the vertical stop screw into one of these three scope stop holes on the rifle's receiver.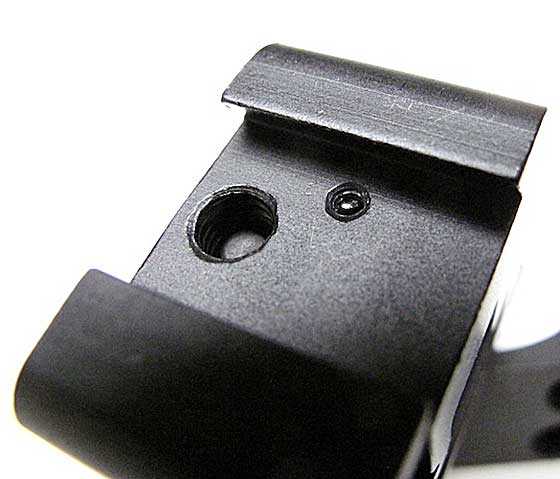 Looking at the underside of the Accushot scope ring base you can see the hole through which the scope stop pin passes.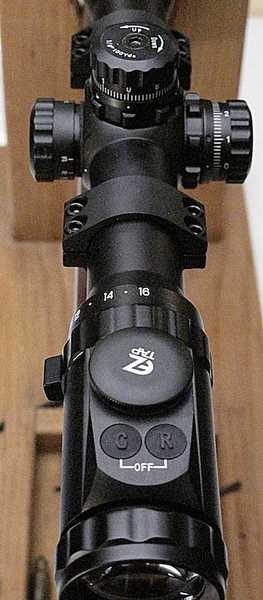 The Accushot SWAT scope Mac used has side-focus parallax adjustments and an EZ-Tap red/green illuminated reticle control for low-light hunting.
RWS Hobby
The lightweight RWS Hobby pellet turned in the worst performance at 30 yards. Ten shots went into a group measuring 1.04″ across.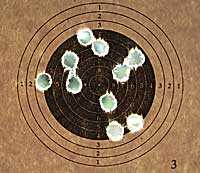 Hobbys shot the worst overall in the rifle. Group measures 1.04″ between the widest centers.
Crosman Premier heavies
10.5-grain Premiers turned in the second-worst performance.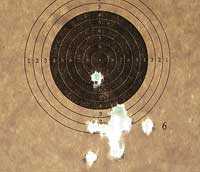 Premier heavies were about as bad as Hobbys in the HW 50S. Group measures 0.98″ across.
So things don't look that good at this point. But this is where they turned around. Remember, these are all 10-shot groups at 30 yards.
JSB Exact Match 8.4 grains
The next pellet Mac tried was the JSB Exact Match 8.4-grain pellet. It put 10 shots into a group that measured 0.75″ across. This is pretty good performance for any springer at 30 yards. Not the best, but pretty good. For you newer shooters a 10-shot group will be about 40 percent larger than a 5-shot group from the same gun, so please take that into account.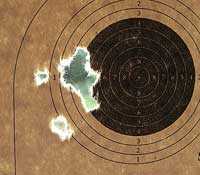 Ten shots into 0.75″ at 30 yards is good work.
Crosman Premier 7.9 grains
The Crosman Premier 7.9-grain lite pellet proved to be the best of the test. Not by a narrow margin, either! Mac's first group measured 0.68″ across, but he noticed that the front sight was loose. When he tightened it, the group shrank to a phenomenal 0.49″ across for TEN shots! And, he didn't do it just one time. He did it repeatedly!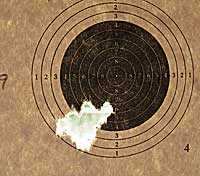 Best pellet of all was the Crosman Premier 7.9-grain pellet. Several groups like this 0.49″ group were shot.
In fact, Mac shot numerous groups with all the pellets. What you're seeing today is representative of what his rifle can do.
Mac did so much testing that I can't get it all in today. So, we aren't finished with this report just yet.
by B.B. Pelletier
I think this will be a super-big series, because the times seem to demand it. Lead has been demonized so much that the Junior Reserve Officer's Training Corps (JROTC), a high-school training component of the U.S. military, has now encouraging the use of lead-free pellets for all marksmanship training using airguns. So, the question is, are lead-free pellets accurate? Can they compete with lead pellets in a formal competition situation?
I have to say that, at this moment in time, no lead-free pellet that I'm aware of can possibly compete against top-quality lead pellets. I'm not the expert, of course, but I have tested enough of these pellets to know their limitations. However, if the world is going to go in that direction, what I know or feel doesn't matter.
I will, therefore, start testing lead-free pellets against the best lead target pellets available. I'll use several standardized test guns whose performance can be documented and used for comparison. Before getting to that subject, though, let's look at what JROTC typically uses for airguns.
There's no standard gun or guns for JROTC target practice. Like their non-military counterparts in other NRA-sanctioned matches, they use the old favorites like the Daisy Avanti 853, but they also use a wide range of other target guns. Among them are the Tech Force 79 target rifle, the Daisy 953, the Crosman Challenger 2000, the Daisy Avanti 888 and other Avanti rifles, and there are a few target rifles of the junior series from companies like FWB. I'm sure the new Crosman Challenger PCP and AirForce Edge are starting to show up at matches.
So, JROTC is about to enter a field (lead-free pellets) that hasn't been fully developed yet, and they're doing it haphazardly, in my opinion. I do understand that their funding is fractionalized and that team coaches control and run the individual programs to a great extent, but lead-free pellets just aren't ready to compete. At least, that's my opinion.
I believe JROTC will not be able to remain competitive when shooting against clubs that do not have this sanction. However, it's not clear to me at this time that they won't be able to switch to high-quality target pellets when they compete outside the JROTC world.
I understand that this may be decided on a state-by-state basis. There may be more that we haven't heard yet. And when it becomes obvious what's happening, they might also rethink their policy.
However, none of that is my concern here. This is the bow wave of a general trend that will inevitably change the face of airgun target shooting in the future. I'm not about to throw myself under the wheels of the movement in protest; I want to stand off to the side and measure it. I want to know which lead-free pellets do what in different types of powerplants so we can get an idea of where the technology is. When it advances, we'll be able to document it.
Some time ago, a reader asked me to test the Skenco Pointed Poly Match pellets. I agreed and have been planning this test for over a month. Now, however, I'm going to use this pellet test as the launch of a 10X larger test SERIES of all lead-free pellets that are touted as target pellets. If they have target in their name, they go on the list.

The Skenco Poly Match pellet will be the first pellet tested. I already see a problem with the shape. The pointed head will make scoring problematic, and such a pellet will not be permitted at the national level, where scoring is taken very seriously!
Here's where you readers come in. You folks will keep me informed of all the new lead-free target pellets as you discover them. If I'm able to get them, I'll test them. This is really an open-ended series.
I plan to use three rifles to test each pellet. I'll use my HW55F springer, a Daisy 953 single-stroke and a Crosman Challenger PCP. Even with just three guns, these tests will take a long time to complete, so please don't ask for this or that rifle that you might be interested in buying. Three guns of established performance should give us a good picture of performance.
And, there will be issues. Just yesterday, a reader named Ed asked about the Poly Match pellets. He said they were too long to load into his Daisy 953, so I tested one right on the spot. He was correct. I will show things like that as we do each test.
I have no stake in the outcome of this series. If a non-lead pellet is labeled as a target pellet, it will be tested…if I can get it. They'll all be compared to the very best lead target pellets for each type of gun. This will not be a fair test. It will be ruthless, because the lead-free pellets are trying to play in the big time. So, they have to perform!
by B.B. Pelletier
Test and photos by Earl "Mac" McDonald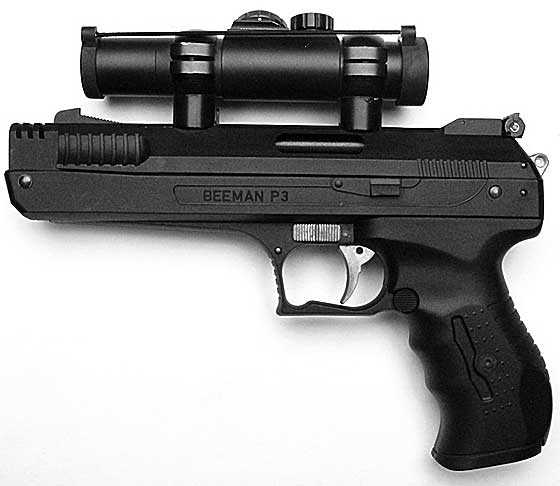 The Beeman P3 with dot sight is a great-looking air pistol.
Today, we'll look at the performance of Mac's personal Beeman P3 pistol. You'll remember that this is a single-stroke pneumatic pistol with some fine handling features and a great trigger. Two things that many owners have mentioned is that the pistol is difficult to load and that it's hard to pump (they often say cock). I disagree with the loading statement but agree with the pumping one. While the P3 isn't as easy to load as a breakbarrel rifle, it's not that difficult, either. You just have to learn the technique.
As for the pumping, it's about average for a single-stroke of this power and size. It's surprising those without previous single-stroke experience. A Gamo Compact target pistol of similar size and power is equally difficult to pump. For the record, Mac agrees that the pistol is difficult to load.
It's been very hot on the East Coast this summer; and when Mac tested the P3 outdoors, it was 95 deg. F with high humidity. The wind was still on test day.
Crosman Premier lites
The 7.9-grain Crosman Premier lite averaged 383 f.p.s. with a total velocity spread from 380 to 387. That's just seven f.p.s., which is pretty typical of a single-stroke. Their reservoirs hold the same amount of air from shot to shot and they tend to be very consistent. I did not test my Marksman 2004 (which is now the Beeman P17) with Premiers, so no comparison is available. The average energy for this pellet was 2.57 foot pounds.
RWS Hobbys
The RWS Hobby pellet averaged 409 f.p.s. with a 10 foot/second spread from 406 to 416. That's an average muzzle energy of 2.6 foot-pounds. The Hobby weighs only 7 grains and is made of nearly pure lead, so it should be among the fastest of the lead pellets. Once again, I have no comparison numbers from my Marksman 2004 with Hobbys.
JSB Exact pellets
The next pellet Mac tested was the JSB Exact Match, weighing 8.4 grains. The name Match is misleading because this is a domed pellet, not a wadcutter, but that's what it says on the tin. They averaged 385 f.p.s. with a max spread of 9 f.p.s., from 379 to 388. The average muzzle energy was 2.77 foot-pounds — the highest of the four pellets tested. By coincidence, I'd also tested the Marksman 2004 with this pellet. In my gun, it averaged 411 f.p.s., so somewhat faster than Mac's gun. I estimate my pistol has about 400-600 shots on it, while Mac figures his has about 1,000.
H&N Finale Match Pistol
The 7.56-grain H&N Finale Match Pistol pellet averaged 396 f.p.s. with a 6 foot/second spread, from 393 to 399. The average muzzle energy was 2.63 foot-pounds. That was the lowest velocity spread of the four pellets tested.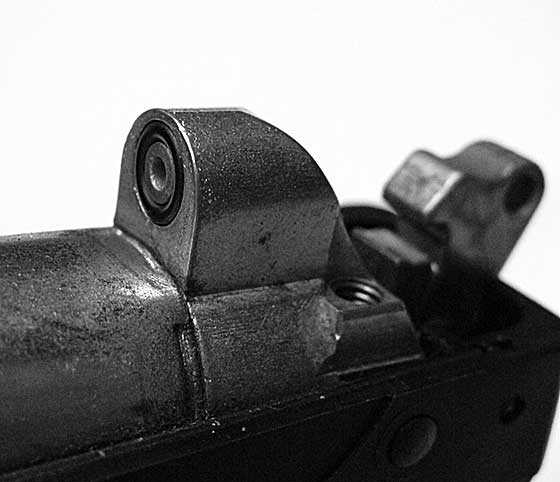 This o-ring seals the breech when the barrel is closed.
The comparison?
In this report, I did something I almost never do. I compared two airguns against one another. I did it because the Beeman P3 and Beeman P17 are so much alike, yet their prices are so far apart. The differences that I know of boil down to this: the P3 has an ultra-crisp trigger while the P17 trigger has some creep, and the P3 has a reputation for reliability while the P17 has been known to have sealing problems.
In the next report, Mac will show us the accuracy of this pistol. You'll recall that he's mounted a red dot sight on his gun, plus he shot it rested, so you can expect the best the gun has to give. We'll learn what that is in Part 3.
by B.B. Pelletier
Testing and photos by Earl "Mac" McDonald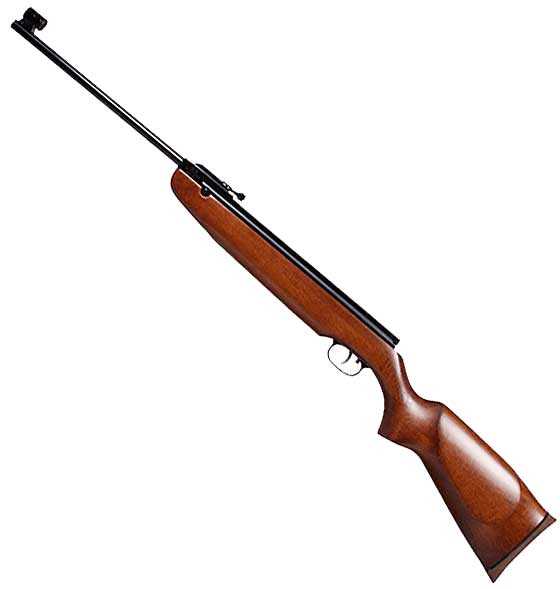 HW50S
Before we begin, a medical update. I left the hospital last Friday with the blood clot in my shoulder seemingly not an issue anymore. The visit proved very beneficial because the gastroenterologists replaced the stent in my pancreas three weeks early, and an infectious disease doctor identified four strains of organisms growing in my pancreas that we are now treating with antibiotics. So, what felt like a setback turned out to be an advance.
I am weaker now as a result of the new medicines, but I expect that to pass. And I have the run of the house, which is where the bulk of my airgun testing is done. My buddy Mac continues to help me with the testing, so things should look pretty normal.
You'll recall from Part 1 that Mac really likes the .177 caliber HW50S. He was mentally prepared to like it for its Weihrauch heritage, but after actually holding, examining and shooting one he now has specific comments to share.
Today, we'll look at the power of the gun, and it's important to note that the current HW50 is not the same gun it was years ago. The current rifle has a powerplant with a little larger piston and therefore develops slightly more power than the older version.
Mac tried a variety of pellets. Some were light, some of medium weight and one heavyweight. This demonstrates how the powerplant responds to different weights as well as different hardnesses of lead and different fits to the bore.
Crosman Premier heavies
The 10.5-grain Crosman Premier pellet fit very tight in the breech and of course is also a hardened lead pellet. These two things plus the heavy weight conspired to slow the pellet down to an average velocity of 618 f.p.s. The range went from 600 to 632. The average muzzle energy is 8.91 foot-pounds.
Crosman Premier lites
In contrast to the heavy Premier, the 7.9-grain Premier lite was a good fit for the breech. It averaged 754 f.p.s. with a spread from 738 to 771. The average muzzle energy was 9.98 foot-pounds, beating the heavy by a full foot-pound. So, lightweight and better bore fit produces better results. The Premier lite is made of the same hard lead alloy as the heavy pellet, so that did not change.
RWS Hobbys
The lightest pellet tested was the 7-grain RWS Hobby, which was a loose fit in the breech of the test rifle. They averaged 836 f.p.s. with a spread from 822 to 849. The average muzzle energy was 10.87, foot-pounds, so another almost whole foot-pound was gained. The RWS Hobby is made from nearly pure lead, so it's much softer than either of the Premiers.
JSB Exact, 8.4 grains
The lightest JSB Exact domed pellet fit the bore very well. It averaged 750 f.p.s. with a spread from 739 to 758. This 19 f.p.s. spread was the smallest of all four pellets tested. The average muzzle energy was 10.87 foot-pounds, which is identical to the Hobby's performance.
So, the new HW50S powerplant is clearly more powerful than the old one. I don't own an HW50 to make this comparison, but my HW55F has the same powerplant and develops an average 631 f.p.s. with RWS Hobbys. Even assuming my rifle is a bit tired, the difference in power is still pretty clear.
The current 50S develops just about the perfect power for a plinking rifle or an all-day airgun. Mac reports just a little vibration with the Hobbys but a solid feel for the other three pellets. The cocking effort is a light 24 lbs. that won't bother most adults. And the Rekord trigger is delightful. So to this point, the 50S seems to be a winner.
by B.B.Pelletier
Yesterday's blog really struck a sensitive spot with many readers. I was concerned that it would be too far off the topic of airguns, but it clearly wasn't! So, today I'll continue in the same vein with a discussion of proper airgun terminology. You might look at this post as Tom's pet peeves.
Let's begin with the term "bullet." Many people, including writers and shooters, refer to firearm ammunition as bullets. The proper term is "cartridge." If you've seen the movie National Treasure 2, you'll see an FBI agent, presumably a forensics person, pick up a bunch of spent firearm cases and tell another FBI agent that they have the bullets of the shooter.
If the entire cartridge is a bullet, then you have to come up with a name for the thing at the end of the cartridge that gets shot out of the gun. I've heard these referred to as bullet heads, bullet tips and bullet noses. None of these are precise or proper. It doesn't necessarily promote confusion unless you're trying to do something like order things for reloading. Then, you have to ask for a box of bullet tips. And that gets confusing when the supplier knows them only as bullets.
Another pet peeve is referring to airsoft ammunition as BBs. I've said this before, but it bears repeating. When an unknowing person tries to purchase an airsoft gun as a gift, they know that it requires ammunition; but if they ask a clerk who also doesn't understand the difference between airsoft and true BB guns that shoot steel BBs, they could easily sell them a box of Daisy steel BBs. That would ruin the gift, plus it might damage the airsoft gun if the recipient tried to use them.
An apparently confusing term is single-shot versus repeater. I've seen young sales people call a repeater a single-shot because it fired only one time when you pulled the trigger. They thought that if it wasn't full-auto, it was a single-shot. Others understood that it fired only once per trigger-pull; but if it wasn't loading the next round automatically, they thought it was a single-shot. To them, any work the shooter might have to do such as cocking the hammer or working a loading bolt made the gun a single-shot.
Calling a breakbarrel spring-piston gun a one-pump gun. That's confusing because there's no pumping of a spring-piston airgun. A one-pump gun is properly called a single-stroke pneumatic. The act of compressing a mainspring and holding it in a compressed state is properly referred to as "cocking."
Many shooters refer to the tank that stores compressed air as a reserve or a reserver. That just slows down everyone else as they try to decode what the person intended to say.
Airsoft vs. soft air is a big pet peeve of mine. Soft air is a trademarked term used by the Daisy company for the 6mm guns they began importing in the early 1980s. Airsoft is a generic term that refers to that class of guns made by all makers. If you doubt what I'm saying, do a Google search on airsoft and "soft air" (use the quotes) and see how many hits you get on each term. We got 16 million hits for airsoft and only 837,000 for "soft air." Your Google results may vary as Google has more than one search engine and not all agree. But the results should be approximately the same proportionally.
How about a cocking knob? That's what some people call a the bolt on a bolt-action gun. I guess the round knob on the end of the bolt handle might be the reason that term came into use. Nevertheless, it's incorrect.
Single-action/double-action. These two terms confuse a lot of people, including gun writers. If we say that a single-action is a gun that requires its hammer to be cocked before it can be fired, and a double-action is a gun that can be fired with each pull of the trigger, then what does that make a Colt M1911A1, where you have to cock the hammer for the first shot but after that you can fire with each pull of the trigger? It makes it both single- and double-action. The first shot is always single-action, and each succeeding shot is double-action. But what about the gun whose slide was in the rear position before the shooter loaded the next magazine? Is that a single-action shot or a double-action shot? It's a single-action shot because the hammer was cocked (by the slide) before the first shot, just not by the shooter. As you can see, I was confused when I wrote the forgoing that has now been crossed out. The 1911 is a single-action pistol that remains single-action regardless of what cocks the hammer.
What's a dovetail? Besides its use in furniture making, it's a mounting platform for optics. But what size is it? It can be a Weaver, 3/8″, 11mm or any other size you like. But they're all dovetails. I recall a blog comment made several years ago by a reader who asked about the right height rings for his dovetail. He assumed that all dovetails were the same size. They're not. Airgun dovetails that are not Weaver vary from just under 9.5mm to over 13.5mm. The variation in size means that there are specific mounts for some guns and not a lot of options are available for them.
So, here's a scenario. A new shooter walks into a large outdoor sporting goods store and asks to buy a one-pump BB gun. He doesn't want a single-shot, so he rejects a number of bolt-actions out of hand. Can you see the confusion with the improper use of terminology?
Airgunning is a relatively small sport when compared to golf, football and softball. We need less confusion, not more.
by B.B. Pelletier
Before I start, I have some announcements.
I wanted to update you on my situation. My medical condition is good. A new internist has taken charge of my case and is getting things done at lightspeed compared to what's happened in the previous 3 months. I may return home today.
I need some help from you guys. I'm writing a short story about the BB gun wars that were fought by kids from the 19th century until about the 1980s. I've researched the topic for a feature length article in Shotgun News that was published a few years ago, but I'd like some additional stories. If you have any stories, please send them to me.
Today I want to address the role of parents, in regard to the shooting sports. Actually, you'll realize this relates to a lot more than just the shooting sports. I'll use a lot of my own experiences because that's safe ground for me.
My own parents protected and shielded me from firearms when I was very young. My father owned a Benjamin 107 air pistol, but he never allowed me to touch it. In fairness, I was only nine when he passed away, so perhaps things would have changed had he lived, but I'll never know for sure.
My mother grew up with brothers who had firearms and BB guns as kids, but she had been terrorized by a neighbor boy who shot his BB gun at the windows in our house, so she developed an aversion to them by the time I came along. It was from her mouth that I first heard the phrase, "You'll shoot your eye out!"
When I was a boy, the American wild west was very popular, and I was encouraged to play Cowboys and Native Americans…er Indians. Since I'm part Algonquin — the blond-haired, blue-eyed tribe from the French Canadian territory — I'm allowed to make a joke like that. I was given cap guns and cowboy gear and my heroes were Roy Rogers and Hopalong Cassidy.
But guns that shot things were strictly off limits. In my case that turned guns into objects of desire. This doesn't happen with all kids. It is driven by the personality of the kid and can take many directions. Some kids can develop a deadly fear of the forbidden objects. I'm sure the home environment has a lot to do with this, but the personality of each individual child is also a big factor.
When I turned eight in 1955, space became the big thing. I watched Captain Video on TV and was given lithographed ray guns to play with. So although firearms and airguns were forbidden, the subject of guns was not. That will be different in every home.
Let me speed forward and skip all the other fads like Davy Crockett and Gunsmoke and go right to the important turning point. My mother sent me to an NRA-sponsored firearm safety class. Having no father at home, I was impressed by any man who took the time to explain things — especially if they dealt with the shooting of firearms.
In that class, I was taught proper gun handling, a lesson that stuck with me all my life. We finally got to shoot some Winchester 52 rifles (a .22 rimfire target rifle) at targets, and I made scores that were impressive. They told my mother I had a gift for shooting, which was only natural, since she had been in a wild west carnival show as a young woman. She sold lariats in the show and was something of a trick rope dancer. She was also a shooter — a fact that had remained undisclosed until this point.
What I didn't understand until decades later was that I was growing up. My mother was watching me and giving me what she thought I needed and could handle at the appropriate time. In retrospect, she was very supportive of my desires, but also cautious of my immaturity
Now I'd like to contrast my upbringing with what I observed in other kids at that time. I saw kids whose parents didn't pay as much attention to what they did like my mother did. Many times, these were the boys with the BB guns. They were also the boys with the broken bones and stitches. They were always at risk because no limits were being set for them.
Let me give you one illustration of this. When I was a teenager, I had a school friend over to my house. We lived on a three-acre plot that abutted several large farms, so I could shoot .22 rimfires in our garden. My friend and I were doing just that, and I was downrange to change the target when BAM! The kid had fired at the target with me just four feet away. I said, "What the hell are you doing? I'm downrange!"
"I wasn't shooting at you. I shot at the target."
If I'd been hit, I'm sure his parents would have called it an accidental shooting. But it was no accident. This was an untrained kid who had grown up like a weed, without training or supervision. By this time in my life, I was subscribing to Guns & Ammo magazine and reading Elmer Keith. What this kid did was beyond my ken. Yet, it really happened just that way.
That gave me insight into the fact that all kids are not raised the same. We didn't call it parenting back in my day, but that's what it was. It was done to instill maturity, values and a sense of responsibility in the younger generation. But as I observed, it wasn't done equally, and the kids didn't all grow up with the same values. Later in college, I saw even more dramatic examples of the failure to raise kids.
But this report is really about teaching the shooting sports. As I said before, it's up to the upbringing and to the personality of the kids involved. There are plenty of good parents out there doing right by their kids. They don't all agree on values, so each kid receives a different value set for his or her life.
But there are also far too many weeds just growing up on their own. Wolves in the wild have better parenting skills than the parents of these children. And the worst thing is that you can't tell by looking at them. However, their actions speak volumes, and you can tell pretty quick who hasn't been raised right.
The trouble is, once raised, not a lot can be done to change things. So, proper parenting is extremely important.
Incidentally, when I was raising my two boys, I shot with them a lot. Today, neither one cares much about the shooting sports, but at least they know how to be safe. So the desire wasn't passed on, but the training was.