by B.B. Pelletier
Part 11
Part 10
Part 9
Part 8
Part 7
Part 6
Part 5
Part 4
Part 3
Part 2
Part 1
Before I start today's report, Joe B. in Marin and Duskwight were really impressed by that air bazooka I showed on the blog for Day 2 of the Roanoke airgun show , so today I included a picture of the ammo. Duskwight — all U.S. bills are the same size, so those projectiles are very large.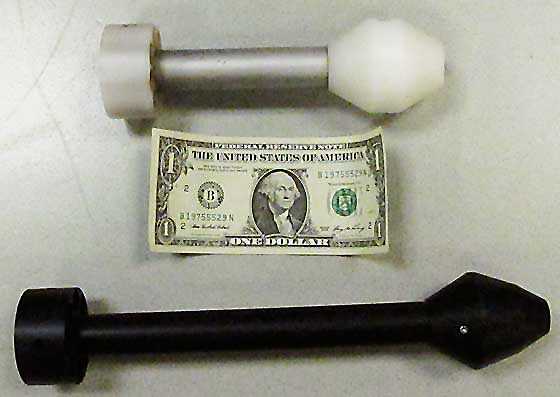 Two of the air bazooka projectiles from the Roanoke airgun show dwarf a dollar bill.
Well, this report has taken on a life of its own! I never intended for it to grow this huge, but things just kept popping up and I had to address them. Today was supposed to be my report about tuning my San Anselmo gun once again with the new Pyramyd Air piston seal, but something strange happened at the Roanoke Airgun show to change that.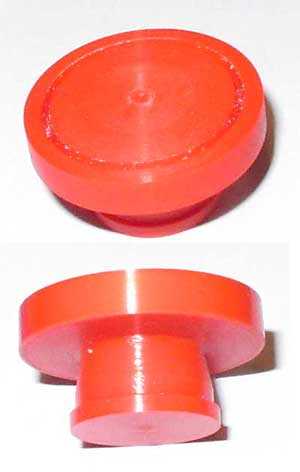 When Pyramyd Air assumed responsibility for the high-end Beeman airguns, they had this piston seal made for the FWB 124. It's a 70-durometer material with a good parachute channel. I'll install it in a 124 and report my findings.
This seal is also available from Pyramyd Air, although I don't think it's online yet. They're using them so fast that they'll soon make another run of seals.
Mark Taylor, a reporter for the Roanoke Times, wrote a nice piece on the show that Edith sent to me while I was on the road. Mark stopped by my table to introduce himself. As we chatted, he asked me if there were any airgun tuners who could tune his FWB 124 to shoot smooth. Of course, Paul Watts was at the show, but Mark knew that Paul has a long waiting period, and he wanted his gun back as soon as possible.
So, I thought, "Why don't I tune his rifle?" Then, I won't have to open up mine one more time. Mark's rifle has a 38,000 serial number, so the tight compression chamber shouldn't be quite the problem that it is on mine.
Mark went out to his car and got the rifle for Mac and me to examine. It's a deluxe model in excellent condition. When we cocked it, we both knew something dreadful was wrong. It cocks much harder than a 124 should, and there's a grinding feel to the mainspring as it's compressed. Today, I'll shoot the gun for a baseline, then in the next report I'll pull it apart for a look-see and a smooth tune.
From the feel of the cocking effort, I believe someone has tuned this rifle for power and left smoothness to suffer. The chronograph will tell the story, of course. If I'd experienced this 124 as the first 124 I'd ever seen, I would have thought all the wonderful reports about it were lies. The cocking effort is a whopping 27 lbs., which is about right for a Beeman R9 but quite a bit too heavy for a 124.
Mark stressed that all he wanted from his rifle was smooth shooting. Well, the 124 can certainly deliver that in spades, and it doesn't have to give up much in the way of power to do so! While Mark was at my table, Mac picked up a 124 from a table nearby and showed Mark what the gun should feel like. The difference was night and day.
The rifle test
This rifle cocks with a gritty, rubbing feel. Through the cocking slot, I can see what appears to be moly on the spring, so the gun has definitely been opened up at some time. I wonder what I'll find inside?
Crosman Premier 7.9-grain pellets
The standard test pellet is a Crosman Premier 7.9-grain domed pellet, because it's the one more shooters choose for their accurate airguns. Mark's 124 was shooting this pellet at an average of 761 f.p.s. as it was tuned. The spread went from a low of 752 f.p.s. to a high of 770. That's an 18 f.p.s. total spread, which isn't too bad. The average muzzle energy is 10.16 foot-pounds
RWS Hobbys
The next pellet I tried was the RWS Hobby. At 7 grains, it's among the lightest of the pure lead pellets. Hobbys averaged 808 f.p.s., with a spread from 798 to a high of 819 f.p.s. The average muzzle energy for this pellet is 10.15 foot-pounds
JSB Exact 8.4-grain pellets
For some reason, JSB Exact domes weighing 8.4 grains were the most powerful of all. They averaged 764 f.p.s. with a spread from 757 to 777 f.p.s. The average muzzle energy is 10.89 foot-pounds.
While I shot the rifle over the chronograph, I felt the harshness of the powerplant. The vibration was quick and powerful, and the forward lunge of the rifle that's a trademark of the 124 was quite noticeable. I won't be able to cancel that out, but I should be able to get rid of all the vibration and the scraping feeling when cocking.
Now that I have a baseline of performance, I can pull this rifle apart and see what's inside. It'll be a pleasure to tune this rifle sweet for Mark so he can feel how a 124 is supposed to behave. That'll be in the next report.
by B.B. Pelletier
The airgun show continued on Saturday, and a firearms show opened in the same civic center complex. Paying admission to the firearms show also got you into the airgun show, so we saw several of those buyers walking in our aisles. It's odd to see a guy carrying a firearm at an airgun show, but that's what happens when two shows are run at the same time.
On this day, I got a first-time attendee's appraisal of the show, which is always interesting. He said he came to the show with no expectations and was pleasantly surprised. I guess that about sums it up for most of us. If you came to buy just a Beeman R11 and didn't find one, you might think the show was a bust despite being in the presence of some of the rarest, most collectible airguns ever assembled. If they didn't have what you wanted, for you the show was bad.
No expectations
But arrive without a preconceived notion of what you might find, and a show like this can bowl you over! For example, I've been wanting a Sheridan Supergrade multi-pump pneumatic to replace the one I had to sell years ago when The Airgun Letter went out of publication. Money was tight, so a number of firearms and airguns were sold. That was back in the days when a Supergrade in nice condition would bring $600. Only two years ago, the same gun might have brought $1,500-2,000. But at this show, I sat just 10 feet from a beauty that was listed at $1,300 — a very good price for a nice Supergrade. I'd just enough to buy it at one point, but it would have tapped me out completely, so I had to let it pass. That is the agonizing that Lloyd wrote about yesterday.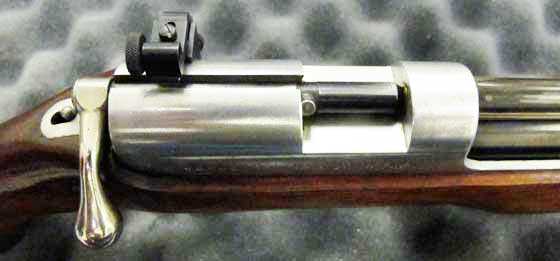 This very late model Sheridan Model A (called the Supergrade) was only a few feet away. The price was as nice as the gun!


A Sheridan Supergrade doesn't shoot any harder or more accurately than a Blue Streak, but it does it with style.
I told you yesterday that reader and guest blogger Paul had found a special air rifle at the show. What he found was a boxed Walther Lever Action rifle, the one that looks like a Winchester 1894, that impressed him very much. In person, the Walther is quite stunning, with only wood and metal touching your hands. I could tell by his smile that this rifle made his day.
But, as he was telling Mac and me goodbye, he kept eyeing a Beeman C1 of Mac's on the table. I think he expected his wife, who was with him, to talk him out of it, but when he returned to the table a short time later, he mumbled something about her being an enabler. In other words, Paul's wife is a lot like my Edith! Long story short, he went away with another fine air rifle.
Fabulous Hakim
Remember me telling you yesterday about the Falke 90 rifle and how it may have been the gun from which the Hakim was copied? Well, I wanted to show Mac why I thought that, so I glanced around for a Hakim to use in demonstration. And there, in a rack close by, was the finest Hakim I've even seen — short of one that Larry Hannusch completely refinished! Its owner/seller said he had hand-picked it from a Navy Arms pile back when they were first imported to this country back in the 1980s. There was at least one other Hakim at the show, and it wasn't too bad, but this one was exceptional.
More fine vintage stuff
Over at Davis Schwesinger's table, I spotted not one but two rare Winsel bulk-fill CO2 pistols. I recently used one of these as an example of a rare airgun, so seeing two of them in one place is similar to seeing two Stradivarii at a fiddlefest.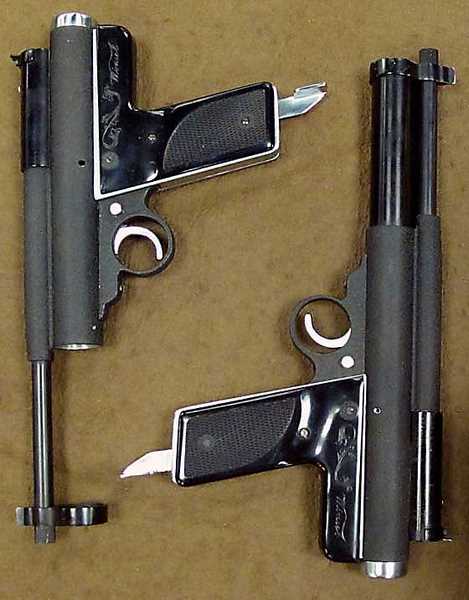 The Winsel was a bulk-filled CO2 pistol that required the owner to mail in the reservoir for refills. The gun on the left is missing its reservoir.
Nearby was a beautiful Warrior air pistol. These are quite rare and very beautiful examples of a quality-made handgun. The bluing and heft of the gun is very firearm-like.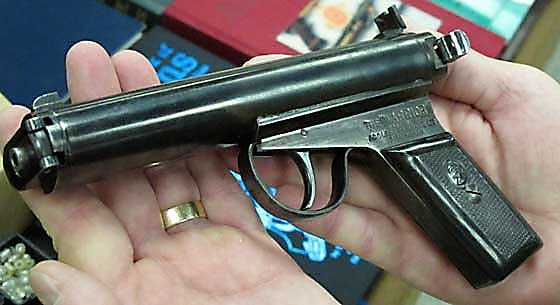 The Warrior is a heavy, all-steel sidelever air pistol that's worth a used car.
But, perhaps, the best thing I saw on Dave Schwesinger's table was a collection of old Beeman catalogs. Among them was a super-rare first catalog with a San Anselmo address. If you've followed my report on the history of Air Rifle Headquarters and Beeman you know that San Anselmo was the Beemans' home, and they used a P.O. box for the business. Inside this catalog was a price sheet that reveals all the retail and dealer pricing for cataloged items in the first catalog. So, now I know how much my San Anselmo FWB 124 sold for in 1973. I'll be covering that in another report very soon, as I have a little surprise for you coming in the 124 series.
So, I'm looking at this catalog that was valued at $500 about five years ago — and who knows what today — and Dave tells me, "They told me I should get $425 for that catalog, but if someone gave me $200 for it, I'd foxtrot around this hall." So I gave him $200.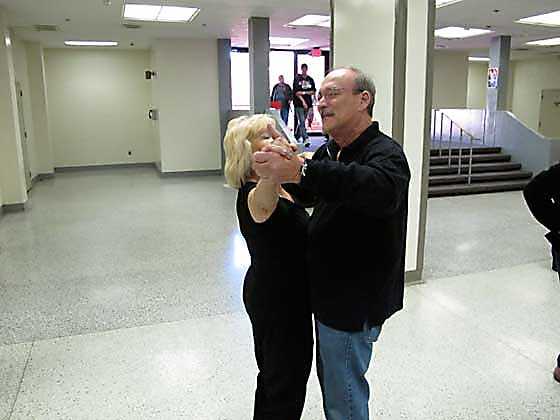 Davis Schwesinger dances with his wife, Luba, to honor our deal.
I know that seems like a lot for just a paper catalog, but this is the very hard-to-get first edition, and I'll be using it for the rest of my life. And that, more than anything, is why I felt I could not spend all of my money to buy that nice Sheridan Supergrade. Because you never know when something pivotal, like this catalog, will pop up.

Rarest of all Beeman catalogs, the first edition was mailed from San Anselmo.
Elsewhere in the hall, I encountered still more fabulous deals on collectible vintage guns. One that really tickled me was a Crosman 150 pistol kit. The 150PK consists of a pistol in a metal case that doubles as a pellet backstop. In years past, these were always going for $150 when in good condition, but I found one at this show for only $100. And the pistol was a beauty!
Of course, there are always the bizarre guns, and this show had plenty of them. I saw things that nobody could guess what they were or how they worked. But collector Larry Behling probably sums up this category best with his bazooka.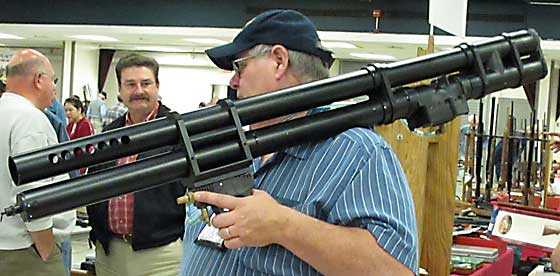 No, it's not a target gun. Collector and author Larry Behling holds his new acquisition, an air bazooka.
Vintage target rifles
Usually, there's a theme to an airgun show, but I couldn't see one this year beyond the memorial to Fred Liady. However, if I were forced to pick a theme, it would have to be vintage target airguns. I saw more of them than I think I've seen in many years. On my table, alone, Mac had two FWB 300s, an FWB 150 and an NIB RWS Diana 75. I've already mentioned some of the other great ones, such as the NIB HW 55.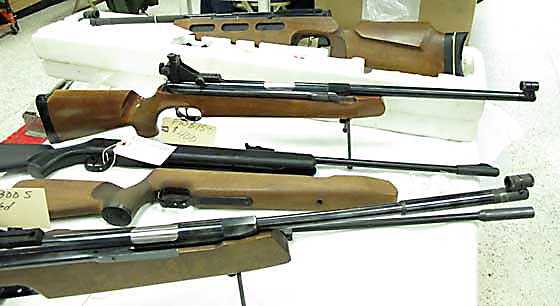 Ten-meter target rifles were all over this show. Mac had four on his table, alone.
I managed to snag an HW 55 Custom Match that I'll be showing you in the days to come. That's a pretty nice version of the HW 55 that's fairly scarce, considering the rifle's long production history.
As Saturday grew old, people were asking whether the show would run again next year. Dee Liady told me right at the end of the show that her brother and Davis Schwesinger are planning to hold the show again. So, apparently there will be a 21st year gathering at Roanoke. I hope that many of you will be able to factor this into next year's plans and join us in this beautiful southern Virginia city for the world's largest and oldest continuous airgun show.
by B.B. Pelletier
Well, we all wondered a month ago whether the Roanoke show would run this year after the passing of the organizer, Fred Liady, but it did run exactly as planned. Fred's widow, Dee, made sure that the show went off exactly as Fred would have wanted it, which was her memorial to his memory.
All of the attendees had Fred foremost in their minds as they set up in preparation for the doors to open. Dennis Quackenbush conducted a short but heartfelt ceremony a few minutes before the doors opened on Friday for all of the attendees to remember not only Fred but other noted airgunners who left the building this year. There weren't many dry eyes in the crowd when Dennis finished his short eulogy in front of the Fred Liady memorial table at the front of the show hall. Then, everyone filed past Dee and told her how much they missed her husband. I was surprised she had the strength to stand there and greet over 100 people who'd known Fred for so many years. At the end of the ceremony, the mood in the room was one of quiet remembrance that lasted until the doors finally closed the next day.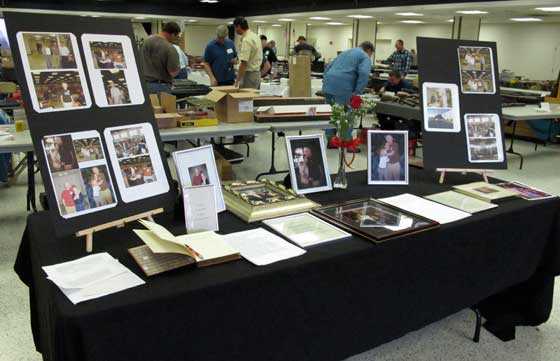 The show was dedicated to the memory of organizer Fred Liady. Attendees were invited to sign his memorial document, and there were numerous people who signed in from the internet.
Roanoke was different this year
Besides the somberness under which everything operated, this was a very different show. It was quieter, slower and more reflective of the current economic times. By that remark, I mean to imply that the prices on airguns were lower than I've seen them for many years! That'll come out in this report, but I'm going to take a different perspective, because to me, this show also happened very differently.
Instead of me flitting from table to table and deal to deal, the show literally came to me. Most of the deals I made were thrust upon me rather than me having to seek them out. Allow me to explain.
Marv Freund, a good Maryland friend for many years, told me he had a strange airgun at his table that he thought I'd be interested in. He wasn't certain of the name, but by the time we walked over to his table I'd pinned it down to Falke, a German maker of classic springers. And of the many models that Falke (falcon in English) made, the model 90 underlever was the top…and Marv had a Falke 90 to show me! They don't get much harder to find than that. This was the first Falke 90 I have ever seen at any airgun show, and I've been attending shows since 1993!
The wood stock has been worked over by a budding folk artist. When I finally show it to you, you'll see that the stock has definitely been folked-over, but the metal seems to be in good shape and it's all there. Marv named a price that would have been good for 1980, and I acquired my first airgun of this show.
Back at my table, I was marveling at my good fortune when several blog readers walked up and introduced themselves. Most of those I met have not yet commented on the blog. I encouraged them to do so, but it was just nice to meet them and put faces on more readers. Then, Fred from the People's Republic of New Jersey (FredPRoNJ) arrived. I've met him before and he's kept in touch this year following my hospital stay. With him was his friend, Tom, the former Navy SEAL, who I suspect is starting to warm up to airguns from constant exposure through Fred.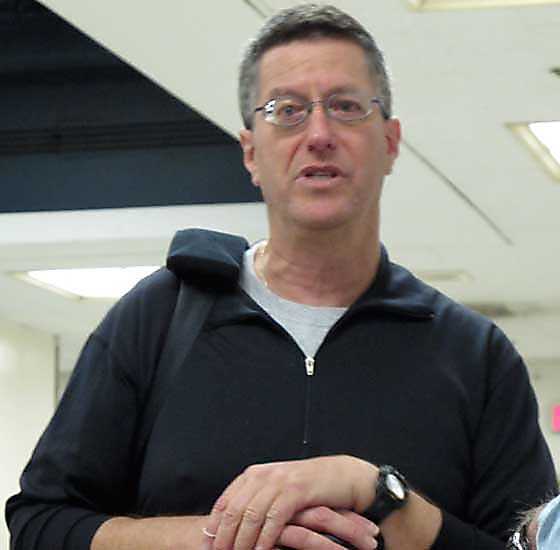 Reader Fred, from the People's Republic of New Jersey, was the first to spot my table.
He handed me the logbook for his new Benjamin Marauder that showed the work he'd done to get the valve as stable and conservative as possible. The data I saw were quite impressive, and I know that when he finishes his experiment we'll all be treated to an excellent guest blog. But Fred had some guns he wanted to buy and one RWS 350 he wanted to trade or sell, so I bid him well as he wandered off in search of his dreams.
Then strange deal No. 2 happened. Richard Schmidt, a dealer from New York, came by my table and we chatted about airguns in general. Back at my first airgun show in 1993, I bought a Hy-Score model 807 (Diana 27) from him at the Winston-Salem airgun show, which was the forerunner of the Roanoke show. I still have that 27, and you can read about it here. Anyway, Richard knows I have a weakness for 27s, so he offered me a nice one he'd brought. When he showed it to me, I was very pleased at the overall condition. He named a price that was mid-1990s, and I reached for my wallet. But Mac broke open the barrel and pointed out that the breech had some bad damage that was not repairable. Richard was as surprised as I was, and he took the gun back for a barrel replacement after the show.
A couple of hours later, I was relating this story to Mac and to blog reader Lloyd. As I was lamenting the loss of a good model 27 a man walked up and said, "You want a Diana model 27? Here's one for you! I'm sorry that this one says Winchester 427 instead of Diana 27, but you know they're the same guns."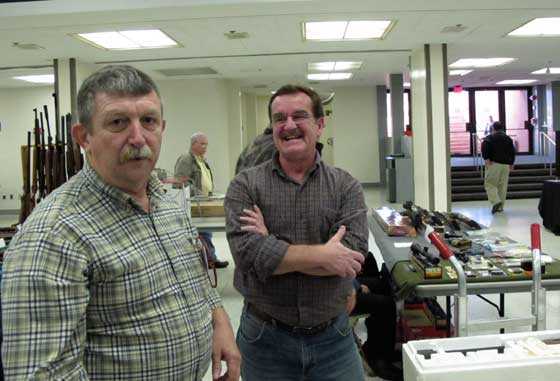 Mac on the left and reader Lloyd were ready for a great show.
Well, a Winchester 427 is the top of the Diana 27 hierarchy. It's like saying you're sorry that this is a Rolls-Royce instead of a Bentley! I told him I would like to pay the price I had negotiated with Richard Schmidt and he agreed. After a quick once-over, I couldn't get the money out fast enough — and my second purchase was history.
Elsewhere in the show there were deals spilling off dealer tables — literally, in one case, when a gun rack dropped all of its vintage guns into the aisle. Not once, but twice! If you wanted a Feinwerkbau 124, the show was loaded with them. Prices started at $170 for a standard model in good shape and never got up to $400. If the same guns had been advertised on the Yellow Forum classified ads, they'd have sold in a day.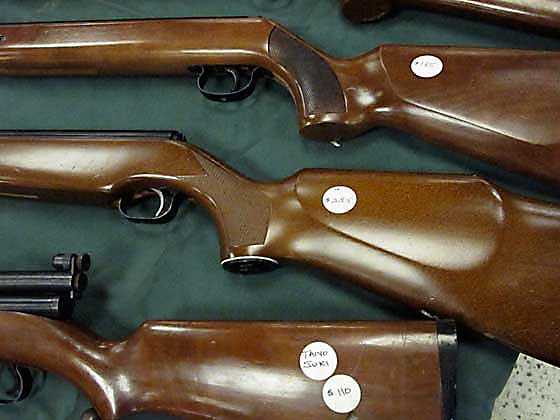 That FWB 124 in the center is a deluxe model going for only $285!
But is wasn't just 124s that were hot. I saw hundreds of vintage guns at prices that reminded me of 20 years ago. How about a Diana model 66 target rifle for $350! Or a new-in-the-box HW 55! I didn't catch the price of that one, but it was NIB, so who really cares!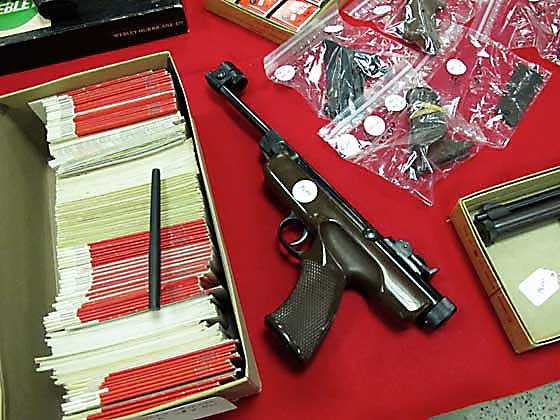 How about a Diana model 5 pistol from RWS for just $75? It was like new.
Then there were the REALLY old airguns. Cased air canes and dart guns from the 1700s. A cased butt-flask rifle with all the tools. Yes, they weren't cheap because they never are, but they were there — and in profusion. A serious collector could not have discounted this show. But something was different.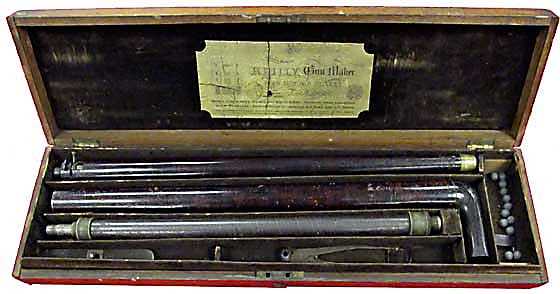 This cased air cane with the pump and all the tools was made by Reilly of London. One of many fine antique airguns at this show.

A dart gun from the late 1700s was one of a pair. The set trigger could be fired by blowing on it.
In years past, I've witnessed deals involving huge sums of cash at this show. But I didn't see any of that this year. And, when people talked about it, they all seemed to say they had money to spend but were less willing to spend it than in years past.
Some were frustrated by not finding exactly what they came for. The R7 was high on many lists this year, but there seemed to be a shortage of them at this show. However, Fred from the PRoNJ did connect with a Beeman model HW 50S that satisfied him quite well. I expect him to let us know how this rifle meets his needs.
He got it in a super deal from Pyramyd Air, which had four tables of guns, pellets and accessories and was always busy. Mac bought a Daisy model 25, one of the new ones I'd just finished testing, for a super deal! And, he bought as many pellets as he could carry in a super dented-tin sale they had. Pyramyd Air Tech Manager Gene Salvino was doing anything and everything to sell guns and equipment to anyone who dropped by their tables. Blog reader Lloyd bought a great AirForce scope from them to use on a Benjamin Discovery he also picked up.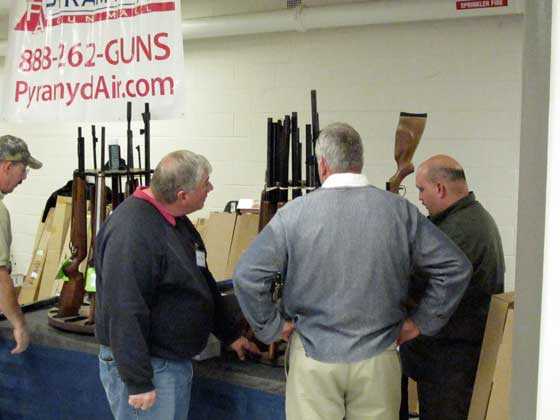 Gene Salvino (right) the Pyramyd Air tech manager, shows a rack of precharged rifles to interested buyers.
I returned half a truckload of test guns to Pyramyd Air at the start of the show. Some of these went back as far as three years.
I was back at my table when a tall gentleman stopped by to say hello. When I heard him say he was our very own reader Kevin, I came out from around the table and hugged him, which I'm sure embarrassed him to no end. Months ago, when I was flat on my back, Kevin and several other blog contributors, including Lloyd and Fred, virtually took over the duties of answering the questions that came in. This blog would not have functioned as well as it did without their help, and Edith and I will never forget what a wonderful thing they did for us all.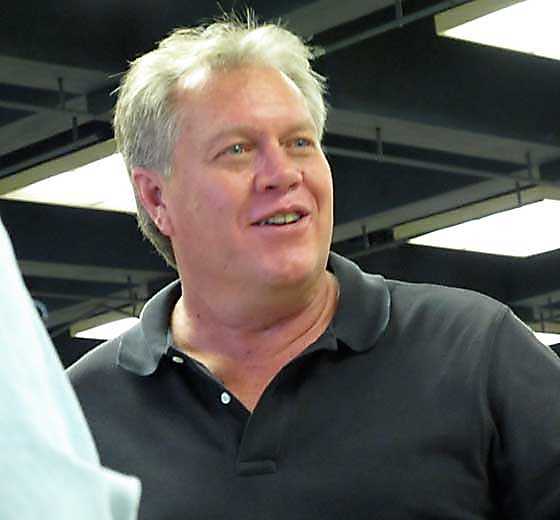 Reader Kevin arrived on day one and toured the show floor.
Toward the end of the first day, Paul, another contributor and guest blogger, stopped by the table to say hi and we talked for a bit. He's got another guest blog coming together, but it may be a while, as building a new house is on the front burner in his life right now. However, Paul's still an airgunner, and he revealed that he'd seen a gun he thought would be perfect for his needs. But the outcome of that story will have to wait my report about day two.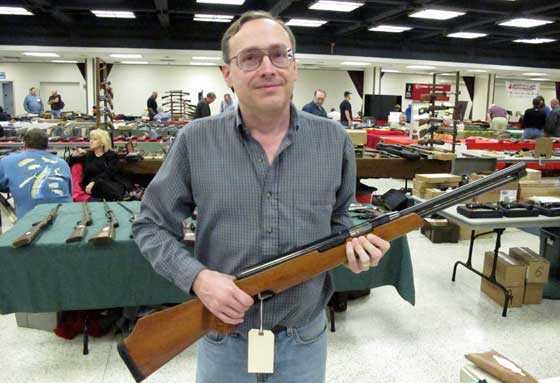 Reader Paul holds a BAM B40 at my table. He stayed for both days and found a couple of nice airguns.
by B.B. Pelletier
If you'd like to write a guest post for this blog, please email us.
Bloggers must be proficient in the simple html that Blogger software uses, know how to take clear photos and size them for the internet (if their post requires them), and they must use proper English. We'll edit each submission, but we won't work on any submission that contains gross misspellings and/or grammatical errors.
Today, blog reader CJr tells us about his first-time project of making a left-hand grip for his IZH 46m single-stroke pneumatic pistol. Enjoy!
by CJr
I'd been looking for a suitable entry-level competition target pistol that I could use for the AirgunArena.com eMatch pistol events and finally decided on the IZH-46M match pistol from IZH-Baikal. Back in March 2006, BB said, "The 27.5cm (just a hair shy of 11″) barrel is world-class. No human can shoot as well as this barrel permits, which is true of every world-class target pistol." That's what I was looking for! The bold print was his. If these barrels still exist on today's pistols I will be a happy camper. And the $379.50 price tag isn't bad either, for a good entry level competition pistol.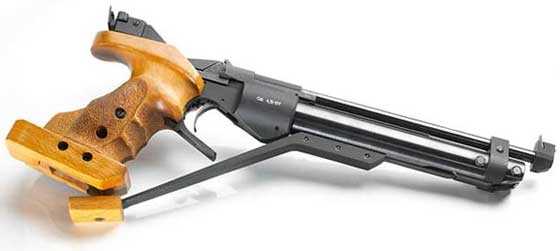 Here she is in all her radiant beauty.
This pistol had all the features I was looking for except one –- it didn't have a left-hand grip option. Since this was the gun for me, that was sad news. But it wasn't sad news for long. While Pyramyd Air didn't offer left-hand grips, I hoped someone else might. I searched the web and queried this blog but came up with nothing to my satisfaction. It was then that I decided to make my own.
Now, mind you, I am not a woodworker, woodcarver or carpenter. My only previous experience working with wood was helping my sons build their Pinewood Derby cars for Cub Scouts. But I was determined to make my own grips. After all how hard could it be?
Let's get started
I started by visiting the local big box hardware store. Without much searching, I found a piece of baseboard trim that was just the right size and for only $2.38 for a 3"x5"x1" slab. Perfect — almost. They were soft pine, but they were cheap and looked easy to work with; and if my idea fell through, I wouldn't have much invested in my folly. I bought two –- one for each half of the pistol grip.
What follows is a step-by-step approach I used to fashion my grips. I took each step with the intent to determine if it was feasible to continue or if continuing was heading outside my comfort zone. My main objective, of course, was to not damage the pistol in any way. As you'll see, there was never any danger and no airgun was killed or injured during the making of this grip. I did have to be careful not to get sawdust into the vital areas of the pistol.
Remove the grips from the pistol
My first step was to remove the old grip halves from the pistol. Each grip half is held to the pistol grip tang by one screw through the grip and into a threaded hole in the tang. There's one screw below the tang that goes through both grip halves to hold them together at the bottom. I removed those three screws and separated the grip halves from the tang, thereby removing them from the pistol. There was also the adjustable wooden palm shelf at the bottom of the grip's right half held by two bolts through the adjustment slots. I removed that, also. All the hardware I removed I put in a zippered plastic bag to prevent loss.
Trace the grip outline on paper, transfer to wood and cut out new grip halves
I laid the grip halves on a piece of 8.5″x11″ computer print paper and traced their outlines to make patterns. I cut out the patterns with scissors, laid them on the blocks of wood I bought, traced the outline onto the wood, and used a jigsaw to cut out the shape of both grip halves.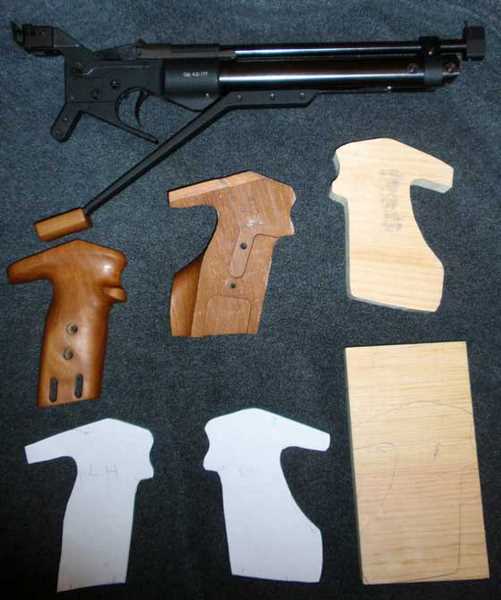 Here's a picture of the pistol with the grip removed, a freshly cut out grip half, the paper patterns and one of the pine blocks I started with.
Trace the outline of the pistol's tang inside both new grip halves
Now that I have the new grips cut out, I want to make sure they'll mount on the pistol. Since the left-hand grip I'm making is made up of two separate halves, I'll call them the left side and the right side.
Left side
I took the freshly cut right side, reversed it and set it on the table in the new left side orientation. I set the gun carefully down onto the now-new left side and traced the outline of the tang onto the wood.
Right side
Next, I had to make sure that when I traced the tang onto the new right side, both grip halves would be properly positioned with the tang and aligned with each other. With the left side still on the table and the pistol in the correct position on top of it, I placed the new right side on top of the tang, aligned the two grip sides flush with each other — making sure I didn't move the one on the bottom — then, carefully picked up the pistol and only the right side together and, while holding this arrangement, traced the tang outline onto the right side. This procedure was tricky because I had to make sure the wood didn't slip on the tang. Actually, the shape of the grips at the top helped stabilize them against the pistol.
I'm glad I had a free hand in this
I had a Dremel rotary tool, so I bought a plunge router attachment for it for $27 at Sears and a 1/2″ router bit to cut out the tang groves. It's kind of a free-hand operation following the traced outlines with the router bit, but the depth is constant because of the router attachment. Besides, imperfections will be hidden from sight. The old standard grip was shimmed inside. If I cut too much, I could shim it. As it turned out, both fit snug and flush.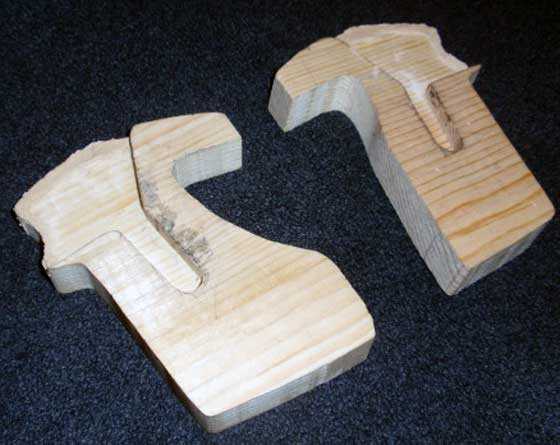 Cut-outs for the pistol tang. Not pretty, but it works.
Drill, baby, drill!
The next step involved drilling the holes in the grips so they could be screwed onto the tang. I did this with a drill press by first drilling through the screw holes in the tang and into the new left side. Caution: Care must be taken so the threads in the tang are not damaged by the drill bit. To prevent tang thread damage, I first used a drill bit smaller than the hole in the tang. Next, I removed the grip and enlarged the hole with a bit the size of the original screw. I now knew that the left side would always match up with the tang using those holes.
I laid the left side on top of the right one, making sure they were flush with each other. With that larger drill bit, I drilled through the left side holes into the new right side. All the holes would line up and both grip sides would always properly align with each other on the tang and flush. The last step in this part of the process was to countersink the holes in the grips. With that done, I was ready to start carving.
Now, the real fun begins
Using the Dremel and router bit without the plunge router attachment, it was easy to make a free-hand rough carving of the grips. I had to always keep an eye on the original grips as a model while carving these.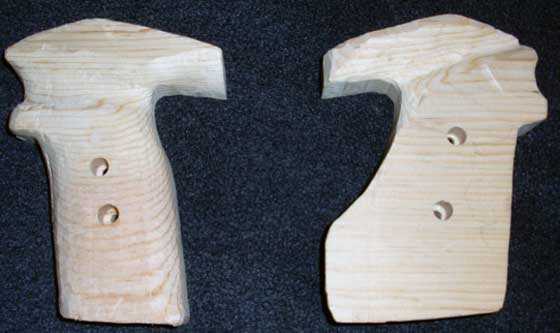 These are pretty rough, so a little more carving and sanding is needed before I can shoot with them.
At this juncture, use your imagination to visualize a lot of sanding and cutting and wood filler. I used a router bit, rasp files and 150 on up to (down to?) 320 grit sandpaper. What a beauty I finally turned out!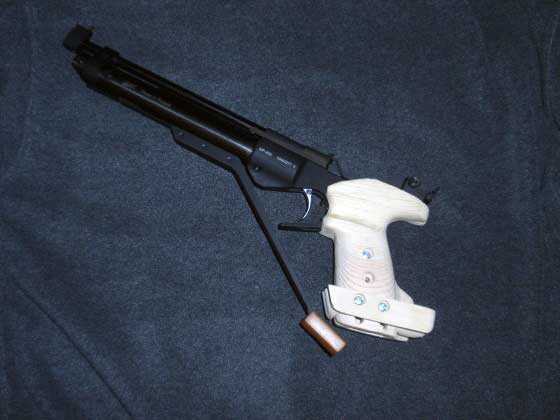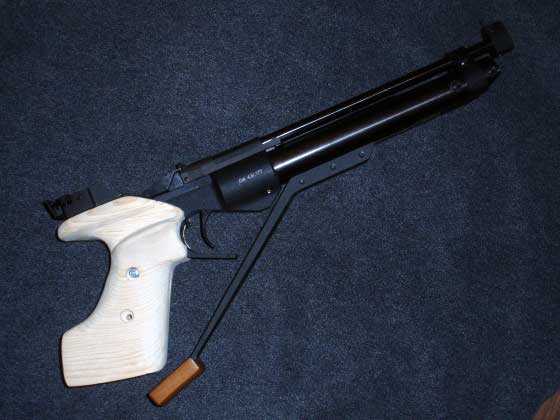 After carving, sanding, wood filler and a bit of drilling — this is what I was able to do. For proof of concept, I could have stopped here and used these but now I've been bit by the wood finishing bug.
Time to stain my reputation
I decided to stain the grips a dark wood grain color to resemble the original grips. I'll tell you right off the bat that this part of the process was a complete failure. I read some stuff on the internet, watched a few videos and felt I knew enough to proceed. I bought a can of MinWax Wood Finish, Tung Oil Wipe-On Finish and mineral spirits. I followed to the letter the instructions printed on the can of Tung Oil Wipe-on Finish for producing a semi-gloss, uniform, wood-grain appearance but ended up with the ugliest, blotchy chunk of wood seen by man. I'd show you a picture, but my camera refuses to download it.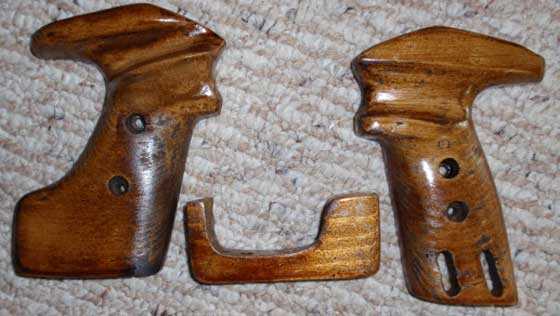 Well, if you insist…here's what the stained grips looked like.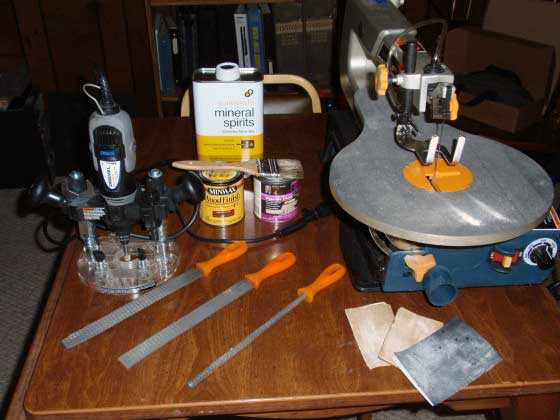 These are the tools I used. (Drill press and scissors not pictured.)
Changes made that differ from the standard grip
I rounded off the trailing edge of the palm shelf because the sharp edge was very uncomfortable. My grips are smaller than the originals, but that's a given. My next pair will be even smaller. The originals are purposely made large to allow for customization to any hand size. On the next pair, I'll move up the grip flare (at the bottom of the grip) a bit higher. I'm talking about the part of the grip that flares out at the bottom on my new right side and not the adjustable palm shelf. I believe this flare is supposed to be designed to minimize any yaw in the barrel, whereas the palm shelf is designed to minimize droop caused by the wrist. Because my hand is small, the current flare does not quite reach my hand, and the palm shelf is adjusted as far up as it will go. Finally, on my next pair, I will choose a wood that doesn't need stain. I will need something to make them waterproof and sweatproof. Staining is not my forte.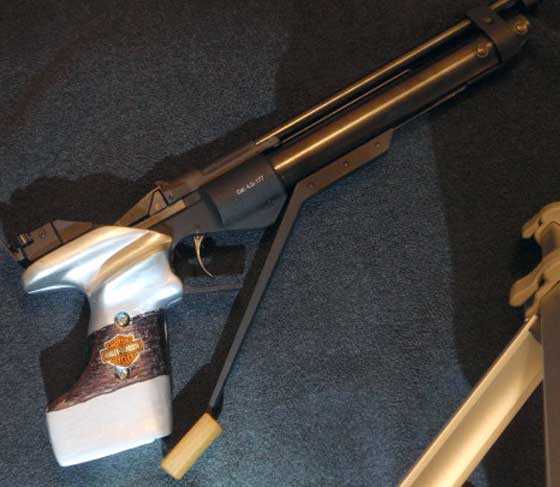 Final product (ok, I got silly).
Time to assess the results
My efforts were a success. These grips fit me like a glove — very comfortable, giving me a much more stable sight picture. I can't wait for the stain to dry so I can start shooting. I wanted to make a set of left-hand grips that were suitable for competition shooting, and I succeeded. Can you do it? I believe you can.
I don't think I possess any talents that you don't have. Can I do it again? I think so. I'm emboldened, now. Would I do it for economic gain? I don't think so. It's too time-consuming the way I did it to make it affordable to a customer. However, I think I can make a set in about 4 hours, probably less with the proper equipment.
by B.B. Pelletier
Part 10
Part 9
Part 8
Part 7
Part 6
Part 5
Part 4
Part 3
Part 2
Part 1
Well, here is our old friend, the San Anselmo Beeman 124, again. Today, I'll address the scope problems I was having the last time I tested the rifle for accuracy.
You may recall that I suggested that the front and rear rings be swapped to see if that would alter the amount of down angle the rifle appears to have. One reader was appalled that anything manufactured could be that far off from true, but believe me, it doesn't take much. I've seen this trick work many times in the past. However, I failed to mention that three inches is a bit excessive to try to correct this way. This trick is more for those who optically center their scope and have a half-inch problem at the first point of intersection.
However, I did remove the rings and swap the front for the rear. Because these are two-piece rings I could also turn one ring at a time, giving me six different permutations of the setup, I believe. But three inches of change is so major that if it doesn't come by swapping positions, you might as well look elsewhere.
Well, I was right. Swapping the rings did make a big difference. Only the difference went the wrong way. Now the pellet was striking the target four inches below the aim point, using the exact same scope with no adjustments. So, this set of rings was history. No amount of shimming would ever be able to make up an angular difference that large.
However, I had an ace up my sleeve. I'd visited the AirForce factory and asked to borrow a BKL drooper scope mount, and they happily complied. So, now I had the BKL 260 with .007 drop compensation to try out. This is a one-piece mount and it comes with simple instructions for which way to mount it. However, I did encounter a problem. This BKL mount is too low to allow the 50mm scope I had been using to clear the 124 spring tube. And you'll recall that I have to use a BKL mount because of the 124′s non-standard scope stop system. I have mounts that will work with it, but you can't buy them, so I'm not testing them here.
The solution was to use another scope, and all I was trying to do was ascertain that there was a scope mount and ring set in the world for this rifle — a vintage 124 with a large barrel droop. So, I picked a BSA 3-9×32 scope that didn't have parallax adjustment. As a result, I had to run it at five power or the target was too blurry to see well.

The BSA scope fits well in the BKL drooper mount. I could have gotten away with a 40mm objective, if I'd wanted.
Even with all that disadvantage against me, I proved the concept. The 124 and this new scope adjusted on target perfectly with no problem of adjusting the elevation knob too high.
So, I shot one group of 10 Crosman Premier 7.9-grain pellets and then another. Sure enough, the problem has been solved.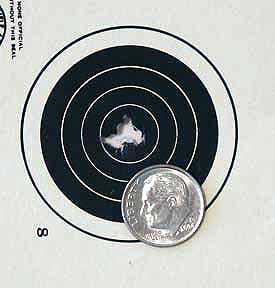 Good group, properly centered and 10 tight shots at 25 yards with Crosman Premier lites.
I'm removing the scope from the gun, because the only reason I scoped it in the first place was to conduct the Silver Jets accuracy test. That's over now, so the 124 can go back into its sarcophagus, except for one more tuneup that will employ the newest Pyramyd Air 124 piston seal.
by B.B. Pelletier

The Walther LGV Olympia is a beautiful breakbarrel spring-piston target rifle from the 1960s.
Well, the Roanoke Airgun Expo starts today, so while you read this, Mac and I will be buying, selling and looking at airguns. I will take pictures to show you, of course.
So, there I was, on the morning of October 5, reading my October 4 blog, "A safe strategy for no-loss — mostly gain — airgun collecting — Part 1," when I came to the embedded link to the Yellow forum classified ads. Since I always check the embedded links in blogs, I clicked through and immediately came upon an ad for a Walther LGV Olympia target rifle in great condition for $425. What? Are they going to be selling Harleys in crates left over from World War II next?
And, then, I noticed that the seller was none other than Tom Strayhorn, one of America's most well-known collector of Walthers. I knew Tom was a straight shooter, so this ad was apparently no scam despite the 1990s price. Ironically, this ad came to me right as I was lecturing to all of you that a once-in-a-lifetime opportunity comes along every few months if you look for it.
So, I bought the gun. What else could I do? I had just told you not to miss out on really good prices when they come along, and here was one that just landed square in my lap. Talk about serendipity!
Walther LGV
During the 1960s, spring-piston target air rifles reached their high water mark. There was the Anschutz model 250, the FWB model 300, the Weihrauch HW 55 and, in 1963, the Walther LGV joined the fun. The LGV was the last in a long line of target breakbarrel rifles from Walther that started in the 1950s with the LG 51. Its immediate predecessor, the LG 55, is well-known as a fine European club gun, and the LGV took that one step farther. Although it's a recoiling spring-piston rifle, the LGV is so smooth and heavy as to be almost recoilless. It was produced until 1972.
There are several different versions of LGVs, and mine is the first model called the Olympia that has rounded corners on the wood. I owned another Olympia LGV years ago that had a matte finish on all the barrel jacket to cut the reflection, but this current one is probably an older model that has all deeply polished metal finished in a deep black oxide. The polish is fully the equal of a Whiscombe or a Colt Python with the royal blue finish.
The forearm contains a lead weight to make the rifle decidedly muzzle-heavy, as target rifles are supposed to be. The rifle weighs 10.5 lbs., or just about one pound more than a 1903 Springfield rifle. It's very muzzle-heavy, not only from the lead weight in the stock by also from the thick steel jacket that surrounds the barrel.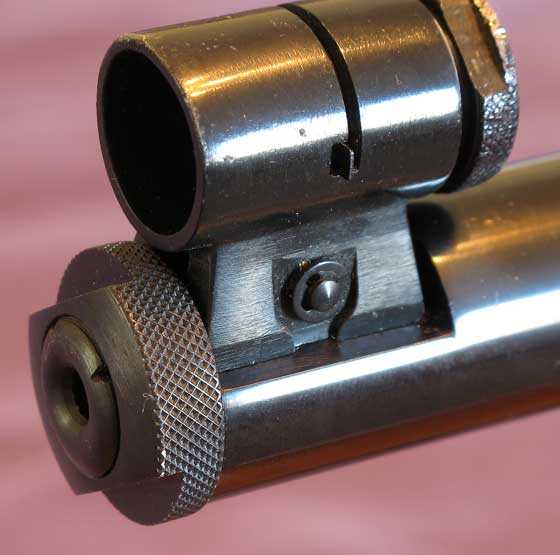 The heavy steel barrel jacket is held on by a special nut at the muzzle.
Casual observers will spot the barrel latch immediately. Like Weihrauch's HW 55 target rifle, Walther provided the LGV with a special latch to positively lock the heavy barrel closed. The LGV was the only breakbarrel Walther did this for. The LG 55, which is quite similar in size and power, does not have a barrel latch.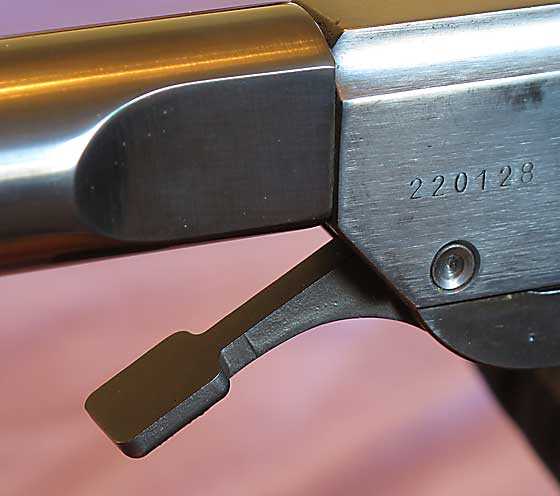 Barrel latch locks the breech like a bank vault.
To compliment the latch, the baseblock has two hardened steel pins, one on each side of the block, that eliminate any possibility of sideways wobble in the barrel. In combination with the barrel latch, they make a vault-like rigid joint when the barrel comes to the closed position. Like the doors on a Mercedes, the barrel closes with the quietest of clicks that mask the ultra-rigid lockup.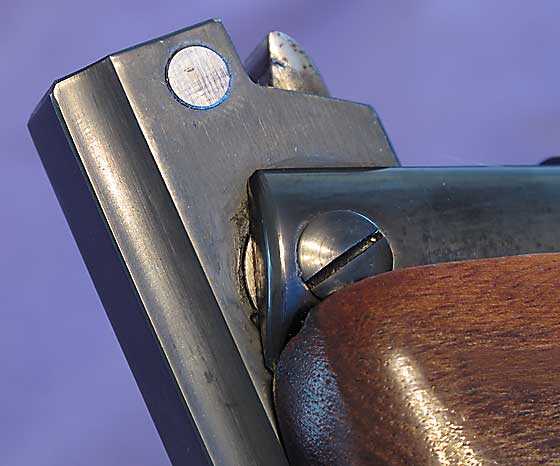 Hardened steel bearing pins on either side of the baseblock ensure zero sideways barrel play.
Cocking effort on the LGV Olympia is legendary. It's one of the few adult models to cock at less than 12 lbs. effort. This rifle has been tuned prior to my receiving it, so it may cock a little harder, but it's still on the silly side of trivial. I will record it for you when I test the velocity in Part 2.
You'll notice that the grip is heavily stippled to grab your hand during a match. These rifles were shot from the offhand position only, so all the design features stress that position over all others.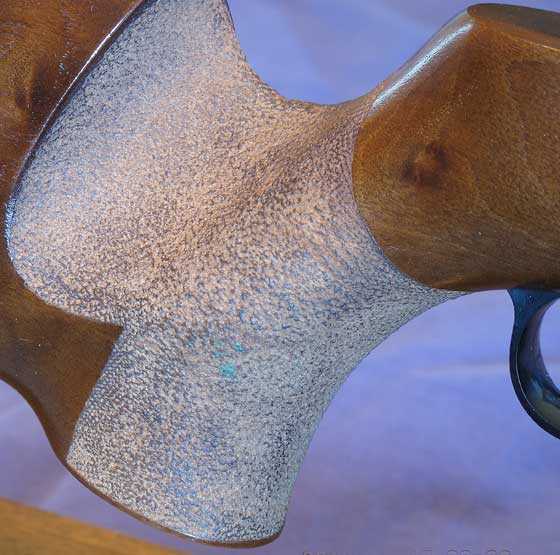 LGV grip is roughly stippled for better purchase.
The curved buttpad is rubber and adjusts both up and down. The trigger is a fine target trigger, although it is of 1960s technology and not the current day. It's two-stage and breaks at 11 oz. And, of course, it's adjustable.
The stock is figured walnut (I think) with a reddish-brown finish. It's very full and robust, yet the forearm has no checkering, stippling or even finger grooves. It seems almost informal compared to the other contemporary target rifles. The Olympia was not intended to shoot in world cup competition. That honor was reserved for the LGV Spezial and the UIT models.
The front and rear sights are target-grade and identical to those found on the LG 55. In the front, a globe accepts standard inserts; in the rear, Walther's own proprietary aperture target sight prevails. The rear sight rail allows for some adjustment of eye relief, though the rear sight has to lock down in one of the half-round cross slots on top of the receiver.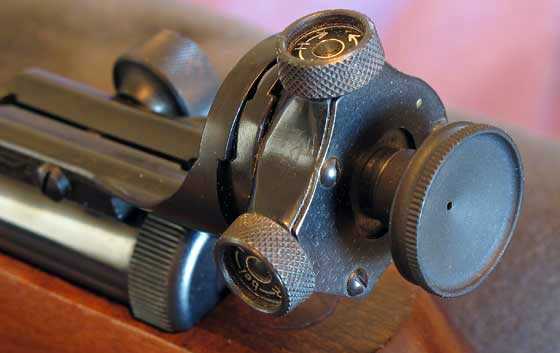 The LGV uses the same rear aperture sight as the LG 55.
I'm not a target rifle shooter, but I must say that this rifle holds steadier than any other rifle in my collection. Mac is supposed to bring a Weihrauch HW 55 CM for me to see, so I'll get a chance to compare that to this gun. But of all my target rifles, this one is the steadiest.
In Part 2, I'll chrono the rifle for you and measure the cocking effort.
by B.B. Pelletier
Well, it was inevitable. Just as I was reporting on the Umarex Steel Storm, somebody said they had heard that the new Umarex EBOS (Electronic Burst of Steel) was the better BB submachine gun. If you go looking for the EBOS, don't look among the air pistols. Even though the firearm it is copied from probably fires a pistol cartridge, the presence of a fixed shoulder stock has caused Pyramyd Air to place this BB gun among the rifles.
There will probably be debate over which of these three new BB submachine guns is the best for a long time to come. I won't get into that, but I'll review the same things on all of them so you can make up your own mind.
And a word on the accuracy testing of all three guns. I have ordered some RWS BBs that one reader praised for extra accuracy. I want to include these BBs in the accuracy tests of all three guns, plus I will also test the Daisy No. 25 BB gun. If there's a good enough result, I will show it. I will not test them with Daisy Avanti BBs because of the price and the fact that these are submachine guns.
For those of you who were wondering where the Drozd fits in among these new BB submachine guns, the EBOS would seem to be its direct competition. It has an electrically driven action that allows for two sizes of automatic bursts as well as semiautomatic fire. It also offers three rates of automatic fire during the two bursts — 300, 400 and 500 rounds per minute.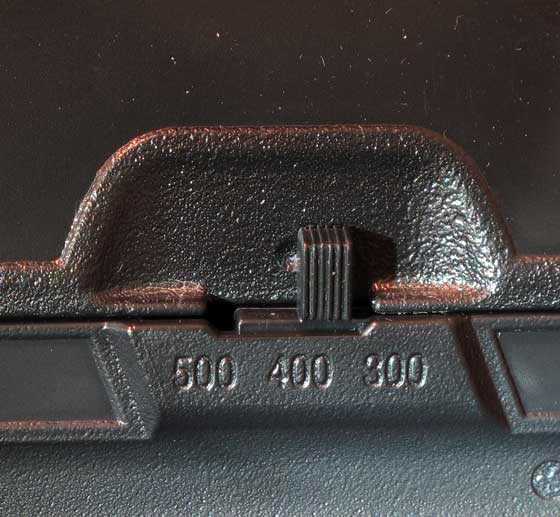 Three rates of fire are selectable. Semiautomatic fire (one shot per pull of the trigger) is selected by a different switch on the other side of the gun.
In reading the user comments, I see where someone has requested that the cyclic rate be increased to 800 r.p.m., so perhaps this gun will seem realistic to me after all. If it is, it will be much more to my liking, because I was trained on automatic firearms that shot from 400 to 900 r.p.m. I don't relate very well to the "carpet-rippers," as the high-rate guns are often called.
The EBOS advertises a muzzle velocity of 540 f.p.s., which, if true, will make it the hottest BB gun I've ever tested. The previous record-holder was an Anics pistol that's been obsolete for about five years. A velocity this high in a BB gun is almost a liability, what with the way steel BBs ricochet. I'll have to give some thought to how this gun needs to be tested, lest I blow through my Crosman 850 BB trap.
The EBOS uses 88-gram CO2 cylinders, or what Crosman likes to call AirSource cartridges. Of course, you don't want to forget that Umarex has their own Walther-brand cartridges. These larger cylinders fit into the part that becomes the stock of the gun. The gun features a built-in, 24-shot forced-feed BB magazine fed from an onboard 400-shot reservoir.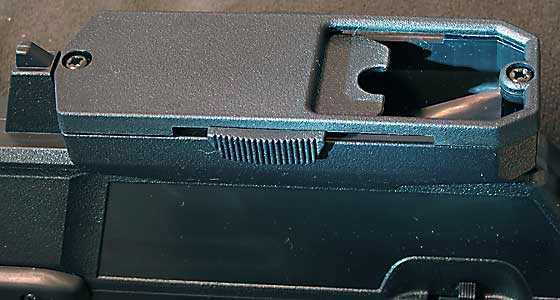 Just pour in up to 400 steel BBs.
Now I am going to do something I almost never do, but in this case the facts are so blatant that they warrant a comment. The price point of the EBOS is so much lower than the Drozd Blackbird that I seriously wonder if it is going to cut into the sales of the Russian gun. Usually, when there's a small difference, even up to $50, there wouldn't be much competition, but the EBOS is nearly one-third the cost of the Drozd Blackbird, which also accepts 88-gram cartridges. That may change demand in the market.
Some design features explained
Of course, this gun is mostly plastic on the outside and very lightweight — 3 lbs. without BBs and a CO2 cartridge installed. And I want to draw your attention to two design features that are visually misleading. What appear to be Picatinny mounts on both sides of the gun are simply decorative embellishments. They will not hold any thing. The two true Picatinny rails are on top of the receiver and at the bottom. Also, what appears to be a thread pattern behind the muzzle is actually a series of concentric plastic circles that do not accept any muzzle attachments.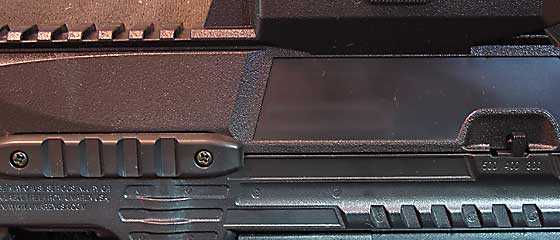 Although the sides of the gun appear to have Picatinny rails, they're simply decorative. The real Picatinny rails are at the top and bottom of the gun.
Sights adjust
There has been some criticism of the top-loaded BB reservoir, and I don't understand why. The adjustable sights clear it fine and so will most dot sights. It isn't a hindrance in any way I can see. The rear sight is adjustable for both windage and elevation, and I can't wait to try it out. This is the only one of the three BB submachine guns I'm testing that has a stock. That makes the open sights workable.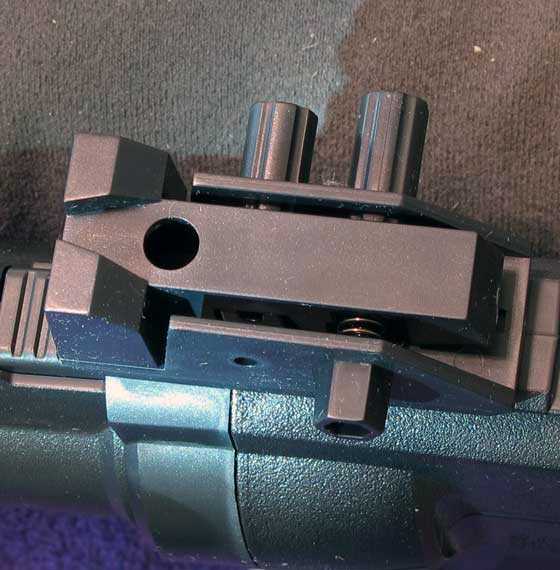 The rear sight adjusts in both directions.
The EBOS seems to be the biggest and baddest of the three newcomers. But testing will show all.