Archive for December 2010
by B.B. Pelletier
Okay, there has been a lot of interest in this series, and many of you have been champing at the bit to see what I think is wrong with the three photos I gave you as homework last time. So why don't we begin there?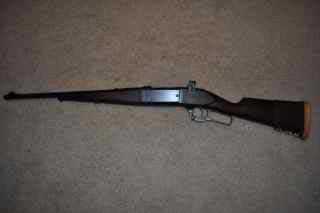 The three things I see wrong with the above photo are:
1. It's too small. You can't see any detail on the gun, which leaves any potential buyer to imagine what the condition might possibly be. It seems dishonest to me.
2. The gun is too dark. The seller made no attempt to clarify the photo to show wood grain, etc. This was so obviously wrong that several readers re-did the photo in software to show us what could be done.
3. The seller used flash, which usually ruins the image. It produces a bright flare on the central metal parts and allows the darker wooden parts to go black.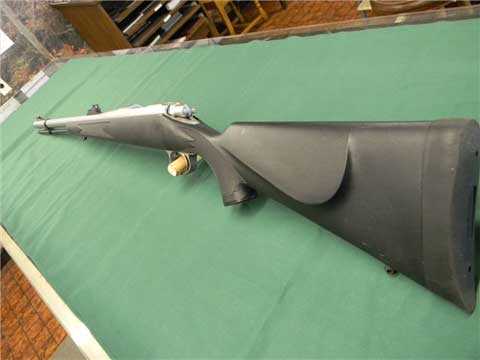 This is a better shot, but it's still not good for selling. The perspective is off because we're looking up on an angle from the butt. Because of that, a 50-inch rifle will look the same as a 32-inch carbine. You have to learn to show the gun from the side, on a 90-deg. angle.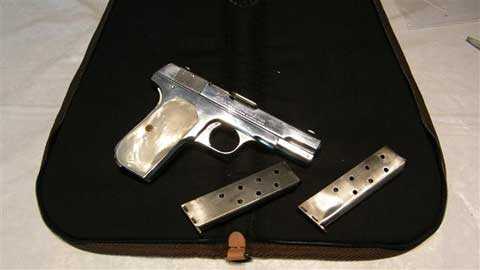 What? Is this a girl at a dance and you're afraid to walk up to her? GET CLOSER! Fill the frame with your subject. Learn how to use the macro function on your camera. Don't you hate those old family photos of you at the beach where you stand a quarter-inch high in the middle of all the scenery? Can't even see that it's you.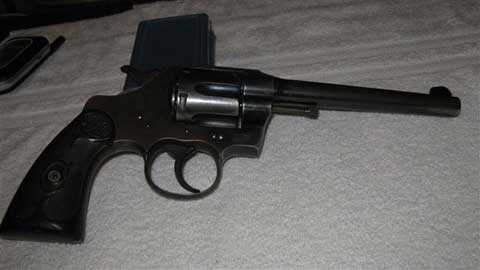 The classic mistake of putting a dark blue gun on a white background, to make certain that no detail from the gun shows through. If the gun is dark, make the background medium dark, and then learn how to set your camera to over-expose the image, so the details pop out.
Okay, all of those mistakes plus the out-of-focus pictures that come from not knowing how to use the macro function or from being too cheap to buy a tripod are what I will concentrate on today.
Think about what you're doing
When you want to sell an airgun, you have to put yourself in the buyer's shoes. What about your gun is unique and good, and how do you show that to a buyer? The photos should make the buyer salivate when he sees them. And, they should match the words you write.
As far as the photos go, show both sides of the gun and use the largest size image you can. On this blog, we're limited to pictures 560 pixels wide, but there's no height limitation. That's why I often rotate a long gun so it's standing on an angle. That way, I can show you much closer detail while still showing the entire gun. A few people will balk at this approach because it makes them scroll…and they don't like to scroll. The majority of people want the photos to be as big as possible, and they'll handle the scrolling.
Show me the details. If you're selling a revolver, show me the gun with the cylinder opened. If you have nice wood on the stock, please show me a closeup so I can appreciate it. Don't use flash that leaves bright spots right where you don't want them. In short, SHOW ME THE GUN!
A way to cut bright shiny spots that come from overhead lighting and even from sunlight is to stand in the way, so you cast a shadow over the shiny area. With digital cameras, you get such fine preview images that you can do this as you shoot, but only if you have a tripod.
Use the countdown function on your camera. I usually set mine to 2 seconds, which gives me time to stand in the right place before the image is taken.
Honesty
I know this subject means different things to different people, and I also know that no one can impose their own standards on anyone else. When selling an airgun, one thing you want to avoid at all costs is after-sales issues that have to be resolved. Some of these come from damage in shipment, which cannot be avoided but can be offset with insurance. Having a customer regard the gun you sent as less than described can cause problems that go on seemingly forever.
Let's face it — some people are pickier than others. A year ago, I was selling a S&W Model 37 snubnosed revolver to a man who lived in Texas, but four hours away. He was a collector, so the last thing I wanted was to have him drive all that way only to reject the gun because of its condition. The gun was in 99 percent finish, but it had a tiny bump on the sideplate, where someone had disassembled it. There was a drag mark in the blued finish of the cylinder, from a dragging cylinder bolt.
Both of these things are common on fine revolvers, but I didn't want this man to be surprised. I took macro shots of both situations and sent them to him. I sent them as 12-inch wide photos, optimized for the internet, which is a trick I advise all prospective sellers to learn how to do. Doing that makes the file size much smaller, while still showing all the detail you want to show. Instead of photos that are 250K in size, mine are 36K, so they're much easier on the server on both ends.
The images you see here are a little over half the size of the ones I sent him.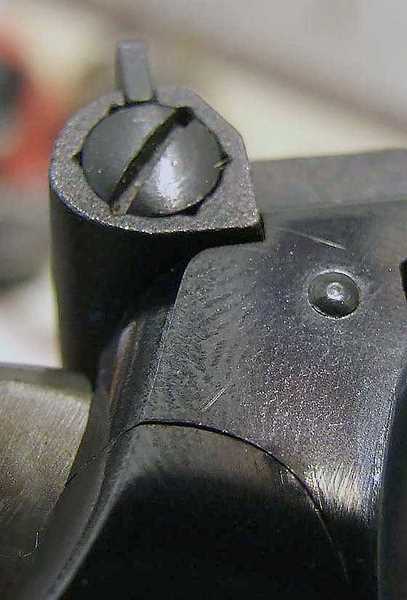 The bump is along the curved gap of the sideplate, right where the light and dark meet. It's on the right of the photo, about two-thirds of the way down from the top.

This photo shows the drag mark on the cylinder of the S&W model 37 revolver. It actually looked a lot less conspicuous than this in real life.
He saw the images and decided the gun was still in good enough condition to make the trip worth it. When he finally saw the gun for the first time, he remarked that the marks were far less conspicuous than he thought they'd be. The drag mark didn't even penetrate the bluing. That made him very happy, and we completed the deal.
The lesson here is to learn to use the macro function on your camera and to describe any damage in detail so the buyer is prepared for it. For gosh sakes, get a tripod and learn to use it, because sharp shots like these are impossible without one. You should be able to pick up a good workable tripod for under $20 at a pawn shop. Consider that to be one of your tools for selling and trading airguns.
Show the whole gun
Let me illustrate why showing the entire gun at a large size is so essential. Note that instead of a beige carpet background, I used a darker red background. That was to lighten the gun in the foreground.

I know there's a flare (specular highlight) on the comb of the stock. I had to use direct light because the dark finish ate up too much light to show wood grain detail. You can see that one of the two stock screws in the forearm is missing — something I would have mentioned in my description.


Look at the "folk art" initials carved into the checkering on the forearm! A real condition-killer. Notice the varnish scrape above the triggerguard.
Here's the Falke 90 I acquired at Roanoke this year. When I bought it, I was aware of the horrible condition of the stock, but not the fact that the gun won't cock or shoot. I also didn't know that fewer than 200 of this model were ever made. Mine is number 39. This rifle is far rarer than the fabulous Colt Walker revolver that sells for $150,000 up to a million dollars.
The stock finish is so dark that I had to over-expose these two images by two F-stops and to use direct lighting, which I almost never do. Most digital cameras allow you to over- or under-expose images somewhere in the menu.
Well, that's the lesson for today. Please let me know what you would like me to discuss in this series. I want to help anyone who wants to start buying and selling airguns to get off on the right foot.
by B.B. Pelletier
Yesterday, Vince regaled us with one of his recent purchases…a Beeman GT600 air rifle. Today, he'll show us what he found when he pulled it apart and made it better than new.
If you'd like to write a guest post for this blog, please email us.
Bloggers must be proficient in the simple html that Blogger software uses, know how to take clear photos and size them for the internet (if their post requires them), and they must use proper English. We'll edit each submission, but we won't work on any submission that contains gross misspellings and/or grammatical errors.
Here we go!
by Vince
The GT600 is about as plain-jane a rifle as you'll find. Dollars to donuts, the same basic design continues on in the more recent Young model 56 and 90 rifles currently available. Many guns have their own quirks when dealing with the rear spring retainer and trigger assembly, and the Norica is no exception.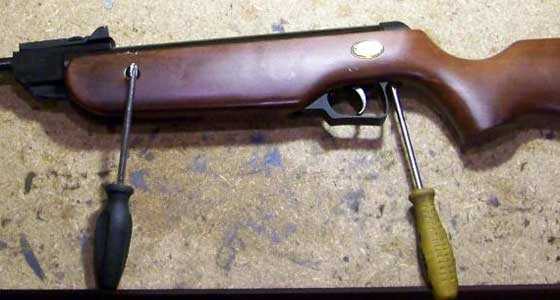 Disassembly starts with the typical screws (like umpteen other rifles)…


…at which point the action pops out real easy.
The next step is to knock out the retaining pins. Yes, I said knock them out. No sticking it in a spring compressor. Even with the pins out, the spring isn't going nowhere (which will become evident momentarily).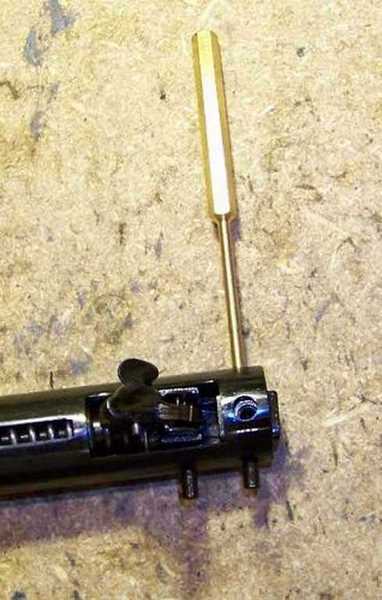 I used a punch to start tapping them out.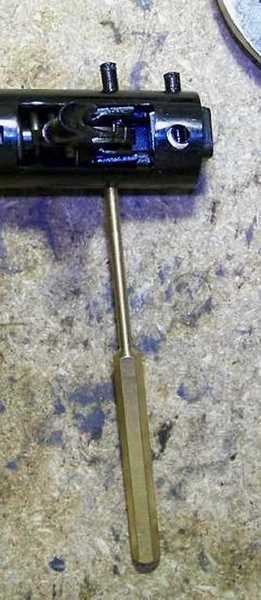 Next, I tapped them back IN and — and tapped them out the RIGHT way.
As you might be able to see in the picture, the pins are knurled on one side and should be punched out from the side opposite the knurls.
After you've tapped out the second pin, the spring will push against and trap the punch, which, of course, is now in the hole where the pin used to be. Push in the trigger assembly a little bit to relieve the pressure on the punch and pull it out.

Release the trigger assembly, and the punch jumps back a bit and stops.
This is where a special tool comes into play. Someday, I'll make a good one, but this works for now. I quickly hacked it out of a 1-inch diameter piece of aluminum tubing some years ago when I got my first AR1000. It goes into the rear of the compression tube.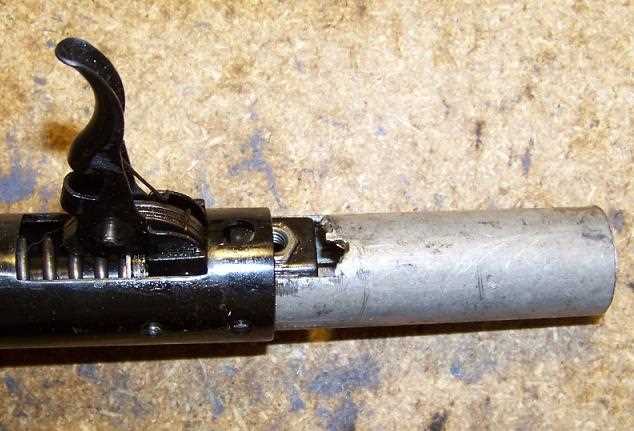 My special tool…necessity is the mother of invention.
The forks reach around the trigger assembly and push directly on the rear spring guide. Compress the spring, pull the trigger mechanism out through the opening and completely release the spring pressure. I can't show you this step because I don't use a spring compressor and have already become something of a pariah on another forum partly because I had the nerve to describe how I do it. So, let's just say I use my SUPERPOWERS (and my, uh, above-average weight) to compress the spring. After the spring pressure is released, the spring and the rear guide can be removed.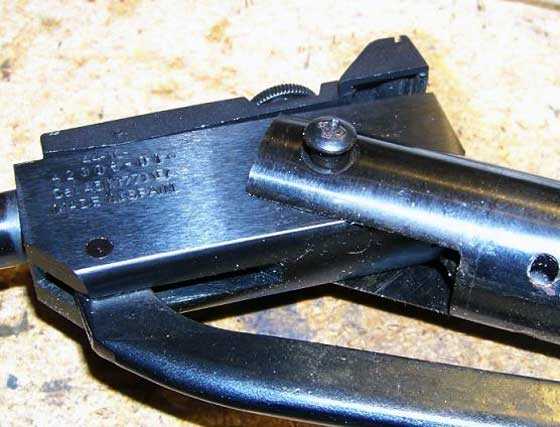 The pivot bolt simply unscrews.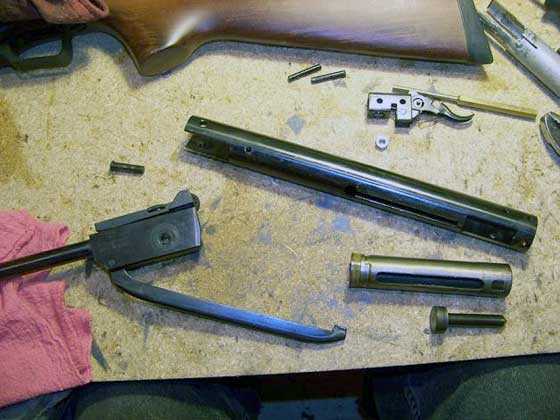 The barrel assembly separates from the rest of the gun.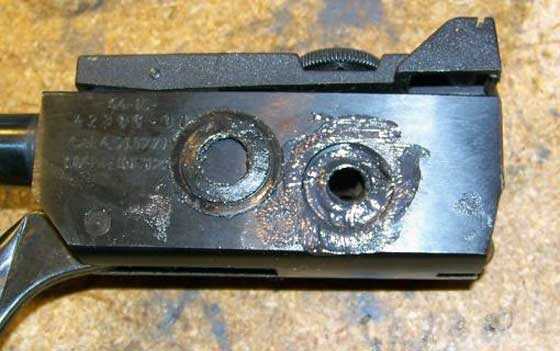 Remove the pivot washers, clean everything up and moly paste it before putting it back together.
The barrel is then set aside for reassembly later. The piston that came out of the gun should look familiar to anyone who's disassembled an AR1000 or Hämmerli 490.

The Beeman GT600 has a one-piece seal that's held in place with a single screw.
The seal looks in good enough shape, so I'll just reuse it. But, I've got visions of that middle screw backing out while shooting, which would probably cause me to say a bad word and flush the gun down the toilet. So, I took the screw out.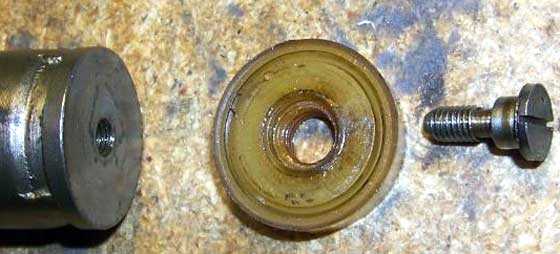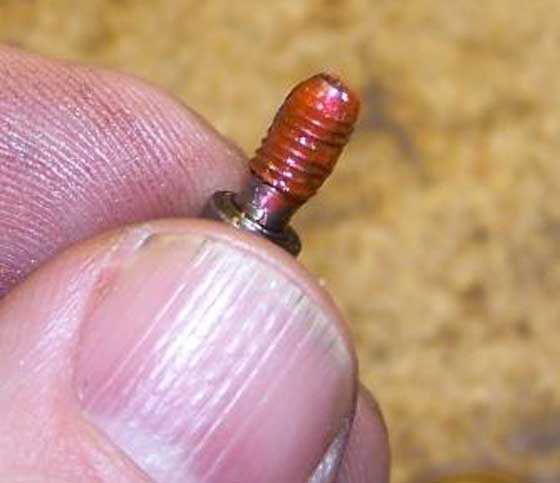 The screw was removed and given a good coat of Vibra-tite VC3. This reddish-orange goop gets put on a clean screw, as shown above.
Let it dry for 20 minutes or so BEFORE reassembling the parts. That solidified red gunk causes something of a friction fit between the inner and outer threads, which then resists loosening. Unlike Locktite, it doesn't try to adhere to the inside threads, so I really think it works better when those inside threads aren't entirely clean.
Next, I turned my attention to the compression tube. First thing to do is wad up half a paper towel and cram it down inside the tube. Then, I took a small file and broke the edge of the slots and holes in the tube.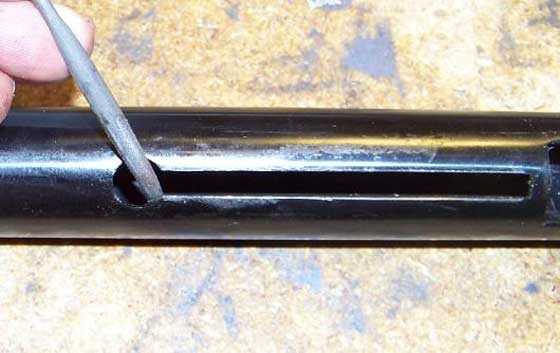 Removing sharp edges with a file.
I don't have to go nuts (well, over this anyway). All I'm doing is getting rid of the very sharp edges that might slice chunks out of a seal as I'm reinstalling it. I wish manufacturers would do this, as it's not too uncommon to find factory piston seals that have pieces missing because of those edges.
After filing, extracting the paper towel, and cleaning the tube, I can start putting all the pieces back together. For this gun, I'm trying out a proprietary airgun grease some guy was selling on one of the forums. Never really tried it before (I have no idea if it's any good), so I decided to use it here.
The subject of proper lubricants for springer guts is one that could easily take up waaaaay more space than I've got. As a side note, I'll delve into it a bit. There are two major areas of concern, and the desired lubricant properties of each is a bit different.
Everyone knows about spring tar. This lubricant really has to do two things: stay put and dampen vibration. It has to be sticky and thick (like the guy writing this blog). But it can't be too sticky or too thick because it'll slow down things too much if it is. High-powered guns with their monster springs are less prone to suffering from tar-itis, so they can tolerate something heavier. Rich in Michigan's stuff might not drag a RWS Diana 350 or Gamo Hunter Extreme down too much, but try it on a Slavia 618 and you'll get stuck in slow-mo. And, Maccari's tar, which is thinner, might work well on an RM-200 but be less effective on, say, a super-buzzy Diana 46 Stutzen. So, there's some point in trying to match the tar to the gun.
The second lube needed is a spring cylinder lube. This is where it gets real tricky. You want something with good resistance to wear under heavy and low-speed loading so the cylinder wall isn't gouged by all that piston side load during the cocking stroke. But, you don't want something too thick that'll get scraped out of the way after a couple of cycles and never come back. You don't want something too thick because the drag from shear forces between the piston and the cylinder wall will really slow things down when the piston tries to spring forward.
You want something that won't easily get past the piston seal. Anything that does, of course, runs the risk of going BOOM when the gun is fired. A little of this is tolerable (and not entirely avoidable), but a lot of it isn't going to brighten your day. You want something that isn't so thin that it flows right past the seal, and you don't want it so sticky and thick that the seal can't scrape it out of the way. Since some of it WILL end up in the chamber, you want a lube that'll be sticky enough to stay on the chamber walls, where it can't really burn, and not get atomized into the compressed air — where it burns very enthusiastically.
So, silicone is out. It just doesn't hack it as a high-load, metal-to-metal lubricant. We need something thick that's also thin, and sticky without all that awkward stickiness. That explains the plethora of lubes out there, many of which are homebrews with their formulations more closely guarded than our bank account data ever will be.
It's one of these homebrews that I'm trying out. Since this gun isn't a magnum springer, I can make do with something lighter on the spring. I'm using this same grease there as well. There's a real advantage to doing so if it's feasible: It doesn't matter if the stuff on the spring gets slung off or if the stuff on the cylinder walls gets on the spring. There's no intermixing of different lubes; it's all the same goo.


The front guide…

the rear guide…


and the spring get all gooped up with this stuff.
I probably overdid it. But that's actually one good test of a lube — to see if it gets in the chamber and diesel — or not — when there's a lot of it to go around.

The piston gets a good coating as well and then goes in.
Now is the proper time to reinstall the barrel. Don't forget to fit the cocking link back into the slot in the piston and cylinder! If you try to reassemble the barrel pivot AFTER the spring is reinstalled, you'll find that the tension on the piston prevents everything from lining up and the bolt won't go back in!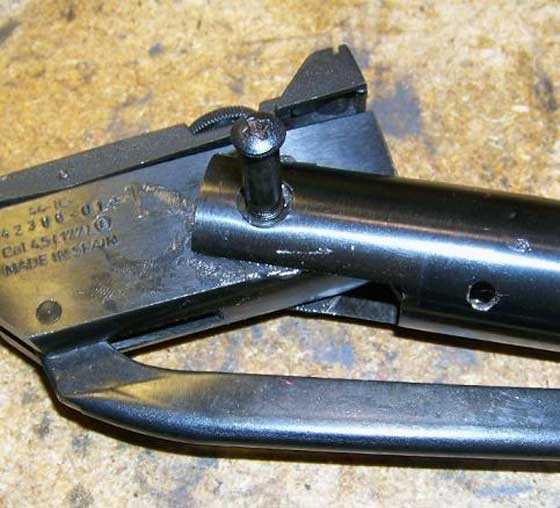 Okay, so I forgot.
If you forget and find yourself trying to reinstall the barrel after the fact (uh, like I did), there's a way around it. The holes will not align perfectly but will overlap enough to get the round shank of a #1 or #2 phillips head screwdriver where the pivot bolt goes.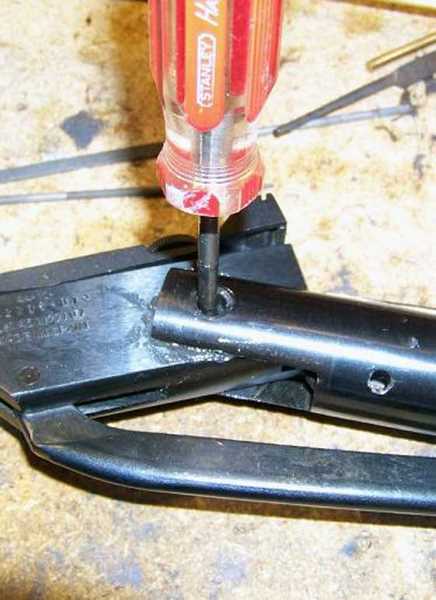 Did it wrong? A phillips head screwdriver to the rescue.
The gun can be cocked like this, which will take the tension off the pivot and allow the holes to line up and the screw reinstalled. But, if the sear lets go before you get the screw in, well, you've got a bit of a mess on your hands. So, this procedure isn't really recommended. Just do it in the right order so you may live long and prosper in the land.
Anyway, this pivot bolt doesn't have a locking mechanism of any sort, so some of the same red goop as used on the piston seal bolt might not be a bad idea.
After the barrel is installed, the front guide, spring and rear guide get installed — in that order. Putting the trigger back in is a matter of compressing the spring with the special tool and putting it in the way it came out.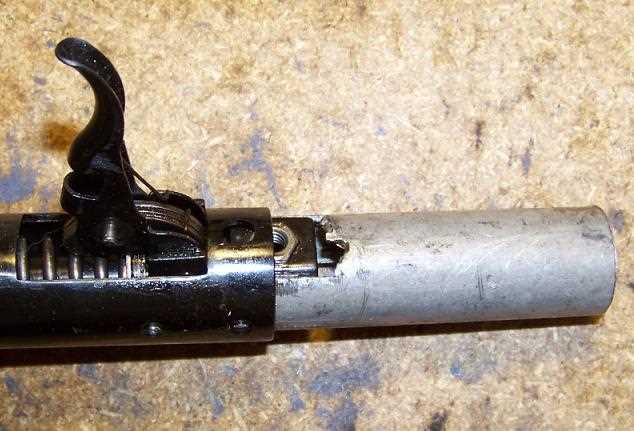 It goes in about the same way it came out…but in reverse order.
Compress the spring a bit more (without the tool) and slide the pins back in. Voila! Your action is ready for action.
You'll notice that I didn't do anything with the trigger, and there's a good reason for that. I've had a LOT of luck re-angling the mating faces to reduce friction and lighten the trigger-pull. Unfortunately, however, that luck's been all bad. I've found that it's a tightrope walking the line between nice feel and auto-fire. And, if you DO get on the right side of that line and the trigger wears a bit, be prepared for your sear to go on strike. I know that some guys have had good luck with improving direct-sear triggers, but for now I don't mess with 'em.
So the action goes back in the stock, and I tend to the last major issue for this gun. Don't know how it happened, but it came out of the seemingly undamaged box that way.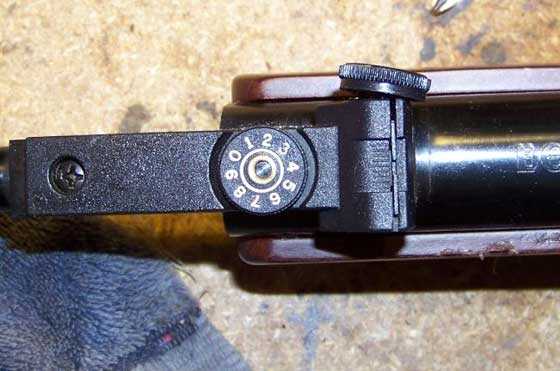 The rear sight is slightly bent.
This always scares me, because I've had NO success straightening these out when this happens. I always seem to break the shaft. Anyhow, I contacted the seller, who insisted that it probably happened during shipping. I'm a bit doubtful about that, but no matter. I can't use it as is. So, I might as well try to straighten it.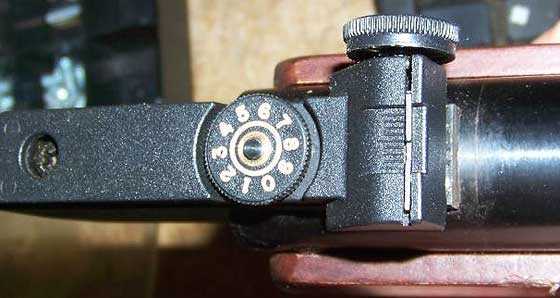 Miracles happen…I fixed the bent rear sight.
Dunno WHY I didn't break it this time. Maybe, being extra careful to bend it JUST far enough was the key. Glad I was able to salvage that sight, as it's actually a pretty decent one with not much play and a decent sight picture. With the sight back together, Bee (I'll call her that just to make her feel better) is ready to spit.
Over at the crony, I tried pumping one of my standard test pellets through it — Crosman Premier Super Points. But not the Premiers I usually use. I'm using Premier pointed pellets that were thrown in with another gun purchase I recently made. Since experience tells me these pellets are useless for accuracy, I decided to use them for chrony testing instead. I don't want them to go to waste, and they weigh the same as the domed Premiers. When I saw an almost 50 fps spread over 10 shots, I switched to Crosman Premier hollowpoints, and the results were a lot better: 549, 549, 549, 550, 549, 550, 551, 560, 557 and 553.
Eleven fps separate high from low. I can live with that! Now, I have yet another reason to hate those pointed pellets.
Firing cycle is improved and cocking is a nice, smooth 20 lbs., including latching the sear. Trigger-pull, incidentally, comes out to about 5 lbs. of creep-free snap. Well, creep-free except for the shooter, that is, who can be something of a creep at times.
Let's look at what REALLY counts — making holes in stuff. At 10 meters, I tried 5-shot groups with Daisy Wadcutters, Gamo Match, and (one of my favorite cheapies) RWS Diabolo Basic pellets, all with so-so results.
Then came the Premiers – I went to cardboard-boxed Premiers (7.9 grains). Results were somewhat better until I loosened up my grip on the gun…and she threw a great group of 5.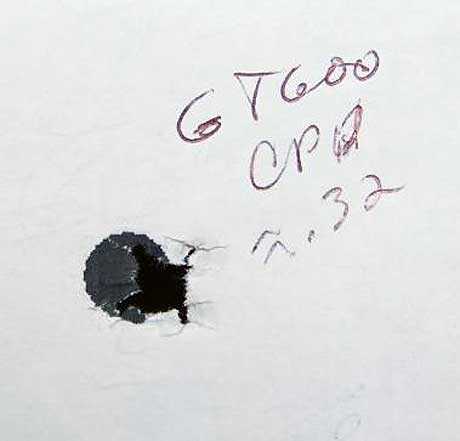 Bee has stepped up to the plate!
Oh. OK. I think I understand. Bee ain't foolin' around! Hard to measure exactly, but my best guess is about .32″ ctc, although it might actually be less. I think we have a pretty good overall picture of the GT600. It's a crude gun that certainly doesn't live up to the Beeman reputation – or, at least, the old Beeman reputation – of combining superior design, almost hand-crafted workmanship and high-quality machining together in one piece of airgun art. No, "Bee" only gets one out of the three right.
But it's the one that really counts. With the poor trigger and overall lower quality of workmanship, the GT600 wasn't going to bring new glory and prestige to the Beeman line. But it wasn't meant to at its price point. But, with this kind of accuracy and consistent velocity, it's sure not going to drag down the Beeman name. It's a cheap rifle, but a good cheap rifle. Which really makes it a good rifle, period.
Beeman GT600 vital stats:
Weight: 5 lbs., 13 oz.
Overall length: 41″
Pull length: 14.5″
Butt center of gravity: 18″
Trigger-pull: 5 lbs.
Cocking effort: 20 lbs.
Average velocity: 552 fps (with 7.9-grain Crosman Premiers)
Muzzle energy: 5.34 ft-lbs. (with 7.9-grain Crosman Premiers)
by B.B. Pelletier
Blog reader Vince is back with another fantastic tale of gunsmithing, gun renovation and making parts. No matter who you are, you just can't help but learn something new from him. Settle back and have a good read about the Beeman GT600 Vince bought.
If you'd like to write a guest post for this blog, please email us.
Bloggers must be proficient in the simple html that Blogger software uses, know how to take clear photos and size them for the internet (if their post requires them), and they must use proper English. We'll edit each submission, but we won't work on any submission that contains gross misspellings and/or grammatical errors.
Take it away, Vince!
by Vince
Once upon a time, there was a highly educated airgun enthusiast and business man named Dr. Robert Beeman. He imported airguns and was determined to import nothing but the finest mass-produced guns he could obtain. He eventually associated himself with, perhaps, the premier airgun factory in Germany for the sole purpose of developing and bringing the best of the best to the blessed U.S. shores. After some years of success, he took a well-deserved retirement and sold his business to a large conglomerate of sporting goods.
The End.
Well, not quite. The large conglomerate knew that there was considerable marketing value – and, let's admit it, snobbishness – attached to the Beeman name. Since making a little money lots of times can be more profitable than making lots of money little times, increasing the volume of Beeman sales via popularly priced models became something of a corporate priority. To their credit, the original Beeman models were kept, but the line would have to be expanded to include guns priced well under the level of the famed R-series that built the Beeman reputation. While Robert Beeman also imported some moderately priced non-German guns, the new owner of the Beeman company expanded the selection immensely.
Enter Norica
Norica had a respectable name in airgunning, with a reputation for reasonable build quality and longevity. No, they weren't Weihrach, but they certainly weren't junk. The large conglomerate, still paying some due respect to the Beeman reputation, started bringing in a number of Norica models to round out the line and appeal to a more cost-conscious clientele without totally trashing the Beeman name.
Thus, the Spanish Beemans came into being: the S1, GS, GH and GT series along with some others that I don't know about. After all, I'm no Beeman expert. These guns generally seemed to be well accepted by even semi-serious shooters although, you know, they weren't REAL Beemans (just like the 914s and 924s of the 1970s weren't REAL Porsches). But, it was acknowledged that they weren't too out of place in the Beeman lineup.
What were they like? My first Norica Beeman was an S1, the predecessor to the GS950/1000 series that eventually got cloned in China as the AR1000 (that's a whole 'nuther story). I found that the S1 was pretty accurate, had fair power, a REALLY NICE trigger and some rather unfortunate wood shaping. Wavy is the best way to describe it. Even though Beeman was inscribed on the compression tube, that stock (which made a Gamo 440 stock look like a custom piece of craftsmanship) just killed the whole effect. A real Beeman it obviously wasn't.
That S1 stuck around for a while before I decided to sell it off and move on. I was young (45!), silly and all hung up on velocity. That S1 had the nerve to shoot 7.9-grain Crosman Premier pellets at under 900 fps. I've matured considerably since then (Yes! Really!). Since moving, I find that I have to do all my shooting indoors. I'm more interested in moderately powered guns, and I started hanging around the classifieds a lot more than is generally healthy. Worse than smoking? Harder to quit? Perhaps. I foolishly passed on a reasonably priced Gamo Gamatic (waited too long), but a Beeman GT600 caught my eye.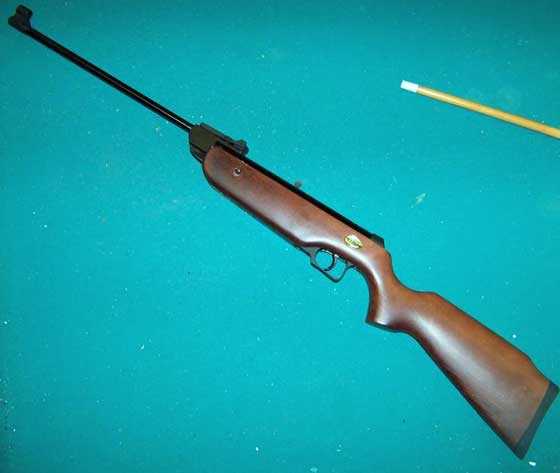 The Beeman GT600 is dressed better than my old S1. Maybe they're just trying to boost its self-esteem!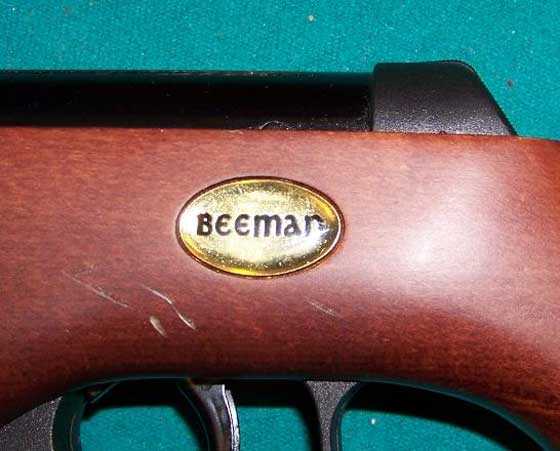 Beeman logo on the Norica air rifle.
The GT600 is a relatively lightweight rifle and is in the R7 or TF49 category for weight and power. Not quite a youth rifle, but certainly suitable for mid-teens as well as adults. Right off the bat, I could recognize one aspect of the Norica design — from the shape of the stock around the triggerguard, it was obvious that the GT600 had that Norica trigger. As opposed to the Norica trigger. You see, the trigger (the one that Shanghai cloned for the AR1000) is a fairly involved 4-lever affair that, with proper adjustment (and maybe a little stoning), can be tuned into the sweetest pullin' thing this side of a Rekord. That trigger, on the other hand, is as bad as the trigger is good. It's a direct-sear — and without an awful lot of leverage, I might add. It's the same trigger that shamed the Shanghai-built Beeman SS1000H and dragged down the Hämmerli Storm (also a Norica product).

GT600-style trigger above, GS-style trigger below.
But the price was certainly tempting. The seller was getting rid of it for $100 shipped, and that included a soft case and a 3-12x40AO Barska airgun scope. Besides, with the lower spring pressures of the GT600, maybe the direct sear wouldn't be too bad. So PayPal went out, UPS came in and I got my GT600.
Yup. Those classifieds can be as bad as smoking. Especially, when you buy a gun from an avid smoker. The stench made it real annoying to shoot that first evening…heck, even the scope smelled! I figured the soft case is a lost cause; I'll leave it hanging up for about 5 years and see if it gets any better. But, I hoped that metal, finished wood and glass wouldn't be real tenacious when it came to holding onto that Marlboro Man smell.
In any event, smell or no smell, those first few shots revealed plenty of that endearing Spanish buzziness. While I'm waiting for the gun to de-odify, I'll tear it down and give it the usual going over.
Stay tuned for part 2, which you'll see tomorrow, for an in-depth look at the innards of the GT600.
by B.B. Pelletier
Photos and testing by Earl "Mac" McDonald
Mac wants to share another vintage sweetie with you. This one is a Hy-Score model 805, which the Blue Book of Airguns identifies as a Diana model 16.


Hy-Score 805 is actually a Diana model 16. It's made of folded sheetmetal but made to a very high standard.
The gun is made entirely of stamped steel parts. The only machined parts in the gun are the screws! There are some laminated parts where several sheets of steel are tack-welded together to form a single part, but we've seen this kind of fabrication on high-end spring guns such as the BSF series. It isn't just a cost-cutting measure.

This is what can be done with folded sheet metal. The Hy-Score breech.
The gun is a smoothbore, which is why Mac picked it. He was curious just how accurate a smoothbore could be. That was the motive for testing this gun. I'll combine parts 1 and 2 and parts 2 and 3, so this will be a two-parter, rather than a three-parter. In this part, I want to get the physical description handled.
The gun has an overall length of 32.75 inches, which makes it just under three inches shorter than a Daisy Red Ryder. The length of pull is 13.2 inches, which seems long for such a toy-like airgun. The barrel length is only 12 inches, and the barrel is a piece of brass tubing that's fastened at both ends by the outer sheet steel barrel shroud.
The gun weighs 2 lbs., 10 ozs. Cocking effort is under 10 lbs., yet the trigger lets go at 59 oz. It's non-adjustable, as you can imagine from the photos. It's not a target gun, by anyone's definition, yet the trigger is reasonably crisp and repeatable.
The sights are plain and simple, but they fit the design of the rifle perfectly. What I mean is that they're not gadgety or quirky — just straightforward sights that you'd expect to find on an older air rifle.

The front sight is just a vertical pin.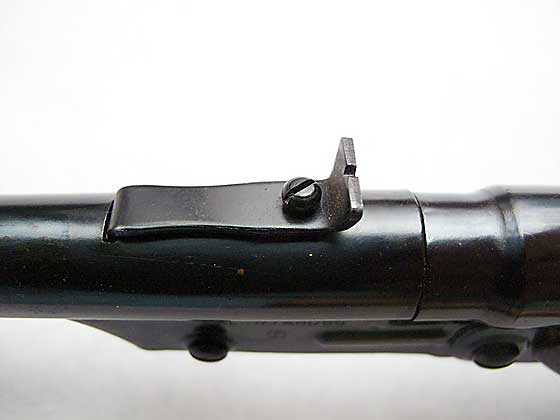 The rear sight adjusts for elevation, only.
Mac reports that the bluing and metal prep are better on this little gun than on his TX 200 Mark III, which is saying a lot. I hope the photos help convey a little of that quality.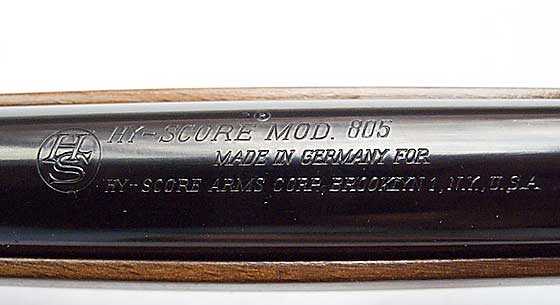 Here, Mac shows us the engraved (or roll-stamped) name and model number. Note the deep, even finish.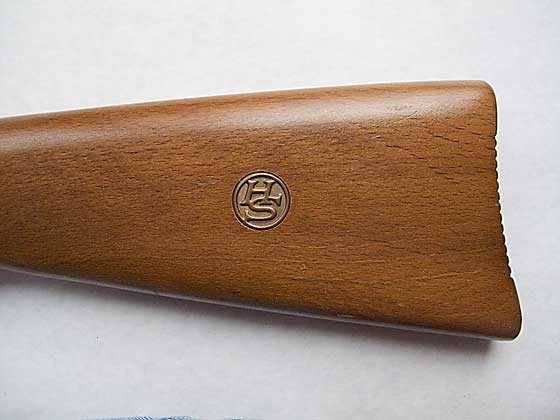 The Hy-Score logo is clearly stamped into the butt.
As simple as the gun is, you might be tempted to discount it. That would be a mistake. Examination of how the parts interact to make the whole gun is a fascinating study. Though this is, without a doubt, a cheap airgun, it has a lot to offer in the way of design education.
And the Diana 16 was widely copied. I once owned a Czechoslovakian variation of this gun that was very similar in all ways, save the stock. The Diana stock is the more robust one. Most copies have a slab wood stock.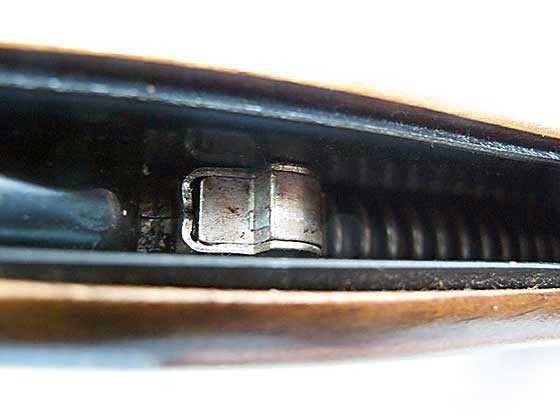 The silver shelf seen here is the back of the piston that is caught by the sear.
When Mac first got the gun at an airgun show, the breech was stuck together. He oiled the breech until the leather seal swelled up and released the barrel for cocking. Had he forced it, the breech seal probably would have torn.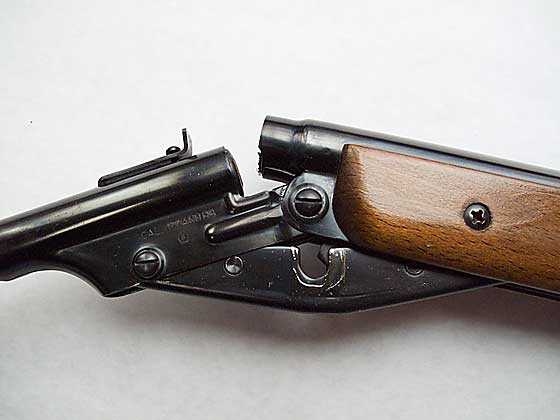 As the breech is opened, you can see how the barrel locks up.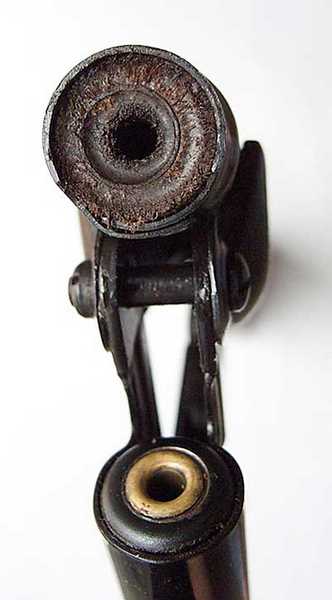 With the barrel broken fully open, you can see how the leather breech seal seals against the rear of the barrel. There are no o-rings — just a leather-to-steel interface.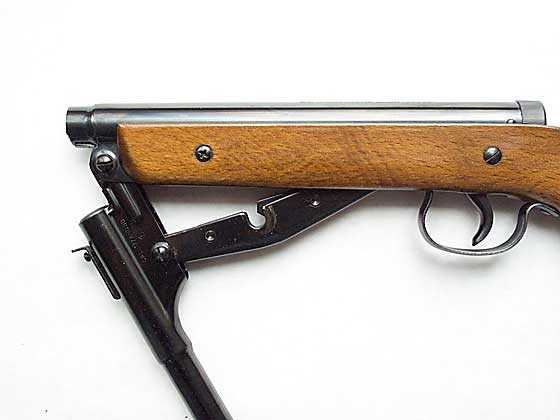 This is what the gun looks like when broken open all the way. You can see the notch in the cocking link that wraps around the stock screws.
Mac asked me this question in relation to this airgun: "When does an airgun become a toy?" I had to answer that I didn't know. As long as it shot something, I always considered any gun not to be a toy. This gun is certainly not a toy, though it does appear toy-like in size and weight. In the next installment, Mac will shoot it for velocity and accuracy.
by B.B. Pelletier
Today, I want to share my Christmas gift with you. It came along as I was undecided what I wanted, and it presented itself so forcefully that I knew it had selected me.
A couple months ago, I put a bid on Gun Broker for a Primary New York City gallery dart gun made by David Lurch. I'll tell you what kind of airgun this is.
When the American Civil War began, the North was hampered because many men coming to fight had no skills or even familiarity with shooting. In the South, it was the other way around. Shooting was both an accepted sport and a means of subsistence for many, so their soldiers needed very little in the way of training beyond familiarity with the arms they were issued. The Northern soldiers needed much more training.
At the end of the war, several generals such as Sherman and Grant agreed that American men needed basic training in the shooting sports to ensure that they would be ready to go to war if the cause ever arose. The National Rifle Association (NRA) was founded in 1873 for the explicit purpose of training American men to shoot.
The soldiers returning home after the ware were now well-inculcated in the shooting sports and didn't necessarily want to stop. Across the Eastern U.S., shooting galleries sprang up in every village and town. It was not unlike the trampoline parks of the 1960s, or the go-cart tracks of later years, and lasting even until today. Shooting became the social thing to do, and everybody wanted to do it. Even women joined in as the galleries and shooting clubs proliferated.
In the galleries, the most common gun was the .22 rimfire, shooting either shorts or CB caps. But, there was another option. For much more than the cost of a .22 rimfire rifle, a gallery operator could buy an airgun that shot darts. Twenty-eight caliber was the most popular for these gallery guns at the time, though .25 cal. was also in vogue. The reason an operator might pay five times as much as a firearm to buy an airgun was because the ammunition was reusable. The cost to operate the gun dropped close to zero. Hence, these guns could make far more money than a rimfire in a shooting gallery.
Small wonder that gallery owners were willing to pay from $20 all the way up to $35 for a really fancy repeating airgun. Once bought, the guns needed next to no maintenance. They didn't even need to be cleaned! And, the darts lasted almost forever if they were cared for properly. So, you had a gun you could shoot for nothing. That's an airgunner's dream…even today.
The guns were made by hand in several regions around the United States. They all have similar characteristics, but regional differences are very rigidly defined. An inexpensive variation of the gallery gun was cheap enough to be owned by individuals. This is the triggerguard-lever-cocking gun, or the bugelspanner. Perhaps, in the future, I'll do a report on bugelspanners, but the subject of today's report is a different type of gallery gun altogether. In Eldon Wolff's book, Air Guns, it's identified as the Primary New York City type.

David Lurch Primary New York City gallery gun.
The Primary New York City gallery gun is larger and much heavier than a buglespanner that might weigh 6 lbs. My example weighs 7.25 lbs. and is 44 inches long. The barrel is a whopping 21.5 inches long and does not affect the overall length that much because of a very compact powerplant.
The iron barrel is an untapered octagon. It measures 0.75″ across the flats at the muzzle, which leaves a lot of metal around the .28 caliber bore.
The powerplant is a spring-piston type that uses two volute springs butted against each other in tandem. What's a volute spring? Take a flat ribbon of spring steel and wind it into a coil. The center of the spring will rise up like a pyramid. By butting two of those against each other you get a long, powerful stroke in a very short space. The only problem is that volute springs are much stronger than coiled steel springs and are also harder to compress.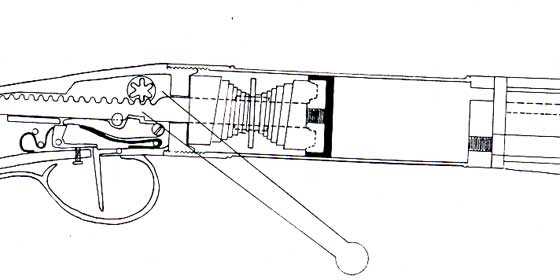 Cross-section shows how two volute springs work as a mainspring.
The Primary New York City gallery gun overcomes this problem with a separate geared crank that meshes with an internal gear mechanism in the gun. Turning the crank in a circle compresses the springs and sets the sear. A single trigger blade then fires the gun.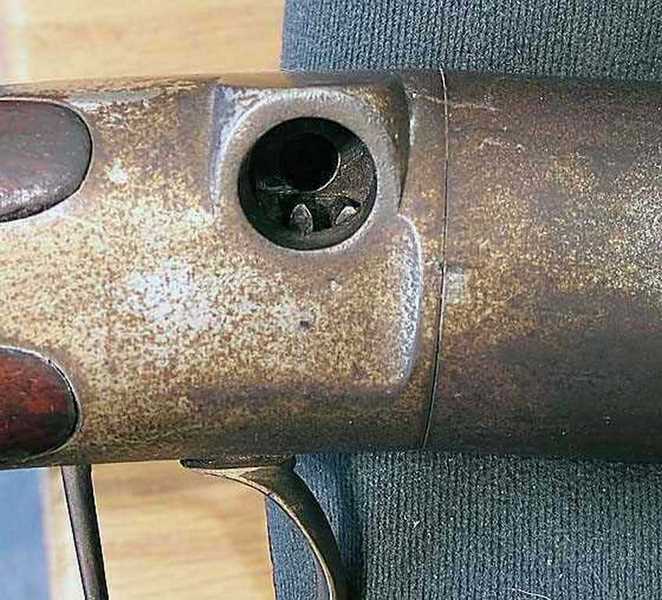 The crank inserts in this hole and engages this gear to cock the gun.
To load the gun, the barrel pivots to the right, exposing the breech. There's no solid lock up for the barrel, so some care is needed when shooting the gun to get the barrel aligned with the transfer port. The breech may be opened in this way at any time.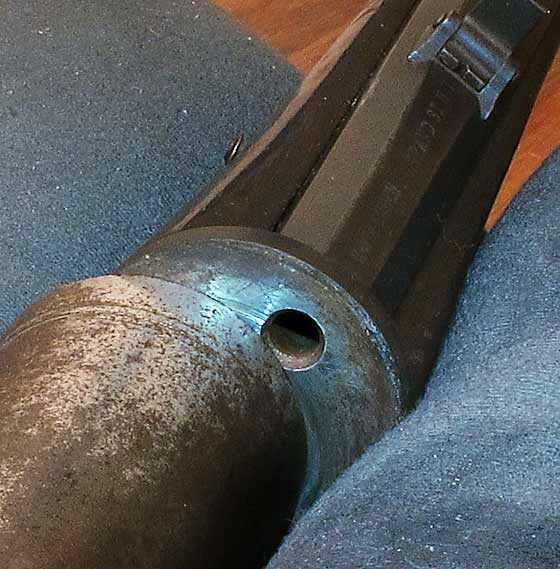 Simply twist the rifle to the right to open the breech.
The sights are atypical on my gun, as they're a two-piece folding leaf type. One is for long range and the other is for close work. I would presume close range would be 10 meters and long range might be 50 feet, or so. The front sight is a post and bead that sits on a dovetail across the barrel.

An unusual two-leaf rear sight on my gallery gun.
I mentioned that these gallery guns were all handmade, which is the truth. No one ever set up a factory to turn them out in any quantity. But, there were a great number of makers back in the day. The maker of my gun was New York City gunsmith David Lurch, who was one of the most prolific makers out of a list of at least eight for this type. He made airguns from 1863 until some time in the 1870s, though he maintained a store on Grand Street in New York City until 1889. He and his brother, Joseph, were well-known makers of gallery guns during this period.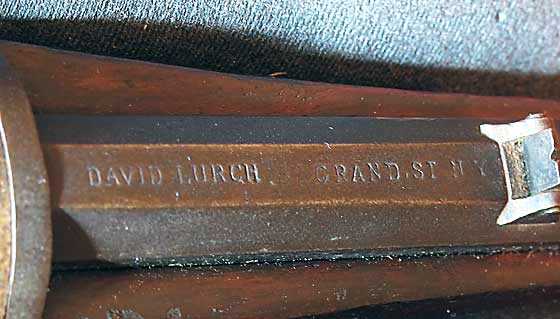 Clearly signed David Lurch. What you can't see is the street number…157. That pins the production to after 1866.
The triggerguard and crescent buttplate are brass, once plated with nickel. The action is steel and also nickel-plated. The barrel is made of soft iron and was probably finished blue, though it has now gone to an even brown rust patina.
How I came to get this gun
This story is a wonderful one. As I said at the beginning of this report, I had placed a bid on Gun Broker for a David Lurch gallery airgun. My bid was the high one but didn't reach the seller's reserve. Two months later, I got an email from a man who had found my bid and had Googled my name to find out that I write for Pyramyd Air. He had a David Lurch gun and wondered what I could tell him about it. I told him all that I knew over several emails, and then he asked if I was interested in the gun.
I made him an offer after appraising the gun for more money than I offered, because in all honesty, if you find a buyer who is seeking this kind of gun, he is often willing to pay more. But we did pay him a very fair amount, and I asked Edith to turn this into my big Christmas present.
The seller told me how he came into possession of it. His father was a welder who was called to an old armory in New York City many decades ago to do some work. While there, he spotted a pile of guns awaiting destruction. He was given his pick from the pile and selected a very old military muzzleloader, a Trapdoor Springfield and this gun. It didn't have the crank, of course, but was still a substantial gun.
For the remainder of his life, the father believed this was some kind of firearm, though he could never figure out how it worked. His son, who sold us the gun, believed it was an airgun. Until I gave him the information you've read here, he knew nothing about it.
Dennis Quackenbush makes cranks for these guns, and I believe I will have him make one for me. Even though I don't plan to ever shoot it, it'll look better with a crank in the hole.
by B.B. Pelletier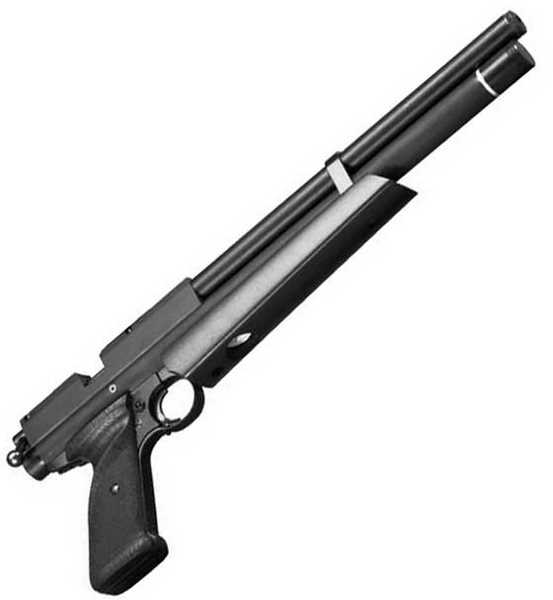 Benjamin's new Marauder air pistol is a large, powerful precharged air pistol. It will be among the very few legitimate hunting air pistols.
Before we start, I'd like to wish a Merry Christmas to all our readers. I hope this holiday brings you all that you hoped for and more. And, let's not forget the real present that was presented to all mankind on this day several thousand years ago.
This is Part 3, but there's going to be a Part 4 coming. I'll explain why in this report.
Mounted the scope
Crosman sent me a special one-piece cantilever scope mount and a CenterPoint Optics 4-12×44 compact scope with an adjustable objective (AO). There's just one problem. The mount had one-inch rings and the scope has a 30mm tube. As I had only a brief time to run the test because of other pressing things, I replaced the scope with a Leapers 6x32AO compact scope with an illuminated reticle.
I cannot say for sure that the scope is a Leapers, for no brand name appears on it anywhere, but it certainly resembles one in all other aspects. The small scope size is perfect for a carbine, but the optics were not as sharp as I would have liked them to be. I want to go back with the same pellets and see how much better the pistol can do with the CenterPoint Crosman sent.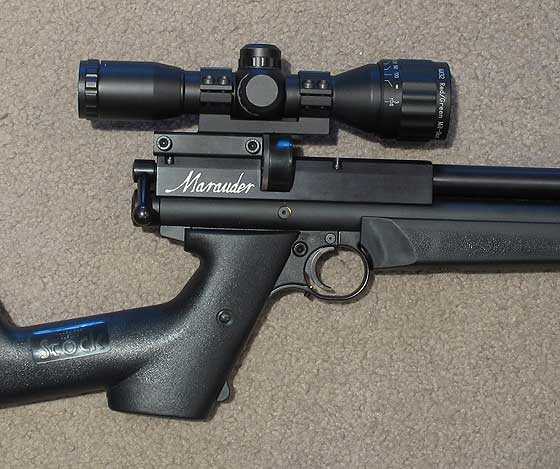 The 6x compact scope looks great on the Marauder pistol, but I don't feel it gives enough precision to the aiming.
The test
The test was 10 shots from a rest at 25 yards. I swapped the two grip panels for the detachable buttstock to make shooting easier. And, I rested the gun across a shooting bag. After I got it sighted in, I started shooting for the record.
The first pellet I tried was the Beeman Kodiak. I was surprised by how loud the gun is when shooting this pellet. It's like a Sheridan Blue Streak on 8 pumps of air, which is quite a bit louder than what I told you in part 2. The first magazine failed during this part of the test. It allowed me to shoot down to four pellets remaining, and then it stopped feeding. Fortunately, Crosman had sent a spare mag that got me back in the game in no time.
I wish you could have seen the gun shoot! It lobbed pellet after pellet through the same hole, enlarging it only slightly as the shot count grew. At the end, I was looking at a vertical group that measures 0.61 inches. I thought about that vertical stringing until the next group stretched horizontally. So, it wasn't the pellet or the gun. It was me. I was unable to precisely place the scope's fat reticle against the small target time after time.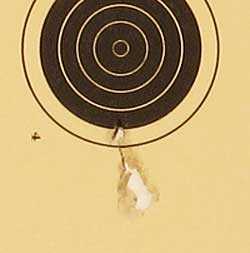 They just kept going through the same hole. The hole got larger, but nothing landed outside it. Ten Beeman Kodiaks went into six-tenths of an inch at 25 yards.
The last time I watched a rifle shoot like this, I was shooting an Egyptian Hakim military trainer. At 10 meters, it made groups of about the same size. That built my confidence in the gun tremendously.
Satisfied that the pistol could shoot, I switched over to Predator pellets — the ones with the red polymer tip. One of our readers touted these to the skies, so I thought I'd check them out. On shot No. 1, there was a marked difference in the muzzle blast. It now sounded like a silenced airgun. So, I didn't imagine anything in Part 2. This pistol really is quiet!
But better than that, the Predators are accurate pellets, too. Not quite as tight as the Kodiaks, but accurate enough to land 10 in a group measuring 0.745 inches. Like the Kodiaks, I got groups that were both vertical and horizontal, so we know it's the aim point that needs refining.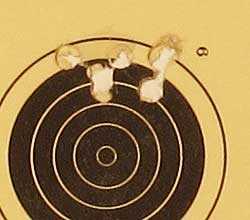 Predators were accurate, too. This group of 10 measures 0.745 inches.
Crosman Premiers
The Marauder has a choked Crosman barrel, so it should perform well with Crosman Premier pellets. But, on this day, it wasn't up to the standards of the other two pellets I tried. Again, I blame the lack of aiming precision, except in this case it really looks like the Premiers came in third out of the three pellets tried. They fit into just less than one inch at 0.961 inches.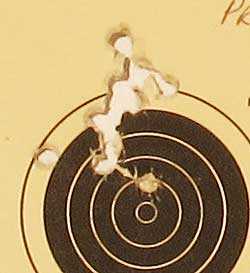 Premiers opened up to just less than an inch. These 10 went into 0.961 inches.
The Premiers are on the loud side, as well. I think what the Marauder wants are pellets with thin, soft skirts. In the next accuracy test, I'll try some new pellets, as well.
I think we have a clear winner in the Marauder pistol. This is one to write home about, but I think there's more than we've discovered. That's what I'll put in Part 4.
by B.B. Pelletier
Testing and photos by Earl "Mac" McDonald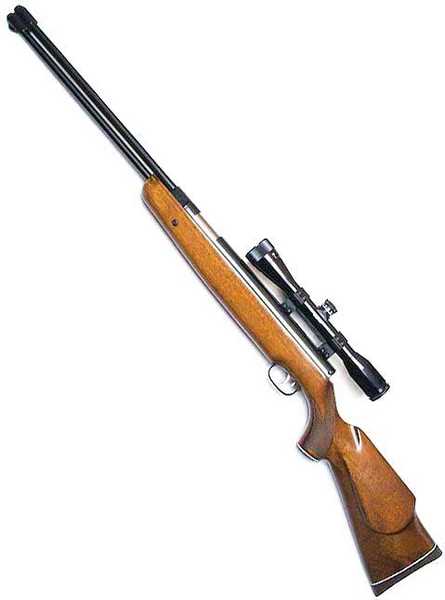 The Marksman model 60 was a special version of the famed HW77 air rifle.
Mac had a windfall a couple months ago. A family was selling off its estate of firearms, among which were a few airguns. One of the airguns was the Marksman model 60 shown here.
Many of you are wondering what a Marksman 60 is. Well, back before the company that owns Marksman, S/R Industries, bought Beeman Precision Airguns in 1994, they were most noted for making and selling their Marksman 1010 pistol. In the late 1980s they wanted to expand their lines into higher-end airguns and apparently they contacted Weihrauch at a time when they also wanted to sell more of their guns in the United States, so several new models were born. Among them were the Marksman model 60 and modes 61 that are the HW model 77 and HW77K, respectively.
Mac got the HW77 rifle. It came without a factory globe front sight or adjustable rear sight, but it does have a mounted Bushnell Sportview 4x scope with parallax adjustment. And, Mac has a .177 model, which seems to be much more popular.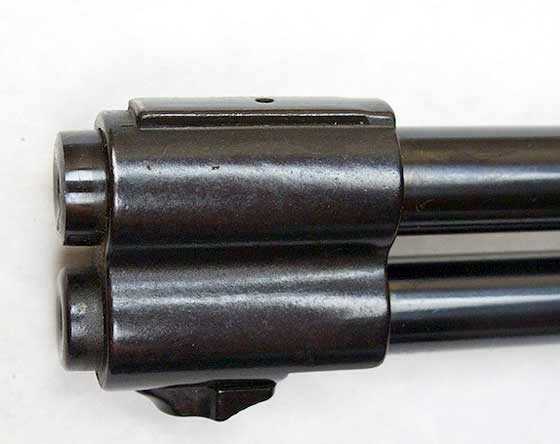 The front sight is gone, but the sight base remains because it's also the part that secures the cocking lever. See the sliding lever latch underneath.
The big question he had when he got the gun was…did Weihrauch cut any corners when they made this rifle? Was it somehow a lesser gun? The retail price differential between the model 60 and a Beeman HW77 was about $100 in the 1980s.
The answer is NO. The Marksman model 60 is every bit a quality HW77. And, in the brief time it was available in this brand, it was the best value on the market.
Another valid question Mac had was whether or not his new gun was unrestricted power or limited to 12 foot-pounds. In the day when his rifle was produced, not as much was known about the differing power levels of certain airguns. Weihrauch would restrict the power of guns they shipped to the UK to slightly less than 12 foot-pounds, while those made for U.S. sales could be made with no power limitations whatsoever.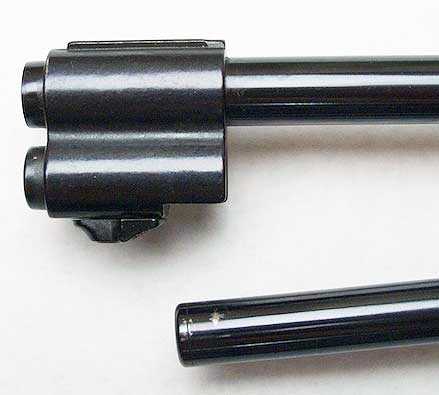 Push forward on the sliding latch button and the cocking lever falls free, awaiting the cocking stroke.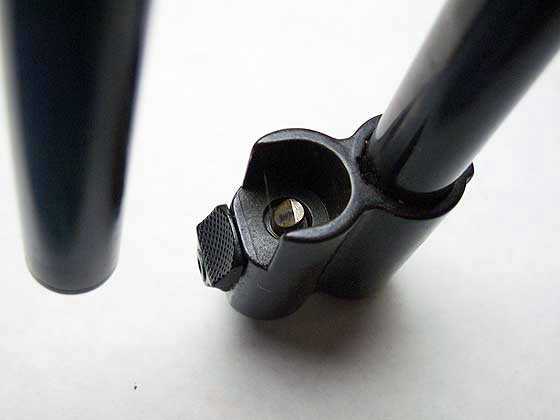 Looking inside the latch retainer, we can see the small chisel detent.
In this regard, Mac lucked out by getting a rifle restricted to 12 foot-pounds. I say he lucked out because the rifle in 12 foot-pound trim is as sweet as they come. Easy to cock, with a wonderful Rekord trigger, it's the embodiment of a field target springer.
The rest of the rifle is exactly what you get when you buy one today. Weight is just over 9 lbs., and the overall length is 44 inches. The barrel is a somewhat long 18.5 inches. The stock is hardwood stained to look like walnut, and the pistol grip is checkered on both sides.
Cocking the rifle via the underlever retracts the sliding compression chamber. That allows direct access to the breech, where the pellet is loaded. An anti-beartrap device prevents the gun from being fired with the sliding compression chamber anywhere but closed. That protects your finger while you load a pellet; but for safety's sake, never let the underlever out of your grasp until the sliding compression chamber has returned to home.

With the silver sliding compression chamber out of the way, the breech is very accessible.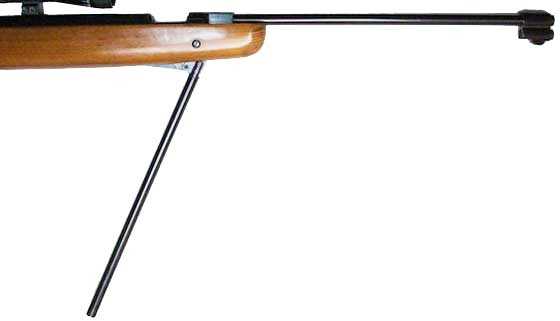 The cocking lever is all the way back.
For those of you who are looking for great deals, this is a big one. These rifles never bring the same price as a Beeman-marked model that's identical. And, you can often get a real bargain if the seller doesn't know what he has. Keep this in the back of your mind, should you ever stumble across one, as Mac has.