by B.B. Pelletier
Photos and test results by Earl "Mac" McDonald
Announcement: Anthony Stewart is this week's winner of Pyramyd Air's Big Shot of the Week on their facebook page. He'll receive a $50 Pyramyd Air gift card.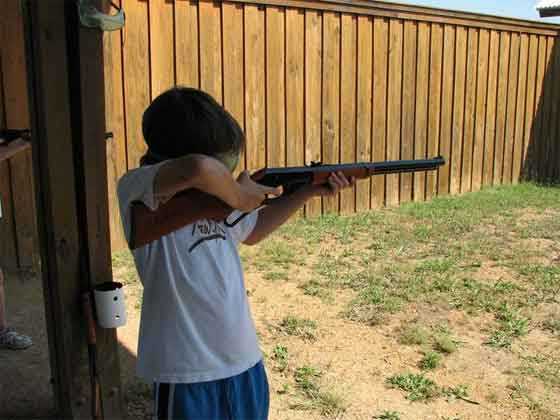 Anthony Stewart's photo of his cousin shooting his Red Ryder is this week's winner of the Big Shot of the Week. I'd say this boy really wants to shoot since it appears he'll do whatever it takes to make a too-big gun work for him.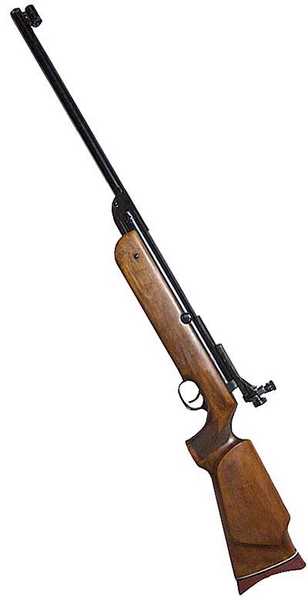 The Diana model 60, which is a Hy-Score model 810 in this case, is a breakbarrel target rifle from the 1960s and '70s.
Today, we're looking at the accuracy of the Diana model 60 recoilless breakbarrel target rifle. In Part 2, I also reported on my HW 55 CM, but now I'm back with the model 60 exclusively. All along, I've been baiting you with the incredible accuracy of this rifle. Today is the day we'll see what that means.
We learned that Mac's model 60 suffers from a loss of velocity over the factory specs. Blog reader Mike Driskill was kind enough to give us the velocities of his two model 60s. The first rifle is one that he suspects still has the original factory springs that came with the gun. It got a new piston seal back in 1999 from RWS USA. It shoots RWS Hobby pellets at an average velocity of 567 f.p.s.
The second model 60 is one rebuilt by Randy Bimrose, who commented that it was the hottest model 60 he had ever seen. That rifle averages 666 f.p.s with the same RWS Hobby pellets.
Mac didn't shoot his rifle with Hobbys, nor did he test with any of the same pellets Mike did, but with H&N Finale Match Rifle pellets it averages 457 f.p.s. I will make an educated guess that his rifle might shoots Hobbys at 495-510 f.p.s., based on that performance. It's slower than Mike's slowest rifle and perhaps it has the original springs with an updated piston seal.
Velocity is not something we look for in a fine target rifle, but nobody wants their gun to be performing substandard, either. Mac still hasn't decided what he will do about the gun, but I believe he will send it off to be rebuilt. Pyramyd Air is now fixing all Giss system rifles and pistols, so Mac knows where to send his gun to get it refreshed.
Back to accuracy — the sights
But today isn't about velocity. It's about how accurate this rifle is. I've made some strong claims for it in the past, so it's time for me to show the evidence.
When we talk about accuracy, naturally the sights come into play. The Diana 60-series rifle sights are interesting and very well-built. Let's begin with a look at the sight base that many of us have mistakenly called a scope base for years.
The Diana rear sight base has grooves running perpendicular to the axis of the action along the top of the entire sight base. To most of us, these look like an interesting but useless detail; but if you own a Diana peep sight, their real purpose springs into sharp relief.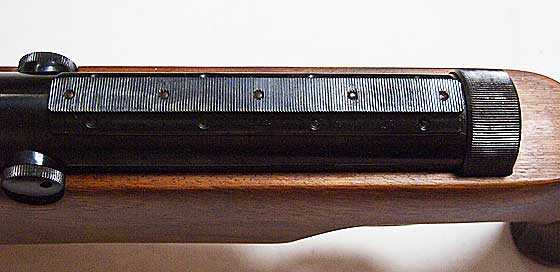 The rear sight base on the Diana model 60 rifle has ridges that run perpendicular to the action of the rifle. They're locking grooves.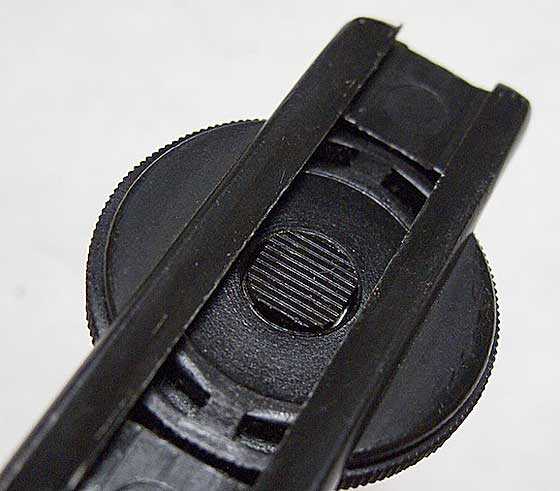 The underside of the target sight has corresponding grooves that mesh with those on the sight base, locking the rear sight in position.
When you see the underside of the target rear sight, you see the corresponding grooves that bear down and intermesh with the grooves on top of the sight base, locking the sight firmly in position. One wonders why Diana never marketed scope rings with the same feature.
Yes, the model 60 is recoilless and probably doesn't need its sight to be locked down, but the same sight base is found on their recoiling sport models made during the same timeframe. It's easier to make the parts the same for all guns, so even the recoilless rifles get this locking feature.
Mac says he's very intrigued by the level of sophistication he finds in the Diana target aperture sight. He took some detailed photos so I could share it with you.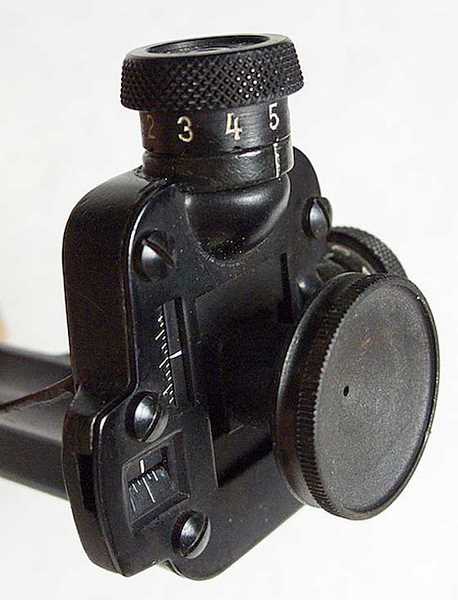 This view shows the back of the rear sight, which contains both scales for windage and elevation adjustment. Both adjustment wheels have click detents that alert the shooter to exactly how far the sight has moved during adjustment.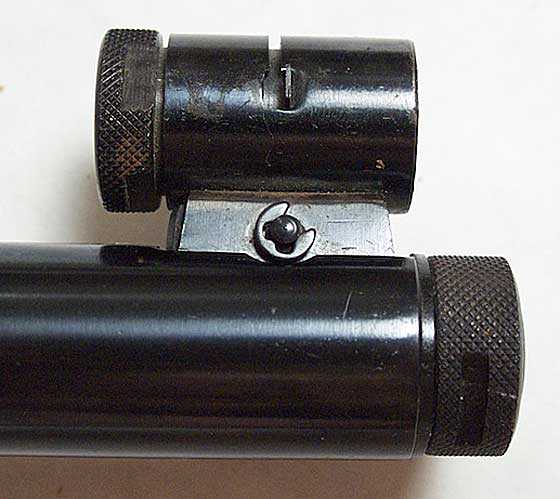 The front sight accepts different inserts, like most target sights of that era. Mac discovered that it also accepts the clear inserts that have become very popular in recent years.
And now the targets
The proof is in the pudding, as they say, so let's see how this target rifle shoots. First up was the venerable RWS Meisterkugeln, a time-honored wadcutter that has been around for most of the modern airgunning age. I used them back in the mid-1970s, and they're still going strong today. Mac found them to be reasonably accurate in his rifle.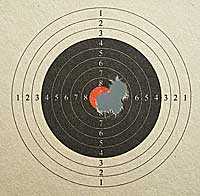 Five RWS Meisterkugeln made this group at 10 meters that measures about 0.19 inches.
Next Mac shot the H&N Finale Match Rifle pellet. It grouped just about the same as the Meisterkugeln , though the group was centered on the target better.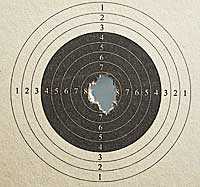 This group of five H&N Finale Match Rifle target pellets is more centered than the Meisterkugeln pellet group but measures about the same size.
So far, the rifle has shown accuracy that is average for a good 10-meter rifle. But next up was the JSB Exact Diabolos, a domed pellet that Mac uses for mini-sniping. The group these pellets shot was so small it was almost impossible to measure; but by being generous with the calipers, Mac estimates that it measures 0.10 inches between the centers of the two shots that are farthest apart. That's the sort of accuracy seen in today's top target rifles, so the model 60 gives away nothing to modern guns except ergonomics.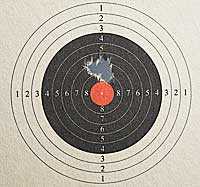 JSB Exact domed pellets gave the best group of all in Mac's rifle. These five appear to have grouped in 0.10 inches at 10 meters.
The bottom line
This report has been about a breakbarrel target air rifle that's just as accurate as any fixed-barrel target rifle we see today. It proves the point that the breakbarrel system can be just as accurate as any other spring-piston system.
The report also reminds us that there are a lot of vintage airguns around that can be every bit as nice as they were 40-50 years ago when they were the latest technology. Fortunately, we live at a time when they are also repairable, so these vintage treasures can continue to serve us well in the years to come.
I'd like to thank Mac for taking the time to test his fine old target rifle and share the results with us in this blog.
by B.B. Pelletier

The Dragon Claw from Sam Yang is a .50 caliber big bore air rifle.
Today, I'll test the velocity of the Sam Yang Big Bore .50 caliber Dragon Claw single-shot air rifle. For this test, I used two Air Venturi bullets and a swaged round ball that are available from Pyramyd Air.
The rifle is supplied with a probe-type quick-disconnect fill device, and I can finally report that the Koreans have now conformed with the rest of the world in supplying these adapters with standard threads that attach to common 1/8″ BSP fittings. In the past it was a chore matching these adapters to hoses you might have on hand (if you're already into PCP airguns).
The No. 1 recommendation I have if you're buying the Dragon Claw as your first PCP is that you also purchase the Pyramyd Air Quick-Disconnect male fitting and switch out the fill port on your rifle. Then, you can fill from a variety of high-pressure air devices, including the Air Venturi 88 cu ft carbon fiber tank. You're going to want something that large to keep this monster gun supplied with air.
Let me address the air issue right now. This rifle does use a lot of air. I found that I got four useable shots on high power or eight shots on low power, and each time I did that the gun dropped from 3,000 psi to 1,500 psi for high power and 1,200 psi for low power. This number of shots per fill is fairly good considering the caliber of the rifle, but you're going to refill it often. Don't even think of using a hand pump for this rifle!
Shot with open sights
I decided to shoot the velocity test shots with open sights to simplify things at the range, and in so doing I learned that this rifle shoots very low at 50 yards. So low, in fact, that it was impossible to move the point of impact up to the point of aim. That's good to know, because I'll want to use a scope mount with some droop correction for the accuracy test.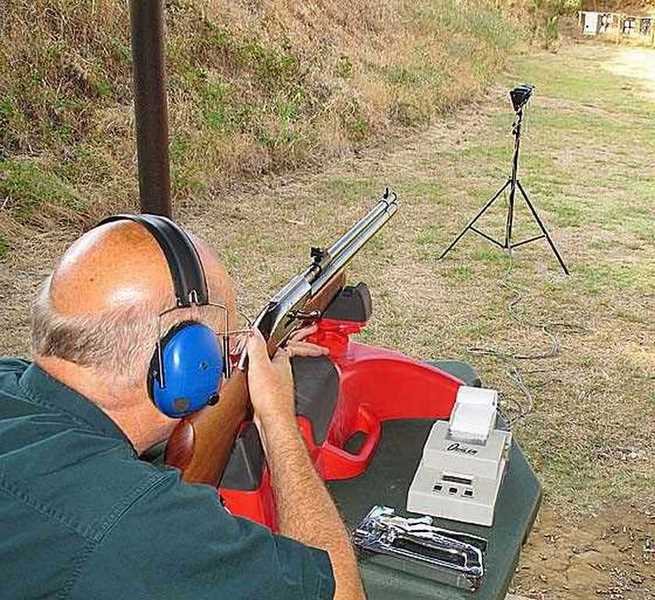 While I chronographed the Dragon Claw, I also got to see how it shot with open sights.
The rifle actually grouped pretty well with open sights, considering I was shooting three different projectiles at two different power levels for each. Of the approximately 25 shots I fired, about 21 grouped in a hand-sized group. Unfortunately, it was below the target paper, so I'll leave all accuracy testing to Part 3. But this test did show me a couple things about the gun.
I know why there's a low-power level
First, you may remember that I was skeptical about using the low-power level. Now I know why it's useful. With the Air Venturi 200-grain round nose lead bullet, the rifle gave eight good shots on low power — and they all went into that group I mentioned. When I scope the rifle for the accuracy test, this is one power level I'll definitely try.
On low power, the 200-grain bullet ranged from a low of 562 f.p.s. to a high of 613 f.p.s. The average was 598 f.p.s., which gives us a muzzle energy of 158.85 foot-pounds. That's for eight shots on low power.
On high power, I got four good shots from all the bullets. The 200-grain bullets ranged from 687 f.p.s down to 610 f.p.s., with an average of 640 f.p.s. That's an average muzzle energy of 181.95 foot-pounds. So, I got half the number of shots for a 23 foot-pound gain. It doesn't seem worth it to me. They did group with the other 200-grain bullets, though.
The 225-grain Air Venturi round nose lead bullets also gave four good shots on high power. They ranged from 652 f.p.s. down to 581 f.p.s., with the average at 614 f.p.s. That's an average muzzle energy of 188.4 foot-pounds. That's not much better than the 200-grain bullets, so I think I'll stick with the lighter bullets. These bullets also went into the main group with everything else.
On low power, the 225-grain bullets gave eight good shots, ranging from 614 f.p.s down to 521 f.p.s., with the average at 563 f.p.s. That's an average muzzle energy of 158.4 foot-pounds. They also went into the main group at 50 yards.
Round balls
It was the Hornady .495-inch round balls that didn't do so well in this gun. They averaged just 465 f.p.s., so they must fit the bore very loosely. Since the balls weigh only 183 grains, the average energy was just 87.77 foot-pounds. They did not group with the other bullets. They were about six inches lower than the main group, though centered with it.
Shooting behavior
The Dragon Claw has a heavy trigger. I would estimate that it releases with about 8 lbs. of pull, and there's considerable creep in the pull. The rifle recoils about like a lightweight .22 Magnum rifle or even a .38 Special fired from a rifle. A friend at the range noticed the recoil when I fired.
Cocking
The gun cocks by pulling back on the spring-loaded hammer. It's stiff in a new gun, and it takes a bit of finesse to stop on the low-power setting. The tendency is to haul back as hard as you can, which takes you right to high power.
Observations thus far
The Dragon Claw is a handy big bore that's got plenty of power and is priced right for the category. It seems to be very good on low power, and I'm looking forward to shooting it with a scope.
Are there .17 caliber firearms?
J-F, one of our Canadian blog readers, asked this question and I thought I'd answer him here. Yes, there are plenty of .17 caliber firearms; though, just like the .22 calibers, they're not the same size as airguns. In the case of .17 caliber, the firearm bullets are all smaller.
Two very popular .17 caliber firearms these days are the .17 HMR — that's a .22 Winchester Magnum rimfire necked down to .17 caliber — and the .17 HM2, which is a .22 long rifle necked down. The HMR leads the HM2 in the popularity contest, even though the ammunition is three times more expensive.
I have a .17 HM2 rifle that a friend of mine built for me on a Hungarian single-shot .22 long rifle action. You've seen this rifle before, because it's the same gun I used for testing the Blue Wonder cold bluing process. And, the blue is still beautiful on that barrel, despite my never wiping the gun down and purposely handling the barrel to see if I could get the finish to wear.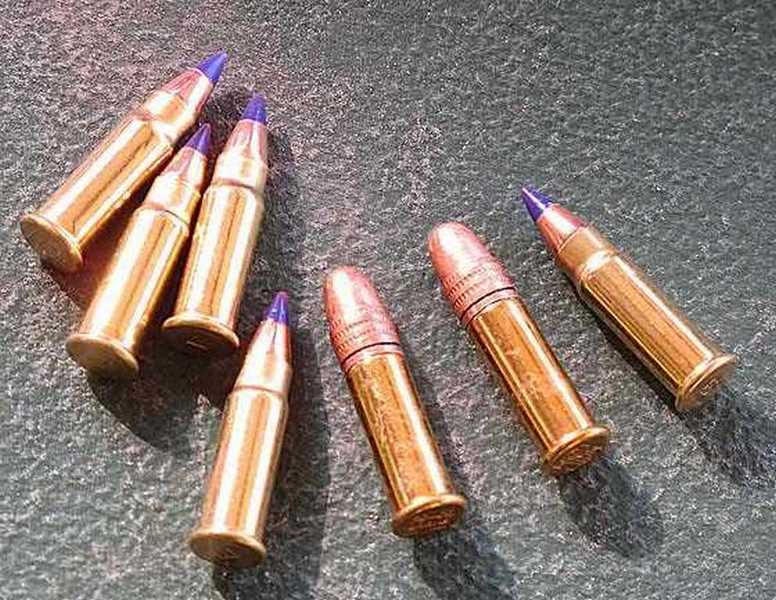 The .17 HM2 cartridges are based on the .22 long rifle round.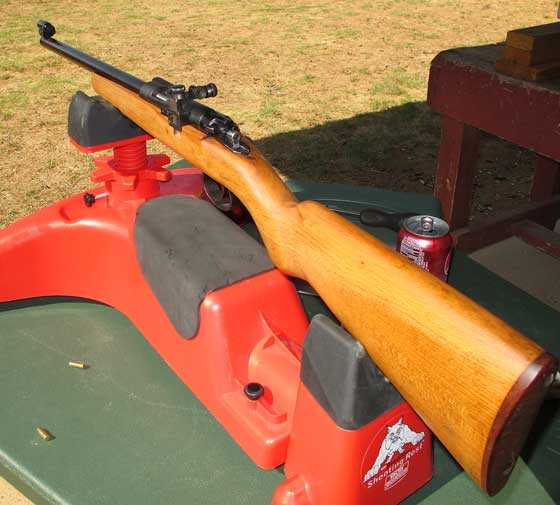 My .17 HM2 rifle is based on a Hungarian single-shot trainer. I blued the barrel with Blue Wonder cold blue in another report.
I cleaned the barrel just for this report, so naturally I had to shoot several rounds to foul the bore again. A clean barrel almost never shoots to the same point of aim as a slightly dirty one. Once I was satisfied that the rounds had stopped walking, I adjusted the sights and shot a five-shot group at 50 yards. It's no great group, and several PCPs I've tested will beat it hands-down, but it's in the right place.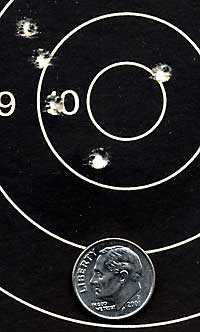 Not great but also not terrible for open sights at 50 yards. The .17 HM2 is a nice, inexpensive varmint cartridge.
So, yes, there are .17 caliber firearms, as well as pellet guns. That's my report for today. Next time, I'll have a scope on the Dragon Claw, and we'll see how well she can do.
by B.B. Pelletier
Before we start, I wanted to let you know that there are two new videos on Airgun Academy. We've started a series on airgun maintenance. Episode 27 is about properly maintaining pneumatics, and episode 28 is CO2 gun maintenance.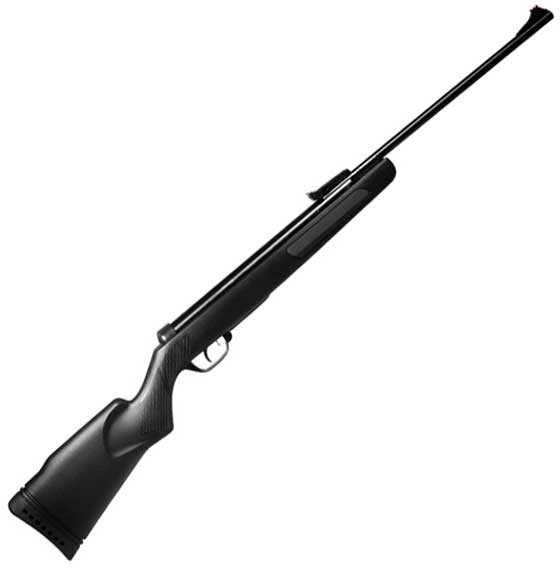 It's medium-sized and lightweight. The velocity in .177 is 825 f.p.s. The BSA Comet is a different air rifle.
Before I start today's report I'd like to say a couple words about yesterday's test of some non-lead pellets. There were several early comments that ranged from observationa that an FWB 150 will shoot anything accurately to why don't I test these pellets in a more real-world type of rifle? Those comments, as well as my own curiosity, will probably drive me to fashion some sort of test that is more encompassing than what I did yesterday.
I'm leaning away from the test that uses the more common type of pellet rifle, simply because it's endless. And, what would we learn — except that some guns do well with non-lead pellets while others don't? If I can set up a controlled test where I test the same pellets at two or even three power levels in the same gun using the same barrel, then we might learn something useful.
It seemed to me that perhaps these non-lead pellets perform well at lower velocities, but from my past experience they don't do as well at higher velocities. Is that true? Many readers seem to think so. I have a way to find out. I can set up my Whiscombe rifle in .177 caliber to shoot the subject pellets at very low velocity, then at a medium velocity and, if they're still grouping okay, perhaps bumping them up to supersonic. That can all be done in the exact same barrel, which is the benefit of using the Whiscombe. I have air transfer port limiters that control the velocity of the rifle. If you recall, my Whiscombe came to me with a 12 foot-pound limiter installed, and I freaked out until learning about the limiter and the reasoning behind it. That's discussed back in 2006, in Part 2 of the Whiscombe report.
I'm aware that a test like this will not be of interest to everyone. As always, I'll serialize it and put some space between the reports. It seems to me that we might be able to really learn something important this way, and I'd like to pursue it. Okay, that's all that was on my mind. Let's move on to today's report.
I'll tell you exactly why I chose to test the BSA Comet (serial number CD-398513-09). It was the velocity. This is a .177 breakbarrel spring rifle that sells for over $300, so what velocity would you expect it to have? Over 1,000 f.p.s., right?
"Me too," seems to be the most popular slogan in the world of consumer goods today. Once the market is defined, every manufacturer rushes to make the same product and sell it for less. If they can't do that, they pack it with "features" that justify the extra expense. Not so for the BSA Comet.
In a forest of 1,000 f.p.s. air rifles, here's one that touts 825 f.p.s. Are they out of their minds? Or are they marching to the beat of a different drummer? Only a thorough test will reveal which is the case. At this time the Comet is available only in .177 caliber.
Like the others?
In many respects the Comet is a cookie cut from the same sheet of dough as all other modern breakbarrels. It has a synthetic stock, the metal is not finished bright (excuse me, sir, that's a hunter matte finish) and it has the requisite green and red adjustable fiberoptic sights that guarantee minute-of-pop-can accuracy.
One look at the rifle tells you that it probably wasn't made in the United Kingdom. Look at the Gamo-style trigger for starters. Oh, and do the words, "Made for BSA" lasered on the right side of the action sound a little non-specific to you?
Okay, we know that the Spanish airgun maker Gamo owns BSA. It's not much of a stretch to think that the Comet was made in Spain for BSA. That's not bad because Gamo has come a long way in the past decade. They've upgraded their airguns to the point that they're very nearly on par with German guns at the lower end of the cost spectrum.
BSA also has the reputation of making some of the finest barrels in the world. They're on par with Lothar Walther when they want to be, and their barrels have ended up in some very expensive top-end airguns.
Here's what I hope. I hope the Comet is a diamond in disguise. I hope that the lower muzzle velocity and the (possibly) BSA barrel combine to make this one heck of a good shooter. At this price, they're $100 more than the RWS Diana 34, so the rifle needs to be accurate, smooth and have a decent, adjustable trigger. These are things I'll be looking for in this evaluation.
The rifle
The Comet is lightweight, at 5.9 lbs without a scope, and it's medium-sized, at 42.5 inches overall. Given its power, could it be positioned against the Beeman R7? This is all speculation, and only thorough testing will reveal what the Comet is really like. I'm curious to discover this rifle's secrets, if it has any.
The shape of the stock and location of controls such as the safety make the Comet a 100 percent ambidextrous rifle. The breakbarrel design lends itself to that. Looking underneath the stock, I was surprised to see a two-piece articulated cocking link. That means the cocking slot in the stock can be shorter, which helps reduce vibration.
The triggerguard is cast into the stock as one piece, and there are side panels on either side of the forearm that remind me of many Gamo rifles. I know the forearm screws are located beneath those panels because I've already had them off the gun.
The breech seal is located on the end of the spring tube instead of the rear of the barrel. That shouldn't make any difference in the performance, but it's worth noting.
The pull of the stock is 13.75 inches, which is compact. The 17.5-inch barrel offsets that a little. It also biases the weight forward for a muzzle-heavy balance.
The trigger is two-stage and adjustable for engagement. I will find out what that means in Part 2. The manual safety blade is located in front of the trigger and is pulled back to set and pushed forward to release. The safety blocks the trigger blade from moving and can be set and released whether or not the gun is cocked.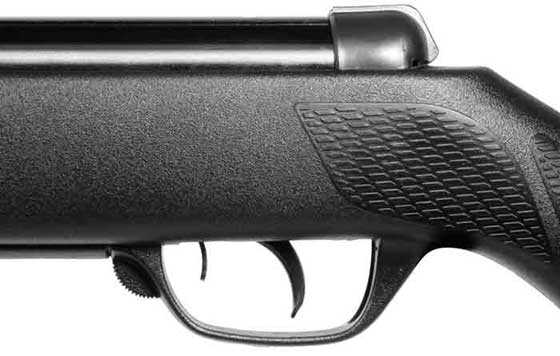 There is no denying the Gamo heritage when you look at the Comet's trigger.
I had to remove the stock to adjust the trigger because the one adjustment screw is not conveniently placed. Once the action was out of the stock I could see that this trigger is changed and improved from the Gamo triggers of a decade ago. I'll show pictures next time.
These's no mention of the force required to cock the Comet, but I'll measure it in Part 2. I shot the rifle a couple times just to familiarize myself with its operation and can observe that it cocks easily enough.
An 11mm dovetail is cut directly into the top of the spring tube, and there's an appropriate hole at the rear to accept a vertical scope stop pin. But BSA has a reputation for having some of the widest dovetails on the market, sometimes pushing 14mm, so I'll look at that when I mount a scope for you.
First impression
I like the smaller size, lighter weight and lower power of this breakbarrel. If it also producea some good groups, we may have something here.
One more observation. In the few (10?) times I've fired the rifle, it seems to be dieseling pretty aggressively. I think a break-in period may be necessary before good performance can be realized.
by B.B. Pelletier
Writing this blog is a humbling experience. Sometimes, when I think I know the answer and it's obvious, there's a surprise. Today I wasn't just surprised — I was bowled over!
I started this test way back in June when I tested the velocity of all the pellets in my Slavia 631. While testing, I felt the powerplant was running a bit off, so I opened the gun and in so doing I lost one or two very important springs. That moved the Slavia from being a testbed to the repair category. I had other plans for that rifle besides testing non-lead pellets, and I've since acquired the parts to fix it (I think). Now all I need is the time.
But I did want to get on with this test so I went to my gun closet and guess what I found? Nothing I have with a scope on it is sighted-in. Remember the cobbler's children walk around barefoot? That's the same way for me, as I'm always mounting a scope on something new for another test.
But, fortunately, I own a class of accurate air arms that do not need scopes. My 10-meter target rifles do fine with their aperture sights; and for a 25-yard indoor test, they're all that's needed.
The most accurate of all the rifles I have tested to date is the FWB 150 I just tested for you, so that was the gun that got the nod. It was sighted-in for 10 meters (11 yards) so it should have been close enough for 25 yards if a large enough target was used. I used the 10-meter pistol target, whose larger bull at 25 yards looks very similar to the 10-meter bull.
NOTE: This is not a continuation of my earlier test of non-lead target pellets. That's a series I started but have not yet finished.
To verify sight-in, I shot a 10-shot group of RWS Hobby pellets that went into an embarrassingly large group. However, on the tenth shot one of the stock screws fell out, reminding me to do as I say and not as I do.
After tightening all screws I decided to shoot just five shots since this isn't a test of ultimate accuracy. I reckoned we could see what we needed from five shots, and I could go through more different pellets that way.
After tightening the stock screws, I shot another five-shot group of Hobbys. While this group was much smaller, it pointed out that I needed to tighten up my shooting technique. I think you will understand why I say that when you examine the group.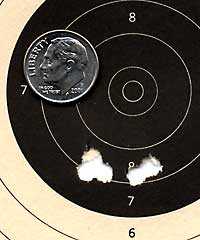 Two tight groups of Hobbys (one with three pellets and the other with two) at 25 yards. What can I say? I believe this is due to canting, for as you can plainly see, the pellets tried to group very tight, otherwise.
I figured I was canting the rifle to produce those two groups. With all other pellets, I used downrange cues to slant the rifle the same with every shot.
Surprise, surprise!
The first non-lead pellet I tested was the RWS HyperMAX. I hoped all would hit the target paper at 25 yards, but instead they produced a group that was not much larger than that of the Hobbys. This was not what I had expected. I've never seen HyperMAX pellets do so well before, and I must attribute their accuracy to the FWB 150 barrel. I also have to revise my thinking about non-lead pellets, because this is very acceptable performance!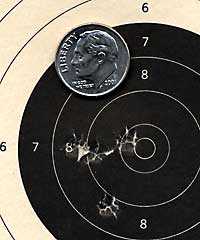 What a surprise! Five RWS HyperMAX pellets did very well at 25 yards from the FWB 150.
Following the HyperMAX, I shot five Skenco Type 2 Hyper-Velocity Field pellets that Pyramyd Air no longer carries. Only four of them connected with the target downrange and the group measured about 12 inches, but that's just a guess from the new mark I have in the drywall behind the target trap. This was the level of performance I had expected from all non-lead pellets, but in fairness to Skenco, these pellets fit the breech of the rifle very loosely and one even fell back out after loading. I wouldn't expect accuracy from a lead pellet with a fit like that.
I'm not showing a target for this pellet because it only has four holes, and they're so far apart that it would be meaningless. The 12-inch spread is no exaggeration.
Next, I loaded the golden Gamo Raptor PBA pellets that have never done well in any of my tests. These are the pellets Gamo touts for killing wild pigs on their TV ads. I've read the reports of others who have had good success with them, but I never have. Until now.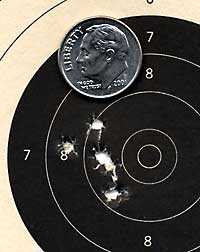 Five golden Gamo Raptor PBA pellets made this tight group at 25 yards.
That target was a real shocker for me because I've never seen Raptor pellets do well, and I've tested them a lot over the years. But the results are very hard to refute, and why would I want to? This is a test on non-lead pellets, after all. Raptors can shoot very well in the right airgun.
That result gave me a lot of confidence that the final pellet, also from Gamo, would group well too. This was the Gamo Platinum PBA pellet that resembles the golden PBA pellet but is actually even lighter.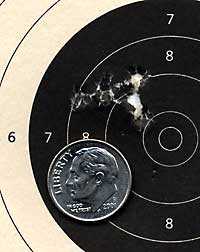 Five Gamo Platinum PBA pellets made the best group of the test.
I have much less experience with the Platinum PBA pellet, though after seeing these results I will try to include them in some future testing of other airguns. They really are an accurate pellet in my FWB 150.
Results
I wouldn't put too much faith in the individual group sizes in this test, because they're only five-shot groups. But the relationships of how accurate they can be should stand out clearly. It was just a chance accident that caused me to test with a target rifle, though I'm sure there are some readers who feel justified by these results. Clearly, lead-free pellets can be accurate in the right situations, and I have to revise my opinions of them.
I will continue to test them in other airguns, plus I'll look for other lead-free pellets to test in the FWB 150. That's why this is a Part 1 report. I'm sure there's more to follow.
It's also nice to have a reliable testbed rifle that I know I can leave alone for just such a purpose. I thought the 150 was just another pretty face, but now I know she can cook, as well! Life just keeps on getting better all the time.
by B.B. Pelletier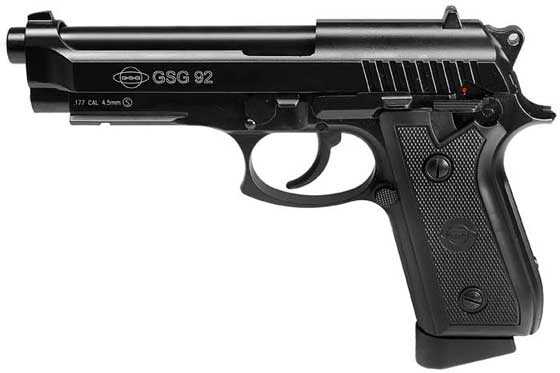 The GSG 92 is a very realistic action BB pistol from an airsoft manufacturer.
Today, I'll test the accuracy of this GSG 92 CO2 BB pistol, and believe me, there has been more interest in this gun in any BB gun I've seen in a long time. Not all of the interest is focused on this gun, but I'll address that later in the report.
As you may recall from the velocity test, this pistol gets about 40 usable shots per 12-gram CO2 cartridge. I kept that in mind as the test progressed, and I never let the gun get too low on power. I also waited for at least 10 seconds between each shot to allow the gun to recover from the cooling effect of the gas. The GSG 92 seems very sensitive to a power loss if you shoot the gun too fast.
The first shots were from only 10 feet to establish where the sights were. Since the sights are fixed and even molded into the slide, there's no possibility for sight adjustment, so it's important to know where the gun shoots.
I found the pistol groups lower than the aim point and just slightly to the left. However, with these sights, a 6 o'clock hold on the bull is the most accurate way of sighting, so I simply aimed at a bull above where I expected the shots to land. That worked very well for my shooting, which was done at 15 feet.
I tried to hold the pistol in one hand, but I'm not strong enough to do the gun justice that way, so I sat on the floor and used a two-handed hold with my arms rested on the back of a small chair. I know these groups you are about to see are the very best I can do with this pistol.
I installed a fresh CO2 cartridge and loaded the magazine with Daisy Premium Grade zinc-plated BBs. I know from many past tests that these are among the most accurate BBs in all BB pistols, so I went right to the best. That way, I could concentrate on the other things and not worry about ammunition.
Once the gun was sighted-in at 15 feet, I knew it would shoot about 2 inches low and .25 inches to the left. The shooting could now begin. The first target was shot with a 10-second pause between each shot, to allow time for the gun to recover its temperature. At 15 feet, though, the difference of 30 or even 50 f.p.s. doesn't really have much of an impact.
The first group seemed to be a good one, and it doesn't look too bad after all is said and done. But I felt I could do better, so I shot a second group.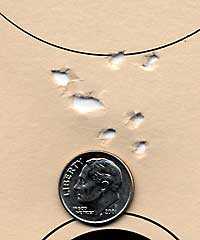 The first target caught this satisfying 10-shot group that measures 1.173 inches between the centers of the two shots farthest apart.
After the first group, I settled down and started focusing on the front sight, as you're supposed to. I noticed that the next group was better, but still about the same amount below the point of aim. This group measures 0.914 inches between centers.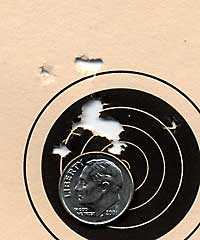 The second target was shot with more focus on the front sight. It measures 0.914 inches between centers for 10 shots.
I checked my past tests of BB pistols, and only the Umarex Makarov beat this one. I think I know why. This GSG 92 has realistic blowback that really bounces the pistol when it fires. I think the movement of the slide might make the difference between this one and the Mak.
The bottom line
For those who were thinking about getting a GSG 92, I would say go ahead. My tests demonstrated a very realistic and accurate performance, and the velocity exceeded factory claims. The one drawback is the low shot count, but for that price you're getting one very realistic recoiling airgun.
It doesn't end here
Here's the rest of the story. While commenting on this gun, a couple readers got into a discussion about the SIG Sauer P226 X5 pistol. The claims for accuracy that were made seemed astounding to me, and since this was the first time in a long time that anyone has championed a BB pistol, I ordered one to test for you. The story continues.
by B.B. Pelletier
Announcement: Brendon Krahn is this week's winner of Pyramyd Air's Big Shot of the Week on their facebook page. He'll receive a $50 Pyramyd Air gift card.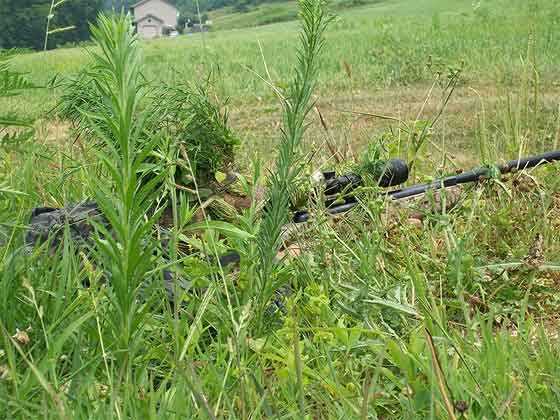 Brendon Krahn is this week's Big Shot of the Week. He's sniping at starlings with his .177 Remington NPSS.
Photos and test results for the Diana 60 by Earl "Mac" McDonald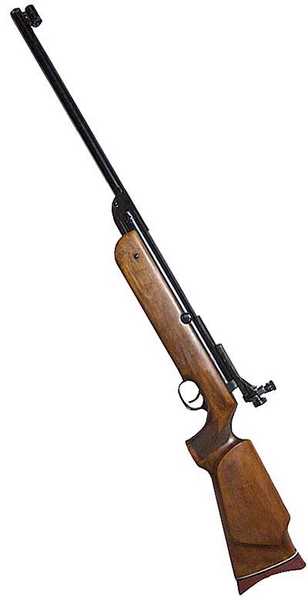 The Diana model 60, which is a Hy-Score model 810 in this case, is a breakbarrel target rifle from the 1960s and '70s.
That's right, sports fans, today you're getting a twofer. For the benefit of our readers outside the U.S., a twofer is slang that means "two for the price of one." I decided to report on both Mac's Diana 60 velocity test and my HW 55 Custom Match velocity test for reasons I will explain in each part. Grab a large cup of coffee and an extra Danish and sit back!
The Diana model 60 target rifle
We'll look at Mac's rifle first. Today, I'll reveal the one thing that's been troubling Mac about his rifle, so it doesn't take a detective to know that it has to do with velocity.
The cocking effort of his breakbarrel rifle is 28 lbs., which seems high to me. Mac says it doesn't feel that high because, for some reason, it gets lighter toward the end of the cocking stroke. He also cautions us to beware of the rack-and-pinion noises that these guns have when they're cocked. To all that I have to say this.
There shouldn't be any noises when this rifle is cocked. I've owned several Giss-system rifles and pistols and shot a lot more, and none of them made any extra noise when they were cocked. That's clue No. 1. And, I'll explain how the Giss system works next.
Clue No. 2 is the lighter cocking effort toward the end of the stroke. That's atypical for a breakbarrel, but Diana has the reputation for breaking mainsprings. When they do, they get smoother. They don't make any noise, nor do they bind during the cocking stroke. I've certainly seen a half-dozen Diana rifles with broken mainsprings and they all acted this way.
How the Giss contra-recoil system works
The Giss contra-recoil system consists of two pistons connected to each other. The real one goes forward when the gun is fired, and a dummy travels to the rear at the same time. The real piston is the only one that has a piston seal, and it's the one that compresses all the air for the shot. The dummy piston has no seal and is just there to provide an equal and opposite reaction to the real piston. When the real piston slams to a stop, the dummy piston does too at the same instant. The EFFECT of this is that the impulse of each piston cancels the other. The first time an airgunner experiences it he's usually blown away because, when the gun is timed right, absolutely no firing pulse can be felt.
Of course, timing is the principal concern in a gun that uses the Giss system. That's why I never recommend a person try to repair his own gun. Sometimes, a mechanical genius like Nick Carter who writes Another Airgun Blog will be able to dive right inside a Giss gun and find no obstacle he cannot understand and overcome, but the average person will just create a basket case.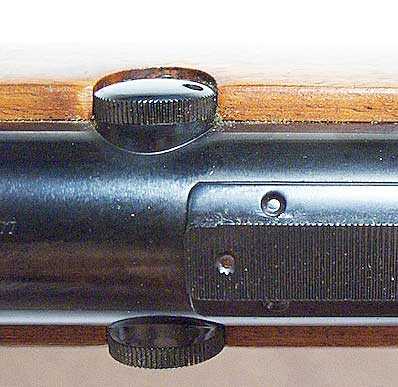 Looking straight down on the top of the model 60 action, we can see the two telltale caps that cover the gears connecting the two pistons to each other. All Giss-system guns have these caps.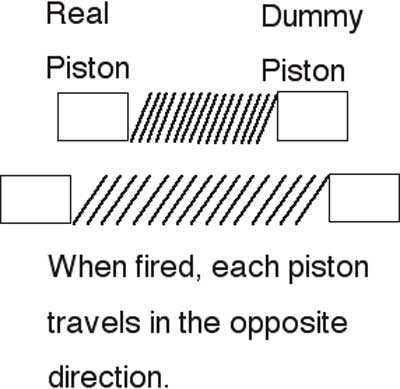 This simple graphic shows how the two pistons oppose each other.
Velocity test
I'll tell you right now that Mac experienced lower velocity than he expected from this rifle. An Air Rifle Headquarters catalog (the original company) from 1973 gives the velocity of the model 60 as 546 f.p.s., without specifying what pellet was used. That would probably translate to about 550-570 f.p.s. with the pistol-weight target pellets we use today. Mac wasn't getting that.
He asked me what I thought about putting a drop of silicone chamber oil through the air transfer port to lubricate the piston. We know that these older target spring guns came with seals that dry-rotted over the years, and chamber oil will speed up their demise, but I figured he had to find out somehow, so he did it. But it didn't cause the seal to destroy itself. It simply boosted the velocity about 12 f.p.s. with no change in how tight the velocity spread was.
The first pellet he tried was the H&N Finale Match Rifle pellet that weighs 8.18 grains. They averaged 457 f.p.s., with a 22 foot-second spread from 445 to 467 f.p.s. The average muzzle energy was 3.79 foot-pounds.
Next, he went with a domed pellet. JSB Exact Diabolos are domed pellets that would not normally be fired in a target rifle unless the target was something other than paper. But Mac also uses his target rifles for mini sniping, so he tested this 8.4-grain pellet anyway. It averaged 474 f.p.s., with a 16 foot-second spread from 465 to 481 f.p.s. The average muzzle energy was 4.19 foot-pounds.
The final pellet Mac tried was the old standard RWS Meisterkugeln pistol-weight wadcutter. Today, they only weigh 7 grains, but Mac had some older ones that weighed 7.7 grains. They were a very loose fit in the breech and averaged 458 f.p.s., with a whopping 37 f.p.s spread from 442 to 479 f.p.s. The average energy generated was 3.59 foot-pounds.
Conclusions
Both Mac and I think the rifle isn't performing up to spec. Mac found some stated velocity figures of 460 f.p.s. in print somewhere, but he thinks it's a transposition of 640 f.p.s., which is where a few of the 1960s and '70s-era target rifles were.
I now believe the rifle has a broken mainspring. Mac thinks it's just a tired one. Either way, the thought that his gun isn't performing up to snuff is getting under his skin, so I advised him to have it repaired by either Pyramyd Air or Umarex USA so he'll know for sure.
Nevertheless, the rifle still shoots as it should and there will be a part 3 coming soon. Let's go to Part 2 of the other target rifle on today's menu.
The HW 55 CM target rifle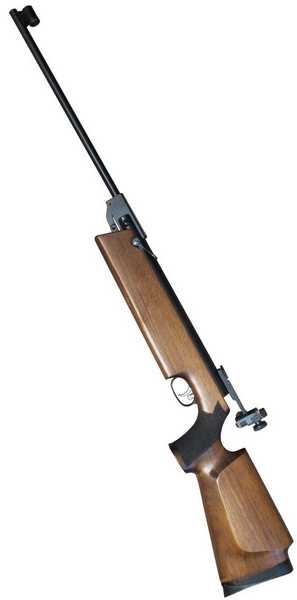 Is this Custom Match the best HW 55 ever made? Read the report to find out.
I'm putting this additional report here for a couple reasons. First, I didn't want to go too long without reporting on it. More importantly, I thought I might have to do an extra report on this rifle. As luck would have it, that's how it turned out. While this is Part 2 and a velocity test, the next part will also be about velocity.
Remember that the HW 55 CM was the rifle that I felt had a harsh firing cycle back in Part 1. After I tightened the stock screws, some of the harshness went away. Even after that, the rifle was still feeling harsher than I felt it should for what it is.
Several of you readers thought that when the gun went back to Beeman for a rebuild, they probably installed the upgraded HW 50 sporter mainspring that would have boosted the power. The only way to find that out is with a chronograph, so that's what I did. According to Air Rifle Headquarters catalog data, once again, a regular HW 55 should shoot H&N pellets at 650 f.p.s. Unfortunately, they don't give a lot more data about the specific pellets they used for the test.
The rifle does still shoot a little harsh. When you're peering through a peep sight, the smallest recoil becomes instantly noticeable. In this rifle, it's unpleasant. The peep comes straight back and bumps into my skull when I fire. My Ballard rifle does the same thing, only its peep is on a tang sight that collapses forward when it contacts my eye. The HW 55 sight, in contrast, remains rigid and allows me to absorb all the impulse of each shot. Well, I'll be danged if I'm going to put up with that!
The plan is to quiet the shot cycle with black tar, if possible. If the gun has extra velocity it doesn't need, I'll be only too happy to do that.
The cocking effort is just 20 lbs. on the nose, and the ARH catalog says to expect a weight of just 15 lbs. There's another small deviation from what would be expected. Even the HW 50 mainspring isn't that powerful, and the long almost-18.5-inch barrel may be providing the extra leverage to reduce the force.
The first pellet I tested was the RWS Hobby, that standard candle of high-velocity lead pellets. At just 7 grains, it's not only light, but often it turns in surprisingly good results downrange. Hobbys averaged 694 f.p.s., with a 17 foot-second spread that went from 684 to 701 f.p.s. The muzzle energy is 7.49 foot-pounds. I would love to say that this speed wasn't expected, but it wasn't far enough out of line to be definitive.
Next, I tried H&N Finale Match Pistol pellets. They weigh 7.56 grains. They averaged 632 f.p.s., with a 14 foot-second spread from 625 to 639 f.p.s. The average muzzle energy was 6.71 foot-pounds. That seems right on the money for a stock mainspring.
The final pellet I tried was the RWS R-10 Match Pistol pellet. Although they're just as light as the Hobbys, they go the same speed as the heavier H&N Match Pistol pellets. That would indicate a bore-fit issue.They averaged 632 f.p.s., with an 18 foot-second spread from 619 to 637 f.p.s. The average muzzle energy was 6.21 foot-pounds.
Evaluation
I can't tell for certain that the mainspring has been upgraded, but I do know that the rifle has way more velocity than I need. The next step is to lube the spring with black tar to see what EFFECT, if any, that has on the shot cycle. While Mac wants more velocity, I'm looking to get rid of some for the sake of smoothness.
I'll break these two reports into separate reports for their respective accuracy tests. But before I do the accuracy test with the HW 55 CM, I'll lube the spring and retest the velocity results, giving this rifle one extra report.
by B.B. Pelletier
Today, I'll begin our look at Sam Yang's Big Bore .50 caliber Dragon Claw single-shot air rifle (serial number 3526). The rate these new big bores are being made is stunning! I remember when Dennis Quackenbush first offered the Brigand — a .375 caliber roundball shooter that ran on CO2. It was 1996, I believe, and there simply were no other modern big bore air rifles around at the time. Oh, that's not entirely accurate. There were a few boutique makers producing a handful of guns, many of which were "engineered" so close to the edge of disaster that shooters risked their lives every time they filled them.

The Dragon Claw from Sam Yang is a .50 caliber big bore air rifle.
History of big bore airguns
Big bore airguns are the oldest type of mechanical airgun, dating back to around the year 1550. There's an airgun action in the Danish Royal Museum that has the date 1603 engraved on the action, and historians who have examined that piece know there had to be something that pre-dated it because it's so advanced. Then there are certain written records than make obscure references to someone (Guter?) living in Nuremberg around 1550 who is associated with mechanical airguns.
Big bores remained popular up to World War I, when they promptly died out. They had no doubt been on the wane for many decades before that, and the war simply made people stop doing things that were of little importance. That's the same time that schuetzen shooting all but died off here in the U.S.
Fast-forward to the early-1990s, and big bores re-emerge in the marketplace. The main big bore airgun in 1990 was the Farco air shotgun, a .51 caliber brass gun (crudely plated with nickel) from the Philippines. It was a smoothbore and it could just barely generate 100 foot-pounds with a heavy load of shot that left the muzzle at under 500 f.p.s. You couldn't hunt birds with it, because it was too slow. I tried shooting hand-thrown clay pigeons and quit after hearing the shot bounce off them at about 20 yards. But importer Davis Schwesinger filled his gun with higher-pressure air, getting around 1,200 f.p.s. with a .433 roundball in a 20-gauge shot cup, and he managed to kill a very small wild pig down in Florida, which gave birth to the modern big bore airgunning craze.
By 1996, Dennis Quackenbush had already made 10 kit gun versions of the Paul air shotgun and was starting to make his new Brigand. The Brigand was a .375 caliber roundball shooter that originally operated on CO2.
Once Quackenbush was established, other smaller boutique makers like Gary Barnes started producing a few big bores. Gary's guns eventually were (and still are) very accurate, after he learned how to rifle barrels, but the early smoothbores I tested back in 1998 were barely able to keep their balls on a 4′x4′ cardboard box at 50 yards. But Gary witnessed a father/son team shooting smoothbore big bores they'd made, and their homemade dumbbell-shaped projectiles that were copied from the French Balle Blondeau shotgun slug were reasonably accurate out to 40 yards. Soon thereafter, Barnes began offering his own version of the dumbbell slugs that eventually took his big bores out to 200 yards with game-killing accuracy.
The Asians came to the party in the 1990s with a 9mm and something they called a Big Bore 44, which actually had a bore diameter of 0.457 inches. There haven't been commercial .457-inch bullets since the 1920s, so go figure what they were thinking. The 9mm was based on the red-hot .25 caliber Fire 201 air shotgun, and it would have been a wonderful entry into big bores except there weren't many lead bullets around. You see, nobody casts lead bullets for 9mm pistols — they're all jacketed, which don't work well in airguns. Some American makers jumped in and started swaging their own 9mm lead bullets, and that finally made these guns shootable. Pyramyd Air now offers swaged 9mm bullets.
The Asians also made several other big bores. One was a 9mm lever-action called the Ultra, which would have been nice except it accepted only very short 9mm bullets through its magazine feeding mechanism. Another was the .50 caliber Career Dragon Slayer that I tested for you years ago. I also made a YouTube video that has gotten a few hits. If you want to see a typical Asian big bore in action you ought to watch it.
Then, of course, there's Crosman's own recent entry into big bores, the Benjamin Rogue. It's a .357 caliber rifle that uses computer control to give the most efficient use from the compressed air onboard.
But in today's blog, we're starting a look at Sam Yang's new Dragon Claw .50 caliber rifle. The specs put it at 230 foot-pounds, which is an increase from what Sam Yang big bores used to be capable of. Naturally, I'll test that very carefully for you.
Out of the remarkably flimsy cardboard box, the Dragon Claw comes to you with the side-mounted bolt handle detached. That should be the first thing in the owner's manual, but the Chinglish manual that came with the test gun puts the instructions for this way back toward the back of the manual. Fortunately, Edith rewrote the manual, and you can find it in the Pyramyd Air manual library. Print that manual if you want one to read. However, the current Sam Yang guns come with the new manual.
The gun
The Dragon Claw is a .50 caliber, single-shot, precharged pneumatic air rifle. It has a sliding breech for loading the bullets or balls, and in the past I've found this to be an ideal type of breech for these big bores, because it doesn't limit the types of bullets you can load.
The stock and forearm are made from beautiful figured walnut and have several panels of sharp laser-cut checkering on both the pistol grip and the forearm. Most fine air rifle stocks are made in Asia today, and the quality of the workmanship is first class.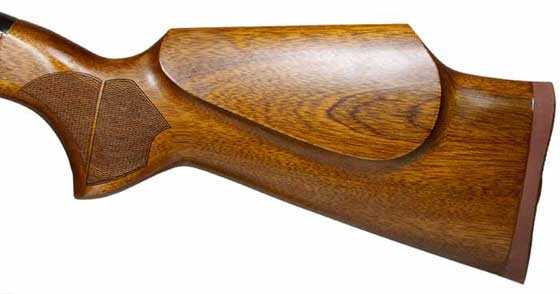 The wood in the stock is beautiful and conforms to every top-quality specification for a rifle stock.
The stock is proportioned correctly for an average adult. The forearm is tall, slim and squared at the bottom, and it feels very nice when the rifle is held offhand. A pressure gauge (manometer) is in the bottom of the forearm. It tells you the pressure of the air stored in the reservoir. The gauge is calibrated in something Asian (millinewtons per microhectare?), but it is also color-coded green, yellow and red so you know where to stop filling.


A small pressure gauge is built into the bottom of the forearm so you always know how much air is in the reservoir.
The metal is finished a deep, lustrous black that's polished as well as an Air Arms rifle. The receiver is made from a non-ferrous metal that's finished bright and is engraved around the borders.
Overall, the appearance of the Dragon Claw is first class, though the lines run more to a shotgun profile than that of a rifle. While there appear to have been some changes in the finish because the rifle shown on the website is finished with a black receiver, but my test rifle is finished bright, in fact, it's the way the lighting was set up for the website images so the detail on the receiver wasn't washed out with a lot of light.
The rifle weighs 7.5 lbs., which makes it a lightweight. There's going to be some felt recoil. Oh, and the manufacturer has thoughtfully provided a threaded muzzle for those who cannot get arrested by other means. Seriously, if you own a silencer that will screw on to this rifle, it better, by golly, have a $200 tax stamp with it! Don't even kid about something so basic, because both Joshua Ungier and I have been asked by BATFE to give expert testimony in cases where illegal silencers have been found on big bore airguns. Making one for yourself breaks at least two federal laws.
Sights
The sights are first-rate, adjustable open sights that I will simply have to test at the range. Seldom, if ever, do modern big bores have any sights, and these look so inviting that they'll be tested. I'll also mount a scope, because I know it will probably increase my accuracy a bit. It will also be interesting to make that comparison.
Power
The rifle has two power levels, which is about as useful as a reading lamp at the beach. Pull the cocking bolt back to the first click and you have low power. One more click, and it's up on high power.
Low power? Who would ever want, need, or conceive of using low power on a big bore? I guess I'll have to test it for you just to satisfy some idle curiosity, but believe me, low power on a big bore is like a mower deck on a AA fuel dragster. People don't buy big bore airguns to shoot them on low power.
As for sophistication, these Asian rifles don't have a lot. They operate on a very simple slam-fire type of knock-open valve. However, they're capable of a fair number of shots. If this one comes close to the advertised power level, it'll be a very capable gun regardless of the level of sophistication.
My muzzleloaders have caused me to lay away many roundballs in different calibers. One of them is the 0.495″ round ball that's used in a lot of .50 caliber percussion rifles. I plan to try these in the Dragon Claw, as well, just to see if they can be used. Come to think of it, I may have to spend a couple of range sessions with this rifle to test all it has to offer.
What can you do with a big bore airgun?
People ask what can be done with a big bore airgun, like there should be an answer. What can you do with a Tailorcraft tail-dragger airplane or a Ford Model T? You don't have to DO anything with them, except have them, love them and perhaps use them once in awhile. They don't have to serve a purpose to exist.
Yes, they can be used to take larger game animals, but I think the attraction is greater than that. Come along and let's find out together.