by B.B.Pelletier
Every airgun show is unique. I've said that many times before, but it's always true — and this one was no different. What I look for when I try to describe an airgun show is how it stood out from all the others. That's what I'll do today.
An airgun show is small, in comparison to0 a regular gun show, but there are more airguns on a single table then you'll see at most big gun shows. And the guns range from inexpensive Daisys and Crosmans to then most exotic airguns imaginable. So go to gun shows for and crowded aisles, but to airgun shows to find airguns.
I didn't get away from my table for the first half of the first day. When I finally did, the show immediately began to reveal itself. It was jam-packed with big bore air rifles! I mean jammed! Dennis Quackenbush and Eric Henderson are always the mainstays of the show; but this time I met Robert Vogel, whose business is Mr. Hollowpoint. Robert casts each bullet by hand from lead as pure as he can make it. His bullets mushroom on game perfectly and rip huge holes in living flesh, making the most humane kills possible. I bought a bag of 68-grain .308-caliber hollowpoints for the Quackenbush .308 test I'm conducting, and he threw in a second bag of .22 pellets for free. These will have a special debut in a smallbore test in the near future.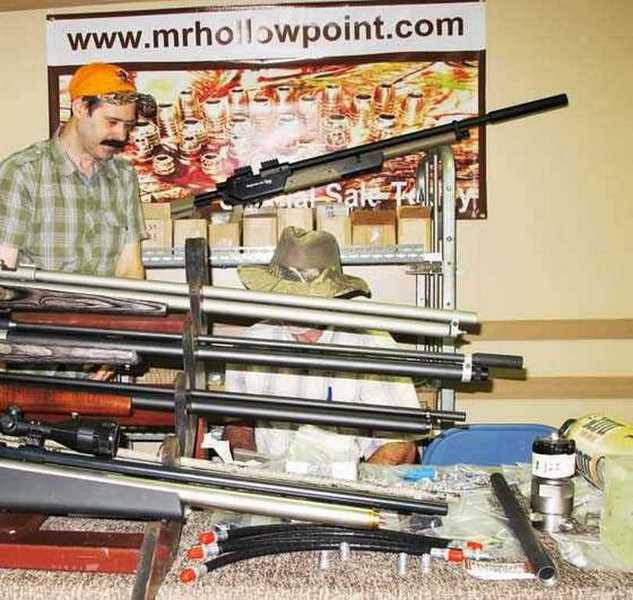 Robert Vogel (standing) is Mr. Hollowpoint. He has thousands of different bullets for big bore shooters to try.
But Mr. Hollowpoint wasn't the only bullet maker at the show. Seth Rowland, the show's host and promoter, also supplies the big bore airgunning community with cast bullets in numerous sizes and shapes. And their customers can hardly appreciate the untold hours they spend at the lead pot, casting and sizing these silver slugs one by one.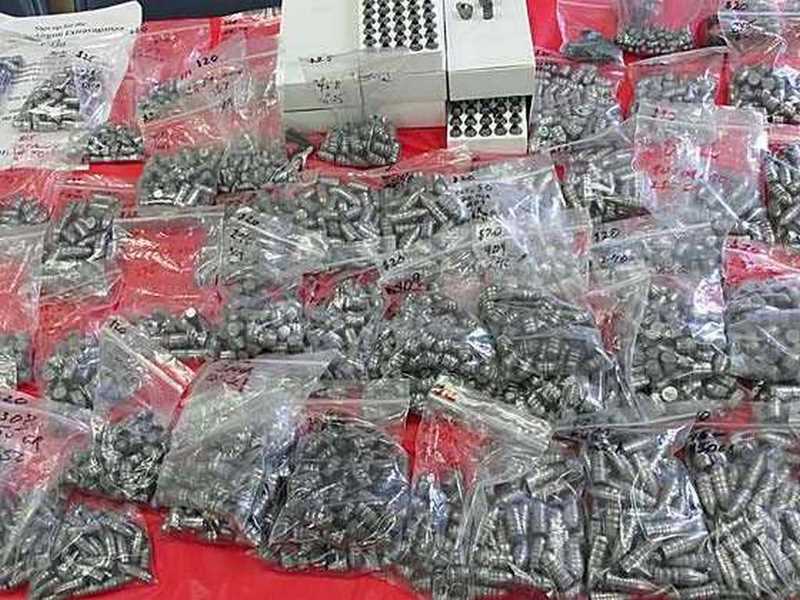 Need bullets? Seth Rowland has them in different sizes, shapes and weights.
10-meter guns
Another theme that's common to all airgun shows is 10-meter target guns. This year's Arkansas show had plenty of them, both from dealers like Scott Pilkington of Pilkington Competition Equipment in Tennessee, as well as numerous private individuals. I mentioned several weeks ago that Mac was bringing some recently overhauled FWB rifles to this show, and on day one an interested buyer sought him out. This man was serious about buying a target rifle, and he had done his research on the internet. But this was the first time he'd seen, felt and shot these rifles.
Mac took him out to the shooting range to try out an FWB 150 and a 300; and from his testing, he decided the 300 was the gun he wanted. Because it lacks the barrel jacket, it's lighter than a standard 300S. He was buying the rifle for his wife to shoot in competition. They made a deal, and he went home with the exact target rifle he wanted — an overhauled ex-club rifle at a price that was several hundred dollars below what he would have paid for a gamble on the internet. For this man, driving all the way to Arkansas made good sense.
I'm sure that same scenario was played out numerous times at this show, because that's what happens at an airgun show that also has a shooting range. You get to try out the guns before you buy — something that's impossible at a regular gun show.
The odd and wonderful
You never know what you're going to see at one of these shows, but there are a few people who always seem to have interesting things. Larry Hannusch, the top airgun writer for the past 30 years, is one person who can always surprise you. This year, our tables were together, giving me the opportunity to look at his guns more closely than normal. He had a Crosman 113 bulk-fill CO2 rifle, which isn't unusual, except the owner of this one had inlet a pellet box into the right side of the stock — much like the patchbox found on certain muzzleloading rifles.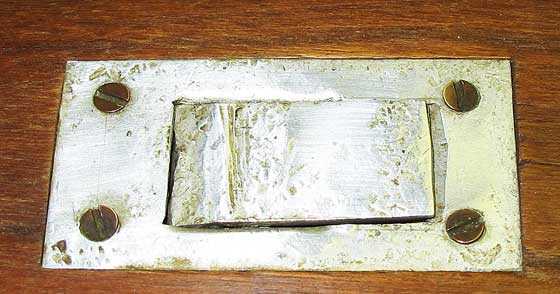 Some owner made this patchbox in the stock of his Crosman 113 bulk-fill rifle.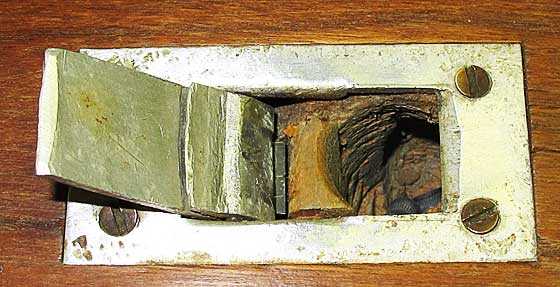 He built the "patchbox" with a built-in spring. There were pellets inside.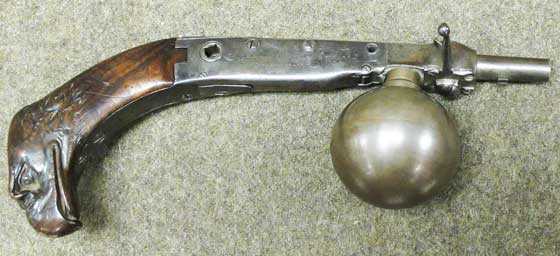 When was the last time you saw one of these? A French ball-flask pistol from the 1700s.
The big find
Often there will be a big find of some certain airgun that shows up at a particular show. I remember one year someone was selling piles of brand-new-in-the-box S&W 78G and 79G pistols. There were at least 50, but as my memory serves there might have been as many as 100 brand-new guns that were at least 20 years old at the time. Another year, it was Scott Pilkington who brought almost 300 club target guns for sale. You could buy an FWB 300 for $150-$200! Of course, it would have been a beater and would have needed to be resealed, but it certainly was the budget way into a 10-meter gun.
Then there was the year that someone had over 20 Johnson Target Guns, the submachinegun-looking plastic catapult BB gun from the late 1940s. They were all new in the box, and the cloth backstop that was in the box to stop the BBs inside the box lid that also served as a backstop had turned to dust. But they were complete. To collectors, they were a wonderful find. I actually saw two of these at this year's Arkansas show; so even after more than 10 years, they're still slowly dissolving into the collector population.

Two brand-new Johnson Target Guns in the box with all the literature and accessories.
When I walked into the second large room in this show and turned the corner, I ran into Randy Mitchell's booth, where he was selling a pile of recently discovered TS45 sidelever air rifles for $20 each! I blogged this rifle several years ago, and Vince also wrote a guest blog about the same rifle. Until now, there were no new guns you could buy. You had to find one by chance and would always be one somebody had owned and possibly modified. Now, Randy Mitchell, who runs his Adventures in Airguns store, has a huge pile of these rifles to sell. They aren't very safe and are the very guns that chopped off thumbs when their anti-beartraps failed; but if you cock them safely and load while restraining the sidelever, they're fun to shoot and are often accurate.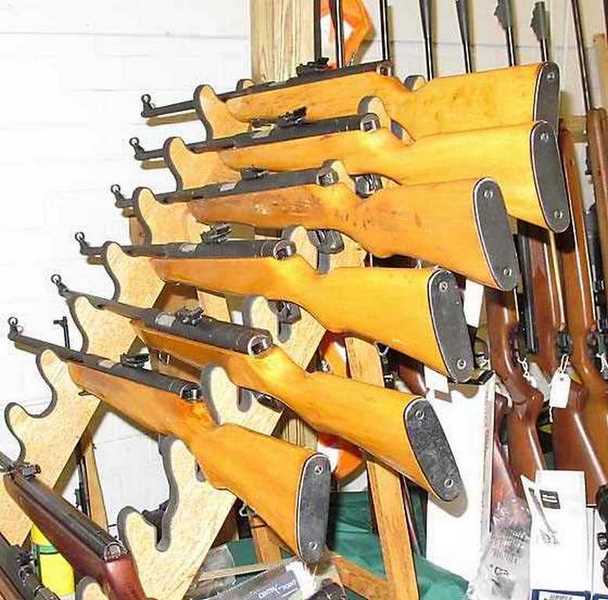 Randy Mitchell found these old/new TS45 sidelevers and brought them to the show. It's stuff like this that keeps me going to every airgun show I can make!
Collectibles
Of course, there are too many modern guns to name here, but know that at any show you'll find almost every modern classic airgun for sale. If you're looking for good TX200s or old R7s, they're usually available — and they were at this show, too. But what you also see are airguns that are so rare and hard to find that some of them won't even be seen in airgun books. This yearm Ingvar Alm had both a Winsel CO2 pistol in the box and a Giffard CO2 pistol from the 1870s on his table. Giffard invented the application of CO2 for gun use, and Winsel made only 50 guns in the early 1950s. Neither gun is represented well in any airgun book I know.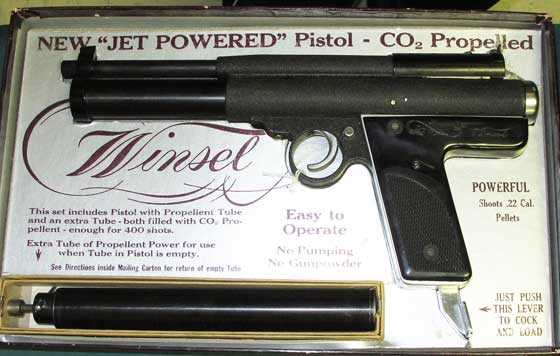 The Winsel pistol was a bulk-filled CO2 pistol that required the owner to mail his tank back to the company to be filled. Yeah, that's going to work! They made 50 and quit. Today, they're a prized collectible.

Giffard pioneered the use of CO2 in guns in the 1870s. His pistols are many times rarer than his rifles. The empty pop bottle is for contrast — like Cindy Crawford's mole.
Big bores
There were more big bores at this show than I see at other shows. Perhaps, that's because the focus of big bore airgunning seems to center around Texas, where the LASSO match is held. Dennis Quackenbush delivered his guns to eager buyers, but the only rifle he had to show was his own .308, which he doesn't want to sell. Eric Henderson and Big Bore Bob Dean were both there with some guns to sell, as well as Robert Vogel. But the one maker with a lot of guns on display was Jack Haley, whose table was a rainbow of laminated stocks.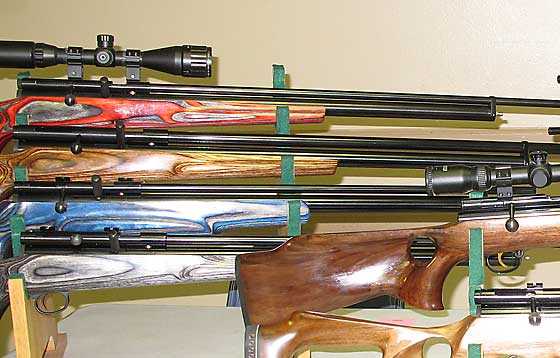 Jack Haley's table was a colorful display of big bore rifles.
Oops!
Then there was the big bore that has been a joke in the airgun community for many years. The gun itself is fine. It was made back in the 1980s by Ben Patron, whose name is clearly on the side of the receiver. Somewhere along the line, some person got ahold of it and displayed it at the Springfield, Missouri, gun show as a "U.S. military .50-caliber sniper air rifle." The label for that display was still inside the guitar box that held the gun, and Dennis Quackenbush remembers seeing it at the Springfield show. After that, it somehow ended up in an Arkansas pawn shop where Big Bore Bob found it and bought it.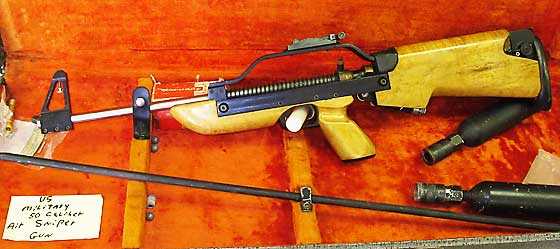 Some previous owner had concocted a colorful background story for the Patron big bore of the 1980s.
The drawing
Many shows have a drawing, but airgun shows are so lightly attended that you actually have a chance of winning! This year, they gave away several very nice prizes at the close of the show, including a scoped TalonP pistol from AirForce! Then came the drawing for the frame-extended silencer for the Talon SS. I knew before the little girl picked my ticket that I would win it. How ironic is that? I'm testing a Talon SS with a bloop tube right now, so of course I'm going to win another one! But the supreme irony came when Randy Mitchell, a big bore hunter, won the .50-caliber Dragon Claw donated by Pyramyd Air.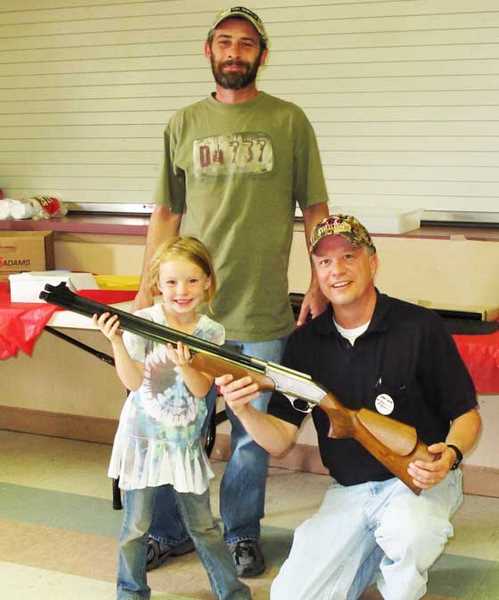 Randy Mitchell (right) won the Dragon Claw. Show host, Seth Rowland, standing, ran the drawing. The young lady added a lot of sparkle and enthusiasm to the show. I see an airgunner in the making!
On the trip home, Mac and I relived the show many times. That's another benefit. I can remember snippets from most past shows, and this one will now be filed away in the library.
by B.B. Pelletier
Announcement: Chris Moreno is this week's winner of Pyramyd Air's Big Shot of the Week on their facebook page. He'll receive a $50 Pyramyd Air gift card. Congratulations!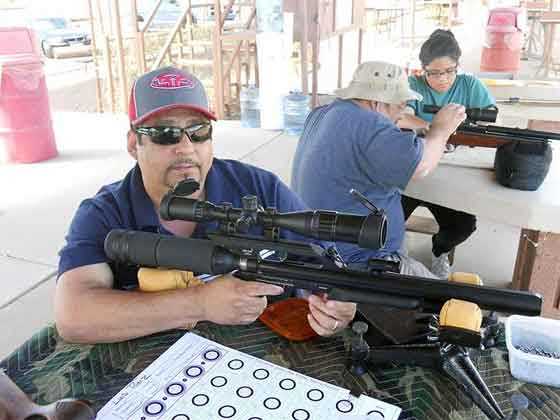 BSOTW winner Chris Moreno is shown with his first PCP.

This Nelson Lewis combination gun was made in the mid-19th century.
A little more than two years ago, I traveled to Maryland to see Mac and to help him drive back to Texas for the Malvern, Arkansas, airgun show. We visited a friend of ours who was loaning me some vintage photos to scan for articles. While there, we were admitted into his gun room, or as Mac and I refer to it — the Holy of Holies! This guy has collected odd and unusual guns all his life and, just like the Pawn Stars TV show, you never know what you're going to find. It was there that I found the airgun pogostick repeater that Vince is attempting to make operational.
But there was another gun in his collection that intrigued me, even though I didn't act on it right away. It was a combination gun made by Nelson Lewis, a well-known gun maker from Troy New York, who made muzzleloading guns from some time in the 1840s until at least the 1880s.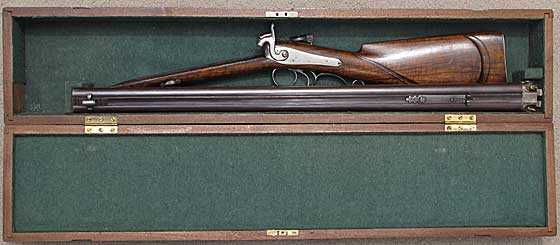 The gun came in its original oak case.
Lewis was a very prolific maker, and his guns still abound today. They're of fine workmanship but not the absolute top tier. As far as accuracy goes, an N. Lewis gun can hold its own at 40 rods (220 yards) with all but the very finest rifles; and as far as I'm concerned, there are only three in the top rung — Schalk, Warner and Pope. Nelson Lewis belongs on the next rung down with makers like Billinghurst, Perry, Brockway and others of equal fame. His guns are never finished as fine as those of Billinghurst, but they're equal in accuracy. They were among the first rifles selected for sniper duty in the American Civil War and made confirmed kills at ranges beyond 1,000 yards — surveyed distance.
The other kind of gun Lewis was noted for was the combination gun — with a rifle barrel on one side and a shotgun barrel on the other. That's the gun I saw in Maryland. What intrigued me wasn't the quality of the arm, though it's very fine, but the condition. This gun is still in its original box after 150+ years and is in NRA Antique fine condition. The patchbox contained two round patches of thin linen material, and Lewis was known for sending a sample of the proper patching material with his guns. I can't prove these patches are original to the gun, but they're appropriate to it.
When it was new a gun like this cost between $50 and 60, with engraving extra if you wanted it. For that you got the gun in a wooden case, a powder measure and a bullet swage. Lewis made this gun without the use of power tools. He had a local machinist make the parts requiring a lathe, and he made the barrels, locks and triggers. His son stocked the gun in finefigured walnut.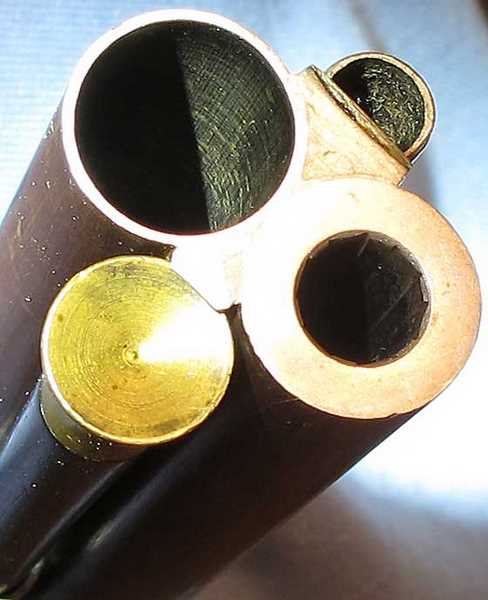 Look at the fine joining of the shotgun and rifle barrels.
Also packed with the gun are the original dies for swaging lead picket bullets for the rifle barrel. And there were two bullets in the box along with everything else.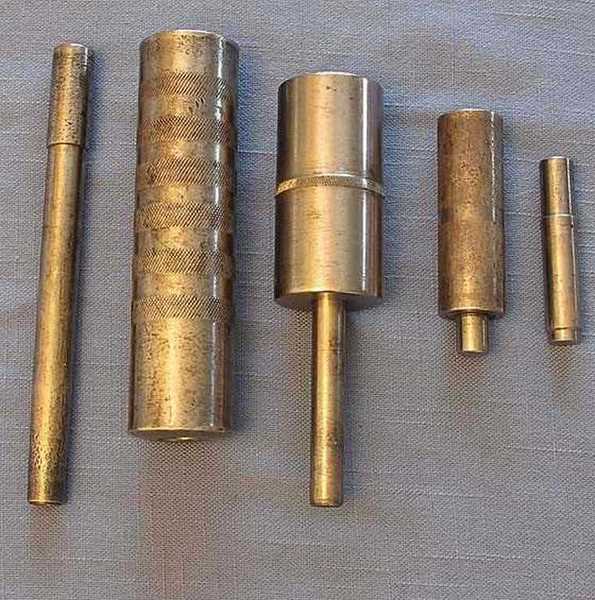 The swaging dies are also handmade by Lewis.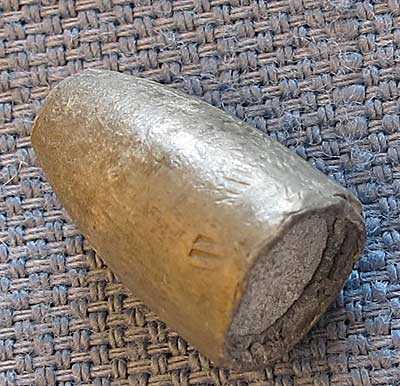 Picket bullet was the first elongated bullet that was popular. It lasted from about 1840 to 1880.
The box isn't a presentation type box. It's entirely functional, as though Mr. Lewis had shipped the gun yesterday and this is how it arrived. It's designed to hold the gun when it's broken down by removing one cross key and lifting the barreled action out of the stock. It has a patent breech with hooks that allow quick disassembly, so the gun can be transported safely to the hunting grounds.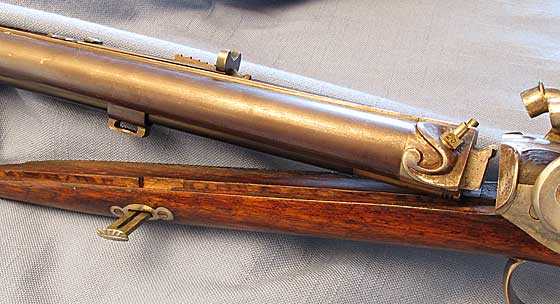 Drift out the one key, and the barreled action can be lifted out of the patent breech. Each barrel has a separate hook that locks into the breechplate.
The ramrod appears to be original to the gun, which is quite rare for two reasons. First, this gun was probably made in the 1860s or '70s. For anything wooden as thin as a hickory ramrod to have survived that long is remarkable. Second — a muzzleloading ramrod undergoes the most strenuous life you can imagine. Modern muzzleloaders almost always have fiberglass ramrods for this reason. Because this ramrod has lasted this long, we can surmise that this gun has been particularly well cared for.
The rifle barrel is .39 caliber and just under 28 inches long. We know that the six-grove rifling is cut with a gain twist because Nelson Lewis refused to cut any other kind of rifling. Because the picket bullet is a conical, it's heavier than a round ball, making the rifle appropriate for deer and even black bear hunting.
The shotgun barrel is 14 gauge and is probably without a choke, as they were not popular when this gun was made. Also, a blackpowder shotgun will throw a tighter pattern just by the nature of how it functions. What we have is a cylinder bore that's probably good out to 30-35 yards, depending on the game and shot size.
Sights
The gun has two different rear sights. On the tang is a lollipop peep sight that elevates by turning the disk on its threaded post. Halfway up the barrel is a sporting-type rear sight that can be used for a faster hunting situation. Sporting was the 19th century term for hunting.
The front sight has to be seen to be believed! The thin post is steel filed into the shape of a tiny post and bead. It's thin but strong, because the post is an I-beam with thickness front to rear. The sight is protected by a small steel globe.


Sporting (hunting) sight is adjustable for elevation. It is a semi-buckhorn.

Folding lollipop rear target sight adjusts for elevation by turning on its stem. Windage adjusts by loosening the screw and sliding the peephole sideways.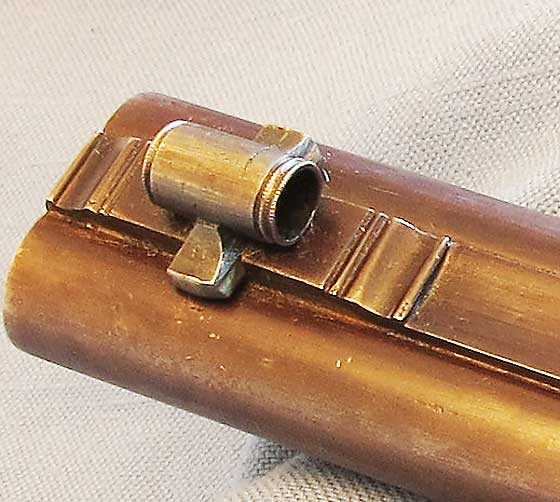 Front sight post and bead is protected by a small globe. Entire sight can be drifted to either side to correct for windage.
General characteristics
The gun is 44 inches long and weighs 9 lbs. Until I received it, I had never seen it together — but it fits together tightly with a cross key and a hooked or patent breech. Once the gun is together, you can't tell that it comes apart — it still fits that tightly.
The left barrel is the rifle barrel, and the right is the shotgun. There are no set triggers, but the rifle trigger (rear one) breaks at about 2 lbs. The rifle hammer is somewhat loose, indicating the rifle was used more than the shotgun.

Gun has a deep, crisp maker's mark, indicating it hasn't been refinished.
I found an oiled patch at the bottom of the shotgun barrel, which was considered the right way to store a gun in the 19th century. It had dried out and could have caused some rust if it had absorbed moisture from the air, so I removed it with the worm screw on the ramrod. The breech plugs are both removable, making both barrels accessible for cleaning. I plan to do that before long.
Both nipples appear new and would certainly have been replaced over a century and a half of use. If they were original, they would both show signs of pitting from the flame of thousands of percussion caps. One of them has the number 10 on it, so I'm guessing that's the correct cap size.
In the patch box on the right side of the butt, I found two cloth patches that appear to be the correct size. It will take a lot of experimentation before I discover the right bullet and load for this gun, to say nothing of the shotgun side; but initially I'll just be examining it for clues to its history!
This is an example of a fine hunting gun in very good condition from the 19th century. It shows lots of use, but the bores are clean and bright, and the action is tight and crisp, except for the hammer that was noted. It's a wonderful window on the past that's been preserved exactly as it was in its heyday.
Over the next few months, I'm going to get more familiar with this gun, in preparation to shooting it.
Ballard update
Some of you may be wondering what has become of my Ballard rifle. Well, my great idea of the special Hudson bullet didn't turn out as well as I'd hoped. Apparently, I spec'ed the bore diameter a thousandth too large for the mold-maker, and the bullets are too difficult to push into the rifling. I have a bullet seater that's supposed to work — and does with my smaller Lyman bullets that only go to 0.381 inches — but they don't fill the bore all the way.
I'm going to try a couple different things to fix this. First, I'm going to shoot the rifle with loaded ammunition, using a 0.379-inch bullet so it'll chamber and loading the cartridge with black powder to obturate the bullet. I'll have to wipe the bore after every shot, but that was the way most shooters did it when this rifle was new.
If I get the accuracy I hope for (10 shots in a half-inch at 100 yards and 10 in two inches at 200 yards), I may invest in another hand-made Hudson bullet mold. But the rifle will really have to shine before I'm going to do that.
I've also found a place that will fit double-set triggers to my gun without modifying the original parts in any way. The current 7-lb. trigger-pull is one aspect that is keeping me from shooting my best.
I should have an update on shooting the Ballard sometime soon.
by B.B. Pelletier
I'm on my way to Malvern, Arkansas, for the airgun show on Friday and Saturday. If you're going to the show, please stop by and introduce yourself. I'll have limited time to spend answering the blog comments, so I would appreciate it if the blog regulars would help answer questions from newcomers and new shooters. Now, on to today's blog.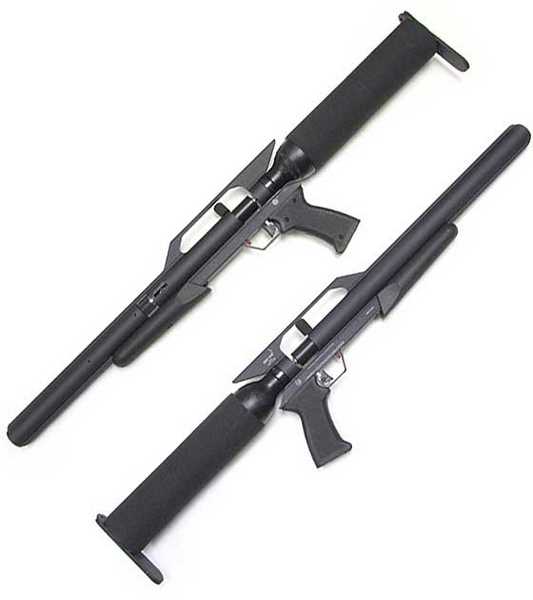 AirForce Talon SS is a whole shooting system.
Today, we're going to change the stock 12-inch barrel of our AirForce Talon SS for an optional 24-inch .22-caliber barrel. The caliber will remain the same but the barrel length will double. That will demonstrate the benefits of installing a longer barrel on a PCP.
Changing the barrel
AirForce barrels are held in the gun by two bushings around the barrel. These center the barrel inside the tubular aluminum frame. The SS frame is equal in size to the Condor frame. All that differs is the Condo scope base, which is longer. A 24-inch barrel fits the SS frame quite well.
Step 1: Make the gun safe
The first step is to ensure the gun is not cocked or loaded. The safety will be off for this procedure. Dial the power adjuster to zero to take tension off the barrel.
Step 2: Remove the end cap
The end cap is held in place by one 2mm Allen screw. Remove it, and the end cap comes out. It's held tight by an o-ring to prevent vibration, so just pull a little harder than you think you should, and it'll slip out.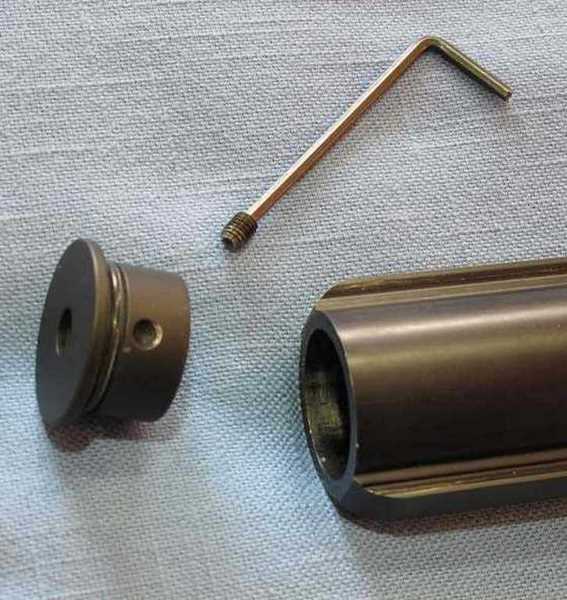 Remove one screw, and the end cap comes off. You'll have to pull because the o-ring holds it securely.
Step 3: Remove the forearm
One 2.5mm Allen screw holds the forearm in place. Remove it, and the forearm comes off the gun.

One screw, and the forearm comes off.
Step 4: Remove the barrel
The barrel is held in place by either two or four 2mm barrel bushing Allen screws. The first guns, like mine, had just two screws, located in the channel under the forearm. Later guns had two more very short screws on the left side of the gun. They were just 1/8-inch long and beared directly against the side of each bushing. Today's guns have two longer Allen screws in the same place, and they fit into holes in each bushing.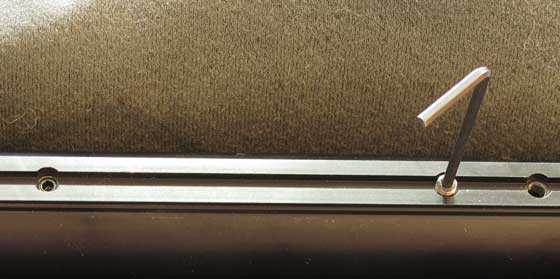 Two or four bushing screws, and the barrel is free to come out.
The barrel now comes straight out of the frame. If it is tight, just bump the muzzle end of the frame on thick carpet a couple times and the barrel will slide out. You only have to do this with the 12-inch barrel, as all other barrels come out to the end of the frame or past it.
The barrel is out, and you can install the new barrel. Since I'm installing a 24-inch barrel that will stick out of the frame by 6 inches, I can just slide it into position and fasten the screws. If I were installing the 12-inch barrel, I would need some kind of pusher because the 12-inch barrel sits down about 4.5 inches inside the frame.

The new bushings (top) are held on with screws and have two screw holes, each. The older bushing was pressed on and had just one screw hole.
The assembly is the reverse of the disassembly, but here are some tips.
1. Coat the thin section of the barrel with diver's silicone grease or o-ring lubricant, because the bolt that slides on this section has two o-rings to seal it.
2. If you're installing a 12-inch barrel, the alignment of the screw holes in the bushings is critical, because you won't be able to turn the barrel when it's inside the frame. So, check that before the barrel goes in.
3. Watch through one of the screw holes for the bushing hole to appear. Align it and install one screw. After that, all the other screws should be perfectly aligned.
4. When you install the forearm, don't tighten the screw too much. It holds only by a couple threads; and if you tighten too much, you may cause firing problems.
The first time I swapped barrels, it probably took me 30 minutes, because I went very slow and was super-careful. The second time, it took seven minutes (I timed it) — and after that it took less than five minutes.
How does it work?
We have data from the 12-inch barrel, so now let's shoot the gun on the same power setting with the 24-inch barrel.
Crosman Premiers
With the 12-inch barrel, 14.3-grain Crosman Premiers came out at 854 f.p.s. They gave an average energy of 23.16 foot-pounds.
With the 24-inch barrel on the same setting, the same pellet averages 1027 f.p.s. f.p.s., for 33.5 foot-pounds of energy.
JSB Exact 15.9-grain domes
JSB Exact 15.9-grain domes averaged 823 f.p.s., producing 23.92 foot-pounds of energy.
With the 24-inch barrel, they average 991 f.p.s and make 34.68 foot-pounds.
Because the 24-inch barrel is so much more efficient, I can load the heaviest pellets and still shoot them with the SS powerplant. The 28.4-grain Eun Jin pellets that I would not shoot in the 12-inch barrel average 814 f.p.s. on the highest power setting and produce 41.79 foot pounds of energy. That's not quite the 45 foot-pounds I've been reporting, but the Eun Jin I shot isn't the heaviest .22 pellet, either.
The 24-inch barrel does improve the power with no other change to the gun. Next, we'll see how it shoots.
by B.B. Pelletier
Many of us shoot our airguns inside the house, garage or barn and need to stop our projectiles from damaging what's behind the target. Today, I want to talk about what works, what doesn't and why. My sermon today is in the form of a repentant sinner, because I've made most of the mistakes I'm telling you to avoid.
The difference between a trap and a backstop
A bullet trap is designed to stop whatever is shot into it. Targets are hung in front of the trap, and it's expected to stop all bullets/pellets/BBs that enter.
A backstop is often set behind the trap to stop the bullets that miss the trap. If there's a trap, the backstop is only called upon occasionally; but sometimes there's no trap — just the backstop, in which case the backstop, alone, has to stop everything.
Starting with BB guns
When I was a boy, the most popular trap for BB guns was a trash can or wastepaper basket filled with crushed newspapers. It worked, but not for very long, so let's talk about that. Crushed newspapers are great padding for packages. The newspapers have enough resiliency to keep the contents of the package firmly in place — unless those contents are very heavy. And the same crushed newspapers will stop BBs from low-powered BB guns — like Red Ryders — for a short time.
But — and this is important — even a Red Ryder will eventually shoot through the crushed newspapers when one BB after another impacts in the same spot. And, if the BB gun is more powerful, it doesn't take as long to tear through. Red Ryders shoot at around 300-350 f.p.s. But some powerful BB guns like the Remington AirMaster 77 top 700 f.p.s. They'll rip through crushed newspapers in one-tenth the time it takes a Red Ryder to get through. When you're making a BB trap, consider both the length of time you'll be shooting at the trap as well as the potential velocity of the gun doing the shooting.
A better way to stop BBs is to provide a backstop that has some give — like a piece of wall-to-wall carpet. When the backstop moves, it robs the projectile of a lot of velocity, which prevents bounceback — the bane of the BB gun. And wall-to-wall carpet has a very tough base that seems impervious to steel BBs at Red Ryder velocities. I know of clubs that have made BB gun ranges with large sections of wall-to-wall carpet that not only stop the BBs but which hang to the floor and are folded into a trough at the bottom to funnel all the BBs into a container, simplifying cleanup. A backstop like that and a large powerful magnet makes cleanup an easy chore.
Of course, you can buy a commercial BB trap that will do all I've described. Crosman's model 850/852 trap is perfect for low-velocity BB guns and works for low-velocity pellets, as well. The only problem is that Crosman has them made in China, and sometimes they're out of stock for a very long time. The UTG pellet & BB trap is very similar and will do the same things. It costs a few dollars more, but the supply is more regular. Both of these traps have "ballistic curtains" that absorb the energy of BBs at low velocity. A thin steel backplate ultimately stops the projectile. Of course, you'll want to put a larger backstop behind this trap for those few projectiles that miss the trap altogether.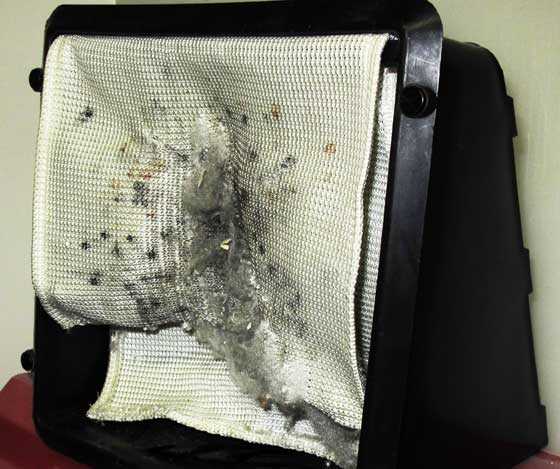 This Crosman 850 BB trap has stopped thousands of BBs and pellets. Notice how the ballistic curtains have been torn up from all the shots.
For the more powerful BB guns — those with muzzle velocities over 400 f.p.s. — I don't like carpet. Like crushed newspaper, it's possible to shoot through it if you keep hitting in the same spot. For those guns, I prefer an actual trap filled with duct seal and use the carpet as a backstop behind the trap. The few BBs that hit the carpet won't hit in the same place, and it should work fine. If the range is to be more permanent, however, put some plywood behind the carpet and keep an eye on the carpet and replace it as needed.
On to pellets
Pellets are made of lead, mostly, though there's a movement to use other metals that are less toxic. Lead absorbs energy when it deforms against a hard target. Up to 600 f.p.s., lead continues to flatten out until a spent pellet has become a flat round disk with just a trace of the skirt still visible. At velocities above 600 f.p.s., lead starts to break apart upon impact. First, it breaks off in large chunks traveling at low velocity. As the impact velocity continues to rise, the lead fragments get smaller and travel faster. Above 700 f.p.s., they're traveling fast enough to break lights up to 15 feet away from the trap.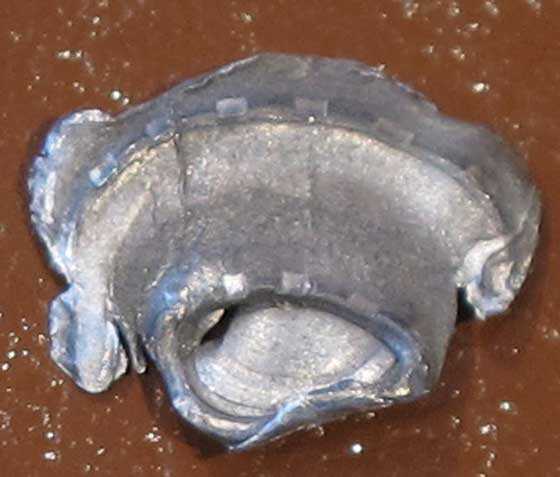 This pellet was flattened at 600 f.p.s. or less, You can still see the pellet's skirt, including the rifling that's engraved into both it and the head that is flattened.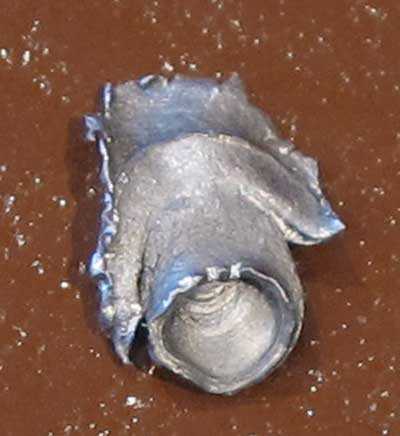 This pellet was moving faster than 600 f.p.s. when it hit and has started to break apart. It's a smaller caliber than the first pellet, but the breakup happens in the same way regardless of size.
You don't want to use a lightweight pellet trap for pellets that move at higher velocities! They'll even punch through steel plates if they're thin enough. For pellet guns, some thought must be given to what kind of trap you use.
I use three traps in my work. One is the BB trap already mentioned. Regular readers of this blog know that I shoot several hundred rounds each week. Often one test involves from 100 to 200 shots. So, my traps (I'm not talking about backstops yet) have to be up to the task.
Heavy Duty Bullet trap
For all my most powerful airguns, I use a Heavy Duty bullet trap designed to stop a .22 long rifle bullet. I bought mine about 20 years ago and I thought $45 was a lot to pay. Today, you'll pay over $75 for the same thing, but it's the last bullet trap (of that type) you'll ever buy. My trap has seen hundreds of thousands of pellets and bullets over the years — and except for the paint, it's still as good as new today.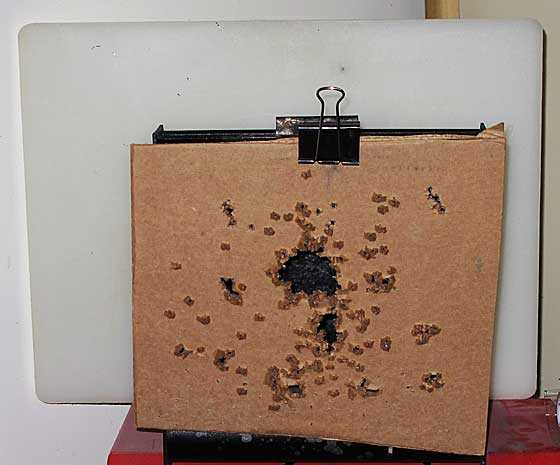 My workhorse heavy-duty pellet trap hides behind the cardboard facer. The white backer board behind is half an inch thick and will stop pellets with up to 50 foot-pounds of energy.
This is the trap I use when I shoot 25 yards inside the house, and over the years I've missed this trap a couple dozen times, so I learned long ago to back it with something strong. I use a board of white synthetic material that Edith gave me years ago. It's supposed to be a special board she bought over 15 years ago for kneading bread dough, but it warped just enough that it twirls and moves freely on the countertop during use, so now it's mine. Since I started using this backer board with the steel trap, nothing has slipped past.
The final trap I use is the one that blog reader Jim Contos gave me. I wrote a special blog describing how to build one for yourself. Jim gave me this trap after I reported shooting through my homemade silent pellet trap that I'd used for many years. After cleaning the trap and replacing all the duct seal, I was testing a Beeman HW100 S FSB, which is a 26 foot-pound PCP rifle. Within just a few shots I shot clean through the duct seal and the steel plate behind it! I've used this trap for a very long time and with some powerful airguns. What was different this time was the lack of a wadded mass of lead pellets to help slow the pellets that were shot. So they sailed right through the trap!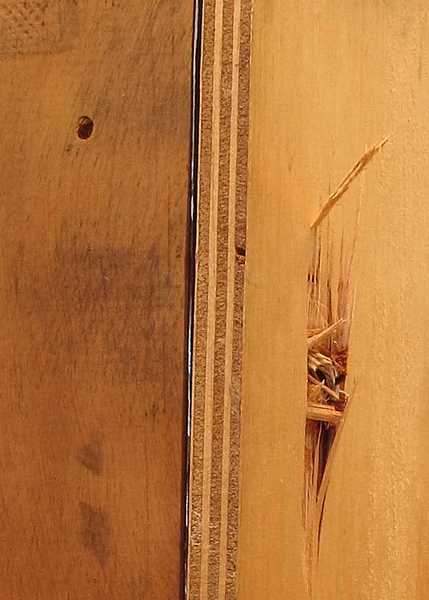 This is what happens when a 26 foot-pound pellet rifle hits two-inches of duct seal in the same place repeatedly. There's a thin steel plate between that plywood back and the duct seal, and the pellets zipped through it!
I don't back this trap with anything. because I use it only for chronograph testing, where the muzzle is a foot from the trap. I haven't come close to missing the trap in over 25,000 shots!
How large should the backer be?
Make the backer large enough to positively stop all rounds that are shot in the direction of the target. If you're the only shooter, maybe the backer can be smaller; but if your range will ever host other shooters of varying abilities, make it bigger. When we lived in Maryland, I often let others shoot on my basement range. I used a 3/4-inch plywood backer that was 4 feet square. Even then it was just enough to stop all the wild shots. Not everyone waits to sight the gun before their finger moves to the trigger!
Let's review
So, you always want to stop your projectile positively. Sometimes that's done with just a target backer, like a piece of wall-to-wall carpet. Other times, you use a trap to stop the projectile and put the backer behind it in case you miss the trap.
Shooting safe is imperative, because there's no room for error here. How you stop your projectiles makes all the difference between a safe home range and a serious accident or injury. This is one area where you always want to err on the safe side!
by B.B. Pelletier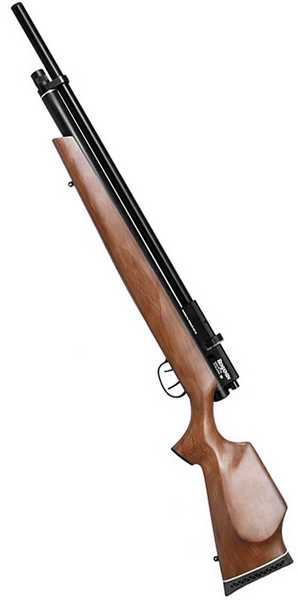 It's powerful. It's accurate. It's quiet, and it performs just like a PCP costing twice the price. The Benjamin Marauder in .25 caliber is an American-made marvel!
You know that dream where you remember at the end of the semester that you signed up for a course that you forgot to attend, and the final exam is today? And you just walked out the front door without your keys and the door locked behind you? And you're in your underwear? And you live on Main Street? Well, something similar really happened to me!
Two years ago, I spent some time in the hospital, and the best-laid plans….Actually, my buddy, Mac, drove out from Maryland and spent a week testing airguns and taking pictures to help Edith and me keep the blog going. When he left, Mac left me with a pile of targets and photos that I continued to use to write blogs for two weeks after I was finally discharged but still not back on my feet.
Mac did test the .25-caliber Benjamin Marauder for accuracy and left me with the test targets, but in the post-hospital confusion I threw them out! Then, when I recovered enough to finish the report and discovered I'd disposed of the targets, I looked for the .25-caliber Marauder so I could finish the test. But couldn't find it. I figured Edith might have returned it while I was out of action.
However, last week I was packaging some guns to return and found the .25-caliber Marauder standing just where Mac had left it. So, today, I am doing the accuracy test of the gun that was last reported nearly two years ago.
Actually, the rifle and you readers do benefit from my mistake, because there are now two great .25-caliber pellets available. When Mac tested it, there was only one — the .25-caliber Benjamin dome that I'm so tempted to call a Premier. It weighs 27.8 grains, and Mac got an average velocity of 797 f.p.s. with a tight spread from 791 to 802 f.p.s. That's an average muzzle energy of 38.94 foot pounds.
The other pellet wasn't available when Mac tested the rifle. But I discovered during the test of the TalonP pistol that the .25-caliber JSB Exact King is another superior .25-caliber pellet. Weighing 25.4 grains, it should be a trifle faster than the Benjamin dome but produce slightly less energy.
Long time, no shoot!
When I set about to test the Marauder for today's report, I was reminded how long it's been since I shot one. There was a guy at the recent LASSO shoot who was shooting a .177 Marauder, and I remember being surprised by how quiet it was. But his rifle was the only one keeping up with my Talon SS on the smallbore range! And he was shooting out to 75 yards! So I admit there was a lot of anticipation at getting to shoot a Benjamin Marauder once again.
So, here's a quick impression of the rifle before we get to the accuracy report. The Marauder is a big gun. I'd forgotten how large the stock feels. It isn't heavy, but it fills your hands. The trigger is one of the best on the market, but the trigger in the rifle I tested has not been adjusted. It's exactly as the factory sent it. The first stage was surprisingly heavy, but stage two was light and very crisp. Once I figured out where stage two was, I found the trigger very crisp and responsive; and of course, it would be no trouble to dial off some of the first-stage pull weight.
The rifle was set to operate on a 3.000 psi fill from the factory. I say that because the Marauder will function with any fill pressure from 2,000 to 3,000 psi — it's adjustable by the owner. But the .25 screams to be set up for the full 3,000 psi. That's because this big .25 is a real thumper that uses a lot of air for each shot. I got three good 8-shot magazines from each fill, but after that the pellets started falling lower on the target. So, 24 shots to a fill.
Scope
I mounted two-piece medium-height rings on the rifle, and that was when I discovered that the receiver of the Marauder is not very high. Usually, the receiver on a precharged rifle is much higher than the barrel, but the Marauder is different. The barrel is shrouded for quiet shooting, which makes it fatter, and the low receiver means mounting a scope takes some thought. You can't just slap on a scope with a 50mm objective lens, because it will hit the shroud. So, I used an old Bushnell 6-18x44AO Trophy that I used to use in field target competition. It provided plenty of magnification and a very clear image.
If I wanted to use a scope with a larger objective, I could have used high mounts, of course. But the medium mounts were much better for natural eye placement.
Accuracy
Okay. What will she do? Quite a lot, actually. This big quarter-inch bore is accurate! At 25 yards, it managed an 8-shot group that measures just 0.287 inches between the centers that are farthest apart. That was with the Benjamin domes. Why 8 shots and not 10? Because that's the magazine's capacity in this caliber. I actually shot a couple such groups, and they were all pretty much the same, much to my surprise. This big Marauder wants to lay them into the same hole, shot after shot.

Eight Benjamin domed pellets made this nice 0.287-inch group at 25 yards.
Next, I tried the JSB Exact King pellet. It's a little lighter than the Benjamin dome, but also has a wider skirt — and I could feel the pellet entering the breech every time the bolt was pushed home. This time, I went to the trouble of loading a partial magazine to get the full 10 rounds in the target.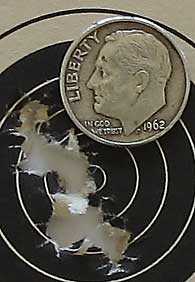 Ten JSB Exact Kings made this 0.751-inch group at 25 yards. It's both larger and also not round, so this pellet may not be right for this rifle.
From just this evidence, I would have to say the JSB pellet isn't right for the Marauder; but because I took such a long break in the report, I'm not going to let it end here. I want to mount a better scope on the rifle and try it again. And I want to adjust the trigger next time. I think the Marauder has more to show us.
One more thing
The pellets for this big .25 cost as much or more than .22 long rifle ammo. That's correct — they run $20 to 25 for 500. So why shoot an air rifle? First, because it's more accurate than the average .22 rimfire shooting budget ammo. Second, because this rifle has a better trigger than all but the more expensive target rimfires. Third, although this air rifle produces pretty close to 40 foot-pounds at the muzzle, it's still shooting diabolo pellets that are safer at distance than a .22 bullet. Fourth, because unless you spend $400 and more, you aren't going to get a .22 rimfire that's this quiet.
Scale is why you shoot a Marauder. You can drop woodchucks at 50 yards and not bother the cattle in the next pasture. Make no mistake, the .177 and to a lesser extent the .22 Marauder are both well-suited to plinking and general shooting. The .25 is not, unless you don't mind the additional cost of the pellets. The .25 is a hunting airgun, plain and simple. But it's a hunting airgun that can hit the target without weighing 12 lbs. or requiring 50 lbs. of effort to cock.
by B.B. Pelletier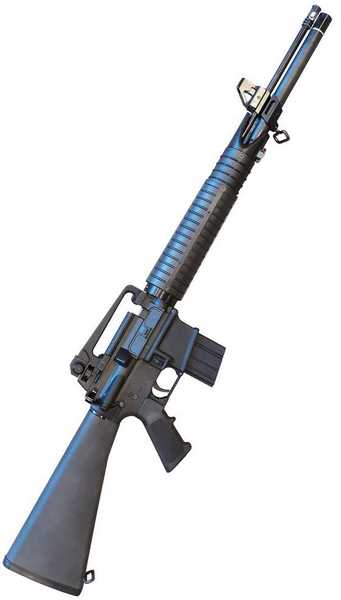 Crosman's new MAR177 upper is big news!
Today, we'll look at the Crosman MAR177 upper shooting domed pellets at 25 yards. I'll be using the 10-shot magazine, so we'll get to see that in action, as well. I'll tell you right now that today was a learning day that spawned another report that's still to come. Read on to learn what it is.
As you know, the Crosman upper receiver is attached to a lower receiver that I built on a Rock River Arms lower receiver shell. I used Rock River parts, and the trigger is an upgraded two-stage National Match trigger, also from Rock River.
National Match?
To the uninitiated, the term National Match sounds like the finest possible precision. Well, it isn't! A National Match trigger in an AR is about like a John Deere tractor — strong and effective, but as far from real precision as it is possible to get and still have a good trigger. My trigger has a light first stage and a crisp release in stage two, but it's not what any target shooter would call precision. The break point is right at 5 lbs. My Trapdoor Springfield, which was made in 1875, has a trigger just as nice. My 1879 Argentine rolling block's trigger is lighter and crisper, now that I have replaced the heavy service-grade trigger return spring. So understand that National Match does not mean the same as precision. You owners of Rekord triggers don't know how good you have it.
The National Match AR trigger is quite a bit better than the single-stage trigger that comes standard on a military or civilian AR, but it isn't a target trigger by any stretch. I tell you that so you'll understand what I had to deal with in this test.
10-shot magazine
The MAR's magazine is the same one that a .177 Benjamin Marauder uses. It's wound under spring tension as it's loaded and advances by spring power as the bolt is worked for each shot. Remember that on the MAR, the bolt is retracted by pulling back on the charging handle — the same as all other ARs.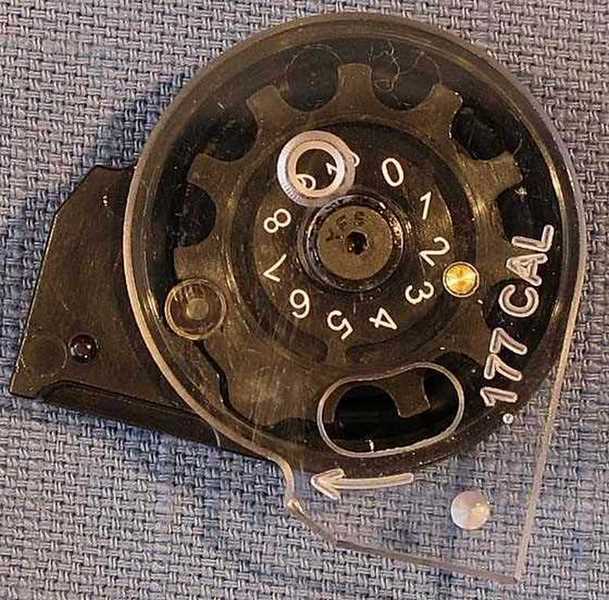 The 10-shot magazine comes from the Benjamin Marauder and is completely reliable, as well as quick and easy to load. Here the last shot is in the magazine, holding it in place. The clear plastic cover is rotated to drop in the other 9 pellets.

To cock the MAR the charging handle is pulled back.
The mag loads easy once you know the right procedure. A couple of the chambers were tight, so I used a mechanical pencil to push in the pellets. Once they cleared the lips of the tight chambers, they dropped into place easily. There were no feeding problems throughout the test, which entailed about 90 pellets, give or take.
The scope
I mounted a Leapers 4×32 mini scope on the rifle. It's not a scope that Pyramyd Air stocks, but it would be similar to this Leapers scope. You may criticize my choice for some lack of aiming precision; but when you see how good the little scope looks on the rifle, I think you'll understand why I went with it. It allowed me to use medium scope rings and still clear the magazine that stands proud of the receiver top. If I were hunting feral hogs with a 300 AAC Blackout or a .50 Beowulf cartridge, this is the scope I would use. No, it doesn't magnify as much as a good 3-9x scope, so we may have to take that into consideration when we look at these groups.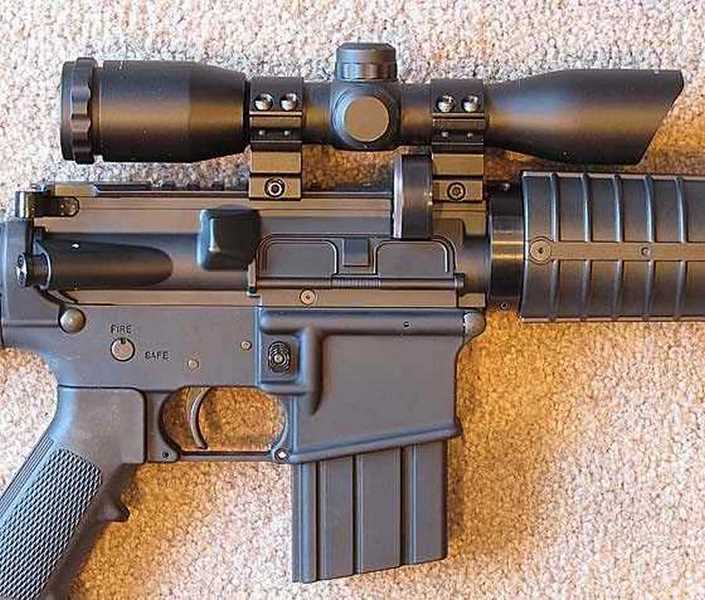 This mini-Leapers scope looks perfect on the MAR. The two-piece rings have to be close to each other because the scope tube is short.
Sight-in
I sighted-in at 12 feet, using my 10-minute sight-in procedure. If you haven't tried this yet, you need to. It took just three rounds to get on target; and although a bit of luck was involved, this sight-in procedure always cuts time from the front-end of my scope tests.
Air Arms Falcon
I used the 7.3-grain Air Arms Falcon pellet to sight in. The scope seemed right on for elevation, but off to the right. I dialed in some left correction and shot again. Almost there, but not quite. One more adjustment put me at 6 o'clock, as far below the aim point as the center of the scope was above the bore axis (approximately). I knew I was safe to back up to 25 yards and start shooting.
The next 7 shots made a group measuring 0.422 inches between the centers of the holes farthest apart. It was an auspicious beginning for the test!

Three shots to get on target, then a great 25-yard, 7-shot group of Air Arms Falcons.
It was also the best group I shot with the Falcons. The other two opened up to over three-quarters on an inch, so although they made a good first impression, Falcons were not the best domed pellet in the rifle I'm testing.
JSB Exact 8.4-grains
I also tried JSB Exact 8.4-grain domes. They put 9 pellets into 0.495 inches, but threw the tenth shot low and right, opening the group to 1.047 inches. I detected no reason for this wild shot, so I'll have to chalk it up to the pellets — maybe.
BSA Wolverine
Next I tried some BSA Wolverines. This is yet another JSB dome that sometimes out-performs anything else. But in the MAR, they were just satisfactory, putting 10 into 0.642 inches.
JSB Exact RS
Another tantalizing group was made by JSB Exact RS pellets. We've learned over many tests that the RS is one of the best pellets for low- to medium-powered springers, and the MAR177 shoots at the same velocity, so I wondered how well it would do. Nine shots went into 0.474 inches, but the tenth shot opened that to 0.874 inches. It was a second instance in which 9 shots were tight and the tenth was a flier. I cannot say where in the string the wild shots occurred, though, because the scope couldn't see the pellet holes as they were made.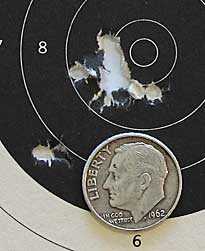 Nine were tight, then a tenth opened the group. JSB Exact RS pellets
H&N Field Target
Next, I tried H&N Field Target domes. A reader recently asked me why I don't try these, as he had good success with them. I responded that I had, and had not experienced the same success; but when I checked my pellets, I discovered that I'd been shooting H&N Field Target Trophy pellets. The Field Target pellet tin was unopened. See what confusion a small name change can make?

Best group of the day was shot with 10 H&N Field Target pellets. It measures just 0.441 inches across.
These 8.5-grain domes gave me the best 10-shot group of the test — a stunning 0.441 inches between centers! This is a pellet I will work into future tests, you can be sure. This also serves to demonstrate that although the scope only magnifies four times, that's good enough.
I was starting to tire from all the concentration, so this was the place to stop. I would say that the MAR177 made a good showing, but also raised some questions.
What comes next?
The performance of the rifle in this test was so intriguing that I want to reshoot the same test, only using the single-shot tray next time. Then I will know for sure whether or not the magazine has any influence over the group size. I've always had reservations about magazines in any rifle, and I really want to see if there's any discernible difference. If there is, I may have to do a lengthy test of magazines vs single-shot operations in PCPs.
The next test that will also offer an opportunity to pit wadcutter target pellets against the best domes at 25 yards. I've always maintained that 25 yards is about the maximum distance at which wadcutter pellets are accurate, and we even shot a segment on the American Airgunner TV show in which we put that to the test. The domes were clearly superior to wadcutters at 35 yards, so this test will be at a closer distance and indoors. It should prove interesting.
by B.B. Pelletier
Today is Friday, when I usually have some fun, but I already did that with the dime article on Tuesday. I'm going to remain serious and address a topic that causes a lot of confusion. I'm going to talk about compressed-air tank capacity and how it relates to airguns.
As this report unfolds, I think you'll see why this subject is so confusing. Every time I instruct a new precharged pneumatic (PCP) airgun owner about compressed-air tanks, their eyes glaze over when we come to this part.
"How can this scuba tank hold 80 cubic-feet of air? It isn't that big!" That's not what 80-cubic feet means.
"Well, why don't they just say what they mean?" Because scuba tanks were developed for divers, who want to know how many cubic feet of air they have available to breathe. They can then calculate how much diving time they have, with a safety reserve built in.
Analogies don't always work
We often use analogies to explain things like the capacity of a scuba tank. One analogy is the gas tank in a car. We might say that just because a car has a larger gas tank doesn't mean that the car will go any faster. And the same is true for an airgun. The size of the air reservoir doesn't relate to the velocity the gun can develop. But after that, the gasoline/compressed air tank analogy breaks down. Because gasoline isn't compressible and air is. By varying the pressure inside the air reservoir of a PCP, we can stuff more air in and get more shots out or get more power from the same number of shots — or some combination of those two. You can't do that with the gas tank on a car. Try to put in more gas than the tank can hold and it just overflows and spills out on the ground.
What do compressed-air tank sizes really mean?
One common size of scuba tank used by airgunners in the 80 cubic-foot tank. What does the term 80 cubic-foot tank mean? It means that 80 cubic-feet of air at sea-level air pressure are contained in the tank. Air pressure at sea level is approximately 14.7 psi. Now, follow this.
If you compress 80 cubic-feet of air to 3,000 psi, that's compressing it 204.08 TIMES. The standard air pressure at sea level (which is accepted as 29.92 inches of mercury and can also be stated as 1013.25 millibar) is not accepted as exactly the same around the world, but it is close enough everywhere for this explanation. Notice the term millibar? That's one-thousandth of a bar, which is a standard measure of air pressure.
A cubic foot of air at sea level on a normal day (and a normal day has a specific definition) measures just over one bar of pressure. Here's the interesting part. If you multiply 14.7 times 200 bar you get 2,940 (psi). But remember that 14.7 psi is just OVER one bar? Multiply 14.5 times 200 and see what you get. The answer is exactly 2,900 (psi). So — 200 bar equals 2,900 psi. And 206 bar is very close to 3,000 psi.
What does that tell you about the 80 cubic-foot scuba tank? It tells you that if it's pressurized to 3,000 psi, it's holding just over 200 bar (actually 206 bar) and you now know that number (206) does relate to how much air the tank is capable of holding if the actual internal volume is around ONE cubic foot!
There are plenty of compressed-air tanks that hold air at 206 bar but are not called 80 cubic-foot tanks. I own a couple of small scuba tanks that hold 6 cubic-feet, each. Guess what? They're pressurized to 206 bar (3,000 psi.), but the internal volume is much smaller than that of the 80 cubic-foot scuba tank. They hold much less air, but it's at the same pressure. What does that mean? It means they'll start dropping in pressure from 3,000 psi much sooner than an 80-cubic-foot tank will — given that they're both filling the same airgun.
Stay with me
I'll make sense of all of this in a moment, but first I need to tell you about one more thing — the carbon fiber tank. Actually, this tank is just wrapped with carbon fiber for strength. It has an aluminum "bladder" inside that holds the air, and the carbon fiber wrapping just adds tremendous strength to the bladder.
A common size of carbon fiber tank is the 88 cubic-foot carbon fiber tank. Okay, so it's 8 cubic-feet "larger" than an 8 cubic-foot aluminum scuba tank. It must hold a little more air, but not that much. Right?
Yes and no.
An 88 cubic-foot carbon fiber tank does hold just 8 cubic-feet more air than an aluminum 80 cubic-foot scuba tank; so for breathing purposes, it holds only a little more air. That's because people who breathe that air do so right down to almost the last cubic-foot — at least from an airgunner's perspective. They use regulators that drop the air pressure that they breathe down to an acceptable level, and that level changes with the depth they dive.
But an airgunner usually needs air that's pressurized to at least 2,200 psi just to start filling a PCP (that's really the pressure at which many of the PCPs finish), and 3,000 psi is a very common maximum fill pressure these days. A tank that's pressurized to 3,000 psi will usually give only one to three complete fills of a gun before the tank's pressure starts dropping. It will still provide many more fills, but each of them will finish at a declining pressure. This is where an 88 cubic-foot carbon fiber tank shines, because more of the air it holds is at higher pressure, so it will give MANY more full fills to a PCP than the 80 cubic-foot scuba tank! How many more depends on which gun you're talking about, but there will be at least 20-40 times as many full fills in the 88 cubic-foot carbon fiber tank.
WHAT? How can something that is only a little bigger hold that much more air?
Actually, an 88 cubic-foot carbon fiber air tank is SMALLER internally than an 80 cubic-foot scuba tank! Remember — we're not really talking about the volume when we quote the size of the tank. We're talking about how many cubic feet of air AT SEA LEVEL PRESSURE the tank will hold. The difference is like the difference between a year and a light year — and it's not just a third less calories!
The smaller 88 cubic-foot carbon fiber tank is squeezing its air like a miser squeezes a toothpaste tube — trying to get the last bit of use out of what's inside. As a result, you get one complete fill after another from this smaller, lighter carbon fiber tank. It holds air at 300 bar, which we can now calculate to be 4,350 psi, but filling stations commonly fill these tanks to 4,500 psi (310 bar). And it takes a long time and many gun fills for the pressure inside to fall below 3,000 psi, where the tank can no longer give complete fills. At that point, it acts just like a scuba tank — and the top of each fill declines from the fill before.
Do you see why low-pressure PCPs are so great?
This is one of the reasons I pushed so hard for the Benjamin Discovery to use a 2,000 psi fill. I actually wanted 1,800 psi as the max. Can you imagine how many more fills a gun like that gets from any compressed-air tank?
What's in a name?
This report was prompted by confusion over the latest carbon fiber tank from Crosman. They call it a 342 cubic-inch carbon fiber tank, which has no meaning in light of the explanation you have just read. It accepts a 4,500 psi fill like most carbon fiber tanks, but I think Crosman is stating the actual internal volume of the tank rather than it's air capacity. I showed you a picture of me holding this tank at this year's SHOT Show, and you can see that it isn't as tiny as it appears in the Pyramyd Air description. I believe this tank probably holds 40 to 50 cubic-feet of air, according to the explanation given here, but we'll just have to wait and see.
Conclusion
What you want for your PCP, Grasshopper, is a tank that holds many cubic-feet of air at very high pressure. Carbon fiber tanks fill the bill. Such carbon fiber tanks weigh only half of what the lesser scuba tanks weigh, but of course they do cost a lot more.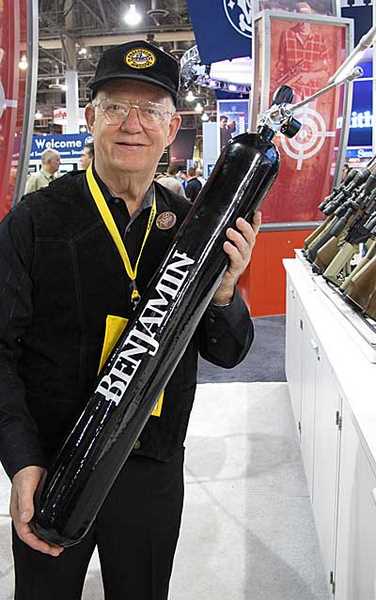 Crosman's new carbon fiber tank is a larger one that should be good for PCPs because it will also be lightweight.