by Tom Gaylord, a.k.a. B.B. Pelletier

This Diana 25 smoothbore was made during World War II.
What a topic to follow a twist-rate report — one about a smoothbore! Today, we'll look at the accuracy of the WW II-era Diana 25 smoothbore airgun. This is a play-day for me because this gun is so non-finicky and trouble-free. It's the way I wish all airguns could be. Just load and shoot. No special handling beyond the basic artillery hold, and no need to treat it like it's a vial of nitroglycerin.
Shoot from 10 meters
I decided to shoot from a rest at 10 meters just because this is a smoothbore, and I had no idea of what results we would get. I hoped it would hit the paper with all shots. That would be good enough. But nothing beats shooting, so that's what I did.
JSB Exact RS
The first pellet I tried was the JSB Exact RS, which is a .177-caliber favorite of blog reader Kevin and has become one of mine, too. It seems to work in most airguns, and it's often one of the very best pellets. So, how would it do in a smoothbore?
I shot off a rest with the artillery hold. My off hand was back touching the triggerguard, but the gun is not muzzle-heavy. The first shot landed below the center of the bull — but actually at the point of aim, if a bit off to the right. So, the rear sight elevator was pushed forward to raise the sight. I didn't care if it was hitting the center of the bull or not, but I wanted to keep the shots mostly inside the large black bull of a 10-meter pistol target because I could see the holes when they were in the white and distracted me.
The first 10 shots were fired with the pellet seated flush with the breech face. And the group turned out better than I had expected, though about as good as several readers had indicated they get from their smoothbores. It may not look that good to you, but notice how narrow it is compared to the height? That'll become important in a moment. This group measures 1.158 inches between centers.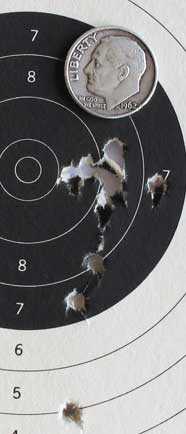 Ten JSB RS pellets in 1.158 inches, center to center, at 10 meters. The lone shot in the white was the first sight-in shot and is not part of the group.
Next, I shot another 10 rounds of RS pellets, but this time I seated each pellet deep in the breech with the Air Venturi Pellet Pen and PellSet. As before, the pellets all landed in the black bull, so it wasn't until I walked down to change the target that I saw the group. Imagine my surprise to see a 10-shot group that could just as easily have been shot with an expensive target rifle! Ten JSB RS pellets went into a group that measured 0.337 inches between centers.

Ten JSB RS pellets seated deep in the breech made this 0.337-inch group at 10 meters. This is amazing for a smoothbore!.
You might shoot 5 shots some time and luck out like that, but 10 shots tell the truth. This airgun is very accurate at 10 meters, even though it's a smoothbore. And it takes deep-seating the pellets to do it — at least with the JSB RS pellet. Now, I was curious. Would the two other test pellets show similar results?
Beeman Devastator
The second pellet I tried is one I don't shoot a lot, but after it did so well in the Velocity versus vibration accuracy test I did a year ago, it has moved into the category of pellets I like to try when the circumstances are unusual. The Beeman Devastator is a hollowpoint that acts like a wadcutter at the same time. And a smoothbore is definitely unusual. The first 10 flush-seated pellets went into a group measuring 1.948 inches between centers. Not very good and more like what I'd been expecting from this airgun.

Ten Beeman Devastators didn't group too well when seated flush with the breech. Group size is 1.948 inches between centers.
Now, it was time to shoot 10 Devastators that were seated deep in the breech. Would they also tighten up?
Well — yes and no. The 10-shot group of deep-seated Devastators measures 1.982 inches between centers, which is a little larger than the group of flush-seated pellets. However, 8 of those pellets did group into 0.691 inches. I would say that the deep-seating method still looks promising at this point.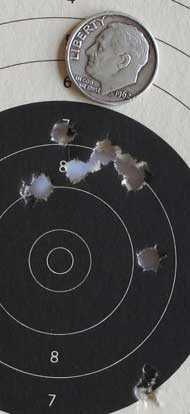 Ten deep-seated Beeman Devastators made a group of 1.982 inches between centers, but 8 of those were in 0.691 inches. Deep-seating still looks good.
RWS Superdome
The final pellet I tried was that universal favorite — the RWS Superdome. The first group of flush-seated pellets was not that large, at 1.156 inches. If the deep-seating method held true for this pellet as well, it might beat the tight RS group when seated deep.

Ten RWS Superdomes went into 1.156 inches at 10 meters. This is the best flush-seated group thus far.
A happy accident
As I was shooting the next group of Superdomes, I forgot to seat the second pellet deep and had to stop shooting the target. But the result on target was so dramatic that I photographed it, so you could see what happened. The deep-seated pellet is the high one and the flush-seated pellet is the low one. That shows more clearly than anything how deep-seating affects the shot.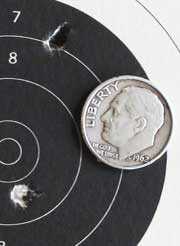 The deep-seated pellet went high and the flush-seated pellet went low. This shows the dramatic difference deep-seating makes.
Deep-seated Superdomes
Then I got serious again and shot 10 rounds of Superdomes seated deep. They made a group sized 1.047 inches. While that's only a little better than the same pellets seated flush, notice that these shots are centered in the bull much better. Not that I'm looking for that, but it's a nice side benefit.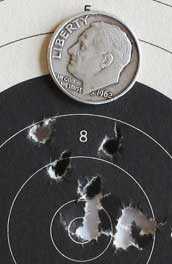 Ten deep-seated RWS Superdomes went into 1.047 inches at 10 meters. It's better than the flush-seated pellets.
What have we learned?
The first thing this test has taught us is that a smoothbore airgun isn't that much of a disadvantage at 10 meters. I think the results of the RS pellets definitely call for another test of this airgun at 25 yards.
The next thing I learned is that deep-seating the pellets seems to improve their accuracy. Some improved more than others, but every pellet seems to have done better with deep-seating.
The last thing is that all of this shooting, all 63 shots, were fired with simple open sights. After some of the trauma you've witnessed me undergo in recent weeks to get some air rifles to group, this little Diana 25 seems to have breezed past all the big-name guns and taken the lead. I think that says a lot about what power levels are best for spring-piston air rifles.
by Tom Gaylord, a.k.a. B.B. Pelletier
If you've reached this webpage because you're searching for information about the AirForce Talon SS rifle in .22 caliber, please note, this report is not about a standard rifle. You may be more interested in the 10-part Talon SS test than in this one.
For those who are following this series, this is the first accuracy test. Today, I'll test the barrel made by Dennis Quackenbush with a twist rate of 1:12 inches. I'm testing with two pellets at this time — the 14.3-grain Crosman Premier and the 15.9-grain JSB Exact. You'll soon see why I've chosen to test with just two pellets, as there are several variables that each required testing. I'm trying to limit the number of shots in each test.
Following today's test, I'll do the same thing with the factory barrel and also with the other barrel Quackenbush made with a 1:22 inch twist rate. Then, I'll write a report that analyzes the data from the three accuracy tests. After that, I plan to shoot each barrel at 50 yards for accuracy, but that will probably be done on power setting 10, alone, unless there are compelling reasons to do otherwise.
The test
I shot the rifle at two distances — 10 meters (11 yards) and 25 yards. Each pellet was tested on each power level — zero, 6 and 10. If you forget how those levels are controlled, you can find them described and shown in Part 2. The standard was a 10-shot group. Because the Talon SS is so easy to shoot (it requires no special holding technique), I went with just one group. There's always the possibility of returning and shooting additional groups after everything has been tested; but as we've learned from reading this blog, a 10-shot group is very representative of the true accuracy of a rifle.
There were no called fliers in this test. While that sounds incredible for 120 aimed shots (yes, 120 shots!), I was resting the rifle in the groove of a large sandbag while shooting and it was extremely stable. I did note on one test of the rifle at zero power immediately after filling the reservoir that the pellets were stringing wildly (about 6 inches) in the vertical dimension. I threw that test out and shot another group with the same pellet after the reservoir pressure had dropped a bit. That one seemed reasonable.
I shot 20 shots on zero power (10 with each pellet) and 20 shots on power level 6. The reservoir was refilled before I shot 20 shots on power setting 10 with both pellets. I did this at 10 meters and again at 25 yards. I have some things I want to say about this test. Before I do, let's look at the results.
Ten-meter testing
At 10 meters, the first test was with both pellets on power setting zero. Before I tested the gun, the rifle was zeroed so the pellets would land close to or inside the bull I was aiming at, but not hitting the center — as that was the aim point for every shot. As always, it's the group size I'm concerned about — not where the pellets land.
Zero power
Premiers made a 10-shot group that measured 0.509 inches between centers. Though the group is large for a Talon SS, in my experience, it's fairly well distributed. So, the barrel made by Quackenbush seems to be accurate enough for this test. We know from the velocity test that Premiers average 452 f.p.s. in the 1:12 barrel and the velocity spread is 56 f.p.s.
Ten JSB Exacts made a group that measures 0.578 inches between centers. That's just a little larger than the Premier group. It's also a bit more horizontal than vertical. We know from velocity testing that this pellet averages 434 f.p.s. in the 1:12 barrel, with a spread of 56 f.p.s.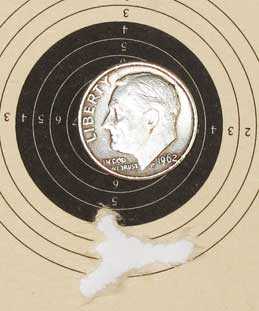 On zero power, 10 Premiers made a 0.509-inch group at 10 meters in the 1:12 barrel.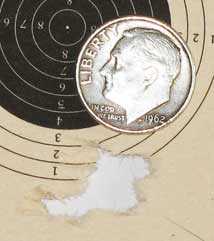 On zero power, 10 JSBs made a 0.578-inch group at 10 meters in the 1:12 barrel.
Power setting 6
Moving up to power level 6, I fired one shot to see where the pellet was going and to allow the valve to adjust to the new setting. Ten Premier pellets made a group measuring 0.408 inches between centers. Velocity at this power setting averages 777 f.p.s. in the 1:12 barrel, with a spread of 63 f.p.s.
Ten JSB pellets made a group that measured 0.419 inches between centers. It was really too close to the other group (of Premiers) to make a distinction; but when I measured it, that's what I got. The average velocity on this setting with the JSB pellet is an average 786 f.p.s., with a 41 f.p.s. spread.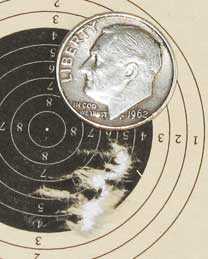 On power setting 6, 10 Premiers made a 0.408-inch group at 10 meters in the 1:12 barrel.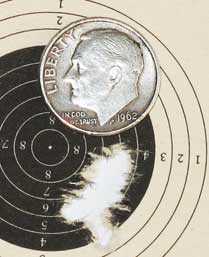 On power setting 6, 10 JSBs made a 0.419-inch group at 10 meters in the 1:12 barrel.
Power setting 10
Moving up to power setting 10, I fired one shot to set the valve. Then, 10 Premiers made a 0.281-inch group. The velocity at this power setting averages 846 f.p.s., with a spread of 16 f.p.s.
Ten JSB pellets made a group that measured 0.286 inches between centers. Once again, the difference between the JSBs and Premiers was really too close to call. At this power setting, the velocity averages 830 f.p.s., with a spread of 15 f.p.s.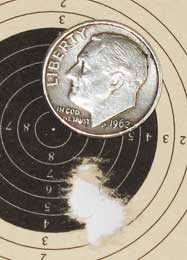 On power setting 10, 10 Premiers made a 0.281-inch group at 10 meters in the 1:12 barrel.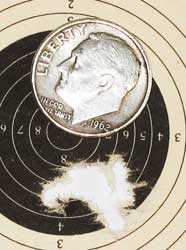 On power setting 10, 10 JSBs made a 0.286-inch group at 10 meters in the 1:12 barrel.
That concludes testing at 10 meters. Now, it's time to pull back to 25 yards and try everything all over.
Twenty-five-yard testing
Starting at zero power, this was where I discovered that I had to throw out the first group for extreme vertical stringing. After that, though, the gun calmed down and seemed to group as well as it could.
Zero power
On zero power at 25 yards, Premiers made a 10-shot group that measured 0.903 inches between centers. This is a larger group than I'm used to with an SS, but it seems to be more due to the valve and the velocity variation than the barrel. You'll notice that there's a smaller group of 6 shots at the bottom of this group. They were not fired sequentially, though.
Ten JSB Exacts made a group that measures 1.142 inches between centers. Again, there was a smaller group within the large group, but it contains fewer shots than the small group within the Premier target.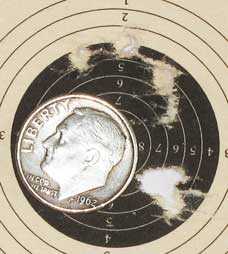 On zero power, 10 Premiers made a 0.903-inch group at 25 yards in the 1:12 barrel.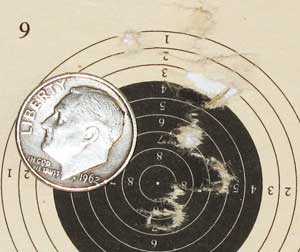 On zero power, 10 JSBs made a 1.142-inch group at 25 yards in the 1:12 barrel.
Power setting 6
Moving up to power level 6, I fired one shot to see where the pellet was going, plus to allow the valve to adjust to the new setting. Ten Premier pellets made a group measuring 0.375 inches between centers. Velocity at this power setting averages 777 f.p.s. in the 1:12 barrel, with a spread of 63 f.p.s.
Ten JSB pellets made a group that measured 0.979 inches between centers. The average velocity on this setting with the JSB pellet is 786 f.p.s., with a 41 f.p.s. spread. That's quite a difference from the Premier group at the same power setting/same distance.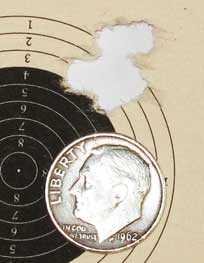 On power setting 6, 10 Premiers made a 0.375-inch group at 25 yards in the 1:12 barrel.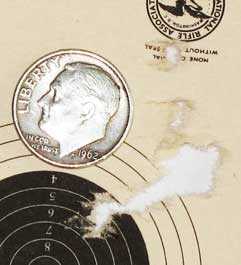 On power setting 6, 10 JSBs made a 0.979-inch group at 25 yards in the 1:12 barrel.
Power setting 10
Moving up to power setting 10, I fired one shot to set the valve. Then, 10 Premiers made a 0.753-inch group. It's still a fairly well-rounded group.
Ten JSB pellets made a group that measured 0.944 inches between centers on power setting 10. This time, the group was not just larger, there were several pellets that did not land in the same place. It's also strung out horizontally.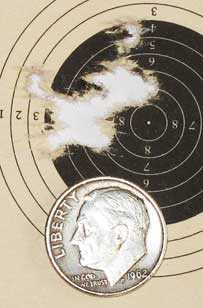 On power setting 10, 10 Premiers made a 0.753-inch group at 25 yards in the 1:12 barrel.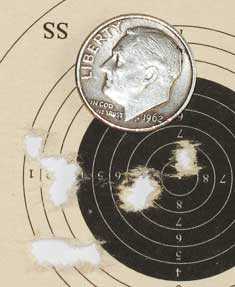 On power setting 10, 10 JSBs made a 0.944-inch group at 25 yards in the 1:12 barrel.
What did we learn?
This is just the first test of 3 barrels, so it's too early to draw a lot of conclusions. But there are things that can be said about this one test. For starters, JSB Exact pellets seem to spread out at the longer distances and higher power levels. Are they over-stabilizing? Too soon to tell, but the Premiers definitely out-grouped them. That may change when we test the factory barrel.
Premiers really only opened up at 25 yards on power setting 10. And they didn't group well at 10 meters on zero power. Everything else was okay. Are they a more stable pellet? In the 1:12 twist barrel, they seem to be.
In researching this report, I've read in several places where gun writers say there is no problem with over-stabilization from fast twist rates. They say that as long as the bullet is stable, there's no difference in accuracy, regardless of the twist rate. That may or may not be true for bullets (though I doubt that it is), but it certainly isn't true for these two pellets! That much has been proven pretty clearly.
Beyond that, I don't think I can say anything else. Next, I'll test the factory barrel.
This test involves shooting 12 10-shot groups per barrel, so it's very involved. That's why I can't do all three barrels at one time. I hope you understand that.
by Tom Gaylord, a.k.a. B.B. Pelletier
Someone new to the world of airguns encounters jargon, technical terms, confusion and mountains of urban legends. I know the feeling because, when I recently acquired an AR-15, I had the same experience.
I write this blog today about my experiences acquiring a firearm to help the new airgunner learn to make decisions about the airguns he doesn't know and can't actually handle before buying. Once you read the report, I think you'll understand why I say it's written for airgunners.
I never liked the AR
I was exposed to the U.S. Army's M16 when it first came out in the 1960s, and the problems it had were so many that it didn't make a good impression. For starters, I'm a rifleman, which means I care more about hitting the target than anything else. The M14 that was the standard issue at the time was doing that very well, but the new M16 proved incapable of hitting a man-sized silhouette at 300 yards. Since I wanted to qualify expert (having already done so with the pistol, the M14 and the .22 rimfire) with every weapon the Army gave me, I found this shortcoming to be a huge drawback.
I wasn't aware of all the ballistic testing that had gone into the creation of the 5.56mm round before the M16 came out. I just knew from my first range experience that the rifle was inaccurate beyond about 250 yards. To a shooter who had already qualified expert with three other weapons, that was inexcusable.
Then there was the problem of cleaning the gun. The M16 required lots of cleaning and lubrication to continue to operate reliably. The M14 didn't seem to need as much cleaning, though it did need to be lubricated, just the same. But the M14 was easy to field strip, clean and lubricate, while the M16 had some parts that were very difficult to clean in the field. Strike two.
I could go on, but you get the idea. I didn't like the M16. And several years later, when I had about 100 of them in my company arms room in Germany in the middle 1970s, I grew to dislike them even more for all their petty maintenance and cleaning problems.
After I left the Army, I swore to never have anything more to do with the fully automatic M16 or its semiautomatic civilian equivalent, the AR-15. Occasionally, I'd see one at the range and watch the owner fumble with frequent jams, horrid accuracy and other problems that I remembered from my Army days. I thought the case was closed
Enter Crosman — the MAR177
Then, in 2012, Crosman brought out the MAR177, and I had to test it. But since the MAR is just an upper, it needs to be mated with a lower receiver to work — and that lower has to be an AR lower! You may remember in my review of the MAR177 that I actually built an AR lower receiver for the test.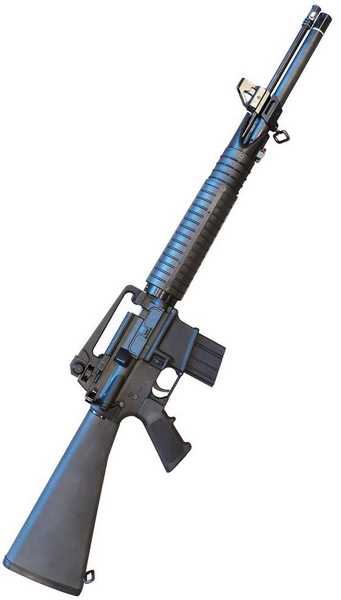 Crosman's MAR177 drove me to buy the firearm it copies, as I've done several times in the past.
When the test was over, the MAR177 went back to Crosman, leaving me with an AR lower. Crosman told me they had plans to bring out other MAR-type airguns, so I couldn't get rid of the lower, yet. Until they did, I had nothing to use it with. Until I got a firearm upper of some sort, that lower was just an expensive bunch of useless gun parts. That's when I began to think about possibly owning an AR-15 for the first time!
I didn't know anything about ARs!
I had avoided the AR so completely that I now discovered I knew next to nothing about it. When I began to do research, including some done with readers right here on this blog, I found out that my information was old, outdated and generally no longer true. In short, I was like someone new to airgunning who didn't know what he didn't know and didn't know where to turn.
Books
I tend to rely on books to get spun up on something new. And I know that Patrick Sweeney is an excellent gun writer based on his books about the Colt 1911. They were a wealth of information when I decided to go full-on with the 1911 after receiving a nice one as a gift several years ago. So, I reckoned he would be just as good with the AR 15.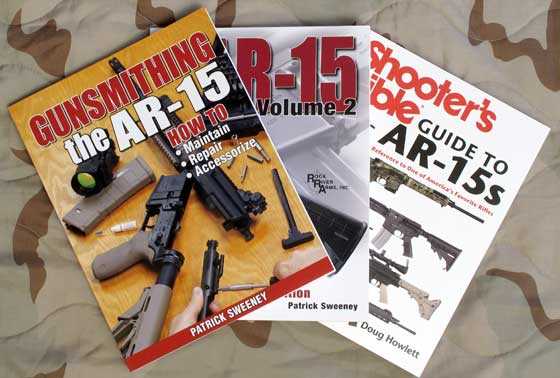 When I want to learn about something new, I turn to books.
Boy — was I wrong! Sweeney writes about ARs using jargon and repetition. He salts his chapters with pithy anecdotes from gun classes he has taught or references to law enforcement operations — neither of which have any interest for me. As I said — I'm a rifleman — not a zombie fighter! Sweeney and I don't see eye-to-eye when it comes to the black rifle.
However, in fairness to the author, he's not writing for me. He's writing to the majority of AR owners who think exactly as he does and want to know the latest and greatest tactical advantages the gun might offer. They number in the millions, where I'm just one.
And, among all the insider trivia, there were nuggets of useful information. Therefore, I read and decoded what was in those books until I had a good newbie-level of understanding.
The airgun comparison
And here's where my plight will begin to relate to a budding airgunner. You may not know whether to get a spring-piston rifle with a steel mainspring or a gas spring, just as I didn't know whether to get an AR with direct gas impingement or a piston-driven system.
I read and read and finally discovered several references to the fact that the direct gas impingement system would probably make the more accurate gun when all other things were equal. The reasons were explained in such a way that I could understand and internalize them. I also discovered that the makers of the piston-operated systems are working diligently to make their systems more accurate all the time — so the accuracy gap is closing with each passing day.
Returning to airguns, there are precious few airgun books for you to consult, but this blog is written for that purpose — to help explain the fundamentals of airgunning and to help you solve your individual problems.
So, you read and read, and one day you realize that all the gas spring guns I've tested are hard to cock. Maybe you don't like that. And you've also read that many of the gas spring guns I've tested have only mediocre accuracy, while there are some with a coiled steel mainspring, like the RWS Diana 34, that are very accurate. From this, you've learned that you want a gun with a steel mainspring, just as I learned that I wanted an AR with direct gas impingement.
Looking at my plight again, I read about rifle barrel twist rates and discovered that the rifles with a faster twist are good for heavier bullets, and heavier bullets make for greater accuracy at longer distances. I like accuracy, and I like to shoot long distances. So, I knew that I wanted a barrel with a twist rate of 1:7 or 1:8 inches instead of the more common 1:10 and even 1:12-inch twist rate that many of the tacti-cool carbines seem to have. I also learned that Colt was at one time very concerned that buyers of their AR-15 would attempt to turn them into M16s, so they changed the pivot pin sizes for many of the parts on the lower receiver of their AR-15. Hence, there are a certain range of Colt AR-15 rifles that, while okay by themselves, will not accept common upgraded parts that all other AR-15s can use. Since parts interchangability is one of the AR's strong suits, these Colts are seriously disadvantaged.
You read about airguns and discovered in this blog that, while there are a plethora of pellets from which to choose, only a few of them are the most consistently accurate. You learned which ones they are, and you know that you can either waste $30 buying the wrong bargain pellets that don't work in most airguns, or you can spend half that much and get (far fewer) pellets that will drill a dime every time when fired in the gun you have decided to buy.
I read and discovered that using certain extruded gun powders will keep the AR-15 action clean for many hundreds of shots. And some of that kind of powder also develops very low breech pressures, so barrel wear is similarly reduced. The interior of today's AR-15 is a far cry from the gummy wreck the M16 was in the late 1960s. And there are specialized tools that can clean those hard-to-reach parts in seconds, instead of the hours that it used to take us with toothbrushes.

AR-15 technology has changed over the years. Now, there are cleaner-burning gun powders and specialized tools to reach the places that are hard to clean.
After all your reading, you decided to buy an RWS Diana 34P. You know that you'll have to learn to use the artillery hold, and you know that you want the rifle in .177 caliber to save the most money on ammo per shot — but you'll be buying 10.3-grain JSB Exact domed pellets instead of the "bargain" pellets found at Wal-Mart. Yes, your pellets will cost you three times as much as the cheap ones, but your hit ratio will be even greater than that. So, this more expensive pellet is actually a savings.
I learned that a standard AR-15 is only good for about 3 minutes of angle (a 5-shot group of approximately three inches at 100 yards); but with the right barrel and bullet, the same rifle can be a sub-MOA rifle, too. I learned that instead of being confined to the rather short magazines that fit the rifle, I can load every round singly into the breech to give me the room to load much longer and more accurate ammo. If I buy the right upper receiver and barrel and load the right ammo for it, I can have an AR-15 that's respectably accurate.
Where no man has gone
Like you, I've ventured into a world I didn't understand. Like you, I found there are truths, lies and everything in between. But instead of rushing out and squandering my money on the first "bad boy" upper I found, I waited for the right one to come along. And it finally did! I found it two weeks ago on a Texas-based gun-swapping website.
The upper I found has a free-floated Saber Defense 24-inch stainless steel fluted bull barrel with a 1:8-inch twist. The extra long barrel means it's an efficient powder-burner, which means it will take larger loads of slow-burning extruded powder and develop higher velocity for greater accuracy at long range. The extruded powder is both clean-burning and develops much lower chamber pressure than ball powders. Best of all, this rifle was built for 1000-yard competition shooting and has a .223 Remington chamber instead of a 5.56 or Wylde combination chamber. It was, literally, built for accuracy.


Not a gun most AR owners would want — my rifle has a free-floated, 24-inch bull barrel that's chambered for .223 Remington instead of 5.56mm. I shouldn't shoot military ammo in it; but with the right reloads, it'll shoot rings around a stock AR. It's exactly what I wanted. The scope is a Tasco Custom Shop 8-40X56mm that I used to compete in field target.
The bolt in this upper was hand-selected from 25 bolts for the best fit, and then the gunsmith handlapped those lugs that were not in 100 percent contact. My reading tells me this last step is unnecessary, but it's comforting to know someone went to all the trouble to do it. It shows that he wanted an accurate gun! He also adjusted the gas flow so it doesn't overpower the bolt. The result is a rifle that gently throws its empty brass in a neat pile about 8 feet from the gun at two o'clock. Of course, I'll use a bass catcher [Note: Tom meant to write "brass catcher," but this was so funny I had to leave it--Edith] to keep all the ejected brass safely on the bench with me.
The owner wanted to get rid of this upper because he discovered that it wasn't competitive in a breeze at 1,000 yards. It worked well at 600 yards, but there the competition was too fierce for him — so he wanted to build an upper in a larger caliber for the 1,000-yard competition, where there are fewer shooters.
It has exactly what I wanted, though, so I made him an offer that he considered generous. We met at my range and each got to shoot the other's gun before we traded. I not only got the upper, I also got the load he'd developed for 600-yard competition. I was out of the specific bullet used in that load, so I loaded a lighter bullet (68 grains instead of 77 grains) while I waited for the heavier bullets to be delivered. I went to the range last week to see what the new gun would do.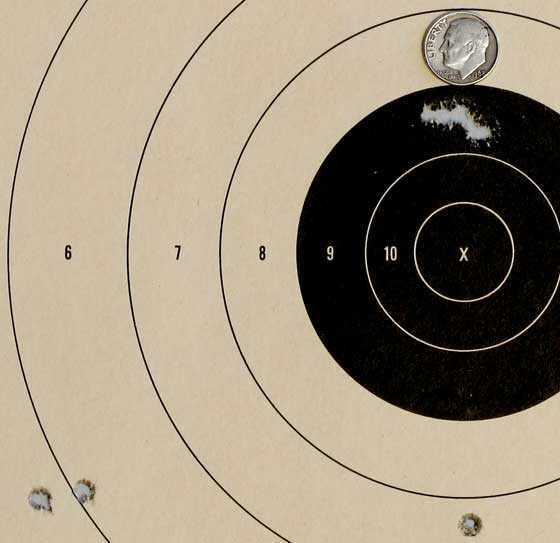 The sight-in target at 50 yards was shot with the most accurate ammo. Each round was loaded singly because they were too long to fit in the magazine. Next time, these will be my target loads! The hole next to the dime has seven rounds.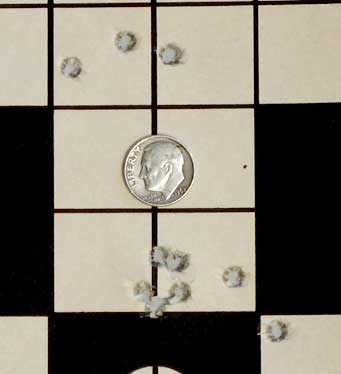 This target was shot at 100 yards with rounds that fed through the magazine. The top three were too high, then I adjusted the scope and fired the seven below. Clearly, this group is not as good as the rounds that were fed singly.
The first time out, I confirmed that the rifle wants to be loaded single-shot with rounds that exceed the magazine length. I also confirmed that it will shoot a 68-grain bullet very well. I've now acquired a large supply of 77-grain bullets, but this means I'm not wedded to them.
It's nice to come out on top
Like you, I couched my expectations for the AR in terms of what I'd read and believed. Since that was but a fraction of all the information that was available, I felt confident that the little I did know was correct. And I was pleasantly surprised when the rifle (upper) exceeded my expectations the first time out!
That is what I want for each of you with airguns. I want your experiences to be pleasant and surprisingly good. I want them to exceed your expectations the first time out.
I can't help those who act on their emotions and go for guns based on velocity claims or advertising hype. Just as the average AR sold today would not be considered an accurate rifle, the average spring-piston air rifle is also quite a handful to deal with. I can't help those who buy their guns on impulse and refuse to take responsibility for their own actions; but if you'll be patient, I'll help you find the airgun that's ideal for you.
Am I an AR guy? I don't think so. If I told most AR owners how I operate the rifle — loading each cartridge single-shot and shooting 10-shot groups — I think they would be appalled. But has my opinion been changed by my experience with this one rifle? Yes, it has. I spent the time and did the research to discover the things that mattered the most to me and ignored those that didn't. I focused on what I really wanted; and when it came along, I was ready to act.
I hope this blog can do the same for you.
by Tom Gaylord, a.k.a. B.B. Pelletier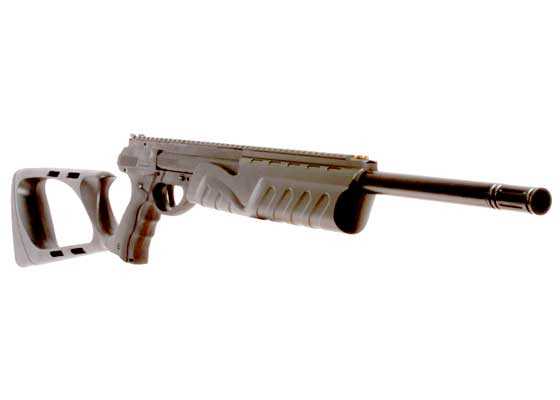 The Umarex MORPH 3X is many airguns in one!
Today, you'll get a twofer — thanks to blog reader Les, who asked about adjusting dot sights and lasers. I said I would test the Umarex MORPH 3X with a dot sight, so I thought I'd combine that test with instructions on how to adjust the sight to hit the point of impact.
I hadn't considered testing a laser on the Morph, but I can certainly describe how to do it. I'll get to that at the end of the report.
The dot sight
What is a dot sight? Well, once you understand what it is, you'll understand that adjusting one is the same as adjusting a scope. Because that is what a dot sight is — a scope without the magnification (usually) or the crosshairs!
HUH?
On scopes, the crosshairs or reticle are lines that you see through to see the target. By adjusting where the lines are, you can adjust where your shot strikes the target. I think most folks understand that.
All a dot sight does is substitute a glowing dot of light for the center of the crosshairs. In other words, the intersection of the crosshairs is replaced by a glowing dot of light. Put that over what you want to hit; and if the sight is adjusted properly, it works the same as a scope. No one other than the shooter can see the dot.
The glowing dot is different than the crosshairs because it isn't a solid object. It's a reflection on the surface of a lens that appears in your line of sight. You can see it because the reflection is physically there, but it isn't anything that can be touched, anymore than you can touch an image in a mirror. But you can adjust where the dot is seen by adjusting the lens that reflects it.
Try this
If you have a dot sight, try looking through it and moving your head around from side to side and up and down. You'll note that the dot moves against the target quite a bit. That's because you're moving your eye, and that changes where the reflection of the dot appears to be. You can do the same thing with the reticle of a scope, but not to the same extent. Where a scope reticle will appear to move just a little against a target, a dot appears to move more. That's the difference between looking at something that is physically there and something that's just reflected off a curved piece of glass.
That should warn you that dot sights have a lot of parallax problems and require consistent eye placement for every shot. The same is true with open sights, but open sights give cues when the alignment isn't right. The front sight moves relative to the rear sight. But a dot sight is just a single point of reference, so you can't see the misalignment as easily. Therefore, the placement of your head is extremely important if you expect to hit the target every time.
What I'm saying about dot sights applies to the older tube-type sights, like the one I'm using in this test. I suspect, like all technologies, dot sights have become more precise in recent years. But my experience is with the older style.
Don't get the idea that dot sights are impossible, though, because they're not. Though they are somewhat dicey to use. It's not as bad as ice skating on stilts.
Dot sight adjustment
Now that you understand what a dot sight is, you should know that it adjusts in the same way as a conventional scope. One knob controls the up and down movement, and the other controls the left and right. Sighting-in a dot sight is no different than sighting-in a scope. You select a point of aim, which you hope will also be the point of impact and hold on it as you shoot. If the pellets strike the target low and to the left, the sight has to be adjusted up and to the right.
Like a scope, it helps to begin sight-in of a dot sight at a close target. I like starting at 10 feet away, and I adjust the sight until the pellet is striking the target on the centerline and as far below the point of aim as the center of the sight is above the center of the bore. Then, I know I can back up to 10 meters, and I'll be on paper. I may need to refine my sight adjustment a little when I shoot at 10 meters, but this is the fastest way I know to sight in an airgun — especially one that cannot be boresighted.
But what if you're at a public range and can't shoot at 10 feet? That's when I put up a 2-foot by 4-foot light-colored paper backer and staple my target in the center of that. Even at 50 yards, there's a good chance my shots will land somewhere on that big piece of paper if I shoot at the center of the target. When even that fails, I enlist the help of a spotter to watch the berm. I shoot at a dirt clod we can both identify and he watches through the binoculars that I always carry to see where my bullet strikes relative to the dirt clod.
Tasco Pro Point
I mounted a Tasco Pro Point dot sight to the rail on top of the Morph and was ready to commence sight-in. The Pro Point is a dated design, but it was good quality 15 years ago and still works well today. The amount of parallax is small for a dot sight, but I still watch my head placement every time.
It was very easy to install the Pro Point on the Morph. The Weaver bases on the Pro Point clamp right to the Morph's rail, and clamping pressure plus the keyed cross-slots hold the sight in place.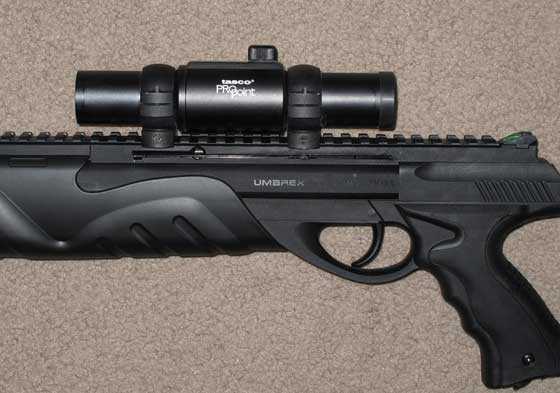 Tasco Pro Pont dot sight fits the Morph quite well.
Target setup
I think it was Victor who asked me how I stop the BBs from bouncing back, so today I thought I'd show you. I photographed my target setup, so you can see the light and the Winchester Airgun Target Cube with the Shoot-N-C target pasted on its front.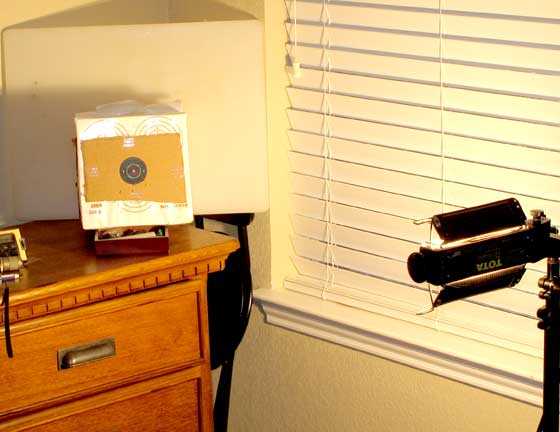 This is my target setup in the bedroom. The target cube is backed by a thick plastic cutting board, so nothing will hit the wall. The light is a 500-watt quartz incandescent camera light.
Absolutely no BBs bounce back using this setup. The target cube is starting to slough off small pieces of styrofoam, now that over a thousand shots have hit it, but nothing gets through it and nothing bounces back.
On to the shooting
At first, I shot the Morph in carbine form offhand at 15 feet (I'm using Umarex Precision steel BBs). I dialed the red dot intensity up to No. 8; because when the Shoot-N-C target turns green, it's so bright that it masks the dot. Even at the 8 setting, I could barely see the dot against the target, once it changed from black to green (or yellow — I can't tell…I'm colorblind.). Of course, when you shoot offhand, the dot seems to move all over the target — even at 15 feet.

Ten shots offhand from 15 feet with the Morph carbine. That's not too bad! Yes, I used flash.
Seeing the accuracy of the carbine made me want to shoot the gun rested. I brought in a kitchen chair, turned it around and used the back as a rest for my next group.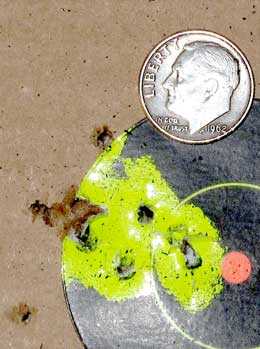 Ten shots rested from 15 feet. Obviously, the gun is shooting to the left — something that shooting offhand did not fully reveal. All the shots in the cardboard are part of this string.
Seeing this result made me want to see just how good the gun could shoot. So I adjusted the dot to the right and shot another 10 rounds.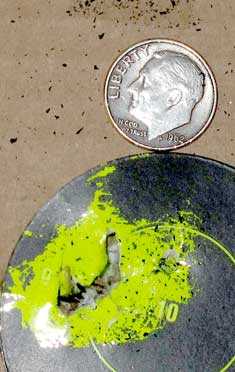 Wow! The sight adjustment didn't go far enough, but look at how small this group of 10 shots is! The Morph can shoot!
Let's back up
Seeing how good the Morph could do at 15 feet prompted me to back up to 25 feet and try again. This was also a rested group of 10 shots. I adjusted the sight a little more to the right for this one.
I was running out of the smaller bulls, but with a dot sight that poses no problem. Since the BB goes where the dot is, the size of the target has no influence over where you hit, as it would with a peep sight or a post and notch using a 6 o'clock hold.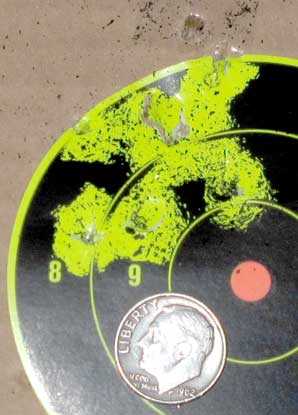 At 25 feet the group opened up a bit, but it's still respectable. There's a single BB above the bull in the cardboard. This is a larger bull; but with a dot sight, that doesn't pose a problem. The sight is still not far enough to the right, and notice that the impact point has climbed just a little. The orange dot in the center of the bull was the aim point.
A laser
I don't have a laser that will fit on the Picatinny rail of the Morph, so I can't mount one, but let's talk about how a laser differs from a dot sight and a scope. A laser actually shines a light on the target. What you see is reflected from the target — not from a lens inside an optical device. The laser dot can be seen by everyone — not just by the shooter — the way a dot sight can. And because the laser dot actually hits the target, there can never be any parallax. What you see is actually there, on the target.
With a laser, there's nothing to look through. Think of a laser as a very powerful flashlight. It isn't actually a sight. It's more of a designator.
A laser is adjusted just like a scope or dot sight, except you're adjusting where the light actually falls. So, the procedure is to use a separate sight to sight-in the gun, then adjust the laser so it's on the target when the other sight is.
Adjusting a laser is usually different than adjusting a scope or a dot sight. There aren't click adjustments, as a rule, but there are screws that push the laser tube in the direction you want it to go. This may be backwards of how a scope's adjustments move, so read the laser's manual before you start adjusting.
Distance is limited
Lasers can't be seen very far on bright days, so they're limited in distance. You can look at them through a scope which increases the distance at which the dot can be seen, but even then the laser is a limited-range sighting aid. A 50-yard shot is very far for a laser. Most shooters set them up for very close shots, like 20-30 feet. They use their other sights for longer distances.
Les — I hope this helps you with the sight-in procedure for dot sights and lasers. Let me know if you have more questions.
Final evaluation
The Morph 3X rifle and pistol is a unique airgun that's accurate and powerful at the same time. The double-action trigger-pull may take getting used to, but it poses no problem as far as accuracy goes.
I find the Morph accurate, conservative of gas and trouble-free to operate. If you want an accurate BB gun that also has power, check this one out.
by Tom Gaylord, a.k.a. B.B. Pelletier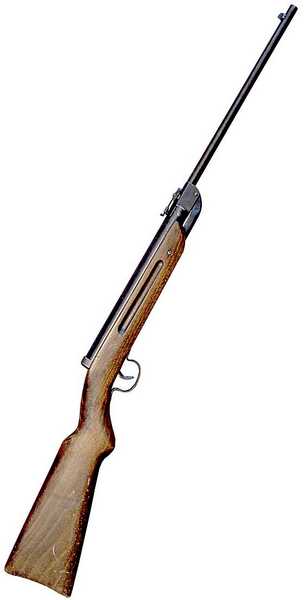 This Diana 25 smoothbore was made during World War II.
Oh, the things we think we know — how they vanish when we test! Today, we're going to look at the Diana model 25 smoothbore that Vince sent me. You may remember in the last report that I was pondering when this airgun might have been made. Well, Kevin told me to look on the bottom of the butt, as the date stamp used to be there. Indeed it was! This airgun was produced in June of 1940, during the first part of World War II.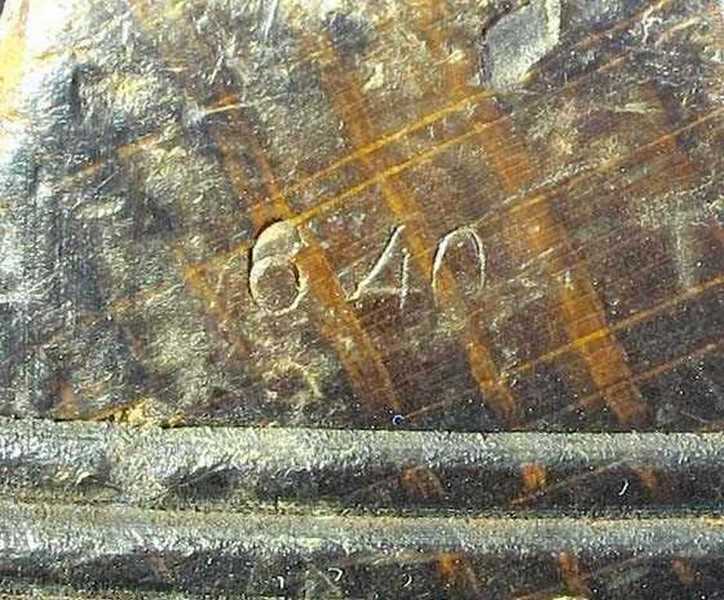 The manufacture date of the gun is stamped in small numbers on the bottom of the wooden butt.
The curiosity of a smoothbore is the extent to which the rifled barrel affects performance of the gun. I should have two identical airguns to test — one rifled and the other a smoothbore, but even then there would be subtle differences in their individual performance. I think it's safe enough just to say what I expect from such a gun and then see what I get.
I would think a Diana 25 in good condition would give a muzzle velocity of around 625-650 with lightweight lead pellets. Remember — this is a .177. The last model 25 I tested was a Winchester 425 that was a rifled .22-caliber gun. That one gave an average velocity of 440 f.p.s. with 11.7-grain Hobbys, which I thought was a little slow. I expected about 525-550 from it with that pellet.
Preparation: Oiling the leather piston seal
To prepare for this test, I oiled the leather piston seal with about 10 drops of 3-IN-ONE oil. I just stood the gun on its butt and dropped the oil down the muzzle. By leaving it standing that way for a couple weeks while I was at the SHOT Show, the oil ran down into the compression chamber and soaked into the leather piston seal. I also oiled the leather breech seal at the same time so it would be pliable for this test. And I note that the gun now smells of burnt oil when it shoots, so everything was successful. We can be sure that the gun is performing up to the limit of its capability.
You may remember that Vince tuned this gun before he sent it. The mainspring inside was one he cut down from another rifle, so it isn't exactly what the Diana had in it from the factory. But he took the spring from the harmonica gun that we suspect used to be a Diana model 27, so the dimensions of the spring are probably pretty close to original. We can guess and conjecture all day long, but a better way is to just shoot the gun and see what it does.
RWS Hobby
For the first pellet, I chose the 7-grain RWS Hobby. It's a lead pellet that's both lightweight and also a bit large, so it fits a lot of airguns very well. Since the gun was so well oiled, I actually shot three strings of 10, rather than my usual single string. The reason for this will soon be obvious.
The first string ranged from a low of 593 to a high of 627 f.p.s. The gun started in the 620s and progressively dropped in velocity as more shots were fired. That tells me it's burning off some lubricant; and from the smell, I knew that it was.
The average for the first string was 609 f.p.s., but I believe that is too high. I think the dieseling caused by the excess oil boosted the velocity a lot. Immediately after the first string, I shot a second one.
I expected the second string to be slower and less variable, and I was right on both accounts. The average velocity for string 2 was 598 f.p.s., and the velocity ranged from 593 to 613 f.p.s. At the average velocity, the Hobbys produced 5.56 foot-pounds of energy at the muzzle. I don't think the gun has settled down completely at this point, and I expect to see the average drop a few more feet per second as the gun continues to shoot. But there was still one more thing I needed to test.
Deep seating
I'd been seating the pellets flush with just my finger to this point. What would happen if I seated them deep with the Air Venturi Pellet Pen and PelSet? This time the average dropped to 594 f.p.s. and the range went from 584 to 621 f.p.s. What I make of that is that the pellet pen and deep-seating has little to no effect on the velocity of this rifle with a Hobby pellet. I think breech seating will be good, but I'm not going to leave it at that. I'll also try shooting a group with the most accurate pellet seated deep, to compare to flush-seating.
Hobbys fit the breech tight and just a little of the skirt stuck out of the barrel. I expected them to increase in velocity with deep seating, but I guess this gun needs the extra resistance to generate all the power. It's right on the cusp because deep-seating produces almost the same velocity, but the variability is greater; so I don't think deep-seating is worth the extra effort.
Beeman Kodiak
The second pellet I tried was the heavyweight Beeman Kodiak. At 10.65 grains, the Kodiak is way too heavy for this gun. But that's why I wanted to try it. I expect I'll also try it for accuracy because who knows what it'll do in this smoothbore?
After a couple shots that obviously dieseled, the Kodiak settled down to shoot in the mid 400s. The average was 461 f.p.s., and the range went from 443 to 470 f.p.s. At the average velocity, the Kodiak produces 5.03 foot-pounds of energy at the muzzle.
Just for fun, I also tried deep-seating Kodiaks that fit the breech very loose. This time the result was more positive. The average velocity dropped to 448 f.p.s., but the range tightened to between 439 and 455 f.p.s. That's just 16 f.p.s., compared to the 27 f.p.s. spread for flush-seated pellets. I guess I'll also try deep-seating Kodiaks in the accuracy test.
JSB Exact RS
The 7.3-grain JSB Exact RS dome was the last pellet I tested in the gun. These fit the breech even looser than the Kodiaks, but they gave an average 517 f.p.s. velocity with the tightest spread of the test. The low was 512 and the high was 525 f.p.s., so only 13 f.p.s. between the top and bottom. At the average velocity, this pellet produces 4.33 foot-pounds of energy at the muzzle.
Naturally, I tried deep-seating the RS pellet, as well. And to my surprise, the consistency grew even tighter as the average velocity decreased. The average was 504 f.p.s., but the spread went from 500 to 511 f.p.s., for an 11 f.p.s. difference. I guess I'll deep-seat all the pellets during the accuracy test, as well.
Cocking effort.
The Diana 25 cocks like many vintage breakbarrel springers. It begins easy, then stacks toward the end. The max effort required is 19 lbs., which makes this a youth airgun in my book.
Trigger pull
The trigger is two-stage, and stage two is reasonably crisp. The first-stage pull is 1 lb., 8 oz., and stage two breaks at 5 lbs., 11 oz. It isn't a target trigger in any respect, but it's crisp enough that I know I can do good work with it.
Impressions so far
I'm finding that this smoothbore is, in fact, very similar to the rifled version of the Diana 25. The size, fit, trigger and feel of the gun give no indication that the bore is smooth. But this gun was made in 1940; and as such, has several differences from the Dianas of the 1970s that I'm used to. For starters, the sights are simpler, and there's no rear base for a peep sight. Then, there's the simpler trigger that cannot be adjusted.
I have to admit I'm very curious about how this gun is going to perform on target. I know it can't be as accurate as a rifle, but I find myself hoping that it's close. We shall see.
by Tom Gaylord, a.k.a. B.B. Pelletier
Several readers asked for more of my photo lessons recently. I won't shower you with them; but after looking at some firearm and airgun websites, I see this is needed.
Today, I want to discuss the one thing that trips people up more than any other aspect of photography — the use of a flash. I always laugh when I watch the Super Bowl, seeing tens of thousands of fans way up in the stands shooting pictures on the field with their flash strobes going! Someone once told me they do it because it is impossible to turn off the flash on some cameras, so I think there's also some misinformation floating around out there.
I'm talking about modern digital cameras, including the ones that come on smart phones these days. There are some circumstances when the use of a flash is mandatory, but if you do it right the results can be surprisingly good.
Watch your angle of incidence!
In other words, do not hover your camera directly over the subject, thus allowing the light from the flash to bounce straight back into the lens. If you do, what you get is a burned-out bright spot in the center of the image that drops rapidly to very dark toward the edges. It's especially noticeable when you're photographing a long gun.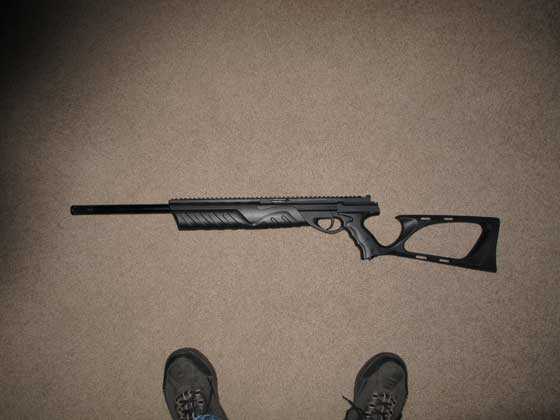 Here's the whole image taken with the flash directly over the subject. You can see the light fall-off easily here. Of course, the subject is also less well-lit at the extreme edges.


Here is the same image cropped. It looks better; but now that you know the light is falling off at the edges, you know there's less detail than there should be.
When the flash is angled on the subject, the darker subjects will show less detail. What's really happening is that the background is also not as exposed. The raw image may not look as good, but there's more detail in the subject to be pulled out by software.

Here, the picture was taken from beneath the subject. The light from the flash reflected away from the camera lens, allowing more of the dark subject image to show. It doesn't seem to have as much detail in this view.


This is the unretouched enlargement of the last picture. More detail is seen, but there's a lot more that can be pulled out.
Photoshop
In Photoshop, I can take the image…which has more light on the subject…and bring up many more details because they're actually in the image. Other photo processing software may not have the same features, but often there are ways of pulling up more detail, as long as they're in the original image.


This is what a simple Photoshop adjustment of light can do for the image. See how much more detail is visible?
But that's not all you can do. You can also shoot this picture from the top, rather than the bottom of the gun. Shoot it angled and see what happens. You might see even more details when the image is put right-side up.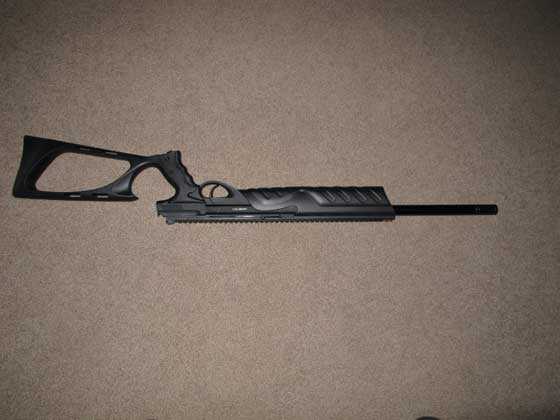 Here is the entire image shot from an angle above the subject.


This is the same image enlarged and cropped.


And here the light has been adjusted and the image flipped around in Photoshop. I know the center of the gun looks too light, but by doing that I can also bring out many details at the extreme ends that would otherwise be hidden.
Don't shoot a dark gun on a light background!
Nothing wipes out the image of a dark gun faster than using flash with the gun against a light background. Your digital camera does not possess all the image processing software that's in your brain. It thinks you want to see the light background instead of the dark gun, so it underexposes the image.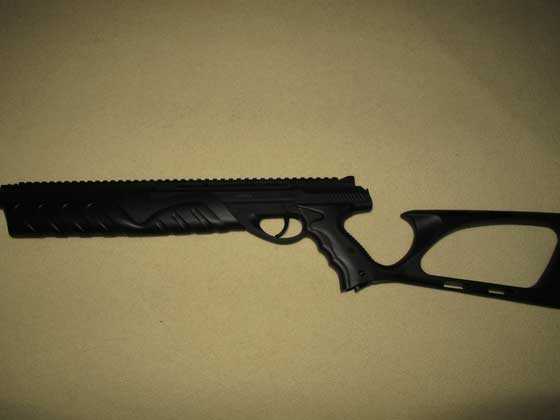 The light background told the camera to underexpose this image.
The trick is to push the flash to as bright and long-lasting as it will go. The camera may argue with you that you're losing detail on the background, but the dark subject will show more detail. Most cameras do allow the control of the flash to some extent. You just have to learn how to use it. It's probably in one of your software screens.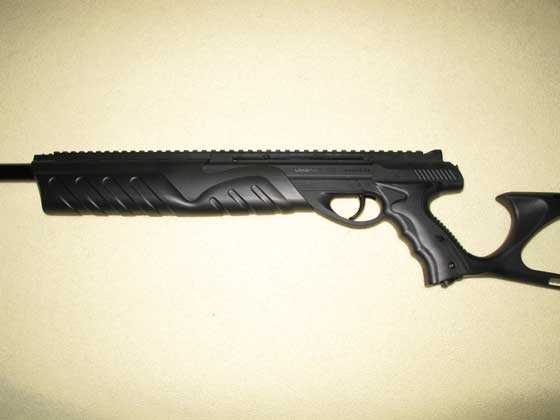 In this image, I've manually set my flash to 2 full stops above the normal range, which is as high as the camera will go. The viewfinder warned me the image wasn't right, but I got more detail from the subject, which is all I wanted.
Better still, shoot dark guns against a medium or darker background. Then, the camera won't underexpose the image and more detail will be seen.
Flash on bright subjects
If flash is difficult with dark subjects, is it easier when the subjects are very bright? Not really. However, things do change and you need to be aware of what happens.
Just as you don't want to shoot directly overhead on a dark subject, you also don't want to do it with a bright subject. It overexposes the bright subject and washes out all the detail.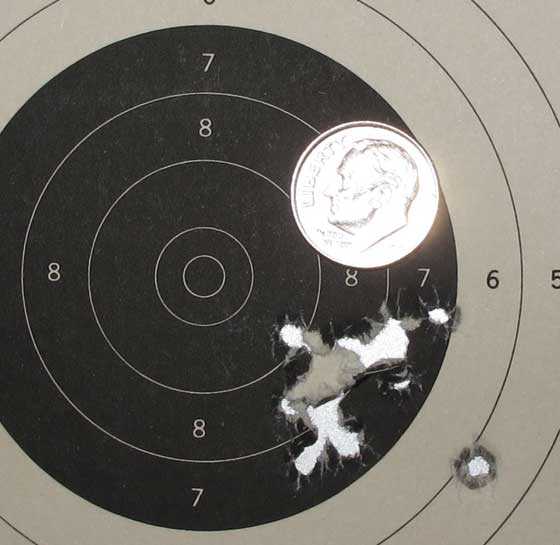 Don't shoot from directly above a bright subject.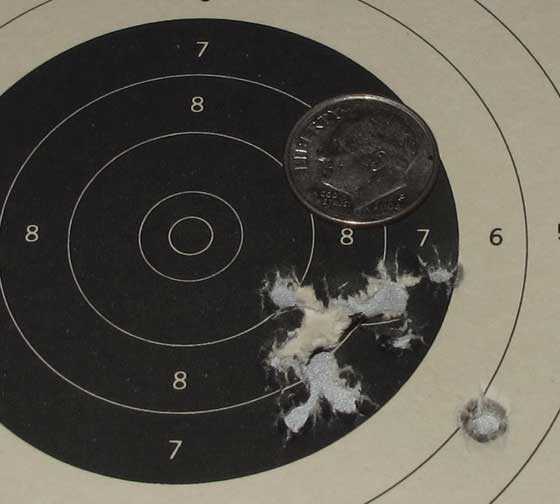 On the other hand, an angled shot isn't the answer either.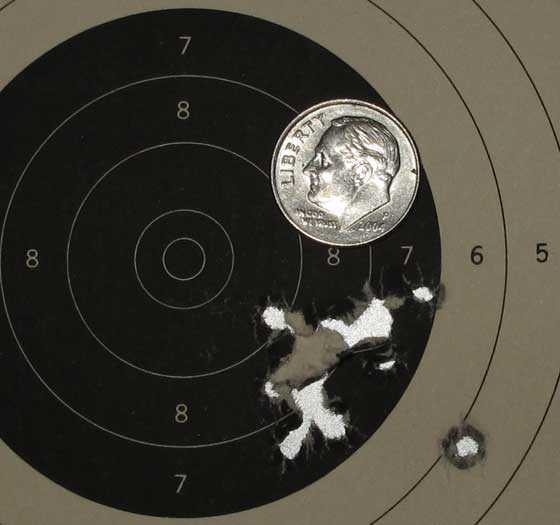 The answer is to make a slight angle and also decrease the flash. Then, process the image better.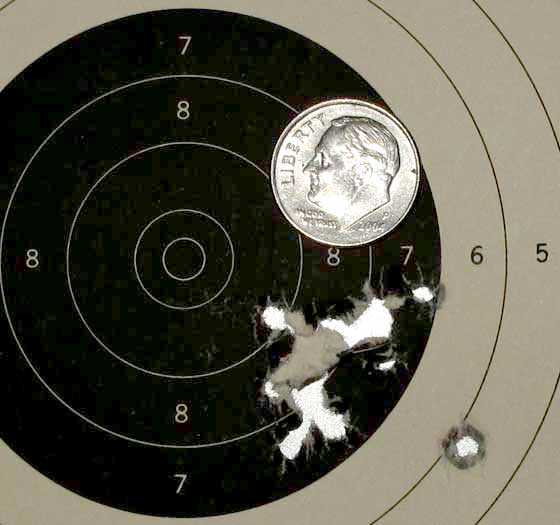 Once the light is adjusted in Photoshop, there's plenty of detail on the bright subject as well as the dark one.
Summary
Of course, you never use flash when you don't have to. A tripod and long exposure is always better, if you can do it.
Say — what about those phone camera shots I promised you? Well, I'm out of time, but here's one just for thought. It was taken without flash outdoors and is large enough and sharp enough to be published in print.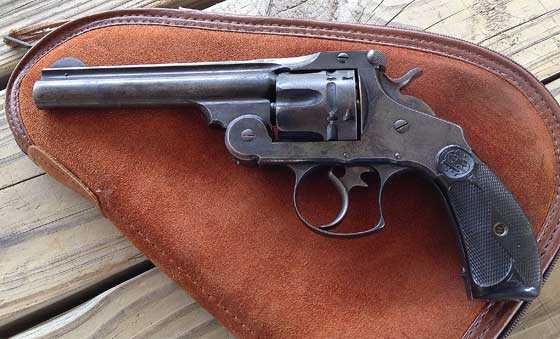 I took this photo of a S&W .44-40 Frontier at the gun range with my iPhone. It's actually 300 dpi and 9 inches wide!