by Tom Gaylord, a.k.a. B.B. Pelletier
The art of collecting airguns: Part 2
The art of collecting airguns: Part 6
The art of collecting airguns: Part 7

My Marlin Ballard was made in 1886 and still looks almost new.
Today is for blog readers Kevin, Robert of Arcade and for all airgunners who love more than just airguns. You love the shooting sports, and everything that goes with them.
This is an airgun blog and believe me, today's report actually does relate to them. This is the ongoing report of a Marlin Ballard rifle I acquired right after I got out of the hospital in 2010. As you can see in the photo above, the rifle is beautiful; but more than that, it touches the lives of all my friends — my late friend Mac, my shooting buddy Otho and Kevin, who often comments on this blog! In fact, Kevin is the one regular blog reader who has actually seen this rifle in person.
Kevin was so taken with this rifle when I originally reported on it that he sent me a gift of the book Ballard — The Great American Single Shot Rifle by John T. Dutcher. But he went way beyond just sending the book. He went to Mr. Dutcher personally with prints of the photos I showed in the first report and spent two hours with the author, examining the rifle through the photos. I was asked to take the rifle apart and photograph all the serial numbers plus various details inside the gun, which I did. From what he sees, Dutcher thinks this is a special-order, factory-made rifle, which is a specific category of Ballard made for high-volume retailers like John Lower of Denver.
I started shooting the rifle almost immediately after getting it, though I've always been very careful not to load it too heavy. As well-made as the Ballard action is, the metallurgy is not up to modern standards. So, it gets only reduced loads that develop low pressure and only lead bullets alloyed with a small amount of tin. The way I'm loading the gun, it should hold up for 100,000 rounds or more, only a few of which will be fired by me.
I wrote a couple reports on my early progress, which are in the links listed above. But I stalled out and stopped reporting on the rifle several years ago. Today, I will bring you up to speed with what's been happening; and, no, I haven't had a breakthrough in accuracy — yet.
I continued shooting the Ballard with commercial cast bullets, then I purchased a Lee mold and cast some bullets of my own. My bullets did as good as the commercial ones, even though they're not perfectly round. It's not uncommon for cast bullets to be out of round by a thousandth of an inch or sometimes more, but it would be better if they weren't.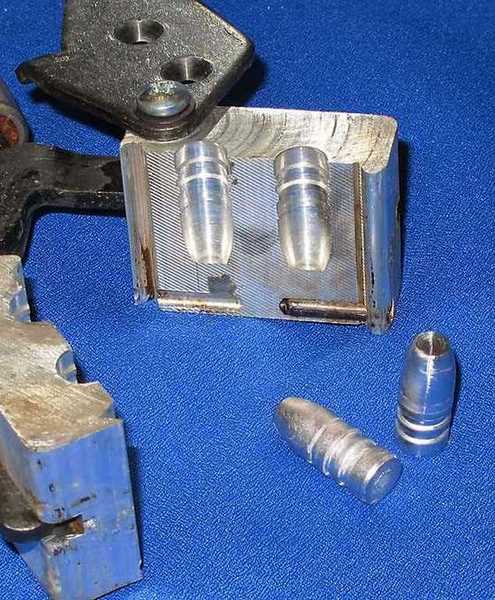 Lee bullet molds are inexpensive, but they do make fine bullets.
Schützen shooting
One thing I tried with the Ballard was loading it like a schuetzen rifle. Schützens are extremely accurate target rifles that held most of the world's records for groups out to 200 meters until recently. They're single-shot rifles whose cartridges are loaded one at a time at the range. A schützen shooter sets up his reloading equipment right on the rifle range. His powder measure is set to throw a single charge of powder. If he wants to shoot more than one rifle, he has a powder dropper for each of them, and only a single powder charge is used.
The bullets he has cast and kept in order as they fell from the mold. He doesn't worry about weighing the bullets because he uses a mold that is so perfect it never varies by more that one-tenth of a grain in weight, as long as he keeps the lead alloy the same. But to guard against any variation, he shoots the bullets as they dropped from the mold…so the alloy will not be that different. And you thought airgunners were anal! Schützen shooters make benchrest shooters look like weasles on caffeine.
They use a single cartridge case that gets fired and reloaded hundreds of times. They file a notch into the edge of the rim of the case, and that cartridge is always loaded into the chamber with the notch pointing straight up so there's never any variation. The case is never resized because it doesn't hold the bullet. It's just filled with powder and a wad and then loaded without a bullet. Because the brass isn't worked and is always fired in the same chamber, it lasts a very long time!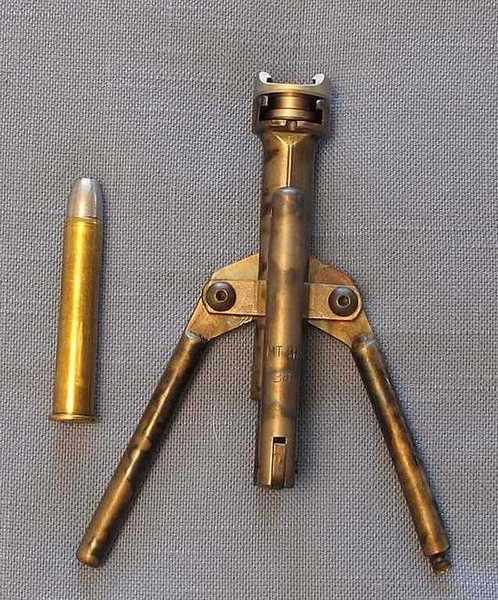 This simple tool is all you need to load cartridges at the range: A Pope capper-decapper.
The bullet gets loaded into the bore and positioned 1/16 of an inch ahead of the cartridge case, which is loaded after the bullet. A special mechanical bullet seater is used to do this because it's difficult to push a solid lead bullet into rifling. Airgunners know this because loading solid pellets into a barrel is a nightmare! Only AirForce Airguns designed their barrels to accept solid pellets, and even then, they're still hard to load.

This is a simple bullet seater. The bullet fits into the mock cartridge on the end of the seater. The seater is then pushed into the breech, and the bullet is pressed directly into the rifling. Higher grade seaters are mechanical with good leverage.
I tried loading my Ballard the schützen way, and I can report the following. Doing it this way, where you reload the cartridge after each shot, slows down your shooting to one shot every five minutes, or so. I suppose you could do it faster, but that's one of the real benefits of doing it this way. You don't have to be fast. I can shoot a 10-shot group in the same time another shooter arrives at the range, sets up, goes downrange to put up his targets, shoots several boxes of commercial ammo, retrieves his targets, knocks down, packs up and leaves. It takes us both about an hour; but at the end of it, my heart is beating 55 times a minute and I feel like I've been sitting on the veranda drinking a mint julep!
Schützen shooting is relaxing! I enjoy it very much, so I figuratively bit the bullet and bought a top-quality handmade bullet mold from Hoch so I could seat the bullets properly and do it right. That mold was not cheap, and it took about 6 months to be made to my specifications.
A breech-seated bullet has two different sizes to its body. The forward part is sized to ride on top of the rifling lands, and the rear part is exactly as wide as the grooves. When I measured my rifle, I found the lands measured 0.376 inches across (one side of the bore to the other) and the grooves were 0.384 inches across. Those two measurements were what I gave to the mold maker, along with the lead alloy I intended using (40 parts lead to 1 part tin). The mold he sent to me throws a bullet that measures exactly those dimensions, plus it's uniformly round. Those of you who worry about pellet head sizes know what I'm talking about!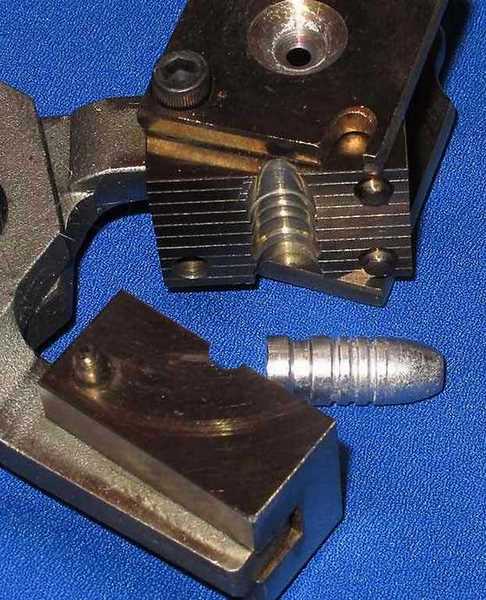 This custom bullet mold from Hoch is a nose-pour design, like Harry Pope used to make. This breech-seated bullet has two base bands that are 0.384″ wide and three nose bands that are 0.376″ wide. The nose bands are supposed to ride on top of the rifling — not be engraved. That makes the bullet easy to seat into the rifling.
Oh-oh!
But when I went to the range to try my new bullet — IT DIDN'T FIT! The nose was too fat and was being engraved by the rifling, which prevented me from seating the bullet in the barrel with anything short of a hammer. Obviously, I wasn't going to do that! I pouted instead. I lost interest in the rifle for several months. But I always come back, and this time I remembered what the black powder shooters say: Black powder is better than smokeless when accuracy is on the line.
The bullet from my Lee mold is a little too small for the barrel, but black powder upsets the base. So, I reckoned that might work. I loaded some cartridges with black powder and the Lee bullet and went back to the range. With black powder, I had to clean the bore after every shot, but working with the Nelson Lewis combination gun trained me to do that, so it wasn't a problem. Alas, these cartridges were no more accurate than the smokeless rounds I'd been shooting. I probably didn't spend enough time perfecting my loading technique and was getting frustrated. And a frustrated B.B. doesn't make good decisions.

Over the past 2 years, I've shot many targets like these with the Ballard. All have groups around 3 inches at 100 yards.
Over two years have passed since I acquired the rifle, and I was still stuck in the same place. I couldn't shoot even one of my new bullets from my expensive new mold, and the best I was able to do wasn't as good as I've done with other more mundane rifles shooting lead bullets. If I was a golfer, this would be where I wrap my expensive drivers around trees and take up drinking.
A strange encounter
Then something happened. Just a few months ago I was out at the range for another round of humiliation, and I happened to meet a real schützen shooter. I'd met him there before, but never when I had the Ballard with me. He was putzing around with one of his exotic thundersticks, and we got into a discussion of my frustrations. Well, maybe not a real discussion. Actually it was more like I went over and started sobbing on his shoulder about all my woes. But you get the picture.
He told me about another mold maker — the guy I should have gone to in the first place. Long story short, he sold me on trying another new mold. This one will be ready in 3 weeks, plus he told me all the schützen shooters go to this guy for their molds. I was straight on everything else. I was making my loads with the same equipment and in the same way he was. So, the mold must be the answer. Right? Please tell me I'm right because I've spent even more on this new mold than on the last one!
Oh, maybe I should also tell you this. I slugged the bore of the rifle again, to find those critical dimensions for the new mold. And this time I asked my shooting buddy Otho to check my measurements. I'd been two-thousandths off on the first mold, so it was engraving the rifling where it shouldn't. We not only confirmed that fact, we measured the slug with several different measurement devices this time.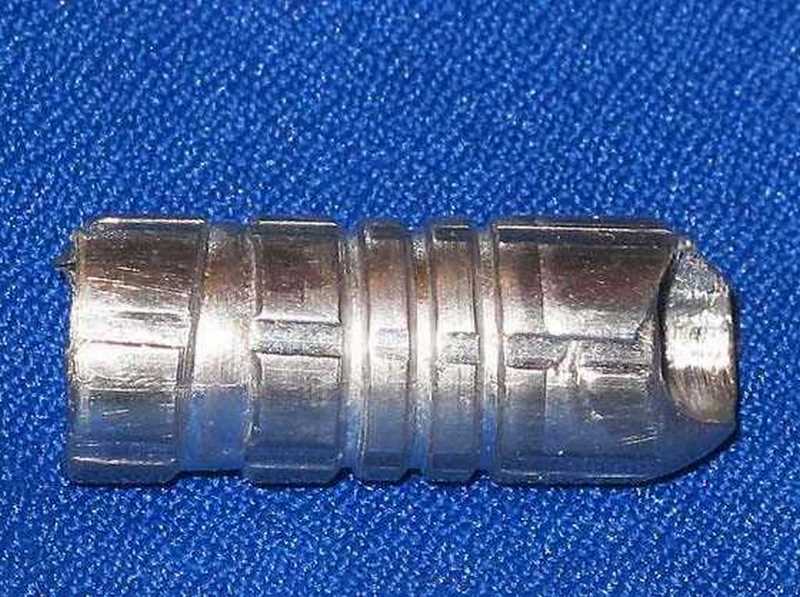 The internal dimensions of the bore are determined by upsetting a lead slug in it so it completely fills all space. Then drive it out and measure it. The grooves measure 0.385″ across and the lands measure 0.374″ across. Two people used different measuring devices to arrive at the same dimensions, so they should be correct.
The moral of the story
I like giving you guys good news. Who doesn't? But not everything turns out the way we want it to, and there can be a lot of value in reporting the failures, too. I don't mean so we can go spray-paint the names of the evil airgun manufacturers on overpasses, but so we can better understand this shooting thing we all do.
So, for Kevin and Robert and everyone who's interested in the rest of the story, that's what's been going on with my Ballard. I've had visions of showing you impossible half-inch 10-shot groups at 100 yards from this rifle, all the while realizing with bitter irony that my AR-15 — a rifle I've publicly criticized for over 40 years — can actually do it. I'm not there yet (with the Ballard). Maybe I never will be, but the pursuit of excellence is what keeps me going. And the days spent with air rifles like the Walther LGV are what keep me sane.
Big Shot of the Month
Pyramyd Air's Big Shot of the Month is Chris Ennis. He'll receive a $100 gift card. Congratulations! If you'd like a chance to be the next Big Shot, you can enter on Pyramyd Air's Facebook page.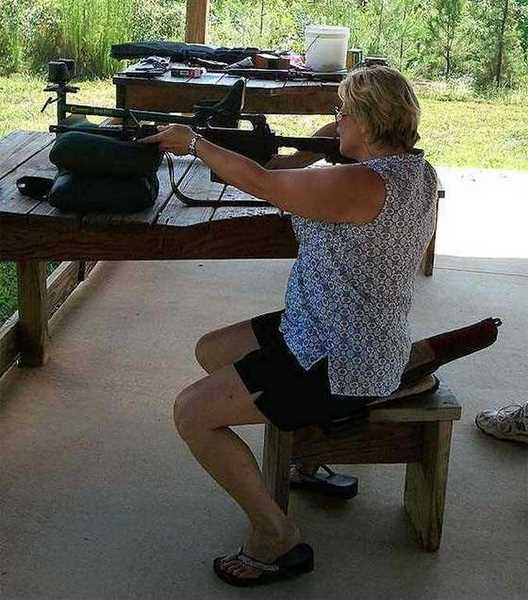 Chris Ennis is the Big Shot of the Month on Pyramyd Air's facebook page.

by Tom Gaylord, a.k.a. B.B. Pelletier

Walther LGV Olympia was a top-quality 10-meter target rifle from the 1970s.
It's play time again, today, for this is the day we shoot the Walther LGV Olympia target rifle at 25 yards in preparation for shooting it at 50 yards. This report is a look at the vintage Walther LGV platform as a sporter, rather than the 10-meter target rifle that it is. With Walther bringing out the new LGV models, I thought it would be nice to see how the original LGV did in the same test.
I have no idea which pellet to choose for shooting at 25 yards — to say nothing of shooting twice as far. So, today's test was nothing beyond my best guess of what might work well. Because I'll be shooting at a fairly long range with this relatively low-powered spring rifle, I knew the pellets had to be domes. Wadcutters start to fall off in accuracy after 25 yards, and pointed ones aren't that accurate to begin with. But good domes can be as accurate as good wadcutters, and they hold their accuracy a heck of a lot longer.
I'm shooting 10-shot groups off a rest at 25 yards, using the target sights that belong on the rifle. Ten shots should show which pellet or pellets are the best. I'll also try each pellet seated flush and seated deep, so there will be 2 groups shot with each pellet.
JSB Exact Express
The JSB Exact Express pellet is a fairly lightweight domed lead pellet that's new to me. I tried it in the velocity test for the first time and learned that flush-seated pellets leave the muzzle faster than deep-seated pellets. That was the reverse of what 2 other pellets did in that test.
The first 10 shots were with flush-seated pellets. They made a group that measures 0.657 inches between centers; but within that group, there are 8 shots in a 0.257-inch group. What can we say about that? There were no called fliers, and I feel the 2 shots that strayed from the main group did so on their own, without the rifle contributing. I'm looking at the entire group size and ignoring the smaller group-within-a-group. However, this pellet does merit another chance at 50 yards.

Ten JSB Exact Express pellets seated flush went into 0.657 inches, but 8 of them made a 0.257-inch group. Maybe I should try this pellet at 50 yards.
Next, I shot another 10 JSB Exact Express pellets, only these were seated deep with the Air Venturi Pellet Pen and Seater. This time, the group measured 0.778 inches, and you can clearly see the dispersion of the shots. Deep-seating does not suit this pellet.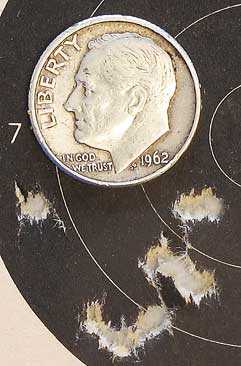 You don't have to use calipers to see that this group of 10 JSB Exact Express pellets that were seated deep are scattered all over the place. Group size is 0.778 inches.
RWS Superdome
The next pellet I tried was the RWS Superdome, which so many shooters love. I had no idea how Superdomes would do in the LGV Olympia, and this test would be the way to find out. First, I shot them seated flush. Ten pellets made a group that measures 0.695 inches between centers. The group was fairly round, which I took to be a good thing, because it means the pellets are fairly evenly distributed.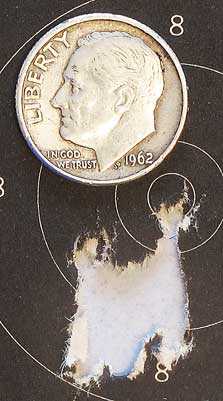 Ten flush-seated RWS Superdomes went into 0.695 inches at 25 yards.
Next, I shot 10 Superdomes seated deep in the rifling. This time, the group wasn't as pretty, but it did measure only 0.649 inches, which is slightly better than the flush-seated group. It's a toss-up between the different seating methods, though deep-seating does seem a trifle better. Perhaps the difference would be greater at 50 yards.

Superdomes seated deep made the better group by a small margin. Ten went into 0.649 inches.
JSB Exact Heavy
The final pellet I tested in the LGV Olympia was the JSB Exact Heavy that I included in the velocity test. We wouldn't normally select a 10.34-grain pellet for a rifle of the LGV's limited power; but when you shoot out to long distances, the weight of the pellet is more important than its starting velocity.
The first group was shot with the pellets seated flush. It measures 0.354 inches, making it the best group thus far. This group is also very round, which is another point in its favor. I think I've found the best pellet to shoot in this rifle at 50 yards!

Ten JSB Exact Heavy pellets seated flush made this remarkable 0.354-inch group at 25 yards.
I now wondered if could this get any better. The next 10 pellets were shot deep-seated and, alas, the answer was…no. I'd gone as far as I was going in this test. Ten deep-seated Express pellets made a 0.79-inch group.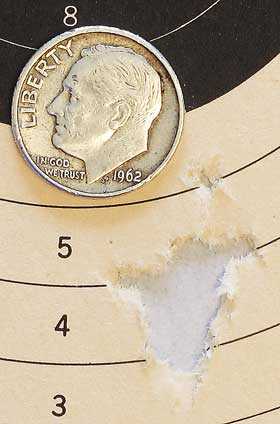 When seated deep, the Heavy pellets opened up to a 0.79-inch group at 25 yards. There's one pellet hole above the main group that may be hard to see, but it's there.
So, here at the end of the test we have a very clear example of one seating method triumphing over the other. The Express pellets wants to be seated flush in this rifle.
We also have a clear example of one pellet standing apart from the others. The flush-seated Express pellet made a group that was significantly smaller than all the other pellets I tried. That doesn't mean it's the best pellet in the LGV — just the best of these 3 that I tested. When I go to the 50-yard range, I need a day with zero wind — and I'll try the JSB Exact Express first.
Considerable drop
You may have noticed that the groups were all below the bullseye. That was with the rear sight cranked up pretty high. There's still some room for more height; but at 50 yards, I know the gun will be printing its groups low. I'll have to compensate for that.
by Tom Gaylord, a.k.a. B.B. Pelletier
Part 1
Part 2
Part 3
Part 4a
Part 4b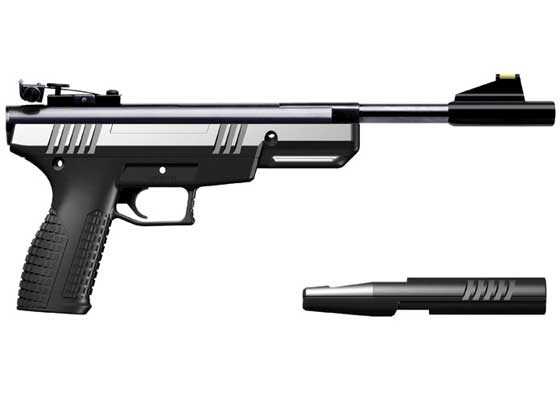 Benjamin's new Trail NP breakbarrel pellet pistol with cocking aid removed.
Before we begin today's report, a word about my late friend, Earl (Mac) McDonald. His family has set up a memorial page in his name to collect finds for research into the causes of Creutzfeldt-Jakob disease, which is one of the names prion disease goes by. Most of you knew Mac only through his writing and testing here on the blog; but a few of you were friends with him through this hobby, and I thought you would like to know about this.
Today, we'll continue testing the Benjamin Trail NP pistol. Although today's title says Part 5, it's actually the 6th report because I had to break Part 4 into sub-parts a and b.
We'll look at the accuracy of those 3 lead-free pellets that Crosman provided with the test pistol. As before, I'm shooting at 10 meters, and the gun has a red dot sight mounted. I'll describe all the other shooting conditions as we go. It has been so long since I last tested this air pistol that I had to read both parts of the fourth report to find out how to shoot the pistol for the best results.
I decided to shoot everything with the cocking aid attached. My testing demonstrated that it didn't hurt the accuracy, and in a few cases it seemed to help it. At any rate, it makes the pistol easier to cock, so I left it on for this whole test.
Crosman Powershot Penetrators
The first pellet I tested was the Crosman Powershot Penetrator. It's a synthetic-bodied pellet with a heavy non-lead metal core. They fit loosely in the breech, so I seated them flush but did not try to seat them deep. Since some of my best shooting was with the gun rested directly against the sandbag last time, I decided to start out that way. Imagine my surprise to see a near-pinwheel shot with the first pellet! [A pinwheel is a shot in the exact center of the target, and it refers to taking out the extremely small 10-ring of a smallbore target so that just the white scoring ring remains behind.] The shot was so good that I stopped and took a picture of it to show you — in case history was about to be made. This happens about one time every ten thousand shots or so for me, and it's usually by pure chance. It is, however, the sort of thing that gives rise to lies and legends and is probably the basis for the Cargo Cults.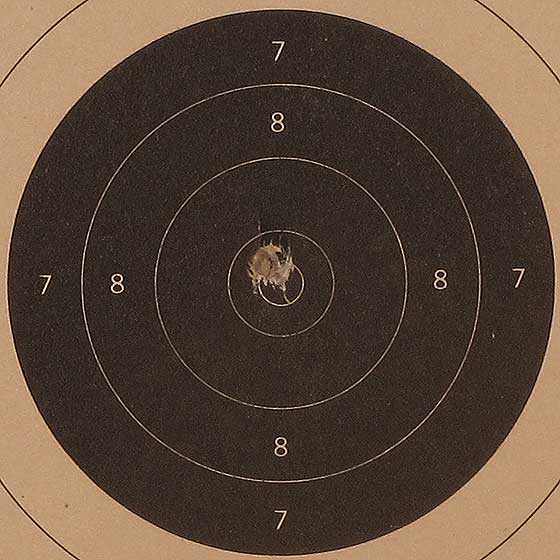 Just in case I was about to make history, I photographed the first shot of the Benjamin Trail NP pistol with Crosman Powershot Penetrators.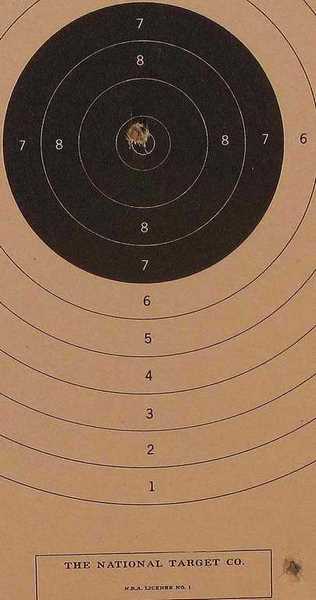 Shot No. 2 (at the bottom of the picture) made it clear that the first shot was a happy accident. Resting the pistol directly on the sandbag was not the thing to do!
Much as I would have loved to bask in the radiance of that first shot, shot No. 2 dispelled the miracle. Pellet 2 landed 4 inches south of the first one, humbling me once more.
Here's a lesson in testing airguns. When something goes wrong like this, and all your experience says that it should have been wrong to begin with (resting a spring gun directly on a sandbag), take the hint and change your ways. So I did. I moved my hands forward of the bag and held the gun with no part of it touching anything except me. Then, I shot 10 more shots into a very decent group that measures 1.587 inches between centers. In the grand scheme of things, it's not a bad group for this pistol. Not the best by any means; but for lead-free pellets, it's not bad.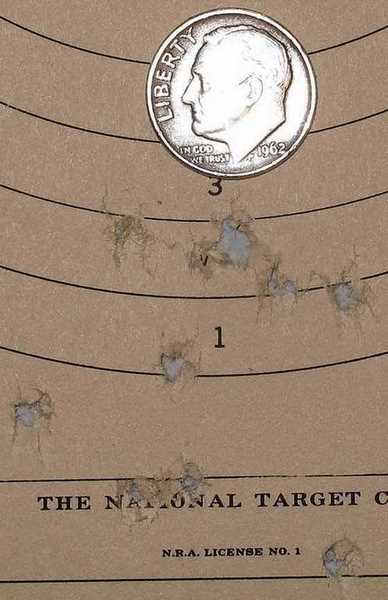 Resting the arms on the sandbag and holding the pistol free was the way to go. Ten flush-seated Powershot Penetrators made this 1.587-inch group at 10 meters.
Crosman SSP hollowpoints
Next, I tried the SSP hollowpoint pellets seated flush and with my arms resting on the bag but the pistol not touching it. This was how I held the gun for the remainder of this report. This time, 10 pellets made a slightly smaller group — measuring 1.513 inches. Amazing! Who would have thought that lead-free pellets could be so accurate?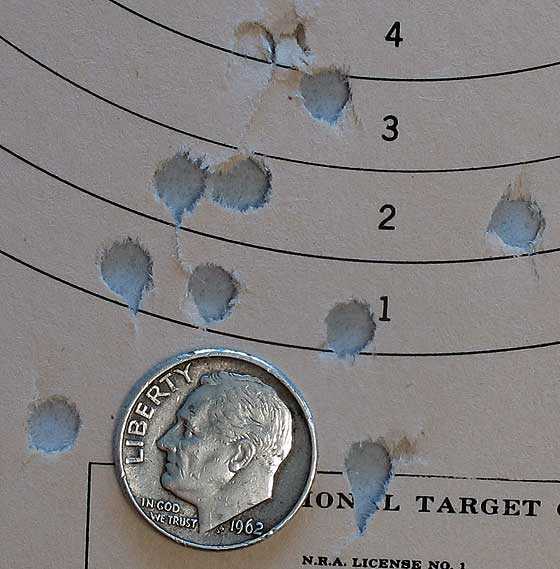 Ten SSP hollowpoints seated flush made this 1.513-inch group at 10 meters. This is a decent group for lead-free pellets.
This pellet fit the breech tighter, so I figured I could try to seat them deeply. Next, I shot 5 of the same SSP hollowpoints seated deep with the Air Venturi Pellet Pen and Pellet Seater. When the first 2 pellets landed very close to each other, I thought I might be on to something; but after 5 shots, I knew differently. I had a vertical string that measures 2.013 inches between centers. It's very tight side-to-side, so I was holding the pistol okay…but the velocity of the pellet was way off, shot-to-shot.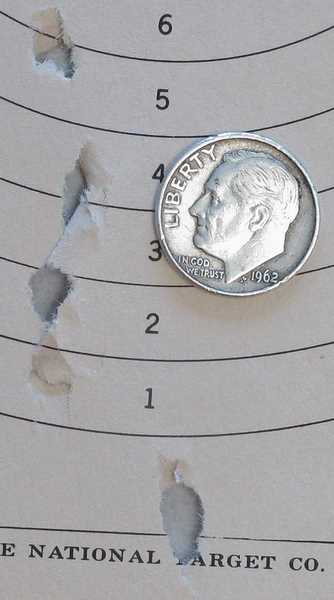 It took only 5 shots to learn that nothing was gained by seating the SSP hollowpoints deep. Group measures 2.013 inches.
Allow me to explain what I mean by the velocity was off. I'm not referring to the velocity from the muzzle to the target. At 10 meters, you can vary the velocity by 50 f.p.s. and not affect the group that much. But the time the pellet remains inside the barrel while the gun is moving affects things greatly. That is what I mean by the velocity affecting things. I really mean the pellet dwell time inside the barrel because that determines where the muzzle will be when the pellet exits. Obviously, when this pellet is seated deep, that time varies enough to affect where the pellet strikes the target — even at 10 meters.
The bottom line — deep-seating is out for this pellet. And another testing tip — I don't need to fire a second 5 shots to figure that out. I can stop here and move on with the test.
Crosman SSP pointed pellets
The last pellet I tried was the Crosman SSP pointed pellet. This is another lead-free pellet. Instead of a hollow point, it has a pointed tip. The weight is the same 4 grains as the SSP hollowpoint. I seated them flush with the breech and started to shoot, but they were hitting so low that some were below the target paper. So, I stopped and adjusted the red dot sight up several clicks, then started the group all over. Ten pellets landed in a 5.004-inch group that told me the test was over. Sure, I could have tried seating these pellets deep or holding the pistol directly on the sandbag, but this huge group told me it wasn't worth the effort. What was the best I could do — shade the hollowpoints by a fraction of an inch? No, I know when to hold 'em, and I also know when to fold 'em. Now, it was time to end the test.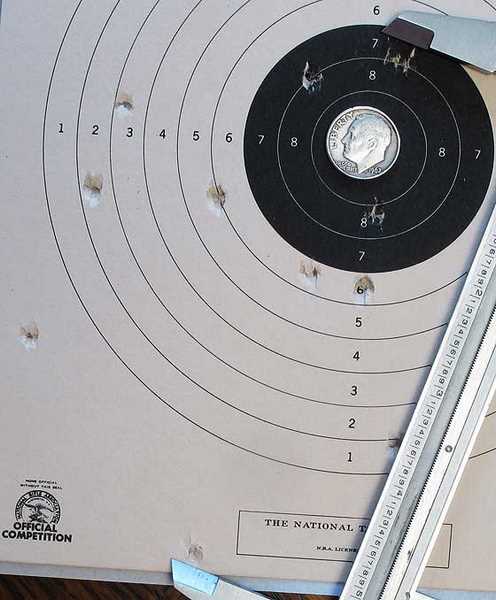 When your target looks like this, you'll know what to do.
Impressions so far
I remain impressed by the Benjamin Trail NP pistol. For the money, it offers performance well beyond what most airguns of equivalent price can give you. It's an air pistol you must be dedicated to, however, because it takes some getting used to. But for smashing power with decent accuracy, I can't think of another spring pistol in this price range that does as well.
There is still one final test to do. I want to rerun the velocity test. That will establish if the hundreds of shots we've given this pistol to this point have finally broken in the gun.
by Tom Gaylord, a.k.a. B.B. Pelletier

Gamo Whisper Fusion IGT air rifle.
Today, we'll look at the velocity and power of the Gamo Whisper Fusion IGT air rifle. This breakbarrel rifle has a gas spring that seems to intrigue many new airgunners, so let's talk about that first. A gas spring is a unit that uses compressed gas rather than a coiled steel mainspring to power the piston. Besides that, it's identical to a conventional spring-piston powerplant.
What's in a name?
There are many names for the gas spring. Some call it a gas strut, others call it a gas ram, but all these names refer to the same thing. We're talking about a mechanical device that contains compressed air or other gas (Crosman uses nitrogen — hence Nitro Piston) to push the piston. When the gun is cocked, the piston unit is pushed backwards — making the compressed gas reservoir shorter. When the gas chamber inside the piston becomes smaller, it causes the internal pressure to rise. When the gun fires, this compressed gas pushes the piston forward, and the piston seal compresses the air in front of it.
None of the gas inside the gas spring mechanism escapes. It remains inside, where it can be used again and again. Gas springs are found on modern cars — holding open the heavy back decks and front hoods that used to be held by coiled steel springs. The gas springs on a car usually last for more than a decade, and it isn't uncommon to find them still working in cars that are 20 years old. Throughout all that time, they've been kept fully compressed 99.9999 percent of the time, yet they can still do the job for which they were designed. This is why we say that an airgun with a gas spring can be left cocked for a long time without loss of power.
The advantages of a gas spring in a spring-piston airgun are:
* Can remain compressed a long time without power loss
* Are lighter than powerplants with coiled steel springs
* Vibrate less
* Move faster than coiled steel springs
* Are less sensitive to temperature changes
The disadvantages of a gas spring are:
* Impart a sharp crack to the discharge
* Require nearly full effort even when the piston is all the way forward, making for harder cocking
* Have a sharp recoil that can hurt if the gun is held too tight
Velocity
Now, it's time to look at the velocity and power of the Whisper Fusion IGT. The first pellet I tried was the JSB Exact RS, a 7.33-grain pellet that's pretty light for this powerplant. RS pellets averaged 938 f.p.s. after I allowed the rifle a few shots to settle down. The low was 919 f.p.s. and the high was 949 f.p.s., so the spread was 30 f.p.s. I think that will tighten with time and more shots on the powerplant.
At the average velocity, this pellet generates 14.32 foot-pounds at the muzzle. I'd expected more power; but once the gun had settled down, it was fairly consistent at that speed. The RS pellets fit the breech somewhat loosely.
RWS Superdomes
Next, I tried the 8.3-grain RWS Superdome pellet. They averaged 915 f.p.s., with a spread from 909 to 921 f.p.s. The gun is already starting to stabilize.
At the average velocity, this pellet generates 15.43 foot-pounds of energy at the muzzle. Superdomes fit the breech snug but not tight.
H&N Baracuda Match
Then, I tried some H&N Baracuda Match pellets. At 10.65 grains, these were the heaviest pellets I tried. The Whisper Fusion IGT belted them out the spout at an average 824 f.p.s., for a muzzle energy of 16.06 foot-pounds. The spread went from a low of 822 f.p.s. to a high of 828 f.p.s., so the gun was extremely stable with these pellets.
Baracuda Match pellets fit the breech tighter than all other pellets. That tells me the rifle needs something to push against, and deep-seating would not be recommended.
Gamo PBA
The final pellet I tried was the lead-free Gamo Raptor PBA, a 5.4-grain domed pellet. They averaged 1,232 f.p.s. in the rifle, with a range from 1,217 f.p.s. to 1,245 f.p.s. Even with this lightweight pellet, the rifle is still very stable. The total spread is just 28 f.p.s.
At the average velocity, the Raptor PBA pellets produced 18.2 foot-pounds, so the energy is definitely up. But these pellets fit the breech the worst of all those I tested. Some were so loose that they fell out when the barrel was closed, while others fit extremely tight. Because of this, I doubt they'll give good accuracy.
Cocking effort
The Whisper Fusion IGT cocks differently than any gas spring rifle I have experienced. The initial part of the cocking stroke rises to about 30 lbs. and stays there until the final few inches of the stroke. It increases to 43 lbs. of effort for the last little bit. Most gas springs are consistent throughout their entire cocking stroke, but not the test rifle. It requires two hands for me to cock it more than a handful of times.
Trigger
The trigger-pull seems light and smooth. Of course, we will find out more about that in the accuracy test, but for now it does seem very nice. This is the new Smooth Action Trigger, and it seems to be lightyears better than Gamo sporting triggers of the recent past. I think it'll be a winner. Stage 1 is short and takes 4 oz., while stage 2 breaks at 3 lbs., 12 oz.
Opinions so far
The rifle has less velocity than the 1,300 f.p.s.  advertised, but in this case that's a good thing. It has exactly what a hunter wants in terms of power. It seems to want to be stable and should not require a lengthy break-in, which is a good thing. Accuracy testing comes next, and we'll see what it can do in the package Gamo provided. I'll shoot it with open sights…first at 10 meters, then scoped at 25 yards.
by Tom Gaylord, a.k.a. B.B. Pelletier
Today, we'll test the Walther 1250 Dominator at 50 yards. I had to go out to the rifle range for this test, and we've been having some winds lately, so it took some time before I got a calm day. But this day was perfectly calm — I couldn't have asked for a better day to shoot an air rifle at long range.
As you recall, the Dominator takes a 300-bar fill, which is 4,350 psi. I had to delay the test to get my carbon fiber tank refilled, and even then I didn't have enough air for a full fill. When you fill a tank, it gets warm; and when it cools back down, you lose several hundred psi. I was able to fill to about 4,100 psi this time, but that single fill was enough air to last for the entire test, which was about 50 shots. And the needle in the pressure gauge is still in the green, which means there are more full-power shots remaining in the rifle.
I normally shoot from one of two mechanical rifle rests when I'm at this range, but for this test I decided to use my long sandbag, instead. The rifle lays in the crease on top of the bag and doesn't move. There's also more flexibility to reposition the rifle when required. Since this is a repeater that has to be reloaded, this flexibility was a good.
Since the circular clip holds 8 pellets, I decided to shoot 8-shot groups. It's too much trouble to load just two pellets by themselves. So, all the groups seen today are 8-shots.
RWS Superdomes
The first pellet was the venerable RWS Superdome. They landed close enough to the bull that I didn't bother to adjust the scope. Eight pellets made a group that measures 2.017 inches between centers. The pellets spread out horizontally, but there was no wind whatsoever. I don't think this pellet is suited to the rifle.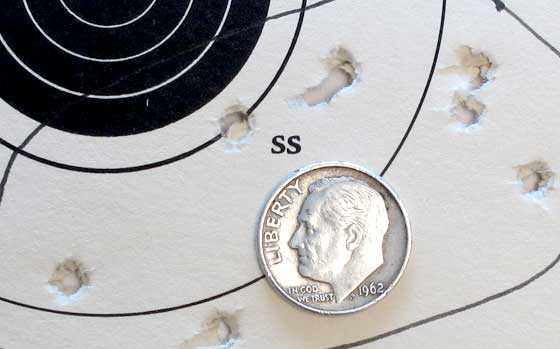 Ten RWS Superdomes went into 2.017 inches at 50 yards.
Following this, I adjusted the scope up and to the left just a little to compensate for where the Superdomes had landed. Then, I shot a group of JSB Exact Heavy pellets.
JSB Exact Heavy
I expected the JSB Exact Heavy dome pellet to give good groups, and it did — sort of. Seven of the 8 pellets landed in a group that measures 0.753 inches between centers. But 1 shot landed apart from the group, opening it up to 1.933 inches. This shot was somewhere in the middle of the string of 8. It wasn't the first or last shot, and there was no called flier. It's just somewhere in the string.
When something like this happens, I'm tempted to believe that it was caused by a defective pellet or by something just as obviously wrong. I think the JSB Exact Heavy is a good pellet for this rifle.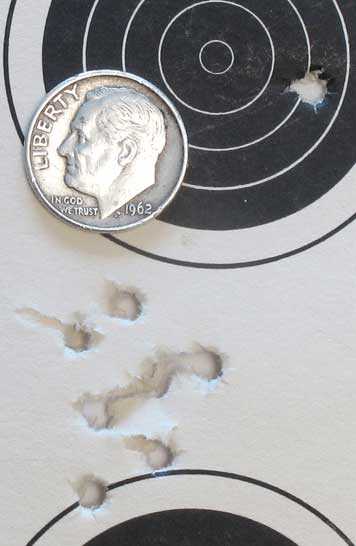 Seven JSB Exact Heavies went into 0.753 inches, but an unexplained lone shot strayed higher to increase the group size to 1.933 inches.
Beeman Devastator
I probably shouldn't have tried Beeman Devastators because they're essentially wadcutters in profile, and wadcutters don't do well at long distances. But I did try them, and they strung vertically into a group that measures 3.067 inches. Obviously, they're a non-starter for this rifle at 50 yards.

Eight shots in 3.067 inches. Beeman Devastators were not too good. Sorry for the lines, but the Devastators overlapped another group and I had to mark them both to keep them separated.
JSB Exact RS
Next, I shot a group of JSB Exact RS domes. As light as they are, I wouldn't normally recommend them for a precharged rifle of the Dominator's power but had them along, so why not? Eight went into 0.945 inches, so I'm glad I tried them. This was the smallest group of the test. I do want to emphasize that the day was calm, because these light pellets do get blown around a lot.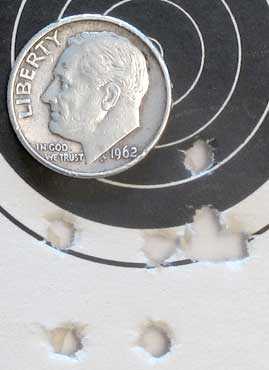 Eight shots in 0.945 inches. JSB Exact RS pellets were the best of the test.
Crosman Premier 10.5-grain
Next up were the heavy Crosman Premier 10.5-grain pellets. I expected them to do well in this rifle, and they didn't disappoint. Eight went into a group measuring 1.19 inches between centers. While that number sounds a little large, look at the group it represents. It's a little vertical, but it's not a bad group.

Eight shots in 1.19 inches. Crosman Premier heavies were in the running.
Crosman Premier 7.9-grain
The last group I shot was with the 7.9-grain Crosman Premier lite. Eight of them made a group measuring 1.371 inches. That's a little large when there are other pellets that are better, but it's not a bad showing for 8 shots at 50 yards

Eight shots went into 1.371 inches. Given the other good pellets, Premier lites are probably not the pellet of choice, but this isn't bad.
The bottom line
I was glad to finally have the chance to test the Walther 1250 Dominator. It was a good rifle, overall, but I took exception to removing the air tank to fill it, the high fill pressure and the discharge noise.
However, out at the range, the rifle was much quieter — far quieter than a rimfire. Also, the trigger that I complained about when shooting indoors was actually no problem outside. I don't know what the difference was, except that it was a different day and I saw things differently. I must say, there are a lot of very powerful shots in the tank once you get it up to pressure.
I did get used to fiddling with the bolt handle, and the rifle fed without a problem during this test. Installing the rotary clip is easier than on most other PCP rifles.
I would have to say that the 1250 Dominator is a fine precharged air rifle, but it runs into a lot of stiff competition. Buyers will get it because they like the overall styling, the all-weather materials it is made from and the high shot count.
by Tom Gaylord, a.k.a. B.B. Pelletier

Walther LGV Olympia was a top-quality 10 meter target rifle from the 1970s.
Don't get confused. The title of this blog is the Walther LGV Olympia field test, but the first part was titled, We interrupt our regular program….I used that title so I wouldn't give away the topic that first day. This report is, indeed, about the Walther LGV Olympia of history, but this is a new take on it. I already reported on it two and a half years ago, but that report was about the rifle as a vintage 10-meter target rifle, which at that time was all the LGV had ever been. Only in 2012, when Walther brought out their new line of sporting rifles under the LGV model name, was the LGV anything except a breakbarrel target rifle.
We've now looked at the .177-caliber Walther LGV Master Ultra rifle and also at the .22-caliber LGV Challenger (which I now own), so I thought it might be nice to see how the original LGV stacks up to these new rifles. This test will look at the vintage LGV Olympia at 25 yards and at 50 yards. At both distances, I'll use the rifle's target sights. I mentioned last time that when I tested the FWB 300S at 50 yards, it didn't seem to matter that much whether target sights or a scope was used, so I see no need to switch the sights on this rifle.
One thing I have learned in the two and a half years since testing the LGV target rifle is how deep-seating the pellet often has a dramatic affect on accuracy. We have seen that with other airguns, but this will be the first time I think I've tested it on a vintage target rifle. This should be an interesting test. And, because the LGV is a breakbarrel, it plays right into the test plan, because breakbarrels are the easiest type of guns in which to seat the pellets deep.
Naturally, I'll use the Air Venturi Pellet Pen and PellSet seater to seat the pellets. It's so easy; because once you set the optimum seating depth, it never changes until you change it. If you don't have a tool, you can seat pellets with a ballpoint pen…but the seating depth is not adjustable.
Today, we're just going to see how well the rifle performs with some sample pellets that might get chosen for the 25-yard test. I'll test the velocity of all pellets both seated flush with the end of the barrel and also seated deep. That will be a good comparison.
JSB Exact Heavy
You must wonder if I've lost my mind, testing the 10.34-grain JSB Exact Heavy domed pellet in a rifle this weak. No, that's one of the types of pellets I expect might do well at 50 yards. It certainly has the capability to buck the wind, so I thought it might be a good one to test. I have almost no experience shooting airguns of this low power level out to 50 yards, so this is just a hunch.
JSB Exact Heavys averaged 500 f.p.s when seated flush with the breech. The low was 499 f.p.s., and the high was 501 f.p.s., so there was a total variation of just 2 f.p.s. That's remarkable for a spring-piston air rifle — I don't care what type it is! This pellet generates 5.74 foot-pounds of muzzle energy.
When seated deep, the same pellet averaged 511 f.p.s., with a low of 509 f.p.s. and a high of 512 f.p.s. The spread opened up to 3 f.p.s., which is still astonishing. Deep-seated pellets averaged 11 f.p.s. faster than flush-seated pellets. The average muzzle energy was 6.0 foot-pounds.
RWS Superdome
The second pellet I tested was the ever-popular RWS Superdome. This is another pellet that I believe might do well at long range when fired from this air rifle. When seated flush, they averaged 552 f.p.s., with a 17 f.p.s. velocity spread from 543 f.p.s. to 560 f.p.s. The average muzzle energy this pellet generated when seated flush was 5.62 foot-pounds.
When seated deep, the average velocity increased by 10 f.p.s. to 562 f.p.s. The spread ranged from 557 to 565 f.p.s., so it tightened up to just 8 f.p.s. The average muzzle energy was 5.82 foot-pounds.
Beeman Kodiak
Next, I tested the Beeman Kodiak pellet. This is another heavy pellet that I plan to try at 25 yards; and if it does well there, at 50 yards, too. At 10.65 grains, this is the heaviest pellet in today's test. When they were seated flush, Kodiaks averaged 483 f.p.s. in the LGV Olympia. The spread went from a low of 478 f.p.s. to a high of 487 f.p.s., so 9 f.p.s. in total. That's still pretty tight. The average energy was 5.52 foot-pounds.
When seated deep, the average velocity for Kodiaks increased to 501 f.p.s. The spread now went from a low of 479 f.p.s. to a high of 515 f.p.s., so a total of 36 f.p.s., which is on the high side. The average muzzle energy was 5.94 foot-pounds.
JSB Exact Express
The JSB Exact Express pellet is one I haven't tried before. It's a dome that weighs 7.87 grains. Normally, I would try the JSB Exact RS pellet in a rifle like this; but when I tested it in the past as a 10-meter rifle, I did try the RS pellets and they didn't seem to do very well at 10 meters. So, I welcomed the opportunity to include this new JSB dome in the test.
Although it's heavier than the RS, this Express pellet is still the lightest pellet I tried in this test. When seated flush, it averaged 585 f.p.s., with a spread from 569 to a high of 593 f.p.s. The average muzzle energy was 5.98 foot-pounds.
Of course, I expected this pellet to go even faster when seated deep, but it didn't. In fact the relationship between deep-seating and velocity turned around 180 degrees with this pellet. The average for deep-seated Express pellets was 547 f.p.s., with a range that went from 545 to 553 f.p.s. The average muzzle energy was 5.23 foot-pounds. So, just like we have seen in some tests of deep-seated pellets in the past, here's another surprise. I wonder what will happen in the accuracy test?
Trigger-pull
The Walther LGV Olympia has an adjustable 2-stage match trigger. The one on my rifle is set very nicely, and stage 2 breaks at 10.5 to 11 oz. I can do very fine work with a good trigger like this.
Impressions thus far
I was surprised by how consistent the rifle is with JSB pellets. The fact that 3 pellets increased when seated deep, while one decreased, is also something curious. It just points out the need to test a gun in as many ways as you can think of, I guess.
Best of all, this test gives me one more opportunity to shoot and handle this rifle. I own many nice airguns, but my work doesn't often afford the chance to play with them; so, tests like this one are a refreshing change for me. And I know that many of you get enjoyment from reading about a fine vintage airgun. It's a nice change of pace.
I do hope the newer readers will see how nice these older airguns are and maybe use the links to explore them more thoroughly. If you're new to the shooting sports, this is where a lot of the fun is found.