Archive for September 2013
by Tom Gaylord, a.k.a. B.B. Pelletier
Every airgun show has a personality, and this year's Roanoke show was no different. It started slow. Dealers were slow to set up — enjoying talking with each other rather than getting everything ready for the doors to open to the public. That's because we got there at 8 a.m., and the doors weren't opened until noon. So, we knew we had time to converse and to see what everyone had on their tables.
I was seated behind Mike Reames' table. Mike is the man who made the swages I reviewed for you a while back. He always has interesting things on his table, and I took some photos for you to see.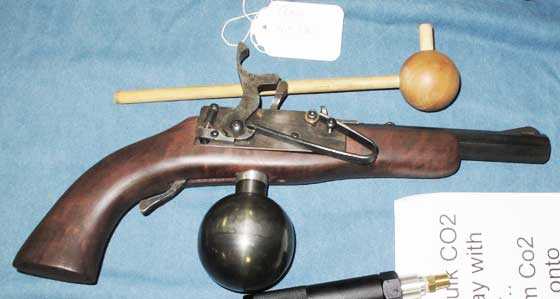 Mike Reames made this outside lock pistol with a ball flask. It's .45 caliber and is charged with CO2.
Each of Mike's creations is unique; and to my knowledge, he's one of only a very few people actively making modern ball flask airguns today. These are not mainstream airguns by any means; but if you want something modern that works and looks like it's 200 years old, he's the man to see.


Reames' ball flask long gun is another unique outside lock airgun that uses CO2.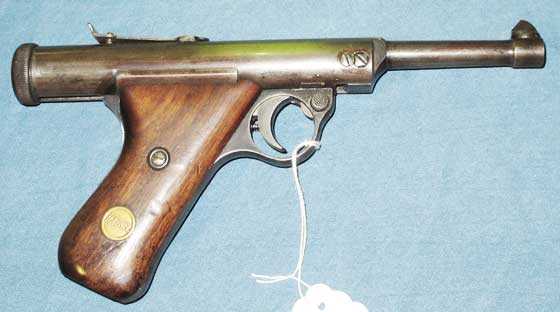 Well-worn Haenel 28 spring pistol was also on Reames' table. These airguns are all-steel and made like firearms. They're built to last forever!
One thing I noticed at this show was a large number of vintage guns had come out of the woodwork. I don't always see many of the older guns at some shows, but this year Roanoke was loaded with them! I'm talking about rare guns from the early part of the 20th century, and some from even earlier.
For instance, there were large numbers of first- and second-model BSA spring guns. BSA invented the model spring air rifle in 1905, and the early ones date from then to 1914. They look old and obsolete until you fire them and discover they perform a lot like the modern guns of today.
There was a special one on Mike Driskill's table. I thought it would be passed over by the crowd (a term I'm using loosely); but on the morning of day 2, our own RidgeRunner came to his senses and bought it. It needs some work, but they're about as complicated as a drinking straw and as rugged as a Harley.


This .177-caliber 1906 BSA underlever may look old, but it can be made to shoot like a modern air rifle. This one dates to one year after BSA first introduced the modern air rifle! Mike Driskill was asking $175! RidgeRunner bought it.
Not everything at this show was vintage, however. Dennis Quackenbush brought several big bore rifles and pistols for customers who had arranged to pick them up at the show, plus he had a couple guns that weren't spoken for. I photographed him unpacking his guns because I knew they wouldn't last long.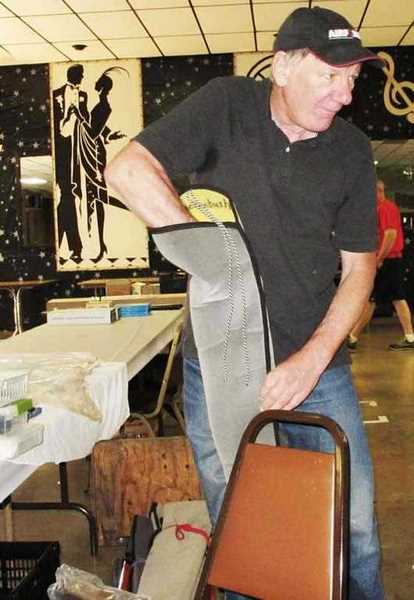 I photographed Dennis Quackenbush unpacking because I knew his guns wouldn't last long on his table.


Quackenbush had a .50-caliber Long Action (top) and a .308 Short Rifle for sale. These were not promised and could be purchased by anyone. They both sold within 2 hours of being unpacked.
Sure enough, when I saw him again a couple hours later, both rifles had been sold, along with 6 big bore pistols that he brought. One guy bought 3!
On day 2, Max, one of our blog readers who hasn't signed in yet, got a .458 Long Action rifle from Dennis. It was a rifle that had been ordered and delivered at the show. Man, was he smiling when the show was over!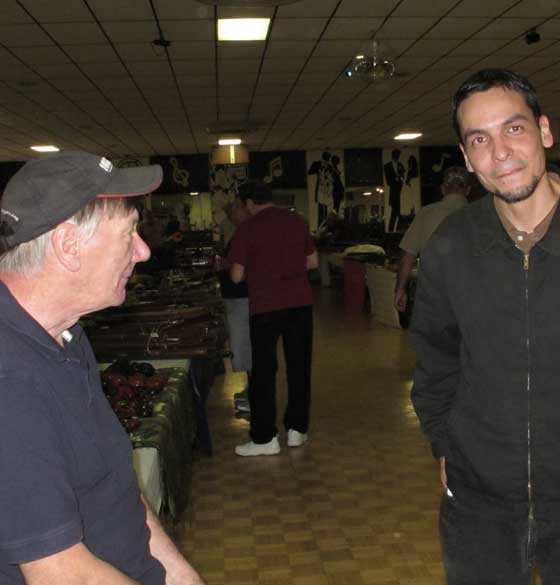 Max and Dennis Quackenbush finalize the deal for a .458 LA rifle.
This show's personality
I figured it out early on the first day. This was the show to attend for killer low prices on fine vintage airguns. Diana 27 rifles? I saw at least 4 of them, ranging from $175 to 250, asking price. But how about a Falke 80 to go with my Falke 90 that I displayed at the show? Dave Bingham had it on his table. Instead of the stock that has a cheekpiece, this one had a plain elm stock. It's believed there are fewer than 300 Falke 80s ever made, and fewer still in existence. Dave had a price of $800 on it, which gives me sort of a ballpark figure to use for mine…although, it's not for sale.


A Falke 80 at the same show as my Falke 90. Notice the absence of a cheekpiece on this one.
But the whole show was like that! How about a Walther LG53 with double-set triggers? The only time I've seen these displayed, they weren't for sale. But here was one for a very reasonable $500. Too many fine airguns — too few ATMs!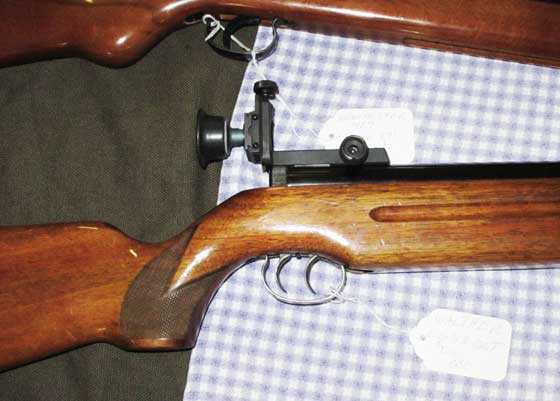 A Walther LG53 with target sights and double-set triggers. It was for sale!
Something new
All you Crosman pistol shooters have a new toy to obsess over. It's an adapter that allows you to connect an adjustable AR buttstock to many of the better Crosman and Benjamin air pistols such as the Marauder. But this device does more than just connect your gun to a stock — it allows you to set the length of pull, the cast-on or cast-off, the height of the butt in relation to the scope line and the cant of the buttpad. In other words, you can now fit the gun to yourself…and, with simple adjustments, fit it to your 9-year-old daughter!
Dave Rensing of www.rarmsinnovations.com invented this all-metal adapter to allow his 8-year-old son to shoot his Marauder pistol, and it works like a charm. The adapter is made of 6061 aircraft aluminum, hard anodized and attaches with no modifications or disassembly of the pistol required. Just attach it to the threaded hole that's already in many of Crosman's top-end air pistols!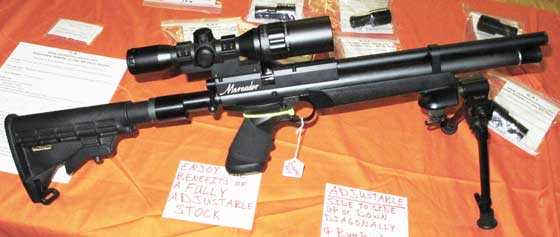 This adapter from R Arms Innovations allows you to connect a collapsible AR stock to several Crosman and Benjamin air pistols. It adjusts for a perfect fit for all sizes of shooters.
More power!
Want to shoot field target with a 150 foot-pound big bore air rifle? A club in Puerto Rico did, so they had Dick Otten of Rhino Targets (formerly After Hours Targets) build them some field targets that can take the abuse.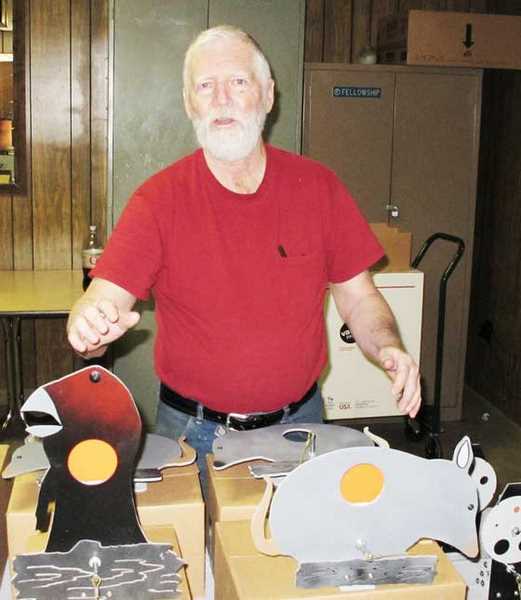 Dick Otten shows several big bore field targets he's made. They can take 150 foot-pounds!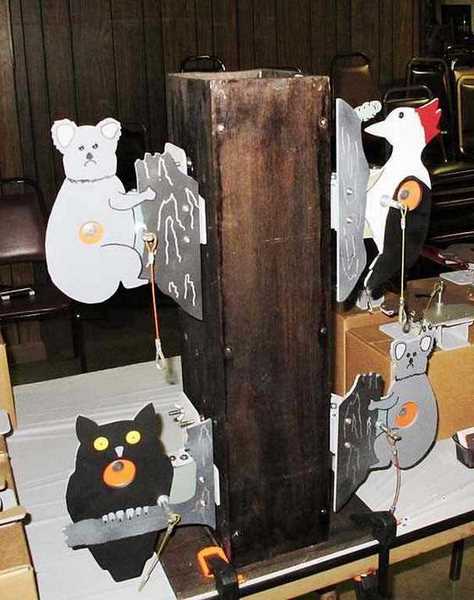 These Rhino Targets are for mounting in trees. They force shooters to shoot up. It's a special challenge.
Otten wasn't at this show last year due to illness. This year, he pulled out all the stops and showed many dozens of different innovative field targets. That crow of mine that you all marveled at a week ago is an Otten creation.
That's all!
No, there's a lot more to report, that's just it for now. The question isn't if there will be a Part 2, but if there will be ONLY 2 parts! This show was that good.
by Tom Gaylord, a.k.a. B.B. Pelletier
Parallax
Parallax is an optical term describing how the point of view affects what the viewer sees. The driver of a car may see his speedometer needle at 60 m.p.h, while a passenger to his right may see it hovering just above 57 m.p.h. In the UK, the passenger is on the driver's left and the speedo needle will appear to be over the 63 mp.h. mark. The needle hasn't moved in either case, but the observer's viewpoint has moved.
And so it is with a scope. You look through it and see the crosshairs exactly in the center of the bullseye; but if you move your head on the stock, the crosshairs will also appear to move slightly. So, where you hold your head relative to the scope determines where the scope appears to be "looking."
Many scopes today have a parallax adjustment. Some scope manufacturers call this an adjustable objective, or simply AO; but that just stems from the fact that it is the objective bell that's turned to correct for parallax. On other scopes, this adjustment is a knob on the left side of the adjustment turret.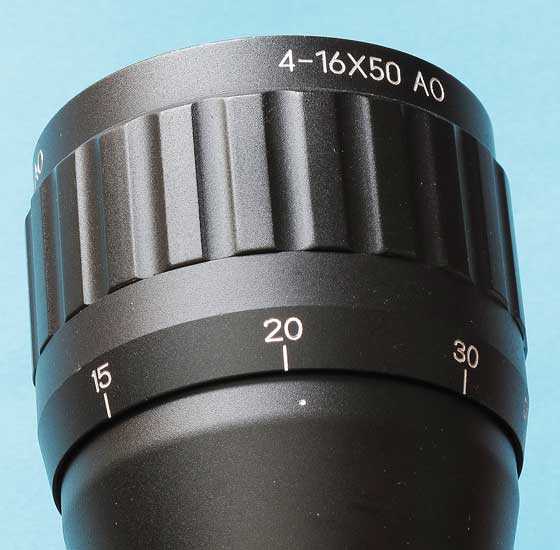 The adjustable objective is an objective bell that turns to remove as much parallax as possible. The scale on the bell indicates the yards to the target that have been focused.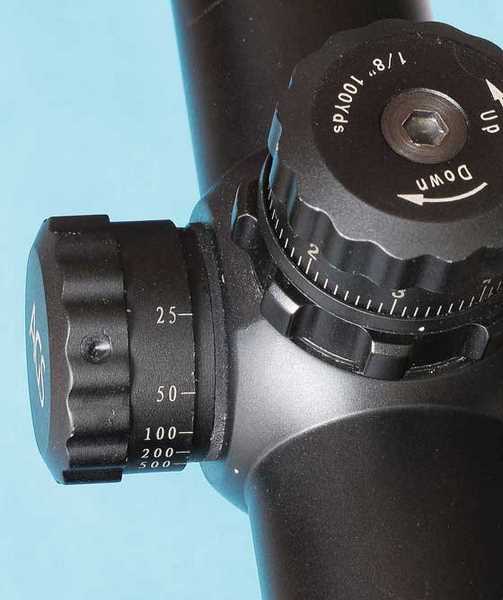 On scopes with a sidewheel parallax adjustment, a knob on the left side of the turret adjusts for parallax. This is much easier to reach than the objective bell when holding a rifle.
The parallax adjustment adjusts the scope lenses so the least amount of parallax exists at that distance (the distance to the target). To the shooter, it looks like the scope is focusing on the target. But here's the important point: No amount of parallax correction is ever enough. There will always be some parallax in the scope, no matter how well it's been adjusted. Where you hold your head on the stock is very important, whether or not your scope has a parallax adjustment.
Range of scope adjustability
Every modern scope comes with vertical and horizontal adjustments, so the crosshairs may be adjusted to the point of pellet impact. Open sights often have these same adjustments. But there's one big difference between an open sight's adjustments and those of a scope. As an open sight is adjusted, the sight is moved mechanically. Usually just the rear sight moves, but sometimes the front sight moves, as well.
When a modern scope is adjusted, you cannot detect any movement. It's inside the scope but can't be seen from the outside.
What gets moved isn't the scope tube, but a smaller tube inside the outer tube. This inner tube is called the erector tube, and it contains the reticle and other things. The wires or lines of most reticles do not move when adjustments are made. Instead, the entire erector tube moves, carrying the reticle lines with it. Since the lines are fixed, they always appear to be centered when you look through the scope.
There are some scopes that do have moving reticle lines. These are older technology scopes and are often from Germany or Russia. But these are so infrequently encountered on the modern market that they aren't worth discussing.
I've mentioned the term modern in relation to the scope of today. Fifty years ago, there were scopes that did not contain erector tubes. Instead, these scopes were adjusted from the outside, so their entire tubes moved whenever adjustment were made. The adjustments were in the scope rings.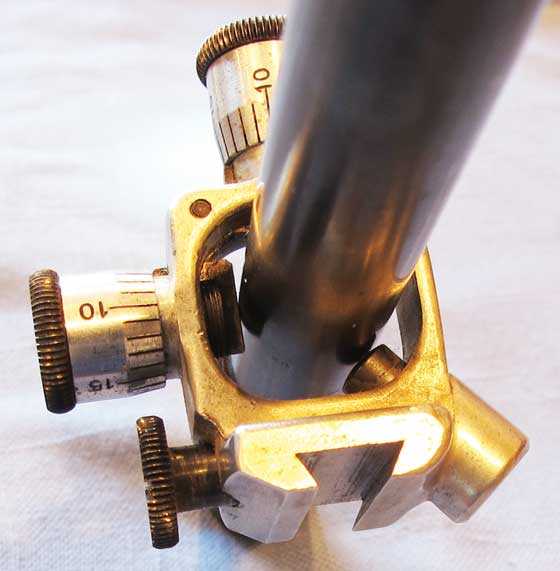 This vintage Unertl scope is held in spring-loaded rings that adjust the whole scope like the erector tube in a modern scope. The spring is inside the button at the 4 o'clock position and works for both the vertical and horizontal adjustments.
The section of the modern scope that contains the adjustment knobs is called the turret.
By looking at vintage adjustable scope rings, we can see how the erector tubes inside modern scopes move when they're adjusted. And this is what is important. The adjustments work against a coiled steel return spring that pushes the scope back when the adjustment screws are backed off.
When the scope is adjusted higher or to the right, the erector tube springs expand and lose their tension. At some point, which differs from scope to scope, these springs relax. That's when the scope no longer holds a zero and won't adjust in that direction anymore.
This scope's elevation knob is adjusted as high as it will go. The erector tube spring is fully relaxed, and the scope will be free to shift. It would be better not to adjust this scope above the horizontal No. 3 line.
Quality scopes have more adjustment range than cheaper scopes, but all scopes have difficulty adjusting out to their upper and right limits. As a general rule, I tell shooters they should never adjust beyond the three-quarter point in the high or right directions.
People sometimes ask if there's a problem when adjusting the other way (down or to the left), and I tell them there isn't. All you do when you adjust all the way down or to the left is compress a coil spring until it's coil-bound. That doesn't damage the scope, nor does it affect accuracy in any way.
Scope sights are wonderful tools that can enhance your shooting experience. They're not magic, however. They operate by rules, just like anything else. Learn how they work, and they'll do their part to make your shooting more successful.
by Tom Gaylord, a.k.a. B.B. Pelletier
This article was originally written for the upcoming Pyramyd Air catalog. But there were so many new rifles and pistols that we didn't have room for this. I felt it was important enough to get it out, so I'm publishing it on the blog.
You'd like to have a scope; but when you check into the subject, it gets very confusing, very fast. In this 2-part blog, we'll explore the basics of scopes.
A telescopic sight, or scope, is a type of sight that magnifies the target, usually making aiming easier. It may have a fixed amount of magnification or the magnification may vary within a range, allowing the shooter to select what he wants.
Inside the scope are lines called reticles. One runs up and down and the other runs side to side. They intersect in the center of the field of view. They are the aim point that's put on the spot where you want the pellet to go. They adjust in both directions, but you never see them move. They are held inside a tube inside the scope; and when they're adjusted, the entire tube moves so they always appear centered.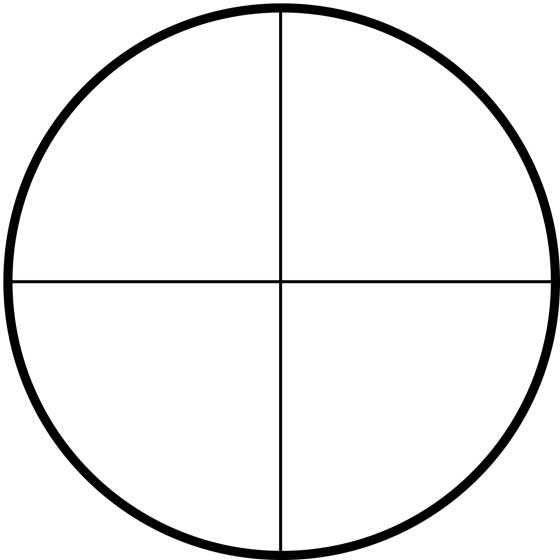 Crosshairs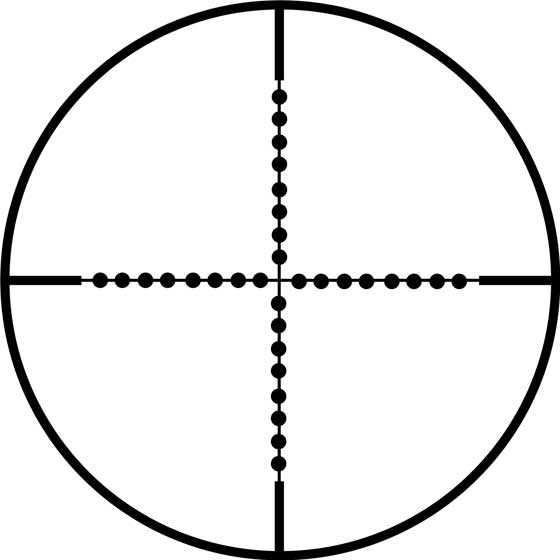 Mil-dot reticle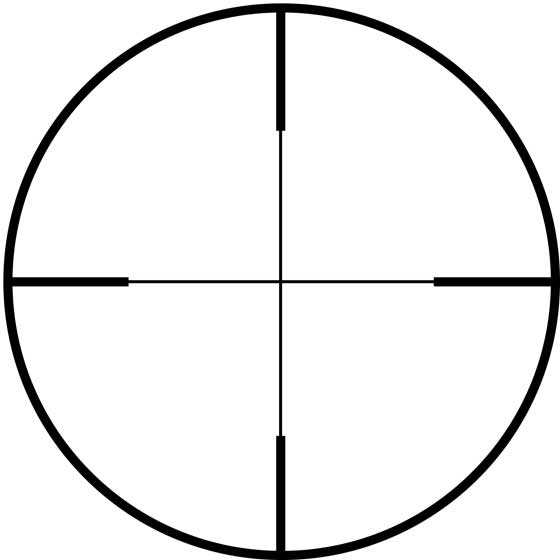 Duplex reticle
If your rifle is sighted-in, the pellet should land fairly close to where the intersection of the reticles was when it fired. How close it lands depends on several things—how accurate the rifle is, how well it was held when it fired, how good a pellet you use, the weather conditions (especially the wind) and so on.
The rifle is always moving!
The first thing that surprises someone who looks through a scope for the first time is that the rifle is always moving. In the movies, the camera sometimes looks through scopes that never move; but in real life, they're never still. The rifle is also moving when you sight with open sights; but since the target isn't magnified, you cannot see the movement.
Just because there's a scope on your rifle doesn't mean it will be more accurate. You have to find ways to slow the movement and to eliminate or minimize it as much as possible. Once you learn to do this and to follow through after every shot, you'll be rewarded with better groups and more accurate shots.
More magnification may not help
You would think that because a scope magnifies the target it automatically makes it easier to see and hit. Sometimes it does, but other times it does the opposite. When the magnification is too great and the target area is dark, you may not be able to find the target in the scope. When you hunt in the deep woods, for instance, a 4x scope will do a lot better than a 16x scope. You may be able to see the veins on each leaf through the 16x scope, but which leaf are you looking at?
Greater magnification also can make the image seen through the scope darker, and it may even appear as though it's in fog. On every scope that has adjustable power, the amount of light that gets through the scope decreases as the power increases. This effect is offset by superior quality lenses and by special lens coatings, but the budget brand scopes don't have these things.
Magnification — use what you need
Why do airgunners need so much magnification? Well, most of them don't need it, but one group does. The field target shooter uses his scope to help determine the range to the target, so he can know where his pellet will be in its trajectory when it arrives on target. The difference of a yard or two can make the difference between a hit or a miss.
A field target shooter wants to see the smallest object he can possibly see at the farthest distance on the course, which is 55 yards. He'd like to be able to see a blade of grass so clearly at 55 yards that when he adjusts the parallax he can see the image come into sharp focus. If that blade of grass is standing next to the target he wants to shoot, he's just determined the range to the target.
It takes a lot of power to see a blade of grass clearly at 55 yards in a dark forest setting. So, field target shooters use scopes of 32x, 40x and even 60x to resolve things this small. These scopes aren't too useful for most shooting; but for the rangefinding task, they excel.
Most airgunners will do very well with 9x, 12x and even 16x. Scopes of that power will be smaller and lighter, and that translates to less fatigue while hunting. A squirrel hunter in the deep woods can get by with even less power. Maybe 6x is all he needs. Benchrest target shooters, on the other hand, have a stable platform and can spend some time finding the target in the limited field of view that a powerful scope gives. For them. the most important thing is being able to bisect the target as precisely as possible, so every shot is aimed at the same place. Understanding what magnification you need and matching it to your sport is one of the things that increases satisfaction when shooting airguns.
Understanding scope adjustments
Most shooters know there are both vertical and horizontal adjustments available on a scope. They're called elevation and windage adjustments. Here are some facts about adjustments that you may not know.
First of all, no scope adjusts exactly by a quarter minute of angle or an eighth minute of angle. When they say these things, scope manufacturers are only making approximations. The scope adjustments depend on the thread count of the adjustment screws, and the manufacturer will round this up or down to give an approximate distance the crosshairs move. This is given in minutes of angle, and the most common understanding is at a 100-yard distance, where a minute of angle is very close to one inch. So, a scope with ¼ MOA adjustment clicks is supposed to move the point of aim by a quarter-inch at 100 yards. It sounds great until you understand that everything is an approximation. The real distance that the crosshairs move with one click of adjustment may be 0.311 inches, but no scope manufacturer is going to put that on the box. So, they write that the scope has quarter-minute clicks, and you work it out when you sight in — unless you're anal, which is where some shooters get into trouble.
These shooters arrive at the range with their scoped rifle and a notebook to record all the scope adjustments. Man — that is a heartbreak in progress! What will happen, if they stick to it long enough, is that they'll discover that their scope actually adjusts by 7/19 of an inch per click. Most of them see the futility of trying to do it by the book and default back to adjusting the scope until their rounds strike the paper where they want them to…or as close as their scope can come.
Stiction
Now, let's talk about stiction, which is the scope's unwillingness to move after being adjusted until it is hit with a large amount of vibration. Said plainly, the scope tends to stay where it was before the adjustment until the gun is fired several times and it finally "settles in" to the new adjustment. Put an eager-beaver shooter on that scope and have him try to sight it in, and you have the recipe for disaster. He'll keep adjusting the knobs, all the while the scope is lagging behind each adjustment by two or three shots. The result will be a scope that wildly changes its point of impact as the frustrated shooter fails to comprehend that he's causing the problem.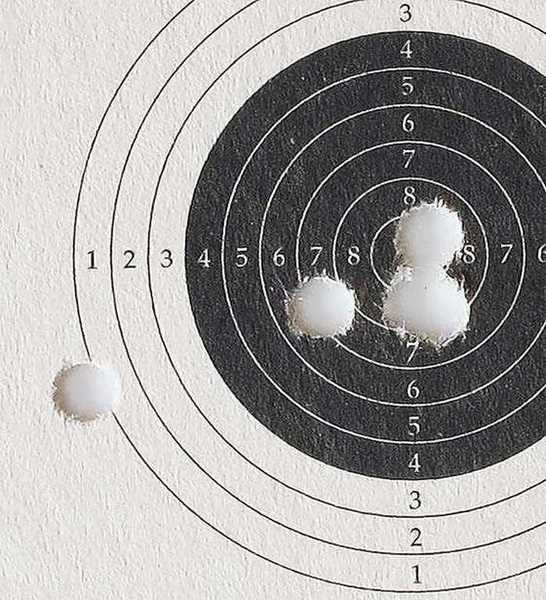 When a scope is adjusted, sometimes it takes several shots for the adjustments to be fully realized. This is called "stiction," which is the resistance of the scope's parts to movement after they're adjusted. In this case, the first shot was to the left and low, where the scope had been before adjustment. Shot 2 moved to the right and up, and shots 3 through 5 are in a tight cluster in the new point of impact.
Not all scopes suffer from stiction. Of those that do, all won't suffer by the same amount. Each scope must be taken as a unique entity, and the shooter has to have patience when adjusting it. This is the one time where three-shot groups are valid because they give the scope time to move to the new setting. But if the shooter doesn't realize what's happening, it can look like the scope is no longer able to hold a group because a three-shot group from a scope with a lot of stiction will look like a wild pattern. All you have to do is to continue shooting the gun, and things will settle down, again. But some shooters don't have the patience for this.
Look for part 2 tomorrow.
by Tom Gaylord, a.k.a. B.B. Pelletier
As you read this, I'm driving to the Roanoke airgun show. This is just a reminder that I'd like you veteran readers to help answer the questions we get from the new readers while I'm away from my desk. I'll read the comments a couple times each day and answer those I need to, but I don't have as much time when I'm on the road. Thanks!
Today, I'll mount a scope on the TX200 Mark III and sight it in. This is normally accuracy day, but I'm slowing down this report so I can explain several things that are usually glossed over — such as mounting a scope and sighting-in.
This report will look like a photo gallery. And the photos were all taken with flash because there are so many of them. I apologize for that, but I have examined each picture and you will be able to see each thing I refer to.
Let's get started. Someone said I should used the Hawke 4.5 to 14 X42 Tactical Sidewinder scope, so that is what I mounted. I used a set of Leapers 30mm medium-height rings because they're high enough for this scope and have the vertical scope stop pin that the TX200 needs.
Does the scope fit the rifle?
The first step in the process is to lay the scope next to the gun, positioning the eyepiece where you think it needs to be to fit your eye position. That will tell you how the scope is going to fit on the rifle.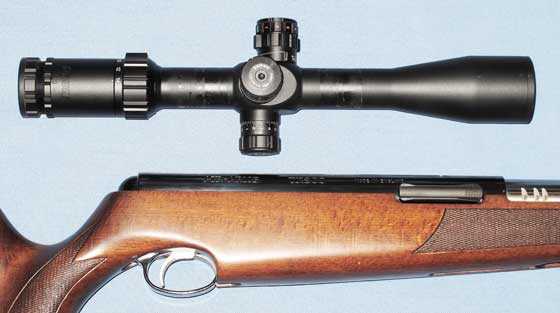 Laying the scope above the rifle where the eyepiece needs to be tells us how the scope will fit on the rifle. Notice that the objective bell will hang over the loading port a little; but as I mentioned in Part 2, that's not a problem.
Seeing that the scope will fit, the next task is to position the scope rings on the rifle. I used 2-piece rings, so I will first position the rear ring with the scope stop pin. The TX200 Mark III has three holes for a vertical stop pin. Pick the hole you like and make sure the stop pin fits into the hole when the ring is installed.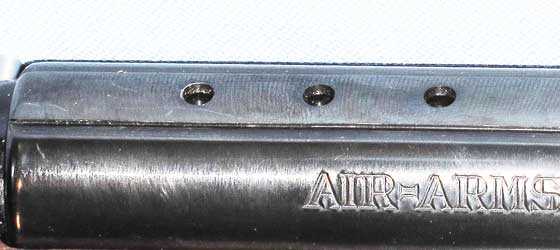 Pick one of the 3 scope stop holes to receive the vertical scope stop pin in the bottom of the scope ring.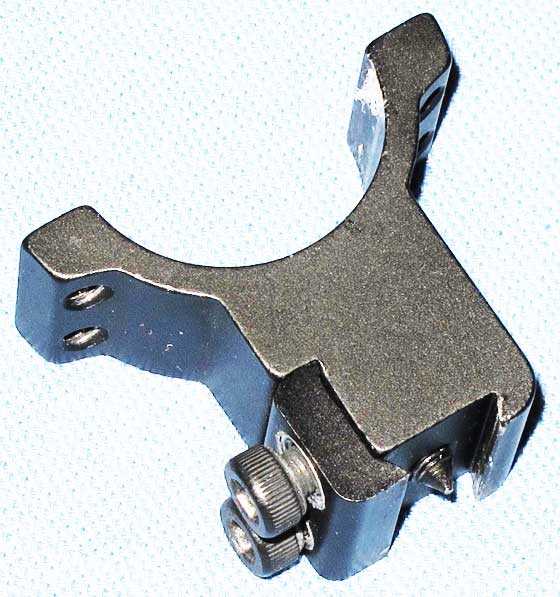 Adjust the vertical scope stop pin in the base of the rear scope rings so it goes deep into the hole on the rifle. On some rings, it will be necessary to peel up the anti-slip tape to access this pin for adjustment.
Now, you can mount the rear scope ring, making sure that the stop pin goes into the hole you've selected. Try to slide the ring to the rear of the gun so the stop pin makes contact with the rear wall of the stop hole. Then, you can tighten this ring in place.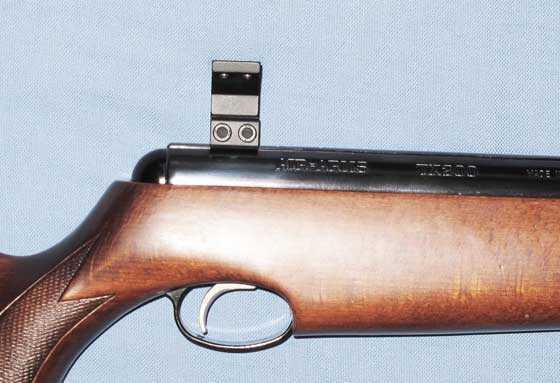 Attach the rear scope ring to the rifle, ensuring that the stop pin is pressed against the back wall of the hole in the rifle. Tighten the screws on the ring base when you're satisfied.
Once the rear ring is positioned, you can position the front ring, using the scope as your guide. Leave room on both sides of both rings to slide the scope back and forth, if possible. This is where the advantage of 2-piece rings shows up.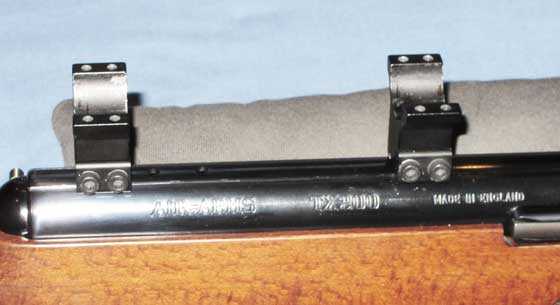 Now the front scope ring may be installed, using the scope as your guide. Leave room to slide the scope back and forth, if possible.
Once both ring bases have been installed, carefully lay the scope in them and see how it fits the rifle.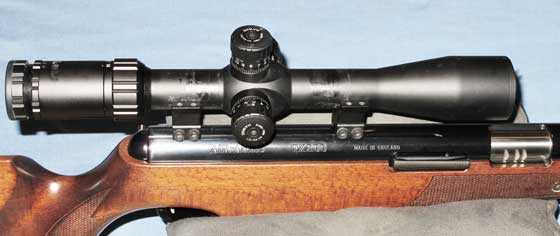 The scope is now laying in the rings. Notice that it does overhang the loading port by about as much as we estimated earlier.
Now that I know the scope fits as planned, I check it for fit with my eye by holding the rifle in a shooting position. The scope is still just laying in the bottom rings — the caps haven't been attached yet.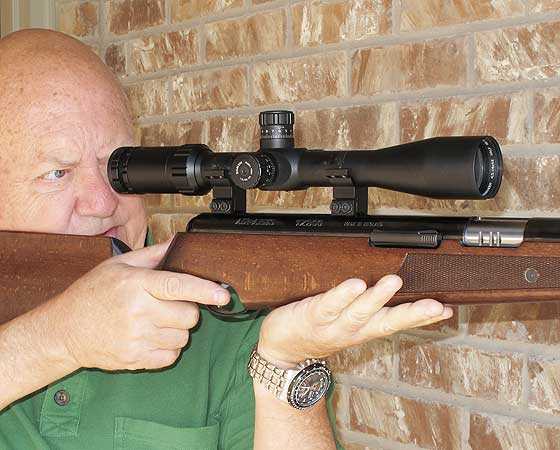 By looking through the scope, I determine that the rings have been positioned correctly. I adjust the scope slightly to align the vertical reticle and also to position the eyepiece for maximum light when the rifle is held comfortably. The caps can now be installed and secured.
Aligning the scope
You can go through all kinds of machinations to align the scope perfectly vertical, but it doesn't matter. What matters is that it looks vertical to you when you hold the rifle comfortably because that's the way you're going to align the scope every time you use it.
I used to do all sorts of things to "level" the scope before I finally understood that the scope will NEVER be level! Level is what looks level to you; and if you hold it the same way every time, that's all that matters.
Sight-in
Now that the scope is mounted, it's time to sight it in. For that, I made a white card with two black dots made by a felt-tipped pen. The top dot is my aim point and the bottom dot is as far below the top dot as the center of the bore of this rifle is below the center of the scope. That was just a rough estimate — I didn't use a ruler. I'm going to sight-in the rifle at 10 FEET. That's right — 10 FEET!
If this seems strange, you haven't read my article about a 10-minute sight-in. When I worked at AirForce Airguns, I used to mount scopes and sight-in all the rifles that were sold directly by the company. It took less than 30 minutes from the time I was told what rifle and what scope was needed until I had the scope locked down and sighted-in at 23 yards. This procedure is how I did it so fast.
I step back about 10 feet from the card with the 2 dots and put the crosshairs on the top dot. I fired one shot. I used H&N Baracuda Match pellets because I know they do well in this rifle.
The first shot lands slightly high and to the right of the lower dot. Remember, the lower dot is where the pellet should go if it comes straight out of the barrel while the scope is aimed at the top dot.

Shot one is a little high and right, but it's not too bad. I adjust the scope left and down from this.
Shot 1 was a surprise. Usually the first few shots are a lot farther off the mark than this. But I adjusted the scope from this — left and down.
How much left and down is not a precise thing. I do it by spinning both adjustment knobs and not even counting the clicks because I know that at 10 feet I have to move the crosshairs a lot to make them move at all. If I had to guess, I would say it was 16-20 clicks on each knob. Then, I fired the second shot.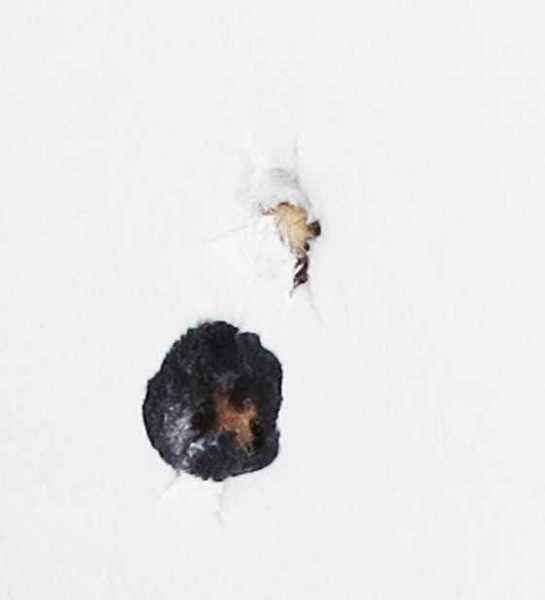 I enlarged the view so you could see the second shot. It went exactly where I wanted it to go.
Now, the rifle should be on paper and close to on-target at 25 yards. It may not be exact because this is a loose method — but it will be close enough.
Next time, I'll shoot 25-yard groups, and I'll start with where this sight-in lands me.
by Tom Gaylord, a.k.a. B.B. Pelletier
I'm going to the Roanoke airgun show this week. I'll be on the road starting Wednesday morning, and I'm asking you veteran readers to help the new readers with their questions, as I'll have less time on the road to devote to the blog. My wife, Edith, will more closely monitor the blog comments and jump in whenever she can.
I've also selected a special gun to report this week — the Diana model 23. I did all the photography and testing before leaving, so I'll be able to write the report while I'm on the road.
The model 23 is the largest youth rifle Diana made after the war, but that's still very small. When you see one in person, it isn't very impressive; but when you examine it in detail the way I have, you begin to appreciate all that Diana put into this gun. The size may not be there, but the quality certainly is.
My late friend, Mac, loved airguns like these. He used to buy them, fix them up if they needed it and give them to young kids with their parents' permission. It was his way of perpetuating the sport. I never used to give these small airguns a second glance before I saw them through Mac's eyes. So I guess this report is a sort of memorial to him.
About a month ago, I was prowling though the Gun Broker website and happened upon a listing for a Winchester model 432 air rifle for $30 with no reserve. There were only a couple days left on the listing, yet there were no bids on the gun. A look at the photos told me why.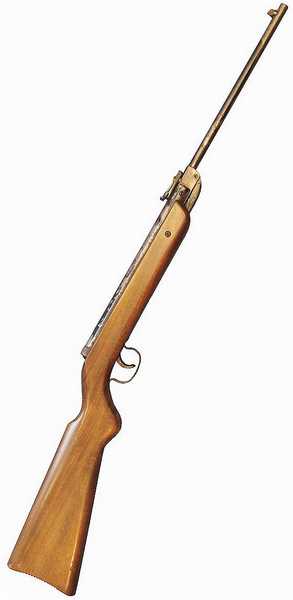 Not as pretty as I would like. This Diana 23 has led a hard life.
The finish was mostly gone from the gun! But I read the description and looked more closely at the detail shots and realized this might be a project gun that somebody abandoned. The seller said it was still smooth and powerful, despite the loss of blue. Had the owner simply stripped off the old blue in hopes of refinishing it?
A word about Winchester airguns
The name Winchester is magic in the gun community. Real Winchester firearms do command good prices, and they always command attention. But Winchester never made an airgun. The Diana-series air rifles made for Winchester are all numbered in the 400-series, and this is a model 423, which translates to a Diana 23. Winchester had about as much to do with the making of this airgun as any of you! So, in the grand scheme of things, the Winchester name on an airgun should mean nothing.
Except, it sometimes does! Firearms owners who are unfamiliar with the Winchester/Diana relationship of the 1960s and '70s sometimes place a high value on these guns, regardless of the fact they're neither rare nor made any better than any other Dianas from the same timeframe.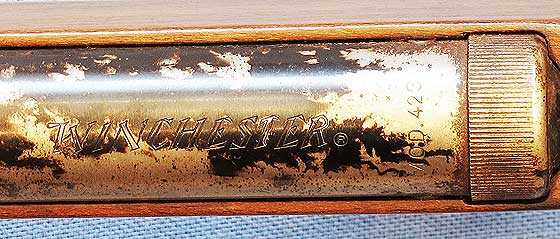 The mottled blue hides the Winchester name. The model number is at the right.
The listing noted the great loss of blue and also said there were no cracks in the wooden stock. The pictures were detailed and not flattering. Therefore, I made the assessment that the dealer was honest.
For just $30 ($50, total, with shipping) I thought this rifle was worth a gamble. Even if it was trash, the parts were worth that much since it can always be rebuilt. I took a risk, made a bid and won it!
A week later, a large box arrived through the U.S. Postal Service and inside was my new air rifle, well-packed in bubble wrap and peanuts. After unwrapping it, the first thing I did was drop 10 drops of silicone oil down the air transfer hole and work the piston up and down until I heard the leather seal squishing. That told me it was pliable. Then, I loaded the rifle and took the first shot — keeping the muzzle over a box to prevent the oil droplets from hitting the table.
The rifle did seem to have all the power it was supposed to. Next, I examined the entire gun thoroughly, looking for defects. I found none. I'd given it a quick once-over before firing it, of course, but this examination was longer and slower.
The date stamp on the left side of the spring tube told me the rifle had been made in February 1969, making it an early one with the Winchester name.


The date stamp of 02 69 means the date of manufacture is February 1969.
The rifle
The Diana 23 is either a small adult rifle or a fully-developed youth model. The model 22 that's farther down the price scale has a brass liner barrel with a sheet metal outer jacket, so the 23 is the smallest model with the full features of an adult gun.
This model came in both rifled and smoothbore versions. It was made from 1951 to 1982, according to the Blue Book of Airguns, and came in both .177 and .22 calibers. Mine is a .177 that curiously does not have the European caliber designation of 4.5mm anywhere on the gun.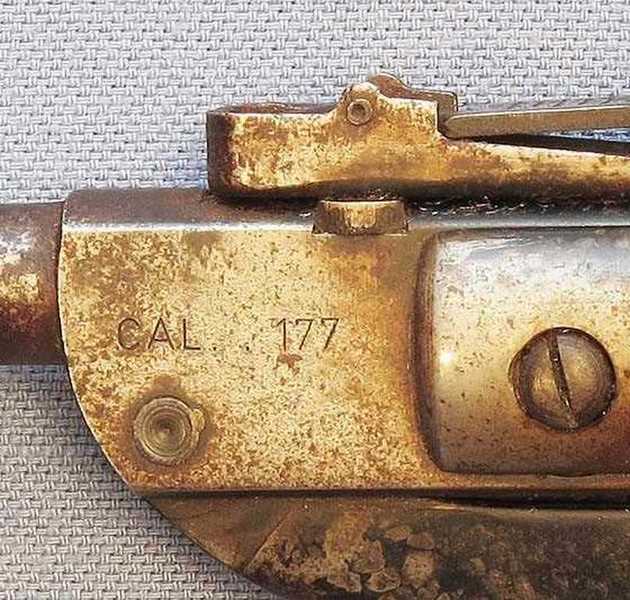 The only caliber marking is .177.
The rifle is 35.50 inches long with a 14.50-inch barrel. The length of pull is 13 inches even, which is a quarter of an inch longer than the Air Venturi Bronco pull. The rifle weighs 3 lbs., 11 oz.
The stock is beech wood and cut from a thin slab, so the rounded shape is more in your mind than in reality. But the edges are all nicely rounded to promote the look of a fuller stock. The stain is medium brown and even. There are no spots of wood filler like Chinese rifles often have, but the rubber anti-skid button found on the models 25 and 27 is missing from the bottom of the butt.
The trigger is a direct-contact type, and there's no adjustment. It's 2-stage, and the second stage breaks very crisply — much more so than I was expecting from a rifle in this class.
The sights are a fixed, tapered blade at the front (called a Korn sight in Germany) and a rear leaf that's adjustable only for elevation. Both the front and rear sights can be drifted in their dovetails for small windage corrections.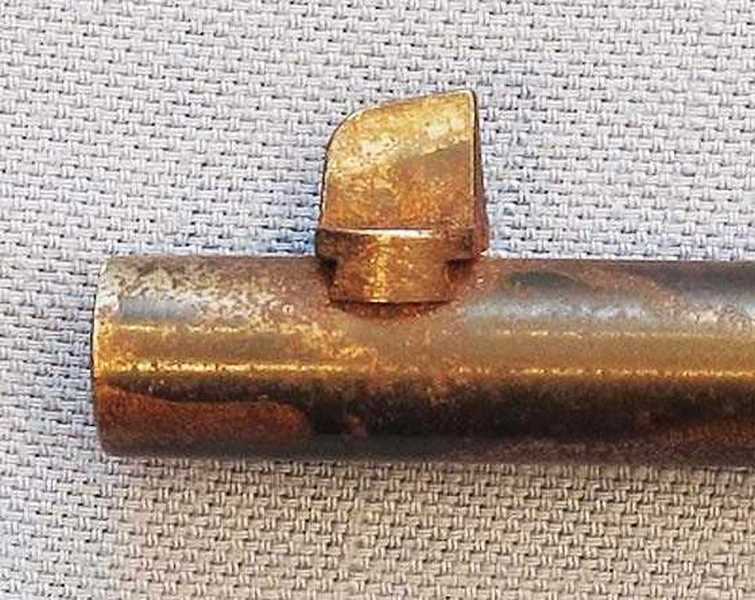 Front sight is a tapered blade.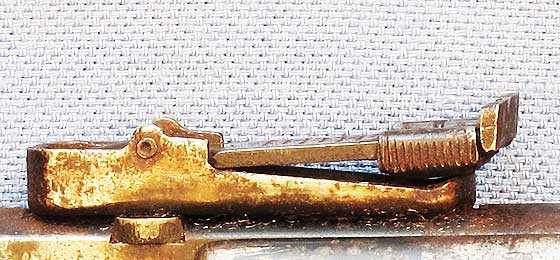 Rear sight is a leaf that adjusts for elevation.
I was pleased to discover that the seller was correct about the condition. The metal is mostly smooth, despite the appearance. Only the barrel has any roughness to it. I wonder if I could refinish the whole gun with Blue Wonder cold blue?
A little gem
As I examined the rifle, I began to see Mac's fascination with it. In every way, it's a perfect little 3/4 replica of a Diana 27. It's beautiful in that respect. After wiping down the stock with Ballistol, I was surprised to find the wood is in 95 percent condition! It's as nice as the stocks on all my other Dianas! Only the metal parts need refinishing to make this little gun a bright new penny, again.
I think I'm going to have fun with this one.
by Tom Gaylord, a.k.a. B.B. Pelletier
Early Sunday afternoon, my wife, Edith, and I were enjoying lunch at On The Border, a Tex-Mex restaurant, and we marveled at the number of comments on last Friday's blog…but not about airguns. Mostly comments about cars. Vintage cars, in fact. Edith is a gear head, and so is her brother, Bob. She volunteered to write today's blog and give you a peek into her life.
If you'd like to write a guest post for this blog, please email me.
by Edith Gaylord
When I was about 12 years old, I built my first model car. I'm not sure which car it was, but I envision the shape as being an Edsel. Not one of the sportier models, but I added flame decals on the sides and hood. I didn't spend a lot of time building model cars, as I was also interested in girlie pastimes.
My brother, on the other hand, continued to build model cars and planes and eventually graduated to real cars. Bob's an oil and gas exploration geologist in Houston and is well-known in his field. A few years ago, I discovered that he was also well-respected. When the Israelis discovered oil, they sent the core samples to London for further research. Bob was one of the experts called to London to review the geology and geophysics.
Bob once told me that oil people are under immense stress and some sort of unrelated diversion is required for relief. So, he'd get junked bodies of pre-Stingray Corvettes and rebuild them. When he was done with a car, he'd drive it around a bit and then sell it. Within no time, another body would find its way to his garage, and the process started all over.
This went on for some time, but then Bob graduated to other car models and those that didn't need to be completely rebuilt. When I visited him in April 2000, I took a ride in his latest acquisition: a 1957 Ford Thunderbird.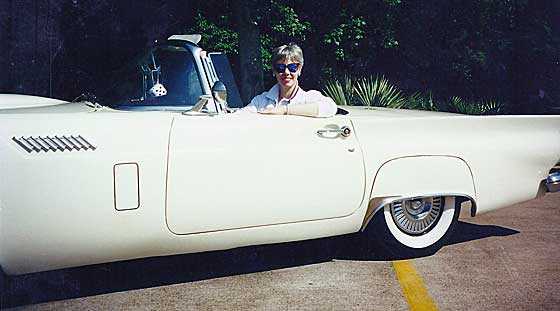 Sitting in my brother's 1957 T-bird.
As we drove around in the car, people waved, screamed, hollered and pointed. It was as if we were in a parade all by ourselves. Bob said he felt like he was driving Sandra Dee's car whenever he drove it.
Bob eventually sold the T-bird and got another, switching to other makes and models. A few years ago, he bought a car off eBay Motors, but the seller had been less than candid. When the car arrived at midnight, he picked it up but the headlights didn't work — and he drove it home in the dark. The next day, the car wouldn't even start. He worked on it off and on for about a year. One day, he backed it out of the garage and smoke started pouring out. It was on fire! He hit the kill switch on the battery, which stopped the fire, but all the wires were fried. That's when he decided that he didn't want a hobby that would burn down his house. Bob called the Salvation Army to donate "Satan" (which is what he named the car), and they picked it up within an hour. And that was the end of the line for Bob's vintage car hobby.
Edith knows best!
I remember when B.B. and I had been married for a short period of time and didn't actually know that much about each other, he was caught off-guard by my car knowledge. We were driving down the highway when an unusual car passed us. He didn't know what kind of car it was and guessed at the make and model. I disagreed and said it was a Jensen Interceptor. I still recall his surprised look. He knew what a Jensen Interceptor was, but how could I know what it was? Even more incredulous, how could I recognize one as it sped past us? He put the pedal to the metal, caught up with the car…and it was, of course, a Jensen Interceptor.
Bob, B.B. and I continue to love older cars. We're avid watchers of car TV shows such as "Wheeler Dealers," "Chasing Classic Cars," "Kounting Cars," the occasional Mecum auction and even attending local vintage car shows.
B.B. and I have talked on and off about buying a vintage car. I have a survivalist mentality and would like a vintage car  as a get-out-of-dodge vehicle, so it can't have any electronics. We've tossed around the idea of a 1950s GM delivery van, a vintage VW bus, and a deuce-and-a-half (since it can run on almost any fuel and can go just about anywhere). We haven't done anything yet…but I think we eventually will.
Well, that's about it. Tomorrow, the blog will return to airguns. On Wednesday, B.B. will be on his way to the Virginia airgun show.
by Tom Gaylord, a.k.a. B.B. Pelletier
Today's report is for blog reader J-F, who asked this exact question: "Why do airgunners need high-magnification scopes?" And let's define high magnification as anything over 12x. That's arbitrary, of course. It'll be arbitrary no matter where you set the limit. I set it there because that's 3 times the power that the average deer hunter's scope had in the 1950s.
But airgunners delight in 24x, 32x, 40x and even 60x scopes. I know because I'm one who does. But I also know why I want this level of magnification and what purpose it will serve.
Braggin' rights
One reason for high-magnification scopes is pure bragging rights. Like the pilot who has to have the largest, most complicated watch, the biggest scope gets the most attention — at least in the minds of the guys who think that way. And I know for a fact that some people do think that way; I'll tell you how I know in a moment.
Field target
One good reason for owning a scope with high magnification is so you can use it to determine the ranges to targets. No one needs to do that more than the field target competitor. Rangefinders are not permitted in field target matches, but the parallax adjustment on a scope provides something very close because it focuses the scope when the distance to the target is dialed in. This isn't a true rangefinding function like you might find on a coincidence rangefinder built especially to do this, but it's close enough to satisfy most people. And, it's all you're allowed to do.
Field target courses run from 10 yards to 55 yards, so the scope has to work in those boundaries. You want a scope that has most of its adjustment range between 10 and 50 yards. The best field target scopes are made that way — with 3/4 of the adjustment (the distance that the adjustment wheel or bell is turned) between those 2 distances.
To determine ranges accurately, you have to be able to see when something very small comes into sharp focus at your desired distance. To see things that small, you need as much magnification as you can get with the image still being clear.

The kill zone of this field target is the small hole above the dime. Your pellet has to go through the hole without touching the sides to score a point. This is why field target competitors need to know how far away the targets are!
Let's get something clear right now. Just because a scope adjusts to 40x does not mean that you can use it at that setting. I own a Tasco Custom Shop 8-40X56 scope that cost $650 back in the 1990s, and it's unusable above 30x for anything other than a bright target in direct sunlight. Field targets are often shot in the deep woods, where the light is either low or dappled with bright sun and dark shadows. In that light, my Tasco isn't useable above 30x.
There are cars whose speedometers go up to 120 m.p.h. It doesn't mean the cars go that fast. Same is true of scope magnifications levels. If you want to see at 40x in a field target setting, you're probably going to have to pay close to a thousand dollars for your scope.
Small field of view
Here's how I know that some people buy big scopes just to be envied. On several occasions, I've seen a field target competitor start the match and then not be able to find the targets! They sit there burning everyone's time, looking though their powerful scopes but are unable to see the targets because everything looks so big and dark through the lens. This got so bad, in fact, that AAFTA (the American Airgun Field Target Association) started enforcing the time rules that typically give a competitor 5 minutes per 2-target (4-shot) lane.
The reason this happened is because these guys had never looked through their scopes at anything besides paper sight-in targets until the day of the match. They assumed things would be as they always were; and, of course, they aren't when you move from a well-lit range into the woods.
The other thing powerful scopes do is bring out the anal side of some shooters. They will sit and range and rerange to the target, acting like some clueless manager examining a spreadsheet. They can't get off the dime and take the shot because — what if they were wrong?
On the other hand I suffer from the opposite affliction. I don't take my time and just charge on through the course. Great instincts for a first-wave armor officer — not so good for longevity on the battlefield or to win a match.
Benchrest shooters
The other shooter who really needs a powerful scope is the benchrest shooter. "Aim small, miss small" is their motto. A few weeks back, I showed you my 100-yard box targets that help me sight my most accurate scoped rifles.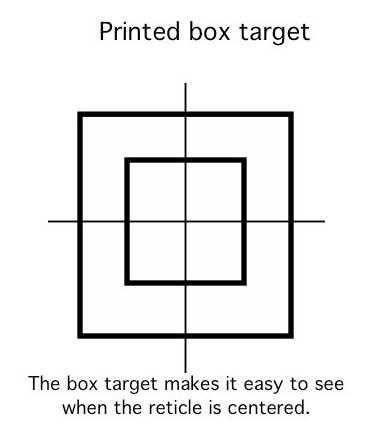 My best centerfire rifles are, in descending order — my Rock River AR-15, which I built from parts; my HW 52 in .22 Hornet; and my Savage 1920 bolt-action in .250-3000 Savage. The AR has the Tasco 8-40X56 scope on it; and even on sunny days, the power never goes above 30 or the scope gets foggy. The Weihrauch Hornet has a vintage Weaver K10-T that's a fixed 10-power scope with an adjustable objective. The Savage is carrying a vintage Weaver V9-W 3-9X32 variable with a widefield view.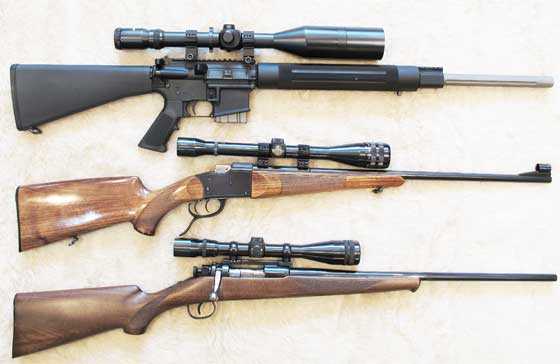 My 3 most accurate centerfire rifles are (from the top), AR-15, .22 Hornet falling block and .250-3000 bolt action.
One of the main reasons two of these scopes are vintage is that they have fine reticles that are perfect for my box targets. I can see when they split the box, even at these relatively low magnifications. Would I like more power? You bet! But I need to get it in scopes that will fit in fairly exotic rings and clear the guns when they're mounted. That's a tall order because high magnification usually comes with a large objective bell.
Who doesn't need high magnification ?
As a general rule, hunters don't need high magnification; and they do need the wider fields of view and brightness that come with lower-powered scopes. Varmint hunters might disagree with me on this because they're more like benchrest shooters, but squirrel and rabbit hunters will probably agree.
Exterminators can also get by with lower power, with a few exceptions. When they hunt quarry that's extremely wary, such as rats can sometimes be, they may want more power to place their pellets precisely on the little part of the animal that does show. But we're talking 12-16x here — not 40! But the guy who's killing birds in a discount store or mall at 3 a.m. can get by with a good 6x scope most of the time.
So, J-F, the answer to your question is a combination of things. There are those airgunners who actually do need high magnification, then there are the wannabes who have it because it's cool. And then there are the first-time buyers who may get it because they have no idea what they're getting into, and high magnification sounds good.