Archive for November 2013
by Tom Gaylord, a.k.a. B.B. Pelletier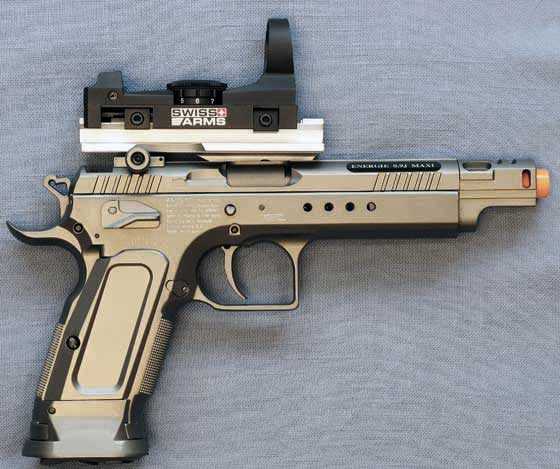 The Tanfoglio Gold Custom Eric Grauffel pistol is a competition airsoft gun in a box!
Today is accuracy day for the Tanfoglio Gold Custom CO2 blowback airsoft kit gun, but it's just the first of many tests. An airsoft gun with adjustable Hop-up, or BAXS in this case, has to be adjusted to shoot its best. I've never adjusted a gun with BAXS, but I've adjusted plenty of them with Hop-up and that is how it always happens. The gun never shoots its best right out of the box. I'm assuming the BAXS is the same.
All I did today was find out which BBs are worth continuing with and which aren't. As it turned out, I got good results with several 0.20-gram BBs, which is what the manufacturer recommends for this gun. I also did well with one 0.25-gram BB.
I'll warn you right now, the targets you're about to see are not very impressive. They look terrible, in fact. If you're used to good groups from pellet guns, these are going to seem hopeless. But they do show small differences between the good BBs and those that aren't worth pursuing, and that was all I wanted to do today.
I shot off a bag rest with the butt of the gun (the bottom of the magazine well) rested against the bag. I also tried holding it ahead of the bag and just resting my arms on the bag, but it moved around too much. Maybe next time I'll play with some different holds.
I shot only 5-shot groups today because I was testing a large number of different BBs. In all, I tested over 10 different brands, but only the most promising will be shown here.
Sight failure!
Before I get to that, however, there was another problem not related to the gun. The Swiss Arms red dot sight that was bundled with the pistol quit working suddenly during the first session. It wasn't the battery because that's still good. So, I dismounted it and installed a Walther Competition II Top Point red dot sight that I got from Pyramyd Air for testing; but some funny-bunny at the factory had left the sight turned to high power, and the battery was dead. I replaced it with a fresh battery but the sight failed to respond. So — two red dot sights out of the running even before we start. That was what ticked me off yesterday and caused the rewriting of my blog.
Fortunately, I have an older Tasco Pro Point red dot sight that has functioned perfectly on many airguns over the past 15 years. That one went on for this test, and everything was good again.
Quick rundown
Sight-in was a bit frantic because I unknowingly chose the least accurate 0.20 BB for the job. The gun doesn't like the Air Venturi Pro CQBBs that weigh 0.20-grams. It took me about 10 shots to get sort of on target, but it wasn't until I switched ammo that I found out what was happening. More on that in a moment, now for the quick rundown.
This pistol hates 0.12-gram BBs. They couldn't even stay on the trap at 10 meters, and I was using the UTG Accushot Pellet and BB trap. Forget staying on target! This things were hitting the backer board that was behind the trap. Fortunately, I expected something like that, so I didn't waste much time. BBs this light are usually good only in lower-powered spring-piston guns.
The pistol also performs only average with the 0.28-gram BBs. Though I only tried one brand, the TSD Tactical 0.28-gram BBs, I can tell from experience that this BB is too heavy for the pistol.
That leaves 0.25-gram and 0.20-gram BBs. The gun shot the best group with Air Venturi Pro CQBBs 0.25-gram BBs, but it was 2.864 inches for 5 shots. See what I mean about not getting too excited?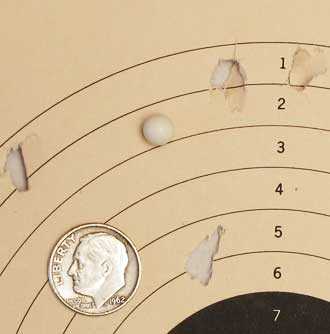 Five shots of 0.25-gram Air Venturi Pro CQBBs went into 2.864 inches at 10 meters.
The second-best group of 5 shots was a 0.20-gram Marui Black BB that Pyramyd Air doesn't carry. Five of those went into 2.875 inches at 10 meters, which is really too close to call. The round BBs tear holes that are indistinct and measurement may be off by a lot. Fortunately, the pictures don't lie.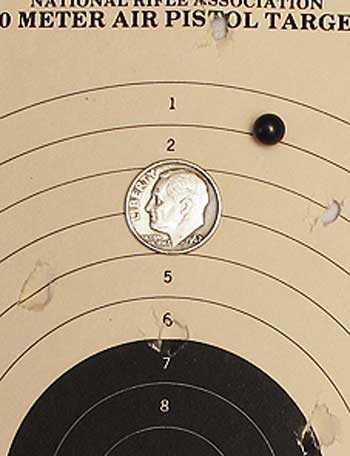 Five Marui Black 0.20-gram BBs went into 2.875 inches at 10 meters. It was the second-best group of this test, but also too close to call. It may be just as good as the first group.
But it was another 0.20-gram BB, the TSD Stealth that's apparently no longer made that tipped the scales on this day. The first group I shot was spread out wide, but it was just one BB that did it. The other four were in 1.809 inches. I was so encouraged that I shot a second group; and, again, 4 BBs went into 2.229 inches and the fifth shot opened the group several more inches. I think this might be the most accurate BB after the BAXS gets adjusted, or at least 0.20-gram BBs of some other brand might turn out to be the best. If not, the 0.25-gram Air Venturi BBs might get better with the adjustment.

Four of five TSD Stealth BBs went into 1.809 inches. This BB shows promise and may do a lot better after BAXS adjustment.
Don't get discouraged!
My time with airsoft has taught me to first look for the best BB, and then spend more time adjusting the Hop-up to maximize its potential. That's what lies ahead of us for this pistol. I won't guarantee the gun will be much more accurate than this; but if past experience holds true, it will be!
Shooting characteristics
Believe me, I do understand that this is not a target pistol. But to win as a competition gun, it has to place its shots close together. IPSC for airsoft doesn't shoot as far as 10 meters, so this test is extreme, but it's also quite good at showing what the gun is capable of.
The gun's recoil is sharp when you're aiming carefully. And the trigger that I loved before is still preforming well. All in all, I'm a little disappointed that I can't show you better groups than these; but if the BAXS works as it should, I should be able to reduce these by a lot.
by Tom Gaylord, a.k.a. B.B. Pelletier
Today is Thanksgiving, here in the U.S., as well as the first full day of Hanukkah, which started last evening. I want to wish my Jewish readers a happy Hanukkah and all my U.S. readers a Happy Thanksgiving Day. Today I'd like to take some time to acknowledge those airguns that are worth remembering.
Benjamin 107
It was my first airgun — though I didn't acknowledge it at the time. I was whining at my mom to let me buy a BB gun, when all the while I had a beauty right there in front of me.
The 107 was a front-pump .177 smoothbore pistol that shot BBs, darts and pellets — none very accurately. But compared to a common BB gun, it wasn't too bad. I got it when I turned 10 or 11 after my father died. It had been his. I remember seeing him shoot it once, but that was all.
All the black nickel finish was gone, and the gun was worn to silver nickel in most places, with a hint of brass showing though some of the edges. It was a real bear to pump, and I think I could manage only three strokes when I applied all my weight. After that, I was the one having the stroke!
I could hold about one inch at 20 feet with darts, which was the ammo of choice since I had them and they could be reused. There were some Benjamin pellets that came with the thing, too, but I don't remember them being very accurate.
Once I secured my Daisy No. 25 pump BB gun, I don't think I ever looked at the old Benjamin, again. But that was the first airgun I ever shot, and it started the fascination that's lasted until now.
Diana model 10
Fast-forward 14 years, and I'm married (to my first wife) with a child and living in Germany. In the walled city of Rothenberg ob der Tauber, I find a gun store that sells high-end airguns. They have Walther LGVs and LGRs that I can't afford as a family man. But they also have a Diana model 10 target pistol that the owner claims is stunningly accurate. He's a good salesman, and we decided we could afford it; so I buy it plus 5,000 RWS Meisterkugeln pellets.
I learned how to shoot 10-meter pistol with that airgun — heck, I learned that there WAS such a thing as 10-meter pistol! And I got passably good. Good enough to stand on the line at formal matches while better shooters won. I did that for the next 20 years and got better and better until I was what, in technical terms, is known as a duffer. That's a guy who shows up and shoots without embarrassing himself, while others rule the day.
I also taught my gun-hating father-in-law how to shoot with that air pistol. He got so interested that he shot up a lot of my 5,000 pellets! I finally sold that pistol when I left the Army in 1981.
FWB 124
This is the air rifle I bought after returning from Germany in 1977. I scoped it with a Tasco firearm scope and never had a lick of trouble with it. It had the plastic trigger that the early rifles came with, but I loved it just as it was. It taught me what a precision adult air rifle could be. I had been reading about these rifles for the last 2 years I was in Germany; and, of course, I failed to realize that I lived in Erlangen, the home of the BSF factory! No, I read the Airgun Digest in the last 2 years of my tour and I wanted a 124, so that's what I got.

One of many FWB 124s I've owned over the years. Each one is a classic!
Then the R1 came out and took all the wind out of my sails. My 124 was no longer the baddest airgun on the block — despite the fact that no one on my block owned any air rifles at all. No sir! Dr. Beeman said the R1 was the gun to own, and I wanted one with all my fiber! I had to sell that 124 to pay off debts when I left the Army, but it left a seed deep inside me and I've owned several since that time.
Diana 27
The Diana 27 I'm referring to is not the one you have seen me write about. No, it's a gun I bought for $18 in a pawn shop in Radcliff, Kentucky, in the late 1970s. I didn't even know what it was at the time. It was a Hy Score 807 in .22 caliber and rough as a cob. The rust was deep all over, making the metal surface bumpy. Had it been removed, there would have been deep pits left behind. But the gun still shot very well. I marveled at how light and smooth the powerplant was. It shot slow compared to the 124, but out to 20 yards it held its own. I gave that one to a friend when I left the Army.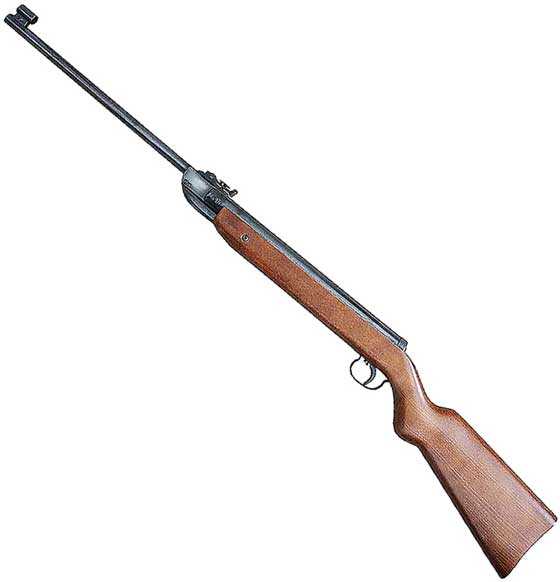 Diana 27 isn't a pretty air rifle, but it shoots like a dream!
Sheridan Blue Streak
This was an air rifle I had coveted since I was a Tenderfoot in the Boy Scouts and read all the ads in Boy's Life. It could shoot through an inch of wood — the ads said so! And it was accurate. But I never had the money to buy one as a kid. In 1978, a year after returning from Germany (and fast becoming a real airgunner), I finally bought one. The price had risen from $19.95 to $39.95 in the time that had passed, but I purchased what is today recognized as the high-water mark of Sheridan production — a 1978 Blue Streak with the rocker safety!

The Blue Streak I bought in 1978, and the rifle on which Edith learned to shoot.
That gun stayed with me after I left the Army. It wasn't worth enough to sell, so I kept it and still have it today. Edith learned to shoot with it and killed 9 rats around our Maryland home — not to mention various mice in the house and snakes in the garden. She put a yellow twist tie around the triggerguard to remind her the pellets were the ones in the yellow plastic box. This was before the days of The Airgun Letter and field target. Edith was still learning about airguns.
Beeman R1
We really didn't have the money at the time, but Edith gifted me with a new Beeman R1 for Christmas in 1991. The Airgun Letter was still 3 years in the future, so the only reason I got this gun was because I told her how long I had desired it. I had purchased a Beeman C1 a couple years before, but it just didn't scratch the itch.
But the real surprise was the used HW 77 carbine that was also under the tree that year. That was Edith at her best — giving me a gift I had no idea I was getting. We even had a scene from A Christmas Story, as a final long box with my name on it appeared after all other gifts had been opened!
The R1 scratched my itch alright; but what I discovered about airguns is that the more you scratch, the more the itch spreads. You think I'm an enabler? Remember, folks, I do everything to myself before I do it to all of you.
Beeman R8
It was the day I returned from the hospital in 2010. I was sitting on the sofa and had just enough strength to sit up for awhile. Edith pulled out a long cardboard box and told me that one of our blog readers had sent me something for when I come home. I couldn't stand or even open the box. She had to do it for me. Inside was a black hard case and inside that was the most beautiful Tyrolean air rifle I've even seen. It was a Beeman R8 with a custom stock and a fresh tune. A personal note told me who had done the work and how nice it shot.

This beautiful Tyrolean Beeman R8 was waiting for me when I returned home from the hospital.
As weak as I was, I had Edith hand me the rifle and I found that I could cock it. Oh boy! Here was a spring rifle I could shoot real soon, even when I couldn't cock most other air rifles. My friend, Mac, was still testing spring guns for me for several months as my strength returned, but that R8 was mine from the moment I first held it.
Edith and I were showered with gifts from the members of this blog when I got out of the hospital, and we were stunned at the outpouring. But that R8 is my favorite spring rifle because of how nice it is, how great it shoots, and most of all what it meant to me at a time when I could barely raise my head off a pillow.
What about the others?
Sure, there have been plenty of other airguns I'm thankful for. My Whiscombe has been a dream test bed for numerous experiments. Both the Benjamin Discovery and the Air Venturi Bronco are guns I personally was involved in developing. So, of course, they meant a lot. The AirForce Talon SS with a 24″ barrel is probably the gun I shoot more than any other…and you all know how I feel about the TX200! I could go on and on, but where do I stop? These guns have all been pivotal in my development as an airgunner.
I'm thankful
Back when I wrote The Airgun Letter, I allowed myself to get sucked into several bad arguments over trivial airgun issues. When we started this blog, I insisted on using a pen name rather than my own. I didn't want to spoil things with old baggage from the past. I also reinvented myself at the same time. I learned to curb my temper and to listen to what others have to say — even when it runs contrary to what I believe.
Some of you suspect this, but now I'll tell you all that Edith is half of Tom Gaylord, the writer. She keeps me on an even keel and lets me vent privately when I have to. She has a much better memory than I do and sometimes she suggests things that I wish I had thought of (and accept credit for when they show up in print). If I didn't have her, the veneer of who I am would quickly peel back and expose the unpleasantness underneath.
The airguns I have written about today were all pivotal in shaping my life as an airgunner. But it is Edith and you readers who have really had the greatest influence. Through thick and thin, you continue to inspire me and make me glad to have this job.
A few weeks ago, blog reader David Enoch asked me to write a report about the airguns that I never warmed to. I tried doing that and quickly found all the bad old stuff leaking out. So, I stopped writing and focused on only the good things that have happened with airguns. There are so many of them; and when I focus on them, I become the person I want to be.
Today's report came as a result of a disaster I had while testing a gun yesterday. Nothing went right, several optical sights failed and I put some new dents in the wall of our bedroom. I then sat on the couch complaining about everything. Knowing that I was losing it, Edith suggested today's topic. I hope this piece does some good for all of you because it has made my day! Happy Thanksgiving!
by Tom Gaylord, a.k.a. B.B. Pelletier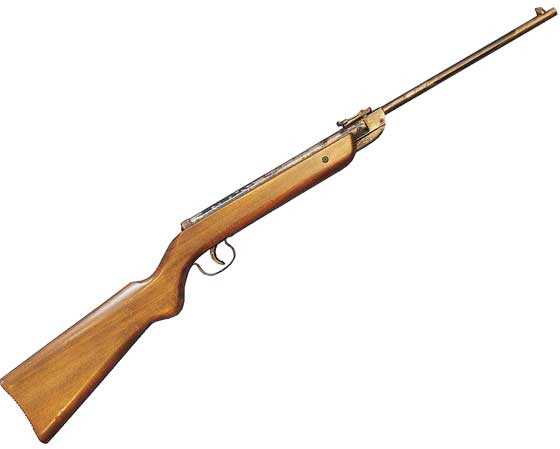 Not as pretty as I would like. This Diana 23 has led a hard life. I'll refinish it.
Today, we'll return to an oldie we haven't looked at in close to 2 months — the Diana 23. You may remember this is a rifle I bought for very little from an online auction — and when it arrived, I found it was better than expected. The finish is gone, but I plan to refinish it. And Larry Hannusch generously donated a brand-new old-stock Diana 23 barrel for the project, so I'm farther along than might be expected.
Last time, we tested the rifle at 10 meters and found that it showed decent accuracy for such a low-powered air rifle. Today, I'm pushing that out to 25 yards with 2 of the best pellets from the last test, plus a new one I've thrown into the mix. The goal is to see if this little vintage springer is accurate enough for general plinking duty out to 75 feet.
Days like this are always relaxing for 2 reasons. The first is that I'm testing something that's no longer available, so there are no company reputations on the line. I enjoy testing airguns, but it's disturbing to read all the sniping negative comments we receive when things don't go exactly perfect. It makes me feel like I have failed the gun somehow, and that's nerve-wracking.
The second reason a day like today is a pleasure is that the gun, itself, is such a little sweetie. The Diana 23 is lightweight and easy to cock. The trigger is certainly not world-class, but it releases with a reasonable pull; and, if the gun is also accurate with open sights, all the better.
The hold
I find when I shoot light low-powered airguns like the 23, the artillery hold isn't so important. I grasp the rifle tighter than a real artillery hold, though not as tight as I would hold a recoling centerfire. Maybe something more like a rimfire hold. The rifle seems to respond okay to this treatment.
JSB Exact RS
The first pellet I tried was the JSB Exact RS dome. They did well in the 10-meter test that I read before starting this one. I noted that deep-seated pellets did best in that test, so all pellets in this test were seated with the Air Venturi Pellet Pen and Pellet Seater. The RS pellets fit the bore very well and were not tight going into the breech as they were seated. They hit the target high and just a little to the right when I held the tip of the front sight on the 6 o'clock spot of the black bull. I used the standard 10-meter pistol target because it appears large enough for open sights all the way out to 50 yards.
The group I got measures 1.16 inches between the 2 furthest centers. I'm quite satisfied with that group, except for the centering. The way the 23′s sights are made, I'll have to drift either the front or rear sight in their dovetails to correct where the pellets land; and since I'm going to change the barrel, I decided to wait and see where the new one shoots.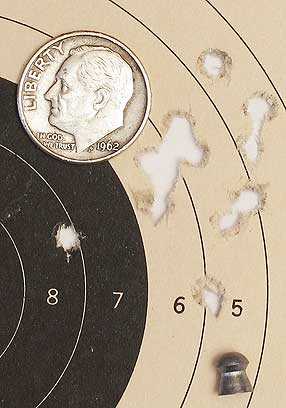 Ten JSB RS pellets made this 1.16-inch group at 25 yards. It's a little large; but for such a small rifle — and with open sights, I'm satisfied.
Air Arms Falcon
The second pellet I tried was the Air Arms Falcon that blog reader Kevin Lentz likes so much. They're made by JSB and weigh the same as the RS pellets, so the temptation is to think they're RS pellets under a different name. But I don't think that's the case. The late Bill Saunders of Air Arms told me that Air Arms owns the dies for all their pellets; and even though JSB makes them, they're not simply rebranded pellets. If anything, Falcons fit the bore a little looser than RS pellets.
At any rate, Falcons didn't do as well as RS pellets in the Diana 23. Ten of them made a group that measures 1.568 inches between centers. This group appears not to have 10 shots in it, but several pellets must have gone through the same hole at the top of the group because I counted each shot carefully.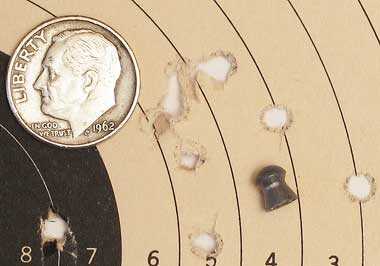 Ten Air Arms Falcon pellets made this 1.568-inch group at 25 yards. This is larger than I would like. I think I'll stick to the RS pellets for this rifle.
RWS Hobby
The final pellet I tried was the RWS Hobby wadcutter. They fit the bore very snug and popped in when seated. Though they were at the outside limit of distance for accuracy (wadcutters start to spread apart after 25 yards), they performed very well — delivering the smallest group of this test. Ten pellets went into 1.014 inches at 25 yards. With that kind of accuracy, I would stick with the Hobbys that are less expensive than the other premium pellets anyway. Sure, the accuracy falls off as the distance increases, but how much farther do I expect to shoot this rifle? Not much!

Ten RWS Hobby pellets went into 1.014 inches at 25 yards. This is great accuracy for such a small rifle and open sights.
That's all I'm going to test for now. Next comes the refinish and then whatever I do as I put the rifle back together. It's a fun little gun. I wish there were more like it!
by Tom Gaylord, a.k.a. B.B. Pelletier
Benjamin Marauder .177 caliber Part 1
Part 2
Secrets of loading the Benjamin Marauder magazine
Part 3
Part 4
Part 5
Part 6
Fixing a Marauder magazine
Part 7
Benjamin Marauder .25 caliber Part 1
Benjamin Marauder .25 caliber Part 2
Part 3
Part 4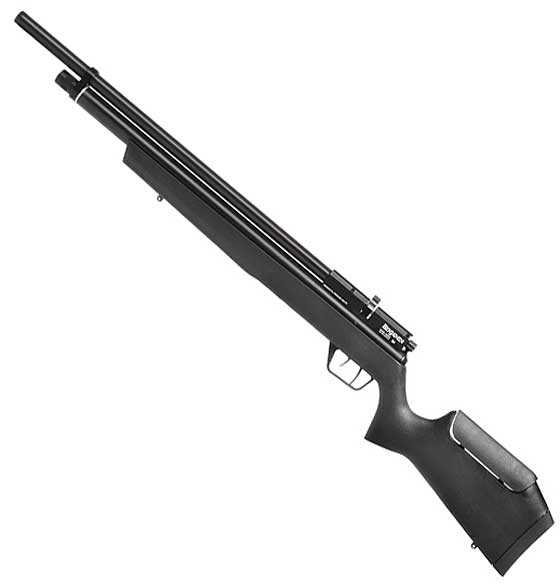 New Benjamin Marauder with synthetic stock has all the features of the classic Marauder in a lighter, trimmer package.
Sometimes, I get a rifle that I've waited a long time to test, and today begins a report on one of them. The Benjamin Marauder with synthetic stock has been on my mind since I first saw it at the SHOT Show back in January. In the intervening 11 months, I had forgotten a few things that struck me about this rifle when I first saw it. The first was how light and trim it feels. Compared to a wood-stocked Marauder this rifle is a pound lighter, at just over 7 lbs. But with the lightness comes a much slimmer stock profile, so it fits the hands better, too. It's the kind of air rifle that makes me smile just to pick it up! The rifle I am testing is serial number 013121147.
You've noticed there are a lot of links at the beginning of this report. I've linked to all the other reports made on the Benjamin Marauder in this recent series. I did those other reports on the .177- and .25-caliber Marauders specifically so I could look at this new rifle in .22 caliber. Not only are we going to look at what's new with the Marauder, we're also going to have a complete set of reviews for all calibers in one place.
What's new?
Those who've been following the Marauder reports are no doubt familiar with the general characteristics and features of the Marauder. Most of these have not changed. The rifle is a 10-shot bolt-action repeater (8 shots in .25 caliber). There used to be an optional single-shot tray for all 3 calibers, so you could remove the magazine and load each pellet separately, but Crosman has dropped that option for the .22 and .25 calibers. They retain it for the .177 caliber because that's the only one suitable for field target and field target shooters like to load each shot separately.
The rifle is adjustable for both power and for the maximum fill pressure (from 2,000 psi to 3,000 psi) and a hang tag that comes attached to the trigger guard tells you the factory has set the fill pressure of your rifle to 2,500 psi. The owner's manual tells you how to adjust both the fill pressure level and the rifle's power, plus I did a very detailed report on both things a while back. Part 4 of the .177 report deals with adjusting the rifle's power and Part 7 of the .177 report deals with adjusting the maximum fill pressure of the rifle. The new rifle I'm looking at operates in exactly the same way, and nothing has changed as far as those adjustments are concerned.
Another noteworthy feature the Marauder has is the adjustable trigger. It's a dream trigger that can be adjusted very finely to almost whatever a shooter wants. The new Marauder also offers an adjustable trigger, but it's slightly changed from the older one. I've examined the isometric illustration of the new trigger in the manual and can see very little difference in the internal parts, so I doubt the feel and function has changed that much; but I do plan on doing a trigger adjustment on the test rifle, so we'll all know. Until that report, then, let's assume the trigger is just as good as it's always been, which — on the Marauder — is very good, indeed!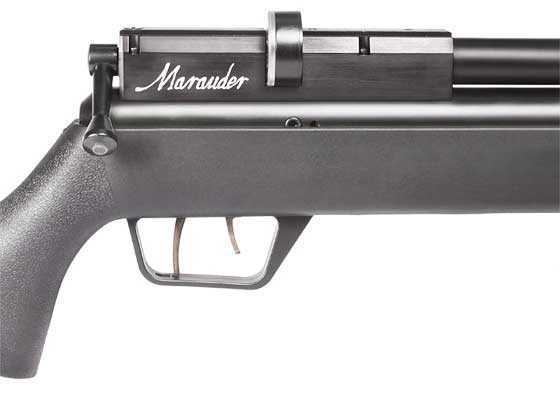 The trigger on the new rifle is very similar to the old trigger, but some internal parts have changed. The biggest noticeable change, though, is the squared-off triggerguard.
The trigger blade has moved backward in the stock, so your fingers reach it more readily. I think that gives the stock a more welcoming feel when you shoulder the rifle, though it doesn't pop out at you. That movement was the reason some of the internal trigger parts had to be modified.
The safety is manual — just like the safety on the old Marauder. Pull it back to put it on — push forward to take it off. It's light and smooth and can be operated by the trigger finger, alone.
One thing that's obviously changed is the stock. The rifle I'm testing has a black synthetic stock with an adjustable cheekpiece. The sculpting of this stock is perfect for the shooter, in my opinion. The pistol grip fits my hand very well without being too fat; and the forearm just in front of the triggerguard is very thin, making a perfect place for the off hand to rest. The forearm then swells out a little further forward; so, if you hold your rifle like a deer hunter, there's more meat to grab on to. But even that part is sculpted to fit the fingers and thumb of your hand, making a rifle stock that grips you as much as you grip it.
I intend adjusting that cheekpiece to suit whatever scope I mount on the rifle. How enjoyable to have a rifle that doesn't need any adaptation or compromise when held — one that just fits me the moment I pick it up. I think Part 2 of this report will be devoted to setting up the rifle — the stock, the scope and the trigger adjustment.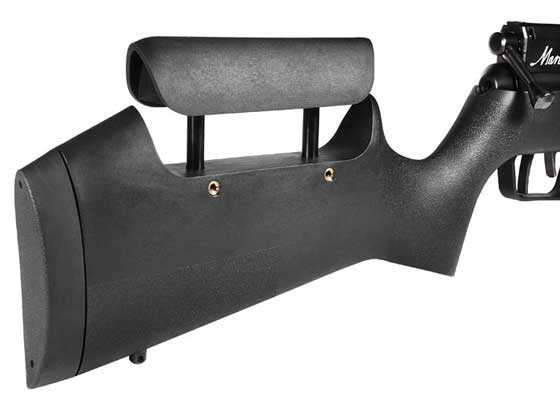 The cheekpiece adjusts up and down, and can be set to match whatever scope you mount on the rifle.
The bolt is now ambidextrous! Lefties can now have the bolt handle on their side of the action. Making this switch requires some disassembly of the action, and Crosman recommends sending the rifle to an approved service station like Pyramyd Air for the switch. So, if this is something you want, think about it when you order the rifle and get the work done before the gun is shipped.
Crosman touts some changes to the rifle's valve that offer a 12 percent increase in available power and a 30 percent increase in the shot count. I guess I'm going to have to make those adjustments to find out how effective they are. I doubt that we'll see both a power increase and a shot count increase at the same time, though. That's just the way compressed air works.
Crosman also says there's a factory installed de-pinger that quiets the striker fall. You don't notice that noise on most guns, but the Marauder is so quiet that secondary noises start to be heard. My ears are pretty well worn, but I'll see if I can detect anything for you.
.22 caliber
The test rifle is .22 caliber. Of all the Marauders I've shot, I've never tested a .22, so this will be a big thrill for me. I always thought that .22 was an ideal caliber for this rifle, given the power potential. I intend on testing it at 25 and 50 yards, just like I did the other 2 calibers. The choked barrel is 20 inches long and encased in a baffled shroud that quiets the gun's report to almost noting. I did note that the .25-caliber Marauder was just slightly louder than the .177, so I'll report on this one when the shooting starts.
Next time…
That's it for our first look. Next time, I'll adjust the rifle to fit me, adjust the trigger and mount a scope. After that, I'll check the velocity and then we'll get to the accuracy testing, which I'm really looking forward to. Stay tuned!
by Tom Gaylord, a.k.a. B.B. Pelletier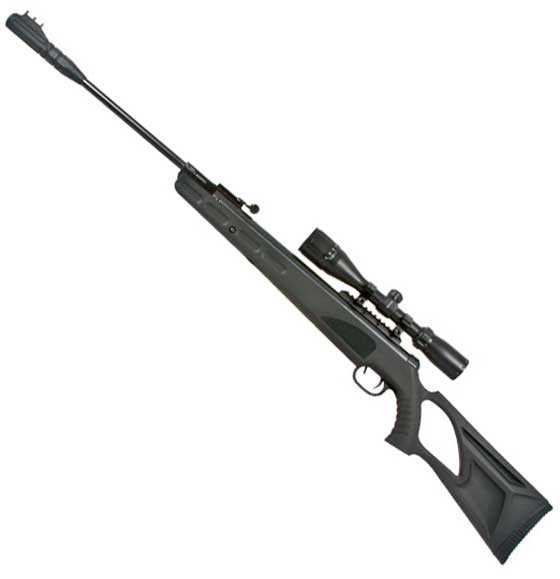 Umarex Octane gas-spring rifle combo.
Just a word
Befoere I get started with today's report, I want to say something about what happened this weekend. Friday's airsoft report got a lot of comments. Among them are several questions about the technology of the guns. And some admissions that people didn't think much of airsoft before they tried it, then they found their opinions changed drastically. That also happened to me, so I can relate to it.
But all you who don't care for the subject don't need to worry. This isn't going to become an airsoft blog. I will continue to report on it at a low level, but I know this is an airgun blog, and that's not going to change. I want to assure the readers for whom the subject of airsoft is not welcome that we are still going to talk about pellet guns and BBs guns for the most part. I will write a few reports on airsoft now and then, and I trust they won't upset you too much.
Okay, that's done. On to the topic of the day!
Today is our second look at the .22-caliber Octane combo from Umarex, and it's velocity day. Before I get to that, there are a couple adjustments I wanted to make to the rifle. Let's look at those now.
The first adjustment is the trigger. In the first report, I said the trigger is crisp but heavy. The adjustment screw adjusts only the length of the first-stage pull; so I adjusted it to be longer, and stage 2 decreased. Don't go too far or the rifle will not cock at all because this adjustment does affect the area of sear contact.
I did go too far and had to call Umarex USA, where I learned that the Octane is supposed to come with a warning tag telling you not to turn in the adjustment screw more than one full turn. I went way past that, so all I had to do was turn the screw back out until the head stood even with the trigger blade — and the trigger was back to working again. For even greater contact, turn the screw so it stands proud of the trigger blade.
Dismantling tip
The second thing I wanted to adjust is the tension on the action forks because the barrel pivot was too loose. To do that, I normally take the barreled action out of the stock. But with this rifle, you need to be aware that the pins in the trigger are not held in and will fall out of the trigger if the action is tipped sideways. I didn't know this, of course; and when the first pin fell out, it set me up for 45 minutes of work to get the trigger back together again. It seems that the trigger pins are held in place by the stock. Other airguns I've worked on have the same arrangement, and one solution is to put tape on one side of the trigger to hold the pins in place…and keep the trigger oriented straight up and down.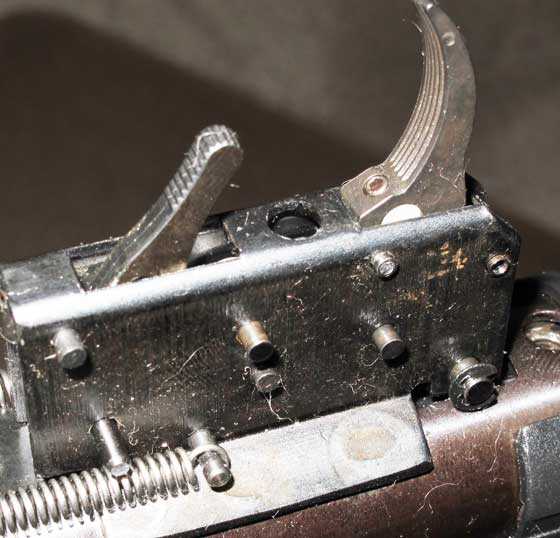 Each of the 6 free (not held by circlips or springs) trigger pins seen here is very loose in its hole and will fall out of the trigger if the gun is jostled or tipped to the side. They're held in place by the stock. What appears to be a pin at the far right is actually a rivet.
Better still — what you can do (VERY CAREFULLY!) is remove both forearm screws and just LOOSEN the rear screw behind the triggerguard. Then the front of the action can be tipped up clear of the stock far enough to tighten the barrel pivot bolt and nut. I would advise against taking the action completely out of the stock. If you do, know how loose the trigger pins are and treat the rifle accordingly. When the pins fall out, the internal trigger parts start moving around. They're fairly easy to align with their pin holes, except for the safety that takes a little fiddling since it's a 2-piece assembly with an internal pivot. My advice is to leave the gun in the stock.
One final tip. When you tighten the stock screws, don't tighten the rear stock screw (the one behind the triggerguard) too much or the trigger won't function. It was not tight when I first took the action out of the stock; and I found that if I tightened it too much, the trigger would not work. Umarex told me the screw shouldn't affect the trigger at all, but I'm just reporting on the behavior of my test rifle.
Now, let's look at the velocity of the Octane. I've selected 3 popular lead pellets and one lead-free pellet.
JSB Exact Jumbo
The first pellet I tested was the 15.9-grain JSB Exact Jumbo. This is a popular and very accurate pellet in many airguns, and I think it may be accurate in the Octane. This pellet averaged 762 f.p.s. in the Octane. The low was 748 f.p.s., and the high was 787 f.p.s.; so the spread was 39 f.p.s. At the average velocity, this pellet produced 20.51 foot-pounds of muzzle energy.
This pellet loaded easily, perhaps too easily. I think it might be a little undersized for the Octane's breech. That could affect the accuracy. We'll see.
RWS Hobby
The RWS Hobby pellet weighs 11.9 grains in .22 caliber and is very tight in the Octane's breech. It averaged 889 f.p.s. in the rifle with a low of 867 and a high of 902 f.p.s. So the spread was 35 f.p.s. At the average velocity, this pellet produces 20.89 foot-pounds of energy at the muzzle.
I don't know how Hobbys will do in the Octane, but I suspect they'll do well because of the tight fit in the bore. Of course, the Hobby is a wadcutter, so accuracy will fall off after about 25 yards.
Beeman Kodiak
The .22-caliber Beeman Kodiak dome weighs 21.14 grains, which makes it a very heavy pellet. In the Octane, Kodiaks averaged 682 f.p.s. with a range from 665 to 691 f.p.s. That's a total spread of 26 f.p.s. At the maximum velocity, the Kodiak produces 21.84 foot-pounds at the muzzle.
My guess is that the Kodiak pellet might also be a good one for the Octane. If so, that's great because it also produces the most energy of all the lead pellets tested.
RWS HyperMAX
Okay, the name of the game with pellet rifles these days is speed, and the RWS HyperMAX lead-free pellet at 9.9 grains is the way to get it. In the Octane, they averaged 1029 f.p.s. with a spread from 1022 to 1075 f.p.s. That's a spread of 53 f.p.s., so the rifle is probably still burning a lot of fuel. At the average velocity, the HyperMAX pellet produced 23.28 foot-pounds of energy at the muzzle.
The HyperMAX pellet fit the breech very loosely. That's probably where the extra velocity spread came from, as more dieseling was generated by less pellet resistance. I doubt this pellet will do very well in the Octane because of the loose fit.
Shooting behavior
The rifle recoils noticeably in both directions, but there's no vibration, whatsoever. Nearly all rifles with gas springs have a sharp buzz that hits you in the cheek, but the Octane doesn't. In fact, aside from the recoil, it's a very smooth-shooting spring rifle.
Trigger-pull
Remember that I had to adjust the trigger for a very definite stage-2 let-off. That affected the trigger-pull a lot. I was able to adjust it back to a release of 7 lbs., 14 oz. with very little creep. It's heavy, as I noted before, but I think it's crisp enough to do good work. We shall soon see!
The Octane IS NOT LOUD!
When I first tested the rifle it was very loud. And the sound persisted for longer than I felt the dieseling of a new airgun would last. But during this test the rifle suddenly became MUCH quieter. Obviously, it had been dieseling and I didn't know it.
I originally told Edith it was a 3.7 on the sound scale when I tested it, and she adjusted the loudness level on Pyramyd Air's product page to 4. But now she can hear that the Octane is clearly a 3. I apologize to everyone who was mislead by my earlier report. The Octane is a normal-sounding breakbarrel air rifle.
Observations thus far.
I said in Part 1 that the Octane holds very well in the hands. The weight is biased forward toward the muzzle, and the stock is slender when the off hand rests. Add the smooth shooting to this, and I think the Octane might surprise us in the accuracy test.
I plan on shooting the rifle at 10 meters with its open sights first. That should give us an idea of which pellets it likes. Then, I'll mount the scope and shoot those best pellets at 10 meters, again. That does 2 things. First, it confirms the pellets are as good as we think; and second, it allows me time to adjust the scope for the second accuracy test at 25 yards.
by Tom Gaylord, a.k.a. B.B. Pelletier
I decided to write this for those readers who indicated they were interested in airsoft to some degree. I know this is an airgun blog, and that means pellet and BB guns — not airsoft, but there are some crossovers. For example, many airsoft companies are now entering the world of steel BB guns. I promise we're not going to become half-and-half or even one-quarter airsoft; but since there are questions, I feel the need to address them.
History of airsoft
This will be short and sweet. Airsoft came about in the Orient in the 1970s, when the demand for realistic guns that were not firearms was first satisfied. The early designers made their guns shoot 6mm plastic balls that they have since come to call BBs.
The early guns were made to satisfy the needs of collectors to see, feel and even be able to disassemble the guns in which they were interested. So, the early thrust of airsoft guns was for collectors, only. However, the fact that the manufacturers made these guns fire their plastic BBs soon evolved into an entirely different interest. People began conducting wargames with the guns. Instead of paintball, which is very painful when the .68-caliber balls hit flesh, the 6mm plastic balls had almost no impact. Of course, the guns in those days were firing at very low velocities; because it was realism, rather than the gun's ability to shoot, that attracted buyers.
Once the wargames began, airsoft split off into two directions. The collectors wanted highly realistic guns, and the wargamers wanted guns that were accurate at long distance and would hold up under simulated combat conditions. Some of the early collectible guns sold for thousands of dollars. Indeed, there are still a few of these collector guns being sold today. One example is a very real airsoft Browning Automatic Rifle (BAR) that sells for well over $3000. But the collector market has been far surpassed by the wargamers, who now call themselves skirmishers. Airsoft guns for skirmishes are the biggest sellers in today's market, which has grown to more than a billion dollars in sales annually.
The BB gun wars
I've written several articles about the BB gun wars that were conducted in the United States from the 1890s until the 1960s. The BB gun wars were literally backyard battles fought by teams of kids with BB guns. Every community had them, and each bunch of kids had their own rules. I've owned several BB guns with multiple dents in both the wood and metal from the impacts of BBs that are obviously survivors of the BB gun wars.
It's my contention that the BB gun wars still rage today, but they're now being fought with airsoft guns. Apparently, there's a need for people to shoot at each other in mock combat, and airsoft guns seem to fill this need.
IPSC
Because shooting at people is so emotionally-charged, IPSC shooting has recently become popular. IPSC stands for the International Practical Shooting Confederation. It's the international extension of practical pistol shooting that began as law enforcement training in the U.S. in the 1960s. IPSC competitors shoot from 30,000 to over 100,000 rounds each year in training and competition, so the game is not for poor people.
Airsoft guns are a wonderful way to get into this competition without spending the kind of money that it costs to shoot firearms. For one-hundredth the cost of firearms, shooters can have the same fun under safer conditions with 6mm airsoft guns.
Wrap-up
Airsoft history is rapidly evolving. In just 40 years, it's gone from pure collecting to wargames and now to practical pistol shooting. Who knows what'll happen in the next 10 years? What's obvious, however, is that the technology of the airsoft guns is evolving as fast as the interest is. This is a burgeoning area that's spending a lot of money to satisfy multiple needs.
Powerplants
Let's examine the airsoft powerplants so we can see what exists and what's possible. The first powerplant we'll look at is the spring-piston.
Spring-piston
The spring-piston airsoft powerplant is no different than a spring-piston found in any other type of airgun. A piston is powered by a coiled steel spring and moves forward rapidly to compress a column of air that then drives the airsoft BB. Most airsoft spring-piston guns are repeaters, but they must be cocked for every shot. You sometimes see these repeaters called single-shots because the people writing about them don't understand the difference between a true single-shot that only holds one round and a repeater that holds many round but must be cocked separately to fire each one.
Spring piston guns are among the least expensive, and yet they can also be very powerful and accurate. Sniper guns are powered by spring pistons for the most part. The lowest-powered spring-piston guns cost very little and are not built to last a long time. They have a lot of plastic parts that eventually do wear out. But if you don't abuse them, most will give you many thousands of shots that will be surprisingly accurate.
Gas guns
Gas airsoft guns are very similar to gas airguns, except they do employ a wider range of gasses. Besides CO2, which they've begun to use in the last 15 years, airsoft guns also use other industrial gasses that go by colorful trade names. Green gas and red gas are 2 of these; and green gas is, by far, the most popular. Green gas is nothing more than propane, though some suppliers do infuse some oil into the gas to help lubricate the airsoft mechanisms.
Green gas runs at a nominal pressure of 115 psi. It's supplied in dispensing cans that have nipples that couple with the inlet valves of the guns they serve.
Someone asked me if green gas was as powerful as CO2, which is pressurized to 850 psi and higher. Well, it isn't. But that doesn't mean very much, however, because CO2 has to be stepped way down to safely operate an airsoft gun. The same gun can use both green gas and CO2, it just needs two different magazines — each with its own valve to handle the correct gas.
Generally speaking, gas guns tend to be faster than spring-piston guns, but that isn't always the case. There are bolt-action spring-piston sniper guns that are very powerful. It's impossible to make a blanket generalization.
Automatic-electric guns (AEGs)
AEGs are spring-piston guns that are powered by small high-torque electric motors. The motor cocks the piston and trips the sear. The gun usually has a selector switch that allows full-auto (the motor repeatedly cocking and releasing the piston as long as the trigger is held down) and semiauto (firing one time per trigger pull). Besides the spring-piston side of this powerplant, there's the electric side that deals with batteries, motors and gears.
AEGs are popular because they can shoot full-auto, which gamers and collectors both enjoy. They also are among the fastest-shooting airsoft guns, although bolt-action sniper guns can be modified to be very fast, as well. AEGs allow people to experience things that most people cannot experience with firearms; and, of course, they do it at a fraction of the cost. Even law enforcement agencies are using AEGs as training simulators because they're much safer than firearms that shoot training ammunition called Simunitions. You can make a mistake with a firearm and kill someone — it happens all the time. But you can't possibly load a firearm cartridge into an airsoft gun, no matter how realistic it may seem.
The technology is changing rapidly. Today, there are even a few hybrid AEGs that can be used with or without electrical power. Obviously, these will appeal to people who never want to be caught without a functional gun.
What comes next?
Next time, I'll talk about modifying airsoft guns. Not all guns can be modified, but a surprising number can be; and the manufactures do supply the parts to make the modifications.
I'll also talk about power, which is fast becoming an important topic. As the guns become more powerful, the "soft" in airsoft is being tested to the limits.
by Tom Gaylord, a.k.a. B.B. Pelletier
Part 1
Part 2
Part 3
Part 4
Part 5
Part 6
Part 7
Part 8
Part 9

Brand new TX200 Mark III. It's very similar to my older TX, but the checkering is different and the line of the forearm is more scalloped.
I'm writing this extensive report to fully explore the fabulous Air Arms TX200 Mark III, which is without a doubt one of the finest spring-piston air rifles in the world! The good news is that it's still available today. The better news is that it's everything it's cracked up to be! Writers have a few trite phrases to convey quality in the airgun world. "As good as a TX 200″ is one of them, and it's very high praise.
There are 9 links above that will take you all the way back to the beginning, when I started by testing my own well-broken-in TX 200. But now I've shifted over to a brand-new rifle that Pyramyd Air sent to me to test. Some readers wondered if my rifle, which is so well-used that it might be performing above the bar, so to speak, because of the use it's had. They wanted to see a rifle that's being made today, and also one without all the wear on the parts. That's what we're testing now — a brand-new TX whose only shots are the ones you have witnessed on this blog.
Scope
The TX has no sights and must be either scoped or have some other kind of optical sight mounted. One of the tests we're going to do with this rifle is to mount a red dot on it and see what that does for it. Blog reader Mannish from Mumbai asked for that test a long time back.
We're also going to test the effects of shooting the gun at 4X and again at 16X with the same scope. Reader Duskwight asked for that — to see if the increased magnification would affect the group size. I also want to see if changing the magnification changes the point of impact, so that test will be a twofer.
I'm leading up to the scope I chose for this test. I might have selected the same Hawke 4.5-14X42 Tactical Sidewinder that was on my TX when I tested it, but that didn't give me all the magnification I wanted for Duskwight's test. So, I selected a vintage AirForce 4-16X50 scope, instead. Mine is older than the model being sold today, but the specifications are essentially the same. For a mount, I selected a nondescript 1-piece mount. I chose it because it has a vertical scope stop pin for the TX scope stop holes, plus it has the height needed for the scope's objective bell to clear the spring tube. I have no idea who made it.
The test
I started sighting-in at 12 feet, putting 3 pellets into the target and adjusting until they were in line with the center of the bull, more or less. They were high, so I cranked down about 4 complete turns on the elevation knob, knowing that back at 25 yards the gun would be shooting higher than at 12 feet.
When I shot the first pellet at 25 yards, it was still about 1.5 inches high, so a couple more turns down on the elevation knob brought it to the center of the bull. As always, I tried to intentionally keep the pellets from striking the center of the bull, as that erases my aim point very quickly. The sight-in was now complete with about 7 shots being expended.
All of today's shooting is at 25 yards, which is really close for a TX. I rested the rifle directly on my sandbag, with the bag turned sideways, so the rested area touched about 5 inches of the forearm. I used an ultra-light hold, and the groups showed the results. I selected a couple pellets that had done well in the test of my personal TX and one that had never been tested for accuracy before.
H&N Baracuda Match
The first pellet was the one I used to sight-in the rifle — the H&N Baracuda Match. It was landing to the left of the aim point and in the center of the bull for elevation. Ten shots landed in a group that measures 0.417 inches between the centers of the 2 pellets farthest apart. That's well within the range fired by my personal TX at 25 yards.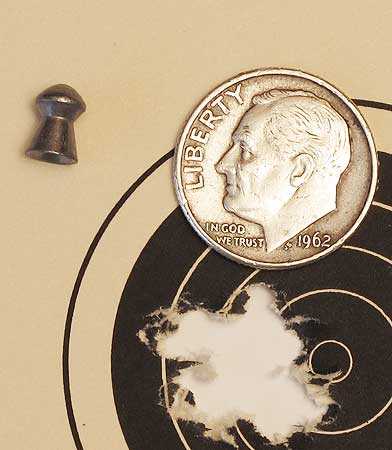 Ten H&N Baracuda Match pellets went into 0.417 inches at 25 yards. The rifle was rested directly on the bag.
JSB Exact RS
Next, I tried a pellet I haven't tried for accuracy in the TX — at least not that I can remember. The JSB Exact RS dome is a very lightweight pellet for a rifle this powerful. The first shot landed about 1.5 inches above the spot where the Baracudas were hitting, but it was still on paper, so I continued to shoot. Each shot that followed seemed to drop a bit lower on the paper, and as I was shooting I discovered something important. The rifle shoots this pellet very well, but it is extremely hold-sensitive. Moving the rifle a quarter-inch on the sandbag makes a tremendous difference. So, I was able to adjust the hold carefully and get the pellets to land closer together.
I think the RS pellet can be made to shoot, but it isn't worth the effort when there are other pellets that shoot even better without all the fuss. The 10-shot group I got measures 1.501 inches between centers, which is terrible; but 6 of those pellets were the ones I took special pains to hold exactly the same, and they measure just 0.496 inches between centers. That's the potential of this pellet when you handle the gun like it's a soap bubble!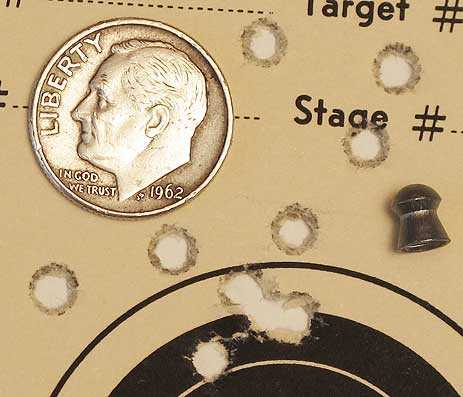 Ten JSB Exact RS pellets went into 1.501 inches at 25 yards, but 6 of them are in 0.496 inches. It's too much trouble to shoot that carefully, if you ask me, but the rifle can do it.
Crosman Premier heavy
The last pellet I tested was the Crosman Premier heavy. The group was a phenomenal 0.333 inches between centers! That's slightly better than the best group I shot with my own TX at 25 yards, but the difference is only 3 one-thousandths of an inch and could easily be hidden by an error in measurement. So, the 2 rifles are equivalent.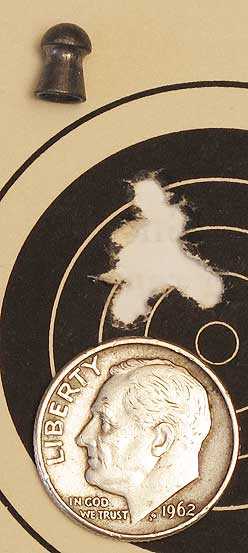 Ten Crosman Premier heavys made this 0.333-inch group at 25 yards. Clearly, the new TX 200 Mark III is a tackdriver!
I could have shot other pellets and shown you more targets, but by now you're getting the picture. The new TX is the same as it has always been — one of the finest and most accurate air rifles on the market.
Next
Next, I'll test this rifle at 50 yards. I'll do essentially the same test that I did with my own TX at that distance, but then I'll add the 4-16X test. That will tell us if there's an advantage to more magnification, and it will also show if the point of impact changes as the magnification changes.
After that test, I plan on mounting a red dot sight on this rifle and testing it at 25 and 50 yards. I think that will end the test of this rifle, unless something else comes up.