by Tom Gaylord, a.k.a. B.B. Pelletier
Friends, I am so jammed up with work that it isn't funny. I've never been so busy in my life. I'm trying to do everything for everybody, and it's pulling me in all directions.
I'm not telling you this for sympathy. I'm telling you so you'll understand the next set of notes.
There's going to be an airgun show here in Texas on September 6. It will be about 20 miles outside Ft. Worth at a gun club that has asked me to put on an airgun show for them. Their members all own airguns and want a place to sell them. I believe both airguns and firearms will be permitted at this show, which will be a first for any airgun show.
This s a private club that runs 6 gun shows a year, but they have no concept of what an airgun show will be like. I do. They'll pull in visitors and dealers from thousands of miles away, instead of a 50-mile radius. I already have several commitments.
Pyramyd Air will sponsor the show. Jim Chapman has said he'll come and be on the big bore range along with Eric Henderson. That's the two most prominent big bore airgun hunters in the world at the same place and time demonstrating big bores to all who want to learn. Big bore maker Dennis Quackenbush will also have a table at this show. And, no, I don't know what he will have for sale.
AirForce Airguns said they will have a table, and the "American Airgunner" TV show has said they'll film the show.
I'll try to pull in as many major airgun dealers as possible from around the country. But here's the deal. These guys (the people running the show) have no concept of how big this could get. They haven't met with me yet to give me names of contacts, table fees, etc. Until I know that, nothing is decided. I'll keep you informed. Please don't ask until I tell you — right now, you now know as much as I do.
I'm traveling next week to attend the "Flag City Toys That Shoot" airgun show in Findlay, Ohio. I'll also stop by Pyramyd Air to return some guns I've tested over the past year. I have one other stop to make on the East Coast. That will keep me on the road for over a week, and I need blog reports that I can write quickly without resorting to test results.
What I need are topics I can write while I'm on the road. I have such topics — the choking of a barrel, more on airsoft tuning, safety of CO2 guns, etc. I'm saving those reports for the road. I also have one guest blog from reader RifledDNA that I'm saving for that time.
That's a quick update on my life and what's happening. Now, let's get on with today's report.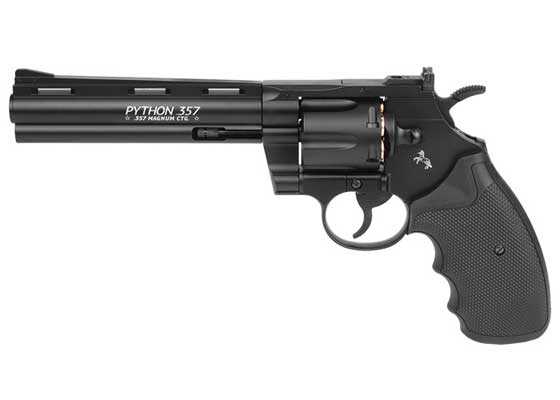 The Colt Python from Umarex is a realistic-looking BB revolver.
Umarex is bringing a realistic Colt Python to market. It's a BB gun (shoots steel BBs, not plastic 6mm airsoft BBs) that uses realistic-looking shells to hold each of the 6 BBs it fires. When you load it, it loads with cartridges, just like a normal .357 Magnum Python.
When I saw this revolver at the 2014 SHOT Show, I told Justin Biddle, the Umarex USA marketing director, they're going to sell a boatload of these. I remember the wide acceptance of the Dan Wesson BB revolver when I tested it. This Python is the same thing. It looks real, feels real and customers are going to reward the effort by buying it. I just hope it turns out to be as accurate as the Dan Wesson!
When I opened the box, it revealed all that comes with the revolver, plus an undisclosed but entirely realistic bit of future information. As you can see in the picture below, the revolver comes with a speedloader and 6 (count 'em) shells that hold one BB each. An astute observer will also note the styrofoam in the box is cut for 4-inch and 2.75-inch barrels, so I think that's the plan. This revolver that I'm testing has a 6-inch tube.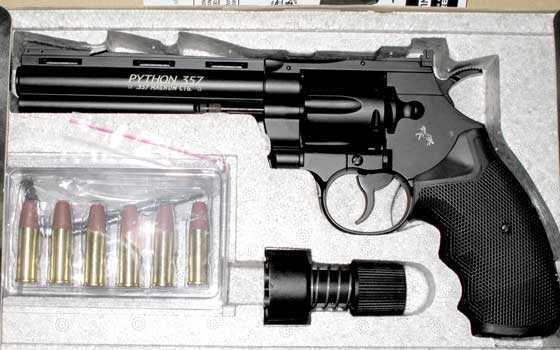 This is what comes in the box. Note the cutouts for the front sights of shorter barrels.
Each cartridge holds a single BB, so this gun is a true 6-shot revolver. I say that because shooters familiar with airsoft revolvers, which this one appears to descend from, usually load 4 plastic BBs into each shell, for a total of 24 shots per loading.
The speedloader assists in loading the 6 cartridges into the revolver's cylinder. But it can also help you load the cartridges with BBs I showed how to do that in a report on the Dan Wesson revolver. It should work the same for this Python.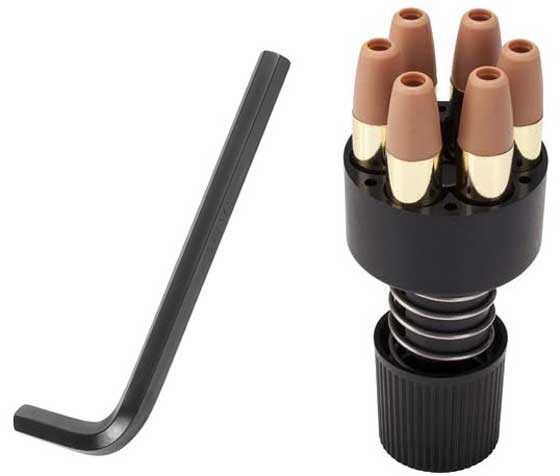 The Python comes with a speedloader that helps load the 6 cartridges into the cylinder. It also helps load the BBs into each cartridge.
What's so nice about this revolver, besides the great feel of the Python that it captures perfectly, is the way it operates the same as the firearm. The cylinder swings out to the left for loading, just like the .357 does. It's both single- and double-action, and the trigger-pull is lighter than the firearm in double-action but much heavier in single-action. I'm thinking this one will probably go as high as 5 lbs. in single-action. I'll weigh both pulls in the velocity test.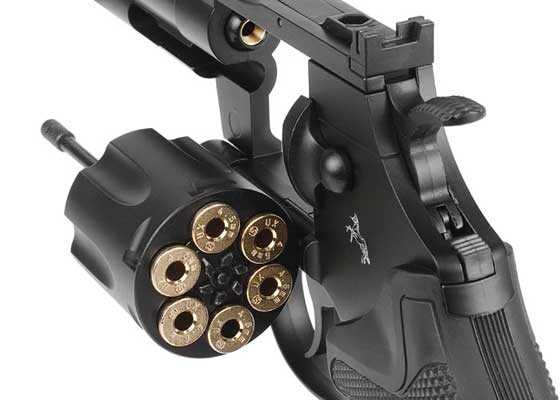 The cylinder pops out to the left, just like a Python firearm cylinder.
The gun weighs 39 ounces, which is several ounces less than a firearm Python with a 6-inch barrel (44 oz.). But it's definitely muzzle heavy, just like the firearm.
The one major departure from the firearm is the inclusion of a manual safety, located behind the hammer. Push it in to lock the action. Pull it out, and the gun operates normally. It's very difficult to see, so it doesn't hurt the look of the revolver one bit.

The manual safety (shown in the "on" position) is unobtrusive. Pull it back to take it off.
The sights are adjustable in both directions, as you can see in the photo above. I'll report on how well they work in the accuracy test.
The CO2 cartridge is housed inside the grip, but you don't access it in the normal way. The "normal" way would be to pop off one of the rubberized grip panels, exposing a place for the cartridge and some sort of mechanism to tighten it during piercing. Instead, this one uses a large, plastic threaded plug that screws in with a large Allen wrench supplied with the gun. It's easier to operate, plus it keeps the grip panels from loosening during use…as they always do with the other arrangement.

The CO2 cartridge drops into this hole and is tightened by this threaded plug.
All things considered, and with the revolver in hand, this BB gun is everything I'd hoped it would be. All that remains is to test it.
by Tom Gaylord, a.k.a. B.B. Pelletier
This report was requested by blog reader Rob 8T2 and seconded by a number of others. I reported on the spring piston forward spring guide that's known as a top hat, and he wondered if I was also going to talk about the AirForce top hat. Though they share the same name, the two items aren't connected in any way. One is a spring guide, and the other is an adjustable valve stem for a pneumatic valve. The adjustable valve stem draws its name because, like the forward spring guide, it also looks like a gentleman's top hat in profile.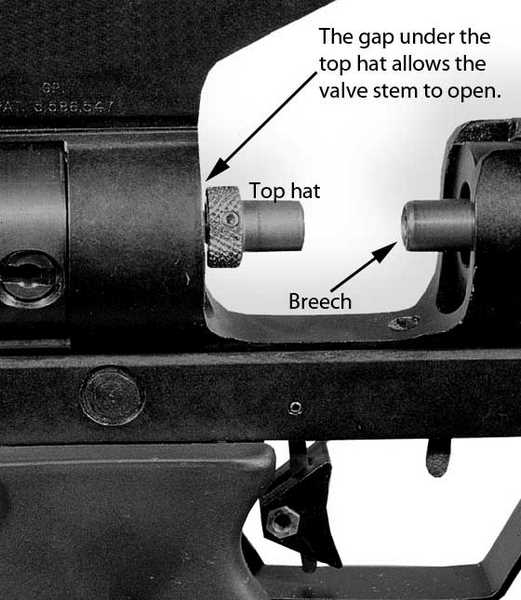 The sliding breech cover has been pushed forward, cocking the striker and revealing the breech for loading. This is the original valve from a first-generation AirForce Talon without a power adjustment wheel.
To understand the AirForce top hat, we have to go back in time to before AirForce Airguns air rifles had power adjustment wheels on the left side. In January 2000, I reported on the new AirForce Talon, the first air rifle to be offered to the U.S. market by the new AirForce company. But I'd already owned the rifle I tested for two years. I bought it from the UK company, GunPower, in 1998, when it was configured differently and sold as their Stealth rifle. In late 1999, AirForce Airguns sent the parts to reconfigure my rifle to their new Talon specification, with an 18-inch .22-caliber barrel.
By that time, I already had many hours of testing and shooting on the rifle in its original Stealth configuration with its 12-inch barrel. It was during that time, by talking to AirForce owner and creator John McCaslin, that I learned how to adjust the top hat of my rifle to change the power.
You may find it amazing to learn that I could adjust that rifle to fire from 65 f.p.s. all the way up to 950 f.p.s. with 14.5-grain Eley Wasps. In truth, any velocity below about 400 f.p.s. was just a parlor trick. The rifle could do it, but all consistency was lost. From 400 to 950, though, it was fairly consistent.
How the top hat power adjustment worked
Power was adjusted by screwing in the top hat to shorten the valve stroke and the valve dwell time (the time the valve stayed open). The valve stroke became shorter because the wide flange at the base of the top hat contacted the top of the valve body and stopped moving. Then, the valve return spring started pushing the valve stem closed again, aided by the high-pressure air inside the reservoir.
Conversely, a longer valve stroke meant more dwell time and more air flowing out. At some point, however, the pellet left the 18-inch barrel, and the longer valve stroke stopped having any additional influence. Once the pellet's out of the barrel, no amount of additional air can push it any faster.
To loosen the top hat for adjustment, unscrew a tiny 0.050″ Allen screw in the large knurled bottom flange of the hat, allowing it to turn on its threads. Once the desired clearance was reached, the small screw was tightened again. This screw caused problems because enthusiastic owners were over-tightening it, causing it to put dents in the hollow valve stem it contacted. In later years, AirForce started putting two screws in this flange to increase the locking pressure and hopefully reduce the damage to the valve stem.
The o-ring secret
Adjusting the top hat was a chore. One day, airgunsmith Tim McMurray told me about an easier, more convenient way. He said to slip a rubber o-ring around the top hat flange, so it rode in the space beneath the flange. It very effectively limited the amount of valve stem travel. Once I found out how good it was, I left it in place all the time. I wasn't interested in sheer velocity. I wanted good accuracy at a reasonable level of power. Nothing has changed in 14 years, has it?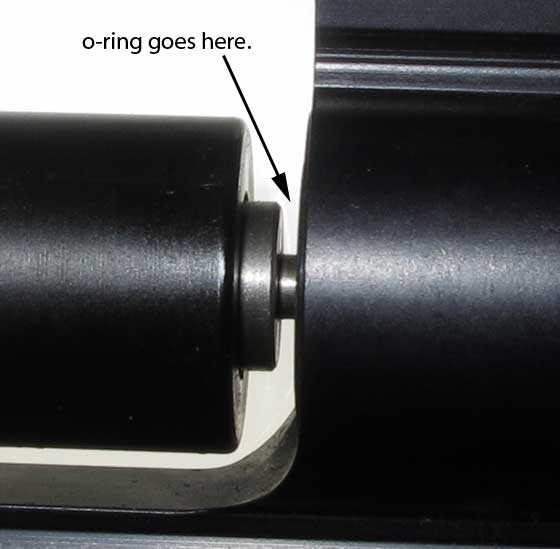 The closed breech of this very early Talon shows where the o-ring goes.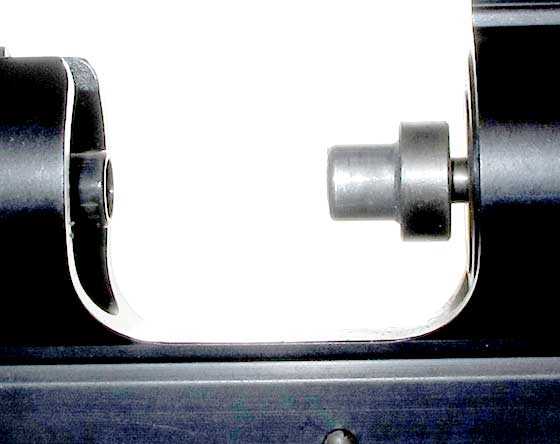 Here you see the breech open for loading.
Talon SS puts an end to top hat adjustment
In November 2000, I wrote about the new Talon SS, which was the first AirForce rifle to have a power adjuster on the left side of the gun. My own SS was a pre-production prototype that didn't have the power scale engraved on the side of the rifle; but after 14 years of continuous use, it's still working fine and the air tank has never leaked.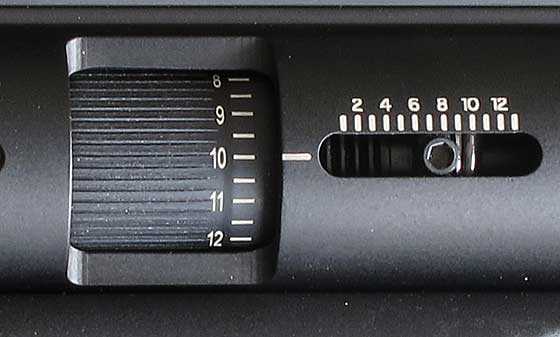 All AirForce sporting PCPs now have this power adjustment wheel.
The Talon was also updated with the power adjustment wheel at the same time. Now all AirForce sporting PCPs have power wheels and the top hats no longer need adjustment.
John thought that the power-adjustment mechanism would put an end to the fiddly top-hat adjustment, but it didn't! By the time the power adjuster came on the market, there was a lot of interest in AirForce Airguns…and the internet was abuzz with homebrew ideas of how they should be set up and operated. People did use the new adjustment, but they also continued adjusting their top hats. Top hats continue to be adjusted and discussed right down to today!
The truth about the top hat
The truth is that the top hat is still a very influential part of the AirForce system. It does have tremendous impact on the rifle's operation, though not always in the ways you read on the internet. Now that the rifles have the power adjustment wheel, the top hat has become more of a starting point or a setting that gives each rifle a potential range of power. The power adjustment wheel is what fine-tunes that range. The top hat is a set-and-forget kind of adjustment, only people are not leaving it alone.
Some valve stems are very thin, such as those found on the Hi-Flo valves. When the screws are over-tightened on these valves, they dimple all too easily. That's one reason I advise owners not to adjust their top hats.
Top hats are set at the factory with feeler gauges. I've told several people I once discovered that an American quarter coin was exactly the right thickness to set the top hat for a Condor Hi-Flo valve. I've actually done that more than once. A difference of one or two thousandths of an inch from the factory spec usually isn't critical. But when the difference grows larger than that, it does start to become critical. It depends on which rifle you're talking about to determine if the difference is critical.
For the record, I left AirForce Airguns in 2005, and a lot of things have changed since then. I'm not qualified to give out factory specs on anything they make today. I don't adjust my top hats at all. I use the power adjuster 100 percent of the time when I adjust, and most of the time I leave each gun set at the position that gives me the greatest accuracy.
You wanted to know about the AirForce top hat — there you go.
by Tom Gaylord, a.k.a. B.B. Pelletier

The PCP is built on a Crosman 2100B chassis.
I bet that when some people heard about this experiment, they laughed it off. Perhaps that will change now that we have looked at this novel idea 5 different times. I'm learning so much from this series that it's going to affect my writing for years to come.
I was surprised — again!
Somebody — I don't remember who — asked me to test the $100 PCP with round lead balls — I guess because the steel BB test turned out so well. So I did. I shot it at 10 meters with .177-caliber Gamo round lead balls. Since I shot with open sights, I didn't get to see the group after confirming that the first shot hit the paper. Imagine my surprise to see all 10 shots clustered tightly in 0.561 inches!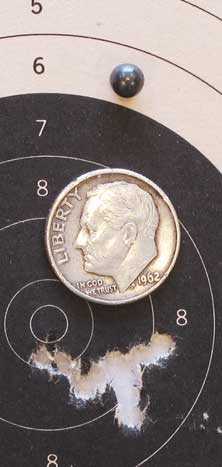 This tight group really surprised me! Ten .177 Gamo lead balls went into 0.561 inches at 10 meters.
That got me thinking — a lot! I've been doing this experiment so slow that I forget what I've done before.
What I thought I would do today was complete this report with a test of the rifle scoped at 25 yards. However, when I mounted the scope, it was very far off line, as in angled to the barrel. Either the grooves on the receiver are off or the scope mount I chose wasn't grabbing the base correctly.
After missing the target twice at 25 yards, I pulled the scope off the rifle and decided to shoot another test with open sights. I used different pellets than I used in Part 4 so we get to see some different results.
Crosman Premier heavy
The first pellet I tried was the 10.5-grain Crosman Premier heavy. In .177, Premiers come in both lite and heavy, and this is the first time I've tested this rifle with the heavy. I would love to tell you these pellets went into a small group, but the truth is that they scattered in a 2.352-inch pattern.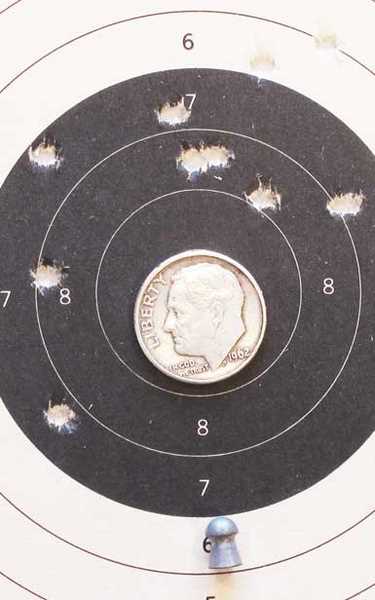 Not particularly encouraging, 10 Premier heavies made this 2.352-inch group at 25 yards.
H&N Baracuda Match
Next, I tried 10 H&N Baracuda Match pellets. They made a better group than the Premier heavies, but it still wasn't worth talking about. Ten pellets went into 2.051 inches at 25 yards.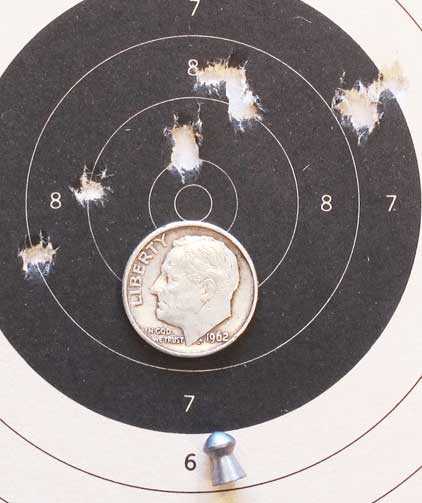 Ten H&N Baracuda Match pellets went into 2.051-inches at 25 yards. Still no cigar.
After looking at the second group, I noticed that it looked like the first group, only a little smaller. Because I always look through the spotting scope after the first shot of every group to make sure I'm on paper, I knew that the first shots of both groups were high and right. It seemed to me that the shots might be spreading out to the left as the pressure in the reservoir dropped; so on group 3, I took a photo after the first 5 shots had been fired.
RWS Superdome
Finally I tried RWS Superdomes. Including the lead balls I shot at 10 meters, this was the fourth projectile in this test and the seventh diabolo pellet tested at 25 yards in this rifle. The other 3 pellets were documented in part 4.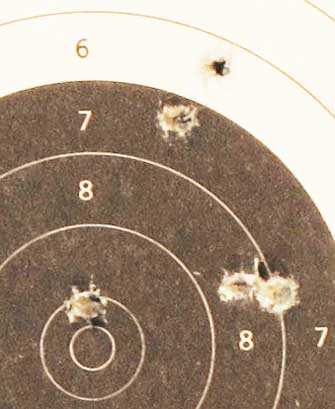 Five RWS Superdomes made this 5-shot group at 25 yards. Would the next 5 shots spread to the left?
Ten Superdomes went into 1.528 inches at 25 yards. That was the best group in this test with pellets, but only the third best pellet of the seven that were tested at 25 yards.
As it turned out, the next 5 shots didn't open the group that much more. So, another theory bit the dust.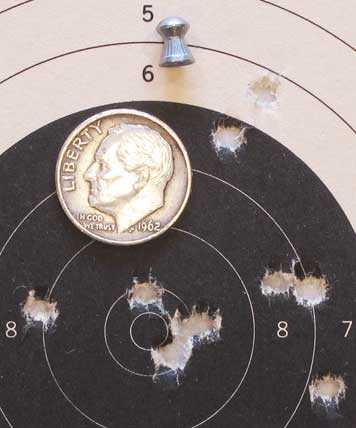 Ten RWS Superdomes made this 1.528-inch group at 25 yards. It's only a little larger than the first 5 shots, shown above.
Evaluation
The $100 PCP is very accurate at close range, but not as good as the distance increases. Of course, you must remember that the barrel is taped to the reservoir with Gorilla tape, so there's a lack of precision in the build.
It would still be interesting to see how this rifle behaves when scoped, but I'll have to find mounts that permit mounting a scope to the integral rail. At this point, I think the $100 PCP is a proven concept. I would really like to see this rifle in production.
by Tom Gaylord, a.k.a. B.B. Pelletier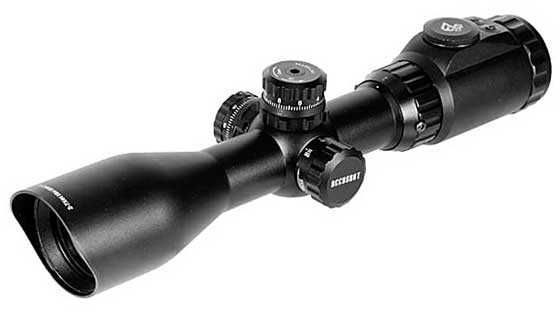 Leapers' UTG Accushot 2-7X44 Scout Scope is a remarkable sight!
And now for something I really want to talk about – Leapers UTG Accushot 2-7X44 Scout SWAT scope. I've been watching this scope for a year, wondering how I could work it into the blog. Most air rifles have no need for a scout scope, so it was a challenge to find one that did. Finally, I quit wondering and decided this is such a fine scope that I'll talk about it whether there's a huge need for it or not.
What is a scout scope?
To understand the scout scope, you must first understand the scout rifle concept. A scout rifle is meant to be carried on long treks, away from normal transportation. In other words, a rifle you have to carry most of the time. Therefore, scout rifles are light weight — especially for their calibers, which are often large to take long-range shots or drop dangerous game.
Many scout rifles do not lend themselves to having scopes mounted at the conventional location, which is just above the action. They require the scope to be mounted further forward, either to clear the path of the ejected cartridge, such as on an M14, or to provide room for a straight bolt handle, like those found on Mausers and Mosin-Nagants.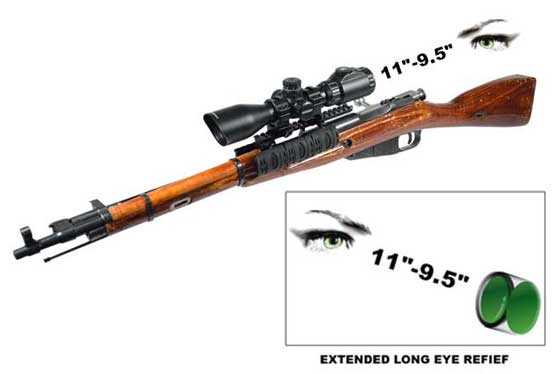 This image from the Leapers website shows the scope mounted on a Mosin-Nagant. The scout scope goes forward of the receiver, almost to the middle of the rifle.
What defines the scout scope is its longer eye relief (the distance from the sighting eye to the first lens in the scope). It's usually in the range of 9-11 inches, where the eye relief of a conventional scope might be around 3 inches. Even a scope with long eye relief might only go out as far as 5 inches. So, the scout scope is definitely different.
As difficult as it is to imagine, when your head is in the correct position on the rifle (9 to 11 inches behind the scope), you actually see the fully magnified image, just as if your eye were close to a conventional scope. It appears as a bright, magnified picture of your target with the reticle superimposed over it. Until you experience it, this is a difficult thing to envision.
Because of the extended eye relief, scout scopes do not magnify as much as conventional scopes. This one goes from 2x to 7x magnification, which is actually very high for a scout scope.
This scope is one of the largest, if not the largest scopes in the scout scope market. Other companies make their scout scopes with smaller objective lenses of 28mm to 32mm, and this one dominates them all at 44mm. Of course, that and the 30mm scope tube do add weight to the instrument, so consider that when you shop. Also, think about the clearance of the objective lens over the barrel of whatever rifle you're scoping.
Leapers packs a pair of medium-height Weaver rings with this scope, and I used those rings to mount the test scope on a Crosman MK-177 multi-pump pneumatic, which has a long, flat Picatinny rail. Mounted this way, the objective lens has clearance underneath and even clears the flip-up scope caps. Clearance over the gun should not be an issue unless there's something sticking up in the way, like a sight or a handguard.


Mounted on Crosman's MK-177, the scout scope goes to almost the front of the rifle.
I hope this explanation plus the above photo have convinced you that there's a need for a scout scope. Some airguns and firearms cannot use anything else! It isn't the mainstream scope; but if you need one, nothing else will do.
Getting specific
Let's take a look at this specific sight. Obviously, the power varies from 2x to 7x magnification. The scope tube is 30mm, which means the lenses in the package can be a little larger than if this was a one-inch scope. That — plus the emerald lens coatings Leapers scopes are famous for — are an aid to the transmission of light. I will say that with the scope farther from your eye, more light that's not part of the sight picture can enter your eye, making the sight picture appear darker by comparison. But under most conditions, this scope is as bright as needed.
This scope has a range of eye relief from 9.5 to 11 inches. That's almost the entire range in which scout scopes operate!
I found the thin reticle lines of this scope hard to pick up against a darker background, which is where the built-in illumination comes in handy. Just press one of the buttons atop the rear of the scope, and the reticle lights up. This scope gives you the possibility of 36 different colors and hues, so there's always something that will work for your current situation. This scope has an etched-glass reticle, so the central reticle appears unconnected to the thicker lines on the edges of the duplex. And the central lines have mil-dots on both axes.
The windage and elevation adjustments are both quarter-minute clicks, which means they move the strike of the round by approximately 1/4-inch at 100 yards. Both knobs have locking rings at their base that allow you to sight-in the scope and then lock it down so no one can mess with your zero.
The combination of thin reticle lines and illumination give you the best of both worlds — a scope that can be very precise on a paper bullseye in bright light, plus a reticle you can pick up fast in a darker woods setting.
The proof is in the testing, so that's what will happen next. I'll back up to 25 yards and shoot the MK-177 with this scope as my sighting tool.
But I've already made up my mind about this scope. I like it so much that I'm going to look for a firearm on which to mount it, just so I can have it in my collection. Unless something odd happens during the accuracy test, this scope is a winner!
by Tom Gaylord, a.k.a. B.B. Pelletier
Let's look at the velocity of the BSA Supersport SE. The factory advertises 750 f.p.s. for the .22-caliber rifle I'm testing. I just hope that's with lead pellets.
Cocking effort
I mentioned in Part 1 that the rifle cocks a little on the heavy side. I estimated 40 lbs. of effort. On my bathroom scale, this one actually requires 39 lbs. to fully cock the rifle. My gut tells me that some of the effort is the tightness of the new gun and will probably decrease by a few pounds over time.
I cannot resist making a comparison with the Beeman R9, which is also sold as the HW 95. The size and power of this rifle seem to align with that classic, but shooting will tell us the whole story.
RWS Hobby
The first pellet I tested was the RWS Hobby – a lightweight lead wadcutter that's used to test the legitimate velocities of all airguns. By legitimate, I mean that there are many lead-free pellets that may go faster; but since very few of them are accurate, they probably won't be used by many shooters.
Hobbys averaged 717 f.p.s. from the test rifle. But the velocity spread was large — from a low of 695 f.p.s. on the final shot to a high of 731 on shot three. That's 36 f.p.s., which is a bit high for a springer — especially these days when many new spring guns come out so well adjusted.
At the average velocity, Hobbys generated 13.59 foot-pounds of muzzle energy. Hold your comments, however, because I noted in Part 1 that I thought this rifle might have a heavy piston (or top hat) that I said could make it shoot better with heavier pellets. So, let's try one.
Beeman Kodiak
The next pellet was the 21.14-grain Beeman Kodiak — a heavyweight if ever there was one. Kodiaks averaged 535 f.p.s. in the test rifle, and the spread was just 12 f.p.s. It ranged from 527 f.p.s. to 539 f.p.s. At the average velocity this pellet produced 13.44 foot-pounds of muzzle energy. Not as much as the Hobby, but very close. And the tight velocity spread leads me to suspect I was right about the piston. I think the Kodiak has earned a spot in the accuracy test.
RWS Superdome
We need to see what a medium-weight pellet can do in the Supersport SE, and the RWS Superdome is a fine one to try. At 14.5 grains, it sits right in the middle of the weight spread — especially in the range of pellets that should be considered for this rifle.
Superdomes averaged 661 f.p.s. in the Supersport. Since we know the "magic" number is 671 f.p.s. — where the weight of the pellet in grains equals the muzzle energy in foot-pounds — we are very close to that level. This rifle must therefore produce a shade less than 14.50 foot-pounds with this pellet. And it does! It produces 14.07 foot-pounds of energy at the muzzle — the highest energy of the three pellets tested.
The total velocity spread for the Superdome was 16 f.p.s. Therefore, the 2 heavier pellets did better (shot more stably) than the lightweight Hobby. I'll keep that in mind as I test the rifle for accuracy. Yes, I will test it with a scope; but since it comes with a nice set of open sights, I plan to first test it with them.
General comments
The rifle cocks smoothly and without the normal noises I associate with a new spring rifle. And when it fires, there's no objectionable vibration, as long as you hold it lightly.
The trigger is reasonably crisp. It breaks at 2 lbs., 14 oz., which is light but not overly so. I also really like the fact that the safety is manual.
Last comment. The Supersport SE feels very "old school" to me. It isn't overly powerful. It has a smooth cocking and shooting sequence. And the size and weight of the rifle feel very nice. I'm so tired of those oversized breakbarrels that make me feel like I'm a kid shooting dad's big shotgun for the first time. The Supersport SE feels just right.
by Tom Gaylord, a.k.a. B.B. Pelletier
I've wanted to write a blog about several different subjects for a long time, but I didn't know what to call it. What I'll do today is clear the boards of a couple small, unrelated things.
American Airgunner
As you know, I spent most of last week in Ft. Smith, Arkansas, filming the 2014 season of American Airgunner. I'm in a segment of the show called "The Round Table," where a bunch of guys talk about different subjects. This year, we did some hands-on work that was more exciting than last year, but I'm not going to tell you what that was. You'll just have to watch the show like I do!
We worked with 5Star Productions — an award-winning video production group based in Ft. Smith. I've worked with several video companies over the years, and I can tell you that these guys are first-rate! We knocked out all 13 episodes in three days of filming and even shot some bonus footage because they were so efficient. Getting out of the office is hard for me these days, and it's such a pleasure when I get to work with professionals who know exactly what they're doing!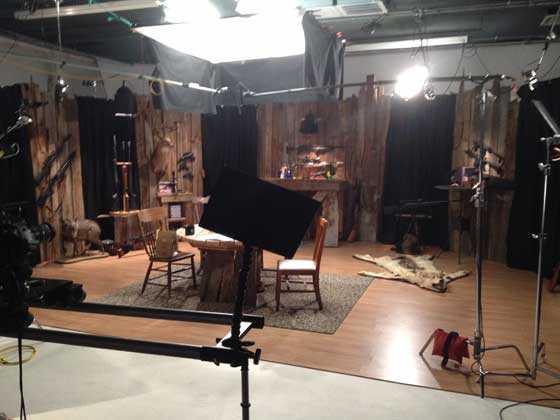 The Round Table set on American Airgunner.
On the last day, we filmed on location at a large ranch in Oklahoma. The four of us — show host Rossi Morreale, Steve Criner, Rick Eutsler and me — were very loose and somewhat tired. Rossi was talking to Steve about how he seemed to change whenever he was on camera. And that's when this happened: Behind the scenes outtake.
Now, on to the blog.
I got this new airgun and…
Pyramyd Air gets a lot of customer feedback about the guns they sell. Recently, a gentleman wrote in to complain about the accuracy of a Crosman Fury Nitro Piston rifle he'd purchased. He said he was a 1,000-yard benchrest shooter, so he knew how to shoot, but he could not get the Fury to group.
No kidding! I bet he also couldn't get a rack-grade Marlin 30-06 to shoot well at at 1,000 yards — either! And Corvettes make lousy pickup trucks!
Come-on, guys. When is a $120 breakbarrel springer ever going to give you dime-sized groups at 30 yards? Maybe the Air Venturi Bronco can do it, but not too many others. And, when you stuff a gas spring (the Nitro Piston) into a budget-priced rifle, it's going to push everything way beyond the limits. Sure, it'll work, and you may get wonderful velocity numbers. But tight groups? I think not.
Pyramyd Air, however, gave the gentleman the more civilized answer.
A few things to try. (1) Your gun may have barrel droop and might benefit from an adjustable mount that helps compensate for droop. (2) Try JSB or H&N domed pellets. You should see a significant difference. When it comes to pellets, you get what you pay for. (3) Tighten all stock screws. You'd be surprised how many guns have loose screws after just a few minutes of shooting. Many people use blue Loctite on their gun screws so they don't have to stop shooting every few minutes to tighten the screws! (4) Springers often require a break-in period. Many people don't see consistent groups until 500 or even 1,000 shots. In fact, when Dr. Robert Beeman owned Beeman Precision Airguns, he stated in his catalogs that springers needed 500-1,000 shots. While springers these days may not need quite that many, they DO need some break-in time. If you don't have a lot of shots thru your rifle, you may want to put some pellets downrange to see if accuracy increases. (5) Lastly, how about using another scope? Not all scopes are created equal. Get a different scope (one that you know has good glass and can stand the 2-way recoil of a springer) and see if accuracy improves. Hope these suggestions help.
These are all things that experienced airgunners do with any new rifle they get. We expect to have to do them and are pleasantly surprised when we discover that one or more of those things isn't required. But the bottom line is what I said at the beginning. Don't expect inexpensive airguns to group tight — and be very thankful if they do.
I can't win
I recently tested a Daisy 880 and got criticized for not testing a brand new gun. I was told that my reviews influence a lot of people, and I should always test new guns that represent exactly what the customer will get.
When I write a report I put a lot of words into the article. It this particular report I wrote the following words:
The rifle I'm testing for you is about 13-14 years old, but it probably has fewer than 500 shots on the clock.
That means the rifle I'm testing is not new. I imagine my readers don't always know what I do, but they can read and understand what I'm saying.
In the second report, after showing the velocity numbers and remarking that the velocity varied widely, I said:
The Daisy 880 varies greatly in velocity from test to test. You may think this is because my 880 is an older one. I can't argue that. If you want to run the same test with a more modern 880 and submit your results, I'd be glad to see them; but please back up any claims you make with chronograph results.
I wrote that paragraph so the readers would know the possible reasons why the gun I was testing was acting like it did. I never anticipated that anyone would use parts of each of my reports as material for a debate on ethical writing! But, seeing that it happened, I thought it was important to point out everything that was said.
Some folks worry too much about the other guy, and forget to watch over themselves. I like to let each reader ask his own questions and not let one reader speak for a group that may or may not exist.
However, there was enough discussion on this topic that I requested a brand new Daisy 880 from Pyramyd Air, which I'll test when the test of my old rifle is finished.
This sort of thing sticks in my craw because it happens both ways. When an older rifle doesn't do as well as it should, I get criticized for testing it. And, when an older rifle does better than it should, I'm told that I shouldn't test an airgun that is so well broken-in. That happened when I tested my TX200 Mark III. I was told that my older rifle shot faster because it was so well broken-in. Now, I'm told the Daisy 880 shoots so poorly because it's an old air rifle.
You know what I think? Air Arms guns get better with age — or at least that's what people think. And Daisys wear out over time, or at least that's what people are saying. Maybe there's some truth hidden there?
When I get this new airgun, where should I get it tuned?
This comes up all the time. People buy a brand-new airgun; and, because of the reading they've done, they assume it has to be tuned to work for them. I'll admit there's some wisdom in this philosophy, but I think something more needs to be said. Why not shoot the gun awhile just as it comes? I have a story to illustrate this.
Many years ago, I bought a Ruger 10/22 rimfire rifle for an article I was writing on silencers. But I figured I could test the rifle in different ways and get even more stories out of it. Well, the story I got turned out to be quite different from the one everyone thought.
My late friend Mac had a 10/22 that was a tackdriver. He'd sent it to Connecticut Precision Chambering for a target chamber, a headspacing job and a trigger job and reckoned they could do the same for me.
When I first tested that rifle, it wasn't that accurate. It grouped about 1.5-inches for 10 shots at 50 yards with the best ammo available. I was glad to send it off for the work. I figured this was how Mac had gotten his rifle to become so accurate. When it came back, the trigger was wonderful, but the rifle still wasn't that accurate. Ten shots would now group a little larger than one inch at the same 50 yards.
This puzzled Mac, who was sure my rifle would become a tackdriver after the customization. A tackdriver would put 10 shots into about a half-inch at 50 yards. I still own that rifle, and it's never done better than an inch for 10 shots. But I bought an aftermarket 20-inch Badger bull barrel for it that gives 10-shot groups under 0.6 inches at 50 yards. Then I acquired a Ruger 10/22 Target rifle that has a hammer-formed barrel, and that one would put 10 into 0.540 inches at 50 yards with the best ammo.
Now, about 12 years after all of this has passed, I recently chanced to pick up a 10/22 Deluxe in a trade at a gun show. The Deluxe is the standard rifle but with a walnut stock that's checkered and a bolt that's polished. The trigger is still hard and creepy. When I shot it I was amazed. Finally, I have a 10/22 that's a potential tackdriver right out of the box. No, it hasn't put 10 into a half-inch yet, but it has certainly gone under an inch with no modifications.
Here's the point I'm making. Before you invest serious cash in any gun, make sure it's got good bones to begin with. Otherwise, you're just putting lipstick on a pig.
by Tom Gaylord, a.k.a. B.B. Pelletier
I'm still in Ft. Smith, Arkansas, as I write this, so please excuse the brevity of the report. A while ago, I wrote down this idea as a possible report topic. Those who haven't yet come over to PCPs often wonder how reliable they are, and those who already have the guns sometimes encounter things that are common problems but new to them. Let's talk about that today.
WARNING: The procedures I am about to describe are for those who know what they are doing. In every case, there are proper safety steps to be taken so accidents don't happen. I cannot possibly describe all of those steps, so the following procedures are presented only for your education — not to train you as an airgunsmith. Safety with pressurized air and airguns should always be the No. 1 concern.
I can't fill this airgun!
Boy, have I ever heard this one! It can come to you in a variety of ways, such as, "This airgun is broken — how do I return it?" I used to get at least one of those calls every month while I was the technical director at AirForce Airguns. The first few times I heard it, I was worried; but I got so used to hearing it that I would start telling them the cure before the problem had been fully stated.
The guy would tell me that he couldn't fill his old-style Condor tank. I asked him how he was trying to fill it — from a scuba tank or with a hand pump — and a lot of times that made the guy mad. He wanted to know why that mattered because he should be able to fill the gun from a scuba tank or from a hand pump. Right? When this call came in, I knew he was filling with a hand pump, and I also knew he was trying to fill an empty tank.
The answer to "can it be done" is both yes and no. Yes, you can fill this kind of tank from a hand pump if there's already some air inside it, and no, you can't fill the tank if you start with it empty. That would really anger some people until I explained that the air inlet valve on an old-style Condor tank is also the exhaust valve. It's a door that swings both ways. If there's no air inside the tank, the valve will not recognize the small puff of air from a hand pump and will escape, again.
The valve will not close because it also uses internal air pressure to help it close tight. If you fill the tank from a scuba tank, the incoming air is under so much pressure that it will fill the tank quickly, and the internal air pressure will help close the valve when the filling stops.
A hand pump cannot fill some pneumatic airguns (not just Condors) unless they already have some air pressure inside to hold the inlet valve closed. We would ship tanks out with what we called a maintenance air charge in them — just enough pressure to hold the valve shut. But if the guy received the gun and then proceeded to shoot all that air out, as some of them did, they then had a gun that could only be filled from a scuba tank. It's not funny when it happens to you.
This phenomenon is not just confined to AirForce guns, either. Almost all of the powerful Korean airguns work in a similar way. But the Korean guns can accept a charge by simply cocking the bolt — sometimes. In that case, taking the pressure of the bolt off the valve allows it to close and seal completely.
The newer style of Condor (as well as all other AirForce sporting PCP rifles) has a Spin-Loc tank with a separate inlet valve and firing valve. I'm not certain, but I believe this has solved the problem I just discussed. If I had a tank and pump here with me, I would check it right now. I'll look into it when I get home.
Now you know two things about PCP "leaks" that are both very common problems and often misunderstood. First, they aren't really leaks. They're part of the gun's design. Second, some guns must first be cocked to be filled.
Before you go all — "They shouldn't design them that way!" on me, remember, the SR-71 Blackbird reconnaissance plane leaks fuel until it flies fast enough to heat and expand the airplane's skin. Only then do all the leaks stop. Sometimes, a product can have a quirk that isn't a flaw — it's just the way it works. The Sheridan Supergrade rifle is one that cannot be pumped up unless the bolt is cocked first.
Use a hammer!
I probably shouldn't tell you guys this next one; because when some of you get a hammer in your hands, every problem looks like a nail. But in the world of pneumatics, there are times when a big rubber mallet is exactly the right tool to use. When is that time? When a pneumatic that has been performing well all along suddenly develops a fast leak. It's probably due to a piece of dirt that's gotten onto a soft seal and is allowing air to pass through. To get it off the seal, it sometimes works to tap the end of the valve with a soft hammer. It opens the valve, and the blast of air will probably blow the dirt past the seal.
When I built valves at AirForce, I tested each by pressurizing them in a fixture and tapping the valve stem with a rubber hammer. I had racks of 100 valves at a time, and I went through and did this to each one in turn. That process seated the valve and created a small ring of contact between the synthetic valve and its seat. Sometimes, the valve needed to be hit several times to seat it properly, but it always worked. And it also worked if a valve had a small piece of dirt anywhere in the seals.
When customers would call with a gun that leaked and I determined the leak was a fast one that had popped up all of a sudden, I told them to try this procedure before sending the tank back for repairs. It fixed probably over 75 percent of all such leaks.
But this isn't magic. If your gun has been a slow leaker the whole time you've owned it, this isn't going to change a thing. It's just for those all-of-a-sudden leaks that crop up sometimes. It will work for all guns, but most of them don't allow direct access to the valve head like the AirForce tanks do. For those, you can do the next best thing — dry-fire the gun several times. That usually fixes the problem unless you're timid about it. I sometimes had to get a timid owner to dry-fire his gun by telling him to fill it full and then dry-fire it 20 times in rapid succession. All that was doing is getting him to dry-fire the gun repeatedly without pausing to see if it was fixed yet. When there's a piece of grit on a seal, it takes a lot of air flowing past to dislodge it, and a couple tries are often not enough. Twenty shots is probably overkill in all situations, but it saved me time from having to explain in detail just what the guy was doing — as I have now done for you!
You now know a genuine airgunsmith procedure! It isn't as fascinating as it sounded, is it?
Listen
Okay, let's go back to 1960, when cars had points and copper spark plug wires with (sometimes) poor insulation. Mechanics had a genuine stethoscope in their toolboxes. Or if they were shade-tree mechanics, like me, they had a 4-foot length of small rubber hose. We would put one end of the tube to our ear (the ear that worked best) and move the other end around the engine compartment while the motor was idling. You could quickly zero in on an arcing sparkplug wire or an exhaust manifold leak. It also works for precharged airguns!
You don't need a hose because the barrel is the pipe that transmits the sound. Cock the gun but don't load it. The sound you're listening for is an air leak at the exhaust valve. But here's an important safety tip — never put your ear directly over the muzzle and never do this if the gun is loaded! Listen from the side of the muzzle; so if the gun were to fire, the air would blast past your ear instead of into it! You can use a piece of paper to direct the sound, if needed. That keeps you safe and still lets you hear the smallest sounds.
I've found a number of valve leaks this way. This is just a diagnostic tool — it doesn't do anything to fix the valve.
If your ears aren't that good, or if you just don't want to do it this way, you can also put a few drops of soapy water down the muzzle of a cocked gun. Bubble-blowing solution that you can buy at a dollar store works perfectly for this! If any air is escaping the valve, there will be bubbles at the muzzle. I always had a small bottle of bubble-blowing solution next to me when I worked on guns at AirForce. Of course, you have to clean the barrel and wipe it with an oily patch after doing this.
These little procedures have proven very valuable over the course of time. If the situation is right, they'll fix the problem more often than not. While they seem simple to the point of being somewhat ridiculous, they do work.