by Tom Gaylord, a.k.a. B.B. Pelletier
Airgun lubrication — spring guns: Part 1
Airgun lubrication — spring guns: Part 2
This report addresses:
• Molecules versus atoms
• Crosman Pellgunoil
• Can't over-oil with Pellgunoil
• "Fixing" leaking guns with Pellgunoil
• Transmission stop leak oil
• Oiling moving parts
• Ballistol
Let's look at lubricating gas guns — and by "gas," I mean CO2. What I'm about to say will also work on airsoft guns that operate on green and red gas, because both those gasses work similar to CO2; but there are no pellet or steel BB guns that run on any gas except CO2 (excluding air).
CO2 is a molecule — not an atom!
Many folks thought that high school science class was a waste, but in the curriculum there were things that matter to airgunners. How levers work is one of the most important things, and yet I still see youngsters grabbing breakbarrel rifles five inches back from the muzzle — as though the length of a lever has no significance! The fact that CO2 is a compound made of molecules is also important.
Atoms are very small. When they're inside a pressure vessel (air is made of several elements that are atoms), they try to escape through the smallest holes imaginable — sometimes through pinholes in the casting of the metal. Molecules are combinations of atoms that are much larger than atoms, by definition. They also try to escape, but they need larger holes to get through. This fact is what saves the CO2 airgunner, and it's also why CO2 guns can be made with larger tolerances. That makes them cheaper to build.
Crosman Pellgunoil is our friend
When I started seriously shooting airguns in the early 1990s, nobody talked about Crosman Pellgunoil. I didn't even know if it did anything. Then, I met Rick Willnecker, the man who runs Precision Pellet — one of the top repair stations for vintage CO2 and pneumatic airguns. Rick always had a jumbo bottle of Pellgunoil on his workbench, and he applied it liberally to valves, seals and o-rings whenever he assembled a CO2 gun. He told me that I should always put a drop of Pellgunoil on the tip of every new CO2 cartridge before it was pierced.
You cannot over-oil with Pellgunoil
I asked Rick how much oil was too much. He said it is impossible to over-oil a CO2 gun with Pellgunoil. Apply it liberally. What doesn't stay inside the gun gets blown out the muzzle. This was all news to me. I'd grown up with the bottlecap CO2 cartridges of the 1950s that leaked before you even put them in your airgun, and I thought CO2 was a gas that was totally unreliable. Rick's revelation turned this around. I discovered CO2 is a very reliable gas if you use Pellgunoil.

In the 1950s and '60s, Crosman was capping their CO2 Powerlets with bottlecaps that leaked a lot.
But the discoveries didn't stop there. Soon after learning about the benefits of Pellgunoil, I bought a Crosman model 111 target pistol at a flea market for $35. It was in the original box and came with the original 10-oz. CO2 tank that Crosman sold with the gun back in the early 1950s. I bought this gun thinking it would have to be resealed. It's seller told me it had laid in a closet for a minimum of 20 years before she brought it to this flea market, so how in the world could it possibly have any gas left in it?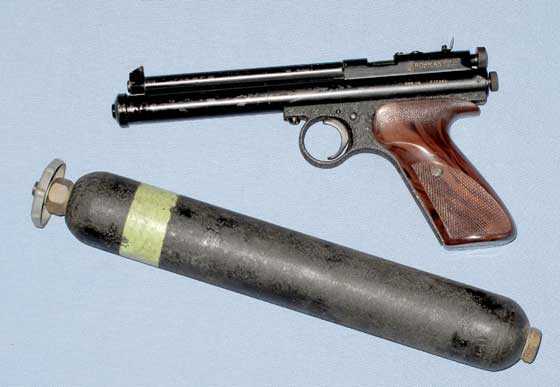 This .22-caliber Crosman 116 bulk-fill CO2 pistol and tank were sold up until the model 150 came out in 1956.
Well, that gun was still charged! What is even more important was the 10-oz. CO2 tank that came with it was also mostly full, so I was able to connect it to the pistol and charge it many times — for another 50 shots each time. Each time I charged the pistol, I applied more Pellgunoil, and that old pistol kept right on functioning for almost 2 years. When the seals finally did need to be renewed, I took the gun to Rick Willnecker, and he got me started in bulk-filling CO2 guns. I bought my first 20-lb. CO2 tank and the adapter to connect it to the 10-oz. Crosman tank, and I was off to the races. Since that time, I have owned five 20-lb. CO2 tanks and have been filling my own bulk tanks at home for more than 15 years. Where a CO2 cartridge costs about 50 cents, I pay about 5 cents for the same amount of gas!
But it didn't end there, either. I discovered on my own that by using copious amounts of Pellgunoil, I could get non-functioning CO2 guns to work again. That's when I started buying up old Crosman gas guns that were leakers and "rejuvenating" them with Pellgunoil. I still own a Crosman 180 rifle that I bought for $20. It has been holding gas for about 20 years so far!
Transmission stop leak oil
Dennis Quackenbush taught me this trick. He said he "fixed" a leaking Crosman 112 bulk-fill pistol with transmission stop leak oil — the stuff you get at the auto parts store. I had a Crosman 116 bulk-fill pistol that was a fast leaker, so I thought I would give it a try. I put several drops of this oil in the fill port connection of the pistol and filled it with CO2. That was about 2-1/2 years ago and that gun is still holding gas today!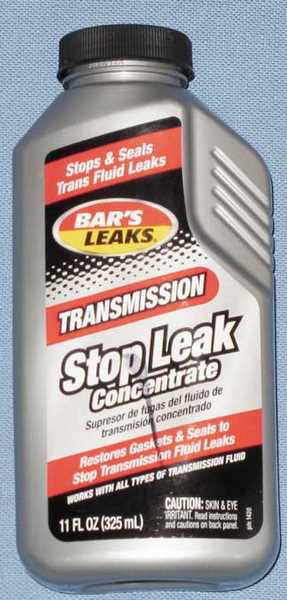 Transmission stop leak oil (this is just one brand…there are several others) will swell and make supple the seals inside an older CO2 gun.
Several people wrote comments telling me that this oil would turn the seals in my airgun to mush and it would be an even bigger leaker than before; but as I said, 30 months have passed and that gun is still holding gas. So is Dennis' gun. This stuff seems to work.
Oiling the moving parts of the gun
You can oil the moving parts of a gas gun with any good brand of gun oil, and I even use household oil (yes, 3-in-One brand) on mine. If you want to buy a good oil from Pyramyd Air, I have used Gamo Air Gun Oil for many years for this purpose. All you're doing is providing simple lubrication, and oil is correct for that.
Ballistol
Finally, you can wipe down the gun — wood, metal and plastic — with Ballistol. Ballistol removes rust, protects against fingerprint acids, lubricates and generally is the single best lubricant for an airgun or firearm.
by Tom Gaylord, a.k.a. B.B. Pelletier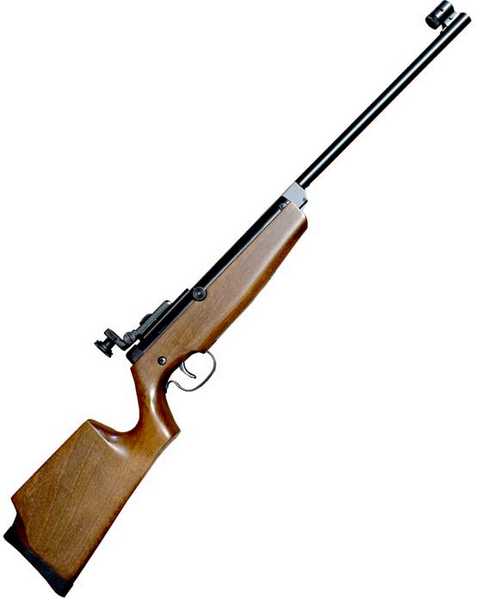 Diana 72 is a youth target rifle from the late 20th century.
This report addresses:
• History of the rifle
• The Giss contra-recoil system
• General description and dimensions of the Diana model 72
Today, we'll begin looking at an air rifle that I've been waiting 3 years to share with you. In 2011 my friend Mac and I were looking at his vintage air rifles to see which ones would be of interest. We actually did a report on his Diana 60 target rifle that was labeled a Hy Score model 810. The rifle needed to be rebuilt, so the velocity was low, but the accuracy was right on. The report was so successful that he decided to test his Diana model 72 youth target rifle next.
Alas, the seals were gone on that rifle, and it no longer worked. So, Mac packed it together with some other target rifles and sent them all to be resealed. What he didn't count on was the repairs taking two years to complete! The repaired guns arrived back at his home when I was there sitting with him last April, three weeks before he passed away.
This report is for Mac. It completes the plan he and I formulated in the days before illness overtook him. He was proud of this little rifle, and he wanted to share its quirks with all of you. He purchased the rifle at the Damascus airgun show that used to run at the Damascus Izaak Walton League in Maryland. He paid a lot for it because it was complete in the box, and because the model 72 has always had a cachet that other target guns lacked.
I purchased this rifle from Mac's son this year when I was back to visit after the Findlay airgun show. I've wanted to share it with you for a very long time.
Air pistol
The Diana models 70 and 72 youth target rifles are breakbarrel spring rifles based on Diana's breakbarrel models 5 and 6 target pistols. The model 5 pistol/model 70 rifle are the recoiling versions and the models 6/72 are the recoilless versions of the same gun. All Diana did to make these rifles was install a longer barrel shroud over the pistol barrel and drop the pistol action into a shoulder stock. So, the cocking effort and velocity of both the models 70 and 72 are those of air pistols — not air rifles, which works perfectly for 10-meter target shooting by older youngsters.
The model 70 was made from 1979 to 1993, and the model 72 lasted one additional year — to 1994. The model 72 cost $205 at the end of the production cycle, while the model 70 sold for $130 — no doubt accounting for its more popular reception. Both rifles appear identical from the outside, with the exception of the gear trunnions on the model 72 that hold both pistons — the real one that compresses the air, and the fake one that counter-balances the recoil.
The rifles originally came with a set of front globe inserts and 3 stock spacers to adjust the length of pull. Mac's rifle had all of these accessories when he bought it; but when I purchased it from his son, we were unable to locate anything other than the rifle and its box. I'll make some stock spacers at some point (they are easy enough to make from wood), but, for now, I'll shoot the rifle using its short 11-inch pull. Because this is a target rifle meant to be shot offhand, the pull length isn't that important.
The buttpad screws are very long to accommodate all 3 spacers when needed. So, nothing but the spacers are required to change the length of pull by about 1.5 inches. Just back out the 2 screws and slide in as many spacers as you need — up to 3.
The barrel appears to measure 13-3/4 inches overall from the outside, but there's about a 6-1/2-inch freebore (hollow tube without rifling) up front. The rifled barrel is actually the original pistol barrel with a length of 7.25 inches, more or less (the actual barrel length of a model 6 pistol is nominally 7 inches).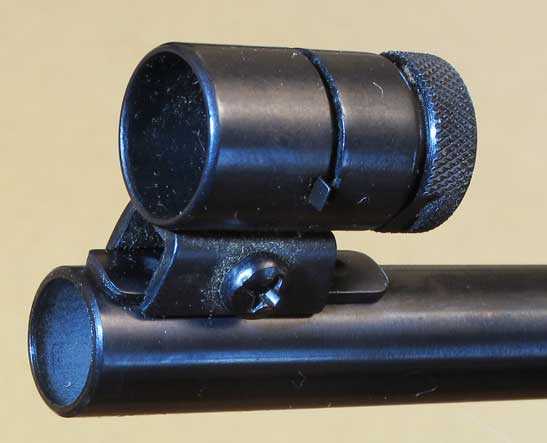 The "muzzle" is just the end of a hollow barrel shroud that covers the 7-inch pistol barrel. It gives the sights more separation.
Giss contra-recoil system
I've written about this before. In the Giss system, there are 2 pistons. When the gun fires, the forward one compresses the air that powers the pellet. The rear piston is simply a dead weight that balances the impulse of the forward piston, canceling the recoil. This is a pistol action, so the recoil is slight to begin with; but when this rifle fires, all you feel is a faint impulse in your hand that lets you know something happened.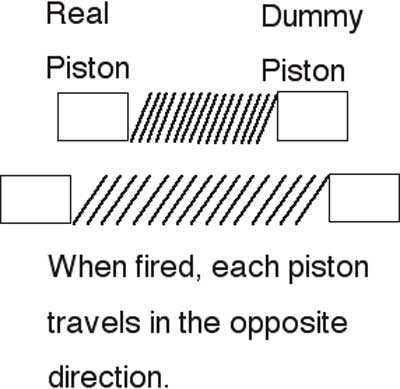 The momentum of the forward piston is canceled by the rear piston in the Giss system.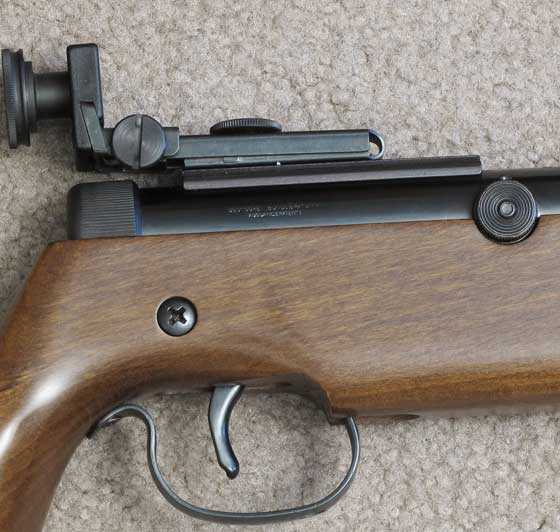 The round cap at the upper right covers the trunion, or anchor point of the 2 pistons. It's actually where the upper and lower gears engage and that controls the piston rods.
General description
The rifle is 31-3/4 inches long — depending on which spot on the curved rubber buttpad you anchor the tape measure. It weighs 4 lbs, 8.5 oz. without any buttplate spacers installed. The metal is blued steel, and the stock is beech wood finished to an even medium brown.

By itself, the 72 appears normal-sized. When placed next to a Benjamin 392, you can see how small it is.
The trigger is two stages and adjustable. I'll tell you more about that in the next report.
The sights are a globe in front with replaceable inserts and a small target peep at the rear. As I said, this rifle had no extra inserts when I got it, but Mac had installed an aperture element in the front, which is what I would have wanted. I'll say more about the sights during the accuracy test.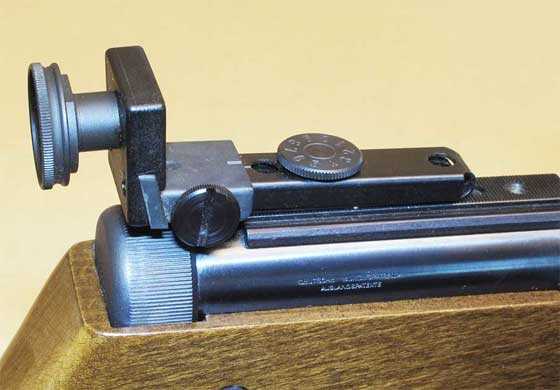 Diana used a rear sight that they put on many of their less formal target rifles. It suits the model 72 well — both in size and precision.
Very much in demand
As you might guess, a little gem like this is always in demand. While the rifles were still selling new, airgunners criticized the additional cost of the recoilless model; but the instant they went off the market in the middle 1990s, the price doubled. It has come back down somewhat since then, but a Diana 72 is a gun you lay on your table just once and take the first offer of the full cash price. It isn't that the rifle appreciates in value so much as it can always be sold in a very short time.
There are many model 72s in this country, but they don't change hands that often. This is the sort of airgun that you hold onto. This one will probably stay with me a long time.
by Tom Gaylord, a.k.a. B.B. Pelletier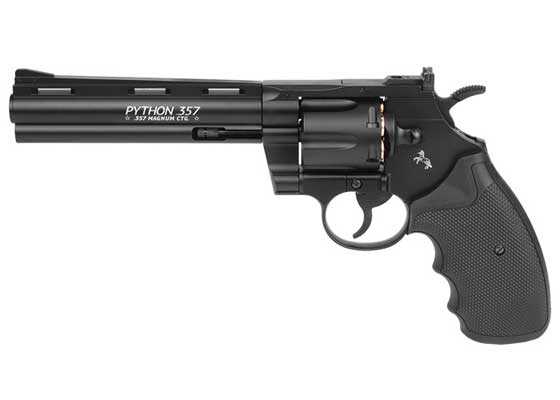 Colt Python from Umarex looks like the real deal!
This report addresses:
• Sighting in.
• Corrections to the manual.
• Accuracy at 16 feet, 4 inches (5 meters).
• Accuracy at 25 feet.
• Summary
Today is accuracy day for the Colt Python BB revolver. I know this is a test many readers have been waiting for, and I think it'll be worth the wait!
I shot the revolver from a rested position, using a 2-hand hold with my hands forward of the rest and unsupported. My forearms were resting on a cushion, and the revolver was steady in my grip. The target was lit brightly, so the sights were in sharp relief.
I charged the gun with an Umarex CO2 cartridge and shot only Umarex Precision steel BBs in this test. I loaded the cartridges individually, and I found that was faster than using the speedloader. It eliminates some steps that take time.
The first few shots landed too low on the target and also a bit to the left. I first adjusted the elevation of the rear sight and left the windage alone. I did this without consulting the manual, because we all know that the rear sight must move in the direction you want the round to move on target. The gun was shooting low so the sight had to come up — it's as simple as that. There are directions for elevation adjustment on the rear sight, and they told me to turn the screw counterclockwise to raise the sight. It worked perfectly, but I had to make several adjustments before the BBs were hitting as high as I wanted.
Then, I shot my first 10-shot group. Yes, I shot a complete cylinder and 4 more from the next cylinder. And I'm glad I did. The first group was the best of the day, putting all 10 shots into 0.537 inches between centers. Until I walked up to examine the target, it seemed as though all shots were going into the same hole. But as you can see, the group isn't quite that spectacular. It's close, though.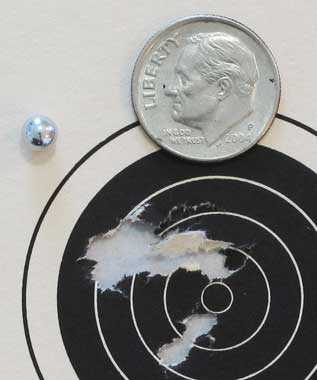 This first 10-shot group was the best of the day. It measures 0.537 inches between centers.
Manual has errors
Next, I wanted to adjust the group slightly to the right, so the rear sight had to be adjusted again; but this time I was stumped. The windage adjustment requires a 1.5mm Allen wrench, while the elevation adjustment is a plain slotted screw. I carry a pocketknife that has a screwdriver, but now I had to find a small Allen wrench. It turns out neither the windage nor the elevation adjustment tools are provided with the gun. I think that's a mistake because the typical buyer of a gun like this in not likely to have a lot of Allen wrenches laying around (there's an Allen wrench included, but it's larger and for removing the cap that holds the CO2 cartridge).
There are no directions for the rear sight adjustment on the gun, so I consulted the manual. That's when I discovered that both the windage and elevation instructions are backwards in the manual! This is of no concern for elevation, because the instructions are on the gun — but for windage, you have to stop and figure it out yourself.
Then, it was back to shooting targets. This time, I used the slightly smaller 10-meter bulls instead of the 50-foot rimfire bulls I'd used for the first group. The BBs landed higher on this smaller bull, and it appeared that I adjusted the rear sight too far to the right.
The next 10-shot group measures 1.119 inches between centers. The first shot was a flinch that went high and right — out into the white, and the other 9 shots were in the black and measure 0.941 inches between centers. It's twice the size of the first group and represents the second-worst group shot from 5 meters.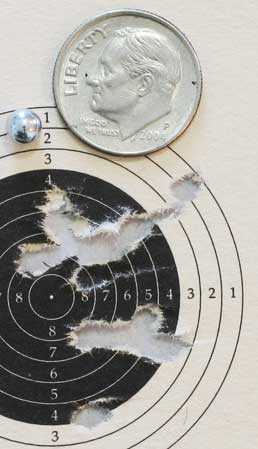 This group is still good, but much larger. The shot in the upper right that missed the black was a called flyer.
I didn't change the sights before the next group. Eight of the BBs went into 0.602 inches, but the other 2 shots opened the group to 1.166 inches. It's the worst group; yet, it contains a remarkable smaller group inside the main group. I think concentration is what determined the group size, more than the accuracy of the gun. In other words — I was tiring out!

All these shots looked perfect at the release. That one in the white was not a called flyer. This group measures 1.166 inches, with 8 shots in 0.602 inches.
25 feet
Finally, I tried shooting a group at 25 feet. This time only, I fired all 12 shots from 2 full cylinders. The group measures 2.121 inches and demonstrates how quickly the accuracy of a BB falls away as the distance to the target increases.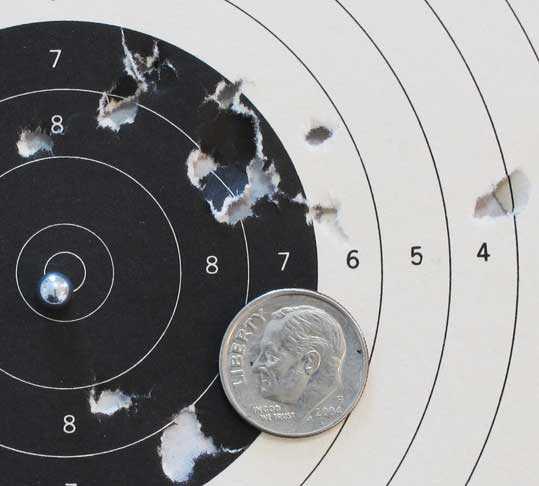 Shot at 25 feet, these 12 shots went into 2.121 inches.
The Colt Python is accurate
Without a doubt, this Colt Python revolver is an accurate BB gun. I don't like to make comparisons, but I know a lot of readers want them. I looked at other accurate BB pistols I've tested over the years and found this one to hold its own. In other words, about on par with the other accurate BB pistols, and quite a bit better than an average BB pistol.
I like the trigger in both single- and double-action, I like the sights, I like the speedloader and the way the cartridges grab each BB so positively. The power is good and so is the shot count. There's nothing to dislike, save the lack of sight adjustment tools and the small transposition in the owner's manual.
If you have a hankering for a Colt Python and cannot or will not spend $1,400 to buy one, this revolver scratches a lot of the itch.
by Tom Gaylord, a.k.a. B.B. Pelletier
Here's what we'll cover in today's blog:
• Correction to the first report.
• Some vintage airguns.
• There were parts for sale.
• Vintage store displays and boxed BB guns from WW II.
• Ft. Worth airgun show.
• NRA Annual Meetings and Exhibits.
This is the second part of the report on the Toys That Shoot airgun show in Findlay, Ohio. In the first report, I showed you a lot of vintage collectible airguns — some commanding very high prices. Today, I'll show the other side of the show — the one where regular people would buy and sell. Before I get to that, though, there is a correction to the first report. I mentioned seeing a muzzleloading big bore air rifle on Dennis Quackenbush's table, and I gave you the impression that he designed it. He did not. That rifle was designed by its owner, Mike Paulus, who commissioned Dennis to build his design. Dennis told me as much at the show, but I wasn't listening. I thought he was being modest; in fact, he was telling me that Mike designed the rifle. Dennis just made the parts for him.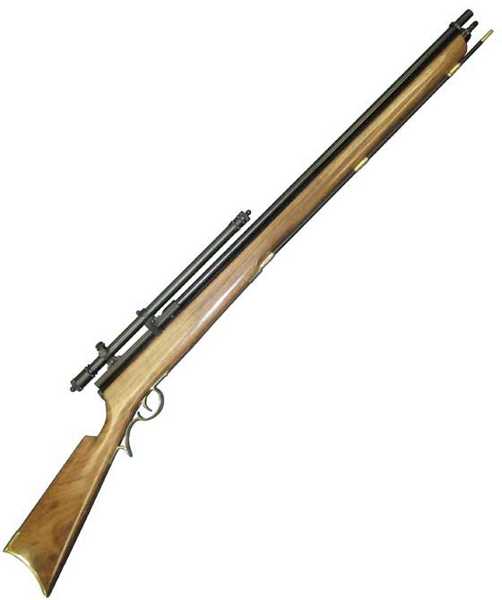 Mike Paulus' big bore airgun was mislabeled in Part 1
Mike also made the stock entirely on his own. Dennis said the concept was so well thought out that it was very straightforward to build, and Mike is extremely pleased with his new rifle.
Vintage airguns
Let's be honest, we go to these shows to see the extremely rare guns, but we also go to buy fine vintage guns that are affordable. This was a wonderful show for this. In past reports, I focused on guns like the FWB 124 or the Diana 27; but this time, I looked at the other kinds of guns collectors and shooters want.
Let's start with some desirable vintage pistols. I saw a good number of Crosman 600 semiauto repeaters at this show. They ran from $90 to 200, depending on condition and what they came with. If you're looking for a classic pellet pistol, this is one that's hard to beat! The 600s were selling for $75-125 more than this just 5 years ago, but the boom peaked and the price has fallen back. Now's the time to buy.

Crosman 600s on the left at the top and bottom and a Mark I or II in the center. On the right from the top are a chrome Hy Score 800, Crosman 150/157 and a Benjamin 100/107 at the bottom. All were affordable, and I believe they all worked.
If you're more of a collector than a shooter, these same guns were available in their boxes with all the original accessories and literature.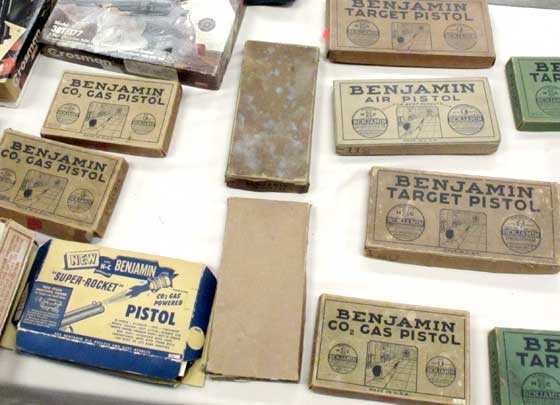 The same vintage pistols were also available in their original boxes. These were incredibly affordable!
Somebody remarked that there were a lot of fine Daisy model 25s at this show. He was right. I didn't photograph them all, but one stand was particularly picturesque. It looks like an arsenal "organ" of guns from the 19th century.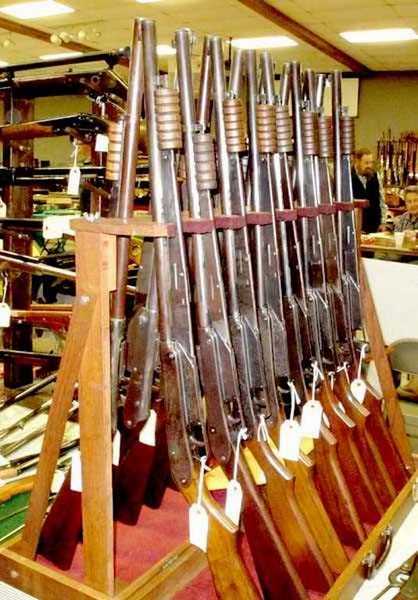 Sharp eyes can pick out at least one very early Daisy model 25 pump gun in this rack, but there are actually many variations, including different types of wood stocks. All are vintage and desirable!
Parts, parts and more parts!
One thing that's always needed are the parts to fix these old treasures. With guys like Ron Sauls, Tom Slocum and Larry Behling at the show, you're connected to the best and finest. Ted Summers had a huge display of vintage parts for Crosman and Benjamin guns — as well as two custom salesman's cases that were used to transport the Crosman airguns to stores when representatives made their calls.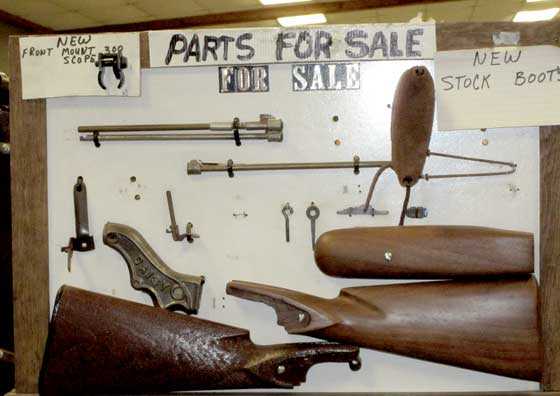 "Where can I get …?" was answered all over the Findlay airgun show.
Store displays
These weren't for sale, but it was fun to see the store displays that were popular back in the 1940s and '50s. I'm not old enough to have seen some of these when they were new, but they sure do make me nostalgic for those old days. It's nice to see that simple cardboard displays made it down through the ages.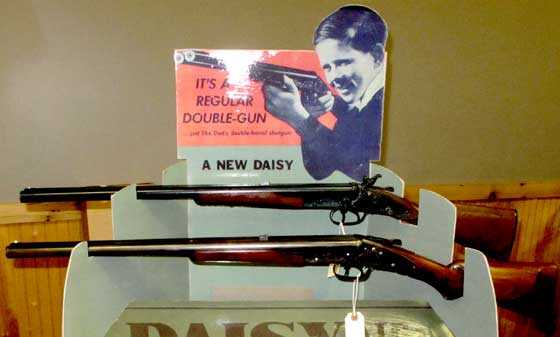 Lucky was the boy or girl who got a Daisy double-barrel BB gun.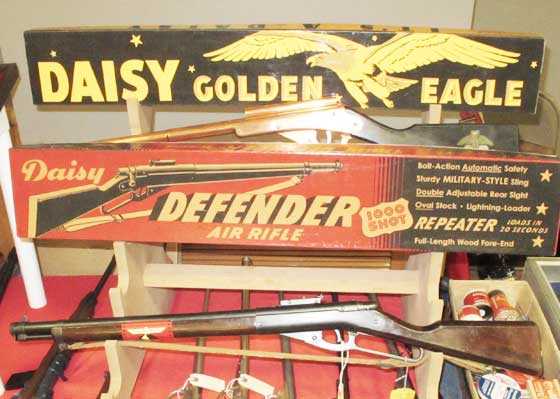 That's a copper-plated Daisy Golden Eagle on top and a boxed Daisy Defender from WWII. Very few Defenders were made (in 1942!), and fewer still survived with their boxes. I don't know if this box is original or a repro, but it looks perfect next to that fine air rifle!
What would B.B. do?
I went to this show with a couple guns in mind. One was a BSA Meteor Mark I or II, to compare to the Mark IV I'm currently working on. So many people told me the Marks I and II Meteor are the best of this model, and I wanted to get one to compare. The one I found at this show turned out to be a gorgeous Mark III; but, as that was just a bit too late in the production cycle, I had to pass. Too bad, because the condition was very nice!
Next to it in the rack I visited at least 5 times was a Slavia 631 in great condition. So, when blog reader Mitchell in Dayton Steve Darr mentioned he was looking for one, I sent him over for it. He got it, as you will soon learn; but from our conversations, he knew I was also looking for an El Gamo 300 rifle to go with the XP 68 I tested for you in 2012-2013. The 300 is very similar to the XP 68, but in a conventional stock.
Imagine my surprise when Mitchell returned with his Slavia and told me that right next to it in the rack — yes, just 2 places down from the BSA I had been looking at for 2 days — was the El Gamo 300 I was looking for. Well, I rushed right over and was so enthusiastic that I lost all my bargaining power. I paid almost the full sticker price, simply because I could not wipe the grin off my face! Well, it wasn't that much money, anyway (which is how I justify the mistake to myself).

El Gamo 300 is a plain rifle that promises to be interesting.
The other acquisition is one that walked right up to my table. A young fellow was carrying a rifle bag, and I asked him what was inside. He said it was a Hakim. Now, most of you don't know this, but my airgun kryptonite is the Hakim rifle. I've owned more than 15 of them and they all worked when I got through with them (except for a pile of parts I shipped to the talented Vince). But this Hakim was different! The stock had been replaced. While that does lower the collector value on most guns, in this case it was like plastic surgery that turned the bride of Frankenstein into a pretty woman.
The new stock is honey-colored walnut that shows lots of straight grain. The metal parts have a lot of original Parkerized finish remaining, so the overall look is quite nice. I tested the action right there at the show, and it didn't seem to be anything special — but we'll see when I test it for you here.

I've never seen a Hakim air rifle with a stock like this. Let's hope it shoots as nice as it looks.
I bargained very hard with this young fellow — mainly because I was about to spend a lot of money on this gun. I gave him a nice offer that was still about $100 below what I see people asking for them on Gun Broker. And this rifle is probably worth the higher figure. But I did not care. If I could get it for what I offered, I would buy it; if not, I would still have a lot of money in my pocket.
He was reluctant to sell at the price I offered; but since it was a lot of money and since he had nothing in the gun, he finally accepted. This may be the first time I've bargained so hard for a bluebird walk-in airgun that I really wanted! At any rate, I now have a very pretty Hakim to test for you.
One additional thing. My friend Wayne Fowler offered me my old Air Arms Shamal rifle that I sold him when I left Maryland. He offered it for the same price he paid me; and since it is a beautiful air rifle, I asked Edith to buy it as my birthday present. She agreed because she also feels this is one of the most beautiful airguns I've ever owned. And the accuracy was stunning.
Edith has told me I can have the rifle as soon as it arrives, so there's one more great airgun to come out of the Findlay show. Naturally, I'll review it for you.
Summary
I had a lot of fun at Findlay. It was a show that reminded me of airgun shows from 20 years ago. It had the guns, the buyers and all the excitement I remember from the great airgun shows of the past. If you can go to just one airgun show, put the Toys That Shoot show at the top of your list! Or — come to my show in Texas.
The Ft. Worth airgun show
As some of you know, I've been putting together a Texas airgun show. Click here to read/download a flier. The show is sponsored by Pyramyd Air.
The American Airgunnner television crew is coming to film the show. AirForce will be there with a table, as will Dennis Quackenbush, Eric Henderson and Jim Chapman. I hope to get Umarex USA and Daisy to attend. There will be a dedicated airgun range at the gun club where this show will be held on Saturday, September 6. If you want to see what airgun shows are all about and meet the two top airgun hunters in person (Henderson and Chapman), plan on attending this dynamic one-day show.
The NRA Annual Meetings and Exhibits
Pyramyd Air has a booth at the 2014 NRA Annual Meetings and Exhibits being held today, tomorrow and Sunday in Indianapolis at the Indiana Convention Center. Pyramyd Air provides the public airgun range at the show, besides having a display booth (No. 4523). The NRA show is like a mini SHOT Show, only it's open to the public. Admission is free to NRA members, and a small fee is charged to non-members. This is a wonderful opportunity to see the new guns and the people who make and support them. If you're able to come, consider attending. Here's some info on the range and which guns, ammo and accessories will be featured there.
by Tom Gaylord, a.k.a. B.B. Pelletier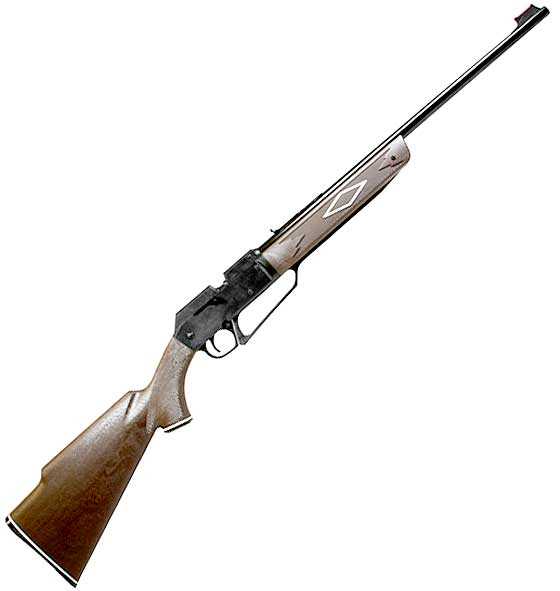 The Daisy 880 multi-pump is a classic.
This report addresses:
• Examining a new Daisy 880S sent from Daisy for this report.
• Examining the test data Daisy sent with the rifle for pellets and BBs.
• Running the same velocity test as I did for the first two 880s tested.
• Testing this new rifle with RWS Hobby pellets.
• Testing the new rifle with BBs.
This test is unprecedented. In Parts 1 and 2, I tested my own Daisy 880; and when it failed to achieve the velocities several readers felt it should, I ordered and tested a second brand-new 880 supplied by Pyramyd Air. That rifle also failed to live up to the velocity claims. When there was a question about whether all 880s are Freimarked (the letter "F" inside a pentagram is marked on the outside of a gun to indicate it develops no more than 7.5 joules of energy at the muzzle) for the German airgun market, I asked Joe Murfin, vice president of marketing at Daisy, to clarify this for us. He assured me that all 880s and their related variants are Freimarked, but that the mid-500 f.p.s. velocities I had gotten from both airguns was on the low side.
Joe had his Quality Assurance Manager inspect an 880 and send it to me for independent testing. This will be the third 880 I've tested in this series. Regardless of the outcome, it will be the last one. I tested both previous rifles with 7.9-grain Crosman Premier pellets, and I'll also test this rifle in the same way. Naturally, Daisy didn't test it with Crosman pellets, but they were kind enough to include a test sheet that unfortunately doesn't specify which pellet they used. I will, therefore, test the rifle with Premiers, so we can compare it to the previous tests. Then, I'll test with lightweight lead pellets. I'll also test it with Daisy Premium Grade BBs, and we can compare my results with the velocities they got with what I must presume are also BBs.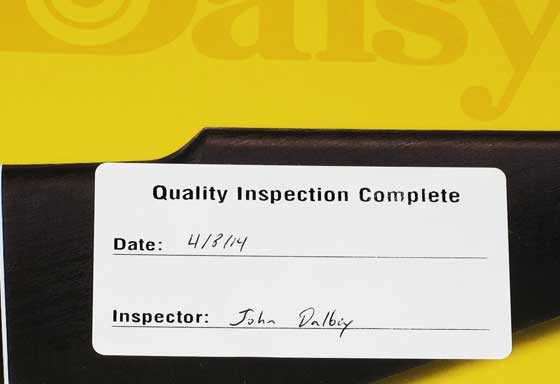 The Daisy 880S I'm testing today came with this inspection sticker on the outside of the box.
The rifle they sent is actually an 880S model that comes with a 4X15 scope. After velocity testing and 10-meter accuracy testing with open sights, I'll mount the scope and finish shooting at 25 yards. They sent test targets that I'll show when we get to accuracy testing.
Test data submitted
Inside the box was a sheet with two velocity test strips. There is no indication of what pellets or BBs were used to create these test numbers, but I'll assume the higher velocities were achieved with Daisy Premium Grade BBs, and the lower velocities were obtained with lightweight lead pellets. I have Daisy BBs, so I can test them in the rifle; but lacking knowledge of exactly which pellet was used, I used an RWS Hobby wadcutter. At 7 grains, it's about as light as lead pellets get.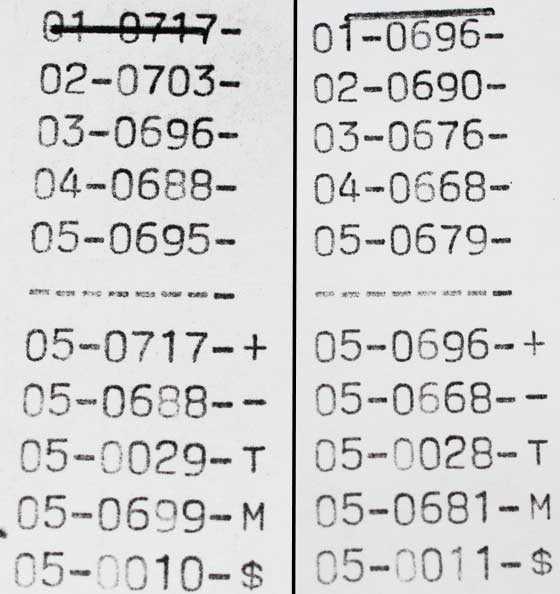 The two tapes Daisy sent with the rifle. On the left is what I presume to be the velocity with BBs and on the right I presume is the velocity with lead pellets.
To put numbers on this, Daisy got an average of 699 f.p.s. with steel BBs (with a 29 f.p.s. spread) and 681 f.p.s. with lead pellets (with a spread of 28 f.p.s.). We will keep that in mind as I test the rifle.
My velocity tests
I tested the 2 other rifles with 7.9-grain Crosman Premier domes, so it seems only reasonable to continue that test with this rifle.
Pumps   Velocity
2            381
3            457
4            510
5            547
6            576
7            603
8            609
9            622
10          656
If you compare this test to the two rifles that went before, you'll see that this rifle is considerably more powerful. Also, there was no tapering off of the velocity as the pump strokes increased, the way there was with the last new rifle I tested. True, the amount of velocity increase wasn't as great as the pump strokes increased, but it always went up.
Next, I tested the rifle with 10 shots on 10 pumps each. In other words — as fast as the rifle could go. Again, this was with Crosman Premier lite pellets. A few early shots went slower; but then the power ramped up, and the rifle gave me what seemed to be its best. The average velocity with the Premier lite pellet was 645 f.p.s. with a spread from 624 to 660 f.p.s. — a total of 36 f.p.s. That works out to 7.3 foot-pounds of muzzle energy.
We can't compare the velocity of this pellet against what Daisy has provided, because we don't know the weight of the pellet they used. So, a second test was needed. This time, I used the RWS Hobby pellet that, at 7 grains, is about as light as .177-caliber lead pellets get. It should give numbers higher than the Premier.
Indeed it did! The average velocity with Hobbys was 680 f.p.s. The spread went from a low of 671 to a high of 686 f.p.s., so just 15 f.p.s. And notice how close my numbers are to the Daisy tape on the right. I'm getting essentially the same results Daisy got.
On to BBs
With what I presume were BBs, Daisy got an average velocity of 699 f.p.s. and a spread of 29 f.p.s. I assume this is also with 10 pumps per shot.
I got an average of 676 f.p.s. with a spread that went from a low of 669 f.p.s. to a high of 680 f.p.s., so the total variation was only 11 f.p.s. The average seemed a bit slow in light of the Daisy numbers, so I oiled the felt washer behind the pump head with Crosman Pellgunoil. After that, I got 3 shots at 712, 710 and 708 f.p.s., respectively. I didn't bother rerunning the test, as it seemed the rifle was performing up to snuff with the oil. That's another reminder of just how important oil is to a multi-pump's operation.
Evaluation thus far
Here we are on Part 4, and it normally takes only 2 parts to finish the velocity test of a gun. This has been an interesting exercise, and I know I've learned from doing it.
Next up will be the accuracy test with both pellets and BBs. I'll test BBs at 15 feet and pellets at 10 meters — both using open sights. Following that, I'll mount the scope that came with this rifle and back up to 25 yards for a final pellet test.
My thanks to Daisy and to Joe Murfin for providing the test rifle for today's report. The results indicate this rifle is representative of the gun many of you have received. And, it represents the rifle everyone can expect to receive when they order a Daisy 880.
by Tom Gaylord, a.k.a. B.B. Pelletier
Part 1
Part 2
Part 3
Part 4
Part 5

The PCP is built on a Crosman 2100B chassis.
This report addresses:
• Mounting a scope on the rifle
• Shooting Air Arms Falcon pellets at 25 yards
• Grouping in smaller pressure bands
• Shooting Crosman Premier lites
• Marketing the $100 PCP
This will probably be the final report on the $100 PCP. It's been an interesting project, and today I'm capping it off with a test at 25 yards with the rifle scoped. I selected a UTG 3-9X40 scope with illuminated reticle and a one-inch tube. This is a wonderful scope for just under $100. It's smaller size suits the test rifle perfectly.

The $100 PCP looks good with the UTG 3-9X40 scope.
Falcon pellets
In the previous report, I shot at 25 yards with open sights, and the best group of 10 I got measured 1.144 inches between centers with RWS Hobby pellets. For some reason, I overlooked Hobbys in today's test and began with Falcons, which gave a previous group of 1.912 inches.
It took just 2 shots to get on target, and the next 8 went into 0.992 inches. I was filling to 2000 psi and shooting 10 shots between each fill.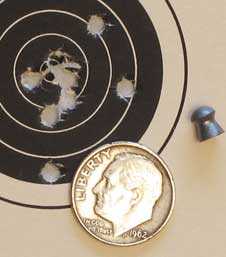 The first 8 Falcon pellets went into 0.992 inches at 25 yards.
Next, I refilled the rifle and shot 10 more Falcons. This time, the group was 1.72 inches between centers. That's better than the group with open sights, but nothing special.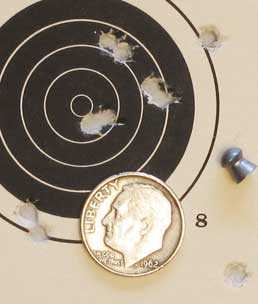 The first 10-shot group with a 2000 psi fill made this 1.72-inch group.
As I shot this group, I thought the last 5 shots went closer than the first 5, so I decided to fill the rifle to 1500 psi and shoot 5 more shots — then repeat, for a 10-shot group. These 10 shots went into 1.373 inches, which is a significant improvement.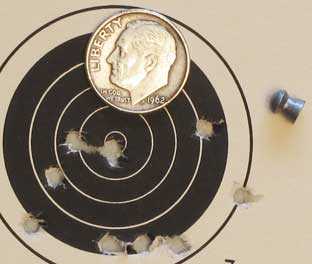 On this group, I filled the rifle twice to 1500 psi and shot 5 shots per fill. The group measures 1.373 inches, so it's a little better than the last one.
But I thought this time that the shots were scattering more than before. So I decided to boost the fill pressure to 1800 psi and shoot just 5, then refill and do it again. This gave me 10 shots in 1.577 inches, which is not an improvement.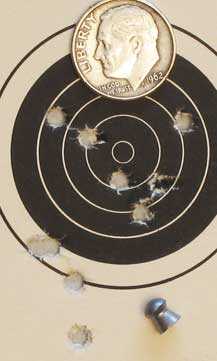 This time, I twice filled the gun to 1800 psi and shot 5 rounds with each fill. The group measures 1.577 inches between centers.
Last try
At this point, I remembered that this is just a proof-of-concept gun. We aren't trying to make the final article here — just prove that it works good enough to be worth the effort. I hadn't yet tried Crosman Premier lites in the scoped rifle, so that was my final group. This time, I filled to 2000 psi.
Ten Premier lites went into 1.607 inches; but the strange thing was that the first 5 went into 0.629 inches, and the second 5 went into 1.098 inches. And the 2 groups are centered in 2 separate places! Clearly, there are tuning issues that have to be addressed with this rifle. But I don't care about that. As far as I'm concerned, the $100 PCP concept has been proven.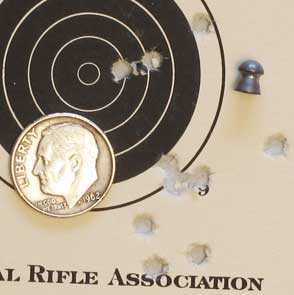 The bottom 5 pellet holes are the first 5 shots fired with Premier lites. Though the group measures 1.607 inches in all, the bottom 5 measure 0.629 inches between centers!
The groups I got aren't as small as the ones you're used to seeing from a PCP at 25 yards, but this one will sell for under $100. So, the accuracy is not expected to be world class. And this rifle's barrel is held in place by Gorilla Tape and a shim of cardboard. Certainly, there's more to be done to finish the rifle!
The last comment I'll make is that this rifle is noisy. A barrel shroud would be welcome.
Marketing the $100 PCP
From the responses we've gotten and the things I've heard while attending airgun events, I know the $100 PCP is worth trying. I realize there's a marketing plan to be constructed, so I'd like to start the ball rolling with this:
• Keep the velocity with Premier lites to no more than 800 f.p.s.
• Make the reservoir larger and balance the valve to get 20 good shots (730-800 f.p.s.).
• In every way possible, retain the features of the 2100B.
• If the fill pressure can be made even lower, say 1800 psi, that's better.
• Consider shrouding the barrel.
• Come out with a hand pump that will retail for under $100, but use a Foster fitting on the rifle so any of the current pumps can also be used.