by Tom Gaylord, a.k.a. B.B. Pelletier
This report covers:
• Silly exercise
• What's the point?
• Airguns I like
• My one airgun
• Firearms
• See where this is going?
• My one firearm
• What this tells me
• How my life has changed
…what would it be? Not long ago, blog reader Kevin asked me this question and I promised to get back to him with an answer. Today, I'm keeping that promise, although I'm not at all positive that in a year my answer won't be different.
Kevin asked what airgun and what firearm I would keep. There were no other guidelines beyond the number one — of each. This isn't the first time he's asked a question like this. Earlier this year, he asked me what guns I enjoyed shooting, and I wrote a blog titled What would B.B. shoot?
Here is what he asked me this time.
"B.B.,
Some of us have gone through difficult financial times, some of us are going through difficult financial times and some of us will go through difficult financial times in the future.
For this reason I'm very interested to hear what the ONE airgun is that you would keep and the ONE firearm is that you would keep while you would endure a financial crisis.
This is not a "WHAT GUNS I KEPT AND WHY" this is a ONE airgun and ONE firearm question.
kevin"
Silly
This is such a silly exercise — don't you think? At least it is until you try to form an answer. Because to do that, you have to think about all the airguns and firearms you own, as well as the ones you have owned in the past — and I suppose you can throw in any you might like to own but never have. Once you have all of them in front of you, it's time to weed through the mass and see what comes out the other side.
What's the point?
There is no point to this. Nobody is ever going to be confronted with this decision in quite this way, so why bother thinking about it? Well, it does force you to think about things at a fundamental level — a sort of giant who-do-you-love-and-why game. And Edith and I did actually go through it — not once but twice.
Airgun first
Because I write about airguns, you probably think it's harder for me to pick a single airgun, but it's not. It's actually much easier. When all the facade of accuracy, power and performance is stripped away and I'm no longer thinking about survival on a desert island or how many pellets I can carry in a backpack, the choice of a single airgun becomes simple. I shoot airguns for fun, when all is said and done.
Shooting for fun means I don't have to justify an airgun based on its power, long-range accuracy, nostalgia, value or anything beyond how much fun I derive from shooting it. That narrows it down a lot, but not to a single gun. I suppose there are at least a dozen, but probably more like 25 nice airguns that I really enjoy shooting.
Airguns I like
For example, I like to shoot my Beeman R8. It isn't powerful, but at 25 yards I know I can put a pellet within a quarter-inch of the aim point every time. The trigger is light and crisp, and the Burris 4.5-14×32 scope is so clear and sharp that the rifle is a delight to shoot. But it's not my one airgun!
I also really like my Crosman Mark I target pistol that holds so well and has such a beautiful trigger. But it's not my one airgun, either.
My one airgun
The one airgun I would keep, after having to get rid of all others, is my little .22-caliber Diana model 27. It's not really powerful enough to hunt with, but that's not why I'm keeping it. I'm keeping it because it's simple and accurate, light and easy to cock. It's an all-day airgun that I just enjoy shooting very much.


The Diana model 27 — this one badged as a Hy-Score 807 — is my favorite airgun. It isn't powerful, but it's light, accurate and has a great trigger. That's all I need.
I've owned several Diana 27s over the years. The first one was a rust bucket that I bought for $18 in a pawnshop in Radcliff, Kentucky, while stationed at Ft. Knox in the late 1970s. It looked terrible. You needed a tetanus shot just to hold it! But it shot like a dream, cocked smoothly and was accurate. I fell in love with it and the love has endured.
The second .22-caliber Diana 27 I ever owned is the one shown in the above picture. I bought it from the late Richard Schmidt at the Winston-Salem airgun show (the forerunner of the Roanoke show) in 1993. I paid $110 for it, which was way too much; but for some reason, they all went for way too much back then — and they still do today.
I pulled that rifle apart and lube-tuned it for my Airgun Letter and learned how to assemble the squirrel-cage of parts that Diana calls a ball-bearing trigger. I later pulled the gun apart a second time and tuned it, again, for a different magazine article. Since then, it's never been apart. That was more than a decade ago.
Some time in the late 1990s, I wrote an article about how to adjust the ball-bearing trigger. Diana triggers can be adjusted very fine if you know what you're doing; and, oddly enough, all you need is the owner's manual to learn how. Or you can just read the blog I wrote about it.
Every time I chronograph this rifle, I'm reminded of just how weak it is (under 500 f.p.s.). But that doesn't matter. I don't shoot airguns for their power — that would be futile. I shoot them for fun, and the Diana 27 has more fun per pound than any other airgun I know of. When I worked on the Bronco project, the Diana 27 was my inspiration.
The third Diana 27 I owned was a Winchester model 427. It's now owned by one of our readers. Why did I sell it? Because I didn't need two perfect airguns.
Don't think that I don't love many of my airguns a lot, because I really do. My Air Arms TX200 Mark III gives me immense joy, and of course I love my Whiscombe JW75. But the last airgun I'll sell is the Diana 27.
Firearms
What was far more difficult was to choose from all my firearms. I have been quite blessed at this time of my life to own some of the finest firearms that exist. My Wilson Combat CQB is especially dear to me, not only because of what a wonderful shooter it is, but also because it was a very special gift from Edith. I have a Dillon press permanently set up to reload .45 ACP ammo, and I cast all my own bullets for the round. While the rest of the world pays inflated prices for ammunition, I'm set to reload tens of thousands of rounds at less than a nickel a round. I can't shoot .22 rimfire as cheaply as I can shoot this pistol. But it isn't the one firearm I would keep.
Speaking of gifts, the readers of this blog gave me a Single Action Army revolver that means the world to me. I remember coming home from the hospital several years ago and seeing that revolver for the first time. I wasn't strong enough to hold it up to shoot, and my eyes would need another year to regain their strength, but I got out to the range with that revolver just as soon as I could. Every time I look at it, I think of you blog readers.
I shoot that handgun several times a year, and it always makes me smile when I do. The gun has an authentic fire blue finish that Colt put on their guns during the 19th century, and mine looks brand new. It's a gorgeous handgun, but it's not the firearm I would keep.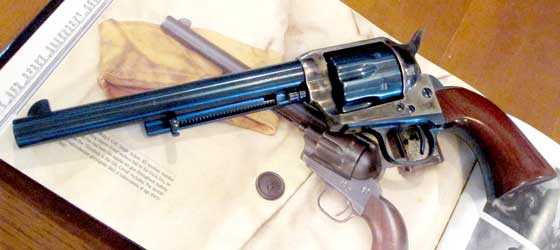 The single-action revolver I received from the readers of this blog is one of my favorite firearms. It shoots as nice as it looks.
I could go on and on with this thought process. Certainly, I would keep the Ballard. I certainly would not! While it's intriguing and a beautiful rifle, there's nothing practical about a Ballard built in 1876. The one firearm I keep has to be practical.


The Ballard rifle is beautiful and accurate, but it isn't the all-around firearm I need.
What about a nice .22 rimfire? I certainly own several of them, and lots of various kinds of ammo that would last me a long time — no? No. A .22 rimfire is not universal enough for me. Since I reload, I can turn almost any firearm into a .22 rimfire if I want to. What I need is a firearm that can be something more than a rimfire if the occasion calls.
See where this is going?
I am heading for a firearm that is as universal as it can be. Through reloading, it can be made to plink or pop squirrels, but it can also kill a grizzly bear if needed.
It has to be reliable, so complex is out and simple is in. That eliminates all semiautomatics.
It has to be accurate; but in my gun collection, there are no inaccurate arms. I just don't keep them. On the same note, I don't need my universal firearm to be suited for target use, so super-accurate guns with big scopes are also out. In fact, the scopes would eliminate the guns all by themselves.
My one firearm
The one firearm I would keep if all the others had to go would be my 1903A3 Springfield. It has a rugged bolt-action that has been proven over more than a century, and this one has adjustable peep sights that maximize the potential for accuracy. I've shot 5-shot groups under 2 inches at 100 yards, so the accuracy is all that I need.
When I reload, I have a choice of 5 lead bullets I can cast to produce everything from a .32 automatic up to a full-blown .30-06, if I need it. The cheapest rounds I make cost around 5 cents, and the most expensive costs under 50 cents. That's so much better than anything I can buy; but if I do buy, this caliber is certainly ubiquitous throughout most of the civilized world.
I have around a thousand empty cartridges; and with my reduced loads I'll get several hundred firings from each of them. And with reduced loads, I can use pistol powders and primers. So, ammunition will never be a problem.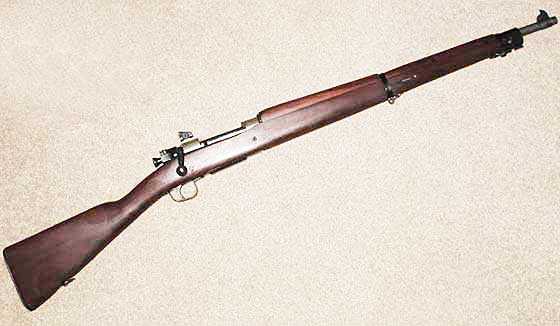 The O3A3 Springfield is a plain-jane rifle, but it's everything I need if I can only have one.
I got this rifle from my friend, Mac, but that's not why I'm keeping it. He sold it because it kicks pretty hard. But I discovered the secret. Soldiers wore field jackets and coats in the field, and the short pull of their rifles was compensated for by the thick clothing. When I shoot this rifle with powerful loads, I always wear a heavy jacket. The rest of the time a t-shirt is all I need. I can hit a pop can at 100 yards every time with my reloads, shooting from a prone or supported position.
What does this tell me?
Kevin forced me to look at my shooting from a very practical standpoint today. It wasn't sentimentality that helped me decide. And it wasn't value or beauty. It was utility.
I hope I never have to make a choice like this, because it would break my heart to say goodbye to many of my airguns and firearms. But now I know the two I would keep under any circumstance.
How the blog changed my life
Kevin's question prompted me to do more than just think about guns. This blog has had a major impact on my life. And from the comments many of you make, I believe it's also impacted your lives.
If you want to help me better understand my readers, I invite you to send me an email telling me the impact that this blog has had on your life. Pyramyd Air has created a special temporary email address for this. I'll be the only person to get these emails, and we're not going to generate any lists from the addresses.
My plan is to publish one or more blog reports with the more interesting comments. If you want, I will use your real name or blog handle; but you can be anonymous, too. I won't use your name or handle unless you give me written permission to do so.
This email address will be live for only a few weeks. We have tens of thousands of readers worldwide. Even if you've never commented on the blog, you can email me your message if you like. If you're reading this blog after July 2014, email submissions will no longer be forwarded to me, and you may get an auto-reply email stating that or your email might bounce back to you.
This could be interesting. I have no idea what will happen.
by Tom Gaylord, a.k.a. B.B. Pelletier
This report covers:
• Description of the case
• Extreme equipment cases
• Back to the Plano case
• Security
• Size
• Practical considerations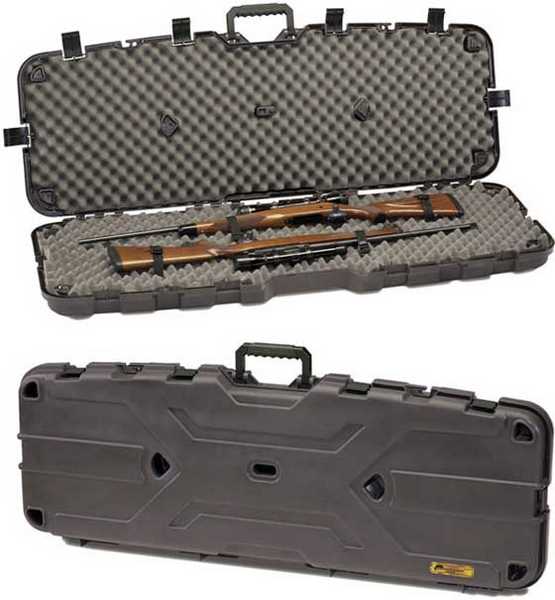 The Plano Pro Max Double Scoped rifle case holds 2 scoped rifles. It features 7 pillars that keep the guns from being crushed.
Today, I'm writing about a piece of equipment, rather than an airgun. It's a rifle case that Edith has been watching for some time. I discovered it in a recent transaction and was so impressed that I wanted to share my thoughts with you.
If you're like me, you don't give a lot of thought to gun cases. I have more guns than cases, so the cases I do have are mostly for traveling to the range and occasionally to an airgun show. I buy them on the cheap — mostly. But in the past 20 years, I've bought a few good hard cases for those few firearms and airguns that I really want to protect. Today, you'll see a case that dropped into my lap, so to speak. It may be the best hard case I own. It's certainly one of the three best. It is the Plano Pro Max Double Scoped Rifle Case.
Description
Omit the words Pro Max, and the title tells you what this is. It's a hard rifle case designed to carry 2 scoped rifles. Plano says it will carry the 2 rifles scoped with large objective lenses. Well, that's quite a claim, since air rifles tend to be much bigger than firearms and air rifles scopes do, as well. But we'll keep an open mind.
This case has 7 internal pillars (one at each corner and 3 down the middle) that keep the case from crushing when it's run over. That's one of its claims to fame and the reason Edith bought the case. You see, when Edith bought the Shamal air rifle for me recently, the owner was reluctant to ship it. He was afraid the shipper might mistreat the box since it had that long and narrow rifle-case appearance. So, she looked around for a case that would be strong enough to withstand any foul treatment.
Extreme equipment cases
I own an extreme rifle case already. We bought it years ago when we published The Airgun Letter. It's a Starlite Gun case that is so tough it can withstand a drop from a 5-story building and being run over by an 11-ton M113A1 armored personnel carrier with only scratches to the outside of the case and no damage to the gun inside. It is completely waterproof and can be submerged to 400 feet without leakage. It has an air-pressure relief valve that allows the case to be opened when the external air pressure changes. Nice gun case, but it costs $190. It's big and it's heavy. Comes with wheels as an option that I wish I had bought.
Back to the Plano
I wanted something less expensive, yet still rugged enough to protect that beautiful Shamal. As mentioned Edith was watching this Plano case on the Pyramyd Air website, and we decided to take a chance with it. We had Pyramyd Air ship the case to the man who sent the rifle. I told him to turn the cardboard shipping box inside-out so it wouldn't be so obvious what was inside, though the length and shape of the box is a pretty big clue.
Bottom line, the rifle arrived in perfect condition, but the case was so impressive that I had to tell you about it. What I saw when I opened the case was the rifle held tightly in place by 2 padded straps. In other large gun cases, the guns can move around inside in spite of the foam; but in this one, the straps make movement impossible. The straps go through raised strap holders in the case lid, and the foam is pierced with several slots that allow you to vary where the straps come through.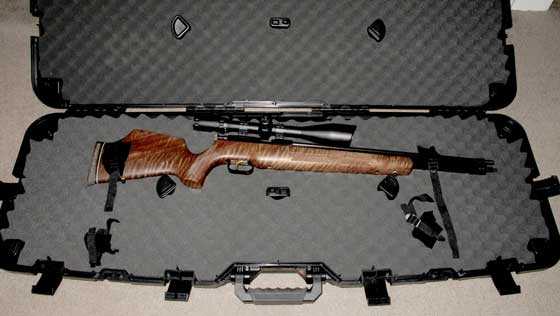 The Shamal looks tiny inside the big Plano double-scoped rifle case.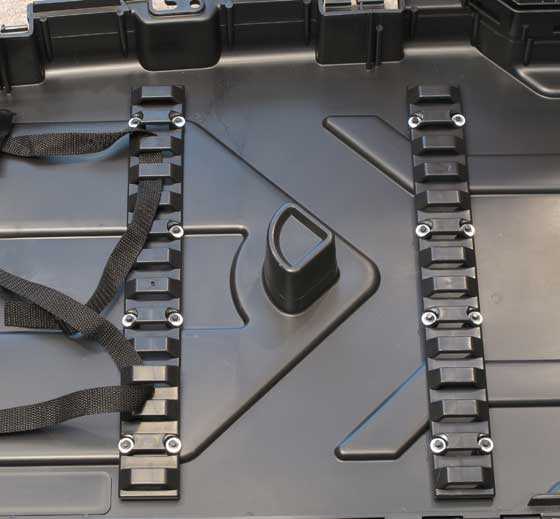 Under the foam on either end of the case are two rows of raised strap holders — making four in all. You can thread the straps through as many or as few of the loops as you like, and you can use either row on either side of the gun case. Whatever it takes to secure your rifle.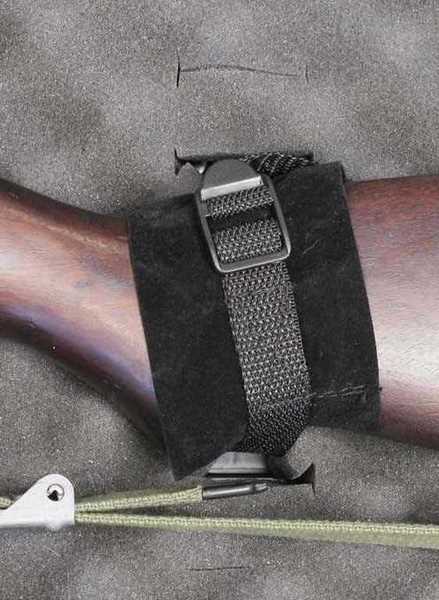 Each rifle is held tight by two padded straps that come up through the foam — one on either end of the rifle. With the two rows of strap slots, there are many configurations that can be made. Once strapped in, the rifle isn't going anywhere.
If that isn't enough, this case has 6 latches, rather than the usual 4. There is an extra one on either end of the case, at the place where other long gun cases get very flexible. You can see them in the photo at the beginning of this report.
Security
There are 2 reinforced holes along the long axis of the case for padlocks. If you travel with guns, these are very important!
While this case isn't waterproof, it does have tongue-and-groove mating edges to keep out water and dust. The case is also rigid enough that it comes together without a lot of twisting and pressing on your part. This may be as close as you can get to a full-blown mil-spec rifle case at this price.
Size
This is a huge rifle case! That said, the location of the straps means you do have to give some thought to securing a rifle. Those central pillars seem to get in the way at first; but once you correctly position the straps, they can be easily accommodated.
To give you an idea of how large this case is on the inside, I secured an M1 Garand and my Remington model 37 Rangemaster target rifle with its huge Redfield scope. As you can see, the case dwarfs both rifles, though they're larger than 90 percent of rifles available today. The internal dimensions are 52-1/2 inches by 17-1/4 inches, but there are many spots where the dimensions cut in (the case sides are not straight lines), so those are just the maximum sizes.

Two of the largest rifles I own. The Garand (bottom) isn't that long, but it is fat and weighs 10.5 lbs. The Remington model 37 Rangemaster and scope dwarfs a Remington 700. Yet, this Plano case swallows them both with room to spare!
Practical considerations
This isn't a rifle case for your Diana 27 or your Crosman 1077. At $70 plus shipping, it's a large purchase — even for serious shooters. But if you own really special firearms and airguns that have to be protected, this is a good way to do it. It takes some time to adjust the straps for each different rifle, so I think I'll keep right on using my $20 hard cases. But rifles like the Shamal and my Ballard now have a secure place to ride when we go to the range.
by Tom Gaylord, a.k.a. B.B. Pelletier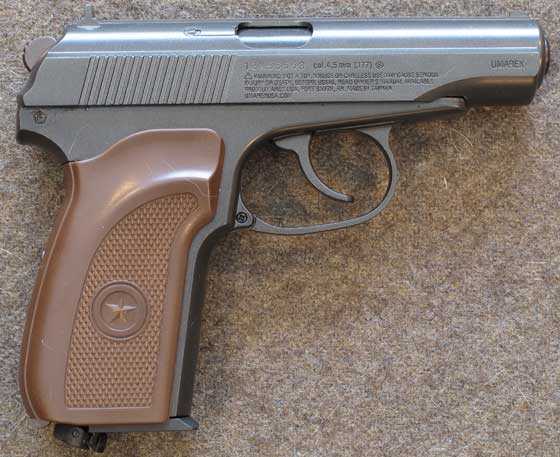 Umarex Legends Makarov Ultra is very realistic!
This report covers:
• Loading
• Winchester Target Cube
• Rested position
• Accuracy
• Overall evaluation
Today is accuracy day for the Legends Makarov Ultra BB pistol and the big question is: How does it hold up against its non-recoiling brother that we all know is very accurate? I think you're going to be pleased with the results.
Load up
I installed a fresh CO2 cartridge, which — thanks to yesterday's report on CO2 – reminded me to put a drop of Crosman Pellgunoil on the tip of the cartridge before piercing. As before, the piercing was nearly instantaneous with no loss of gas. I looked at the face seal with a jeweler's loupe and saw that it's a thick (relatively) clear synthetic that looks like it will do its job for a long time to come.
Next, I loaded some BBs into the front of the magazine. Here's a tip for this. Lock down the mag follower at the bottom of its slot and elevate the bottom of the mag. This way, the BBs will easily fall into the enlarged hole in the front of the magazine. If one overshoots the mark, it remains in a trough and can be rolled back to the hole very easily.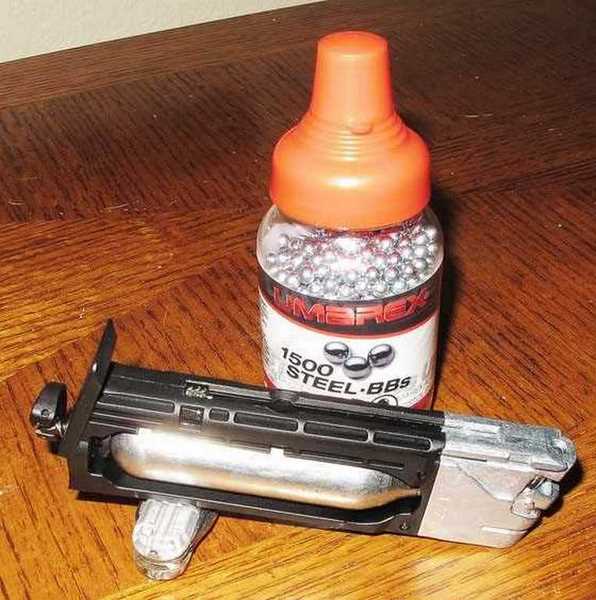 Elevate the bottom of the Makarov magazine, and the BBs will roll right in.
Winchester Target Cube
Once again, the Winchester Airgun Target Cube was pressed into service for a target holder and backstop. I taped the targets to the cube that now has thick cardboard on both sides. No more styrofoam comes out because of the cardboard; and the targets tear better, even when the BBs are shot at lower velocities.
The Target Cube keeps the BBs from bouncing back. That keeps the shooting area cleaner; and since I shoot BBs in my bedroom, that's a good thing. If you shoot a lot of BBs in the house, I recommend the Target Cube.
Rested position
I then sat on a chair at 5 meters from the target and put a large pillow on my lap. When doubled over, the pillow allowed me to rest my arms so I could achieve a very steady 2-hand hold. It's the gun we want to test — not the shooter.
The sights on the Makarov are very fine, but also sharp. I had no problem getting the same sight picture, shot after shot.
First group
The first target I shot was a 50-foot smallbore bull. Those are just slightly larger than 10-meter air rifle bulls. I had no idea where the pistol was shooting, nor how accurate it might be; but at 16 feet, I felt this target was large enough to keep all the shots on paper. I used a 6 o'clock hold, like I always do with handgun sights like these.
The shots landed about 3/4-inch below the point of aim. While the first 3 shots seemed to scatter, the next 7 stayed inside them, resulting in a fine-looking 10-shot group. In measures 0.916 inches between centers and looks even better. The bulk of the shots landed inside a half inch!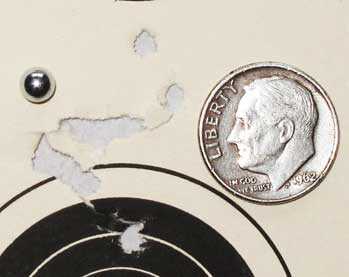 Ten BBs in 0.916 inches, with 7 of them well under a half inch! The 3 shots on the right were the first 3 shots. This gun can shoot!
Second group
The second target looks even better.  I called that shot that went to the left because of the very hard trigger pull we've already discussed. Actually, the trigger isn't that hard for a double-action pull (which it isn't), but for target shooting it's way more than you want. This time, 10 shots went into 1.189 inches, with 9 of them in 0.727 inches.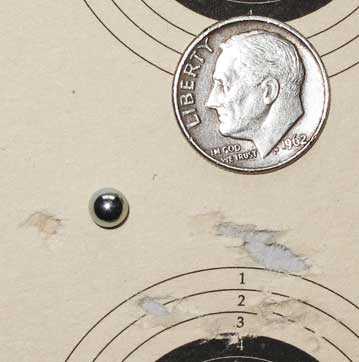 Ten BBs in 1.189 inches, with 9 in 0.727 inches. That shot on the left is a called pull.
I was really impressed with the way this pistol wants to lay them in the same hole at 5 meters. That trigger pull, though, takes discipline to overcome. The tendency is to try to overpower it, which will result in shots thrown wide to the left in my case.
Third group
I decided to try a larger aim point for the third group, so I substituted a 10-meter pistol target instead. The bull is twice the size of the others, and I wondered what it might do. Oddly, it pulled my shots closer together, though I did get a very vertical shot string. This time, 10 shots went into 1.334 inches, with 9 in 0.683 inches. Look at this group, and you'll see the pedigree of the non-recoiling Makarov showing through.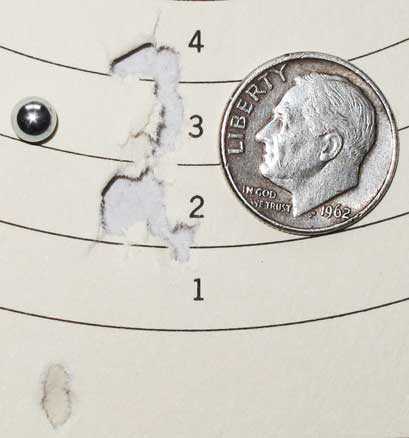 Ten BBs in 1.189 inches, with 9 in 0.727 inches.
Results
Yes, I think this Makarov is just as accurate as its non-recoiling brother. What separates them is the stiffer trigger on this one. It makes you really hold tight, and any distraction will cause you to throw a shot.
Overall evaluation
I like the Makarov Ultra BB pistol. In fact, I think I'm going to buy this one for my growing collection. This is what inexpensive BB pistols should be.
by Tom Gaylord, a.k.a. B.B. Pelletier
Today is the Memorial Day holiday in the U.S. It's the day we honor those who have given the ultimate sacrifice to defend our nation. Edith and I would like to join the rest of the country in remembering all these heroes from the Revolutionary War down to today.
This report covers:
• Technology advances as time passes.
• Not all guns changed over time.
• What about 88-gram cartridges?
• How does a charged gun suffer?
• How long can a CO2 gun be left charged?
• Can you leave a CO2 gun charged?
I'm writing this report for my good friends at Pyramyd Air. They get questions all the time about this topic, and they wanted me to discuss the whole story. It's long, so sit back and enjoy it.
Gas gun technology advances as time passes
In this case, the technology refers to both the design and the materials. In the 1940s, Crosman made CO2 guns that were either charged from a separate bulk gas tank or else the bulk tank was attached directly to the airgun. The gas flow in these guns was very direct — from the tank through the valve and out the barrel.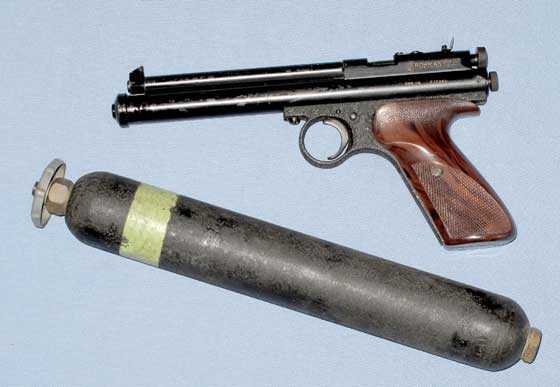 The Crosman 116 bulk-fill gas pistol was based on 1940s technology. Gas flow was simple and direct.
The seals in these guns were an early form of synthetic material that hardened and failed over time. But in recent years, all the vintage seals for these guns have been reproduced in modern synthetics that have a much longer shelf life and even longer operational lives. When a vintage CO2 gun is fixed today, you can expect it to last a very long time. A gun that might have leaked after 20 years of service in the 1950/60s can be resealed today and not leak again for the next 40 years because of the advances in materials.
In the 1960s and after, the design technology changed. The gas flow in these guns was not always as direct as it had been in the earlier guns. Airgun manufacturers were now making lookalike guns, and they were being constrained to put the CO2 cartridge in certain places such as the grip, where the gas might have to flow for some distance to get to the breech. Small metal pipes were used in some gas guns to transport the gas from where the cartridge was pierced to where the gas was needed. These pipes could not stand up to the pressure of a constant charge, and it was best to leave them discharged until you wanted to shoot the gun. This marked the start of gas guns that could not be left charged.
Another change was the invention of the magazine that also contained the gun's firing valve. All the seals were in that tiny unit on top of what looked like a conventional pistol magazine. In these guns, the small flat end of the CO2 cartridge was pressed tight against what's known as a face seal by some kind of tensioning mechanism in the bottom of the grip. When the cartridge was pressed flat, the end seal stopped gas from flowing out around the end of the cartridge; and it only flowed straight into the small firing chamber. The valve held this chamber closed until the action of the hammer opened it with force, allowing some of the CO2 gas to escape.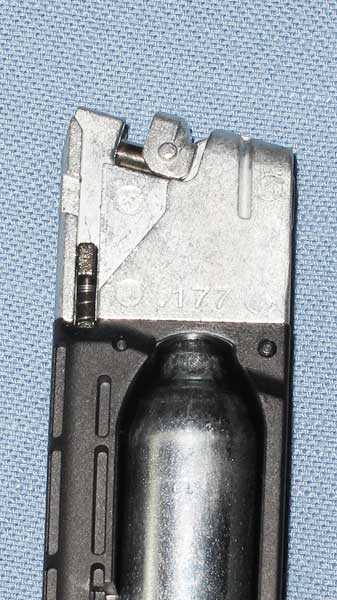 The entire valve of the Makarov Ultra is contained inside the magazine's silver top.
Face seals usually work quite well, but there are some things about them that you have to know. One is their thinness. If they're twisted while the CO2 cartridge is pressed against them, they can tear. If that happens, they'll leak. This is a good reason to always use a drop of Crosman Pellgunoil on the tip of each new cartridge before it's pierced.
Another thing you have to know is the length of the CO2 cartridge. If the cartridge is too short, the flat spot may not press tight enough against the face seal even when the tensioner is adjusted as far as it will go. That lets the gas leak out because the face seal cannot do its job. The solution for this is to try a different brand of CO2 cartridge.
Not all guns changed
As the technology changed, all gas guns did not change to use the latest designs and materials. The cheaper guns did go the way of face seals, gas tubes and lookalike designs; but there were more expensive gas guns costing hundreds of dollars that continued to rely on the older designs from the early years. These employed the very latest in materials in these designs. I'm referring to the gas guns used for formal target shooting. These airguns will hold gas for years without a problem because they are designed to.
What about 88-gram CO2 cartridges?
This question always comes up. While a gun that uses a 12-gram cartridge may shoot 50 or 60 times per cartridge, guns that use the much larger 88-gram cartridges can shoot hundreds of shots before running out of gas.


The 88-gram CO2 cartridge is much larger than the conventional 12-gram cartridge. It contains much more CO2 gas, and, as a result, some thought has to be given to when it is used.
Should you remove an 88-gram cartridge after your shooting is done? In recent times, Crosman made a special adapter for their 1077 repeater (among other guns) to accept an 88-gram cartridge. That adapter has a valve that allows you to turn off the gas. The cartridge can remain on the gun, but there's no gas flowing to the valve. I've had my 1077 with this adapter charged this way for several years.


Crosman's 1077 repeating pellet rifle was made for a single 12-gram CO2 cartridge. Crosman used to sell an adapter that allowed the use of 88-gram cartridges.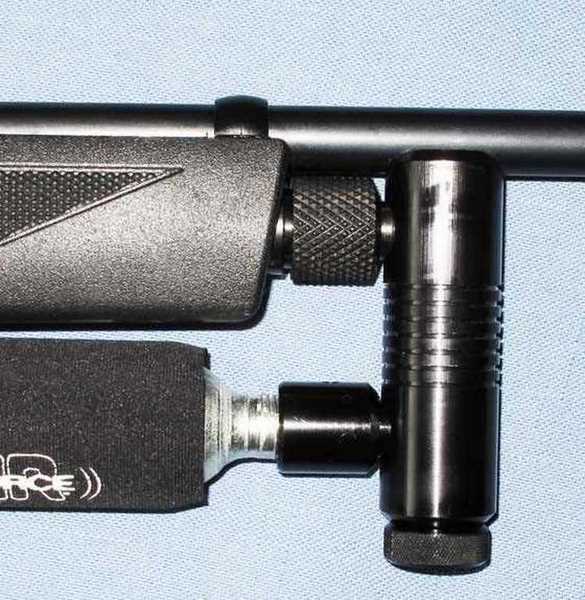 The Crosman AirSource adapter shown here allowed the use of 88-gram cartridges. The knurled knob at the bottom of the vertical tube allows the gas to be turned on and off. This gun still has gas after being stored for 3 years!
Not all airguns that use 88-gram cartridges have a valve to turn the gas off. Shooters who use the 88-gram cartridges costing several dollars apiece must consider the shooting they are about to do to determine the probable number of shots that will be fired because some guns may suffer if left pressurized. If you plan on removing a 300-shot cartridge, better to do it after 275 shots have been fired, rather than only 25 shots. That would be like opening a $200 bottle of champaign so a friend could have a sip.
How does a charged airgun suffer?
A couple years ago, I asked Ed Schultz, Crosman's top engineer, what damage is done when a CO2 gun is left charged. He told me that some of the modern seal materials can take a set if left pressurized too long. This was the first time I'd ever heard that; but since Ed is in charge of making the guns, I have to accept that it's true.
There's a second reason why the gun manufacturers don't want their guns left charged, but they will never mention it: Liability. You see, a CO2 gun can shoot anything that's in its barrel. It doesn't have to be BBs or pellets. So children and irresponsible people can load things into a gun and shoot them even if they don't have a supply of the correct ammunition. For this reason, a charged CO2 gun is a loaded gun.
How long can CO2 guns be left charged?
This is where the question gets personal. There are owners who obey the letter of the instructions and see it necessary to remove the cartridge within 5 minutes of shooting. If they planned on shooting again tomorrow, they would still remove the cartridge today.
Then, there are the more broad-minded owners who believe that they should remove the cartridges only when they think they've finished shooting the gun for a longer time. These are the people who will leave a cartridge installed for a week of shooting. I tend to agree with this group. But, sometimes, they forget what they're doing and the cartridge never comes out.
The manuals are vague on this point, and I wouldn't expect a firm answer from an airgun company, either. They have to defend themselves in court for whatever irresponsible actions are taken by those who use their products, so they can't afford to give them any basis for a lawsuit.
I've left my modern CO2 guns charged for years, and eventually they all seem to leak down. Some will hold for more than a year, but eventually they all do seem to leak down.
My vintage CO2 guns, on the other hand, are always charged and never leak. They are like PCP guns, in that respect.
Can you leave a CO2 gun charged?
All of this brings us back to the original question — can CO2 guns be left charged? The answer is sometimes "yes" and other times "no." It depends on the design of the gun in question.
These days, I tell people to follow the instructions in the manual but not to be anal about it. They can leave a gun charged overnight and even for several days; but before it's put away, if the instructions tell you to remove the cartridge, that's what you should do.
by Tom Gaylord, a.k.a. B.B. Pelletier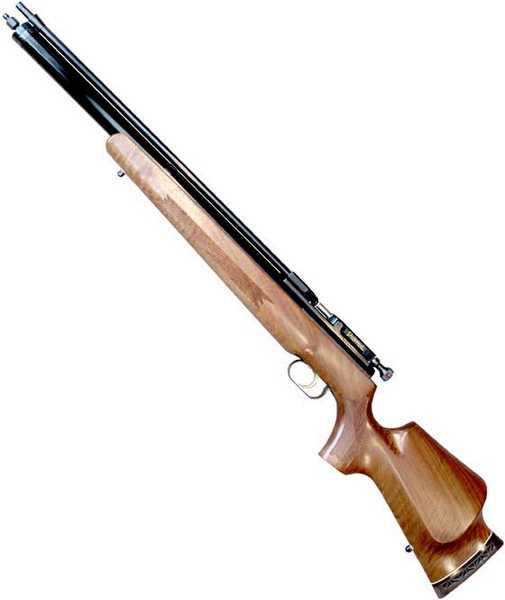 Air Arms Shamal is an attractive PCP. It was Air Arms' first precharged rifle.
This report covers:
• Trigger adjustments.
• Discovering the maximum fill pressure.
• Shot count.
• Velocity with various pellets.
• Discharge noise.
• Loading.
In this report, we'll discover the Shamal's pressure curve, which will be instructional for all who are new to precharged airguns. As I mentioned in the first report, this rifle didn't come with a manual; so when I got it, I had to discover the pressure curve on my own. I did, and it turned out the rifle wanted an initial fill pressure of 2,600 psi. That was on the gauge that was on the fill device that came with the rifle — the device that I no longer have. I need to find out where on the gauge of my carbon fiber tank the needle wants to be when the rifle is full. These small pressure gauges are not that precise, so the number could be off by several hundred psi. Also, the gauge on my carbon fiber tank isn't marked in hundreds of psi. There will need to be some interpolation involved.
More than a decade has passed since this rifle was mine. I'm not sure where it's performing today. So in all respects, this is a brand new air rifle to me. That will benefit you if you want to look over my shoulder while I do what needs to be done.
Trigger adjustments
Before I get into that, however, I first want to address the adjustable trigger. Shamals haven't been around for a long time and there isn't that much written about them. I want this report to serve as an owner's manual for all who get one in the future.
The Shamal came with two different triggers — a standard one that my rifle has and an Olympic trigger that sounds more adjustable, but which I know nothing about. My trigger has 4 adjustment screws. From the back to the front (holding the rifle on your shoulder) they are:
1. The sear engagement (clockwise to reduce).
2. The first-stage travel (clockwise to reduce).
3. The first-stage weight (clockwise to increase).
and in front of the trigger:
4. The second-stage weight (clockwise to increase).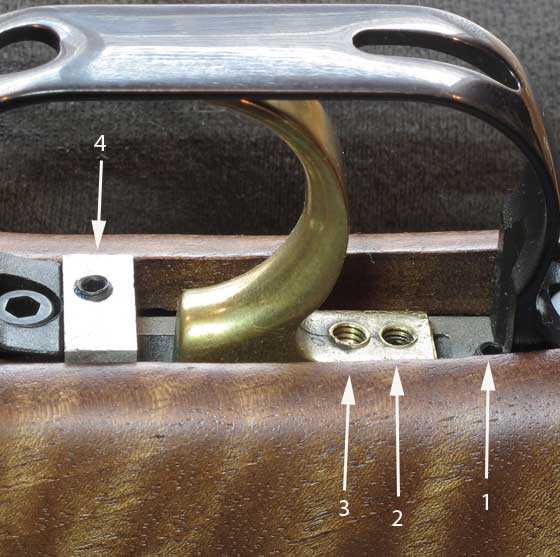 Trigger-adjustment screws: (1) Sear engagement, (2) first-stage travel, (3) first-stage weight and (4) second-stage weight.
When I tested the trigger with my electronic gauge, the firs-stage weighs just under 6 oz., and the let-off was between 12 and 14 oz. The first stage is long, which I like, and the release is as light as I like a trigger to be, so I'm satisfied with this trigger as it stands.
Discovering the max fill pressure
This is something that has to be done whenever a new gauge is used. I had data from previous tests that told me the fill pressure should be 2600 psi, so I filled from my carbon fiber tank to 2750 psi. That gave me the following velocities with the same 14.3-grain Crosman Premiers I used over a decade ago.
Shot Vel.
1     742
2    740
3    748
4    744
5    745
6    746
7    757
8    754
9    748
10   763
11   774
12  775
13   770
14   771
15   —-
16   772
17   —-
18   782
19   782
20   790
21   780
22   801
23   791
24   804
25   806*
26   793
27   800
28   799
29   801
30   —-
31   —-
32   782
33   788
34   778
35   775
36   775
37   769
*Fastest shot
The fill pressure at the end of this string was 1500 psi. This string tells me almost everything I want to know about this rifle. First, the fill pressure I used was way too high. I'll fill the gun again to a much lower pressure and see where that gets me.
Shot count
Next, there are just under 20 good shots on a fill — down from what I thought so many years ago. I like the velocity that runs from 780 to 806 — a spread of 26 f.p.s. Looking at the curve for Premiers, I should start with shot 18, although the shot before that didn't record, so I can't be certain whether it was any good or not.
If I end the string at shot 34, I'll get 17 full-power shots close to my desired range. What should the starting air pressure be? That's solved easily.
I'll guess that 2350 psi is the start point. I filled the rifle to that pressure and got the following results.
Shot Vel.
1     773
2     770
3     774
4     781
Okay, as the pressure inside the gun has decreased with each shot, the velocity has increased. The last shot was 781 fps, which is as low as I want the velocity to go on the power curve I'm willing to accept. The gun's reservoir pressure has now dropped to the maximum pressure that will give me a velocity on my desired power curve (781 fps).
The velocity of 781 is at the bottom of the power curve that I have identified for this rifle. Since my last shot was 781, the rifle is now on the power curve. The pressure in the reservoir is now at the highest it can be and still give me the velocity I want. From this point on, as the rifle's reservoir pressure drops, the velocity will either increase or remain stable. As long as it's at 780 fps or higher, the rifle is on the power curve I'm looking for.
Now I can find the ideal starting fill pressure for my desired velocity range. All I have to do is start to fill the airgun, again. When the needle stops moving fast, indicating the fill hose is full and the gun's intake valve has just opened, I stop the fill by closing the tank's valve and look at the needle. The needle is pointing at the air pressure that is in the gun's reservoir. I can see on the gauge that this rifle likes a starting fill pressure of 2250 psi!
To confirm that I'm right, I fired one more shot with Premiers. It went 781 f.p.s. Bingo! I'm right at the start of the power curve, with at least 16 more good shots in the reservoir.
I also discovered that the rifle performs very much the same as it did long ago. I'm using a different chronograph, yet the velocities from the late 1990s and today are within a few f.p.s. of one another.
The power curve I've accepted gives me an average velocity of 792 f.p.s., which is good for 19.92 foot-pounds of muzzle energy.
Other pellets
I will now test the velocity of other pellets, but I'm not going to shoot long strings and get the averages. I will shoot 2 of each pellet and take the lowest velocity of each pellet as the average for that pellet. While that's not exact, it's far faster than shooting whole strings and averaging. I know I'm on the power band for the next 16 shots; and if I use even fewer than 16 shots (4 pellets x 2 shots each = 8 shots), I can be sure that all of them are on the power band. The power band is the place where the velocity of any pellet will vary the least.
Eun Jin domes
This 28.4-grain Eun Jin dome pellet gave me velocities of 592 and 586 f.p.s. Taking the lower number as the average, I get a muzzle energy of 21.66 foot-pounds.
Beeman Kodiaks
The Beeman Kodiak pellet weighs 21.14 grains and gave me velocities of 683 and 680 f.p.s. That's very close to the "magic" velocity of 671, where the weight of the pellet in grains equals the energy in foot-pounds. Using the low figure of 680 f.p.s., this pellet gave an energy of 21.71 foot pounds at the muzzle.
JSB Exact Jumbo Monsters
Next, I tried JSB Exact Jumbo Monsters — a 25.4-grain pellet. They gave me velocities of 584 and 611 f.p.s. Using the lower number, that's a muzzle energy of 19.24 foot-pounds.
The bottom line is that this Shamal is a 20 foot-pound air rifle as it's operating now. That's what it was when I owned it in the 1990s. So, the rifle hasn't changed, but the gauges have changed and so has my perception of the total number of shots that are available. So, this update was important to the operation.
Discharge noise
I don't know what I was thinking when I reported the Shamal as a quiet air rifle before, but it isn't. It sounds exactly as loud as a .22-caliber Benjamin Discovery running at the same power.
Loading
Someone asked about the loading room at the breech, and on this rifle there's a generous amount. There's no loading trough, so it's easier to get your fingers behind the breech with a pellet. And all pellets load easily because there's no rifling at the breech. Rifling doesn't start until after the air transfer port, which is deep inside the breech. The bolt nose has a long probe that pushes the pellet past the air transfer port and into the rear of the rifling.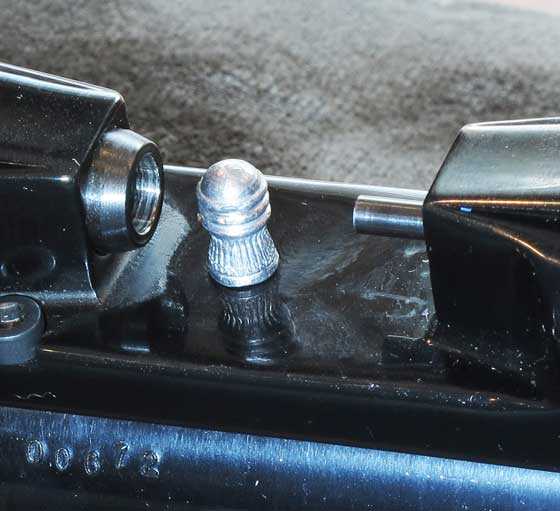 That's a 28-grain Eun Jin standing on the receiver. It's one of the longest .22-caliber pellets around. As you can see, there's plenty of room at the breech.
That's it for this look. Next time I'll scope the rifle and head to the range.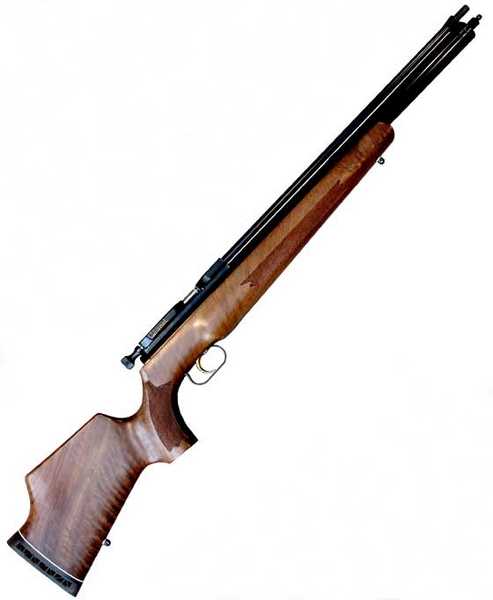 by Tom Gaylord, a.k.a. B.B. Pelletier
Part 1
Part 2
Part 3
Part 4
Part 5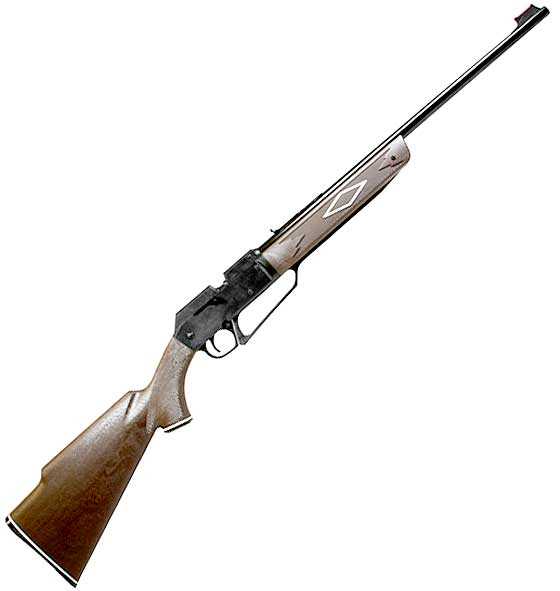 The Daisy 880 multi-pump is a classic.
This report addresses:
• Mounting the scope.
• Sighting in.
• Accuracy testing.
• Loading problems.
• Summary.
Today, we'll look at the accuracy of the Daisy 880S at 25 yards. As you may recall, Daisy sent this rifle to me to test after I had problems with the velocity of my old Daisy 880, and also with a brand-new one that Pyramyd Air supplied. We tested the velocity of this rifle in Part 4, and it was right where it should be, so we moved on to accuracy 10 meters. That was in Part 5. I showed you the targets Daisy sent, and then targets I shot. I managed to do a little better than Daisy, but on the whole my best targets were comparable to what they sent.
The rifle they sent is an 880S that has a 4X15 scope and rings included. I thought it was identical to the 880, but a sharp reader pointed out the 880S rifle doesn't have fiberoptic sights. If you want plain sights, this is the model to get. And the first step for today's test was to mount the scope.
Mounting the scope
I've had other scopes that were difficult to mount, but this one ranks right there with the worst of them! The small, thin clamping jaws gave me fits when I tried to attach them to the scope rail. It took me 15 minutes of repeated tries to get the scope to clamp to the rifle, and even then the scope was pointed off to the right. I remounted it and had the same problem. Up to this point the scope, was still clamped tight in the rings, which may have been the problem.
I loosened the scope tube in the rings and found that it really helped with positioning. Finally, after about 25 minutes, I managed to get the scope mounted reasonably straight. Loosening the rings was the key. However, even at its best, the scope was still pointed to the right.
Sight-in
I looked back at the velocity data for this rifle from Part 4 and decided that 6 pumps per shot would be best. That's a compromise between velocity and the time it takes to pump the rifle. When you shoot 10-shot groups, each group takes 60 pumps to complete. I was going to be shooting pellets that were mostly lighter than those used in the velocity test, so the rifle would probably be shooting just over 600 f.p.s.
Beeman H&N Match
I sighted-in with Beeman H&N Match pellets. No particular reason for this. From the 10-meter test, I knew that only RWS Hobbys were accurate enough (of those pellets that were used in the 10-meter test) for shooting at 25 yards, and they would be included — but I was almost out of them.
As most of you know, I sight in most airguns at close range, then back up to the target distance I want to shoot when I'm on paper. The first shot from 12 feet landed low and about 3 inches to the left. That's how far to the right the scope was pointed. If it was off that far at 12 feet, it would be several feet off the target at 75 feet (25 yards). I cranked in a lot of right adjustment; and by the third shot, the pellet hit below the bull at 6 o'clock.
Then, I cranked in a bunch of up elevation. The scope that comes with the rifle doesn't have click detents, so it was several turns of the adjustment screw. I knew I should now be on target, so I backed up to 25 yards before shooting again. Time to shoot the first target.
The first shot hit the target in the bull but very high up. That was okay, though, because in an accuracy test we don't care about hitting the center of the target — only in how close the pellets group. When the second shot went to the same place, I stopped checking the target with the spotting scope and just finished the first 10-shot group.
The first 10 shots landed in a group that measures 1.958 inches between centers. That's not what I was hoping for. I tried my hardest to shoot well; I shot off a rest and with a scope. This was the best I could do with this pellet.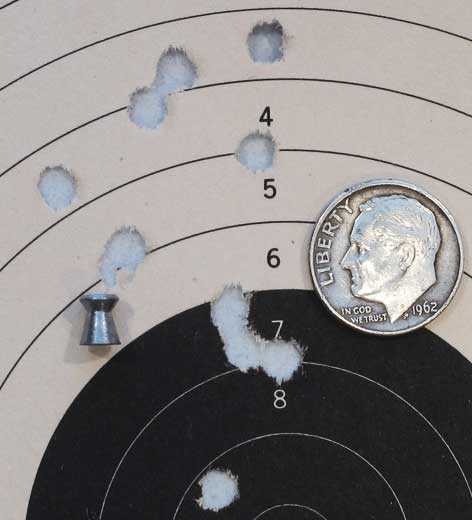 Ten Beeman H&N Match pellets went into 1.958 inches between centers at 25 yards.
RWS Hobby
Next up were the RWS Hobbys. These were by far the most accurate pellets at 10 meters, so they earned a spot in this test. Nine of them went into 1.154 inches at 25 yards, but the tenth shot opened the group up to 2.216 inches. It certainly wasn't a called flier; but given where the other 9 landed, I think Hobbys showed fair accuracy, overall.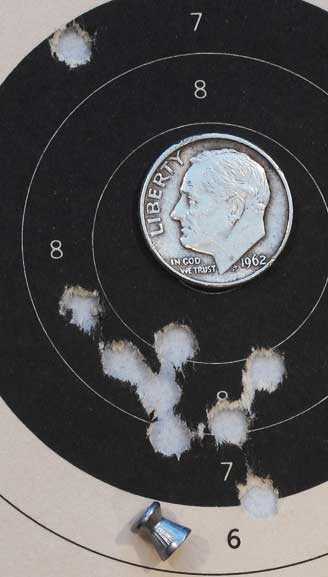 Ten RWS Hobbys made this 2.216-inch group at 25 yards, but 9 of them went into 1.154 inches, which is fairly good.
So far, the groups were only average or worse. Since I was pumping 6 times for each shot, this test wasn't going to continue much longer, but I felt the rifle deserved at least one more chance. This time it would be with a domed pellet of known quality — the Falcon from Air Arms.
Air Arms Falcons
The Falcon pellet has shown real promise in some airguns I've tested. I hoped that it would also shine in the 880. Since it was the only domed pellet I tried, and since 25 yards is about the maximum distance at which accuracy can be expected with wadcutter pellets, I hoped to see a real star.
Ten Falcons went into 1.482 inches at 25 yards. The group is reasonably round with no fliers, which tells me the Falcon is very stable in the 880. The group is actually the best of this test, though not as good as I'd hoped based on what people had said about their 880 rifles. But, I was shooting 10-shot groups, and they really point out the accuracy potential of an airgun in a way that 5-shot groups often can't.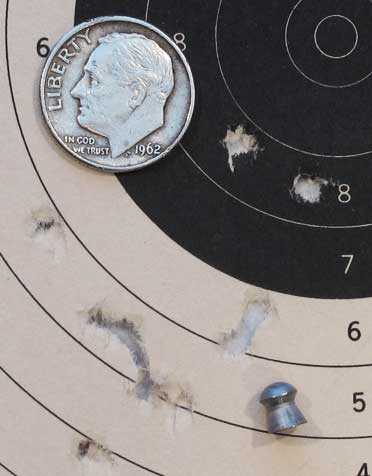 The Falcon group was the smallest of the session at 1.482 inches between centers. Of course, the holes are harder to see because this is a domed pellet.
Loading problems
I had two loading accidents with the Falcons that didn't occur with any other pellets. Two pellets fell back through the BB loading port and disappeared. They didn't tie up the gun, but it was disconcerting. Daisy warns about this possibility in the manual, and it happened to me twice in a row. If it happened just once, I'd say, "Shame on me." But two times in a row is the rifle's fault.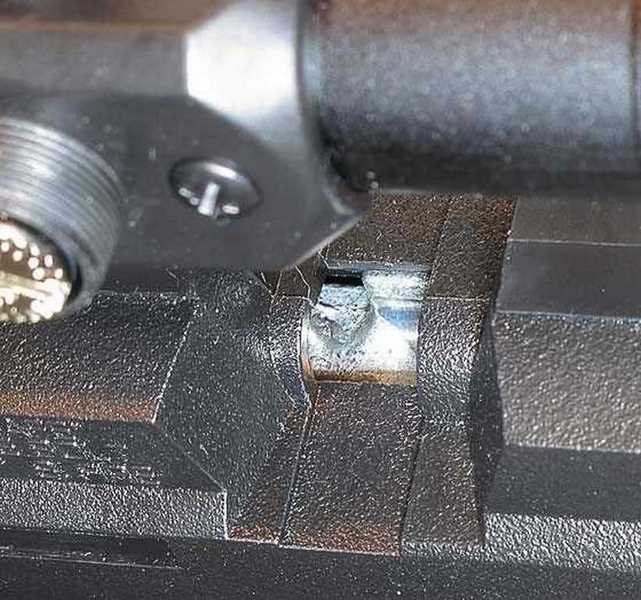 The BB feed hole at the back of the 880′s breech is so large that it swallowed 2 Falcon pellets.
Summary
No one can say this rifle didn't get a fair test! It turns out to be an okay plinker that's easy to pump and reasonably accurate at close range. I would not choose the scoped model, nor would I mount a scope on any 880 unless my eyes demanded it. A dot sight might be best for those who can't use the open sights.
The loading of pellets is a real problem area. It isn't easy under any circumstances, and it's all too easy to lose a pellet in the action because of the large BB feeding hole. Perhaps the 880 is a better BB gun than a pellet rifle for this shortcoming.
Given all the problems I had, I would have to put the 880 lower on the list of inexpensive multi-pumps than some other brands and models. I think it's a fine gun for those who appreciate it for what it is, but it's not a diamond in the rough. Taken for what it is, the 880 will satisfy a purpose and will be a good plinker and informal target rifle.