by Tom Gaylord, a.k.a. B.B. Pelletier
This report covers:
• Here we go, again
• Out of the box
• Cocking
• Barrel bushings
• Scope base welds
• Pillar bedding!
• Good to go
• Crosman Premiers
• Beeman Kodiaks
• Crosman SSP
• Trigger
• Evaluation thus far
• Reminder from PyramydAir.com
Here we go, again
Today, I'm starting our look at the second Benjamin Trail Nitro Piston 2. This rifle was sent from Crosman to Pyramyd Air especially for me to test, so we know that it's the absolute best that they can do with the NP2 design. I'm not being sarcastic when I say that. I'm telling all the Crosman ankle-biters that I do acknowledge that this rifle has been thoroughly examined by Crosman before sending it to me — just to stop them from saying it. This is the same thing I recently did with the Daisy 880.
The first NP2 I tested came straight from the factory and was completely random. And you saw how well it turned out. You also saw that it needed a little time to break in before the cocking effort dropped to where we thought it should be. You also saw how I had to learn to hold the rifle for best accuracy. That shouldn't happen with this one because I know how to hold it now.
I do plan on installing the scope that comes packed with the rifle for my test. We had one negative reader comment about me switching the scope on the other rifle, and doing it this way should end that complaint.
Out of the box
Several of you asked me to go over the second rifle thoroughly to see how it differs from the first rifle I tested. This rifle is also a .22-caliber model in a wood stock; so from the outside, it appears very much the same. But one curious thing I noted is that this rifle does have a wood screw holding the front of the triggerguard to the stock. You may remember I showed you the other rifle didn't have the screw, even though the triggerguard has a hole for it.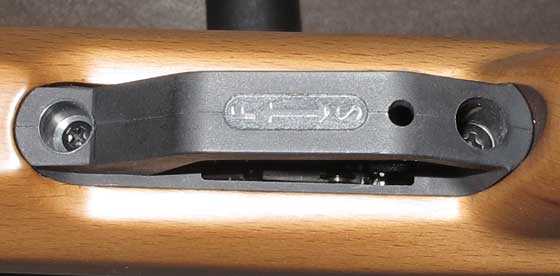 This photo shows both screws in the triggerguard.
I went over the entire rifle, looking for differences, but none came to light. I shined a tactical flashlight down the muzzle and noted that the baffles are not obstructing the muzzle. So, the rifle seems good to go.
Cocking
I cocked it, just to see how that felt, and I was transported back to the SHOT Show! This rifle cocks with between 25-27 lbs. of effort. I found the barrel pivot joint was too loose for the barrel to remain in place after the rifle has been cocked. You normally want it to stay in one place, but I say that advisedly, because this NP2 might teach us a thing of two. Crosman designed this rifle with a pivot bolt instead of just a plain pin, so the pivot joint can be tightened whenever necessary. I took the action out of the stock to do this, and that's when I noticed a number of things.

The NP2 barrel pivot bolt is slotted so it can be tightened. That wasn't necessary on the rifle I'm testing.
Barrel bushings
First, the barrel does indeed have a screw, but it was already tight on this gun. Then, I shined a flashlight through the action forks and the breech joint and noticed that there are probably bearings (what some would call shims) at the pivot joint. So, the barrel can be tight and yet still flop up and down after it's cocked. We need to learn from this; because if this rifle is accurate, Crosman has done something new. Their barrel may be looser than other breakbarrels of the past and yet still be accurate.
Scope base welds
The welds on the scope base are much more visible on this second test rifle. I know that Crosman did take action on this issue right away after the first guns were launched.


The scope base welds are much more visible on this new rifle. They're the bright lines under each foot on the base.
Pillar bedding!
Second, I found a u-shaped piece of steel on the floor after removing the stock. When I examined the stock, I found out what it is — pillar bedding! We've recently discussed this on this blog, and Crosman has apparently gone and done it. The interesting thing is that they didn't mention it in their advertising! How could they have missed announcing an important feature like this? Shooters are paying hundreds of dollars to have their rifles pillar bedded, and Crosman has gone and done it for free and kept it a secret!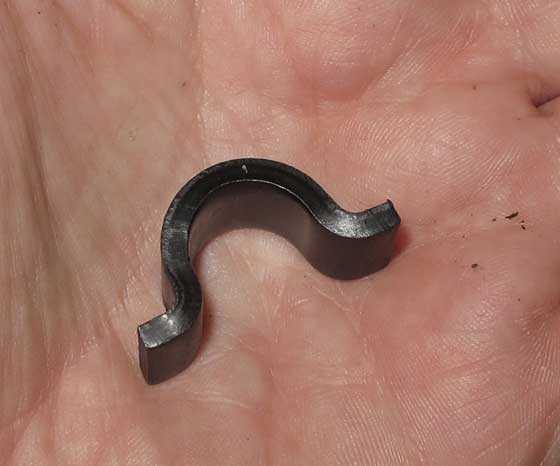 This u-shaped bushing or spacer serves as a pillar to separate the triggerguard screw from the action. This is pillar bedding on an airgun!

When the steel bushing is in the stock, it's impossible to over-tighten the rear stock screw. This is how pillar bedding works. It keeps the wood from being crushed.
The 2 forward stock screw heads bear directly against the wood of the stock, so they'll need washers to spread their load; but the NP2 is bedded better than 80 percent of the top-end spring rifles on the market.
Good to go
I assembled the rifle and found the barrel does not wobble side to side, yet it still flops after it's cocked. This means the barrel pivot joint is adding very little resistance to the cocking effort. Now, it was time to start the velocity test.
Crosman Premiers
The first pellet up was the 14.3-grain Crosman Premier that I believe will be one of the most accurate pellets for this rifle. Ten of them averaged 823 f.p.s. — a whopping 78 f.p.s. gain over the broken-in velocity of the first test rifle. And the cocking effort is still 5-7 lbs. lighter!
Best of all, Premiers varied by only 5 f.p.s. over the 10-shot spread — from 821 to 826 f.p.s. That's phenomenal! It's in PCP territory, and I'm talking about a regulated gun. At the average velocity, this pellet generates 21.51 foot-pounds of energy at the muzzle.
Beeman Kodiaks
Next, I tried 21.1-grain Beeman Kodiaks. As powerful as this rifle is, it should handle them okay. They averaged 646 f.p.s., which means a muzzle energy of 19.46 foot-pounds. The spread for this heavyweight pellet was 12 f.p.s., ranging from 639 to 651 f.p.s.
You might wonder why I didn't test the JSB Exact RS dome in this rifle since I did test it in the first rifle. The reason was the poor performance we saw in that first velocity test. I decided to switch to the Kodiaks rather than test a pellet that might not be suited to this powerplant.
Crosman SSP
The last pellet I tested was the 9.5-grain lead-free Crosman SSP pointed pellet. They averaged 1023 f.p.s. from the NP2, with a 55 f.p.s. spread that ranged from 992 f.p.s. to 1047 f.p.s. This is getting up close to the 1100 f.p.s. velocity that's printed on the outside of the NP2 box. At the average velocity, this pellet generates 22.08 foot-pounds of energy.
Trigger
The trigger on this new test rifle feels very similar to the one I tested on the first rifle. The first stage is long and heavy, measuring 3 lbs., 6 oz. to stage 2. Stage 2 was breaking at over 6 lbs. out of the box, but I adjusted it to 4 lbs., 4 oz., which is exactly the same as the first trigger. This is a very good trigger for a sporting airgun — especially considering the price!
Evaluation thus far
This is more like the rifle I shot back in January. I think anyone would be happy with this one; and if they aren't, then they should reconsider getting a gas-spring air rifle altogether. I sure hope this rifle is at least as accurate as the first one turned out to be.
Reminder from PyramydAir.com
Pyramyd Air's marketing department wants to remind our blog readers that today (Mon. 6/30/14) is the last day you can enter their Son of a Gun Giveaway for the June prize, which is the Benjamin NP Limited rifle!
They've now started their 4th of July countdown of deals! There's a special coupon that lets you combine a discount with their free shipping promotion and you'll get double Bullseye Bucks. Plus, more deals are going to coming via email. If you're not signed up to receive their email promos, go to Pyramyd Air's home page and enter your email address in the space to the left of the word SUBSCRIBE.
by Tom Gaylord, a.k.a. B.B. Pelletier

Hakim is a large, heavy military trainer made in the 1950s by Anschütz. This one is uncharacteristically beautiful.
This report covers:
• Hatsan 250XT TAC BOSS failed!
• History of the Hakim trainer
• Description of the rifle
• My own experience
Hatsan 250XT TAC BOSS failed
The Hatsan 250XT TAC-BOSS BB pistol failed to fire when I began the velocity test. The BBs refuse to leave the gun, and the trigger jams after one shot. I played with it for some time before pulling the plug. I'm sending this one back to Pyramyd Air, and I'll ask for a replacement. I do plan on finishing this test when the new pistol arrives.
Hakim history
This failure catches me short today, so I'll start reporting on the Hakim air rifle trainer made by Anschütz. The Hakim air rifle trainer is one of two trainers used by the Egyptian army to train soldiers to fire their 8mm Hakim battle rifle — a variation of the Swedish Ljungman semiautomatic rifle from World War II. The Egyptian Hakim was made after the war on the same machinery that made the Ljungman, and with the startup help of Swedish advisors. What's known today as the "poor man's Garand" and the "Egyptian Garand" lasted only for a few years before being replaced by more appropriate battle rifles. While it's a fine design, the tolerances are so tight that it was ill-suited to field operations in a desert climate.
To train their soldiers with less expensive ammunition, the Egyptians had two different trainers. One was a semiautomatic .22 rimfire made for them by Beretta. It held 10 shots and looked similar to the 8mm Hakim rifle. The other was the air rifle we'll start looking at today.
The Egyptians decided to let Anschütz turn their underlever sporting air rifle into a trainer for the Hakim. The result is a single-shot underlever spring rifle in .22 caliber. They contracted for them in 1954, and the model was 1955, I believe. I say "believe" because all the markings on the rifles are Arabic, and I cannot read them.
In the 1990s, the Egyptian government decided to divest themselves of their Hakim air rifle trainers, and many of them came to the United States. Navy Arms sold them for $65 each if you bought 4 at one time. I did and got two rifles that worked (after a fashion) right away and two that were rebuilt into working rifles. All these rifles were filled with sand (no kidding!) and several of them had numerous pellets and small nails embedded in their synthetic piston seals. [Note from Edith: I've written about this period of our lives before. It was as if the Exxon Valdez had somehow visited the Sahara desert and then docked in our house. Plus, the grease had an odor that permeated every room and slapped you in the face the minute you walked in the front door. Compared to that stench, the odor of Hoppes No. 9 smells like Chanel No. 5!]
Description of the rifle
The rifle is very large, at 44-3/4 inches overall and over 10 pounds in weight. The one I'm testing for you here weighs 10 lbs., 7 oz., but that will vary with the density of the wood — and there's a LOT of wood on a Hakim! The length of pull is 13-1/4 inches, and the barrel is 19 inches in length.
Speaking of the wood, Edith always says that Hakims look like they've been drug behind a truck over a gravel road, then set on fire and put out with an axe — or something like that. [Note from Edith: And I was being kind when I said that. Tailings from a lumberyard look better!] I'll admit that most of them don't look very nice. That's because they're the worst kind of club guns — they're army club guns! In other words, they never belonged to anyone, so everyone treated them poorly. We see the same thing in club-owned target rifles all the time.
The metal parts are Parkerized with a gray phosphate finish. Only the rear sight blade and the buttplate are blued steel. The rifle has sling swivels front and rear but no lug for mounting a bayonet. Other air rifle trainers such as the Czech VZ35 do mount bayonets, but I guess this one was getting too heavy as it was.
The front sight blade has a removable hood, and the rear sight is adjustable for both windage and elevation. The curious triangular projection that stands up from the rear of the receiver has no known purpose but is supposed to simulate the triangular shape of the sliding bolt cover on a Hakim firearm. That bolt cover on the firearm has a wire loop that's used to pull the cover back to retract the bolt when cocking the rifle.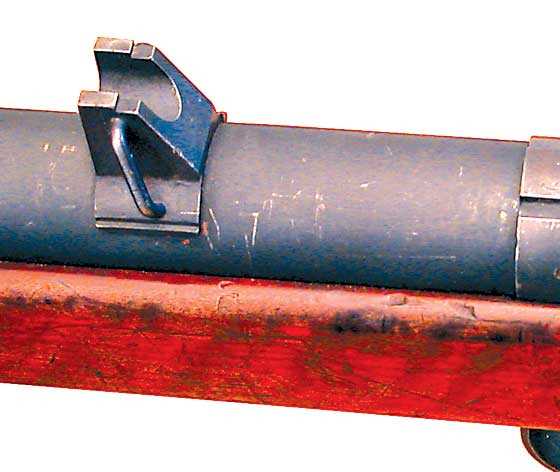 This thing on the Hakim air rifle has no known purpose beyond cosmetics. On the firearm, the triangular bolt cover has wire loops on either side to assist in cocking the bolt.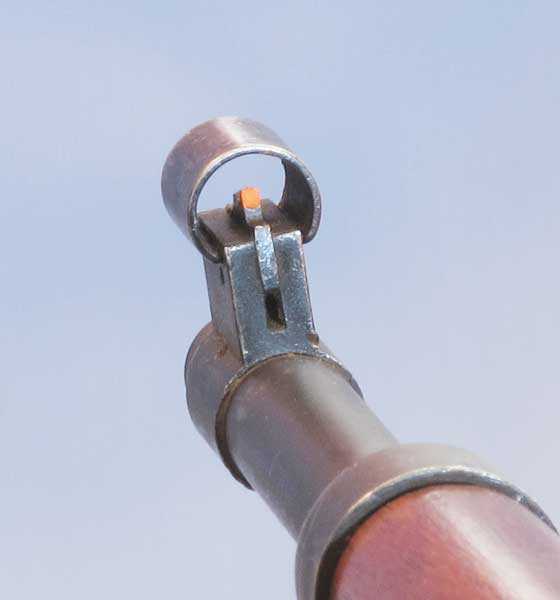 This front sight blade has been flipped upside-down in its base and painted orange for better visibility. The hood snaps off.
The air rifle is an underlever that's based on the BSA Airsporter of 1947. And you're going to notice a more than passing resemblance to the Falke model 90 I showed you. When the underlever comes down to cock the rifle, it automatically rotates the loading tap to receive a pellet. The tap handle sticks up on the left side to alert the shooter to the tap's status.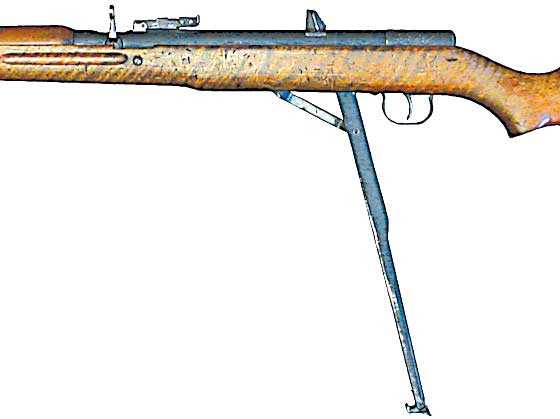 Pull the underlever down to cock the rifle. The loading tap opens automatically when this is done.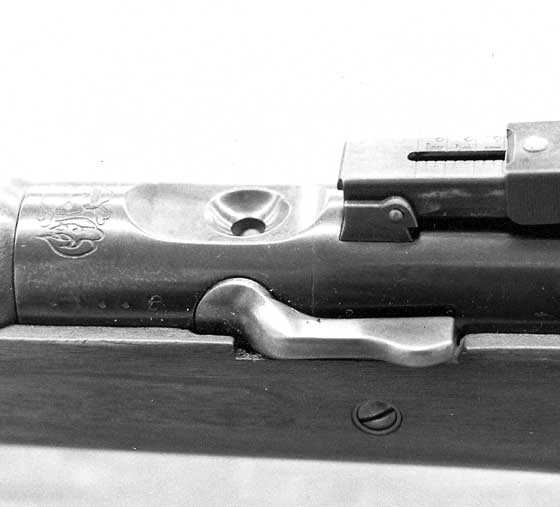 When the loading tap is closed, the lever lies against the left side of the stock.

When the tap lever is up, the tap is open to accept a pellet. Load it nose first, then close the tap to align the chamber with the barrel and air transfer port.
One of the strange markings on Hakim trainers is the flaming skull located above the loading tap. I've been told that's an insignia of a national guard or reserve-type unit in the Egyptian army, but I have no way of knowing if that's correct. It's found on all Hakim airgun trainers.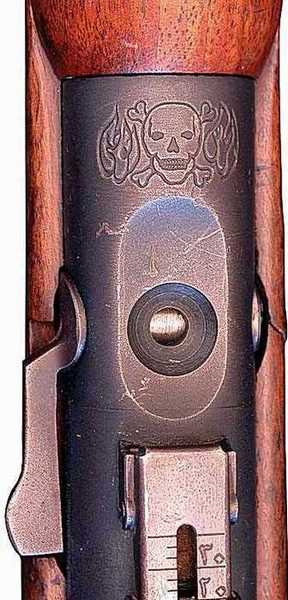 The flaming death head is a military insignia.
All Hakim air rifles are .22 caliber. They've been reported as .177 caliber in several places, but none have been found in that caliber to my knowledge. In all, Anschütz made and delivered 2800 air rifles to the buyer.
My own experience
I bought my first Hakim from a newspaper ad in the late 1980s — before I started writing about airguns. It was surprisingly accurate at 10 meters; so when I saw the Navy Arms ad in Shotgun News, I bought 4 more. Over the years, I have bought others to fix up and sell, and I guess I've owned about 15 of them by this time. [Note from Edith: I remember when Tom reluctantly sold his first Hakim. I think it was to a man in Arizona. The minute the deal was done, you could see seller's remorse on Tom's face. Some time after that, he was able to buy back the gun. You cannot imagine how happy he was when that Hakim returned to it's rightful home. I'm surprised he didn't ask me to throw a party. He said he'd never get rid of it, but I'm pretty sure he did.]
The rifle I have now is not only the nicest-looking Hakim trainer I've ever owned, it's also one of the two nicest examples I have even seen, and that is out of about 200 rifles. The other nice one was refinished with a lustrous blue, and its military stock had no marks on it. My current rifle still has the military finish on all the metal parts, but the wood has been built from the ground up by a master craftsman. The dimensions seem to replicate the military wood stock exactly. It's made from beautiful walnut with attractive grain, and whoever did the work got it right.
I bought this rifle at the Findlay show earlier this year. I found the beautiful stock to be irresistible, and I have absolutely no idea how the rifle performs. As of this moment, I've never shot it! That's no great risk, though, because there isn't much I can't do to one of these.
The trigger is finely adjustable. What's adjusted is the sear contact area, so you want to err on the side of safe operation when you adjust it. With a little care, you can get a wonderful 2-stage pull.
I've seen most Hakims shoot 14.5-grain RWS Superpoint pellets in the high 400s to the low 500s. After a rebuild, they'll usually get as high as 550 f.p.s. I owned one that would do 650 f.p.s., but it wasn't pleasant to shoot.
When I shot them years ago, I was shooting only 5-shot groups; and a good Hakim will put all 5 shots into a quarter-inch at 10 meters. I've owned a couple that were not as accurate for one reason or another, but the majority of them are quite accurate.
One nice thing about Hakims is how easy they are to cock. The underlever is quite long, and the cocking linkage is efficient; plus, the rifle's mainspring is weak. In spite of the rifle's weight, it can be shot comfortably all day long.
This is a very special airgun. It has the quality most people say they want but not the power that we've come to expect. It was purpose-built to be a target shooter to teach the fundamentals of rifle marksmanship. Ten years after this rifle was issued by the Egyptian army, the United States Air Force would buy hundreds of Crosman model 120 bolt-action rifles to do essentially the same thing. What do you think of these programs?
by Tom Gaylord, a.k.a. B.B. Pelletier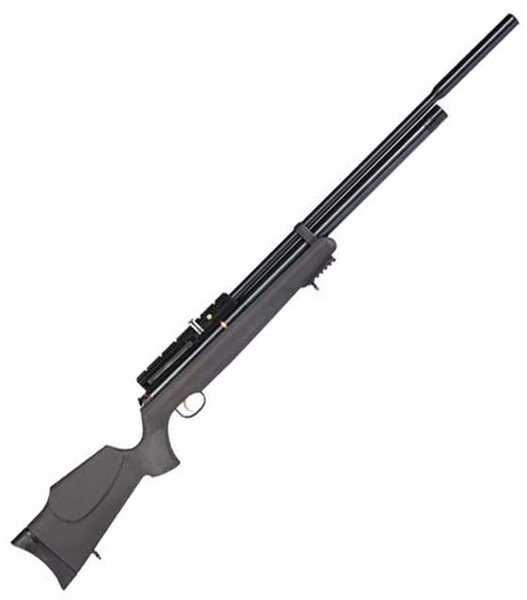 Hatsan's AT44S-10 Long QE is packed with features for airgun hunters and long-range shooters.
This report covers:
• Most accurate test ever conducted!
• Scope and mounts
• Scope base design
• On to the range
• Airgunners…just like golfers!
• What happens next?
You waited for this report. I told you it was going to be a good one. I even advised a couple people to just buy this rifle if they wanted a quiet and powerful PCP that was also accurate. Today, you're going to see why I said that.
Best test ever conducted!
To cut to the chase, this was the best test of an air rifle I've ever conducted at 50 yards. I won't go so far as to say that the Hatsan AT44S-10 Long QE is the most accurate air rifle I've ever fired, because you've seen in recent days that I seem somewhat variable. I refer to yesterday's good test of the Air Arms Shamal after a pervious mediocre test.
However, if I can repeat today's results at some future date, then I'll conclude that this rifle is the most accurate air rifle I've ever tested at 50 yards. But I'm getting way ahead of myself. Let's see what happened.
If you're a regular blog reader, you already know that I was having a good day because the Shamal had just turned in several great groups — including one stunner that measured 0.818 inches for 10 shots at 50 yards. Now, it was the Hatsan's turn on the bench, and the weather was still perfect.
Scope and mounts
I had mounted an AirForce 4-16X50 scope on the rifle using UTG 2-piece Max Strength high Weaver rings for a 1-inch scope. One of our readers heard that the Hatsan scope base that allows both Weaver and 11mm scope rings to be mounted has problems with Weaver rings, so he asked me specifically to use rings that have a Weaver dovetail on their base. I did, and the UTG mounts fit well, though I will say that the Hatsan base is at the wide end of acceptable width.
But I think I see what the reader has heard about, and I want to share it with you. There are some shooters who feel that all mounts must look attractive and squared away or they don't fit right. What these people don't understand is that mount makers use base jaws that will fit as many different configurations of dovetail cuts as possible — because gun manufacturers do not use many standards when making their cuts.
Scope base design
I'm going to explain something here, and I want you to try to understand it because it will make all the difference if you do. Weaver bases are a standard that specifies the width and height of the dovetail, and the width of the cross groove that accepts the locking bar on the mount. But the angle of the cuts that shape the dovetail grooves are not as certain. No doubt, Weaver specifies them, but mount makers don't always conform to that spec. They use dovetail cutters with varying angles. To deal with this inconsistency, many mount makers, including Leapers, cut the jaws of their ring base clamps with rounded points, so they'll grip most dovetails, regardless of the angle of the cut.
If there was only one rounded point on the clamp base, the ring would sit cockeyed on the rifle; but when the other end of the same clamp also has a rounded point that engages a special cut in the scope ring and the two cockeyed points cancel each other. The result is a scope ring clamp jaw that looks cockeyed, yet the ring sits squarely on the gun.
In the 1990s, B-Square owner Dan Bechtel and I did a project to determine the standard width of 11mm airgun dovetails. This is where we discovered that those dovetails vary between 9.5mm and almost 14mm in width. The angles of cuts ranged from 45 degrees to 60 degrees. The Weaver base is more standardized, but the cut angles still vary and have to be addressed.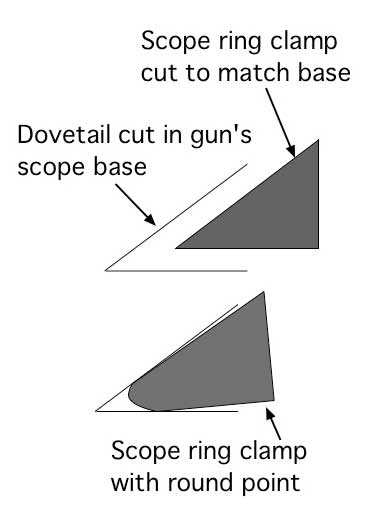 Here you see how the rounded point of the scope ring clamp jaw allows it to fit into a wide variety of rifle dovetail base cuts. Having a rounded point on the other end of the same clamp will cancel this odd angle and allow the scope ring to sit squarely on the rifle.
The genius of this clamp design is lost on many people who see the cockeyed part as a flaw or mistake. Actually, it's a compensating part that assures an exact fit on a variety of different gun bases. The picture shows this clearly.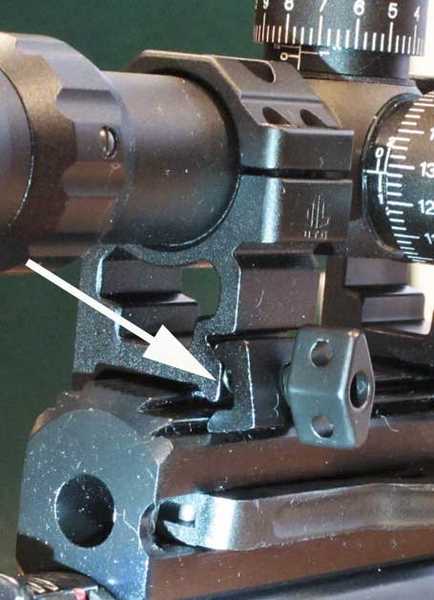 This photo shows how the compensating clamp jaw works. The jaw sits at an off angle, but the scope ring is perfectly level.
For that reason, my answer to the reader who asked whether the Hatsan bases will accept a Weaver ring is — yes. Many ring manufacturers make their ring base jaws this way. If you can tolerate the odd appearance, this solution works perfectly.
On to the range
I was at the range on a perfect day, so this test would be conclusive if a good pellet was found. In the past, you've seen me work through a list of pellets, looking for the best one. Well, on this day I happened to find that pellet on the second try. At least, I think that's the case because that pellet did so well that I didn't bother trying any others.
I filled the rifle to the manufacturer's recommended 200 bar (2900 psi) and loaded the 10-shot magazine. The first pellet I shot was the 14.3-grain Crosman Premier dome. I put 10 into 1.463 inches, but I'm not going to bother showing you that group because of what happened next. I knew from the velocity test we did in Part 2 that this rifle probably gets at least 20 good shots per fill when shooting at 50 yards. The velocity does decline with every shot; but as you'll soon see, that doesn't seem to matter much.
The second pellet I tried was the 16-grain Air Arms Diabolo Field pellet. It's a dome that sits comfortably in the middle of the .22-caliber pellet weight range. Although it resembles the 15.9-grain JSB Exact Jumbo and although JSB does produce this pellet for Air Arms, they do so on proprietary dies owned by Air Arms; so, the two pellets are not the same and should not be confused with each other. On other tests, I've seen different results from these two pellets.
These 10 pellets were fired on the same fill as the Premiers, so the rifle's internal pressure was down around 2500 psi when I started shooting. Every pellet went to the same place on the target. It was like they were being guided, or something. The result was 10 shots into a group that measures 0.681 inches between the two centers that are most distant. I was stunned when the group was finished! I've probably shot a couple other groups that small with airguns before — certainly with my Talon SS and probably also with a Benjamin Marauder — but this still ranks as one of the best groups I've ever shot at 50 yards with an air rifle. And the day was just beginning!

Ten Air Arms 16-grain domes made this 0.681-inch group at 50 yards. This is a screamer.
Following that, I refilled the rifle, for 20 shots had now been fired. The pressure had dropped to below 2000 psi, and I think to as low as 1750. I filled it back to 2900 psi and went back to the bench.
The next 10 shots were with the same Air Arms pellets, only this time we started at a full fill instead of only a partial. Ten pellets went into 0.992 inches this time — a little larger, but still in good territory.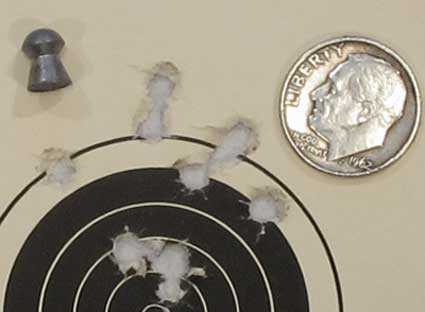 Ten more Air Arms 16-grain domes made this 0.992-inch group at 50 yards when the rifle was filled to the maximum. This isn't a screamer; but coming on the heels of the previous group, it's pretty good!
Now the rifle was back down to where it had been for the first great group. So, I loaded 10 more Air Arms pellets into the rotary clip and settled down to shoot another group. This time, all 10 went into 0.624 inches. A definite screamer; and with the first group, pretty good proof that the Hatsan AT44-10 Long QE I'm testing is a shooter.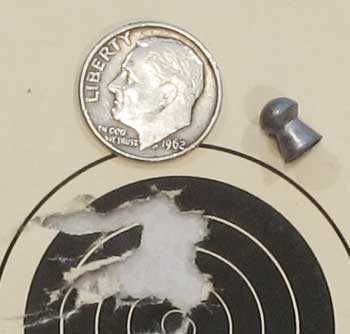 Ten more Air Arms domes made this 0.624-inch group at 50 yards when the rifle was fired on a partial fill. This is the best group of the session and also one of the best 50-yard 10-shot groups I've ever shot with an air rifle.
Airgunners…just like golfers!
Like a golfer who shot a sub-par game in which he also got a hole-in-one, I decided that my good luck had probably run its course this day. Besides the 40 shots fired with this rifle, I had also tested the Shamal and shot an additional 40 shots there because there were some adjustments to the scope that had to be made. In all, I'd shot 80 precision shots this day. That's tiring.
What happens next?
I've never had an air rifle that would shoot this many consistently small groups in succession. Either I was having the best shooting day of my life, or this Hatsan rifle can really shoot. I want to return to the range under similar shooting conditions and see if I can repeat this. And I'll continue to shoot the Air Arms pellets.
I just want to make sure this test was a valid one. It isn't every day that you shoot the most accurate air rifle you've ever seen. I told several readers not to worry but to just buy the rifle if that was what they wanted. Now you see why.
After seeing what can be done with the Air Arms pellet, I want to explore some other pellets in this Hatsan. Hopefully, it'll do well with several brands so there's a choice.
After that, who knows? Maybe I'll try this one at 100 yards. You may remember that I shot a one-inch group of 10 at 100 yards with a CondorSS last year. I wonder if this rifle can do as well?
by Tom Gaylord, a.k.a. B.B. Pelletier
This report covers:
• The truth is slowly revealed
• A lost love
• A new hope
• The anal airgunner
• Lecture me
Today, I'll talk about something that has harassed me all my life — reality and the need to compromise. At the earliest age, I remember wanting a gun that held infinite bullets (we played cowboys in the early '50 and we called cartridges bullets back then). The television cowboys never needed to reload. Why should I?
As a pre-teen, I discovered the M1 Garand and its .30-06 cartridge that I was certain could penetrate 10 feet of steel armor! I never actually saw a cartridge outside of a gun magazine; but in pictures, the darned thing looked like a Redstone rocket (a stone-age rocket that existed before the electric light and the internet — look it up) and I just knew there was nothing that could stop it. I read in Classic Comics (always the literary snob) where Frank "Bring 'Em Back Alive" Buck shot a leopard out of a tree by breaking the branch it was on. And what did he use? A single bullet from a .30-06!
As I eased into my teen years, I bought a gun book by Lucian Cary that I still have today. It showed the awesome .300 Weatherby Magnum that smashed through a big tree, and another one that penetrated a thick sheet of bulletproof glass. Maybe there was something better than a .30-06.
Each of the stages I passed through while growing up opened my eyes a little more to reality. But I remained pretty naive for most of my life. You stick with what works.
In college, I read how Elmer Keith could hit targets at long range with handguns. He stuffed his cartridges (I was reloading by this time and now knew better) with nails and dynamite, and proceeded to make life risky for anything within 400 yards. But Keith had guns I couldn't get. He shot S&W Triple Locks and customized Colt single-actions that were built to take the stress of his loads. The gun makers were his friends, so S&W gave him a big .357, and Ruger invented the .44 Magnum in his honor. My first-generation Colt SAA could not withstand the same abuse to which he regularly subjected his custom guns.
A lost love
As a youngster, I absolutely loved the shell-shucker Winchester Model 61 slide-action .22 repeater! I got to shoot them several times, but I never could afford one. I settled for an 1890 Winchester pump that did pretty much the same thing, only it did so while looking embarrassingly old-fashioned with its exposed hammer. And the one I could afford had very little finish remaining, plus it wasn't even a .22 long rifle. It was a .22 Winchester Rimfire (WRF) that cost more per box of 50, yet wasn't any more powerful. The sweet model 61, on the other hand, took shorts, longs and long rifles in its stride and looked like it was going 100 mph when it was standing still.
But a day finally came when I was able to get a 61! I'd just returned from a 4-year tour in Germany and had a little extra cash. Lo and behold, that was when I discovered that the model 61 struggles to hold all its shots inside an inch at 50 yards! I'd imagined much better, as you may have guessed. No matter, though, because a bitter divorce soon stripped me of all my firearms, reloading equipment and airguns. I didn't have to look at that LNIB model 61 for very long.
Enough nostalgia. Fast-forward to today and I'll tell you how things are now. I don't like compromises, but they seem to pop up everywhere. The M1 Garand, for instance. Sure, it's an accurate battle rifle, but it's not really that accurate. Minute-of-soldier for certain, but it's not for shooting tight groups on paper. Oh, somebody says, what you want is a Garand that's been worked on! They'll shoot small groups, alright. Yes, they will, but the better (more accurate) they get, the fussier and less Garand-like they become. When you finally have a Garand that shoots a one-inch group at 100 yards, the darned thing operates reliably with only a few specific loads; and it's so tight that disassembly for cleaning isn't recommended. If you doubt me, just ask blog reader Matt61.
There's a tradeoff between reliability and ultimate accuracy. I'm not talking about the accuracy that lets you hit tin cans at 100 yards. I'm talking about shooting sub-inch 10-shot groups at that distance. When I say reliability, I don't mean it jams only once in 200 shots. I mean it never jams. I have guns that operate that well, and I've had many more that didn't.
A new hope
While in Germany in the 1970s, I was introduced to the Kartoffel 45. A German hunting acquaintance showed me a 1911 he had found on an abandoned battlefield long after the war ended. It was actually buried in a field and he plowed it up while digging mounds for potatoes — hence the name Kartoffel, which is German for potato. The gun was deeply pitted all over its surface from the rust of many years in the ground. He hammered it apart and cleaned the major parts, plus he replaced everything he could with new parts. The effect was startling. It looked like a gun that might blow up in your hand, yet it functioned like any other Army 1911. Because it was a 1911, all the parts that mattered could be replaced in less than an hour. It could look unserviceable, yet still function perfectly.
Seeing that gun opened my eyes to what's meant by reliability. I saw the genius of John Browning's design through the lens of that nearly destroyed, yet perfectly serviceable handgun. When I got back to the States, I knew that a Garand I discovered in a similar pitted condition would also operate just fine. I bought that Garand from a pawn shop that sold it to me with apologies. They felt it was nearly worthless, but I suspected different. When I took it to the range, I was proven right. That old pitted M1 with its rough bore was loose as a goose, yet it never failed to function when fed the military loads for which it was designed.
That told me what's possible as far as reliability goes, but it said nothing about accuracy. With a lot of additional shooting, I discovered that if I wanted the ultimate in accuracy, I had to give up some reliability. There's a compromise that balances between the two desired attributes because each one seems to negate the other.
I hate to sound like Captain Obvious, but what you really want is acceptable reliability with an acceptable level of accuracy. And this is where Rainman goes off into a corner, muttering the words to Who's on first.
Remember years ago when we talked about the stages of an airgunner's experience? It starts out with the quest for high velocity and ends with self-actualization? Well, I'm older now and have discovered another secret. Live long enough, and your desires start to conform to reality.
What I'm saying is that I now understand why an army would choose a weapon that is extremely reliable but not as accurate as it could be. I appreciate why the Brits revered their SMLE Mk IV. I understand why the Mosin Nagant 91/30 was so long-lived and why the AKM is accepted around the world. It's because they work, even when they shouldn't.
I also understand why the United States Marine Corp was so adamant on keeping their 1903 Springfields when the Garand first came out, and why they changed their minds so suddenly after gaining battle experience with the Garand. No battle-ready Garand could hold a candle to a Springfield bolt-action rifle on the target range, but neither could the Springfield keep up with the Garand in war! The Garand was a perfect compromise for its application (at that time — there are better rifles today). The Springfield was very accurate but fell short of the Garand's firepower. Another compromise.
The anal airgunner
When I worked at AirForce Airguns, one of my friends sent me two standard AirForce reservoirs for his Talon SS and asked me to "balance" them so both would shoot at the same speed when the gun was set to the same power level. He wanted to be able to remove a tank from his gun, attach the other one and continue shooting without changing the power setting.
This was an official request. Obviously, AirForce made the valves in both tanks, and he assumed we would be able to fine-tune them so he could have two tanks that performed exactly the same. He was willing to overlook up to a variance of 10 f.p.s. between tanks. Oh, well — as long as he was reasonable!
I say this with a lot of sarcasm because many of you may be thinking the same thing — if a company makes a valve, surely they can also tune it to do whatever they want? Of course, they can — just as certainly as an infinite number of monkeys with typewriters can write the works of Shakespeare, given enough time.
In the real world, it doesn't work that way. You can try again and again, and maybe you'll get two valves to perform the same. Or, maybe, you'll luck into it on the first try! Better play the lottery if you do! This is why guns that allow you to adjust the airflow, such as the Benjamin Marauder, are so unique. Crosman can't make all their valves perform the same, but they give you the adjustments to compensate for it.
Okay — lecture me
This is where I will get lectured by some well-meaning readers who know for a fact that it is indeed possible to tune an airgun valve to do exactly what they want. They overlook the 25 hours of time they invest in their project to bring it fruition. In their minds, if it can be done at all, why…it's possible! Yes, and the United States put several men on the moon in the 1970s, yet they couldn't do it again today without another costly research program.
Just because a thing has been done once does not mean that it can be repeated. That's why "The Catch" (referring to Willie Mays remarkable catch of Vic Wertz's long drive in game one of the 1954 World Series) is so celebrated even today — 60 years later. Or why, when Bob Beaman broke the world long jump record by nearly two feet in the 1968 Olympics, he sailed past the optical scoring device at the end of the sand pit and the jump had to be scored manually.
So something that's extraordinary can still happen; but when it does, it doesn't mean the world has changed. The next person to try will probably get the same results everybody else has gotten all along.
My motor has been started by this blog! Can you tell? I just talked to Edith about all the lies and fantasies of gas spring airguns and what Ben Taylor — the Ben in Theoben — taught me about them. Talk about the Emperor's New Clothes!
Airgunners were lying to themselves about the wonders of the new gas spring technology in the 1990s. Yet, when I started testing my Beeman Crow Magnum and writing about it, a lot of those myths were put to rest. I ended up with egg on my face for more than a year, until Taylor stepped forward and told me I was right. What I learned doesn't make gas springs any less desirable, but it does reveal that pellets shot from them will not penetrate 10 feet of steel!
Edith said I should write a report about that experience and share it with all of you. Gonna do that next week.