by Tom Gaylord, a.k.a. B.B. Pelletier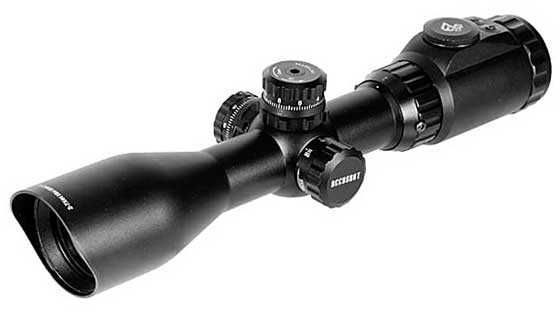 Leapers UTG Accushot 2-7X44 Scout Scope is a remarkable sight!
This report covers:
• What is a scout scope?
• Magnification
• Bright!
• The test
It's been a long time since we looked at this UTG 2-7X44 Scout SWAT scope, and I want you to know that it isn't because the scope isn't interesting. It's very interesting. But other questions and products always seemed to get in the way of this third report. Today that ends, as we'll take another look at this great scout scope.
What is a scout scope?
Scout scopes are scopes that have very long eye relief. Where a normal long eye relief scope might allow you to position the eyepiece 4-5 inches from your eye, a scout scope lets you get back 9-11 inches. This scope we're looking at today has an eye relief of 9.5 to 11 inches, so it spans almost the entire length that all scout scopes provide.
You use scout scopes when there's a reason. Either the rifle's action has parts that get in the way of a scope being mounted in the normal place — such as the Mosin Nagant bolt-action rifle family whose straight bolt handles rise 90 degrees when the bolt is opened, or there needs to be some clearance for cartridge ejection — such as with the M1 Garand and Winchester model 94 rifles. While there are other ways of mounting scopes on these guns, with the left side mounts being the most popular, a scout scope allows you to look straight ahead, so there will never be a problem adjusting the side angle of the scope's optical axis to coincide with the bore.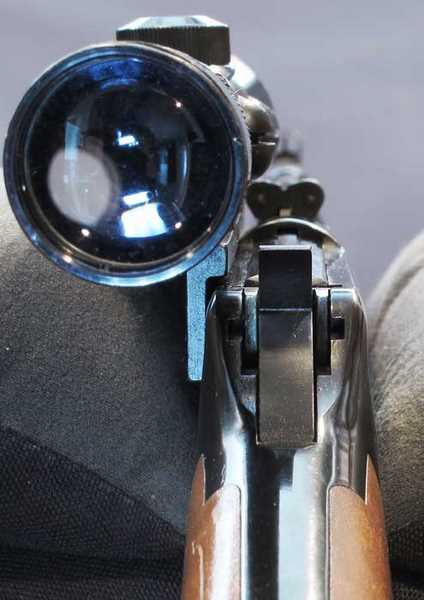 If the scope can't be mounted above the receiver, such as on this Winchester model 94 lever-action rifle that ejects straight up, a side-mounted scope has been the traditional solution. The scout scope puts the scope above and in line with the bore, making alignment issues less critical.
Magnification
Scout scopes typically don't have much magnification. That's their weak spot. I guess it's technically difficult to provide such a long eye relief and also magnify the target image, or perhaps they don't do it because of how much the field of view diminishes as the scope goes out farther from the eye. What I do know is that Leapers gives us 2-7 magnifications with this UTG scope, which puts it at the top end of today's scout scopes.
Bright!
A second big plus with this scope is its brightness. I was able to see the target clearly and make fine aiming adjustments at 7-power. That comes in very handy when you're putting the thin mil-dot reticle on the target. This Leapers scope has reticle lines fine enough to shave with.
On top of that, this reticle is illuminated; so if the black lines are hidden by the target, they can be lit. All things considered, this is one fine hunting scope. I'll say more about that in a bit, but let's now test it at 25 yards.
The test
The scope is mounted on a Crosman MK-177 Tactical multi-pump pneumatic rifle. While that rifle doesn't need a scout scope, it's one of the few airguns that has a Picatinny rail long enough to mount such a scope at the correct distance from the eye.
I learned in the last test at 10 meters that this rifle does well with Air Arms Falcon pellets, so I used them exclusively in this test. Since I was shooting from 25 yards, I decided to begin with 6 pumps per shot. That should give a muzzle velocity of about 600 f.p.s. With multi-pumps, I've found that 5 or 6 pumps are sufficient for good accuracy at 25 yards indoors.
The first group was shot with the scope as it was left adjusted after the 10-meter test in April. The pellets landed high and to the right, with the group's center being 2 inches high and .75 inches to the right. The first 10 pellets went into a group that measures 0.837 inches between centers. While that isn't a wonderful group for most air rifles, it's pretty good for an inexpensive multi-pump like the MK-177.
The first group of 10 Falcons went into 0.837 inches at 25 yards.
Following this group, I adjusted the scope 6 clicks to the left 6 and 14 clicks down for the second group. This was also shot with 6 pump strokes per shot. Ten pellets went into 1.063 inches. Again, not the best group but still pretty good for one of these rifles. Note that the pellets did hit lower on the target following the adjustment.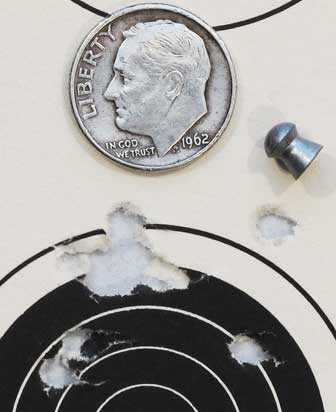 Following a scope adjustment, group 2 put 10 Falcon pellets into 1.063 inches at 25 yards.
I adjusted the scope down 6 more clicks and shot the next and final group. This time, I decided to pump the rifle 8 times for each shot — just to see what difference it might make, if any. Ten more shots went into 0.958 inches. The group was lower but also moved to the left. I must not have the scope leveled on the rifle. And that also makes me wonder if a scope level would help decrease the size of the groups. Several times, I found myself wondering if the gun was canted. The MK-177 doesn't have the clues that a conventional rifle stock would have. It's like holding a plank in your arms.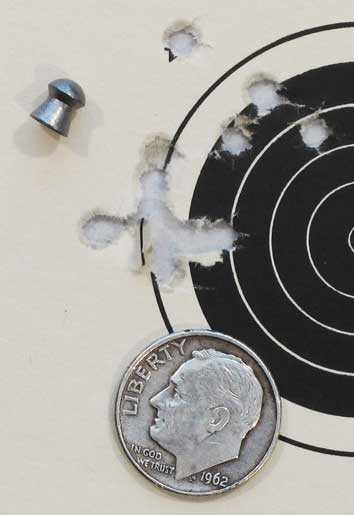 For the third group, I adjusted the scope again and also pumped the rifle 8 times for each shot. It put 10 into 0.958 inches at 25 yards.
Okay, that's today's test. Remember, I was really testing the scope and not the rifle. I found it to be clear, sharp and very easy to use. The adjustments moved the reticle positively every time. Maybe a scope level could help accuracy, but that remains to be seen. I don't think I've done this wonderful scope justice, yet.
I will now look into mounting this same scope on one of my firearms, so we can continue to look at it. This scope can take some of the budget-priced firearms like the Mosins and SKS/AKs and turn them into useful hunting arms for a fraction of the cost of a new rifle. If you're in the market for a good scout scope, I think you better look at this one!
by Tom Gaylord, a.k.a. B.B. Pelletier
This report covers:
• Description of the case
• Extreme equipment cases
• Back to the Plano case
• Security
• Size
• Practical considerations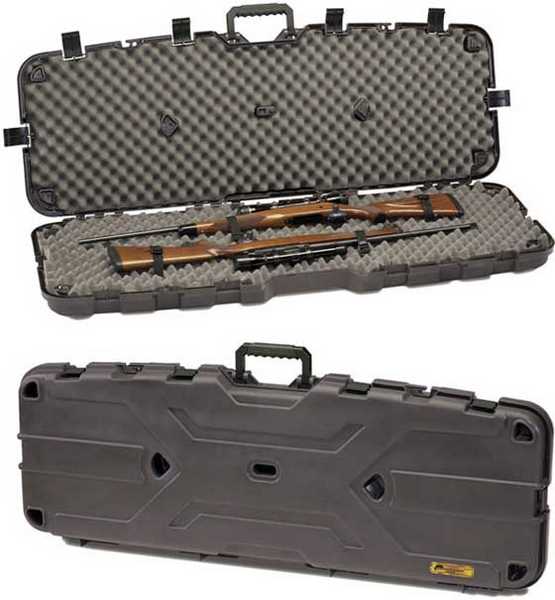 The Plano Pro Max Double Scoped rifle case holds 2 scoped rifles. It features 7 pillars that keep the guns from being crushed.
Today, I'm writing about a piece of equipment, rather than an airgun. It's a rifle case that Edith has been watching for some time. I discovered it in a recent transaction and was so impressed that I wanted to share my thoughts with you.
If you're like me, you don't give a lot of thought to gun cases. I have more guns than cases, so the cases I do have are mostly for traveling to the range and occasionally to an airgun show. I buy them on the cheap — mostly. But in the past 20 years, I've bought a few good hard cases for those few firearms and airguns that I really want to protect. Today, you'll see a case that dropped into my lap, so to speak. It may be the best hard case I own. It's certainly one of the three best. It is the Plano Pro Max Double Scoped Rifle Case.
Description
Omit the words Pro Max, and the title tells you what this is. It's a hard rifle case designed to carry 2 scoped rifles. Plano says it will carry the 2 rifles scoped with large objective lenses. Well, that's quite a claim, since air rifles tend to be much bigger than firearms and air rifles scopes do, as well. But we'll keep an open mind.
This case has 7 internal pillars (one at each corner and 3 down the middle) that keep the case from crushing when it's run over. That's one of its claims to fame and the reason Edith bought the case. You see, when Edith bought the Shamal air rifle for me recently, the owner was reluctant to ship it. He was afraid the shipper might mistreat the box since it had that long and narrow rifle-case appearance. So, she looked around for a case that would be strong enough to withstand any foul treatment.
Extreme equipment cases
I own an extreme rifle case already. We bought it years ago when we published The Airgun Letter. It's a Starlite Gun case that is so tough it can withstand a drop from a 5-story building and being run over by an 11-ton M113A1 armored personnel carrier with only scratches to the outside of the case and no damage to the gun inside. It is completely waterproof and can be submerged to 400 feet without leakage. It has an air-pressure relief valve that allows the case to be opened when the external air pressure changes. Nice gun case, but it costs $190. It's big and it's heavy. Comes with wheels as an option that I wish I had bought.
Back to the Plano
I wanted something less expensive, yet still rugged enough to protect that beautiful Shamal. As mentioned Edith was watching this Plano case on the Pyramyd Air website, and we decided to take a chance with it. We had Pyramyd Air ship the case to the man who sent the rifle. I told him to turn the cardboard shipping box inside-out so it wouldn't be so obvious what was inside, though the length and shape of the box is a pretty big clue.
Bottom line, the rifle arrived in perfect condition, but the case was so impressive that I had to tell you about it. What I saw when I opened the case was the rifle held tightly in place by 2 padded straps. In other large gun cases, the guns can move around inside in spite of the foam; but in this one, the straps make movement impossible. The straps go through raised strap holders in the case lid, and the foam is pierced with several slots that allow you to vary where the straps come through.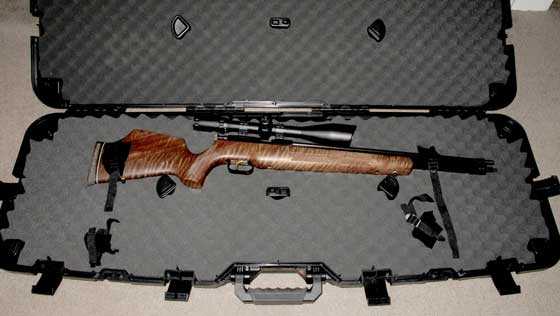 The Shamal looks tiny inside the big Plano double-scoped rifle case.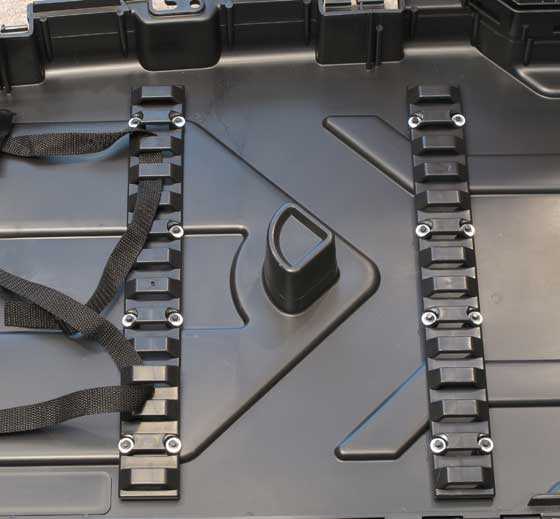 Under the foam on either end of the case are two rows of raised strap holders — making four in all. You can thread the straps through as many or as few of the loops as you like, and you can use either row on either side of the gun case. Whatever it takes to secure your rifle.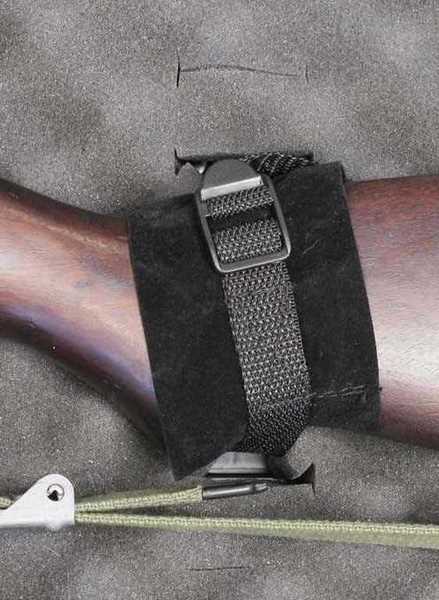 Each rifle is held tight by two padded straps that come up through the foam — one on either end of the rifle. With the two rows of strap slots, there are many configurations that can be made. Once strapped in, the rifle isn't going anywhere.
If that isn't enough, this case has 6 latches, rather than the usual 4. There is an extra one on either end of the case, at the place where other long gun cases get very flexible. You can see them in the photo at the beginning of this report.
Security
There are 2 reinforced holes along the long axis of the case for padlocks. If you travel with guns, these are very important!
While this case isn't waterproof, it does have tongue-and-groove mating edges to keep out water and dust. The case is also rigid enough that it comes together without a lot of twisting and pressing on your part. This may be as close as you can get to a full-blown mil-spec rifle case at this price.
Size
This is a huge rifle case! That said, the location of the straps means you do have to give some thought to securing a rifle. Those central pillars seem to get in the way at first; but once you correctly position the straps, they can be easily accommodated.
To give you an idea of how large this case is on the inside, I secured an M1 Garand and my Remington model 37 Rangemaster target rifle with its huge Redfield scope. As you can see, the case dwarfs both rifles, though they're larger than 90 percent of rifles available today. The internal dimensions are 52-1/2 inches by 17-1/4 inches, but there are many spots where the dimensions cut in (the case sides are not straight lines), so those are just the maximum sizes.

Two of the largest rifles I own. The Garand (bottom) isn't that long, but it is fat and weighs 10.5 lbs. The Remington model 37 Rangemaster and scope dwarfs a Remington 700. Yet, this Plano case swallows them both with room to spare!
Practical considerations
This isn't a rifle case for your Diana 27 or your Crosman 1077. At $70 plus shipping, it's a large purchase — even for serious shooters. But if you own really special firearms and airguns that have to be protected, this is a good way to do it. It takes some time to adjust the straps for each different rifle, so I think I'll keep right on using my $20 hard cases. But rifles like the Shamal and my Ballard now have a secure place to ride when we go to the range.