by Tom Gaylord, a.k.a. B.B. Pelletier
This report covers:
• The spring-piston powerplant
• How an AEG works
• Upgrading an AEG
• The problems with upgrading
• How to upgrade safely
When we last looked at airsoft upgrades, we talked about how the tuner has to look at the gun as a system. Improving one part of the gun without regard to the others usually won't make much of a difference. In some cases, it may even make the gun prone to fail much faster. I told you about barrels and gearboxes last time. Today, we'll look at the powerplant, itself.
Powerplant
The powerplants of spring-powered airsoft guns are identical to the powerplants of spring-powered pellet guns. They have a piston, a mainspring and a compression chamber. The piston has a seal that's most often just an o-ring. That's no different than the BSA Meteor Mark IV I've been reviewing for you.
The big difference is that airsoft powerplant parts are most often made of tough plastic instead of metal. And the coiled steel mainsprings found in airsoft guns are wimpy compared to the springs found in pellet guns.


Here's an AEG airsoft piston with its mainspring. Note that this piston is made of nylon. Also note the piston's final gear tooth is made of steel.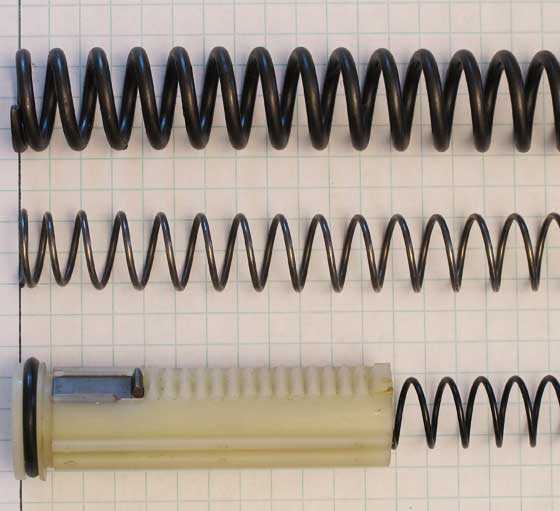 Compare a stock AEG mainspring (bottom) to an upgraded spring (middle) to a middleweight pellet rifle mainspring (top). Airsoft powerplants are weak, compared to pellet gun powerplants.
But they work! And they can be upgraded. You can install a heavier mainspring and a piston that fits the compression chamber tighter. These will boost your muzzle velocity. With some upgrades, it's possible to boost the output so high that you have to use a heavier airsoft BB (plastic ball) to keep the gun shooting accurately.
We overlook what too much power does to our pellet guns, but it's hard to ignore it when all your airsoft BBs are curving hard to the left, no matter how much you adjust the Hop Up! They go so slow and are so visible that you pay attention to them — like tracers in the nighttime sky — especially when you're shooting a stream of shots on full-auto. So, you switch to the heavier BBs and find they're even more accurate in that tight barrel you just installed.
My point is this — you upgraded your guns to get more velocity, but when you got it you lost accuracy. You had to switch to heavier ammunition to do what? Lower the velocity, again! Is that crazy or what?
Upgrading an AEG
While any type of airsoft powerplant can be upgraded, the most common type by far that people upgrade is the automatic electronic gun, or AEG. An AEG is a spring-piston gun that has a small high-torque motor to cock the piston. Because it's electronic, a switch can be turned to make the motor operate just one time with every pull of the trigger — giving you semiautomatic fire — or to keep cocking and releasing the piston as long as the trigger is held down, which gives full-auto fire.
Unlike a firearm, the gun is not powered by the ammunition. It runs on electricity that powers a motor. As long as there's juice in the battery, the action will cycle without regard to the presence of ammunition.
How an AEG works
The AEG has a large gear wheel that meshes with the piston. As the gear wheel turns, it draws the piston back until it reaches the spot on the wheel where there are no gear teeth. The wheel keeps turning; but when the teeth no longer hold the piston, the mainspring pushes it forward, firing the gun. The wheel continues to turn to the point that the gear teeth re-engage the teeth on the piston's gear rack once again. The cycle repeats itself.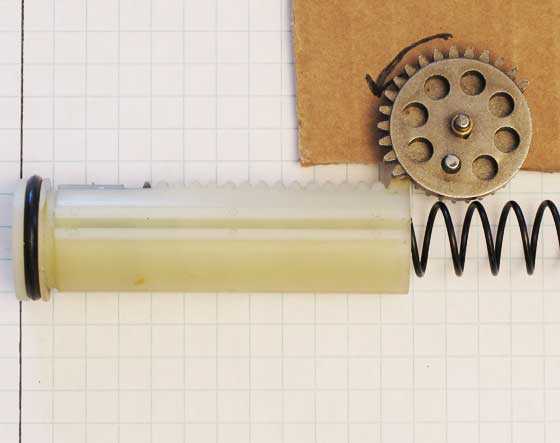 The AEG cocking gear is about to engage the first tooth on the piston gear rack. (Next photo shows this in detail)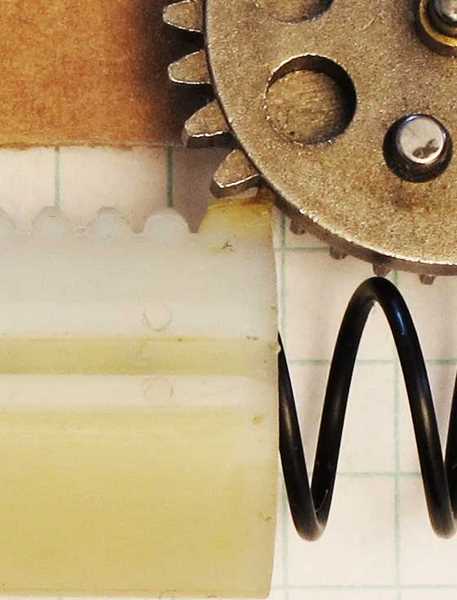 The first tooth on the cocking gear is about to mesh with the first tooth on the nylon piston.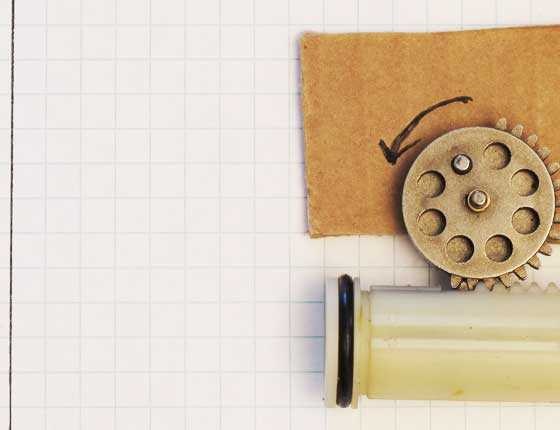 Here the gear wheel has rotated through all its teeth. The last gear tooth on the cocking gear has engaged the final steel tooth on the nylon piston. The cocking gear continues to rotate, and the piston will clear the gear teeth and be pushed forward.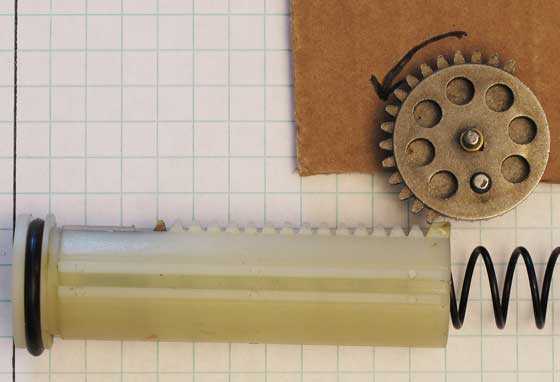 Now the piston has fired and the gear wheel has rotated to the starting engagement position again. This keeps on going as long as the trigger is held down when the gun is in the full-auto mode.
For semiautomatic fire, the gear wheel turns only to the point of releasing the piston one time. It will rotate round to re-engage the piston gear teeth but not rotate farther until the trigger is pulled again.
If you install a stronger mainspring and better piston and compression chamber in your M4 AEG, that wimpy 8.4-volt battery that came with the gun will probably not run it too well. The gun that used to fire 700 shots per minute now struggles to put 400 out in the same timeframe, and everything sounds over-stressed — which it is. You need a stronger motor to power that new setup and a stronger battery to run it. And, while you're at it, better get a battery with a higher mAH (milliampere-hour) rating. That way your gun won't run out of juice after just the first magazine.
But you don't just get a bigger battery. Sometimes, there's no room inside the gun to house a bigger battery, and other times the bigger battery will take too long to charge when it runs down. Perhaps, it's also time to change battery technologies from NiCad to lithium-ion (Li-ion or LIB).
Upgrading the batteries and motor
I did a two-part article on airsoft batteries for Pyramyd Air back in 2008 and 2009. Here are the links: Battery basics –Part 1 and Battery basics — Part 2. Those articles were well-researched, and the information still holds true today. Maybe there have been some technical improvements, but batteries are still batteries.
I think you need to understand why you want a better battery. Sure, it's for more power and so you can operate longer and recharge faster, but the battery does nothing by itself. It powers the motor that drives the powerplant. If you're not upgrading that as well, you gain very little by just swapping batteries. Maybe you just get the gun to operate as well as you thought it would when you bought it.
It turns back on itself
So, you upgrade the motor, battery, compression chamber, piston and mainspring. Let's say you even changed the gears from nylon to metal. Bully for you! However, as you shoot your new, more powerful gun, you notice the cyclic rate starts slowing down, again, after the first few thousand shots. This is exasperating because you've now doubled the cost of the gun by adding all these upgrades — not to mention hours of your time spent installing them and getting them to run right.
You tear down the gun, again, and discover that the holes in the metal gearbox that serve as anchors for the pins that the new steel gears run on are all enlarged. They're no longer round but are becoming oval. The pins have loosened! That's because either the gearbox itself (the housing that holds the gears) is too soft to take the strain of the upgrades you've installed, or you didn't shim each new gear properly — and they're slipping sideways as they operate. This puts undue strain on their axels (the pins). You have to figure out what it is and then either buy a replacement gearbox, or buy an upgraded gearbox (if one exists) or, most expensive of all, drill out all the pin holes in the existing gearbox and install steel bushings for the pins to rest in.
Is it really that bad?
Is upgrading an AEG airsoft gun really fraught with all these pitfalls? Not usually. If you proceed with caution and learn as you go, none of these things ever needs to happen, or maybe one will happen and you'll be able to deal with it. The guy who suffers them all at the same time is the guy who just throws money at his gun without bothering to understand how it works in the first place.
How to proceed?
How should you proceed if you really want to upgrade your gun? Well, first I think you need to have a reasonable expectation of what can be done to the gun and why you want to do that. I remember watching an upgrade to a bolt-action sniper rifle a number of years ago. The owner wanted the absolute best of everything, so he went for the tightest barrel, the best piston and compression chamber and the strongest mainspring. Then, when he cocked his newly upgraded rifle for the first time, it suddenly dawned on him that the bolt that used to take 20 lbs. of effort to cock now took almost 40 lbs.! That gun was the baddest beast around, only nobody could cock it! Try cocking a bolt-action rifle that takes 39 lbs. of force some time if you don't believe me.
Had this guy bothered to first research his project, he would have found this out before investing all that time and money. What he wanted was a bragging-rights sniper rifle with no thought of how to actually use the gun. How do you brag about a gun that nobody can cock? A good sniper rifle is accurate and not that difficult to cock. You don't do it all with a heavier mainspring!
Allow me to make a comparison in the automotive world. You can buy a nice used Acura Integra and drive it daily, or you can lose your mind and mod the engine up to 1,000 horsepower. At that point (actually, long before you get to that point), the Integra is no longer suited for making runs to the mall. It's sole purpose is to travel 1/4 mile in the least amount of time.
You can build an airsoft gun that launches 0.28-gram BBs at 550 f.p.s., if you want to. Just don't expect to use it for anything beyond wowing your buddies at the chronograph. You left the real world of airsoft some time back.
A safer way to proceed would be to use kits that manufacturers put together for specific purposes. Read what users of these kits say about them before taking the plunge. Maybe, if the upgraded barrel you selected wasn't so tight, you might get by with a lower-powered mainspring that was still an upgrade over your factory gun.
And maybe stop and take a moment to ask yourself why you feel the need to upgrade your gun at all. All airsoft guns do not need to be upgraded — just as all pellet guns do not need to be tuned right out of the box.
Another safe thing you can do is to upgrade a battery by one increment of voltage. It's usually safe to go from an 8.4-volt battery to a 9.6-volt battery — especially if the gun you're upgrading comes with metal gears. And you can upgrade the amount of battery storage capacity (mAH) without suffering anything except a possible space issue. A battery with a higher mAH rating is usually larger. On some guns like the M4s with the extendable stocks the batteries have to fit inside the forearm, so make sure there's ample room before you buy the larger battery.
Summary
I could go on and on with this and that tweak, but I think you get the idea. Know what you hope to achieve before you break the bank trying for that last f.p.s.
by Tom Gaylord, a.k.a. B.B. Pelletier
This report covers:
• Learning to work on airsoft guns
• Components of airsoft guns
• Parts commonality — the airsoft way
• Various upgrades to components
• Need for a systematic approach to upgrades
This report is the beginning of the second installment of a promise I made to some of our readers. They wanted to know how to upgrade and work on airsoft guns, and I said I'd show them. The last report was written half a year ago, but I'll get the next one out a bit faster. In fact, I've already written it!
How do you learn?
If you think there's a lack of information about working on pellet guns and BB guns — you should experience airsoft! Not only is there very little information, much of it suffers from poor translation from various Asian languages to English. If you persevere, though, there are places to find this information — and, today, you can add this blog to the list.
I had to learn the hard way — on my own by doing it. I think that's a rite of passage among airsofters. Most of this work is not that difficult once you know what you're doing, but there are so few places that tell you how to begin. I was fortunate to have an airsoft store owner advise me when I first learned, so I'll pass along a lot of what he taught me.
Airsoft parts groups
The first thing to learn is that there are several components in any airsoft gun that can be upgraded. They are:
• Barrel
• Gearbox
• Powerplant (usually sold as a kit but sometimes can be purchased separately)
• Batteries and motors — applies only to automatic electronic guns (AEGs)
• Accessory components (these are not what you'd think)
A universal truth
There are many airsoft guns and many airsoft manufacturers, but there is a very high degree of commonality throughout the industry. If we were talking about cars, it would be the equivalent of Ford making all the engines for all cars, regardless of what name was on the car. There would be no such thing as a Corvette engine. It would be a Ford engine with the Corvette name on the outside.

A small assortment of airsoft parts. These parts are available from online sources to upgrade most guns.
While there are dozens of different models of sniper rifles, there might be only 2 or possibly 3 really different designs. In some cases, there's just 1. I'm not just talking about sniper rifles now — I'm talking about all the different families of airsoft guns. You look at M4s, for instance, and you'll find 15 different names on the outside. That doesn't mean anything. There might just be 2 different M4s that everybody makes into their own proprietary rifle. So, in the world of airsoft, there's no such thing as an Armalite M4. The Armalite M4 is the same as the Olympic Arms M4 and the Colt M4, etc. Get it?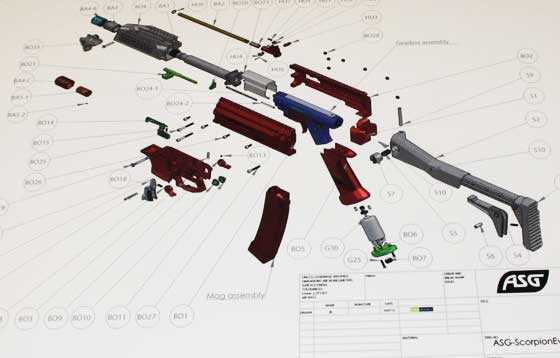 Unlike most airgun manufacturers, airsoft manufacturers freely publish their illustrated parts breakdowns and schematics like this. They're protected from American liability laws by their U.S. distributors.
The first thing you have to do, therefore, is discover which parts will fit on your specific model. Don't expect to find a universal Rosetta Stone with all this information! It's not the same as going to the auto parts store and looking in that thick book of parts applications. What you have to do is converse with the manufacturer/distributor or go on the airsoft forums and ask questions. Let me give you a specific example.
Barrels
Sniper rifle barrels are nothing but smooth tubes. If you paid $99 for your sniper "rifle," the tube that came on it is probably quite a bit larger than most 6mm airsoft ammunition. Why? Because the sniper rifle manufacturer knows you are a cheap person — having spent only $99 to buy a sniper rifle, when you could easily have spent 3 times that amount. Because you are cheap, you will probably also buy and use cheap airsoft ammo, and that's the stuff that is oversized and not uniform. It will work much better in an oversized barrel — where the term "work" means continue to come out the end of the muzzle when the trigger's pulled.


This is a typical airsoft barrel.
But…if you actually want to hit a man-sized target at 50 meters with the first shot, a cheap sniper rifle is not the gun to use. For that, you need a rifle with a tighter barrel (which is still a smooth tube), and you need to find and continue to use only the one correct round in your gun. In other words, you need to become what many will call an airsoft "snob."
As surprising as it may sound, you can buy a tighter barrel for your cheap sniper rifle — often from the company that made the rifle! You see, they didn't actually make that barrel. They bought it from 1 or 2 barrel makers who supply barrels to all of the airsoft community (the Ford engine in the Corvette). And there are different grades of tightness among barrels! This is where the airsoft forums come in handy. Someone will tell you that to upgrade your $99 Whango Tacticool M40, you need a Sho-Lin barrel that's only 0.20mm larger than 6mm. It will work on your rifle, but you have to shoot 0.24-gram Black Mambas through it because everything else will jam.
If you can follow this advice to the letter, you can make a nice sniper rifle. And, when you're done with the barrel and all the rest of the modifications, the price of your upgraded rifle will have about tripled! Small world, no? But, if you're the guy who constantly wants to substitute Owl Sweat for Kangaroo Juice, because there's a sale on it at a store near you, don't even think of modding an airsoft gun! All you'll do is spend money on a pile of parts that will never work together.
Gearbox
The Asians call this the Mech Box or Meca Box. It took me several months to figure that out the first time, and it's important to know if you want to find them on the internet.
The $125 M4 AEG often comes with plastic gears. If you plan on shooting it only on holidays and at family gatherings, buy one and be done with it. By the way, if there's a brand name like Colt on the outside of the gun, plan on spending 3 times as much and still getting plastic gears (sometimes)!
If you want to go into battle and have the gun continue to function for several days and thousands of shots, think about metal gears. But it doesn't end there. There are also special shim spacers to keep the gear wheels aligned under a load, and there are special reinforced metal gearboxes that don't wear like the cheaper gearboxes do. At the top of the list are the gearboxes that are built with pins (gear axels) that have been align-bored by a custom builder. A gearbox upgrade kit in a blister pack can cost you $68, or you can spend $400 with a custom builder who makes the gearbox specifically for your gun.
So, you see the Super Zombie Black Ops (a name I just made up) M4 AEG selling online for $99msays it comes with steel gears on the outside of the box! Big deal! That's the airsoft equivalent of a pellet rifle manufacturer saying their rifle shoots at 1,400 f.p.s. In other words, although it sounds like it implies quality, what they don't tell you is that those gears are not aligned properly and are set inside a cast pot metal gearbox.
Like everything else, in airsoft there are things that do work well and then there are the retailers who trade on the general ignorance of the buying public. They use buzzwords like metal gears to suck in the beginners. To mean something, the metal gears need to be run on pins of the correct size, have thrust washers to hold them in alignment and be inside a gearbox that can take the strain — and the whole reason for all of this is so you can get some benefit from that high-torque motor and uprated battery you also installed. If you aren't going to do this in a systematic way, you might as well eat the metal gears, for all the good they'll do by themselves.
Summary
I'll stop here because this report is getting long. In the next installment, we'll look at the airsoft powerplant, upgrades to batteries and motors, and the best way to get started working on airsoft guns.
by Tom Gaylord, a.k.a. B.B. Pelletier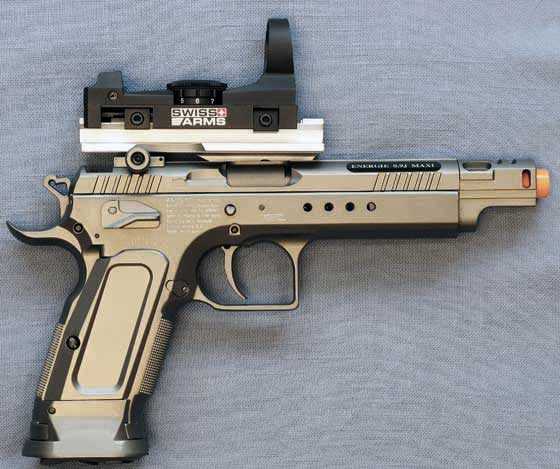 The Tanfoglio Gold Custom Eric Grauffel pistol is a competition airsoft gun in a box!
Today is the day we adjust the BAXS in the Tanfoglio Gold Custom CO2 blowback airsoft kit gun to see how it affects the gun's ablity to group. Remember, the BAXS is another form of hop-up, which is the generic name for a rubber bumper that puts a backspin on the airsoft BB as it exits the bore. That causes the BB to fly straighter and farther than it would if it were not spinning, or if it were allowed to spin randomly.
So, the first thing to do is to get to the BAXS adjustment wheel, which is located deep inside the gun's slide. The gun must be partially disassembled, and therein lies a problem. The manual is poorly written and illustrated with confusing small photos that don't depict what you actually must do.
To remove the slide of this pistol, the slide stop, or what the manual called the slide stopper, must first be removed. There are 2 different things that must be done precisely to get the slide stop out, and the manual doesn't cover them. First, the slide has to be pushed back only about a quarter inch to release the slide stop. If you see the rear of the barrel dive down as you push the slide back, it's moved too far. Second, there's a very small clearance hole for the large end of the slide stop on the left side of the frame. Once again, pushing the slide too far back will cause the stop to pass this clearance hole, and the slide stop cannot be removed from the gun.
Of course, you don't find out any of this until the slide is off the gun, which is too late. And the instructions are one sentence long. If you don't know how to remove the slide, the instructions will not help you!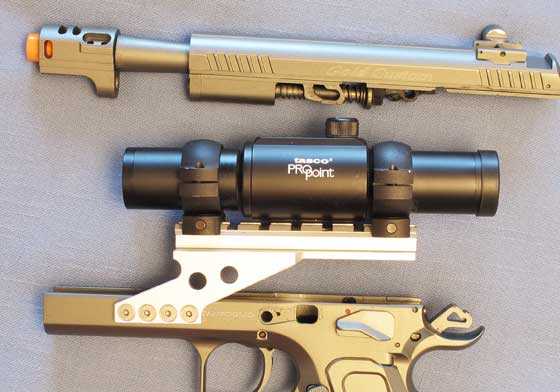 The slide must be removed to adjust the BAXS wheel.
Once the slide is off, the BAXS adjustment wheel is located on the underside of the slide and barrel assembly. It's a small plastic wheel that's turned by a small thin blade, such as a tiny screwdriver. A pin in the wheel limits its travel to less than half a turn, so the amount of adjustment is small. But if the gun was designed right and manufactured carefully, it should be enough to make a difference.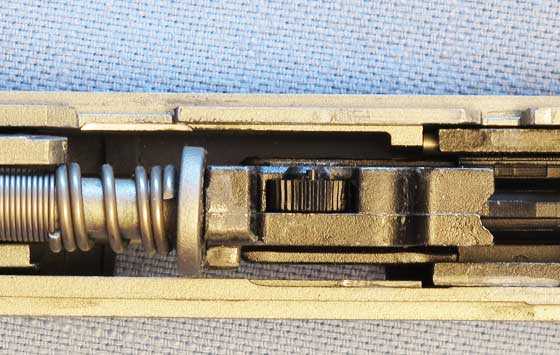 The BAXS wheel is turned to adjust the amount of backspin put on the BB. The adjustment is limited to less than half a rotation of the wheel.
I noted where the adjustment wheel was when the gun was disassembled. It was close to one end, so I moved it to the other extreme end. If there was going to be a difference, I wanted it to be immediate and visible. And it was — as I will now show you.
I decided to begin with the Air Venturi Pro CQBBs that weigh 0.25 grams because they were the most accurate in the previous test. When you adjust something as finicky as hop-up, stick to one BB whose performance you know. To do otherwise would just waste your time because you would never know if it was the particular BB or the gun's adjustment that was right or wrong.
I shot a lot of targets in this test, but I'm not going to show you all of them. For the first couple, I was just getting the BBs back on target at 10 meters. The BAXS adjustment moved the point of impact several inches higher than it was the last time. But as I adjusted the dot sight and brought them back down onto the paper, I noticed something. They all tended to be strung out vertically, but were very tight horizontally. And each target, of 5 that I shot, had 4 BBs tight together and one that was apart from the group — a flier. Only there was no reason for the flier that I could see.
So, there were 4 BBs grouped together and the fifth BB would be more than one inch away from the main group. I adjusted the BAXS a couple times to correct this, but it persisted with this BB.

This 5-shot group measures 3.197 inches, but the lone shot at the bottom opens it up by more than one inch. Notice how narrow the group is.


Another 5-shot group of 0.20-gram Air Venturi CQBBs is also tall and even narrower. This time, 4 BBs went into 1.08 inches, and the fifth shot opened the group to 2.26 inches.
There were 3 more groups just like these, and then I decided to switch BBs. The next BB I tried was the 0.20-gram Marui Black that Pyramyd Air does not stock. Being lighter, these BBs went faster than the others. The first group was really tight.

Here are 5 shots in 0.847 inches at 10 meters. The Tanfoglio seems to like the 0.20-gram Marui Black BBs. This is what a good airsoft pistol can do at 10 meters.
Alas, I was unable to repeat that group. The next group was 10 Marui BBs instead of 5, and this one spread out to 2.041 inches.

Ten Marui Black BBs spread out to a much larger group that measured 2.041 inches between centers.
I tried several more times to shoot good 5-shot groups with the Maruis, but no luck. They all turned out like the 10-shot group shown above.
Let sanity prevail
This gun was never intended to be a 10-meter pistol. It's supposed to be a rapid-fire action pistol that can compete in action target matches. Those targets are much larger than the ones seen here, and the BBs only have to hit a large center area to score their highest. I think they can do that without a problem.
What I've just shown you is how an adjustable hop-up, or BAXS in this instance, affects the grouping ability of an airsoft gun. If you compare these groups to those fired in the previous test, you'll see how much improvement was achieved.
Bottom line
The Tanfoglio Gold Custom Eric Grauffel CO2 blowback airsoft pistol is a high-end, factory-made competition gun. It has a wonderful trigger, great blowback action and is very capable of competing, as long as a quality dot sight is mounted. For coming right out of the box at this level of performance, I doubt you can find anything better.
Just remember, the factory owner's manual is spotty and somewhat misleading. This pistol takes some getting used to before it can perform at its best, and that comes with time and use.
by Tom Gaylord, a.k.a. B.B. Pelletier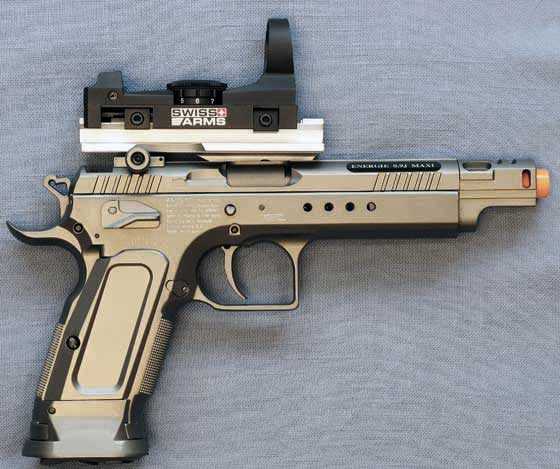 The Tanfoglio Gold Custom Eric Grauffel pistol is a competition airsoft gun in a box!
Today is accuracy day for the Tanfoglio Gold Custom CO2 blowback airsoft kit gun, but it's just the first of many tests. An airsoft gun with adjustable Hop-up, or BAXS in this case, has to be adjusted to shoot its best. I've never adjusted a gun with BAXS, but I've adjusted plenty of them with Hop-up and that is how it always happens. The gun never shoots its best right out of the box. I'm assuming the BAXS is the same.
All I did today was find out which BBs are worth continuing with and which aren't. As it turned out, I got good results with several 0.20-gram BBs, which is what the manufacturer recommends for this gun. I also did well with one 0.25-gram BB.
I'll warn you right now, the targets you're about to see are not very impressive. They look terrible, in fact. If you're used to good groups from pellet guns, these are going to seem hopeless. But they do show small differences between the good BBs and those that aren't worth pursuing, and that was all I wanted to do today.
I shot off a bag rest with the butt of the gun (the bottom of the magazine well) rested against the bag. I also tried holding it ahead of the bag and just resting my arms on the bag, but it moved around too much. Maybe next time I'll play with some different holds.
I shot only 5-shot groups today because I was testing a large number of different BBs. In all, I tested over 10 different brands, but only the most promising will be shown here.
Sight failure!
Before I get to that, however, there was another problem not related to the gun. The Swiss Arms red dot sight that was bundled with the pistol quit working suddenly during the first session. It wasn't the battery because that's still good. So, I dismounted it and installed a Walther Competition II Top Point red dot sight that I got from Pyramyd Air for testing; but some funny-bunny at the factory had left the sight turned to high power, and the battery was dead. I replaced it with a fresh battery but the sight failed to respond. So — two red dot sights out of the running even before we start. That was what ticked me off yesterday and caused the rewriting of my blog.
Fortunately, I have an older Tasco Pro Point red dot sight that has functioned perfectly on many airguns over the past 15 years. That one went on for this test, and everything was good again.
Quick rundown
Sight-in was a bit frantic because I unknowingly chose the least accurate 0.20 BB for the job. The gun doesn't like the Air Venturi Pro CQBBs that weigh 0.20-grams. It took me about 10 shots to get sort of on target, but it wasn't until I switched ammo that I found out what was happening. More on that in a moment, now for the quick rundown.
This pistol hates 0.12-gram BBs. They couldn't even stay on the trap at 10 meters, and I was using the UTG Accushot Pellet and BB trap. Forget staying on target! This things were hitting the backer board that was behind the trap. Fortunately, I expected something like that, so I didn't waste much time. BBs this light are usually good only in lower-powered spring-piston guns.
The pistol also performs only average with the 0.28-gram BBs. Though I only tried one brand, the TSD Tactical 0.28-gram BBs, I can tell from experience that this BB is too heavy for the pistol.
That leaves 0.25-gram and 0.20-gram BBs. The gun shot the best group with Air Venturi Pro CQBBs 0.25-gram BBs, but it was 2.864 inches for 5 shots. See what I mean about not getting too excited?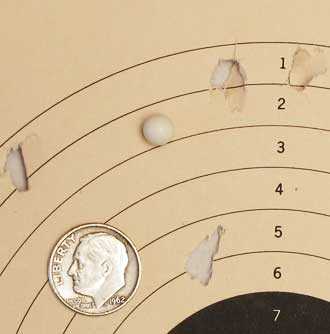 Five shots of 0.25-gram Air Venturi Pro CQBBs went into 2.864 inches at 10 meters.
The second-best group of 5 shots was a 0.20-gram Marui Black BB that Pyramyd Air doesn't carry. Five of those went into 2.875 inches at 10 meters, which is really too close to call. The round BBs tear holes that are indistinct and measurement may be off by a lot. Fortunately, the pictures don't lie.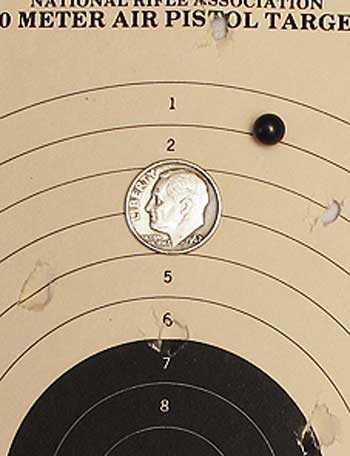 Five Marui Black 0.20-gram BBs went into 2.875 inches at 10 meters. It was the second-best group of this test, but also too close to call. It may be just as good as the first group.
But it was another 0.20-gram BB, the TSD Stealth that's apparently no longer made that tipped the scales on this day. The first group I shot was spread out wide, but it was just one BB that did it. The other four were in 1.809 inches. I was so encouraged that I shot a second group; and, again, 4 BBs went into 2.229 inches and the fifth shot opened the group several more inches. I think this might be the most accurate BB after the BAXS gets adjusted, or at least 0.20-gram BBs of some other brand might turn out to be the best. If not, the 0.25-gram Air Venturi BBs might get better with the adjustment.

Four of five TSD Stealth BBs went into 1.809 inches. This BB shows promise and may do a lot better after BAXS adjustment.
Don't get discouraged!
My time with airsoft has taught me to first look for the best BB, and then spend more time adjusting the Hop-up to maximize its potential. That's what lies ahead of us for this pistol. I won't guarantee the gun will be much more accurate than this; but if past experience holds true, it will be!
Shooting characteristics
Believe me, I do understand that this is not a target pistol. But to win as a competition gun, it has to place its shots close together. IPSC for airsoft doesn't shoot as far as 10 meters, so this test is extreme, but it's also quite good at showing what the gun is capable of.
The gun's recoil is sharp when you're aiming carefully. And the trigger that I loved before is still preforming well. All in all, I'm a little disappointed that I can't show you better groups than these; but if the BAXS works as it should, I should be able to reduce these by a lot.
by Tom Gaylord, a.k.a. B.B. Pelletier
I decided to write this for those readers who indicated they were interested in airsoft to some degree. I know this is an airgun blog, and that means pellet and BB guns — not airsoft, but there are some crossovers. For example, many airsoft companies are now entering the world of steel BB guns. I promise we're not going to become half-and-half or even one-quarter airsoft; but since there are questions, I feel the need to address them.
History of airsoft
This will be short and sweet. Airsoft came about in the Orient in the 1970s, when the demand for realistic guns that were not firearms was first satisfied. The early designers made their guns shoot 6mm plastic balls that they have since come to call BBs.
The early guns were made to satisfy the needs of collectors to see, feel and even be able to disassemble the guns in which they were interested. So, the early thrust of airsoft guns was for collectors, only. However, the fact that the manufacturers made these guns fire their plastic BBs soon evolved into an entirely different interest. People began conducting wargames with the guns. Instead of paintball, which is very painful when the .68-caliber balls hit flesh, the 6mm plastic balls had almost no impact. Of course, the guns in those days were firing at very low velocities; because it was realism, rather than the gun's ability to shoot, that attracted buyers.
Once the wargames began, airsoft split off into two directions. The collectors wanted highly realistic guns, and the wargamers wanted guns that were accurate at long distance and would hold up under simulated combat conditions. Some of the early collectible guns sold for thousands of dollars. Indeed, there are still a few of these collector guns being sold today. One example is a very real airsoft Browning Automatic Rifle (BAR) that sells for well over $3000. But the collector market has been far surpassed by the wargamers, who now call themselves skirmishers. Airsoft guns for skirmishes are the biggest sellers in today's market, which has grown to more than a billion dollars in sales annually.
The BB gun wars
I've written several articles about the BB gun wars that were conducted in the United States from the 1890s until the 1960s. The BB gun wars were literally backyard battles fought by teams of kids with BB guns. Every community had them, and each bunch of kids had their own rules. I've owned several BB guns with multiple dents in both the wood and metal from the impacts of BBs that are obviously survivors of the BB gun wars.
It's my contention that the BB gun wars still rage today, but they're now being fought with airsoft guns. Apparently, there's a need for people to shoot at each other in mock combat, and airsoft guns seem to fill this need.
IPSC
Because shooting at people is so emotionally-charged, IPSC shooting has recently become popular. IPSC stands for the International Practical Shooting Confederation. It's the international extension of practical pistol shooting that began as law enforcement training in the U.S. in the 1960s. IPSC competitors shoot from 30,000 to over 100,000 rounds each year in training and competition, so the game is not for poor people.
Airsoft guns are a wonderful way to get into this competition without spending the kind of money that it costs to shoot firearms. For one-hundredth the cost of firearms, shooters can have the same fun under safer conditions with 6mm airsoft guns.
Wrap-up
Airsoft history is rapidly evolving. In just 40 years, it's gone from pure collecting to wargames and now to practical pistol shooting. Who knows what'll happen in the next 10 years? What's obvious, however, is that the technology of the airsoft guns is evolving as fast as the interest is. This is a burgeoning area that's spending a lot of money to satisfy multiple needs.
Powerplants
Let's examine the airsoft powerplants so we can see what exists and what's possible. The first powerplant we'll look at is the spring-piston.
Spring-piston
The spring-piston airsoft powerplant is no different than a spring-piston found in any other type of airgun. A piston is powered by a coiled steel spring and moves forward rapidly to compress a column of air that then drives the airsoft BB. Most airsoft spring-piston guns are repeaters, but they must be cocked for every shot. You sometimes see these repeaters called single-shots because the people writing about them don't understand the difference between a true single-shot that only holds one round and a repeater that holds many round but must be cocked separately to fire each one.
Spring piston guns are among the least expensive, and yet they can also be very powerful and accurate. Sniper guns are powered by spring pistons for the most part. The lowest-powered spring-piston guns cost very little and are not built to last a long time. They have a lot of plastic parts that eventually do wear out. But if you don't abuse them, most will give you many thousands of shots that will be surprisingly accurate.
Gas guns
Gas airsoft guns are very similar to gas airguns, except they do employ a wider range of gasses. Besides CO2, which they've begun to use in the last 15 years, airsoft guns also use other industrial gasses that go by colorful trade names. Green gas and red gas are 2 of these; and green gas is, by far, the most popular. Green gas is nothing more than propane, though some suppliers do infuse some oil into the gas to help lubricate the airsoft mechanisms.
Green gas runs at a nominal pressure of 115 psi. It's supplied in dispensing cans that have nipples that couple with the inlet valves of the guns they serve.
Someone asked me if green gas was as powerful as CO2, which is pressurized to 850 psi and higher. Well, it isn't. But that doesn't mean very much, however, because CO2 has to be stepped way down to safely operate an airsoft gun. The same gun can use both green gas and CO2, it just needs two different magazines — each with its own valve to handle the correct gas.
Generally speaking, gas guns tend to be faster than spring-piston guns, but that isn't always the case. There are bolt-action spring-piston sniper guns that are very powerful. It's impossible to make a blanket generalization.
Automatic-electric guns (AEGs)
AEGs are spring-piston guns that are powered by small high-torque electric motors. The motor cocks the piston and trips the sear. The gun usually has a selector switch that allows full-auto (the motor repeatedly cocking and releasing the piston as long as the trigger is held down) and semiauto (firing one time per trigger pull). Besides the spring-piston side of this powerplant, there's the electric side that deals with batteries, motors and gears.
AEGs are popular because they can shoot full-auto, which gamers and collectors both enjoy. They also are among the fastest-shooting airsoft guns, although bolt-action sniper guns can be modified to be very fast, as well. AEGs allow people to experience things that most people cannot experience with firearms; and, of course, they do it at a fraction of the cost. Even law enforcement agencies are using AEGs as training simulators because they're much safer than firearms that shoot training ammunition called Simunitions. You can make a mistake with a firearm and kill someone — it happens all the time. But you can't possibly load a firearm cartridge into an airsoft gun, no matter how realistic it may seem.
The technology is changing rapidly. Today, there are even a few hybrid AEGs that can be used with or without electrical power. Obviously, these will appeal to people who never want to be caught without a functional gun.
What comes next?
Next time, I'll talk about modifying airsoft guns. Not all guns can be modified, but a surprising number can be; and the manufactures do supply the parts to make the modifications.
I'll also talk about power, which is fast becoming an important topic. As the guns become more powerful, the "soft" in airsoft is being tested to the limits.
by Tom Gaylord, a.k.a. B.B. Pelletier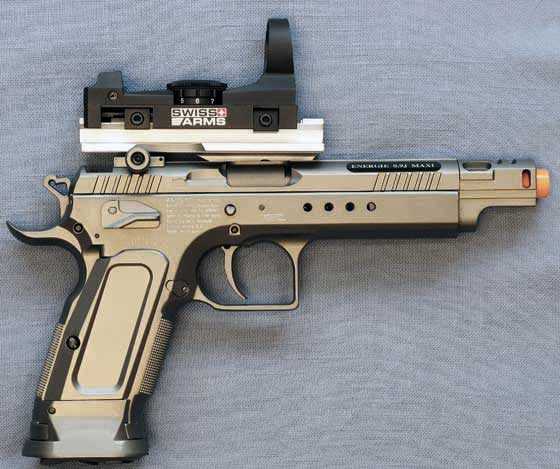 The Tanfoglio Gold Custom Eric Grauffel pistol is a competition airsoft gun in a box!
Let's look at the velocity of the Tanfoglio Gold Custom CO2 blowback airsoft kit gun. When I started the test, I discovered something unusual. The CO2 cartridge I'd loaded last week to test the gun initially had leaked down completely. That usually doesn't happen until several months have passed, so it got me wondering. I'll watch the gun and see if it happens again. I left the test today with a 75 percent filled cartridge; so if I test it again in a week and it's out, I'll know. And to answer your question, yes, I did use Crosman Pellgunoil on the tip of each fresh cartridge when I installed it.
Testing the velocity of an airsoft gun is a little different than testing a pellet gun. It's more like testing a BB gun because the airsoft BBs come in specific weights. The velocities tend to conform to the weights rather than to the individual brands of BBs used. I'll test the pistol today with the 4 most popular weights — 0.12 grams, 0.20 grams, 0.25 grams and 0.28 grams. And let's get something straight right now. When we're talking about airsoft BBs, we're speaking in terms of GRAMS — not grains. There are about 454 grams in a pound, but 7,000 GRAINS per pound. So a gram is MUCH heavier than a grain. A gram is a decimal unit of the metric system. It's one-thousandth of a kilogram. A grain is an apothecary (medical) weight from the old English system of weights — a system that is also used by jewelers. It was historically the weight of one barley seed, but has been standardized to one seven-thousandth of a pound.
Regardless of the weight of each BB, they're all the same size. Their weight is controlled by the material used to make them.
UHC Precision Ground BBs, 0.12 grams
First up are 0.12-gram (1.85 grains) UHC BBs. They averaged 417 f.p.s. in the Tanfoglio pistol. The range went from a low of 406 to a high of 425 f.p.s. That's slightly slower than the maximum advertised veloicity of 453 f.p.s for this pistol. At the average velocity they produce 0.71-foot-pounds of energy at the muzzle. Given the design goals of airsoft, that's fine, because much more than that will start to injure anyone hit by them.
Air Venturi Pro CQBBs, 0.20 grams
Next up were Air Venturi Pro CQBBs 0.20-gram (3.09 grains) BBs. These are value-priced BBs that come in bottles of 2,700 rounds, 5,000 rounds and, for the serious shooter, supersized bags of 125,000!
These averaged 333 f.p.s. with a spread from 315 to 346 f.p.s. This is the recommended BB weight for this pistol, which means it will probably be the easiest one to tune the BAXS (the trajectory adjustment in the pistol) with. At the average velocity, this BB produced 0.76 foot-pounds of muzzle energy. I have other brands of 0.20-gram BBs, including competition BBs; so if this weight turns out to work well in the gun, I plan to give it the biggest test. As a final note, the velocity was right where the specs say it should be (320-350 f.p.s.).
Air Venturi Pro CQBBs, 0.25 grams
This 0.25-gram (3.86 grains) BB is a little heavier than the recommended weight, but sometimes that doesn't hurt the accuracy at all. With the right BBs, it can enhance it — and this is where having several different brands of premium airsoft BBs is an advantage. I tested velocity with the Air Venturi Pro CQBBs 0.25-gram BB that's the equivalent of the 0.20-gram BB mentioned above, but heavier. It comes packaged the same way, and I have the 2,700 BB bottle for the test.
These BBs averaged 296 f.p.s. in the Tanfoglio pistol. The range went from 282 to 304 f.p.s. At the average velocity, this BB produced 0.75 foot-pounds of muzzle energy.
TSD Tactical, 0.28 gram BBs
The last BB I tried was the TSD Tactical 0.28-gram (4.32 grains) BBs. These are clearly too heavy for this gun, but they did produce velocity very close to the 0.25-gram BBs. The average was 289 f.p.s., with a spread from 274 to 302 f.p.s. At the average velocity, this BB developed 0.80 foot-pounds of energy at the muzzle.
Loading the magazine
I don't have a speedloader, so I loaded each BB one-by-one into the double-stack magazine. They have to be pressed through the top of the magazine, which then holds them against falling out while the gun is operating. That's the sign of a quality airsoft gun. If you remove the loaded mag for any reason, a BB doesn't fall out of the mag as it often does on lower-priced gas guns and most spring guns and auto-electric guns (AEGs).
I also note the BBs instantly arranged themselves within the mag…and without any fuss. With lesser guns, the BB stack will have gaps on one side that lead to misfeeds.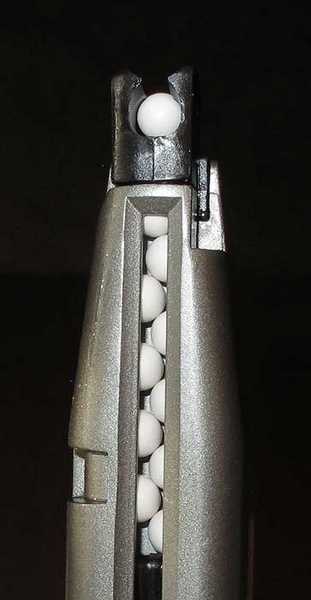 BBs arrange themselves perfectly inside the magazine every time!
Stopping the BBs
Nothing rebounds worse than a plastic airsoft BB. Nothing! Those of you who know airsoft probably wonder how I managed to stop the BBs in the velocity tes. When I tell you that I stopped 100 percent of more than 60 BBs fired, you need to know how I did it! I used a UTG Accushot Pellet and BB trap, and in front of that I placed a heavy cardboard sheet at a slight angle of perhaps 15 degrees to the face of the trap. The trap and cardboard both stood in a shallow cardboard tray that caught all BBs that came back out of the trap. It worked so well that I will use it when I conduct the accuracy test.
Trigger-pull
I proclaimed how much I love the Tanfoglio trigger in Part 1. Now let me tell you the specs. It's single-stage, with the blade moving through an arc that can be felt, and it breaks cleanly at 2 lbs., 9 oz., which is even lighter than the trigger on my Wilson Combat CQB 1911 firearm. This is a pistol trigger to die for! The only criticism is that it doesn't break like a glass rod; but since the gun is for action shooting and not bullseye targets, that doesn't matter.
Shot count
I got exactly 40 shots before the gun began slowing down. After that, there were another 10 good shots before the blowback function came into question. I guess a lot of the CO2 is used for blowback. Since this is a competition gun, that makes no difference. Winners will buy it and use it, no matter what it takes to make it work. This is not a budget plinker. It's a full-blown competition airgun!
I hope this pistol will be a real tackdriver because that would make it perfect. I know that it's not a target gun, but it does have to place its shots in the same place to score high in the competitions it would enter. If it does — well, I don't know that I will let it go back!
by Tom Gaylord, a.k.a. B.B. Pelletier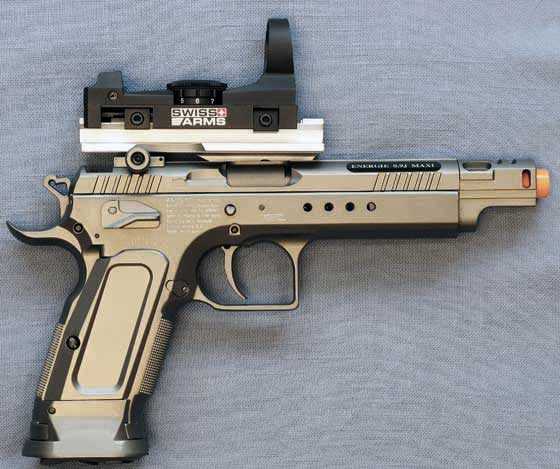 The Tanfoglio Gold Custom Eric Grauffel pistol is a real competition airsoft gun in a box!
Well, here's something different! I'm testing an airsoft gun — actually the Tanfoglio Gold Custom Eric Grauffel CO2 blowback airsoft kit — which the distributor calls a softair gun. Many of you don't remember this, but years ago I used to test airsoft guns for this blog from time to time. Then Pyramyd Air got a dedicated blogger for airsoft and I stopped reviewing them. Well, that blog is no longer active, so I told Edith I wanted to start testing them again, now and then. I don't skirmish and I don't shoot guns at people. So, my interest in airsoft guns is in their realism and how well they shoot. That's how I'll be looking at this one. Since realism was the original impetus behind the creation of airsoft guns, I don't think my views are out of line.
This test is actually the first part of a twofer because there's also a Tanfoglio Gold Custom CO2 blowback BB pistol that I have. I'll test that one after I finish this test, but I won't link the 2 reports to keep the confusion down. The gun I'm looking at is serial number 12021442.
Today's test isn't just a gun — it's an entire shooting kit that comes with a Swiss Arms red dot holographic sight. The pistol comes with a Picatinny sight base attached to the gun but no dot sight in the package, so this dot sight completes the ensemble. And it's an all-metal gun that weighs 3 lbs., 4.4 oz. without sights, ammo or CO2! That makes it 2.5 oz. heavier than my Wilson Combat .45 ACP when it's fully loaded! Nothing but metal touches your hand. Although the gun resembles a 1911 somewhat, it's also clearly different. The grip frame reminds me of a Llama Max II 45L/F hi-cap pistol because it 's wider, more rounded and softer than a slabsided 1911.
This firearm is purpose-built as an IPSC (International Practical Shooting Confederation) competition gun. It's endorsed by 5-time IPSC world champion Eric Grauffel and is a copy of the gun he uses. Its purpose is to place as many shots as possible into the highest-scoring kill zone of silhouette targets in the shortest possible time. The slide has a cocking knob located on the right rear, so you don't rack the slide to start the gun — you pull back on the cocking knob. Even though the trigger appears to be double-action, this pistol is single-action only. And the trigger-pull is to die for! I'll get to that in a moment.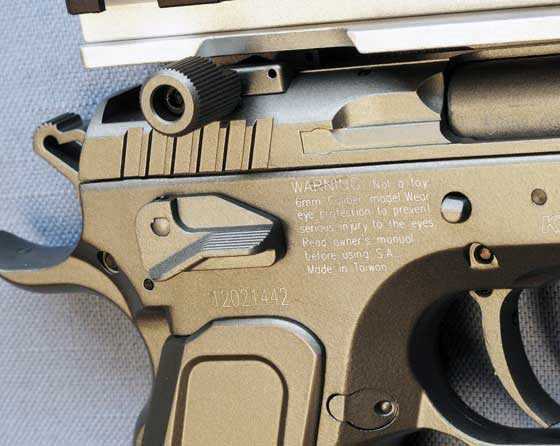 A knob on the right rear of the pistol retracts the slide to cock the hammer. Blowback continues to cock the hammer after the first shot until the magazine is out of ammo, then the slide remains open.
With this gun, we have a dilemma. It has blowback action that drives the slide to the rear with each shot, cocking the hammer for the next shot. With most airsoft guns with blowback, you get the feel of recoil that a firearm would have. It isn't exactly the same, but it's a good simulation, which is the primary reason these guns have it. However, with this pistol, we want to recover from each shot as fast as possible, so any movement caused by blowback runs counter to the purpose of the gun. We have it and it works, but we don't really want it — except to cock the hammer. Fortunately, the makers understood that, and the blowback of this pistol does not make the gun bounce in your hand. Throw in the safety, which is wide enough so you can rest your thumb on it, and you've got an action pistol that's still very controllable.
Trigger
I don't know how they did it, but the makers of this pistol gave it one of the finest 2-stage trigger-pulls it has ever been my good fortune to try. It's not a glass-crisp release; stage 2 does have movement. You can feel the blade as it moves, but there isn't even a hint of creep. I'll test the trigger for you in Part 2 and give you the numbers. But I'm telling you now — this one is very good!
Safety
The gun has an ambidextrous thumb safety that can be used as a thumb rest for your shooting hand. The reason to do this is to reduce the amount of muzzle flip with each shot, allowing you to get on the next target faster. Since IPSC is a timed competition, everything that saves time is a benefit.
The forward part of the grip frame and backstrap are both finely checkered for a better grip. I would want even more checkering, but the gun still grabs your hand well. The backstrap is a full beavertail that goes way back over your shooting hand. The hammer is both bobbed and skeletonized for speed. This pistol showcases the type of race gun features competitors would spend thousands of dollars to get.
The magazine holds both the single CO2 cartridge and 17 6mm airsoft BBs arranged in a vertical double-stack column. The specs say this is an 18-shot magazine, so I will be checking that during this test. The extended magazine release on the left side of the frame cleanly releases the drop-free magazine, and the next loaded mag installs easily in the funnel-shaped butt…because, once again, time is the issue.
Of course, the gun's caliber is 6mm. The lithographed box indicates the pistol does best with 0.20-gram BBs that are supposed to leave the muzzle at 350 f.p.s. Velocity is also given for 0.12-gram BBs that are supposed to go out at 450 f.p.s. Naturally, I'll test both claims.
BAXS
This pistol has a proprietary version of Hop-Up called the BAXS shooting system. It puts a controlled backspin on the plastic ball, giving straighter flight over a longer distance. It's adjustable and requires partial disassembly of the gun to access the adjustment. The slide has to come off. It's held on by a disassembly pin, similar to the one found on a Beretta 92FS. I'll test the efficacy of this for you when I write the accuracy test.
There are no open sights on this gun, as it's a competition model. But it does come with a Picatinny rail for optical sights. The rail is attached to the left side of the gun's frame by 4 Allen screws, and there are 4 more threaded holes on the right side of the frame, although the base isn't symmetrical and cannot be switched over to the other side. The slide is free to cycle beneath the rail and is the reason there's a cocking knob on the gun.
These days, dot sights reign supreme in IPSC competition, so that's what's provided in the kit. The Swiss Arms dot sight is a holographic-type red dot that has 11 levels of brightness and the off position. Naturally, the dot is adjustable for both windage and elevation. I see that the dot is very fat, which helps with rapid target acquisition more than precision; again, time is the crucial factor. So the choice of this particular sight was well thought out.
Yes, there's a blaze orange muzzle to comply with U.S. import regulations. And, no, it's not okay to take it off or cover it up. If you get in trouble with this gun and have altered the muzzle, you bear the full brunt of liability for the problems it causes.
There's also a compensator on the muzzle of the gun. It would work if the gun had the volume of gas that's generated by a .45 ACP cartridge. But with CO2, it's just there for looks.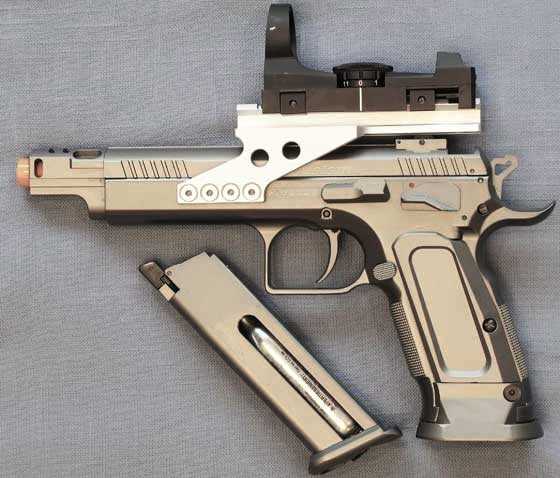 This pistol is a serious IPSC competition gun.
Initial impressions
I know handguns, and this KWC (Taiwan) airsoft pistol blows me away. It isn't just good — it's great, and you can tell it was purposely made that way. There's no luck involved here — this pistol is intentionally meant to be wonderful.
I know it isn't a precision target pistol; but it's made for a type of target shooting, so it has to be accurate. Right? I'll try to test it in the way it was intended to be shot.
I didn't select this pistol on my own. I asked Pyramyd Air's airsoft expert, Sergey, to send me the best gun he has. And this was his choice. I haven't fired one BB through it, yet I'm already inclined to agree with him!