by Tom Gaylord
Writing as B.B. Pelletier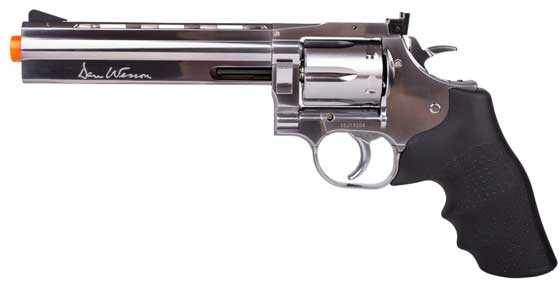 Dan Wesson 715 airsoft revolver looks and operates just like the BB revolver.
Dan Wesson 715 BB revolver Part 1
Dan Wesson 715 BB revolver Part 2
Dan Wesson 715 BB revolver Part 3
This report covers:
Realism
BB-gun versus airsoft accuracy
The gun
Special ammo
Acknowledge your physics!
How accurate?
Cartridges
Accessories
Summary
Some of you have waited patiently for this report on the Dan Wesson 715 6mm airsoft revolver. I don't do a lot of airsoft reports, but from time to time it's good to look at one, because we see so many of them being converted into BB and even pellet guns, these days. And airsoft guns can be accurate! It's been a long time since I edited Airgun Illustrated magazine, but back in those days there was always at least one airsoft article in the magazine. I felt that some shooters needed to know about the airsoft option — not to shoot at other people, because I don't support that use — but for the accuracy and simple operation of the guns, themselves. I have found that you can learn a lot about airgun function by studying one of these 6mm smoothbore guns.