by Tom Gaylord, a.k.a. B.B. Pelletier
Photos by Earl "Mac" McDonald
The SHOT Show is not a gun show — though that is what many attendees call it, and the mainstream media that doesn't attend also calls it that. Instead, it's a happening — to use a 1960′s term. Or it's a Middle Eastern open market. The big booths house the recognized names like Colt, Winchester and Crosman. Their booths are two stories tall with signs hanging from the ceiling that you could see a mile away if there weren't other signs hanging in front of them.
But the real drama of the show isn't at those booths. People already know what to expect in those places. It's the little out-of-the-way booths hugging the walls that have the surprises. I always set aside some time just to cruise the aisles, looking for some rocks to turn over.
I'll be walking along a narrow aisle and someone will step out to stop me. Then, in a conspiratorial tone, he leans over and says something like, "Don't you just hate it when your ice cubes melt and dilute your drink? Cold Bars have solved that problem forever. These are sanitized stainless steel bars that retain the cold almost as well as water, plus they're reusable forever. Put three of these in your scotch and soda, and it'll be as fresh and strong after 20 minutes as when it was poured. When you finish the drink, just pop them in the freezer for 10 minutes…and they're good to go again. While you wait, you use the second set of three bars in your next drink! Nothing could be easier."
This guy is serious! You look at his spartan booth and realize that he has poured everything into this venture because at some point watery drinks pushed him over his tipping point. When he bounced the idea off his wife and friends, they all agreed it was the next big thing. They had no idea he would mortgage the house and put his life savings into it!
So, here he is, in a narrow aisle of a large trade show, hawking his brains out to people who, for some reason, just don't seem to get it. Who doesn't want cold, undiluted drinks?
Think I'm exaggerating? Attend a trade show and walk the aisles some time.
Why do I plod through these pathways of personal misery? Because next to the stainless steel ice cube booth there 's the G+G Airsoft booth that has the best action target I've seen in a long while. It's a lighted rubber hemisphere that's computer-controlled to react to being hit by an airsoft BB. You can turn the light on or off, depending on how you have programmed it.
They call it the MET Unit, which stands for multifunctional electronic target. It can exist as one single target or they can be strung together in up to 25 targets for a prolonged target array.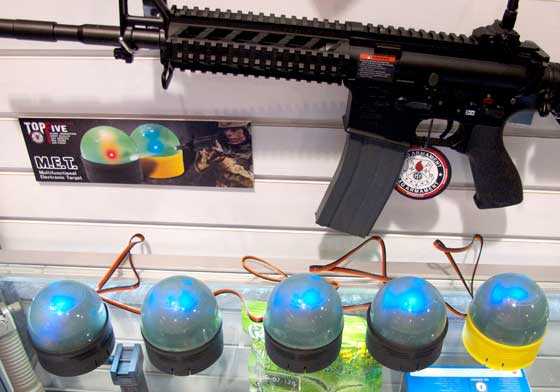 The MET Unit is from 1 to 25 programmable lights that turn off or on when hit by an airsoft BB.
The wires between targets can be up to 50 meters in length, which allows them to be set up in a tactical course and either light up at some random time until hit or stay on for a programmed time and go off after the time is up or when hit. Two competitors can shoot at the same target and change the color of the lights when they hit it, establishing a duelling target.
The individual target will sell for $66 or 5 for $250. It looks like a great way to have fast-action fun with airsoft guns. They can take hits from AEGs shooting 0.20-gram BBs at up to 450 f.p.s. Naturally, they're not robust enough for even the lowest-powered steel BB or pellet guns.
Umarex
Umarex is now branding airguns under their own name. This year, there are three new long guns: the Octane is a breakbarrel with a Reaxis gas spring and SilencAir, which is a baffled silencer; the Surge is an entry-lever springer breakbarrel; and the Fusion is a CO2 pellet rifle, and it also has the SilencAir noise dampener. We've seen the Fusion before, branded as the Ruger LGR, but Umarex tells me the Fusion is a Gen 2 upgrade and quite different. I never got the chance to test the LGR, so I'm looking forward to testing the new Fusion as soon as possible.

The Fusion is a new CO2 single-shot rifle from Umarex that sports a 5-chamber noise dampener.
Leapers
I spent an hour at the Leapers booth this year. The most important thing I wanted to see was the new scope with an internal bubble level. It's a 4-16x in a 30mm tube, and it looks exactly like what the doctor ordered for those long-range targets we love to shoot. They're working hard to get it to market this year, but it won't go out until they're certain of the quality. Putting a bubble level inside scopes on a production line is apparently quite a challenge…but one I'm sure Leapers will do correctly.
The entire line of scopes have been upgraded with finer adjustments — many of them 1/8-minute adjustments — and greater repeatability. They have a broad range of adjustment in both directions, and their production models are even exceeding the maximum limits they established! All leaf springs have been replaced with coil springs to increase adjustment precision and repeatability.
But the WOW factor comes on the stuff you can see. How about a 3-9x scout scope (10-inch eye relief) with a wide field of view? That is the big trick for scout scopes, and I saw a beauty mounted on an M1A — though it would be just as correct on a Mosin Nagant.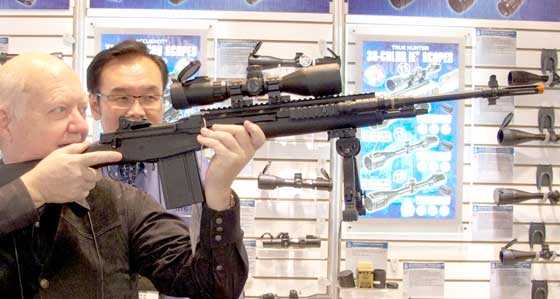 Leapers new scout scope has a full field of vision — something scout scopes are not known for.
Another surprise from the folks in Michigan is the smallest tactical laser I have yet seen. I asked Mac to photograph it next to a quarter for scale.

Leapers new laser is the smallest I have yet seen. That's a quarter next to it.
Crosman
Back to the Crosman booth to show you what the new Benjamin pump looks like when the handle is raised. I didn't expect the huge reception this pump got when I showed it the first time this year. Please note that it has not one but two pump tubes. This is a 3-stage pump — the same as the current pumps, but this one compresses a bit more air with each stroke. I'll have more to say about it when I test it.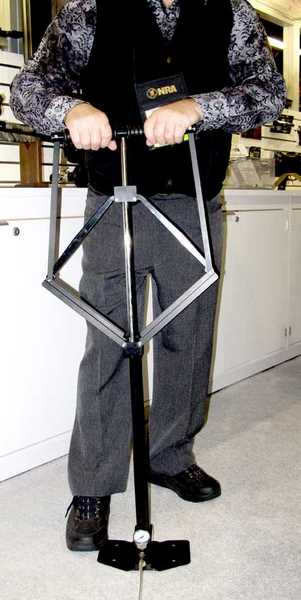 Maybe this view will help you understand how the new Benjamin pump magnifies the force you put into each pump stroke.
Hatsan
I'll close with a last look at the Hatsan booth. They have the AT-P carbine and AT-P1 pistol…and both are precharged pneumatics. They'll come in .177, .22 and .25 calibers that each have hunting levels of power. These are repeaters with circular clips and adjustable Quattro triggers. The sights are fiberoptic, and there are provisions for scopes. The air cylinders remove, and spares will be available as options.
For those who are looking for hunting air pistols, I think these two should be considered. I'll work hard to review them for you as soon as possible.

The Hatsan AT-P2 Tact (left) and the AT-P1 are exciting new PCP airguns.
Leaving the show
As Edith and I left the show we passed by one final booth. The guy is selling Instant Water for survivalists. Just drop one of his pills in a bucket of water and — Presto! — instant water. Why I can't think of things like that?
by B.B. Pelletier
Before I begin today's report, here's an interesting tidbit of news. The Georgia senate has passed legislation (SB 301) that will allow residents to use legal silencers while hunting game. This curious legislation is the first positive thing on silencers that I've seen. Does it mean that we are about the see a change in the public attitude toward silencers in general?
Today's report
You're on the couch, watching a typical "shootemupski" flick and the gang-banger bad guys in their wife-beater undershirts and black doo-rags are all shooting their Glocks with limp wrists and the guns rotated 90 degrees to the left, so the shells eject out the top instead of the side. You suppress a quiet snicker, knowing that this is inherently wrong, but you chalk it up to Hollywood.
What else do you know about the mistreatment of guns? That's any gun — air-powered or firearm.
What about the guy who opens his revolver to check that it's loaded, then closes the cylinder with a quick flick of the wrist? Back in the 1950s, the gun magazines were all loaded with warnings not to do this because of what it does to the crane. The crane is the arm that swings out of the revolver and holds the axle on which the cylinder turns. How many times have I watched a vintage black-and-white murder mystery in which the bad guy did just that to his revolver? It works in the movies because they can shut the camera off and switch guns after they bend the crane. In real life, it's so damaging that the fit of the crane is the first thing you check whenever evaluating a used double-action revolver.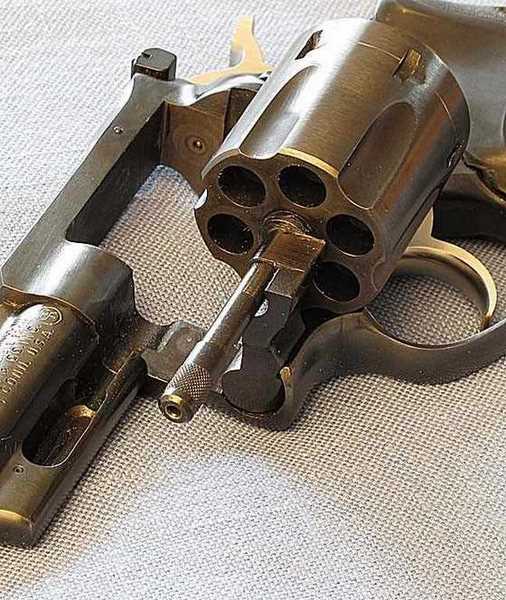 This Ruger revolver's crane is made from steel. It's the part that allows the cylinder to swing out to the side of the gun for loading and unloading. If it can't take being flipped shut without bending, imagine what will happen to a softer metal airsoft revolver crane!
Mark your territory!
Here's one all the Bubbas do to their guns. They mark them with their Social Security account numbers etched into the steel with an electric engraving pen. When asked why they do it, they always answer, "It's mine for as long as I own it, and after I'm gone I don't care what happens to it." The sad thing is, when Bubba dies, he stays dead for a long time! So, that beautiful Winchester Model 1873 rifle he inherited from his grandfather in 1954 now sits in some gun store in Ft. Worth marked at $1,875 instead of $3,500, because his SS# is engraved on the frame!
Think this makes it a bargain? Think again. Anyone who buys a gun marked this way just bought it for the rest of his life, because no one else will touch it. If you want to buy a real nice Winchester 1873 lever-action rifle that has someone's SS# engraved on it, just contact me and I'll give you the details. It's been in the same place for at least the past seven years.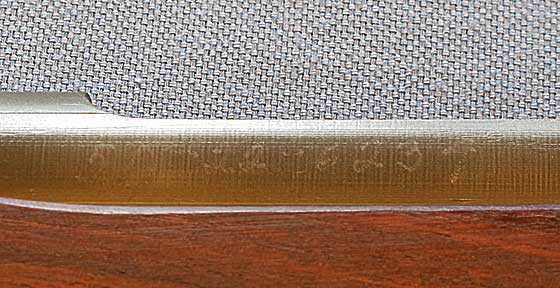 Will someone please take the engraving pen from Bubba? This pristine Remington 03A3 rifle from World War II lost a third of its value because he marked the receiver this way.
Custom woodwork
I was once stupid enough to go "all the way" for you here in this blog and "inlet" the stock of an Air Venturi Bronco for the slide of a peep sight. I put quotes around the word inlet, because it really isn't the right term. "Splinter-out" would be more exact, I suppose. My woodwork was approximately the same level of quality that you'd get from a rabid beaver. Pole-climbers leave smoother wood behind them.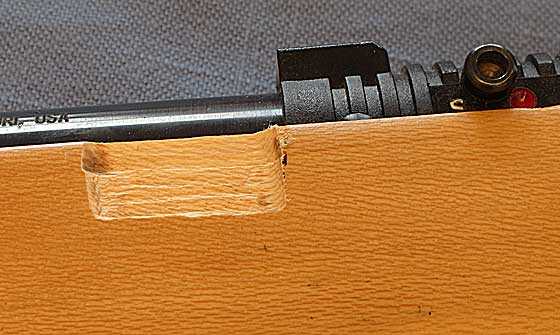 Look, Edith, I made this for you at summer camp! Some people should not be allowed to use tools, and I'm one of them.
Soldering with the starz
I'll never forget back in the late 1990s when big bore airguns were just starting to be the rage, and the Farco Air Shotgun from the Philippines was the current rage. One "boutique" customizer hopped up his Farco up by switching from CO2 at 853 psi to air at 3,000 psi. But the steel screw that was the safety lug on the gosh-darn bolt kept digging a channel back through the brass receiver when the gun fired. Our "hero" built-up that area with a mound of lead solder. I am not kidding — there was a lump of solder there that was an inch deep!
Think it kept him safe? Well, it's just about the same as sealing the leaks in your car's engine block with candle wax. All I remember was that his gun was incredibly loud when it fired and nobody would stand within 20 feet of him when he shot it.
"Sometimes, things break off"
When I was in high school, a friend's father had a double-barreled shotgun with Damascus-twist barrels. I was reading Guns & Ammo magazine at the time and about every third article had a warning about shooting smokeless ammunition in guns with Damascus-twist barrels. So, when his dad pulled out the shotgun to shoot it one day, I cringed and ducked behind a car. His dad said, "Aw, it's okay. Sometimes things break off, but I still shoot it." Sure enough, he shot it once, yelled, "Oww!" and stopped shooting. I heard the metal bounce off the car body, after it sliced through his cheek.
Drop-free magazines?
Sometimes the product name, alone, is enough to cause problems. The so-called "drop-free" magazines that some airsoft guns have is one example. The term drop-free was created to describe the type of magazine that is released from a semiautomatic pistol like the Colt M1911A1 when the magazine release catch is pressed. That's opposed to the type of mag release that's found on a Makarov or a Ruger Mark II that's located at the bottom of the mag floorplate and doesn't allow the mag to clear the gun even after it's pushed. With that kind of release, you have to actually pull the magazine out of the frame of the gun.
A drop-free magazine will actually drop free of the gun when it's released, but nobody would actually do that unless they had the base of the magazine protected by a rubber bumper to soften the shock of landing on the ground. IPSC shooters use them on their magazines because they have to reload as fast as possible.
But airsoft shooters who pay $129 for their entire gun do not have the optional rubber bumper on the bottom of each magazine unless they buy them and install them! The fact that the gun they buy has a drop-free magazine design does not mean that they can drop the magazine on the ground. It just means that it follows the drop-free magazine design that the auto pistols have.
Getting the lead out!
How many stories have I heard about airgun repair stations that have removed dozens of pellets from an airgun barrel during a repair job? And AirForce told me they once got a rifle back with jammed pellets and burst firecrackers in the barrel!
Pellets are not croquet balls and airguns are not croquet mallets. You can't move one out of the barrel by smacking it with another one.
If you think it's bad for airguns, just try it with firearms sometime! Better yet — don't! Back when I was a lot younger and less patient, I was fast-firing a .45-caliber Generation II Colt Single Action Army when I had a squibb round. That's a round without powder where the primer alone drives the bullet up the barrel partway. Without thinking, I thumbed off the next round that did have powder, driving both the first and second bullets out the barrel. It also split the barrel along nearly the entire 7-1/2″ length, with a swelling at the point where the first bullet was stuck.


This is what happens when your trigger finger works faster than your mind. This Colt Gen II SAA barrel is split from the muzzle to the threads. The other bullet did come out, though.
I knew something had gone wrong because the gun recoiled about three times as hard as normal, and my shooting partner caught the ejector housing in his stomach. No real injuries other than pride and wallet, but it was a life lesson whose tuition has just been paid.
I could go on with stories of people who felt the need to refinish a collectible airgun and destroyed its value. Sometimes, it doesn't hurt — especially if the gun is painted like so many vintage Crosman guns were. But just don't buff off the blue of a Falke 90 and expect anyone to appreciate your work. Some things are better left as is, unless you are a most careful worker.
This was supposed to be a Friday blog, but my schedule changed at the last minute and bumped it to today. Please feel free to talk about it all weekend anyway.
by B.B. Pelletier
Simple enough question, no? Maybe you get confused by certain air-powered tools or perhaps a slang reference to a paint sprayer, but most folks know exactly what you mean when you say airgun.
Think so? Think again.
The term airgun isn't found in most dictionaries, yet. You'll find your spell-checker wants you to write it as two words, but that's not what today's blog is about. I really want to know if you know what's encompassed by the term airgun.
Some of you have already stopped reading to formulate an official-sounding definition that goes something like this: An airgun is any smoothbore or rifled gun that propels a projectile by means of compressed air. As you stand back to admire your work, it suddenly dawns on you that your definition doesn't encompass any of the guns that are powered by CO2. Don't you hate it when that happens?
Airguns, it turns out, can be a great many different things. Air is only one of their defining characteristics.
Carbon dioxide
Before we move on, however, let's deal with the CO2 issue. Clearly carbon dioxide isn't air. If you doubt that, try breathing it for 20 minutes, and then we'll talk. I've had arguments at length with airgun collectors who were stubbornly opposed to labeling CO2 guns as airguns. While that's a fun subject for two people to banter about as they watch the fireflies rise on a warm evening, it doesn't serve a person who is drafting state legislation regarding new hunting laws!
So, are CO2 guns airguns, or not? Well — let's see. They're sold by airgun dealers, they travel under the same restrictions as guns that do operate on air, they use the same ammunition and they perform similarly. And, heck, there are even a few amphibious models such as Benjamin's Discovery that operate on either compressed air or CO2. Wasn't it Robert Kennedy who observed that if something quacks like a duck it probably is a duck? So, yes, guns that use CO2 are also airguns.
Green gas/red gas
Wouldn't it be nice if it ended there? Well, it doesn't. There are other propellant gasses that power guns that must also be considered, now that the door has been opened for CO2. I'm talking about green gas and red gas. The airsoft industry hates to admit it publically, but green gas is actually propane. A tiny bit of silicone oil is added to the gas to lubricate the gun's parts as it functions, and they leave out the odor that's added to commercial propane to identify gas leaks (real propane doesn't smell like onions; it has no smell at all).
The same dealers who tell you green gas is special will even sell you adapters to fill your green gas guns from five-pound propane tanks, all the while backpeddling on admitting that green gas is propane! The Orient, where a lot of airsoft guns are made, is quite good at doublespeak!
Here's where it becomes interesting. Green gas develops a pressure of around 115 PSI at room temperature. That's plenty of push to propel a 3-grain plastic ball (they call them BBs) out the spout at a fairly good clip.
Red gas is more exotic. It has a higher vapor pressure than green gas, so the guns that use it require some modifications. If you read all the warnings, you'll get the idea that red gas is like nuclear fuel, but for one thing. Some airsoft guns also operate on CO2, which has a vapor pressure of 853 PSI at room temperature, which goes way beyond the pressure of red gas. To operate on CO2, airsoft guns have to be modified even more, and this is done by restricting the gas flow through special valving that has very small gas ports. There you are. Guns that run on green gas, red gas and CO2, none of which is air — yet they fall into the airgun category because there's no other category for them.
Airsoft guns do receive special legislation of their own because many are built to simulate firearms (called "real guns" by some folks), and they're used in force-on-force skirmishes, with people shooting at each other. There are legal issues concerning brandishing in public and special markings on the guns that are not as applicable to the kind of pellet guns I generally write about. But airsoft guns are sold by the same dealers and often made by the same companies who make conventional airguns. Again, they quack like ducks.
Catapult guns
We're not finished with the non-air powerplants, yet, Sparky. There are still catapult guns to consider.
Catapult guns propel their projectiles by means of a spring in the form of an elastic band or even a conventional coiled steel spring. If you think CO2 guns cause controversy among the anal airgun collectors, try raising this subject and see what happens!
The most common catapult guns are the Sharpshooter-series guns dating from 1923 and produced as toy novelties in the U.S. through at least the 1980s. These guns all shot .118 lead shot, which is more commonly known as No. 6 birdshot.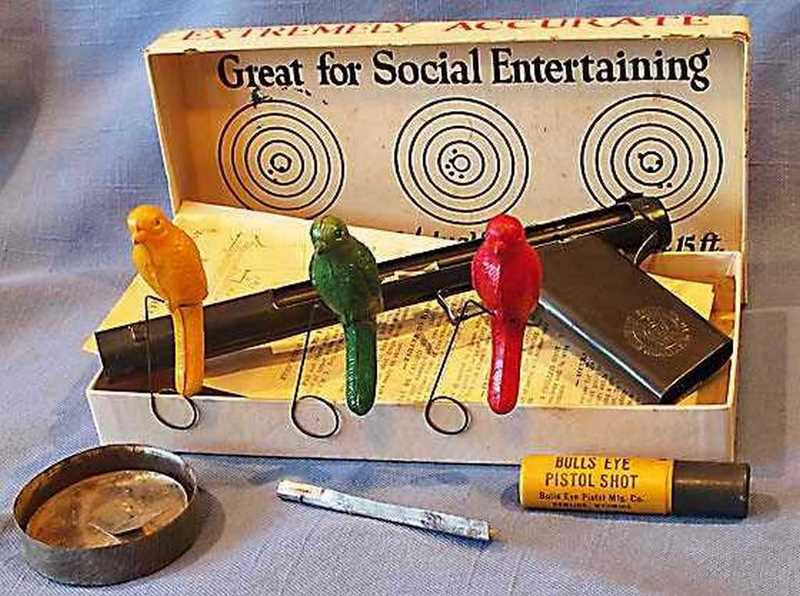 This Bulls Eye pistol was the first of many so-called Sharpshooter pistols powered by rubber bands. It fired No. 6 birdshot up to ~150 f.p.s. when multiple rubber bands were used.
In most airguns, the use of dropped shot (shotgun shot is made by either dropping it from a high tower so that it forms a ball as it solidifies or forced through small holes by centrifugal force) can be a problem, because of inconsistent size. The shot can easily get jammed in barrels when it's oversized, which is why we seldom see real BB-sized shot (shot size BB is nominally 0.180 inches in diameter) used in antique BB guns. It simply isn't regular enough. But catapult guns seldom use barrels. They usually place the shot to be fired in a shaped seat to hold it during acceleration, then release it cleanly at the end of the acceleration phase.
The Johnson Indoor Target Gun shot conventional steel BBs from a submachine gun-looking plastic frame. It used tubular elastic bands much like modern surgical tubing to launch a 5.1-grain BB at 100-150 f.p.s., depending on the strength of the bands.


The Johnson Indoor Target Gun sold for $15 in 1949. It shot steel BBs at 100-150 f.p.s.
But Daisy made a catapult gun that used steel springs. Their model 179 is a Spittin' Image replica of a Colt single-action revolver that I reported in this blog some time back. Instead of just flinging the BB with the force of the spring, the spring in the 179 pushed a paddle that actually hit the BB like a croquet mallet smacks a ball. Instead of just pushing the BB out the barrel (and this is one of the few catapult guns that really does have a smoothbore barrel), it was whacked out like a line drive off a baseball bat.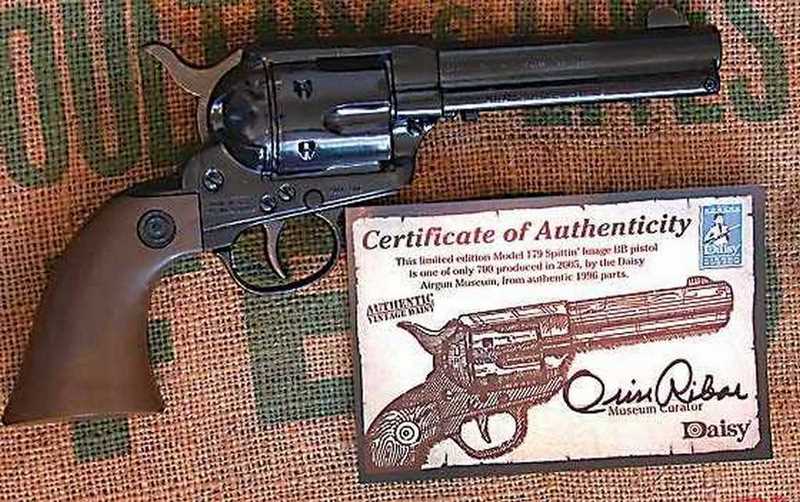 Daisy's 179 was an early Spittin' Image gun. Production began in 1960.
Rigid airgun collectors are really challenged by catapult guns, because of the Daisy connection. They don't want to include them in the body of legitimate airguns; but with Daisy being such a key player, they usually cave.
That sets them up for a huge disappointment when they suddenly learn that in the 1840s there was another catapult gun that launched lead balls of approximately .43 caliber with sufficient force to kill small game. The Hodges catapult gun is a long gun with no barrel but with all the Victorian styling expected of a naval weapon made in the 1840s. The thought among advanced collectors is that it was a foraging gun made for naval vessels. Except for the few parts that absolutely had to be made of iron for durability, the rest of the gun is fashioned from bronze and English walnut!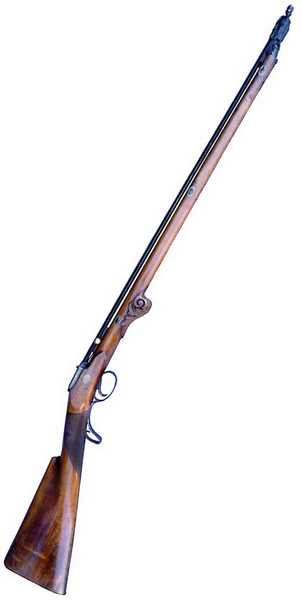 The Hodges catapult gun dates from the 1840s. It was a ship's foraging gun that made little sound, yet could take game of reasonable size without alerting hostile natives. The Roman soldier statues at the front are for anchoring the elastic bands.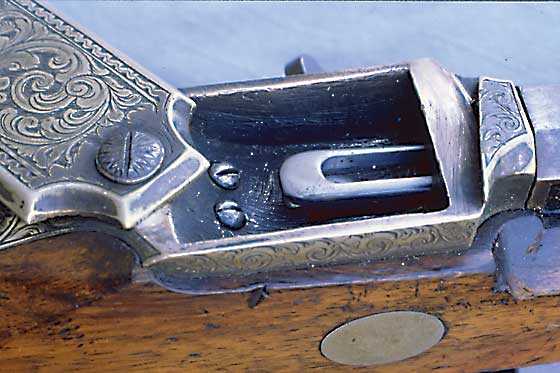 The Hodges ball carrier is pushed back until the sear hooks it. Then the elastic bands are stretched one at a time to increase power. This way, the shooter can build in a lot more power than he can possibly handle when cocking the gun.
The elastic bands were anchored at the forward end by two Roman soldiers cast in detailed bronze relief. I've seen two such guns — the one pictured here is in remarkable preservation and the other one has been restored to working order and shot by its owner, who reports velocities in the mid-400 f.p.s. range with 122-grain swaged lead balls.
Caps!
The next branch on the oddity tree deviates toward those guns that shoot BBs and shot by means of the power of an exploding toy cap. Wamo made a minimum of five different models, and new ones surface every couple years. The most recent I've discovered shoots potato plugs!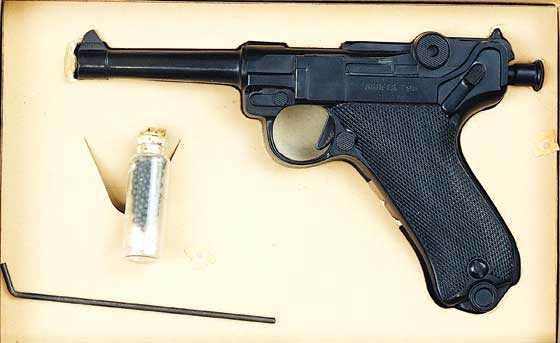 The Kruger '98 was a cap-firing gun that shot No. 6 birdshot. The same gun also shot BBs and was called just Kruger. Wamo (also spelled Wham-o) made them both.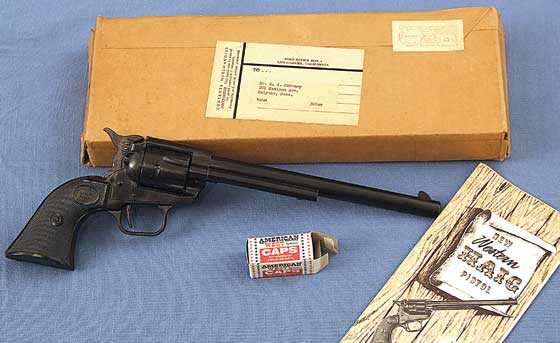 The Western Haig used toy caps to launch No. 6 shot. It sold for $2.98 in the 1960s. Sold by the founders of Wamo under a different company name and only from a P.O. Box.
If a toy cap can launch a BB, what's to prevent it from igniting a small charge of black powder? And who decides what's "a small charge"? There have been .22-caliber, .36-caliber and even .45-caliber rifles made by Rocky Mountain Arms Corporation in modern times that operate by means of exploding caps igniting black powder. If you go back 100 years, there were some made then, as well. They're clearly firearms when they use black powder, but what about those using caps only?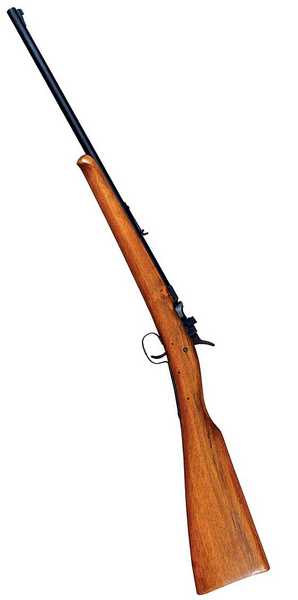 This .22 rifle from Rocky Mountain Arms Corporation uses toy caps to ignite black powder behind a .22-caliber lead ball. They also made this in .36 and .45 calibers!
As long as we're talking about caps, what prevents someone from using percussion caps and even primers to propel pellets and BBs? Apparently nothing, because it's been done. Are these all airguns, as well?
Not the end!
As you now can see, the question of what constitutes an airgun is far from clear. Once you accept any of these deviations, the rest will come streaming through the same loophole. For instance, is a gun that also launches an arrow then considered a bow? And if so, is it legal to use during bow season?
It is for reasons like this that Edith and I are sometimes so rigid and precise in our terminology — because you never know what's waiting in the wings.
by B.B. Pelletier
This report was prompted by reader Rikib, who asked the following:
"If you find the time could you provide info about AirSoft guns, their purposes, uses, ranges of fps. Why would I want one if I have a pellet gun? Just wondering what an AirSoft gun is useful for I guess, other than training children to shoot safely. Do I have a use for one, they are relatively inexpensive."
Well, I guess it's time to go through the origins of airsoft again. I've done this before, but it's been so many years and I don't even remember where it is anymore, so this is a good opportunity to bring us up to date.
Rikib — You think airsoft guns are inexpensive? Well, the few you have seen may be, but how would you feel about paying $3,000 for an airsoft copy of the BAR? Because they do exist. How about $1,000 for an airsoft M60 machine gun (a crew-served weapon on a bipod) and another thousand for the accessories? A good friend of mine owns one, and guys who spend tens of thousands on full-auto crew-served weapons flock to his side when he gets it out at a shoot. Airsoft guns can be very expensive, as well as the guns you see here at Pyramyd Air. Perhaps, if you know the history of airsoft, you'll understand what the guns are and why they exist.
A little history
Airsoft guns came into being in the Orient, where firearm and even pellet gun ownership is severely restricted. In fact, in several countries, a private individual cannot own a firearm of any kind. That doesn't change the fact that a Japanese man can be just as attracted to firearms as an American, a Brit or a German. So, there's always been a demand for firearms even though the possibilities of owning them in some countries are insurmountable.
Enter the airsoft gun. Back in the late 1970s, companies in the Orient started bringing several non-weapons to market to satisfy the itch many people have to hold and fondle firearms. So that these replica guns would do something, they were made to shoot 6mm balls at velocities low enough to be relatively safe. Hence, the term airsoft. In the beginning, it was copies of military ordnance, like that BAR and M60 I mentioned. As time passed, they began to develop other lower-cost models of civilian guns that would have a wider appeal.
As the 1980s dawned, the American company, Daisy, began importing several inexpensive models of airsoft guns into this country to sell to their customers. They changed the name to soft air, a misnomer that Crosman also copied when they entered the airsoft market. The realistic-looking guns frightened U.S. lawmakers. The best airsoft guns were nothing but genuine firearms whose internal mechanisms had been adapted to shoot 6mm round balls the Asians called BBs. They also called them bullets, and they often called them BB bullets.
The U.S. government was about to ban the importation and sale of airsoft guns for the U.S. when a California lawyer came up with a way of marking the guns to make them distinguishable from firearms. Their muzzles would either be colored a specific shade of blaze orange, or they would have transparent bodies that showed the internal parts. After several years of discussion, laws were framed and airsoft sales continued in the United States in the early 1990s by the thinnest of margins.
Back in the late 1970s, companies in the Orient started bringing several non-weapons to market to satisfy the itch many people have to hold and fondle firearms.
But it's in Asia where the real innovation on the guns continued and flourished. The guns they built originally to satisfy gun collectors and enthusiasts were now being used in mock battles. Because the guns are much less powerful than even paintball markers, they gained popularity rapidly. They don't hurt as much when they hit, and less protective gear can be worn.
The directions of airsoft
However, it's at this point where the world of airsoft splits cleanly once more. Part of it remains with the collecting side, while the other part, the far larger part, goes toward gaming or mock battles. It's the gamer or skirmisher who has driven the accuracy and shootability of the guns to where it is today. And, even that push has undergone another split in recent years, with skirmishers going in one direction, which is by far the largest group, and a very small and select group heading in the practical pistol shooting direction. The latter are the guys who pursue the sport of IPSC — with timers, timed silhouette targets and courses of fire that resemble the ones that the firearms crowd engage. While this is a very small group, they spend more money per capita on their guns than any other group of airsoft enthusiasts, other than collectors. It's not unusual for these shooters to purchase a gun for $200 and spend another $1,000 on it to get it into full race-gun trim. Their guns can shoot groups well under one inch at 30 feet and are completely semiautomatic and entirely reliable.
They're fun to watch, as they do everything a firearm IPSC competitor does except endure the noise and recoil of the gun. Their guns are lightning-fast, super-slick and always on the money when they're adjusted properly.
Gaming
Without a doubt, for the past 10 years, it's been the gaming end of airsoft that's grown and thrived the most. And, it's this aspect that the casual public is most aware of. Using the same "Capture the Flag" scenario that paintball has embraced, teams of skirmishers armed with airsoft guns are maneuvering around on simulated battlefields trying to out-maneuver each other and accomplish their military goals. The guns they use are becoming increasingly more capable of supporting such operations. For example, a sniper "rifle" of today can be adjusted to land most of its shots inside a 12-inch circle at 50 yards, making it feasible to actually perform valid sniping roles on the battlefield.
Battle rifles, which are often based on the U.S. M16 and M4 variants, can be modified with steel gearboxes and other special performance parts to enable them to sustain operations under very realistic conditions for a long time. These guns are almost at the point where they can take the same rugged field conditions as genuine firearms. Indeed, there are a few select airsoft guns that are sold only to the military and are every bit as rugged and reliable as the firearms they copy. The larger commercial world of airsoft is rapidly approaching the same level of reliability and ruggedness.
At the high end of the gaming group, there are trademarked training simulations that travel all over the world and charge hundreds of dollars for the chance to be led and trained by battle-tested veterans with impressive military credentials. Airsoft teams are buying radios for their helmets, so their squads can have operational nets in the field, and even genuine military vehicles like 2.5-ton trucks to transport the squads to the training area. An individual might have to spend several thousand dollars to outfit himself for this kind of activity.
Law enforcement
Police departments are even using airsoft to replace Simunitions as a means of saving vast amounts of training funds, as well as reducing damage and injury in training by an order of magnitude. And, this interest is only in its infancy. As the equipment becomes more robust, the move to use it will increase because of the enormous savings it presents.
Without a doubt, for the past 10 years, it's been the gaming end of airsoft that's grown and thrived the most.
But what about the regular folks?
So that, Rikib, is a thumbnail overview of airsoft and where it is today. Now, to answer your specific question about how you can use it, I'm going to assume that you do not contemplate spending several thousand dollars on guns and equipment, nor are you looking to own a hard-to-acquire gun like a BAR, which would cost $30,000 as a firearm but only one-tenth that much as an airsoft replica gun.
Like most of our readers, you want to know if there's something that is both cheap and fun to use. The answer is yes. For less than $25, you can buy a 1911A1 pistol that's a repeater and has enough accuracy to hit a motel soap bar every time at 30 feet. If you can live with that level of enjoyment, then, yes, airsoft is for you. That kind of gun is the very cheapest reliable gun on the market. Look at the Tanfoglio Witness as one such gun.
The first thing you'll notice when you fire this pistol is how far the airsoft BB flies without appearing to drop. As you shoot the gun, the ability to see the BB in flight helps you make sight corrections until you cannot miss any reasonable target within range. This type of gun uses the lightest airsoft BBs, weighing just 0.12 grams. They travel under 300 f.p.s. and are the best way to get to know airsoft, in my opinion.
The next step up would be a gun powered by gas. Green gas is the easiest to use, and will give you true semiautomatic operation as well as stunning accuracy. For about $90, look at the TSD M190 pistol, which is a Beretta 92FS. I've owned and used one for the past 5 years and it's still running fine. Accuracy with 0.20-gram BBs is on the order of 1.5 inches at 30 feet, with a velocity of 330 f.p.s. on green gas. And, this gun has full blowback and a single-action trigger!
If long guns are your style, consider one of the very affordable sniper "rifles" (all airsoft guns are smoothbores), like the UTG Master Sniper that I tested for Shotgun News. I was able to keep over 90 percent of my shots on a silhouette target at 50 yards using 0.24-gram BBs with this authentic weapon. This gun comes out of the box shooting 460 f.p.s.; and, with a few aftermarket tweaks, it can easily top 500! That's a lot of performance for only $105.
I've purposely avoided talking about the higher-priced guns, because I don't think they're the right place to enter the world of airsoft. You now understand that Pyramyd Air is selling the low- to mid-range airsoft guns. They do not stock the high-end or ultra-collectible guns because the market for them is too small and unpredictable. To get your feet wet, there isn't a better place to begin than here. I would start with one of the lowest-priced pistols and advance only when I found the sport too compelling to ignore.
I used to write a lot more about airsoft. But, because Pyramyd Air has the No. 1 rated airsoft blog, I no longer have to. So, my advice — if you're interested in pursing this further — is to check out the Pyramyd Airsoft Blog.