by Tom Gaylord, a.k.a. B.B. Pelletier
Today is a special test of the C96, requested by blog reader RidgeRunner and seconded by several others. You want to see if the pistol will be more accurate with Daisy's Avanti Precision Ground Shot, which is made expressly for the Avanti Champion 499 BB gun. More accurate than what? More accurate than the best BB tested in Part 3, which turned out to be the Daisy Premium Grade zinc-plated BBs that shot the tightest groups with this pistol?
Velocity first
We know that the Daisy Premium Grade BB averaged 395 f.p.s. with a total velocity spread of 18 f.p.s. (from 386 f.p.s. to 404 f.p.s.). RidgeRunner suspected the Precision Ground Shot would be faster in this pistol because it's usually slightly larger and also more uniform. So, I first shot it over the chronograph.
Avanti Precision Ground Shot averaged 381 f.p.s. on a fresh CO2 cartridge. The velocity spread was 19 f.p.s., with a low of 371 f.p.s and a high of 390 f.p.s. The spread was 1 f.p.s. larger with this shot than with the Daisy Premium Grade BBs, and the average velocity was 14 f.p.s. slower. So, that part of the theory didn't test out.
On to the accuracy test
I offered to do a blind test, but RidgeRunner trusted me to try my hardest with each BB: and that's good because there's a definite difference in appearance between the Premium Grade BBs and the Precision Ground Shot. The latter are not as shiny and appear more silver than steel in color than the Premium Grade BBs. I would have known which BB I was shooting.
The distance was the same 5 meters that was used for the first test, and I used the back of a chair to steady my hands as I held the pistol, just like I did before. This resulted in a very stable hold for every shot.
Daisy Premium Grade BBs
I shot 2 groups of 10 with each BB. The first group of Daisy Premium Grade BBs measured 1.115 inches between centers. Two BBs landed outside the black bull. The second group measured 0.644 inches between centers. That's almost half the size of the first group, so you can see how much latittude there is with BBs — even at 5 meters.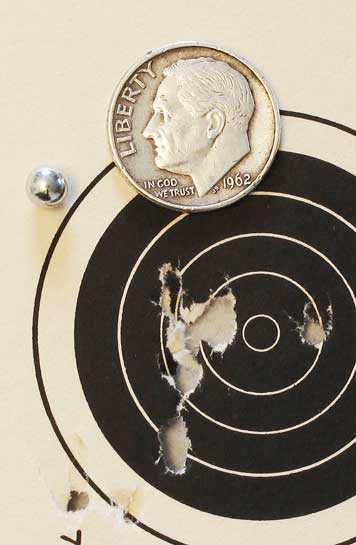 Ten Daisy Premium Grade BBs went into this 1.115-inch group at 5 meters.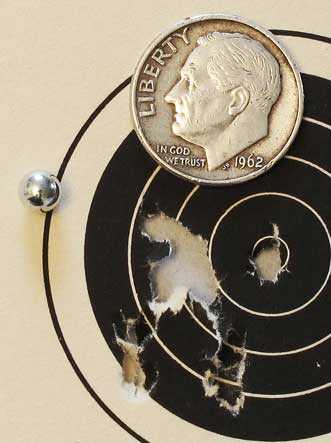 These 10 Daisy Premium Grade BBs went into a tight 0.644-inch group at 5 meters. This is the second-best group in this series.
Avanti Precision Ground Shot
Now, it's time to test the Avanti Precision Ground Shot. This shot is ground to work best in the 499 BB gun, only. But you readers wondered if it would also be more accurate in the C96 BB pistol. To test that theory, I shot another 2 groups of 10 shots each at the same 5 meters. The first group measured 0.954 inches between centers. One BB was outside the black, and 2 more were right on the edge.
The second group I shot with this ammunition measured 0.556 inches between centers. It's the smallest group of this session and would seem to lend credence to the Precision Ground Shot being more accurate than the Daisy Premium Grade BBs. However, the difference in group sizes of the 2 different BBs is not so great as to be overwhelming. Yes, both groups with Precision Ground Shot are tighter than the corresponding 2 groups made with the Daisy Premium Grade BBs, but the differences are not large. I don't think they justify shooting the Precision Ground Shot in the pistol since they cost roughly 2.5 times more.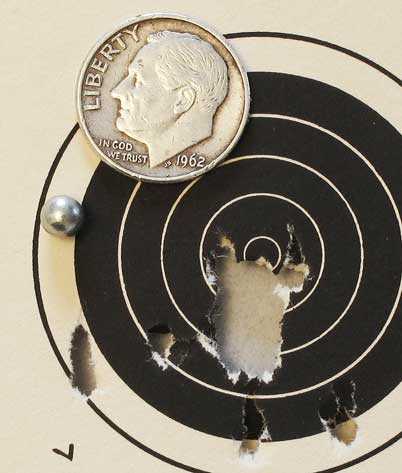 These 10 Daisy Avanti Precision Ground Shot went into a 0.954-inch group at 5 meters.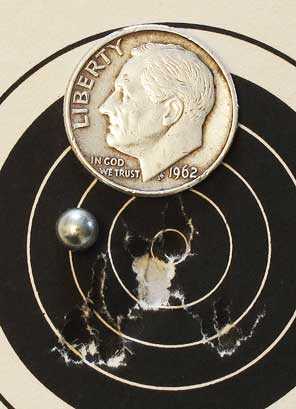 These 10 Avanti Precision Ground Shot went into an ultra-tight 0.556-inch group at 5 meters. This is the best group in this series.
Conclusions
The Avanti shot went slower than the Daisy Premium Grade BBs and also varied more. However, the difference wasn't much in either category.
The Avanti shot also appears to be slightly more accurate than the Daisy Premium Grade BBs. Again, the difference is very small, but it is there.
I'm surprised by these results. I predicted the Avanti shot would be faster because of its slightly larger size, but that it wouldn't be any more accurate. So, I was wrong on both counts. I don't think the difference between the two types of ammunition weighs in favor of using the Avanti shot in this gun, but it's really a call the owner of the gun needs to make.
My thanks to RidgeRunner and others who asked for this test.
by Tom Gaylord, a.k.a. B.B. Pelletier
Today, we'll look at the accuracy of the Legends C96 CO2 BB pistol, and I can sum it up in a single word: Spectacular! Those who like accurate BB pistols will want to put this one on their list.
I shoot all BB guns at 5 meters, which is about 16 feet, 5 inches. While that sounds incredibly close, it is the distance at which the Daisy National BB Gun Championship is shot; and if it's good enough for the champions, it's good enough for me. Besides, testing all BB guns at the same distance gives consistent results that can be compared across many tests.
I shot this test with my forearms rested on the back of a wooden chair, and the gun held in 2 hands. That eliminated as much of me as possible, giving the pistol a fair chance to shoot its best.
I used 50-foot smallbore rifle targets whose black bulls are almost 1.5 inches across. At 5 meters, they make perfect aim points for open sights. The C96 has a tapered post front sight and a V-notch in the rear. When the target is illuminated with 500 watts of halogen light, the sight picture becomes sharp and crisp, and sighting can be precise.
Daisy Premium Grade BBs
The first target was shot with Daisy Premium Grade zinc-plated BBs. The very first shot hit at the extreme bottom of the paper target, and I discovered one of the great features of this pistol. It has a tangent rear sight like the firearm it copies, and it was easy to raise the rear notch up just a bit. By sheer luck I got the elevation almost perfect on the first try, so I left the sights alone after that.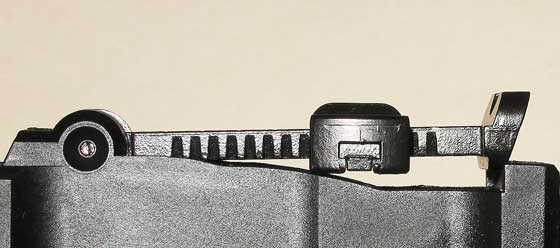 The rear ramp is easy to elevate, just like on the firearm. You can see the sloped surface the sight adjuster rides up as it moves forward.
The next 9 BBs went into a shockingly small group, so I loaded one more BB into the magazine to make up for the first shot that was low. When I fired it, it was the only Daisy BB to hit outside the black after the sight adjustment. The 10-shot group measures 0.852 inches between centers. I think you'll agree this is a very nice group of 10 from any BB pistol!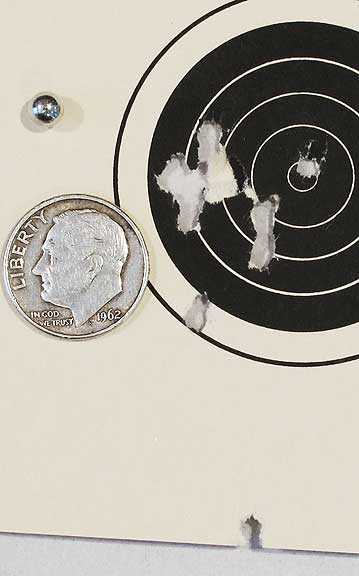 Ten Daisy Premium-Grade BBs made this 0.852-inch group at 5 meters. Notice the first BB that landed very low.
Crosman Copperhead
Next up were Crosman Copperhead BBs. They hit the target in the same place as the Daisys, and the 10-shot group measures 0.937 inches, which isn't much different than what the Daisy BBs did.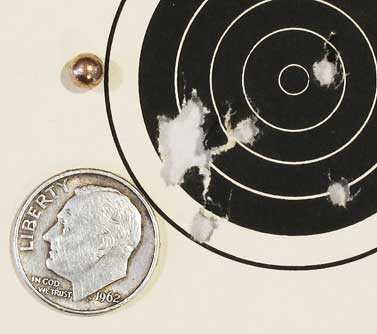 Ten Crosman Copperhead BBs made this 0.937-inch group at 5 meters. As with the Daisys, one BB is outside the black bull.
Umarex Precision Steel BBs
Finally, I tried the Umarex Precision steel BBs. They rival the Daisys in precision and this time that was evident. Ten of them went into 0.863 inches, with nine of them in a much tighter bunch. Like the other 2 BBs, these also threw a single BB into the white.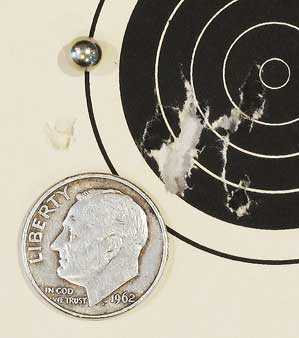 Ten Umarex Precision Steel BBs made this 0.863-inch group at 5 meters. It's only slightly larger than the Daisy group.
Sight adjustment
Like the Mauser firearm it copies, this BB pistol has no provision for windage adjustments. Both the Mauser firearms I owned shot about a foot to the left at 25 yards, so I'm used to this. Some older pistols have sights that can at least be drifted to the side in dovetails, but not the Mauser. With this gun, you soon learn to apply Kentucky windage to lay your shots where you want them.
But let's face it, this isn't a realistic test for a BB pistol. BB gun shooters plink at cans. They don't shoot groups at paper targets — at least not often. This pistol is easily a minute-of-Coke-can handgun out to 20 yards.
Firing behavior
I found 2 things about the trigger pull when conducting this test. The first is that the trigger blade is located too close to the grip. That's a part of the lack of ergonomics that the Broomhandle family of pistols all share, and there's nothing to be done for it. This BB pistol is a faithful copy of the firearm, including a less-than-optimum grip.
The second thing I noticed was how hard the 2-stage trigger seemed to pull. Looking back at Part 2, I see that I did not measure the pull, so I got out the electronic gauge and measured it this time. Stage 1 requires between 2 and 3 lbs. to complete, and stage 2 breaks at an average of 7 lbs., 11 ozs. The range went from 7 lbs., 1 oz. to 8 lbs., 3 oz.; and the slower and more deliberate the pull, the greater the force required.
Even with that, though, the pistol is blisteringly accurate. And the blowback is pleasant. It's nothing like the snapping recoil of a 7.63mm Mauser cartridge. So, there's a benefit of shooting the BB gun over the firearm.
Overall evaluation
Umarex has a winner, here. Their Legends airguns are all remarkable guns, and the C96 takes its place among them proudly. Not only is it realistic-looking, it gets an astounding number of shots per CO2 cartridge; and, as we now see, those shots all go to the same place.
Let's look at the velocity of the Legends C96 CO2 BB pistol. It's advertised at 380 f.p.s., and we know that it has blowback. So, it'll be interesting to see just how powerful this pistol really is, as well as how many shots it gets.
Crosman Copperhead
The first BB I tested was the Crosman Copperhead. They were tested when the CO2 cartridge was fresh, which boosted their average velocity a few f.p.s. They averaged 402 f.p.s, with a spread from 392 to a high of 409 f.p.s. At the average velocity, Copperheads generated 1.83 foot-pounds of muzzle energy.
I found the magazine very easy to load. Pull the follower all the way down and twist the tab into a slot to lock it back, then the BBs are dropped into a trough where an opening dumps them into the single stack slot in the mag. Release the follower, and the gun is loaded. I found the rated capacity of 19 BBs to be spot-on.
Daisy Premium Grade zinc-plated BBs
Next up were Daisy Premium Grade zinc-plated BBs. I though they might be a little faster than the Copperheads, but they weren't. They averaged 395 f.p.s., with a low of 386 and a high of 404 f.p.s. At the average velocity they produced 1.77 foot-pounds of muzzle energy.
All the time I was chronographing the gun I was also counting all the shots. I noticed that when you load a new magazine, the first shot will always be a blank. That's because of how the gun's feed mechanism works. I did count those shots in the total because they used up gas the same as if a BB had been shot.
Umarex Precision steel BBs
The final BBs I tested were the Umarex Precision steel BBs. They averaged 394 f.p.s. with a low of 385 and a high of 404 f.p.s. That parallels the Daisy BBs pretty close. At the average velocity, these BBs produce 1.76 foot-pounds of energy at the muzzle.
During the chronographing session, I was waiting a minimum of 10-15 seconds between shots to allow the gun to recover from the cooling effects of the gas. But after the 3 test strings were finished, I continued shooting Umarex steel BBs to see how many good shots there are on one CO2 cartridge. I went much faster during this shooting, with less than a second between each shot. I think this is closer to the way most shooters will use the gun.
I kept expecting the pistol to run out of gas at any time, and it kept right on shooting and surprising me. Finally, at shot 103, I chronographed an Umarex BB going out at 336 f.p.s. While that is slower than the recorded average, you have to take into account the fact that I was now firing the pistol very fast and allowing it no time to warm up. So, an unexpected finding was that this pistol doesn't suffer as much from the cooling of the gas as most CO2 guns. There normally would be at least a 100 f.p.s. velocity drop when shooting this fast.
Shot count
Finally, after shot 123, the hammer didn't cock for the first time. I cocked it manually and kept on shooting, but it failed to cock again after a few more shots. The gun was now out of gas. Had I wanted to get more shots from it, all I needed to do was slow down my shooting to allow more time for the gun to warm up. I think the shot count could easily be stretched out to 140-150 shots that way.
So, the pistol shoots a little faster than advertised, and it gets a very respectable number of shots from a CO2 cartridge. That's 2 big plusses for the gun.
Next on the schedule is accuracy testing. I'm looking forward to that! I have to tell you that this C96 is a very neat CO2 BB pistol. Of course, it isn't ergonomic, but neither is the C96 firearm it copies. It's not supposed to fit you well — it's supposed to look like the real deal, and I think it does that very well.
by Tom Gaylord, a.k.a. B.B. Pelletier
Mea Culpa!
You know, Babe Ruth was the home run king of his era. But he was also the strikeout king. Sometimes when you swing for the fence, you get fanned by the pitcher. I've done that a couple of times in recent reports.
The AirForce Escape SS has a 12-inch barrel. I said it was an 18-inch barrel, but several of you clever guys spotted why that could not be. And, while I was starting to redden from embarrassment in the AirForce booth, John McCaslin also took the opportunity to inform me that what I wrote about the Escape valve is also incorrect. It isn't different than the TalonP valve — it is identical. So, gather a crowd and paint me red…I goofed!
The Escape has a 24-inch barrel, the Escape Ultra Light has an 18-inch barrel and the Escape SS has a 12-inch barrel. All 3 rifles come in either .22 or .25 calibers and no others.
The $100 PCP
I'm happy to report that Crosman is taking the $100 PCP project seriously. They will look into the possibility of making such an air rifle, but that doesn't mean they have made any decisions to proceed. A lot of things must be taken into consideration beyond the fact that it might be possible. Don't any of you start a clock on this! I'll continue to test the rifle I have, and we'll leave it at that.
Mike Mellick (Mike in Iowa) did come to Las Vegas, and we had a meeting. He showed me 2 examples of the rifles he's currently selling, and we talked about my testing one for a feature article in Shotgun News. I plan to present the entire $100 PCP project in that article, which I think will be in the July 2014 color issue.
Okay. On to the new stuff.
Leapers
Leapers is going to introduce an upgraded line of optics later this year that they'll call the T8 line. They're trying to offer optics as clear and sharp as those currently being sold for tactical use by Law Enforcement. They want to give $2000 worth of value for something in the $200 price range.
The first scope will be a 1-8X that fits the tactical scenario very well. If you're in the CQB team, you run your scope on 1X and have a wide field of view and rapid acquisition. If you're in the overwatch team, you're running 3-4X and cover the door-breakers. The snipers sit on the high ground at 8X, watching everything.
I looked through a prototype scope, and it was clear as a bell, but the development is not quite finished. After it's announced later this year, they'll move ahead on a 2-16X scope to compliment the first one.

Leapers T8 scope line will offer upgraded optics.
I saw many products at Leapers this year, but the one that surprised me the most was the little peep sight they developed for a number of firearms. It's so small, yet it adjusts in both directions. I asked if it could be made for airguns because then people wouldn't have to root out the sides of their wood stocks to make room for the elevation slide — not that I've ever done that!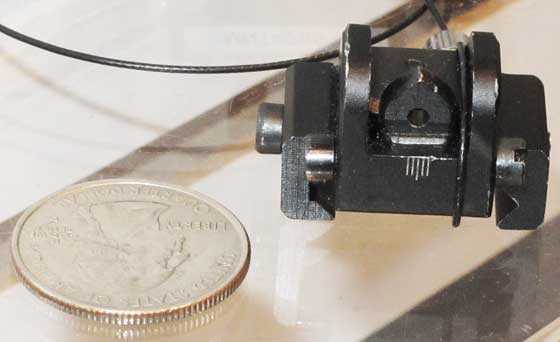 This peep sight is made to fit Weaver bases, but imagine what you could do with this on an airgun!
Air Arms
I saw the new field target rifle being offered by Air Arms. The FTP 900 is a purpose-built target rifle suited to knocking down those pesky steel targets. Short for Field Target Professional, the FTP replaces the EV2, their longtime field target competition rifle. It's loaded with features. But to sum it up, this rifle is adjustable! It's completely ergonomic, so it can be adjusted to fit the shooter like a glove. If $2,500 seems a lot to pay for an air rifle — just try winning the World's with something less!


Air Arms FTP 900 is the newest field target rifle in the Air Arms line.
KalibrGun
From the Czech Republic came the KalibrGun company with a range of precharged pneumatics. According to their spokeswoman, the specs are fluid, but they did show a bullpup called the Colibri, assumedly after the world's smallest (2.7mm) firearm. It's a tiny thing they'll offer in .177, .22 and .25…but they were somewhat vague on the velocities as apparently some things are still in flux. Besides being a bullpup, it's also semiautomatic! Unfortunately, it takes a 300 bar (4,350 psi) fill according to their literature (the sales rep told us that 250 bar is recommended), so I don't know what the U.S. reception will be.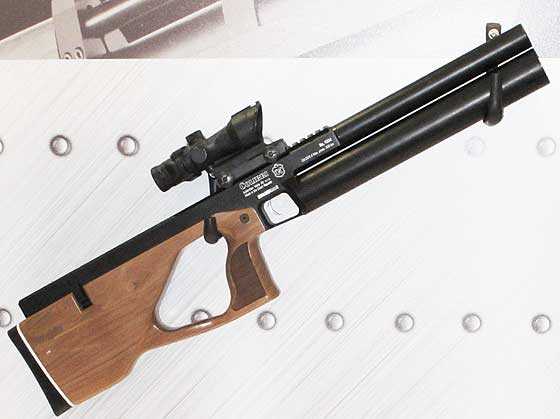 The KalibrGun Colibri is a semiautomatic bullpup.
BSA & Gamo
BSA is located in the Gamo booth, and they keep secrets about their products better than the National Security Agency! I did photograph the BSA Buccaneer SE for you. It appears to be a precharged carbine and I'm sure that someone in the world knows something about it, but they weren't in the booth at this show either time I visited. Perhaps the intelligence community will discover something about this airgun at some time this year. If they do and I learn of it, I'll be happy to share it with you.
Years ago, when BSA was a UK company, the airguns they made were well-designed and had remarkably accurate barrels. Let's hope some of that tradition has carried over to the newest crop of guns!


The BSA Buccaneer SE is a pretty little PCP carbine. It looks like it can shoot!
As far as the Gamo guns go, I couldn't make out what was new and what wasn't. A lot of them were on display, but the confusing plethora of names lead me to abandon the quest. When Pyramyd Air gets some in this year, I'll test some of them for you.
Crosman
Crosman got a healthy exposure in the first report due to the Nitro Piston 2. But I didn't get the full tour until the third day of the show. Let's start with the AK BB gun that everybody was talking about before the show. It's called the Comrade AK and is a semiautomatic BB gun that gets 150 shots per 12-gram CO2 cartridge. Yes, that was the number I was given for a 400+ f.p.s. BB gun!

The Comrade AK BB gun is semiautomatic and gets 150 shots per CO2 cartridge, according to Crosman.
I was also shown the new 760 that has been redesigned for greater velocity and easier pumping effort. They lengthened the pump handle to lighten the load and strengthened the pump rod and pump cup to make the mechanism more efficient.
There are also a couple airsoft guns I'm really excited about. One is an automatic electric pistol that fires both semi- and full-auto. There aren't many full-auto handguns in the world, so I'll let you decide which one this looks like. I hope to test one for you soon.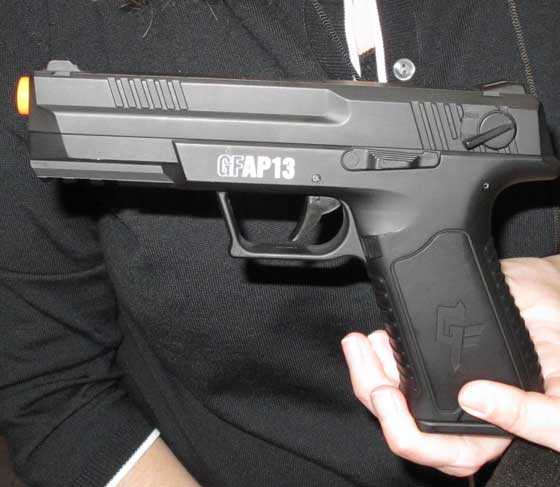 The GFAP13 BB gun is semiautomatic and gets 140 shots per CO2 cartridge, according to Crosman.
There's also a Chicago Typewriter (Tommy Gun) that's a fun AEG. It has an 800-round BB drum that winds on the outside — just like the real thing! I want to test one of these as well.
Finally, I saw a very neat looking CenterPoint dot sight that has a laser built in. So, it's both a dot sight and a laser sight! I don't think I've tested one of those before! This one is a high-quality holographic unit.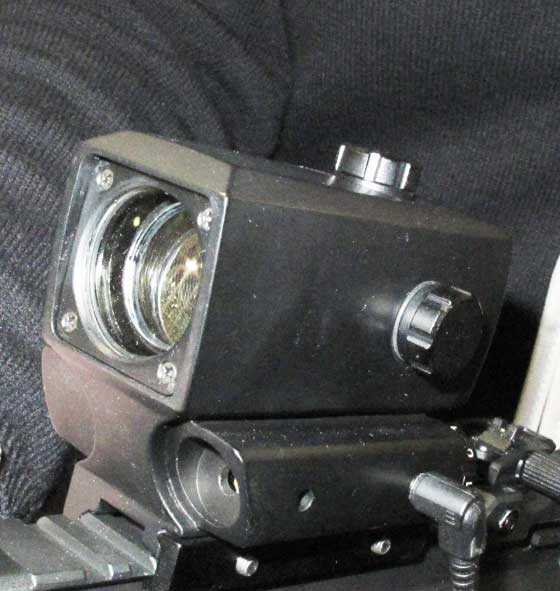 CenterPoint dot sight features both red and green dots, as well as a red laser!
Well, this is the last day of the 2014 SHOT Show. If I see anything new today, I'll stick in one of the reports next week.
by Tom Gaylord, a.k.a. B.B. Pelletier
Here's our second look at what's new in airguns for 2014. Last February, while I was having dinner with Hans Wonish of Umarex, he told me about the upcoming Broomhandle Mauser I'm now testing. After we discussed that for a bit, Herr Wonish asked me if there were any other handgun models that I though might be well-received by airgunners. Several crossed my mind, but the one that really stuck out was the Colt Python! This year, I saw that revolver in the Umarex booth!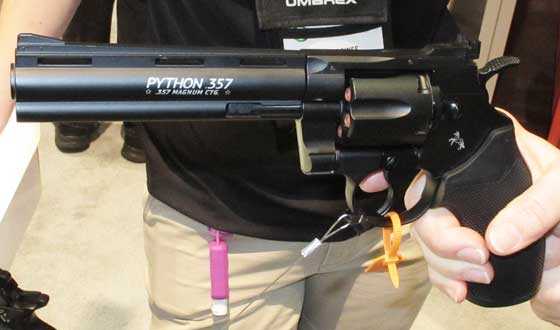 BB gun shooters are going to love the new Colt Python .357 from Umarex. It uses real shells to hold the BBs!
Another new rifle from Umarex is going to have a lot of hunters excited because it offers something they've been requesting for a long time. The new Umarex Fuel breakbarrel spring rifle (with Reaxis gas piston and SilenceAir technology) has a bipod built right into the stock! That's right — there's nothing more to buy. Just pull the legs apart and rotate them down to make a solid field stand. Or flip them back up, and they're just part of the stock.


Built-in bipod makes the Fuel spring rifle stand out — and up!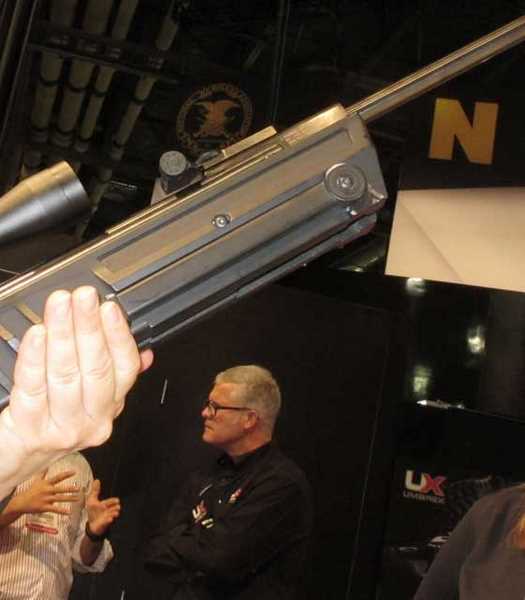 When not needed, the Fuel's bipod folds neatly back into the stock.
Edith and I went snooping over in the German pavilion. In the Diana booth we saw a gun that hasn't been seen in the U.S. yet. It's the 340 N-TEC Premium, a breakbarrel Diana with a nice silencer on the muzzle and a beautiful walnut stock with deep checkering. That's all pretty usual fare for Diana, except this rifle has something new. A gas spring that's 100 percent German made!


The Diana 340 N-TEC Premium is German's first rifle to have a German-built gas spring.
We're fortunate to have Herr Michael Mayer (of Mayer and Grammelspacher — the owners of Diana) show the gun to us. He was justifiably proud of the craftsmanship of this beautiful rifle and told us we may start seeing them in the U.S. by June of this year.
AirForce Escape nets big sales on first day!
Remember the Escape rifles I showed you 2 days ago? Well, AirForce sold their entire first 3 months of production on the first day of the show! The reception was overwhelming for this rifle; and like I predicted, people who aren't traditional airgunners were buying them, too!
Remington gets back into airguns
They haven't made airguns since 1929, but Remington Arms is revitalizing their airgun selection in 2014. Leading the effort is Dani Navickas, the lady who served many of us at the old Beeman organization for so many years. She has spent a lot of time teaching the Remington staff about the airgun market, and it looks like it will pay off this year.
The first offerings are guns made in China, but don't make a face. When I saw them, I was shocked. The quality looks as good as anything that comes from Europe these days. Each model is patterned after a popular Remington firearm, and the guns should be available to the U.S. market by early summer.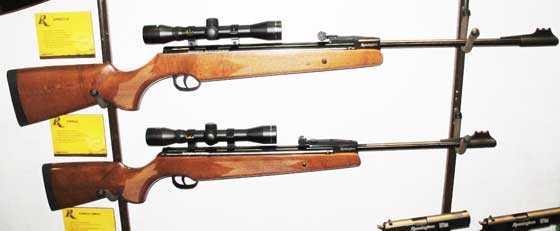 The Remington Express and Express Compact are 2 new air rifles from Remington. They say I can test an Express very soon!
Reminton also has a neat 1911A1 BB pistol. It has blowback and can fully disassemble like the firearm. I'll test that one as soon as possible!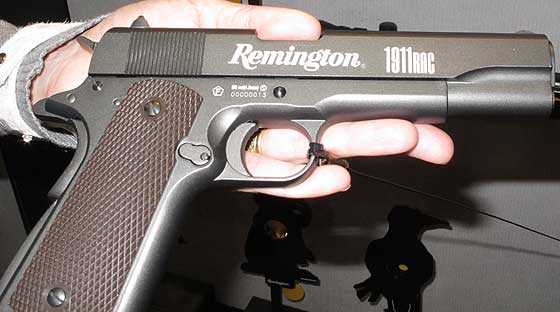 New Remington BB pistol has blowback and offers full disassembly. The grip safety really works!
Another new product from Remington are some great field targets with features I haven't seen before. They offer killzone reducers that are permanently attached and just flip in and out of position! And some of them are resettable with a second shot — ending the need for long cords that can tangle and break.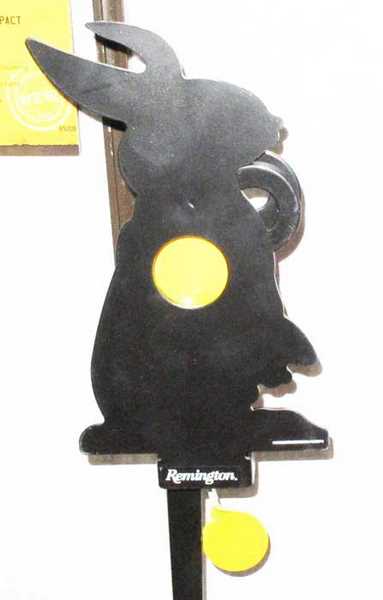 Killzone reducers simply flip in and out of place! And reset the target with a hit on the bottom paddle!
With Dani at the helm, we can count on Remington to enter the airgun world in the right way. I hope they realize how fortunate they were to get her to lead their efforts!
by Tom Gaylord, a.k.a. B.B. Pelletier

The PCP built on a Crosman 2100B chassis.
Today is Media Day at the range, and I will be shooting many of the new airguns that will be coming out this year, plus a lot of firearms — I hope. Tomorrow the 2014 SHOT Show starts, and there's a special first-day report all set for you.
Let's look at the performance of the $100 PCP that big bore airgun maker Dennis Quackenbush created on a Crosman 2100B chassis. I read some comments about the gun in Part 1. Before we get started, I need to address one of them. Some of you say you want a PCP that operates on 100 psi, so you can run it on your shop compressor. Gentlemen — such an airgun doesn't exist and cannot exist as you envision it. That is simply not enough pressure to push a pellet to the kind of velocities we want. You can shoot t-shirts into the grandstands with that kind of pressure or perhaps run a pneumatic tube delivery system, but not a pellet gun.
I know that the airguns of old used lower pressure than we use today. They got amazing power from 500 to 800 psi. But they weren't shooting smallbore caliber pellets. They were shooting .40 to .70 caliber round lead balls and they got them up to 450-600 f.p.s. They did that because the area of the projectile is much larger than a .177 pellet, and also because they used very long barrels (30-36 inches).
You can shoot tennis balls with shop air, but not pellets. I did report on a .25-caliber pellet rifle that worked with 800 psi air, but that's a lot different than 125 psi air. You can't pressurize air to 800 psi with a shop compressor. So, we're going to have to confine our research to what is physically possible. I'm not trying to shut you down for thinking outside the box, but this is a very real physical constraint.
On with the test
Today, we're looking at the velocity of this rifle with air for both pellets and BBs. Pellets are our principal concern, but I'll test BBs, as well, since they can be used in this airgun.
Dennis told me what the performance curve looked like, but I'm going to approach this as if I know nothing about this gun. Where do I begin? Well, I may not know much about this particular PCP, but I've used enough other PCPs that I'm not completely in the dark. I filled the reservoir to 800 psi, as indicated on the gauge of my carbon fiber tank and then started loading Crosman Premier lite pellets and firing through the chronograph.
800 psi
1…..539
2…..509
3…..474
4…..441
5…..409
5…..361
Stop
Okay, the velocity dropped with every shot, so the valve is not on the power curve, yet. It wants to see more air pressure.
1,000 psi
1…..654
2…..634
3…..582
4…..556
5…..525
7…..483
8…..453
9…..417
10…384
11…345
Stop
Look at the velocity increase from just an additional 200 psi of pressure! That's an indication that we're quite far from the power curve. It took 5 shots before the rifle was shooting as slow as in the first string, so that extra 200 psi really added shots.
A word about the next part of the test is appropriate. The gauge on my tank doesn't show even divisions of pressure as closely as I would like. Instead of adding another 200 psi, I found myself guessing that I added another 300 psi. If I had a more accurate gauge, I could do this with greater control; but it's all going to turn out in the end. You'll see.
1,300 psi
1…..722
2…..695
3…..659
4…..did not record (DNR)
5…..593
6…..550
7…..516
8…..488
9…..DNR
10…423
11…DNR
12…DNR
13…309
Stop
This was interesting because there wasn't such a big increase over 1,000 psi as there had been when going from 800 to 1000, despite adding 300 psi rather than 200 psi. It took just 3 shots for the velocity to become equal to the 1,000 psi string (compare shot 3 from this string to the first shot of the previous string). The extra air pressure isn't doing as much as it did before.
1,500 psi
1…..791
2…..765
3…..751
4…..DNR
5…..706
6…..677
7…..645
8…..605
9…..570
10…542
11…500
12…466
13…428
14…DNR
15…357
Stop
1,800 psi
1…..808
2…..796
3…..786
4…..763
5…..753
6…..721
7…..699
8…..661
9…..625
10…600
11…566
12…524
13…DNR
14…442
15…405
16…366
Stop
Okay, look at the first 5 shots in this string. See how little velocity they lose compared to the first shots in previous strings? That's significant. It means the valve is beginning to operate more efficiently at this pressure level. Dennis told me that when he reached 1,800 psi, the rifle stabilized for him, as well. What we don't know and cannot know for sure is what pressure either Dennis or I actually used because neither of us has a calibrated pressure gauge. We're just guessing based on the inexpensive small gauges that come with all pressure tanks. But, whatever the exact numbers are, they're pretty much in the same ballpark.
We have a PCP that operates at 1,800 psi — or so. But when I say "operate," it isn't really operating the way we want a PCP to operate. We want to see a nice string of shots that are fairly consistent — some a little higher and some a little lower, but a nice string where the velocity is stable. We don't have that yet. What we have is a rifle that wants to operate at this fill pressure but probably needs a number of tweaks to get where we want it to be.
There's one more thing to do. Dennis and I talked about this, and he said if there's a weakness in this rifle, it's at the threads where the air reservoir is threaded to the brass valve. While the reservoir is way overbuilt, those threads are a place where not too much more strain can be applied. Dennis feels that it will be safe to 2,000 psi but not much higher. I agreed with him on that, so I did one last test at 2,000 psi.
2,000 psi
1…..853
2…..833
3…..823
4…..825
5…..820
6…..809
7…..799
8…..780
9…..762
10…746
11…717
12…687
13…654
14…624
15…588
16…550
17…513
18…472
19…434
20…397
21…DNR
22…298
Stop
Okay, adding 200 extra psi increased velocity significantly, plus it also gave us a greater number of consistent shots. I would call the first 7 shots fairly consistent, and the velocity doesn't really start to plummet until after shot 9. What this tells me is that the valve return spring is way off. It's probably too heavy. And Dennis has already criticized the valve itself. It's a poppet shape (looks like a top hat) instead of a valve with angled sides that mate with an angled valve seat.
Add to that an enlargement of the valve port (through which the air flows) that might help lower the operating pressure, and the new valve would handle the pressure better than this stock one that got pressed into service for which it wasn't designed.
What about BBs?
Okay, I can't end without giving you some BB velocities. Since the rifle works so well at an indicated 2,000 psi, I decided to skip all the early stuff and go straight to the string we're all interested in.
For this test, I used Daisy Premium Grade BBs that I know from measurement are both the largest and also the most consistent steel BBs on the American market. Since steel BBs run 0.171 to 0.173 inches in diameter, they're considerably smaller than .177-caliber lead pellets, no matter what their packages say. BBs are NOT 4.5mm!
2000 psi
1…..910
2…..900
3…..891
4…..871
5…..DNR
6…..856
7…..DNR
8…..DNR
9…..809
10….786
11….763
12….DNR
13….698
14….DNR
15….DNR
16….599
17….577
18….533
19….484
20….441
21….408
22….340
Stop
Like the pellets with a 2,000 psi fill, the first several shots with BBs are close to each other and after, perhaps, shot 6 or 7, the spread opens up. Of course, you have to realize that steel BBs going over 800 f.p.s. are extremely dangerous. Lead pellets start to disintegrate at velocities above 600 f.p.s.; and at 800 f.p.s., they almost vaporize when they hit a hard target such as metal. But BBs not only hold together, they absorb the energy of the impact and bounce back at nearly the same velocity. Believe me — you don't want to be hit by one!
What have we learned?
So far, we know this rifle works but is not a fully functional precharged pneumatic because it does not shoot a string of shots at a steady velocity. However, that doesn't stop us from proceeding with accuracy testing.
What's been proven by this test is that the idea of a $100 precharged pneumatic rifle is completely plausible. The needed changes have been pointed out; but as we proceed further, no doubt, other things will be revealed. That's the way of product development.
Remember this is a testbed — not a production rifle. Also remember the rifle that it was built from. We should expect accuracy to be similar to the Crosman 2100B, which is fully acceptable at this price point. And I'm going to select a string of shots whose velocities are relatively close to each other, so I probably won't be shooting 10-shot groups.
I'll need to do some things to the gun before starting the accuracy test, but I'll tell you about those things in the next report.
by Tom Gaylord, a.k.a. B.B. Pelletier
Let's cut to the chase. The title of this report says Legends C96 CO2 BB pistol, but Americans are going to call this a Broomhandle Mauser because of the shape of the pistol grip. The Legends part comes from the Umarex line of replica air pistols.
Before we continue, I want to express my concern about the Umarex lookalike airguns. I got a CO2 Colt M1911A1 pellet pistol when they first came out, and soon I had 4 different M1911/1911A1 firearms to go with it. Then the PPK/S BB pistol hit the market, and I got one of those. Not long after that, I added a .22 rimfire PPK/S to my firearms collection. Then came the Walther Lever Action rifle. Good, I thought. I'll never buy the Winchester 30/30 1894 that it is patterned after. But I didn't need to, because Edith did.
Then came the Magnum Research Desert Eagle pellet pistol. I knew I would never own the firearm version of that big hand cannon, but 2 years ago I got an IMI .357 Magnum Desert Eagle.
Of course there was the Makarov BB pistol that I used to train Crystal Ackley to shoot on American Airgunner. I say "train" advisedly; because after her first magazine, she was out-shooting me! That pistol spawned the purchase of both a 9mm Bulgarian Makarov, as well as the genuine Makarov firearm that the Russians at IZH turned into a BB pistol.
And just last year, Umarex came out with the Parabellum P08. I had already owned a junker Luger in the early 1970s, and I swore that I would never own another one. Well, my resolve being what it is, this past Christmas, Edith gifted me with a 1917 Erfurt P08 that is definitely not a junker!
And, now, I must confess that in my youth I've owned not 1 but 2 different low-grade Broomhandles. Both were in 7.63mm Mauser caliber, and neither one was particularly accurate. I reloaded for the last one, which might have been a large part of its problem. And here's the Legends C96 Broomhandle! Lordy, I can't afford to keep this up! I just hope they don't bring out a Colt Walker next!
Is it a C96?
Technically, this pistol is not a C96. It is a copy of the M32/712 Schnellfeuer (German for rapid fire) pistol that has a selector switch on the left side of the gun for semi- and full-automatic operation, but it's just a cast detail and is entirely non-functional. It also has a detachable magazine hanging down in front of the triggerguard, just like the 20-shot Schnellfeuer.
The C96 never had the detachable magazine or the selector switch. It has an internal 10-round magazine that's loaded from the top of the gun through the ejection port with 10-round stripper clips. The bottom of the C96 magazine is flush with the bottom of the triggerguard. It's true that the C96 magazine floorplate can be removed and a separate, detachable magazine can be installed, but these were never a popular option for the C96. I suppose only collectors and students of history will know the difference, so I'll call this pistol the C96 from this point on.
The pistol
The Legends C96 is a 19-shot BB pistol powered by CO2. The CO2 cartridge and BB magazine are housed together in a single removable magazine unit that's located in front of the triggerguard. Press a button on the right side of the receiver to release the mag.
There's a lower magazine cover that hides the CO2 screw and the CO2 cartridge. This is something BB gun shooters are very sensitive about, so it was a necessary feature that completes the look of the gun.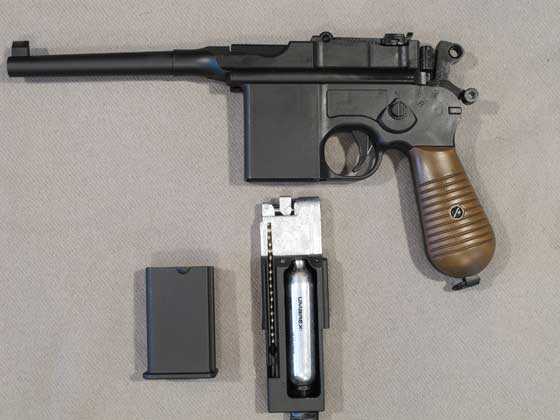 The magazine has been removed, and the lower cover is off. You can see the selector switch in this photo.
When the CO2 cartridge is installed and the magazine is loaded, you might think the pistol would be muzzle-heavy like the firearm, but I don't find that to be the case. This BB pistol is light enough that there's very little muzzle heaviness. And it's light because it's made with a lot of synthetics. But this stuff is dense, strong and difficult to tell from metal. A matte finish makes it even more difficult to identify.
The pistol grip butt is slotted for a shoulder stock, just like the firearm. Those stocks are hollow wooden holsters with steel attachments that lock into the pistol at this point — forming a small carbine. However, since the gun is made of synthetic, I'm guessing a shoulder stock will not be an option since it would invite fractures at this slot.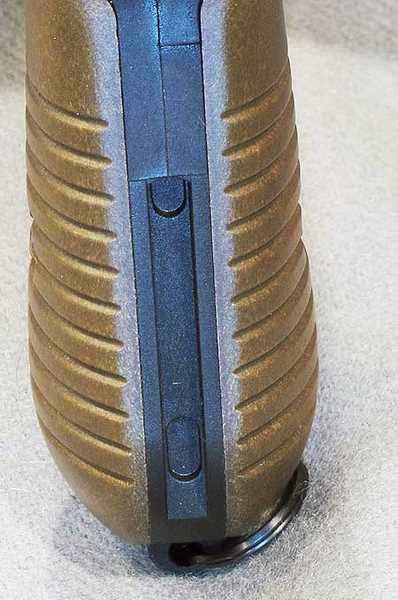 The pistol grip is slotted for a separate shoulder stock.
Not having a shoulder stock is not a great loss, though. I've fired the Broomhandle as a carbine and found it to be very inaccurate. Of course, that could just be the ammo I used, once again. But any pistol/carbine is a compromise, and none of them have a reputation for accuracy or even utility. It would be nice to have an authentic holster in which to carry the pistol, though.
Since the pistol is made to also be a carbine, the rear sight is an adjustable tangent leaf that adjusts up to 1,000 meters. The BB pistol has the same markings on its tangent sight leaf, though no shooter should ever expect to shoot a BB that far unless it's downward from a high platform. But it does give you the option of elevation for close-range shooting. There's no windage adjustment on this BB pistol or on the Mauser firearms.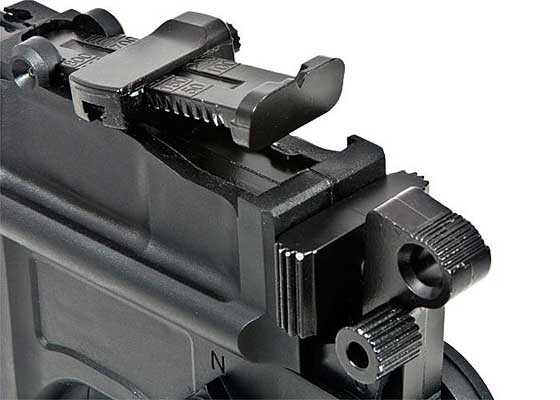 The rear sight adjusts up and down for distance.
Blowback!
This pistol has true blowback! Just like the firearm, the bolt handle comes back with each shot and cocks the hammer, so every shot is single-action. You must cock the hammer for the first shot. Some writers have suggested this is not a blowback pistol, but I think they're not familiar with the C96 Mauser action. It doesn't have a conventional slide like many autoloading pistols. The bolt is what moves to cock the hammer; and on the firearm, it also ejects the spent cartridge and strips a fresh one from the top of the magazine.
So, the Legends C96 is a true semiautomatic CO2 pistol. The trigger-pull is light and crisp. Unfortunately, unlike the firearm, the bolt does not stay open after the last shot's been fired, so it's up to the shooter to know when the last BB has been fired. You can continue to pull the trigger without BBs if you like.
The barrel of the Mauser firearm is dovetailed to the frame and does move when the gun recoils. It's how the designers delayed the opening of the bolt until after the high-pressure gasses were exhausted. It also allows the pistol to tolerate ammunition with a wider range of power. The BB pistol looks the same as the firearm, but that's just the casting details. The barrel does not move.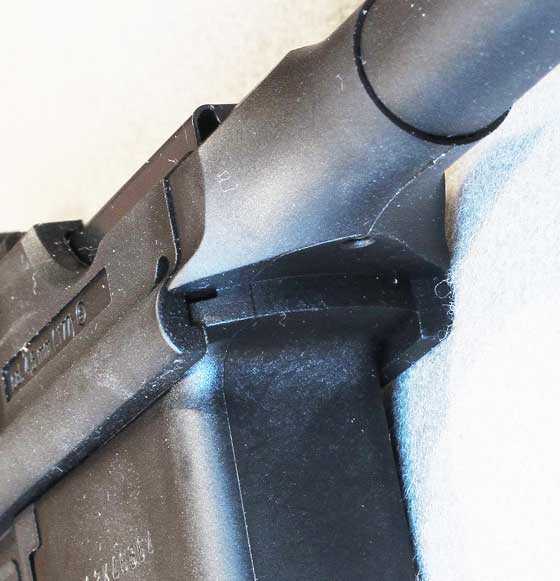 The barrel appears to be dovetailed to the frame, but this is just a casting detail.
Although it has blowback, this BB pistol will not recoil like the firearm. A Broomhandle Mauser really snaps your hand back, despite being chambered for light cartridges like the 7.63 Mauser and the 9mm Luger. That's because the bore is high above the grip, so the recoil has nothing to slow it down. I remember the recoil as one of the bad points of a Broomhandle.
Yes, the blowback of this BB pistol does give the shooter a sense that the gun has fired, but there's no heavy snap to your wrist. Trust me, this is better!
The safety is identical to the Mauser firearm part and works the same way. I found it to be positive and much easier to apply than the firearm safety.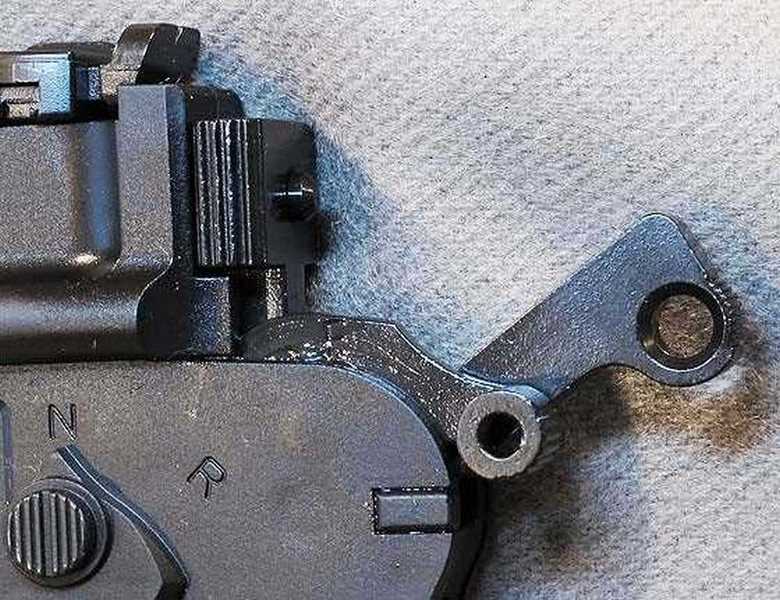 The safety is rotated to the rear and the hammer is cocked, making the pistol ready to fire. You can see the selector switch clearly in this photo.
Summing up
When Herr Wonish of Umarex told me last February this pistol was coming, I told him I was eager to see it. Now it's here, and I intend examining it thoroughly!