by Tom Gaylord
Writing as B.B. Pelletier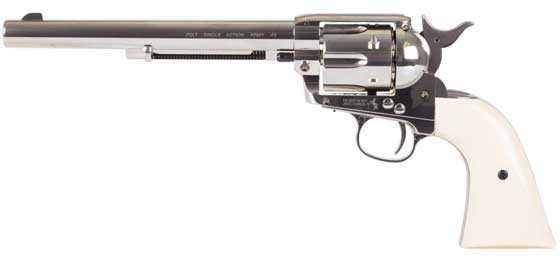 The new Colt Peacemaker is also available with ivory grips.
This report covers:
Backwards!
Fresh CO2
Air Venturi Steel BBs
The test
H&N Smart Shot lead BBs
Plastic BBs
JSB Exact RS
Discussion
Shot count
Trigger pull
Summary
Backwards!
Today we look at the Colt Peacemaker BB revolver with the 7.5-inch barrel. This test is the one I'm doing backwards. You will recall that I did Part 2 as an accuracy test, so today we look at velocity. That's out of order but I think it won't matter that much. Let's get started.
Fresh CO2
Part of the velocity test is determining the shot count, so I removed the 12-gram CO2 cartridge and installed a new one. I knew the moment the cartridge was pierced because I heard it, so the test began with the first shot.
Air Venturi Steel BBs
First up were Air Venturi Steel BBs. Six of them averaged 413 f.p.s. The spread went from 407 to 421 f.p.s., so that's just 14 f.p.s. After this first cylinder, however, all shots were slower. This was probably caused by part of the liquid CO2 coming through the valve and evaporating in the barrel.