by Tom Gaylord, a.k.a. B.B. Pelletier
Best airgun show I have been to in a very long time! Not because I sold a lot — I didn't. But I met a lot of nice blog readers, got to see some airguns that are extremely rare and got to acquire a couple nice vintage guns for future blogs.
Dennis Quackenbush told me this show would be a good one, and he was right. As soon as the doors opened to the public, the place was packed. From what I saw, people had money to spend and weren't afraid to pull it out.
The Findlay show is very heavy into vintage BB guns; so if that's what you like, it's one of the 2 best shows for that. But they weren't all Daisys. There were many other rare models, including a super-rare Quackenbush Lightning.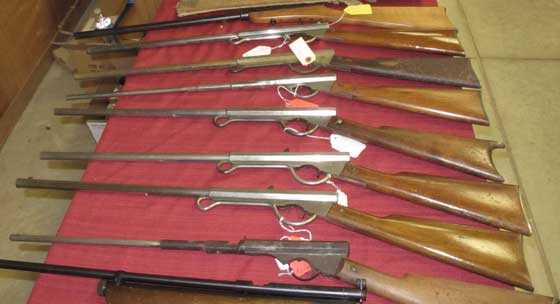 A table loaded with Quackenbush airguns! John Groenewold, who wrote the book "Quackenbush Guns," had tables at the show.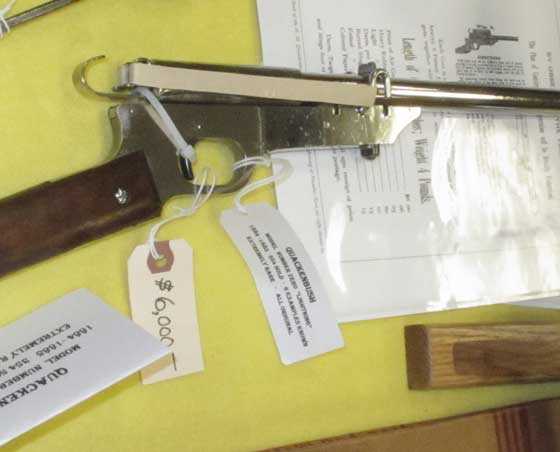 The Quackenbush model zero, also called the Lightning, uses rubber bands to power the sliding compression chamber that moves on the fixed barrel. It's the rarest model, with fewer than 10 complete guns known.
I mentioned there were rare airguns at this show. That Quackenbush Lightning was one of them, but there was another that I was shown privately. It is a Giffard Deluxe Target model that, until I saw it, was unknown to me. The owner, who is an advanced collector and asked for privacy, graciously allowed me to photograph the rifle.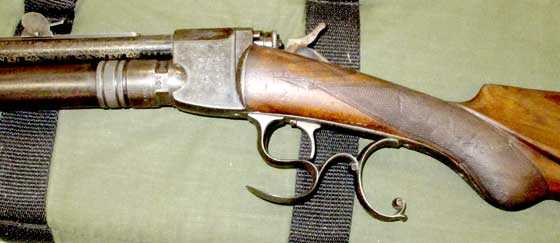 You're looking at the action of an 8mm Giffard Deluxe Target rifle that may be the only one in the U.S. Giffards are not common, but this one is virtually unknown!
This rifle is almost entirely hand made. Gold inlays on the barrel tell you the care they put into it. A rifle like this cost three times what a regular Giffard cost at the time (1870s & '80s)!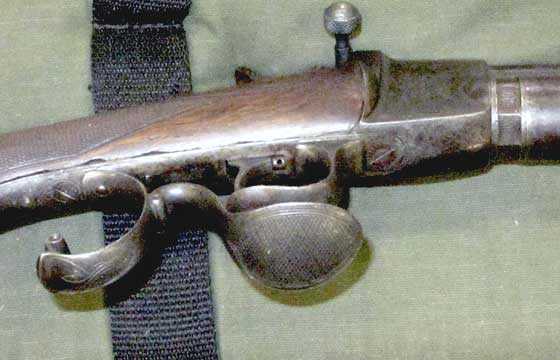 The bottom of the triggerguard of this special target rifle is actually a palm rest for offhand shooting!
They went on and on…
Being at this show was like taking a stroll through Dr. Arni Dunathan's book, The American B.B. Gun. At every turn, you saw cast iron and folded-metal BB guns from the genesis of the sport/hobby! You had to be there to appreciate it completely, but trust me when I tell you this show was a treat for the American BB gun collector.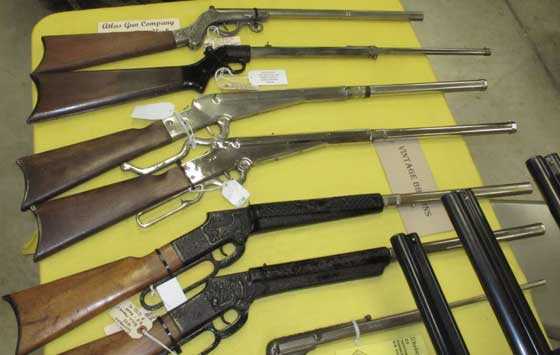 Atlas, Matchless, Columbians — the guns in this photograph are worth a fine used car!
Not everything was old
Toward the end of the show, Dennis Quackenbush asked me to come to his table and photograph a rifle he had just delivered. When I got there, I saw a rifle unlike anything Dennis has ever made. It's a muzzleloader that he usually will not produce for reasons of safety — a slight air leak at the breech could fire the bullet into the shooter as he is loading it in the barrel, or anytime afterward.


This muzzleloader by Quackenbush is stunning! The owner put a vintage-looking Malcom scope on top to complete the image.
Old friends
I recently shared with you a story about my first AirForce rifle. It had no power adjustment wheel, so I put an o-ring under the top hat to "tune" it. Those were the days. Well, imagine my surprise to see the old girl on a friend's table at this show! He had added a wood stock to her, and it was like seeing your old girlfriend necking in the back seat of a convertible with somebody else!


This was my first AirForce rifle. It has no power adjustment and the wood stock parts are new; but underneath, I still recognize her.
Then, my friend told me something wonderful. He said that I could have my old Air Arms Schamal back for what he paid! Some of you know this rifle is one of the most accurate air rifles I've ever shot, plus it has a gorgeous walnut stock with presentation grain.
My wife, Edith, has promised that she will buy back the Shamal for my birthday later this year. Naturally, I'll give you a complete report!
Good friends
Besides the guns, the best thing about this show was the people I met. When he introduced himself as Twotalon, I walked around the table and hugged the man we all know so well through the pages of this blog. He was there with Mrs. Twotalon, who was gracious enough to smile and put up with the boring minutiae us two old codgers shared.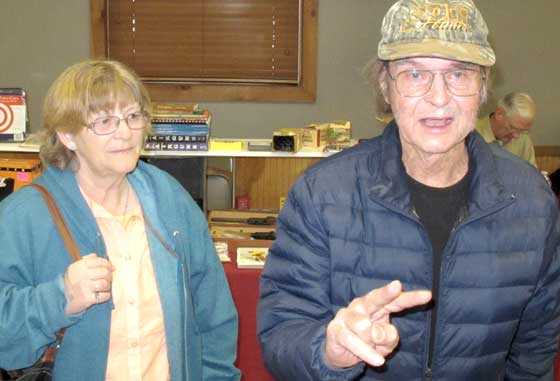 Twotalon and his wife stopped by my table and introduced themselves.
That triggered a rush of blog readers, who came so fast and furious that I failed to keep track. But Derrick is one reader I met years ago at a Pyramyd Air function. He updated me on what he's doing these days. Before he left the show, he laid two air pistols on my table and told me to give them to young shooters! Shades of my late friend, Mac, who often did the same thing.
Derrick — I gave those guns to the show organizer, Dan Lerma, who knows a lot of deserving young people, several of whom were helping run this very show! I know they will find a good home.
As the crowd was building at my table, Mitchell from Dayton came by and introduced himself. He wanted an autograph on his Blue Book of Airgun Values, which I was happy to do. But he told me he was at this show to find his longtime dream gun — an FWB 300! There were several on different tables, and I pointed him toward them; but when he returned in half an hour, it wasn't an FWB he was carrying. He had an Anschütz 380 in his hands! Now, that's a fine target rifle, as well; but then he flipped over the rifle and showed me the real reason he bought it. Someone had skillfully carved a ram's head on the right side of the butt, and he was completely taken with the art!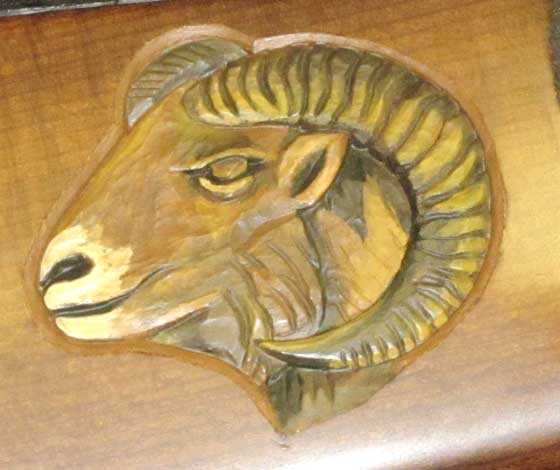 This ram's head carving on the stock of the Anschütz 380 clinched the deal for Mitchell of Dayton. I can understand the attraction!
Before I go…
There will be at least one more section of this report, but I want some time to process all that happened at the show. However, if I can leave you with one key memory, it would have to be just prior to the opening of the doors when all the dealers stood as the Boy Scouts installed the National and Ohio State flags in the hall — and then several hundred Americans pledged allegiance to the flag. That was followed by a brief prayer of thanksgiving for this wonderful event that was about to unfold.
Sort of says it all, doesn't it?
by Tom Gaylord, a.k.a. B.B. Pelletier
Part 1
Part 2
Part 3
Part 4
Part 5
Part 6
Part 7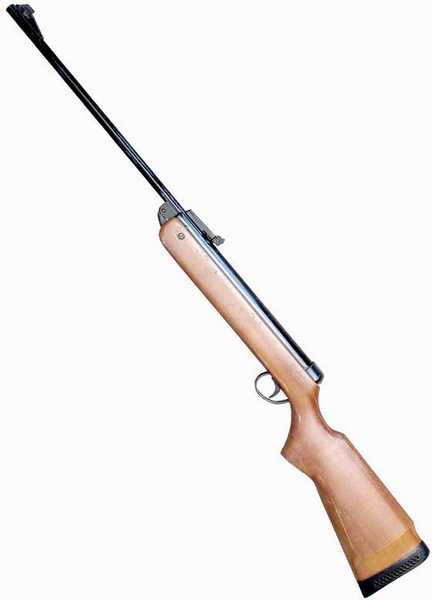 My rifle is actually a BSA Super Meteor.
Today, you'll see how I fixed the bad muzzle crown on the BSA Super Meteor, and then we'll see if that had any effect on the rifle's accuracy. You might want to read Part 7, again, just to remind yourself of what I faced.
The BSA project has been just that — a project from the start. All I wanted to do was test another vintage spring-piston air rifle for you and report the results, but this particular air rifle has challenged me at every turn. From the time I bought it at the Roanoke airgun show last September, it's been nothing but a prolonged learning scenario. I won't bore you by recapping all that's happened; but if you want to find out, read Parts 1 through 7.
At the end of Part 7, I showed you a nasty muzzle crown, which I surmised was the reason that all the pellets were leaving the barrel with a yaw to their axis. They weren't tumbling, because every one of them struck the target paper in exactly the same orientation. They were yawing, or traveling forward while pointing off to one side. Because the barrel is rifled, they were spinning on their long axis, but that axis didn't happen to coincide with their flight path.

The BSA Meteor crown has some serious nicks in it. The dark spot at 10 o'clock is the deepest. Compressed air could escape through this channel before any other part of the pellet leaves the bore, and the jet of air could push the pellet over on its side.
The solution was to crown the bore; but as you can see in the picture, the Meteor's muzzle is counterbored by more than an inch. In other words, it isn't where it appears to be from the side. It's deep inside the barrel, where the theory says it shouldn't get damaged as easily. Only this one was — perhaps from over-zealous cleaning through the muzzle. Who knows? The point is that it had to be fixed.
My shooting buddy Otho suggested a piloted counterbore to face off the crown true and square to the axis of the bore. And he volunteered to make the pilot, so I slugged the bore for him and found it was a diameter of 0.176 inches. That seemed odd to him because it's larger than the bore of a .17-caliber rimfire bullet that's about 0.172-inches. But that's the difference between .17 caliber and .177 caliber — which is important for airgunners and firearms shooters to know. The pilot he made measures 0.1745 inches and fits the Meteor's muzzle comfortably.

Otho made the pilot for this counterbore.
The counterbore chucked up perfectly in my portable electric drill. I allowed extra length for the bore to go down into the barrel and touch the muzzle without the drill chuck touching the barrel.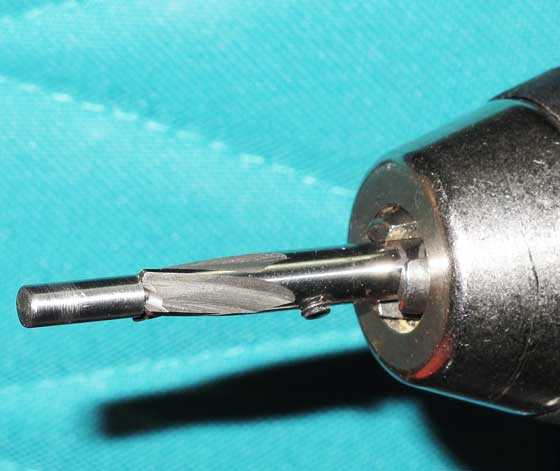 The counterbore is chucked in the drill and set to run true. It sticks out far enough to cut the crown without the drill chuck touching the barrel.
Plugging the barrel
Before starting the work, I pushed 3 fat pellets into the breech and then pushed them with a cleaning rod to within 2 inches of the true muzzle. These will keep the metal chips from dropping down the bore.
I oiled the counterbore and pilot with a good grade of light machine oil before inserting it into the muzzle of the gun. The drill was set on a slow speed, but I can also control the speed by how hard I squeeze the trigger. I wanted a slow steady turn without putting much pressure on the drill. The counterbore is sharp enough to cut the soft barrel metal without a lot of encouragement.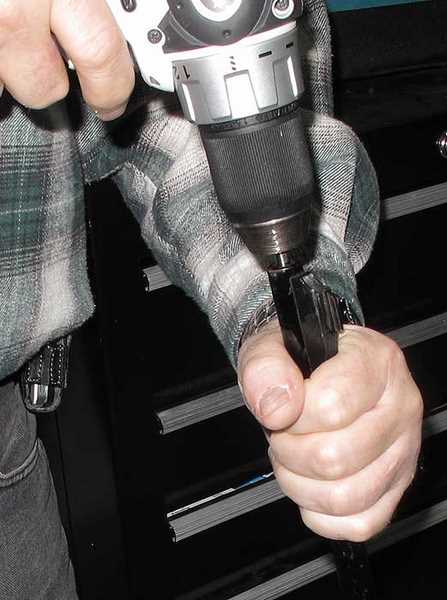 The drill is set to run slow, and I'm also slowing it more with the trigger. You don't need speed for a cut like this.
After about 10 seconds of cutting, I removed the counterbore and cleaned the new crown with a cotton swab. There was a band of bright metal around the muzzle where the counterbore had cut. Upon close examination, I could still see gouges in the bright band. The gouges were deeper than the first cut.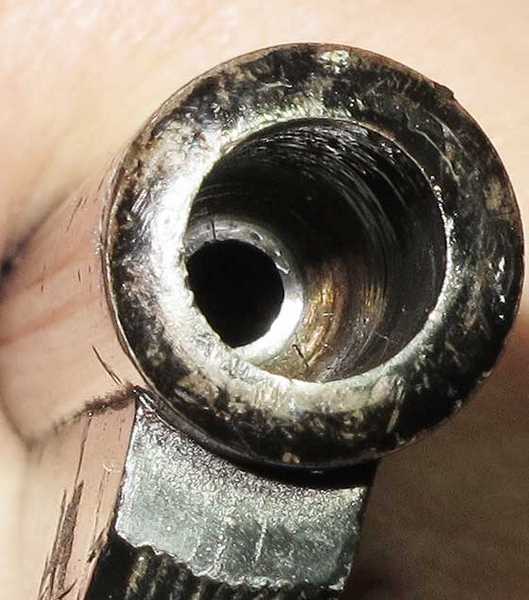 The new crown is bright after the first cut, but there are still gouges that need to come out.
I cleaned the counterbore with a swab and oiled it again. Then, I made a second cut on the crown. This time, I felt the drill pulse as the cutter removed the uneven metal. It became smooth, and I knew the cut was finished. When I cleaned and inspected the new crown this time, it appeared smooth and even. The job was done.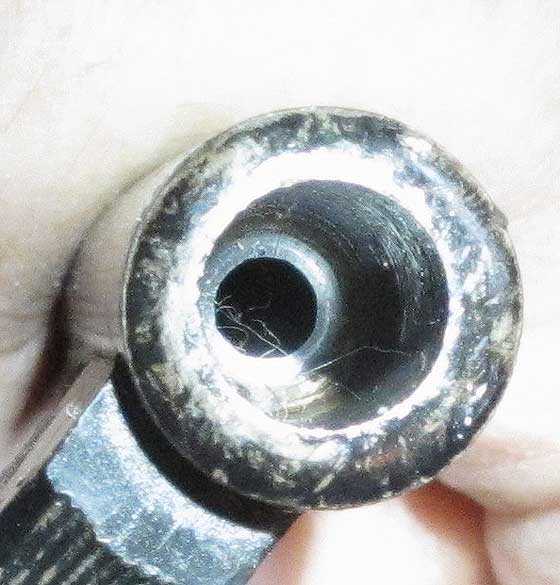 I apologize for the blurriness of this picture. Focusing on the crown is very difficult when I'm also trying to light it from the same axis as the lens is pointing. The lens is about one inch from the end of the barrel, and this was the best picture I got. There are still some faint marks on the crown. After examination with a loupe, I didn't think they would be a problem.
At this point, I felt the crown was as clean as I could get it. And there was a simple way to see if this had made a difference. I drove the pellets in the bore out the muzzle and a few steel chips came with them. Next, I shot two RWS Hobby pellets offhand from 12 feet. If the crown was good, they would cut the paper perfectly instead of hitting sideways. And that's what happened.
So, I backed up to 8 yards and shot 2 more shots from an improvised rest. These 2 pellets landed very close to each other and also showed no signs of tipping. I felt the job was done.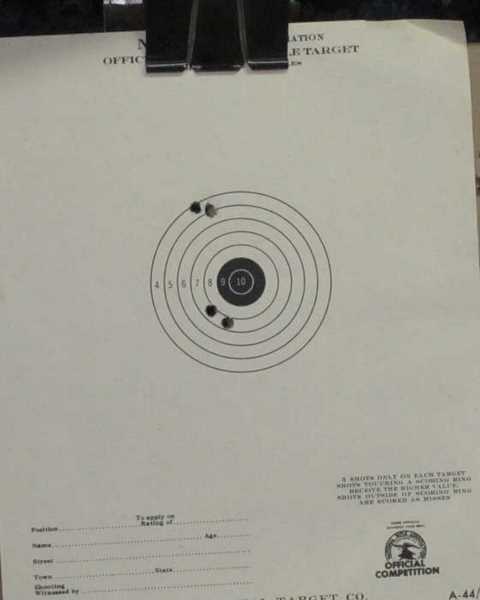 The two lower shots were from 12 feet. They confirmed the pellets were hitting the paper straight-on. The two upper shots were from an improvised rest at about 8 yards. They told me the crown is probably working.
Now for the test!
The test is a rerun of the Part 7 accuracy test. I used every pellet from the last accuracy test and shot at the same 10 meters.
Pellets:
Eley Wasp
Crosman Premier lite
Air Arms Falcon
RWS Hobby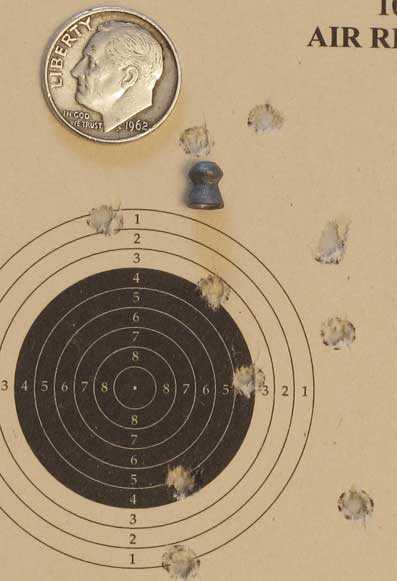 Ten Eley Wasps went into 2.256 inches at 10 meters.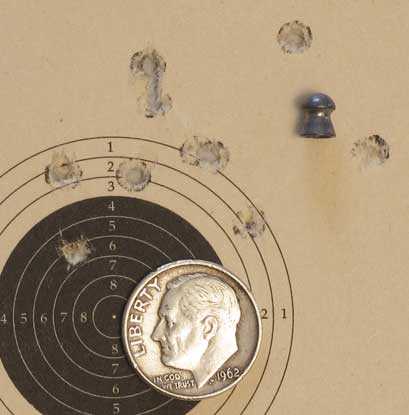 Ten Premier lites went into 1.522 inches.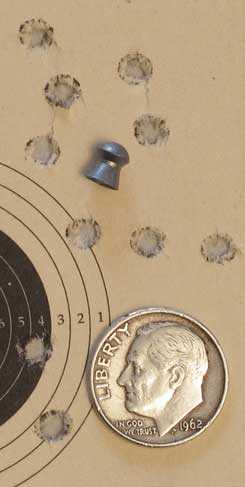 Ten Air Arms Falcons went into 1.941 inches.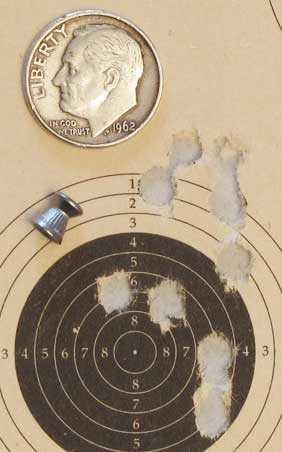 Ten RWS Hobbys went into 1.361 inches.
Conclusions
If you compare these targets to those in Part 7, one thing jumps out at you. None of these pellets tipped when they went through the paper. So, crowning seems to have solved that problem!
But the accuracy seems no better. The Hobbys did group better in this test, but the Falcons grouped worse. With groups this large at 10 meters, I'm not willing to say anything has improved. I've had cheap Chinese air rifles group better than this.
I have one trick left up my sleeve. I've noticed that the Meteor rear sight seems hinky and difficult to adjust, and I suspect it jumps around as I shoot. It's not loose to the touch, but I don't trust it to hold zero.
I'll do one more test of this rifle with either a dot sight or with the See All Open Sight if I can get it mounted to the Meteor. If that doesn't work, I'll probably abandon this air rifle as a bad investment.
by Tom Gaylord, a.k.a. B.B. Pelletier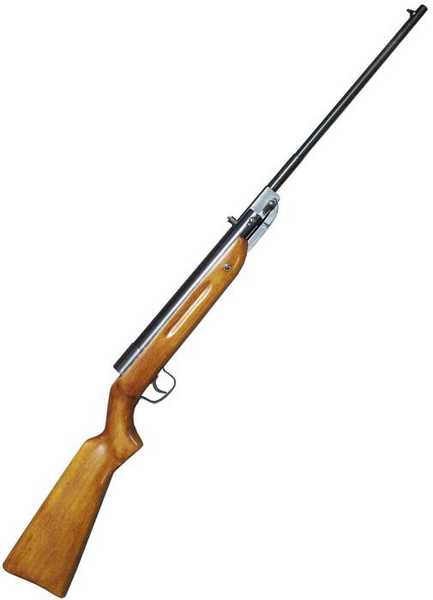 Falke model 70 is a quality breakbarrel spring-piston rifle from the 1950s.
Today is accuracy day for our Falke model 70 breakbarrel. I tested this one at the same time I tested the BSA Meteor Mark IV; and after that horrible test, I was praying that this rifle wouldn't let me down. When I bought the rifle at last year's Roanoke airgun show, the seller told me it shot pretty well. I was hoping to see that — especially after what happened with the Meteor! It did okay in the velocity test, so there was no reason to suspect it wouldn't also be accurate.
The Falke did not disappoint, though it's important to bear in mind that this is a vintage spring rifle made by a company that went out of business a half century ago and not some tackdriver made by a target gun manufacturer. When you shoot one of these air rifles, think in terms of a vintage Diana model 27 rather than a Walther model 55.
The Falke has open sights, so I like to start testing guns like them at 10 meters. They're usually right on target; but if they're off, 10 meters is close enough that they won't be off that much. Open sights seldom have the same kind of problems as optical sights.
Eley Wasps
The Falke is a vintage airgun, so I felt it deserved a vintage pellet — at least for starters. The first pellet I tried was the Eley Wasp. Of course, I also tried Wasps with the Meteor and look where that got me! But the Falke was far more forgiving. In .177 caliber, the Wasp pellet is medium-sized — nothing like the oversized 5.56mm (.22 caliber) Wasps pellets we use in guns that have large bores. Wasps fit the Falke 70 breech well, but they weren't tight. They didn't fall out, but they also didn't need to be pushed into the rifling. They went in easily.
When I saw the group, I was amazed! Eight of the ten Wasps were in a tight group that measures 0.276 inches between centers. The 2 pellets that aren't in the main group open it to a much larger 0.862 inches, but I'm thinking those 2 shots might have been due to small sighting variations.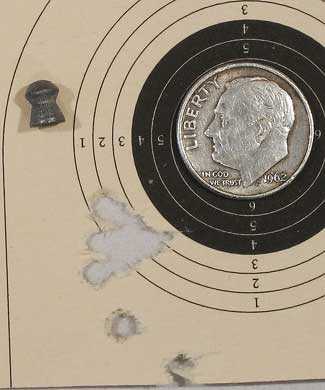 Eight of ten Eley Wasps went into a tight 0.276 inches, but the final 2 opened it to 0.862 inches.
Trigger
The rifle has a comfortable feel when shooting. I'd called it a single-stage trigger, but it's actually 2-stage. Stage 2 is very subtle and takes some time to get used to it to feel it every time, but it breaks cleanly enough for good work. The post-and-bead front sight is somewhat difficult to use precisely; but at 10 meters against a black bull (with a 6 o'clock hold), it's good enough.
I like the way the breech locks when it closes. The spring-loaded lock breech jumps into position. After it does, you cannot feel any movement in the breech.
RWS Hobbys
After the Wasps, I adjusted the rear sight higher to get into the bull. Then, I started a group with RWS Hobby pellets; but after just 3 shots had gone into 1.371 inches, I gave up. No sense finishing a group like that! Hobbys are often a very accurate pellet in vintage airguns of the same power as this Falke model 70; so it was worth a try, but when things go that wrong that fast it's time to move on.
Crosman Premier lites
Next, I tried the 7.9-grain Crosman Premier lite pellet. This is another pellet that often does well in lower-powered spring guns like the Falke 70. But not this time! Ten went into a group that measures 1.164 inches between centers. You might wonder why I was so quick to abandon Hobbys yet stuck with Premier lites to the end. Well, this group just kept growing larger with each shot. It wasn't until close to the end that I saw how large it was going to be.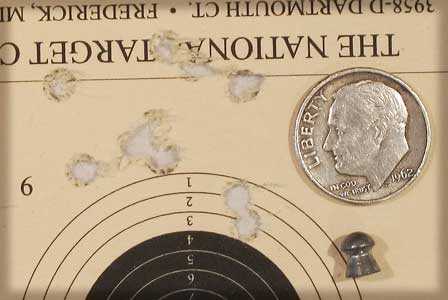 Ten Crosman Premier lites went into 1.164 inches at 10 meters. This is not the pellet for this rifle.
Air Arms Falcons
Next, I tried some Air Arms Falcon pellets. The Falcon is a 7.33-grain domed pellet made for Air Arms by JSB on dies that Air Arms owns, so it's unlike anything else JSB makes. It's too simple to say the Falcon is just a JSB Exact RS under another label; for although both pellets weigh exactly the same and are both domed pellets, they don't perform the same. Often Falcons will shoot well when Exact RS pellets won't.
In the Falke 70, they did pretty good! Of course, I didn't miss the irony of shooting a falcon pellet in a falcon rifle!
For starters, they went to the exact center of the bull. I know this thrills some folks who need to see the pellets impact there; but like I always say, I'm looking for the smallest groups — then, I'll adjust the sights later. But when luck happens and I get this result, I can't deny that it thrills me a little. Ten pellets went into 0.762 inches, which is okay but not great. But within the main group there are 7 pellets that made a much smaller group measuring 0.387 inches. Like the Wasps, I cannot help wondering if I could do better.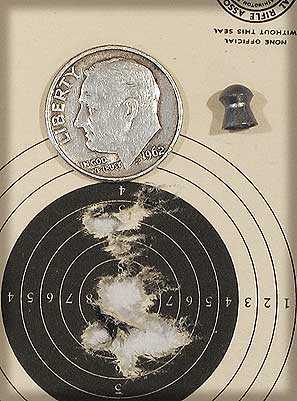 Ten Air Arms Falcon pellets went into 0.762 inches at 10 meters, but 7 of them went into just 0.387 inches. This pellet is worth pursuing.
H&N Baracuda Match
The last pellet I tried was the H&N Baracuda Match. While this seems like an overly heavy pellet for such a low-powered spring rifle, I've found they often do quite well in some guns. They were certainly worth a try. Although the rear sight was adjusted up for most of the other pellets, the Baracudas hit low on the target. But they did put 8 of 10 into 0.44 inches, which is very good. And, again, there are 2 pellets that didn't want to go into the main group. They opened the group to 0.742 inches, making this pellet the most accurate of those tested.

Ten H&N Baracuda Match pellets went into 0.742 inches at 10 meters, with 8 of them going into just 0.44 inches. This is the best pellet of the test.
Should I test at 25 yards?
The Falke model 70 will never have a scope. I sense the accuracy potential of the rifle exceeds the precision of the sights. Two and perhaps even 3 of these groups should have been one small hole, but for sighting errors. I am tempted to back up to 25 yards and have a go. We shall see.
by Tom Gaylord, a.k.a. B.B. Pelletier
Part 1
Part 2
Part 3
Part 4
Part 5
Part 6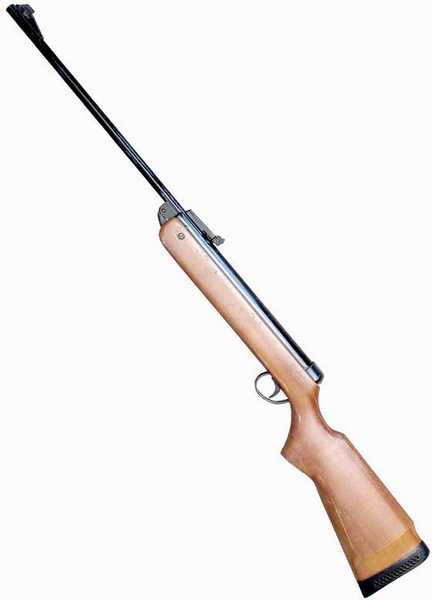 My rifle is actually a BSA Super Meteor.
I'm headed to Las Vegas this weekend for the 2014 SHOT Show, so I'm asking veteran readers to help the newer readers more than usual. And I thank you in advance.
Tuesday's blog will have something very important. It's the first day of the SHOT Show, and I'll show you something brand-new. It's a pretty big deal, so it's worth a look. Now, let's get to today's report.
Today, we'll look at the accuracy of the BSA Super Meteor Mark IV that I've been working to restore. This report was never supposed to be an ongoing saga. It was supposed to be a quick 3-part look at a vintage air rifle, but the Meteor that I bought at the Roanoke airgun show last September turned out to need almost one of everything. So, I hunkered down and went to work.
I said in one of the earlier parts that fixing up an old spring-piston rifle is a lot like rebuilding an old tractor. Man, was that ever a prophesy! I had no idea that I would have to get down into the guts of the rifle to get it shooting again; but if you've followed along on all the earlier parts, you know that's exactly what happened. Now that the old girl is shooting like she should, let's see how accurate she is.
This is a vintage spring rifle with open sights, so I like to begin shooting those at 10 meters. Since I have no idea how accurate or inaccurate they are, it's best to start close. If the groups show some promise, I can always back up to 25 yards and shoot a second test.
Eley Wasp
I figured a vintage airgun deserves a vintage pellet, so I broke out some obsolete Eley Wasps in .177 caliber as the first pellet. The first 2 shots were to sight in, and shot #1 was low, so I tried to adjust the rear sight up using the adjustment wheel. Alas — it didn't move the sight! The backup plan was to loosen the rear sight blade and slide it higher. I also noted that the whole rear sight unit needed to be snugged down, so that was also done.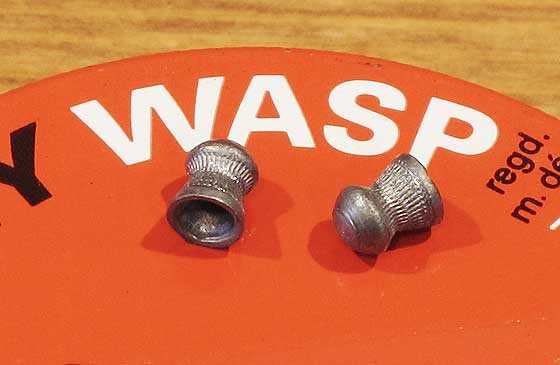 These .177 Eley Wasps are from the same timeframe as the Meteor rifle.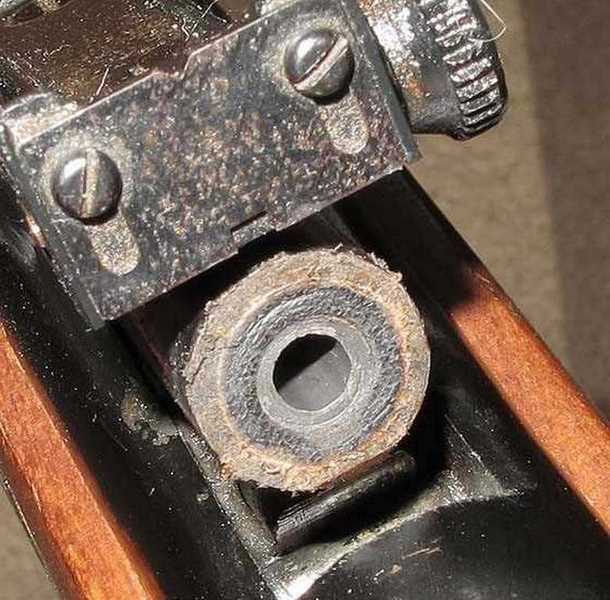 Loosen the 2 screws and slide the sight blade up to raise the point of impact.
Before we proceed, a word about .177 Eley Wasps is in order. Many of you know that the 5.56mm (.22-caliber) Eley Wasp is a particularly fat .22-caliber pellet. It's often the best in vintage airguns whose bores are on the large side. But the .177-caliber Wasp is not an oversized pellet — at least not the ones I have. I often choose these pellets for guns with larger bores such as the Meteor, forgetting that these aren't the best or biggest .177 pellets around.
I shot only 8 pellets at the target because the group grew to 3.559 inches between centers, and it didn't seem worth my time to finish. But that wasn't all I noticed. Most of the pellet holes are ripped out to the right, as if the pellets were not traveling straight. We know from the previous velocity test that this rifle now shoots fast enough to not tear target paper when the pellets pass through, so this tearing had to have been caused by the pellet's orientation and not its velocity.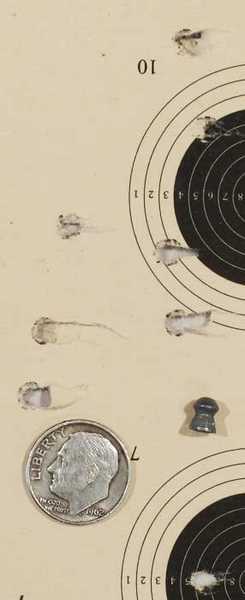 It only took 8 Eley Wasp pellets to convince me that this was not the right pellet for the Meteor. Notice the tearing of the paper! It's all in the same direction. I'm cutting off parts of the bulls in this photo because they contain another group from another pellet.
Crosman Premier lite
These results were enough to convince me to use modern pellets in the Meteor. The next pellet I tested was the Crosman Premier lite. This time, I fired all 10 pellets, and the group was much smaller than before, but it still measured 1.73 inches between centers. That's horrible for any air rifle at 10 meters!
What was even more surprising is the fact that the Premiers also tore paper to the right of the main pellet hole. In fact, they tore in exactly the same place!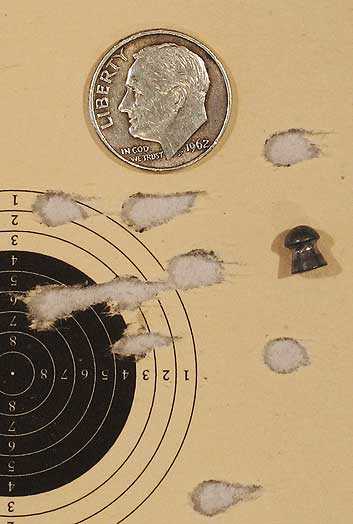 It looks like 9 holes, but there are 10 Crosman Premier lite pellets in this group. It measures 1.73 inches between centers…and notice the tearing of the target paper in exactly the same way that the Eley Wasp pellets tore it.
If the pellets were tumbling in flight, the tears would be randomly scattered around the main hole because the tumbling pellet would change its orientation all the time. But because they are all in the same place, it looks like the pellets are tipping as they exit the muzzle and flying straight to the target in that tipped orientation. Hmmm! Have to think about that.
Air Arms Falcon
The next pellet I tried was the Falcon from Air Arms. I selected this pellet because the heads were sized large, at 4.52mm. They have the largest heads of any .177 pellets I have.
They put what looks like 9 shots into 1.863 inches between centers. Once again, several of the holes are torn on the right side.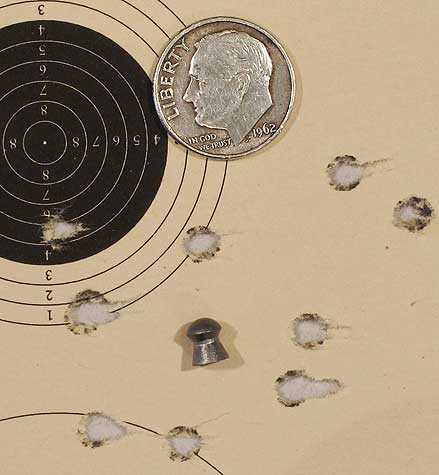 Nine holes (I swear I shot 10!) went into a 1.863-inch group at 10 meters. And, again, several of the holes are torn out on the right.
RWS Hobby
The final pellet I tested was the RWS Hobby. This is a large wadcutter that sometimes is very accurate at 10 meters. But not this time. Ten went into a group that measures 2.05 inches between centers. They also tore the paper to the right of the main pellet holes.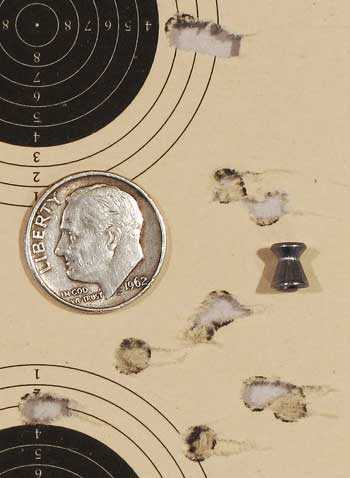 Ten RWS Hobbys went into this vertical group that measures 2.05 inches between centers. They also tore the target paper on the right of the pellet hole.
What's up?
I knew something was wrong with the rifle because these pellets all fly at different speeds. There's no way a tumbling pellet can tear the paper in exactly the same place when they all get there at different times. For even one single type of pellet to do that is hard to believe, but for 4 different types…it's impossible. The pellets have to be leaving the muzzle tipped on their edge and remain in that orientation all the way to the target.
I know that most of you have guessed what's wrong with the rifle by this point, but I hadn't. Of course, I didn't have someone pushing my nose into the facts like you have in this report. It wasn't until my buddy Otho came by for a visit. I showed him the targets (because he has an interest in the Meteor, as you recall), and he said, "I'll bet that barrel needs to be recrowned."
Oh, my gosh! How could I fail to see that? Of course that was the problem. When I brought out the Meteor for him to look at, he saw it right away. I bet you will, too. The muzzle is backbored by more than an inch; but with a tactical flashlight, we were able to look down inside.

See the dark spot at 10 o'clock? It appears to be a nick in the muzzle. How it got there I don't know, but it should be fixed.
The saga continues!
Yep, this Meteor is like an old tractor, all right. Just when you think you have the thing running and looking spiffy — the magneto quits. These days, there's only one old man in Kansas who can repair them. Actually, I protesteth too much because I really enjoy working on this gun. It wasn't made in China, yet it has turned out to be even worse than most of the very poor-quality Chinese airguns I've tested in the past.
In truth, there's a lot of great engineering in this rifle, as well as a ton of abuse. You BSA Meteor owners out there know that I'm not purposely beating up your favorite airgun. It's just that it challenges me at every turn. But that's a large part of what makes this hobby interesting. After all is said and done, I'm not upset.
OK, take that report on a Friday and run with it! Remember, I'm on my way to Las Vegas and cannot answer as many comments as normal.
by Tom Gaylord, a.k.a. B.B. Pelletier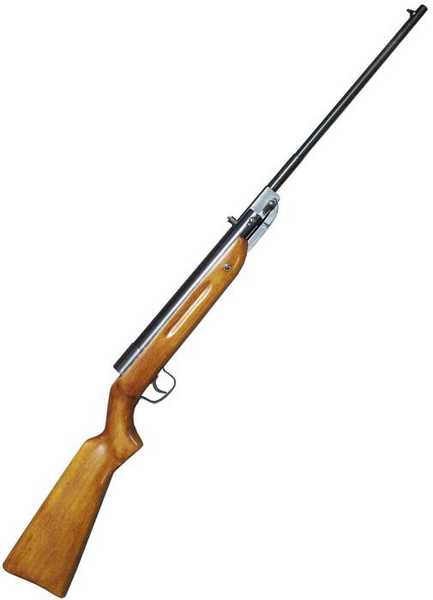 Falke model 70 is a quality breakbarrel spring-piston rifle from the 1950s.
Today, I'll test the velocity of the .177-caliber Falke model 70 breakbarrel. In its day, which was the early 1950s, this rifle was rated at 450 f.p.s. But pellets have improved a lot since that time, and I also believe this powerplant has been rebuilt. So, the numbers may not be the same as a factory gun.
Crosman Premier
The first pellet I tested was the 7.9-grain Crosman Premier lite. For the first test, I seated the pellet flush; but given the probable power range of this rifle, I felt that some deep-seating would also be worth trying. Premier lites averaged 634 f.p.s. in the initial test (seated flush). The range went from a low of 621 f.p.s. to a high of 646 f.p.s. So, the spread was 25 f.p.s. That's not bad, but I've certainly seen better. At the average velocity, this pellet generated 7.05 foot-pounds of energy at the muzzle.
Next, I tried the same pellet seated deep with the Air Venturi Pellet Seater. This time, the average velocity climbed up to 651 f.p.s., with a spread from 640 to 660 f.p.s. So, greater velocity and less variation with this pellet seated deep. At the average velocity, this deep-seated pellet generated 7.44 foot-pounds of energy at the muzzle.
RWS Hobby
The next pellet I tested was the RWS Hobby. This one I seated deep from the start. The average velocity was 704 f.p.s., and the range went from a low of 684 f.p.s. to a high of 721 f.p.s. That's a spread of 37 f.p.s. in just 10 shots, which is getting a little large! At the average velocity, this pellet generated 7.71 foot-pounds of muzzle energy.
Because the velocity spread was so large, I figured I would also test this pellet seated flush. But after shooting just 4 shots, I had a velocity variation of 49 f.p.s., so I stopped. Obviously, the Hobby doesn't like to be seated flush in the Falke 70.
H&N Baracuda Match
The last pellet I tried was the heavy H&N Baracuda Match. Weighing 10.65 grains, this pellet might seem too heavy for a spring rifle in this power class, but I've seen pellets like this shoot very well in some of these guns. In case that happened here during the accuracy test, I wanted to have the velocity on record. These pellets were seated flush.
Baracuda Match pellets averaged 508 f.p.s. in the Falke, and the spread went from a low of 503 to a high of 515. That's just 12 f.p.s. — the tightest spread of the test. Because they're so tight when seated flush, I decided to not bother testing them seated deep. I'm pretty sure I will shoot them seated flush.
At the average velocity, this pellet generated 6.10 foot-pounds of muzzle energy. So, the Falke 70 followed the classic spring gun pattern of heavy pellets being less efficient and light pellets being the most efficient.
Trigger-pull
The single-stage trigger is adjustable, but the adjustment is of the sear-contact area type. So, I'm leaving it alone. It's light enough as it is right now, breaking at just 1 lb., 15 oz. The letoff is vague, but the pull is free from creep, so the rifle doesn't move around a lot when you shoot.
Cocking effort
I mentioned in part 1 that the rifle seems to cock easily until the last part of the stroke, when the effort rises significantly. Well, the scale confirmed it. The first part of the stroke is 20 lbs., then the effort spikes up to 37 lbs. to complete the stroke. It's way more than one might expect from a rifle in this class. That leads me to suspect that an aftermarket mainspring has been installed in an effort to increase the power. I may have to correct that some time, as it's just too much effort for a plinker like this.
Rear sight
Blog reader RidgeRunner asked me if the rear sight blade had a small spring under it, so I took it apart and told him I would provide a picture of the assembly in this report. Not only did I find the spring he was talking about, I also saw that the elevation wheel is marked off with numbers, so you can keep track of adjustments!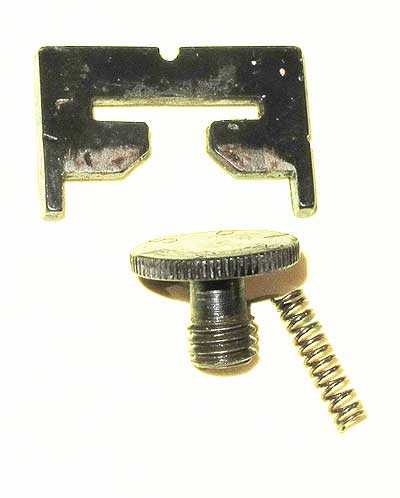 The rear sight blade slides into the base, and the elevating wheel fits into the cutout. The spring fits inside the hollow elevating wheel.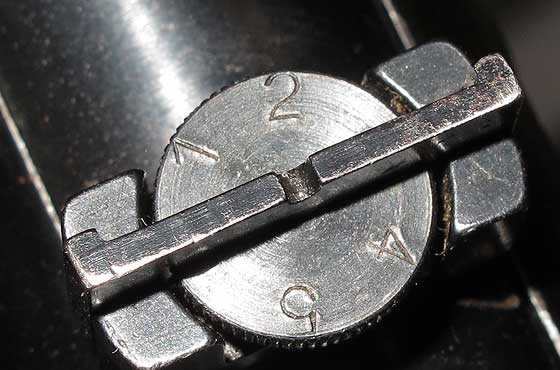 I didn't notice these reference numbers before taking apart the rear sight. They allow you to record and track your elevation adjustments. Airgunners love neat little features like this!
Seeing those numbers on the elevation wheel made me smile. They're so unobtrusive and easy to overlook. They're an airgunner's version of a secret garden. It's like knowing how the Coke machines get filled at Santa's workshop!
Overall impression
Overall, I like this rifle very much. It holds well, locks up tight at the breech, thanks to the breech lock, and the firing behavior is smooth. I even like the trigger. I have a feeling this one will be a keeper!
by Tom Gaylord, a.k.a. B.B. Pelletier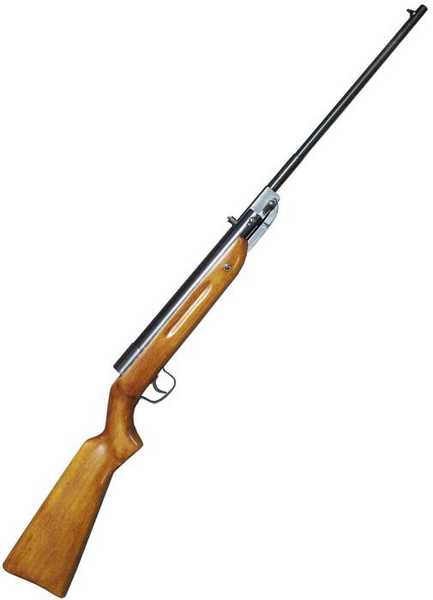 Falke model 70 is a quality breakbarrel spring-piston rifle from the 1950s.
This report is a traditional Friday blog for all you who enjoy the vintage airguns I sometimes get to test. I enjoy them, too, but I try not to put too many into the blog because most readers cannot buy these guns. I don't want to create a lot of dissatisfaction.
I've reported on the Falke 90 underlever that reader Vince was kind enough to repair and tune in his 3-part report, It's not my Falke. Then, I tested the gun for you in a separate 4-part report titled, Falke 90 test. Well, today I'm starting another report on a Falke model 70 breakbarrel rifle.

The distinctive falcon logo is stamped on the spring tube end cap.
All Falke airguns are uncommon in the U.S., but the models 80 and 90 are beyond rare. From the model 70 on down in declining numbers (60, 50, 40, 30, 20 and 10), however, we encounter a number of more common breakbarrel spring rifles that, while not common, are also not rare. They were never officially imported into the U.S., as far as I have determined, but have entered in a number of ways through private transactions. They're very similar in quality and performance to their Diana cousins of the same early 1950s timeframe. The separation between the model 70 we're looking at today and the model 80, while only 10 numbers apart, is the difference between a chicken egg and an egg by Fabergé.
The model 70 might also be thought of as Falke's answer to the Diana 27. In other words, a plain airgun, but also one with high-quality features like a locking breech and an adjustable trigger. The 70 is slightly larger than the 27. It's 42-7/8 inches long overall, and that length is helped primarily by the 19-inch barrel. The weight is 6 lbs., 10 oz. The pull is 13-3/4 inches, making it suitable for adults and older children.
When I looked in W.H.B. Smith's book, Smith's Standard Encyclopedia of Gas, Air and Spring Guns of the World, I saw slightly different specs for the model 70 listed there. There, the rifle was just 37 inches long, and the photo shows a pistol grip that's rounded at the bottom. It was also checkered; but because mine's been refinished, I can't tell if it may have been originally checkered. I doubt that it was, though, because it's still robust after refinishing.
The rifle's barreled action is blued steel, set into a slim beech stock that has European finger grooves on either side of the forearm. The breech seal is leather, giving every indication that the piston seal is leather, as well. The metal on my rifle is turning to a plum-colored patina over the years, and the stock has been recently refinished. It was a good job, but I have no idea how much wood was removed in the process.
The rear sight is adjustable for elevation by turning a centrally mounted wheel, but there is no adjustment for windage. However, both the front and rear sights sit in dovetails that run perpendicular to the bore, so some windage adjustment is possible by drifting them sideways in their slots. The rear sight blade sits loose in the rear sight base, which may affect accuracy when I shoot the gun.

The rear sight adjusts for elevation, only. The sight blade is loose in its mount.
The front sight is a post with a bead at the top — the type the Germans call a Perlkorn. The intent is to put the bead in the center of the rear sight notch and also on whatever you wish to hit. It's not a precision sight, but it can become more precise if you hold it at the 6 o'clock position on a target. But the movement of the blade that contains the notch will affect things, I'm sure.
The trigger adjusts, too, but I remember getting some sort of warning from airgun collector Don Raitzer at the Roanoke airgun show when I acquired the rifle, so I may not adjust it. Right now, it's a single stage that has a very long but light pull and no positive indication before it lets off. I'm thinking the adjustment might affect the sear engagement area, and I don't want to diminish that in any way.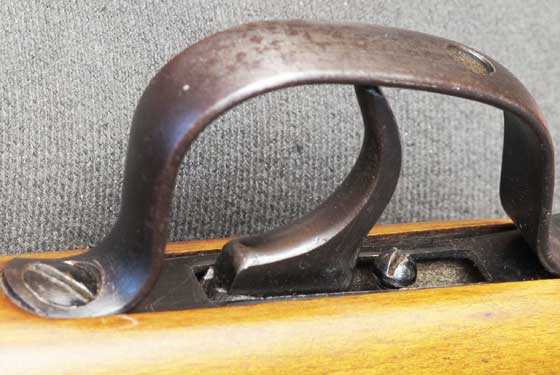 The single-stage trigger adjusts, but I think the sear contact area is affected, so I'm going to pass.
The breech is locked by a spring-loaded lever located on the right side of the breech. To unlock it, press in (push it back toward the butt) on the knurled knob while breaking down the barrel. It takes 2 hands to open the breech. When the barrel's closed, the lock snaps shut and the breech is solid!
The breech is also notable for having both a pivot bolt and a locking screw that fits into scalloped notches cut into the rim of the bolt head. It's a hallmark of quality that existed in the 1950s. Oddly, though, the pivot screw only has 2 cutouts for the locking screw to fit; so in its original form, it has to be turned a minimum of 180 degrees every time. Someone has used a small portable grinder to add a small notch where it was necessary, and now the pivot bolt head has a third notch in what seems to be the right place.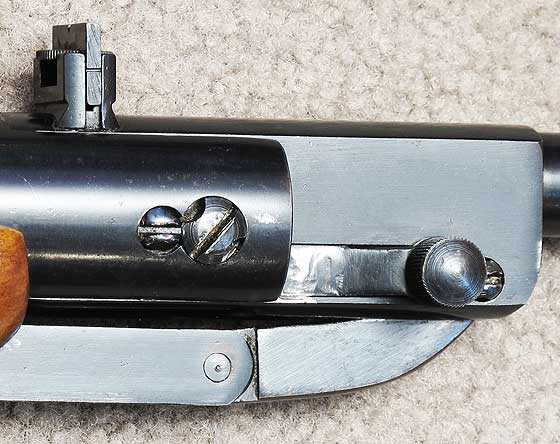 The breech is locked and must be unlocked to break the barrel. Note the locking notches in the pivot bolt head. And you can see the articulated 2-piece cocking link in this picture, also.
The cocking link is 2-piece and articulated to allow the rifle to be cocked without a long cocking slot in the forearm. That reduces vibration in the stock, adding to the rifle's overall feeling of quality when fired.
This is a quality air rifle from the 1950s, and the quality shows through. Compared to modern air rifles, the features on this one far exceed what you normally see. The power is much lower than most of today's rifles, but that just ensures that the rifle fires smoother.
Of course, there's no provision for a scope, because when this rifle was made, people weren't scoping their air rifles. I wouldn't want to scope it, either. This is just a pure fun rifle that's light and smooth and fun for the whole day. Why ruin it with a scope?
Smith lists the velocity at 450 f.p.s, but of course that was with the crude heavy pellets of the 1950s. I'm sure a modern pellet will step that up, though; by how much, I can't say. Someone has at least lube-tuned the rifle recently, so it should be performing its best right now. I note when cocking that the cocking stroke is very short — just past 90 degrees, and the mainspring tension builds very fast in the last half of the stroke. In that respect, this rifle differs entirely from a Diana 27 that cocks with an even stroke and no spring buildup (greater effort required toward the end of the cocking stroke).
I've been waiting to test this rifle since the Roanoke show. Until today, I had not fired it once! You and I will get get to explore this fine air rifle together!
Surprise, surprise!
While reading the other reports on the Falke 90 I cite above, I discovered that I'd promised to test the 90 with a dot sight to see if accuracy would improve. That was way back in January and, of course, I haven't done it — yet! Look for that test in the near future!