by Tom Gaylord, a.k.a. B.B. Pelletier
My wife, Edith, and I have to renew our Texas Concealed Handgun Licenses in another month. So we have been practicing in the house with BB and pellet guns. This was more for Edith than for me because I usually get out to the firing range several times each month, and I shoot handguns quite often. You can never practice too much, but I wasn't the one who was concerned.
Edith doesn't shoot as much as I do. Most of the time she is glued to her keyboard, working on the Pyramyd Air website in one capacity or another. She has her own Glock model 36 in .45 ACP as a carry gun, and we tricked it out with a better trigger, laser designator and a Wolff barrel that allows the use of my reloads without the gun blowing up (the notorious Glock kaboom). She was concerned about the upcoming qualification and felt she needed to get ready. And who am I to argue with more shooting opportunities?
So, we went though several training sessions at home. We started with the Winchester Model 12 BB pistol that I actually bought after testing because it shot so well. At the time I reported it, I felt the pistol would make an excellent trainer for just such a purpose.
That was what I thought; but when it came time to train, we found the gun wanting. Well, perhaps that's not entirely correct. What we found was Edith and I both tended to spray the BBs around the target instead of getting the smaller groups I had gotten in the test. I had run out of 2-inch Shoot-N-C targets that I used with this pistol in the report and the nickel-sized bulls I drew on the target paper did not seem to attract the shots as well as the larger bulls had.
So things did not work out the way I had envisioned. This was not good. Edith relies on me to fix her shooting problems — not to pontificate or theorize, but to give her help that actually works. So far I was 0 for 1.
Next, I selected the Magnum Research Desert Eagle. I chose it because of the blowback, which was also the reason I'd selected the Winchester model 12. But the Desert Eagle is a pellet pistol with a rifled barrel, and I know that it's very accurate.
Unfortunately, it bears very little resemblance to a Glock M36 or a 1911 pistol in any way other than they are all handguns. The Desert Eagle is very large. It's like trying to hold a boat oar in your hand. In fact, except for the excessive weight of the firearm, the plastic pellet pistol is just as inconvenient. Don't bother correcting me on this — I own and use a Desert Eagle .357 Magnum pistol as well. It's big and it does weigh a lot, and personal favoritism won't change that. I like the gun — just not as a trainer for a Glock or a 1911. Now I was 0 for 2.
That forced me to think outside the box, but probably still pressed up tight against the flap. What about trying a Colt 1911A1? Besides all the BB guns that are made on the 1911 frame, Umarex makes a genuine Colt-branded pellet pistol. The size is perfect for my purposes, and this is a pellet pistol with a rifled barrel — so you know the accuracy will be there. The one drawback is that this pistol doesn't have blowback. We weren't after the sensation of recoil — we wanted the slide to cock the hammer automatically so all trigger-pulls would be light and crisp. Instead, we had to cock the hammer ourselves.
In the end, that wasn't the hinderance I thought it would be. It was easy to cock the hammer before every shot, and the pistol was very well behaved. The first thing we both learned after picking this pistol was we both needed to concentrate on the sight picture more. And Edith made the discovery that if she pulled the trigger with the first joint of her finger, she pulled all the shots to the left. But if she used the pad of her trigger finger, the shots stayed centered on target like they were supposed to. This was real progress.
Over to the firearm
You tell yourself that you'll practice many times each week, but then the weeks end before you get to it. So the day you progress from airgun to firearm is a large and sudden jump. It doesn't have to be that way, but for us it was.
In Texas, the Concealed Handgun License requires you to shoot 50 rounds for qualification. Twenty are at 3 yards, 20 more at 7 yards and 10 at 15 yards. So that's what we did at the range. We hung the silhouette target and proceeded to shoot at each mandatory distance. When I say "we," I mean Edith. I was there in the capacity of technical advisor and brass catcher.
Edith started with her Glock and fired a complete 50 rounds with it. She started at 3 yards and progressed back, which is how the qualification is shot. We were both impressed with her results, as they were well-centered and much tighter than they were 5 years ago when she qualified the first time.
The lighter trigger on her Glock accounted for a lot since it's no longer the heavy DAO it once was. But she was using a perfect 2-hand isosceles hold and taking good aim. That much she had gotten from the airgun practice. I was surprised that she wasn't affected by the noise and recoil, but she told me that after the first shot goes off she becomes accustomed to everything and doesn't let it bother her anymore. I wish I could do that!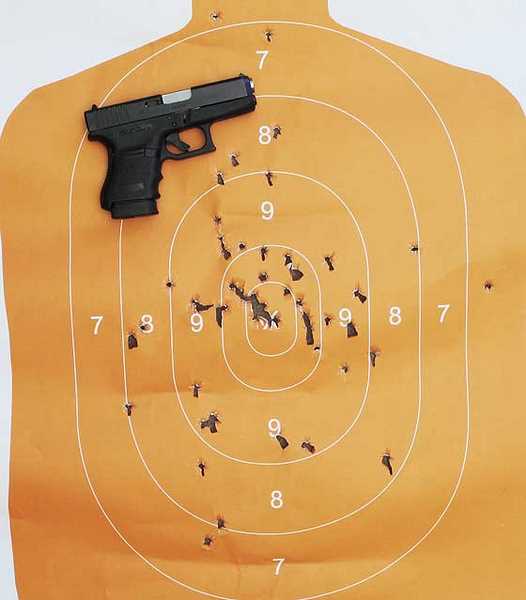 Edith's 50-shot target with her Glock 36 was well-centered. We attribute this to the airgun training.
1911
After completing the 50-shot course, we switched over to the Taurus PT1911 and she went at a second silhouette target. This time she used my reloads and blew the center from the target right away. Then at 7 yards she started to pull some shots to the left. This was when we discovered she was using the finger joint instead of the pad. She told me afterward she does that because she worries about the 1911 grip safety being depressed. That distracts her, which is when the trigger finger goes through too far. Edith has large hands and the 1911 grip is on the small side.
At 15 yards, her shots were even more to the left, so I knew she was pulling them. By the time we stopped, she had fired a total of 90 rounds, which is a heck of a lot of .45 ACP ammo.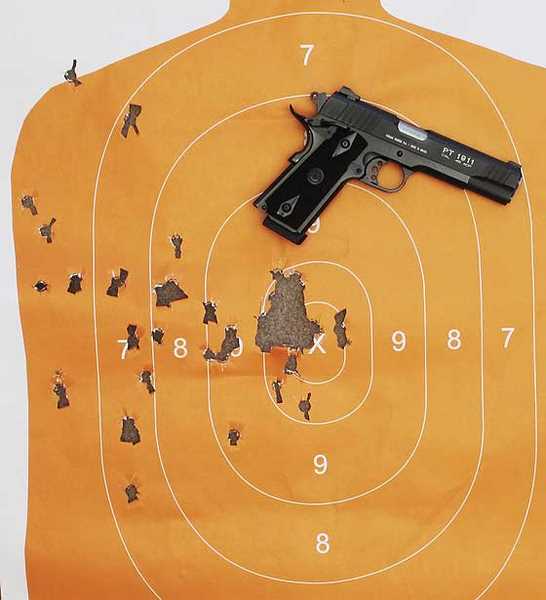 With the 1911, Edith started by blowing the center out of the target; but as she tired, she started pulling shots to the left. We stopped after 40 shots.
Either target would have qualified her that day, though she lacked 10 final shots with the 1911. She was justifiably pleased with her performance, as was I. No more scattering shots — everything was centered until fatigue set in.
Airgun training a success!
The training we did with airguns was successful in preparing Edith to shoot the firearms. It got her used to trigger control, breathing and the sight picture, which turned out to have a dramatic effect on the results.
We make no claims that airguns will get you ready for the muzzle blast or the recoil of a firearm — especially not one as big as a .45 ACP. But, by getting the other things under control, the few things we weren't able to practice made very little difference to the outcome. Edith is the one who asked me to write today's report because she feels that training with airguns really helped get her ready. Looking at the targets, I would certainly agree.
by Tom Gaylord, a.k.a. B.B. Pelletier
While I was at the courthouse awaiting jury selection the other day, I was reading a favorite gun book, Yours Truly Harvey Donaldson, edited by David R. Wolfe and published in 1980 by Wolfe Publishing Company, Prescott, Arizona. In the book, Wolfe assembles letters and articles written by Harvey Donaldson, one of America's top shooters, and cartridge developers. He is best-known for his .219 Donaldson Wasp cartridge, but he actually worked on dozens of different centerfire cartridges over the 89 years of his fruitful life. And he was a schuetzen shooter on top of all of that. Schuetzen rifles are single-shot rifles with incredibly accurate barrels that shoot lead bullets at low velocities. They typically shoot at 100 and 200 yards, either offhand or rested on a bench. The best of them have been known to put 10 bullets into a group that measures under one-half inch at 200 yards, which is a challenge that's difficult to equal with modern arms today.
So, Donaldson knew how to shoot. And that's the connection to today's report. I read a paragraph that Donaldson wrote for an article that appeared in American Rifleman magazine in May 1936 – Rest Shooting and Schuetzen Loading:
"The secret of fine rest shooting is to hold the rifle so it will be free to recoil in the same way for each shot. I like to have my rifle come straight back, and when I see the crosshairs rise toward 12 o'clock in a straight line above the bull, I know that all is well and I can expect a good group. If the shooter will carefully perfect his holding so as to get this effect, the matter of making small groups will come much easier."
That's a good description of the goals of the artillery hold airgunners use, with one exception. Donaldson describes firearms that, while their bullets don't travel very fast (never over 1,400 f.p.s.), still leave the muzzle before the major vibrations and movement of the gun begins. With a spring-piston airgun, the heavy steel piston has already jumped forward violently and then come to a sudden stop before the pellet begins to move. Vibrations in the gun have already started well before the pellet leaves the bore, which is why airgunners have to take this special hold even farther than Donaldson describes.
Important point — please read and understand!
Remember this — Donaldson was talking about firearms when he described his hold. So, the basic tenets of the artillery hold apply to firearms as well as to airguns. I have known that all along, but I haven't harped on it because it really doesn't matter to most shooters. A hold like this is only important to those who want the absolute last bit of accuracy potential from their firearms. Some of our blog readers who have competed with firearms, like Victor, understand the importance of hold consistency without my saying anything. They might call it something else, like follow-through perhaps, but we're speaking about the same thing. For the rest of the shooters who are just plinking with a .22 rimfire or shooting anything offhand, it wasn't important that I drill down to the absolute bottom bedrock fundamentals of shooting to explain my points. Either they understood it without me commenting or it wasn't important.
But I'm going on record today and saying that an artillery-like hold, or at least a repeatable hold that allows the firearm to recoil in the same way every time, does have a positive influence on the accuracy of a firearm as well as a spring-piston airgun. And I'm also going to say that the artillery hold has a positive effect on other types of airgun powerplants — including the precharged pneumatic (PCP).
It's still true that a PCP is much easier to shoot accurately than a spring-piston gun, but only with a proper hold will any PCP be capable of delivering its full accuracy potential. Because PCPs do not vibrate very much, nor do they recoil, the benefit of a consistent hold gets lost in the noise. Most good PCPs shoot very well regardless of how they're held.
What is special about the artillery hold?
Okay, we know that the consistency of the hold is important to accuracy. But is the artillery hold different than what Donaldson describes in the passage above? Yes, it is. Donaldson rested his schuetzen rifles front and rear. The barrel of his rifle rested on the forward rest and the buttstock rested on the rear rest. There's foam rubber between the barrel and the rest, but my point is that Donaldson does not rest the rifle on its forearm.
To be honest, there are photos showing benchrest rifles rested on their forearms, too, so it can be done either way, but the barrel rest was by far the more common in these older times.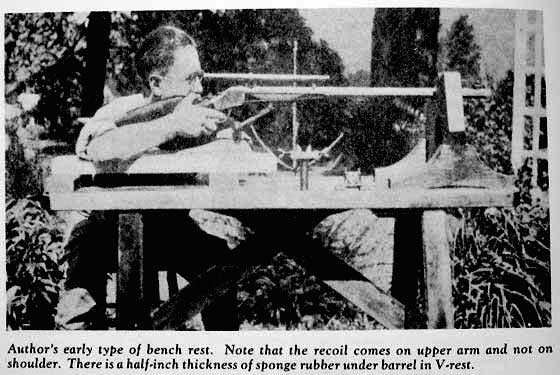 Donaldson shown with a rested schuetzen rifle in the 1930s. The barrel is resting on foam rubber on the front rest. Photo from the book, Yours Truly, Harvey Donaldson, Wolfe Publishing, 1980.
What's special about the artillery hold is that we don't normally rest the rifle directly on sandbags or other rests. Instead, we rest it on our hands, which are placed on the rest. The flesh of the hand cushions the rifle in some unique way that even sand cannot. There are some gel-filled pads that seem to work as well as the hand; but when you examine them, you find that they feel quite a lot like the flesh of your hand. There's something about the consistency that a spring-piston air rifle needs in order to have repeatable recoil and vibration patterns.
What you rest the rifle on is important, but so is where you rest it. I often have to try sliding my off hand back and forth under the stock, from the triggerguard to out as far as I can hold it — searching for a point where the rifle responds the same with every shot. Sometimes, I never do find the right place, and then I resort to resting the stock on the backs of my fingers and even directly on the sandbag. I don't use the backs of the fingers unless absolutely necessary because it often hurts. And the number of airguns that can be rested directly on a sandbag and still shoot well is very small, although the TX 200 is one that can.
Today's lesson
The point of this report is that the artillery hold is nothing new, and I didn't invent it. It was already very old when I picked a quirky name for it, so airgunners would remember it and be able to talk about it. This hold is one of the fundamental tools in a good shooter's kit. You can ignore it, but do so knowing what you're giving up — because this is the "secret" to shooting a recoiling spring-piston air rifle well.
by Tom Gaylord, a.k.a. B.B. Pelletier

Daisy's new Powerline model 35 multi-pump air rifle is designed for youth. It's a smoothbore with several interesting features.
I'm retesting an airgun that I tested over a year ago. One of our readers called Daisy and said he was getting much better accuracy from his Daisy model 35 multi-pump air rifle than I had gotten in my test, and he asked Daisy if they would look into it. Well, they read the accuracy report (Part 3) and agreed with him that I should have gotten better accuracy than I did. So Joe Murfin, Daisy's vice president of marketing, called and asked if I would be open to a retest.
Joe told me that Daisy engineers were getting groups of about 1.25 inches to 1.5 inches at 10 meters. I'm sure he meant 5-shot groups, and of course I shoot 10-shot groups; still, his groups were significantly smaller than what I'd gotten from the last gun. My 10-shot groups were in the 2.5-inch to 3-inch range.
I don't like to retest
Normally, retesting airguns leaves me cold. My philosophy is that I test what users get, and it's whatever it is. I look at the gun the same way a user would, except that I may know a few more things than the average user and am able to do things most people wouldn't think to do. That gives the gun a fair test and also educates people who may learn a new trick or two by reading what I've done.
I have to admit that over the past year I've learned a lot about accuracy with diabolo pellets and the things to look for. More recently, I have become aware of the tremendous accuracy potential of some smoothbore airguns. From that standpoint, a retest of this smoothbore airgun is warranted.
This is not life-saving equipment, and the outcome isn't that important in the grand scheme of things; but wouldn't it be nice to know if this $35 airgun is really better than we initially thought? I agreed to retest the gun, and Joe sent one directly from Daisy. Instead of the black stock I had last time, this new gun is finished in camo. Other than that, though, it's identical to the gun I tested before.
Upon reviewing the last accuracy test, I see I used the 7.9-grain Crosman Premier pellet, RWS Hobby pellet and some vintage Daisy Superior Match Grade pellets I had laying around. At the time, that sounded like a good idea; but after spending more time with the Diana 25 smoothbore in recent months, I think there are some other pellets I ought to try — namely the JSB Exact RS pellet and the RWS Superdome.
In the last report on the model 35, I wasn't specific about what number of pumps to use for each shot. There was nothing to go on for this test except my experience with other multi-pumps. I would only be shooting at 10 meters, and high velocity wasn't necessary. Six pumps sounded good to me, and that's what I used for every target. If this was a larger, more powerful multi-pump, I might have opted for 5 or even 4 pumps, but the Daisy 35 is pretty small, and 6 sounded about right.
First target revealed loading problems
I shot the first target with JSB Exact RS pellets. They did well for the most part, but 3 shots landed apart from the main group. I was having difficulty loading the gun, and I think I may have loaded several pellets backwards because of how easily they flipped around on their own in the loading trough. I was shooting in a dark place to overcome the fiberoptic open sights and was unable to see the breech when the pellet was loaded. Those 3 stray shots might be explained as loading errors. Before I move on, I should note that the size of this first 10-shot group is close to what Daisy told me to expect from 5 shots at 10 meters.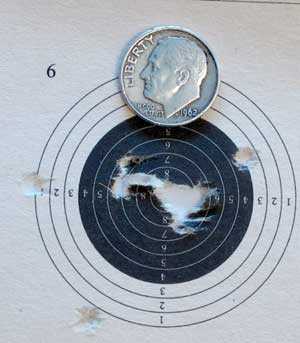 A well-centered group is ruined by three wild shots. They may have been pellets loaded backwards. Group measures 1.52 inches between centers.
Nothing to do but shoot another group with the RS pellets — making sure each pellet went into the breech the right way this time. I used a portable spotlight to shine on the breech during loading to see which way the pellets were oriented. I think Daisy could spend a little time fixing this problem because that loading trough is almost too small to work with.
The second group was much better. Ten more JSB Exact RS pellets went into 1.108 inches. This is better than what Daisy told me to expect, and my interest was piqued. How good would this gun get?

The second group of 10 JSB RS pellets went into 1.108 inches at 10 meters.
RWS Superdomes
The second pellet I tried was the RWS Superdome that so many people love. The first 10 pellets made a 1.119-inch group. It's actually too close to the second group of RS pellets to see the difference, but that's what the caliper read when I measured it. And these pellets hit the target in approximately the same place as the JSBs even though they're heavier.

The first group of 10 RWS Superdome pellets went into 1.119 inches at 10 meters.
The second group of Superdomes wasn't quite as tight as the first. One stray pellet that I hesitate to call a flier landed below the main group, opening it up to 1.243 inches. But that's still the best that Daisy said to expect from this gun!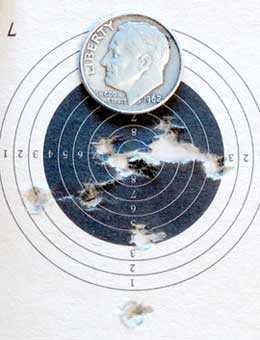 The second group of 10 RWS Superdome pellets went into 1.1243 inches at 10 meters.
But wait –
Well — there you have 4 groups that are all significantly better than any of the groups I got in the last test. The Daisy model 35 can shoot after all — just like our reader said. I wondered if there was any more accuracy beyond what the gun had already delivered. So, I fired a fifth group, this time with JSB RS pellets. Instead of 6 pumps per shot, I gave it the full 10 pumps for each shot. This time, they all landed in 0.76 inches, or as close to three-quarters of an inch as it's possible to get.

Ten pumps tightened each shot to deliver almost a three-quarter-inch group. JSB RS pellets, again.
Obviously, using the right pellets made all the difference in the world. That's a lesson I'll try not to forget. Even an inexpensive airgun like the Daisy 35 deserves a fair chance to perform its best.
What's next?
I would love to press the 35 into service as a dart gun, but the tiny breech prevents the loading of darts. I may be able to load them through the muzzle, but you'll have to wait to find out because I seem to have misplaced my .177-caliber darts. But there's still 25 yards to test, so you haven't seen the last of this airgun.
by Tom Gaylord, a.k.a. B.B. Pelletier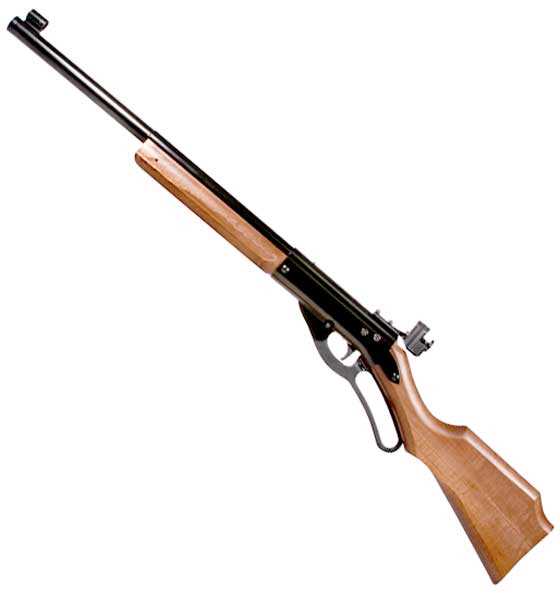 Daisy Avanti Champion 499 is the world's most accurate BB gun.
This test of the Daisy Avanti Champion 499 at 10 meters was requested a couple weeks back by a blog reader, and several of you seconded the request. It was in response to a discussion of the spin rate of projectiles and what benefits it conveys.
After I agreed to write the report, another reader asked me to test not only the Avanti Precision Ground Shot that's made specifically for the 499, but also some more common BBs. So, today, we'll see how the 499 performs at the 5-meter distance for which it was designed, as well as at 10 meters. I think we're in for some interesting ballistics.
The 499
For those who don't know, the Avanti Champion 499 is the world's most accurate BB gun. It's the only BB gun to compete each year in the International BB gun Championships at Bowling Green, Kentucky. Like the wheels and axels on Soap Box Derby racers (the All-American Soap Box Derby is an annual race where children race home-built cars powered by gravity, alone), the 499 is so specialized and ahead of the competition that there's nothing that can touch it. Unlike derby wheels, though, anyone can own a 499 because they're sold through specialized airgun dealers like Pyramyd Air (along with their special ammunition).
Although it may look like a Red Ryder to the casual observer, the 499 is as special among BB guns as a Formula One racer is among automobiles.
The 499 is a single-shot BB gun that has a precision smoothbore barrel. It's loaded through the muzzle by dropping a BB down a funnel-shaped spout, where it enters the true barrel and rolls to the rear to be captured by a magnet. Regular BBs take 0.50 to 1.00- seconds to roll down the barrel, while the Precision Ground Shot can take up to 5 seconds.
The gun was developed by Daisy for their National BB Gun Championship Match. They noticed that coaches were ordering many shot tubes for their teams' model 99 and 299 target BB repeaters that were used in competition at the time. The coaches were looking for the most uniform barrels that would shoot the best. When Daisy recognized that, they simply designed a gun to be accurate from the start. Once the 499 became a reality, all other BB guns were obsolete because nothing else could keep up.
For over a decade, the gun and ammunition was available only directly from Daisy, until I discovered it while writing The Airgun Letter. The guns were hand-built and Daisy didn't really think they could sell them to non-target shooters because of the extra cost; but once the word was out about how accurate they are, everything changed. They're probably still made by hand today, and I'm sure they're not one of Daisy's most popular products; but if you like accuracy, you really should look into getting one of these.
Baselining the gun
Before I shoot at 10 meters, I thought it would be nice to see what the gun can do at the regulation distance of 5 meters. I could have found old images for this because I've done this test many times before, but I always welcome the opportunity to shoot this marvelous little gun. I shot it on NRA 15-foot targets because I don't have any of the slightly larger official 5-meter BB-gun targets on hand. The NRA is out of touch with BB gun competition and is stiill using the 15-foot target, where the rest of the world has backed up another 1.4 feet to 5 meters.
For this test, I selected three types of ammunition — Crosman Copperhead BBs, Daisy Zinc-Plated BBs and Avanti Precision Ground Shot. When I load the gun, I listen to the BB roll down the barrel and strike the magnet at the bottom. Copperheads roll the fastest — taking about a half-second to make the trip.
Crosman Copperhead BBs
I shot 10 shots with each BB at 5 meters. I used the back of a chair as a rest because this was a test of the gun — not me. There were no called fliers, and the 10 Copperheads grouped in 0.574 inches. That measurement is approximate, as BBs do not tear clean holes in target paper.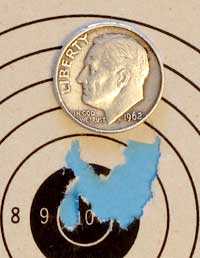 At 5 meters, 10 Crosman Copperhead BBs tore this hole, which measures 0.574 inches between centers.
Daisy Zinc-Plated BBs
Next up were Daisy Zinc-Plated BBs at 5 meters. These are ever-so-slightly larger than Copperheads and take 0.50 to 1.50 seconds to roll down the barrel. They made a 10-shot group that measures 0.361 inches between centers — and keep in mind this is approximate, at best. But you can see in the photo that this group is tighter than the first one.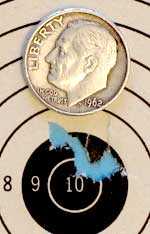 Ten Daisy Zinc-Plated BBs made this 0.361-inch group.
The final group was shot with Daisy Avanti Precision Ground Shot that is specially made for the 499. If anything is going to group well in the gun, this is. Ten shots made a group measuring 0.224 inches between centers. The hole on the target tells all, as it is either a score of 99 or 98 — it's too close to tell.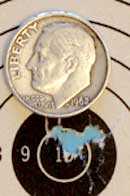 Avanti Precision Ground Shot shows what the 499 can really do. Ten went into this 0.224-inch group at 5 meters. This is almost a perfect score.
On to 10 meters
Now that we know how well the gun can shoot, it's time to back up to 10 meters and test what we all came to see — namely, how well the 499 does at 10 meters. This is the first time I've done this, so I am just as interested in the results as all of you.
Crosman Copperhead BBs
First up were the Copperheads. I didn't change the sight setting, so we'll forgive the placement of the shots in this test. Ten shots landed in a group that measures 1.118 inches between centers. That's actually slighly smaller than double the 5-meter group size (which would be 1.148″); so, allowing for the measurement error, it seems to be right-on.
Notice the two shots that landed below the main group. There were no called fliers, so those BBs are probably not the same size as the others.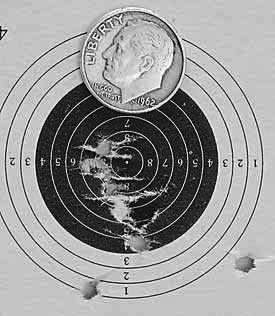 At 10 meters, 1o Crosman Copperhead BBs made a 1.118-inch group. Those two at the bottom were not called as fliers.
Daisy Zinc-Plated BBs
Next up were the Daisy Zinc-Plated BBs that do so well in this gun for normal BBs. Ten of them made a group measuring 0.828 inches. That's larger than double the 5-meter group size, which is what I expected at 10 meters. Again, there were no called fliers, and one stray BB hit below the main group.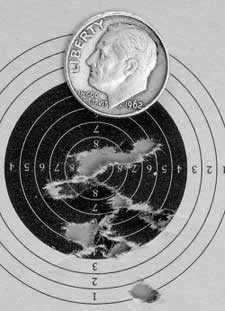 Daisy Zinc-Plated BBs did well at 10 meters. This is a 0.828-inch group. The lone shot at the bottom was not a called flier.
Daisy Avanti Precision Ground Shot
Finally, I shot the Avanti Preciaion Ground Shot at 10 meters. The picture tells the story. Ten shots landed in a group that measures 0.755 inches across. This group is larger than double the 5-meter group with the same BB, which is what we would expect. Let's talk about that next.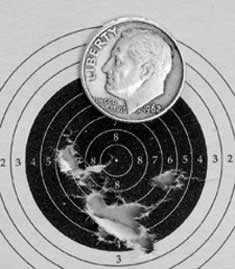 This is where the pedigree of the Avanti Precision Ground Shot shows up. Ten made this 0.755-inch group with no real stragglers.
Why aren't the groups just double the size at 10 meters?
This is a common misconception that I'd like to address. Groups don't open up on a linear scale as distance increases. A 10-meter group should not be twice as large as a 5-meter group. And here we must differentiate between a spin-stabilized conical bullet and a round ball fired from a smoothbore.
A ball that's not spin-stabilized will deviate much faster than a ball that's stabilized by the spin introduced by rifling. A rough comparison can be made to a baseball that is intentionally thrown without spin — the famous knuckleball. It will go straight for a short distance, then suddenly deviate wildly and unpredictably from its ballistic path. The comparison is not perfect because a baseball has seams that affect its movement through the air, but the principle is similar.
Conclusion
Don't run out and buy Avanti Precision Ground Shot for your Red Ryder. That would be like putting premium gasoline into a lawnmower! On the other hand, don't buy a 499 and then try to shoot it with standard BBs. That's false economy going the other way. Back up a few feet and look at what you are paying for ammunition, and then buy what makes the most sense.
The 499 is a special gun that's purpose-built to do one thing — shoot BBs as close to where you aim as possible. I rested the gun for this test, but every year there are children who shoot similar targets offhand in competition.
Thank you!
I would like to thank everyone who requested today's test because it was something I've never done before. Now, we all know what an accurate smoothbore shooting a steel BB can do at 10 meters.
by B.B. Pelletier
Part 1
Part 2
Part 3
Part 4
Part 5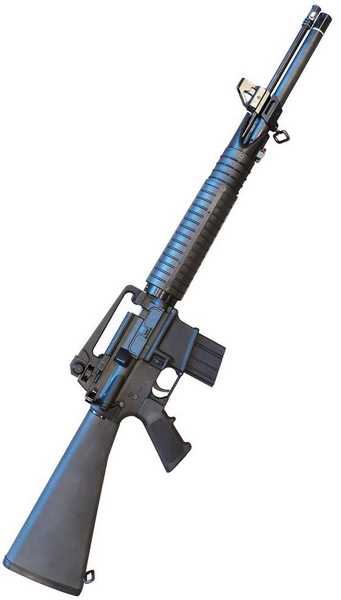 Crosman's new MAR177 upper is big news!
Today's test is shooting the Crosman MAR177 at 25 yards, both with and without the magazine. We'll also shoot it with the best wadcutter target pellets and the best domed pellets to see what differences there are.
Rather than shoot the rifle myself, I let Mac shoot it this time. He is the better rifle shot between us, and I just wanted to see what the rifle would be like in his hands. He shot it off a bag rest at 25 yards indoors. Ten pellets were shot from the magazine, then another 10 of the same pellet were shot using the single-shot tray. Mac tested both domed and wadcutter pellets, so we get to compare the relative accuracy of both today. And the results did not turn out as I expected.
Magazine
I'd noted in an earlier report that the particular 10-shot magazine I've been using has two chambers with tight entrances. Mac found the same thing without being prompted by me. I had him use the same magazine as I did so I could compare his results with all other variables remaining the same.
You'll recall that I mentioned not liking magazine guns because of how they handle the pellets. So, today was also a test between the magazine and loading each pellet as you shoot. I'm not saying that all pellets have feeding problems, but that some magazines may have a problem. But when you load each pellet singly, you have less chance of damaging the pellet.
Single-load tray
That said, the MAR177 has a gap at the front of the single-load tray that can catch the nose of certain pellets and make it very difficult to load. The H&N Field Target pellets that were the most accurate in an earlier test had this problem and had to be exchanged for a different domed pellet. The H&Ns have a semi-wadcutter rim around the head that just catches in the gap on the tray and causes the pellets to flip up and possibly get damaged on loading. I substituted 7.3-grain Air Arms Falcon pellets that fed perfectly through the tray.
On to the shooting
Let's get right to today's test. First, Mac tested the domed pellets at 25 yards.

Through the 10-shot magazine, 10 Falcon pellets made this 0.667-inch group at 25 yards. This is very good!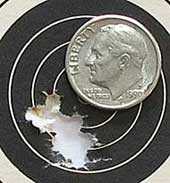 When the single-shot tray was used, 10 Falcon pellets made this 0.429-inch group at 25 yards. This is clearly better than the group made using magazine-fed pellets.
Mac tried the H&N Field Target pellets first, and they were very accurate, but a couple of them refused to feed through the magazine. But the Falcon pellets fed flawlessly, so we changed the test to use them as the domed pellet of choice. Once again, I want to say that in another magazine this pellet might have fed better, but this is a quirk you get with mags that you don't get when loading singly.
Clearly the single-loaded pellets are more accurate than those loaded by the magazine. That may not hold from magazine to magazine; but for this one mag, you're better off loading the pellets one at a time. Let's see how the rifle does with wadcutters at 25 yards.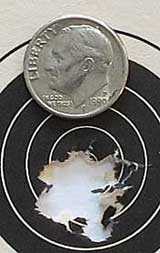 Using the magazine, 10 RWS R10 7.7-grain pellets (an obsolete weight for the R10) grouped in 0.484 inches at 25 yards. That's great performance.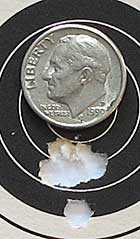 When each pellet was loaded singly, the R10s grouped 10 in 0.402 inches. This was the best group of the test!
The trend continued with the wadcutter pellets. The R10s grouped even tighter than the Falcons at 25 yards, and those that were loaded singly did much better than those that fed through the magazine.
What have we learned?
First, we've learned that some magazines do influence the accuracy of the gun with all ammunition — or at least with the pellet types used in this test. A different magazine might well give different results, but one thing it will never do is outshoot loading the pellets by hand, one at a time. As a 10-meter shooter, I knew this going into the test. But it was nice that we were able to demonstrate it so clearly.
Next, we see that wadcutters were more accurate than the domes in this test. Even though both pellets were very accurate, the wadcutters had the edge. That was the part that surprised me. I'd expected the domes to take over at 25 yards.
The bottom line
The Crosman MAR177 is a valuable addition to an AR and a wonderful target rifle in its own right. It was held back in this test by the use of an AR National Match trigger, which is by no means as good as a target trigger on an air rifle. Even so, we see accuracy that any 10-meter precision rifle would be proud of.
I think Crosman has made a winning rifle in the MAR177. And when they bring out more powerful versions of it in the future, it'll be all the greater justification for owning an AR! My thanks to Crosman for the loan of this MAR177 for both this test and for the feature article I am writing for Shotgun News!