by Tom Gaylord, a.k.a. B.B. Pelletier
Today's report is a guest blog from reader duskwight. It's about how and why to clean airguns. It's longer than our usual blog posts and filled with lots of info you'll need.
If you'd like to write a guest post for this blog, please email me.
by duskwight
What we put into our airguns — and what it puts into their barrels
Everybody knows we shoot lead. So-called "ballistic alloys" are a poor substitute for it, so let's all pretend that we shoot lead.
Lead is a soft, malleable metal — so malleable that a pellet's skirt blows out when hit by compressed air and presses into rifling. It's also so soft that during the Middle Ages it was used for pencils, as it leaves dark lines on paper or parchment or human hair! Yes, people made lead combs to dye their beards and hair while combing them — they didn't live that long back then, anyway. Remember that, though, and wash your hands thoroughly, especially when you're covered with a lead and oil cocktail, because it's readily absorbed.
So, lead leaves traces of itself on things. Sometimes, it leaves even more than traces — as in whole deposits of lead. Just imagine a lead pencil drawing a line all along the inside of your barrel, and you'll get the picture. Freshly exposed lead is so shiny and bright — it's also quite sticky and shaves off your pellets to form thin (foil-like) deposits inside your barrel. It looks like tiny shavings or scales, pressed and stuck onto the metal.
Of course, that's not all. Some pellet makers use graphite dust to prevent pellets from sticking to each other inside their tins. Some use different types of grease (e.g., tiny amount of petroleum jelly dissolved in a good amount of solvent to form a thin coat after a short wash) to prevent them from oxidizing while being stored. Some use both. There's all sorts of lead dust and tiny shavings of lead coming off pellets. The better the quality of your pellets, the less dirt they bring with them. But they're all dirty. And compressed air, especially in a magnum springer, carries tiny amounts of grease, fat and oil to combust — creating different sorts of tar and carbon for the barrel.
And there's other bad stuff inside, but only for CO2 guys. Carbon dioxide cools as it expands rapidly in the barrel, and it condenses out some tiny amount of water from the air. It can also contain some water of its own. Carbon dioxide plus water is unstable carbonic acid H2CO3 (fizz water anyone?). It is a rather weak acid; however, it's still an acid.
What it means for your rifle or pistol
The rule is simple. You shoot, and you foul your barrel. It's inevitable, just like every breath you take brings some very strong oxidants into your lungs.
Then comes the next rule — dirty barrels tend to make you miss. This is simple, too. Compare it to driving on a highway or autobahn (in case you use German-made barrels) — that's a clean barrel — versus country roads beaten up by tractors and ill repairs — that's a dirty barrel. Deposits in your barrel make your pellet's ride unstable. What's worse is when the deposits collect near or on the crown. They force the pellet to leave your barrel with an unequal force on all sides, making it prone to tumbling, less stable and imprecise. They can also deform or mar the surface of your pellet, affecting aerodynamics and hurting accuracy.
Match-grade barrels with polished grooves collect less lead. Poorly manufactured barrels with "cheese-grater" surfaces scrape off more. Polygonal or segmental rifling tends to catch and hold less lead than classic Ballard rifling because of fewer cutting edges, lower lands and less spaces for lead to stick. The smoother your airgun shoots — the less brute force is applied to the pellet, the less fouling is left. Springer super magnums seem to be the champions of brute force (which makes them lose accuracy soonest). Choked barrels tend to catch more lead in the choke; barrels that are straight cylinders tend to get dirty more uniformly.
The main thing to learn from all this is that there's no certain equation between the number of shots and aforementioned effects. Every barrel and every rifle has its own character and own number of shots to get dirty. For example, my Feinwerkbau C62 Luft needs 2,500 shots to get dirty, while my modified Gamo CFX with Lothar Walther barrel gets 500-520 shots before it needs to be cleaned. My Feinwerkbau 300S likes to be cleaned every 1200 shots (although I suspect that's me being paranoid, not exactly the rifle's barrel). An IZH 60 I have seems to have no limit at all. That's what you get with segmental rifling and low power. However, the same modified Gamo CFX with the same Lothar Walther barrel (except for the wood) I made for my friend wants to be cleaned after every 550-600 shots. And another buddy's FWB C62 wants cleaning after 2,000 shots.
Keep in mind that I use just 4 different types of pellets for my fleet – all of them are .177. Multiply that by the number of rifles — each of them can (and probably will) like its own sort — H&N, JSB, CP, Eun Jin, etc. — and calibers — .177, .20, .22, .25, .30. Don't go crazy doing this. Learn your guns, get intimate with them and know their habits and likes.
Getting dirty
Oh, you'll know when the barrel finally gets dirty! Your perfectly tightened, perfectly tuned and sighted airgun starts to spit like a mad camel! Pellets start to fly chaotically, hitting where you don't want them.
If you're lucky (which means you have a "predictable" barrel), the accuracy fall-off will start sharply — just 5 or 10 shots, and it's shooting horribly. If you're not so lucky, it will drag along for 50 or more shots, with some being better and others worse. Up and down you'll go — getting tighter then trashier groups. Anyway, it will happen. That tells you things got dirty, and it's time to clean.
Some shooters clean after every session. Some clean according to a regular preventive schedule — when the shot count comes to the predetermined number of shots. And others just wait until the inaccuracy gets obvious. I'm somewhere between the second and third type. I don't like to disturb barrels too often.
What we clean
Airgun barrels are made of steel or brass. Steel is tougher, yet it's not the same kind that's used for powder-burners. It's softer and of a simpler composition, not chromed and so on. Brass is even softer and less durable, but it has a lower friction coefficient with lead and tends to collect less lead than a steel barrel.
A good clean airgun barrel looks like mirror — shiny and amplifying light. Dirty barrels look dusty, and their insides look smoky and blackened. Some even drop lead dust when shaken.
What to use for cleaning — and what not to
The rule in this case sounds like that – nothing can enter the barrel that's harder or as hard as the barrel metal. The worst thing that can happen to your barrel is a damaged crown. That's a death sentence for your barrel's accuracy.
So, steel rods and steel brushes go directly to trash for both steel and brass barrels. [Note from B.B.: Some gunsmiths recommend a one-piece polished steel cleaning rod for cleaning steel barrels. They claim it doesn't harm the barrel because it's smooth.]
Steel rods coated with plastic are good. Brass rods are good for steel, but not for brass. Wooden rods — if you can find one in .177 caliber — are ok. Plastic rods are ok too. Different kinds of cloth "snakes" are also ok.
Brushes are usually made of one of three materials — brass, plastic or cotton (they call the cotton ones mops). Brass on brass doesn't play; save it for your steel barrels. The rest are OK.
Patch-holding tip — get a brass one for steel barrels and aluminum alloy for brass barrels.
Felt patches — I use them for quick cleaning or refreshing the barrel on the range. I load 2 dry with 1 wet between them, and a pellet behind all of it to give a springer something to push against and save the optics — or nothing in case of a PCP. But that's not proper cleaning, no matter what the ads say.
Thin cotton cloth — clean old t-shirt is quite ok; special wads are too posh for true tough guys (any dry cotton is OK).
As for oil — I prefer Ballistol. Nothing too special, and it does the job right. I also use WD-40 for CO2 guns — as a preventive to get rid of water.
A word of caution about oils. Make sure they don't get into any place where there's compression, especially when it comes to sprays. In the case of springers, they can cause intense dieseling — or even detonation — and broken seals and springs. In the case of single-strokes or multi-pumps, you can get yourself a very nice tiny working diesel engine — and some purple-black blood-blistered fingers for your troubles.
Do not use silicone oils. Just don't — they're simply not for cleaning metal. [Note from B.B.: Silicone oil is used to seal pistons. It doesn't lubricate, it seals.]
Ah, and one more thing. You need a tiny and very bright single, white LED flashlight to check the barrel's condition. This is a useful amateur gunsmith tool.
Getting things done
Brass barrels are exotic these days. If you have one — use a plastic brush.
Steady your rifle, preferably in the horizontal mode. The less bend you'll give to your rod, the better.
Close all the glass optics with covers. Should I remind you that your rifle must be uncocked, unloaded, de-pressurized and checked twice for maximum safety?
It's best to clean the barrel from breech to muzzle. Well, I think that's a bit of a superstition. With good equipment and steady hands you can clean it in the reverse direction — and you often have to. Especially, since some guns do not give you easy access to the rifle's breech.
Let's say we have a VERY dirty steel barrel on our hands. Don't laugh — it happens! Put a brass brush on your rod. For brass barrels (they're hard to get this dirty), use only plastic brushes. Spray it with Ballistol to wet the brush.
Drag your brass brush along the barrel 5-10 times. Not fast, not slow — just calm and steady. The brass brush will scratch all the big lead deposits off barrel walls and won't hurt your steel barrel.
WATCH OUT FOR RUBBER RINGS AND OTHER DAMAGEABLE STUFF INSIDE THE BARREL AND PAST THE BREECH.
Now, wait for a couple minutes. Then, screw your patch-holding tip onto the rod. Get some cotton onto it or use a patch of cotton cloth. It must sit tight inside the barrel. Spray some Ballistol to make it wet. Run it 5-10 times through the barrel in both directions. Take it out and say, "Eek!" It should be black with some tiny, shiny flakes of lead.
Change the cloth or cotton and repeat 5-10 times. Aaah…now it comes out dark grey. Change patches again. This one comes out light grey. Change and clean until it comes out white. This alone works fine for regular cleaning if your barrel doesn't tend to get extremely dirty.
Congratulations, you just got yourself a nice, clean barrel. However, you must finish the job.
Use a loosely woven dry cloth or cotton on your patch-holding tip or use a cotton brush to dry the barrel. Don't be afraid. One run will not leave the barrel dry, it will leave just the right amount of oil that you need in metal pores and on its surface. You've heard the expression, "A light coat of oil?" That doesn't refer to a wardrobe choice.
Then, if you like — shoot 3-5 pellets into a pellet trap to season the barrel. This will give you a thin film of lead that gives the barrel its standard accuracy and voila! Your barrel is ready to punch hundreds more precise and clean holes in paper.
For polished match barrels that are not very dirty, I use the method of some Olympic airgun shooters. It puts minimal (well, they are prone to overplaying safe) influence on the barrel and makes things extremely right and tender.
Get a fishing line – very good stuff to clean match barrels. I prefer 0.40mm Japanese line. Get 5-6 feet, fold in two, knot, pass through the barrel, loop outside the breech, knot outside the muzzle. Put a narrow strip of cloth into the loop (in my case — 6″ long, 1/5″ wide, 2 loops for .177), soak it with Ballistol, put the rest of the cloth over your fingers (as fishing line DOES cut!) and just pull steadily and slow. This will drag the cloth through the barrel and clean it. Repeat with wet cloths until it comes out white. Finish with one dry patch. Perfectly clean!
There's another kind of problem with CO2 guns that I mentioned before — water and carbon acid. To maximize your CO2 gun's service life (don't consider it to be just a plinker — FWB and Walther made some Olympic CO2 match rifles, and the Hämmerli 850 AirMagnum is a serious piece even by today's standards), depressurize it and apply some WD-40 into the barrel with a cotton brush or patch-holding tip and cotton cloth after every session. This will get the water out of the pores and preserve it from rust. The same goes for shooting PCPs and springers in misty or high-humidity outdoor conditions.
And a finishing touch — gently rub your rifles steel parts with a soft cloth, slightly wet with oil. Congratulations — you're done!
by Tom Gaylord, a.k.a. B.B. Pelletier
Today, I'm starting a long series on lubricating airguns. Blog reader Joe asked for this; but as I was researching the subject, I stumbled across another request that came in through the customer reviews on the Pyramyd Air website:
"I wish that RWS or Pyramydair would explain the process and frequency of oiling these RWS rifles in particular the RWS mod 48. Everyone I talk with says the RWS owners manual is outdated and that with the new seals they use does not need to be lubed maybe for years….I purchase the RWS chamber and cylinder oil at a cost of almost $30.00 and now am told I probably will never need it? This topic should be cleared up once and for all by the manufacturer."
Perhaps this customer is referring to RWS Chamber Lube and RWS Spring Cylinder Oil as the two products he purchased. And they do add up to $28 before shipping. Are they necessary? Should he have bought them? That's the question I'll start answering today.
This subject is so vast and complex that I cannot address it in a single report. In today's report, I'm only going to look at lubricating the piston seal. That constitutes about half of the lubrication requirements for many airguns, in my opinion. In the next installment, I'll address all other spring gun lubrication, including the mainspring and piston.
Leather piston seals
In a spring gun, the piston seal is what compresses the air when the gun fires. As the piston goes forward, the seal keeps the air in front of the piston, where it gets compressed because the only escape is blocked by the pellet sitting in the breech. If the gun's working properly, all other avenues for the compressed air to escape have been blocked.
In the past, pistons were sealed with a leather pad or cup. Leather is an ideal material for this job. It's rugged, lasts a long time and will conform to the shape of the compression chamber after a few shots — much like a leather shoe that eventually fits your foot perfectly.

This cup-shaped leather piston seal is for a Chinese spring rifle.
To do its job, a leather seal has to stay soft and pliable, and oil is the best thing for this. As the spring gun operates, a little of the oil is consumed with each shot, so a leather seal needs to be oiled frequently to stay soft. How frequently? In some older guns, I've found that oiling every few weeks is necessary if they're shot a lot. Certainly, all guns with leather seals need a couple drops of oil at least once each month if they're to be shot. You can leave a gun with leather seals unoiled for years if you don't shoot it; but before you start shooting it again, that seal needs to be oiled. When I start shooting an older gun that I know has leather seals (I use references for finding out things like this), I put about 10 drops of oil through the air transfer port and let it soak into the seal for at least an hour, although a half day is even better.
What oil to use?
The type of oil you use depends on the velocity of the gun. Guns that shoot less than 600 f.p.s. in both .177 and .22 caliber will be oiled with regular household oil. Any petroleum-based lubrication oil will do. Yes, gun oil will also work. For guns that shoot faster than 600 f.p.s., I use silicone chamber oil, like the product listed above. The spring cylinder oil is not for chambers and should not be used on the piston seals of these guns.
Synthetic seals
Starting in the 1950s, manufacturers began experimenting with piston seals made from synthetics. Some of them, like the ones used by Anschütz and Falke, worked well and lasted for many decades. But others, such as the seals used by Walther on all their airguns and the seals that Feinwerkbau used on the 121 and 124/127 sporting rifles, were made from a material that dry-rotted within about 20 years. If they were oiled by anything, they failed even faster. These seals started out as a light beige color, but as they absorbed oxygen and oil, it turned them dark yellow and brown until they began to break apart in waxy chunks.
Diana was one of the last companies to switch from leather to synthetic, and they had the benefit of watching the others. They were still using leather seals in their powerful model 45 rifle in the late 1970s, at a time when that airgun had broken the 800 f.p.s. "barrier." When they started making synthetic piston seals, they used a blue-colored material that was tough and long-lasting. It's interesting to note that the others adopted similar piston seal material when they finally realized their seals were perishing in use.

The blue Diana parachute seal is so rugged that hobbyists use it for many other airguns. It needs very little oil!

These 2 FWB 124 seals are made from modern synthetic material, yet they look like the original ones. The one on the right has been inside a rifle for a few thousand shots. It looks bad but is still in great shape and will last for many decades.
Don't fixate on the color blue for piston seals! These synthetics can be colored any way and still be fine. I have modern FWB 124 seals that look similar to the old seals in color, yet they'll last indefinitely. It's the material, not the color.
Which oil to use?
With synthetic seals, I always use silicone chamber oil. That's SILICONE CHAMBER OIL — not brake fluid, silicone spray lubricant or any other concoction. Chamber oil is for piston seals. It does not lubricate metal parts because the viscosity is too low. It'll ruin metal parts if you use it that way. On the other hand, nobody knows what will happen to a gun that's lubed with anything other than SILICONE CHAMBER OIL.
Diana recommends using two drops of chamber oil on the piston seal every 1,000 shots, and one drop on the breech seal at the same time. That's it. To answer the person who asked if he needs the chamber oil, the answer is yes. But one small bottle will last a long time. I've observed that most Diana airguns can get by with even less oiling than what's recommended. One diagnostic for when a gun need its seal oiled is when the seal honks like a goose as the gun is cocked.
Silicone chamber oil has a high flashpoint. Since the air in a spring-piston gun reaches about 2,000˚F with every shot, this is important. This heat is adiabatic — it doesn't heat the gun because the interval is too brief.
Overlubing vs. underlubing
It's almost impossible to overlube a leather piston seal. And it does not harm the seal if you do.
On the other hand, overlubing a synthetic seal can start the gun detonating. Not dieseling — most spring guns diesel. When you smell burning oil, your gun's dieseling. Dieseling is just a few oil droplets vaporizing with each shot. It's perfectly normal in a spring gun.
Detonation is when a lot of droplets vaporize and cause an explosion. That will damage your piston seal if it's allowed to continue for a long time. It can also break your mainspring.
So, dieseling is okay, but detonations are bad. And overoiling synthetic seals causes detonations.
Do you see why I had to cover just the piston seals today?
by Tom Gaylord, a.k.a. B.B. Pelletier
Part 1
Part 2
Part 3
Part 4
Part 5
Part 6

The Lightweight Disco Double in its new stock looks striking!
This is a third look at the Disco Double shooting at 50 yards. All I've managed to do so far is demonstrate the Disco Double is very consistently mediocre with the best pellets — JSB Exact Jumbo RS domes. However, the last time I was out at the range with this rifle, I finally did what the builder, Lloyd Sikes, has been telling me to do all along. He said to tighten the 6 screws on the 2 barrel bands or hangers, and this time I followed his directions. Guess what? Four of the 6 screws were loose! Imagine that! I tightened them and knew the rifle would reward me for the effort.
It was no surprise when shot the best 10-shot group ever with the rifle. Ten RS pellets went into 1.195 inches at 50 yards. But I was 3 shots into a second group when the bolt handle broke off in my hand during cocking. That ended the day for this rifle.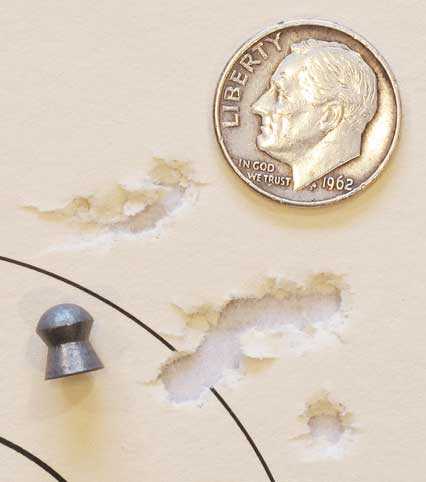 Ten shots went into 1.195 inches at 50 yards. This is the tightest group this rifle has fired to this point, and all I had to do was tighten a few screws.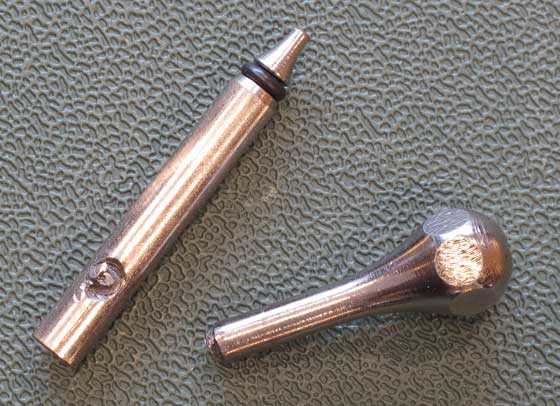 The bolt handle broke off during cocking. This isn't common, but it can happen.
As soon as I returned home, I emailed Lloyd, who put a new bolt and handle in the mail right away. I really wanted to finish the test before leaving for the Ohio airgun show (which is this Saturday), so I disassembled the rifle. I ran into a problem getting the old bolt out, but a call to Lloyd set me on the right path and soon the job was done.
The new parts arrived the following week, and I had them in the rifle inside an hour — though another call to Lloyd was necessary. He was most helpful, and I resolved my problem with a minimum of fuss. The rifle went back together, and I was ready to return to the range.
This time, I took the opportunity to mount a new UTG 6-24X56 scope scope in place of the UTG True Hunter 3-9X40 scope I took off. Naturally, the target image was much larger with this scope, which just made my job easier.
I tried several pellets that I've tried before, but once more this rifle demonstrated that it likes the JSB Exact Jumbo RS pellets the best. Since the rifle had been taken apart for the bolt repair (i.e., both barrel bands had been removed), I was back at the beginning on the first group. I had the front band about where it had been before (from the screw marks in the paint), and the first group of 10 went into 1.28 inches at 50 yards. That was marginally better than the 1.317-inch group I'd gotten during the previous full test, but not quite as good as the one group I shot just before the bolt broke (1.193 inches). All the screws were tight, so now it was time to move the front barrel band.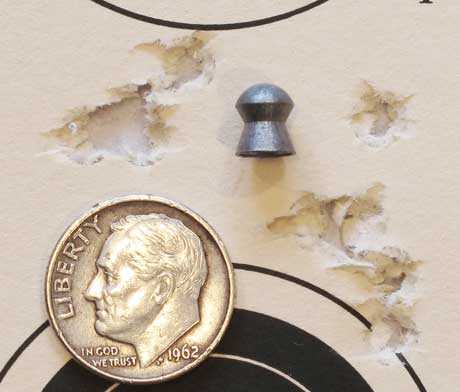 After the barrel bands were reinstalled but before the front band was moved, I put 10 JSB RS pellets into this 1.28-inch group at 50 yards.
Harmonics
In case you don't understand what moving the front barrel band has to do with accuracy, it comes down to harmonics. By changing the location of where the barrel is anchored, I changed how the barrel vibrates during the shot. I did a huge 11-part test of this effect a few years ago. You can read about it here.
I moved the front barrel band backwards about a half inch and tightened the 3 screws once more. Then, I fired another group of 10 shots. This time, 10 RS pellets went into 0.816 inches. That's pretty telling, don't you think? Of course, I have no way of knowing if I have the barrel band adjusted perfectly — all I know is that it's better than it was before.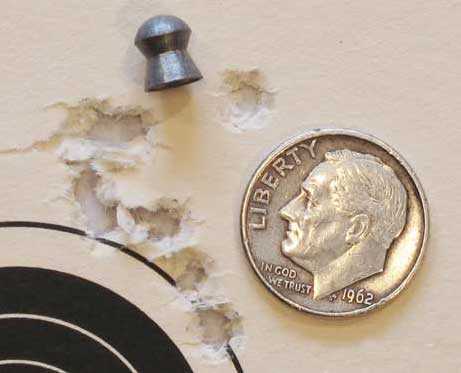 After moving the front barrel band, I put 10 RS pellet into 0.816 inches at 50 yards.
A second 10-shot group went into 1.506 inches. Oops! Was that supposed to happen? Its difficult to say, but perhaps I wasn't concentrating while shooting this group. I simply don't know. Stuff happens to me, just like anyone else!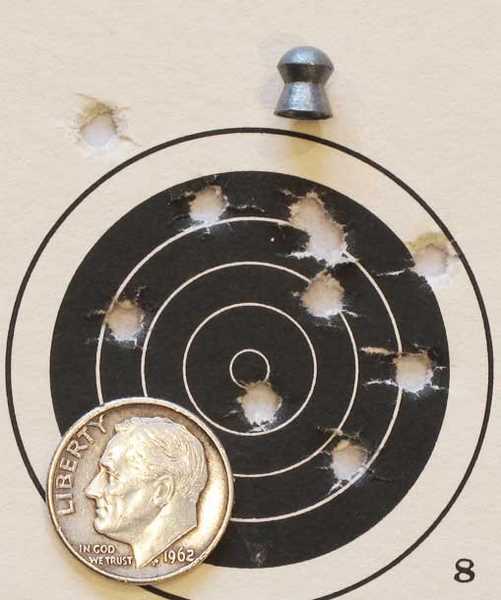 The next 10 RS pellets made this 1.506-inch group.
So I shot a third 10-shot group. This one measures 0.961 inches between centers. That's better.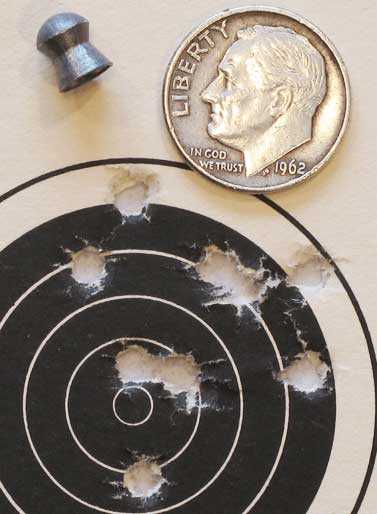 A final 10-shot group of RS pellets went into 0.961 inches.
The results
What I can tell you now is the that Disco Double is able to put 10 pellets into less than an inch at 50 yards under ideal conditions. I've shown you everything that's happened, and I could go on and continue to test this rifle until I have it shooting its best. I probably will, in fact. But the lesson is what I've shown you today.
The Benjamin Discovery is an inexpensive PCP that can put 10 pellets into less than one inch at 50 yards under ideal conditions. The Disco Double I am testing for you here has a lot of extra work done to it and is not as inexpensive as the basic Discovery. However, this is the air rifle I wanted. It's small, it's accurate, it has a wonderful trigger and this one gets a load of shots on a fill of just 2,000 psi. That's everything I wanted in a PCP.
Best of all, this rifle weighs no more and is no larger than a standard Discovery. Despite the additional air capacity, I had to sacrifice nothing. That was the real reason I had this air rifle built. Lloyd Sikes has a wonderful thing going here. If you're interested in what he can do for you, find him at Airgun Lab.
by Tom Gaylord, a.k.a. B.B. Pelletier
I've wanted to write a blog about several different subjects for a long time, but I didn't know what to call it. What I'll do today is clear the boards of a couple small, unrelated things.
American Airgunner
As you know, I spent most of last week in Ft. Smith, Arkansas, filming the 2014 season of American Airgunner. I'm in a segment of the show called "The Round Table," where a bunch of guys talk about different subjects. This year, we did some hands-on work that was more exciting than last year, but I'm not going to tell you what that was. You'll just have to watch the show like I do!
We worked with 5Star Productions — an award-winning video production group based in Ft. Smith. I've worked with several video companies over the years, and I can tell you that these guys are first-rate! We knocked out all 13 episodes in three days of filming and even shot some bonus footage because they were so efficient. Getting out of the office is hard for me these days, and it's such a pleasure when I get to work with professionals who know exactly what they're doing!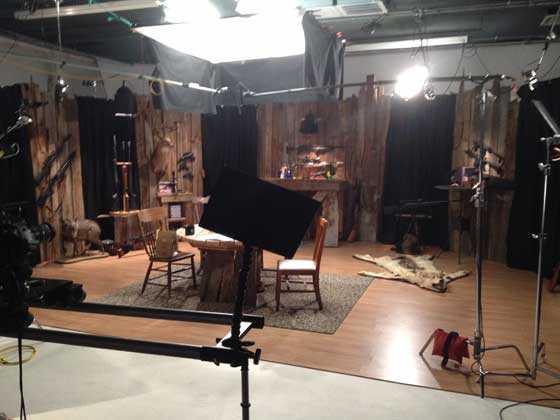 The Round Table set on American Airgunner.
On the last day, we filmed on location at a large ranch in Oklahoma. The four of us — show host Rossi Morreale, Steve Criner, Rick Eutsler and me — were very loose and somewhat tired. Rossi was talking to Steve about how he seemed to change whenever he was on camera. And that's when this happened: Behind the scenes outtake.
Now, on to the blog.
I got this new airgun and…
Pyramyd Air gets a lot of customer feedback about the guns they sell. Recently, a gentleman wrote in to complain about the accuracy of a Crosman Fury Nitro Piston rifle he'd purchased. He said he was a 1,000-yard benchrest shooter, so he knew how to shoot, but he could not get the Fury to group.
No kidding! I bet he also couldn't get a rack-grade Marlin 30-06 to shoot well at at 1,000 yards — either! And Corvettes make lousy pickup trucks!
Come-on, guys. When is a $120 breakbarrel springer ever going to give you dime-sized groups at 30 yards? Maybe the Air Venturi Bronco can do it, but not too many others. And, when you stuff a gas spring (the Nitro Piston) into a budget-priced rifle, it's going to push everything way beyond the limits. Sure, it'll work, and you may get wonderful velocity numbers. But tight groups? I think not.
Pyramyd Air, however, gave the gentleman the more civilized answer.
A few things to try. (1) Your gun may have barrel droop and might benefit from an adjustable mount that helps compensate for droop. (2) Try JSB or H&N domed pellets. You should see a significant difference. When it comes to pellets, you get what you pay for. (3) Tighten all stock screws. You'd be surprised how many guns have loose screws after just a few minutes of shooting. Many people use blue Loctite on their gun screws so they don't have to stop shooting every few minutes to tighten the screws! (4) Springers often require a break-in period. Many people don't see consistent groups until 500 or even 1,000 shots. In fact, when Dr. Robert Beeman owned Beeman Precision Airguns, he stated in his catalogs that springers needed 500-1,000 shots. While springers these days may not need quite that many, they DO need some break-in time. If you don't have a lot of shots thru your rifle, you may want to put some pellets downrange to see if accuracy increases. (5) Lastly, how about using another scope? Not all scopes are created equal. Get a different scope (one that you know has good glass and can stand the 2-way recoil of a springer) and see if accuracy improves. Hope these suggestions help.
These are all things that experienced airgunners do with any new rifle they get. We expect to have to do them and are pleasantly surprised when we discover that one or more of those things isn't required. But the bottom line is what I said at the beginning. Don't expect inexpensive airguns to group tight — and be very thankful if they do.
I can't win
I recently tested a Daisy 880 and got criticized for not testing a brand new gun. I was told that my reviews influence a lot of people, and I should always test new guns that represent exactly what the customer will get.
When I write a report I put a lot of words into the article. It this particular report I wrote the following words:
The rifle I'm testing for you is about 13-14 years old, but it probably has fewer than 500 shots on the clock.
That means the rifle I'm testing is not new. I imagine my readers don't always know what I do, but they can read and understand what I'm saying.
In the second report, after showing the velocity numbers and remarking that the velocity varied widely, I said:
The Daisy 880 varies greatly in velocity from test to test. You may think this is because my 880 is an older one. I can't argue that. If you want to run the same test with a more modern 880 and submit your results, I'd be glad to see them; but please back up any claims you make with chronograph results.
I wrote that paragraph so the readers would know the possible reasons why the gun I was testing was acting like it did. I never anticipated that anyone would use parts of each of my reports as material for a debate on ethical writing! But, seeing that it happened, I thought it was important to point out everything that was said.
Some folks worry too much about the other guy, and forget to watch over themselves. I like to let each reader ask his own questions and not let one reader speak for a group that may or may not exist.
However, there was enough discussion on this topic that I requested a brand new Daisy 880 from Pyramyd Air, which I'll test when the test of my old rifle is finished.
This sort of thing sticks in my craw because it happens both ways. When an older rifle doesn't do as well as it should, I get criticized for testing it. And, when an older rifle does better than it should, I'm told that I shouldn't test an airgun that is so well broken-in. That happened when I tested my TX200 Mark III. I was told that my older rifle shot faster because it was so well broken-in. Now, I'm told the Daisy 880 shoots so poorly because it's an old air rifle.
You know what I think? Air Arms guns get better with age — or at least that's what people think. And Daisys wear out over time, or at least that's what people are saying. Maybe there's some truth hidden there?
When I get this new airgun, where should I get it tuned?
This comes up all the time. People buy a brand-new airgun; and, because of the reading they've done, they assume it has to be tuned to work for them. I'll admit there's some wisdom in this philosophy, but I think something more needs to be said. Why not shoot the gun awhile just as it comes? I have a story to illustrate this.
Many years ago, I bought a Ruger 10/22 rimfire rifle for an article I was writing on silencers. But I figured I could test the rifle in different ways and get even more stories out of it. Well, the story I got turned out to be quite different from the one everyone thought.
My late friend Mac had a 10/22 that was a tackdriver. He'd sent it to Connecticut Precision Chambering for a target chamber, a headspacing job and a trigger job and reckoned they could do the same for me.
When I first tested that rifle, it wasn't that accurate. It grouped about 1.5-inches for 10 shots at 50 yards with the best ammo available. I was glad to send it off for the work. I figured this was how Mac had gotten his rifle to become so accurate. When it came back, the trigger was wonderful, but the rifle still wasn't that accurate. Ten shots would now group a little larger than one inch at the same 50 yards.
This puzzled Mac, who was sure my rifle would become a tackdriver after the customization. A tackdriver would put 10 shots into about a half-inch at 50 yards. I still own that rifle, and it's never done better than an inch for 10 shots. But I bought an aftermarket 20-inch Badger bull barrel for it that gives 10-shot groups under 0.6 inches at 50 yards. Then I acquired a Ruger 10/22 Target rifle that has a hammer-formed barrel, and that one would put 10 into 0.540 inches at 50 yards with the best ammo.
Now, about 12 years after all of this has passed, I recently chanced to pick up a 10/22 Deluxe in a trade at a gun show. The Deluxe is the standard rifle but with a walnut stock that's checkered and a bolt that's polished. The trigger is still hard and creepy. When I shot it I was amazed. Finally, I have a 10/22 that's a potential tackdriver right out of the box. No, it hasn't put 10 into a half-inch yet, but it has certainly gone under an inch with no modifications.
Here's the point I'm making. Before you invest serious cash in any gun, make sure it's got good bones to begin with. Otherwise, you're just putting lipstick on a pig.
by Tom Gaylord, a.k.a. B.B. Pelletier
I'm still in Ft. Smith, Arkansas, as I write this, so please excuse the brevity of the report. A while ago, I wrote down this idea as a possible report topic. Those who haven't yet come over to PCPs often wonder how reliable they are, and those who already have the guns sometimes encounter things that are common problems but new to them. Let's talk about that today.
WARNING: The procedures I am about to describe are for those who know what they are doing. In every case, there are proper safety steps to be taken so accidents don't happen. I cannot possibly describe all of those steps, so the following procedures are presented only for your education — not to train you as an airgunsmith. Safety with pressurized air and airguns should always be the No. 1 concern.
I can't fill this airgun!
Boy, have I ever heard this one! It can come to you in a variety of ways, such as, "This airgun is broken — how do I return it?" I used to get at least one of those calls every month while I was the technical director at AirForce Airguns. The first few times I heard it, I was worried; but I got so used to hearing it that I would start telling them the cure before the problem had been fully stated.
The guy would tell me that he couldn't fill his old-style Condor tank. I asked him how he was trying to fill it — from a scuba tank or with a hand pump — and a lot of times that made the guy mad. He wanted to know why that mattered because he should be able to fill the gun from a scuba tank or from a hand pump. Right? When this call came in, I knew he was filling with a hand pump, and I also knew he was trying to fill an empty tank.
The answer to "can it be done" is both yes and no. Yes, you can fill this kind of tank from a hand pump if there's already some air inside it, and no, you can't fill the tank if you start with it empty. That would really anger some people until I explained that the air inlet valve on an old-style Condor tank is also the exhaust valve. It's a door that swings both ways. If there's no air inside the tank, the valve will not recognize the small puff of air from a hand pump and will escape, again.
The valve will not close because it also uses internal air pressure to help it close tight. If you fill the tank from a scuba tank, the incoming air is under so much pressure that it will fill the tank quickly, and the internal air pressure will help close the valve when the filling stops.
A hand pump cannot fill some pneumatic airguns (not just Condors) unless they already have some air pressure inside to hold the inlet valve closed. We would ship tanks out with what we called a maintenance air charge in them — just enough pressure to hold the valve shut. But if the guy received the gun and then proceeded to shoot all that air out, as some of them did, they then had a gun that could only be filled from a scuba tank. It's not funny when it happens to you.
This phenomenon is not just confined to AirForce guns, either. Almost all of the powerful Korean airguns work in a similar way. But the Korean guns can accept a charge by simply cocking the bolt — sometimes. In that case, taking the pressure of the bolt off the valve allows it to close and seal completely.
The newer style of Condor (as well as all other AirForce sporting PCP rifles) has a Spin-Loc tank with a separate inlet valve and firing valve. I'm not certain, but I believe this has solved the problem I just discussed. If I had a tank and pump here with me, I would check it right now. I'll look into it when I get home.
Now you know two things about PCP "leaks" that are both very common problems and often misunderstood. First, they aren't really leaks. They're part of the gun's design. Second, some guns must first be cocked to be filled.
Before you go all — "They shouldn't design them that way!" on me, remember, the SR-71 Blackbird reconnaissance plane leaks fuel until it flies fast enough to heat and expand the airplane's skin. Only then do all the leaks stop. Sometimes, a product can have a quirk that isn't a flaw — it's just the way it works. The Sheridan Supergrade rifle is one that cannot be pumped up unless the bolt is cocked first.
Use a hammer!
I probably shouldn't tell you guys this next one; because when some of you get a hammer in your hands, every problem looks like a nail. But in the world of pneumatics, there are times when a big rubber mallet is exactly the right tool to use. When is that time? When a pneumatic that has been performing well all along suddenly develops a fast leak. It's probably due to a piece of dirt that's gotten onto a soft seal and is allowing air to pass through. To get it off the seal, it sometimes works to tap the end of the valve with a soft hammer. It opens the valve, and the blast of air will probably blow the dirt past the seal.
When I built valves at AirForce, I tested each by pressurizing them in a fixture and tapping the valve stem with a rubber hammer. I had racks of 100 valves at a time, and I went through and did this to each one in turn. That process seated the valve and created a small ring of contact between the synthetic valve and its seat. Sometimes, the valve needed to be hit several times to seat it properly, but it always worked. And it also worked if a valve had a small piece of dirt anywhere in the seals.
When customers would call with a gun that leaked and I determined the leak was a fast one that had popped up all of a sudden, I told them to try this procedure before sending the tank back for repairs. It fixed probably over 75 percent of all such leaks.
But this isn't magic. If your gun has been a slow leaker the whole time you've owned it, this isn't going to change a thing. It's just for those all-of-a-sudden leaks that crop up sometimes. It will work for all guns, but most of them don't allow direct access to the valve head like the AirForce tanks do. For those, you can do the next best thing — dry-fire the gun several times. That usually fixes the problem unless you're timid about it. I sometimes had to get a timid owner to dry-fire his gun by telling him to fill it full and then dry-fire it 20 times in rapid succession. All that was doing is getting him to dry-fire the gun repeatedly without pausing to see if it was fixed yet. When there's a piece of grit on a seal, it takes a lot of air flowing past to dislodge it, and a couple tries are often not enough. Twenty shots is probably overkill in all situations, but it saved me time from having to explain in detail just what the guy was doing — as I have now done for you!
You now know a genuine airgunsmith procedure! It isn't as fascinating as it sounded, is it?
Listen
Okay, let's go back to 1960, when cars had points and copper spark plug wires with (sometimes) poor insulation. Mechanics had a genuine stethoscope in their toolboxes. Or if they were shade-tree mechanics, like me, they had a 4-foot length of small rubber hose. We would put one end of the tube to our ear (the ear that worked best) and move the other end around the engine compartment while the motor was idling. You could quickly zero in on an arcing sparkplug wire or an exhaust manifold leak. It also works for precharged airguns!
You don't need a hose because the barrel is the pipe that transmits the sound. Cock the gun but don't load it. The sound you're listening for is an air leak at the exhaust valve. But here's an important safety tip — never put your ear directly over the muzzle and never do this if the gun is loaded! Listen from the side of the muzzle; so if the gun were to fire, the air would blast past your ear instead of into it! You can use a piece of paper to direct the sound, if needed. That keeps you safe and still lets you hear the smallest sounds.
I've found a number of valve leaks this way. This is just a diagnostic tool — it doesn't do anything to fix the valve.
If your ears aren't that good, or if you just don't want to do it this way, you can also put a few drops of soapy water down the muzzle of a cocked gun. Bubble-blowing solution that you can buy at a dollar store works perfectly for this! If any air is escaping the valve, there will be bubbles at the muzzle. I always had a small bottle of bubble-blowing solution next to me when I worked on guns at AirForce. Of course, you have to clean the barrel and wipe it with an oily patch after doing this.
These little procedures have proven very valuable over the course of time. If the situation is right, they'll fix the problem more often than not. While they seem simple to the point of being somewhat ridiculous, they do work.
by Tom Gaylord, a.k.a. B.B. Pelletier
Part 1
Part 2
Part 3
Part 4
Part 5

The Lightweight Disco Double in its new stock looks striking!
This is a second look at the Disco Double at 50 yards. On this day at the range, the wind was quiet, so it was a good day to test.
I didn't do anything to the rifle before this test because I didn't have any time to stop long enough to clean the bore. So, it went uncleaned. I may have promised to do certain things before the next test, but all I actually did when the time came was grab the rifle and go back to the range.
I used the same black single sandbag you saw in the Daisy model 8 test earlier this week. The Disco Double perfectly fits the long groove of that bag and feels more secure than if it was in a conventional rifle rest.
Beeman Kodiaks
The first group was made with 10 Beeman Kodiak pellets, and they were on target since I'd already zeroed this rifle at 50 yards for the earlier test. They initially stayed together, and I thought the rifle might have turned the corner. They then began to fly farther and farther apart. In the end, 10 pellets went into 1.837 inches — hardly a group worth mentioning. When I checked back to the previous test, though, I noted that this same pellet had made a group that was 2.458 inches at 50 yards; so as bad as it is, this was an improvement.

Ten Beeman Kodiaks went into 1.837 inches at 50 yards.
Okay, that wasn't the brilliant opening I was anticipating. Even though the same pellet beat the last group by half an inch, it didn't seem like the time to gloat. Next up were the JSB Exact Jumbo RS pellets — the most accurate pellets in the first 50-yard test.
The first group was another teaser. It looked small through the scope. It wasn't until I measured it that I found out it went over an inch. Ten RS pellets went into 1.317 inches at 50 yards. That's smaller than the smallest group from the previous test. There, 10 RS pellets went into 1.3418 inches at 50 yards. This group is similar, but it's not crushingly better by any means.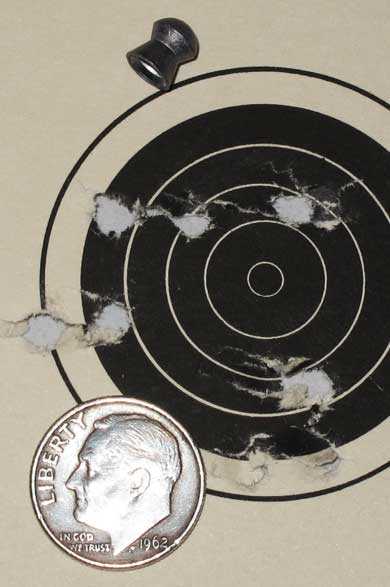 Ten JSB Exact RS pellets went into 1.317 inches at 50 yards.
I now have 2 groups — each of which is better than the same pellet in the previous test. One is significantly better; the other is only better by a whisker. What does that mean? Rather than try to answer that question, I decided to shoot another group. Surely, this one would be conclusive!
The next 10 RS pellets went into a 1.773-inch group. That was the hands-down worst group of both days of testing for this pellet. On the same day, shooting under the same conditions with the best pellet, I got both the best and worst groups this rifle had fired to date.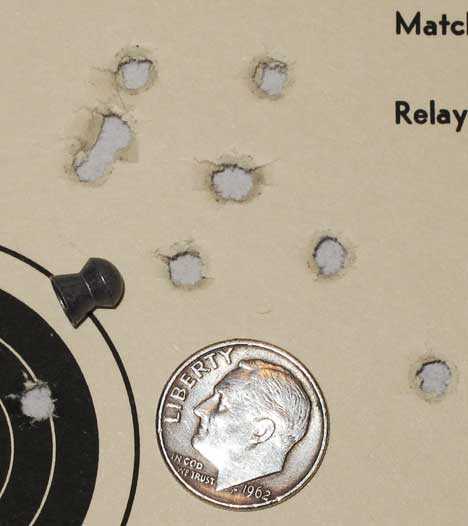 Ten JSB Exact RS pellets went into 1.773 inches at 50 yards.
I'm sure someone can make sense out of these results — but I'm not that person! After 2 days of testing at 50 yards, I had not proven anything except that I can't make this air rifle shoot — yet!
I considered shooting some more groups; but after looking at these results, I thought this wasn't the day. Sometimes, the bear gets you!
Future strategy
I think what I'll do is drag the Disco Double to the range every time I go and try to shoot different pellets each time. Maybe then I'll stumble across the magic pellet that turns this rifle into a shooter. After testing similar rifles, I'm convinced this gun can shoot — I just haven't yet discovered how.