by Tom Gaylord, a.k.a. B.B. Pelletier
This blog post was mistakenly published a day early, and we got some comments to it before we discovered that. So, for those of you who try to be the first to make a comment, it looks like you've missed your turn!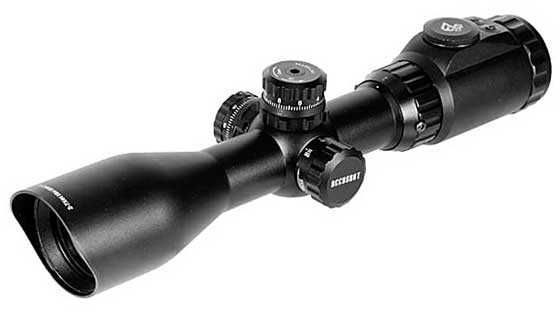 Leapers UTG Accushot 2-7X44 Scout scope is a remarkable sight!
This report covers:
• Scout scope on centerfire rifle
• My Mosin Nagant
• A powerful round
• What today's test is all about
• What about the scope?
• The mount
• Overall evaluation
Scout scope on centerfire rifle
This is a special report I promised several readers who are interested in this UTG 2-7X44 Scout SWAT scope. When I tested it on an airgun, I used the Crosman MK-177 Tactical multi-pump pneumatic because it allowed me to mount the scope out away from the eye. That was a good test, but it was also a forced one because I could have mounted any scope on that airgun. Scout scopes are made for those troublesome arms that don't allow the mounting of scopes in the conventional way. I asked Leapers to send me a mount for my Mosin Nagant 91/30 rifle — a centerfire rifle that needs a scout scope because of its straight bolt handle. While the bolt handle can be bent down to clear the scope, the scout scope is a non-gunsmithing solution that allows you to preserve the rifle in its original condition. Not that any Mosin Nagant in existence today is still in its original condition!
My Mosin Nagant
My 91/30 is built on an early action with a hex-shaped receiver. It didn't start out as a 91/30 but was converted by an arsenal at some point in its existence. The markings on the metal parts tell a story of numerous overhauls and refurbishments over the past century. Some early marks have been removed by grinding and polishing, while others are new and fresh. The action was very possibly made in the 19th century, yet the barrel is like new, as are many of the metal parts and the wood. The Soviet Union made good use of these rifles and refurbished them as necessary after each conflict, not unlike many countries. As a design, the Mosin Nagant has been in continuous service longer than any other military firearm.
A powerful round
This rifle is chambered for the Russian 7.62X54 rimmed cartridge made for what the Russians refer to as the "Three-line rifle" — with a Russian "line" being equivalent to one-tenth inch. It refers to the bore diameter of the bullet. It was adopted as standard in 1891 and is still in limited service today.
The cartridge is roughly the ballistic equivalent of our .30-06 Winchester cartridge. It's shorter — though much larger at the base. It is a rimmed cartridge, which means the action has to be made to handle the cartridge case without feeding problems. Rimmed cartridges give repeating actions feeding problems, which is why the majority of cartridges made for repeaters are rimless. But the Mosin Nagant action handles this cartridge reliably.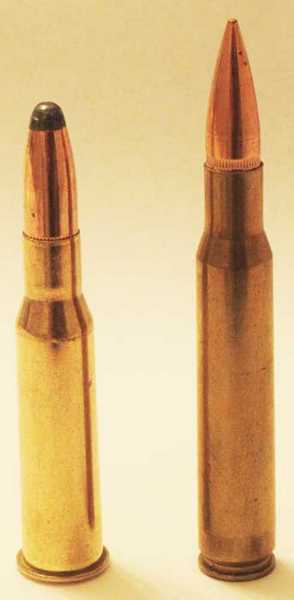 Mosin Nagant 7.62X54R on left, .30-06 cartridge on right. Both deliver similar ballistics in military loadings.
This Mosin cartridge exists in numerous different loads. The current sniper round has a 152-grain bullet leaving the bore at 2700 f.p.s. The standard for accuracy at 300 meters is all rounds inside an 80mm (3.1-inch) circle. Of course, the standard military battle ammunition is less accurate — keeping 50 percent of its shots inside a 90mm (3.5-inch) circle at the same 300 meters.
What today's test is all about
With such power must also come recoil, and that is what today's test was for. I wanted to see that this scout scope could stand up to the punishment of a heavier recoil. I fired 20 factory rounds and 20 reloads through the rifle, which is not a very big test. But if there are any major weaknesses, they should show up. And they didn't. After zeroing at 50 yards with the factory loads, I shot a 3-inch 10-shot group at 100 yards, and then rang the 6-inch gong at 200 yards with the remaining few rounds.
My reloads didn't do as well as I'd hoped. The bores on these rifles can vary in diameter from 0.309 inches to 0.313 inches, so you really need to slug the bore to know what diameter bullet your rifle likes. I haven't done that yet and was hoping to squeak by with some 170-grain lead bullets sized 0.312 inches, but it was not to be. I did manage to ring the 200-yard gong once out of 5 shots, but that's not what I'd hoped for.
What about the scope?
You can see in the photo where the scope is mounted relative to my eye. My head looks very erect on the stock, which it has to be to see the scope, but the image fills the eyepiece. The target is sharp and clear, even at the top magnification of 7X. The reticle is thick enough to pick out quickly, even against the deep woods; and, of course, it's illuminated, which is a blessing on a scout scope.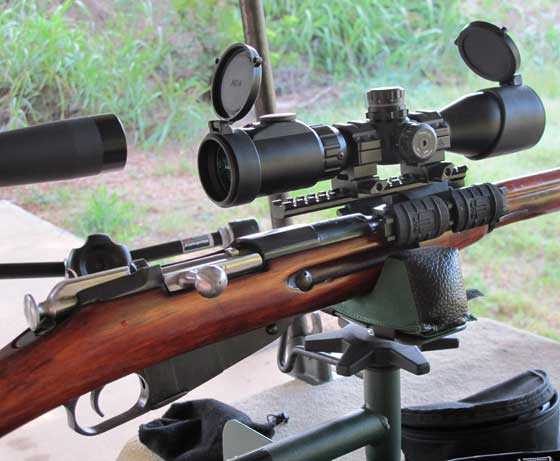 The UTG Mosin scout scope mount clears the action for loading and ejection. The straight Mosin bolt handle can be rotated up without interference.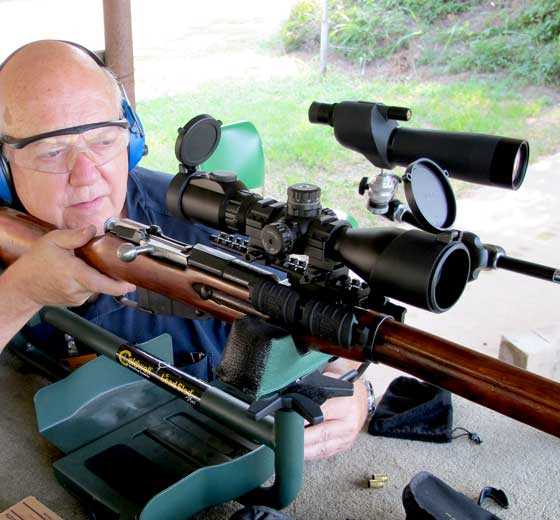 As you can see, my head has to be high on the stock to see the scope. This is due to the Mosin's stock, which drops away, but the scout scope is also mounted very high.
The adjustments worked as they are supposed to, and I got on target very quickly at 50 yards. I used the old standard of removing the bolt and sighting through the barrel to align the scope. The first shot was about 4 inches from the aim point, which is excellent for this kind of rough sight-in.
The mount
I haven't told you about the Mosin Nagant mount that Leapers makes. It replaces the rear sight blade and leaf, using the rear base to secure a Picatinny rail with 2 side rails. Rubber pads slip over the mount's side rails to keep them from cutting your hands when you handle the rifle.
Removing the rear sight leaf and attaching this mount was very easy. It took about 20 minutes total to finish the job, which included removing the sight parts first. The instructions are clear and concise, even though they address two different sight base kits for rifles and carbines. Once on the rifle and snugged down, the mount is rock-solid. It remained solid throughout this test.
The base is a tri-rail system with Picatinny rails on both sides, along with the main scope rail on top. These can be used for anything like lasers and tactical flashlights, though on a Mosin Nagant bolt-action rifle such accessories seem out of place. Perhaps hog hunters would like a light, though.
Overall evaluation
I've now used this scope on two different rifles — both with success. The first was an air rifle, and the second was this powerful centerfire. This is the first scout scope I've ever tested or used, so I don't have experience with the type – but I do know this one works as advertised.
I wondered if the image would be clear and easy to see, since the eyepiece is 10-11 inches from the eye. No worries there. The image is very large and bright, though your sighting eye can see things other than the target, if you want. Once you focus on the target and reticle, though, nothing else seems to matter.
If you need a scout scope, I can certainly recommend this one from the standpoint of functionality. The size and weight, though, are a different matter. This is a large scope that sits high above the barrel, so you need to give that some thought when making your decision. Most scout scopes are either fixed power or low-powered variables. I believe this one has the highest magnification on the market. If that's important to you, this may be the best scope out there.
by Tom Gaylord, a.k.a. B.B. Pelletier
This report covers:
• The truth is slowly revealed
• A lost love
• A new hope
• The anal airgunner
• Lecture me
Today, I'll talk about something that has harassed me all my life — reality and the need to compromise. At the earliest age, I remember wanting a gun that held infinite bullets (we played cowboys in the early '50 and we called cartridges bullets back then). The television cowboys never needed to reload. Why should I?
As a pre-teen, I discovered the M1 Garand and its .30-06 cartridge that I was certain could penetrate 10 feet of steel armor! I never actually saw a cartridge outside of a gun magazine; but in pictures, the darned thing looked like a Redstone rocket (a stone-age rocket that existed before the electric light and the internet — look it up) and I just knew there was nothing that could stop it. I read in Classic Comics (always the literary snob) where Frank "Bring 'Em Back Alive" Buck shot a leopard out of a tree by breaking the branch it was on. And what did he use? A single bullet from a .30-06!
As I eased into my teen years, I bought a gun book by Lucian Cary that I still have today. It showed the awesome .300 Weatherby Magnum that smashed through a big tree, and another one that penetrated a thick sheet of bulletproof glass. Maybe there was something better than a .30-06.
Each of the stages I passed through while growing up opened my eyes a little more to reality. But I remained pretty naive for most of my life. You stick with what works.
In college, I read how Elmer Keith could hit targets at long range with handguns. He stuffed his cartridges (I was reloading by this time and now knew better) with nails and dynamite, and proceeded to make life risky for anything within 400 yards. But Keith had guns I couldn't get. He shot S&W Triple Locks and customized Colt single-actions that were built to take the stress of his loads. The gun makers were his friends, so S&W gave him a big .357, and Ruger invented the .44 Magnum in his honor. My first-generation Colt SAA could not withstand the same abuse to which he regularly subjected his custom guns.
A lost love
As a youngster, I absolutely loved the shell-shucker Winchester Model 61 slide-action .22 repeater! I got to shoot them several times, but I never could afford one. I settled for an 1890 Winchester pump that did pretty much the same thing, only it did so while looking embarrassingly old-fashioned with its exposed hammer. And the one I could afford had very little finish remaining, plus it wasn't even a .22 long rifle. It was a .22 Winchester Rimfire (WRF) that cost more per box of 50, yet wasn't any more powerful. The sweet model 61, on the other hand, took shorts, longs and long rifles in its stride and looked like it was going 100 mph when it was standing still.
But a day finally came when I was able to get a 61! I'd just returned from a 4-year tour in Germany and had a little extra cash. Lo and behold, that was when I discovered that the model 61 struggles to hold all its shots inside an inch at 50 yards! I'd imagined much better, as you may have guessed. No matter, though, because a bitter divorce soon stripped me of all my firearms, reloading equipment and airguns. I didn't have to look at that LNIB model 61 for very long.
Enough nostalgia. Fast-forward to today and I'll tell you how things are now. I don't like compromises, but they seem to pop up everywhere. The M1 Garand, for instance. Sure, it's an accurate battle rifle, but it's not really that accurate. Minute-of-soldier for certain, but it's not for shooting tight groups on paper. Oh, somebody says, what you want is a Garand that's been worked on! They'll shoot small groups, alright. Yes, they will, but the better (more accurate) they get, the fussier and less Garand-like they become. When you finally have a Garand that shoots a one-inch group at 100 yards, the darned thing operates reliably with only a few specific loads; and it's so tight that disassembly for cleaning isn't recommended. If you doubt me, just ask blog reader Matt61.
There's a tradeoff between reliability and ultimate accuracy. I'm not talking about the accuracy that lets you hit tin cans at 100 yards. I'm talking about shooting sub-inch 10-shot groups at that distance. When I say reliability, I don't mean it jams only once in 200 shots. I mean it never jams. I have guns that operate that well, and I've had many more that didn't.
A new hope
While in Germany in the 1970s, I was introduced to the Kartoffel 45. A German hunting acquaintance showed me a 1911 he had found on an abandoned battlefield long after the war ended. It was actually buried in a field and he plowed it up while digging mounds for potatoes — hence the name Kartoffel, which is German for potato. The gun was deeply pitted all over its surface from the rust of many years in the ground. He hammered it apart and cleaned the major parts, plus he replaced everything he could with new parts. The effect was startling. It looked like a gun that might blow up in your hand, yet it functioned like any other Army 1911. Because it was a 1911, all the parts that mattered could be replaced in less than an hour. It could look unserviceable, yet still function perfectly.
Seeing that gun opened my eyes to what's meant by reliability. I saw the genius of John Browning's design through the lens of that nearly destroyed, yet perfectly serviceable handgun. When I got back to the States, I knew that a Garand I discovered in a similar pitted condition would also operate just fine. I bought that Garand from a pawn shop that sold it to me with apologies. They felt it was nearly worthless, but I suspected different. When I took it to the range, I was proven right. That old pitted M1 with its rough bore was loose as a goose, yet it never failed to function when fed the military loads for which it was designed.
That told me what's possible as far as reliability goes, but it said nothing about accuracy. With a lot of additional shooting, I discovered that if I wanted the ultimate in accuracy, I had to give up some reliability. There's a compromise that balances between the two desired attributes because each one seems to negate the other.
I hate to sound like Captain Obvious, but what you really want is acceptable reliability with an acceptable level of accuracy. And this is where Rainman goes off into a corner, muttering the words to Who's on first.
Remember years ago when we talked about the stages of an airgunner's experience? It starts out with the quest for high velocity and ends with self-actualization? Well, I'm older now and have discovered another secret. Live long enough, and your desires start to conform to reality.
What I'm saying is that I now understand why an army would choose a weapon that is extremely reliable but not as accurate as it could be. I appreciate why the Brits revered their SMLE Mk IV. I understand why the Mosin Nagant 91/30 was so long-lived and why the AKM is accepted around the world. It's because they work, even when they shouldn't.
I also understand why the United States Marine Corp was so adamant on keeping their 1903 Springfields when the Garand first came out, and why they changed their minds so suddenly after gaining battle experience with the Garand. No battle-ready Garand could hold a candle to a Springfield bolt-action rifle on the target range, but neither could the Springfield keep up with the Garand in war! The Garand was a perfect compromise for its application (at that time — there are better rifles today). The Springfield was very accurate but fell short of the Garand's firepower. Another compromise.
The anal airgunner
When I worked at AirForce Airguns, one of my friends sent me two standard AirForce reservoirs for his Talon SS and asked me to "balance" them so both would shoot at the same speed when the gun was set to the same power level. He wanted to be able to remove a tank from his gun, attach the other one and continue shooting without changing the power setting.
This was an official request. Obviously, AirForce made the valves in both tanks, and he assumed we would be able to fine-tune them so he could have two tanks that performed exactly the same. He was willing to overlook up to a variance of 10 f.p.s. between tanks. Oh, well — as long as he was reasonable!
I say this with a lot of sarcasm because many of you may be thinking the same thing — if a company makes a valve, surely they can also tune it to do whatever they want? Of course, they can — just as certainly as an infinite number of monkeys with typewriters can write the works of Shakespeare, given enough time.
In the real world, it doesn't work that way. You can try again and again, and maybe you'll get two valves to perform the same. Or, maybe, you'll luck into it on the first try! Better play the lottery if you do! This is why guns that allow you to adjust the airflow, such as the Benjamin Marauder, are so unique. Crosman can't make all their valves perform the same, but they give you the adjustments to compensate for it.
Okay — lecture me
This is where I will get lectured by some well-meaning readers who know for a fact that it is indeed possible to tune an airgun valve to do exactly what they want. They overlook the 25 hours of time they invest in their project to bring it fruition. In their minds, if it can be done at all, why…it's possible! Yes, and the United States put several men on the moon in the 1970s, yet they couldn't do it again today without another costly research program.
Just because a thing has been done once does not mean that it can be repeated. That's why "The Catch" (referring to Willie Mays remarkable catch of Vic Wertz's long drive in game one of the 1954 World Series) is so celebrated even today — 60 years later. Or why, when Bob Beaman broke the world long jump record by nearly two feet in the 1968 Olympics, he sailed past the optical scoring device at the end of the sand pit and the jump had to be scored manually.
So something that's extraordinary can still happen; but when it does, it doesn't mean the world has changed. The next person to try will probably get the same results everybody else has gotten all along.
My motor has been started by this blog! Can you tell? I just talked to Edith about all the lies and fantasies of gas spring airguns and what Ben Taylor — the Ben in Theoben — taught me about them. Talk about the Emperor's New Clothes!
Airgunners were lying to themselves about the wonders of the new gas spring technology in the 1990s. Yet, when I started testing my Beeman Crow Magnum and writing about it, a lot of those myths were put to rest. I ended up with egg on my face for more than a year, until Taylor stepped forward and told me I was right. What I learned doesn't make gas springs any less desirable, but it does reveal that pellets shot from them will not penetrate 10 feet of steel!
Edith said I should write a report about that experience and share it with all of you. Gonna do that next week.
by Tom Gaylord, a.k.a. B.B. Pelletier
Today's report is a guest blog from a new reader, HiveSeeker. He wants to tell us about a pellet rifle he thinks highly of. This is a complete report with the description, velocities and test targets, so I am breaking it into two sections.
If you'd like to write a guest post for this blog, please email me.
Over to you, HiveSeeker.
This report covers:
• Description
• Sights
• Loading
• Ammo feed
• Velocity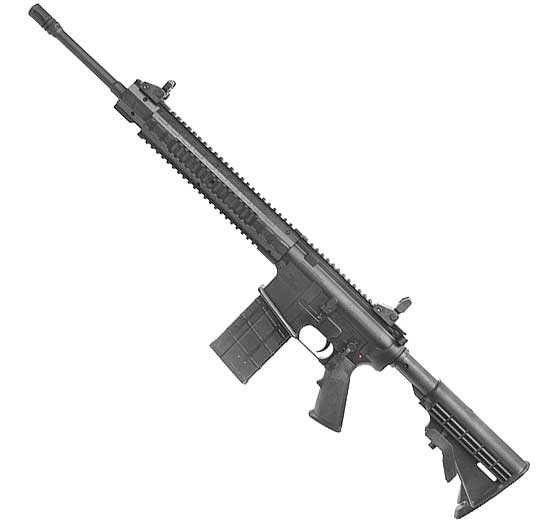 Winchester MP4 is a realistic and fun-to-shoot military replica pellet rifle.
Description
Considering the astonishing array of military rifle lookalikes in the airsoft world, it's a shame that there are so few choices among airguns. But those who would enjoy shooting an accurate reproduction pellet rifle might consider the Winchester MP4 CO2 rifle. Styled closely after the AR15, this .177 airgun features a full-metal receiver, quad Picatinny rail forearm, working selector switch (safety), realistic magazine catch and adjustable stock — lots of authentic moving parts that are only fixed plastic on a number of the other military replicas. The forward bolt assist is only ornamental, but the charging handle (hereafter called the bolt) is fully functional. This also happens to be one of the few semiauto replica pellet rifles available. My ex-military brother-in-law experienced a fair amount of nostalgia shooting this rifle.
The selector switch, magazine catch (on right side of gun) and adjustable stock are fully functional. Note the position of the fully inserted CO2 clip, which looks like the ammo magazine.
Sights
The first thing you'll want to do after unboxing the MP4 is remove the cheap plastic open sights — among the unfriendliest I've ever squinted through. They're not individually adjustable, and the manual doesn't include one word about them. Just know that you can raise or lower the aiming point by moving the front sight closer or farther in relation to the rear sight; they apparently cannot be adjusted for windage. [Editor's note: The manual and Winchester's website state the rear sight is adjustable, so we asked the manufacturer about it. They say it's not adjustable and plan to remove that statement from their website and from future reprints of the manual.]
A red dot sight works well (and looks tacti-cool) on this gun, though I primarily used a Leapers UTG 3-9×32 Bug Buster scope, which also looks very good. The all-metal receiver provides a very solid platform for mounting optics compared to the plastic receivers of some other contenders in the military pellet rifle arena. Despite being a low-recoil CO2 gun, the bolt recocking mechanism apparently generates some vibration. As a shooter who admittedly tends to over-tighten everything, I was stunned to find my scope mounts loose after about 300 shots. Keep an eye on this.
You'll want to replace the plastic open sights right away.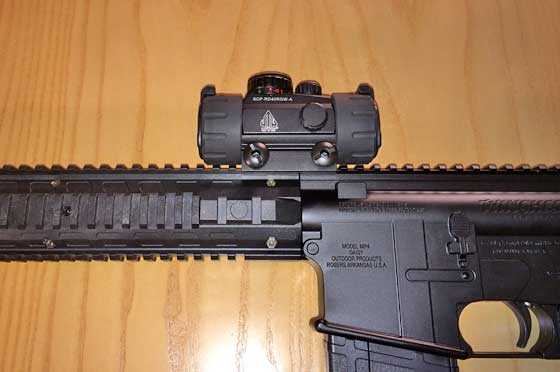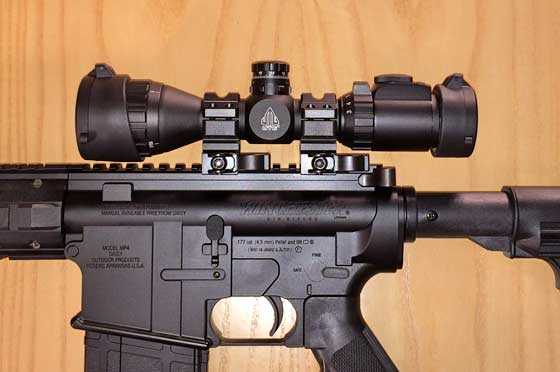 The MP4 looks ready for combat with either a red dot sight or compact scope. That quad Picatinny rail is just begging for more accessories!
Loading
This gun requires two 12-gram CO2 cartridges. You can spend all day trying to "remove the cover from the base of the CO2 clip by inserting a finger into the ammunition magazine hole and pulling the cover off" (as the manual suggests). There's no hidden release, and the instructions of course mean the larger CO2 clip hole to the right (go ahead and laugh, manual-spurners).
My CO2 clip fits very tightly in the receiver; and the first time I tried to shoot this gun, it took me a couple trigger pulls to realize the clip was not seated all the way. Look closely at the photos to see how far the clip must slide in. Clip insertion and removal are slightly smoother now but initially required a fair amount of pressure.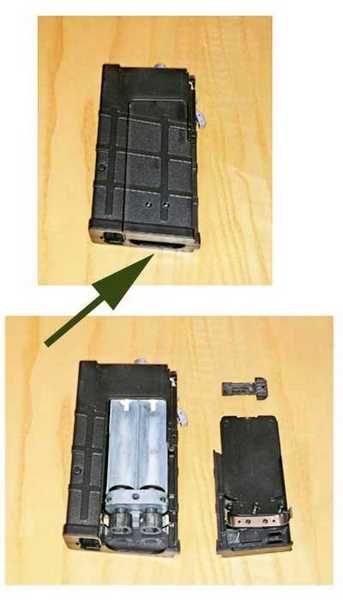 Remove the CO2 clip cover by inserting a finger into the larger hole on the right (not the smaller one on the left) and pulling up. It's easy if you're not following the wrong instructions! The plastic key above the clip cover is used for installing the CO2 cartridges.
Ammo feed
Exercise more care in gently inserting the ammunition magazine, however, as the thin plastic of the round rotary drums is easily cracked. A magazine holds 16 pellets or BBs, though this is a bit deceptive. There are only 8 rounds in each end, and you have to perform a magazine flip to shoot all 16 rounds. I suggest buying at least a couple extra magazines. The buttplate I found to be uncomfortably hard, but a rubber AR-15 add-on fit perfectly, as will most other AR accessories, except anything for the nonstandard pistol grip. My next add-on will be a bipod, which should fit perfectly on the forearm.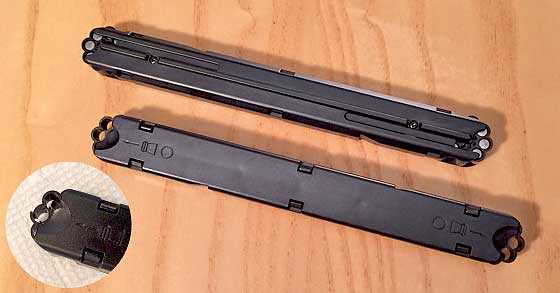 Insert the ammunition magazine gently. The thin plastic of the 2 rotary drums is easily cracked.
If you've read any reviews of the Winchester MP4, then you already know that there's a major ammo feed issue with this gun. Mine is no exception, but so far the problem has been occasional enough to live with — only about 1 pellet out of every 1 to 2 magazines (averaging around 5%) is failing to fire. This is despite carefully using a pellet seat; a tiny ridge inside each individual drum cavity stops the skirt, allowing consistent loading of each pellet. Other owners, however, have experienced a much worse problem, so I'm keeping my gun as is.
Velocity
Let's look at some chronograph data. My 10-for-$10 test printout from Pyramyd Air with 7.1-grain Beeman Lasers showed a velocity range of 480-538 fps, with an average of 500 fps even. Waaay lower than the listed 700 fps (which I initially figured was just for BBs), as a number of reviewers have pointed out. For my own tests, I shot 10-shot strings at sea level, waiting one minute between shots, using a Shooting Chrony Beta Master. With 4-grain Crosman SSPs I got a range of 683-710 fps and an average of 694 fps in the better of two tests (air temperature was 88˚F).
Interestingly, the other test string averaged a lower 686 fps but contained my single-shot velocity record of 722 fps. So, the Winchester MP4's velocity stated on the box is correct, and this gun indeed shoots just as fast as Daisy claims — and with pellets, no less. I did not test with BBs, although this gun is designed to shoot them, wishing to save my barrel (and its accuracy) for pellets only.
Testing with a more typical pellet, the 7.9-grain Crosman Premier Super Match, provided expectedly lower velocities: 487-562 fps with an average of 511 fps (at 84˚F). This was much closer to the 10-for-$10 results. Below are my average shot string velocities.
Shot string….Avg velocity
1-10…………………..511
11-20………………..496
21-30………………..483
31-40………….…….470
41-50…………….….449
51-60………………..444
61-70…………….….438
71-80………………..421
Summary
HiveSeeker continues his test with accuracy results in the next report. I'll run that next week.
by Tom Gaylord, a.k.a. B.B. Pelletier
This report covers:
• Silly exercise
• What's the point?
• Airguns I like
• My one airgun
• Firearms
• See where this is going?
• My one firearm
• What this tells me
• How my life has changed
…what would it be? Not long ago, blog reader Kevin asked me this question and I promised to get back to him with an answer. Today, I'm keeping that promise, although I'm not at all positive that in a year my answer won't be different.
Kevin asked what airgun and what firearm I would keep. There were no other guidelines beyond the number one — of each. This isn't the first time he's asked a question like this. Earlier this year, he asked me what guns I enjoyed shooting, and I wrote a blog titled What would B.B. shoot?
Here is what he asked me this time.
"B.B.,
Some of us have gone through difficult financial times, some of us are going through difficult financial times and some of us will go through difficult financial times in the future.
For this reason I'm very interested to hear what the ONE airgun is that you would keep and the ONE firearm is that you would keep while you would endure a financial crisis.
This is not a "WHAT GUNS I KEPT AND WHY" this is a ONE airgun and ONE firearm question.
kevin"
Silly
This is such a silly exercise — don't you think? At least it is until you try to form an answer. Because to do that, you have to think about all the airguns and firearms you own, as well as the ones you have owned in the past — and I suppose you can throw in any you might like to own but never have. Once you have all of them in front of you, it's time to weed through the mass and see what comes out the other side.
What's the point?
There is no point to this. Nobody is ever going to be confronted with this decision in quite this way, so why bother thinking about it? Well, it does force you to think about things at a fundamental level — a sort of giant who-do-you-love-and-why game. And Edith and I did actually go through it — not once but twice.
Airgun first
Because I write about airguns, you probably think it's harder for me to pick a single airgun, but it's not. It's actually much easier. When all the facade of accuracy, power and performance is stripped away and I'm no longer thinking about survival on a desert island or how many pellets I can carry in a backpack, the choice of a single airgun becomes simple. I shoot airguns for fun, when all is said and done.
Shooting for fun means I don't have to justify an airgun based on its power, long-range accuracy, nostalgia, value or anything beyond how much fun I derive from shooting it. That narrows it down a lot, but not to a single gun. I suppose there are at least a dozen, but probably more like 25 nice airguns that I really enjoy shooting.
Airguns I like
For example, I like to shoot my Beeman R8. It isn't powerful, but at 25 yards I know I can put a pellet within a quarter-inch of the aim point every time. The trigger is light and crisp, and the Burris 4.5-14×32 scope is so clear and sharp that the rifle is a delight to shoot. But it's not my one airgun!
I also really like my Crosman Mark I target pistol that holds so well and has such a beautiful trigger. But it's not my one airgun, either.
My one airgun
The one airgun I would keep, after having to get rid of all others, is my little .22-caliber Diana model 27. It's not really powerful enough to hunt with, but that's not why I'm keeping it. I'm keeping it because it's simple and accurate, light and easy to cock. It's an all-day airgun that I just enjoy shooting very much.


The Diana model 27 — this one badged as a Hy-Score 807 — is my favorite airgun. It isn't powerful, but it's light, accurate and has a great trigger. That's all I need.
I've owned several Diana 27s over the years. The first one was a rust bucket that I bought for $18 in a pawnshop in Radcliff, Kentucky, while stationed at Ft. Knox in the late 1970s. It looked terrible. You needed a tetanus shot just to hold it! But it shot like a dream, cocked smoothly and was accurate. I fell in love with it and the love has endured.
The second .22-caliber Diana 27 I ever owned is the one shown in the above picture. I bought it from the late Richard Schmidt at the Winston-Salem airgun show (the forerunner of the Roanoke show) in 1993. I paid $110 for it, which was way too much; but for some reason, they all went for way too much back then — and they still do today.
I pulled that rifle apart and lube-tuned it for my Airgun Letter and learned how to assemble the squirrel-cage of parts that Diana calls a ball-bearing trigger. I later pulled the gun apart a second time and tuned it, again, for a different magazine article. Since then, it's never been apart. That was more than a decade ago.
Some time in the late 1990s, I wrote an article about how to adjust the ball-bearing trigger. Diana triggers can be adjusted very fine if you know what you're doing; and, oddly enough, all you need is the owner's manual to learn how. Or you can just read the blog I wrote about it.
Every time I chronograph this rifle, I'm reminded of just how weak it is (under 500 f.p.s.). But that doesn't matter. I don't shoot airguns for their power — that would be futile. I shoot them for fun, and the Diana 27 has more fun per pound than any other airgun I know of. When I worked on the Bronco project, the Diana 27 was my inspiration.
The third Diana 27 I owned was a Winchester model 427. It's now owned by one of our readers. Why did I sell it? Because I didn't need two perfect airguns.
Don't think that I don't love many of my airguns a lot, because I really do. My Air Arms TX200 Mark III gives me immense joy, and of course I love my Whiscombe JW75. But the last airgun I'll sell is the Diana 27.
Firearms
What was far more difficult was to choose from all my firearms. I have been quite blessed at this time of my life to own some of the finest firearms that exist. My Wilson Combat CQB is especially dear to me, not only because of what a wonderful shooter it is, but also because it was a very special gift from Edith. I have a Dillon press permanently set up to reload .45 ACP ammo, and I cast all my own bullets for the round. While the rest of the world pays inflated prices for ammunition, I'm set to reload tens of thousands of rounds at less than a nickel a round. I can't shoot .22 rimfire as cheaply as I can shoot this pistol. But it isn't the one firearm I would keep.
Speaking of gifts, the readers of this blog gave me a Single Action Army revolver that means the world to me. I remember coming home from the hospital several years ago and seeing that revolver for the first time. I wasn't strong enough to hold it up to shoot, and my eyes would need another year to regain their strength, but I got out to the range with that revolver just as soon as I could. Every time I look at it, I think of you blog readers.
I shoot that handgun several times a year, and it always makes me smile when I do. The gun has an authentic fire blue finish that Colt put on their guns during the 19th century, and mine looks brand new. It's a gorgeous handgun, but it's not the firearm I would keep.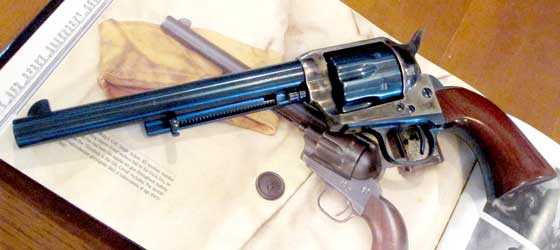 The single-action revolver I received from the readers of this blog is one of my favorite firearms. It shoots as nice as it looks.
I could go on and on with this thought process. Certainly, I would keep the Ballard. I certainly would not! While it's intriguing and a beautiful rifle, there's nothing practical about a Ballard built in 1876. The one firearm I keep has to be practical.


The Ballard rifle is beautiful and accurate, but it isn't the all-around firearm I need.
What about a nice .22 rimfire? I certainly own several of them, and lots of various kinds of ammo that would last me a long time — no? No. A .22 rimfire is not universal enough for me. Since I reload, I can turn almost any firearm into a .22 rimfire if I want to. What I need is a firearm that can be something more than a rimfire if the occasion calls.
See where this is going?
I am heading for a firearm that is as universal as it can be. Through reloading, it can be made to plink or pop squirrels, but it can also kill a grizzly bear if needed.
It has to be reliable, so complex is out and simple is in. That eliminates all semiautomatics.
It has to be accurate; but in my gun collection, there are no inaccurate arms. I just don't keep them. On the same note, I don't need my universal firearm to be suited for target use, so super-accurate guns with big scopes are also out. In fact, the scopes would eliminate the guns all by themselves.
My one firearm
The one firearm I would keep if all the others had to go would be my 1903A3 Springfield. It has a rugged bolt-action that has been proven over more than a century, and this one has adjustable peep sights that maximize the potential for accuracy. I've shot 5-shot groups under 2 inches at 100 yards, so the accuracy is all that I need.
When I reload, I have a choice of 5 lead bullets I can cast to produce everything from a .32 automatic up to a full-blown .30-06, if I need it. The cheapest rounds I make cost around 5 cents, and the most expensive costs under 50 cents. That's so much better than anything I can buy; but if I do buy, this caliber is certainly ubiquitous throughout most of the civilized world.
I have around a thousand empty cartridges; and with my reduced loads I'll get several hundred firings from each of them. And with reduced loads, I can use pistol powders and primers. So, ammunition will never be a problem.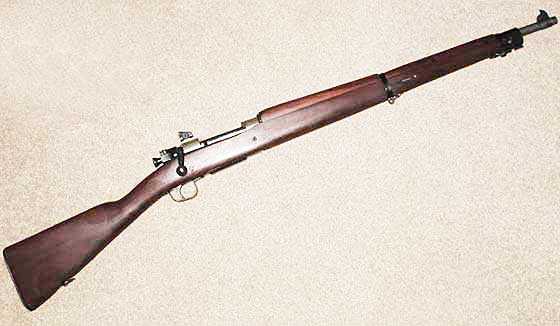 The O3A3 Springfield is a plain-jane rifle, but it's everything I need if I can only have one.
I got this rifle from my friend, Mac, but that's not why I'm keeping it. He sold it because it kicks pretty hard. But I discovered the secret. Soldiers wore field jackets and coats in the field, and the short pull of their rifles was compensated for by the thick clothing. When I shoot this rifle with powerful loads, I always wear a heavy jacket. The rest of the time a t-shirt is all I need. I can hit a pop can at 100 yards every time with my reloads, shooting from a prone or supported position.
What does this tell me?
Kevin forced me to look at my shooting from a very practical standpoint today. It wasn't sentimentality that helped me decide. And it wasn't value or beauty. It was utility.
I hope I never have to make a choice like this, because it would break my heart to say goodbye to many of my airguns and firearms. But now I know the two I would keep under any circumstance.
How the blog changed my life
Kevin's question prompted me to do more than just think about guns. This blog has had a major impact on my life. And from the comments many of you make, I believe it's also impacted your lives.
If you want to help me better understand my readers, I invite you to send me an email telling me the impact that this blog has had on your life. Pyramyd Air has created a special temporary email address for this. I'll be the only person to get these emails, and we're not going to generate any lists from the addresses.
My plan is to publish one or more blog reports with the more interesting comments. If you want, I will use your real name or blog handle; but you can be anonymous, too. I won't use your name or handle unless you give me written permission to do so.
This email address will be live for only a few weeks. We have tens of thousands of readers worldwide. Even if you've never commented on the blog, you can email me your message if you like. If you're reading this blog after July 2014, email submissions will no longer be forwarded to me, and you may get an auto-reply email stating that or your email might bounce back to you.
This could be interesting. I have no idea what will happen.
by Tom Gaylord, a.k.a. B.B. Pelletier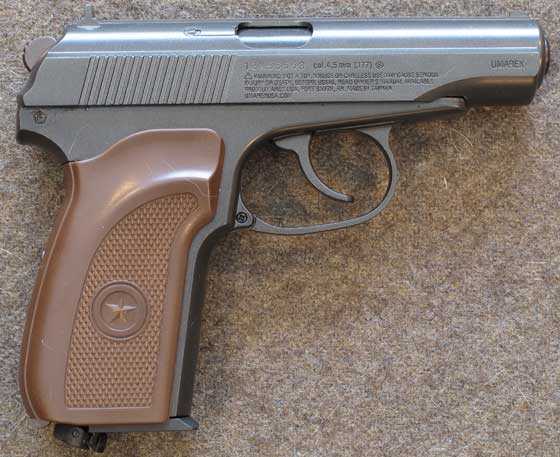 Umarex Legends Makarov Ultra is very realistic!
This report covers:
• Loading
• Winchester Target Cube
• Rested position
• Accuracy
• Overall evaluation
Today is accuracy day for the Legends Makarov Ultra BB pistol and the big question is: How does it hold up against its non-recoiling brother that we all know is very accurate? I think you're going to be pleased with the results.
Load up
I installed a fresh CO2 cartridge, which — thanks to yesterday's report on CO2 – reminded me to put a drop of Crosman Pellgunoil on the tip of the cartridge before piercing. As before, the piercing was nearly instantaneous with no loss of gas. I looked at the face seal with a jeweler's loupe and saw that it's a thick (relatively) clear synthetic that looks like it will do its job for a long time to come.
Next, I loaded some BBs into the front of the magazine. Here's a tip for this. Lock down the mag follower at the bottom of its slot and elevate the bottom of the mag. This way, the BBs will easily fall into the enlarged hole in the front of the magazine. If one overshoots the mark, it remains in a trough and can be rolled back to the hole very easily.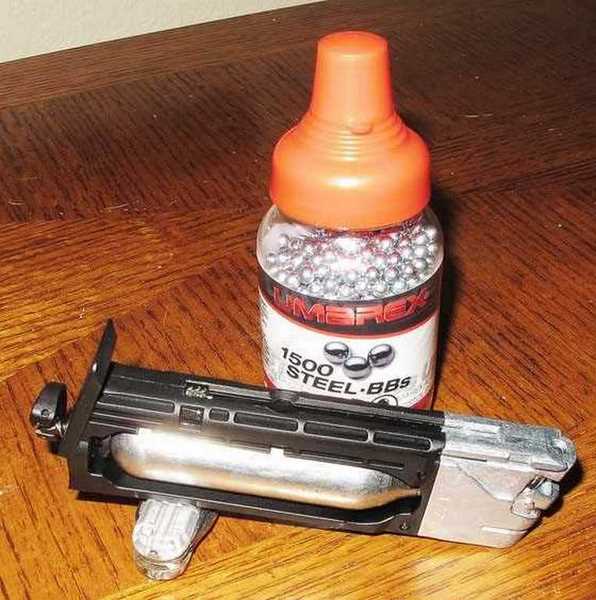 Elevate the bottom of the Makarov magazine, and the BBs will roll right in.
Winchester Target Cube
Once again, the Winchester Airgun Target Cube was pressed into service for a target holder and backstop. I taped the targets to the cube that now has thick cardboard on both sides. No more styrofoam comes out because of the cardboard; and the targets tear better, even when the BBs are shot at lower velocities.
The Target Cube keeps the BBs from bouncing back. That keeps the shooting area cleaner; and since I shoot BBs in my bedroom, that's a good thing. If you shoot a lot of BBs in the house, I recommend the Target Cube.
Rested position
I then sat on a chair at 5 meters from the target and put a large pillow on my lap. When doubled over, the pillow allowed me to rest my arms so I could achieve a very steady 2-hand hold. It's the gun we want to test — not the shooter.
The sights on the Makarov are very fine, but also sharp. I had no problem getting the same sight picture, shot after shot.
First group
The first target I shot was a 50-foot smallbore bull. Those are just slightly larger than 10-meter air rifle bulls. I had no idea where the pistol was shooting, nor how accurate it might be; but at 16 feet, I felt this target was large enough to keep all the shots on paper. I used a 6 o'clock hold, like I always do with handgun sights like these.
The shots landed about 3/4-inch below the point of aim. While the first 3 shots seemed to scatter, the next 7 stayed inside them, resulting in a fine-looking 10-shot group. In measures 0.916 inches between centers and looks even better. The bulk of the shots landed inside a half inch!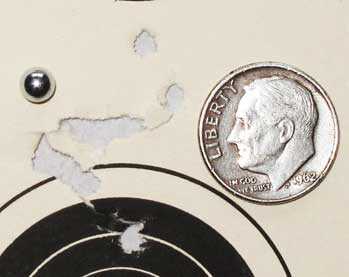 Ten BBs in 0.916 inches, with 7 of them well under a half inch! The 3 shots on the right were the first 3 shots. This gun can shoot!
Second group
The second target looks even better.  I called that shot that went to the left because of the very hard trigger pull we've already discussed. Actually, the trigger isn't that hard for a double-action pull (which it isn't), but for target shooting it's way more than you want. This time, 10 shots went into 1.189 inches, with 9 of them in 0.727 inches.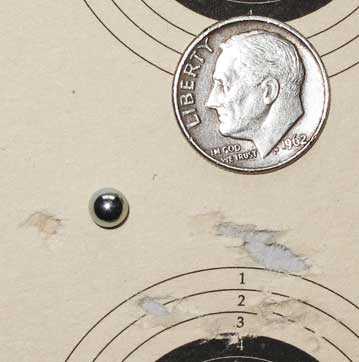 Ten BBs in 1.189 inches, with 9 in 0.727 inches. That shot on the left is a called pull.
I was really impressed with the way this pistol wants to lay them in the same hole at 5 meters. That trigger pull, though, takes discipline to overcome. The tendency is to try to overpower it, which will result in shots thrown wide to the left in my case.
Third group
I decided to try a larger aim point for the third group, so I substituted a 10-meter pistol target instead. The bull is twice the size of the others, and I wondered what it might do. Oddly, it pulled my shots closer together, though I did get a very vertical shot string. This time, 10 shots went into 1.334 inches, with 9 in 0.683 inches. Look at this group, and you'll see the pedigree of the non-recoiling Makarov showing through.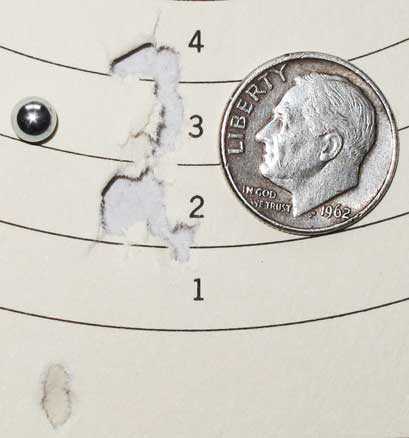 Ten BBs in 1.189 inches, with 9 in 0.727 inches.
Results
Yes, I think this Makarov is just as accurate as its non-recoiling brother. What separates them is the stiffer trigger on this one. It makes you really hold tight, and any distraction will cause you to throw a shot.
Overall evaluation
I like the Makarov Ultra BB pistol. In fact, I think I'm going to buy this one for my growing collection. This is what inexpensive BB pistols should be.
by Tom Gaylord, a.k.a. B.B. Pelletier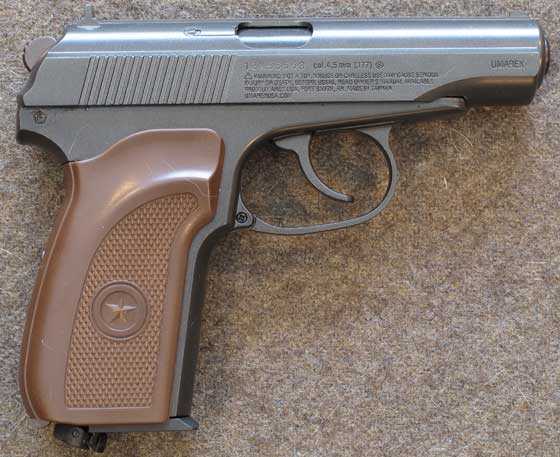 Legends Makarov Ultra is very realistic!
This report covers:
• Single-action trigger.
• Charging.
• Loading.
• Velocity.
• Blowback.
• Slide remains back when magazine is empty.
• Shot count.
Let's look at the velocity of the Legends Makarov Ultra BB pistol. Because the gun has blowback, I'll also report how that works.
Umarex is currently making a huge marketing push on their lookalike airguns and the undisputed leader in airguns that look like firearms. The Makarov Ultra is one of their latest and greatest new products.
Trigger
A firearm Makarov has a trigger that's both single-action and double-action. Single-action means the hammer must be cocked for the gun to fire, and the blowback action of the slide accomplishes this. But for the first shot, you must manually cock the hammer, because, unlike the firearm Mak, the trigger on this pistol will not cock the hammer on its own. The Makarov Ultra trigger is not double-action.
The trigger-pull, however, is quite odd. A single-action trigger is traditionally light and crisp. The Makarov Ultra trigger, however, pulls through a long arc, and the pull force increases as the trigger nears the end of its arc. It feels like a double-action trigger, even though by strict definition it's single-action because the hammer must be cocked separately.
The trigger is not objectionable, nor is it too heavy. It just doesn't feel like a conventional single-action trigger.
Charging the pistol
The pistol is charged by a conventional 12-gram CO2 cartridge. The cartridge fits into the magazine that drops from the Makarov's pistol grip. Because the Makarov has a magazine release located behind the rear of the magazine floorplate, it's not convenient to release from the pistol and requires the use of 2 hands to do the job.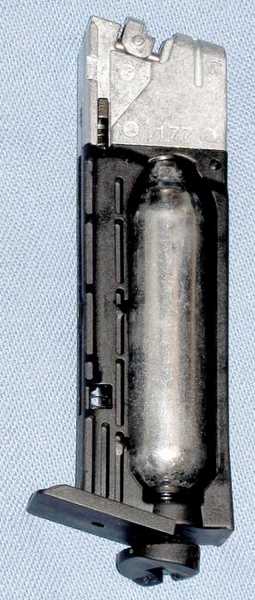 Like many BB pistols, the Makarov Ultra's magazine houses the BBs, CO2 cartridge and the gun's valve.
Once the magazine is out of the pistol, the CO2 cartridge installs easily and is tightened in place by the tension screw on the bottom of the mag. The piercing went so fast there wasn't even a telltale hiss of gas that escaped the cartridge. Naturally, I put a drop of Crosman Pellgunoil on the tip of the cartridge before installing it.
Loading
The stick BB magazine loads very easily. I put the base of the mag up on a small ledge to elevate it and pulled the follower down to its locking point. A funnel-shaped hole on the magazine is where the BBs are fed in. If the magazine is sloped forward just slightly, up to 16 BBs drop in and roll forward with ease. This is perhaps the fastest-loading stick magazine I've yet encountered.


With the bottom (floorplate) of the magazine elevated slightly, the BBs drop easily through the widened hole and roll out of the way.
Velocity
Umarex rates the Ultra pistol at 350 f.p.s., and I found the rating to be slightly conservative. I started shooting BBs with the first shot out of the pistol, and the first few shots with a 12-gram cartridge are almost always above the expected average. Let me show you 10 shots from the first string of 16 BBs that were fired. Several BBs failed to trigger the chronograph's skyscreens, but all 10 shots came from the first string of 16 BBs fired from the gun.
Shot Velocity
1       370
2       372
3       364
4       360
5       344
6       350
7       349
8       344
9       346
10     342
I allowed at least 10 seconds between each shot, except for between shots 4 and 5. There were several BBs that failed to trip the skyscreens between those 2 shots and I didn't allow as much recovery time. The average for these 10 shots is 354 f.p.s., with a variation of 28 f.p.s.
The next 10 shots are much more telling. This time I allowed at least 15 seconds between each shot, and when they failed to trigger the skyscreens, I still allowed the time.
Shot Velocity
1       383
2       352
3       374
4       364
5       361
6       358
7       360
8       355
9       356
10     353
This time, the average velocity was 362 f.p.s. and the spread was 31 f.p.s. That means the average went up with the second 16 shots. Notice how fast that first shot is? The gun had laid dormant for at least 10 minutes after the first string. All of this is on the same CO2 cartridge.
Blowback
The Makarov Ultra is a lightweight BB pistol, so the blowback is pretty snappy. It feels very much like shooting a firearm.
Slide remains back
After the last BB has been fired, the slide remains back, making it obvious the gun is out of ammunition. This is the same thing the Makarov firearm does.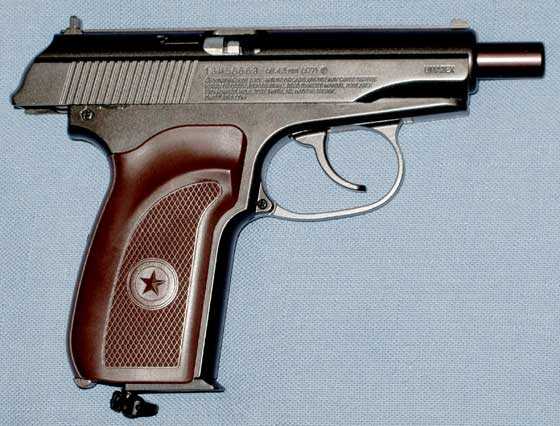 The slide stays back when the magazine is out of BBs.
Shot count
Besides velocity and how well the blowback works, another important performance parameter is the number of shots you can expect to get from a CO2 cartridge. For the first 2 magazines, I was conserving gas unrealistically, just to get an idea about the velocity potential. So, I shot the entire third magazine the way a shooter might — pulling the trigger as fast as I could. That took the total count up to 48 shots. On the fourth magazine, I slowed down to one shot every 10 seconds and got an average velocity of 320 f.p.s. The numbers declined steadily as these shots were fired. So the gun was running out of gas. But that's still a shot count of 64 on one cartridge.
Blowback was still strong through magazine 4. On the fifth magazine, though, the gun started to sound weaker almost immediately. And on shot 9, the slide failed to cock the hammer for the first time. Therefore I think it is safe to say the Makarov Ultra will give you 4 good magazines on one CO2 cartridge.
Accuracy testing will come next. I hope the Makarov Ultra is an accurate BB pistol because its manual cousin — the gun that doesn't have blowback — is legendary!
by Tom Gaylord, a.k.a. B.B. Pelletier
This report covers:
• Recent trend of lookalike airguns
• Introduction of the Umarex Legends line
• Makarovs
• 4 Makarovs
• Makarov Ultra description
Umarex has made lookalike airguns for over a decade, now, and the guns they've made have had a big influence on my firearm ownership trends. It seems that I acquire the airgun first, then long to own the firearm as a companion. I know that sounds backwards, but that's how it's happening to me!
First was the Walther PPK/S BB pistol — a cool sidearm that spawned a desire for a firearm PPK/S. I satisfied that with a .22 LR Walther several years ago. Next was the pellet-firing Colt M1911A1. That one came after I had owned a number of 1911s; but when I got it, I didn't own any 1911 firearms at the time. But within 10 years, Edith and I are broke out with them — having more of that type than any other firearm!
The Umarex pellet-firing Magnum Research Desert Eagle was impressively accurate but so large that I thought myself immune from its charms. But just a couple years ago, I added a .357 Desert Eagle to the gun closet.
The one firearm I never thought I would own was the Winchester 94. I've never warmed to that design; but when Edith saw the pellet-shooting Walther Lever Action, she warmed to it right away and soon there was a 30-30 in the closet next to it.
Here come the Legends
Umarex has decided to step up the pace on lookalike guns by introducing their Legends line. The Legends are also lookalikes, but they're copies of firearms that are legendary. Not that the 1911 and the Winchester 1894 aren't legendary — for they certainly are, but now Umarex will concentrate on those firearms that have achieved a spot in everyone's eyes — either by their design or by their role in life or both.
They chose the Luger to kick things off. You all witnessed the test of the Legends Parabellum P.08 pistol that turned into a desire to renew my acquaintance with Herr Luger's legendary 9mm sidearm. That happened just this past Christmas. As it was happening, Umarex launched their Legends C96 Mauser pistol! To that I said, "Absolutely not!" We'll see how long that resolve lasts.
Just a week ago, I completed the test of the Legends Colt Python BB revolver. I owned a Python in .357 Magnum years ago and thoroughly enjoyed it, but it was one handgun I worried about spoiling by over-handling. I don't need that. Give me a good old Ruger Security Six any day, and I'll turn a blind eye toward the scratches.
Makarovs
Today, I'm starting the review of a lookalike handgun that has had a huge influence on me in a number of different ways. I'm now looking at the Legends Makarov Ultra BB pistol.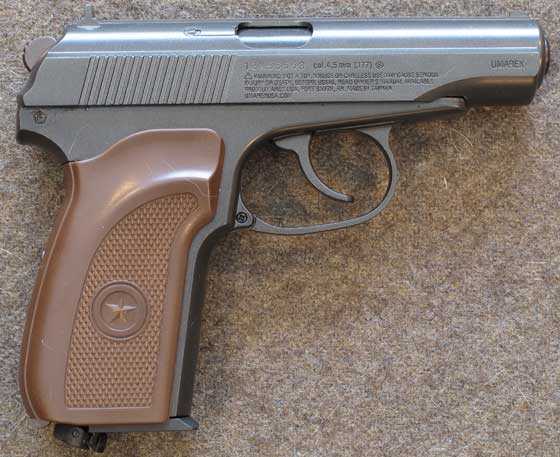 Legends Makarov Ultra is very realistic!
Umarex began the Legends line of guns as special copies of iconic firearms, and it was fitting that the Makarov was the first to be produced. That one was not offered with blowback, but I found it to be amazingly accurate when I tested it. Then I "taught" Crystal Ackley to shoot with a BB Makarov on American Airgunner, and the gun really took off. In truth, if you saw that episode, I didn't teach her anything. All I did was tell her what to do, she did it and it worked! Always! Crystal was a natural shooter who out-shot everyone on the show.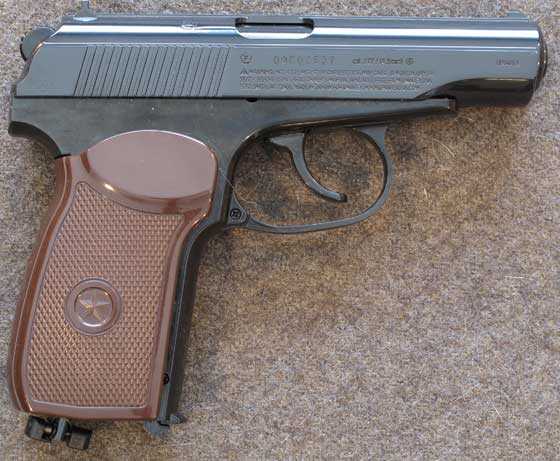 Original Umarex Makarov (now inducted into the Legends line) does not have blowback.
At the same time, I acquired a Makarov firearm that I've mentioned from time to time in this blog. It's the only semiautomatic pistol I've ever seen that has never jammed or misfired one time in close to a thousand shots. The design is rugged, yet the gun is accurate, and it has a light double-action trigger-pull and mild recoil. Too bad the puny 9x18mm cartridge it's chambered for is so entirely unsuited to military use, because the gun is a rock-solid reliable piece. A 1911 should be so reliable!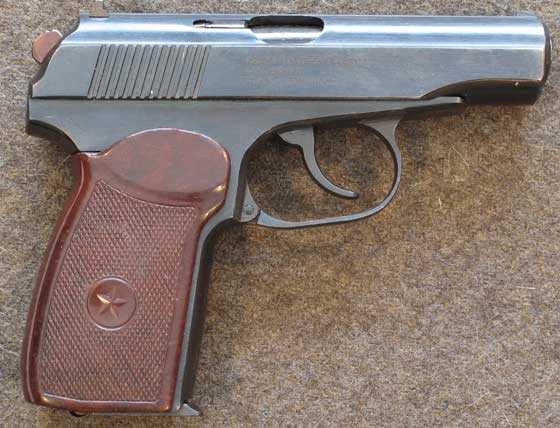 This Bulgarian Makarov firearm fits right in with the airgun lookalikes.
To complete the Makarov story, I must mention the firearm Maks that were converted by Izhmash to fire BBs. They were imported into the U.S. for a short time, until our Bureau of Alcohol, Tobacco, Firearms and Explosives determined they can be converted back to firearm status and stopped all importation.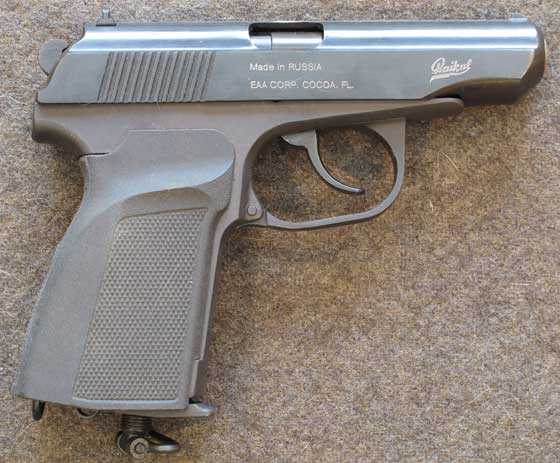 This pistol started out as a Russian 9mm Makarov, then Ishmash converted it to shoot BBs. The Russian grips look different than the Bulgarian grips, but Makarovs had many different styles over the years.
That makes a total of 4 Makarovs in my possession at this time. Three are BB-guns and the other is the firearm. This is a mini collection within my airgun/firearm collection. Now the question is if the new Legends Makarov Ultra is a worthy addition to the party.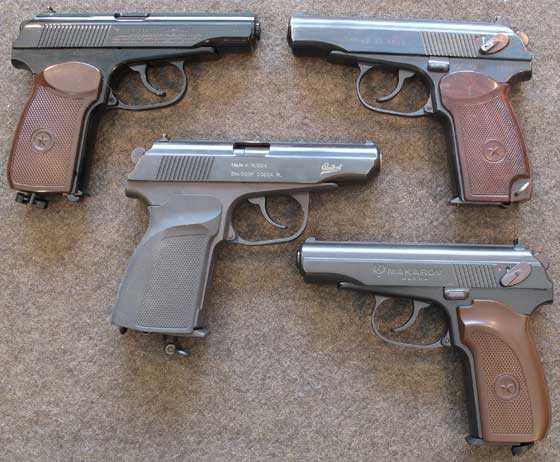 Four Makarovs — two as straight BB guns, one as a firearm and the other as a firearm converted into a BB gun.
The Makarov Ultra
The Makarov Ultra appears very similar to the original Umarex Makarov, but how different can it be and still be a close copy of the firearm? Of course, the big difference with the Ultra is the addition of blowback. When the first Mak came out, the usual suspects howled, "I would buy one in a second, if it just had blowback!" Now, it does.
The pistol is sized to the firearm, and I doubt even an expert could notice any difference unless he examined the gun. With a CO2 cartridge installed it weighs a shade under 24 oz., where the unloaded firearm weighs 26 oz. Only the slight presence of the folded cartridge piercing screw handle under the magazine floorplate gives any indication of what's inside.
The metal finish is a matte black that's more subdued than the blued steel on my Bulgarian Mak, but very similar to the Russian version. The grips are closer to the Bulgarian grips, though there are so many Makarovs in the world that just about any grip can be found on them.
The Makarov firearm is both single- and double-action. So, it can be safely carried loaded with a round in the chamber — just pull the trigger when you want to start firing. The Makarov Ultra is single-action only. The trigger looks like it will fire the gun; but pulling it with the hammer down accomplishes nothing. Once the hammer is cocked, though, every shot makes the slide blow back and cock the hammer again. After the last BB has been fired from the 16-round magazine, the slide remains open — to tell you it's time to reload. Extra magazines may be purchased so you never need to stop shooting.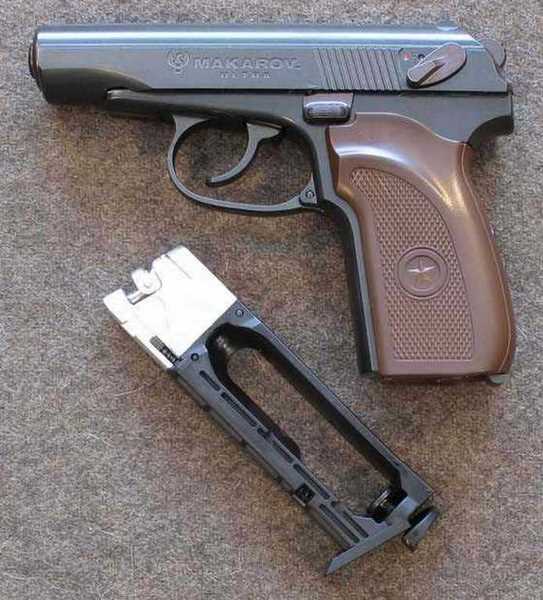 Both BBs and the CO2 cartridge fit into the Makarov Ultra's magazine. As with all Makarovs, the mag release is located at the bottom rear of the pistol grip.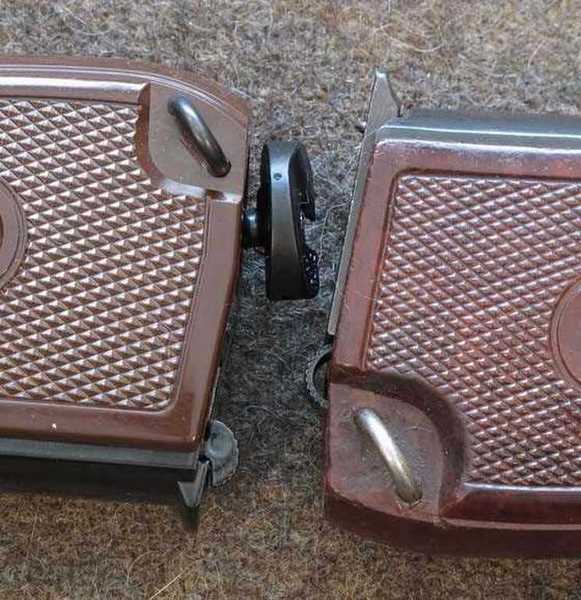 Two of the 4 pistols have a lanyard loop — the Makarov firearm (right) and the non-blowback Umarex Makarov.
The sights are fixed — front and rear. This is identical to the firearm. There are Makarov firearms with adjustable sights and double-stack magazines, but I believe these are civilian models, only. Contrary to what the wikipedia writeup says, the Makarov firearm is a very accurate pistol.
It disassembles
Yes, the Makarov Ultra does disassemble, just like the firearm. Pull the triggerguard down in front and slide the slide back and up off the frame. Disassembly takes about 2 seconds. There's no reason to disassemble the pistol, but I know that some owners just have to do it! Just know that disassembly is not authorized by the factory; and if you damage your gun or lose parts, the warranty doesn't cover you.
Summary
I give the Ultra model high marks for realism. It lacks the lanyard loop on the bottom left of the grip frame and the safety doesn't decock the hammer like the firearm safety does; but other than that, it's a remarkable package. For those who like realistic BB pistols, the Makarov Ultra is one to have.