by Tom Gaylord, a.k.a. B.B. Pelletier
I was getting ready to go to the range yesterday to shoot several airguns for this blog. When I go to the range, I usually try to take a couple of firearms along, just to justify the time and inconvenience of loading the truck and driving all the way out there. The range doesn't cost anything, but the time spent getting there, setting up and getting back home again seems like an expense.
Anyway, I decided to take my Desert Eagle .357 Magnum pistol along this time, to find a good long-range cartridge for it. Up to this point, I've just function-fired the gun for a couple hundred shots or so at shorter distances because I read on the internet that this gun is unreliable with lighter bullets. Well, I've shot only 125-grain bullets that are considered light for a .357 Magnum, and to date the gun has never malfunctioned once. So, that much of what I read turned out not to be true!
Monday morning, I'm was online looking for some good accurate loads, and this is what I found:
"I don't own a Desert Eagle .357, but I have read that they are unreliable boat-anchors. They are way too heavy and they recoil too hard! I don't need that. They also cost three times as much as my Taurus wheelgun. Why would I spend that kind of money, just to have a gun that jams?"
So, you DON'T own a Desert Eagle? Then why are you commenting on its performance? I'm all for open discussions; but when you don't have any experience, why not just say what you've heard and ask whether or not it's true?
I DO own a .357 Magnum Desert Eagle and here are the facts. They DON'T kick very hard. They feel about like a 1911 pistol shooting Plus P ammo when they shoot full-house .357 loads. And they DON'T malfunction! At least mine has never failed to feed — ever! They ARE heavy, but I don't find it debilitating to carry a 5-lb. pistol from my truck to the firing line — a distance of about 20 feet.
Then, I found another website with guy who lists all the factory ammo brands that don't work well in his Desert Eagle. Excuse me, but who said anything about shooting factory ammo? I reload! Why would I care if one brand that does function costs more than another brand that has feeding failures? I'm going to make up loads for my gun that ALL WORK. Who buys an expensive handgun like a Desert Eagle and then shops in discount stores for the cheapest ammo? That's like going to a 5-star restaurant and looking for their dollar menu. If you want to save money so bad, cut a slot in your head and become a bank.
Finally I find the worst one of all. I swear I am not making this up:
"When I shoot targets, I shoot Winchester White Box (a type of commercial ammo) in my DE. It's the cheapest stuff I can find locally. I used to shoot some Lapua imported stuff that was really accurate, but it cost a lot more than the U.S. stuff. I can't tell you how accurate any of this is, but most of the really hot stuff cycles the action fine."
WHAT!!??
Is the last writer shooting his gun just to hear the sound? Is it News Year's Eve and this is his noisemaker? What is he doing? He says he shoots targets, but he can't tell me how accurate any of the ammo is. Is he closing his eyes when he shoots? Does he just shoot at the targets and then never looks to see if he hits them?
Applying this to airguns
I know what this guy is really trying to say, but he can't find the words. He's saying that he uses his Desert Eagle as a bragging-rights gun, and he doesn't care how accurate it is. He doesn't shoot it to hit things — he wants to be seen shooting it and to be able to tell his buddies that he shoots a Desert Eagle.
I've seen enough guys like this at the range to know what I'm talking about. A couple weeks ago, a man at my range was warning everybody on the line that he was about to shoot a .300 Winchester Magnum, and everyone should be careful of the blast! When he shot his rifle, it was anticlimactic because the guy next to me had been shooting a 7mm Remington Magnum for the previous hour that made just as much noise. But Mister Win Mag wanted to be noticed, and he needed to draw attention to the fact that his rifle was a tactical nuclear weapon!
And this is how it applies to airguns. These same folks buy those 1,600 f.p.s. breakbarrel cannons and shoot ultralight lead-free pellets in them. If they do shoot at anything specific, they aren't paper targets — they're probably metal plates. Then, they can determine how much mild steel their pellet gun is able to penetrate, and at what distance.
Everything they do is a weird science experiment. They're the ones who wind up on You Tube with blood pouring out of their ears while their friends laugh maniacally in the background.
That's not airgunning! That's being back in the fourth grade and trying to light…well, you know what I mean. And if you don't, you're probably still doing it. And you aren't reading this blog, either, because people like that don't read much of anything longer than the label on a beer can or a juicy tweet on Twitter.
I shoot airguns to augment my shooting experience. And the point of that experience is to maintain and perhaps improve my shooting skills. Small groups are important to me, but so is standing on my feet and shooting the center of a target offhand — as I have done in front of witnesses several times.
I'm in this game to place my shots where I call them, or to know that I haven't whenever something goes wrong. I'm in this partly to keep my shooting skills sharp and partly to find guns and pellets that can shoot better than I can.
And that's what's behind all my reviews. Sure, I like a nice trigger; but without accuracy, a good trigger is like a rusted-out car that has a deep, resonating tone coming from the tailpipe. HEY — I once owned a VW bug with a stinger exhaust that was just like that! It sounded like an expensive sports car and ran like a model A Ford delivery truck.
So, manufacturers, I am warning you here and now — send me your guns and you can expect me to shoot them for accuracy first, and all other things second. I will use every trick I know to make your guns shoot well…and with luck, they will. But if they don't after I've exhausted all attempts to the best of my ability, you can expect me to tell everyone about how it really performed.
So, send me your mega-magnums. Just make sure they're also accurate. Send me your gilt-edged light sabers, but expect me to turn them on and attempt to use them. I can put up with a lot of things when I shoot, but missing the target because my gun is throwing curveballs isn't one of them.
The lesson of the wise barber
The wise barber said you can cut a man's hair every month, but you can only scalp him once. Marketing departments and airgun manufacturers need to internalize this wisdom because putting a bone-jarring air rifle into a customer's hands may be the ticket to losing him forever. On the other hand, give him a gun so good he'll want more, and you have created a loyal customer. His business won't just be worth the $300 he spends today, but tens of thousands of dollars that he'll spend with you over the next 40 years as he enjoys his hobby.
by Tom Gaylord, a.k.a. B.B. Pelletier
Today's blog is going to be fun for me, and I hope for all of you, as well. I'm going to talk about one of my favorite subject — the accurate gun. You have to be a shooter to know what I'm talking about because non-shooters assume that all guns are accurate. They assume that it's the skill of the shooter that makes guns work like they do.
That's like saying all violins are the same, and a master can make a student instrument sound like a Stradivarius. Or a NASCAR driver can make a minivan perform like a Ferarri. But it doesn't work that way. While expert handling can extract all the performance from anything, no matter what it is, there's also no way to get more than it has to offer, regardless of who wields the bow or sits behind the wheel. Or, in today's case, is on the trigger!
Accuracy is something that lives in the gun. And, in my experience, a really accurate gun isn't that common. Though I shot a lot starting in my late youth, it wasn't until I acquired a custom .458 Winchester Magnum in my twenties that I encountered my first really accurate gun. I bought…or more likely, traded…for the rifle at a local gun show when I was living in El Paso, Texas, in the early 1970s. It was a 1903 Springfield that had been rebarrelled to .458 Winchester Mag.; and it came with the reloading dies, a bullet mold, a batch of empty brass and even a recommended load. The seller/trader told me if I loaded it with his load, the rifle would be phenomenally accurate. I'd heard that before, but not as many times back then as I have today. In spite of my doubts, I did the deal.
I cast up some of the 558-grain lead bullets and loaded up the exact formula the seller had recommended, which I recall was 24 grains of 2400 powder and a greased but unsized bullet seated to a certain depth in the case. Then, I went to the range. Since this was a .458 Winchester Magnum, I was prepared to be kicked hard, but that load was so soft that it was very pleasing to shoot from the bench. When I checked the first 5-shot group at 100 yards and saw that it was only an inch across, I was thrilled!
That's when I began shooting 10-shot groups, because, try though I might, I could not get those big lead slugs to go anywhere but through the same hole. In fact, the accuracy of that rifle became downright boring after awhile. I would load up 40 rounds and shoot 4 groups that were all less than 2 inches across at 100 yards. Big whoop! There was no challenge.
I didn't know then that I would never again have a rifle so inherently accurate. I just assumed that was the way of things, so I eventually sold or traded that rifle…and have lamented the decision ever since.
Ballard
This is why I want so much for my Ballard rifle to shoot well — because I believe that it can! If that old put-together Springfield sporter could lob them all through the same little hole, there's no reason a purpose-built target rifle made in 1876, when American gunmaking was at its zenith, shouldn't do the same.

My Ballard rifle is beautiful. If only it shot like it looks!
So far, the Ballard has been a heartbreaker. She taunts and teases me with her looks and then puts 7 out of 10 bullets through the same hole, while scattering the other 3 wherever she pleases! Time after time, I thought I found the secret and was about to turn the Ballard into the thoroughbred she is, and just as many times I've been disappointed. When that happens, I get so discouraged that I have to abandon shooting the rifle altogether and do something else. There have even been times when I've thought of selling the rifle just to get it out of my sight. But, then, I look at her and realize that I have to keep trying.
My latest theory is that the rifle needs a shorter bullet because the twist rate is very slow. It's 1:20, where a normal .38-55 twist is 1:18. That would mean the 255-grain bullets I've been shooting are too long to stabilize. Please understand that I'm using smokeless powder in my reloads, and this rifle was designed for black powder. With black powder, you fill the case as full as it will go so there's no empty space between the powder and bullet. If there were space, the powder would develop a shockwave that would destroy the rifle!
But smokeless powder doesn't fill the case, and the pressure rises faster than black powder, so I have to keep the charges low. As a result, the gun cannot fire the bullet fast enough, even though it was designed to shoot that bullet. Because of that, it can't stabilize it properly. At least, that's my guess.
Another problem is that there's no leade ahead of the chamber. The rifling rises up at the end of the chamber and that's it. A bullet with a fat nose won't chamber properly, as the rifling will prevent the bullet from being seated.
What I need is a custom bullet for this rifle and to own the mold made for it. I'm working on that right now.
Springfield O3A3
I got an O3A3 Springfield from my buddy Mac a couple years ago. Most Springfield rifles are accurate in the general sense, but this one is special. It lays them in there better than it should. I can pull a sub-2-inch group at 100 yards when I do my part, and that's with the battle sights that came standard on the rifle.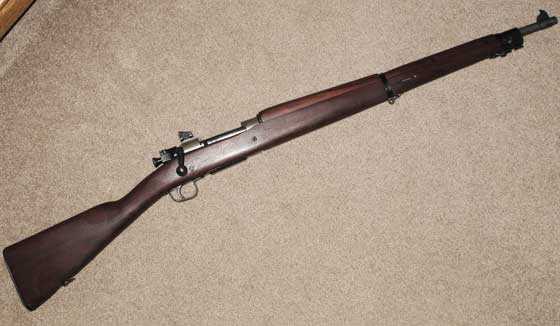 They made millions of them, but this one is special. It's more than accurate — it doesn't like to miss.
The O3A3 was the last incarnation of the famous 1903 Springfield bolt-action battle rifle. It was made during World War II to fill the need for rifles until Springfield could catch up with the Garand production. What made it an O3A3 were several minor design changes that substituted stamped and welded assemblies for machined parts. Oh, the hue and cry about that was great! Even in the 1960s, old soldiers still bemoaned the cheapening of the Springfield rifle!
But there was a funny side to it, as well. The cheaper rifles were also often more accurate! Instead of the antiquated Buffington peep sight that had been around since 1884, the O3A3 has a modern rear peep sight that adjusts for both windage and elevation. And mine has a 4-groove Remington barrel that's renowned for accuracy. Put the package together, and you have an American battle rifle that shoots like a target gun. The one I have does even better than most.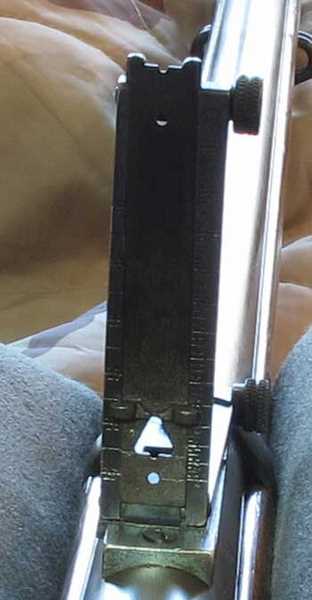 For 1884, the Buffington rear sight that combined a peep with an open notch was high-tech. It was used on all U.S. rifles through the M1903 Springfield, but it's dated today!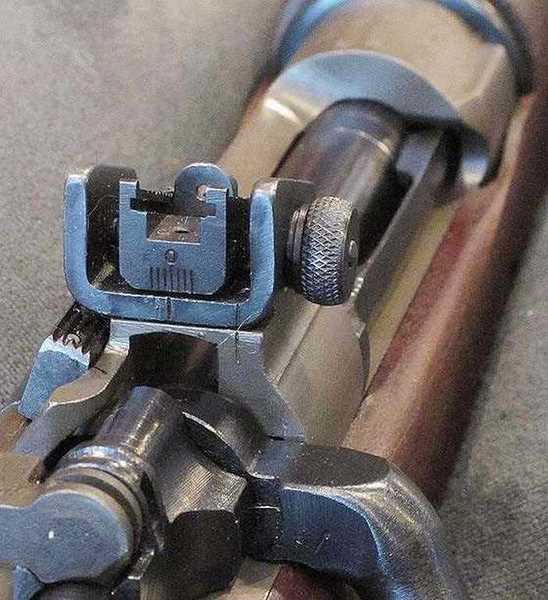 The O3A3 rear peep modernized the Springfield rifle during WWII. It made the rifle easier to shoot accurately.
It's a natural shooter! For some reason unknown to me, my O3A3 puts all its bullets where I want them — with iron sights! When Mac traded it to me, he apologized for the Social Security number that some former owner engraved on the receiver with an electric pen. It's barely visible, but its presence makes this 99-percent rifle a $600 shooter rather than an $1,100 collectible. But there's also an upside to that. I don't have to worry about the wear I'm causing by working the bolt because all the value has already been taken away.
I've owned six 1903-type Springfield rifles in my life. All of them were accurate, but this one is special. It goes beyond being accurate and crosses into a realm that's hard to define. Those readers who own accurate guns will understand what I'm saying.
Handguns, too!
I've owned super-accurate handguns, too. One of them is a revolver I got just recently in a trade. It's a gun I never would have considered before shooting 12 rounds offhand into pretty much one hole at 15 yards a few months ago. And the caliber — .32-20, which is also called .32 WCF — is a caliber I thought I would never own.
The gun is a Smith & Wesson Hand Ejector with target sights. It's from the 1930s and shows it's heritage proudly. It was carried for years in a handmade leather holster until the owner, my pal Otho, finally decided the gun had become too valuable to carry anymore. He no longer shoots handguns for medical reasons, so he was kind enough to let me try his pride and joy earlier this year. When he saw that I shot it well, too, he offered it to me.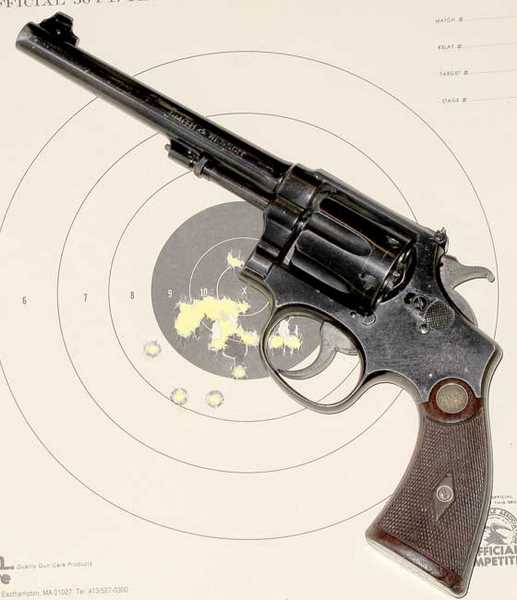 This 32-20 S&W Hand Ejector looks dated, but it shoots like the target pistol that it is.
Most revolvers have one chamber that's just a little out of line with the barrel and shoots just a little off. This one has six good chambers that you can't tell apart downrange. But that's understandable; because when it was made, Smith & Wesson used skilled craftsmen to fine-tune their revolvers — especially those with adjustable sights.
Summary
I own lots of accurate firearms and airguns, but today I've been discussing something more than that. The guns I've mentioned, with the exception of the Ballard, are beyond accurate. They have something that's hard to define and harder to give a name to. When I pick up one of them, I know where my shot will be going — every time! I don't know what to call this thing I'm talking about, but it does warm my heart to shoot one of these special guns.
by Tom Gaylord, a.k.a. B.B. Pelletier
Today's report is for blog reader J-F, who asked this exact question: "Why do airgunners need high-magnification scopes?" And let's define high magnification as anything over 12x. That's arbitrary, of course. It'll be arbitrary no matter where you set the limit. I set it there because that's 3 times the power that the average deer hunter's scope had in the 1950s.
But airgunners delight in 24x, 32x, 40x and even 60x scopes. I know because I'm one who does. But I also know why I want this level of magnification and what purpose it will serve.
Braggin' rights
One reason for high-magnification scopes is pure bragging rights. Like the pilot who has to have the largest, most complicated watch, the biggest scope gets the most attention — at least in the minds of the guys who think that way. And I know for a fact that some people do think that way; I'll tell you how I know in a moment.
Field target
One good reason for owning a scope with high magnification is so you can use it to determine the ranges to targets. No one needs to do that more than the field target competitor. Rangefinders are not permitted in field target matches, but the parallax adjustment on a scope provides something very close because it focuses the scope when the distance to the target is dialed in. This isn't a true rangefinding function like you might find on a coincidence rangefinder built especially to do this, but it's close enough to satisfy most people. And, it's all you're allowed to do.
Field target courses run from 10 yards to 55 yards, so the scope has to work in those boundaries. You want a scope that has most of its adjustment range between 10 and 50 yards. The best field target scopes are made that way — with 3/4 of the adjustment (the distance that the adjustment wheel or bell is turned) between those 2 distances.
To determine ranges accurately, you have to be able to see when something very small comes into sharp focus at your desired distance. To see things that small, you need as much magnification as you can get with the image still being clear.

The kill zone of this field target is the small hole above the dime. Your pellet has to go through the hole without touching the sides to score a point. This is why field target competitors need to know how far away the targets are!
Let's get something clear right now. Just because a scope adjusts to 40x does not mean that you can use it at that setting. I own a Tasco Custom Shop 8-40X56 scope that cost $650 back in the 1990s, and it's unusable above 30x for anything other than a bright target in direct sunlight. Field targets are often shot in the deep woods, where the light is either low or dappled with bright sun and dark shadows. In that light, my Tasco isn't useable above 30x.
There are cars whose speedometers go up to 120 m.p.h. It doesn't mean the cars go that fast. Same is true of scope magnifications levels. If you want to see at 40x in a field target setting, you're probably going to have to pay close to a thousand dollars for your scope.
Small field of view
Here's how I know that some people buy big scopes just to be envied. On several occasions, I've seen a field target competitor start the match and then not be able to find the targets! They sit there burning everyone's time, looking though their powerful scopes but are unable to see the targets because everything looks so big and dark through the lens. This got so bad, in fact, that AAFTA (the American Airgun Field Target Association) started enforcing the time rules that typically give a competitor 5 minutes per 2-target (4-shot) lane.
The reason this happened is because these guys had never looked through their scopes at anything besides paper sight-in targets until the day of the match. They assumed things would be as they always were; and, of course, they aren't when you move from a well-lit range into the woods.
The other thing powerful scopes do is bring out the anal side of some shooters. They will sit and range and rerange to the target, acting like some clueless manager examining a spreadsheet. They can't get off the dime and take the shot because — what if they were wrong?
On the other hand I suffer from the opposite affliction. I don't take my time and just charge on through the course. Great instincts for a first-wave armor officer — not so good for longevity on the battlefield or to win a match.
Benchrest shooters
The other shooter who really needs a powerful scope is the benchrest shooter. "Aim small, miss small" is their motto. A few weeks back, I showed you my 100-yard box targets that help me sight my most accurate scoped rifles.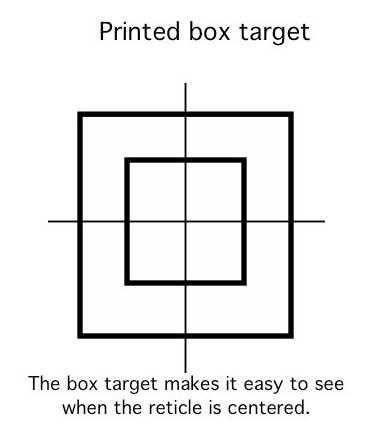 My best centerfire rifles are, in descending order — my Rock River AR-15, which I built from parts; my HW 52 in .22 Hornet; and my Savage 1920 bolt-action in .250-3000 Savage. The AR has the Tasco 8-40X56 scope on it; and even on sunny days, the power never goes above 30 or the scope gets foggy. The Weihrauch Hornet has a vintage Weaver K10-T that's a fixed 10-power scope with an adjustable objective. The Savage is carrying a vintage Weaver V9-W 3-9X32 variable with a widefield view.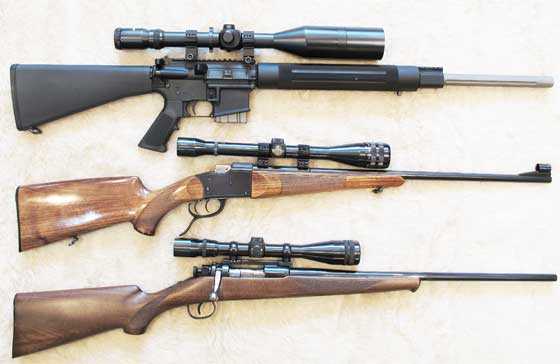 My 3 most accurate centerfire rifles are (from the top), AR-15, .22 Hornet falling block and .250-3000 bolt action.
One of the main reasons two of these scopes are vintage is that they have fine reticles that are perfect for my box targets. I can see when they split the box, even at these relatively low magnifications. Would I like more power? You bet! But I need to get it in scopes that will fit in fairly exotic rings and clear the guns when they're mounted. That's a tall order because high magnification usually comes with a large objective bell.
Who doesn't need high magnification ?
As a general rule, hunters don't need high magnification; and they do need the wider fields of view and brightness that come with lower-powered scopes. Varmint hunters might disagree with me on this because they're more like benchrest shooters, but squirrel and rabbit hunters will probably agree.
Exterminators can also get by with lower power, with a few exceptions. When they hunt quarry that's extremely wary, such as rats can sometimes be, they may want more power to place their pellets precisely on the little part of the animal that does show. But we're talking 12-16x here — not 40! But the guy who's killing birds in a discount store or mall at 3 a.m. can get by with a good 6x scope most of the time.
So, J-F, the answer to your question is a combination of things. There are those airgunners who actually do need high magnification, then there are the wannabes who have it because it's cool. And then there are the first-time buyers who may get it because they have no idea what they're getting into, and high magnification sounds good.
by Tom Gaylord, a.k.a. B.B. Pelletier
I read a lot of mystery novels, and in each one there's a dose of something absurd that upsets my sensibilities as a shooter. I've gotten past Agatha Christie putting a "safety catch" on every revolver; but in this day of the internet, I simply cannot overlook the travesties that some authors get away with. I think I told you some months back about a military policeman in a novel who wondered whether the cartridge cases he found at a crime scene were military or not. He solved his dilemma by hefting a case in his hand and determining from its weight that it was a 5.56mm. Of course, the headstamp on the case was of no import whatsoever because nobody knows what all those words and numbers mean!
In a current novel I'm reading, we're in the middle of a court martial and the government's expert witness for the prosecution has just testified that a German Luger magazine holds 15 bullets. He meant to say cartridges, but nobody cares about the difference, do they? Maybe they do because he then went on the explain that 3 of the bullets had passed through the victim, and one was still in the body. But 4 bullets were found on the floor.
Did I say 4 bullets were found on the floor? Oops, I meant bullet casings, of course. I guess they were about to make bullet sausage because that's what casings are used for. Ammunition, on the other hand, is comprised of a bullet and a cartridge case, plus gunpowder and a primer, although I'm pretty certain that if they had to explain it in the book they would have called it the explosive and the flashy-thingy.
The expert witness was then asked about the trigger on a Luger, which he described as a "hair trigger," so light it can go off almost by itself. Oh, really? Then why are there thousands of websites devoted to removing all the mushiness from Luger triggers? Why are Luger triggers noted for their lack of precision?
Then there's the actor Danny Glover, who starred in the movie Predator II. Glover plays an LAPD lieutenant who tracks and kills an alien predator. He is armed with a nickel-plated Desert Eagle in an unspecified caliber. I'm always captivated whenever a noted anti-gun activist like Glover also makes his living with the very thing he claims to oppose. I guess, as an activist, he has to keep the dreaded firearms very close so he can watch them! Of course, you can't reason with a predator, which is why, I suppose, the Los Angeles Police Department gives special dispensation to officers like Glover to arm themselves with non-standard weapons. Or perhaps that was the year the LAPD carried nickel-plated Desert Eagles? It would be like seeing a dune buggy in a World War II film, and don't you dare try to explain away that with a thumbnail sketch about the Kübelwagen!
Of course, this kind of license is not confined to firearms. Oh, no, we have it here in the airgun world, as well. Things like the following.
"There are three main types of pneumatic arms. One is powered by a spring driving a piston, another has an internal pump that pressurizes air in a built-in reservoir and the third type utilizes gas sparklets, in the same way as a seltzer bottle, only instead of water they propel lead pellets."
Excuse me? How is a spring-piston gun a "pneumatic"? Better yet, isn't the use of carbon dioxide gas the very antithesis of the definition of a pneumatic?
My story
If I wrote a screenplay, the hero would shoot a single-shot rifle and carry a 1911 as a sidearm. When his back was against the wall and his enemies had him pinned down, he would eliminate his oppressors with aimed shots from 500 yards and then engage them at 100 yards with the handgun. The bad guys would be Hollywood types with ball caps on backwards and black rifles that they spray and pray, while my hero picks them off like clay pipes in a shooting gallery. The movie Quigley Down Under comes to mind.
My book
And in my novel, the judge would throw the expert witness out of the courtroom after he referred to cartridges as bullets. Or, if he said that a Luger has a hair trigger, the judge would demand a technical definition of what constitutes a hair trigger. Finding none, he would then demand that a trigger-pull gauge be used on the murder weapon to determine what the trigger-pull actually is.
The murder weapon is sitting right there in the courtroom, where it is available for examination and testing. Yet both attorneys accept the words coming from the expert witness, instead of actually testing the thing in front of them. Apparently that's okay, but it's very important for the author to ramble on for 10 pages about how someone feels about something or what social interactions caused him/her to do/be what they did/are.
Put up or shut up
So, why don't I write my novel or screenplay? Simple. My fictional writing isn't worth reading. These New York Times authors can call a pig a chicken and get away with it because they do it in such a compelling way. On the other hand, I stand on my soapbox and protest the misleading details in the writing of others and nobody cares — not even me.
In the end, it really doesn't matter to me that Michael Gross who played survivalist, Burt Gummer, in the Tremors movie series is actually on the National Committee of the Brady Campaign to Prevent Gun Violence, or that his wife in the same movie series, Reba McEntire, is noted for buying back guns with tickets to her concerts. Both actors admit to owning guns (of course they do!), but they really don't want YOU to!
So what?
Why do I care so much about these petty mistakes and misleading actors? Even I admit they don't hurt the story line. The novels are still good reading, and the movies are still worth watching. In fact, watching the 4 Tremors movies is something of an institution at my house.
But those little inconsistencies are like speed bumps in the road. They upset an otherwise smooth journey. And they remind me that in the gun world there are people who don't really care about the things they stand for, either. People who say things like, "I think it's okay for people to own guns — just not assault rifles." Reba McEntire said that. The Brady campaign calls the AR-15 an assault rifle, even though it's not capable of the full automatic fire that defines an assault rifle.
But they LOOK like assault rifles; and if we can get people to believe they ARE assault rifles, then we've condemned them to the ever-growing list of vilified things — things like magazines with capacities over 10 rounds, and "cop-killer" bullets and foregrips and, heaven forbid — LEAD!
Adolf Hitler said it best. A lie repeated often enough becomes the truth. Whose lies do you believe?
by Tom Gaylord, a.k.a. B.B. Pelletier
This is the second report in this series on swaged bullets. My initial purpose for testing these bullets was to see if I could make a swaged bullet that would shoot more accurately than patched round balls in the rifle barrel of my Nelson Lewis combination gun. While testing that gun, I blew out the nipple and had to repair the gun before it would shoot again. Thankfully, that's all done now; but I decided, instead, to use a Thompson Center muzzleloader in .32 caliber as the testbed for this idea.
When I first tested the swaged bullets at 50 yards, I couldn't get a shot on the paper; so this past Monday, I shortened the shooting distance to 25 yards, in hopes I would be on paper. Since I'm reporting this now, you know that I was successful.
One thing I thought might be causing a problem was using too much black powder for the swaged bullets, so I selected a 9mm Luger case as the new powder measure. But there were ignition problems, so that wasn't the right thing to do. I then adjusted the powder measure back to its smallest measure and shot some patched balls as a control group. The first one was a hangfire that was delayed about 100-200 miliseconds. It sounded like I'd shot a flintlock with a slow lock time. But the second shot with the same load went off perfectly, so I put 4 more downrange after it. This gave a nice group that measured 1.504binches between centers. That's not great for only 25 yards, but at least the group seemed to be centered on the bull, if a little low.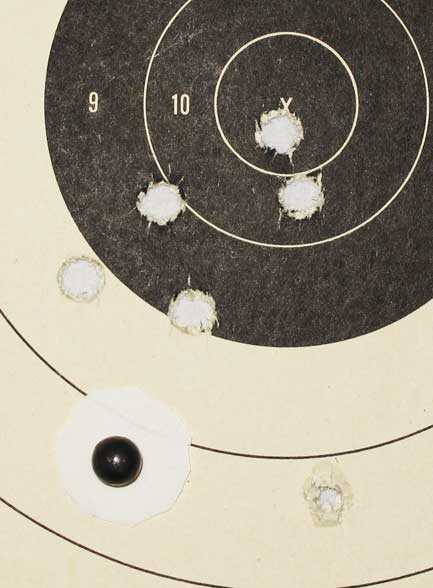 Five patched balls went into 1.504 inches at 25 yards. The 6th shot that landed low was a bad hangfire.
I was exhausting a supply of 3F Goex powder that was at least 30 years old. I'd received it as a gift about 12 years ago, and I think the giver said it was about 20 years old then. So, black powder does hold up over time when properly stored.
One thing I did with the patched bullets was quit cleaning the bore between shots. I used a patch lubricated with saliva, which is recognized as the most accurate round ball lubricant. To do that, I put the patch into my mouth as I began the loading process; then it was wet when I laid it across the muzzle about 30 seconds later. You can only use spit patches if you're shooting right away; because if the saliva dries, it won't do anything. Plus, you can rust the bore where it sat. But after 6 rounds had been fired, the bore was still clean enough that I could seat the ball flush with the muzzle with thumb pressure. That told me the bore was not getting any dirtier as the shot count increased. With real black powder, the bore gets dirty on the first shot.
Then it was time for the swaged bullets. The bullets I swaged from .310 lead balls proved too small for success. They missed the target altogether. Then I switched to bullets swaged from .350 lead balls. These seemed perfect and went to the same point of aim as the patched balls. After 4 shots, I thought I had a winner; but shot 5 went almost 6 inches higher, opening the group to 6.25 inches. The first 4 shots measured 1.816 inches between centers — not that much bigger than the patched ball group.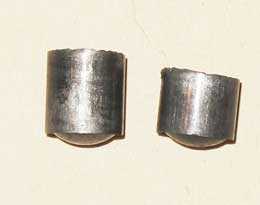 The larger bullet on the left was swaged from a .350 ball. The smaller one came from a .310 ball and didn't shoot very well.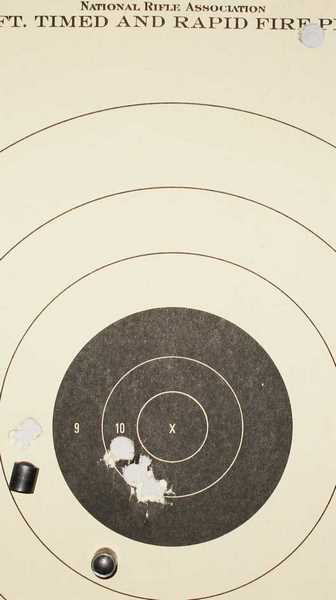 The swaged bullets did okay until the last shot (upper right). The bore was getting too dirty to shoot well. Notice that at least 2 bullets hit the paper sideways.
This target held a clue to what was happening. Two of the 5 shots appear to have struck the paper sideways, indicating they're tumbling in flight. Because the bullets are swaged into cylinders rather than spheres, this is very easy to see. Instead of round holes, you get rectangles. Obviously, these bullets aren't stable in flight, which means they probably aren't engaging the rifling. Either that or the rifle's twist rate, which I believe is 1:48″, is too slow.
Some of the holes are perfectly round, however. This either means they were either tumbling and happened to strike the paper point-on, or they were actually stable and for some reason the other bullets weren't. More work has to be done to sort this out. But let's now look at the next discovery.
I told you I wasn't cleaning the bore between shots this time. Well, that came back to bite me. The swaged bullet that had previously slid down the barrel easily was now just entering the bore and staying put. That's the unmistakable evidence that powder residue is building up on the walls of the bore.
And the next 5 shots on a different target tell the story. Only 4 landed on the target paper and 2 of those went through sideways. The 5th shot landed below the target paper on the paper backer I was using for just this reason.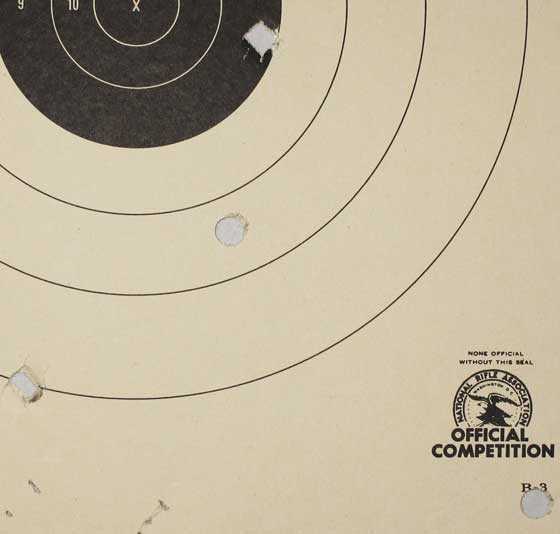 On the final target, only 4 or 5 bullets hit the target paper. Two of them hit sideways. The 5th shot landed low, off the paper.
That target marked the end of this day at the range. In all, I shot about 25 rounds in about 45 minutes, which is moving right along for a muzzleloader. I tested two weights of swaged bullets with 2 different powder charges and determined that the heavier charge and heavier bullet were both needed. In fact, the next time I test this bullet, I'll use an even heavier powder charge and try a heavier swaged bullet, to boot.
For the record, I weighed the powder from the measure and discovered it weighed 19.4 grains. This is a light load for a .32-caliber muzzleloader.
I figure the heavier powder charge will help swell the base of the bullet better to grab the rifling, and maybe the heavier bullet will add a little more resistance to help that along. I also plan to clean the bore after each shot, as I now know these swaged bullets require it.
There's a whole lot more to explore with swaged bullets, but I'll keep working with this swage set until I know what I'm doing.
by Tom Gaylord, a.k.a. B.B. Pelletier
I thought I'd provide some thoughts on how this blog has helped me become a better shooter. We just finished the Twist-rate test last week, and I wanted to share with you some things from that test that have impacted my shooting.
Swaged bullets
I've been using the output of the test to guide my own shooting with both firearms and airguns. I did test the swaged bullets in my muzzleloader already, but I discovered that there's a lot more to learn. I can't get the bullets I've swaged to group at 50 yards to save my life! I get maybe 1 out of 3 shots to land on paper. I think the problem is that I'm driving them too fast. I've been using the same load of black powder that I use for a patched ball, which seems like double the amount needed to get good results. When these bullets are fired in airguns, they're shot at between 400 and 650 f.p.s., and I've been launching them at 1,000 to 1,200 f.p.s. I think I'm blowing them apart!
I plan to load less than half the amount of black powder to see if I can get the velocity down around 650-800 f.p.s. The twist-rate test told me these short bullets don't need to be spun up as fast as I'm shooting them. At least, I think that's the case. More later when I actually have something to show you.
The AR-15
A friend talked me into buying some Accurate Arms 2230 powder for my AR-15, but when I tried it with the 69-grain and 77-grain bullets I normally shoot, it was lousy. The burn rate of this new powder is way faster than the Varget and Reloader 15 powders I've been using, and both given such good results. I figured the problem was  that I was trying to push a bullet that was too heavy with a powder that was too fast.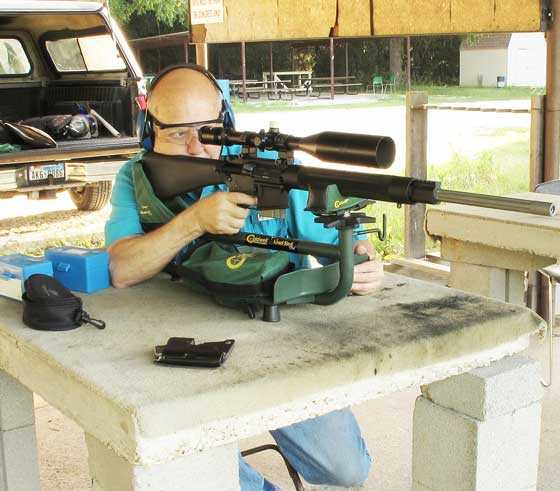 I still can't get over how accurate my AR-15 is with the right loads.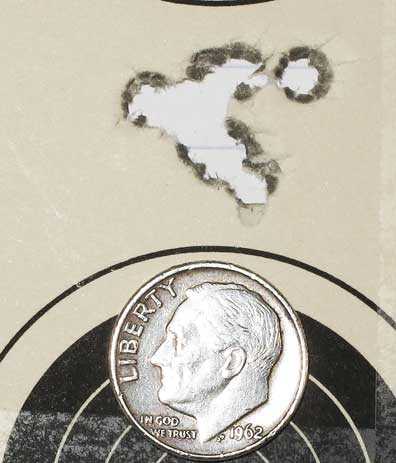 Ten shots into 0.54 inches at 100 yards is pretty good for an AR-15.
I loaded some lighter 55-grain bullets with the lowest charge of 2230 the book recommends. But the results were poor, again. Oh, they were twice as tight as before, when I shot the 77-grain bullets; but with 10 shots going into 1.808 inches, they still aren't worth the trouble. It may be that my 1:8″ twist is just too fast for lightweight bullets, but I still need to experiment some more.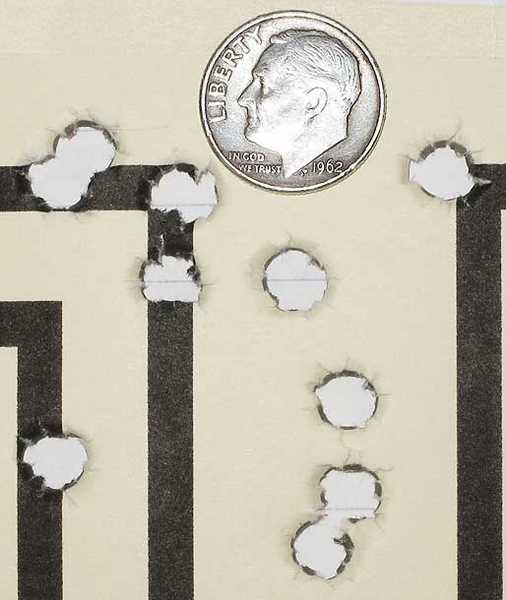 Ten rounds into 1.808 inches at 100 yards is terrible for a rifle that can do so much better.
Ballard
I updated you on the Ballard situation a few weeks ago. I told you that I discovered the Ballard's rifling has a twist rate of 1:20″, while Winchester rifles of the same caliber (.38/55) have twist rates of 1:18″. Given the slow speeds I shoot, the difference is significant. Bullet molds and cast bullets that are available today are all made for the Winchester, which is far more common than a vintage 1886 Ballard.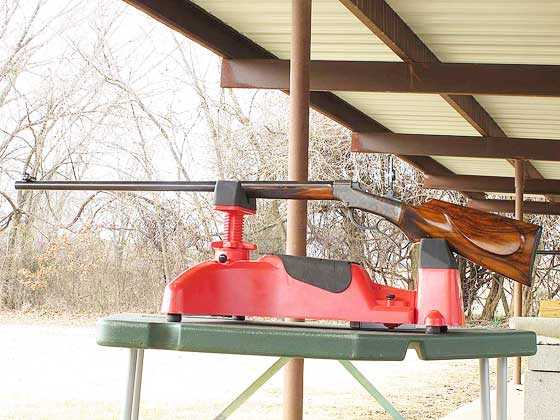 My vintage Ballard turns out to have a twist rate that's on the slow side for the bullets that are available.
What this means is that I've been trying to shoot with bullets that are too long and heavy for the twist rate of my rifle! It took the results of the twist-rate test to drive this fact home. The solution is not as straightforward as it sounds, however. You might think I could just have a custom mold made for a shorter bullet. That's possible, but I first need to think some things through. For example, would the rifle do better with a full charge of black powder and the bullets that I already have?
I got very discouraged when I learned that my rifle had a slow twist rate. I even considered selling it and buying a rifle that was more suited to what I want to do — which is shoot 10 shots into less than one inch at 100 yards with non-optical sights. But when I tried to list the rifle for sale, I found I could not let it go!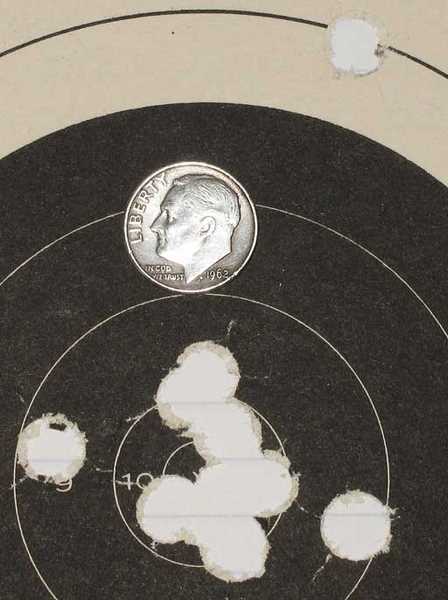 No matter what I do, I just cannot seem to get the Ballard to group much better than this at 100 yards. Ten went into 2.654 inches.
So it's back to the beginning with the Ballard. I have to figure out how to make this old beauty shoot in its current form because it is too valuable to modify. And everything I do from this point forward will be driven by the slow twist rate!
The next twist-rate test
We've finished the initial twist-rate test, but we aren't finished with the special barrels. Several of you have asked me to test the 1:12″ barrel with heavy pellets that are longer. I've decided to test it at 50 yards with the heaviest, longest pellets I can find. But besides that, I'll also test the JSB Exact Jumbo RS pellet in the 1:22″ barrel at 50 yards. The RS is 0.002″ longer but nearly a full grain lighter than the Premiers that were used in the first test, so we may see an accuracy improvement over the 2+ inch groups the Premiers gave. Being lighter, the RS will travel a little faster, which means it will also spin faster, and that may help the accuracy. We won't know until we try it.
This is good
I told you when I started the twist-rate test that we might find specific things to test in the future. These are those things, plus a few more. What a ripple effect this has had on all of my shooting!
by Tom Gaylord, a.k.a. B.B. Pelletier


M1 Carbine on top and Crosman M1 Carbine below. A realistic copy!
When I attended San Jose State College in the 1960s, I was in ROTC. My first 3 years as a cadet were in the enlisted ranks, and we all drilled with the M1 Garand. Today, people feel the Garand is a cool historical military weapon (and it is!); but in the late 1960s when it was all we had, it wasn't nearly so cool. It was, in fact, heavy, clumsy and dangerous when you performed Inspection Arms. We learned to live with it and eventually became adept at not smashing our thumbs when we closed the bolt, but the fact was that the Garand was a 10.5-lb. clunk that always seemed to weigh too much.
The cadet officers, in sharp contrast, were issued the M1 Carbine, which weighed about half as much and felt like a feather compared to the Garand. When they performed Inspection Arms, there was no heavy spring to fight to get the bolt open and no chance of an M1 thumb. The bolt on the Carbine action slides home with minimal fuss.
Of course, we never got to shoot our guns. We just drilled with them. I could perform the Manual of Arms pretty well but had no idea what it was like to touch off a round. And those days were long before Garands became widely distributed among private owners in the U.S. They were around, but a kid in college like me shot a 1903 Springfield if he shot anything.
Carbines were more readily available, but I never had the chance to shoot one of them, either. So my entire opinion of both weapons was based solely on their weight and the relative ease with which the Manual of Arms was performed. Naturally, I fell in love with the M1 Carbine.
I wasn't an airgunner in those days. I'd been one 10 years earlier when firearms were out of the question…and I would be, again, in a few years when I encountered adult airguns during a tour with the First Armored Division in Germany. I was unaware that Crosman had marketed an M1 Carbine lookalike BB gun from 1966 to 1976. And, given my interest in firearms at the time, it's doubtful that I would have been interested in one if I had known about them.
It wasn't until I started going to airgun shows in 1993 that the Crosman M1 Carbine popped up on my radar screen; and when it did, I assumed it was a CO2 gun since my total knowledge of Crosman was that they made CO2 guns. Having lived through the great experiment of the "bottle-capped" CO2 containers in the late 1950s (they leaked gas), I wanted nothing to do with any gun that used it. That's a story of its own, and it's one I'll share with you soon.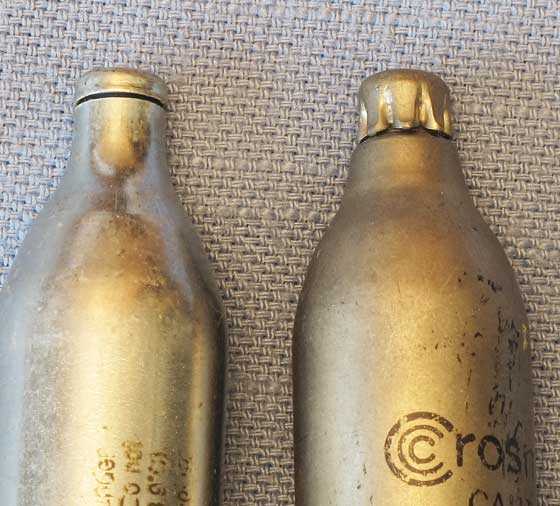 Crosman's first CO2 cartridge (right) used a type of bottle-cap close. Many leaked.
In the late 1980s, someone offered me a Crosman M1 Carbine for $15, and I turned it down because of my distaste for CO2 guns. It wasn't until about 10 years later when I was writing The Airgun Letter that I discovered my mistake. The Crosman M1 Carbine is not a CO2 gun. It's a spring-piston BB gun that cocks using the push-barrel system that Quackenbush (Henry Marcus, not Dennis) made popular in the late 1800s.
I also discovered that this BB gun had a rear sight that adjusts in the same way the type II and type III Carbine rear sights adjust. And it's lightweight — just like the military gun. And powerful for a BB gun! And also accurate. What was not to like?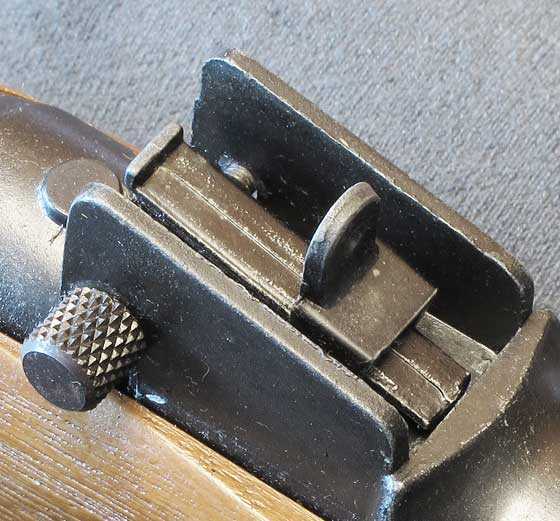 The Crosman rear sight is fully adjustable for windage and elevation — just like the type III military Carbine rear sight.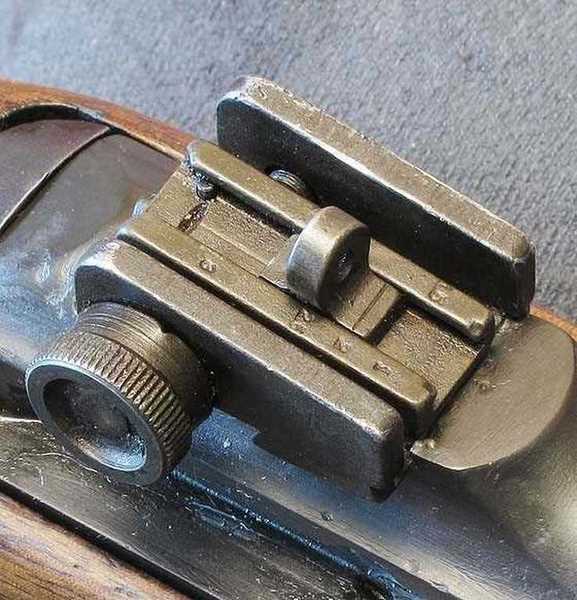 A military Carbine type II rear sight is very similar to the Crosman sight. They adjust the same way!
I broke down and bought a wood-stocked Crosman M1 Carbine at the Winston-Salem Airgun Expo. That gun taught me what I'd been missing all those years. It was accurate (for a BB gun), powerful and looked great. But those were busy days when I was buying and selling airguns often to have new material for the newsletter. So, I let that gun get away from me — for almost twice what I paid to get it! That was the value of the wood stock, which was available only for the first two years of production.
Then I went into a severe case of seller's remorse, which I guess I also verbalized a little. My friend, Mac, saw me looking at another M1 Carbine at another airgun show, and he bought it for me as a gift. That was the kind of friend he was.
Following that, I got serious and set about to acquire my first actual M1 Carbine firearm — just to complete the circuit. I found it to be wimpy, weak, inaccurate and in all other respects thoroughly lovable. I have not been without a Carbine since. And I will never get rid of my Crosman M1 BB Carbine.
The rifle
The Crosman M1 Carbine is a very realistic airgun. It weighs 5.25 lbs., which is within 1 ounce of the firearm's weight. The stock is plastic dyed medium brown and given a grained pattern on the surface. Crosman called it Croswood, and for its day it was very realistic. In fact, it looks much more authentic than the real wooden stock that's slab-sided and without figure. The Croswood stock is much more rounded and more fully contoured than the wood stock.
The picture shows that the airgun is in most ways very similar to the firearm. Of course, there are some significant differences. The "magazine" for instance is nothing but a metal box — a reservoir for BBs that must be dumped out and then loaded into the 23-shot gravity-fed magazine before they'll work in the gun.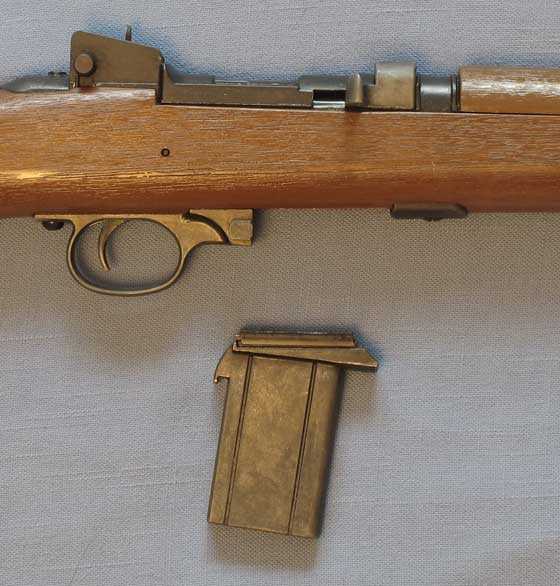 Crosman's magazine is really just a reservoir for extra BBs. They have to be removed from the reservoir and loaded into the gun.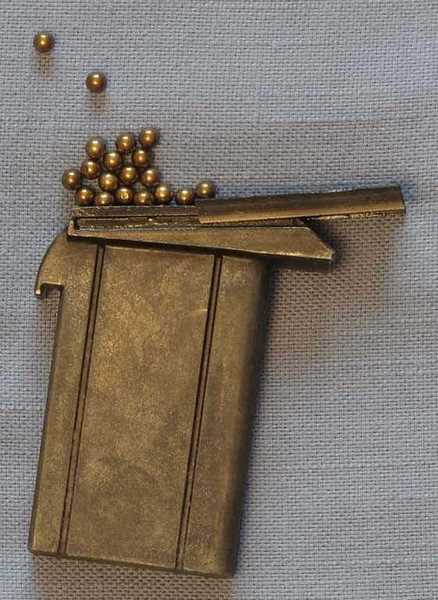 Slide the plastic cover off the magazine and pour out the BBs.
That magazine, by the way, is the gun's Achilles heel. Kids (and parents who don't understand its purpose) remove it and lose it. The gun will still work fine without it, but some of the authenticity is lost. There have been solid plastic magazines sold over the years for those who need to regain the look without the storage compartment.
The BB gun loads through a hole in the top of the stock. To load, you slide the operating handle to the rear to open the hole, then drop in the BBs one by one. They roll back toward the butt, which is natural. When you cock the gun, you pull back on the barrel and normally the muzzle will be elevated when you do.
This gun can be difficult to cock — even for some adults. The mainspring is powerful, and the barrel doesn't offer a good handle to grasp when pulling it back. Many people cheat by putting their palms over the muzzle and pushing the barrel back. That puts your palm over the muzzle of a cocked gun — which is not something you want to do.
The right way to cock the gun is to use the front sight as an anchor for your index finger but not put any part of your hand in front of the muzzle at any time. I'm sure kids developed their own ways of cocking this gun, as it's entirely too powerful for most youngsters to cock conventionally. Most Carbine BB guns will have significant finish wear on the barrel just behind the front sight due to repeated handling.

Grasp the barrel this way to avoid putting your hand over the muzzle. This wears the finish off the barrel at this point.
The pull of the stock is a somewhat short 13 inches. But the firearm's pull extends only another quarter inch farther, so it's right in line with that. And the overall length is 35.50 inches for the BB gun and 35.75 inches for the firearm. So, the pull is where the difference is.
This gun was an icon to kids growing up in the late '60s and '70s. It was (and still is) so realistic that every junior BB-gunner wanted one for himself. Even if he couldn't cock it without resorting to trickery, this was a gun to own!