by Tom Gaylord, a.k.a. B.B. Pelletier
This topic was received well last week, so I'm doing the second list today. Several readers have reminded me of other gifts I should mention, and some of them will make today's list. If I don't list something you suggested, there's a reason. These are the things I recommend without question.
Stocking stuffers/small, neat gifts
Gifts in this category don't cost a lot but will have great meaning to airgunners. Some of them are things that shooters won't buy for themselves.
Air Venturi Pellet Pen and Seater
Someone suggested the Air Venturi Pellet Pen and Seater, and I have to agree. This is a great gift, and it's one that a lot of shooters won't buy for themselves.
EyePal Peep Sight Master Kit
The EyePal Peep Sight Master Kit is another gift that people may not think about; but when they have one, they'll love it. I chose the Master Kit so you can use it with both rifles and pistols (and bows if you're an archer, too). Even if you don't wear prescription glasses, the EyePal is a great aid for your safety glasses to sharpen your vision and make that front sight clear!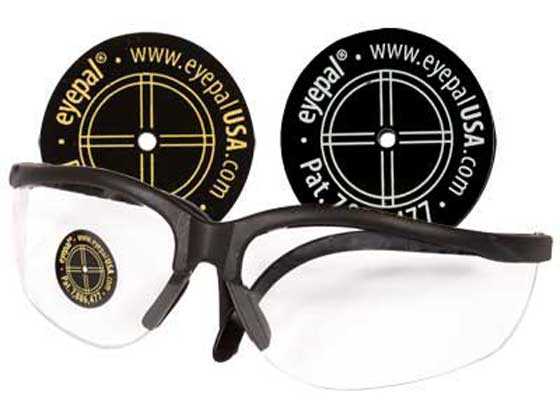 The EyePal makes the front sight appear razor sharp. Use it on prescription glasses and non-prescription safety glasses, alike.
Pellet selection
Here's a gift I'm putting in this section, although it will cost you some money. Pyramyd Air offers 4 tins of pellets for the price of 3. Your favorite airgunner has pellets he or she really likes, but they don't buy them all the time because they may cost too much.
Consider this gift similar to one of those fancy boxes of candies or Christmas smoked meats that are given this time of year. Nearly everybody likes them, but we don't spend money on them for ourselves. So, this is an opportunity to buy something your airgunner wants but will never buy himself. The one problem you have is finding out which pellets to buy. Rather than try and guess what your airgunner wants, I'm going to leave this up to you. You need to do a little investigation, maybe look at the pellets that he has on the shelf, or just talk to him and find out what he really wants but hasn't bought.
Gifts under $50
Crosman 357
For a pistol shooter the Crosman 357W is a great idea. It's a revolver, so you get multiple shots per loading; and for the money, it's an accurate little air pistol.
Walther Multi-Tac tactical knife
If your airgunner is a gadget junkie, you can't do much better than a Walther Multi-Tac tactical knife. It's a tool kit for your pocket. And it has a 440C stainless steel blade to cut whatever you need.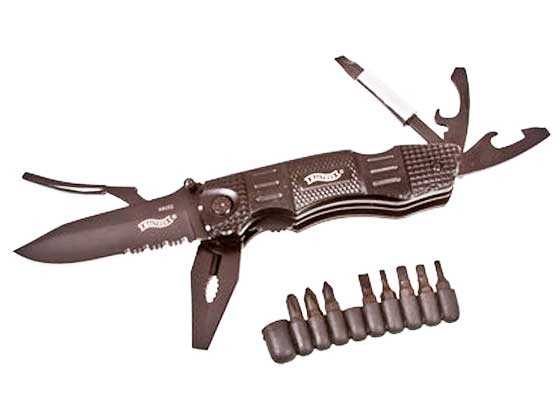 Walther's Multi-Tac knife is a toolkit in your pocket!
Walther Xenon Tactical flashlight
Can't have too many flashlights! Not when you need one! The Walther Xenon Tactical flashlight uses two CR123A batteries to cast a 60-lumen light. That means you get both good battery life and a powerful light.
Gifts under $100
Some of these gifts are just over the $50 mark, so look at them carefully. This category holds some of the most surprising values in airguns.
Legends Makarov
The Makarov from Umarex is a wonderful BB pistol that I just can't stop talking about. I bought one for myself after testing it! It's extremely accurate for a BB pistol, which means you really can use it for target practice. It runs on CO2, so don't forget to get some CO2 cartridges if you give this gun as a gift.
Simply one of the best BB pistols you can buy at the price, the Legends Makarov is accurate, well-made and inexpensive.
Crosman 2240
Another fine CO2 pistol is the single-shot Crosman 2240. It's a .22-caliber, bolt-action pistol that's powerful and accurate, plus it serves as the basis for many aftermarket modifications.
Ruger Mark I
The Ruger Mark I air pistol is powered by a spring-piston. It isn't very powerful, but it's a great companion for the handgun shooter who only wants to poke holes in targets and plink with a pistol that's easy to cock and accurate.
Stoeger X5 air rifle
The Stoeger X5 air rifle is a wonderful, youth-sized, spring-piston rifle that has enough quality to make my list. The trigger is a little stiff, but the accuracy is there. It reminds me of the Hämmerli 490 that is, sadly, no longer available.
Gifts a little over $100
I created this category for those items that are a few dollars over $100 but are still within the realm of economy. Sometimes, the things you want are just over the line — no matter where you arbitrarily draw it.
Shooting Chrony Alpha chronograph.
The Shooting Chrony Alpha chronograph is the instrument I use to document 98 percent of the work I do. I use it because it's small, portable and very reliable. Sure, there are reasons to use my Oehler 35P chrono, sometimes; but most of the time, this is my choice.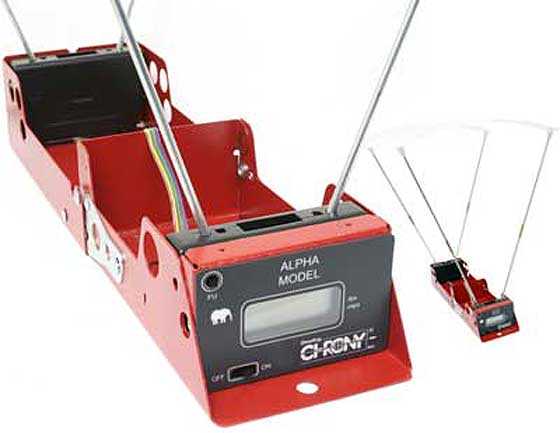 Though it's just $10 over a hundred, the Shooting Chrony Alpha has everything you need!
Daisy Avanti Champion 499 BB gun
I have to recommend the Daisy Avanti Champion 499 BB gun because it is the target shooter's dream. Where other BB guns will put 10 shots into three-quarter of an inch at 16 feet when all is right, this one will put 10 into a quarter-inch at the same distance. This is a shooter's tool, not a hunting gun or bragging-rights gun. Be sure to stock up on the special Avanti Precision Ground Shot if you get this gun because it definitely adds accuracy! And order some special 5-meter BB targets that are sized right for this gun!
IZH 60 air rifle
I am also going to put the IZH 60 air rifle on my list this year. Though the accuracy slipped when the gun's design was changed several years ago, this is still a delightful youth rifle that's easy enough for even smaller kids to cock. It has reasonable accuracy, and the sidelever design means that fingers can't be pinched in the mechanism like they would on guns having sliding compression chambers. I recommend the single-shot over the repeater for reasons of safety.
Daisy 953 TargetPro
I normally don't recommend combo guns, but I'll make an exception for the Daisy 953 TargetPro. It's a pellet rifle with enough accuracy to get you into the game without spending a bundle.
Gifts under $300
Gifts in this category start to take on the aura of personal taste. My recommendations may not be what your airgunner wants, so you need to find out if they are before you buy anything.
Benjamin 392 pump
This one is very personal. You airgunner will either like it or not. So, check first. The Benjamin 392 pump is the best multi-pump rifle going, these days. Its heritage dates back to the late 19th century, so there's a lot of history there. I also chose the .22-caliber 392 for its power; but if your airgunner only wants to shoot at targets, then the 397 is the same rifle and shoots cheaper .177 pellets.
Daisy Avanti 853
The Daisy 853 is right at $300, but its a great buy even at that price. It features a Lothar Walther barrel and has been used by millions of kids for competition in the decades it's been around. The trigger is rough, but there are several websites that tell you how to fix it. To get anything with better accuracy, you're going to need to spend several hundred dollars more.
Diana RWS LP8
Want an air pistol that shoots like a rifle? The Diana RWS LP8 is the one to get. It just may be the best value in a really good air pistol these days. It has plenty of power and is very accurate. The breakbarrel cocking is on the heavy side, but an adult male shouldn't have a problem.

For the price, the Diana RWS LP8 air pistol can't be beat.
Gifts without limit
Now, we can spread our wings a little. This is where many of the better airguns live.
HW 30S
Let's start with the HW 30S. You know this rifle as the Beeman R7 when it's in a different stock, but airgunners know the HW 30S has the same powerplant and the same adjustable Rekord trigger as the R7. If your airgunner likes the styling of the HW 30S, it's less expensive; but if he wants an R7, it's also a wonderful spring-piston air rifle.
Diana RWS 48
If you want a big bruiser spring-piston air rifle, the Diana RWS 48 is one I would recommend. And, I recommend it in .22 caliber, where you get all the power it can develop. The 48 is a sidelever that's surprisingly easy to cock, despite the level of power it delivers. It's also very accurate. One thing, though, the 48 is a big air rifle, so be sure your shooter knows what he's in store for. Definitely for adults, only.


Diana 48 sidelever from RWS is large and in charge!
TalonP air pistol
There's no other smallbore air pistol that can hold a candle to the TalonP air pistol from AirForce Airguns. It comes in .25 caliber and has 10 shots per fill at over 50 foot-pounds of muzzle energy! Many rifles can't equal it! When I tested it for accuracy, I got sub-one-inch groups at 50 yards. It's a hunting air pistol extraordinaire.

The TalonP pistol from AirForce Airguns leads the pack for power and accuracy.
Walther LGV Challenger
If you want a really fine breakbarrel spring rifle, you can't do better than the Walther LGV Challenger. I recommend the .22-caliber gun because it was so smooth when I tested it.
by B.B. Pelletier
Photos by Earl "Mac" McDonald
This is the second of my reports on the 2012 SHOT Show. There will certainly be at least one more after this, and perhaps even more, as there's simply too much new information to pack into a single report.
The state of the airgun industry in 2012
Before I get to some specifics, I want to make a general observation. This year's SHOT Show was different for me in a major way, because I saw for the first time that firearms shooters are beginning to understand airguns as never before. In the past, I always had to start my explanations with the cooling of the earth's crust and then progress through the age of the dinosaurs because each firearms person I talked to thought of airguns as either toys or BB guns. This year, a lot of them were clued-in on what's happening. They weren't surprised by the accuracy we get, and they knew about big bores. A lot of them had some airgun experience and more than a few asked me the same kind of questions that I get from long-time readers of this blog.
That tells me the day of the airgun has finally dawned in the U.S. Instead of 25,000 to 50,000 active shooters (at best!), we will now see an influx from over 5 million active firearm shooters who are ready to augment their shooting experience with airguns. I'm already getting calls and emails from state departments of wildlife resources, asking about the issues of incorporating airguns into their hunting seasons.
It has been a long haul to get to this point, but we're now seeing the start of the harvest of all the work that's been done over the past 40 years — starting with Robert Beeman in the early 1970s. The job is now to manage this growth and provide useful information to the tens of thousands of new airgunners who are flooding in the doors.
Let me reflect on how the industry seems to be reacting to this trend. Some companies have been on board for many years and are poised to ride the new tidal wave of business as far as they can. Other companies are aware that airguns are very hot, but they're foundering, trying to understand them. Let me say right now that it's not as easy as you think!
The readers of this blog are among the most clued-in airgunners in the world. But they're unique, and they do not represent the true market. The demographic of a new airgunner is a man (usually) in his late 20s to late 40s who is most likely a fan of AR-type rifles and Glock-type pistols. He wants repeaters, semiautos and he thinks that a five-shot group is the gold standard of any gun. Velocity impresses him, and he isn't comfortable with the term kinetic energy.
Things like good triggers and good sights are not an issue with this customer until he experiences bad ones. His ARs have decent triggers off the rack, and he can choose from many drop-in triggers that are much better. When he encounters a spring-piston gun with a horrible trigger that cannot be easily modified, he's surprised.
He does not use the artillery hold, and he equates all airguns to be alike in terms of performance. When he learns about precharged guns, he's put off by the additional equipment he must buy. Spring-piston guns seem the best to him for their simple operation, and he doesn't appreciate the fact that they're also the most difficult airguns to shoot well.
That's the customer who's coming to airguns today, so that's the person airgun manufacturers have to deal with. If you have wondered why many of the new airguns are what they are — this new-customer profile is the reason.
Okay, I've talked about those companies that get it and those that are struggling to understand. There's one more type of company out there. I like to call them the "gloom and doom company" or the "zero sum company." They're firmly entrenched in the 1970s and cannot take advantage of this new windfall of business. They either fired their engineers years ago or they let them all retire, and now they couldn't build a new airgun to save their lives. As far as they're concerned, there are only 25,000 airgunners in the United States and it's the NRA's responsibility to identify and train them so these companies can sell them some guns.
They think of marketing in 1950′s terms, when a simple paint job and some sheet metal was enough to create a new product. Their "secret" business plan is to buy guns made by other manufacturers and have their name put on. If you're a collector, better buy up the guns these guys sell because in 10 years their name will be a memory.
That's enough of the big picture. Let's see some more products.
More from Crosman
Many of you saw the list of new Crosman products Kevin posted last week, so the few that I show here are by no means all there is, but they're the highlights. Crosman had about half the new airgun products at the entire SHOT Show.
New tan M4-177 and carry handle
The M4-177 multi-pump that I recently tested for you is going to be very popular this year. Crosman is also offering it as an M4-177 Tactical air rifle with a new carry handle that replaces the rear sight for improved sighting options. I think this gun will be in their lineup for many years to come.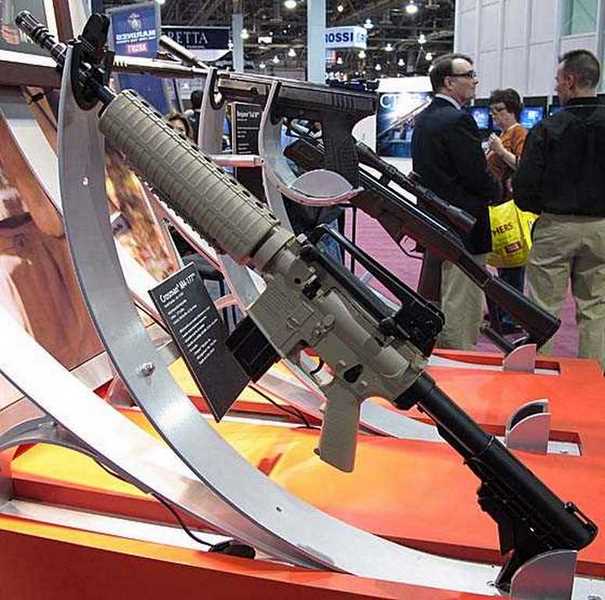 The M4-177 now comes as this tactical model in tan with a carry handle.
I mentioned to Crosman's Ed Schultz that this rifle looks like the A.I.R.-17 of the 1990s, but done better. He said he always wanted to update that design, and that is exactly what this is. So, what he said next came as no great surprise.
I shared my thoughts on a 2260 made as a multi-pump in .25 caliber, and Ed told me that was how the rifle was originally created (not in .25, however). The CO2 version was an afterthought that got put into production, while the multi-pump version languished in the Crosman morgue. I told him that I thought the time was ripe to bring it back as an upscale hunting rifle, and he seemed to agree. We can only hope.
Carbon fiber tank
As Crosman extends their capability into PCP guns, they know shooters are always looking for better options for their air supply. Besides the new butterfly hand pump I showed you last time, they'll also be adding a long summer-sausage black carbon fiber tank with increased capacity over their current tanks. This is a 300-bar tank that has 342 cubic-inch capacity. It comes in a black nylon carrying case with sling for field transport.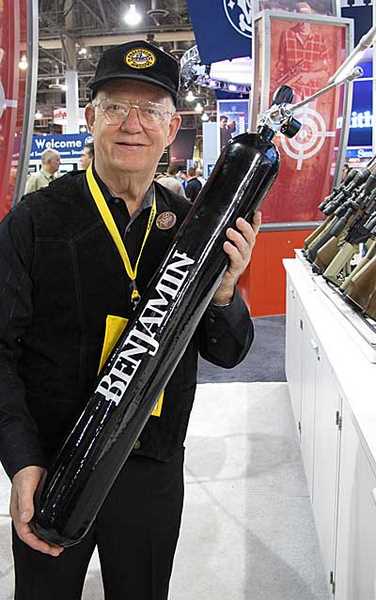 More air for you! New Benjamin carbon fiber tank will help you take your PCPs further afield.
Benjamin Nitro Piston breakbarrel pistol
The Benjamin NP breakbarrel pistol certainly has people talking on the internet. This is the first commercial gas spring application in a pistol, I believe. The most distinctive feature is a cocking aid that can either be detached or left in place while shooting. That reminds us that this pistol is going to be hard to cock, but I'll test one for you so we'll all know just how hard.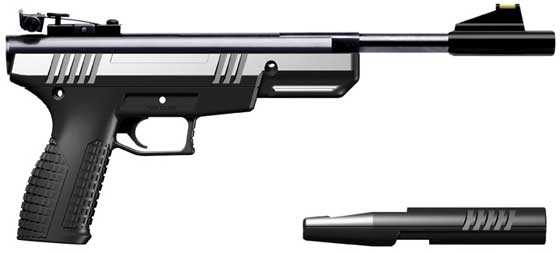 New Benjamin Trail NP pistol is a breakbarrel with a gas spring. The cocking aid can be detached or left in place while shooting.
Crosman 1720T PCP pistol
Everybody was ready to jump down Crosman's throat for creating the 1720T PCP pistol. They wondered with the .22-caliber Marauder pistol and the .177-caliber Silhouette PCP pistol already selling, why was this one needed? As Ed Schultz explained it to me — this one is for field target. It's a .177 (naturally) that produces just under 12 foot-pounds through a shrouded Lother Walther barrel. It can be used for hunting, but field target was its primary purpose. They worried about the shot count with the Silhouette; but with this one, power was the criterion. Look for about 800 f.p.s. with a 7.9-grain Premier. And the trigger is the same as the Marauder, so excellent operation there.


The new Crosman 1720T PCP pistol is meant for field target competition. It will also work well for hunting.
Crosman MAR 177 PCP conversion
The Crosman MAR-177 PCP conversion is another new product that has a lot of people talking. This AR-15 upper converts your .223 semiauto into a .177 PCP repeating target rifle. Because it's on an AR platform, almost everybody expects it to be semiautomatic — including those who should know better. This rifle is a bolt action that cocks and loads via a short pull on the charging handle.
This conversion is an Olympic-grade target rifle for a new official sport that Scott Pilkington and others have been promoting for several years. It will take the U.S. battle rifle back into the ranks of target shooting. However, the look of the gun has many shooters totally confused. I was even asked at the show if I thought Crosman should have come out with an "everyman's" version of the gun first. That would be like asking whether Feinwerkbau missed the boat by not first making their 700 target rifle in a $300 version for casual plinkers.


The MAR-177 PCP conversion is an upper for your target-grade lower. Plan on investing about another $1,000 in a good lower if you hope to compete.
Crosman TT BB pistol
It's all-metal and a good copy of the Tokarev pistol. The weight is good and the gun feels just right. This will be one to test as soon as possible.

Crosman's TT Tokarev BB pistol is realistic and looks like fun.
Benjamin MAV 77 Underlever
The Benjamin MAV 77 underlever rifle is going to force Crosman to recognize spring-piston air rifles instead of just calling them all breakbarrels. This is the TX-200 copy from BAM that was once sold by Pyramyd Air. When the quality dropped off, it was discontinued. Hopefully, Crosman will watch the quality on this one.
They didn't have a firm retail price yet, but hopefully it'll be significantly under the TX. Otherwise, why buy it? I may test one for you, but I already know that BAM can make a great rifle when they want to. I think it all comes down to price.


Benjamin MAV-77 is an underlever spring-piston rifle that looks and, hopefully, performs like an Air Arms TX-200.
TR-77
The Crosman TR-77 is a conventional breakbarrel spring-piston rifle in an unconventional stock. It's different enough that I want to test one for you. It appears to be a lower-powered rifle that probably sells at a bargain price because it's branded under the Crosman banner rather than Benjamin. Mac photographed one in a sand-colored stock for you.


Crosman TR-77 breakbarrel in a sand-colored stock also comes in black.
There was a lot more at Crosman that I could have mentioned, but now let's go over to the Leapers booth.
Leapers
I've watched Leapers grow from a relatively small company back in 1998 to a major player — blasting past older, entrenched companies as they grew. This year, they were playing a video about the company on a continuous loop in their booth. I was impressed to see their plant in Livonia, Michigan, where they build airsoft guns, tactical mounts, accessories and scopes right here in the U.S. The plant is filled with many CNC machining centers and testing facilities to keep close watch over their products during development.
American-made
Leapers owner David Ding told me he wants to get control over the production process so he can assure the quality of all of his products. In keeping with that goal, I was shown the new scope line for 2012 that now offers locking target knobs on all of the upscale models. Many of them feature etched glass reticles that are amazingly crisp and sharp.
Scopes
Mac was impressed by the reticle on the new 3-9x Bug Buster scope. He urged me to look through it; and when I did, I saw that the reticle is now fine and sharp — not the heavy black lines of the past.

David Ding shows me the new 3-9x Bug Buster scope (not out yet), with target knobs and a finer reticle.
But scopes were just the beginning at Leapers. Next, I was shown the whole line of tactical flashlights and lasers, including some mini lasers I will test on my M1911A1 for you. These are all made in the U.S. now and have more rugged internals, adjustments and optics than similar products from the Orient.
UTG 555 Long Range Light
One item I hope Pyramyd Air will consider stocking is a fantastic 500-lumen tactical light for law enforcement. It can be mounted on a rifle, handheld or even mounted on a bike! It comes with rechargeable lithium batteries and a smart charger…and believe me when I tell you it turns night into day!

The UTG Long Range light can go on your rifle, held in the hand or even mounted to your bike! The rechargeable lithium-ion battery pack will keep it shining at 500 lumens for 1.5 hours.
Fast Action Gun bag
Not all Leapers products are for airguns. They also make tactical and law enforcvement gear that rivals spec-built equipment but sells at a fraction the cost. As a result, many of their customers are ordering straight from the front lines of combat and from law enforcement agencies all over the country to get the products that their own supply lines cannot or will not furnish.
One of their latest developments is a Fast Action Gun bag that lets the wearer walk in public with a substantial firearm hidden from view. A quick pull of a strap, and the bag opens to reveal the weapon inside.

Leapers owner Tina Ding models their new Fast Action Gun bag. Here, it's concealed; but she's just pulled it over her shoulder from her back, where it looks like a tennis bag.

And in less than a second, the bag is open, giving instant access to the tactical shotgun or submachine gun inside.
11mm-dovetail-to-Picatinny adapter
Leapers has an entirely new range of quick-disconnect scope mounts coming this year, but there's another innovation that I think you'll find even more impressive. It's an adapter that snaps into a Picatinny scope mount base, turning it into an 11mm dovetail. So, your conventional air rifle will now also accept Leapers Picatinny scope mounts with this adapter.
11mm-dovetail-to-Picatinny adapter is small and doesn't raise the mount at all! This will be one to test!
Leapers is still the company to watch because the owners want to build a lasting corporation here in the U.S. They're poised to move to the next level of quality in their optics, which gives me a lot of hope for the future — they've always been receptive to the needs of airgunners.
Whew! That's a lot of products, and there are still many more to show. As I said in the beginning, there will be at least another report.
by B.B. Pelletier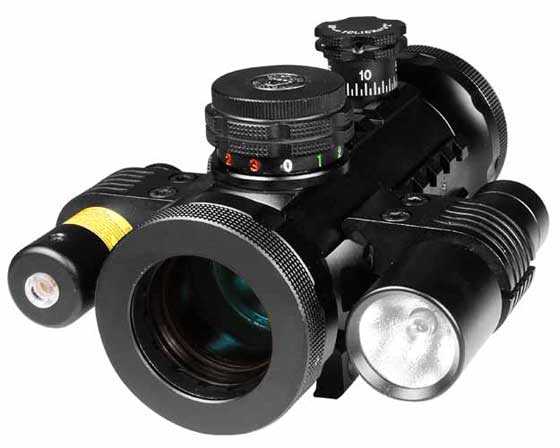 The BSA Stealth Tactical Dot Sight is a sexy-looking unit!
And now for something completely different. It's not an airgun at all, but an optical sight system with a lot going for it! The BSA Stealth Tactical Red/Green/Blue Dot Sight with tactical flashlight and laser is a unique optical sight that gives more sighting options with greater innovation than I have ever seen. I will try to do it justice in this report.
It's not cheap
The price of $136 is bound to put off a lot of potential buyers, but perhaps if I tell the whole story some will look a second time. And, a second look is warranted, for this is no bargain-bin dot sight. It's a well-engineered system, containing a dot sight with three different-colored dots, a laser and a tactical flashlight in one comprehensive package. And, speaking of the package, let's begin there, because the box this thing comes in is enough to warm the hearts of most shooters.
Ammo can
Inside the heavy card lithographed box is a metal container styled like a military ammo can. If you've ever served in a military organization, this container will seem familiar, because the military often packages expensive field equipment in rugged containers like this. The can opens like any ammo box ever produced, revealing the sight and its supporting parts inside. I know I would have lots of uses for that container after the sight was mounted on a gun.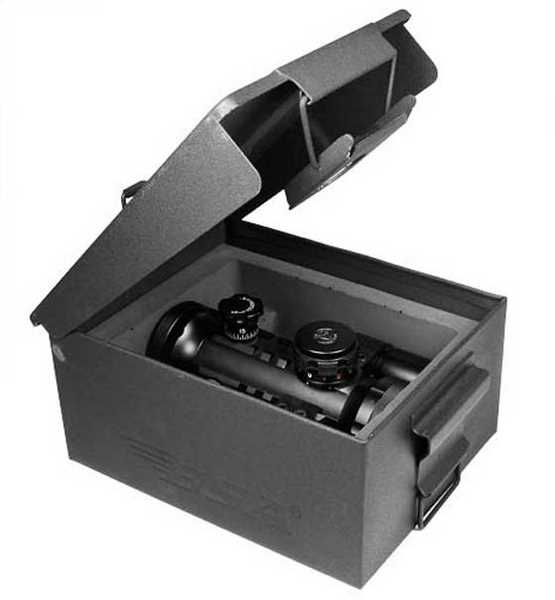 The sight comes packed in a padded metal ammo can.
The sight is a unitized cluster that contains a three-color dot sight, a tactical flashlight and a red laser. The flashlight and laser run on button batteries, so don't use them indiscriminately. They are there to be used, but the batteries don't have the life of the much larger CR123A batteries found in standalone units.
Weaver base required
The unit includes an integral Weaver mount with locking crossbars to prevent movement under recoil. Factor that into your purchase plans. Because I'm still recovering from a hernia, I plan to test the sight on an AirForce Talon SS that has an 11mm to Weaver adapter, but the sight would also work perfectly on one of the new Benjamin Trail-series rifles that has a Weaver base built in. If I could cock a springer, I would have tested it on a benjamin Trail rifle that has the Weaver base built-in.
What is a dot sight?
A dot sight is like a scope, but with a few important differences. First, most dot sights do not magnify the target at all. Because they don't, they have a wide field of view that's well-suited to the quick acquisition of a target. Hunters love them for that.
Dot sights are similar to scopes, but instead of a vertical and horizontal crosshair they use a single dot located in the center of the optical package. The dot represents the intersection of a vertical and horizontal reticle. The motion of the erector tube moves the dot around so the sight can be zeroed, the same as it does for a scope. The dot is visible only inside the sight. No one other than the shooter can see it. It doesn't project outside the unit like a laser light beam. A laser is like a flashlight with a coherent light; a dot sight is like a scope but with a dot instead of a crosshair.
Multiple colors
Dots can be any color, and by changing the color they may be more visible in certain light situations. This device has a choice of three different colors — red, green and blue. A single rotary knob lets you select the color you want and vary the intensity. The intensity is important because, as the dot gets brighter, it appears to grow in size. The larger it is, the less precise when aiming. With the BSA sight, each color has three levels of intensity, and there's an "off" position between each color. As the knob is turned, you get a light in three levels, followed by an off, then a different color light followed by another "off" and so on. The knob can be rotated completely around without stopping.
Lens covers
The BSA sight has a unique set of lens covers, front and rear. They're built right into the unit, so there's nothing to lose or carry separately. Simply twist the outer ring on both ends of the sight, and an iris opens and closes to protect the lens. I like the convenience of this kind of lens cover, and I wish scopes had it, too.


The integral iris lens covers are always with the sight and never get in the way. I really like them!
The laser
Why put a laser on a gun? Well, it can be used as a close-range sight of sorts. You can align where the laser shines to where the pellet strikes and have a quick means of sighting. Simply put the dot on a target and pull the trigger. There's been so much use of this in movies over the past 20 years that I don't need to elaborate further.
To make this possible, you have to adjust the laser to the point of impact, and that can be a difficult thing to do. I'll test this aspect of the sight in my report. I'll attempt to adjust the laser to be on target at 10 yards, which is a perfect distance for it. You use a laser in conjunction with an optical sight by adjusting the laser for ranges at which the sight is not adjusted. So, I'll zero the dot for a 20-yard first point of impact and the laser for a 10-yard had zero. In other words, the pellet will not be zeroed at any range other than 10 yards. That way, I'll have the gun zeroed from about 8 yards out to 40 yards, because the amount the pellet will be off-target at the interim distances (the non-zeroed distances of 10 yards, 20 yards and perhaps 34 yards) will be a negligible pellet's diameter away.
The tactical flashlight
This feature seems less valuable to me than the laser. I understand it's there for the coolness factor, and that in a combat or tactical law enforcement situation a flashlight may be just the thing you want. For a hunter, it's less useful. Yes, hunters need flashlights, but they don't need flashlights that operate on button batteries and have a useful life of an hour or less. I'll test this to find out what the life really is, because there's no literature that comes with the sight. You need a flashlight that works with a beefy CR123A battery, so you have sufficient illumination time. Still, it's there and I'll test it.
Do we need a unit like this? Well, that's more up to the individual shooter than it is to writers like me. To the man who wants a good dot sight for hunting, if this is a good one then, yes, he needs it. To the man who calculates the pennies he spends on pellets, I'd say this sight is a bit too pricey. Other dot sights might satisfy his itch just as well. I'll be testing it for functionality, not for its "worth," which only you can define.
Remote cables
You need remote switches to operate a sight like this. There are switches on the unit that can turn it on and off, but for the laser and flashlight there are also coiled cables that allow you to position a pressure-sensitive thumb switch to a spot on the gun stock where it's more convenient to operate. It's your choice to use the cables or the switches that come on the unit.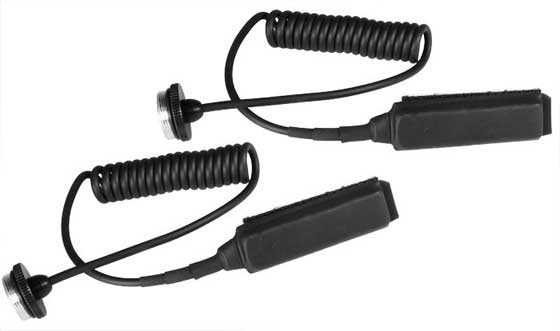 You can install these remote cables anywhere you like on your gun. They make operation of the laser and flashlight faster and easier.