by Tom Gaylord
Writing as B.B. Pelletier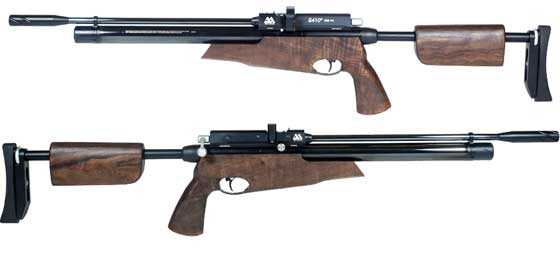 Both side of the Air Arms S410 TDR.
This report covers:
The G6 pump has a luminous dial!
Many things to test
The point of the test
Third group
Analysis of the first series
High power
Air Arms dome
End of the test
Today we take the Air Arms S410 TDR Classic to the range. If you recall, I got good stable velocity with the power selector set on medium power, so I left it set that way for this test.
The G6 pump has a luminous dial!
You may also recall that I am filling the TRD with an Air Venturi G6 hand pump. I do that because the TDR has an Air Arms proprietary fill adaptor that nothing else fits, so I attached it to the G6 for this test. The velocity test suggested there may be as many as 30 good shots from a fill to 2900 psi, and filling the rifle to that pressure isn't hard to do. But the morning I was at the range I discovered something curious. The G6 pump I'm using has a dial that glows in the dark!