by Tom Gaylord
Writing as B.B. Pelletier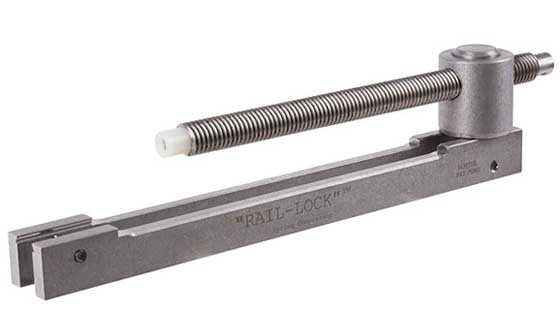 The Air Venturil Rail Lock spring compressor is compact.
This report covers:
Attaches to scope rail
Enter the R8!
R8 out of the stock
Remove the Rekord trigger
Unscrew the end cap
Install the mainspring compressor
Removing the end cap
One last photo
Assembly
Evaluation so far
Today I start testing the new Air Venturi Rail Lock spring compressor. Many of you have expressed an interest in this tool, and I want to test it as broadly as possible, because all airguns are not made the same.
Attaches to scope rail
This compressor attaches to the scope rail on your airgun. It will work on both pistols and rifles — as long as there is a scope rail to attach to. It attaches to both 11mm dovetails and Weaver/Picatinney dovetails. The rails have to be close enough to the rear of the spring tube to allow the compressor to work, but that will become clear when you see the pictures.