by Tom Gaylord, a.k.a. B.B. Pelletier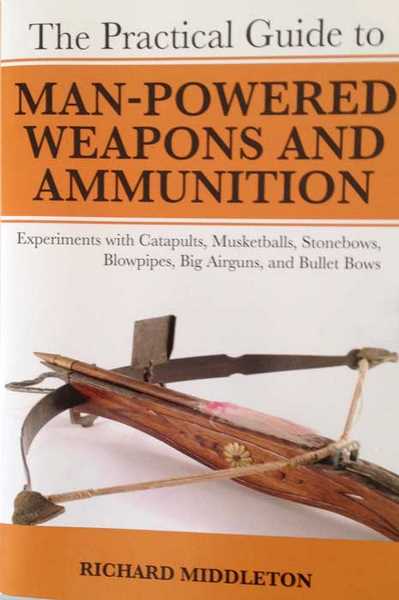 This is the softcover version of the book.
This report covers:
• When is 12 foot-pounds more than 12 foot-pounds?
• How long is long enough?
• Ka-boom!
• Hodges catapult gun
• Why do airguns lose so much power?
• What kind of power can I expect?
This is a brief book review of The Practical Guide to Man-powered Weapons and Ammunition by Richard Middleton, copyright ©2005, published by Skyhorse Publishing, New York. Dennis Quackenbush sent this book to me just because he thought I needed to read it. Well, I've read it and now I'm recommending it to all of you.
The subtitle is Experiments with Catapults, Musketballs, Stonebows, Blowpipes, Big Airguns, and Bullet Bows. That should give you an idea of what's included. Mr. Middleton explains dozens of different experiments in which he advances his understanding of pneumatic and spring-operated projectile launchers. He calls them weapons, as is the custom in the UK and also Australia, where he's from. Here in the U.S., we define weapons as things meant to injure or kill; and, while most of what is in his book will do exactly that, our American culture sets the word weapon apart as a term charged with emotion. Most of us don't consider airguns to be weapons.
That aside, this is one of the most interesting nonfiction books I've read in years, and it may be the very best one on the subject of pneumatic guns. The author addresses several scientific subjects without referring to formulas and equations, and the way he backs into each new subject makes you think he is a normal guy — just like the rest of us. But it's obvious that he's spent a lot of time and devoted much thought to making these complex subjects seem simple.
When is 12 foot-pounds more than 12 foot-pounds?
I don't know about you, but I rarely read an introduction to anything. But in this book, I found the first profound concept on page viii — you know, one of those odd-numbered pages you flip past when turning to the real book? The author tells us he is puzzled by something he's seen. He has a ballistic pendulum hanging from the ceiling of his garage. The bob weighs 12 lbs. When he shoots the bob with a .22-caliber airgun pellet going 620 f.p.s., it swings one-half inch from the impact. When he shoots it with a .451-caliber lead ball launched from a slingshot at 196 f.p.s., the bob swings an inch and a half — three times as far! The interesting thing is that both projectiles develop an identical 12 foot-pounds! Does that make you stop and think?
How long is long enough?
This topic comes up all the time. We "know" that a longer barrel allows an airgun projectile to go faster when fired from a pneumatic gun, but where does it end? How long is long enough? I see endless discussions on this blog between two or more readers wondering what the optimum barrel length might be for a certain airgun, yet nobody seems to know how to figure it out. Well, Mr. Middleton knows, and he conducted several experiments to demonstrate it to the reader.
Ka-boom!
We recently introduced the Air Burst MegaBoom Supersonic Target System here at Pyramyd Air and several of you were enchanted by it. Mr. Middleton made one a decade ago and describes how it worked. He took his experiments to places the MegaBoom folks don't want you going, and he tells you what happened. You really should read this.
Hodges catapult gun
You veteran readers may remember that I reported on the Hodges catapult gun a couple years ago. This book not only talks about Hodges guns, it gives ballistics for several of them and tells you what to expect if the ammo is changed. This is stuff you cannot find anywhere.
Why do airguns lose so much power?
Our blog readers ask these intriguing questions all the time, and this book has the answers. Why does the mainspring in a breakbarrel rifle that's rated at 150 lbs. of energy only put 21 foot-pounds out the muzzle? What happens between the spring and pellet that wastes most of that energy? And why is a .22-caliber gun always more powerful than the same gun in .177? This book explores these themes and explains them through the results of several experiments.
What kind of power can I expect?
"If my rifle develops 20 foot-pounds in a .22, what sort of power can I expect from the same gun in a .177?" I get that question a lot. This book answers it and tells you how to figure it out for yourself.
I could go on, but I'm going to stop here. I see questions every day about airgun fundamentals from many blog readers. Here's a book that answers a lot of them and suggests how you might answer others on your own. The writing is easy to follow and almost conversational — like this blog!
I have an extensive library about the shooting sports and those books have helped me write this daily blog for you. Questions we ask today were also asked 150 years ago and have often been answered more than once by some very creative people. You can now add Richard Middleton to that list.
Pyramyd Air doesn't sell this book, but you can certainly find it on Amazon. It's not expensive, but it's worth many times the $12 price. If you really want to know more about airguns, this is a place to start looking and learning.
by Tom Gaylord, a.k.a. B.B. Pelletier
This report covers:
• Why does a scope need to be leveled?
• Scopes cannot be leveled.
• A leveling solution.
• Bubble levels.
• What works
• What about a collimator?
• My moment of enlightenment.
I promised this report to blog reader Genghis Jan over half a year ago. Several times, I've started to write it and turned away, but today I'm seeing it through.
Why level a scope?
There are 2 reasons for leveling your scope. The first is psychological. If the reticle inside the scope appears to be slanted to one side when you mount it on your gun — and I am primarily talking about rifles today, although these principals apply to scoped pistols just as well — it's disconcerting. The second reason for leveling a scope is to ensure the vertical adjustments move the strike of the rounds vertically, and the horizontal adjustment do the same. If the scope does not appear level, the adjustments will move the rounds off to one side or the other as they move up and down.
If a scope's reticle appears tilted, do you then tilt the rifle sideways to level the reticle? Or do you just hold the rifle so it always "feels" level and tolerate the reticle that seems tilted? I've tried both, and neither one is as comfortable as having the scope aligned perfectly — so it appears level when the rifle is held comfortably. But, just so you know — both solutions will work because there's no such thing as a level scope.
Rifle scopes cannot be level
Sorry to disappoint, but there's no scientific way to ever level a scope to a rifle — at least not to any rifle that has ever been made. I used to be a tank commander; and on occasion, there are reasons to level the tank cannon. But there's nothing on a tank cannon that is level. So the makers did something about it. They machined several pads on the breech of the cannon where a precision level can be stood. This level — called a gunner's quadrant — has "feet" that are steel pads machined into it. Their purpose is to stand the quadrant on the machined pads of the cannon's breech and establish a level.
Without these machined pads, there can be no point on the cannon that is level. What I'm saying is that there's no spot on the mechanism that's true enough that a bubble level placed upon it would have any meaning. It might be possible to get the bubble centered on the gunner's quadrant, but you could never be sure of doing it again with the same results. But with the machined pads, you have what you need — a reference point — to declare the gun to be level.
Level is a relative term
You see, the term "level" relates to the earth. An item can lay on apparently flat ground and not be level according to its bubble or the center of its plumb bob. Reference points are needed. And no rifle I have ever seen has them. Therefore, no rifle can ever be level! Please think about this before you comment.
Leveling solutions
I've used several leveling solutions in the years I've been mounting scopes. One was to hang a plumb bob from a target backer at 50 yards and align the scope's vertical reticle with it once the scope was mounted on a rifle. I thought this would guarantee that the scope was level. Maybe it did, but it often put the scope at odds with the rifle because the rifle's scope base was not machined so the scope appeared level when aligned this way. I actually shot several rifles with what appeared to be a slight cant in the scope reticle because I had aligned the scope in this fashion. The things that crazy people will put up with to maintain the universe they create!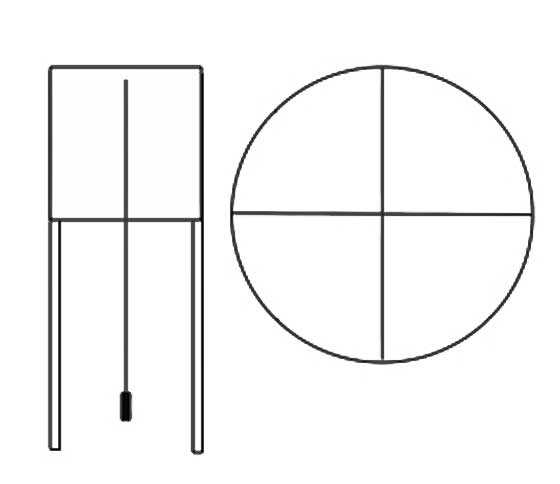 A plumb line has been suspended from a target backer at 50 yards (left). Now, the scope (right) will be superimposed upon it and the vertical reticle will be aligned with the plumb line.

The scope has been shifted over the plumb line and rotated in the rings until the vertical scope reticle is aligned with the plumb line.
Neat trick! Is the scope aligned? Yes, it is. Is this the best way to do it? No, it isn't. Let me show you why.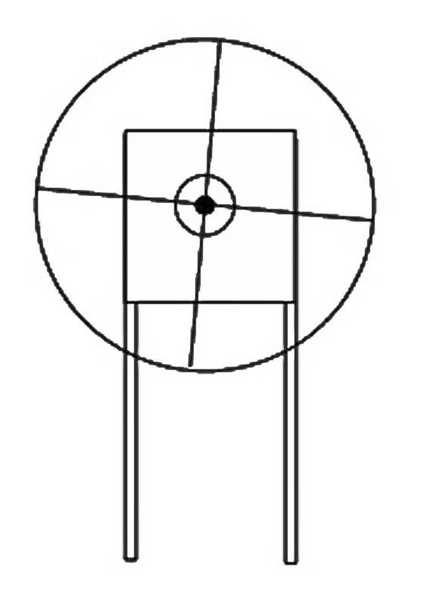 Now, this is what you may see when you hold the rifle to your shoulder. It may not be as obvious as this, but unless the scope mount was machined exactly with regards to the plumb line, you'll notice the tilt and it will bother you. Are you then supposed to hold the rifle "level," or do you "level" the reticle before shooting?
I'm showing you what happens when you attempt to level the scope by outside means. Sometimes, those processes guarantee the scope will not appear level when you hold the rifle in your arms.
Another method that doesn't work
Some folks will purchase a bubble level for their guns, mount it and declare the job done. Of course, there's no reference point on the gun that they can refer to, which is why I told you about leveling tank cannons at the start. Doing it this way is like driving a car in dense fog by keeping the fenders between the turn signals!
The bubble level is a wonderful tool but not for leveling scopes! It's for leveling shooters in the field. Once the bubble is level, you know the scope is aligned the same as when it was sighted in on the bench (as long as the bubble was level at that time).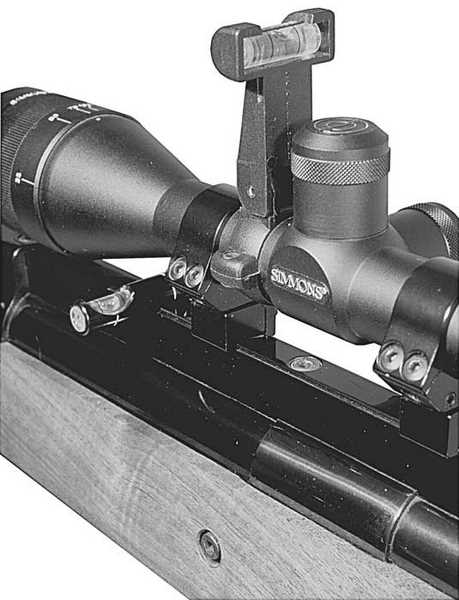 Here are two different kinds of bubble levels being tested on my Whiscombe rifle. They help to level the rifle in the field — not to level the scope during mounting.
What works
Genghis Jan — this is the only way to level a scope. Mount the scope on the rifle and turn the tube until the vertical reticle appears to bisect the rear of the rifle.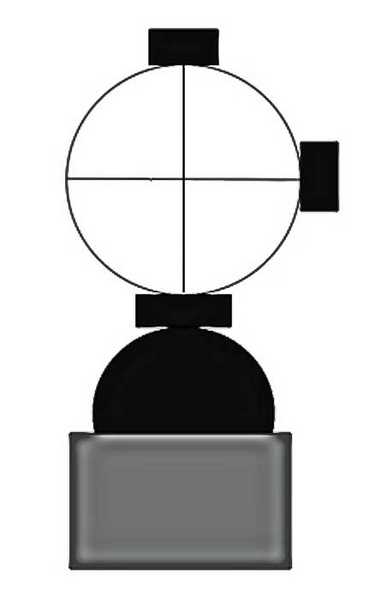 You extend the vertical reticle line downward and see how it looks against the back of the rifle. When the vertical scope reticle appears to bisect the centerline of the rifle, the scope is level.
You can argue that this is an imprecise method of doing this, and I cannot defend it. Because — as I have already shown — there is no such thing as a level scope. Level with what?
But here is what I do know. The scope will never look right until you level it this way. If you pick up the rifle and the scope appears to be canted to one side, how does that make you feel? It's that feeling that either inspires confidence or instills doubt, and these two emotions will drive you to success or failure while shooting.
As you gain experience with your rifle, your hold may change, and you may need to adjust the scope, again. After that, you probably have to sight-in once more. I've had this happen to me several times with different rifles.
What about a collimator?
You've heard of an optical device called a collimator that magically aligns scopes for rifles? Gun stores use them, don't they? Yes, they do, but not to align the scope reticle — not to level the scope. They use a collimator to align the axis of the barrel with the scope's line of sight — so your bullets land on paper at 50 or 100 yards when you go to the range.
But an airgun can be sighted-in at ranges much closer than 50 or 100 yards. I usually start at 10 feet. I wrote an article about sighting-in this way that you really should read. Adjusting a scope so it looks level has nothing to do with sighting-in unless the scope does not appear to be level to you, and then you won't be able to adjust it properly.
My moment of enlightenment
You may well ask why it took me so long to write this report, when it seems so simple (and really is!). It is because I know that the simplicity of this will offend many people who believe that leveling a scope must be a complicated procedure. Some will refuse to believe me and will insist they level their scopes by the methods I've written about or by some other process.
I believe that this step is why many buyers shy away from buying scopes for their guns unless they are mounted by the factory. Well, guys, I used to BE the factory! That's right. For three years, I mounted every scope that was mounted on an AirForce air rifle and then I zeroed it. I learned how to mount scopes the best way, which is also the quickest way, and additionally it's the only way that will ever satisfy the user of the rifle.
I've had to adjust scopes (rotate their tubes in the rings slightly) that others have mounted to get their crosshairs in line with the vertical axis of the gun. If you've owned many guns with scopes, I'm betting you've done this, too. When you do, you're simply doing what I said to do several paragraphs previously.
I know this sounds too simple and too unsophisticated to work; but believe me, this is the only way it does work. As you gain experience with scoped airguns, the truth of this report will become increasingly evident.
by Tom Gaylord, a.k.a. B.B. Pelletier
This report addresses:
• Definition of ballistic coefficient (BC).
• How are BCs determined?
• Bullets and pellets have an additional factor.
• BCs are not constants.
• BC is an expression of how much velocity is lost in flight.
• How to cheat the BC numbers.
If ever there was an elephant in a room full of airgunners — this is it! Ballistic coefficient. It seems like everybody talks about it, but what does it mean?
Definition
Ballistic coefficient (BC) is the measure of a ballistic projectile's ability to overcome air resistance in flight. It's stated as a decimal fraction smaller than one. When diabolo pellets are discussed, the BCs are very low numbers in the 0.010 to 0.045 range because diabolos are purposely designed to slow down in the air. Their wasp waists, flared skirts and hollow tails all contribute to very high drag that rapidly slows them down — much like a badminton birdie. Lead bullets, in contrast, have BCs between 0.150 and 0.450.

The long lead bullet on the right has a higher BC than the short fat bullet on the left. When they're both fired at the same speed, the bullet on the right will not slow down as fast as the bullet on the left.
How is it determined?
To physicists, BC is a function of mass, diameter and drag coefficient. This set of parameters seems simple until you examine it closer. A round ball made of pure lead should always weigh the same, as long as the diameter is the same. But a diabolo pellet is conical in shape and can be much longer than the diameter of a round ball of the same caliber. Depending on how the pellet is designed (i.e., how hollow or solid it is), it can also be much heavier because it contains more lead than the ball.
Bullets and pellets have an additional factor
For pellets and bullets, there's an additional factor to consider — shape. For that reason, there's a separate definition for the ballistic coefficient of bullets that takes into account the sectional density dictated by the form or shape of the projectile.
I'm purposely avoiding any discussion of BC that includes formulas. Stated simply, a pellet or bullet with a high BC (a large number) will continue to fly much longer than a pellet or bullet with a low BC: A high BC means the pellet will fly farther!
BCs are not constants
Okay, you say, that's exactly what I want! Give me only those pellets that have high BC numbers.
Not so fast! However, as the velocity of a projectile changes, so does the projectile's BC. BCs are not constants. There's no such thing as a pellet with a BC of 0.035. But there are plenty of pellets that will achieve a BC of 0.035 at a certain velocity. When a BC is given, it means something only if the velocity at which that BC was obtained is given with it.
This could get confusing, couldn't it? Yes, it can be confusing if you try to force numbers onto pellets when they don't apply. But when you understand that the BC of a pellet is actually a sliding scale, you begin to understand the ballistics of airguns.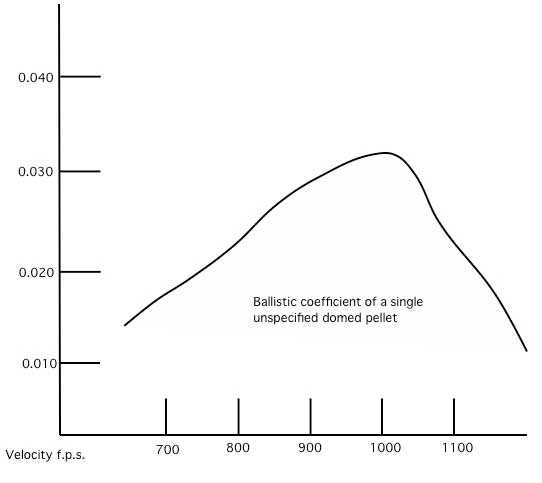 The ballistic coefficient of a single pellet can change this much with velocity changes.
Who cares?
So what? Who cares about all this sliding scale stuff? You do, and I'll tell you why. Let's say there's a pellet with a BC of 0.042. Wow! That's a very high number for a diabolo pellet! I'm gonna get me some of them!
Hold on, pardner. What if I told you that pellet was the JSB Exact King in .25 caliber, and that it has that BC only when it's moving at 1,250 f.p.s.?
BUMMER! You don't own an air rifle that will propel a .25-caliber JSB exact King up to 1,250 f.p.s. In fact, almost no one does. Therefore, the fact that the pellet has that high a BC at that particular velocity does nobody any good.
If you think about this for a moment, it'll dawn on you that a particular BC relates to the airgun being used, almost as much as it does to the pellet. Your rifle may only be able to launch the .25-caliber JSB Exact King out the muzzle at 760 f.p.s. At that speed, the BC of the pellet might be 0.033 (these are not the actual numbers, but they're very close). By the time the pellet has gone 25 yards from the rifle, its velocity has dropped to 635 f.p.s. and the BC is down to 0.030.
BC is an expression of how much velocity a pellet loses in flight
We know that pellets slow down rapidly after leaving the muzzle. Pellets with higher BCs retain their velocities longer than pellets with lower BCs. A pellet with a BC of 0.040 at 900 f.p.s is going to go farther than a pellet with a BC of 0.020 at 900 f.p.s. Both pellets will change their BCs in flight, but the pellet that has the higher BC will never drop below the pellet with the lower BC at the same distance.
Range equals velocity — how to cheat!
I think most shooters know that the velocity of a pellet starts to decrease the moment it leaves the muzzle of the gun. And the BC is a measure of how much velocity a pellet loses in flight. If I want to get higher BCs, I can get them by measuring velocity closer to the muzzle, where the velocity loss will be less than when the pellet has traveled farther. For example, if I were to measure the BC of a pellet by comparing its muzzle velocity to the velocity at 10 meters, the BC would be higher than if I were to compare the muzzle velocity of the same pellet to its velocity at 25 meters.
I can cheat the numbers by measuring velocity loss at a very close range. The pellet that gives me a BC of 0.033 at 25 meters might give me a BC of 0.040 if I measure the velocity loss at just 10 meters. Standards are needed to make sense of these numbers.
Sometimes, people don't WANT to make sense! Sometimes, people just want to report a high number because the folks reading the numbers think they mean something good.
In that respect, the discussion of BC among those who don't really understand what it means is not unlike the discussion of muzzle velocity among new airgunners. Some airgun manufacturers proudly advertise their air rifles can achieve 1,300-1,600 f.p.s. People who are new to airgunning think that's a good thing. We know it isn't. We know that to achieve such high velocities requires the use of trick pellets no one would ever use in the field because they're hopelessly inaccurate.
Next time
There's a whole lot more to this topic. For example, as the velocity of diabolo pellets rises up into the transsonic region, the BC often starts dropping, again. At supersonic speeds, the pellets are very negatively affected.
We'll also look at the pellet's shape, for shape is what makes the BC of bullets and pellets different from other BC numbers. Technically, it's called "form," but the term shape is clear enough for everyone to understand.
by Tom Gaylord, a.k.a. B.B. Pelletier
This report covers:
• The spring-piston powerplant
• How an AEG works
• Upgrading an AEG
• The problems with upgrading
• How to upgrade safely
When we last looked at airsoft upgrades, we talked about how the tuner has to look at the gun as a system. Improving one part of the gun without regard to the others usually won't make much of a difference. In some cases, it may even make the gun prone to fail much faster. I told you about barrels and gearboxes last time. Today, we'll look at the powerplant, itself.
Powerplant
The powerplants of spring-powered airsoft guns are identical to the powerplants of spring-powered pellet guns. They have a piston, a mainspring and a compression chamber. The piston has a seal that's most often just an o-ring. That's no different than the BSA Meteor Mark IV I've been reviewing for you.
The big difference is that airsoft powerplant parts are most often made of tough plastic instead of metal. And the coiled steel mainsprings found in airsoft guns are wimpy compared to the springs found in pellet guns.


Here's an AEG airsoft piston with its mainspring. Note that this piston is made of nylon. Also note the piston's final gear tooth is made of steel.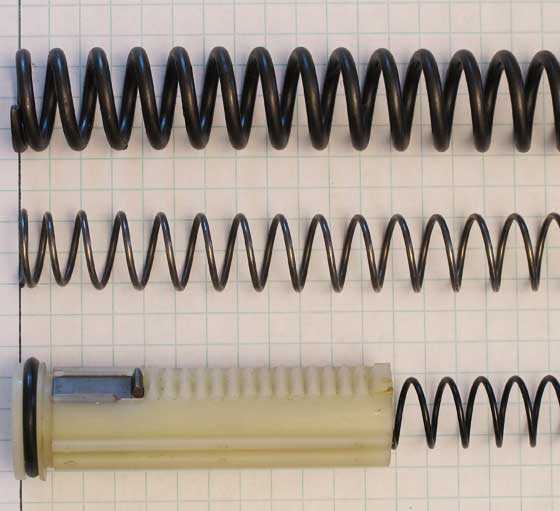 Compare a stock AEG mainspring (bottom) to an upgraded spring (middle) to a middleweight pellet rifle mainspring (top). Airsoft powerplants are weak, compared to pellet gun powerplants.
But they work! And they can be upgraded. You can install a heavier mainspring and a piston that fits the compression chamber tighter. These will boost your muzzle velocity. With some upgrades, it's possible to boost the output so high that you have to use a heavier airsoft BB (plastic ball) to keep the gun shooting accurately.
We overlook what too much power does to our pellet guns, but it's hard to ignore it when all your airsoft BBs are curving hard to the left, no matter how much you adjust the Hop Up! They go so slow and are so visible that you pay attention to them — like tracers in the nighttime sky — especially when you're shooting a stream of shots on full-auto. So, you switch to the heavier BBs and find they're even more accurate in that tight barrel you just installed.
My point is this — you upgraded your guns to get more velocity, but when you got it you lost accuracy. You had to switch to heavier ammunition to do what? Lower the velocity, again! Is that crazy or what?
Upgrading an AEG
While any type of airsoft powerplant can be upgraded, the most common type by far that people upgrade is the automatic electronic gun, or AEG. An AEG is a spring-piston gun that has a small high-torque motor to cock the piston. Because it's electronic, a switch can be turned to make the motor operate just one time with every pull of the trigger — giving you semiautomatic fire — or to keep cocking and releasing the piston as long as the trigger is held down, which gives full-auto fire.
Unlike a firearm, the gun is not powered by the ammunition. It runs on electricity that powers a motor. As long as there's juice in the battery, the action will cycle without regard to the presence of ammunition.
How an AEG works
The AEG has a large gear wheel that meshes with the piston. As the gear wheel turns, it draws the piston back until it reaches the spot on the wheel where there are no gear teeth. The wheel keeps turning; but when the teeth no longer hold the piston, the mainspring pushes it forward, firing the gun. The wheel continues to turn to the point that the gear teeth re-engage the teeth on the piston's gear rack once again. The cycle repeats itself.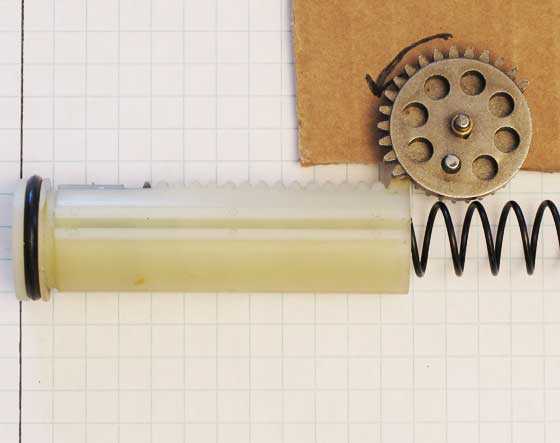 The AEG cocking gear is about to engage the first tooth on the piston gear rack. (Next photo shows this in detail)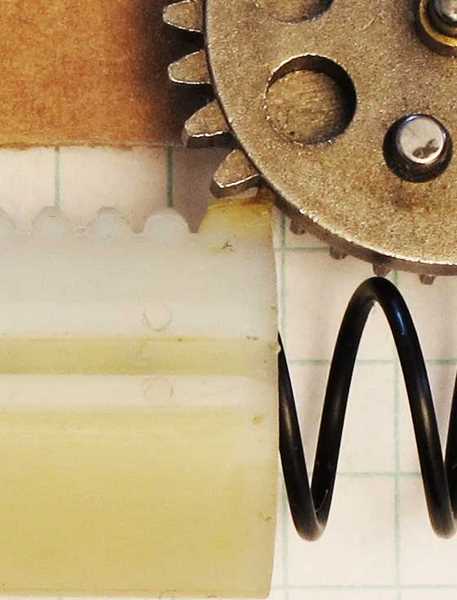 The first tooth on the cocking gear is about to mesh with the first tooth on the nylon piston.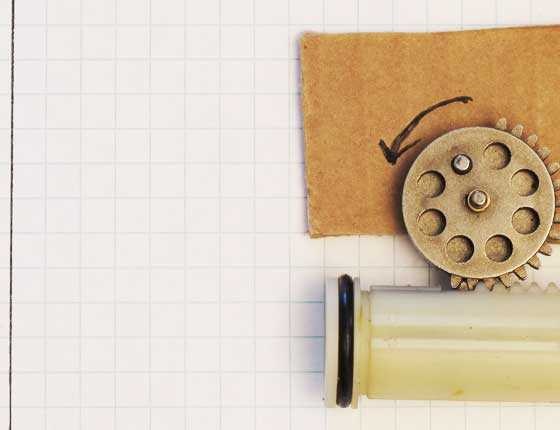 Here the gear wheel has rotated through all its teeth. The last gear tooth on the cocking gear has engaged the final steel tooth on the nylon piston. The cocking gear continues to rotate, and the piston will clear the gear teeth and be pushed forward.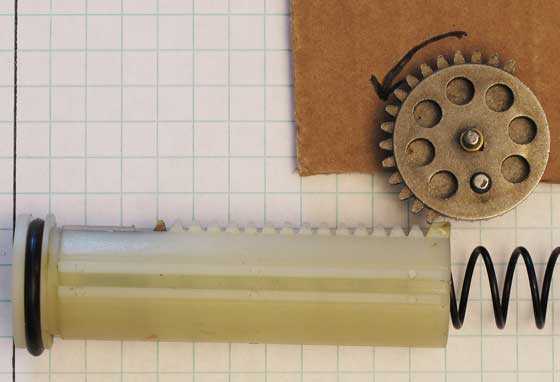 Now the piston has fired and the gear wheel has rotated to the starting engagement position again. This keeps on going as long as the trigger is held down when the gun is in the full-auto mode.
For semiautomatic fire, the gear wheel turns only to the point of releasing the piston one time. It will rotate round to re-engage the piston gear teeth but not rotate farther until the trigger is pulled again.
If you install a stronger mainspring and better piston and compression chamber in your M4 AEG, that wimpy 8.4-volt battery that came with the gun will probably not run it too well. The gun that used to fire 700 shots per minute now struggles to put 400 out in the same timeframe, and everything sounds over-stressed — which it is. You need a stronger motor to power that new setup and a stronger battery to run it. And, while you're at it, better get a battery with a higher mAH (milliampere-hour) rating. That way your gun won't run out of juice after just the first magazine.
But you don't just get a bigger battery. Sometimes, there's no room inside the gun to house a bigger battery, and other times the bigger battery will take too long to charge when it runs down. Perhaps, it's also time to change battery technologies from NiCad to lithium-ion (Li-ion or LIB).
Upgrading the batteries and motor
I did a two-part article on airsoft batteries for Pyramyd Air back in 2008 and 2009. Here are the links: Battery basics –Part 1 and Battery basics — Part 2. Those articles were well-researched, and the information still holds true today. Maybe there have been some technical improvements, but batteries are still batteries.
I think you need to understand why you want a better battery. Sure, it's for more power and so you can operate longer and recharge faster, but the battery does nothing by itself. It powers the motor that drives the powerplant. If you're not upgrading that as well, you gain very little by just swapping batteries. Maybe you just get the gun to operate as well as you thought it would when you bought it.
It turns back on itself
So, you upgrade the motor, battery, compression chamber, piston and mainspring. Let's say you even changed the gears from nylon to metal. Bully for you! However, as you shoot your new, more powerful gun, you notice the cyclic rate starts slowing down, again, after the first few thousand shots. This is exasperating because you've now doubled the cost of the gun by adding all these upgrades — not to mention hours of your time spent installing them and getting them to run right.
You tear down the gun, again, and discover that the holes in the metal gearbox that serve as anchors for the pins that the new steel gears run on are all enlarged. They're no longer round but are becoming oval. The pins have loosened! That's because either the gearbox itself (the housing that holds the gears) is too soft to take the strain of the upgrades you've installed, or you didn't shim each new gear properly — and they're slipping sideways as they operate. This puts undue strain on their axels (the pins). You have to figure out what it is and then either buy a replacement gearbox, or buy an upgraded gearbox (if one exists) or, most expensive of all, drill out all the pin holes in the existing gearbox and install steel bushings for the pins to rest in.
Is it really that bad?
Is upgrading an AEG airsoft gun really fraught with all these pitfalls? Not usually. If you proceed with caution and learn as you go, none of these things ever needs to happen, or maybe one will happen and you'll be able to deal with it. The guy who suffers them all at the same time is the guy who just throws money at his gun without bothering to understand how it works in the first place.
How to proceed?
How should you proceed if you really want to upgrade your gun? Well, first I think you need to have a reasonable expectation of what can be done to the gun and why you want to do that. I remember watching an upgrade to a bolt-action sniper rifle a number of years ago. The owner wanted the absolute best of everything, so he went for the tightest barrel, the best piston and compression chamber and the strongest mainspring. Then, when he cocked his newly upgraded rifle for the first time, it suddenly dawned on him that the bolt that used to take 20 lbs. of effort to cock now took almost 40 lbs.! That gun was the baddest beast around, only nobody could cock it! Try cocking a bolt-action rifle that takes 39 lbs. of force some time if you don't believe me.
Had this guy bothered to first research his project, he would have found this out before investing all that time and money. What he wanted was a bragging-rights sniper rifle with no thought of how to actually use the gun. How do you brag about a gun that nobody can cock? A good sniper rifle is accurate and not that difficult to cock. You don't do it all with a heavier mainspring!
Allow me to make a comparison in the automotive world. You can buy a nice used Acura Integra and drive it daily, or you can lose your mind and mod the engine up to 1,000 horsepower. At that point (actually, long before you get to that point), the Integra is no longer suited for making runs to the mall. It's sole purpose is to travel 1/4 mile in the least amount of time.
You can build an airsoft gun that launches 0.28-gram BBs at 550 f.p.s., if you want to. Just don't expect to use it for anything beyond wowing your buddies at the chronograph. You left the real world of airsoft some time back.
A safer way to proceed would be to use kits that manufacturers put together for specific purposes. Read what users of these kits say about them before taking the plunge. Maybe, if the upgraded barrel you selected wasn't so tight, you might get by with a lower-powered mainspring that was still an upgrade over your factory gun.
And maybe stop and take a moment to ask yourself why you feel the need to upgrade your gun at all. All airsoft guns do not need to be upgraded — just as all pellet guns do not need to be tuned right out of the box.
Another safe thing you can do is to upgrade a battery by one increment of voltage. It's usually safe to go from an 8.4-volt battery to a 9.6-volt battery — especially if the gun you're upgrading comes with metal gears. And you can upgrade the amount of battery storage capacity (mAH) without suffering anything except a possible space issue. A battery with a higher mAH rating is usually larger. On some guns like the M4s with the extendable stocks the batteries have to fit inside the forearm, so make sure there's ample room before you buy the larger battery.
Summary
I could go on and on with this and that tweak, but I think you get the idea. Know what you hope to achieve before you break the bank trying for that last f.p.s.
by Tom Gaylord, a.k.a. B.B. Pelletier
This report covers:
• Learning to work on airsoft guns
• Components of airsoft guns
• Parts commonality — the airsoft way
• Various upgrades to components
• Need for a systematic approach to upgrades
This report is the beginning of the second installment of a promise I made to some of our readers. They wanted to know how to upgrade and work on airsoft guns, and I said I'd show them. The last report was written half a year ago, but I'll get the next one out a bit faster. In fact, I've already written it!
How do you learn?
If you think there's a lack of information about working on pellet guns and BB guns — you should experience airsoft! Not only is there very little information, much of it suffers from poor translation from various Asian languages to English. If you persevere, though, there are places to find this information — and, today, you can add this blog to the list.
I had to learn the hard way — on my own by doing it. I think that's a rite of passage among airsofters. Most of this work is not that difficult once you know what you're doing, but there are so few places that tell you how to begin. I was fortunate to have an airsoft store owner advise me when I first learned, so I'll pass along a lot of what he taught me.
Airsoft parts groups
The first thing to learn is that there are several components in any airsoft gun that can be upgraded. They are:
• Barrel
• Gearbox
• Powerplant (usually sold as a kit but sometimes can be purchased separately)
• Batteries and motors — applies only to automatic electronic guns (AEGs)
• Accessory components (these are not what you'd think)
A universal truth
There are many airsoft guns and many airsoft manufacturers, but there is a very high degree of commonality throughout the industry. If we were talking about cars, it would be the equivalent of Ford making all the engines for all cars, regardless of what name was on the car. There would be no such thing as a Corvette engine. It would be a Ford engine with the Corvette name on the outside.

A small assortment of airsoft parts. These parts are available from online sources to upgrade most guns.
While there are dozens of different models of sniper rifles, there might be only 2 or possibly 3 really different designs. In some cases, there's just 1. I'm not just talking about sniper rifles now — I'm talking about all the different families of airsoft guns. You look at M4s, for instance, and you'll find 15 different names on the outside. That doesn't mean anything. There might just be 2 different M4s that everybody makes into their own proprietary rifle. So, in the world of airsoft, there's no such thing as an Armalite M4. The Armalite M4 is the same as the Olympic Arms M4 and the Colt M4, etc. Get it?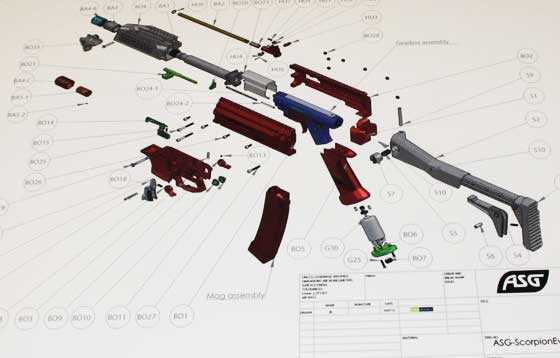 Unlike most airgun manufacturers, airsoft manufacturers freely publish their illustrated parts breakdowns and schematics like this. They're protected from American liability laws by their U.S. distributors.
The first thing you have to do, therefore, is discover which parts will fit on your specific model. Don't expect to find a universal Rosetta Stone with all this information! It's not the same as going to the auto parts store and looking in that thick book of parts applications. What you have to do is converse with the manufacturer/distributor or go on the airsoft forums and ask questions. Let me give you a specific example.
Barrels
Sniper rifle barrels are nothing but smooth tubes. If you paid $99 for your sniper "rifle," the tube that came on it is probably quite a bit larger than most 6mm airsoft ammunition. Why? Because the sniper rifle manufacturer knows you are a cheap person — having spent only $99 to buy a sniper rifle, when you could easily have spent 3 times that amount. Because you are cheap, you will probably also buy and use cheap airsoft ammo, and that's the stuff that is oversized and not uniform. It will work much better in an oversized barrel — where the term "work" means continue to come out the end of the muzzle when the trigger's pulled.


This is a typical airsoft barrel.
But…if you actually want to hit a man-sized target at 50 meters with the first shot, a cheap sniper rifle is not the gun to use. For that, you need a rifle with a tighter barrel (which is still a smooth tube), and you need to find and continue to use only the one correct round in your gun. In other words, you need to become what many will call an airsoft "snob."
As surprising as it may sound, you can buy a tighter barrel for your cheap sniper rifle — often from the company that made the rifle! You see, they didn't actually make that barrel. They bought it from 1 or 2 barrel makers who supply barrels to all of the airsoft community (the Ford engine in the Corvette). And there are different grades of tightness among barrels! This is where the airsoft forums come in handy. Someone will tell you that to upgrade your $99 Whango Tacticool M40, you need a Sho-Lin barrel that's only 0.20mm larger than 6mm. It will work on your rifle, but you have to shoot 0.24-gram Black Mambas through it because everything else will jam.
If you can follow this advice to the letter, you can make a nice sniper rifle. And, when you're done with the barrel and all the rest of the modifications, the price of your upgraded rifle will have about tripled! Small world, no? But, if you're the guy who constantly wants to substitute Owl Sweat for Kangaroo Juice, because there's a sale on it at a store near you, don't even think of modding an airsoft gun! All you'll do is spend money on a pile of parts that will never work together.
Gearbox
The Asians call this the Mech Box or Meca Box. It took me several months to figure that out the first time, and it's important to know if you want to find them on the internet.
The $125 M4 AEG often comes with plastic gears. If you plan on shooting it only on holidays and at family gatherings, buy one and be done with it. By the way, if there's a brand name like Colt on the outside of the gun, plan on spending 3 times as much and still getting plastic gears (sometimes)!
If you want to go into battle and have the gun continue to function for several days and thousands of shots, think about metal gears. But it doesn't end there. There are also special shim spacers to keep the gear wheels aligned under a load, and there are special reinforced metal gearboxes that don't wear like the cheaper gearboxes do. At the top of the list are the gearboxes that are built with pins (gear axels) that have been align-bored by a custom builder. A gearbox upgrade kit in a blister pack can cost you $68, or you can spend $400 with a custom builder who makes the gearbox specifically for your gun.
So, you see the Super Zombie Black Ops (a name I just made up) M4 AEG selling online for $99msays it comes with steel gears on the outside of the box! Big deal! That's the airsoft equivalent of a pellet rifle manufacturer saying their rifle shoots at 1,400 f.p.s. In other words, although it sounds like it implies quality, what they don't tell you is that those gears are not aligned properly and are set inside a cast pot metal gearbox.
Like everything else, in airsoft there are things that do work well and then there are the retailers who trade on the general ignorance of the buying public. They use buzzwords like metal gears to suck in the beginners. To mean something, the metal gears need to be run on pins of the correct size, have thrust washers to hold them in alignment and be inside a gearbox that can take the strain — and the whole reason for all of this is so you can get some benefit from that high-torque motor and uprated battery you also installed. If you aren't going to do this in a systematic way, you might as well eat the metal gears, for all the good they'll do by themselves.
Summary
I'll stop here because this report is getting long. In the next installment, we'll look at the airsoft powerplant, upgrades to batteries and motors, and the best way to get started working on airsoft guns.
by Tom Gaylord, a.k.a. B.B. Pelletier
This report was requested by blog reader Rob 8T2 and seconded by a number of others. I reported on the spring piston forward spring guide that's known as a top hat, and he wondered if I was also going to talk about the AirForce top hat. Though they share the same name, the two items aren't connected in any way. One is a spring guide, and the other is an adjustable valve stem for a pneumatic valve. The adjustable valve stem draws its name because, like the forward spring guide, it also looks like a gentleman's top hat in profile.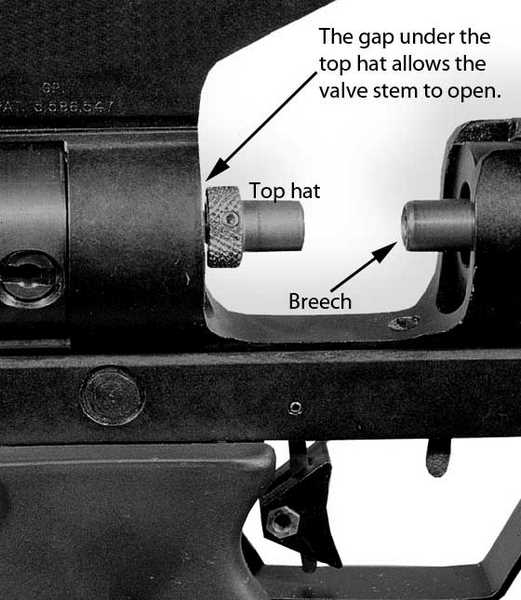 The sliding breech cover has been pushed forward, cocking the striker and revealing the breech for loading. This is the original valve from a first-generation AirForce Talon without a power adjustment wheel.
To understand the AirForce top hat, we have to go back in time to before AirForce Airguns air rifles had power adjustment wheels on the left side. In January 2000, I reported on the new AirForce Talon, the first air rifle to be offered to the U.S. market by the new AirForce company. But I'd already owned the rifle I tested for two years. I bought it from the UK company, GunPower, in 1998, when it was configured differently and sold as their Stealth rifle. In late 1999, AirForce Airguns sent the parts to reconfigure my rifle to their new Talon specification, with an 18-inch .22-caliber barrel.
By that time, I already had many hours of testing and shooting on the rifle in its original Stealth configuration with its 12-inch barrel. It was during that time, by talking to AirForce owner and creator John McCaslin, that I learned how to adjust the top hat of my rifle to change the power.
You may find it amazing to learn that I could adjust that rifle to fire from 65 f.p.s. all the way up to 950 f.p.s. with 14.5-grain Eley Wasps. In truth, any velocity below about 400 f.p.s. was just a parlor trick. The rifle could do it, but all consistency was lost. From 400 to 950, though, it was fairly consistent.
How the top hat power adjustment worked
Power was adjusted by screwing in the top hat to shorten the valve stroke and the valve dwell time (the time the valve stayed open). The valve stroke became shorter because the wide flange at the base of the top hat contacted the top of the valve body and stopped moving. Then, the valve return spring started pushing the valve stem closed again, aided by the high-pressure air inside the reservoir.
Conversely, a longer valve stroke meant more dwell time and more air flowing out. At some point, however, the pellet left the 18-inch barrel, and the longer valve stroke stopped having any additional influence. Once the pellet's out of the barrel, no amount of additional air can push it any faster.
To loosen the top hat for adjustment, unscrew a tiny 0.050″ Allen screw in the large knurled bottom flange of the hat, allowing it to turn on its threads. Once the desired clearance was reached, the small screw was tightened again. This screw caused problems because enthusiastic owners were over-tightening it, causing it to put dents in the hollow valve stem it contacted. In later years, AirForce started putting two screws in this flange to increase the locking pressure and hopefully reduce the damage to the valve stem.
The o-ring secret
Adjusting the top hat was a chore. One day, airgunsmith Tim McMurray told me about an easier, more convenient way. He said to slip a rubber o-ring around the top hat flange, so it rode in the space beneath the flange. It very effectively limited the amount of valve stem travel. Once I found out how good it was, I left it in place all the time. I wasn't interested in sheer velocity. I wanted good accuracy at a reasonable level of power. Nothing has changed in 14 years, has it?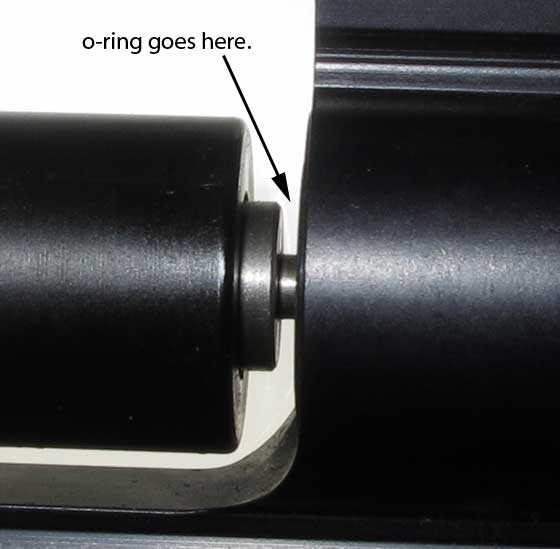 The closed breech of this very early Talon shows where the o-ring goes.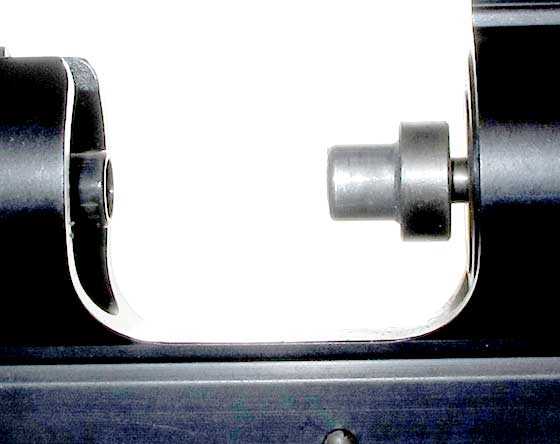 Here you see the breech open for loading.
Talon SS puts an end to top hat adjustment
In November 2000, I wrote about the new Talon SS, which was the first AirForce rifle to have a power adjuster on the left side of the gun. My own SS was a pre-production prototype that didn't have the power scale engraved on the side of the rifle; but after 14 years of continuous use, it's still working fine and the air tank has never leaked.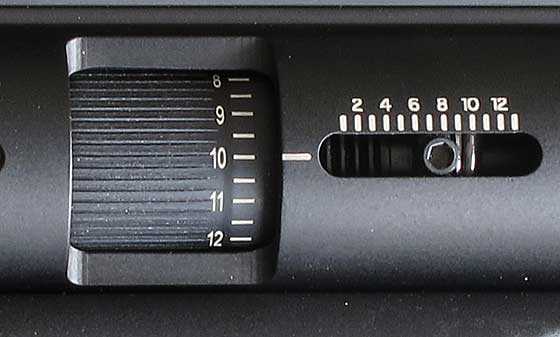 All AirForce sporting PCPs now have this power adjustment wheel.
The Talon was also updated with the power adjustment wheel at the same time. Now all AirForce sporting PCPs have power wheels and the top hats no longer need adjustment.
John thought that the power-adjustment mechanism would put an end to the fiddly top-hat adjustment, but it didn't! By the time the power adjuster came on the market, there was a lot of interest in AirForce Airguns…and the internet was abuzz with homebrew ideas of how they should be set up and operated. People did use the new adjustment, but they also continued adjusting their top hats. Top hats continue to be adjusted and discussed right down to today!
The truth about the top hat
The truth is that the top hat is still a very influential part of the AirForce system. It does have tremendous impact on the rifle's operation, though not always in the ways you read on the internet. Now that the rifles have the power adjustment wheel, the top hat has become more of a starting point or a setting that gives each rifle a potential range of power. The power adjustment wheel is what fine-tunes that range. The top hat is a set-and-forget kind of adjustment, only people are not leaving it alone.
Some valve stems are very thin, such as those found on the Hi-Flo valves. When the screws are over-tightened on these valves, they dimple all too easily. That's one reason I advise owners not to adjust their top hats.
Top hats are set at the factory with feeler gauges. I've told several people I once discovered that an American quarter coin was exactly the right thickness to set the top hat for a Condor Hi-Flo valve. I've actually done that more than once. A difference of one or two thousandths of an inch from the factory spec usually isn't critical. But when the difference grows larger than that, it does start to become critical. It depends on which rifle you're talking about to determine if the difference is critical.
For the record, I left AirForce Airguns in 2005, and a lot of things have changed since then. I'm not qualified to give out factory specs on anything they make today. I don't adjust my top hats at all. I use the power adjuster 100 percent of the time when I adjust, and most of the time I leave each gun set at the position that gives me the greatest accuracy.
You wanted to know about the AirForce top hat — there you go.
by Tom Gaylord, a.k.a. B.B. Pelletier
I'm still in Ft. Smith, Arkansas, as I write this, so please excuse the brevity of the report. A while ago, I wrote down this idea as a possible report topic. Those who haven't yet come over to PCPs often wonder how reliable they are, and those who already have the guns sometimes encounter things that are common problems but new to them. Let's talk about that today.
WARNING: The procedures I am about to describe are for those who know what they are doing. In every case, there are proper safety steps to be taken so accidents don't happen. I cannot possibly describe all of those steps, so the following procedures are presented only for your education — not to train you as an airgunsmith. Safety with pressurized air and airguns should always be the No. 1 concern.
I can't fill this airgun!
Boy, have I ever heard this one! It can come to you in a variety of ways, such as, "This airgun is broken — how do I return it?" I used to get at least one of those calls every month while I was the technical director at AirForce Airguns. The first few times I heard it, I was worried; but I got so used to hearing it that I would start telling them the cure before the problem had been fully stated.
The guy would tell me that he couldn't fill his old-style Condor tank. I asked him how he was trying to fill it — from a scuba tank or with a hand pump — and a lot of times that made the guy mad. He wanted to know why that mattered because he should be able to fill the gun from a scuba tank or from a hand pump. Right? When this call came in, I knew he was filling with a hand pump, and I also knew he was trying to fill an empty tank.
The answer to "can it be done" is both yes and no. Yes, you can fill this kind of tank from a hand pump if there's already some air inside it, and no, you can't fill the tank if you start with it empty. That would really anger some people until I explained that the air inlet valve on an old-style Condor tank is also the exhaust valve. It's a door that swings both ways. If there's no air inside the tank, the valve will not recognize the small puff of air from a hand pump and will escape, again.
The valve will not close because it also uses internal air pressure to help it close tight. If you fill the tank from a scuba tank, the incoming air is under so much pressure that it will fill the tank quickly, and the internal air pressure will help close the valve when the filling stops.
A hand pump cannot fill some pneumatic airguns (not just Condors) unless they already have some air pressure inside to hold the inlet valve closed. We would ship tanks out with what we called a maintenance air charge in them — just enough pressure to hold the valve shut. But if the guy received the gun and then proceeded to shoot all that air out, as some of them did, they then had a gun that could only be filled from a scuba tank. It's not funny when it happens to you.
This phenomenon is not just confined to AirForce guns, either. Almost all of the powerful Korean airguns work in a similar way. But the Korean guns can accept a charge by simply cocking the bolt — sometimes. In that case, taking the pressure of the bolt off the valve allows it to close and seal completely.
The newer style of Condor (as well as all other AirForce sporting PCP rifles) has a Spin-Loc tank with a separate inlet valve and firing valve. I'm not certain, but I believe this has solved the problem I just discussed. If I had a tank and pump here with me, I would check it right now. I'll look into it when I get home.
Now you know two things about PCP "leaks" that are both very common problems and often misunderstood. First, they aren't really leaks. They're part of the gun's design. Second, some guns must first be cocked to be filled.
Before you go all — "They shouldn't design them that way!" on me, remember, the SR-71 Blackbird reconnaissance plane leaks fuel until it flies fast enough to heat and expand the airplane's skin. Only then do all the leaks stop. Sometimes, a product can have a quirk that isn't a flaw — it's just the way it works. The Sheridan Supergrade rifle is one that cannot be pumped up unless the bolt is cocked first.
Use a hammer!
I probably shouldn't tell you guys this next one; because when some of you get a hammer in your hands, every problem looks like a nail. But in the world of pneumatics, there are times when a big rubber mallet is exactly the right tool to use. When is that time? When a pneumatic that has been performing well all along suddenly develops a fast leak. It's probably due to a piece of dirt that's gotten onto a soft seal and is allowing air to pass through. To get it off the seal, it sometimes works to tap the end of the valve with a soft hammer. It opens the valve, and the blast of air will probably blow the dirt past the seal.
When I built valves at AirForce, I tested each by pressurizing them in a fixture and tapping the valve stem with a rubber hammer. I had racks of 100 valves at a time, and I went through and did this to each one in turn. That process seated the valve and created a small ring of contact between the synthetic valve and its seat. Sometimes, the valve needed to be hit several times to seat it properly, but it always worked. And it also worked if a valve had a small piece of dirt anywhere in the seals.
When customers would call with a gun that leaked and I determined the leak was a fast one that had popped up all of a sudden, I told them to try this procedure before sending the tank back for repairs. It fixed probably over 75 percent of all such leaks.
But this isn't magic. If your gun has been a slow leaker the whole time you've owned it, this isn't going to change a thing. It's just for those all-of-a-sudden leaks that crop up sometimes. It will work for all guns, but most of them don't allow direct access to the valve head like the AirForce tanks do. For those, you can do the next best thing — dry-fire the gun several times. That usually fixes the problem unless you're timid about it. I sometimes had to get a timid owner to dry-fire his gun by telling him to fill it full and then dry-fire it 20 times in rapid succession. All that was doing is getting him to dry-fire the gun repeatedly without pausing to see if it was fixed yet. When there's a piece of grit on a seal, it takes a lot of air flowing past to dislodge it, and a couple tries are often not enough. Twenty shots is probably overkill in all situations, but it saved me time from having to explain in detail just what the guy was doing — as I have now done for you!
You now know a genuine airgunsmith procedure! It isn't as fascinating as it sounded, is it?
Listen
Okay, let's go back to 1960, when cars had points and copper spark plug wires with (sometimes) poor insulation. Mechanics had a genuine stethoscope in their toolboxes. Or if they were shade-tree mechanics, like me, they had a 4-foot length of small rubber hose. We would put one end of the tube to our ear (the ear that worked best) and move the other end around the engine compartment while the motor was idling. You could quickly zero in on an arcing sparkplug wire or an exhaust manifold leak. It also works for precharged airguns!
You don't need a hose because the barrel is the pipe that transmits the sound. Cock the gun but don't load it. The sound you're listening for is an air leak at the exhaust valve. But here's an important safety tip — never put your ear directly over the muzzle and never do this if the gun is loaded! Listen from the side of the muzzle; so if the gun were to fire, the air would blast past your ear instead of into it! You can use a piece of paper to direct the sound, if needed. That keeps you safe and still lets you hear the smallest sounds.
I've found a number of valve leaks this way. This is just a diagnostic tool — it doesn't do anything to fix the valve.
If your ears aren't that good, or if you just don't want to do it this way, you can also put a few drops of soapy water down the muzzle of a cocked gun. Bubble-blowing solution that you can buy at a dollar store works perfectly for this! If any air is escaping the valve, there will be bubbles at the muzzle. I always had a small bottle of bubble-blowing solution next to me when I worked on guns at AirForce. Of course, you have to clean the barrel and wipe it with an oily patch after doing this.
These little procedures have proven very valuable over the course of time. If the situation is right, they'll fix the problem more often than not. While they seem simple to the point of being somewhat ridiculous, they do work.