by Tom Gaylord, a.k.a. B.B. Pelletier
Today's report is the one I mentioned forgetting in last Friday's blog! Blog reader Errol reminded me about it yesterday.
I hear this so often from airgunners — how they think they're going to add a more powerful mainspring to their airguns and increase the power. It sounds logical, but it often doesn't work; and it nearly always doesn't work as well as you think it should. Today, I want to discuss why that is.
Fact 1
The Weihrauch HW 35 was always considered to be one of the most powerful airguns in its day — which was the 1950s. They delivered over 700 f.p.s. when new in the 1950s; and over time, this rose to 750 f.p.s. Careful tuning could get close to 800 f.p.s. from certain guns. This model is still being made today, but now it sells because it's so pleasant to shoot and doesn't produce excessive power. How times change!
The HW 35 was so-named because the length of the piston stroke is 35mm. Piston stroke is the distance the piston travels from being cocked to being at rest at the end of the firing stroke. When Robert Beeman set out to make what eventually became the Beeman R1 rifle, he used the HW 35 as the starting point and increased the piston stroke to 80mm. And that's where the additional power comes from — the piston stroke length and not the strength of the mainspring. Greater stroke length means greater swept volume, which means more air to compress for the shot. It doesn't matter all that much how fast the air is compressed, which is the only thing a stronger mainspring does.
Fact 2
Then, there's the story of the man who wanted to build a supersonic .22 pellet rifle. So he took the Beeman R1 as a starting point and built one that was 125 percent larger. The late Steve Vissage built a Frankenstein rifle that I documented in a report called Steel Dreams. It weighed 11 lbs., took 53 lbs. of force to cock and was larger than the R1 in every way, save one. It developed the same power! Yes, bigger mainspring and wider piston did not increase the power of the gun one iota.
Why is this true?
I know you want an explanation of why a more powerful mainspring doesn't necessarily increase power. Here it comes:
THE MAINSPRING DOESN'T ACT DIRECTLY ON THE PELLET
The mainspring pushes the piston. The piston compresses air in front of it, and it's that compressed air that gets behind the pellet and pushes it up to speed. The mainspring never touches the pellet. So, changing the mainspring has no direct effect on the speed of the pellet.
Here's a good example everyone will understand. We have a house with a hollow-core door as the front door. Forget the fact that it violates all building codes — your cheap Uncle Rufus put it on when the old front door finally broke. This one was dirt cheap, which is why he got it. But your Aunt Thelma is justifiably worried about a break-in; so when Rufus is out of town, Thelma has a locksmith install a super-duper triple deadbolt lock on the door. Is that going to protect her? Of course not. Any burglar can simply break the door apart with one good kick. The lock will still be secure, but there won't be any door attached to it.
Do any heavy mainsprings ever work?
Am I saying that heavier mainsprings never work? No, I'm not. When I was testing the Beeman R1 for my book, I installed the Mag 80 Laza Kit from Venom in England. Ivan Hancock created a drop-in kit of parts that worked well in the R1/HW 80 and increased the power. The mainspring was a very long stiff spring with thicker wire, and it was coated with a black tarry substance that I named black tar in my newsletter articles. That's where the term black tar comes from. Black tar is also called velocity tar in some circles.
The R1 went from requiring 36 lbs. of force to cock to 50 lbs. with this kit. But the heavy mainspring was not directly responsible for the power increase. The kit also included a new piston that had 6 synthetic bearings that are now called buttons. These buttons rode against the spring cylinder walls and kept the steel piston from touching the steel spring cylinder.
Here's the deal. The new piston was harder to slide inside the spring tube because the synthetic bearings pressed tightly against the sides of the spring tube. The powerful mainspring simply brought the piston's speed back to parity with the factory piston. What increased the power was a combination of a better piston seal and the elimination of all piston vibration when the gun fired. The gain was just a few foot-pounds of energy, but the rifle was now getting everything the R1 design could possibly give.
A parallel in the pneumatic world
Most of you readers are aware that pneumatics work within pressure limits, and over-pressurizing them doesn't add power — it takes it away. The reasons are different, but the end result is the same as for heavier mainsprings. The design of the gun is being overcome by one thing (the mainspring in a spring gun, or too much reservoir pressure in a pneumatic) and the performance balance is tipped toward the negative.
CAN a heavier mainspring increase the power of a springer?
Yes, it can if you also change the rest of the powerplant along with the mainspring. And no, it won't if a heavier mainspring is all you add. The secret to more power is to balance all the components so the gun performs at its optimum. With all airguns, there's a limit to how far you can go. Where that limit is depends on the rest of the design — the parts that are too expensive to change.
You can break your heart trying to buff up a dirt clod to a high shine. Or you can start with a gun that has some potential and make real progress by artfully changing the things that matter. The secret is to know which is which.
One last remark
Pyramyd Air is stocking the most recent issue of Airgun Hobbyist magazine. If you want to try just a single issue to see if a subscription is worthwhile, now's your chance.
by Tom Gaylord, a.k.a. B.B. Pelletier
Marauder magazine
I'm writing this report for blog reader Michael and for all those who have trouble loading their Benjamin Marauder magazines. Also, Matt61 wrote that he's read of numerous problems with this mag, and he hopes that I'll show how it works.
Folks — the only problem with the Marauder magazine is that it isn't straightforward, and the instructions how to load it are not clear. Loading involves a couple techniques that aren't obvious or explained; but once you learn them, the magazine is easy to load.
Michael asked if Crosman had changed the mag. The answer is yes, but I bet 99 percent of airgunners have never seen the first magazine they made. The first Marauder magazine inserted into the left side of the rifle's receiver instead of the right side. It was the mirror image of the magazine they use today. It worked perfectly, but it didn't permit a scope with a large side-adjusting parallax wheel. So, Crosman switched the sides the mag works on very early in the life of the Marauder; and since then, it has inserted from the right side.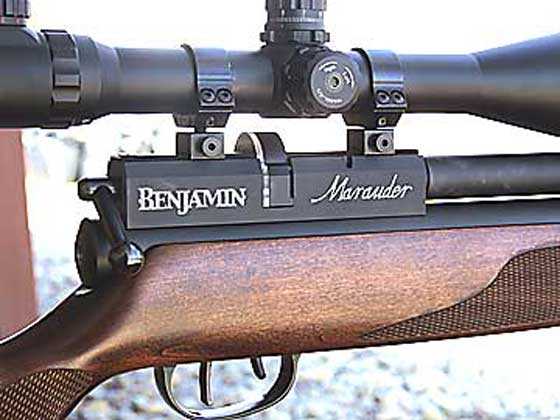 The first Marauders had magazines that were installed from the left side of the receiver, like this one.
What I am about to show you works for all Marauder rifles, Marauder pistols and for the Rogue rifles. The magazine has a clear plastic cover that's rotated to fill the magazine. This is where all the confusion comes from. The magazine cover has to be lifted over a small plastic bump on the body of the magazine in order to rotate freely.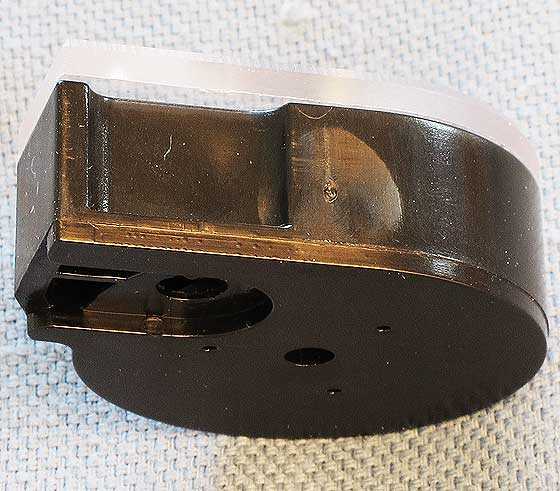 Insert the tip of a finger into this notch under the clear magazine cover and lift up slightly while pushing the cover clockwise.
Then, the cover is pushed clockwise to clear the bump. Once the bump has been cleared, the cover can be rotated approximately 300 degrees — to a spot where the oval loading hole in the cover almost aligns with the first pellet hole in the magazine body. But the oval loading hole and the pellet hole do not yet align. You cannot put a pellet into the hole yet.

The cover was lifted and pushed past the bump on the magazine body. It rests against the bump under spring tension.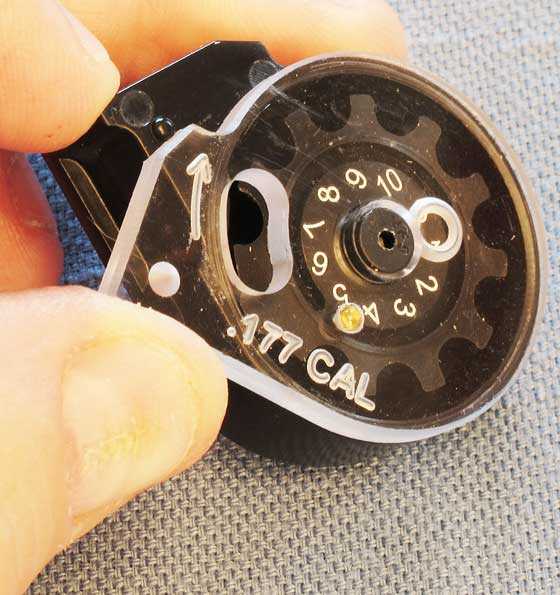 The cover is rotated as far as it will go without help. Notice it is stopped by the bump. I have to hold it here, because it is under spring tension.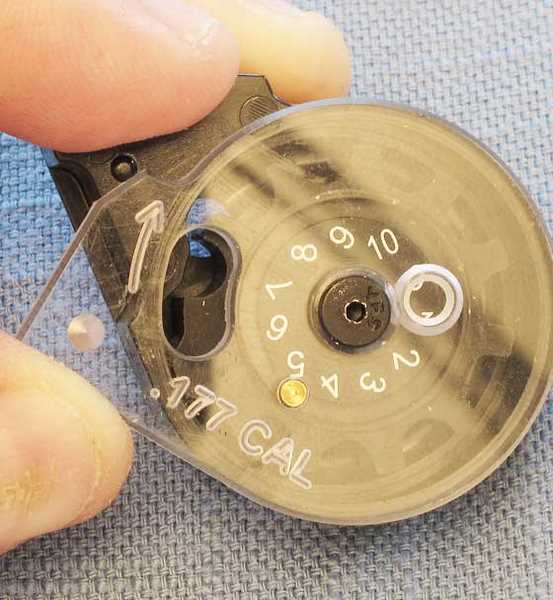 Here is a top view of the cover in the same position. It is impossible to put a pellet into the magazine through the oval hole in the cover when it's in this position.
This is where the Crosman instructions end, and it is the secret to loading the Marauder magazine because the cover has to be rotated a few more degrees clockwise. The bump is in the way, so the cover must be lifted again to clear the bump. The cover will now rotate about another quarter-inch until it comes to a stop on its own, and the first pellet hole will be aligned perfectly.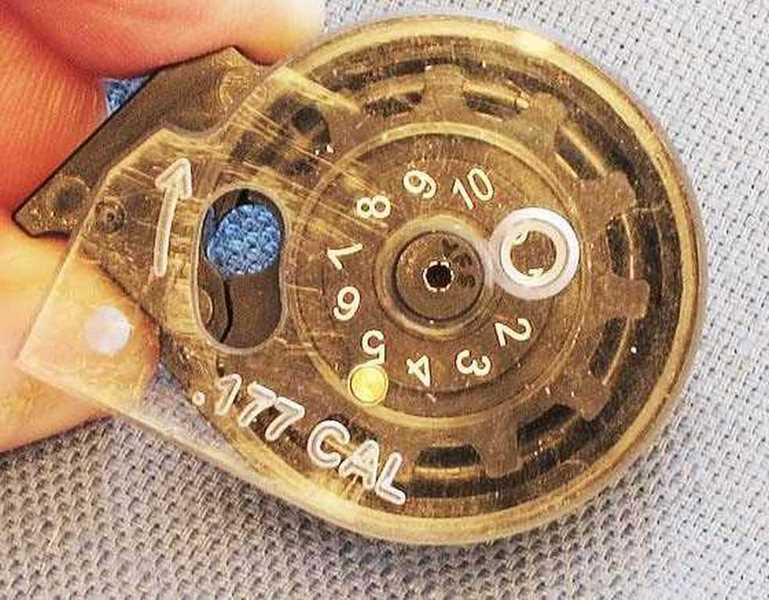 Here the cover was lifted and pushed past the bump until it stopped. Now the pellet hole is wide open to receive the first pellet. Remember to place your finger on the underside of the magazine, to prevent the pellet from slipping through the hole.
That hole goes through the magazine body and is used for all 10 pellets because the bolt probe pushes all pellets out of the magazine and into the barrel. You must put the tip of your finger under the back of the hole (the barrel side of the magazine) when you drop in the first pellet.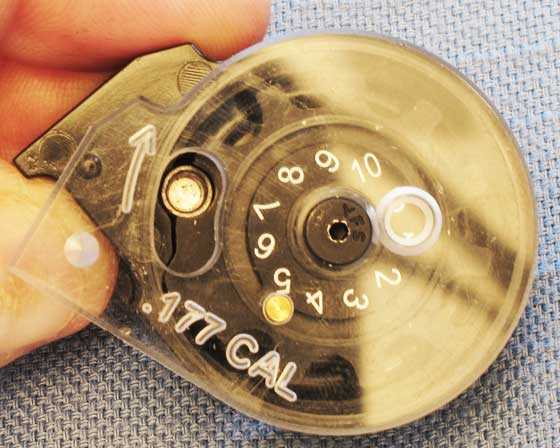 The first pellet is in the magazine and held there by my finger over the bottom of the hole.
Now, rotate the cover back counter-clockwise past the bump, and the magazine will be tensioned. You can release your finger from the bottom of the hole because the pellet you loaded will hold the magazine in place. The magazine cover can now be rotated back (counterclockwise) to align the oval hole with each of the remaining 9 pellet slots. Most pellets will just drop in on their own when the holes line up…but sometimes it may be necessary to push in a pellet because the skirt is too wide. A ballpoint pen helps with this.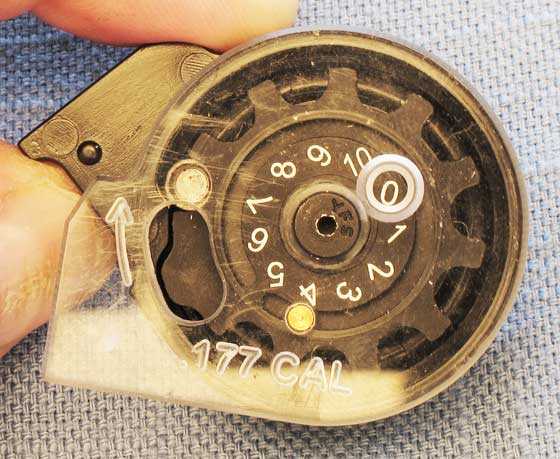 By rotating the magazine cover back past the bump, the mag is held under tension by the first pellet. Loading the remainder of the magazine is now a matter of rotating the cover and aligning the loading hole with each pellet hole.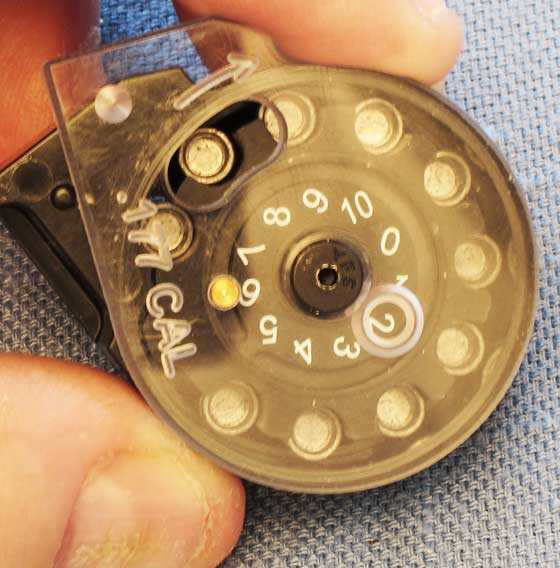 The cover is no longer under tension and can be rotated back to the bump, inserting pellets as you go.
When the cover is all the way back to the bump again, lift it slightly and return the cover to the starting point with a click.
Removing and inserting the magazine
A second question I got was how to load the magazine into the receiver and remove it again. Some people feel their rifles are very tight and this task is difficult.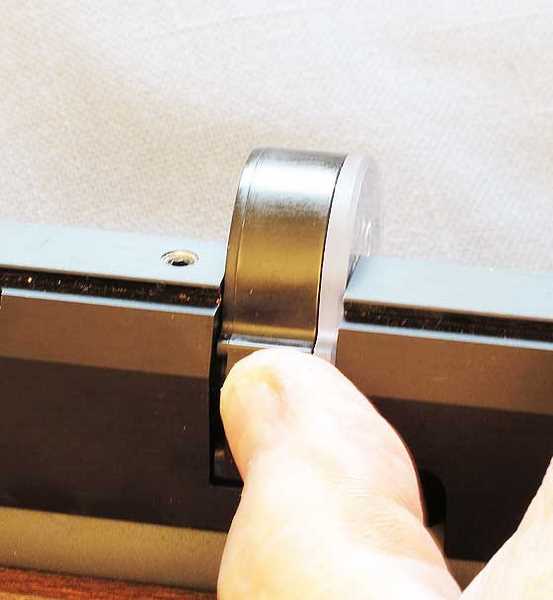 Remove the magazine from the rifle by first cocking the bolt, then pushing on the left side of the magazine.
The secret here is how tight the magazine fits the receiver. It does pop in, but the fit is very tight. To remove it, push it out from the left side with your thumb. DO NOT try to pull it out, as that doesn't work.
To insert the magazine, make sure the flat part of the magazine bottom is aligned with the bottom of the breech cutout. Of course, the single-shot adapter must be removed from the gun before you try to load a magazine. The mag slides into the receiver almost all the way, and when you push it in the final quarter-inch, it audibly clicks into position.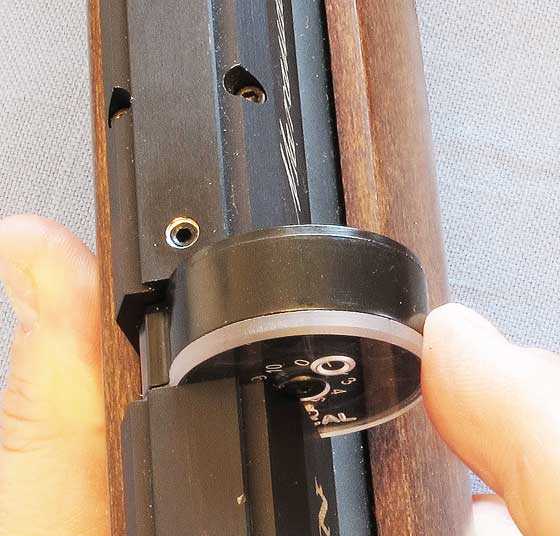 Slide the magazine in from the right side of the receiver. When it stops, push a little more and it'll click in place.
Summary
These instructions will seem simple once you've mastered them. But until that time, the Marauder magazine seems to fight you at every turn.
Once you've correctly loaded the Marauder magazine, you'll find that it's trouble-free and very reliable.
Below is a a short video I made that recaps what I described in this blog. Remember to turn on your speakers.
by Tom Gaylord, a.k.a. B.B. Pelletier
While I was at the courthouse awaiting jury selection the other day, I was reading a favorite gun book, Yours Truly Harvey Donaldson, edited by David R. Wolfe and published in 1980 by Wolfe Publishing Company, Prescott, Arizona. In the book, Wolfe assembles letters and articles written by Harvey Donaldson, one of America's top shooters, and cartridge developers. He is best-known for his .219 Donaldson Wasp cartridge, but he actually worked on dozens of different centerfire cartridges over the 89 years of his fruitful life. And he was a schuetzen shooter on top of all of that. Schuetzen rifles are single-shot rifles with incredibly accurate barrels that shoot lead bullets at low velocities. They typically shoot at 100 and 200 yards, either offhand or rested on a bench. The best of them have been known to put 10 bullets into a group that measures under one-half inch at 200 yards, which is a challenge that's difficult to equal with modern arms today.
So, Donaldson knew how to shoot. And that's the connection to today's report. I read a paragraph that Donaldson wrote for an article that appeared in American Rifleman magazine in May 1936 – Rest Shooting and Schuetzen Loading:
"The secret of fine rest shooting is to hold the rifle so it will be free to recoil in the same way for each shot. I like to have my rifle come straight back, and when I see the crosshairs rise toward 12 o'clock in a straight line above the bull, I know that all is well and I can expect a good group. If the shooter will carefully perfect his holding so as to get this effect, the matter of making small groups will come much easier."
That's a good description of the goals of the artillery hold airgunners use, with one exception. Donaldson describes firearms that, while their bullets don't travel very fast (never over 1,400 f.p.s.), still leave the muzzle before the major vibrations and movement of the gun begins. With a spring-piston airgun, the heavy steel piston has already jumped forward violently and then come to a sudden stop before the pellet begins to move. Vibrations in the gun have already started well before the pellet leaves the bore, which is why airgunners have to take this special hold even farther than Donaldson describes.
Important point — please read and understand!
Remember this — Donaldson was talking about firearms when he described his hold. So, the basic tenets of the artillery hold apply to firearms as well as to airguns. I have known that all along, but I haven't harped on it because it really doesn't matter to most shooters. A hold like this is only important to those who want the absolute last bit of accuracy potential from their firearms. Some of our blog readers who have competed with firearms, like Victor, understand the importance of hold consistency without my saying anything. They might call it something else, like follow-through perhaps, but we're speaking about the same thing. For the rest of the shooters who are just plinking with a .22 rimfire or shooting anything offhand, it wasn't important that I drill down to the absolute bottom bedrock fundamentals of shooting to explain my points. Either they understood it without me commenting or it wasn't important.
But I'm going on record today and saying that an artillery-like hold, or at least a repeatable hold that allows the firearm to recoil in the same way every time, does have a positive influence on the accuracy of a firearm as well as a spring-piston airgun. And I'm also going to say that the artillery hold has a positive effect on other types of airgun powerplants — including the precharged pneumatic (PCP).
It's still true that a PCP is much easier to shoot accurately than a spring-piston gun, but only with a proper hold will any PCP be capable of delivering its full accuracy potential. Because PCPs do not vibrate very much, nor do they recoil, the benefit of a consistent hold gets lost in the noise. Most good PCPs shoot very well regardless of how they're held.
What is special about the artillery hold?
Okay, we know that the consistency of the hold is important to accuracy. But is the artillery hold different than what Donaldson describes in the passage above? Yes, it is. Donaldson rested his schuetzen rifles front and rear. The barrel of his rifle rested on the forward rest and the buttstock rested on the rear rest. There's foam rubber between the barrel and the rest, but my point is that Donaldson does not rest the rifle on its forearm.
To be honest, there are photos showing benchrest rifles rested on their forearms, too, so it can be done either way, but the barrel rest was by far the more common in these older times.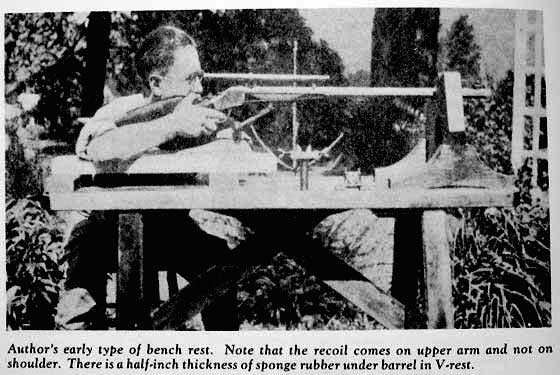 Donaldson shown with a rested schuetzen rifle in the 1930s. The barrel is resting on foam rubber on the front rest. Photo from the book, Yours Truly, Harvey Donaldson, Wolfe Publishing, 1980.
What's special about the artillery hold is that we don't normally rest the rifle directly on sandbags or other rests. Instead, we rest it on our hands, which are placed on the rest. The flesh of the hand cushions the rifle in some unique way that even sand cannot. There are some gel-filled pads that seem to work as well as the hand; but when you examine them, you find that they feel quite a lot like the flesh of your hand. There's something about the consistency that a spring-piston air rifle needs in order to have repeatable recoil and vibration patterns.
What you rest the rifle on is important, but so is where you rest it. I often have to try sliding my off hand back and forth under the stock, from the triggerguard to out as far as I can hold it — searching for a point where the rifle responds the same with every shot. Sometimes, I never do find the right place, and then I resort to resting the stock on the backs of my fingers and even directly on the sandbag. I don't use the backs of the fingers unless absolutely necessary because it often hurts. And the number of airguns that can be rested directly on a sandbag and still shoot well is very small, although the TX 200 is one that can.
Today's lesson
The point of this report is that the artillery hold is nothing new, and I didn't invent it. It was already very old when I picked a quirky name for it, so airgunners would remember it and be able to talk about it. This hold is one of the fundamental tools in a good shooter's kit. You can ignore it, but do so knowing what you're giving up — because this is the "secret" to shooting a recoiling spring-piston air rifle well.
by Tom Gaylord, a.k.a. B.B. Pelletier
Let's begin testing the effects of oiling pellets. There are numerous ways to approach this issue, and I have to pick one at a time and limit the test to just that. But I think as long as I'm testing one aspect, I ought to test it thoroughly so someone can't come back and second-guess me later in the report.
So, today I'll test with one rifle, and the next time I'll test with another. What I won't do is test with each different brand of airgun, just to see what will happen. If a powerful gas spring rifle performs in a certain way, I'll assume that all powerful gas spring rifles are going to do the same. If the difference between dry pellets and oiled pellets is close, I may do additional testing; but if there's clear separation, I'll accept that as the way it works.
What am I testing?
The question that started this experiment was, "How much faster will oiled pellets shoot than those that are not oiled?" One reader has asked me to also test this downrange because he wonders if a thin coat of oil changes the laminar flow of air around a pellet. I may get to that at some point, but for the present I'm just concerned with muzzle velocity because all pellets slow down after they exit the muzzle — oiled or not.
I suppose this needs to be tested in all three powerplant types, but today I'm testing it in a spring-piston powerplant. Today's gun is a weak powerplant, so next time I'll test it in a more powerful gun.
I'm using an HW55 SF target rifle to test three pellets. This rifle is a variation of the old HW50 rifle, so it shoots in the 600-650 f.p.s. region with lead pellets.
Since oiled pellets will leave a film in the bore, I tested all pellets dry first, and then tested the oiled pellets afterwards. Before the first test shot with oiled pellets, I fired two pellets to condition the bore. That turned out not to be enough, but I'll come to that later.
Pellet shapes
I'll test the three major pellet shapes in this test. They're the wadcutter, dome and pointed head. There are other shapes, like hollowpoints, but they're based on one of these three main shapes, so this is all I'm testing.
How I oil pellets
I oil pellets in the following manner. A foam liner is placed in the bottom of a pellet tin, and 20 drops of Whiscombe Honey are dropped onto the foam. Then, a single layer of pellets is spread on the foam, and the tin is rolled around. I shake the tin lightly to move the pellets around…but not enough to damage them. Whatever oil transfers to the pellet is all the oil it gets. I've been doing this for many years and it works well.

Twenty drops of oil on the foam is what I use. Then, a single layer of pellets.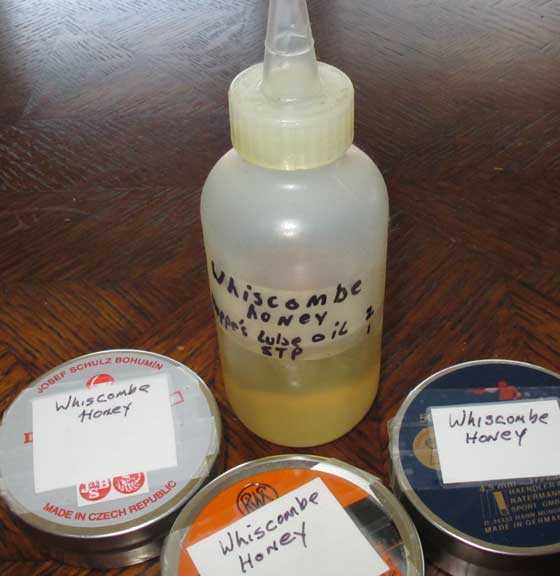 One tin for each type of pellet used in the test.
The pellets end up with a very light and uniform coat of oil. When I handle them the tips of my fingers become oily, but I can't see any oil on the pellets. Other people use more oil than I do, but this is what I am testing.
Whiscombe Honey is a mixture of two-thirds Hoppes Gun Oil (not Number 9 bore cleaner!) and one-third STP Engine Treatment, by volume. Shake the mixture until is takes on a light yellow color. It will look like thin honey, hence the name. This mixture should not detonate easily in a spring gun.
Test one — dry pellets
Crosman Premiers
Crosman Premier 7.9-grain pellets were the domes I tested. The average velocity for dry Premiers was 606 f.p.s., with a low of 577 and a high of 616. So, the spread was 39 f.p.s. The average muzzle energy was 6.44 foot-pounds.
Gamo Match
For wadcutters, I tested Gamo Match pellets. The average for dry pellets was 652 f.p.s., with a low of 640 and a high of 663 f.p.s. The spread was 17 f.p.s. The average energy was 7.14 foot-pounds.
H&N Neue Spitzkugel
The pointed pellet I selected was the H&N Neue Spitzgugel. When shot dry, they averaged 601 f.p.s., with a low of 585 and a high of 620 f.p.s. The spread was 34 f.p.s. The average muzzle energy was 6.81 foot-pounds at the muzzle.
Oiled pellets
Now, I shot two oiled pellets through the bore to condition it and began the test.
Oiled Crosman Premiers
Oiled 7.9-grain Premiers averaged 591 f.p.s., but the spread went from a low of 545 to a high of 612 f.p.s. That's a spread of 67 .p.s. The average energy for oiled pellets was 6.13 foot-pounds. I did notice the pellets were going faster at the end of the shot string, so I thought I might come back to them after testing the other pellets.
Oiled Gamo Match pellets
The oiled wadcutters averaged 658 f.p.s. — a slight gain over the dry pellets. But the real news was the spread, which went from a low of 651 to a high of 663 f.p.s. Instead of a 17 f.p.s. for the dry pellets, the oiled pellets gave a spread of just 12 f.p.s. That's too close to draw any conclusions, but it's interesting. The average energy with the oiled pellets was 7.27 foot-pounds. So, with the oiled pellets, the velocity went up — along with the energy — and the shot-to-shot variance went down.
Oiled H&N Neue Spitzkugel
Oiled Spitzkugels averaged 609 f.p.s. — which was a small increase over the same pellet when dry. The average energy was 6.99 foot-pounds. The spread went from 585 to 620 f.p.s, which was identical for the same pellet dry. Velocity and energy were both up slightly from dry pellets, and the shot-to-shot variance remained the same.
By now, it's obvious that the bore needed more than two shots to condition it, so I retested the oiled Crosman Premiers. The second time the oiled pellets averaged 604 f.p.s., which is just 2 f.p.s. slower than the same pellets dry. But the spread that was 67 f.p.s. on the first test of oiled pellets and 39 f.p.s. with dry Premiers now went from a low of 594 to a high of 613 f.p.s. — a much tighter 19 f.p.s. total. The average energy was 6.40 foot-pounds.
Observations
From this test, I observed that these three pellets either remained at the same velocity or increased very slightly from the light oiling I gave them. In two of the three cases, the velocity spread got tighter when the pellets were oiled.
I further observed that it's necessary to condition a bore with oiled pellets before doing any testing. As a minimum, I would say that 20 oiled pellets should be fired before testing.
These are very small differences from oiling; and although I can't draw any conclusions yet, I would think that such a small change is not enough to matter. It hardly seems worth doing at this point. However, there's still a test to be done in a powerful airgun. Until we see those results, I think it's too soon to say anything for sure.
Although the question that drove this test was how much faster oiling pellets makes them shoot, I think we still have to take accuracy into account before forming any opinions.
And now for something completely different
Pyramyd Air is looking for a manager for their tech department. If you're interested in the position, below is the job info and where to send your resume.
Directs and coordinates activities of the department in providing customers technical services and support; directly supervises employees. Responsibilities include but are not limited to:
Coordinates technical support services between management, tech support staff, sales department, and customers.
Establishes and documents department procedures and objectives.
Accomplishes department objectives by selecting, orienting, training, assigning, coaching, counseling, and disciplining employees; communicating job expectations; and monitoring performance.
Maintains and improves support operations by monitoring staff and system performance, identifying and resolving problems, and preparing and completing action plans
Provides technical assistance to customers and labor quotes. Handles escalated calls or provides assistance requiring more complex issues.
Installs common accessories and kits in accordance with customer orders.
Performs tests on guns to determine advertised performance specifications.
Required experience, skills and background:
Bachelor's degree and 3 years managerial experience, or an equivalent combination of education and experience required. Previous industry experience required.
Must be detail-oriented with good mechanical aptitude.
Ability to prioritize and multi-task.
Good communication and customer service skills.
Good computer skills.
Hours: Monday through Friday, 9am until 5:30pm; longer hours and some Saturdays are expected, especially during our busy peak periods.
Preferred experience, skills and background:
Previous experience in airgun repair or troubleshooting desired.
Send your resume to resumes@pyramydair.com
by Tom Gaylord, a.k.a. B.B. Pelletier
This report will be lengthy because I want to test several aspects of oiling pellets. For starters, I want to test it with spring guns, PCPs and CO2 guns just to get a complete picture of what, if anything, oiling pellets is doing in each of those powerplants. I'm interested in velocity because of the question that spawned this blog, but accuracy might also be interesting to test.
The question
We received this question in the following form. I will paraphrase, but this is the gist of it, "How much faster do pellets go when they are oiled?" That question came in on one of our social networks and was referred to me for an answer. Well, you know me! Give me a topic and I turn it into a week's worth of blogs. But this question really begged for the full treatment because there's so much to cover.
History
When I got interested in shooting airguns as an adult in the middle 1970s, the question of oiling pellets wasn't around (as far as I know). In talking with the late Rodney Boyce, I learned that the oiling question really came to a head when PCPs first started being used in the early 1980s. A PCP shoots very dry air, and their barrels are made from steel; so, at the higher velocities, they tend to get leaded bores. Some shooters were also oiling pellets for their spring guns; but a lot of the time they did it because they washed the pellets, thinking the black compound on them was dirt. In fact, it was anti-oxidant to keep the pellets from turning to white dust. Had they just left the pellets alone, they wouldn't have oxidized.
In defense of the spring-gun guys who washed their pellets, though, some brands did have a lot of lead swarf (flakes of lead from the manufacturing process) inside some of the pellets, and vigorous washing did remove it. But then the pellets needed to be oiled again, or they would quickly oxidize.
Why we oil pellets
We oil pellets for two reasons. The first is to prevent the oxidation of the lead after washing. The second is to reduce the leading of the bore, though this is principally a PCP problem. Other pneumatics either shoot too slowly or they have brass or bronze barrels that do not allow the lead to attach itself, so they do not lead up.
Do oiled pellets shoot faster?
That was the question that started this report. I've tested this in the past and found that with a PCP shooting .177 pellets at 850-900 f.p.s., oiled pellets went slower, not faster. But that was just one test, and I don't want to say what oiling will do for other guns until I do some more testing.
Flimflam man
I'll tell you this — oiling pellets became such a hot topic in the late '90s that people were swapping their favorite secret formulas on the internet. And I know one UK company that sells an oil for pellets that they still claim gives increased velocity. Well, that's too good to pass up, so I'll test some of their oil in this test.
Not just oil
Don't think that oil is the only thing people put on pellets. I remember lengthy discussions of how to apply a thin even coat of wax on pellets. Then, the topic shifted to what kind of wax to use! One guy went so far as to specify a high-tech boat hull compound called Bo-Shield for his pellets. When he talked about it his eyes got that faraway stare, as though he was transcending the real world and entering the spirit world.
What I will test
The first thing I want to do — have to do, in my mind — is test what the application of oil does to the velocity of pellets. Okay, that opens about 10 worm cans, right there:
What constitutes "an application of oil"? (I have seen paragraphs of instructions telling you how to know if the application of oil has been enough or if you need more.)
Am I testing this on lightweight pellets? Heavy pellets?
Do I test a powerful springer as well as a lower-powered springer?
Do I also test this on a precharged pneumatic?
A powerful PCP and a lower-powered PCP?
What about testing on a CO2 gun?
And on and on….
I think the best approach is to ask the question: Why do we oil pellets and who does it? We know that people who wash pellets also oil them, and we know that PCP users oil them; so that includes all the categories above. I don't see a need to go to the extremes with this test. I'm not HP White Labs, and this isn't a burning consumer question. If the findings suggest further testing, I could decide at that point?
What about the possible side effects?
Will oiling a pellet cause extra dieseling? Maybe. Is that what's behind those flimflam salesmen who claim that oiled pellets go faster than dry pellets? I don't know for certain; but as long as I'm going down the path, this is something I want to look at. Obviously, we're talking only about powerful spring guns.
Does oiling affect accuracy?
I don't know, but it seems we ought to find out. This gives me another excuse to unlimber my R8…so, hurrah!
Have I forgotten anything?
You tell me if I've overlooked any test that ought to be conducted. This isn't a guessing game or a creativity contest, so please tell me only things that really matter to you.
by Tom Gaylord, a.k.a. B.B. Pelletier
I've written about firearms in this blog from time to time. Even though it's about airguns, there are so many lessons we can learn from firearms that it's a shame to turn our backs on them — as if by using explosive gas instead of compressed air they're somehow different. Once the projectile gets out of the barrel, it acts the same regardless of what starts it on its way.
Many of you understand why I do this. Blog readers Kevin and BG_Farmer, for example, know that a precharged gun acts the same as a black powder arm, in that they both require a long barrel for optimum performance. The longer the barrel, the greater the velocity you can expect — all other things remaining equal. That was demonstrated clearly in the test of the Talon SS, when I switched from a 12-inch barrel to a 24-inch barrel. Velocity increased dramatically and the shot count remained the same — proving that a longer barrel gives greater performance in a PCP.
Today, I want to discuss another similarity I've discovered. I didn't really "discover" it. I more or less tripped over it, cursed a bit; then, as I was picking myself up and brushing myself off, I happened to reflect on what had happened and was enlightened.
The idea first crossed my path in the book Yours Truly, Harvey Donaldson, by the author of the same name. He noticed that some of the shells he reloaded grouped their bullets very well, while others that had the same headstamp and were purchased at the same time, threw their shots wide of the mark. That phenomenon is so common in my experience that I thought it was the way things always were, but old Harvey had a different idea. He started setting aside the cartridge cases that threw the wild shots, keeping only those that tended to group their shots together. In time he was left with a smaller batch of shells that all wanted to put their bullets into the same hole — as long as everything else (powder type and weight, bullet weight, seating depth, primer type, etc.) stayed the same.
In the end, Donaldson wound up with a batch of shells he could count on to group their shots together and others that couldn't. He then shot groups with cartridges made from the good shells and from those that were not as good and demonstrated that the good shells grouped much better.
My shooting buddy, with whom I recently commiserated about the lack of success we were having with some firearms, pointed out that we were both shooting cartridges with mixed headstamps, and we weren't paying attention to the things that were staring us in the face. That was a wakeup call for me!
So, I've just begun doing the same thing as Donaldson with a couple of my firearms — but I don't have any real results to show, yet. However, the initial examination does look promising. I say that because within any group of 10 shots with certain rifles there's usually a smaller group that hints that there may be a difference between the shells, since everything else is exactly the same.

Ten shots from a 250-3000 Savage at 100 yards. If you were sorting these shells for reloading, which three would you exclude from the good pile? The x-ring is 0.90 inches in diameter.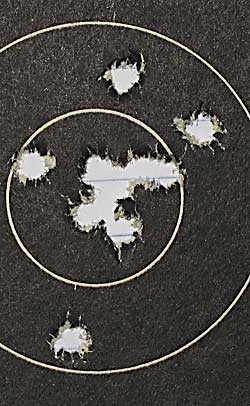 Ten shots from a .22 Hornet at 50 yards. Can you tell which 6 cartridges are of interest?
But how can this information help me as an airgunner? Edith pointed out that once the trigger is pulled, the pellet goes downrange and there is nothing left to be sorted for the next time.
But what if I could sort BEFORE the shot? And, of course I can! If I weigh and visually inspect each pellet, I'll have the most uniform group of pellets possible. I can then shoot them against a random selection of pellets straight from the tin and also against a group of pellets that were specifically rejected during the selection process. There should be a noticeable difference between those three groups — no?
Oh, I can hear the gears turning, now! In your analytical minds, you're creating universes in which all pellets go in the same hole at a ridiculously long distance. Well, cut it out! It often doesn't work as simply as that. It may sound good when you read it in print; but when you attempt to test it, the results may not be what you expected. There are many reasons for this.
The gun
If you're doing this with an accurate airgun, there's a chance you'll succeed. But if you're doing it with a gun that vibrates like a jackhammer and kicks like a mule, any difference in accuracy may be overwhelmed by the slop of the test instrument (the gun).
Your shooting technique
I was at the range last week and observed a man who couldn't hit a 12-inch paper plate at 100 yards every time with an M1 Garand. Was that the rifle's fault? No, it wasn't. The guy closed his non-sighting eye by squinting and refused to try holding it open. So, the round peep hole his sighting eye looked through was scrunched up into a deformed hole that nobody could hope to sight through. He could not be convinced to try holding both eyes open, and I bet this is a person who blames "old eyes" on his inaccuracy when it is nothing more than technique. If you don't have good shooting technique, you'll never be able to see subtle differences in accuracy in a test like this.
Range conditions
I've seen shooters complain because their rifles were not giving them one-inch groups at 100 yards. But they were shooting on a windy day and disregarding the wind entirely. As if a bullet isn't affected by wind! Granted, bullets shot from firearms buck the wind much better than pellets — but, even so, there are limits. And a 15-mile-per-hour crosswind is not the time to be expecting one-hole groups. On a day like that, you either wait out the wind and shoot during the quiet times, or you do something else. But don't expect to set records.
Distance
You need to shoot at a distance at which the groups start to open. I like small groups like everyone, but you don't learn anything from them in a test like this. So, the 22-foot range in your basement is out. You need to get some distance between you and the target. For me, that distance is 50 yards. That's where I have to do all of the things mentioned above correctly on every shot, and any mistake I make gets magnified greatly, to my embarrassment.
And why do you need open groups? What you really need is to clearly see the smallest deviations your pellets are making. The farther you shoot, the more visible they become.
So, Grasshopper, before you can benefit from today's lesson, you must first prove that you can shoot tight groups to begin with. This is the reason I push so hard for new shooters to acquire certain models of airguns — because I know those models will give them a modicum of accuracy. What kind of Formula One racer would you be if all your driving experience was on a tractor?
I have done this test — once
I actually did do this test one time — twice if you count once with target sights and once with a scope. Some of you may remember that I was goaded into shooting groups at 50 yards with an FWB 300S target rifle. I did get better results from weight-sorted pellets than from random pellets taken straight from a tin. None of the groups were especially small, but those shot with weight-sorted pellets were the smallest in both the test with open sights and again with a scope.
But I haven't done a test specifically to evaluate the benefits of sorting the pellets. That would be new.
I'm going to do it, so please give me your thoughts.
by B.B. Pelletier
I'm going to Leapers today through the end of the week to research an article for Shotgun News and also for this blog. I'll ask the veteran readers to help those new readers who have questions, because I won't be able to read my mail except for a brief time in the morning. On to today's report.
I always enjoy hearing from new airgunners, because their questions remind me that we haven't covered every subject yet. And we probably never will. Some subjects we have covered several times and still people are asking questions.
But it's extremely difficult to write about a subject that nobody will ever bring up. Hence, today's report.
I had a table at a gun show last weekend with a friend whom I happen to know goes ga-ga over all lever-action rifles. Another gunsmith acquaintance of mine stopped by my table and dropped off his Winchester 94 angle eject that he had refinished with fire-blued screws and had re-casehardened the lever, hammer and trigger. It was a strikingly beautiful gun; and because it's an angle-eject model, you can mount a scope directly on top of the action. Most Winchester 94s have to have their scopes offset to the left because they eject the empties straight up and back, but this rifle comes from the factory pre-drilled for scope rings directly on top of the receiver.
Now, Lever Man's wife is sitting in the booth with him, and she also likes the look of the pretty Winchester. In fact, she asks him to buy it — first for himself; and when he refused, for her! Then she recounted the litany of reasons why he should buy the gun. First, they both hunt hogs, and he's missed several with his open-sighted 94. This one can take a scope mounted in the right place. Second, this rifle is beautiful! Doesn't he want it on that basis, alone? Third, once he acquires this rifle, he can sell his other 94 or give it to her. She really wants a 94 of her own. I mean, come on, boys — short of a wifely directive, that's about as good an offer as you're likely to get!
But he says no. You can look in his eyes and see a big old, "Yes," but he has programmed himself to say, "No" so many times that the programming overrides rationality. I know this scene must make our UK cousins tear their hair out in anguish!
Okay, so you guys are probably guessing that cash is the problem, but it isn't. Lever Man has just put a Benjamin, a Grant and several Jeffersons in his pocket (for our friends outside the U.S. that's about $200). And he knows where he can get the rest. The pretty rifle has an asking price of $450, which is reasonable. Money isn't holding him back. What holds him back is plain old inertia. The resistance of a body at rest that won't move unless acted upon by an overwhelming outside force. To put it plainly, he doesn't like to make deals because he isn't exactly sure of himself.
I'm a casual observer to this drama, which is to say, a first-class facilitator. Veteran readers of this blog know I'm being honest about this. I'm trying to get the deal done, simply because I know that all parties want to do it. I comment to my other gun buddy that this really needs to happen and he agrees, but he also knows that Lever Man moves like a glacier. The odd thing is that Lever Man is here at this gun show to watch me and my gun buddy wheel and deal! He wants to get involved in gun trading like us.
How bad can it be?
Let me tell you exactly how bad. At another gun show two weeks earlier, the three of us were cruising the aisles and Lever Man picks up a Weaver K10-T, which is a vintage steel El Paso-made Weaver target scope in perfect working condition. It has a price of $25 on the tag, which is about $100 less than what it is worth. Lever Man is standing in the aisle like a chained elephant, rocking back and forth and lamenting over the fact that he isn't going to buy this scope! Not that he can't buy it, mind you — that he ISN'T going to buy it. That's a big difference. He knows he should and he knows the deal is good; he just won't pull the trigger. This is IN SPITE of the fact that he just sold two other vintage scopes of far less value two weeks earlier at another gun show, and he knows very well what this one is worth.
He puts it down and says to me, "I'm not going to buy that, but I probably should — huh?"
YA THINK?
Well, I couldn't let it pass, so I bought it — not out from under him, but because he wasn't going to act on a great buy, and I wasn't going to let it get away. Sometimes, I do find good deals on my own; but when they walk up and jump in my lap like this, I'm embarrassed by how easy it is. Lever Man should have made the deal. Then he could have sold the scope for $100 (still a great price) at the next show and been that much closer to the pretty Winchester lever-action we both know he'll eventually own.
It just so happens that Edith was also present when all this happened and she was witness to everything, so you can ask her how it went. I bought that scope simply because it was too good a deal to pass up.
Why aren't they pulling the trigger?
I understand having trepidation about making a deal because…what if you're wrong? Speaking as someone who has been really wrong at times, I can tell you that it doesn't hurt you permanently and even makes you a little wiser in the end. Someday, maybe I'll share several of my own bonehead deals, so you can see just how screwed up someone can be. For now, you'll have to trust me: We all make mistakes. But not acting when there's a great deal to be made is a very big mistake, and it's potentially preventing some people from ever enjoying this hobby as much as they could.
Begin with experience
It costs noting to get smart on your hobby. You do that right here on the internet, doing the things you're already doing, only in a more calculated way. As an example, what if you were to go to a garage sale this weekend and see a Crosman 160 that looks like the one I've been reviewing for you? You would know that it's potentially a very nice air rifle — no? But there is also a lot that you wouldn't know.
You wouldn't know if it still holds CO2 by just looking at it. You wouldn't know if the barrel is a good one, though a bore light would reveal the condition of the rifling. And there could always be a problem somewhere down deep in the mechanism that might slip past a cursory examination. BUT — what if the asking price was only $20? That would leave enough money in the budget for a rebuild and some repairs and you could still sell the gun for — ??? Well, how much is it worth, anyway? You probably don't know, because I didn't tell you.
Believe it or not, you already have enough information to buy a gun like that and make money, three times out of four. And the fourth time? Well, that's where experience comes in. You spent $20 for a lesson on the Crosman 160. If you keep at it and buy the next 160 you see, you'll soon be very proficient in not only Crosman 160s, but also 180s, as well. And you'll own some classic airguns in the process.
What NOT to do
Whatever you do, don't stuff money in your pocket and go out looking for bargains like this. That is a sure way to lose! Instead, tuck that money into a hidden compartment in your wallet; and when you stumble across a real bargain, it'll jump out and grab you by the collar! That's the bargain to act upon!
Don't be picky
Some of you are thinking, "I don't like guns like the Crosman 160. I would never buy one, no matter how cheap it was." If that's you, sir, you're missing out on how this thing works.
I personally dislike shotguns with prejudice. I own a few, but they leave me cold. And I'm the world's worst shotgunner, so there's a reason to feel as I do. But if a Belgian-made Browning Auto-5 in perfect condition walked up to me at a gun show and the guy told me he really needed $400 for it, I would hand the gun to a shotgunning buddy for his opinion. If it was good, I would buy that gun, then resell it (probably at the same gun show) at a $200-300 profit. How much I made would be determined by how long I cared to own the Browning.
I use this example because this exact thing happened to me at a gun show a couple years ago. I didn't have the cash to act, but I certainly would have if I could have.
The final example
A week ago, I met a fellow at the local Cabela's parking lot to look at an original plains rifle he wanted to sell. I really wanted the gun and agreed to a price as long as it was consistent with the photos he'd sent me. Well, it wasn't. He failed to show me some severe eroding around the nipple that made the gun unsafe to shoot, in my opinion. When we disassembled the gun for a better look at the breech, we both discovered that the hammer and trigger were connected by a field repair of what looked like a crushed brass cartridge case. I don't think he was trying to scam me — he honestly didn't know that much about black powder guns. So, I had to pass on the gun.
Since I was at Cabela's anyway, I went inside. They had just acquired several dozen fine vintage firearms from an estate, and these were on display. I looked at scores of fine vintage rifles like a pair of Remington 14-1/2 slide-action repeaters in 44-40 caliber that are as scarce as hen's teeth. There were four Farquharson rifles, including one that was priced at only $299. In all, I must have looked at 50 fine vintage rifles — all of them desirable and priced well. Yet, in the end, I walked out of the store with no purchase.
I was with a buddy who did want one of the estate guns, though, so we went back inside and took it into their salon to examine it more closely. The salon is where the guns that are usually priced at $1,000 and up are kept behind glass. That was where I noticed that the barrel on the rifle he was interested in had been relined, which killed the deal. But while he was chatting with the salesman, I wandered around the room looking at the guns I could never afford. That was when I spotted a beautiful Winchester High Wall with a scope in .218 Mashburn Bee caliber. I knew my buddy liked that caliber, so I dragged him over for a look because the price was $800, which is not a small amount, but considering what it is, it was a wonderful price.
He looked at the rifle, and it was gorgeous…but he hesitated at the last minute, so I delivered the classic enabling line, "If you don't buy this gun, I will. It's too nice to pass up." Well, he called me on it and said he thought that was exactly what I should do. So I did.
Very long story short: When we got home, I discovered that this rifle has a single-set trigger. A couple days later, we discovered the caliber is not .218 Mashburn Bee; it's .219 Zipper Improved. And it was made by the Mashburn Arms Co., so Mashburn, himself, or his son, made this rifle.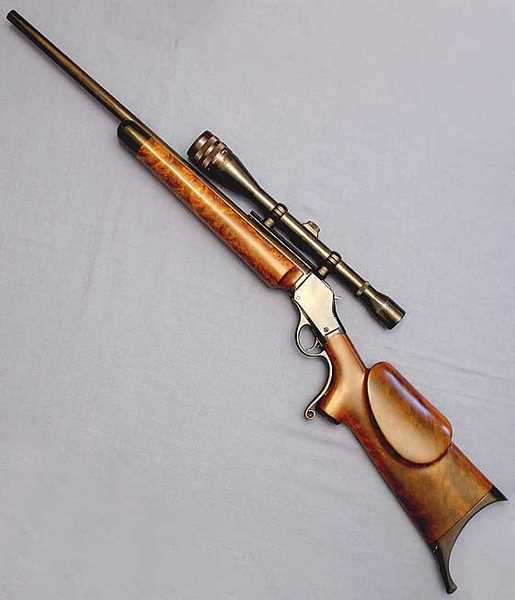 This custom Winchester High Wall literally jumped into my truck and followed me home! It was a no-brainer good investment. That's my new $25 Weaver K10-T scope on top, by the way.
The first five rounds we shot last week went into a 0.392-inch group at 50 yards! We don't even know what loads the gun likes, and it's already shooting this well!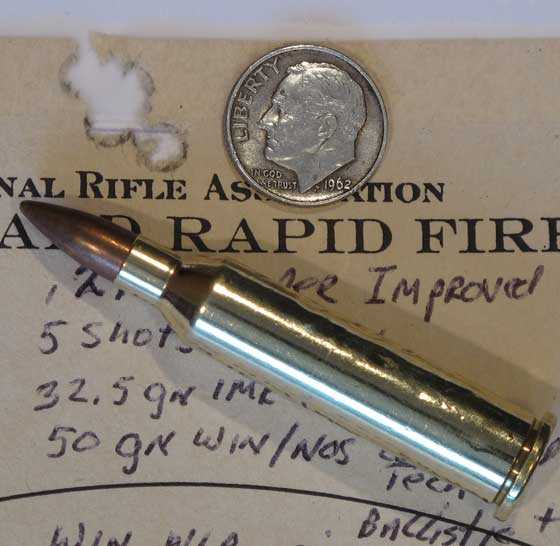 The first five-shot group at 50 yards tells me this rifle wants to shoot! It measures 0.392 inches between centers. I don't even know the load for this rifle yet.
Anytime I care to (and I definitely don't — believe me), I can double my money on this gun. It literally jumped into my lap, and there was absolutely zero risk to me because of what it is.
That is today's lesson. Learn about the things you intend to deal on. Then, when a deal comes your way, act on it. If this has helped even one of you get off the dime and start dealing in airguns, I've succeeded.