by Tom Gaylord
Writing as B.B. Pelletier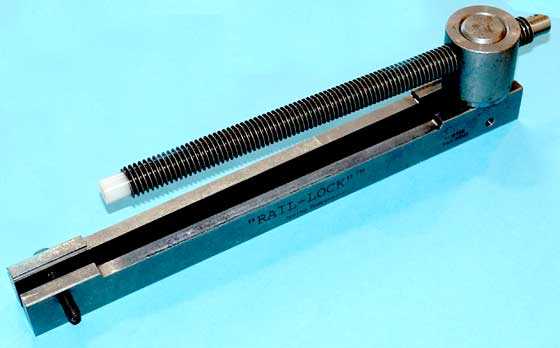 The Air Venturil Rail Lock spring compressor is compact.
This report covers:
Attaches to the scope rail
Let's look at the unit in detail
How shall I test it?
Developed for gas spring guns
Installation
The coolest feature
Quirks
The price
Today we start looking at a mainspring compressor that's very different from any other. The Air Venturi Rail Lock spring compressor is a compact 1.5-pound unit that attaches to the scope rail of the gun being disassembled. The threaded rod is then pressed against the end cap of the rifle — whatever configuration that might take. From that point this compressor works the same as any other, but in the next few reports I will show you in detail, plus today we will look at its design very closely.
Attaches to the scope rail
Right off the bat you might be wondering if this unit will fit most spring-piston airguns. As long as they have a scope rail either cut into the spring tube or attached, it will work. There are a few vintage spring rifles and pistols that don't have rails like the Haenel model 28 pistol and some Diana model 27 rifles, and this compressor won't work without a rail. But the majority of spring rifles being sold today, plus a number of spring pistols, do have a scope rail. On them the compressor should work well.