by Tom Gaylord, a.k.a. B.B. Pelletier
This report covers:
• Tech Force TF90 dot sight
• Description
• How does a dot sight work?
• Parallax?
• Easier to use than open sights
• Not the latest and greatest
Tech Force TF90 dot sight
I was right there when this Tech Force TF90 dot sight was being designed. I watched it evolve over several years of development, as each new model was revealed at successive SHOT Shows. I even tested a forerunner of this sight in the 1990s for The Airgun Letter by mounting it on a Beeman P1 pistol.
The Tech Force TF90 was developed by Compasseco, who used a Chinese optics factory that also made sights for their military. According to Duane Sorenson of Compasseco, the optics and manufacturing details of this sight were superior to similar Chinese-made dot sights because of who built it. In the 1990s Compasseco did a lot of business in China and had enough influence to get products designed to their specifications, and Duane was especially proud of this sight.
Description
You can see from the picture that the outer shell of this sight is square, yet the optics are round. The objective lens is 28mm in diameter, which is in the middle size range for today's dot sights. Still, when you look through the sight, everything is clear and sharp, because the optics are very clean and there is no magnification.
The base is adaptable to both 11mm dovetails as well as Weaver dovetails. Everything you need comes with the scope, including elasticized square lens covers. It can fit on a wide variety of airguns and firearms.
The base is integral with the sight tube. There's nothing to do except clamp the sight to your airguns or firearms, and, yes, this sight should work well on firearms of at least the rimfire class. You'll need a recoil stop if you mount this on a gun that recoils and use the 11mm mount base, because it has no stop built in. The Weaver base takes care of that, of course.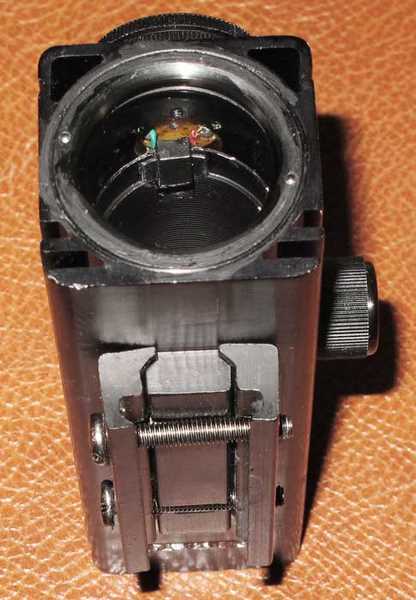 Here, the Weaver base has been installed. Note that the rear screw hangs below the base and engages the Weaver or Picatinny slot to serve as a recoil stop.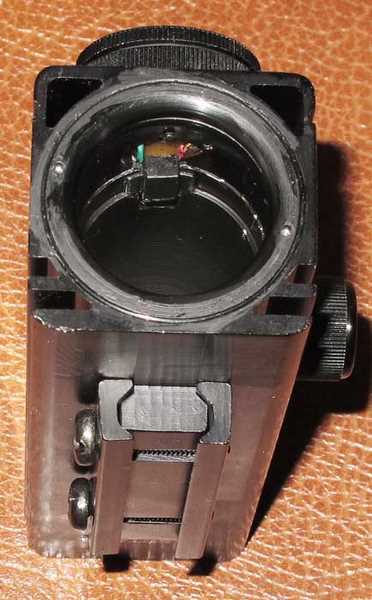 The base hardware can be swapped to make the base fit 11mm scope dovetails, too.
This is a very small sight. It's only 4-1/2 inches long, and the clamping base is just 2-3/8 inches long. That makes it ideal for those vintage air rifles that weren't really made for scopes but have 11mm dovetails for peep sights. I mounted it on my Hakim rifle and there was room to spare. Now, guns that are difficult to scope – such as the vintage Walthers, FWBs and Dianas — can have this optical sight installed.
The adjustments are the same elevation and windage knobs you've used with scopes. I don't have any information about how far each click of the adjustments will move the 3 MOA dot, but I've been adjusting it as though it has quarter-minute clicks, and so far (at 10 meters) it seems to have adjusted correctly.
What appears in the first picture to be the adjustment knobs are really caps. Remove them, and the knobs are adjusted with a screwdriver or coin. The clicks are very precise in both directions. The scales on the knobs, however, have no corresponding reference marks on the body of the tube. So, adjusting the sight is a matter of counting the clicks for each adjustment.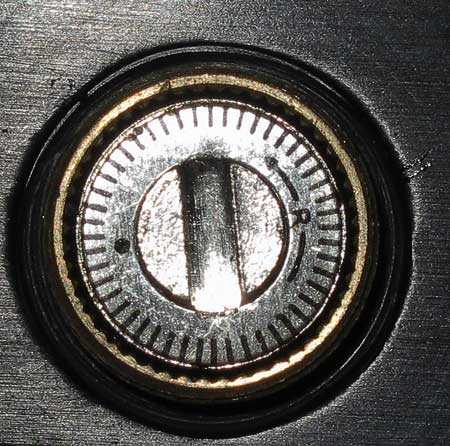 The dot's adjustment knobs are operated by a screwdriver or a coin. The clicks are precise, but there's no reference scale on the sight's body to register where you've adjusted.
The lenses appear to have a ruby coating. The tint is red, and I remember Duane telling me something like that. Ruby coatings are not really made from the mineral ruby. They're just called that because of the color. The red may help with certain light transmission. Steiner made them famous years ago, but they aren't commonly seen today. They can leave the other colors looking washed out, but they don't look like that to me. I am red-green colorblind, so I'm not the best judge.
The dot is a 3 MOA dot, which means it covers approximately 3 inches of area at 100 yards. But there are 7 different rheostat settings, so the dot can be made very bright. I find this sight to be many times brighter and more visible than the cheaper sights that sell in the same price range. This is more in line with my vintage Tasco Pro Point sight, as far as visibility is concerned.
As the light is intensified, the dot expands in size. There's no good way of measuring this, so don't ask how much. You use only as much brightness as you need to see the dot against the target, and I believe that cancels the expansion tendency. In other words, if the dot is just bright enough to see, it will always me about 3 MOA.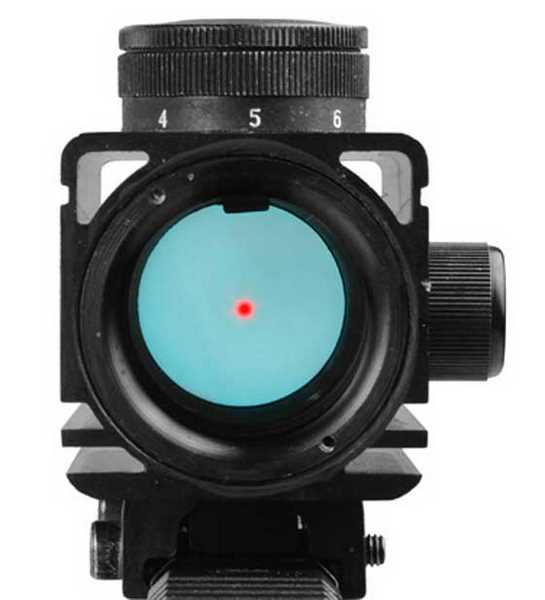 This image shows the dot larger than it appears. This is a camera reaction to the shutter remaining open long enough to see the dot. The image you'll see is crystal clear.
How does a dot sight work?
A dot sight works like a telescopic sight. When the adjustments are changed, the internal mechanism (an LED aimed at a lens with a reflective surface on one side) moves the dot without apparent movement to the user. The dot remains centered in the window as long as your head is on the stock at the same place every time.
Parallax?
People will tell you that dot sights don't have parallax, but that's incorrect. They have the same tendency for parallax as scopes. Because they don't magnify the target, the movement (of the dot against the target as the aiming eye moves) is hard to see — but it's there. And the sight will do its best at one range over all others.
Easier to use than open sights
But here's the deal. The amount of parallax error from a dot sight is less than the aiming error that results from an incorrect sight picture with traditional open sights. Said a different way, it's easier to be accurate with a dot sight than with traditional open sights. And, as eyesight degrades, this benefit becomes more pronounced. So, people with poor eyesight will often find that dot sights help them shoot better than they've been able to shoot with open sights.
Not the latest and greatest
A lot of time has passed since this TF90 was new, and the technology has certainly advanced far in this field. Today, we have dot sights with different colored dots, as well as different reticles to select — all in one sight. The TF90 was advanced for its day, but in today's market the same features are offered by a number of manufacturers. However, there's one huge difference. Nobody is selling a sight of this quality at this price! You get a bundle of quality for the price of a bargain-basement sight. That is what you have to consider when looking at this one.
There are a limited number of these available; and when they are gone, there will be no more. If a dot sight is something you've thought about buying, you may want to consider getting one or more of these. I have 2 Tasco Pro Points that I've owned for more than 15 years. At one time they were considered very good sights. Today, they have been surpassed by technology — but that doesn't make them worse. They're still very good dot sights, and so is the TF90.
I'll be reporting on this sight in future reports of other airguns — with the Hakim air rifle at 25 yards being the next one I do (click to read the Hakim 10-meter test with this sight). While there won't be a Part 2 to this report, you'll get to see how well this sight performs. I don't think I'm sending this one back to Pyramyd Air, because I can always use one more good optical sight!
by Tom Gaylord, a.k.a. B.B. Pelletier
This blog post was mistakenly published a day early, and we got some comments to it before we discovered that. So, for those of you who try to be the first to make a comment, it looks like you've missed your turn!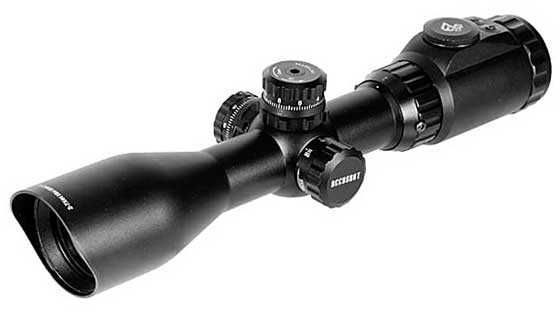 Leapers UTG Accushot 2-7X44 Scout scope is a remarkable sight!
This report covers:
• Scout scope on centerfire rifle
• My Mosin Nagant
• A powerful round
• What today's test is all about
• What about the scope?
• The mount
• Overall evaluation
Scout scope on centerfire rifle
This is a special report I promised several readers who are interested in this UTG 2-7X44 Scout SWAT scope. When I tested it on an airgun, I used the Crosman MK-177 Tactical multi-pump pneumatic because it allowed me to mount the scope out away from the eye. That was a good test, but it was also a forced one because I could have mounted any scope on that airgun. Scout scopes are made for those troublesome arms that don't allow the mounting of scopes in the conventional way. I asked Leapers to send me a mount for my Mosin Nagant 91/30 rifle — a centerfire rifle that needs a scout scope because of its straight bolt handle. While the bolt handle can be bent down to clear the scope, the scout scope is a non-gunsmithing solution that allows you to preserve the rifle in its original condition. Not that any Mosin Nagant in existence today is still in its original condition!
My Mosin Nagant
My 91/30 is built on an early action with a hex-shaped receiver. It didn't start out as a 91/30 but was converted by an arsenal at some point in its existence. The markings on the metal parts tell a story of numerous overhauls and refurbishments over the past century. Some early marks have been removed by grinding and polishing, while others are new and fresh. The action was very possibly made in the 19th century, yet the barrel is like new, as are many of the metal parts and the wood. The Soviet Union made good use of these rifles and refurbished them as necessary after each conflict, not unlike many countries. As a design, the Mosin Nagant has been in continuous service longer than any other military firearm.
A powerful round
This rifle is chambered for the Russian 7.62X54 rimmed cartridge made for what the Russians refer to as the "Three-line rifle" — with a Russian "line" being equivalent to one-tenth inch. It refers to the bore diameter of the bullet. It was adopted as standard in 1891 and is still in limited service today.
The cartridge is roughly the ballistic equivalent of our .30-06 Winchester cartridge. It's shorter — though much larger at the base. It is a rimmed cartridge, which means the action has to be made to handle the cartridge case without feeding problems. Rimmed cartridges give repeating actions feeding problems, which is why the majority of cartridges made for repeaters are rimless. But the Mosin Nagant action handles this cartridge reliably.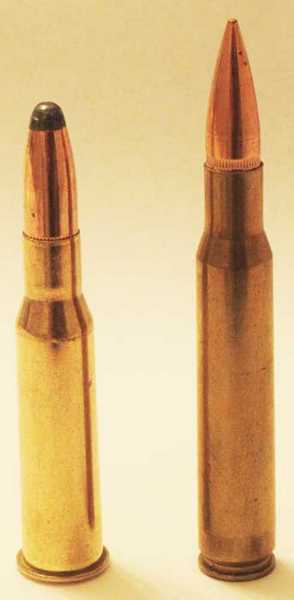 Mosin Nagant 7.62X54R on left, .30-06 cartridge on right. Both deliver similar ballistics in military loadings.
This Mosin cartridge exists in numerous different loads. The current sniper round has a 152-grain bullet leaving the bore at 2700 f.p.s. The standard for accuracy at 300 meters is all rounds inside an 80mm (3.1-inch) circle. Of course, the standard military battle ammunition is less accurate — keeping 50 percent of its shots inside a 90mm (3.5-inch) circle at the same 300 meters.
What today's test is all about
With such power must also come recoil, and that is what today's test was for. I wanted to see that this scout scope could stand up to the punishment of a heavier recoil. I fired 20 factory rounds and 20 reloads through the rifle, which is not a very big test. But if there are any major weaknesses, they should show up. And they didn't. After zeroing at 50 yards with the factory loads, I shot a 3-inch 10-shot group at 100 yards, and then rang the 6-inch gong at 200 yards with the remaining few rounds.
My reloads didn't do as well as I'd hoped. The bores on these rifles can vary in diameter from 0.309 inches to 0.313 inches, so you really need to slug the bore to know what diameter bullet your rifle likes. I haven't done that yet and was hoping to squeak by with some 170-grain lead bullets sized 0.312 inches, but it was not to be. I did manage to ring the 200-yard gong once out of 5 shots, but that's not what I'd hoped for.
What about the scope?
You can see in the photo where the scope is mounted relative to my eye. My head looks very erect on the stock, which it has to be to see the scope, but the image fills the eyepiece. The target is sharp and clear, even at the top magnification of 7X. The reticle is thick enough to pick out quickly, even against the deep woods; and, of course, it's illuminated, which is a blessing on a scout scope.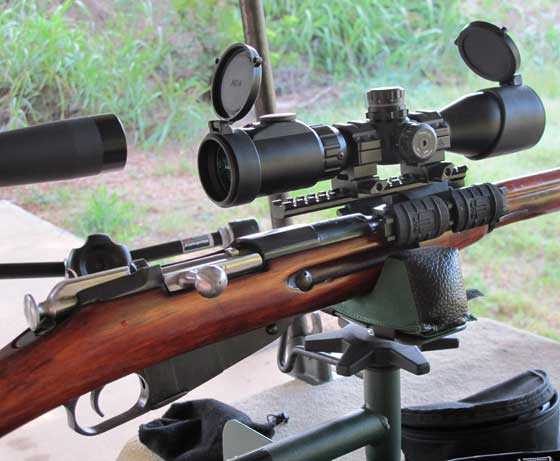 The UTG Mosin scout scope mount clears the action for loading and ejection. The straight Mosin bolt handle can be rotated up without interference.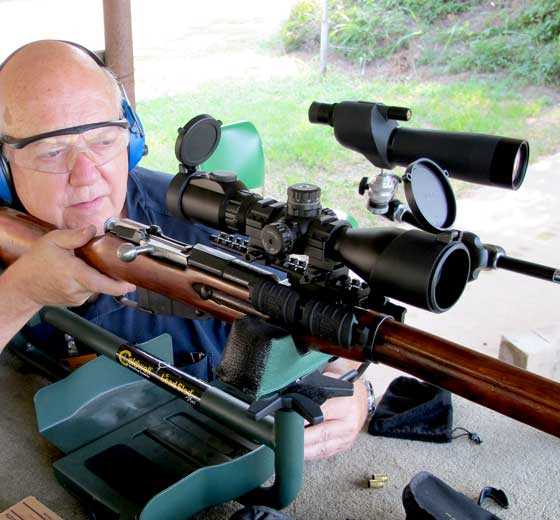 As you can see, my head has to be high on the stock to see the scope. This is due to the Mosin's stock, which drops away, but the scout scope is also mounted very high.
The adjustments worked as they are supposed to, and I got on target very quickly at 50 yards. I used the old standard of removing the bolt and sighting through the barrel to align the scope. The first shot was about 4 inches from the aim point, which is excellent for this kind of rough sight-in.
The mount
I haven't told you about the Mosin Nagant mount that Leapers makes. It replaces the rear sight blade and leaf, using the rear base to secure a Picatinny rail with 2 side rails. Rubber pads slip over the mount's side rails to keep them from cutting your hands when you handle the rifle.
Removing the rear sight leaf and attaching this mount was very easy. It took about 20 minutes total to finish the job, which included removing the sight parts first. The instructions are clear and concise, even though they address two different sight base kits for rifles and carbines. Once on the rifle and snugged down, the mount is rock-solid. It remained solid throughout this test.
The base is a tri-rail system with Picatinny rails on both sides, along with the main scope rail on top. These can be used for anything like lasers and tactical flashlights, though on a Mosin Nagant bolt-action rifle such accessories seem out of place. Perhaps hog hunters would like a light, though.
Overall evaluation
I've now used this scope on two different rifles — both with success. The first was an air rifle, and the second was this powerful centerfire. This is the first scout scope I've ever tested or used, so I don't have experience with the type – but I do know this one works as advertised.
I wondered if the image would be clear and easy to see, since the eyepiece is 10-11 inches from the eye. No worries there. The image is very large and bright, though your sighting eye can see things other than the target, if you want. Once you focus on the target and reticle, though, nothing else seems to matter.
If you need a scout scope, I can certainly recommend this one from the standpoint of functionality. The size and weight, though, are a different matter. This is a large scope that sits high above the barrel, so you need to give that some thought when making your decision. Most scout scopes are either fixed power or low-powered variables. I believe this one has the highest magnification on the market. If that's important to you, this may be the best scope out there.
by Tom Gaylord, a.k.a. B.B. Pelletier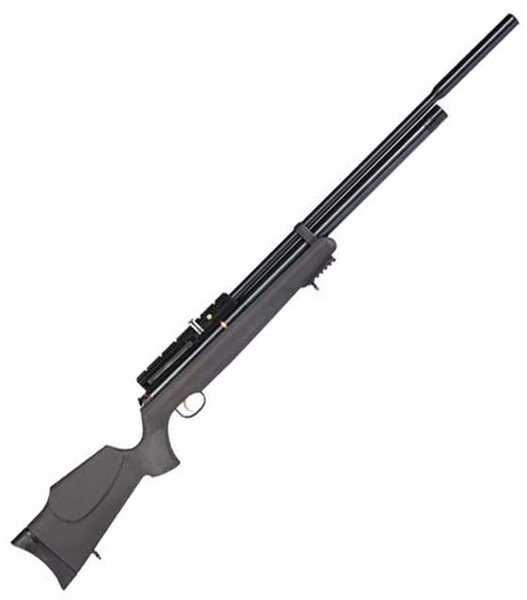 Hatsan's AT44S-10 Long QE is packed with features for airgun hunters.
This report covers:
• Inconsistent shots?
• Most accurate pellet?
• 100 yards means scope adjustments
• JSB Exact Jumbo heavy pellets
• Crosman Premier pellets
• H&N Baracuda Green pellets
• Gamo Hunter pellets
• Call it a day
• Conclusions
• Pyramyd Air sale
Today is a test of the Hatsan AT44-10 Long QE at 100 yards. I don't do this very often for many reasons; but when I find a PCP that's exceptionally accurate at 50 yards, I feel it's worth testing at the greater distance. It takes a perfect day for this test because any wind will push the pellet around. We don't get many windless days here in Texas, but this past Wednesday was one of them. It was so calm that dandelion fuzz would fall straight down.
You also know from reading this blog that groups do not always open in linear fashion as the distance increases. A rifle that shoots a half-inch group at 50 yards will not automatically shoot one-inch groups at 100 yards — even though the day is perfect.
Inconsistent shots?
While testing this rifle, I'd seen that the first 10 shots could be less accurate than the second 10. They sometimes contained fliers that didn't seem to exist in the second group. Yesterday, blog reader Jerry in Texas asked me why one shot out of 10 from his Benjamin Marauder was dropping in velocity by over 250 f.p.s. I told him I thought some PCP guns do that in certain places in the power curve. I saw evidence of that on the 50-yard range and again at 100 yards, as I'll show you.
Most accurate pellet?
I also hedged my bets by taking several pellets to the range that hadn't been tested in this rifle before. I was getting such great performance at 50 yards from one pellet in particular — the 18.1-grain JSB Exact Jumbo Heavy — that I sort of stopped testing other pellets. That's not very scientific of me, though it's very much in keeping with being a gun crank. So, I took some other pellets along and gave them a try at 100 yards — even though they'd not been tried by me before in this rifle.
100 yards means scope adjustments
I knew the pellet would drop a lot going from 50 yards to where the rifle was sighted to 100 yards. I guesstimated the drop would be at least 12 inches, which would be 48 clicks on the quarter-minute elevation knob to bring things back up. But when I adjusted the scope, I stopped at 40 clicks because you never know if the clicks are exactly quarter-minute or if that's just an approximation. As it turned out, both my guesstimate and the adjustments were close to correct, and I had to adjust the scope another 16 clicks up to get close to the point of aim.
JSB Exact Jumbo Heavy pellets
The first pellet up was the 18.1-grain JSB Exact Jubo Heavy that had given me a group of 10 in 0.522 inches at 50 yards. If any pellet was going to excel in this rifle at 100 yards, I felt this one had the best chance. Alas — the best-laid plans….
The best I was able to do with this pellet was 10 in about 3 inches. I shot the same pellet in both the first 10 shots and the second 10 shots per fill with pretty much similar results, except there was a flier in the first group. I'm not going to show you those groups because they don't help the report and also because the first group fell below the target paper and hit the 2×4 backer paper I always use when I'm not sure where the pellets are going.
At this point, I decided to punt — as in testing something I hadn't tried before. One reader had recommended trying the 15.89-grain JSB Exact Jumbo pellets, and I thought it was a good choice. It happens to be one of my favorite .22-caliber pellets, and I normally would have tested it at 50 yards; but when the heavier JSB did so well, I decided to just shoot it to the exclusion of all others.
I refilled the rifle with air and loaded 10 JSB Exact Jumbos into the circular clip. The first group was very telling. Nine out of 10 pellets landed in a 1.668-inch group, but the first shot hit about 4 inches above the top of this main group. Remember what I said about inconsistencies in the first 10 shots after a fill?

Nine of the 10 JSB Exact pellets landed in this 1.688-inch group at 100 yards. The first shot was 4 inches higher. This is a very good group for any pellet rifle at 100 yards.
After that group, I refilled the clip and shot a second group with the same pellet. This time, all 10 went into 2.385 inches. I know that doesn't sound very good, but I ask you to reserve your comments until you have shot some 10-shot groups of pellets at 100 yards. It isn't easy! And guns that group in a half-inch at 50 yards do not necessarily group in one inch at 100 yards.
Look at the shapes of these holes. Many are oval in shape, which indicates they didn't go through the paper straight-on.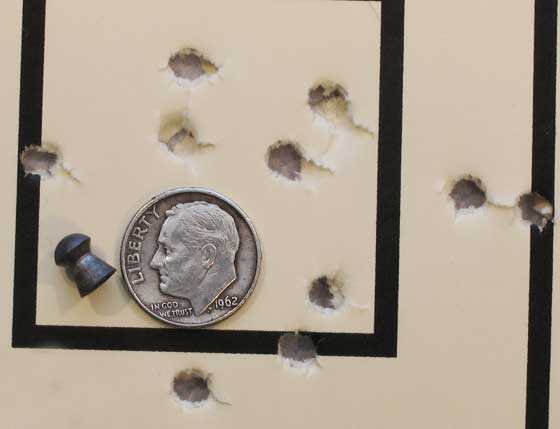 Here are 10 of the same JSB pellets in a 2.358-inch group. These oval holes show some evidence of a tilt on axis.
Crosman Premier pellets
One of the most accurate .22-caliber pellets is the domed Crosman Premier that comes in the brown cardboard box. Sometimes, they're the most accurate, and other times they're among the top 3. But in PCPs they don't do as well — especially when the PCP is more powerful such as this Hatsan. And this was no exception to that rule, as Premiers couldn't stay inside 6 inches at 100 yards. I didn't even complete a group with them after seeing the first few shots land so far apart.
I'd planned on trying Eun Jin pellets, as well; but when I started loading them, I discovered that the tin I picked up were .25-caliber pellets.
H&N Baracuda Green pellets
The next pellet I tested was the H&N Baracuda Green. While lead-free pellets are not that accurate as a general rule, Baracuda Greens are an exception. In the Hatsan, they managed to put 10 shots into 5.25 inches, with 9 of those shots in 2.988 inches. That's pretty good for lead-free pellets; and, yes, this was the first group of 10 after a fill.
Gamo Hunter pellets
The last pellet I tried was the Gamo Hunter. While I have very little experience with this pellet, I do recall it working well in one spring rifle years ago. But it was not suited to the Hatsan AT44. I didn't see where the first Hunter struck the target; but I saw the second pellet's flight through the scope, and it was a wild spiral curve to the right that landed a foot off the target! Clearly this rifle is not suited to shoot Gamo Hunters.
Call it a day
After this last attempt, I decided to call it a day. The shooting had worn me out by this time. I think it's clear that of the pellets I've tested so far, the JSB Exact 15.89-grain Jumbo is the best. Out to 50 yards it may do no better than the heavier 18.1-grain JSB Jumbo Heavy, but something about this lighter pellet carries it to 100 yards in better form.
Conclusions
I believe the Hatsan AT44-10 Long QE is one of the finest PCP rifles on the market at any price. It has power, accuracy, a great trigger and very quiet operation –all for a wonderful price. If you're in the market for a good PCP, I would put this one on your short list.
Pyramyd Air sale
Pyramyd Air is having a "Christmas in July" sale. If you're planning to make a purchase, click here to visit their sale pages.
by Tom Gaylord, a.k.a. B.B. Pelletier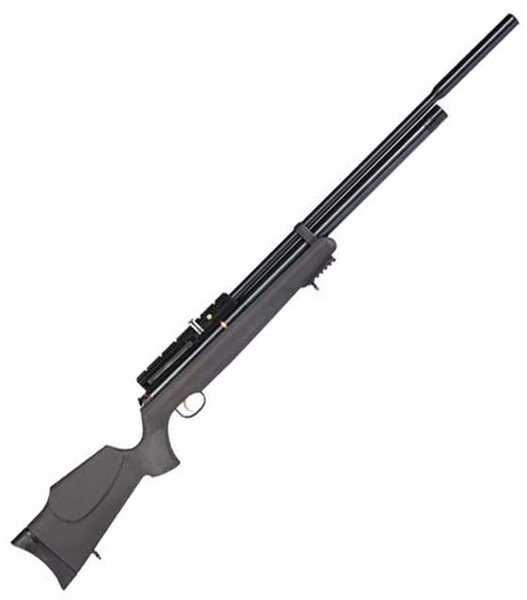 Hatsan's AT44S-10 Long QE is packed with features for airgun hunters.
This report covers:
• Fast becoming a favorite
• Accuracy test
• Stunning first group!
• Tried RWS Superdomes
• Finish with JSB pellets
• Overall evaluation
• 100-yard test
Fast becoming a favorite
Today, we're back at the 50-yard outdoor range with the Hatsan AT44S-10 Long QE rifle — an air rifle that's fast becoming a favorite of mine. I think you'll see why in this report.
Last time, I showed you some excellent 10-shot groups from this rifle at 50 yards. That day was perfectly calm, and by chance the second pellet I tried turned out to be the one to shoot. The 16-grain Air Arms Diabolo Field pellet delivered some great groups, including one 10-shot screamer that was just 0.624 inches between centers. I resolved to return to the range another day to see if this was just a one-time thing or if the rifle could deliver such stunning accuracy all the time.
Accuracy test
This day was not perfect. There was a little breeze sometimes, but in the beginning it could be waited out. It was only 1-3 m.p.h. when I began shooting. Last time, I learned that the first 10 shots on a fresh fill weren't as accurate as the second 10, so I filled the rifle to 200 bar and loaded ten 18.13-grain JSB Exact Jumbo Heavy pellets, thinking that I would save the sure-thing Air Arms pellets for the second 10.
Stunning first group!
But my first group was stunning! Nine of the 10 pellets went into 0.552 inches and only shot 8 strayed from the main group. It enlarged the group to 0.916 inches, which is still commendable for 10 shots.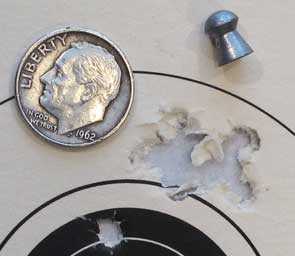 Nine JSBs in 0.552 inches! Shot 8 opened the group to 0.916 inches, which is still excellent.
Now that the first 10 were shot, I thought the rifle was going to give me a wonderful second group with the Air Arms pellets — but for some reason, it didn't. Ten went into 1.434 inches, with 5 of them clustered in 0.212 inches. How do I make sense out of that?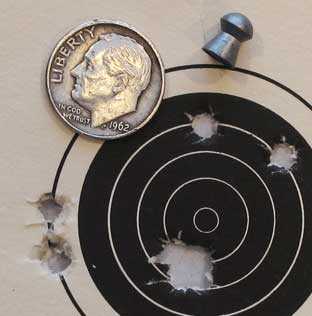 Five shots in that tiny (0.212 inches) hole, but the other 5 went everywhere else (1.434 inches)!
The Hatsan is short of breath, and there are only 20 good shots per fill if you're shooting groups at 50 yards. I filled the rifle, again, and once more I shot the first group of 10 with the JSB Exact Jumbo Heavys. This time, they were a little more open than the first time, but they still managed to all be within 0.676 inches. That's actually smaller than the first group was, and it's close to the size of the best group from the previous session (0.624 inches).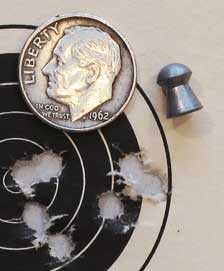 The best group of this session! Ten pellets went into this 0.676-inch group.
The second group I shot was 10 Air Arms pellets, and this time they really opened up. Ten went into 1.334 inches, with 8 of them in 0.824 inches. Apparently, Air Arms pellets were not going to do as well on this day as they had during the previous session!

For some reason, the Air Arms pellets didn't want to group together on this day. Ten in 1.334 inches with 8 in 0.824 inches.
Tried RWS Superdomes
I brought some RWS Superdomes along — just to try one more pellet. But the first shot was 14 inches from the aim point (!!!) and the next shot was 6 inches from that! I ejected the clip and removed all the pellets. That's just wasting air.
Finish with JSB pellets
I filled the rifle once more and this time decided to just shoot the JSB pellets since they seemed to want to do better. The first group of 10 went into a whopping 1.71 inches, which was surprising. The second group of 10 was 1.351 inches apart, and I was now having to fight a growing breeze. I can't say how much the wind affected the last 2 groups, but it probably had some impact.

This time the JSBs didn't stay together too well. Ten went into 1.71 inches. This just shows that sometimes the bear eats you!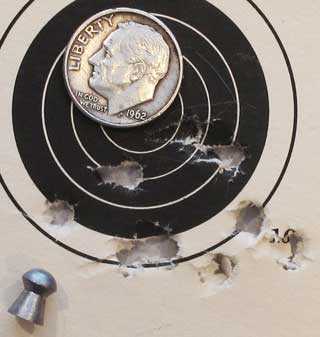 The second group on this charge is a little better — at 1.351 inches. It isn't always sweetness and light!
Overall evaluation
Based on the results of these two days at the range, I have to say the Hatsan AT44-10 Long QE is one of the most accurate precharged pellet rifles I've ever shot. It may not be the most accurate, but it has to be in the top 5!
It's amazing that an air rifle this powerful is also quiet. It sounds about as loud as my vintage Diana model 27 spring rifle, yet I know it's producing 35-47 foot-pounds of muzzle energy. And the trigger, while not the absolute finest I've ever tested, it still right up there in the top 10.
Hatsan has hit the ball out of the park with this rifle! They're pricing it to compete with the Benjamin Marauder, and it absolutely kills the more expensive European PCPs in all categories except appearance. But I'm the kind of shooter who wants to hit the target. I don't care that much what my rifle looks like — as long as it can deliver the mail.
100-yard test
The last time I had a PCP that was this accurate was when I tested the AirForce Airguns Condor SS, and that rifle put 10 pellets into one inch (1.003 inches) at 100 yards. This Hatsan isn't quite as powerful as the Condor SS, but I'm willing to give it a try at that distance. So, there will be a Part 5 to this series!
by Tom Gaylord, a.k.a. B.B. Pelletier
Today's report is Part 2 of the guest blog from Tyler Patner, a Pyramyd Air customer sales and service representative and enthusiastic field target shooter. He's finishing his report of a BSA Scorpion SE, and today's blog is all about accuracy.
If you'd like to write a guest post for this blog, please email me.
Over to you, Tyler.
by Tyler Patner
This report covers:
• Accuracy at 20 yards
• Accuracy at 40 yards
• Trigger and safety
• How loud is it?
• Final thoughts

BSA Scorpion with beech stock.
In the first report, we used a chronograph to measure the velocity of the .25-caliber BSA Scorpion SE. Just looking at the chrony numbers, I would guess that .22 caliber is really optimal for the Scorpion SE. I'd bet a rifle in that caliber could put out the same energy as the .25 and maintain the same or better shot count. But don't discount the .25-caliber Scorpion SE. While clearly underpowered, today's accuracy testing will show just why the this rifle should be on your short list.
Accuracy testing was done at 20 and 40 yards. Normally, I would do 25 and 50 yards, but my current range has a max of 40 yards. The Bushnell Elite 8-32X40 scope was set on 16X, and the shooting began. I should note, I was using only a front bag rest and shooting off a very wobbly plastic table, but even those hindrances could not keep the Scorpion SE from impressing me! A .25-caliber hole is a bit bigger than I'm used to seeing. I shot 3 groups to warm up and then refilled for the 20-yard test.
Accuracy at 20 yards
The first pellet shot at 20 yards was the JSB King. They stacked 5 into a tight 0.43-inch group, starting things out nicely.

Five JSB Kings went into this 0.43-inch group at 20 yards. This is a good start.
Next was the Benjamin Destroyer pellet at 27.8 grains. This is shaped similarly to their Destroyer in .177 and .22 calibers. Four shots went into a 1.30-inch group, with the fifth shot flying high about 2 inches. The overall size came to 2.60 inches for 5 shots, which is beyond poor. The Benjamins were not included in the 40-yard test for that reason.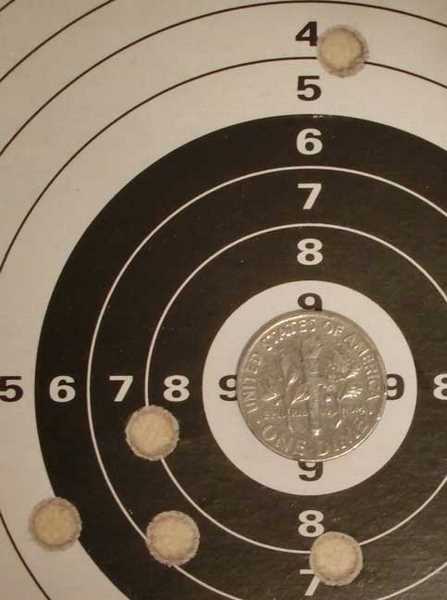 Five Benjamin Destroyers went into 2.60 inches at 20 yards, with 4 in 1.30 inches. This isn't the pellet for this rifle.
The Predator Polymags did surprise me a bit. Not only did they just barely squeeze into the magazine, but they actually grouped pretty well. A 0.54-inch group of 5 at 20 yards made a nice-sized hole that would certainly be adequate for small game. The Polymags have proven, time and time again, that they're the premier hunting-specific pellet and can smack small game with devastating results.

Five Predator Polymags went into 0.54 inches at 20 yards. This is another good pellet for the Scorpion SE.
The lighter-weight H&N Field Target Trophy grouped decently, with 5 in 0.79 inches. I pulled the fourth shot a bit, as my wobbly table wasn't quite stable. I did shoot them at 40 yards, as well, but the results were not worthy of showing here.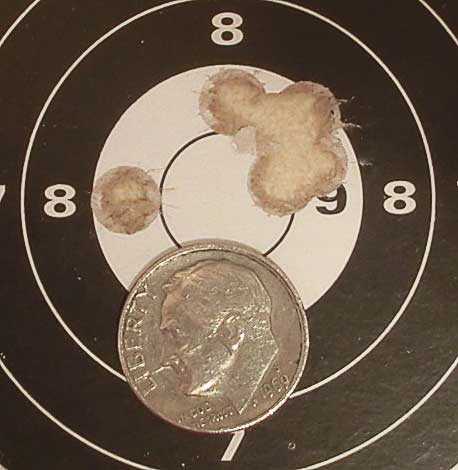 Five H&N Field Target Trophys went into 0.79 inches at 20 yards. This is another good pellet for the Scorpion SE.
The pellet that surprised me the most was the H&N Baracuda Hunter Extreme. With a cross cut on the head of the pellet, it's certainly eye-catching, with major accuracy to back it up! A 0.35-inch, 5-shot group (basically one single hole) was more than enough to get my attention. Twenty yards is not a long distance for PCP guns; but when you lace 5 shots in a row through a single hole, it immediately gets your attention!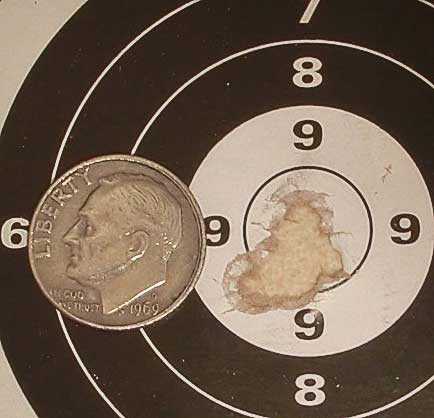 This is what I wanted to see — 5 H&N Baracuda Hunter Extremes went into 0.30 inches at 20 yards.
Next up were the Beeman Kodiaks. Being made by H&N, I was pretty confident they'd group similarly to the Baracuda Hunter Extremes, and they did. A 0.32-inch group of 5 bettered the mark set by the Hunter Extremes at 20 yards. The two pellets are very similar in terms of shape; and aside from the cut out in the head of the Hunter Extreme, they showed little difference in accuracy at 20 yards.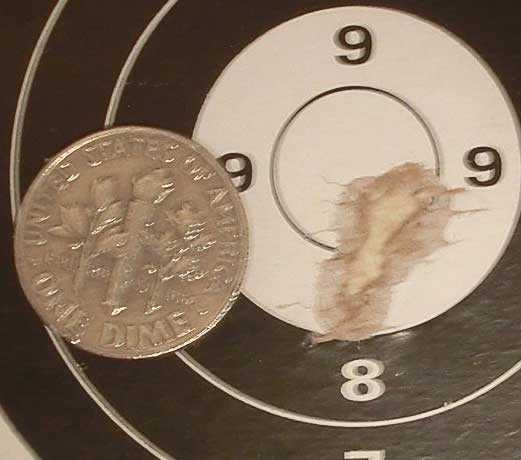 Beeman Kodiak pellets put 5 into 0.32 inches at 20 yards.
Accuracy at 40 yards
I chose to go with the Kodiaks, Hunter Extremes, Predator Polymags and JSB Kings for 40-yard testing. The results were all very good, which shows the versatility of the BSA barrel. This is something I've come to appreciate about the BSA guns I've owned. They all seem to be very even-tempered in terms of pellet selection. All too often, I test guns that will shoot only one pellet, and everything else groups horribly. That's all well and good, but only if the pellet the barrel likes is accessible, consistent from die to die and not too far on either side of the weight spectrum so your trajectory is reasonable. For testing at 40 yards, I shot two groups just to try to remove the potential for human error because we all know the gun is rarely the problem. It's the jerk behind the trigger!
First up were the Beeman Kodiaks, and they did not disappoint — giving a 0.50-inch group. Bear in mind the pellet is half the size of the group, so you are looking at two holes at the end of the day.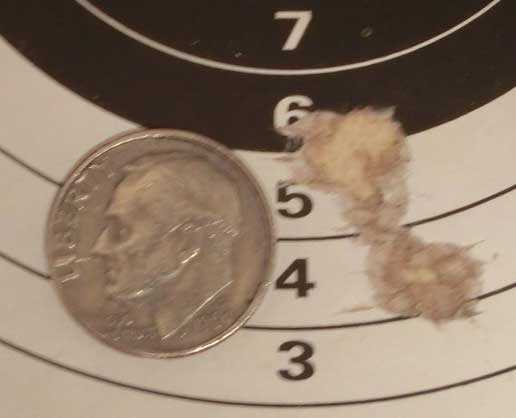 At 40 yards, 5 Beeman Kodiaks went into 0.50 inches.
The Predator Polymags at 26 grains grouped very well at 40 yards, making a 5-shot group that measured 0.65 inches. I would be very confident with a magazine of these in the Scorpion SE if I was going out after squirrels or pest birds. Raccoons and opossums would also be well within the Scorpion SE's game menu. Accuracy like this will pretty much assure you of a clean head shot or vital organ shot if you do your part. The extra bit of expansion the Predators offer would also come in handy.

Five Predator Polymags went into 0.65 inches at 40 yards.
The overall best group of the day (and not just at 40 yards) was made with JSB Kings. After looking like the H&N/Beeman pellets would run away with the accuracy testing, the Kings came back in a big way. I managed to put 5 shots into a single hole measuring 0.27 inches. Basically, that's the size of the pellet. The next group opened up ever so slightly, but it was clear that the Kings are the way to go.

JSB Exact Kings made the best group of the day, with 5 in just 0.27 inches! This is great for 40-yard accuracy.
The Baracuda Hunter Extreme was the last pellet tested at 40 yards, and they grouped well also at 0.42 inches for 5. That was the best I could manage; and if the expansion of the Hunter Extremes is better than the average domed pellet, then I would say they're the most accurate hollowpoint I've ever shot in any gun past 10 yards. Generally, hollowpoints suffer a bit in the accuracy department; but I think that because the Hunter Extremes are not a complete hollowpoint, they fly just a bit better. Either way, these pellets work well, so H&N has a definite winner with them.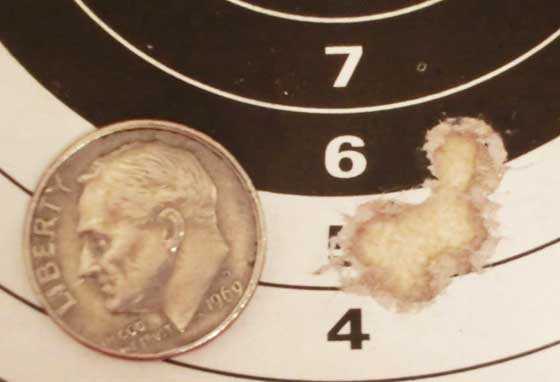 Five H&N Baracuda Hunter Extremes made the best group of the day for hollowpoints, with 5 in just 0.42 inches!
Trigger and safety
The trigger on the BSA Scorpion SE was unadjusted since it came out of the box crisp and relatively light for a hunting trigger. It measures an average of 2 lbs., 2 oz. over five pulls. I know the trigger can be adjusted much lighter than this; but for the hunting crowd, that won't be necessary.
The manual hunter-style safety is located on the left side of the action. I've seen the triggers adjusted so light that an engaged safety won't stop the gun from firing when the trigger's pulled. So, be careful when adjusting this trigger — or any trigger for that matter. Test it before you load the gun and make sure the safety still stops the gun from firing after adjustments are made.
How loud is it?
On the subject of noise, the Scorpion SE is pretty loud. It's not backyard friendly, and I would rate it a 7 out of 10 (10 being the loudest). If this were a 45-50 foot-pound gun, then the noise would be up in the 9-10 range; but at 30 foot-pounds, it's fairly tame for an unshrouded gun. That said, the air stripper on the muzzle also doubles as a thread protector covering the 1/2-inch UNF threading that could accept a more useful air stripper or muzzlebrake if you choose to add one.  [Editor's note: Silencers are subject to federal legislation. If an airgun silencer can be attached to a firearm and quiet the report, it must be licensed.]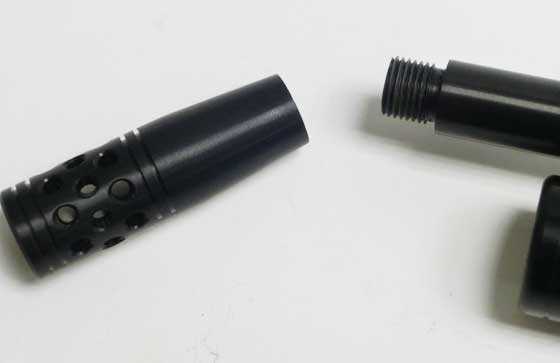 The air stripper/muzzlebrake covers 1/2X20 threads.
Final Thoughts
The Scorpion SE represents a step forward for BSA airguns. The new features like the redesigned magazine and gauge show that they're listening to what their customers want and need. All the while, they're not changing the things they know are proven to work. Their barrels are still some of the best out there, and their overall quality and precision shines through.
There are a lot of options in the mid-priced PCP realm, and the BSA may be overlooked because of its relatively low power level; but if you're looking for a precision shooter with adequate power for small game, then I would highly recommend taking a look at the BSA Scorpion SE. My experience with BSA products has been stellar over the course of many years, and I'm confident you'll come to the same conclusion after just a few shots behind the trigger of their PCP works of art!
by Tom Gaylord, a.k.a. B.B. Pelletier
Part 1
Part 2
Part 3
Part 4
Part 5
This report covers:
• Rifle was set up
• The hold
• Accuracy
• A hunter's rifle
• Comparison with the first rifle
This is accuracy day with the second Benjamin Trail Nitro Piston 2 rifle — the one Crosman sent especially for this test. We've already seen how this second rifle exceeds the power of the first one, so today we'll see what impact that has on accuracy. As with the first rifle, I'll shoot 14.3-grain Crosman Premier pellets exclusively in this test.
Rifle was set up
When I unboxed the scope, I found the rings already installed in the correct location, meaning I could install them directly on the rifle. That proves this rifle has been tested and set up before I received it. The scope went on quickly, and I found it was very close to being sighted-in; but the inability to focus the target as close as 25 yards was a hinderance to aiming. I estimate my groups were a quarter-inch larger than they needed to be because I couldn't see well enough to put the crosshairs on an exact spot. The scope arrived set at 4X, which indicates the rifle was tested at 10 meters or yards before it was sent. At 25 yards, I wanted to see the bull more clearly, so I adjusted it to 9X. But as I said, the focus was off because the scope is parallax-adjusted for a longer distance.
The hold
I refined the sight setting and proceeded to test the hold I thought would do best — based on results from the first rifle's test. I also tried several other holds and hand placements, establishing one thing for certain. The NP2 wants to be held firmly. Do not use the artillery hold. Instead, I found it best to slide my off hand out to almost the end of the stock and grip the forearm firmly. I can feel the forearm screw holds on the tips of my thumb and fingers, so I know my hand is in the same place every time. Any hold that wasn't firm allowed pellets to rise vertically. I fired probably 30 shots testing just the different holds and pressures.

When I used the classic artillery hold, this is what I got at 25 yards — every time! They're all in line but off vertically. The NP2 wants to be held firmly.
Accuracy
I then shot three 10-shot groups using the factory scope. The best of them measures 1.104 inches between centers, and the worst measures 1.168 inches. I really tried to do well, but the blurriness of the target did cause my aim to be off.

The best 25-yard group using the factory scope and the best hold measures 1.104 inches between centers. No, I didn't get the images mixed up. This group is slightly smaller than the one below.

The worst group with the factory scope isn't much different than the best. Ten Premiers went into 1.168 inches at 25 yards.
I felt the factory scope was hindering my best efforts, so I swapped it for an older CenterPoint 3-9X40 with an adjustable objective. This scope is one CenterPoint no longer carries. It's a simple scope without an illuminated reticle; and other than the larger objective lens and the AO, it's close to the scope that came with the rifle.
I allowed a day to pass between the first shooting session and the second because too much concentration makes me lose my edge. The next day, I shot another four 10-shot groups, plus some more sighters to get the scope shooting where I wanted. On this second day, my groups ranged from 0.895 inches between centers to 1.483 inches. I learned as I went, refining the hold that seems to be critical with the NP2. The worst group, for example, came when I experimented with the firmness of the offhand grip.
By the end of the session, I knew what this rifle wants — a firm hold of the off hand as far out on the forearm as you can comfortably hold and a firm hold of the pistol grip. Pull the butt into your shoulder firmly. This is not a death grip — just a firm hold, and it seems to be what the NP2 wants.

The best group with the second scope measures 0.895 inches between centers at 25 yards. The second-best group was almost the same size as this.

The worst group with the second scope measures 1.483 inches between centers at 25 yards. I was experimenting with the firmness of my grasp during this group.
I'm not through with this rifle, yet. Each one of my second-session groups contains a large cluster of shots that are very close, then some strays that wander off — usually down, but not always. I think I'm close to understanding what this rifle wants, but I'm not there yet. I think it needs a very repeatable offhand grasping pressure. I'll give it one more session and also shoot some different pellets next time — to see if I have been missing anything by shooting Crosman Premiers exclusively.
A hunter's rifle
I have seen rifles like the NP2 before. They take some getting used to, but they reward the shooter with incredible accuracy once their secrets are learned. They're rifles for hunters who use only a single rifle for all their needs. For the price this air rifle costs, I don't think you can get one that's any better.
Comparison with the first rifle
The first NP2 also took getting used to; but when I did, it gave me a best 25-yard group of 0.704 inches at 25 yards. So far, this rifle has given a best of 0.895 inches. Both rifles seem to want to do better, but I haven't discovered quite how, just yet.
by Tom Gaylord, a.k.a. B.B. Pelletier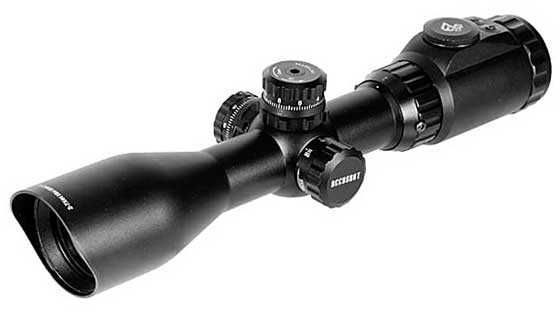 Leapers UTG Accushot 2-7X44 Scout Scope is a remarkable sight!
This report covers:
• What is a scout scope?
• Magnification
• Bright!
• The test
It's been a long time since we looked at this UTG 2-7X44 Scout SWAT scope, and I want you to know that it isn't because the scope isn't interesting. It's very interesting. But other questions and products always seemed to get in the way of this third report. Today that ends, as we'll take another look at this great scout scope.
What is a scout scope?
Scout scopes are scopes that have very long eye relief. Where a normal long eye relief scope might allow you to position the eyepiece 4-5 inches from your eye, a scout scope lets you get back 9-11 inches. This scope we're looking at today has an eye relief of 9.5 to 11 inches, so it spans almost the entire length that all scout scopes provide.
You use scout scopes when there's a reason. Either the rifle's action has parts that get in the way of a scope being mounted in the normal place — such as the Mosin Nagant bolt-action rifle family whose straight bolt handles rise 90 degrees when the bolt is opened, or there needs to be some clearance for cartridge ejection — such as with the M1 Garand and Winchester model 94 rifles. While there are other ways of mounting scopes on these guns, with the left side mounts being the most popular, a scout scope allows you to look straight ahead, so there will never be a problem adjusting the side angle of the scope's optical axis to coincide with the bore.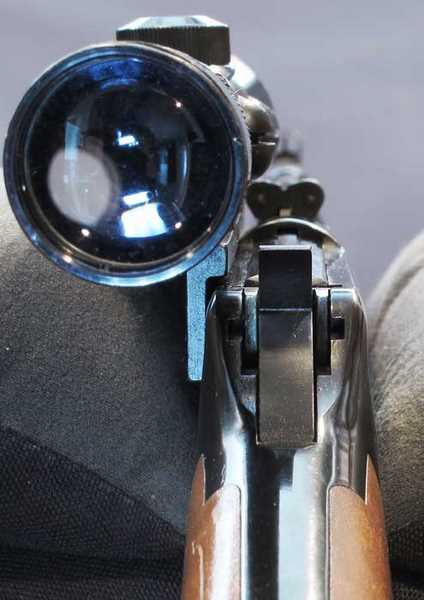 If the scope can't be mounted above the receiver, such as on this Winchester model 94 lever-action rifle that ejects straight up, a side-mounted scope has been the traditional solution. The scout scope puts the scope above and in line with the bore, making alignment issues less critical.
Magnification
Scout scopes typically don't have much magnification. That's their weak spot. I guess it's technically difficult to provide such a long eye relief and also magnify the target image, or perhaps they don't do it because of how much the field of view diminishes as the scope goes out farther from the eye. What I do know is that Leapers gives us 2-7 magnifications with this UTG scope, which puts it at the top end of today's scout scopes.
Bright!
A second big plus with this scope is its brightness. I was able to see the target clearly and make fine aiming adjustments at 7-power. That comes in very handy when you're putting the thin mil-dot reticle on the target. This Leapers scope has reticle lines fine enough to shave with.
On top of that, this reticle is illuminated; so if the black lines are hidden by the target, they can be lit. All things considered, this is one fine hunting scope. I'll say more about that in a bit, but let's now test it at 25 yards.
The test
The scope is mounted on a Crosman MK-177 Tactical multi-pump pneumatic rifle. While that rifle doesn't need a scout scope, it's one of the few airguns that has a Picatinny rail long enough to mount such a scope at the correct distance from the eye.
I learned in the last test at 10 meters that this rifle does well with Air Arms Falcon pellets, so I used them exclusively in this test. Since I was shooting from 25 yards, I decided to begin with 6 pumps per shot. That should give a muzzle velocity of about 600 f.p.s. With multi-pumps, I've found that 5 or 6 pumps are sufficient for good accuracy at 25 yards indoors.
The first group was shot with the scope as it was left adjusted after the 10-meter test in April. The pellets landed high and to the right, with the group's center being 2 inches high and .75 inches to the right. The first 10 pellets went into a group that measures 0.837 inches between centers. While that isn't a wonderful group for most air rifles, it's pretty good for an inexpensive multi-pump like the MK-177.
The first group of 10 Falcons went into 0.837 inches at 25 yards.
Following this group, I adjusted the scope 6 clicks to the left 6 and 14 clicks down for the second group. This was also shot with 6 pump strokes per shot. Ten pellets went into 1.063 inches. Again, not the best group but still pretty good for one of these rifles. Note that the pellets did hit lower on the target following the adjustment.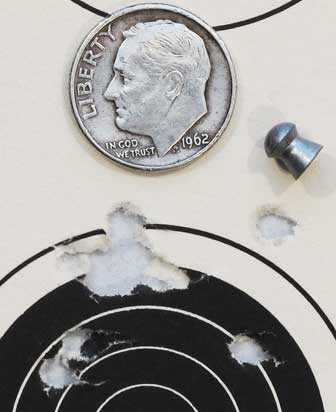 Following a scope adjustment, group 2 put 10 Falcon pellets into 1.063 inches at 25 yards.
I adjusted the scope down 6 more clicks and shot the next and final group. This time, I decided to pump the rifle 8 times for each shot — just to see what difference it might make, if any. Ten more shots went into 0.958 inches. The group was lower but also moved to the left. I must not have the scope leveled on the rifle. And that also makes me wonder if a scope level would help decrease the size of the groups. Several times, I found myself wondering if the gun was canted. The MK-177 doesn't have the clues that a conventional rifle stock would have. It's like holding a plank in your arms.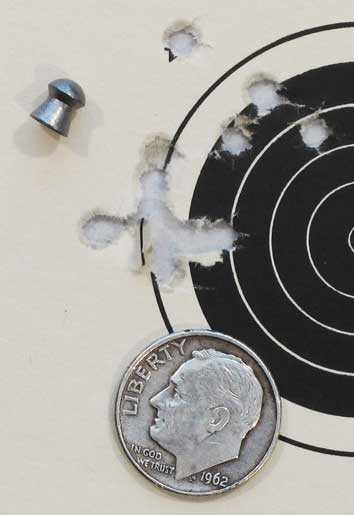 For the third group, I adjusted the scope again and also pumped the rifle 8 times for each shot. It put 10 into 0.958 inches at 25 yards.
Okay, that's today's test. Remember, I was really testing the scope and not the rifle. I found it to be clear, sharp and very easy to use. The adjustments moved the reticle positively every time. Maybe a scope level could help accuracy, but that remains to be seen. I don't think I've done this wonderful scope justice, yet.
I will now look into mounting this same scope on one of my firearms, so we can continue to look at it. This scope can take some of the budget-priced firearms like the Mosins and SKS/AKs and turn them into useful hunting arms for a fraction of the cost of a new rifle. If you're in the market for a good scout scope, I think you better look at this one!