by Tom Gaylord, a.k.a. B.B. Pelletier
Benjamin Marauder .177 caliber Part 1
Part 2
Secrets of loading the Benjamin Marauder magazine
Part 3
Part 4
Part 5
Part 6
Fixing a Marauder magazine
Part 7
Benjamin Marauder .25 caliber Part 1
Benjamin Marauder .25 caliber Part 2
Part 3
Part 4
Benjamin Marauder .22 repeater with synthetic stock Part 1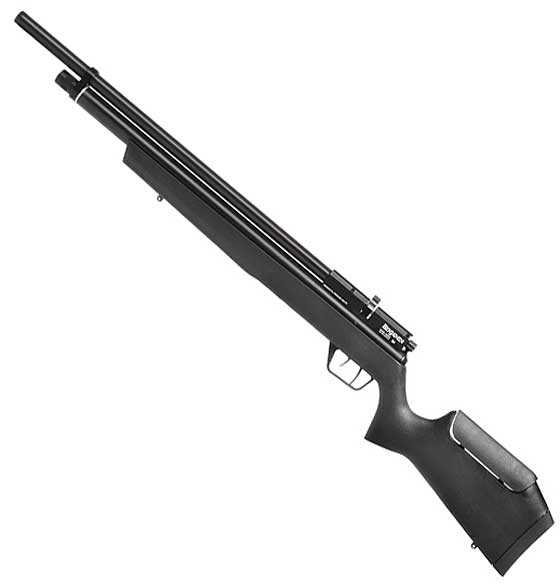 New Benjamin Marauder with synthetic stock has all the features of the classic Marauder in a lighter, trimmer package.
Today is our second look at the .22-caliber Benjamin Marauder with synthetic stock. We have a new log reader who goes by the handle AirrifleRatHunter, and he just bought a synthetic Marauder and it's his first PCP, so I want to help him with his rifle.
Baffled?
ARH said his rifle wasn't as accurate as he thought it should be. We found that he was using substandard pellets and corrected that, but I also mentioned to him that the baffles inside the shroud could be involved. He asked me what baffles are, so I'm now showing them to everyone. The test Marauder has 7 Delrin washers (the baffles) that are shaped to strip away the compressed air behind the pellet once it leaves the rifle's muzzle, which is buried deep within the shroud. I've laid out these parts for you to see how they work. If the pellet were to touch one of these baffles as it passes through, it would destroy accuracy.

Here you see all the baffles that are held inside the shroud under spring tension, so they don't rattle around.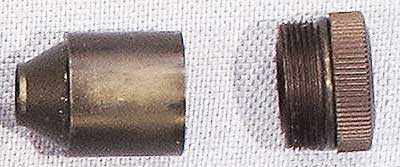 Looking at a single baffle shows that the compressed air that's behind the pellet gets stripped to the sides by the shape of the baffle (on the left) as the pellet passes through its center. This happens 7 times in succession before the pellet leaves the gun. The end cap that pushes the baffles against the coiled spring at the back has an o-ring to keep the air from escaping around its threads.
One other accuracy tip is to ensure that the shroud is not touching the forward barrel band on any side. Mine was touching on one side when I got the rifle, so I loosened the 2 set screws on the bottom of the band and repositioned it.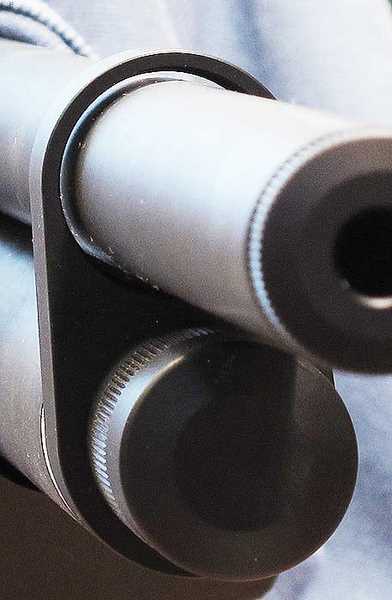 I have repositioned the front barrel band so it clears the barrel shroud around its entire circumference.
Today is setup day, where I will adjust the rifle to suit myself. The first thing I did was select a scope and mounts. Marauders have a low receiver, which means you need to select a higher scope mount if the objective bell of your scope is a large one. I chose a Leapers UTG 4-16X50 scope with illuminated reticle, but mine is an older model than the one I linked to. Nevertheless, it's a big scope with a large objective bell that needs height to clear the barrel shroud.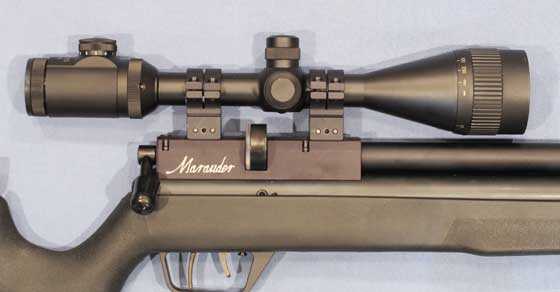 See how close the objective lens comes to the barrel shroud — despite my using high mounts? Also note that the magazine needs clearance, so the scope mount must be 2-piece.
You have to either use a 2-piece mount or a cantilever 1-piece mount that will clear the magazine sticking up above the receiver, so keep that in mind when looking at mounts. I chose BKL one-inch mounts with double straps that are high enough for the gun and scope combination. The double straps mean that you don't need to worry about the torque sequence when you tighten the screws in the scope caps because each strap is independent.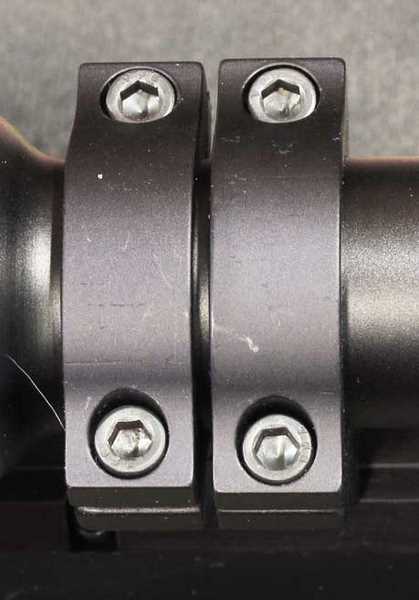 These clever BKL scope caps relieve you of the need to follow a torque procedure when tightening the cap screws.
Adjust the cheekpiece
Usually, I have to just adapt to whatever gun I'm testing because most of them don't have any ergonomic features. But the new Marauder synthetic stock does have an adjustable cheekpiece. I was able to raise it up so my eye in in line with the scope's exit pupil when I shoulder the rifle normally. What a convenience that is!
The new trigger
The Marauder's trigger has been moved back in the receiver by about one-half inch, which brings the blade closer to the pistol grip. The result is a nicer feeling when you hold the rifle because your hand doesn't have to stretch to reach the trigger. I never noticed it until I shouldered the new rifle the first time, but it certainly feels much better now.
Moving the trigger back meant that several internal trigger parts had to be redesigned. In essence, this trigger is the same one that's always been on the Marauder, but there are small differences inside. So, the next thing I did was adjust the trigger.
To properly adjust the trigger, you remove the action from the stock. It's only necessary to remove one stock screw for this, and the action comes right out.
As the rifle came from the box it had a heavy first stage pull of 2 lbs., 6 oz. This can be reduced by adjusting a screw counterclockwise to take tension off the trigger return spring. When I backed the screw out entirely so no spring tension remained, the first-stage pull dropped to just under 11 oz., so there's another spring inside the trigger group that also helps return the trigger blade.


The large round screw at the left adjusts the trigger-pull weight. Behind the trigger blade the two small screws adjust the first- and second-stage pull length. And the screw behind those 2 allows for slight repositioning of the trigger blade.
I put the adjustment screw back in the hole and tightened it just enough to keep it from falling out. That raised the first-stage pull to just over 14 oz., which is fine for a sporting rifle; but I must note that it's heavier than the triggers in the other 2 Marauders I've tested. They both break at 11 oz., and this one has a first-stage pull greater than that.
Next, I adjusted the first-stage pull a little shorter, and the second-stage pull to start sooner. Those were 2 separate adjustments; but each affects the other, so the manual tells you to do them together. The owner's manual also warns you that these screws adjust the amount of sear contact, so go slow and be careful to not get the trigger to the point that it won't hold the sear or will only hold it dangerously close to firing. After making these adjustments, I assembled the action in the stock once more and cocked the rifle. Then, I bumped it hard from several directions, and the sear did not slip off and fire.
Before the adjustment, the rifle fired at 3 lbs., 4 oz. That's pretty good for an air rifle trigger, given the lawyerly influences in companies these days; but a Marauder is not an average air rifle. After adjustment, it fired at 1 lb., 7 oz. but still had a bit of creep in stage 2, so I adjusted the stage-2 screw one last time. This time, I didn't take the action out of the stock. The small Allen wrench used on these 2 screws (a .050-inch wrench is used for both stage-1 and stage-2 screws) is small enough to reach through the triggerguard and fit into the socket of the screw.
The final adjustment took another half-ounce off the pull and eliminated most of the creep. I wouldn't call this trigger glass-crisp…but the way it's adjusted now, it's quite good!
Now the rifle is set up for me. Next, I'll shoot it for velocity and decide whether to leave the fill limit at the factory-set 2,500 psi or increase it for more shots. And I may adjust the velocity, depending on what I find.
by Tom Gaylord, a.k.a. B.B. Pelletier
Benjamin Marauder .177 caliber Part 1
Part 2
Secrets of loading the Benjamin Marauder magazine
Part 3
Part 4
Part 5
Part 6
Fixing a Marauder magazine
Part 7
Benjamin Marauder .25 caliber Part 1
Benjamin Marauder .25 caliber Part 2
Part 3
Part 4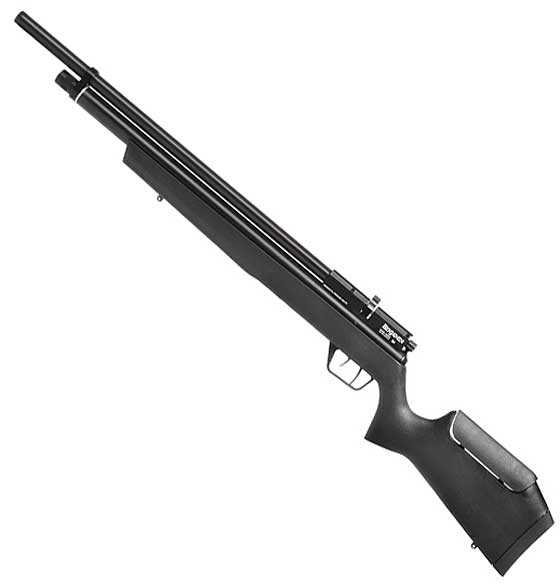 New Benjamin Marauder with synthetic stock has all the features of the classic Marauder in a lighter, trimmer package.
Sometimes, I get a rifle that I've waited a long time to test, and today begins a report on one of them. The Benjamin Marauder with synthetic stock has been on my mind since I first saw it at the SHOT Show back in January. In the intervening 11 months, I had forgotten a few things that struck me about this rifle when I first saw it. The first was how light and trim it feels. Compared to a wood-stocked Marauder this rifle is a pound lighter, at just over 7 lbs. But with the lightness comes a much slimmer stock profile, so it fits the hands better, too. It's the kind of air rifle that makes me smile just to pick it up! The rifle I am testing is serial number 013121147.
You've noticed there are a lot of links at the beginning of this report. I've linked to all the other reports made on the Benjamin Marauder in this recent series. I did those other reports on the .177- and .25-caliber Marauders specifically so I could look at this new rifle in .22 caliber. Not only are we going to look at what's new with the Marauder, we're also going to have a complete set of reviews for all calibers in one place.
What's new?
Those who've been following the Marauder reports are no doubt familiar with the general characteristics and features of the Marauder. Most of these have not changed. The rifle is a 10-shot bolt-action repeater (8 shots in .25 caliber). There used to be an optional single-shot tray for all 3 calibers, so you could remove the magazine and load each pellet separately, but Crosman has dropped that option for the .22 and .25 calibers. They retain it for the .177 caliber because that's the only one suitable for field target and field target shooters like to load each shot separately.
The rifle is adjustable for both power and for the maximum fill pressure (from 2,000 psi to 3,000 psi) and a hang tag that comes attached to the trigger guard tells you the factory has set the fill pressure of your rifle to 2,500 psi. The owner's manual tells you how to adjust both the fill pressure level and the rifle's power, plus I did a very detailed report on both things a while back. Part 4 of the .177 report deals with adjusting the rifle's power and Part 7 of the .177 report deals with adjusting the maximum fill pressure of the rifle. The new rifle I'm looking at operates in exactly the same way, and nothing has changed as far as those adjustments are concerned.
Another noteworthy feature the Marauder has is the adjustable trigger. It's a dream trigger that can be adjusted very finely to almost whatever a shooter wants. The new Marauder also offers an adjustable trigger, but it's slightly changed from the older one. I've examined the isometric illustration of the new trigger in the manual and can see very little difference in the internal parts, so I doubt the feel and function has changed that much; but I do plan on doing a trigger adjustment on the test rifle, so we'll all know. Until that report, then, let's assume the trigger is just as good as it's always been, which — on the Marauder — is very good, indeed!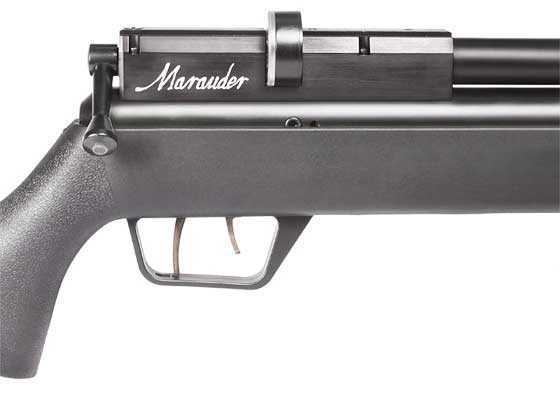 The trigger on the new rifle is very similar to the old trigger, but some internal parts have changed. The biggest noticeable change, though, is the squared-off triggerguard.
The trigger blade has moved backward in the stock, so your fingers reach it more readily. I think that gives the stock a more welcoming feel when you shoulder the rifle, though it doesn't pop out at you. That movement was the reason some of the internal trigger parts had to be modified.
The safety is manual — just like the safety on the old Marauder. Pull it back to put it on — push forward to take it off. It's light and smooth and can be operated by the trigger finger, alone.
One thing that's obviously changed is the stock. The rifle I'm testing has a black synthetic stock with an adjustable cheekpiece. The sculpting of this stock is perfect for the shooter, in my opinion. The pistol grip fits my hand very well without being too fat; and the forearm just in front of the triggerguard is very thin, making a perfect place for the off hand to rest. The forearm then swells out a little further forward; so, if you hold your rifle like a deer hunter, there's more meat to grab on to. But even that part is sculpted to fit the fingers and thumb of your hand, making a rifle stock that grips you as much as you grip it.
I intend adjusting that cheekpiece to suit whatever scope I mount on the rifle. How enjoyable to have a rifle that doesn't need any adaptation or compromise when held — one that just fits me the moment I pick it up. I think Part 2 of this report will be devoted to setting up the rifle — the stock, the scope and the trigger adjustment.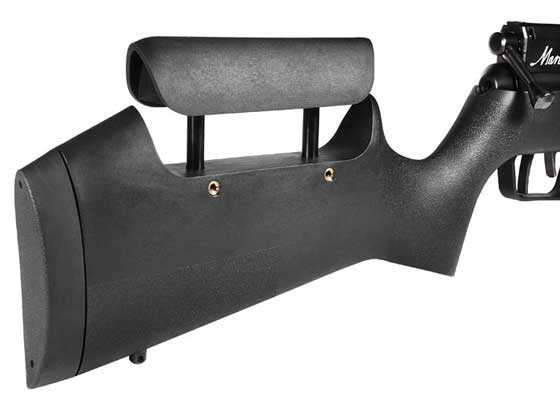 The cheekpiece adjusts up and down, and can be set to match whatever scope you mount on the rifle.
The bolt is now ambidextrous! Lefties can now have the bolt handle on their side of the action. Making this switch requires some disassembly of the action, and Crosman recommends sending the rifle to an approved service station like Pyramyd Air for the switch. So, if this is something you want, think about it when you order the rifle and get the work done before the gun is shipped.
Crosman touts some changes to the rifle's valve that offer a 12 percent increase in available power and a 30 percent increase in the shot count. I guess I'm going to have to make those adjustments to find out how effective they are. I doubt that we'll see both a power increase and a shot count increase at the same time, though. That's just the way compressed air works.
Crosman also says there's a factory installed de-pinger that quiets the striker fall. You don't notice that noise on most guns, but the Marauder is so quiet that secondary noises start to be heard. My ears are pretty well worn, but I'll see if I can detect anything for you.
.22 caliber
The test rifle is .22 caliber. Of all the Marauders I've shot, I've never tested a .22, so this will be a big thrill for me. I always thought that .22 was an ideal caliber for this rifle, given the power potential. I intend on testing it at 25 and 50 yards, just like I did the other 2 calibers. The choked barrel is 20 inches long and encased in a baffled shroud that quiets the gun's report to almost noting. I did note that the .25-caliber Marauder was just slightly louder than the .177, so I'll report on this one when the shooting starts.
Next time…
That's it for our first look. Next time, I'll adjust the rifle to fit me, adjust the trigger and mount a scope. After that, I'll check the velocity and then we'll get to the accuracy testing, which I'm really looking forward to. Stay tuned!
by Tom Gaylord, a.k.a. B.B. Pelletier
We're back to the BSA Scorpion 1200 SE. When we last tested it, we looked at the velocity and discovered this is a 30 foot-pound air rifle. So, its primary purpose is hunting. I thought that meant I should test some heavy .22-caliber pellets, but I also included a middleweight.
This test was done at 50 yards. I never shot the Scorpion indoors at 25 yards because it's so loud. I went straight from mounting a scope to shooting at 50 yards. As it turned out, that cost me several more shots than normal to get on paper.
I scoped the rifle with the UTG 6-24X56 AP scope with illuminated reticle.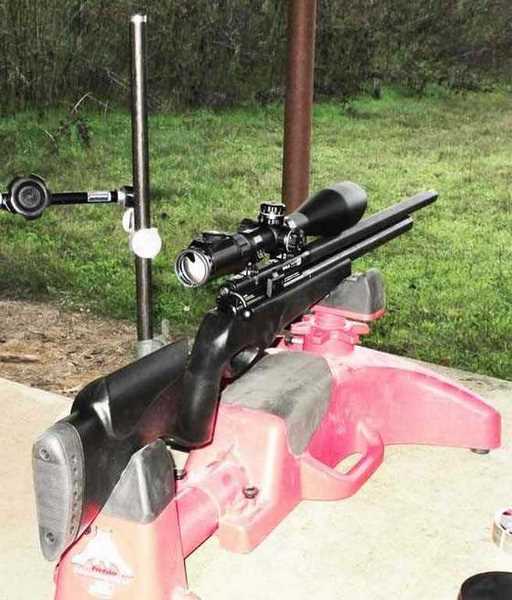 The rifle is scoped with the UTG 6-24X56 AO. It compliments the range of this rifle well.
I knew the scope would be right for the Scorpion because BSA PCPs are very accurate. I wanted a lot of power in the scope to compliment the long-range capability. This scope gave me what I was looking for.
Beeman Kodiak
The first pellet I tried was the 21-grain Beeman Kodiak. The first group wasn't good because the wind kicked up just as I fired a couple of the shots. Sure enough, the 10 holes had a horizontal spread. They measure 1.006 inches between centers, which isn't bad, but I felt this pellet deserved a second chance.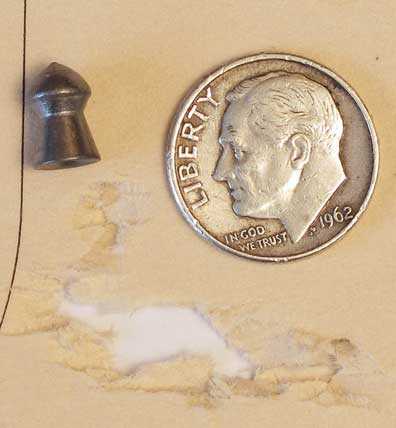 The first group of Beeman Kodiaks measures 1.006 inches between the 2 farthest centers.
The second group of 10 Kodiaks measures 0.926 inches between centers. Although that isn't that much smaller than the first group, this group is rounder; and I feel it's representative of what Kodiaks will do in this rifle.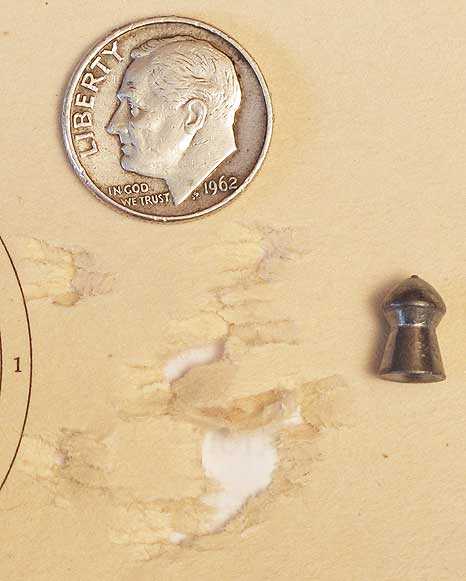 The second group of Beeman Kodiaks measures 0.926 inches between the 2 farthest centers. It is much rounder than the first group.
Eun Jin dome
I said during the velocity testing that the 28.4-grain Eun Jin dome would probably be good if you were seeking the maximum knockdown power at long range. They developed an additional foot-pound of muzzle energy. They've never been the most accurate pellets, but in some PCP rifles they do deliver credible accuracy.
Not in the Scorpion 1200 SE, though. The Eun Jin gave a large groups with a pronounced vertical spread. It measures 1.488 inches between centers and was the largest group of the test. I don't recommend this pellet in the Scorpion 1200 SE.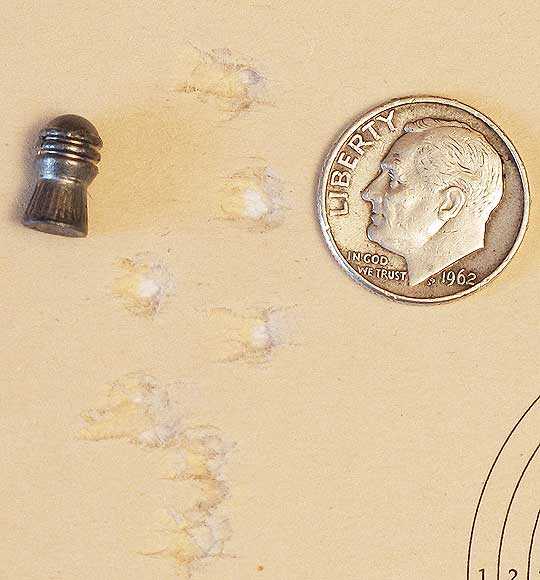 Ten Eun Jin domes went into 1.488 inches at 50 yards. The group is very vertical.
JSB Exact Jumbo Heavy, 18.1 grains
Next, I tried the JSB Exact Jumbo Heavy domed pellet. This one is between the medium-weight JSB Jumbo and the heavier Beeman Kodiak, so it gives better velocity with some good power retention. If it shoots at least as well as the Kodiak, it would be worth choosing.
But it doesn't just shoot better — it shoots WAY better than the Kodiak in the Scorpion 1200 SE. Ten pellets made a group that measures 0.792 inches between centers. The group is very round, as you can see, so we know this pellet is a keeper!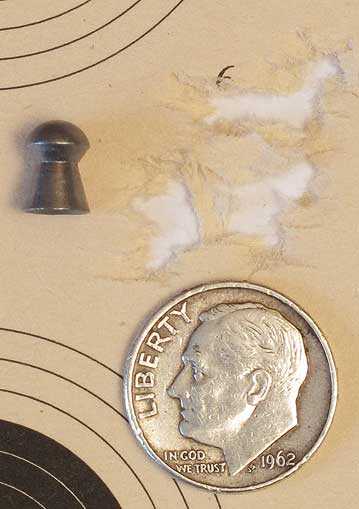 Ten JSB Exact Jumbo Heavys went into this 0.792-inch group at 50 yards. This is the best group of the test, and this pellet is the clear choice for this rifle.
JSB Exact Jumbo 15.9 grains
The last pellet I tried was the 15.9-grain JSB Exact Jumbo. Sometimes this pellet is the best in a PCP rifle, so it had to be tried. This time, however, was not one of those times. Ten pellets made a 1.332-inch group that was not as tight as the Kodiaks or the 18.1-grain Exact Jumbo Heavys. And no wind caused the horizontal spread of these pellets.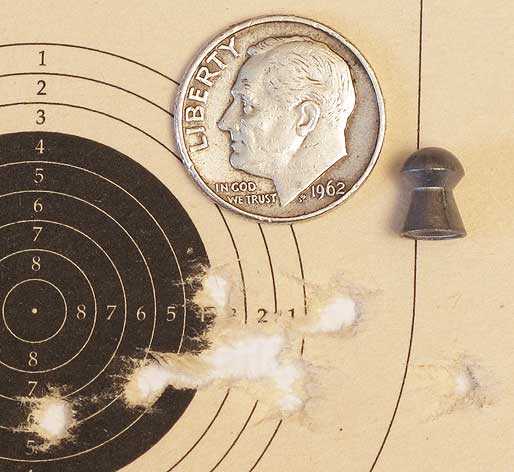 Ten 15.9-grain JSB Exact Jumbos went into this 1.322-inch group at 50 yards. It's very horizontal. Nothing seen here makes me want to use this pellet in the Scorpion 1200 SE.
Conclusions
The BSA Scorpion 1200 SE certainly has the power and accuracy needed to be a good hunting rifle. I like the way the stock balances in my hands when shooting, as it's heavy at the muzzle. I don't care for the fact that it needs 232 bar of fill pressure because that drains even a carbon fiber tank quicker than a 200 bar fill. It does, however, get a reasonable number of powerful shots per fill (25).
The 10-shot magazine is flawlessly reliable. There was never a misfeed in the entire test. And the magazine is below the top of the receiver, so it never interferes with the scope. The trigger is light enough, but I don't care for the stage 2 creep that I found impossible to adjust out.
I would recommend this rifle to all who like its looks and features.
by Tom Gaylord, a.k.a. B.B. Pelletier
This topic was received well last week, so I'm doing the second list today. Several readers have reminded me of other gifts I should mention, and some of them will make today's list. If I don't list something you suggested, there's a reason. These are the things I recommend without question.
Stocking stuffers/small, neat gifts
Gifts in this category don't cost a lot but will have great meaning to airgunners. Some of them are things that shooters won't buy for themselves.
Air Venturi Pellet Pen and Seater
Someone suggested the Air Venturi Pellet Pen and Seater, and I have to agree. This is a great gift, and it's one that a lot of shooters won't buy for themselves.
EyePal Peep Sight Master Kit
The EyePal Peep Sight Master Kit is another gift that people may not think about; but when they have one, they'll love it. I chose the Master Kit so you can use it with both rifles and pistols (and bows if you're an archer, too). Even if you don't wear prescription glasses, the EyePal is a great aid for your safety glasses to sharpen your vision and make that front sight clear!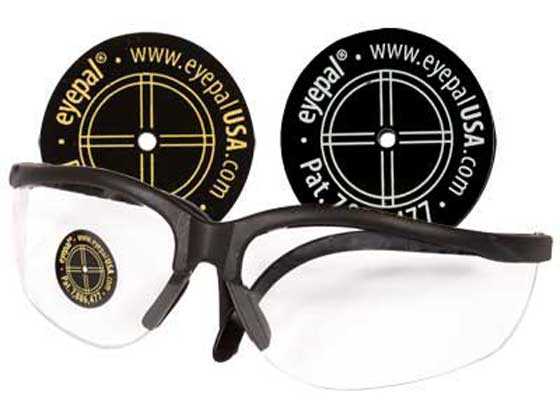 The EyePal makes the front sight appear razor sharp. Use it on prescription glasses and non-prescription safety glasses, alike.
Pellet selection
Here's a gift I'm putting in this section, although it will cost you some money. Pyramyd Air offers 4 tins of pellets for the price of 3. Your favorite airgunner has pellets he or she really likes, but they don't buy them all the time because they may cost too much.
Consider this gift similar to one of those fancy boxes of candies or Christmas smoked meats that are given this time of year. Nearly everybody likes them, but we don't spend money on them for ourselves. So, this is an opportunity to buy something your airgunner wants but will never buy himself. The one problem you have is finding out which pellets to buy. Rather than try and guess what your airgunner wants, I'm going to leave this up to you. You need to do a little investigation, maybe look at the pellets that he has on the shelf, or just talk to him and find out what he really wants but hasn't bought.
Gifts under $50
Crosman 357
For a pistol shooter the Crosman 357W is a great idea. It's a revolver, so you get multiple shots per loading; and for the money, it's an accurate little air pistol.
Walther Multi-Tac tactical knife
If your airgunner is a gadget junkie, you can't do much better than a Walther Multi-Tac tactical knife. It's a tool kit for your pocket. And it has a 440C stainless steel blade to cut whatever you need.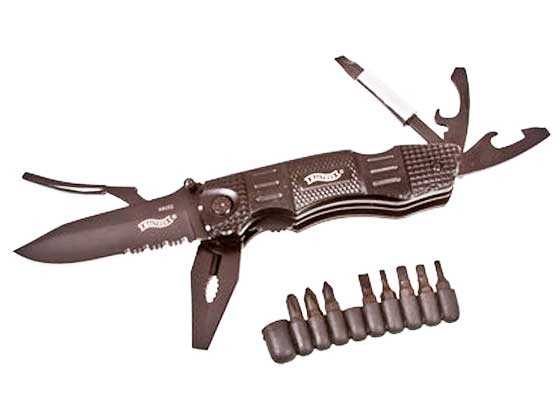 Walther's Multi-Tac knife is a toolkit in your pocket!
Walther Xenon Tactical flashlight
Can't have too many flashlights! Not when you need one! The Walther Xenon Tactical flashlight uses two CR123A batteries to cast a 60-lumen light. That means you get both good battery life and a powerful light.
Gifts under $100
Some of these gifts are just over the $50 mark, so look at them carefully. This category holds some of the most surprising values in airguns.
Legends Makarov
The Makarov from Umarex is a wonderful BB pistol that I just can't stop talking about. I bought one for myself after testing it! It's extremely accurate for a BB pistol, which means you really can use it for target practice. It runs on CO2, so don't forget to get some CO2 cartridges if you give this gun as a gift.
Simply one of the best BB pistols you can buy at the price, the Legends Makarov is accurate, well-made and inexpensive.
Crosman 2240
Another fine CO2 pistol is the single-shot Crosman 2240. It's a .22-caliber, bolt-action pistol that's powerful and accurate, plus it serves as the basis for many aftermarket modifications.
Ruger Mark I
The Ruger Mark I air pistol is powered by a spring-piston. It isn't very powerful, but it's a great companion for the handgun shooter who only wants to poke holes in targets and plink with a pistol that's easy to cock and accurate.
Stoeger X5 air rifle
The Stoeger X5 air rifle is a wonderful, youth-sized, spring-piston rifle that has enough quality to make my list. The trigger is a little stiff, but the accuracy is there. It reminds me of the Hämmerli 490 that is, sadly, no longer available.
Gifts a little over $100
I created this category for those items that are a few dollars over $100 but are still within the realm of economy. Sometimes, the things you want are just over the line — no matter where you arbitrarily draw it.
Shooting Chrony Alpha chronograph.
The Shooting Chrony Alpha chronograph is the instrument I use to document 98 percent of the work I do. I use it because it's small, portable and very reliable. Sure, there are reasons to use my Oehler 35P chrono, sometimes; but most of the time, this is my choice.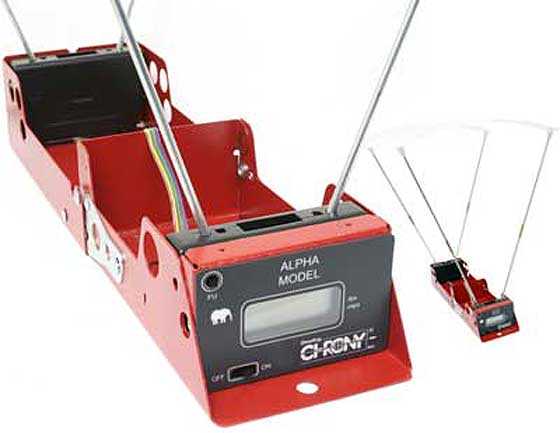 Though it's just $10 over a hundred, the Shooting Chrony Alpha has everything you need!
Daisy Avanti Champion 499 BB gun
I have to recommend the Daisy Avanti Champion 499 BB gun because it is the target shooter's dream. Where other BB guns will put 10 shots into three-quarter of an inch at 16 feet when all is right, this one will put 10 into a quarter-inch at the same distance. This is a shooter's tool, not a hunting gun or bragging-rights gun. Be sure to stock up on the special Avanti Precision Ground Shot if you get this gun because it definitely adds accuracy! And order some special 5-meter BB targets that are sized right for this gun!
IZH 60 air rifle
I am also going to put the IZH 60 air rifle on my list this year. Though the accuracy slipped when the gun's design was changed several years ago, this is still a delightful youth rifle that's easy enough for even smaller kids to cock. It has reasonable accuracy, and the sidelever design means that fingers can't be pinched in the mechanism like they would on guns having sliding compression chambers. I recommend the single-shot over the repeater for reasons of safety.
Daisy 953 TargetPro
I normally don't recommend combo guns, but I'll make an exception for the Daisy 953 TargetPro. It's a pellet rifle with enough accuracy to get you into the game without spending a bundle.
Gifts under $300
Gifts in this category start to take on the aura of personal taste. My recommendations may not be what your airgunner wants, so you need to find out if they are before you buy anything.
Benjamin 392 pump
This one is very personal. You airgunner will either like it or not. So, check first. The Benjamin 392 pump is the best multi-pump rifle going, these days. Its heritage dates back to the late 19th century, so there's a lot of history there. I also chose the .22-caliber 392 for its power; but if your airgunner only wants to shoot at targets, then the 397 is the same rifle and shoots cheaper .177 pellets.
Daisy Avanti 853
The Daisy 853 is right at $300, but its a great buy even at that price. It features a Lothar Walther barrel and has been used by millions of kids for competition in the decades it's been around. The trigger is rough, but there are several websites that tell you how to fix it. To get anything with better accuracy, you're going to need to spend several hundred dollars more.
Diana RWS LP8
Want an air pistol that shoots like a rifle? The Diana RWS LP8 is the one to get. It just may be the best value in a really good air pistol these days. It has plenty of power and is very accurate. The breakbarrel cocking is on the heavy side, but an adult male shouldn't have a problem.

For the price, the Diana RWS LP8 air pistol can't be beat.
Gifts without limit
Now, we can spread our wings a little. This is where many of the better airguns live.
HW 30S
Let's start with the HW 30S. You know this rifle as the Beeman R7 when it's in a different stock, but airgunners know the HW 30S has the same powerplant and the same adjustable Rekord trigger as the R7. If your airgunner likes the styling of the HW 30S, it's less expensive; but if he wants an R7, it's also a wonderful spring-piston air rifle.
Diana RWS 48
If you want a big bruiser spring-piston air rifle, the Diana RWS 48 is one I would recommend. And, I recommend it in .22 caliber, where you get all the power it can develop. The 48 is a sidelever that's surprisingly easy to cock, despite the level of power it delivers. It's also very accurate. One thing, though, the 48 is a big air rifle, so be sure your shooter knows what he's in store for. Definitely for adults, only.


Diana 48 sidelever from RWS is large and in charge!
TalonP air pistol
There's no other smallbore air pistol that can hold a candle to the TalonP air pistol from AirForce Airguns. It comes in .25 caliber and has 10 shots per fill at over 50 foot-pounds of muzzle energy! Many rifles can't equal it! When I tested it for accuracy, I got sub-one-inch groups at 50 yards. It's a hunting air pistol extraordinaire.

The TalonP pistol from AirForce Airguns leads the pack for power and accuracy.
Walther LGV Challenger
If you want a really fine breakbarrel spring rifle, you can't do better than the Walther LGV Challenger. I recommend the .22-caliber gun because it was so smooth when I tested it.
by Tom Gaylord, a.k.a. B.B. Pelletier
It's been some time since I did Part 3 of the Evanix Rainstorm 3D bullpup rifle. Just to remind you of where we left off, I found the gun difficult to shoot with the UTG 3-9X32 Bug Buster rifle scope because of the medium-height scope rings. I removed that scope and mounted the UTG 3-9X40 True Hunter rifle scope that comes bundled with high 2-piece Weaver rings. They were better, but even they seemed a bit too low because of the bullpup configuation. This is the same scope I used in the test of the Hatsan AT P1 PCP pistol.
Today's test was done at 50 yards on an outdoor rifle range. The weather was perfect, without a hint of breeze. I didn't sight-in the scope before going to the range, so I sighted-in at 50 yards. Luckily, the scope wasn't that far off, and I was on target in 3 shots.
The 25-yard test that was done in Part 3 showed that only 2 pellets were worth trying at 50 yards. I shot just them and nothing else.
I also want to remind you that the rifle likes to be filled to 2,900 psi according to my tank's gauge. It has more than 10 shots on a fill, but it does go through air pretty quick. So, just for continuity, I refilled after every group.
JSB Exact 15.9-grain domes
I sighted-in with the best pellet from the earlier test, which was the 15.9-grain JSB Exact Jumbo Heavy. Since the third shot landed where I wanted, I continued to shoot and made an 8-shot group for starters. That group measured 0.961 inches between centers. I noted that the bullpup-style stock made the rifle difficult to hold steady on target, so this group was as steady as I was able to hold. I was fighting the trigger, which breaks at 6 lbs., 10 oz. It's hard to hold on target with a trigger this heavy. Also this rifle is tall and narrow, so it wobbles from side to side when you hold it. I didn't see a way around that at first, but then I figured it out.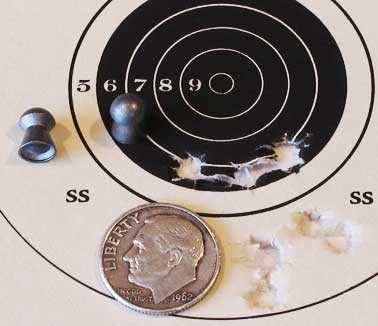 Eight JSB Exact 15.9-grain domes landed in 0.961 inches at 50 yards. The shots are a little low, so I adjusted the reticle up a couple clicks after shooting this group.
Next, I shot a 10-shot group with the same JSB Exact Jumbo Heavy pellets. The rifle's circular magazine holds 11 pellets, but I loaded it with only 10 to keep things consistent with most of my other 50-yard tests.
The scope had been adjusted higher for this group, so the shots landed higher on the bull. Ten pellets made a 1.501-inch group. I must comment that during this group I saw the crosshairs move around on the bull a lot more than I would like. That heavy trigger caused it. In the group that resulted, I see 2 separate points of impact that are one above the other. That isn't what I would expect a sideways wobble to produce, but something was wrong with my hold. I had to solve that first.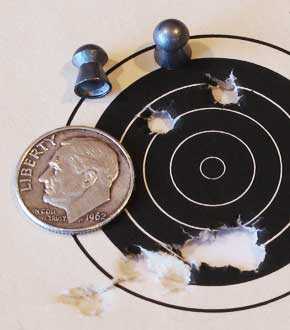 This is the first full 10-shot target that was fired at 50 yards with the Rainstorm bullpup. It measures 1.501 inches. Eight pellets went into 0.941 inches.
Toward the end of the first full group, I found a way to stabilize the rifle pretty well. I was shooting off a sandbag rest that helped with stability, and I found that if I gripped the frame tight (where the forearm would be on a conventional rifle) the wobble stopped. That made me more confident that the group I would be getting was what the rifle could actually do.
Following that group, I shot a second group of 10 JSB Exact Jumbo Heavies that measured 1.406 inches between centers. This one is fairly well centered on the bull and doesn't have the 2 separate points of impact like the first group. I think the improved hold was responsible, although I can't see why a sideways wobble would do what I'd seen before. Maybe the wobble was greater than I thought?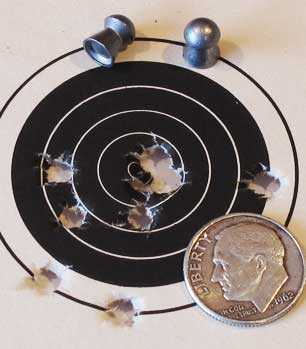 The second full group was a little smaller than the first — at 1.406 inches between centers. I felt the rifle was held well for this group. This is as good as this pellet can do (in general) in this rifle with me on the trigger.
Beeman Kodiaks
Next, it was time to try 10 Beeman Kodiak, which was the second-best pellet at 25 yards. It didn't do as well. The first few shots scattered all over the place, landing far to the left of the aim point and also a bit lower. When all 10 shots were finished, I had a 2.32-inch group that looks more like a shotgun pattern than a group from a rifle. However, I must note that 9 of those shots did land in a 1.331-inch group. But the one lower shot that opened the group wasn't the last one. It was the third shot. Based on that, I would scratch Kodiaks for this rifle and stick with the JSB Exact Jumbo Heavies.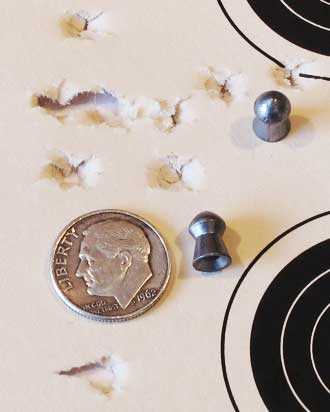 Beeman Kodiaks went all over the target. Ten made this 2.32-inch group, although 9 of them passed through 1.331 inches.
Overall impressions
I've come to the end of my test of this air rifle. It's been an interesting journey, and I've learned some things from it. First, when you scope a bullpup, get the highest scope rings you can. Ring risers might be a good idea. Second, the idea that bullpup actions have poor triggers is apparently true. And finally, when the cross-section of your rifle is as flat as a flounder, it will be harder to hold steady.
The Evanix Rainstorm 3D bullpup rifle is definitely a different beast! It holds different and shoots different than a conventional PCP. If you're looking for the bullpup styling, then either this or the Evanix Max bullpup is the airgun you want. It will produce acceptable accuracy out to 50 yards when you do your part. Just remember that the trigger is stiff and creepy, and the rifle needs a firm hold.
by Tom Gaylord, a.k.a. B.B. Pelletier
Benjamin Marauder .177 caliber: Part 1
Benjamin Marauder .177 caliber: Part 2
Secrets of loading the Benjamin Marauder magazine
Benjamin Marauder .177 caliber: Part 3
Benjamin Marauder .177 caliber: Part 4
Benjamin Marauder .177 caliber: Part 5
Benjamin Marauder .177 caliber: Part 6
Fixing a Marauder magazine
Benjamin Marauder .177 caliber: Part 7
Benjamin Marauder .25 caliber: Part 1
Benjamin Marauder .25 caliber: Part 2
Benjamin Marauder .25 caliber: Part 3
Wow! More than one month has passed since the last part of this report. I've been to the Roanoke airgun show and also out to the rifle range at least 3 times trying to get the data for today's report, but what a quest it has been! It all boiled down to false confidence in my ability to get the job done. I'm used to certain rifles cooperating with me every step of the way, and this time I got called by the fates who expose pride for what it is.
I'm not going to bore you with all the details, but I will point out the most recent example of my stupidity because it's a lesson for us all. When I went to the range last week, I thought I was ready to complete my 50-yard test of the .25-caliber Benjamin Marauder. I'd swapped the scope mounts from a previous test because they were too high. The new mounts were lower, and I didn't have to hold my head as high on the comb. I knew this would help with the accuracy. But then I went to the Roanoke airgun show, and forgot that I'd made this change.
What's most important about the change, though, are that the new mounts were vintage B-Square adjustable mounts. And the rear ring was jacked up higher than the front. I always liked that setup because it gets the drooper problem taken care of on the first shot — even if there isn't one! But not if you forget that you did it!
And that's why this report didn't happen last week. I had the Marauder at the range with the TX200 Mark III, on which I reported last weekWhen I shot the Marauder, there wasn't a pellet hole on the paper. And I'm not just talking about the target paper, either. I mean the 2-foot x 4-foot backer paper that I use whenever I have a rifle that's not known to be sighted-in.
Naturally, I was disappointed. This was a Marauder after all, and I expected it to go right to the point of aim. After shooting just two 8-round magazines, I took the rifle off the line and put it away. I needed to look into the situation deeper and figure out what was wrong.
What was wrong, was that I had forgotten about the new scope mounts. When I looked at the scope back in my office, I immediately saw that the rear was higher than the front. Then I vaguely remembered something about changing the mounts before going to the Roanoke airgun show, so I reread the last report and discovered what had happened. The gun had not been sighted-in with the new mounts. It was obvious that the scope was set up for a rifle with severe barrel droop, and this rifle doesn't have that.
I even went back to the rifle range last Friday and looked at the backer board where my target and backer paper had been stapled. Sure enough, above where the top of the paper had been there was a hole in the backer board. It had the appearance of a nice rifle group. And some of the holes in the group appeared to be .25 caliber.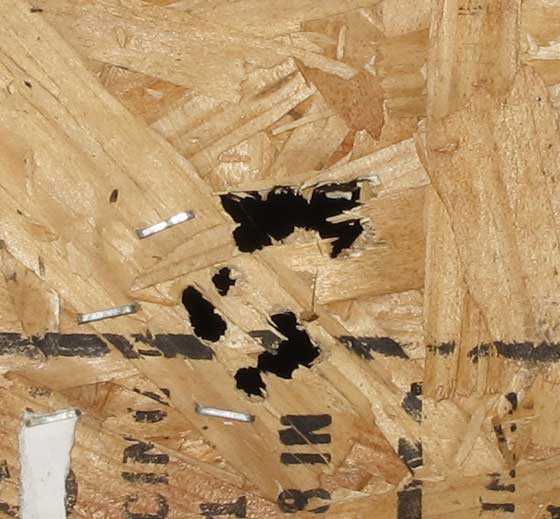 This group in the backer board is just above where my target paper was stapled. I believe it's the impact point of the 25-caliber Marauder from last week's test!
Suspecting what happened, I started shooting at an aim point much lower than my anticipated target. Sure enough, my pellet was hitting the paper about 16 inches high and 6 inches to the left. That's a problem I can deal with! All I had to do was adjust the scope down and to the right, and I was on target. It took me less than 10 minutes to get my groups landing where I wanted at 50 yards. Now, it was time to test the rifle.
The first group was shot with H&N Baracuda pellets. In the past, these were the most accurate .25-caliber pellets on the market, but they have since been replaced by several others, including one huge surprise that emerged in this test! The group measured 1.021 inches between centers. It's a good group for any rifle at 50 yards, but I did think the Marauder might be capable of better.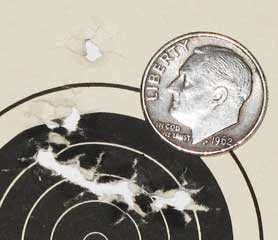 Eight H&N Baracuda pellets went into a 1.021-inch group at 50 yards.
I should mention that I was firing two magazines of eight shots each in this test. So the groups that you see have 8 pellets and not 10 in them. I recharged the rifle with air after every 16 shots because the reservoir pressure had dropped to around 2,100 psi by that point. That was as low as I felt it could go and still be accurate.
JSB Exact King
The next pellet I tried was the JSB Exact King, a .25-caliber pellet that's shown a lot of promise in recent testing. The first group I shot measured 1.447 inches between centers. That's not very good for a PCP rifle at 50 yards. Interestingly, however, 7 of those 8 shots went onto 0.719 inches, and that is good. I hoped that the one flyer was an anomaly, and that a retest of the same pellet would do better.

Eight JSB Exact Kings went into 1.447 inches. That's not very good, but 7 of the pellets went into 0.719 inches, which is promising.
The second group of JSP Exact Kings when into 1.094 inches. That's a lot better, but it still wasn't what I'd hoped for, so I left the Kings to try other pellets.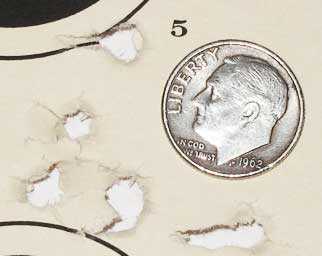 Eight JSB Exact Kings went into 1.094 inches. It's better than the first group, but still not thrilling. At this point, the .25 Marauder looks like a 1-inch rifle at 50 yards.
Benjamin domes
Another stunning pellet in .25 caliber is the Benjamin dome. It has no model name, but you could think of it as a Premier pellet because it looks similar to the other pellets in the Premier line. The first group of 8 pellets measured 1.226 inches between centers, which was again larger than I was looking for.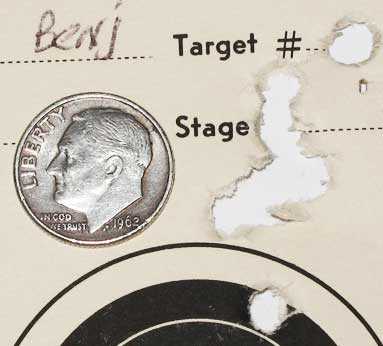 Eight Benjamin domes went into 1.226 inches at 50 yards. It's larger than I would like.
The second group of Benjamin domes measures 1.06 inches. While that's better, I still thought the rifle could do more.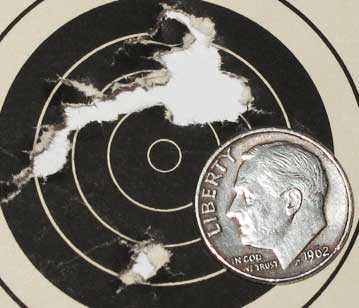 The second group of Benjamin domes was better, with 8 in 1.06 inches. It's good, but somehow not good enough.
Predator Polymag
The last pellet I tried was the .25 caliber Predator Polymag. It showed well in the 25-yard test and earned its place in this test. There really aren't a lot of options when it comes to accurate .25-caliber pellets, and I think we've included all of them in this test. Yes, there are other brands out there, but do they perform? In my experience, they don't.
The Predator is a hollowpoint pellet that has a red plastic tip in the center of the nose. Normally, hollowpoints fall off in accuracy at around 25 yards, but this pellet doesn't. That tip seems to do its job.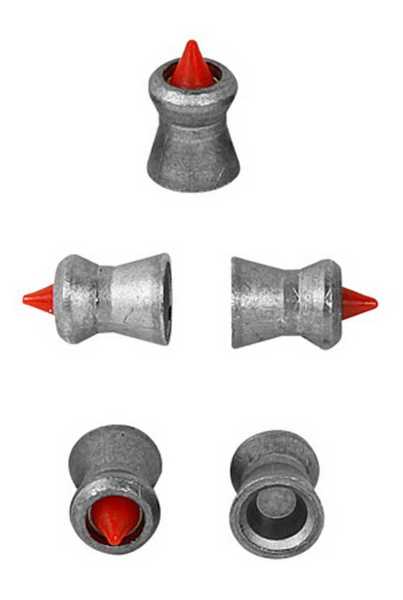 The Predator Polymag pellet is a hollowpoint with a plastic tip in the center, and it really works at long range!
The first group of Predators measures 1.121 inches between centers. Once again, that's okay for 50 yards, but it's nothing to scream about. But the second group measures 0.808 inches between centers. That's what I was looking for! While the Marauder can't be expected to shoot that well every time, this group proves that it has the potential. And it does it with a pellet that is acknowledged to be a great hunting pellet!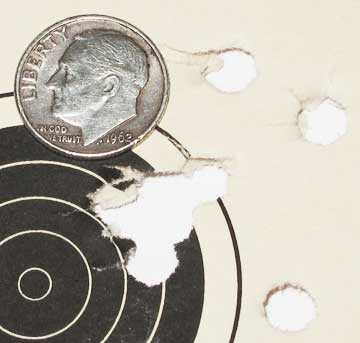 The first 8 Predator Polymags went into 1.121 inches at 50 yards. That's not bad, but not what I was hoping for.

Now, that's a group! The second group of 8 Predators measures 0.808 inches. This is the accuracy I was looking for from the Marauder.
Observations
No .25-caliber airgun has ever been as accurate as the best .22 or .177 guns. What we see from this test is a range of results that represents what the .25-caliber Benjamin Marauder can do at 50 yards. I think these groups show what this gun can do very well. Sure, if you shoot more there will be some smaller groups. But there will also be many more groups that are larger than those shown here. I think we can safely say the Marauder in .25 caliber is capable of putting 8 shots into one inch at 50 yards when you do your part.
The .25-caliber rifle uses a lot of air! I was getting just 16 good shots in this test on a 3,000 psi fill. Compare that to the 32 good shots I got in the test of the .177-caliber rifle filled to the same pressure.
From a handling standpoint, there isn't a nickel's worth of difference between the .177- and .25-caliber rifles. The trigger can be adjusted to operate virtually the same, and the stocks feel the same. The one small difference is the .25-caliber gun does move back slightly with each shot. I didn't feel that with the .177, but I definitely felt it in this test.
If you want a .25-caliber hunting air rifle, I think the Marauder is a good candidate for your short list. It's powerful, accurate, quiet and reliable. How much more can you ask?