by Tom Gaylord, a.k.a. B.B. Pelletier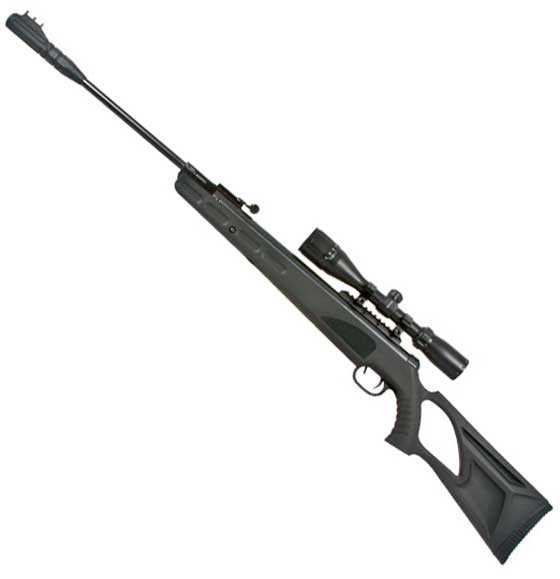 Umarex Octane gas-spring rifle combo.
Today is the start of accuracy testing for the Octane combo air rifle, and I'm going to make some changes. For starters, I'm going to give you the summary now. The Octane is a smooth-shooting, accurate air rifle. It's everything the manufacturer wants it to be, and a couple of things they probably didn't think about, on top of that. The rest of this report will justify and explain my summary.
Another thing, the Octane is different from any gas spring I've ever tested. Gas springs always fire fast, as in instantaneously. When the sear releases, the shot is over, and you usually know it from the sharp crack of sound and the painful slap to your cheek. The Octane fires slowly in comparison. There's a lot of forward recoil and almost no vibration, and the discharge is very quiet, as I noted in part 2. I attribute this behavior to the Reaxis gas-spring design that's reversed from the norm, and to the SilencAir silencer on the muzzle. Both apparently work as advertised.
The test
I decided to just shoot 5 shots per pellet today, and to shoot the rifle with open sights at 10 meters. I wanted to get a good sense of how accurate it is before putting the walls of my house at risk. And what I discovered was that this rifle is fun to shoot! I normally don't have much fun shooting a 20 foot-pound spring rifle, but the Octane is so civilized that it gave me a lot of confidence. By the time I'd fired the first 2 shots at the target, putting them into the same hole, by the way, I knew this day was going to be fun.
I held the rifle with an artillery hold, but the thumbhole stock makes you grip the gun harder than you normally might. So, I would have to call it a modified artillery hold. But the rifle cooperated, and there was noting to worry about. The muzzle heaviness holds the front sight steady on target once you're dialed in.
The sights are fiberoptic, which destroy all attempts at precision, but by lighting the target brightly and sitting in a darker room to shoot, I could defeat the fiberoptic tubes and get a very sharp sight picture. When they don't glow, the Octane's sights offer a nearly ideal sight picture, and that was what made me decide to not mount the scope, yet. I wanted to have the fun of shooting with open sights since the rifle was cooperating.
The trigger is still quite heavy and very creepy, so I envy those who own their rifles and can modify them. If I could drop the release weight to under 4 lbs. and if there was a way to eliminate all the second-stage creep, this trigger would help accuracy greatly.
Beeman Kodiaks
The first target was shot with 5 Beeman Kodiak pellets. This was when I first noticed how slow the Octane's gas piston is. It feels like an airgun equivalent of a 45-70 single-shot. You feel the recoil and the rifle bounces around, but you know the pellet got out of the muzzle before all that started and that accuracy wasn't affected in the slightest.
As I said, the first 2 pellets cut the same hole, though each made a distinctive mark. Then I stopped watching through the spotting scope and just shot the next 3 pellets. In the end, the group is larger than I would have liked for 10 meters, at 0.581 inches, but this is with open sights. Still, it is just 5 shots instead of 10.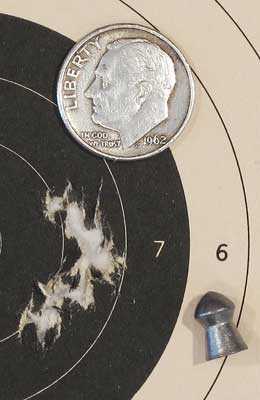 Five Beeman Kodiaks at 10 meters with open sights measure 0.581 inches between centers. It's a good start!
RWS Hobby
Next, I tried the RWS Hobby pellet. It felt good while loading because it fit the breech tight but not overly so. And, though the point of impact shifted up a bit, the Hobby was quite accurate — putting 5 pellets into 0.368 inches! I thought that was remarkable. I couldn't wait to test some more pellets!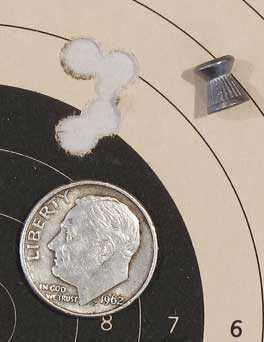 Five RWS Hobbys at 10 meters with open sights measure 0.368 inches between centers. Now, the rifle was giving me confidence.
RWS Superdome
Next, I tried the RWS Superdome. Here's where you're going to see something significant. RWS makes both Hobbys and Superdomes in Germany, and presumably they use the same lead alloy for both. And domed pellets are generally regarded to be the most accurate. Yet look at how the Superdomes did! They grouped horizontally, to exactly 1 inch, while the Hobbys stayed together.
You might try to blame me for getting tired at this point in the test, but there's group coming that will show that I was still shooting my best. That's one benefit of these 5 shot groups. They don't tire me as quickly.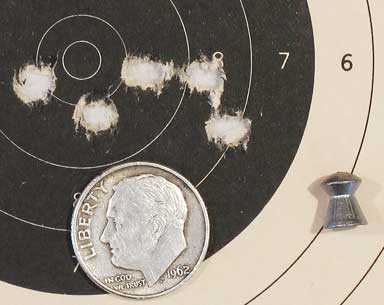 Five RWS Superdomes at 10 meters measure a long 1 inch between centers. When you compare this group to the one made by the Hobbys, you see that Superdomes are not suited for this Octane.
Predators
Now, for those of you who think I might have slipped up on the last group, I shot 5 Predator Polymag pellets next. They're a recognized premium pellet, just like the Superdomes, and I've shown some great groups using them in recent tests. But not this time. Instead of the group stringing sideways, the Predator group were stringing vertically. Five went into 0.982 inches, so we won't be seeing them in any future tests of the Octane.

Five Predator Polymag pellets made this vertical 0.982-inch group.
If you have now decided that I've gotten tired and ho-hum, what's so special about the Octane if this is the best that it can do — hold on! I saved the best for last. Actually, the Octane saved the best for last because the next group is the last one I shot on this day.
Crosman Premier
The 14.3-grain Crosman Premier pellet is sometimes the best pellet you can use in an airgun. And it is in the Octane test! Five Premiers went into a group measuring 0.245 inches between centers. It looks like only 3 pellets have passed through, but I did shoot all 5. This is very clearly and hands-down the most accurate pellet I tested in the Octane.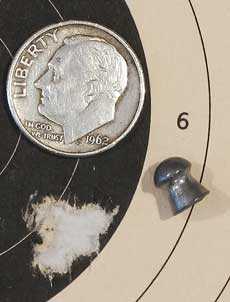 Five Crosman Premiers made this beautiful 0.245-inch group. It was the last group of the test. Who says the groups open up as you go? This is the pellet for this rifle.
Summary
I already gave you the summary in the beginning of this report. Now you see the substantiation of what was said.
Several readers reported higher velocities than I got in the last test, and I was asked to change the breech seal. Well, I might do that, but frankly the rifle is shooting so nice right now that I don't feel any urgency.
The Octane is unlike any gas-spring breakbarrel rifle I've ever tested. I wish the trigger was better, but it's hard to argue with the accuracy or with the rifle's firing behavior.
I will skip testing the rifle at 10 meters with the scope that comes in the package and go straight to 25 yards next time.
by Tom Gaylord, a.k.a. B.B. Pelletier
Part 1
Part 2
Part 3
Part 4
Part 5
Part 6
Part 7
Part 8
Part 9
Part 10
Brand new TX200 Mark III. It's very similar to my TX; but the checkering is different, and the line of the forearm is more scalloped.
Today, we'll look at the accuracy of the Air Arms TX200 Mark III at 50 yards. I can tell you that I learned a lot from this test. But that will all be summarized as we go. Let's get started!
I shot the new TX directly off the same sandbag that was used at 25 yards. As you remember, I showed (after much coaxing from you readers!) that the TX shoots as well or better when rested directly on sandbags as it does with an artillery hold. The bag was crossways to the rifle, so the contact with the stock was minimized.
The day was perfect for the test. Not a breath of wind the entire time I was on the line!
The rifle is mounted with the AirForce 4-16X50 scope, which was selected so I could conduct another test for reader Duskwight after the regular test was completed. This scope is clear and sharp; and at 50 yards, I was able to bisect the small bullseyes with the reticle.
Sight-in
The rifle was still zeroed for 25 yards, so it had to be adjusted for 50 yards before anything else could happen. The first shot landed 3-1/4 inches low and 1-1/2 inches to the left. It then took another 2 shots before I was reasonable on the target. Then, I fired the first group with H&N Baracuda Match pellets. Ten landed in a group measuring 1.562 inches. It's a fairly round group, but not as small as I would like from this rifle. So, I switched pellets.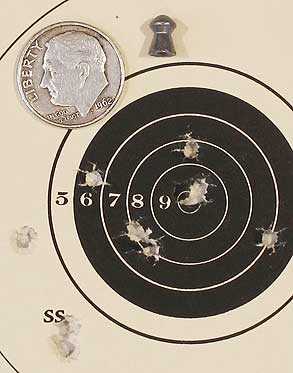 Ten H&N Baracuda Match pellets made this 1.562-inch group. It's a bit large for a TX200.
JSB Exact Monsters
Next I tried some JSB Exact Monsters, which weigh 13.4 grains in .177 caliber. They went all over the place. When I went dowrange to retrieve the target, I saw that they were tumbling or yawing. They must be too heavy for the velocity the TX is able to generate.
Crosman Premier heavy
The third pellet I tried was the Crosman Premier heavy. I meant to bring Crosman Premier lites, but I grabbed the wrong box when loading up for the range. Fortunately, the heavy pellet was wonderful! Ten of them gave me a group that measured 0.658 inches between centers — or about as good as a top-flight PCP can do at the same distance! This is phenomenal accuracy for any air rifle at 50 yards!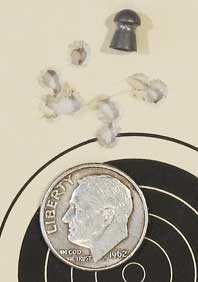 Ten Crosman Premier heavies went into a tight 0.658-inch group at 50 yards. This one is a screamer!
First lesson learned
The new TX200 Mark III is every bit as accurate as my TX that's well broken-in. No accuracy has been lost over the years, and the rifle can shoot this well right out of the box!
With lesson one under my belt, I adjusted the scope to lower the point of impact and moved to the next bull. The first shot landed where the last group was, then the pellets moved to the new sight adjustment.
Second lesson learned
Some scopes have stiction. After adjusting them, it's best to shoot a couple shots to vibrate the reticle to its new location. I knew that, but made the mistake anyway. So, I've included the first shot, along with the group, to show you what it looks like. If this group had been as small as the one before, that first shot would really stand out. But I lost my concentration on this one and wasn't holding the rifle as softly as I might have. This group of 10 measures 1.435 inches between centers, which isn't that far from the first group of H&N Baracudas!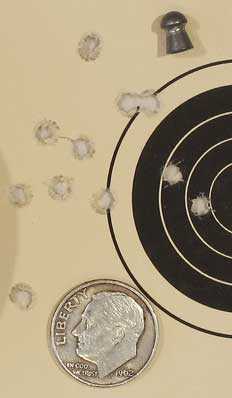 The second group of Premier heavies opened to 1.435 inches. That's more than double the size of the first group! Top hole to the left of the pellet was the first shot, which I disregarded, after the scope was adjusted.
Third lesson learned
While a rifle may be capable of shooting 10-shot 50-yard groups smaller than one inch, it may not do it every time! That small group may represent what the rifle is capable of, but not what it will always do.
Special test
Duskwight, our blog reader from Moscow, asked me to test the difference between a rifle shot with a low-power scope and the same rifle shot with a high-power scope. In other words, does magnification improve a rifle's ability to group?
Well, common sense tells us that it does. Right? I mean, surely, if you're able to parse the target to a finer degree, you must be able to group your shots closer together. Right? That's what this test will determine.
That's why I used a 4-16x scope on this rifle. I'd been shooting with 16x to this point, so now I dialed the power back to 4x and shot another group.
Wow! At 4x, the intersection of the crosshairs almost completely covers the small bullseye at 50 yards. As I shoot, I'm almost certain how this test is going to turn out. And it does. Ten shots on 4x with the same Premier heavy pellets landed in 2.208 inches. Looks like I was right about what low magnification would do.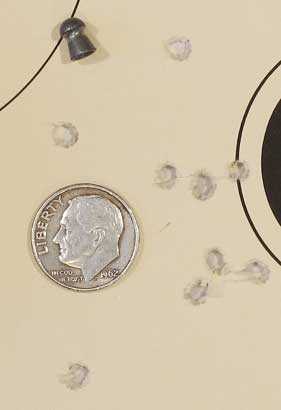 The third group of Premier heavies — shot with the scope set to 4x — was 2.208 inches between centers at 50 yards. That's quite a difference from the previous group, even though that group was already admittedly large.
But something nagged me about this group. I knew in my heart that I'd not given the rifle my best. I knew this group was going to be bigger than the last one while I was shooting it, so I was even sloppier with my hold.
It probably sounds like I need medication to suppress my dual personalities while at the range, but I assure you I'm not talking to myself — at least not loud enough for others to hear. What I'm doing is a little soul searching while I'm still out at the range and have the time to do something about it.
I adjusted the scope back to 16x and shot another 50-yard group. This time, I did everything the way I should have. The hold was completely relaxed. I fully expected to be rewarded with another of those sub-inch groups, but that didn't happen. This time, I shot a 10-shot group measuring 1.935 inches between centers. Oh, well! I was probably tiring out from all the concentration.

Ten shots at 50 yards with the scope set to 16x netted this 1.935-inch group.
Fourth lesson learned
Sometimes, you just can't will the results to happen the way you would like. I put my whole heart into this group, and this is what I got. Maybe that's what it feels like to be 66, dried-out and ready for the old-folks home!
Fifth lesson learned
I called that first great group of Premiers a screamer. Now you see why that is.
Nevertheless, I owed it to Duskwight to try the rifle on low scope magnification one more time, and this time to do my very best. So I did. This time, 10 pellets went into a group that measures 1.481 inches between centers. That's right, it's SMALLER than the group shot on 16 power! I noticed that the bull was just visible behind the crosshairs; and if I really tried, I could hold on the target in exactly the same way every time. Apparently, I did, because this group fired on 4x is smaller than the previous group that was fired on 16x.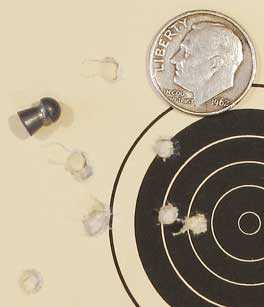 Ten shots at 50 yards with the scope set to 4x made this 1.481-inch group.
Sixth lesson learned
Although it isn't conclusive, it looks like you can shoot just as accurately on low scope magnification as you can on high magnification if you take the time to do things right.
Seventh lesson learned
Looking at both groups fired on 16x and both groups fired on 4x, it sure looks like the point of impact never changed! Some of you have asked about that in the past. The design of the scope determines whether the impact point will move when the scope's power is changed, but these days a lot of variable scopes stay right where they were when the power's adjusted.
Eighth lesson learned
Of the five groups fired with Premier heavy pellets on this day, only one is smaller than one inch. And it's significantly smaller! When you see those great groups in the future, you must ask yourselves what the rest of the groups look like.
Ninth lesson learned
I may be old and dried-out, but I can still shoot — a little. I get tired as the shot count increases, so that needs to be factored in to my tests from now on.
Summary
I'm very pleased with what this new TX200 Mark III has done so far. I think the rumors that the TX quality may have slipped are just that — rumors! Individual guns may have problems; but overall, the TX200 is one fine air rifle. Next, I plan on mounting a red dot sight and testing it for accuracy, again, to see what the differences are.
by Tom Gaylord, a.k.a. B.B. Pelletier
Today, I'm testing the Crosman MTR77NP scoped air rifle for accuracy at 25 yards. This is going to be a very different accuracy report, for I have no targets to show you. Well, there is one target, but it wasn't shot with the test rifle.
What gives?
In the last report, I mentioned that I wanted to mount a different scope on the test rifle and test it at 25 yards. I thought the Bug Buster 3-9x scope would be a good one, and I also shimmed under the rear ring because the rifle was shooting low in the 10-meter test.
I thought the rifle would group about 3 times larger at 25 yards than it had at 10 meters, but I also hoped some pellets might remain tighter than that. What happened, however, was just the reverse. Instead of 3-inch groups I got 5- to 6-inch "patterns." I won't call them groups because not all pellets fired even hit the target trap. And when that happens, I stop shooting that particular pellet immediately.
Crosman Premier lites
First up was the pellet I thought had the best chance to do well — the 7.9-grain Crosman Premier. They had done well at 10 meters with just 2 pellets outside the main group. Had they held to my 3X size increase, they would have grouped into about 2.2 inches; but when the third shot landed 6 inches away from shots 1 and 2, and then shot 4 landed 5 inches from that pellet, I stopped shooting.
I checked the scope mount to see that it was still tight. It was, and I'm pretty sure this scope is a good one because it has done well in other tests on other airguns. So, Premier lites are out.
H&N Baracuda Match
Next, I tried some H&N Baracuda Match pellets. But they were no better. They hit the target lower than the Premiers, and 3 shots landed in about a 5-inch pattern. Then, one pellet missed the target trap altogether. I stopped shooting after that shot, but I wasn't done with this pellet.
I got the Air Venturi Pellet Pen and Seater and deep-seated a couple Premier lites to see what affect that would have. The point of impact changed, but the accuracy didn't improve. And when the third shot missed the trap, I stopped shooting Baracudas.
RWS Hobby
The next pellet I tried was the RWS Hobby, which gave such a nice, round group at 10 meters. Two shots landed together, and I thought we were on the right road; then the next shot hit about 6 inches away from them. The 4th shot missed the trap altogether, and I stopped shooting that pellet.
RWS Superdome
By now, I was in a quandary. Was it me or the gun or the scope? I went back to 12 feet from the target and confirmed that the scope was still shooting to the same point, then I went back to 25 yards and tried an RWS Superdome. I had confirmed at 12 feet that the Superdome would be on paper at 25 yards and the first shot was. It landed high, but in good enough position to keep shooting. The next shot missed the paper altogether and I don't know where it went. That was it for Superdomes.
What to do?
By this point I was really shaken. My confidence was ebbing fast and I needed to end this session on a high note. So I grabbed my Beeman R8 Tyrolean and a tin of Air Arms Falcon pellets and shot a final group of 10 at 25 yards. This one turned out good, as I expected it would. That's where today's target comes from. It isn't the best group I've shot with the R8, but it's a darn sight better than I did with the MTR77NP. Ten shots went into 0.41 inches.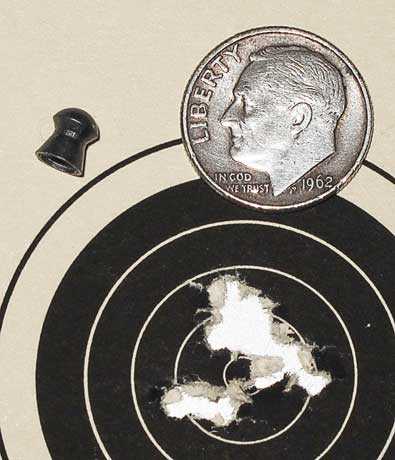 I shot this 10-shot group of Air Arms Falcons with my Beeman R8 Tyrolean, just to confirm that I still knew how to shoot. It measures 0.41 inches between the 2 centers farthest apart.
What's next?
I need some time to think about why this rifle might be performing like it is. If one of you made a report like this to me, I would tell you to check the scope because that sure seems like what it is. But I did check the scope and found no problems. The one thing left to do is to crank the elevation down all the way and all the way to the left and shoot a group. If it tightens up, then it was the scope. If not, it's either the mounts or the rifle.
A little tip
What I did with the R8 today is a handy tip to remember. Sometimes the problem is you — or you wonder if it might be. Shooting a good group with a rifle of known accuracy is the best way to rule that out.
by Tom Gaylord, a.k.a. B.B. Pelletier
Today's report is a guest blog from reader /Dave. It's his first report of a beautiful Walther LG55 he recently acquired.
If you'd like to write a guest post for this blog, please email me.
Over to you, /Dave.
This Walther LG55 is another used gun that I bought from a reputable seller on the Yellow Classifieds. B.B. asked me to share my impressions with you after I received it. For a lot of people here, this well be a repeat of how to evaluate a used gun. Most people here know, or at least have an idea, of what appeals to them before buying a used gun. Some don't like to risk money on a used gun, which I completely understand, having been burned once or twice. For those of you that do take risks, here ya go!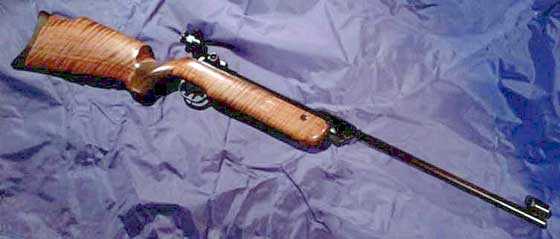 This curly walnut stock caught my eye right away!
After my new gun arrives, I generally give it a once-over, looking for any obvious faults and to find out if I need to do any serious work on it. I was happy to get this rifle after delays by the shipping company. The wait, which is normally pretty hard, was extended by more than another week while the shipper decided where it was really supposed to go. When it finally arrived, I was like a kid at Christmas trying to figure out the fastest way to get my new of gun out of the box and out of the paper, tape and bubble wrap that were quite generously used.
After freeing up the rifle and then unwrapping the rear target site, which had been removed and wrapped separately to prevent damage, I quickly mounted the site and brought it into the bright kitchen light to show off my treasured wood to my wife. She said that it looks alive, like a fish swimming! A great improvement over, "I'm not interested in that stuff"! So, I took off down the stairs with a big grin on my face to my little 9.5-yard range to try it out.


The curl goes all the way through the stock.
Giving the gun a quick once-over to make sure all was in place and not loose, I broke it open and cocked it. Man — this thing is easy to cock! A six-year-old could shoot it if he could hold it up. My old bathroom scale says it takes 18 lbs. to cock, and it weighs about 8 lbs. Even at 8 lbs., it should be an all-day shooter for me!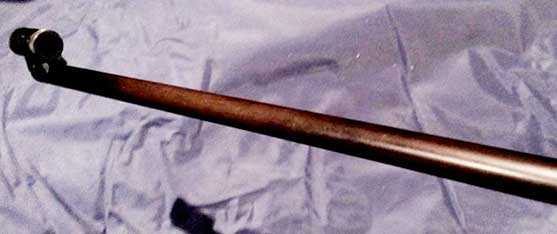 Barrel patina.
I took a couple of shots at about 5 feet and then 15 feet to see if it would stay on the paper and to check function. "Check function"… uh-huh! That's the adult way of saying, "I really can't wait long enough to go over this thing in detail. I gotta shoot it NOW!" Yes, just under the surface, I'm still just a 10-year-old boy!
What you don't see in the pictures is that the stock is scratched up. The barrel and compression tube are about a quarter to a third speckled with surface rust that's not pitted. It's more like the bluing wear from many hands, rather than neglect. Even with these faults, I'm inclined to just treat the whole gun with oil but not refinish it. Most of the scratches in the stock would vanish with a light sanding, but there are a few that would alter the stock's original lines if removed. Since I'm not really a big fan of wood filler and refinishing over scratches doesn't look right, I'll leave it alone. I kind of like this gun the way it looks, anyway. It speaks of a long life of use and enjoyment that would be lost if I dolled it up too much.


One of the worst dents on the bottom edge of the stock. Some of the wood fibers are cut, so I don't think this will steam out cleanly without leaving a hash mark. There are a couple more on the forearm that are as deep.
First results from my Competition Electronics ProChrono Digital chronograph with RWS Hobby pellets weighing 7.0 grains was around 412 f.p.s. Not that encouraging, considering a quick online search finds that LG55 rifles should shoot around 550-575 f.p.s. at sea level. I'm shooting at just over a mile high in elevation, so I don't expect to ever make that 575 f.p.s. mark, but somewhere around 525 f.p.s. would leave me tickled pink! But, the rifle is shooting very consistent within a few f.p.s. around 412, so I added a few drops of heavy silicone dashpot oil to the chamber and let it sit a few minutes.
I checked the breach seal while adding the oil, and it looks like it's in good shape, smooth and standing just a little above the surrounding metal. Tissue paper laid over the breach while firing confirms a good seal. If the tissue doesn't move, there isn't enough air leaking through to matter. No oil spray on the tissue is another good indication the breech is tight.
The oil in the chamber brought the velocity up to around 468 +/- 2 f.p.s. right away with no excessive smoke due to the low power of this target gun. That number goes up more after the gun has set for awhile, then drops back off while shooting. That's still encouraging. Along with the smooth, un-twangy solid thwack when the rifle fires and no grinding with a positive click of the sear falling into place when it's cocked, that tells me the gun probably just needs a new piston seal. The piston seal on this gun is synthetic, so the oil is just a temporary fix/diagnostic tool. It will need to be replaced to regain its velocity potential.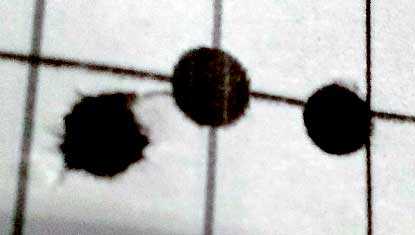 The difference on the target between 500 f.p.s. of the LG55 and 750 f.p.s. from an HW57. A faster pellet cuts cleaner and is much easier to score or measure when your target isn't exactly square to the shooting lane. A slower pellet has more tear-out.
While shooting through the chronograph, I noticed that I'd run out of adjustment on the sight and my groups were still hitting an inch high and to the left. Oh no! Shipping damage? Bent sight? Major tweaking might be needed! Ok, calm down and take a good look at things. First, I sight along the compression tube and barrel under a light to see if it's out of line. Looks pretty straight there. Check the sights. Tight and straight. Front sight is straight and the target insert is correctly seated in its notch, so on to the rear. The click adjustments run full travel on the rear peep sight, and it doesn't appear to be bent. The sight base seems to be clamping the dovetails correctly. Hmmmm. Ok, loosen the knurled knob and take off the sight to examine it closely. All appears good, so I centered the adjustments, and the peep is right in the middle. No problem here. More thinking….
I decided to remount the rear site and noticed that there are markings and grooves on top of the rail. I lined up the front of the sight with one of those marks. Ah-ha! The knurled nut now travels much closer to the base when I tighten it. The nut has a collar that extends into one of those grooves, locking the sight in place! After tightening it up, I decided to take a shot at a new target. Nine ring! Another shot. Another nine, breaking the ten ring! Great, that was the problem!
In my over-anxiousness to shoot, I'd missed seeing the grooves while mounting the sight and it wasn't seated properly on the rail. This is what threw off my point of impact. No barrel tweaking or major work other than a seal replacement is required! I've found a source for the seal and some other parts for this old gun at JG Airguns. I may make a seal mod with some Teflon round stock and a quad-seal o-ring (like I did with my TF99) if I can't get this one soon enough.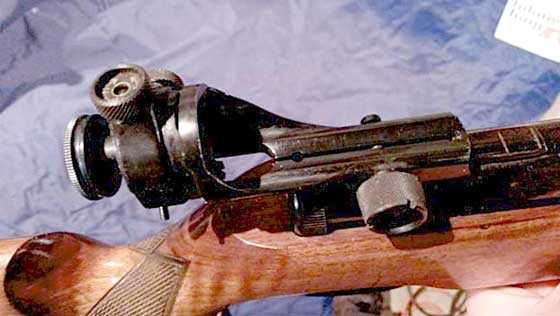 Notice the horizontal lines on top of the compression tube, in between the dovetails. The front of the sight must be aligned with one of these in order for the locking collar (beneath the knurled nut) to slide in and out and secure the sight from sliding.
The trigger has a really long first stage, and there's even a little slop in the trigger blade before it starts. I need to do some more research online for adjustment procedures to see if that can be reduced. If not, I'll leave it as is and just get used to it because it has a light first stage (almost a take-up) followed by a nice, clean, very light and predictable break. It makes the Rekord trigger on my HW57 feel heavy. Definitely not a modern lawyer/liability trigger here!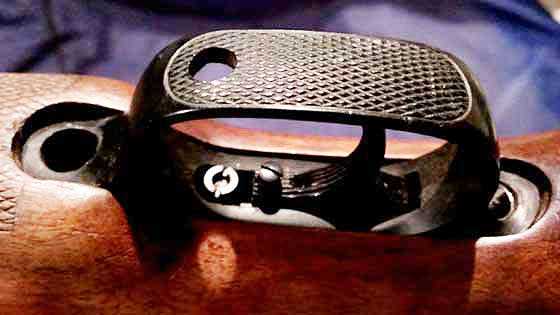 LG55 trigger adjustment screws.
Walther has diagrams of the LG51′s trigger on their website, but I don't think it's the same as the LG55′s trigger. The LG55 trigger is shaped different and has more adjustment screws. I'll need to fiddle around with them to see which one does what, unless someone can point me to the info I need. However, an online search has brought me these drawings that give me a better idea of what's what.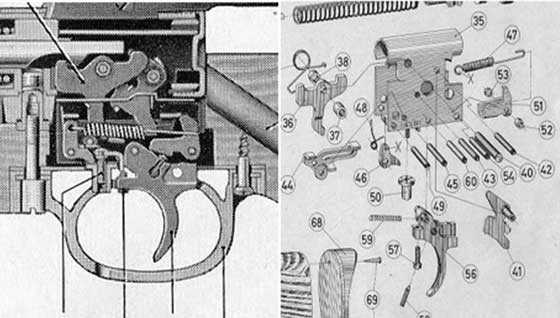 I'm pretty sure I can figure out which screw does what. The only thing that confuses me here is the far left collar (number 50 in the picture on the right), which has click stops when you adjust it…much like a scope turret. Thanks to the kind souls who posted these pictures on the Yellow Forum a while back!
I was curious about when this rifle was made but couldn't find any definitive information from Walther online. From what I could find in the forums from others who've paid Walther for their serial number lookups (and doing a little SWAG), S/N 086xxx tells me this rifle is 50+ years old. So, it was built back in the days when people took a little more time and pride in their work. A time before time studies and efficiency experts set unrealistic bars for production people to meet. But, I digress. I just like old guns!
I would normally run an accuracy test at this point, but I really need to first fix the compression seal to get the velocity back and stabilized. The accuracy and velocity test will be in Part 2. So far, even though I need to do a little work on it, I'm completely happy with this purchase.
by Tom Gaylord, a.k.a. B.B. Pelletier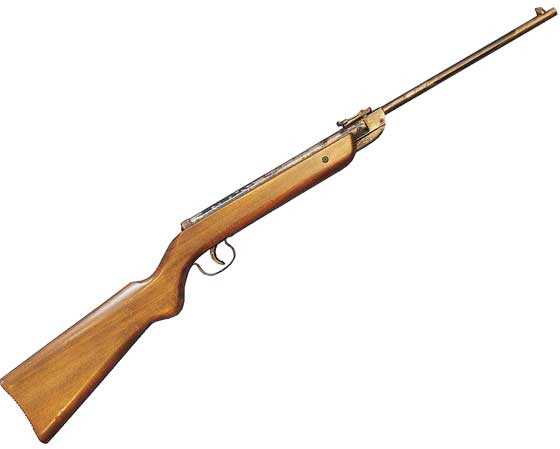 Not as pretty as I would like. This Diana 23 has led a hard life. I'll refinish it.
Today, we'll return to an oldie we haven't looked at in close to 2 months — the Diana 23. You may remember this is a rifle I bought for very little from an online auction — and when it arrived, I found it was better than expected. The finish is gone, but I plan to refinish it. And Larry Hannusch generously donated a brand-new old-stock Diana 23 barrel for the project, so I'm farther along than might be expected.
Last time, we tested the rifle at 10 meters and found that it showed decent accuracy for such a low-powered air rifle. Today, I'm pushing that out to 25 yards with 2 of the best pellets from the last test, plus a new one I've thrown into the mix. The goal is to see if this little vintage springer is accurate enough for general plinking duty out to 75 feet.
Days like this are always relaxing for 2 reasons. The first is that I'm testing something that's no longer available, so there are no company reputations on the line. I enjoy testing airguns, but it's disturbing to read all the sniping negative comments we receive when things don't go exactly perfect. It makes me feel like I have failed the gun somehow, and that's nerve-wracking.
The second reason a day like today is a pleasure is that the gun, itself, is such a little sweetie. The Diana 23 is lightweight and easy to cock. The trigger is certainly not world-class, but it releases with a reasonable pull; and, if the gun is also accurate with open sights, all the better.
The hold
I find when I shoot light low-powered airguns like the 23, the artillery hold isn't so important. I grasp the rifle tighter than a real artillery hold, though not as tight as I would hold a recoling centerfire. Maybe something more like a rimfire hold. The rifle seems to respond okay to this treatment.
JSB Exact RS
The first pellet I tried was the JSB Exact RS dome. They did well in the 10-meter test that I read before starting this one. I noted that deep-seated pellets did best in that test, so all pellets in this test were seated with the Air Venturi Pellet Pen and Pellet Seater. The RS pellets fit the bore very well and were not tight going into the breech as they were seated. They hit the target high and just a little to the right when I held the tip of the front sight on the 6 o'clock spot of the black bull. I used the standard 10-meter pistol target because it appears large enough for open sights all the way out to 50 yards.
The group I got measures 1.16 inches between the 2 furthest centers. I'm quite satisfied with that group, except for the centering. The way the 23′s sights are made, I'll have to drift either the front or rear sight in their dovetails to correct where the pellets land; and since I'm going to change the barrel, I decided to wait and see where the new one shoots.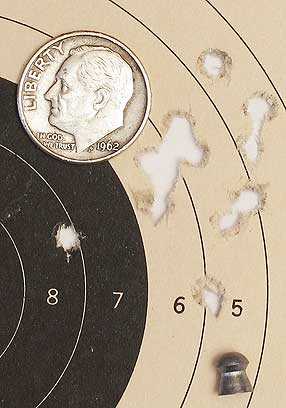 Ten JSB RS pellets made this 1.16-inch group at 25 yards. It's a little large; but for such a small rifle — and with open sights, I'm satisfied.
Air Arms Falcon
The second pellet I tried was the Air Arms Falcon that blog reader Kevin Lentz likes so much. They're made by JSB and weigh the same as the RS pellets, so the temptation is to think they're RS pellets under a different name. But I don't think that's the case. The late Bill Saunders of Air Arms told me that Air Arms owns the dies for all their pellets; and even though JSB makes them, they're not simply rebranded pellets. If anything, Falcons fit the bore a little looser than RS pellets.
At any rate, Falcons didn't do as well as RS pellets in the Diana 23. Ten of them made a group that measures 1.568 inches between centers. This group appears not to have 10 shots in it, but several pellets must have gone through the same hole at the top of the group because I counted each shot carefully.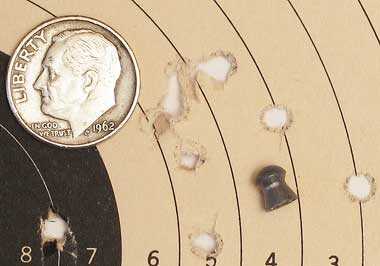 Ten Air Arms Falcon pellets made this 1.568-inch group at 25 yards. This is larger than I would like. I think I'll stick to the RS pellets for this rifle.
RWS Hobby
The final pellet I tried was the RWS Hobby wadcutter. They fit the bore very snug and popped in when seated. Though they were at the outside limit of distance for accuracy (wadcutters start to spread apart after 25 yards), they performed very well — delivering the smallest group of this test. Ten pellets went into 1.014 inches at 25 yards. With that kind of accuracy, I would stick with the Hobbys that are less expensive than the other premium pellets anyway. Sure, the accuracy falls off as the distance increases, but how much farther do I expect to shoot this rifle? Not much!

Ten RWS Hobby pellets went into 1.014 inches at 25 yards. This is great accuracy for such a small rifle and open sights.
That's all I'm going to test for now. Next comes the refinish and then whatever I do as I put the rifle back together. It's a fun little gun. I wish there were more like it!
by Tom Gaylord, a.k.a. B.B. Pelletier
Part 1
Part 2
Part 3
Part 4
Part 5
Part 6
Part 7
Part 8
Part 9

Brand new TX200 Mark III. It's very similar to my older TX, but the checkering is different and the line of the forearm is more scalloped.
I'm writing this extensive report to fully explore the fabulous Air Arms TX200 Mark III, which is without a doubt one of the finest spring-piston air rifles in the world! The good news is that it's still available today. The better news is that it's everything it's cracked up to be! Writers have a few trite phrases to convey quality in the airgun world. "As good as a TX 200″ is one of them, and it's very high praise.
There are 9 links above that will take you all the way back to the beginning, when I started by testing my own well-broken-in TX 200. But now I've shifted over to a brand-new rifle that Pyramyd Air sent to me to test. Some readers wondered if my rifle, which is so well-used that it might be performing above the bar, so to speak, because of the use it's had. They wanted to see a rifle that's being made today, and also one without all the wear on the parts. That's what we're testing now — a brand-new TX whose only shots are the ones you have witnessed on this blog.
Scope
The TX has no sights and must be either scoped or have some other kind of optical sight mounted. One of the tests we're going to do with this rifle is to mount a red dot on it and see what that does for it. Blog reader Mannish from Mumbai asked for that test a long time back.
We're also going to test the effects of shooting the gun at 4X and again at 16X with the same scope. Reader Duskwight asked for that — to see if the increased magnification would affect the group size. I also want to see if changing the magnification changes the point of impact, so that test will be a twofer.
I'm leading up to the scope I chose for this test. I might have selected the same Hawke 4.5-14X42 Tactical Sidewinder that was on my TX when I tested it, but that didn't give me all the magnification I wanted for Duskwight's test. So, I selected a vintage AirForce 4-16X50 scope, instead. Mine is older than the model being sold today, but the specifications are essentially the same. For a mount, I selected a nondescript 1-piece mount. I chose it because it has a vertical scope stop pin for the TX scope stop holes, plus it has the height needed for the scope's objective bell to clear the spring tube. I have no idea who made it.
The test
I started sighting-in at 12 feet, putting 3 pellets into the target and adjusting until they were in line with the center of the bull, more or less. They were high, so I cranked down about 4 complete turns on the elevation knob, knowing that back at 25 yards the gun would be shooting higher than at 12 feet.
When I shot the first pellet at 25 yards, it was still about 1.5 inches high, so a couple more turns down on the elevation knob brought it to the center of the bull. As always, I tried to intentionally keep the pellets from striking the center of the bull, as that erases my aim point very quickly. The sight-in was now complete with about 7 shots being expended.
All of today's shooting is at 25 yards, which is really close for a TX. I rested the rifle directly on my sandbag, with the bag turned sideways, so the rested area touched about 5 inches of the forearm. I used an ultra-light hold, and the groups showed the results. I selected a couple pellets that had done well in the test of my personal TX and one that had never been tested for accuracy before.
H&N Baracuda Match
The first pellet was the one I used to sight-in the rifle — the H&N Baracuda Match. It was landing to the left of the aim point and in the center of the bull for elevation. Ten shots landed in a group that measures 0.417 inches between the centers of the 2 pellets farthest apart. That's well within the range fired by my personal TX at 25 yards.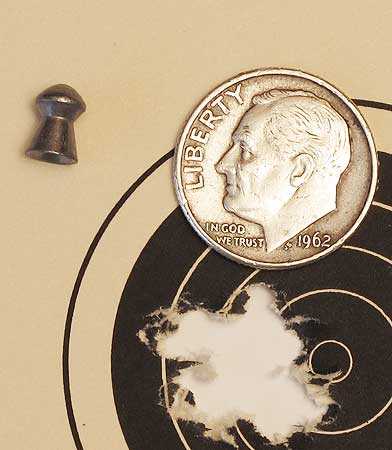 Ten H&N Baracuda Match pellets went into 0.417 inches at 25 yards. The rifle was rested directly on the bag.
JSB Exact RS
Next, I tried a pellet I haven't tried for accuracy in the TX — at least not that I can remember. The JSB Exact RS dome is a very lightweight pellet for a rifle this powerful. The first shot landed about 1.5 inches above the spot where the Baracudas were hitting, but it was still on paper, so I continued to shoot. Each shot that followed seemed to drop a bit lower on the paper, and as I was shooting I discovered something important. The rifle shoots this pellet very well, but it is extremely hold-sensitive. Moving the rifle a quarter-inch on the sandbag makes a tremendous difference. So, I was able to adjust the hold carefully and get the pellets to land closer together.
I think the RS pellet can be made to shoot, but it isn't worth the effort when there are other pellets that shoot even better without all the fuss. The 10-shot group I got measures 1.501 inches between centers, which is terrible; but 6 of those pellets were the ones I took special pains to hold exactly the same, and they measure just 0.496 inches between centers. That's the potential of this pellet when you handle the gun like it's a soap bubble!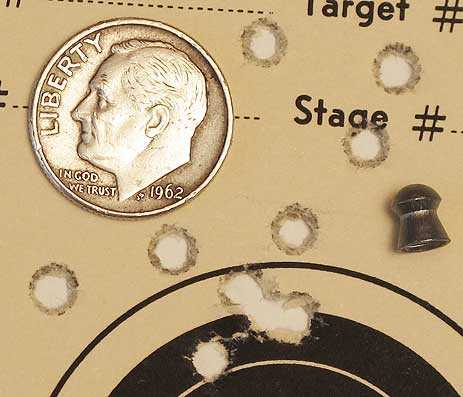 Ten JSB Exact RS pellets went into 1.501 inches at 25 yards, but 6 of them are in 0.496 inches. It's too much trouble to shoot that carefully, if you ask me, but the rifle can do it.
Crosman Premier heavy
The last pellet I tested was the Crosman Premier heavy. The group was a phenomenal 0.333 inches between centers! That's slightly better than the best group I shot with my own TX at 25 yards, but the difference is only 3 one-thousandths of an inch and could easily be hidden by an error in measurement. So, the 2 rifles are equivalent.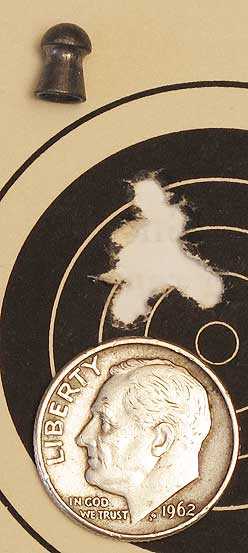 Ten Crosman Premier heavys made this 0.333-inch group at 25 yards. Clearly, the new TX 200 Mark III is a tackdriver!
I could have shot other pellets and shown you more targets, but by now you're getting the picture. The new TX is the same as it has always been — one of the finest and most accurate air rifles on the market.
Next
Next, I'll test this rifle at 50 yards. I'll do essentially the same test that I did with my own TX at that distance, but then I'll add the 4-16X test. That will tell us if there's an advantage to more magnification, and it will also show if the point of impact changes as the magnification changes.
After that test, I plan on mounting a red dot sight on this rifle and testing it at 25 and 50 yards. I think that will end the test of this rifle, unless something else comes up.
by Tom Gaylord, a.k.a. B.B. Pelletier
Today, we'll look at the first of 2 accuracy tests planned for the Crosman MTR77NP scoped air rifle. As you know, this rifle has no open sights; so, the first thing I did was mount the Centerpoint 4X32 scope that's included with the gun. That went quick because the scope caps have 2 screws each, but there was no slippage of the scope in the rings during this test.
The scope is very bright as you would expect a 4X scope to be, but at the 10-meter distance I shot in this test, it was fuzzy. The parallax is fixed for a further distance that isn't indicated on the scope. I can tell from examination that it's set farther than 25 yards.
I'm testing at 10 meters today and will take the best pellets into the next test, which will be at 25 yards. The first pellet up was the 7.9-grain Crosman Premier. You will remember from the velocity test that the test rifle shoots considerably slower than its advertised velocity of 1,000 f.p.s. with lead pellets. It went an average of 866 f.p.s. with 7-grain RWS Hobbys.
I discovered that the rifle is shooting low, even with the scope adjusted up high. For the next test, I'll shim the rear scope ring. That should raise the pellet up far enough.
Crosman Premier lites
At 10 meters, 10 Premier lite pellets made a group that measures 0.721 inches between centers. The group has a main group of 8 pellets within it and 2 flyers, though there were no shots that were pulled. This is a case where a better scope might do better on target because the image was so fuzzy that I might have been off the aim point by 1/8 inch at times.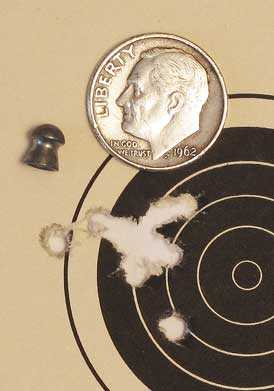 Ten Premier lites went into 0.721 inches at 10 meters. The 2 flyers were not called.
Firing behavior
The MTR77NP fires with a solid thump. There's no vibration, and the shot cycle is very quick. The recoil through the butt isn't sharp the way it is on many gas-spring air rifles. And the A2 stock seems to be ideal for handling the recoil of this rifle without stinging your cheek.
Trigger-pull
Now that I've shot the gun for accuracy, I can tell you the trigger-pull is very long in stage 2. The pull length of stage 2 is supposed to be adjustable, but I turned in the screw about 7 full turns and nothing changed. It feels like a placebo screw; or if it does adjust anything, the effect is very small.
H&N Baracuda Match
The next pellet I tested was the heavy H&N Baracuda Match. This pellet showed some promise in the velocity test, and I thought it might do well in this rifle. Ten of them went into a group that measured 0.982 inches between centers. Like the Premier lite, there were flyers outside the main group, though I did not see them when shooting. I'm beginning to think that the next test needs to be conducted with a different scope.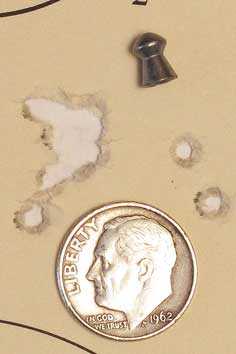 Ten Baracuda Match went into 0.982 inches at 10 meters. Two flyers in this group, as well.
The scope mounts had loosened by this point in the test. The rings remained tight, but the screws that attach the rings to the base on the rifle loosened up. I tightened them and also checked them after every 5 shots from this point on.
RWS Hobby
Next, I tried 10 RWS Hobby pellets. They went much lower and also to the left. They actually missed the target paper. The group was round and measured 0.826 inches between centers.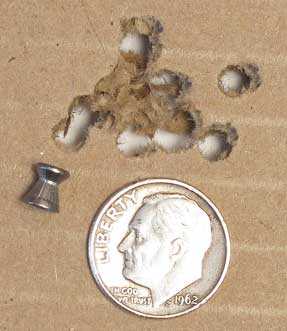 Ten RWS Hobby pellets went into 0.826 inches at 10 meters. This group is quite round, which is a good thing. It dropped below the target paper.
Crosman SSP Hollowpoint
I did check the Crosman SSP hollowpoint that was the lead-free pellet I tested in the velocity test, but after 2 pellets missed the target backer altogether, I stopped shooting. Not the pellet for this rifle.
JSB Exact Express
The last pellet I tested was the 7.87-grain JSB Exact Express dome. I haven't had much luck with this pellet in the past, but I keep trying it just in case. Alas, the MTR77NP doesn't like it, either. Ten pellets went into a vertical 1.661 inches at 10 meters. Another pellet to not use in this rifle.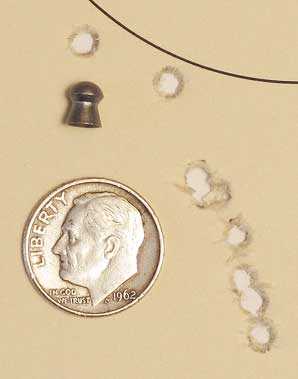 Ten JSB Exact Express pellets went into 1.661 inches at 10 meters. Obviously, not a pellet for the MTR77NP.
Evaluation so far
I like the way the rifle feels when it fires. It has good power and a solid thump when it fires. The trigger-pull is long but not too creepy.
The scope leaves a lot to be desired. I think I'll replace it with a Bug Buster 3-9X scope for the next test, and I'll shim the rear scope ring before mounting it on the rifle. That should give the rifle the best chance to do well at 25 yards.
Obviously, the pellets to try are the Crosman Premier lite, the H&N Baracuda and the RWS Hobby. The Hobbys will be at their maximum recommended distance, but they may surprise us.
If you like black rifles and have been considering the MTR77NP, I think it's worth a look. We'll know better after the next test.