by Tom Gaylord, a.k.a. B.B. Pelletier
Today, we'll test the Umarex Fusion CO2 rifle at 25 yards. And today was also supposed to be the day I tested how long you have to wait to remove the CO2 cap after exhausting the gas. That's not going to happn, though; because when I took off the CO2 cap to install 2 fresh CO2 cartridges, I noticed the o-ring was damaged pretty bad. So bad, in fact, that it might not work any longer. I switched it for a common black Buna o-ring of the same size and then charged the gun. At the end of this report, I'll tell you how that works.

The original o-ring had these two damaged spots. I thought it might leak, so I replaced it.
JSB Exact RS
When I tested the rifle at 10 meters, the best pellet was the JSB Exact RS dome, so that was the first pellet I tested this time. As I predicted after shimming the rear scope ring, the rifle was hitting too high at 25 yards. I had to drop it about 2-1/2 inches and move it to the right about three-quarters of an inch.
The first 10-shot group I fired measures 0.523 inches between centers. It's nice and round, also. Remember, I'm using the 4x scope that came with the rifle, so the bullseyes looked pretty small at 25 yards. Also keep in mind that this shooting was done indoors, so wind is not a factor.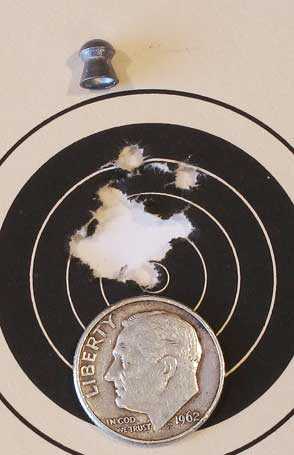 These 10 JSB Exact RS pellets made a 0.523-inch group at 25 yards.
The first group looked so good through my spotting scope that I shot a second one with the same RS pellets. This time, 9 of the pellets went into 0.455-inches, but one shot opened the group to 0.688 inches. That wild shot was not a called flier; it just went astray.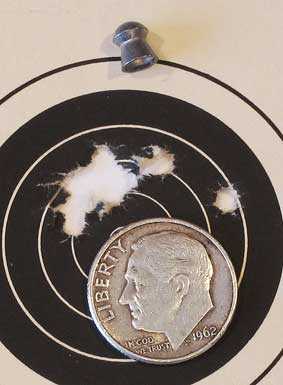 This second group of JSB Exact RS pellets measures 0.688 inches between centers.
H&N Baracuda Match
The second-best pellet at 10 meters was the H&N Baracuda Match, so that was the next pellet I tried. Ten landed in a 0.625-inch group that's open but fairly round at the same time. Looking through the scope, this group didn't look very promising; but I see upon inspection that it isn't much worse than the first 2 groups.

Ten H&N Baracuda Match pellets went into 0.625 inches at 25 yards.
Air Arms Falcon
The final pellet of the day was the Air Arms Falcon dome, which is made by JSB. Sometimes, this pellet surprises me with stellar accuracy. This time, 10 pellets made a group that measured 0.56 inches between centers. It's very close to the first group of JSB Exact RS pellets, which turned out to be the best group of the day.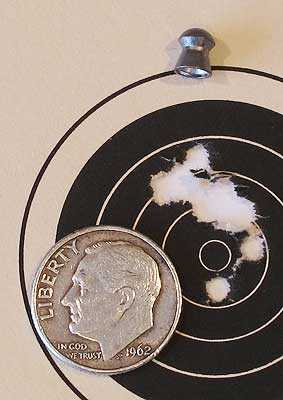 Ten Air Arms Falcon pellets went into 0.56 inches. It was the second-best group of the day.
The new o-ring
The new o-ring worked, but there was some leakage when I pierced the cartridges. The gas exhaust screw wasn't the culprit this time — it was the o-ring that leaked. I suspect I selected a ring that is too thin for the job. When I removed the cap, I saw that this ring had also absorbed the gas and swollen quite large. I took a picture of it 5 minutes after taking it out of the gun and again after 45 minutes, so you can see the dramatic difference as the o-ring outgasses and shrinks back to normal.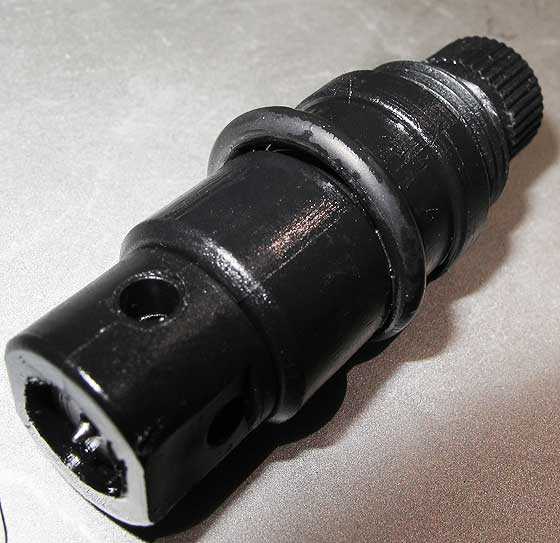 The o-ring after 5 minutes out of the gun. It's still swollen with absorbed CO2.

The o-ring after 45 minutes out of the gun.
Final evaluation
There's a lot to like about the Fusion air rifle. It certainly is accurate, and it fully delivers on the promise of quiet operation. There aren't many other air rifles in this price range that can compete. Even the scope that comes with the rifle seems to be up to the task.
While today's groups are not stunning, they're all good.  It's interesting to note they're all under three-quarters of an inch and some approach a half inch.
I do think the o-ring that comes with the rifle needs to be changed to something that doesn't swell. And it would be nice if the trigger was more adjustable. But those are small points. If you're looking for a fun plinker that's both quiet and accurate, put this one on your list!
by Tom Gaylord, a.k.a. B.B. Pelletier
Today, we'll test the velocity of the .177-caliber Crosman MTR77NP scoped air rifle. This rifle has a Nitro Piston, which is Crosman's gas spring, so it should be interesting. The advertised velocity is 1,200 f.p.s., which we must assume is with a lightweight, lead-free pellet.
Blog reader John asked me if the front sight base is on tight or does if it rotates around the barrel. The one on this rifle is firmly in place, but I thought it would be good to show you how the front sight base is attached to the rifle. It's part of a synthetic sleeve that goes over the end of the barrel, and I assume it's held in place by epoxy. That would be the most cost-effective method of doing it. John mentioned the possibility of a splined barrel and jacket, but that has a number of problems. It involves extra manufacturing steps (the cutting of the splines); plus, it runs the risk of being installed in a not-perfectly-straight orientation that would cause a lot of problems with sales and returns. Epoxy has none of those problems and costs very little.


With the barrel broken open, you can see the front sight base on the barrel sleeve. This is what John wondered about.
Cocking effort
The advertised cocking effort is 45 lbs. The test rifle cocks with 42 lbs. of effort as measured on my bathroom scale.
Crosman Premier heavy
The first pellet I tested was the 10.5-grain Crosman Premier heavy. Because this rifle comes in .177 caliber, I had a choice between these and the lighter 7.9-grain Premier lites. I chose the heavier pellets because of the rifle's power potential; but as you'll now see, that wasn't necessary.
Premier heavys averaged 675 f.p.s. through this rifle. The first measured shot from the gun went 705 f.p.s.; but after that, nothing went faster than 681 f.p.s. with this pellet. I threw out the first shot and ran the string from the second shot forward. The high was 681 f.p.s., which happened at the beginning and near the end of the string. The low was 665 f.p.s on the final shot. The spread of shots in this string is 16 f.p.s. At the average velocity, this pellet produces 10.63 foot-pounds of muzzle energy.
RWS Hobby
Next, I tested the RWS Hobby pellet that's used for all legitimate velocity comparisons. It's not a super-lightweight pellet and is made of pure lead, so the lubricity in the bore is what you want in a diabolo pellet. In the test rifle, Hobbys averaged 866 f.p.s., which is a good velocity for accuracy but a little slow for a rifle that hopes to see 1,200 f.p.s. with super-lightweight pellets.
The spread for this pellet ranged from a low of 856 to a high of 872 f.p.s., for a spread of 16 f.p.s. At the average velocity, Hobbys produced 11.66 foot-pounds of energy.
H&N Baracuda
I tested the H&N Baracuda Match next. Normally, a rifle shooting this slow would be considered too weak for Baracudas, but I thought their all-lead content might speed them ahead of the Premier Heavys that are hardened with antimony. And it did! In spite of being 1.15 grains heavier than the Premiers, Baracuda Match pellets averaged 685 f.p.s., which is 10 f.p.s. faster. The range went from 677 to 692 f.p.s., for a total spread of 14 f.p.s.
I think this pellet might surprise us with its accuracy. I certainly intend to include it in the test.
Crosman SSP hollowpoint
The final pellet I tested was the lead-free, super-lightweight Crosman SSP hollowpoint. If anything is going to go 1,200 f.p.s in this rifle, it's this 4-grain pellet.
They averaged 1094 f.p.s. in the test rifle, but the velocity spread was huge! The slowest pellet went 1018 f.p.s., while the fastest went 1142 f.p.s. That's a spread of 124 f.p.s. After seeing how this pellet did for accuracy in the Fusion, I'm temped not to test it in the MTR77NP; but if I do a 10-meter test to start with, I could risk it.
Trigger-pull
Now that I've had some more time to assess it, I can make a better report on the MTR77NP's trigger. It's a 2-stage pull that feels more like a single-stage pull that has some slack before it engages. Stage 2 is very long and has some creep, but not a lot. For you newer readers, trigger travel is when you can feel the blade move and creep is when it stops and starts (is gritty or jerky) throughout the movement. Movement by itself isn't bad; but with too much creep, you never know what's happening. The MTR77NP trigger is not too creepy for good trigger control.
Evaluation thus far
I remain optimistic about the MTR77NP. I like the fact that the velocity is not over the top. Perhaps that explains the slightly easier cocking effort of the test rifle. Whatever it is, it fits my idea of what an air rifle should be.
I'm not a fan of gas springs, but there have been a couple I really liked. The Benjamin Legacy and the Benjamin Trail NP with lower velocity are 2 rifles that satisfied my criterion for what a decent air rifle should have and be able to do. Will the NTR77NP follow in their footsteps? We shall see.
by Tom Gaylord, a.k.a. B.B. Pelletier
Today is the first accuracy test of the Umarex Fusion CO2 rifle. It comes one part late because we spent time looking at the CO2 cap, the adjustable trigger and the power adjuster in Part 3. The power adjuster is straightforward — twist the screw in and increase the striker spring tension to increase power. The trigger, we learned, is adjustable, but the safety slider prevents a very wide range of adjustability. You can modify it if you choose, but I don't recommend it; and it will void any warranty on the gun. Blog reader mikeiniowa explained how it's done, but he said to use caution — and I don't intend doing it to the test gun.
You should now understand how the CO2 cap works, but there's one additional thing that I think needs to be stressed. The gas exhaust screw on the cap is to use after the CO2 has been depleted. Screw it in and exhaust the remaining pressure. But that isn't the end because the cap still cannot be taken off safely, as a reader mentioned yesterday. The o-ring that absorbs gas has to be given a lot of time to exhaust that gas and shrink back down to normal size before you attempt to remove the cap. If you try to remove the cap too soon after exhausting the gas, the o-ring will still be swollen and tightly wedged in place. You could tear it if you use too much force on the cap. So, let an hour or two pass before you try to remove the cap; and leave the exhaust screw screwed in, so the remaining gas that leaves the o-ring can get out of the gun. Anyone who has ever owned a Schimel CO2 pistol knows what I am talking about because they had the same problem.
Mounting the scope
The Fusion comes with a 4X32 scope and rings that must be mounted on the gun. The rings are made to clear the rounded receiver top, so don't think just any rings will work. I want to show you what one of the rings looks like after installation, so you don't go nuts thinking it's not on the gun squarely.

The Fusion receiver is rounded on top, so the bottom of the scope ring must be profiled to clear the hump. The rings that come with the gun are correctly shaped for this. Don't let the cockeyed jaw piece fool you — this ring is on the rifle straight and tight!
The scope caps have 2 screws each, which is perfect for this gun. There's no recoil, so 2 screws hold the scope tight enough for good accuracy.
Once the scope was mounted, I sighted-in at 10 meters. All of today's shooting will be from 10 meters for reasons I will explain as we go. I'm telling you that because the groups will be smaller than if they were shot at 25 yards. I do plan on testing the Fusion at 25 yards, too, but first I have to establish what it can do closer.
One additional thing about the sight-in. All the pellets struck the target low at 10 meters. I accepted that for the whole test, and I had to adjust the scope up very high to even get that. You know how nervous that makes me! So, at the end of this test I'll shim the rear scope ring and try one more group with the best pellet. The groups you'll be seeing are either low on the bull or just beneath it.
JSB Exact RS
The first group was shot with the JSB Exact RS pellet. As I shot, I could see all the pellets going into the same place; although with the 4x scope, it wasn't easy to see exactly how good it was until I went downrange. It turned out that 10 pellets made a 0.286-inch group, measured between centers. And this group is very round, which is a good sign that everything is right with the rifle.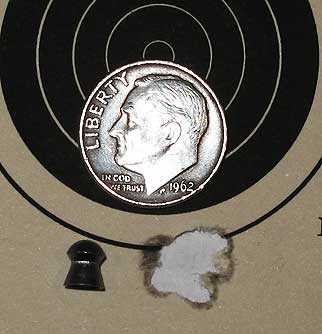 Ten JSB Exact RS pellets made this 0.286-inch group at 10 meters. Remember — this is only 10 meters, so the groups are going to be smaller. But this is a great group!
I observed several things while shooting the first group. The first is the trigger, while having a very long second stage pull that you can feel, is very controllable. Next, I did find the rifle just a bit fiddly to load. Once I got the hang of it, however, I was able to load pretty fast. But the pellets tend to flip around in the trough — especially the domes!
And, finally, I noted how very quiet the Fusion is! Our female cat, who usually walks around the house complaining every time I shoot, found it hard to hear what I was doing unless she was in the room with me. Even then, the noise didn't seem to bother her, though Edith did say she walked into her office to complain once. Other than that, she was quiet. I think any apartment-dweller could shoot this rifle indoors without bothering the neighbors.
H&N Baracuda Match
Next, it was time to test the H&N Baracuda Match pellets. They landed higher on the target than the RS pellets but were still below the point of aim. This group measured 0.345 inches and was just as round as the RS group.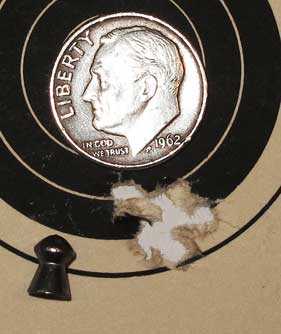 Ten H&N Baracuda Match pellets made this 0.345-inch group at 10 meters. Once again, the group is round and quite small.
Crosman SSP hollowpoint
Then I tried the lightweight lead-free Crosman SSP hollowpoint. I didn't expect much from these pellets, but I tried them because I'd used them in the velocity test. They produced a 10-shot group that measures 1.66 inches between centers. Obviously, I'm not going to shoot this pellet at 25 yards and risk hitting the walls of my house or the furniture! This is why I started shooting at 10 meters.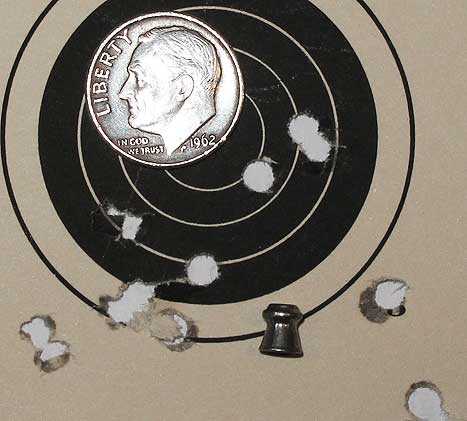 Ten Crosman SSP hollowpoint lead-free pellets went into 1.66 inches at 10 meters. Several seem to have gone through while tumbling. Not the pellet for the Fusion!
RWS Hobby
The last pellet I tested was the RWS Hobby wadcutter. Ten went into 0.59 inches at 10 meters. But the first pellet went to the left of the next 9, so I think this might be one of those times when conditioning the bore was required for best results. Not that I believe in that theory, mind you, but this time it really looked like that's what was happening. The 9 pellets went into 0.36 inches — a much better showing! The Hobby is the third best pellet in the test, but I think the group of 9 is more representative of what it can do.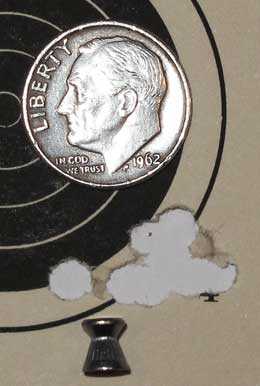 Ten RWS Hobbys went into 0.59 inches, but the last 9 went into a much tighter 0.36 inches.
The JSB Exact RS and the H&N Baracuda Match are the 2 pellets I'll test at 25 yards. I would include the Hobbys, but 25 yards is right where wadcutters start to spread out, so I'll just go with the 2 domes. However, there's still one more thing to try today.
I removed the scope and put one plastic shim on the bottom of the rear ring under the scope tube, then installed the scope again. I went back to 10 meters without any sight-in shots and shot one more group with JSB Exact RS pellets. The group moved up over 1-1/4 inches and over to the left by a half-inch. This is where I will begin shooting at 25 yards, knowing that I'll probably need to decrease the elevation to get back on target. Isn't that interesting, that the point of impact moved up so much with a single shim? The shim measured 0.013 inches, by the way.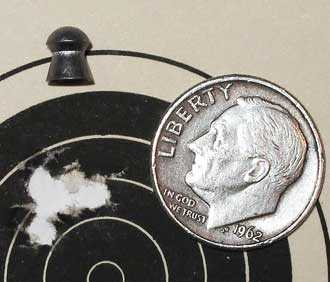 Ten JSB Exact RS pellets went into 0.244 inches at 10 meters. It's the best group of the day! This group was fired after a 0.013-inch shim was placed between the scope and the rear ring. The scope was then simply remounted and no sight-in was done. This group is about 1.30 inches higher than the first group. It also appears to be smaller, but the dark paper hides the true size of the pellets.
Impressions so far
The Fusion is a winner! I like everything about it. It has taken some time to understand; but now that we've been through the design and know what to expect, you show me another air rifle that costs $170 and shoots like this one. We're talking groups very similar to what vintage 10-meter target rifles can produce.
No — it's not a good rifle for hunting; and, no, I don't think it can be modified to become one. If that's what you want, get a Discovery. Leave the Fusion as it is — a nice, quiet, accurate rifle.
25-yard testing yet to come.
by Tom Gaylord, a.k.a. B.B. Pelletier
Part 1
Part 2
Part 3
Part 4
Part 5
Part 6
Part 7

Brand new TX200 Mark III. It's very similar to my TX, but the checkering is different and the line of the forearm is more scalloped.
This is the second look at the brand-new TX200 Mark III that Pyramyd Air sent to me for this test. We've been looking at my older TX200 Mark III until recently, but now we're looking at the gun that comes when you order it today. Over 40,000 TX200 air rifles have been sold since the model was first introduced in the late 1980s, and today's version is probably the best of all.
Today's look will be a traditional Part 2 velocity check because that's one of the things you readers have been asking about for many years. I keep telling you that the rifle comes out of the box shooting slower than it's rated; but as it breaks in, the velocity continues to climb. Today, we get to really look at the gun right out of the box. I've purposely held off shooting the rifle more than just a few shots, so this test can be as accurate as possible. Here it goes.
The TX200 Mark III is rated to shoot 930 f.p.s. in the .177 caliber we're testing. That's not an advertiser's claim. That's based on my testing the guns over the past 20 years. And it's also not with lead-free, lightweight pellets. It's with Crosman Premier 7.9-grain lites. In other words, 930 f.p.s. or more is what you can expect from your TX200 with Premier lites, as long as it remains original. But it doesn't start out that fast. It's been my experience with TX200s that they start out shooting Premier lites around 875-890 f.p.s. I've written these words before doing any testing of today's gun, so I'm going to find out what actually happens right along with you.
Crosman Premier lites
Well, shut my mouth! Imagine my surprise when the first Premier lite came out of this new rifle at 936 f.p.s.! Boy, was I off the mark on this one!
The first 10 Crosman Premier lites averaged 926 f.p.s. The spread was broad for a TX — from a low of 917 to a high of 936 f.p.s. That's 19 f.p.s. difference across 10 shots. And there was a smell of burning oil in the room, so I know combustion had something to do with both the higher velocity and the larger spread. At the average velocity this pellet produces 15.05 foot-pounds of muzzle energy.
H&N Baracuda Match
Next, I tried H&N Baracuda Match pellets. They weigh 10.65 grains, making them a heavy pellet in .177 caliber. They averaged 830 f.p.s. in the test rifle, with a spread from 821 to 835 f.p.s. At the average velocity, this pellet produces an average 16.30 foot-pounds of energy at the muzzle. That's uncharacteristic of a spring rifle — when a heavier pellet produces more power than a lighter one. But that's what this rifle did.
RWS Hobby
Whenever airgun manufacturers wanted to show how fast their guns were in the days before lightweight lead-free pellets, they invariably tested them with RWS Hobbys. At just 7 grains, this wadcutter is one of the lightest lead pellets around and should give the highest practical velocity the rifle is capable of.
Hobbys averaged 1011 f.p.s., with a low of 1000 and a high of 1022 f.p.s. Right there you have proof that Air Arms is being very conservative in their velocity estimates. At the average velocity, Hobbys produced 15.89 foot-pounds of energy at the muzzle.
This TX is shooting much faster than I anticipated. It's doing essentially its advertised velocity right out of the box — with Crosman Premier lites! What will happen as it breaks in? My thinking is that it will continue to get faster like the other rifles I've seen, but this one may not get that much faster. It may be closer right now to where it will end up after 10,000 shots have gone through it. My well-broken-in TX now averages 963 f.p.s. with Crosman Premier lites. It started out around 875 out of the box. I think this one will eventually be just as fast, but not proportionally faster.
Cocking
I mentioned some noise when cocking the rifle in the first report. That has already begun to decrease with just the few shots in this test. I think it may disappear entirely in a few hundred more shots.
The cocking effort is at 34 lbs. right now, but I can feel some stiffness in the linkage. I think that's going to smooth out and drop by several pounds over time.
Trigger-pull
Of course, the TX trigger is extremely adjustable, so this is just a measurement of how it came from the box. In the next installment, I'll discuss adjusting the trigger in great detail.
The trigger breaks crisply at 1 lb., 12 oz. as it's currently set. That's 28 oz. It feels heavier than the trigger on my TX, which it should, since mine is releasing at just  9 oz., or roughly one-third the weight of this one. The point is that when it comes to triggers, TX200s are so refined that almost no other sporting spring airgun has a trigger in the same category.
Observations thus far
So far, the new TX is performing pretty much as expected, with the exception of shooting way faster than anticipated. Everything else is right on the money, so I know the elves at Air Arms are still making these airgun the same old way — which is very good.
I have a couple of other experiments planned for the TX after the final accuracy test, and I was going to go back to my own rifle after I tested this one for accuracy; maybe I should do them all with this one. One test was requested by blog reader Mannish from Mumbai, who asked me how dot sights do on springers. I had planned on testing that on a TX, so perhaps I might use this one. Blog reader duskwight wondered if the group size will change when switching your scope from 4x to 16x. I'd planned on testing that at 50 yards with a TX; and with that particular test, we'll get a bonus — seeing if the point of impact changes as the power changes. Good stuff!
But the trigger adjustment is next.
by Tom Gaylord, a.k.a. B.B. Pelletier
This topic was received well last week, so I'm doing the second list today. Several readers have reminded me of other gifts I should mention, and some of them will make today's list. If I don't list something you suggested, there's a reason. These are the things I recommend without question.
Stocking stuffers/small, neat gifts
Gifts in this category don't cost a lot but will have great meaning to airgunners. Some of them are things that shooters won't buy for themselves.
Air Venturi Pellet Pen and Seater
Someone suggested the Air Venturi Pellet Pen and Seater, and I have to agree. This is a great gift, and it's one that a lot of shooters won't buy for themselves.
EyePal Peep Sight Master Kit
The EyePal Peep Sight Master Kit is another gift that people may not think about; but when they have one, they'll love it. I chose the Master Kit so you can use it with both rifles and pistols (and bows if you're an archer, too). Even if you don't wear prescription glasses, the EyePal is a great aid for your safety glasses to sharpen your vision and make that front sight clear!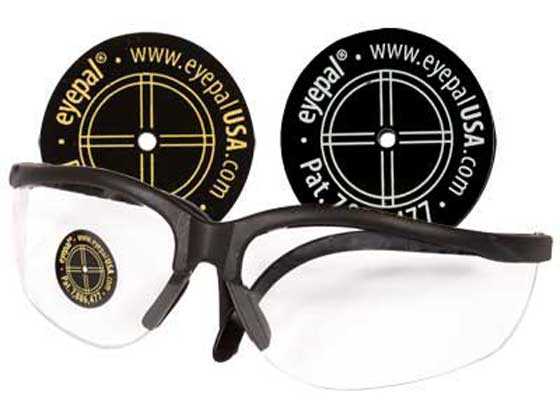 The EyePal makes the front sight appear razor sharp. Use it on prescription glasses and non-prescription safety glasses, alike.
Pellet selection
Here's a gift I'm putting in this section, although it will cost you some money. Pyramyd Air offers 4 tins of pellets for the price of 3. Your favorite airgunner has pellets he or she really likes, but they don't buy them all the time because they may cost too much.
Consider this gift similar to one of those fancy boxes of candies or Christmas smoked meats that are given this time of year. Nearly everybody likes them, but we don't spend money on them for ourselves. So, this is an opportunity to buy something your airgunner wants but will never buy himself. The one problem you have is finding out which pellets to buy. Rather than try and guess what your airgunner wants, I'm going to leave this up to you. You need to do a little investigation, maybe look at the pellets that he has on the shelf, or just talk to him and find out what he really wants but hasn't bought.
Gifts under $50
Crosman 357
For a pistol shooter the Crosman 357W is a great idea. It's a revolver, so you get multiple shots per loading; and for the money, it's an accurate little air pistol.
Walther Multi-Tac tactical knife
If your airgunner is a gadget junkie, you can't do much better than a Walther Multi-Tac tactical knife. It's a tool kit for your pocket. And it has a 440C stainless steel blade to cut whatever you need.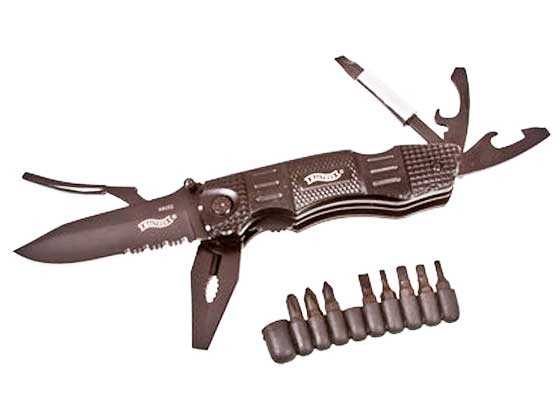 Walther's Multi-Tac knife is a toolkit in your pocket!
Walther Xenon Tactical flashlight
Can't have too many flashlights! Not when you need one! The Walther Xenon Tactical flashlight uses two CR123A batteries to cast a 60-lumen light. That means you get both good battery life and a powerful light.
Gifts under $100
Some of these gifts are just over the $50 mark, so look at them carefully. This category holds some of the most surprising values in airguns.
Legends Makarov
The Makarov from Umarex is a wonderful BB pistol that I just can't stop talking about. I bought one for myself after testing it! It's extremely accurate for a BB pistol, which means you really can use it for target practice. It runs on CO2, so don't forget to get some CO2 cartridges if you give this gun as a gift.
Simply one of the best BB pistols you can buy at the price, the Legends Makarov is accurate, well-made and inexpensive.
Crosman 2240
Another fine CO2 pistol is the single-shot Crosman 2240. It's a .22-caliber, bolt-action pistol that's powerful and accurate, plus it serves as the basis for many aftermarket modifications.
Ruger Mark I
The Ruger Mark I air pistol is powered by a spring-piston. It isn't very powerful, but it's a great companion for the handgun shooter who only wants to poke holes in targets and plink with a pistol that's easy to cock and accurate.
Stoeger X5 air rifle
The Stoeger X5 air rifle is a wonderful, youth-sized, spring-piston rifle that has enough quality to make my list. The trigger is a little stiff, but the accuracy is there. It reminds me of the Hämmerli 490 that is, sadly, no longer available.
Gifts a little over $100
I created this category for those items that are a few dollars over $100 but are still within the realm of economy. Sometimes, the things you want are just over the line — no matter where you arbitrarily draw it.
Shooting Chrony Alpha chronograph.
The Shooting Chrony Alpha chronograph is the instrument I use to document 98 percent of the work I do. I use it because it's small, portable and very reliable. Sure, there are reasons to use my Oehler 35P chrono, sometimes; but most of the time, this is my choice.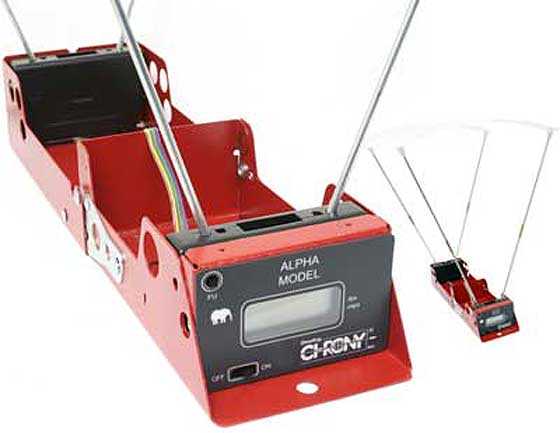 Though it's just $10 over a hundred, the Shooting Chrony Alpha has everything you need!
Daisy Avanti Champion 499 BB gun
I have to recommend the Daisy Avanti Champion 499 BB gun because it is the target shooter's dream. Where other BB guns will put 10 shots into three-quarter of an inch at 16 feet when all is right, this one will put 10 into a quarter-inch at the same distance. This is a shooter's tool, not a hunting gun or bragging-rights gun. Be sure to stock up on the special Avanti Precision Ground Shot if you get this gun because it definitely adds accuracy! And order some special 5-meter BB targets that are sized right for this gun!
IZH 60 air rifle
I am also going to put the IZH 60 air rifle on my list this year. Though the accuracy slipped when the gun's design was changed several years ago, this is still a delightful youth rifle that's easy enough for even smaller kids to cock. It has reasonable accuracy, and the sidelever design means that fingers can't be pinched in the mechanism like they would on guns having sliding compression chambers. I recommend the single-shot over the repeater for reasons of safety.
Daisy 953 TargetPro
I normally don't recommend combo guns, but I'll make an exception for the Daisy 953 TargetPro. It's a pellet rifle with enough accuracy to get you into the game without spending a bundle.
Gifts under $300
Gifts in this category start to take on the aura of personal taste. My recommendations may not be what your airgunner wants, so you need to find out if they are before you buy anything.
Benjamin 392 pump
This one is very personal. You airgunner will either like it or not. So, check first. The Benjamin 392 pump is the best multi-pump rifle going, these days. Its heritage dates back to the late 19th century, so there's a lot of history there. I also chose the .22-caliber 392 for its power; but if your airgunner only wants to shoot at targets, then the 397 is the same rifle and shoots cheaper .177 pellets.
Daisy Avanti 853
The Daisy 853 is right at $300, but its a great buy even at that price. It features a Lothar Walther barrel and has been used by millions of kids for competition in the decades it's been around. The trigger is rough, but there are several websites that tell you how to fix it. To get anything with better accuracy, you're going to need to spend several hundred dollars more.
Diana RWS LP8
Want an air pistol that shoots like a rifle? The Diana RWS LP8 is the one to get. It just may be the best value in a really good air pistol these days. It has plenty of power and is very accurate. The breakbarrel cocking is on the heavy side, but an adult male shouldn't have a problem.

For the price, the Diana RWS LP8 air pistol can't be beat.
Gifts without limit
Now, we can spread our wings a little. This is where many of the better airguns live.
HW 30S
Let's start with the HW 30S. You know this rifle as the Beeman R7 when it's in a different stock, but airgunners know the HW 30S has the same powerplant and the same adjustable Rekord trigger as the R7. If your airgunner likes the styling of the HW 30S, it's less expensive; but if he wants an R7, it's also a wonderful spring-piston air rifle.
Diana RWS 48
If you want a big bruiser spring-piston air rifle, the Diana RWS 48 is one I would recommend. And, I recommend it in .22 caliber, where you get all the power it can develop. The 48 is a sidelever that's surprisingly easy to cock, despite the level of power it delivers. It's also very accurate. One thing, though, the 48 is a big air rifle, so be sure your shooter knows what he's in store for. Definitely for adults, only.


Diana 48 sidelever from RWS is large and in charge!
TalonP air pistol
There's no other smallbore air pistol that can hold a candle to the TalonP air pistol from AirForce Airguns. It comes in .25 caliber and has 10 shots per fill at over 50 foot-pounds of muzzle energy! Many rifles can't equal it! When I tested it for accuracy, I got sub-one-inch groups at 50 yards. It's a hunting air pistol extraordinaire.

The TalonP pistol from AirForce Airguns leads the pack for power and accuracy.
Walther LGV Challenger
If you want a really fine breakbarrel spring rifle, you can't do better than the Walther LGV Challenger. I recommend the .22-caliber gun because it was so smooth when I tested it.
by Tom Gaylord, a.k.a. B.B. Pelletier
It's been some time since I did Part 3 of the Evanix Rainstorm 3D bullpup rifle. Just to remind you of where we left off, I found the gun difficult to shoot with the UTG 3-9X32 Bug Buster rifle scope because of the medium-height scope rings. I removed that scope and mounted the UTG 3-9X40 True Hunter rifle scope that comes bundled with high 2-piece Weaver rings. They were better, but even they seemed a bit too low because of the bullpup configuation. This is the same scope I used in the test of the Hatsan AT P1 PCP pistol.
Today's test was done at 50 yards on an outdoor rifle range. The weather was perfect, without a hint of breeze. I didn't sight-in the scope before going to the range, so I sighted-in at 50 yards. Luckily, the scope wasn't that far off, and I was on target in 3 shots.
The 25-yard test that was done in Part 3 showed that only 2 pellets were worth trying at 50 yards. I shot just them and nothing else.
I also want to remind you that the rifle likes to be filled to 2,900 psi according to my tank's gauge. It has more than 10 shots on a fill, but it does go through air pretty quick. So, just for continuity, I refilled after every group.
JSB Exact 15.9-grain domes
I sighted-in with the best pellet from the earlier test, which was the 15.9-grain JSB Exact Jumbo Heavy. Since the third shot landed where I wanted, I continued to shoot and made an 8-shot group for starters. That group measured 0.961 inches between centers. I noted that the bullpup-style stock made the rifle difficult to hold steady on target, so this group was as steady as I was able to hold. I was fighting the trigger, which breaks at 6 lbs., 10 oz. It's hard to hold on target with a trigger this heavy. Also this rifle is tall and narrow, so it wobbles from side to side when you hold it. I didn't see a way around that at first, but then I figured it out.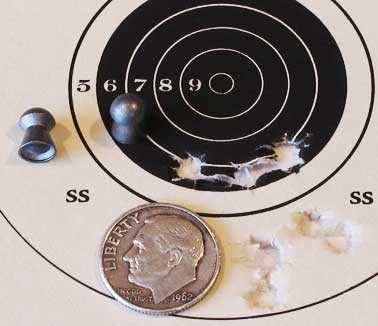 Eight JSB Exact 15.9-grain domes landed in 0.961 inches at 50 yards. The shots are a little low, so I adjusted the reticle up a couple clicks after shooting this group.
Next, I shot a 10-shot group with the same JSB Exact Jumbo Heavy pellets. The rifle's circular magazine holds 11 pellets, but I loaded it with only 10 to keep things consistent with most of my other 50-yard tests.
The scope had been adjusted higher for this group, so the shots landed higher on the bull. Ten pellets made a 1.501-inch group. I must comment that during this group I saw the crosshairs move around on the bull a lot more than I would like. That heavy trigger caused it. In the group that resulted, I see 2 separate points of impact that are one above the other. That isn't what I would expect a sideways wobble to produce, but something was wrong with my hold. I had to solve that first.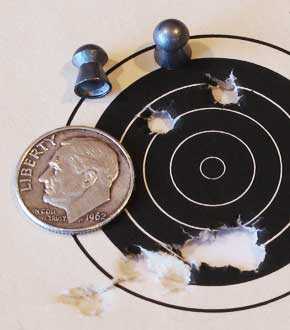 This is the first full 10-shot target that was fired at 50 yards with the Rainstorm bullpup. It measures 1.501 inches. Eight pellets went into 0.941 inches.
Toward the end of the first full group, I found a way to stabilize the rifle pretty well. I was shooting off a sandbag rest that helped with stability, and I found that if I gripped the frame tight (where the forearm would be on a conventional rifle) the wobble stopped. That made me more confident that the group I would be getting was what the rifle could actually do.
Following that group, I shot a second group of 10 JSB Exact Jumbo Heavies that measured 1.406 inches between centers. This one is fairly well centered on the bull and doesn't have the 2 separate points of impact like the first group. I think the improved hold was responsible, although I can't see why a sideways wobble would do what I'd seen before. Maybe the wobble was greater than I thought?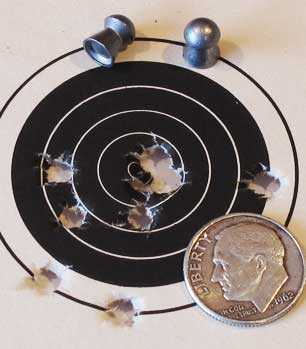 The second full group was a little smaller than the first — at 1.406 inches between centers. I felt the rifle was held well for this group. This is as good as this pellet can do (in general) in this rifle with me on the trigger.
Beeman Kodiaks
Next, it was time to try 10 Beeman Kodiak, which was the second-best pellet at 25 yards. It didn't do as well. The first few shots scattered all over the place, landing far to the left of the aim point and also a bit lower. When all 10 shots were finished, I had a 2.32-inch group that looks more like a shotgun pattern than a group from a rifle. However, I must note that 9 of those shots did land in a 1.331-inch group. But the one lower shot that opened the group wasn't the last one. It was the third shot. Based on that, I would scratch Kodiaks for this rifle and stick with the JSB Exact Jumbo Heavies.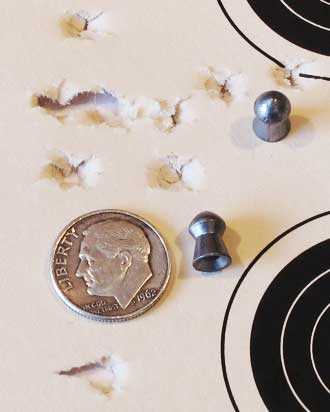 Beeman Kodiaks went all over the target. Ten made this 2.32-inch group, although 9 of them passed through 1.331 inches.
Overall impressions
I've come to the end of my test of this air rifle. It's been an interesting journey, and I've learned some things from it. First, when you scope a bullpup, get the highest scope rings you can. Ring risers might be a good idea. Second, the idea that bullpup actions have poor triggers is apparently true. And finally, when the cross-section of your rifle is as flat as a flounder, it will be harder to hold steady.
The Evanix Rainstorm 3D bullpup rifle is definitely a different beast! It holds different and shoots different than a conventional PCP. If you're looking for the bullpup styling, then either this or the Evanix Max bullpup is the airgun you want. It will produce acceptable accuracy out to 50 yards when you do your part. Just remember that the trigger is stiff and creepy, and the rifle needs a firm hold.
by Tom Gaylord, a.k.a. B.B. Pelletier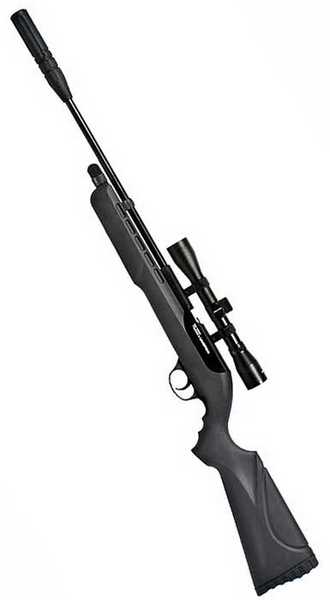 Umarex Fusion CO2 rifle
Today, we test the Umarex Fusion CO2 rifle for velocity and several other things you readers are interested in. You may remember that in the first part I had a problem with the rifle not sealing when I loaded the CO2 cartridges. Blog reader mikeiniowa nailed the problem with the Fusion CO2 cap. The part that contains the piercing pin was partially unscrewed and was, therefore, longer than it should be. It was piercing the cartridges before the o-ring was in position to seal the gun. So, a lot of gas leaked out; and, because the o-ring absorbs CO2 and swells when it does, it also prevented the cap from being screwed down tight.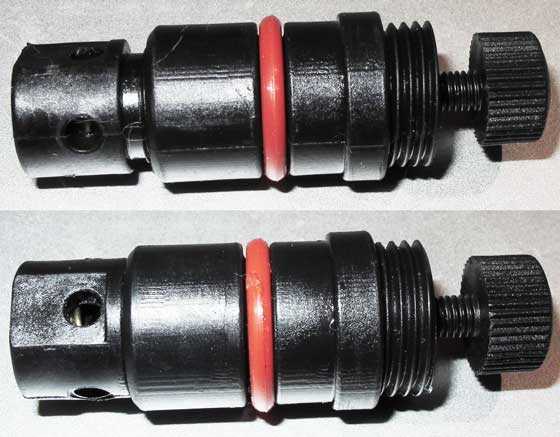 In the top photo, the Fusion cap is unscrewed almost all the way. On the bottom is the cap properly together.
I'm going to show that cap in detail in a later report. It's made so complex because of the material the o-ring is made from. If a different material had been used, none of the complex parts would be needed…and the cap could be made for less cost.
So, with the cap assembled correctly, I was able to load 2 fresh CO2 cartridges. This time, everything worked as it should, and the velocity test began.
JSB Exact RS
The first pellet I tried was the 7.3-grain JSB Exact RS. This lightweight dome is a winner in many lower-powered air rifles, and I believe the Fusion will be one of them. The first shots started slow, at 619, 647 and 644 f.p.s. Then, the velocity jumped up to 663 and remained above that number for the remainder of the string. The average, once the velocity was in the curve, was 667 f.p.s.  That means the Fusion's valve needs to be awakened after installing fresh cartridges.
The low velocity, once the pellet had climbed into the stable spread, was 663 f.p.s., and the high was 673 f.p.s. At the average velocity, the RS pellet produced 7.21 foot-pounds of muzzle energy. Because the Fusion is a gas gun, we can expect the power to increase and decrease with the pellet weight.
I tested the same pellet several hours later, and the first JSB RS out the spout went 686 f.p.s., so the velocity had increased by 20 f.p.s. after 40 shots had been fired and the gun then rested for 3 hours. But that was also the end of the power curve. By shot 50, the velocity of all the pellets started to drop again.
RWS Hobby
The second pellet I tried was the 7-grain RWS Hobby wadcutter. They averaged 669 f.p.s. with a spread from 661 to 681 f.p.s. At the average velocity, this pellet generated 6.96 foot-pounds of energy at the muzzle. Lighter pellet, less energy.
Crosman SSP hollowpoints
The third pellet I tested was the Crosman SSP hollowpoint. Remember, Umarex lists the velocity of the Fusion at 750 f.p.s. with lead-free pellets (which they call alloy) and 700 f.p.s. with lead pellets. I should have tested the rifle with RWS HyperMAX since those are the ones Umarex imports and distributes, but I didn't have any on hand. Anyway, the Crosman pellets worked fine. They gave an average 766 f.p.s. velocity, with a low of 757 and a high of 783 f.p.s. At the average velocity, this 4-grain pellet produced 5.21 foot-pounds of muzzle energy, so it's staying on track for the pellet-weight-to-velocity relationship.
After 50 shots had been fired, the average velocity for this pellet fell to 711 f.p.s. So, the velocity is going down, but the velocity is still useable up to 60 shots.
H&H Baracuda
The last pellet I tried was the 10.6-grain H&N Baracuda Match. In a spring gun, the velocity for this pellet would fall off quite a bit from the numbers for these lightweight pellets, but gas guns and pneumatics are different. Heavy pellets don't lose nearly as much velocity as they do in spring guns. The average for Baracudas was 612 f.p.s. The range went from 600 to 616 f.p.s. At the average velocity, the Baracuda produced 8.82 foot-pounds, which is significantly higher than any other pellet.
One of our readers mentioned that the total number of good shots he gets is about 70 shots with each set of CO2 cartridges. I was looking for about that number. I noticed the velocity began dropping at shot 50. But there were still 10 more good shots in the gun. From shots 56 through 60, the velocity for the baseline JSB Exact RS pellets was 622, 614, 603, 602, and 584 f.p.s. While there were still more shots to be fired, I felt that accuracy would probably drop off at this point. So, I'll rate the Fusion I'm testing as a 60-shot gun.
Noise?
And, now, we come to the question on everyone's mind. Is the Fusion quiet? Umarex not only says that it is, they tout the low sound level heavily in their advertising campaigns. While I don't have any scientific sound measurement equipment to test with, I can make a fairly good subjective observation of the gun's report. I compared it to my Diana model 23, which most of you readers know to be a very small, low-powered spring-piston youth model air gun. The Fusion and the Diana 23 are approximately the same loudness. That means that the Fusion is a very quiet air rifle.
Blog reader Matt61 wondered if it would be louder than a ballpoint pen falling on a thick carpet, and I must say that it is. But it isn't much louder. I think this is a gun you could shoot in an apartment that has thin walls separating you from the neighbors. You should be able to shoot in even small backyards without disturbing the neighborhood.
Trigger
I told you the trigger is 2-stage. Stage 1 is light and relatively short. Stage 2 is also light but long and creepy. The sear releases at around 3 lbs., 12 oz.
What's left?
Besides the accuracy test, which is expected, I also want to take the gun out of its stock and look for both the power adjuster and the trigger adjustment that reader mikeiniowa mentioned. I'll use that report to also show you the details of the CO2 cap and explain how it works so you understand what's going on.
Given the power level of the Fusion, I think I'll start testing accuracy at 10 meters and then back up to 25 yards. If the rifle comes through the accuracy portion with honors, I'll give it a hearty recommendation.