by Tom Gaylord, a.k.a. B.B. Pelletier
AirForce Escape: Part 1
AirForce Escape: Part 2
AirForce Escape: Part 3
I'm testing 3 AirForce guns together — the Escape, the EscapeUL and the EscapeSS. All 3 are based on the same powerplant that is derived from the TalonP pistol. That's why I am grouping them together like this. But each rifle has its own unique characteristics, too. And this is our look at the EscapeUL, which is the ultralight version of the rifle. It's the lightest of the 3 air rifles and comes in either .22 or .25 caliber. I'm testing a .25.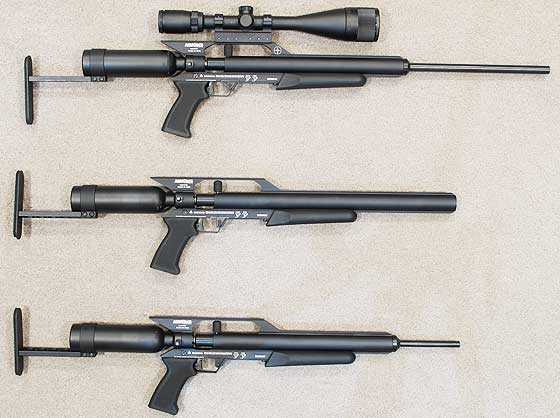 Escape on top, then Escape SS and finally Escape Ultralight on the bottom.
As you will remember, the Escape is a collaboration between AirForce Airguns and Ton Jones, the star of television's Auction Hunters. Ton had the requirement for a survival airgun and came up with the idea of putting a longer barrel on the TalonP pistol action, and AirForce did the engineering and development that turned it into a production rifle.
What does survival mean?
Survival is a word that's charged with emotion, so the definition depends on the person who is using it. For many people, the term connotes a human wave attack with bullets and missiles flying everywhere — a last stand at the Alamo. But is that what survival really means? If you're in the Alamo at that moment, I guess you would agree with that definition, but most of us will thankfully never be in that situation. But every year, millions of people are thrust into real survival situations.
Hurricane Sandy, a force 5 tornado, a blizzard that won't stop or just having your truck break down 20 miles off Old Lincoln Highway outside Ely, Nevada, in the late summertime can all qualify as survival situations. Maybe all you have to do is hold out for 2 days before someone comes looking for you. You were exploring an old ghost town, and now they want to add you to the town rolls!
You don't need a track-mounted machine gun or a Patriot missile launcher, but it sure would be nice to know you could defend yourself if a wild dog showed up! Or, if you had some way of popping one of those elusive prairie chickens that run along the ground and seem to stay just outside throwing distance. So, in your truck, along with the extra water, gasoline, MREs and sleeping bag (with cot, for this is the desert) you have a small canvas bag. Inside is a scoped EscapeUL, a hand pump and a tin of pellets. The rifle has been sighted-in, but you check it with one shot at an MRE wrapper stuck on a creosote bush 40 yards away — just to be sure. Then lay the rifle on top of the bag on the ground and put 10 pump strokes back in — 7 to get the air line up to pressure and 3 for the shot you just fired — and everything is good to go. The bag weighs 12 lbs., total, and has straps for shoulder carry. That's what we mean by a survival airgun.
We took a good look at the Escape rifle for both power and accuracy and found that it can be plenty accurate when you use the right combination of pellets and pressures. Ton has pronounced it good to go, and his logo is on every Escape made.
The EscapeUL, however, is an AirForce idea. Ton knows about it and did test it, but it doesn't bear his logo. It has slightly different features for a person with slightly different needs.
The EscapeUL is designed to remove all unnecessary weight from the rifle, while retaining as much of the power as possible. It has an 18-inch barrel instead of the Escape's 24-inch barrel, so some velocity is lost. We'll see how much in a moment.
The barrel isn't just shorter, it is also thinner. Instead of a nominal 16mm diameter for the Escape barrel, the UL barrel is just 12mm. That diameter is only nominal. Some comes off when the barrel is ground before bluing. The barrel on my test rifle measures 0.477 inches across, which translates to 12.1158mm.
The net weight of the EscapeUL is 4.25 lbs., making it several pounds less than most precharged rifles and even less than some of the lightest ones.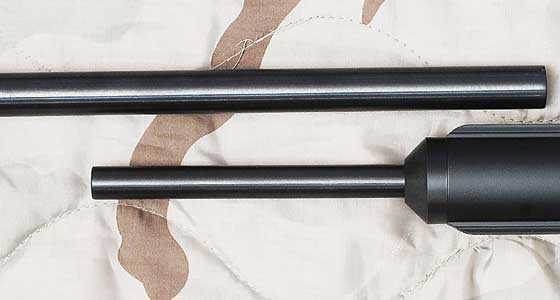 The EscapeUL barrel (bottom) is thinner than the Escape barrel, saving weight.
Of course, we all want to know what a thinner barrel means as far as accuracy goes. That test will be next. But now, let's take a look at power.
The EscapeUL shares the same 213cc Spin-Loc air reservoir as the Escape and TalonP pistol, so the number of shots per fill is going to be about the same. Physics being what they are, we already know what to expect. The powerplant is also the same. The same valve in the tank and same striker weight and spring tension will give similar performance. It's the 18-inch barrel that makes the difference.
With the heaviest .25-caliber pellet, which is the Eun Jin pointed pellet that weighs 43.2 grains, the maximum velocity in the 18-inch barrel is about 910 f.p.s. The 24-inch Escape barrel gave a maximum of 1010 f.p.s. with the same pellet, so the UL barrel loses about 100 f.p.s. In term of muzzle energy, that's 79.46 foot-pounds on the first shot, compared to the 97.88 foot-pounds for the Escape.
As with the Escape, the velocity drops with each succeeding shot. By shot 5, the velocity will be down to 855 f.p.s. That carries an energy of 70.14 foot-pounds.
In .22 caliber, the energies are all lower because the pellets are lighter. With a 28.4-grain Eun Jin dome the maximum velocity is 980 f.p.s. on the first shot. That's 60.58 foot-pounds of muzzle energy. By shot 5, the pellet leaves the muzzle at 900 f.p.s. and generates 51.09 foot-pounds.
You can discuss their performance in several different ways; but to my way of thinking, the Escape rifles are best in .25 caliber. I'm glad that's the way I will be testing this one.

The AirForce EscapeUL is a lightweight PCP with the Escape powerplant. The shorter slender barrel reduces the weight.
The trigger, adjustable stock, automatic safety and scope mounts are identical to those found on the Escape. It's plenty for a scope, scope level, tactical flashlight and laser. There's even enough for a coffee grinder, if you can find one that will fit!
Some thoughts
I've already been asked if the Escape rifles will run on CO2. They should, but it will need to be tested to say for sure. Since they were not designed to operate on CO2, I'll have to find a way of filling the reservoir. No CO2 coupling I know of will mate with an air coupling, so it may take me some time to work it out.
I've also been asked on the back channel how quiet these airguns can be. Quite frankly, I don't know. Given all the technology in the world, they can probably be made quieter than a Marauder; but once I answer that, the next question will be if all that technology can be reduced in size to fit in a pocket! We criticize the U.S. Air Force for asking that everything be made from unobtainium (strongest metal known whose forms weigh nothing and add lift to airframes), yet we do the same thing when it comes to powerful airguns. "Great," we say, "but can they also be quiet and get lots of shots, too?"
There's survival and then there's daydreaming. We're talking survival here.
by Tom Gaylord, a.k.a. B.B. Pelletier

The $100 PCP is built on a Crosman 2100B chassis.
This test was very interesting! It began last week at my outdoor rifle range. Blog reader GunFun1 asked me to try shooting steel BBs in this gun because it was originally built to handle them (when it was in its Crosman 2100B form). I didn't want to do it because this rifle launches the first couple shots at over 900 f.p.s., and steel BBs rebound like crazy (You'll shoot your eye out), but I did relent. Last week, I took this rifle to my outdoor range and stuck a 12-inch Shoot-N-C target on the plywood target backer. I then paced off 10 meters and fired 10 BBs at this target.
I thought the BBs would probably miss the target altogether. I said as much to GunFun1 in my comments a few weeks ago. But they didn't!
I was wrong about this. Shooting offhand with open sights, I put 10 Daisy Premium Grade steel BBs into 1.56 inches. It was actually 11 BBs. I must have miscounted during shooting. I was astounded! This isn't just good — it's great! You don't shoot BB guns at 10 meters when you're shooting groups!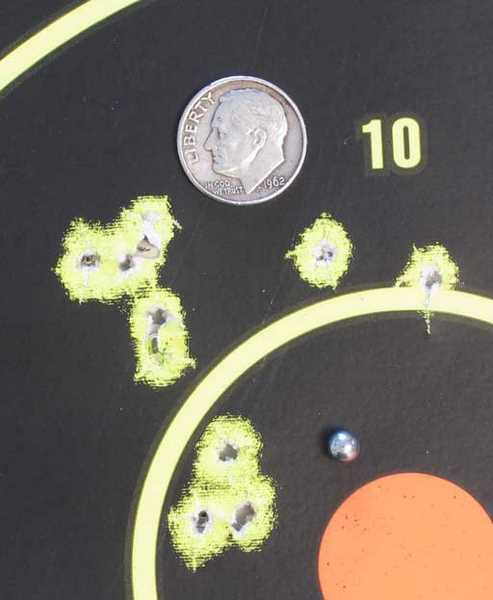 There are actually 11 Daisy BBs in this 1.56-inch group. Shot offhand with open sights at 10 meters.
Incidentally, all 10 BBs apparently went through the plywood target backer. Of course, there are other bullet holes there, so the wood isn't always present or at its thickest; still, it shows those BBs are moving!
That got me wondering just how accurate this rifle could be. I decided to shoot from 25 yards with open sights, only. I'll come back and shoot with an optical sight of some kind, but this test is just open sights.
I filled the gun to 2,000 psi for every 10 shots, including for the BBs shown above. After 10 shots, the gun's pressure has dropped to 1,000 psi.
Crosman Premier lite
The first group of 10 shots was shot with Crosman Premier lites. Based on the 10-meter results for the last test, and also from where the BBs went, I adjusted the rear sight to the right just a little. After the first shot, I looked through the spotting scope to affirm it hit the target. It did, was high above the bullseye and fairly well-centered left and right. So, I left the sights where they were and fired a second shot. When I looked through the spotting scope, I saw it had gone through the same hole as the first! Wow! That was starting out well!
The first 4 shots all went into the same hole. Then shot 5 went higher for some reason.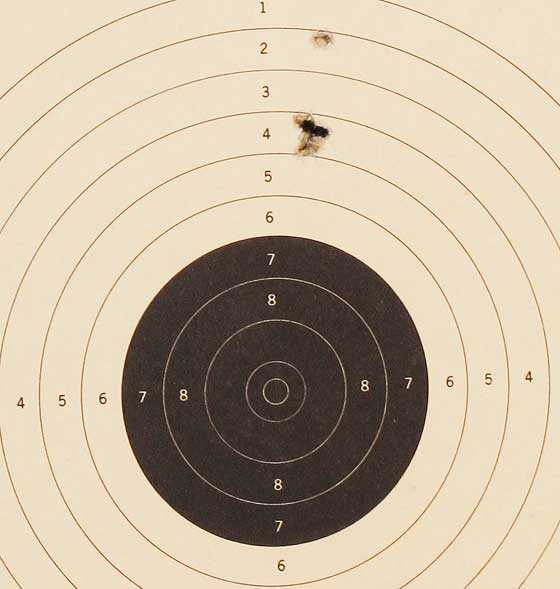 The first 4 shots are in 0.179 inches. Shot 5 opened it up to 0.838 inches.
After taking the picture of the first 5 shots, I shot the remaining 5 shots. That was informative because all the shots spread out to the left. Having the first 5 shots on record allowed me to see that the second 5 were the ones that actually spread out. The 10-shot group measures 1.358 inches between centers.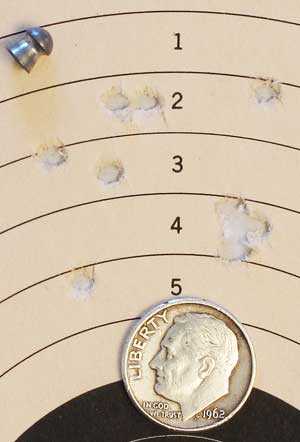 Ten Crosman Premier lites went into 1.358 inches at 25 yards. That's rested and using open sights. See how the last 5 went to the left and opened up?
RWS Hobbys
Next up were RWS Hobby pellets. They did quite well at 10 meters, but 25 yards is about the maximum distance at which wadcutter pellets hold their accuracy.
I adjusted the rear sight down one notch before shooting this group. Once more, I photographed the target after 5 shots.

The first 5 RWS Hobbys looked pretty good. Shot 1 was a 10!

So Hobbys held together fairly well at 25 yards. Ten went into a group measuring 1.144 inches between centers.
Air Arms Falcons
The last pellet I tested was the Air Arms Falcon pellet. This time, the first 5 pellets didn't seem to do that well. And when we see the final 10-shot group, it isn't that much larger.

The first 5 Falcon pellets didn't do so well.

This is one of those rare instances where 10 shots are not much larger than 5. Ten Air Arms Falcons went into 1.912 inches.
Conclusions so far
This experiment is turning out much better than I had hoped. Not only have we demonstrated that it's possible to make a precharged pneumatic rifle that can retail for under $100, we're now showing that it can really perform! Of course, the production gun will get many more shots on a fill than the 10 I'm getting, but I do think the maximum fill pressure should be held to 2,000 psi. That will make it easier to build an affordable hand pump, which Dennis Quackenbush is thinking about right now.
The discharge noise of this rifle is quite loud. I was going to recommend not putting a shroud on the gun, but I'm going to change my mind on that point. The customers for this gun will be suburban shooters who need a quieter air rifle, so some sound dampening is necessary.
The trigger on the rifle is heavy, and I would leave it the way it is. I would also leave the bolt-action exactly the way it is on the 2100B. The same goes for the sights. These are refinements people can pay for on higher-priced PCPs. We want to hold the cost of this gun to less than $100 retail.
I do plan on returning to test this rifle at least one more time with an optical sight. That will show the maximum accuracy potential, although I believe we've already seen a good indication of it in this test.
The $100 PCP will never replace the higher-priced PCPs that are already selling. It isn't supposed to. It's supposed to provide that entry-level step for those who are curious about precharged airguns and don't want to spend a fortune to find out. I think it's a very feasible goal and, quite possibly, a profitable one, as well.
by Tom Gaylord, a.k.a. B.B. Pelletier
Today, I'll begin testing the R.A.I. AR adjustable stock adapter from rarmsinnovations.com with the UTG Pro 6-position adjustable stock attached to the Benjamin Marauder pistol.
Length of pull
Before we begin, I want to say a word about the length of pull you get with this adapter. I gave the range of lengths in Part 1 as 14-1/8 inches to 17-1/8 inches, and that turned off many readers. In terms of conventional stocks, that pull range is very long! But Dave Rensing, who invented this adapter, made it for his 8-year-old son and his 7-year-old daughter. The son uses it conventionally, but the daughter collapses the stock past the first detent so it's even shorter. Fully collapsed, the pull length measures exactly 14 inches but feels like 11 inches.
The AR adjustable stock is not very ergonomic. It stretches and contracts okay, but it doesn't move in the other directions. It's a one-size fits none kind of deal — at least from a rifle marksmanship standpoint. While it works very well for fast maneuvering and climbing in and out of tight places, your body has to adapt a lot to make it work.
On the other hand, when the R.A.I. adapter is added to it, the stock becomes almost universal! You can adjust the positions of the comb and the angles of the buttstock through a wide range of attitudes and make it fit almost anyone — young or old. I found when shooting from the bench that even the 15-1/8-inch pull I had initially set up was too short. I had to move the stock back until the pull was 15-7/8-inches before it felt natural again. However, in the offhand position, the 15-1/8-inch pull is the right one. That demonstrates why the adjustable stock works so well on this pistol! You can adjust it to whatever you need in the blink of an eye.
I discovered why this is. The AR adjustable stock has no width. The narrow tube is where your cheek rests, so your eye is closer to the centerline of the pistol than it would be with a conventional stock. The stock also does not drop at the butt, so your head thrusts forward farther than it might with a conventional stock. Instead of sticking up to rest on the cheekpiece, your head tilts forward, along the straight tube. Hence, 14 inches feels more like 11 inches. The Marauder's pistol grip and close trigger enhance this feeling.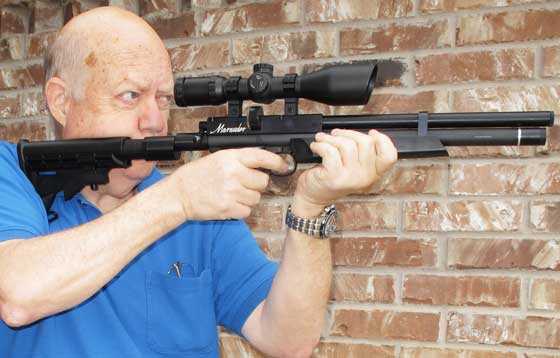 Here I'm holding the carbine offhand. The pull seen here is 15-1/8 inches, and yet the rifle feels perfect. You can see that my head has gone forward on the stock because it's so straight.
Scope and mounts
I wanted to test the pistol with a really good scope; and the last time I tested the Marauder  I used a CenterPoint 3-12X44 compact scope. Leapers was making CenterPoint scopes back then, so this time I attached a UTG 3-12X44 compact scope. My scope is older than the one I linked to, but the optics and overall size are the same. Not only does this scope fit the carbine very well, it gives a crystal clear sight picture that makes aiming so easy.
I needed to get the scope high off the receiver because the Marauder pistol has a circular 8-shot magazine that sticks up above the receiver top. You can see it in the above photo. Also, the stock's straight line puts my head higher than it would normally be. So, high scope rings are in order. I selected a pair of BKL 30mm high rings that have a single-screw top strap. The Marauder pistol doesn't recoil, so these rings can be made thinner and still be strong enough to hold this scope. Once they were mounted, I noted they brought the scope's exit pupil directly to my eye, making them the perfect height.
Testing the Marauder carbine
I tested this Marauder pistol extensively, back in 2010/2011. I already knew the right fill pressure (2,900 psi), the best pellet (.22-caliber Beeman Kodiak) and the effective number of shots per fill (32). Since it has an 8-shot magazine, I shot 8-shot groups instead of 10.
Sight-in went quick, and then I backed up to 25 yards and started shooting. The first group of Kodiaks was the second-best of the session, putting 8 into 0.554 inches. Looking back at the tests I did years ago, I wasn't shooting as well on this day as I did back then. I shot a total of six 8-shot groups, and the largest one was 0.607 inches, while the smallest was 0.504 inches between centers.

The first group was 8 Kodiaks into 0.554 inches at 25 yards.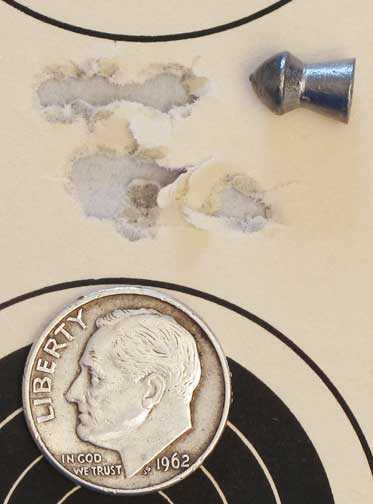 The worst group of the day was 8 Kodiaks in 0.607 inches at 25 yards.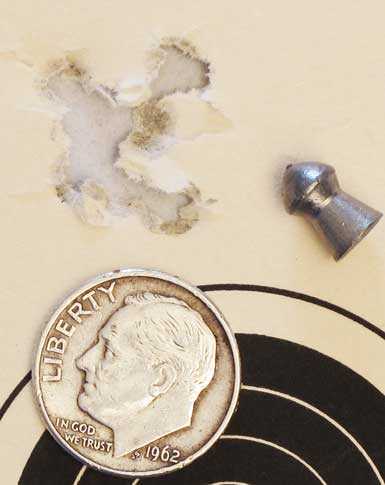 The best group of the day was 0.504-inches for 8 Kodiaks at 25 yards.
While these groups are okay, they aren't as small as the groups I shot previously. I don't think it was me or the gun. In this case, I think it was the pellet. I used a different tin of Kodiaks in 2010, and they grouped much tighter in this pistol than these did. The best group back then was 0.405 inches between centers. Maybe they had larger heads, or maybe they were just different in some unquantifiable way.
Other pellets
I tried a number of different pellets in the Marauder pistol, but none of them did very well. JSBs of various weights, which I thought would do well, sprayed all over the place. I know from testing the gun that it wants a fat pellet, and the Kodiak is a good one for that. It's slow, at an average 584 f.p.s., but even at that it produces about 16 foot-pounds of muzzle energy. That's pretty good for an air pistol! Certainly enough for some hunting and pest elimination.
The rest of the test
I plan to take this pistol to the 50-yard range, so you'll see the results of that. But I don't think that's quite the right way to test the R.A.I. adapter and adjustable stock. We already know how well the pistol performs. Now, we want the focus to be on the adapter and the stock.
Maybe I can put the gun in the hands of some other shooters and see how well it fits them. Perhaps, that's the best way to evaluate this item. I don't know, but I guess we'll see.
by Tom Gaylord, a.k.a. B.B. Pelletier

The AirForce Airguns Escape precharged pneumatic air rifle is a powerful new survival rifle in both .22 and .25 calibers.
Last time we looked at the accuracy of the AirForce Escape at 50 yards. I shot the rifle on low pressure and a low power setting on that day to see what it could do. You may remember that at 50 yards, I got a best 5-shot group with JSB Exact King pellets that measured 0.594 inches between centers. That's great for a .25-caliber PCP, but I know it left some of you wondering what the rifle can do at its maximum power. Today, we'll look at that.
The heaviest .25-caliber pellet I have is the Eun Jin pointed pellet, which weighs 43.2 grains. So, it's a little heavier than the standard bullet of a .22 Long Rifle cartridge. We know from testing that this pellet leaves the muzzle at up to 1010 f.p.s., generating 97.88 foot-pounds of energy.
I also had some Eun Jin domed pellets to test. At 35.8 grains, they're lighter than the pointed pellet but might be accurate enough to make a difference. As long as I'm testing, I thought why not test them, too?

These are the 2 pellets used in today's accuracy test. The pointed pellet weighs 43.2 grains, and the dome weighs 35.8 grains.
The wind had just started to pick up at the range. I had finished testing the Benjamin Marauder with synthetic stock and shifted to the Escape because I felt the power of the gun and weight of the pellet wouldn't be affected by this wind nearly as much as a smaller pellet moving at lower speed.
Max power
The first thing I tried was the heavy Eun Jin pellet on max power and with a max power setting on the gun. The first 2 pellets went through the same holes at 50 yards, and I thought I was on to something. Then, shots 3 and 4 moved 2 inches to the right but also landed in a single hole. Shot 5 then landed an inch to the left of the first 2 shots, giving me a 5-shot group that measures 2.478 inches across the widest centers. While that is adequate accuracy for larger animals at 50 yards, it wasn't as good as I'd hoped it would be.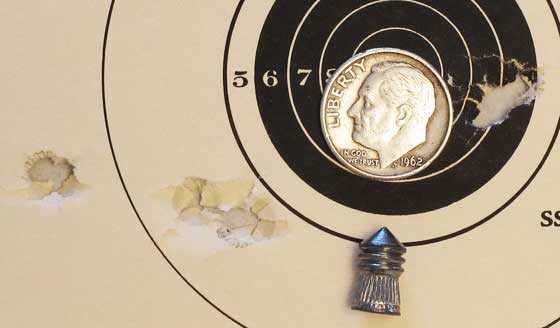 Five Eun Jin pointed pellets on maximum power with a 3,000 psi fill at 50 yards. The group measures 2.478 inches between centers, but look how they landed. The first two are left of the pellet, the next 2 are to the right of the dime (in the same hole) and pellet 5 is all the way over to the left.
I remembered that there are 10 good shots on a fill of the Escape's small 213cc reservoir, so I shot the next 5 pellets at a different target. The scope wasn't adjusted. The reservoir pressure at the start of this string was about 2,600 psi. This time ,all 5 went into 1.622 inches. That's a significant improvement. According to the velocity test data, these shots ranged between about 71 and 82 foot-pounds.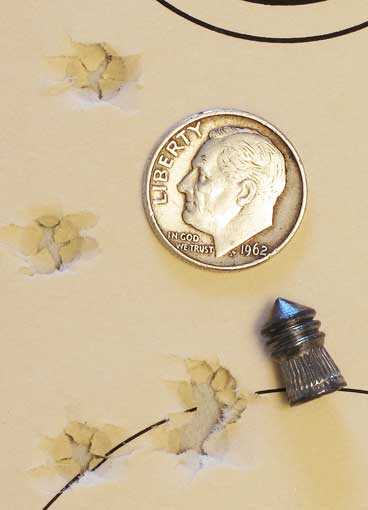 By starting with less reservoir pressure, the group tightened significantly. These 5 shots went into 1.622 inches between centers at 50 yards.
I was satisfied with the results of this heaviest pellet, but I've never gotten the best accuracy with pointed pellets. I felt I might be at the limit of this pellet's performance. Time was passing and the wind was building, so I moved on.
The lighter domed pellet remained to be tested. On max power with a 3,000 psi fill, I got several open 5-shot groups that all hovered around 2 inches. While that's okay, it isn't what I wanted. Then, I shot a couple groups with the power set to max and the starting air pressure set at 2,600 psi. The only reason I did it that way was because of the results of the heavier pointed pellet I'd just tested. And that's where the magic happened!
The first 5-shot group on this setting (power set on max, starting fill pressure at 2,600 psi and shooting the 35.8-grain domed Eun Jin) measures 1.177 inches. Four of those shots are in 0.555 inches! That's fantastic! I don't have the velocity data for this pellet on that setting, but I'll venture a guess it's producing around 60-70 foot-pounds.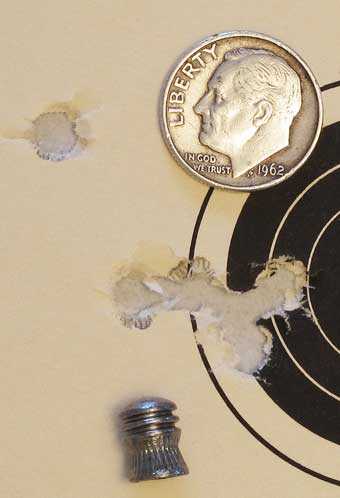 Now, we're cooking! Five Eun Jin domes went into 1.177 inches at 50 yards, with 4 of them making a 0.555-inch group! This is fantastic, but can I do it again?
Like you, I wondered if this single group was just a fluke, so I filled the reservoir to 2,600 psi, again, and shot a second group. This time, I put 5 into 1.089 inches. Three of those pellets are in 0.214 inches. If you overlay those 3 pellets on top of the other group, they all go to the same place!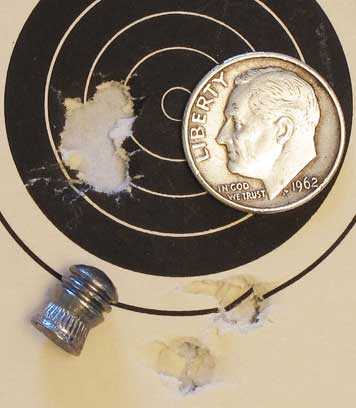 Here's the miracle I was talking about. Same starting air pressure, and 5 pellets went into 1.089 inches. Three of them are in 0.214 inches and in the same place as the 4 pellets from the last group. This is significant!
What I'm saying is that somewhere around this power setting and fill pressure, there's a super sweet spot the Escape loves with this domed pellet. By spending more time refining the fill pressure and by adjusting the sights for this combination, the Escape will become a tackdriver. It doesn't get a lot of shots like this, but remember — this is a survival rifle. You want one shot — one kill. I think this gives that to you!
I could continue to refine my pressure settings with this pellet, but I don't think I have to. I've now shown you 2 different ways the AirForce Escape can make very small groups at 50 yards. If you're looking for a powerful air rifle to do some serious hunting, you should consider this one. I think Ton Jones and John McCaslin both have reason to be proud of their creation.
What's next?
I was prepared to exchange barrels at this point and try the .22-caliber Escape, but I think I'll let that slide for now. If I'm any judge, most buyers are going to get the .25-caliber Escape. Once they see these results, I expect they'll do similar tests. Therefore, I plan to switch over to the EscapeUL next. That's the ultralight rifle that has an 18-inch barrel. I'll give you a combined introduction and velocity/power report, followed by a range test like this.
by Tom Gaylord, a.k.a. B.B. Pelletier
Benjamin Marauder .177 caliber: Part 1
Part 2
Secrets of loading the Benjamin Marauder magazine
Part 3
Part 4
Part 5
Part 6
Fixing a Marauder magazine
Part 7
Benjamin Marauder .25 caliber: Part 1
Benjamin Marauder .25 caliber: Part 2
Part 3
Part 4
Benjamin Marauder .22 repeater with synthetic stock: Part 1
Benjamin Marauder .22 repeater with synthetic stock: Part 2
Benjamin Marauder .22 repeater with synthetic stock: Part 3
Benjamin Marauder .177 caliber 50-yard test: Special part
Benjamin Marauder .22 repeater with synthetic stock: Part 4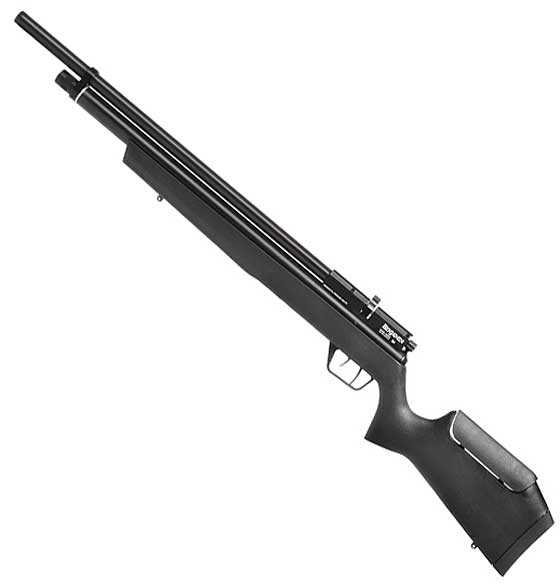 New Benjamin Marauder with synthetic stock has all the features of the classic Marauder in a lighter, trimmer package.
Today, we'll look at the Marauder's accuracy at 50 yards. I had to wait a long time for a calm day at the range for this.
Clearing the air
Before I begin the report, though, I want to address something. The new Marauder — both the one with the synthetic stock and the one with the wood stock — are the same rifle in different stocks. The actions are identical. Crosman waited to bring out the wood-stocked model, but both rifles have the new set-back trigger and also the new valve and hammer depinger. Which brings me to my second comment.
Owners who have used the new Marauder seem to like it a lot. They praise it in their comments on the product page. But those who don't own one are making comments such as, "Tom Gaylord said the new .22-caliber Marauder only gets 860 f.p.s. Where is the 1,000 feet per second that Crosman claims? And where are those extra shots?"
Let me make this very clear — Tom Gaylord DID NOT say that the new Marauder only gets 860 f.p.s. What Tom Gaylord did was test the new Marauder exactly as it came from the box. He discovered that his test rifle seems to like a 2,900 psi fill, instead of the 2,500 psi fill suggested in the owner's manual.
Tom Gaylord shot his test rifle at 25 yards and showed you the accuracy the rifle got when filled to that pressure. Today, he is going to show you how well it does at 50 yards, and it will also be filled to 2,900 psi.
Don't extrapolate!
This is a pet peeve of mine. When people read all the performance specs of an airgun, they lump them together as though the gun does all of them simultaneously. The new Marauder may very well get 12 percent more shots per fill because of the new valve. And it may very well shoot a .22-caliber pellet at 1,000 f.p.s. And it may also be very accurate. And very quiet. But don't expect it to do all of that at the same time — just as you don't expect a new Corvette to go 0-60 in 4 seconds and also get 21 miles per gallon. You get one or the other — not both at the same time.
I haven't even adjusted the gun to see how fast it will shoot. And I haven't played with the fill pressure, either. All I've done to this point is take the rifle out of the box, put a scope on it and test it for accuracy. During that testing, I've accomplished several things:
1. I know the best fill pressure of the test rifle as it stands right now — 2,900 psi
2. I know the most accurate pellets — 14.3-grain Crosman Premiers and Beeman Kodiaks.
3. I know that for top accuracy, I can count on getting 2 full magazine's worth of shots on a fill — 20 shots.
Now, don't go running around claiming that I just said the new Marauder only gets 20 accurate shots. What I said was for top accuracy I can count on getting 2 full magazine's worth of shots. There are a lot more than 20 accurate shots in this rifle!
If you've been following this report, you know that I've eliminated several pellets during earlier testing. They didn't hold up to the 2 I chose for this test. That's not to say there aren't other pellets that might outshoot these 2 — just that, of the pellets I've tested, these are the best.
Testing at 50 yards
The day was completely calm — perfect for this kind of test outdoors. I shot the rifle off a sandbag rest. The first group was with Crosman Premiers, the pellet that proved to be the most accurate at 25 yards.
Since I didn't know when the wind might kick up, I went fast in this test. There were 2 other air rifles to test on this day, and one of them was the Double Disco that shoots the same velocity as the Marauder. I wanted to complete this test so I would have time for that one afterward. I also had an AirForce Escape to test; but given how powerful that rifle is and also given the heavy weight of the .25-caliber pellets I'd be shooting, I thought that one could endure a little breeze.
At 50 yards, 10 Premiers went into a group that measures 1.112 inches between centers. It's a reasonably round group that has 7 of the 10 shots in 0.558 inches. There's nothing wrong with that!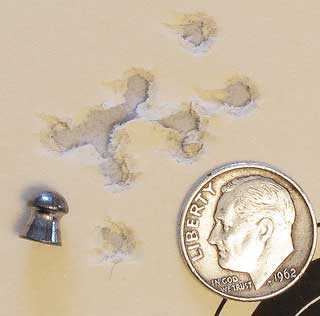 Ten Crosman Premier pellets went into a nice tight 1.112-inch group. Seven of the pellets are in 0.558 inches.
Beeman Kodiaks
Next, I shot a group of 10 Beeman Kodiaks. This was on the same fill as the Premiers. Again, I was going fast to finish before the wind kicked up, so I didn't stop to adjust the scope. Ten Beeman Kodiak pellets went into 1.516 inches at 50 yards, with 9 of them making just 0.888 inches. As with the Premiers, this group was also reasonably round.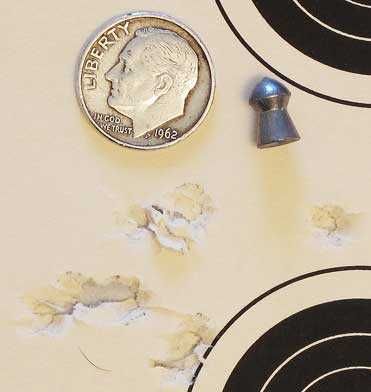 Ten Beeman Kodiaks made this 1.516-inch group group. Nine of them are in 0.888 inches.
Here comes the wind
When I finished the Kodiak group, the breeze was just starting to blow. I refilled the Marauder and tried one other test pellet that I'm evaluating for Pyramyd Air, but it didn't do very well. So, I ended the test for the Marauder.
The new Marauder is very accurate. This test shows that clearly. As far as the absolute top velocity it can get or anything else, I still have to test that.
In my opinion, the new Marauder shoots as well as the old Marauder did. I do like the new synthetic stock for its slim profile and lighter weight; but as far as accuracy and quietness goes, I don't see any difference between the new rifle and the old Marauder.
by Tom Gaylord, a.k.a. B.B. Pelletier

The Lightweight Disco Double in its new stock looks striking!
Today, we'll look at the accuracy of the Disco Double. Before that, however, I mounted a scope, a TKO airgun silencer that they call a muzzlebrake or a lead dust collector, and something I've never seen in print before but something I've used on many precharged air rifles over the years — a bolt keeper!
What's a bolt keeper?
First, let me tell you that when I mounted the TKO silencer, it fit the barrel perfectly. There were no barrel alignment issues that I was warned about, and I checked closely. This unit is very well made and looks beautiful on the gun. The unit I'm testing is 8-1/4 inches long; and, yes, Lloyd, I checked that it indeed is a .22 caliber before mounting it. However, when the silencer is on, the top end cap does not fit.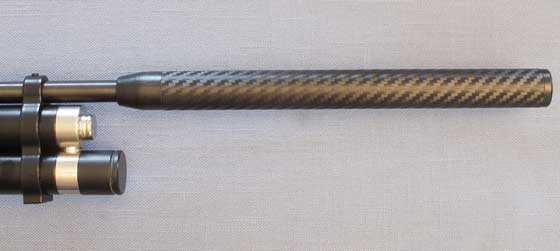 TKO silencer looks great on the rifle. The top plastic end cap doesn't fit with the silencer installed.
When I shot the gun with it on the first time, I have to say I was underwhelmed. It was quite loud. A second shot confirmed this. Then, I held the rifle to my shoulder and fired a third shot. That's when it hit me — a blast of air in the face not unlike the glaucoma test eye doctors do. The bolt was opening and discharging compressed air with each shot!
This happens a lot with precharged guns and it doesn't matter how cheap or expensive they are. The bolt handle lifts up and air comes back through the action. On the lightweight Disco Double, it only begins to happen when the rifle is at the bottom of the power curve, which is where it was when I tested it this time.
A simple fix is to fasten a rubber band around the bolt handle to hold it closed during the shot — a bolt keeper. Once on the gun, I just leave it there. Even though it's not needed until the end of the power curve on this rifle, I don't want to worry about it. You can cock and load the rifle with the band in place.

A rubber band "bolt keeper" holds the bolt handle down when it wants to flip up on the shot.
With the handle held closed in this fashion, the rifle suddenly became very quiet — as in Benjamin Marauder quiet! I now understand why shooters have been so excited about this unit. It really works!
NOTE: Due to several reader questions about this silencer, I am removing it from the rifle and returning it to Lloyd. Silencers are a very touchy subject, since owning one that will function on a firearm requires a license for each specific silencer. I don't want to mislead any reader, so in the interest of clarity I am simply not going to use or possess this item any longer. I wrote an article on silencers that can be accessed here. If you have any questions on the subject, I recommend you read that article.
The rifle now weighs 6 lbs., 11 oz. with everything installed. That's very light for a serious air rifle.
Scope
I mounted a UTG True Hunter 3-9X40 scope on the rifle. Since UTG packs rings with this scope, I used them, but they're Weaver-style mounts. So, I had to use a UTG Weaver to 11mm dovetail adapter to make them fit the dovetails on the rifle's receiver.
I'll be shooting from a rest at 25 yards today. The range is indoors, so wind is not an issue.
Crosman Premiers
Sight-in was accomplished with .22-caliber Crosman Premiers; so after I was on the paper, I shot the first group of 10 shots at 25 yards. The hole they made is a little taller than it is wide, but it measures 0.569 inches between centers. While that's okay for 25 yards, it isn't great. I'd like to see something a couple tenths smaller.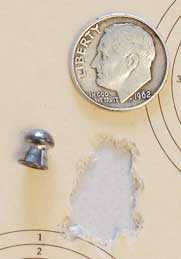 Premiers all went to the same place — more or less. At 0.569 inches between centers, the group could be smaller.
Beeman Kodiak
Next up were Beeman Kodiak pellets. They're identical to the .22-caliber H&N Baracuda pellets that Lloyd tested the rifle with, and they were what I had available. They put 10 into 0.655 inches between centers. Like the Premiers, that's not bad…but not as good as I'd hoped.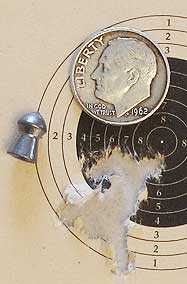 Beeman Kodiaks opened up more, to 0.655 inches between centers. Only use them if you need a heavy pellet.
JSB Exact RS
I followed the Kodiaks with some JSB Exact Jumbo RS pellets. They're even lighter than the Crosman Premiers, and sometimes they can be very accurate in precharged rifles. This was one of those times. Ten pellets went into 0.365 inches, which is exactly what I'd hoped for the Disco Double. This is the pellet for this rifle!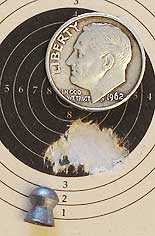 The JSB Exact RS is obviously a great pellet in the Disco Double. Ten went into 0.365 inches at 25 yards.
RWS Superdome
Nex, I tried the RWS Superdome pellet that's always recommended. I don't often have good luck with them, but a lot of shooters do. I stopped after just 4 shots, though, and you can tell from the lateral spread that measures 0.634 inches between centers that they weren't going to perform.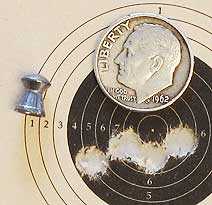 When the first 4 shots spread out like this, you might as well stop right there. RWS Superdomes went into 0.634 inches at 25 yards.
JSB Exact Jumbo
The last pellet I tested was the JSB Exact Jumbo. These are usually among the top pellets in .22-caliber precharged air rifles, so I felt they deserved a chance. The first 2 shots were on a fresh 2,000 psi fill, and I'm not sure the rifle wasn't overfilled by a slight amount because they both landed away from the main group. Shot 9, however, was shot while the rifle was grouping well, and I have no idea why it's above the main group. The 10-shot group measures 0.647 inches between centers, making this the second-best pellet I tested in the rifle.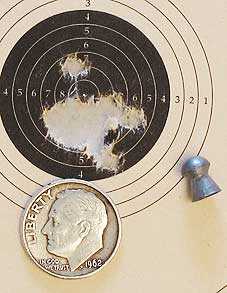 These 10 JSB Exact Jumbos measure 0.647 inches between centers. The first 2 shots are the holes at the right and bottom right of the main group. Then, the rest of the pellets went into the big group, except for shot 9 that went high. There is no explanation for that one. This is a pellet I would keep trying.
Filling from a hand pump
The biggest feature of the Benjamin Discovery, aside from the low price, is the fact that the maximum fill pressure is just 2,000 psi. It's  full right where other PCPs have run out of air. And that makes the Discovery extremely easy to fill with a hand pump.
Using the Discovery factory pump, I began the fill at just under 1,000 psi and pumped until the onboard pressure gauge read 2,000. It took exactly 100 pump strokes to fill the gun; and, until the final 20, they were as easy as inflating a bicycle tire. Only when the pressure passed 1,800 psi did I notice an increase in pump handle resistance.
One tip when filling with a hand pump is to go slow. Allow time at the top and bottom of each pump stroke for the air to flow through the various stages inside. If you don't, you just waste energy and heat up the pump unnecessarily.
Observations so far
So far, I'm thrilled by the performance of the Lightweight Disco Double. The number of shots I get on a fill is large enough for serious shooting before it's time for a refill and the rifle's performance leaves nothing to be desired. A glance at the onboard gauge needle, and I know the status of the fill.
When I tested the original Benjamin Discovery rifles in both calibers, the guns I used were pre-production prototypes. I shot groups under 0.6 inches with both calibers; but at that time, I was shooting only 5-shot groups. The JSB Exact RS pellet did not exist at the time of that test. So, it'll be interesting to see what this rifle can do at 50 yards with 10 shots. Remember — this is the first Benjamin Discovery production rifle I've ever shot!
by Tom Gaylord, a.k.a. B.B. Pelletier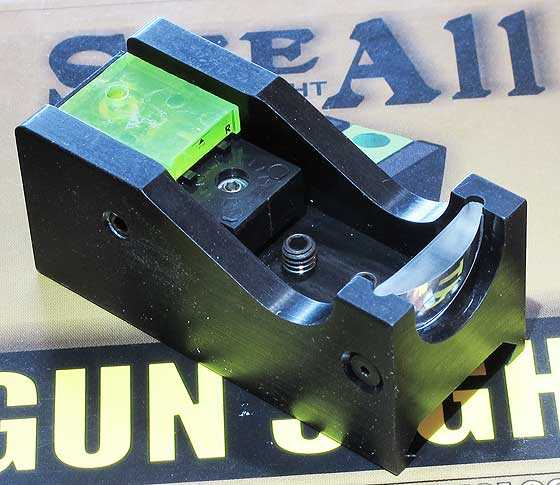 The See All Open Sight is revolutionary!
Today, I'm testing the See All Open Sight on the new TX200 Mark III that I've been testing for you. Because that rifle figures into today's test so much, I felt it was important that you be able to examine the rifle's accuracy in past tests — most importantly, the red dot sight test I just did in Part 13.
Part 1
Part 2
Part 3
Part 4
Part 5
Part 6
Part 7
Part 8
Part 9
Part 10
Part 11
Part 12
Part 13
I also want to mention that See All is aware of the difficulty in mounting their sight on a straight-line rifle like the M4. They even mention it in the frequently asked questions on their website. So, what happened the last time I tested this sight was my fault for not checking all the information.
Mounting the sight
The first step was to mount the See All sight to the TX200. Since the rifle has 11mm dovetails and the See All has Weaver-width dovetail jaws, I used a prototype Leapers base that converts 11mm to Weaver/Picatinny. For this test, I used the same scope stop pin that I showed in the last test with the dot sight. The pin popped out of the hole on the first shot, so the base had to be remounted and the pin locked down again. After that, the base remained tight and solid throughout the test.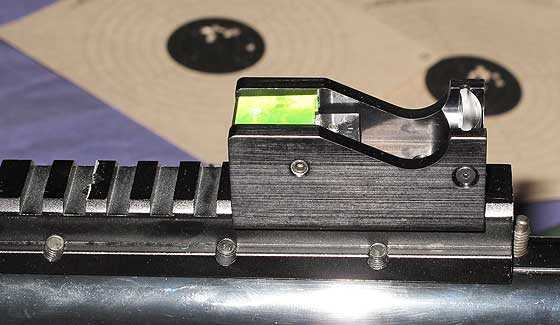 The See All Open Sight is mounted on a prototype Leapers 11mm-to-Picatinny base that has a built-in droop (correction for the barrel pointing downwards).
The base of the See All sight has no locking crosspins like those found on a Weaver or Picatinny sight. It has 2 vertical screws that bear down on the sight base and push the See All up so its jaws grab onto the dovetails of the base. Since the base I used has the crosspin slots for a Picatinny-type sight, I slid the See All until both locking screws were pushing down into the bottom of a slot, instead of on top of a locking ridge. I felt that would give a more secure attachment. But there were still some problems, as we shall see.
Sight-in
I sighted-in with H&N Baracuda Match pellets. They had tested well with the dot sight at 25 yards, and I felt they would be a good pellet for this test. But I had problems getting the pellet to go where I wanted. This is where I discovered that the See All sight behaves like a front sight and not like a rear sight. The sighting reticle must be moved in the direction opposite of where you want the pellet to go. The instructions included with the sight are very clear on this; of course, I wasn't reading them — yet! There's a marking on the right side of the sight that is supposed to tell you how to adjust the sight for windage, but I found it difficult to read.
I thought I'd solved the sighting problem and tried to shoot a first group, but the results were horrible. Pellets went everywhere! But within the first 5-inch, 10-shot group there were four holes together. Since I had seen the first hole through the spotting scope I knew the first 4 shots went to the same place, then the rest scattered everywhere. Pretty obvious what was wrong.
The sight was loose on the base! After tightening it down, I shot the first group for record. Ten Baracuda Match pellets went into 1.085 inches at 25 yards. It's an okay group for open sights and an average spring rifle, but it's horrible for a TX200.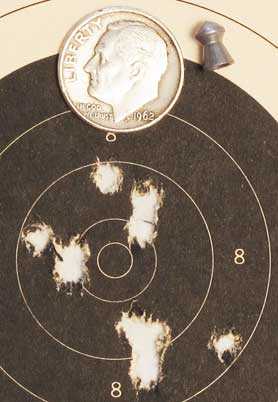 The first group of 10 Baracuda Match pellets isn't much of a group for just 25 yards from a TX200. It measures 1.085 inches between centers. The sight was loose again!
Then, I checked the screws and found the sight had loosened, again, during the ten shots it took to fire the first group! Now I knew what to do. Check the screws after every shot and tighten if necessary.
Crosman Premier heavys
I switched to Crosman Premier heavy pellets for the second group, fully intending to come back to Baracuda Match pellets at the end of the test. But this shooting was proving tiring, and I didn't want to jinx the other pellets by shooting them when I was tired. I checked the sight screws for tightness after each shot on this string.
Ten Premier heavys went into 0.978 inches at 25 yards. You can see a smaller group of 7 within the main group. It measures just 0.451 inches between centers. That tells me the See All Open Sight really works, but I was still getting used to it. The shots outside the main group are from my aiming errors, I believe.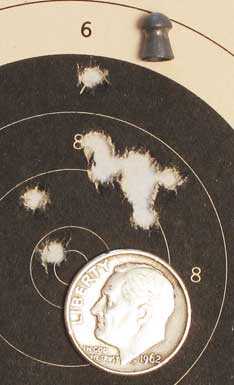 These 10 Premier heavys look a little better. The entire group is 0.978 inches between centers, but 7 of the pellets are bunched up pretty well in 0.451 inches!
I was learning to use the sight as things progressed. The space just above the reticle triangle is difficult to line up with a bullseye target — at least for me. But as things progressed, I discovered that I was aligning it faster and faster. I was learning to judge where the reticle was, even when I couldn't see the tip. That's no doubt what lead to those shots that are not inside the main group, and I think as I learn this sight more I will get better with it.
Crosman Premier lites
Next, I tried the 7.9-grain Crosman Premier lite pellet. By this time, I'd found it necessary to check the See All screws after only every 5 shots, and they were no longer loosening even then. Ten Premier lites went into a nice group that measures 0.686 inches between centers. It's a very round group, which indicates I'm learning the sight picture as I go. But the Premier lite was also very accurate in the test using the red dot sight.

Now we're talking! Ten Premier lite pellets went into 0.686 inches, with 7 of them going into just 0.423 inches.
Baracuda Match
Now, it was time to return to the H&N Baracuda Match pellets and see what I could do. I was still checking the See All screws for tightness after every 5th shot, but they weren't loosening. This time, I managed to put 10 pellets into 1.259 inches; but as you can see, 9 of them went into 0.695 inches. It's clearly my fault the group is as large as it is. The See All Open Sight can make it much smaller, if used correctly.

Ten H&N Baracuda Match pellets made this 1.295-inch group…which is horrible; but 9 pellets went into 0.695 inches, which isn't too bad. Still, this pellet doesn't compare with the Premier lites.
Conclusions so far
The See All sight does work as advertised. But you do need to read the instructions and follow them.
Small adjustments of the sight make very large changes in the impact point. Go very, very slow with your adjustments. And read the instructions to see which way to turn them. The markings for adjustment directions on the body of the sight are not very clear.
Plan on taking some time to get used to the sight. It does work, and I think it works well for people with poor eyesight; but it's unlike anything you've ever used. Although it's analogous to a dot sight, it works nothing like one in application.
I did find that I needed some light on the sight to see the reticle. I had the room lights on where I was shooting, which is something I never do with other open sights or scopes.
I think this sight may be better-suited to PCPs and CO2 guns than springers. But that's just my impression from this first test. I'll know more as the tests continue — which they will. I still think this sight is a significant new device.
My friend, Otho, is also testing a See All sight on some firearms for me. His eyesight is so bad that he hasn't been able to use open sights for several years, so we'll get a different perspective from him.