by Tom Gaylord, a.k.a. B.B. Pelletier

The PCP is built on a Crosman 2100B chassis.
I bet that when some people heard about this experiment, they laughed it off. Perhaps that will change now that we have looked at this novel idea 5 different times. I'm learning so much from this series that it's going to affect my writing for years to come.
I was surprised — again!
Somebody — I don't remember who — asked me to test the $100 PCP with round lead balls — I guess because the steel BB test turned out so well. So I did. I shot it at 10 meters with .177-caliber Gamo round lead balls. Since I shot with open sights, I didn't get to see the group after confirming that the first shot hit the paper. Imagine my surprise to see all 10 shots clustered tightly in 0.561 inches!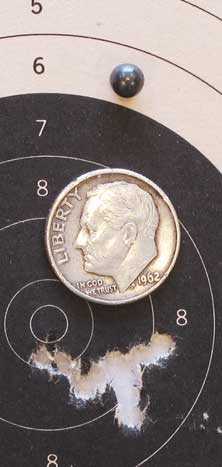 This tight group really surprised me! Ten .177 Gamo lead balls went into 0.561 inches at 10 meters.
That got me thinking — a lot! I've been doing this experiment so slow that I forget what I've done before.
What I thought I would do today was complete this report with a test of the rifle scoped at 25 yards. However, when I mounted the scope, it was very far off line, as in angled to the barrel. Either the grooves on the receiver are off or the scope mount I chose wasn't grabbing the base correctly.
After missing the target twice at 25 yards, I pulled the scope off the rifle and decided to shoot another test with open sights. I used different pellets than I used in Part 4 so we get to see some different results.
Crosman Premier heavy
The first pellet I tried was the 10.5-grain Crosman Premier heavy. In .177, Premiers come in both lite and heavy, and this is the first time I've tested this rifle with the heavy. I would love to tell you these pellets went into a small group, but the truth is that they scattered in a 2.352-inch pattern.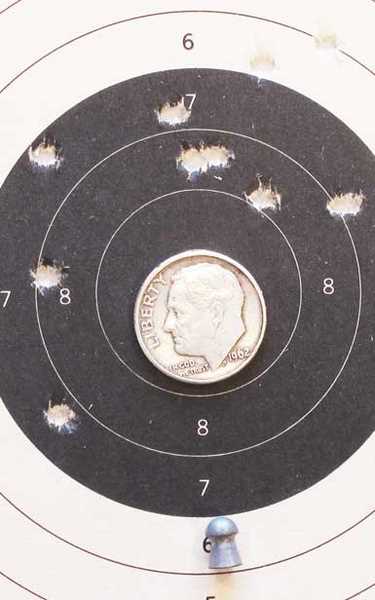 Not particularly encouraging, 10 Premier heavies made this 2.352-inch group at 25 yards.
H&N Baracuda Match
Next, I tried 10 H&N Baracuda Match pellets. They made a better group than the Premier heavies, but it still wasn't worth talking about. Ten pellets went into 2.051 inches at 25 yards.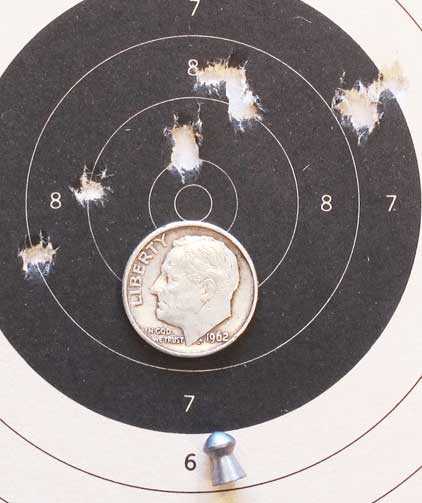 Ten H&N Baracuda Match pellets went into 2.051-inches at 25 yards. Still no cigar.
After looking at the second group, I noticed that it looked like the first group, only a little smaller. Because I always look through the spotting scope after the first shot of every group to make sure I'm on paper, I knew that the first shots of both groups were high and right. It seemed to me that the shots might be spreading out to the left as the pressure in the reservoir dropped; so on group 3, I took a photo after the first 5 shots had been fired.
RWS Superdome
Finally I tried RWS Superdomes. Including the lead balls I shot at 10 meters, this was the fourth projectile in this test and the seventh diabolo pellet tested at 25 yards in this rifle. The other 3 pellets were documented in part 4.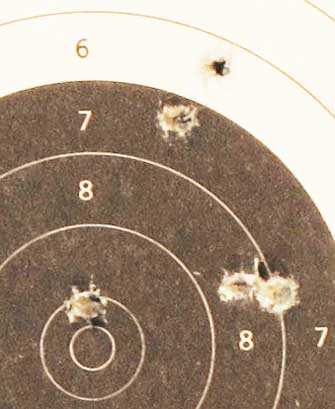 Five RWS Superdomes made this 5-shot group at 25 yards. Would the next 5 shots spread to the left?
Ten Superdomes went into 1.528 inches at 25 yards. That was the best group in this test with pellets, but only the third best pellet of the seven that were tested at 25 yards.
As it turned out, the next 5 shots didn't open the group that much more. So, another theory bit the dust.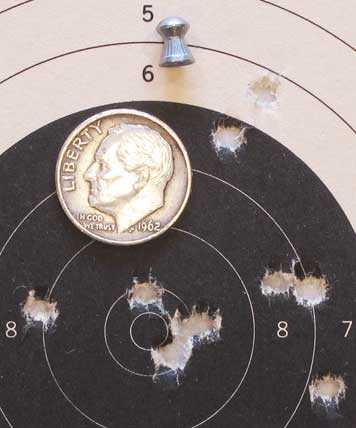 Ten RWS Superdomes made this 1.528-inch group at 25 yards. It's only a little larger than the first 5 shots, shown above.
Evaluation
The $100 PCP is very accurate at close range, but not as good as the distance increases. Of course, you must remember that the barrel is taped to the reservoir with Gorilla tape, so there's a lack of precision in the build.
It would still be interesting to see how this rifle behaves when scoped, but I'll have to find mounts that permit mounting a scope to the integral rail. At this point, I think the $100 PCP is a proven concept. I would really like to see this rifle in production.
by Tom Gaylord, a.k.a. B.B. Pelletier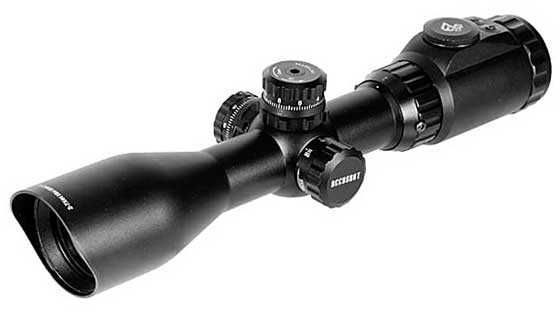 Leapers' UTG Accushot 2-7X44 Scout Scope is a remarkable sight!
And now for something I really want to talk about – Leapers UTG Accushot 2-7X44 Scout SWAT scope. I've been watching this scope for a year, wondering how I could work it into the blog. Most air rifles have no need for a scout scope, so it was a challenge to find one that did. Finally, I quit wondering and decided this is such a fine scope that I'll talk about it whether there's a huge need for it or not.
What is a scout scope?
To understand the scout scope, you must first understand the scout rifle concept. A scout rifle is meant to be carried on long treks, away from normal transportation. In other words, a rifle you have to carry most of the time. Therefore, scout rifles are light weight — especially for their calibers, which are often large to take long-range shots or drop dangerous game.
Many scout rifles do not lend themselves to having scopes mounted at the conventional location, which is just above the action. They require the scope to be mounted further forward, either to clear the path of the ejected cartridge, such as on an M14, or to provide room for a straight bolt handle, like those found on Mausers and Mosin-Nagants.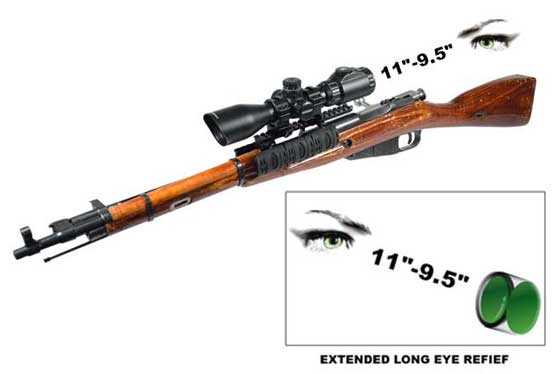 This image from the Leapers website shows the scope mounted on a Mosin-Nagant. The scout scope goes forward of the receiver, almost to the middle of the rifle.
What defines the scout scope is its longer eye relief (the distance from the sighting eye to the first lens in the scope). It's usually in the range of 9-11 inches, where the eye relief of a conventional scope might be around 3 inches. Even a scope with long eye relief might only go out as far as 5 inches. So, the scout scope is definitely different.
As difficult as it is to imagine, when your head is in the correct position on the rifle (9 to 11 inches behind the scope), you actually see the fully magnified image, just as if your eye were close to a conventional scope. It appears as a bright, magnified picture of your target with the reticle superimposed over it. Until you experience it, this is a difficult thing to envision.
Because of the extended eye relief, scout scopes do not magnify as much as conventional scopes. This one goes from 2x to 7x magnification, which is actually very high for a scout scope.
This scope is one of the largest, if not the largest scopes in the scout scope market. Other companies make their scout scopes with smaller objective lenses of 28mm to 32mm, and this one dominates them all at 44mm. Of course, that and the 30mm scope tube do add weight to the instrument, so consider that when you shop. Also, think about the clearance of the objective lens over the barrel of whatever rifle you're scoping.
Leapers packs a pair of medium-height Weaver rings with this scope, and I used those rings to mount the test scope on a Crosman MK-177 multi-pump pneumatic, which has a long, flat Picatinny rail. Mounted this way, the objective lens has clearance underneath and even clears the flip-up scope caps. Clearance over the gun should not be an issue unless there's something sticking up in the way, like a sight or a handguard.


Mounted on Crosman's MK-177, the scout scope goes to almost the front of the rifle.
I hope this explanation plus the above photo have convinced you that there's a need for a scout scope. Some airguns and firearms cannot use anything else! It isn't the mainstream scope; but if you need one, nothing else will do.
Getting specific
Let's take a look at this specific sight. Obviously, the power varies from 2x to 7x magnification. The scope tube is 30mm, which means the lenses in the package can be a little larger than if this was a one-inch scope. That — plus the emerald lens coatings Leapers scopes are famous for — are an aid to the transmission of light. I will say that with the scope farther from your eye, more light that's not part of the sight picture can enter your eye, making the sight picture appear darker by comparison. But under most conditions, this scope is as bright as needed.
This scope has a range of eye relief from 9.5 to 11 inches. That's almost the entire range in which scout scopes operate!
I found the thin reticle lines of this scope hard to pick up against a darker background, which is where the built-in illumination comes in handy. Just press one of the buttons atop the rear of the scope, and the reticle lights up. This scope gives you the possibility of 36 different colors and hues, so there's always something that will work for your current situation. This scope has an etched-glass reticle, so the central reticle appears unconnected to the thicker lines on the edges of the duplex. And the central lines have mil-dots on both axes.
The windage and elevation adjustments are both quarter-minute clicks, which means they move the strike of the round by approximately 1/4-inch at 100 yards. Both knobs have locking rings at their base that allow you to sight-in the scope and then lock it down so no one can mess with your zero.
The combination of thin reticle lines and illumination give you the best of both worlds — a scope that can be very precise on a paper bullseye in bright light, plus a reticle you can pick up fast in a darker woods setting.
The proof is in the testing, so that's what will happen next. I'll back up to 25 yards and shoot the MK-177 with this scope as my sighting tool.
But I've already made up my mind about this scope. I like it so much that I'm going to look for a firearm on which to mount it, just so I can have it in my collection. Unless something odd happens during the accuracy test, this scope is a winner!
by Tom Gaylord, a.k.a. B.B. Pelletier
Let's look at the velocity of the BSA Supersport SE. The factory advertises 750 f.p.s. for the .22-caliber rifle I'm testing. I just hope that's with lead pellets.
Cocking effort
I mentioned in Part 1 that the rifle cocks a little on the heavy side. I estimated 40 lbs. of effort. On my bathroom scale, this one actually requires 39 lbs. to fully cock the rifle. My gut tells me that some of the effort is the tightness of the new gun and will probably decrease by a few pounds over time.
I cannot resist making a comparison with the Beeman R9, which is also sold as the HW 95. The size and power of this rifle seem to align with that classic, but shooting will tell us the whole story.
RWS Hobby
The first pellet I tested was the RWS Hobby – a lightweight lead wadcutter that's used to test the legitimate velocities of all airguns. By legitimate, I mean that there are many lead-free pellets that may go faster; but since very few of them are accurate, they probably won't be used by many shooters.
Hobbys averaged 717 f.p.s. from the test rifle. But the velocity spread was large — from a low of 695 f.p.s. on the final shot to a high of 731 on shot three. That's 36 f.p.s., which is a bit high for a springer — especially these days when many new spring guns come out so well adjusted.
At the average velocity, Hobbys generated 13.59 foot-pounds of muzzle energy. Hold your comments, however, because I noted in Part 1 that I thought this rifle might have a heavy piston (or top hat) that I said could make it shoot better with heavier pellets. So, let's try one.
Beeman Kodiak
The next pellet was the 21.14-grain Beeman Kodiak — a heavyweight if ever there was one. Kodiaks averaged 535 f.p.s. in the test rifle, and the spread was just 12 f.p.s. It ranged from 527 f.p.s. to 539 f.p.s. At the average velocity this pellet produced 13.44 foot-pounds of muzzle energy. Not as much as the Hobby, but very close. And the tight velocity spread leads me to suspect I was right about the piston. I think the Kodiak has earned a spot in the accuracy test.
RWS Superdome
We need to see what a medium-weight pellet can do in the Supersport SE, and the RWS Superdome is a fine one to try. At 14.5 grains, it sits right in the middle of the weight spread — especially in the range of pellets that should be considered for this rifle.
Superdomes averaged 661 f.p.s. in the Supersport. Since we know the "magic" number is 671 f.p.s. — where the weight of the pellet in grains equals the muzzle energy in foot-pounds — we are very close to that level. This rifle must therefore produce a shade less than 14.50 foot-pounds with this pellet. And it does! It produces 14.07 foot-pounds of energy at the muzzle — the highest energy of the three pellets tested.
The total velocity spread for the Superdome was 16 f.p.s. Therefore, the 2 heavier pellets did better (shot more stably) than the lightweight Hobby. I'll keep that in mind as I test the rifle for accuracy. Yes, I will test it with a scope; but since it comes with a nice set of open sights, I plan to first test it with them.
General comments
The rifle cocks smoothly and without the normal noises I associate with a new spring rifle. And when it fires, there's no objectionable vibration, as long as you hold it lightly.
The trigger is reasonably crisp. It breaks at 2 lbs., 14 oz., which is light but not overly so. I also really like the fact that the safety is manual.
Last comment. The Supersport SE feels very "old school" to me. It isn't overly powerful. It has a smooth cocking and shooting sequence. And the size and weight of the rifle feel very nice. I'm so tired of those oversized breakbarrels that make me feel like I'm a kid shooting dad's big shotgun for the first time. The Supersport SE feels just right.
by Tom Gaylord, a.k.a. B.B. Pelletier
Part 1
Part 2
Part 3
Part 4
Part 5

The Lightweight Disco Double in its new stock looks striking!
This is a second look at the Disco Double at 50 yards. On this day at the range, the wind was quiet, so it was a good day to test.
I didn't do anything to the rifle before this test because I didn't have any time to stop long enough to clean the bore. So, it went uncleaned. I may have promised to do certain things before the next test, but all I actually did when the time came was grab the rifle and go back to the range.
I used the same black single sandbag you saw in the Daisy model 8 test earlier this week. The Disco Double perfectly fits the long groove of that bag and feels more secure than if it was in a conventional rifle rest.
Beeman Kodiaks
The first group was made with 10 Beeman Kodiak pellets, and they were on target since I'd already zeroed this rifle at 50 yards for the earlier test. They initially stayed together, and I thought the rifle might have turned the corner. They then began to fly farther and farther apart. In the end, 10 pellets went into 1.837 inches — hardly a group worth mentioning. When I checked back to the previous test, though, I noted that this same pellet had made a group that was 2.458 inches at 50 yards; so as bad as it is, this was an improvement.

Ten Beeman Kodiaks went into 1.837 inches at 50 yards.
Okay, that wasn't the brilliant opening I was anticipating. Even though the same pellet beat the last group by half an inch, it didn't seem like the time to gloat. Next up were the JSB Exact Jumbo RS pellets — the most accurate pellets in the first 50-yard test.
The first group was another teaser. It looked small through the scope. It wasn't until I measured it that I found out it went over an inch. Ten RS pellets went into 1.317 inches at 50 yards. That's smaller than the smallest group from the previous test. There, 10 RS pellets went into 1.3418 inches at 50 yards. This group is similar, but it's not crushingly better by any means.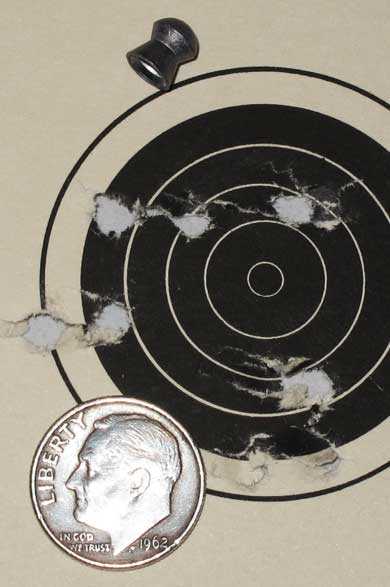 Ten JSB Exact RS pellets went into 1.317 inches at 50 yards.
I now have 2 groups — each of which is better than the same pellet in the previous test. One is significantly better; the other is only better by a whisker. What does that mean? Rather than try to answer that question, I decided to shoot another group. Surely, this one would be conclusive!
The next 10 RS pellets went into a 1.773-inch group. That was the hands-down worst group of both days of testing for this pellet. On the same day, shooting under the same conditions with the best pellet, I got both the best and worst groups this rifle had fired to date.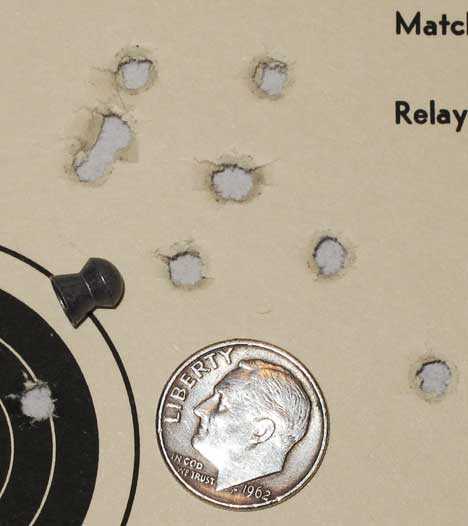 Ten JSB Exact RS pellets went into 1.773 inches at 50 yards.
I'm sure someone can make sense out of these results — but I'm not that person! After 2 days of testing at 50 yards, I had not proven anything except that I can't make this air rifle shoot — yet!
I considered shooting some more groups; but after looking at these results, I thought this wasn't the day. Sometimes, the bear gets you!
Future strategy
I think what I'll do is drag the Disco Double to the range every time I go and try to shoot different pellets each time. Maybe then I'll stumble across the magic pellet that turns this rifle into a shooter. After testing similar rifles, I'm convinced this gun can shoot — I just haven't yet discovered how.
by Tom Gaylord, a.k.a. B.B. Pelletier
AirForce Escape: Part 1
AirForce Escape: Part 2
AirForce Escape: Part 3
AirForce EscapeUL: Part 1
AirForce EscapeUL: Part 2

The AirForce EscapeUL is a lightweight PCP with the Escape powerplant. Everything has been modified to save weight.
I'm still in Ft. Smith, Arkansas, filming segments for this year's American Airgunner TV show, so today's report will be short. After I reported the 50-yard accuracy test for the EscapeUL, blog reader Gunfun1 asked me if I had remembered to coat the pellets with Slip 2000 oil that Ton Jones likes. I had to admit that I'd forgotten, so I promised him I would. Last Friday, I went to the range and shot the EscapeUL with just the 2 best pellets — the 43.2-grain Eun Jin pointed pellet that develops the maximum power in the rifle, and the Predator Polymag pellet that was the most accurate on lower power.
Predator Polymag
The first pellet I shot was the Predator Polymag. I did that because the rifle was still set on the same power setting I used in the last test. If you recall, I shot 2 groups of Polymags that time. One was 5 pellets in 0.622 inches at 50 yards. I thought that was phenomenal! The second group of 5 opened up to 1.298 inches, but I shot it in a continuous wind. I just waited for quieter moments, but the wind was always blowing for that group.
Oiling the pellets
I put several drops of the Slip 2000 lube on the foam that JSB packs in the tops of their tins. Predator Polymags are made by JSB, so they always have this foam. Then, I put some pellets on the foam and rolled them around until they were moist to the touch.
The first target I shot looked like it was going to beat my earlier best group; but after 3 shots, the rifle threw the next shot to another location, opening the group much larger. Okay, I thought, maybe I didn't get the fill pressure just right. I continued shooting until there were 6 shots on this target. The entire group measures 1.545 inches between centers. That isn't bad; but in light of what I did before with unoiled pellets, I wasn't happy with it.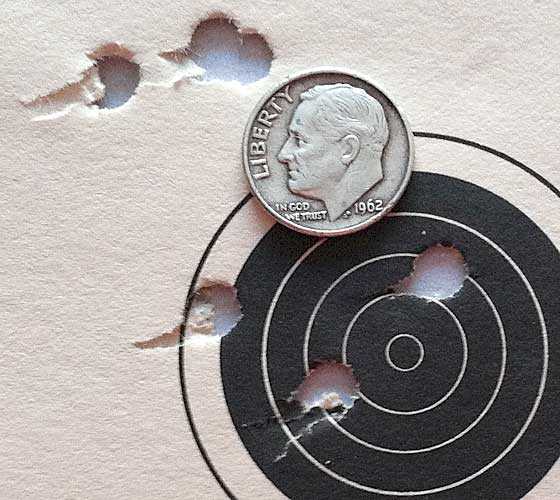 Six oiled Predator Polymag pellets made this 1.545-inch group. The first 3 shots were at the upper left.
This group suggested to me that the EscapeUL doesn't like oiled pellets. It seemed like once the bore was oily, accuracy went south. Of course, I couldn't let it ride without testing it once more. This time, the pellets were oiled in the same way, but the bore was already oily. I mention that because the next group of 5 wasn't nearly as good as the first. Five Predator Polymags went into 2.634 inches! And that was what I expected would happen. When I saw the pellets in the previous group opening up, it was something I have seen before. Oiled pellets often do this, in my experience.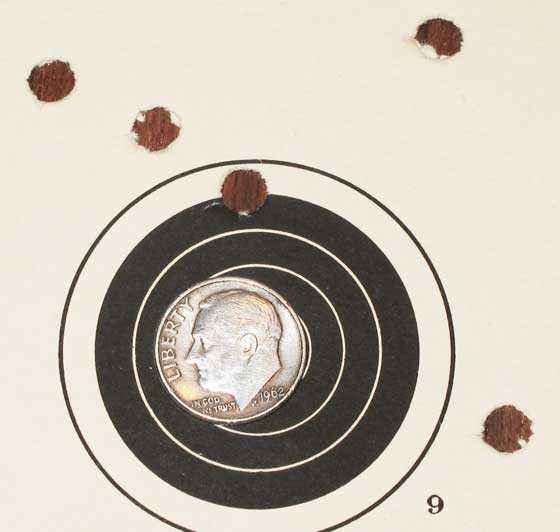 Five more oiled Predator Polymag pellets made this 2.634-inch group. From what I've seen, this is pretty common with oiled pellets, though sometimes they'll shoot better than they do when dry.
The wind was starting to pick up, so I switched from Polymags to Eun Jins. This time, I ran the power up as high as it would go and filled the reservoir to 3,000 psi. The last time, I shot 5 dry Eun Jin pellets into a group that measured 1.866 inches at 50 yards. That set the bar for the oiled pellets.
And the challenge was met! I got an almost-identical 1.862-inch, 5-shot group with the oiled Eun Jins. The measurement error is larger than the difference between these 2 groups!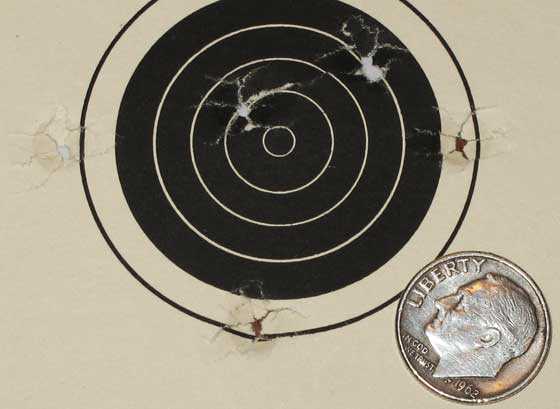 Five oiled heavy Eun Jin pointed pellets went into 1.862 inches at 50 yards. That's so close to what they did when dry that it's too close to call.
Sometimes, you win…and other times not
I know this isn't a huge test with lots of controls and numerous targets. But I didn't think oiling the pellets was actually going to help. From what I see here, it didn't. It's just one extra step for little or no return. I certainly would not oil the Predators, again!
The one advantage I see with oiling is that it makes the pellets load easier. At least it does for the Predators. The Eun Jins load very hard no matter what you do. I had to use the flat side of the screwdriver blade on my pocket knife to get them into the breech — even after oiling!
I doubt I'll oil pellets for this rifle again.
by Tom Gaylord, a.k.a. B.B. Pelletier
I'm in Ft. Smith, Arkansas, today filming the 2014 episodes of American Airgunner. Because I am on the road, I'll ask my veteran readers to help answer the questions we get from the new guys. After a day's filming, I have to return to the hotel, answer my email then write the next day's blog. The blogs are going to be pretty short this week because I was so busy last week that I didn't have a lot of time to bank any of them.
Today's report is about 2 rimfire rifles that were made by airgun manufacturers — Daisy and Falke. I introduced both rifles in Part 1 and gave you my opinions and observations about their quality. In today's report, I'll take these 2 rifles to the range and shoot some targets at 50 yards.
I also introduced a Crickett .22 rimfire in Part 1. That rifle was made by a firearms manufacturer and served as my control during this test.
There were a lot of comments on the first part of this report. A number of readers expressed interest in these small single-shot rifles, and more than a few people said this was the first time they had heard of one or all of them.
Daisy model 8
The first report was mostly descriptive. I talked about the relative quality, or the lack of quality, that I see in each of the subject rifles. I came down on the Daisy model 8 the hardest, and in retrospect, everything I said was deserved. The rifle is made on a zinc diecast receiver — the weakest possible type of construction. Yet, it does work.
What doesn't work on the Daisy is its reliability. It fails to fire almost half the time. Either the mainspring is weak or the headspace is too great or the firing pin isn't long enough — something is wrong. But in spite of that, the rifle shoots well.
I said in the first report that the Daisy was inaccurate, but in this test I discovered that it is plenty accurate. I shot it at 50 yards outdoors on a very cold and windy day, and the rifle grouped like a much more expensive firearm.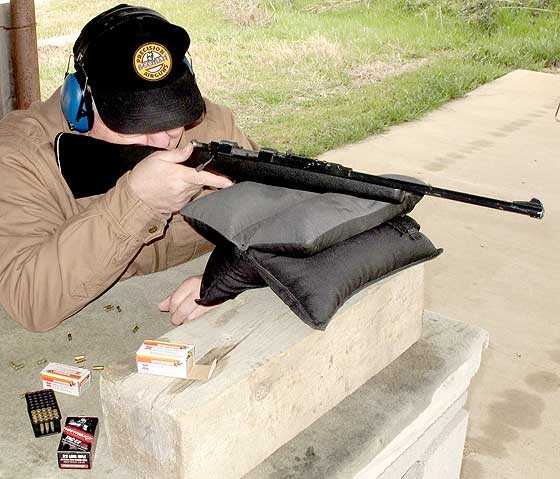 The day was cold and blustery, but the little Daisy model 8 shot very well.
When I went down to inspect the first target, I couldn't believe what I saw. I recalled that the Daisy model 8 was inaccurate, but 7 shots in 2.045 inches in the black were proving me wrong. I know this isn't the best group in the world. I've done much better at this distance, but I never thought the little Daisy could even keep all its shots on the paper at 50 yards.

This first 7-shot, 2.045-inch group showed me that the Daisy can shoot.
I put up another target and shot another 10 Aguila standard speed rounds at it. This time the spread between centers was 2.393 inches, which is larger — but not by much. And the shots are still nicely centered. Only one round missed the black bull.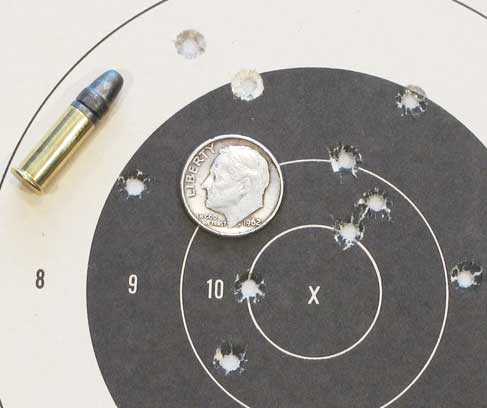 The Daisy put 10 shots into 2.393 inches at 50 yards. While that's not great, it's better than I expected!
Falke rifle
The Falke single-shot is the most deceptive of the 3 rifles being tested. Overall, it looks fine; and in a 21st century context, it even looks like a premium gun! But by understanding what was happening in Germany right after World War II, we can understand why that's so. All hand work was cheap at that time because labor was plentiful and inexpensive. The hand-checkered pistol grip and the high polish on the metal parts are to be expected. But the design of the rifle is crude. That shows up best in the flat spring that powers both the sear and trigger.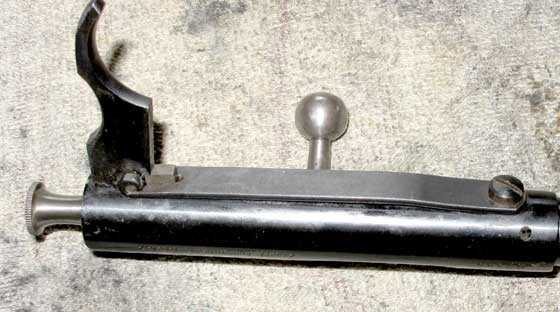 The Falke trigger/sear spring looks like it was taken from a half-ton pickup truck!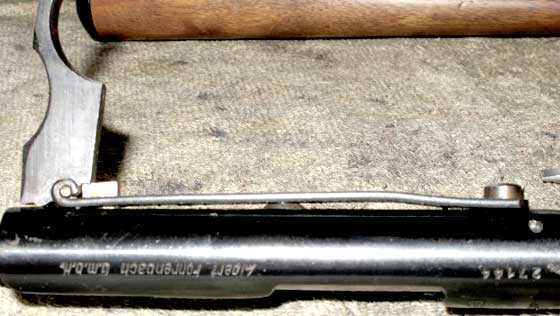 This shot shows how Falke made the large flat spring work as both the sear spring and the trigger return spring. It saves money but isn't very elegant.
That spring was making the Falke cock very hard because the sear didn't want to get out of the way when the bolt was withdrawn. I lubricated it heavily with moly grease and reduced the effort by at least two-thirds. The trigger-pull also dropped from about 18 lbs. down to about 8 lbs.
No joy
Alas, all my work was for naught, for the Falke rifle was not the equal of the Daisy at 50 yards. Ten bullets went into 2.91 inches at 50 yards. Of course, I may not have used the best cartridge for the Falke, and it may have been the best one for the model 8 — but that'll take a lot more testing to discover. The point is just this: A rifle that looks much better and is more expensive than the Daisy model 8 may not be any more accurate. That's all I'm saying.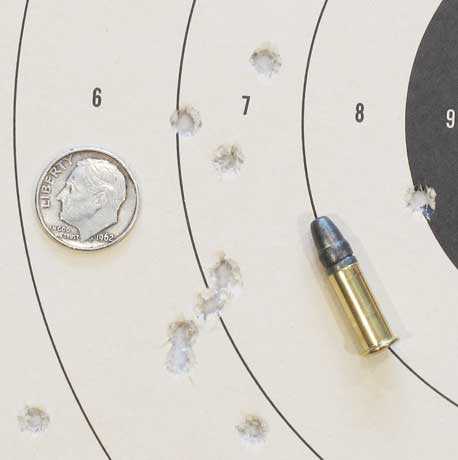 The Falke rifle grouped larger than the Daisy and also out of the bull. The sights need some adjustment. Ten shots in 2.91 inches between centers.
Crickett
The Crickett rifle was supposed to be the control in this little comparison. While both the Daisy and Falke rifles were made by airgun manufacturers, Crickett makes only firearms. I already noted that the Crickett has a much better appearance and feel. Despite the cheap synthetic stock with its pink panels, a lot of real thought went into this rifle. It may be small, but it looks right.
But at 50 yards the Crickett put 10 rounds into 2.564 inches. They were at the top of the target paper and one was a quarter-inch off the paper, so there are just 9 holes visible. The rear peep sight has enough adjustment to get the shots back into the bull at this distance, but it will take a different cartridge to shoot better than the little Daisy.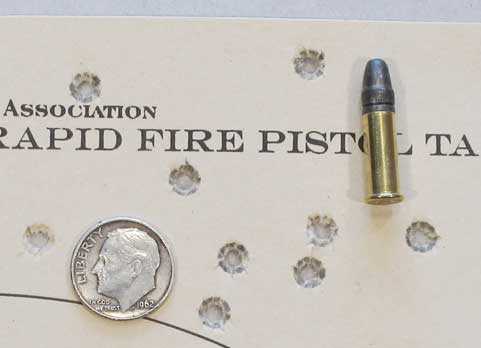 The Crickett sights are way off! Ten shots went into 2.564 inches, but one of those shots landed a quarter-inch above the highest shot in this picture.
On the other hand, the Crickett is 100 percent reliable. And the trigger is light. Those things do live up to its gun-making heritage.
Interesting!
This test was interesting. On one hand, ugly (the Daisy model 8) triumphed over beauty (the Falke); and on the other, enthusiasm (Daisy, again) beat out experience (the Crickett). That's not how I thought this would turn out! Given the circumstances and from what I saw, I thought it would have been the Falke first, followed closely by the Crickett, with the Daisy bringing up the rear…and very far behind the others.
Conclusions
The Daisy model 8 may be a cheaply made single shot rifle, but that doesn't mean it can't shoot. It still needs some work on the firing reliability, but I would say the accuracy is where it needs to be. We still have no idea about which rifle is most accurate. To learn that, a lot more shooting is required. I'm glad to do it, but I'm just saying that we don't want to dismiss either of the other 2 rifles.
Is there a point to all of this? I think there is. That point would be that you don't want to judge a gun (or anything) by appearances, alone. Furthermore, inexpensive materials and cheap construction don't always mean something is no good. Only by testing can we determine if a gun is up to snuff.
One more thing. Some readers have noticed that I sometimes spend a lot of time on an airgun that has seemingly very little to recommend it — like the BSA Meteor. This Daisy might fall into that same category. If I can get it to shoot reliably, what a wonderful little rifle it will turn out to be!
by Tom Gaylord, a.k.a. B.B. Pelletier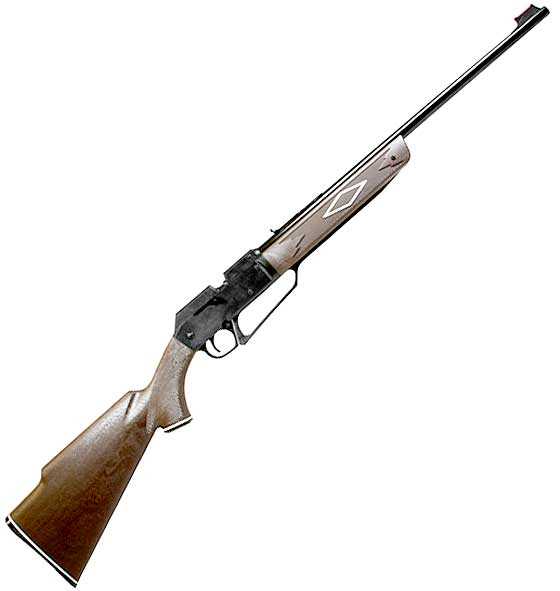 The Daisy 880 multi-pump is a classic.
Today, we'll look at the velocity of the Daisy 880 multi-pump pneumatic. The test didn't go as I expected it to, so stick around and learn something new with me.
Oil the pump head
Before I started the test, I oiled the 880′s pump head with several drops of Crosman Pellgunoil. I do that whenever I want to get the maximum performance from a multi-pump pneumatic, because the oil seals the pump head, allowing it to build more pressure.
First test — velocity per pump stroke
This is a test I recommend to all multi-pump owners. You test the velocity of your gun with differing pump strokes — from the lowest number recommended in the manual, which is 2 in this case, to the highest number, which is 10. [Note: In part 1, I stated that the minimum number of pumps was 3. It's actually 2, and the Pyramyd Air website has been corrected to reflect that.] For this test, I also did 11 and 12 pump strokes to see if the gun had even more velocity.  The results were revealing. I'll discuss them in a moment.
The pellet I used was the 7.9-grain Crosman Premier dome. Any pellet will do, but it helps if you always pick the same one in case you ever want to compare one gun to another.
Stroke    Velocity
2                332
3                448
4                499
5                530
6                562
7                574
8                595
9                601
10*           616
11*            617
12*           607
* No air remaining in the gun after this shot.
For those who may be new to multi-pumps, notice that as the number of pump strokes increases, the amount of the velocity increase grows smaller. If you were pumping the gun, you would have noticed that after the fourth pump stroke (from 5 strokes on) the pump handle jumped out when I pulled it for the next stroke. Compressed air is remains in front of the pump head and does not enter the gun's reservoir. As the pressure inside the reservoir builds, it holds the inlet valve closed a little harder each time; so, more compressed air fails to enter the reservoir. This phenomenon is common to all multi-pumps, and many of the more expensive ones have (or used to have) adjustable pump heads that minimize this; but the 880 doesn't have any adjustment.
Note that there's no air remaining in the gun after a shot was fired on 10 pumps. That means the gun is able to exhaust all the compressed air. From the velocity chart, we learn there's no value in pumping the gun more than 10 times.
Consistency
This is where I learned a couple big lessons about the 880 — or at least about my 880. Normally, a multi-pump is very consistent. The same number of pump strokes will give nearly the same velocity every time, as long as the same pellets are used. I'm used to seeing a velocity variation of about 5-8 f.p.s. over a 10-shot string. But not this time!
The 880 gave an average of 469 f.p.s. for 10 shots with 5 pump strokes. If you look at the string before, however, you'll see that this velocity is well below what I got with 5 pump strokes (530 f.p.s.) and the very same pellet. Even stranger is the fact that, on this test, the velocity spread went from a low of 441 f.p.s. to a high of 502 f.p.s. That's a variation of 61 f.p.s. over 10 shots. And not one of those 10 shots went as fast as the same pellet did on 5 pump strokes in the previous test!
The Daisy 880 varies greatly in velocity from test to test. You may think this is because my 880 is an older one. I can't argue that. If you want to run the same test with a more modern 880 and submit your results, I'd be glad to see them, but please back up any claims you make with chronograph results.
RWS Hobby pellets
Next, I tested the rifle with RWS Hobby pellets fired on 10 pumps. These pellets averaged 600 f.p.s.; but, once again, the spread was very large. The low was 559 f.p.s. while the high was 643 f.p.s. That's a variation of 86 f.p.s.
How fast will it shoot?
I tried a string of Crosman Super Sonic pellets on 10 pumps. They averaged 690 f.p.s. Again, the spread was very large — from 648 to 722 f.p.s. That's 74 f.p.s. I only did this to see how fast the gun could shoot. The owner's manual online says the maximum is 715 f.p.s with pellets, and we saw just a little more. So, that claim is right on.
Daisy BBs
Finally, I tried the rifle with Daisy Premium Grade BBs. On 5 pumps, they averaged 578 f.p.s. with a low of 565 and a high of 586 f.p.s. On 10 pumps, they averaged 644 f.p.s., with a low of 632 and a high of 657 f.p.s. So the gun is much slower than advertised (750 f.p.s.) with BBs, but the velocity spread is a lot less than it is with pellets.
Impressions
I was surprised by the large velocity variation I saw with the 880. This is not just the largest variation I've ever seen with a multi-pump, it's many times larger than the next largest variation. Multi-pumps are very consistent, in my experience.
Will this large variation have any affect on accuracy? Probably not at 10 meters, but it almost certainly will at 25 yards. I plan to shoot the rifle at both distances, so we shall see.