by Tom Gaylord, a.k.a. B.B. Pelletier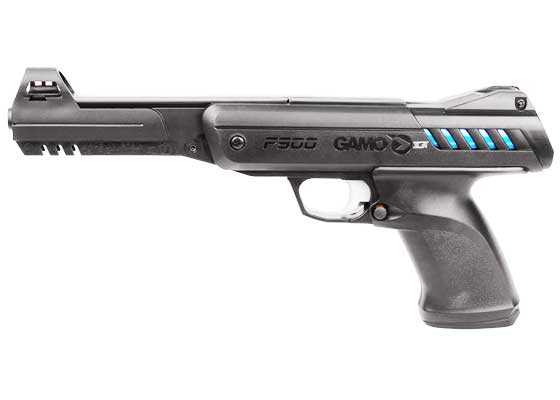 Gamo P900 IGT air pistol
This report covers:
• Description of the gun
• Trigger
• Ambidextrous
• Power
• Overall evaluation
This report on the Gamo P900 IGT air pistol was requested by blog reader RidgeRunner, who became suddenly enthused by gas-spring technology a few weeks back. I saw this pistol in the Gamo booth at the 2014 SHOT Show; but since there was nobody there to tell me about the gun, I only knew what I could read in their static display.
The P900 isn't the first pellet pistol to use a gas spring. That honor goes to the Benjamin Trail NP pistol I tested for you last year. Before testing that pistol, I wouldn't have thought I could like an air pistol with a gas spring; but that one showed me there was a lot to like.
RidgeRunner asked me to test this pistol partly because of the relatively light 30-lb. cocking effort. Gamo is usually pretty correct when it comes to measuring the cocking effort of their airguns, and 30 lbs. is still within the capability of most adult men. This is not a youth airgun, though.
Description
The P900 has an auto-pistol profile, but a size that exceeds any firearm short of a Desert Eagle Magnum. It's entirely synthetic on the outside, and that makes it a very light 19 oz., so almost anyone can shoot it one-handed without a strain. Besides the Inert Gas Technology (Gamo's trade name for their gas spring), this gun also features their two-stage Smooth Action Trigger (SAT), which they say is smooth and crisp. I'll test the trigger for you in the next report, but for now I can tell you they're not exaggerating. It is two-stage and there is no creep. I can feel the trigger move through stage two, but there's absolutely no creep.
The sights, on the other hand, are not easy to use. The rear sight is a light yellow piece of plastic that's so bright that it makes the front bead difficult to see. The target will have to be lit brightly and the firing point will have to be dark. Otherwise, that yellow rear sight will make aiming difficult.
The rear sight adjusts for windage, only. A screw on the right side of the sight is turned to move the notch left and right. The manual shows this being done by hand without the use of a screwdriver, and I found that it's possible to do. No tools are needed for sight adjustments. The adjustments are smooth and without clicks. There's no scale on the sight to reference when adjusting, so you watch the rear notch. Move it in the direction you want the pellet to move.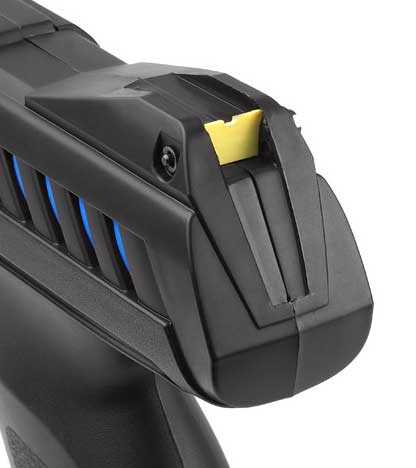 The rear sight is yellow and so bright that the front bead is difficult to see. It adjusts for windage, only, with a screw on the right side.
The front sight is a red fiberoptic bead housed in a wide plastic globe that protects your hand when cocking. The globe is handy for protecting the hand when cocking, but it stops a lot of light from reaching the fiberoptic element.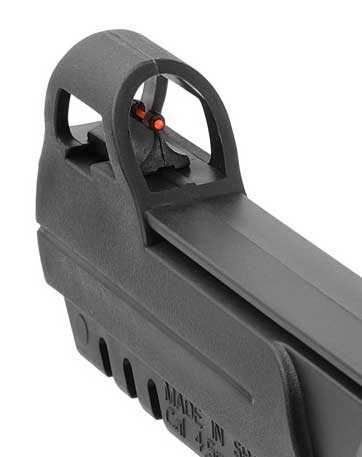 The front sight is a red bead under a wide plastic globe. The globe protects your hand when cocking, but it also shades the bead from a lot of light. In bright indoor light, the front bead is difficult to pick up; but in direct sunlight, it glows bright red.
What may appear to be an 11mm scope dovetail on top of the barrel really is just decorative. This pistol is not suitable for optical sights.
The cocking linkage is a two-piece articulated arm. It probably has to be to provide the length needed to cock the gun at a reasonable effort. When the pistol is cocked, the barrel is broken beyond 90 degrees.

The barrel comes down past 90 degrees when the pistol is cocked.

The cocking linkage is in two pieces that articulate in the middle.
Trigger
I see the customer reviews are rating the P900′s trigger as not good, but they fail to elaborate. Sure, it isn't as nice as the trigger on a Beeman P1, but this pistol sells for a lot less. For the price, I don't see how this trigger could be much better. And, to their great credit, Gamo did not make the safety automatic. When the gun's cocked, it's ready to fire.
However, there is some confusion about this trigger. Gamo says it is a Smooth Action Trigger (SAT), but this one is not adjustable. On other Gamo airguns, the SAT is adjustable, so that adds some confusion to this pistol's description.
Ambidextrous
The P900 is 99 percent ambidextrous. Only the safety button favors right-handed shooters more.
Power
Gamo says the velocity is 345 f.p.s. with lead pellets and up to 400 f.p.s. with their PBA ammo. We'll test that in Part 2, but for now I'll say this is a smooth and gentle pellet pistol. It's going to be fun to shoot. The impulse upon firing is a solid thunk with no vibration. I had to tune my P1 to get it as good.
I also read some reviews that suggest the P900 is hard to cock, and the barrel should be longer. I don't agree. Yes, it's harder to cock than some other pellet pistols, but 30 lbs. or whatever it turns out to be is hardly debilitating. I wonder if these critics have ever tried to cock a Webley Hurricane?
Overall evaluation
I really like this air pistol so far. I had no preconceptions coming into this test, other than the gun might be hard to cock because it has a gas spring, but that didn't turn out to be the case.
by Tom Gaylord, a.k.a. B.B. Pelletier
Today, I'm starting a long series on lubricating airguns. Blog reader Joe asked for this; but as I was researching the subject, I stumbled across another request that came in through the customer reviews on the Pyramyd Air website:
"I wish that RWS or Pyramydair would explain the process and frequency of oiling these RWS rifles in particular the RWS mod 48. Everyone I talk with says the RWS owners manual is outdated and that with the new seals they use does not need to be lubed maybe for years….I purchase the RWS chamber and cylinder oil at a cost of almost $30.00 and now am told I probably will never need it? This topic should be cleared up once and for all by the manufacturer."
Perhaps this customer is referring to RWS Chamber Lube and RWS Spring Cylinder Oil as the two products he purchased. And they do add up to $28 before shipping. Are they necessary? Should he have bought them? That's the question I'll start answering today.
This subject is so vast and complex that I cannot address it in a single report. In today's report, I'm only going to look at lubricating the piston seal. That constitutes about half of the lubrication requirements for many airguns, in my opinion. In the next installment, I'll address all other spring gun lubrication, including the mainspring and piston.
Leather piston seals
In a spring gun, the piston seal is what compresses the air when the gun fires. As the piston goes forward, the seal keeps the air in front of the piston, where it gets compressed because the only escape is blocked by the pellet sitting in the breech. If the gun's working properly, all other avenues for the compressed air to escape have been blocked.
In the past, pistons were sealed with a leather pad or cup. Leather is an ideal material for this job. It's rugged, lasts a long time and will conform to the shape of the compression chamber after a few shots — much like a leather shoe that eventually fits your foot perfectly.

This cup-shaped leather piston seal is for a Chinese spring rifle.
To do its job, a leather seal has to stay soft and pliable, and oil is the best thing for this. As the spring gun operates, a little of the oil is consumed with each shot, so a leather seal needs to be oiled frequently to stay soft. How frequently? In some older guns, I've found that oiling every few weeks is necessary if they're shot a lot. Certainly, all guns with leather seals need a couple drops of oil at least once each month if they're to be shot. You can leave a gun with leather seals unoiled for years if you don't shoot it; but before you start shooting it again, that seal needs to be oiled. When I start shooting an older gun that I know has leather seals (I use references for finding out things like this), I put about 10 drops of oil through the air transfer port and let it soak into the seal for at least an hour, although a half day is even better.
What oil to use?
The type of oil you use depends on the velocity of the gun. Guns that shoot less than 600 f.p.s. in both .177 and .22 caliber will be oiled with regular household oil. Any petroleum-based lubrication oil will do. Yes, gun oil will also work. For guns that shoot faster than 600 f.p.s., I use silicone chamber oil, like the product listed above. The spring cylinder oil is not for chambers and should not be used on the piston seals of these guns.
Synthetic seals
Starting in the 1950s, manufacturers began experimenting with piston seals made from synthetics. Some of them, like the ones used by Anschütz and Falke, worked well and lasted for many decades. But others, such as the seals used by Walther on all their airguns and the seals that Feinwerkbau used on the 121 and 124/127 sporting rifles, were made from a material that dry-rotted within about 20 years. If they were oiled by anything, they failed even faster. These seals started out as a light beige color, but as they absorbed oxygen and oil, it turned them dark yellow and brown until they began to break apart in waxy chunks.
Diana was one of the last companies to switch from leather to synthetic, and they had the benefit of watching the others. They were still using leather seals in their powerful model 45 rifle in the late 1970s, at a time when that airgun had broken the 800 f.p.s. "barrier." When they started making synthetic piston seals, they used a blue-colored material that was tough and long-lasting. It's interesting to note that the others adopted similar piston seal material when they finally realized their seals were perishing in use.

The blue Diana parachute seal is so rugged that hobbyists use it for many other airguns. It needs very little oil!

These 2 FWB 124 seals are made from modern synthetic material, yet they look like the original ones. The one on the right has been inside a rifle for a few thousand shots. It looks bad but is still in great shape and will last for many decades.
Don't fixate on the color blue for piston seals! These synthetics can be colored any way and still be fine. I have modern FWB 124 seals that look similar to the old seals in color, yet they'll last indefinitely. It's the material, not the color.
Which oil to use?
With synthetic seals, I always use silicone chamber oil. That's SILICONE CHAMBER OIL — not brake fluid, silicone spray lubricant or any other concoction. Chamber oil is for piston seals. It does not lubricate metal parts because the viscosity is too low. It'll ruin metal parts if you use it that way. On the other hand, nobody knows what will happen to a gun that's lubed with anything other than SILICONE CHAMBER OIL.
Diana recommends using two drops of chamber oil on the piston seal every 1,000 shots, and one drop on the breech seal at the same time. That's it. To answer the person who asked if he needs the chamber oil, the answer is yes. But one small bottle will last a long time. I've observed that most Diana airguns can get by with even less oiling than what's recommended. One diagnostic for when a gun need its seal oiled is when the seal honks like a goose as the gun is cocked.
Silicone chamber oil has a high flashpoint. Since the air in a spring-piston gun reaches about 2,000˚F with every shot, this is important. This heat is adiabatic — it doesn't heat the gun because the interval is too brief.
Overlubing vs. underlubing
It's almost impossible to overlube a leather piston seal. And it does not harm the seal if you do.
On the other hand, overlubing a synthetic seal can start the gun detonating. Not dieseling — most spring guns diesel. When you smell burning oil, your gun's dieseling. Dieseling is just a few oil droplets vaporizing with each shot. It's perfectly normal in a spring gun.
Detonation is when a lot of droplets vaporize and cause an explosion. That will damage your piston seal if it's allowed to continue for a long time. It can also break your mainspring.
So, dieseling is okay, but detonations are bad. And overoiling synthetic seals causes detonations.
Do you see why I had to cover just the piston seals today?
by Tom Gaylord, a.k.a. B.B. Pelletier
Last week, I made reference to a heavy top hat affecting performance in a spring gun, and blog reader Joe asked this question:
"You wrote '…weighted top hat inside the piston, or the piston itself is heavy. Either way, the rifle should shoot medium and heavyweight pellets better than lightweight pellets.'
What is a 'top hat'? Why would a heavy piston or top hat shoot medium to heavy pellets better?"
Joe, thank you for asking this question. This blog is now in its 10th year, and I forget that the readership has changed over that time. If one person asks a question, it means that many other readers are wondering the same thing and not writing in. Today, I'd like to review the main parts of a spring-piston airgun powerplant and discuss how they affect performance.
Piston
The piston is the most recognizable part of the powerplant. When the gun fires, it's propelled forward by some kind of spring. It may be a coiled steel spring or it could be some kind of gas under pressure — whatever the source of energy is, it pushes the piston. And before anyone asks — yes, there have been guns with springs that pull the piston.
The piston compresses air in front of it as it goes forward. There is some kind of seal on the piston that keeps most of the air contained, so it compresses air very well.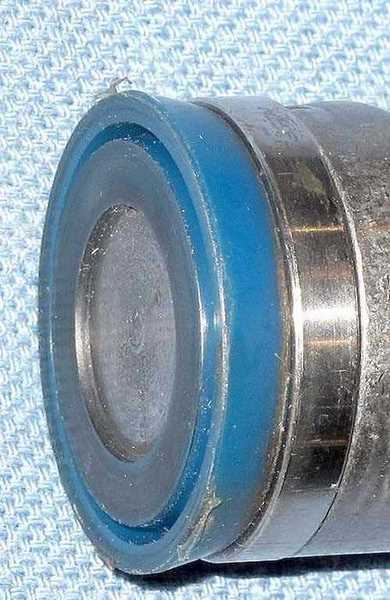 The piston seal (this one is a parachute type, whose sides flare out and seal the chamber better) seals the air in front of the piston.
Tuning tip
Removing excess tolerance makes a spring gun shoot smoother. The top tuners put Teflon or nylon bearings (called buttons) around the rear of the piston skirt to hold it steady and away from the spring tube walls. The piston seal does the same thing for the front of the piston. In a well-built airgun, the metal piston should never touch the walls of the spring tube.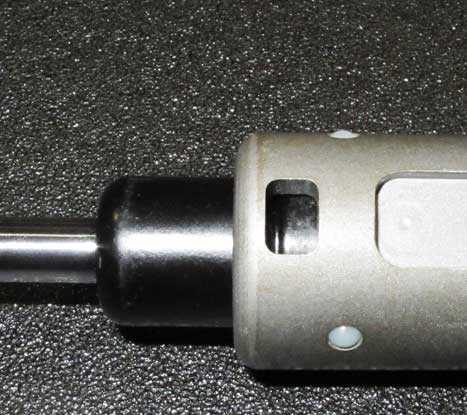 These small white nylon bearings on the Benjamin Nitro Piston 2 are part of the reason that rifle is so smooth when it fires!
Compression chamber
Let's talk about something that's dirt-simple, yet confuses a lot of people — the compression chamber. It's the end of the spring tube, which has been closed off by a metal cap. A hole through the cap, called the air transfer port, allows the compressed air to move from the compression chamber to the barrel. If there's a pellet in the barrel, the air cannot get past it and has to shove the pellet out of the way. This doesn't happen until the air reaches a high pressure, which is at the heart of today's discussion. Essentially, the pellet stays put until the piston has come to almost a full stop, then the compressed air blows it forward, like the cork from a champagne bottle.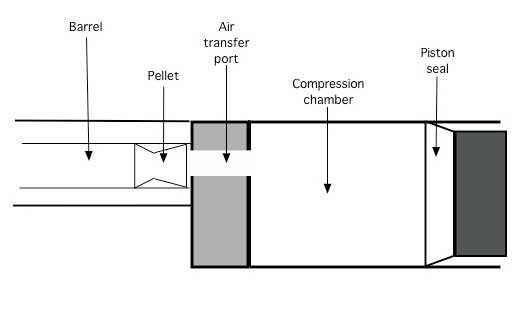 The spring-piston powerplant is so simple that it confuses people.
Spring
We all know what the spring does. It pushes the piston, which compresses the air. A spring can be either coiled steel or compressed gas; but for the remainder of this report, I'll be talking about a coiled steel spring because it's the thing that relates to the top hat.

Thanks to a generous cocking slot, we can see the mainspring inside this piston's body.
Spring guide
The spring guide does what the name says — it guides the spring. What it actually does is keep the coiled spring from twisting or bending too much as it's compressed.

This is the spring guide. It's hollow to allow the piston rod to pass through when the gun is cocked. The metal one is an older Beeman R1 guide, the white plastic (probably nylon) one is what they use more often these days. A lot of vibration can be eliminated by very closely fitting this guide to the inside of the spring.
When the gun is cocked, the piston comes back and compresses the spring. The spring fits up inside the piston, so it's contained by the piston skirt as the piston comes back over it. The spring guide is a hollow tube at the rear of the spring that the spring fits over. As the spring is compressed, it tries to bend to the side, but the spring guide prevents it. The piston skirt keeps it from bending at the front.
Tuning tips
When a tuner wants to smooth the performance (the shot cycle) of a spring gun, getting rid of excess clearance is a great way to eliminate vibration. The outside of the mainspring is fitted to the inside of the piston skirt very closely. Here's something you may not have guessed. When the spring is compressed, it also expands just a little (measured in thousandths of an inch), so the internal fit to the piston skirt has to take that into account.
The spring guide is also fitted to the inside of the mainspring. In the best-tuned airguns, the guide cannot be put on the spring unless the spring is twisted against the guide counterclockwise. Airgunsmith Jim Maccari calls that a guide that's "nailed on." The mainspring grows in diameter as it's compressed. When the gun is cocked, the spring loosens a little and slips down the guide.
Top hat (forward spring guide)
Okay — here it is. You had to wade through lot of blather to get to this point, but I hope it'll be worth it. A top hat is a spring guide that is on the front side (the piston side) of the spring. It fits inside the piston and slides on the central piston rod. Obviously, the mainspring fits over this guide, too, just like it fits the guide in the rear.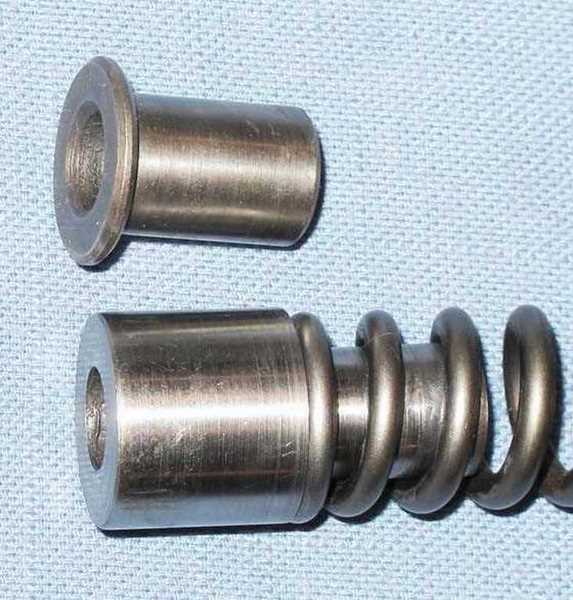 Two top hats (forward spring guides). The heavier one at the bottom was made by airgunsmith Jim Maccari for a special Beeman R1 tune that worked for heavier pellets. I wrote about it in the "Beeman R1″ book.
Tuning tip
Joe — this is the answer to your question. A top hat adds weight to the piston. A heavy top hat adds a lot of weight.
When the piston compresses the air in the chamber, it can reach very high pressure before the pellet starts moving. When the pellet begins to move, the air pressure drops rapidly. Although the pressure is very high, there's not a lot of it — pressurized air.
If the pressure in the chamber is too high and the pellet hasn't started moving, either because of its size, weight or both, the piston can rebound off the compressed air cushion and travel backwards a few hundredths of an inch before the pellet starts to move. Heavier pellets will resist moving longer than lighter pellets — I hope that's obvious.
By adding a lot more weight to the piston, it can resist rebounding to a greater degree (because of its greater inertia). Heavier pistons usually do better with heavier pellets. And top hats are one way to make pistons heavier. That's why I said what I did.
Whew!
That was a quick and dirty look at the spring-piston powerplant and some of its subtleties. Don't think this makes you an expert — there's a whole world of things like this that I haven't addressed.
by Tom Gaylord, a.k.a. B.B. Pelletier
This topic was received well last week, so I'm doing the second list today. Several readers have reminded me of other gifts I should mention, and some of them will make today's list. If I don't list something you suggested, there's a reason. These are the things I recommend without question.
Stocking stuffers/small, neat gifts
Gifts in this category don't cost a lot but will have great meaning to airgunners. Some of them are things that shooters won't buy for themselves.
Air Venturi Pellet Pen and Seater
Someone suggested the Air Venturi Pellet Pen and Seater, and I have to agree. This is a great gift, and it's one that a lot of shooters won't buy for themselves.
EyePal Peep Sight Master Kit
The EyePal Peep Sight Master Kit is another gift that people may not think about; but when they have one, they'll love it. I chose the Master Kit so you can use it with both rifles and pistols (and bows if you're an archer, too). Even if you don't wear prescription glasses, the EyePal is a great aid for your safety glasses to sharpen your vision and make that front sight clear!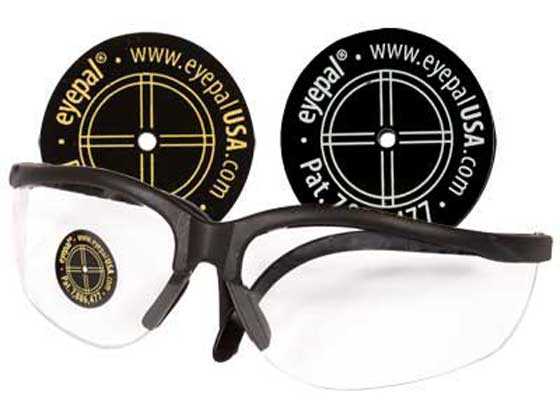 The EyePal makes the front sight appear razor sharp. Use it on prescription glasses and non-prescription safety glasses, alike.
Pellet selection
Here's a gift I'm putting in this section, although it will cost you some money. Pyramyd Air offers 4 tins of pellets for the price of 3. Your favorite airgunner has pellets he or she really likes, but they don't buy them all the time because they may cost too much.
Consider this gift similar to one of those fancy boxes of candies or Christmas smoked meats that are given this time of year. Nearly everybody likes them, but we don't spend money on them for ourselves. So, this is an opportunity to buy something your airgunner wants but will never buy himself. The one problem you have is finding out which pellets to buy. Rather than try and guess what your airgunner wants, I'm going to leave this up to you. You need to do a little investigation, maybe look at the pellets that he has on the shelf, or just talk to him and find out what he really wants but hasn't bought.
Gifts under $50
Crosman 357
For a pistol shooter the Crosman 357W is a great idea. It's a revolver, so you get multiple shots per loading; and for the money, it's an accurate little air pistol.
Walther Multi-Tac tactical knife
If your airgunner is a gadget junkie, you can't do much better than a Walther Multi-Tac tactical knife. It's a tool kit for your pocket. And it has a 440C stainless steel blade to cut whatever you need.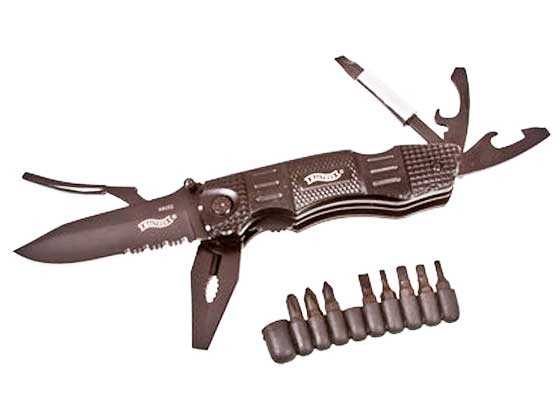 Walther's Multi-Tac knife is a toolkit in your pocket!
Walther Xenon Tactical flashlight
Can't have too many flashlights! Not when you need one! The Walther Xenon Tactical flashlight uses two CR123A batteries to cast a 60-lumen light. That means you get both good battery life and a powerful light.
Gifts under $100
Some of these gifts are just over the $50 mark, so look at them carefully. This category holds some of the most surprising values in airguns.
Legends Makarov
The Makarov from Umarex is a wonderful BB pistol that I just can't stop talking about. I bought one for myself after testing it! It's extremely accurate for a BB pistol, which means you really can use it for target practice. It runs on CO2, so don't forget to get some CO2 cartridges if you give this gun as a gift.
Simply one of the best BB pistols you can buy at the price, the Legends Makarov is accurate, well-made and inexpensive.
Crosman 2240
Another fine CO2 pistol is the single-shot Crosman 2240. It's a .22-caliber, bolt-action pistol that's powerful and accurate, plus it serves as the basis for many aftermarket modifications.
Ruger Mark I
The Ruger Mark I air pistol is powered by a spring-piston. It isn't very powerful, but it's a great companion for the handgun shooter who only wants to poke holes in targets and plink with a pistol that's easy to cock and accurate.
Stoeger X5 air rifle
The Stoeger X5 air rifle is a wonderful, youth-sized, spring-piston rifle that has enough quality to make my list. The trigger is a little stiff, but the accuracy is there. It reminds me of the Hämmerli 490 that is, sadly, no longer available.
Gifts a little over $100
I created this category for those items that are a few dollars over $100 but are still within the realm of economy. Sometimes, the things you want are just over the line — no matter where you arbitrarily draw it.
Shooting Chrony Alpha chronograph.
The Shooting Chrony Alpha chronograph is the instrument I use to document 98 percent of the work I do. I use it because it's small, portable and very reliable. Sure, there are reasons to use my Oehler 35P chrono, sometimes; but most of the time, this is my choice.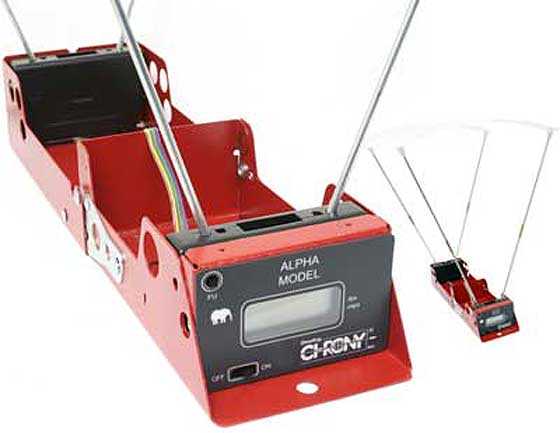 Though it's just $10 over a hundred, the Shooting Chrony Alpha has everything you need!
Daisy Avanti Champion 499 BB gun
I have to recommend the Daisy Avanti Champion 499 BB gun because it is the target shooter's dream. Where other BB guns will put 10 shots into three-quarter of an inch at 16 feet when all is right, this one will put 10 into a quarter-inch at the same distance. This is a shooter's tool, not a hunting gun or bragging-rights gun. Be sure to stock up on the special Avanti Precision Ground Shot if you get this gun because it definitely adds accuracy! And order some special 5-meter BB targets that are sized right for this gun!
IZH 60 air rifle
I am also going to put the IZH 60 air rifle on my list this year. Though the accuracy slipped when the gun's design was changed several years ago, this is still a delightful youth rifle that's easy enough for even smaller kids to cock. It has reasonable accuracy, and the sidelever design means that fingers can't be pinched in the mechanism like they would on guns having sliding compression chambers. I recommend the single-shot over the repeater for reasons of safety.
Daisy 953 TargetPro
I normally don't recommend combo guns, but I'll make an exception for the Daisy 953 TargetPro. It's a pellet rifle with enough accuracy to get you into the game without spending a bundle.
Gifts under $300
Gifts in this category start to take on the aura of personal taste. My recommendations may not be what your airgunner wants, so you need to find out if they are before you buy anything.
Benjamin 392 pump
This one is very personal. You airgunner will either like it or not. So, check first. The Benjamin 392 pump is the best multi-pump rifle going, these days. Its heritage dates back to the late 19th century, so there's a lot of history there. I also chose the .22-caliber 392 for its power; but if your airgunner only wants to shoot at targets, then the 397 is the same rifle and shoots cheaper .177 pellets.
Daisy Avanti 853
The Daisy 853 is right at $300, but its a great buy even at that price. It features a Lothar Walther barrel and has been used by millions of kids for competition in the decades it's been around. The trigger is rough, but there are several websites that tell you how to fix it. To get anything with better accuracy, you're going to need to spend several hundred dollars more.
Diana RWS LP8
Want an air pistol that shoots like a rifle? The Diana RWS LP8 is the one to get. It just may be the best value in a really good air pistol these days. It has plenty of power and is very accurate. The breakbarrel cocking is on the heavy side, but an adult male shouldn't have a problem.

For the price, the Diana RWS LP8 air pistol can't be beat.
Gifts without limit
Now, we can spread our wings a little. This is where many of the better airguns live.
HW 30S
Let's start with the HW 30S. You know this rifle as the Beeman R7 when it's in a different stock, but airgunners know the HW 30S has the same powerplant and the same adjustable Rekord trigger as the R7. If your airgunner likes the styling of the HW 30S, it's less expensive; but if he wants an R7, it's also a wonderful spring-piston air rifle.
Diana RWS 48
If you want a big bruiser spring-piston air rifle, the Diana RWS 48 is one I would recommend. And, I recommend it in .22 caliber, where you get all the power it can develop. The 48 is a sidelever that's surprisingly easy to cock, despite the level of power it delivers. It's also very accurate. One thing, though, the 48 is a big air rifle, so be sure your shooter knows what he's in store for. Definitely for adults, only.


Diana 48 sidelever from RWS is large and in charge!
TalonP air pistol
There's no other smallbore air pistol that can hold a candle to the TalonP air pistol from AirForce Airguns. It comes in .25 caliber and has 10 shots per fill at over 50 foot-pounds of muzzle energy! Many rifles can't equal it! When I tested it for accuracy, I got sub-one-inch groups at 50 yards. It's a hunting air pistol extraordinaire.

The TalonP pistol from AirForce Airguns leads the pack for power and accuracy.
Walther LGV Challenger
If you want a really fine breakbarrel spring rifle, you can't do better than the Walther LGV Challenger. I recommend the .22-caliber gun because it was so smooth when I tested it.