by Tom Gaylord, a.k.a. B.B. Pelletier
This report covers:
• Accuracy testing
• RWS Hobby pellets
• Trigger control
• Shot cycle
• Gamo Match pellets
• Gamo Raptor PBA pellets
• Air Arms Falcon pellets
• What's the verdict?
Let's look at the accuracy of the Gamo P900 IGT air pistol. Several of you have wondered if this is the air pistol you've been waiting for — today, we'll see.
Accuracy testing
I shot the pistol off a rest at 10 meters. I rested my hands on a sandbag and held the pistol away from the bag with a two-hand hold. I used a 6 o'clock hold sight picture, which is more difficult to do with a bead fiberoptic front sight. But the target was brightly lit, and the firing point was in the dark; so, the fiberoptics did not illuminate, nor did the strange yellow rear sight blade cause any problems.
All pellets were deeply seated with the Air Venturi Pellet Pen and Seater. You may remember that we discovered this pistol likes them seated deeply during the velocity test.
RWS Hobby pellets
The first pellet I tried was the RWS Hobby wadcutter that did so well in the velocity test. The first pellet landed to the left of the bull at about 7 o'clock, so I stopped looking and just shot the rest. Alas, when I was finished, the 10 shots had scattered over 1.724 inches. It looked more like a shotgun pattern than a group. Obviously, Hobbys are not the right pellet for this pistol.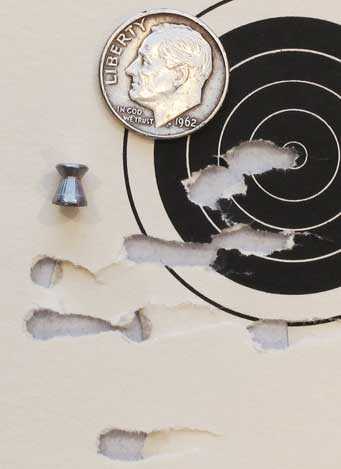 Ten RWS Hobbys went into this 1.724-inch group at 10 meters. Despite being shot from a rest, this is not a good pellet for the pistol.
Trigger control
I find the trigger easy to operate. Stage 2 breaks relatively crisply and doesn't take that much effort. As I said in Part 2, it's a fine trigger.
Shot cycle
The P900 has a smooth shot cycle that's quick and almost without vibration. It also doesn't make much noise when it discharges. It just sits in your hand and pulses quietly with each shot. I know it has a gas spring, but it doesn't have any of the usual drawbacks (hard cocking, stiff jolt upon firing, loud crack upon discharge, etc.) that I can see.
Gamo Match pellets
Next up were 10 Gamo Match wadcutters. Since this is a Gamo gun, I figured…why not? These pellets landed more in the center of the bull and also held a tighter group that measures 1.167 inches between centers. This is about what I expected the P900 to do.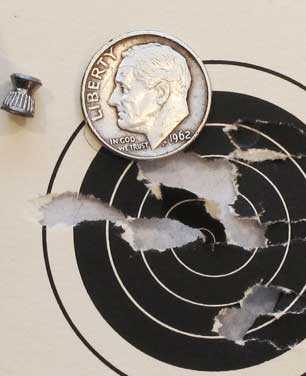 Ten Gamo Match wadcutters went into this 1.167-inch group at 10 meters. This is more like it.
Gamo Raptor PBA pellets
Because I tried them in the velocity test, I figured I had to also try the Gamo Raptor PBA pellets for accuracy. I didn't expect much, because I have seen Raptors do well only in one pistol so far — a smoothbore Marksman 1010. For some reason, they were better than any other pellet in that pistol when I tested it. But in the P900, they went into a group measuring 1.946 inches — the largest of this test.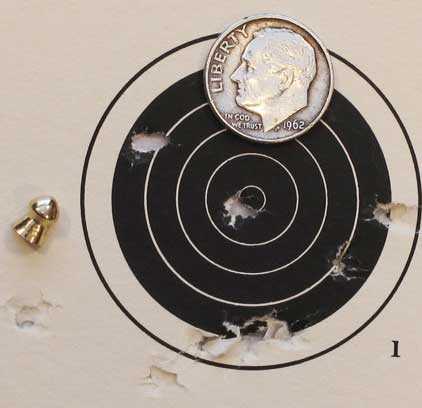 Ten Gamo Raptor PBA pellets made this 1.946-inch group at 10 meters. This is the largest group of the test.
Air Arms Falcon
I thought I would give one more pellet a chance, so I tried the Air Arms Falcon dome. It's light, at 7.3 grains, and it's often among the most accurate pellets for a given gun. This time, they made the second-best 10-shot group, at 1.256 inches between centers. While that's larger than I'd like to see, the pellets are nicely centered on the bull.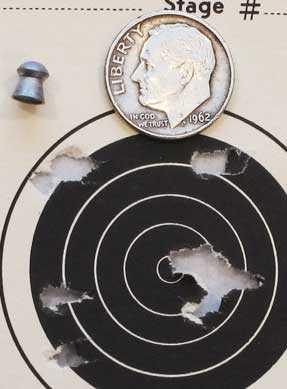 Ten Air Arms Falcon pellets went into this 1.256-inch group at 10 meters. It's the second best group of the test and also nicely centered on the bull.
Of course, there's no way to know if I've found the best pellets for the pistol without testing a lot of other brands. An owner would do that, of course.
What's the verdict?
The P900 is a pleasant air pistol. It's lightweight, holds well and has a nice trigger. The odd sights are easy to use, too. Take my results as typical; and if they satisfy you, this is a nice air pistol.
by Tom Gaylord, a.k.a. B.B. Pelletier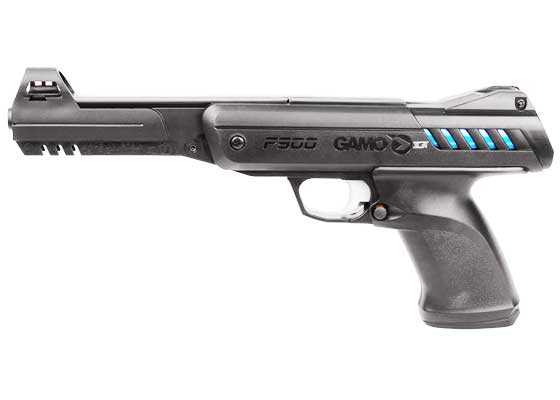 Gamo P900 IGT pistol
This report covers:
• Velocity
• RWS Hobby pellets
• Gamo Match pellets
• Gamo Raptor PBA pellets
• Trigger
• 2014 Ft. Worth airgun show update
Velocity
Let's get right into the report. Today, we'll look at the velocity of this Gamo P900 IGT air pistol. A number of comments were made about how underpowered this air pistol is, but I disagree. They're condemning it without testing it — from just reading the numbers. We'll set that straight today.
RWS Hobby pellets
The first pellet I tested was the 7-grain RWS Hobby wadcutter. This pure lead pellet is probably just right for the P900 powerplant. Gamo advertises the P900 as getting 400 f.p.s. with lead-free alloy pellets, so we expect the Hobbys to be slower because they're heavier. And slower they are! When I seated them flush with the breech, Hobbys averaged 332 f.p.s. with a range from 321 to 340 — a spread of 19 f.p.s. They developed 1.71 foot-pounds, on average.
Because this pistol is lower powered, I decided to see what effect deep-seating the pellet would have. I used the Air Venturi Pellet Pen and Seater to seat the Hobby pellets deep in the breech. This time, the pellet averaged 365 f.p.s. — a gain of 38 f.p.s. The low velocity was 358 and the high was 373, so the spread was 15 f.p.s. Seated this way, they developed 2.07 foot-pounds, on average. I think it's clear this pistol likes the pellets to be seated deep, so that's how I will proceed with the test.
Gamo Match pellets
The next pellet I tested was the 7.56-grain Gamo Match wadcutter. I didn't even try them seated flush. Seated deep, they averaged 360 f.p.s. with a spread from 358 to 363 f.p.s., so this time just 5 f.p.s. separated the slowest from the fastest pellet. At the average velocity, this pellet generated 2.18 foot-pounds of energy at the muzzle.
Gamo Raptor PBA pellets
The last pellet I tested was the Gamo Raptor PBA. This lead-free domed pellet weighs just 5.4 grains and is used to extract high velocity from airguns. Remember — Gamo advertises the P900 as getting up to 400 f.p.s. Well, that turns out to be quite conservative! This pistol I'm testing averaged 490 f.p.s. The range was from a low of 457 f.p.s. to a high of 508 f.p.s. So the spread was 51 f.p.s. At the average velocity this pellet generates 2.88 foot-pounds of muzzle energy.
Just to see what the differences are, I also shot 4 Raptor pellets loaded flush with the breech. They ranged from a low of 439 f.p.s. to a high of 455 f.p.s.; so even loaded normally, this pistol still exceeds its advertised velocity. I may have an example that's on the hot side, and maybe you won't get quite as much velocity as you see here, but I think they should all get at least 400 when shooting PBA pellets.
You naysayers can revise your arguments, now. This pistol exceeds its advertised expectations by a lot. I still like the firing behavior and the trigger, though I'm sure there will be critics.
Trigger
The non-adjustable 2-stage trigger on the test pistol breaks crisply at 3 lbs., 15 oz. to 4 lbs., 1 oz. It's a fine trigger and just what I need to shoot this pistol accurately.
2014 Ft. Worth airgun show update
This report was short, so I'll use the space to update you on the 2014 Ft. Worth airgun show that will be held on Saturday, September 6.
The following dealers and manufacturers are expected to have tables:
Pyramyd Air
Umarex USA
AirForce Airguns
Dennis Quackenbush
Flying Dragon Air Rifles (Mike Melick)
Hatsan USA
The following dealers and manufacturers are considering attending or have indicated they may attend:
Airgun Depot
Daisy
Crosman
Scott Pilkington
Neal Stepp
Also attending will be:
American Airgunner TV
Steve Criner — TV's Dog Soldier
Eric Henderson — big bore airgun hunter and guide
Jim Chapman — writer for Predator Extreme magazine and airgun hunter
I'm making a big push to get the smaller private dealers now. These are the guys who have vintage airguns for sale. The club has a communal table for members to display and sell their airguns. This club is where I recently purchased the BSA Airsporter Stutzen I've been reporting on, a BSA Scorpion pistol and a Schimel gas pistol from the 1950s.
I am going to really shake the trees, because I know there are many airgunners who will come to this one-day show. The sheer volume of people though the door will make it worth their while to attend. Who knows what unusual airguns are going to walk through the doors?
If you have some unusual airguns to sell, this show is the place to sell them! We should get a number of advanced collectors who are attracted to this brand new airgun show because of the curious guns they may find. We're also attracting those who are new to airguning and are looking for the vintage guns they've read about but never seen.
Don't forget our door prize and the three major raffle prizes that have been donated:
Air Venturi Bronco
AirForce Condor SS
Hatsan AT44-10 Long QE
Walther LGV Master Ultra
Other drawings and freebies are also in the works. Lots of guns, lots of freebies, lots of fun!
Mark September 6 on your calendar. You'll want to be at the Ft. Worth airgun show in Poolville, Texas.
by Tom Gaylord, a.k.a. B.B. Pelletier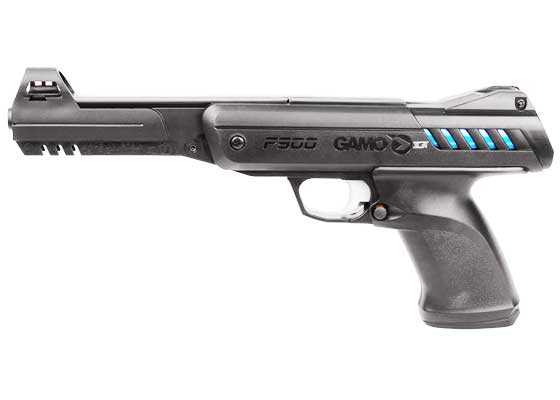 Gamo P900 IGT air pistol
This report covers:
• Description of the gun
• Trigger
• Ambidextrous
• Power
• Overall evaluation
This report on the Gamo P900 IGT air pistol was requested by blog reader RidgeRunner, who became suddenly enthused by gas-spring technology a few weeks back. I saw this pistol in the Gamo booth at the 2014 SHOT Show; but since there was nobody there to tell me about the gun, I only knew what I could read in their static display.
The P900 isn't the first pellet pistol to use a gas spring. That honor goes to the Benjamin Trail NP pistol I tested for you last year. Before testing that pistol, I wouldn't have thought I could like an air pistol with a gas spring; but that one showed me there was a lot to like.
RidgeRunner asked me to test this pistol partly because of the relatively light 30-lb. cocking effort. Gamo is usually pretty correct when it comes to measuring the cocking effort of their airguns, and 30 lbs. is still within the capability of most adult men. This is not a youth airgun, though.
Description
The P900 has an auto-pistol profile, but a size that exceeds any firearm short of a Desert Eagle Magnum. It's entirely synthetic on the outside, and that makes it a very light 19 oz., so almost anyone can shoot it one-handed without a strain. Besides the Inert Gas Technology (Gamo's trade name for their gas spring), this gun also features their two-stage Smooth Action Trigger (SAT), which they say is smooth and crisp. I'll test the trigger for you in the next report, but for now I can tell you they're not exaggerating. It is two-stage and there is no creep. I can feel the trigger move through stage two, but there's absolutely no creep.
The sights, on the other hand, are not easy to use. The rear sight is a light yellow piece of plastic that's so bright that it makes the front bead difficult to see. The target will have to be lit brightly and the firing point will have to be dark. Otherwise, that yellow rear sight will make aiming difficult.
The rear sight adjusts for windage, only. A screw on the right side of the sight is turned to move the notch left and right. The manual shows this being done by hand without the use of a screwdriver, and I found that it's possible to do. No tools are needed for sight adjustments. The adjustments are smooth and without clicks. There's no scale on the sight to reference when adjusting, so you watch the rear notch. Move it in the direction you want the pellet to move.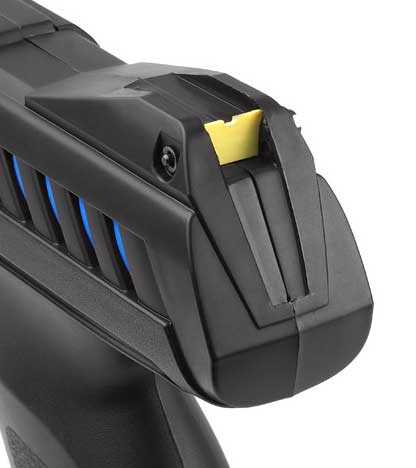 The rear sight is yellow and so bright that the front bead is difficult to see. It adjusts for windage, only, with a screw on the right side.
The front sight is a red fiberoptic bead housed in a wide plastic globe that protects your hand when cocking. The globe is handy for protecting the hand when cocking, but it stops a lot of light from reaching the fiberoptic element.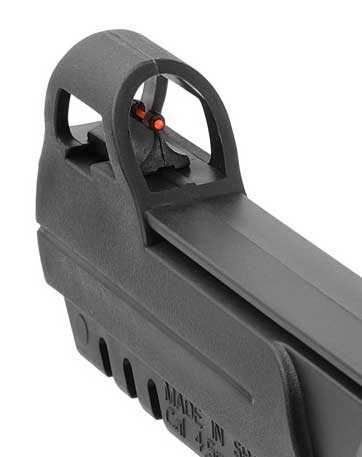 The front sight is a red bead under a wide plastic globe. The globe protects your hand when cocking, but it also shades the bead from a lot of light. In bright indoor light, the front bead is difficult to pick up; but in direct sunlight, it glows bright red.
What may appear to be an 11mm scope dovetail on top of the barrel really is just decorative. This pistol is not suitable for optical sights.
The cocking linkage is a two-piece articulated arm. It probably has to be to provide the length needed to cock the gun at a reasonable effort. When the pistol is cocked, the barrel is broken beyond 90 degrees.

The barrel comes down past 90 degrees when the pistol is cocked.

The cocking linkage is in two pieces that articulate in the middle.
Trigger
I see the customer reviews are rating the P900′s trigger as not good, but they fail to elaborate. Sure, it isn't as nice as the trigger on a Beeman P1, but this pistol sells for a lot less. For the price, I don't see how this trigger could be much better. And, to their great credit, Gamo did not make the safety automatic. When the gun's cocked, it's ready to fire.
However, there is some confusion about this trigger. Gamo says it is a Smooth Action Trigger (SAT), but this one is not adjustable. On other Gamo airguns, the SAT is adjustable, so that adds some confusion to this pistol's description.
Ambidextrous
The P900 is 99 percent ambidextrous. Only the safety button favors right-handed shooters more.
Power
Gamo says the velocity is 345 f.p.s. with lead pellets and up to 400 f.p.s. with their PBA ammo. We'll test that in Part 2, but for now I'll say this is a smooth and gentle pellet pistol. It's going to be fun to shoot. The impulse upon firing is a solid thunk with no vibration. I had to tune my P1 to get it as good.
I also read some reviews that suggest the P900 is hard to cock, and the barrel should be longer. I don't agree. Yes, it's harder to cock than some other pellet pistols, but 30 lbs. or whatever it turns out to be is hardly debilitating. I wonder if these critics have ever tried to cock a Webley Hurricane?
Overall evaluation
I really like this air pistol so far. I had no preconceptions coming into this test, other than the gun might be hard to cock because it has a gas spring, but that didn't turn out to be the case.
by Tom Gaylord, a.k.a. B.B. Pelletier
Today, I'm starting a long series on lubricating airguns. Blog reader Joe asked for this; but as I was researching the subject, I stumbled across another request that came in through the customer reviews on the Pyramyd Air website:
"I wish that RWS or Pyramydair would explain the process and frequency of oiling these RWS rifles in particular the RWS mod 48. Everyone I talk with says the RWS owners manual is outdated and that with the new seals they use does not need to be lubed maybe for years….I purchase the RWS chamber and cylinder oil at a cost of almost $30.00 and now am told I probably will never need it? This topic should be cleared up once and for all by the manufacturer."
Perhaps this customer is referring to RWS Chamber Lube and RWS Spring Cylinder Oil as the two products he purchased. And they do add up to $28 before shipping. Are they necessary? Should he have bought them? That's the question I'll start answering today.
This subject is so vast and complex that I cannot address it in a single report. In today's report, I'm only going to look at lubricating the piston seal. That constitutes about half of the lubrication requirements for many airguns, in my opinion. In the next installment, I'll address all other spring gun lubrication, including the mainspring and piston.
Leather piston seals
In a spring gun, the piston seal is what compresses the air when the gun fires. As the piston goes forward, the seal keeps the air in front of the piston, where it gets compressed because the only escape is blocked by the pellet sitting in the breech. If the gun's working properly, all other avenues for the compressed air to escape have been blocked.
In the past, pistons were sealed with a leather pad or cup. Leather is an ideal material for this job. It's rugged, lasts a long time and will conform to the shape of the compression chamber after a few shots — much like a leather shoe that eventually fits your foot perfectly.

This cup-shaped leather piston seal is for a Chinese spring rifle.
To do its job, a leather seal has to stay soft and pliable, and oil is the best thing for this. As the spring gun operates, a little of the oil is consumed with each shot, so a leather seal needs to be oiled frequently to stay soft. How frequently? In some older guns, I've found that oiling every few weeks is necessary if they're shot a lot. Certainly, all guns with leather seals need a couple drops of oil at least once each month if they're to be shot. You can leave a gun with leather seals unoiled for years if you don't shoot it; but before you start shooting it again, that seal needs to be oiled. When I start shooting an older gun that I know has leather seals (I use references for finding out things like this), I put about 10 drops of oil through the air transfer port and let it soak into the seal for at least an hour, although a half day is even better.
What oil to use?
The type of oil you use depends on the velocity of the gun. Guns that shoot less than 600 f.p.s. in both .177 and .22 caliber will be oiled with regular household oil. Any petroleum-based lubrication oil will do. Yes, gun oil will also work. For guns that shoot faster than 600 f.p.s., I use silicone chamber oil, like the product listed above. The spring cylinder oil is not for chambers and should not be used on the piston seals of these guns.
Synthetic seals
Starting in the 1950s, manufacturers began experimenting with piston seals made from synthetics. Some of them, like the ones used by Anschütz and Falke, worked well and lasted for many decades. But others, such as the seals used by Walther on all their airguns and the seals that Feinwerkbau used on the 121 and 124/127 sporting rifles, were made from a material that dry-rotted within about 20 years. If they were oiled by anything, they failed even faster. These seals started out as a light beige color, but as they absorbed oxygen and oil, it turned them dark yellow and brown until they began to break apart in waxy chunks.
Diana was one of the last companies to switch from leather to synthetic, and they had the benefit of watching the others. They were still using leather seals in their powerful model 45 rifle in the late 1970s, at a time when that airgun had broken the 800 f.p.s. "barrier." When they started making synthetic piston seals, they used a blue-colored material that was tough and long-lasting. It's interesting to note that the others adopted similar piston seal material when they finally realized their seals were perishing in use.

The blue Diana parachute seal is so rugged that hobbyists use it for many other airguns. It needs very little oil!

These 2 FWB 124 seals are made from modern synthetic material, yet they look like the original ones. The one on the right has been inside a rifle for a few thousand shots. It looks bad but is still in great shape and will last for many decades.
Don't fixate on the color blue for piston seals! These synthetics can be colored any way and still be fine. I have modern FWB 124 seals that look similar to the old seals in color, yet they'll last indefinitely. It's the material, not the color.
Which oil to use?
With synthetic seals, I always use silicone chamber oil. That's SILICONE CHAMBER OIL — not brake fluid, silicone spray lubricant or any other concoction. Chamber oil is for piston seals. It does not lubricate metal parts because the viscosity is too low. It'll ruin metal parts if you use it that way. On the other hand, nobody knows what will happen to a gun that's lubed with anything other than SILICONE CHAMBER OIL.
Diana recommends using two drops of chamber oil on the piston seal every 1,000 shots, and one drop on the breech seal at the same time. That's it. To answer the person who asked if he needs the chamber oil, the answer is yes. But one small bottle will last a long time. I've observed that most Diana airguns can get by with even less oiling than what's recommended. One diagnostic for when a gun need its seal oiled is when the seal honks like a goose as the gun is cocked.
Silicone chamber oil has a high flashpoint. Since the air in a spring-piston gun reaches about 2,000˚F with every shot, this is important. This heat is adiabatic — it doesn't heat the gun because the interval is too brief.
Overlubing vs. underlubing
It's almost impossible to overlube a leather piston seal. And it does not harm the seal if you do.
On the other hand, overlubing a synthetic seal can start the gun detonating. Not dieseling — most spring guns diesel. When you smell burning oil, your gun's dieseling. Dieseling is just a few oil droplets vaporizing with each shot. It's perfectly normal in a spring gun.
Detonation is when a lot of droplets vaporize and cause an explosion. That will damage your piston seal if it's allowed to continue for a long time. It can also break your mainspring.
So, dieseling is okay, but detonations are bad. And overoiling synthetic seals causes detonations.
Do you see why I had to cover just the piston seals today?
by Tom Gaylord, a.k.a. B.B. Pelletier
Last week, I made reference to a heavy top hat affecting performance in a spring gun, and blog reader Joe asked this question:
"You wrote '…weighted top hat inside the piston, or the piston itself is heavy. Either way, the rifle should shoot medium and heavyweight pellets better than lightweight pellets.'
What is a 'top hat'? Why would a heavy piston or top hat shoot medium to heavy pellets better?"
Joe, thank you for asking this question. This blog is now in its 10th year, and I forget that the readership has changed over that time. If one person asks a question, it means that many other readers are wondering the same thing and not writing in. Today, I'd like to review the main parts of a spring-piston airgun powerplant and discuss how they affect performance.
Piston
The piston is the most recognizable part of the powerplant. When the gun fires, it's propelled forward by some kind of spring. It may be a coiled steel spring or it could be some kind of gas under pressure — whatever the source of energy is, it pushes the piston. And before anyone asks — yes, there have been guns with springs that pull the piston.
The piston compresses air in front of it as it goes forward. There is some kind of seal on the piston that keeps most of the air contained, so it compresses air very well.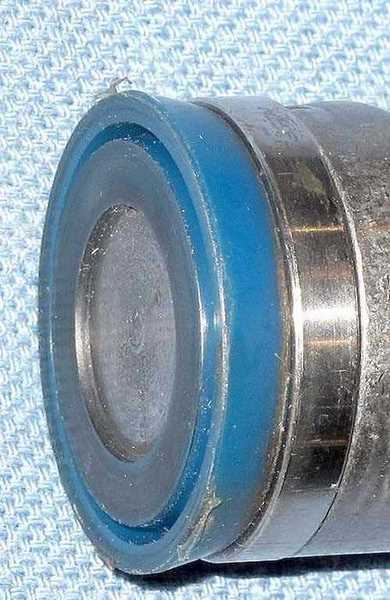 The piston seal (this one is a parachute type, whose sides flare out and seal the chamber better) seals the air in front of the piston.
Tuning tip
Removing excess tolerance makes a spring gun shoot smoother. The top tuners put Teflon or nylon bearings (called buttons) around the rear of the piston skirt to hold it steady and away from the spring tube walls. The piston seal does the same thing for the front of the piston. In a well-built airgun, the metal piston should never touch the walls of the spring tube.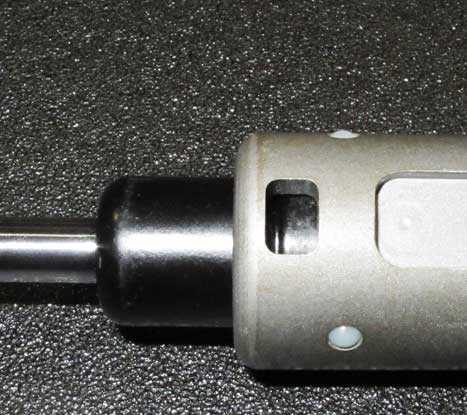 These small white nylon bearings on the Benjamin Nitro Piston 2 are part of the reason that rifle is so smooth when it fires!
Compression chamber
Let's talk about something that's dirt-simple, yet confuses a lot of people — the compression chamber. It's the end of the spring tube, which has been closed off by a metal cap. A hole through the cap, called the air transfer port, allows the compressed air to move from the compression chamber to the barrel. If there's a pellet in the barrel, the air cannot get past it and has to shove the pellet out of the way. This doesn't happen until the air reaches a high pressure, which is at the heart of today's discussion. Essentially, the pellet stays put until the piston has come to almost a full stop, then the compressed air blows it forward, like the cork from a champagne bottle.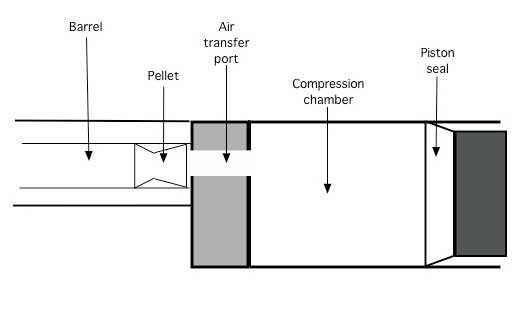 The spring-piston powerplant is so simple that it confuses people.
Spring
We all know what the spring does. It pushes the piston, which compresses the air. A spring can be either coiled steel or compressed gas; but for the remainder of this report, I'll be talking about a coiled steel spring because it's the thing that relates to the top hat.

Thanks to a generous cocking slot, we can see the mainspring inside this piston's body.
Spring guide
The spring guide does what the name says — it guides the spring. What it actually does is keep the coiled spring from twisting or bending too much as it's compressed.

This is the spring guide. It's hollow to allow the piston rod to pass through when the gun is cocked. The metal one is an older Beeman R1 guide, the white plastic (probably nylon) one is what they use more often these days. A lot of vibration can be eliminated by very closely fitting this guide to the inside of the spring.
When the gun is cocked, the piston comes back and compresses the spring. The spring fits up inside the piston, so it's contained by the piston skirt as the piston comes back over it. The spring guide is a hollow tube at the rear of the spring that the spring fits over. As the spring is compressed, it tries to bend to the side, but the spring guide prevents it. The piston skirt keeps it from bending at the front.
Tuning tips
When a tuner wants to smooth the performance (the shot cycle) of a spring gun, getting rid of excess clearance is a great way to eliminate vibration. The outside of the mainspring is fitted to the inside of the piston skirt very closely. Here's something you may not have guessed. When the spring is compressed, it also expands just a little (measured in thousandths of an inch), so the internal fit to the piston skirt has to take that into account.
The spring guide is also fitted to the inside of the mainspring. In the best-tuned airguns, the guide cannot be put on the spring unless the spring is twisted against the guide counterclockwise. Airgunsmith Jim Maccari calls that a guide that's "nailed on." The mainspring grows in diameter as it's compressed. When the gun is cocked, the spring loosens a little and slips down the guide.
Top hat (forward spring guide)
Okay — here it is. You had to wade through lot of blather to get to this point, but I hope it'll be worth it. A top hat is a spring guide that is on the front side (the piston side) of the spring. It fits inside the piston and slides on the central piston rod. Obviously, the mainspring fits over this guide, too, just like it fits the guide in the rear.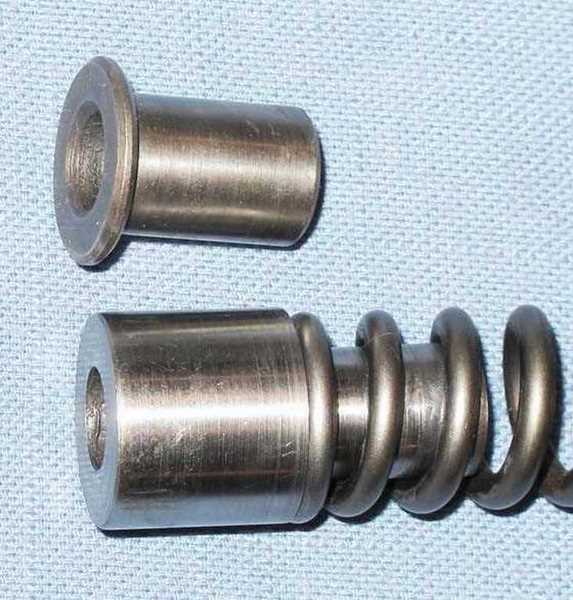 Two top hats (forward spring guides). The heavier one at the bottom was made by airgunsmith Jim Maccari for a special Beeman R1 tune that worked for heavier pellets. I wrote about it in the "Beeman R1″ book.
Tuning tip
Joe — this is the answer to your question. A top hat adds weight to the piston. A heavy top hat adds a lot of weight.
When the piston compresses the air in the chamber, it can reach very high pressure before the pellet starts moving. When the pellet begins to move, the air pressure drops rapidly. Although the pressure is very high, there's not a lot of it — pressurized air.
If the pressure in the chamber is too high and the pellet hasn't started moving, either because of its size, weight or both, the piston can rebound off the compressed air cushion and travel backwards a few hundredths of an inch before the pellet starts to move. Heavier pellets will resist moving longer than lighter pellets — I hope that's obvious.
By adding a lot more weight to the piston, it can resist rebounding to a greater degree (because of its greater inertia). Heavier pistons usually do better with heavier pellets. And top hats are one way to make pistons heavier. That's why I said what I did.
Whew!
That was a quick and dirty look at the spring-piston powerplant and some of its subtleties. Don't think this makes you an expert — there's a whole world of things like this that I haven't addressed.