by Tom Gaylord, a.k.a. B.B. Pelletier
This topic was received well last week, so I'm doing the second list today. Several readers have reminded me of other gifts I should mention, and some of them will make today's list. If I don't list something you suggested, there's a reason. These are the things I recommend without question.
Stocking stuffers/small, neat gifts
Gifts in this category don't cost a lot but will have great meaning to airgunners. Some of them are things that shooters won't buy for themselves.
Air Venturi Pellet Pen and Seater
Someone suggested the Air Venturi Pellet Pen and Seater, and I have to agree. This is a great gift, and it's one that a lot of shooters won't buy for themselves.
EyePal Peep Sight Master Kit
The EyePal Peep Sight Master Kit is another gift that people may not think about; but when they have one, they'll love it. I chose the Master Kit so you can use it with both rifles and pistols (and bows if you're an archer, too). Even if you don't wear prescription glasses, the EyePal is a great aid for your safety glasses to sharpen your vision and make that front sight clear!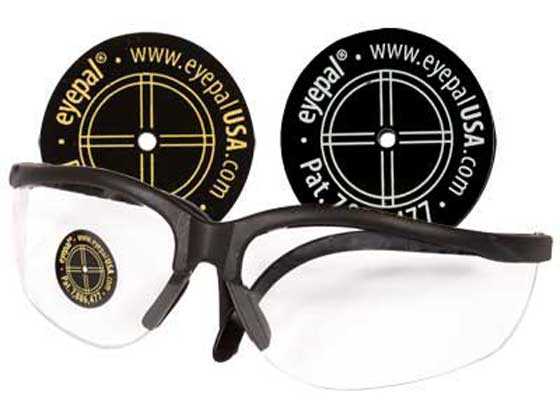 The EyePal makes the front sight appear razor sharp. Use it on prescription glasses and non-prescription safety glasses, alike.
Pellet selection
Here's a gift I'm putting in this section, although it will cost you some money. Pyramyd Air offers 4 tins of pellets for the price of 3. Your favorite airgunner has pellets he or she really likes, but they don't buy them all the time because they may cost too much.
Consider this gift similar to one of those fancy boxes of candies or Christmas smoked meats that are given this time of year. Nearly everybody likes them, but we don't spend money on them for ourselves. So, this is an opportunity to buy something your airgunner wants but will never buy himself. The one problem you have is finding out which pellets to buy. Rather than try and guess what your airgunner wants, I'm going to leave this up to you. You need to do a little investigation, maybe look at the pellets that he has on the shelf, or just talk to him and find out what he really wants but hasn't bought.
Gifts under $50
Crosman 357
For a pistol shooter the Crosman 357W is a great idea. It's a revolver, so you get multiple shots per loading; and for the money, it's an accurate little air pistol.
Walther Multi-Tac tactical knife
If your airgunner is a gadget junkie, you can't do much better than a Walther Multi-Tac tactical knife. It's a tool kit for your pocket. And it has a 440C stainless steel blade to cut whatever you need.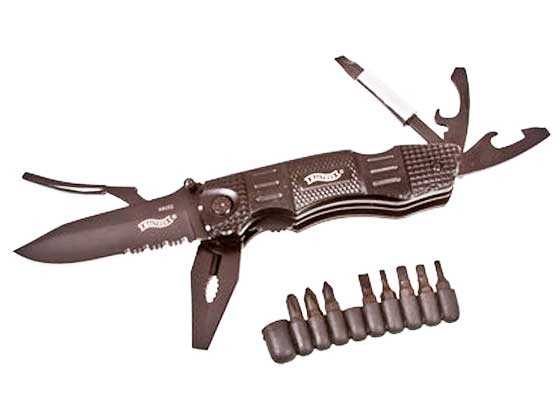 Walther's Multi-Tac knife is a toolkit in your pocket!
Walther Xenon Tactical flashlight
Can't have too many flashlights! Not when you need one! The Walther Xenon Tactical flashlight uses two CR123A batteries to cast a 60-lumen light. That means you get both good battery life and a powerful light.
Gifts under $100
Some of these gifts are just over the $50 mark, so look at them carefully. This category holds some of the most surprising values in airguns.
Legends Makarov
The Makarov from Umarex is a wonderful BB pistol that I just can't stop talking about. I bought one for myself after testing it! It's extremely accurate for a BB pistol, which means you really can use it for target practice. It runs on CO2, so don't forget to get some CO2 cartridges if you give this gun as a gift.
Simply one of the best BB pistols you can buy at the price, the Legends Makarov is accurate, well-made and inexpensive.
Crosman 2240
Another fine CO2 pistol is the single-shot Crosman 2240. It's a .22-caliber, bolt-action pistol that's powerful and accurate, plus it serves as the basis for many aftermarket modifications.
Ruger Mark I
The Ruger Mark I air pistol is powered by a spring-piston. It isn't very powerful, but it's a great companion for the handgun shooter who only wants to poke holes in targets and plink with a pistol that's easy to cock and accurate.
Stoeger X5 air rifle
The Stoeger X5 air rifle is a wonderful, youth-sized, spring-piston rifle that has enough quality to make my list. The trigger is a little stiff, but the accuracy is there. It reminds me of the Hämmerli 490 that is, sadly, no longer available.
Gifts a little over $100
I created this category for those items that are a few dollars over $100 but are still within the realm of economy. Sometimes, the things you want are just over the line — no matter where you arbitrarily draw it.
Shooting Chrony Alpha chronograph.
The Shooting Chrony Alpha chronograph is the instrument I use to document 98 percent of the work I do. I use it because it's small, portable and very reliable. Sure, there are reasons to use my Oehler 35P chrono, sometimes; but most of the time, this is my choice.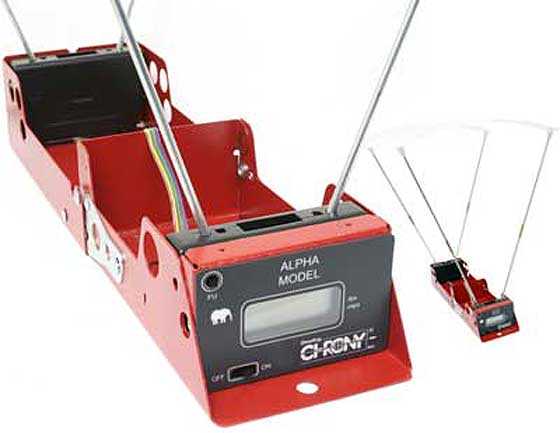 Though it's just $10 over a hundred, the Shooting Chrony Alpha has everything you need!
Daisy Avanti Champion 499 BB gun
I have to recommend the Daisy Avanti Champion 499 BB gun because it is the target shooter's dream. Where other BB guns will put 10 shots into three-quarter of an inch at 16 feet when all is right, this one will put 10 into a quarter-inch at the same distance. This is a shooter's tool, not a hunting gun or bragging-rights gun. Be sure to stock up on the special Avanti Precision Ground Shot if you get this gun because it definitely adds accuracy! And order some special 5-meter BB targets that are sized right for this gun!
IZH 60 air rifle
I am also going to put the IZH 60 air rifle on my list this year. Though the accuracy slipped when the gun's design was changed several years ago, this is still a delightful youth rifle that's easy enough for even smaller kids to cock. It has reasonable accuracy, and the sidelever design means that fingers can't be pinched in the mechanism like they would on guns having sliding compression chambers. I recommend the single-shot over the repeater for reasons of safety.
Daisy 953 TargetPro
I normally don't recommend combo guns, but I'll make an exception for the Daisy 953 TargetPro. It's a pellet rifle with enough accuracy to get you into the game without spending a bundle.
Gifts under $300
Gifts in this category start to take on the aura of personal taste. My recommendations may not be what your airgunner wants, so you need to find out if they are before you buy anything.
Benjamin 392 pump
This one is very personal. You airgunner will either like it or not. So, check first. The Benjamin 392 pump is the best multi-pump rifle going, these days. Its heritage dates back to the late 19th century, so there's a lot of history there. I also chose the .22-caliber 392 for its power; but if your airgunner only wants to shoot at targets, then the 397 is the same rifle and shoots cheaper .177 pellets.
Daisy Avanti 853
The Daisy 853 is right at $300, but its a great buy even at that price. It features a Lothar Walther barrel and has been used by millions of kids for competition in the decades it's been around. The trigger is rough, but there are several websites that tell you how to fix it. To get anything with better accuracy, you're going to need to spend several hundred dollars more.
Diana RWS LP8
Want an air pistol that shoots like a rifle? The Diana RWS LP8 is the one to get. It just may be the best value in a really good air pistol these days. It has plenty of power and is very accurate. The breakbarrel cocking is on the heavy side, but an adult male shouldn't have a problem.

For the price, the Diana RWS LP8 air pistol can't be beat.
Gifts without limit
Now, we can spread our wings a little. This is where many of the better airguns live.
HW 30S
Let's start with the HW 30S. You know this rifle as the Beeman R7 when it's in a different stock, but airgunners know the HW 30S has the same powerplant and the same adjustable Rekord trigger as the R7. If your airgunner likes the styling of the HW 30S, it's less expensive; but if he wants an R7, it's also a wonderful spring-piston air rifle.
Diana RWS 48
If you want a big bruiser spring-piston air rifle, the Diana RWS 48 is one I would recommend. And, I recommend it in .22 caliber, where you get all the power it can develop. The 48 is a sidelever that's surprisingly easy to cock, despite the level of power it delivers. It's also very accurate. One thing, though, the 48 is a big air rifle, so be sure your shooter knows what he's in store for. Definitely for adults, only.


Diana 48 sidelever from RWS is large and in charge!
TalonP air pistol
There's no other smallbore air pistol that can hold a candle to the TalonP air pistol from AirForce Airguns. It comes in .25 caliber and has 10 shots per fill at over 50 foot-pounds of muzzle energy! Many rifles can't equal it! When I tested it for accuracy, I got sub-one-inch groups at 50 yards. It's a hunting air pistol extraordinaire.

The TalonP pistol from AirForce Airguns leads the pack for power and accuracy.
Walther LGV Challenger
If you want a really fine breakbarrel spring rifle, you can't do better than the Walther LGV Challenger. I recommend the .22-caliber gun because it was so smooth when I tested it.
by Tom Gaylord, a.k.a. B.B. Pelletier
Today's report is the one I mentioned forgetting in last Friday's blog! Blog reader Errol reminded me about it yesterday.
I hear this so often from airgunners — how they think they're going to add a more powerful mainspring to their airguns and increase the power. It sounds logical, but it often doesn't work; and it nearly always doesn't work as well as you think it should. Today, I want to discuss why that is.
Fact 1
The Weihrauch HW 35 was always considered to be one of the most powerful airguns in its day — which was the 1950s. They delivered over 700 f.p.s. when new in the 1950s; and over time, this rose to 750 f.p.s. Careful tuning could get close to 800 f.p.s. from certain guns. This model is still being made today, but now it sells because it's so pleasant to shoot and doesn't produce excessive power. How times change!
The HW 35 was so-named because the length of the piston stroke is 35mm. Piston stroke is the distance the piston travels from being cocked to being at rest at the end of the firing stroke. When Robert Beeman set out to make what eventually became the Beeman R1 rifle, he used the HW 35 as the starting point and increased the piston stroke to 80mm. And that's where the additional power comes from — the piston stroke length and not the strength of the mainspring. Greater stroke length means greater swept volume, which means more air to compress for the shot. It doesn't matter all that much how fast the air is compressed, which is the only thing a stronger mainspring does.
Fact 2
Then, there's the story of the man who wanted to build a supersonic .22 pellet rifle. So he took the Beeman R1 as a starting point and built one that was 125 percent larger. The late Steve Vissage built a Frankenstein rifle that I documented in a report called Steel Dreams. It weighed 11 lbs., took 53 lbs. of force to cock and was larger than the R1 in every way, save one. It developed the same power! Yes, bigger mainspring and wider piston did not increase the power of the gun one iota.
Why is this true?
I know you want an explanation of why a more powerful mainspring doesn't necessarily increase power. Here it comes:
THE MAINSPRING DOESN'T ACT DIRECTLY ON THE PELLET
The mainspring pushes the piston. The piston compresses air in front of it, and it's that compressed air that gets behind the pellet and pushes it up to speed. The mainspring never touches the pellet. So, changing the mainspring has no direct effect on the speed of the pellet.
Here's a good example everyone will understand. We have a house with a hollow-core door as the front door. Forget the fact that it violates all building codes — your cheap Uncle Rufus put it on when the old front door finally broke. This one was dirt cheap, which is why he got it. But your Aunt Thelma is justifiably worried about a break-in; so when Rufus is out of town, Thelma has a locksmith install a super-duper triple deadbolt lock on the door. Is that going to protect her? Of course not. Any burglar can simply break the door apart with one good kick. The lock will still be secure, but there won't be any door attached to it.
Do any heavy mainsprings ever work?
Am I saying that heavier mainsprings never work? No, I'm not. When I was testing the Beeman R1 for my book, I installed the Mag 80 Laza Kit from Venom in England. Ivan Hancock created a drop-in kit of parts that worked well in the R1/HW 80 and increased the power. The mainspring was a very long stiff spring with thicker wire, and it was coated with a black tarry substance that I named black tar in my newsletter articles. That's where the term black tar comes from. Black tar is also called velocity tar in some circles.
The R1 went from requiring 36 lbs. of force to cock to 50 lbs. with this kit. But the heavy mainspring was not directly responsible for the power increase. The kit also included a new piston that had 6 synthetic bearings that are now called buttons. These buttons rode against the spring cylinder walls and kept the steel piston from touching the steel spring cylinder.
Here's the deal. The new piston was harder to slide inside the spring tube because the synthetic bearings pressed tightly against the sides of the spring tube. The powerful mainspring simply brought the piston's speed back to parity with the factory piston. What increased the power was a combination of a better piston seal and the elimination of all piston vibration when the gun fired. The gain was just a few foot-pounds of energy, but the rifle was now getting everything the R1 design could possibly give.
A parallel in the pneumatic world
Most of you readers are aware that pneumatics work within pressure limits, and over-pressurizing them doesn't add power — it takes it away. The reasons are different, but the end result is the same as for heavier mainsprings. The design of the gun is being overcome by one thing (the mainspring in a spring gun, or too much reservoir pressure in a pneumatic) and the performance balance is tipped toward the negative.
CAN a heavier mainspring increase the power of a springer?
Yes, it can if you also change the rest of the powerplant along with the mainspring. And no, it won't if a heavier mainspring is all you add. The secret to more power is to balance all the components so the gun performs at its optimum. With all airguns, there's a limit to how far you can go. Where that limit is depends on the rest of the design — the parts that are too expensive to change.
You can break your heart trying to buff up a dirt clod to a high shine. Or you can start with a gun that has some potential and make real progress by artfully changing the things that matter. The secret is to know which is which.
One last remark
Pyramyd Air is stocking the most recent issue of Airgun Hobbyist magazine. If you want to try just a single issue to see if a subscription is worthwhile, now's your chance.
by Tom Gaylord, a.k.a. B.B. Pelletier
Part 1
Part 2
Part 3
Part 4a
Part 4b
Part 5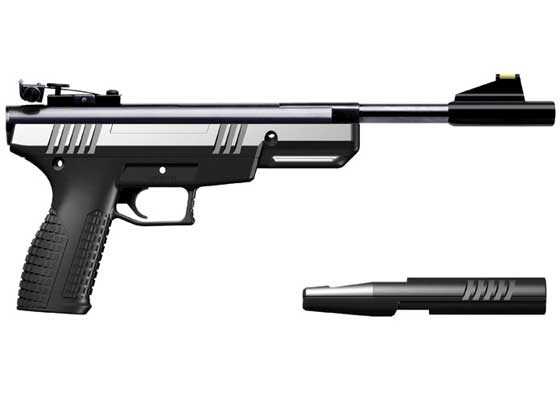 Benjamin's new Trail NP breakbarrel pellet pistol, with cocking aid removed.
We're certainly getting a good look at the Benjamin Trail NP pistol! While the title says this is Part 6, it's actually the 7th report because Part 4 was so large it had to be broken into two parts.
Let's look at the performance of the pistol after break-in. This test pistol has been shot so much that it's now broken in, so today we'll look at the velocity. Crosman says in the owner's manual that the pistol needs several hundred shots before it's fully broken-in, and this gun certainly has that many shots through it.
They also say the gun will become quieter after a break-in, and the test pistol is certainly quiet now. Apparently, some guns have detonated and surprised their owners, so Crosman is being conservative in its explanation. The test Trail NP pistol has never been very noisy.
I'll report the velocity of each pellet before and after the break-in period, so you can compare them.
RWS Hobby
The first pellet I tested was the 7-grain RWS Hobby. It's normally the fastest lead pellet in almost any airgun.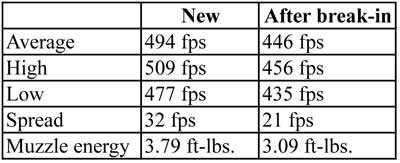 Crosman SSP hollowpoint
The Crosman SSP hollowpoint is a 4-grain, lead-free pellet that's shaped like a wadcutter but with a deep hollow point. Being so light, it's a real speed demon.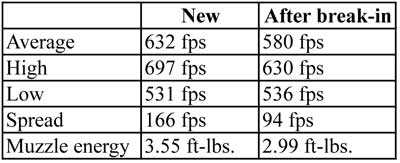 Crosman Powershot Penetrators
Crosman Powershot Penetrators are synthetic-jacketed pellets that have a metal core. They weigh 5.4 grains and loosely fit the bore of the Trail NP pistol.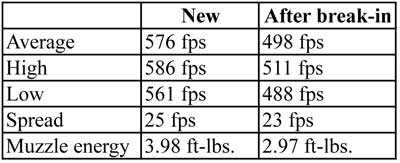 Crosman SSP pointed
Crosman's SSP pointed pellet is another 4-grain, lead-free pellet. You'd expect it to have about the same performance as the SSP hollowpoints, but this pellet isn't sized as well as the hollowpoint. Consequently, they fit the bore variably, which affects the velocity.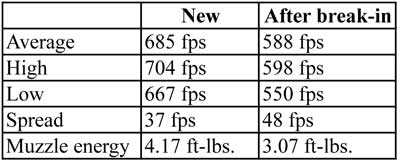 JSB Exact RS dome
The last pellet I tried was the JSB Exact RS dome. It weighs 7.3 grains and fits the bore loosely.
So there you have it. All 5 of the pellets shot slower after the break-in, and all but one had more consistent velocity spreads. Clearly the Benjamin Trail NP pistol does break in as the company states in the owner's manual.
This report has been a look into the performance of a spring-piston air pistol as it breaks in. We've seen the way to maximize the accuracy of the airgun, and we've learned how to overcome the too-tall front sight post. I hope this experience has been of benefit to the new shooters and perhaps provides a template of how a spring gun breaks in.
by Tom Gaylord, a.k.a. B.B. Pelletier
Part 1
Part 2
Part 3
Part 4a
Part 4b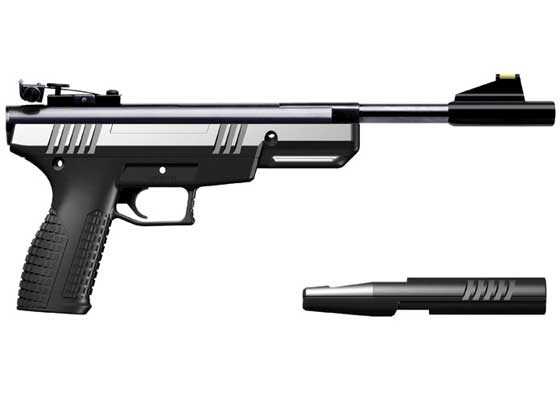 Benjamin's new Trail NP breakbarrel pellet pistol with cocking aid removed.
Before we begin today's report, a word about my late friend, Earl (Mac) McDonald. His family has set up a memorial page in his name to collect finds for research into the causes of Creutzfeldt-Jakob disease, which is one of the names prion disease goes by. Most of you knew Mac only through his writing and testing here on the blog; but a few of you were friends with him through this hobby, and I thought you would like to know about this.
Today, we'll continue testing the Benjamin Trail NP pistol. Although today's title says Part 5, it's actually the 6th report because I had to break Part 4 into sub-parts a and b.
We'll look at the accuracy of those 3 lead-free pellets that Crosman provided with the test pistol. As before, I'm shooting at 10 meters, and the gun has a red dot sight mounted. I'll describe all the other shooting conditions as we go. It has been so long since I last tested this air pistol that I had to read both parts of the fourth report to find out how to shoot the pistol for the best results.
I decided to shoot everything with the cocking aid attached. My testing demonstrated that it didn't hurt the accuracy, and in a few cases it seemed to help it. At any rate, it makes the pistol easier to cock, so I left it on for this whole test.
Crosman Powershot Penetrators
The first pellet I tested was the Crosman Powershot Penetrator. It's a synthetic-bodied pellet with a heavy non-lead metal core. They fit loosely in the breech, so I seated them flush but did not try to seat them deep. Since some of my best shooting was with the gun rested directly against the sandbag last time, I decided to start out that way. Imagine my surprise to see a near-pinwheel shot with the first pellet! [A pinwheel is a shot in the exact center of the target, and it refers to taking out the extremely small 10-ring of a smallbore target so that just the white scoring ring remains behind.] The shot was so good that I stopped and took a picture of it to show you — in case history was about to be made. This happens about one time every ten thousand shots or so for me, and it's usually by pure chance. It is, however, the sort of thing that gives rise to lies and legends and is probably the basis for the Cargo Cults.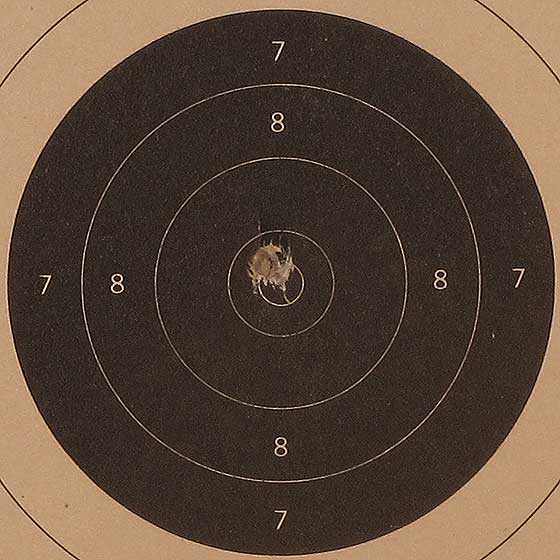 Just in case I was about to make history, I photographed the first shot of the Benjamin Trail NP pistol with Crosman Powershot Penetrators.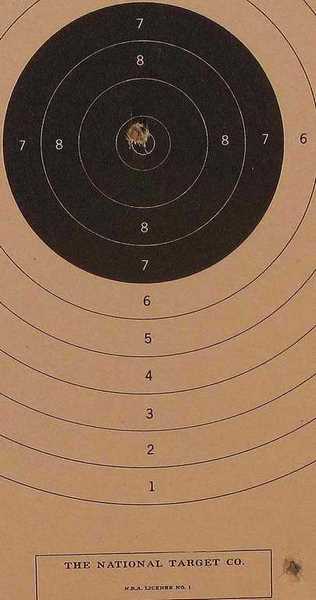 Shot No. 2 (at the bottom of the picture) made it clear that the first shot was a happy accident. Resting the pistol directly on the sandbag was not the thing to do!
Much as I would have loved to bask in the radiance of that first shot, shot No. 2 dispelled the miracle. Pellet 2 landed 4 inches south of the first one, humbling me once more.
Here's a lesson in testing airguns. When something goes wrong like this, and all your experience says that it should have been wrong to begin with (resting a spring gun directly on a sandbag), take the hint and change your ways. So I did. I moved my hands forward of the bag and held the gun with no part of it touching anything except me. Then, I shot 10 more shots into a very decent group that measures 1.587 inches between centers. In the grand scheme of things, it's not a bad group for this pistol. Not the best by any means; but for lead-free pellets, it's not bad.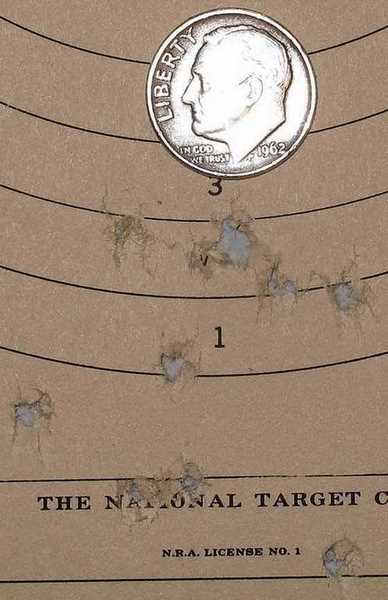 Resting the arms on the sandbag and holding the pistol free was the way to go. Ten flush-seated Powershot Penetrators made this 1.587-inch group at 10 meters.
Crosman SSP hollowpoints
Next, I tried the SSP hollowpoint pellets seated flush and with my arms resting on the bag but the pistol not touching it. This was how I held the gun for the remainder of this report. This time, 10 pellets made a slightly smaller group — measuring 1.513 inches. Amazing! Who would have thought that lead-free pellets could be so accurate?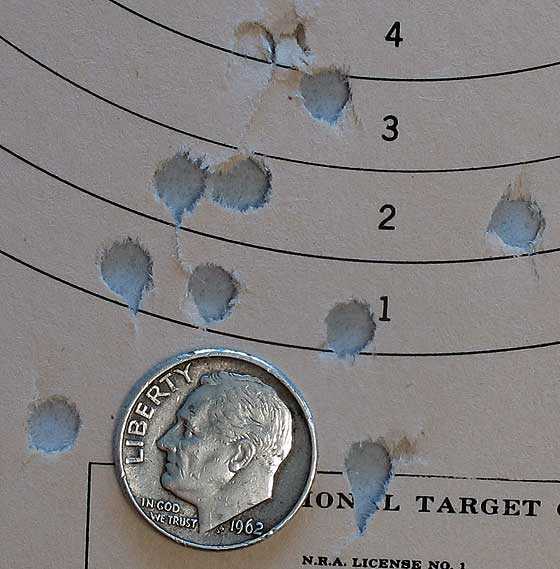 Ten SSP hollowpoints seated flush made this 1.513-inch group at 10 meters. This is a decent group for lead-free pellets.
This pellet fit the breech tighter, so I figured I could try to seat them deeply. Next, I shot 5 of the same SSP hollowpoints seated deep with the Air Venturi Pellet Pen and Pellet Seater. When the first 2 pellets landed very close to each other, I thought I might be on to something; but after 5 shots, I knew differently. I had a vertical string that measures 2.013 inches between centers. It's very tight side-to-side, so I was holding the pistol okay…but the velocity of the pellet was way off, shot-to-shot.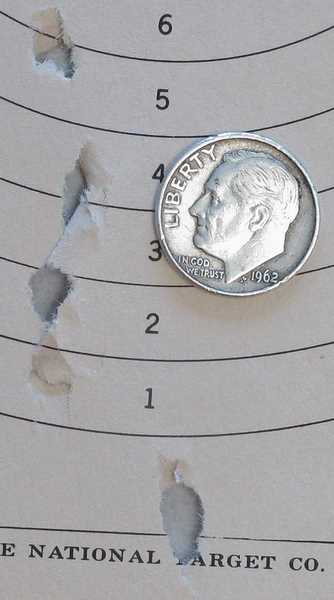 It took only 5 shots to learn that nothing was gained by seating the SSP hollowpoints deep. Group measures 2.013 inches.
Allow me to explain what I mean by the velocity was off. I'm not referring to the velocity from the muzzle to the target. At 10 meters, you can vary the velocity by 50 f.p.s. and not affect the group that much. But the time the pellet remains inside the barrel while the gun is moving affects things greatly. That is what I mean by the velocity affecting things. I really mean the pellet dwell time inside the barrel because that determines where the muzzle will be when the pellet exits. Obviously, when this pellet is seated deep, that time varies enough to affect where the pellet strikes the target — even at 10 meters.
The bottom line — deep-seating is out for this pellet. And another testing tip — I don't need to fire a second 5 shots to figure that out. I can stop here and move on with the test.
Crosman SSP pointed pellets
The last pellet I tried was the Crosman SSP pointed pellet. This is another lead-free pellet. Instead of a hollow point, it has a pointed tip. The weight is the same 4 grains as the SSP hollowpoint. I seated them flush with the breech and started to shoot, but they were hitting so low that some were below the target paper. So, I stopped and adjusted the red dot sight up several clicks, then started the group all over. Ten pellets landed in a 5.004-inch group that told me the test was over. Sure, I could have tried seating these pellets deep or holding the pistol directly on the sandbag, but this huge group told me it wasn't worth the effort. What was the best I could do — shade the hollowpoints by a fraction of an inch? No, I know when to hold 'em, and I also know when to fold 'em. Now, it was time to end the test.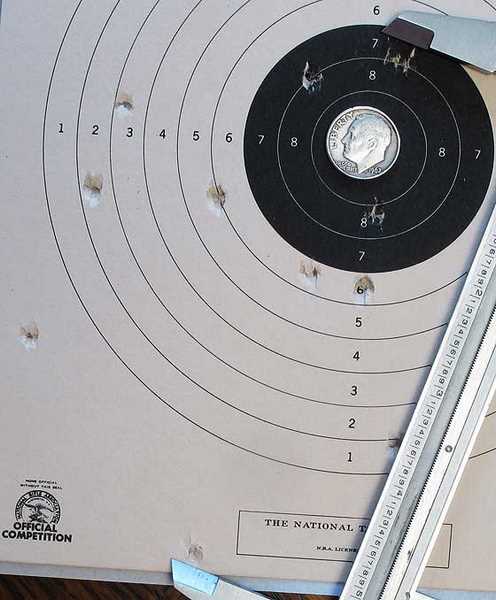 When your target looks like this, you'll know what to do.
Impressions so far
I remain impressed by the Benjamin Trail NP pistol. For the money, it offers performance well beyond what most airguns of equivalent price can give you. It's an air pistol you must be dedicated to, however, because it takes some getting used to. But for smashing power with decent accuracy, I can't think of another spring pistol in this price range that does as well.
There is still one final test to do. I want to rerun the velocity test. That will establish if the hundreds of shots we've given this pistol to this point have finally broken in the gun.
by Tom Gaylord, a.k.a. B.B. Pelletier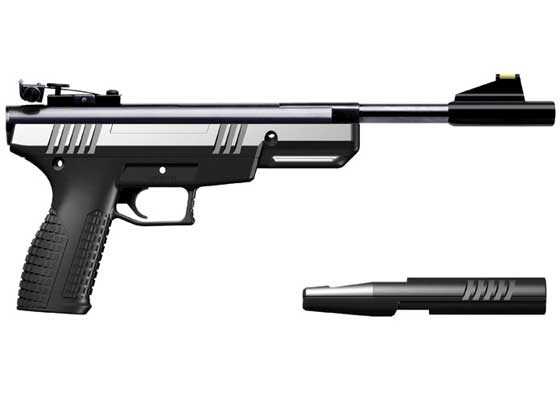 Benjamin's new Trail NP breakbarrel pellet pistol, with cocking aid removed.
Before I begin today's report, I have sad news. Our friend Earl "Mac" McDonald passed away on Sunday, May 5, at 4:30 a.m. He was surrounded by his family.
Mac was diagnosed with a prion disease in April of this year. I don't want to discuss it here, but if you want to know more, here is a link. This disease affects one person in a million. It is not only very rare, but the cause wasn't even discovered until the 1980s. Scientists are still unsure of all the details.
I was aware of the probable diagnosis when I went to visit Mac last month but was asked not to disclose the details. Fortunately, when I arrived, he was able to recognize me. I sat with him and talked about old times whenever he was awake. My wife, Edith, and our friend Otho Skyped with Mac. Via the computer, Edith showed Mac the SHOT Show report in Shotgun News, which was the last thing he photographed for me.
Like everyone who knew him, I'm saddened by his passing — but that is more than offset by the pleasure of knowing him as long as I did. The fact that he was able to attend this year's SHOT Show was especially rewarding.
As this blog moves forward, I will occasionally refer to Mac and some of the things he did. The best memorial I can give him is to never forget the time he was here.
Today's report
I left you with a cliffhanger last Friday — more than I imagined, as it turned out, because I thought I was writing Thursday's report and would publish the second part on Friday, rather than today. I know you all want to know what happened when I seated the H&N Finale Match Pistol pellets deep in the bore with the cocking aid attached and rested the pistol directly on the sandbag.
If you were expecting a Cinderella story, it didn't quite happen. The group got measurably better — in fact, it was the second-best group of the test to this point. Ten shots made a group measuring 1.105 inches between centers. Compared to the previous group, which was larger than 2 inches, it seemed clear that this was the best way to shoot this pellet — deep-seated, gun rested on the bag and the cocking adapter attached.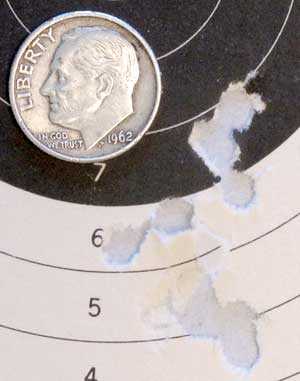 Ten shots with H&N Finale Match Pistol pellets seated deep with the cocking aid attached and the gun rested directly on the bag made this 1.105-inch group. So, deep-seating these pellets reduced the group size by half.
Did you possibly think that it put all 10 into the same dime-sized hole that the 5 good ones went into on the previous test? I hoped that would happen, too, but it didn't.
Not H.P.White Labs
Before you start looking back at all the testing done on this pistol to-date to recommend different things for me to test, let me say I am not H.P. White Laboratory, and the goal of this test is not to see how accurate the Benjamin Trail NP pistol can possibly be. My purpose is to evaluate the pistol as it comes from the box, so those thinking of making a purchase will have something to go on. I think I've done that already, and the gun is definitely worth the money. But the test is far from finished.
Air Venturi Pellet Seater
Blog reader Nomobux asked me how deep I seated the pellets with the Air Venturi Pellet Pen and Pellet Seater. Well, that varies, based on how thin the pellet skirts are. But I measured the seater with the pin protruding by 0.163 inches, which seated the pellets about 0.125 inches deep.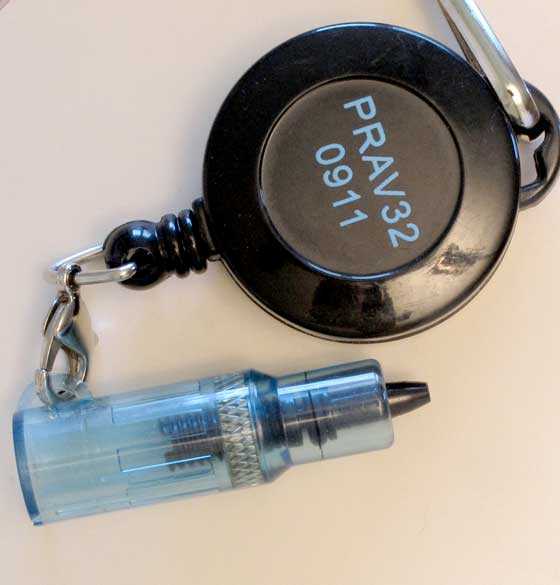 I set the pellet seater to this depth months ago and have been using it this way ever since.
Crosman Destroyers
A blog reader asked me to test Crosman Destroyers — a new hollowpoint that has a large open cavity in the nose. Since I was playing, I decided to shoot 5 shots and see if it was worth finishing the group. With the pellets seated deep, the cocking aid attached and the gun rested directly on the bag, 5 shots made a group measuring 2.546 inches, so I stopped there. Since that was already very large and 5 more shots would not make it any smaller I decided to save my time and effort.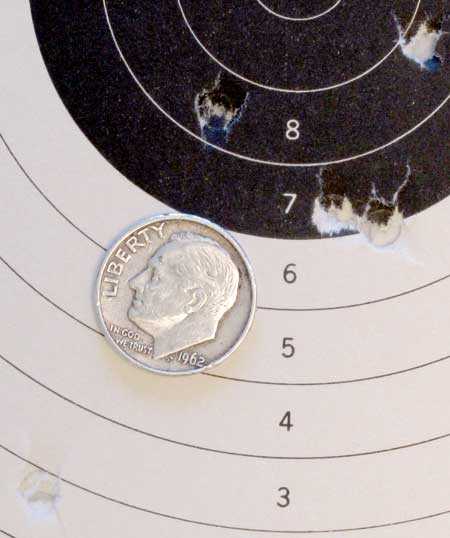 Five shots with Crosman Destroyer pellets seated deep with the cocking aid attached and the gun rested directly on the bag made this 2.546-inch group. I stopped after 5 shots because the group was already too large.
But I also figured some of you wouldn't let me rest if I didn't test at least one more variable with this pellet, so I shot it seated flush, as well. Surprise! It turned out better. Ten shots went into 2.086 inches. That's not a world-beater group, I know, but it is better than the 5 shots with deep-seated pellets. It points out that deep seating has to be evaluated on a case-by-case basis.

Ten shots with Crosman Destroyer pellets seated flush with the cocking aid attached and the gun rested directly on the bag made this 2.086-inch group. Though it's not a great group, it is better than the 5-shot group with deep-seated pellets.
Michael, Michael, Michael!
Blog reader Michael saw that I hadn't yet tested the best-shooting RWS Hobby pellets from the rested position with the cocking aid attached, but he was standing on my shoulder as I played with the pistol. I knew you would want me to go back and test it this way, so I did. This time, the magic didn't work, however, and the 10-shot group size was 1.536 inches, so no improvement.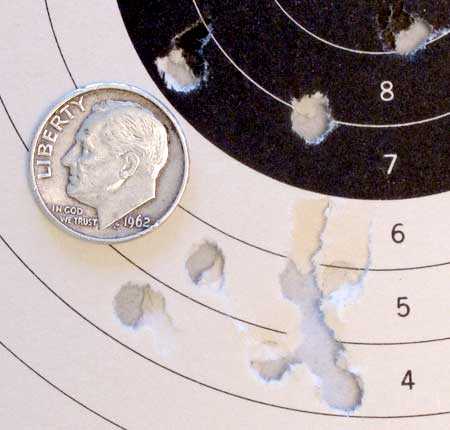 Ten RWS Hobbys seated deep with the gun rested on the bag and the cocking aid attached measured 1.536 inches at 10 meters. It's not bad, but no cigar. The gun shot better when not rested on the bag.
Isn't it interesting how changing one variable will change the entire performance of the gun? I think so.
The bottom line is that the Benjamin Trail NP is still a whole lot of value for the price tag. And I'm not finished, yet. There's still another accuracy test to go with those lead-free pellets; and then I want to recheck the velocity of the gun, now that several hundred shots have been fired. There's more to come, so sit back and enjoy.