by Tom Gaylord, a.k.a. B.B. Pelletier
This report covers:
• Ruger Air Hawk velocity retest
• RWS Hobby pellets
• JSB Exact Heavy pellets
• RWS HyperMAX pellets
• New Arlington field target club
• Beautiful course!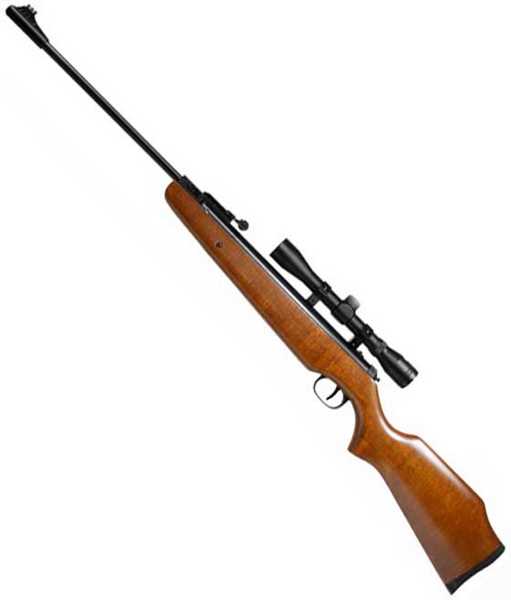 Ruger Air Hawk combo
Ruger Air Hawk velocity retest
I hadn't planned to do this test, but the velocity numbers in the previous blog post were so far off expectations that I felt compelled to try it, again. I was curious about the poor velocity performance of the Ruger Air Hawk combo. Someone suggested the breech seal might be too low and others agreed, so I shimmed the seal. It appears to be ever so slight higher now, but the velocity is definitely higher.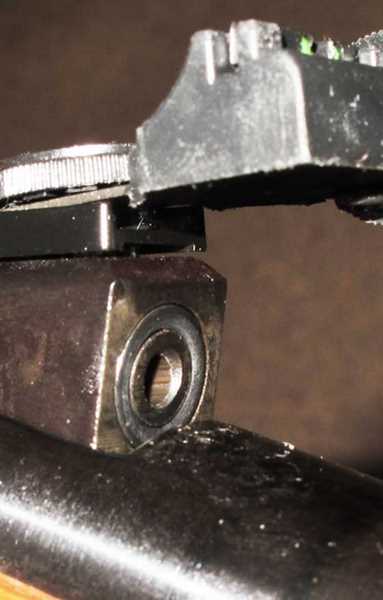 Before the shim the breech seal was low and flat.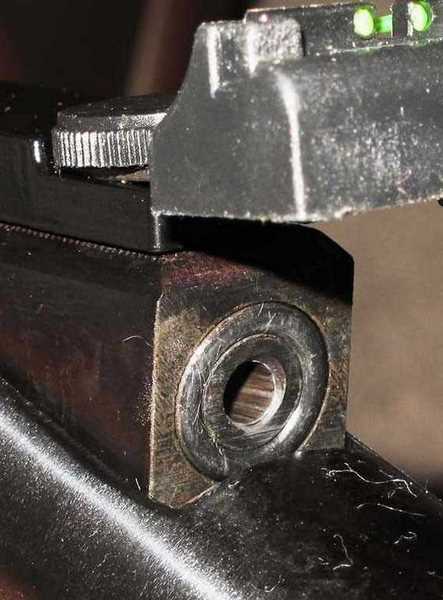 The shim raised the breech seal slightly.
RWS Hobby pellets
In the first test, RWS Hobby pellets settled into a range of 750 to 810 f.p.s. I didn't give averages because the gun seemed to be detonating too much.
This time, the range went from 1014 to 1088 f.p.s. Two shots registered 649 and 761 f.p.s., respectively. My gut feeling is that the velocity has increased, but the rifle's still detonating too much to know anything for sure.
JSB Exact Heavy pellets
The second pellet was the JSB Exact Heavy that weighs 10.34 grains. In the last test, these ranged between 534 and 757 f.p.s. In this test they ranged between 572 and 893 f.p.s., with all but two shots above 623 f.p.s. There's a definite velocity increase this time; but, again, I can't be precise.
RWS HyperMAX pellets
The last pellet tested was the 5.2-grain RWS HyperMAX lead-free pellets. Previously, these ranged between 817 and 970 f.p.s. In this test, they ranged from 906 to 1203, with only one not going above 1180 f.p.s.
I think it's clear that the breech seal was too low during the first test. Raising it with a shim did boost velocity, though the gun is still burning too much oil to tell for sure how much velocity has been gained. When it stabilizes, we'll have a better idea – but it does seem the gun is on the numbers now.
My next test will be for accuracy at 10 meters, using the open sights.
And, now, for something completely different!
New Arlington field target club
We have a new field target club in North Central Texas. The Arlington Sportsman's Club has started a field target club, which held their second trial match last Saturday on 10 of the club's 35 3D archery lanes. These lanes are carved into a wooded section of the club's property and are ideal for field target matches.
This is the second FT match I've attended in the past few years, and I have to comment that the sport is now more popular than ever! When I competed in the 1990s, field target was run by a rigid set of rules that put older and less mobile shooters at a disadvantage. And there were some clubs that enforced offhand-only shooting to the extent that the sport just wasn't attractive to many shooters.
Today, I see relaxed rules that allow seating and bipods for the rifles, changing everything! The shooter doesn't have to get into a seated position on the ground and hold the rifle so nothing touches the ground. Now, it's fun! And I can tell that the shooters are 10-20 years older than they were when I competed in the 1990s. That still puts them at my age — only, now, they're having fun.
Beautiful course!
The Arlington match director, Chris Simmons, showed me around the course, which was the finest FT course I've ever visited. Of course, having those lanes premade by the 3D archers made all the difference.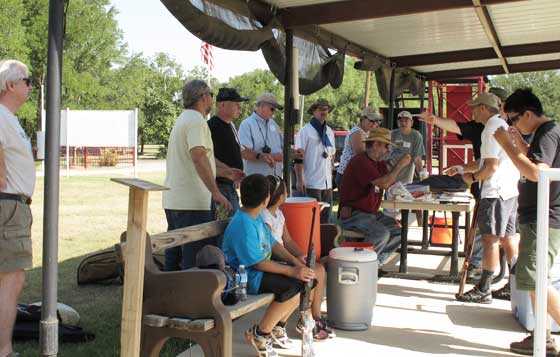 The match director's briefing started early, so the match started right on time.
Chris allowed one point for every target that fell, which is the common way of scoring a match. The Pecan Plantation club I visited some months back allowed 2 points for a target fall and one point for just hitting the target. Either way works fine, but seeing the target fall is what the sport's all about.
Chris left all the kill-zone reducers off for this match, so every kill zone was 1.5 inches. In the future, that will change. I know these targets seemed easier to kill, but when they have half-inch kill zones and are 25 yards distant, that will change.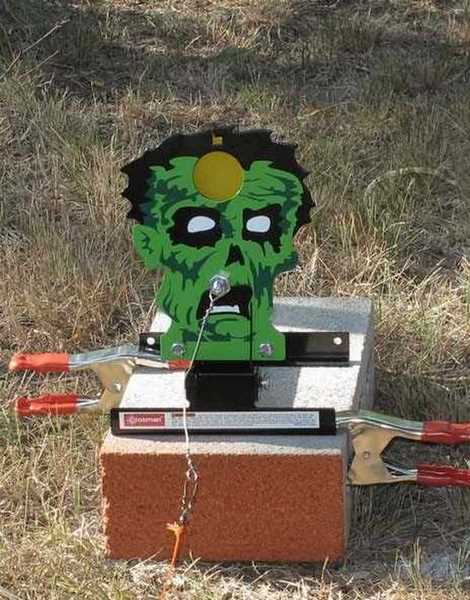 The kill-zone reducers were left off all targets for this match.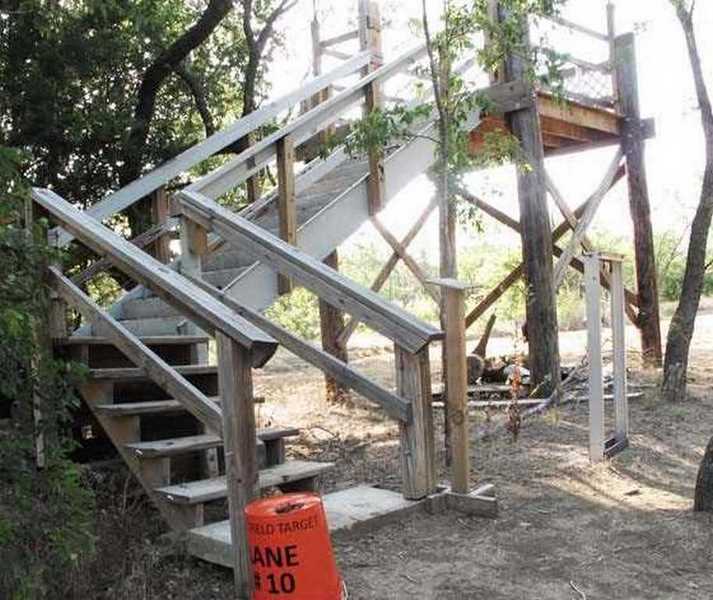 The match used archery facilities like this tower, which was designated for offhand shots, only. We never had features like this when I was a match director!
You might think that because this is a startup club all the shooters were duffers, but that was not the case. I saw many shooters who obviously knew exactly what they were doing. One man was shooting a Whiscombe JW 70, which is rare at any FT match. And another shot an Air Arms Pro-Sport he received only the night before the match. He got zeroed before the match started and did very well shooting from the offhand position.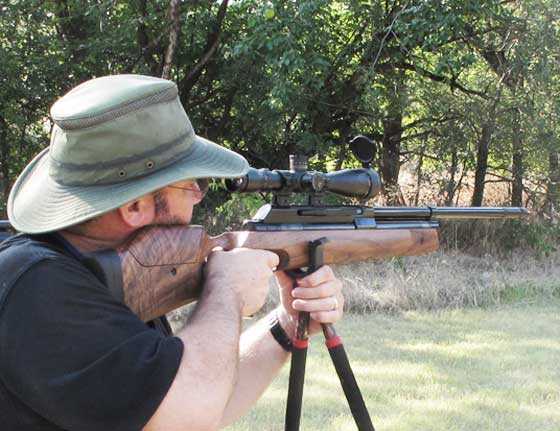 Here is a Whiscombe JW 70! How many of these have you seen?
The shooters from the Dallas FT club weren't able to make this match because they were working on a new venue for their club on the same day. But they'll attend matches in the future. And I think I may blow the dead bees out of my Air Arms TX200 and shoot a few matches, myself. It's been over 15 years since I competed; but the way things are run today, this looks like fun!
by Tom Gaylord, a.k.a. B.B. Pelletier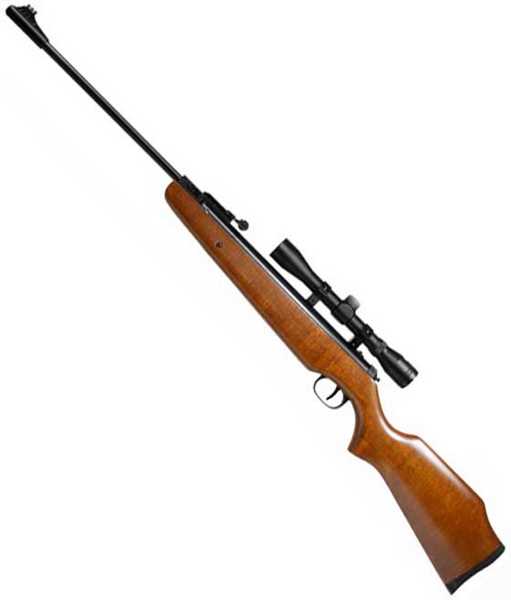 Ruger Air Hawk combo
This report covers:
• Why the Ruger Air Hawk?
• Impressions of the rifle
• Before the test
• RWS Hobby pellets
• JSB Exact Heavy 10.34-grain pellets
• Trigger-pull
• Firing behavior
• What to do now?
I'm testing the Ruger Air Hawk combo today, and I'm also starting something new. I'm combining Parts 1 and 2 into a single report. Part 1 has always been a general description of the item being tested, and Part 2 has been the velocity test. But you can follow the links embedded in the report to the Pyramyd Air product page and read the specs, so I don't have to dwell on them very long. Just give you my impressions and then check velocity, cocking effort and trigger pull. If this works, I will do it this way from now on if the gun isn't overly complex and if there's nothing unique about it. If not, I'll return to the conventional format. For that reason, I'm calling this both Parts 1 and 2.
Why the Ruger Air Hawk?
Most of you are aware that Ruger doesn't make airguns. They have them made by others to their specifications. In today's case, the Air Hawk is made in China. It's imported and distributed by Umarex USA.
I chose to review the Air Hawk because many readers have asked me repeatedly to do so. At the time of this report, there are 114 customer reviews on the rifle and it's rating is about 4.5 stars out of 5. That bodes well. I won't read those reviews before I examine the rifle, just to keep my opinions honest.
The Air Hawk is a straightforward breakbarrel spring-piston air rifle. The one I'm testing is in .177 caliber, the only caliber they come in. Mine is serial number 00474874. It has a conventional coiled steel mainspring, a wood stock and blued steel finish. The fiberoptic sights are constructed mostly of plastic, though the rear sight does have some metal parts. And the rear sight is adjustable in both directions.
It has been said that this is a copy of the Diana 34. I do see the resemblance, but there are also differences. The trigger isn't the same, nor is the cocking linkage.
So here we have a very traditional breakbarrel rifle. What's the attraction? The price, I suppose. This combo that also includes a 4X32 scope retails for $130. What makes this Ruger Air Hawk such a bargain? One word: Power!
The Air Hawk is a 1,000 f.p.s. rifle — according to its manual, or a 1,200 f.p.s. gun if you believe what's written on the box. One velocity is probably derived with lightweight lead pellets and the other with lead-free pellets. We shall see in a moment. The point is that velocity sells airguns these days. New shooters need to experience all they can with high-velocity spring guns before they're willing to explore the rest of what's available. And, with 4.5 stars from 114 customers, it sounds like the Air Hawk really delivers the goods. Again, we shall see.
Impressions of the rifle
The Air Hawk is heavier than I was expecting. It weighs a tad over 8 lbs. and feels stout in my hands. The stock proportions are generous without being oversized. This is a large air rifle. They rate the cocking effort at 30 lbs., and the test rifle cocks at 30 lbs. on the nose. I did have to try it several times before getting it down to 30 lbs., so there's initial stiffness that has to be worn away; but that's part of every break-in.
The finish of the wood and metal parts is smooth and even. The metal parts are matte black and the wood has a shine. The contouring of the wood is well done, although there's no checkering. The comb is Monte Carlo-shaped, and there's no raised cheekpiece. Since the automatic safety is located at the rear of the spring tube, this is a 100 percent ambidextrous rifle.
The cocking linkage is two-piece and articulated in the middle. The rear piece slides on a channel cut in the wood stock. Unlike many Chinese spring rifles, this Air Hawk sits centered perfectly in the stock, with no canting of the action! That's a plus because it means there's no rubbing of the cocking linkage parts against the wood.
The barrel detent is a ball bearing, similar to a Diana 34. I do have to slap the barrel slightly to break it open, so the ball is under a lot of spring tension. The base block that holds the barrel is held to the action forks by a bolt — meaning that barrel tension can be adjusted. That's a huge plus in any breakbarrel.
The trigger blade is metal and very straight. I like the angle of the blade, as it suits my hand quite well. The trigger-pull adjusts for the length of the first stage, only. A screw in front of the trigger blade controls this.
My overall impression is that this is a well-designed air rifle. More importantly, someone is in the Chinese plant assuring adherence to quality standards.
Okay, you can get the rest of the specifications from the product listing I've linked to above. Now, I'm going to test the velocity and trigger-pull.
Before the test
I shot the rifle before the test and noted that the first 5 or 6 shots were detonations (loud bangs, like gunshots) with oil droplets coming out of the muzzle. So, the rifle is lubricated heavily at the factory. I shot the rifle several more times until the detonations  seemed to end.
RWS Hobby pellets
The first pellet tested was the RWS Hobby. I use the Hobby as my reality check with some airguns, because not only is it a pure lead pellet — it's also often very accurate. I'm going to show the entire string here, for reasons I will explain.
Shot       Vel.
1…………1093
2………..1499
3………….789
4………….797
5………….766
6………….803
7………….810
8………….755
9………….769
10…………806
11…………750
12…………771
Pretty obvious what's happening. The gun was detonating on the first 2 shots, then it sort of settled down for the next 10. I'm not going to give any averages here because I don't believe the rifle has completely settled down yet.
People always ask me how I break in new airguns. Well, that depends on the gun. I thought I would show you with this one.
JSB Exact Heavy 10.34-grain pellets
Next up was the JSB Exact Heavy 10.34 grains pellet. If Hobbys are going in the 700s, then this pellet is too heavy for the powerplant; but when a gun is detonating, a heavier pellet will help burn off the excess oil. The rifle was still spewing out a cloud of oil mist with each shot.
Shot       Vel.
1………….659
2…………757
3…………665
4…………534
5…………553
6…………536
7…………550
8…………593
9…………555
10………..546
11………..631
12………..581
13………..559
As you can see, the gun is still burning off excess oil. That's where those faster shots come from.
Another way to burn excess oil is to shoot a very light pellet. It makes the gun detonate, which is probably needed here. So, I switched to RWS HyperMAX lead-free pellets.
Shot       Vel.
1………….882
2…………970
3…………892
4…………904
5…………854
6…………835
7…………816
8…………877
9…………814
10………..799
The rifle is still burning oil, but it's calmed down a lot by this point. I returned to Hobbys to see where things were.
Shot      Vel.
1…………630
2………..644
3………..677
4………..722
5………..720
6………..699
7………..706
8………..1080
9………..790
10……….1089
Okay, at this point I know the rifle is still detonating a bit and dieseling on every shot — as it's supposed to. All spring guns that shoot over 600 f.p.s. diesel with each shot, according to the testing that was done in the 1970s by the Cardew father/son team.
Trigger-pull
The trigger adjusts for stage-one length of pull, only. This one feels good where it is, so I'm leaving it there. The trigger releases at 3 lbs., 6 oz. Stage 2 is fairly crisp. I think this will be an easy rifle to shoot.
Firing behavior
The Air Hawk I'm testing has a quick shot cycle with some recoil and some vibration. But during the few shots of this test, the rifle became easier to cock and the firing cycle smoothed out. So, I think this is a rifle that will improve with time. Also, I now note that the barrel no longer remains where it's put after being cocked. So, the pivot joint needs to be tightened. I'll do that before the next test, which will be an accuracy test using the open sights that come on the rifle.
What to do now?
This is where a lot of newer airgunners are stumped. If they have a chronograph, they may feel their rifle is broken or that they'll hurt it by shooting it more. But the 98 percent of shooters who don't own a chronograph will just keep right on shooting their airgun, which is what I plan to do.
Next comes the accuracy test. I'll test the rifle at both 10 meters and 25 yards using the open sights, then I'll mount the scope that came with it and test it again.
After I finish the accuracy testing, I'll return and look at the velocity once more. I'm guessing the rifle will have settled down by then.
by Tom Gaylord, a.k.a. B.B. Pelletier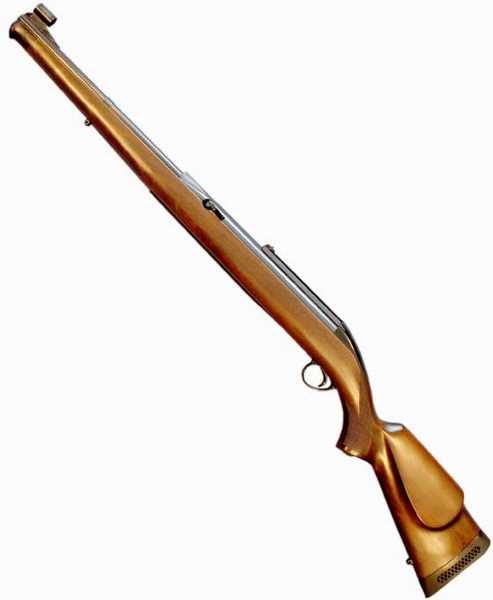 BSA Airsporter Stutzen was the final version of the Airsporter to have a tap.
This report covers:
• What's a stutzen?
• My first encounter
• Parallel development
• Fast-forward to 2010
• BSA Airsporter
• Underlever spring-piston air rifle
• Open sights
• Overall evaluation
Today, I'll start a report on an airgun that's tantalized me for over 20 years. It has done so in multiple ways and has caused me to learn more about this hobby of ours: The BSA Airsporter Stutzen.
What's a stutzen?
First, let's discuss the name. A stutzen is a style of rifle, not a specific model made by just one manufacturer. There are stutzen air rifles and stutzen firearm rifles. So, what is it?
The German word stutzen means to crop, dock or prune, so a stutzen rifle is one that looks cropped. Fundamentally, it's a slang term give to a rifle that's mounted in a stock that goes all the way to the end of the muzzle. The rifle barrel may be full length, but it appears cropped because the forearm is just as long.
A stutzen is not necessarily a carbine, though it can be. The stutzen name doesn't refer to the length of the barrel, but rather to where and how the stock ends in relation to the barrel. You see, Mannlicher stocks also go to the end of the muzzle. Does that mean that all rifles with Mannlicher stocks are stutzens? Yes, I suppose it does, but there are subtle differences. Classic Mannlicher stocks have distinctive steel nose caps that enclose the end of the barrel. However, in the past 30 years, people have blurred the distinction between a classic Mannlicher-style stock and a stutzen, and today the terms are used interchangeably.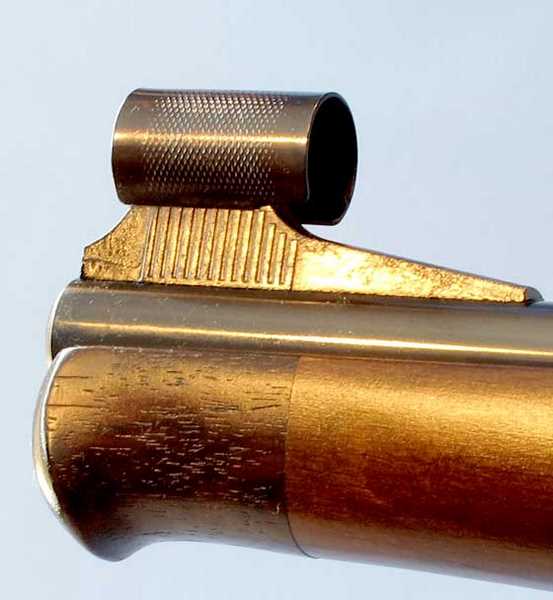 The BSA Stutzen's stock ends in a schnabel of dark wood. There's no metal end cap that a true Mannlicher stock would have.
My first encounter
The first stutzen I tested was for The Airgun Letter. It happened in the 1990s, at a time when I was very much into spring-piston airguns. The rifle I tested was a Gamo Stutzen that was a less-expensive version of the BSA Stutzen that had either just been discontinued or was soon to be. At the time, both the Gamo and BSA rifles had rotary breeches. I'd never seen a BSA Stutzen, so the Gamo Stutzen I tested represented all stutzen air rifles to me. That was a shame because the Gamo rifle was hard to cock, harsh-firing and not very powerful. As I recall, it wasn't that accurate.The hard cocking and harsh firing cooled me to the rifle. I was shooting and playing with TX200s in those days, and any spring rifle that I tested suffered by comparison.
Parallel development
At the same this was happening, I was also deep into Hakim air rifles. I'd already owned about 10 of them and tuned them for others as well as for myself. The Hakim is also an underlever spring rifle, just like the BSA and Gamo Stutzens, but it's lower-powered, making it easier to cock; after a tune, it shoots quite smoothly. Why, I wondered, couldn't these stutzens be more like the Hakims? They were actually a lot more like them than I knew!
Fast-forward to 2010
I was at the 2010 Roanoke Airgun Expo, only because my buddy Mac drove out to Texas from Maryland and drove me back East (and then back home to Texas, again). I still had a drain tube coming out of my pancreas from a failed operation five months before, and I was barely able to walk. Another friend at this airgun show, Marv Freund, insisted I buy a strange German underlever rifle from him that turned out to be the Falke model 90 I've written so much about. If you don't remember our first look at the gun, perhaps you'll remember that it had the stock that I'd restored and reported on in a second 4-part report.
During both those reports, I remarked how much the Falke 90 action resembled the Hakim action. On closer inspection and after more research, I discovered that both rifles had their heritage in the BSA Airsporter of 1948. The title of this report is the BSA Airsporter Stutzen. Is this starting to make sense?
BSA Airsporter
The BSA Airsporter is the underlever that started all of my fascination with these rifles, yet I'd never actually owned one. I've had bundles of Hakims and even the super-rare Falke 90, but somehow the BSA Airsporter eluded me all those years. Well, not entirely. I did actually own an Airsporter that was just a junk rifle I picked up at a local gun show. The stock was broken off at the triggerguard, and you could see the insides of the action. My thought was just to rescue it for airgunners, so I was happy to sell it to collector Larry Hannusch at Roanoke for what I'd paid. A year later, Larry had installed another stock on it, and I almost bought the rifle back from him before realizing it was the same gun. Other than that, I've never owned an Airsporter.
Then, several weeks ago, I was at another local gun show — in fact a show that was held at the very place that the 2014 Ft. Worth Airgun Show will be held. The guys out there know that I'm into airguns. When they have something, they sometimes bring it to me. At this show, there was a very familiar rifle laying on one of the tables. It looked like either a BSA or Gamo Stutzen, and it turned out to be a BSA. But this one was different from the one I'd tested back in the '90s.
Instead of Gamo's rotary breech, this one was a true taploader, which I knew made it older. It's in like-new condition, and the seller knew that I was the only airgun guy in the room — or in the state, as far as he knew — so he offered it to me in a trade deal I couldn't refuse. It was basically anything to get this airgun off his table because he doesn't do airguns. By the way, if you do come to the Ft. Worth show this September, you'll meet a bunch of members of this gun club who are very excited to sell all their old airguns. The club is giving them a communal table so they won't have to pay to display and sell all their old airguns — and remember — they've been asking me for the past 2 years to have this show!

The loading tap is opened manually after cocking. Drop the pellet in nose-first.
Anyhow, I got this Stutzen in trade, even though I didn't want it because of my experience with the Gamo years before. It's so beautiful that I knew someone else would want it for sure. When I got it home and looked in the latest Blue Book of Airguns, though, imagine my surprise to discover that this isn't just a stutzen. Its full title is BSA Airsporter Stutzen. That's right — this is the Airsporter that I've been hunting for over the past 15+ years!
Underlever spring-piston air rifle
The Airsporter Stutzen is an underlever spring-piston rifle whose lever is concealed in the forearm. From the side, there isn't a clue that the lever's there. Despite what I said earlier about stutzens not necessarily being carbines, this one is — at just 39.25 inches long. The barrel makes up almost 14 inches of that length. The length of pull is 13.50 inches, which includes a one-inch black rubber buttpad at the back. So, this rifle is compact.
The stock is beech wood, but it's from an earlier era and is far more attractive than the beech stocks of today. The taploading Airsporter Stutzen was made from 1985 to 1992, making it the final version of the Airsporter to have a tap. After that, the Gamo rotary breech was used on all BSA Stutzens. The wood is stained an even dark brown color, and the pistol grip is checkered. The forearm ends in a darker wood schnabel, which is German for beak or bill, and goes hand-in-hand with the stutzen style. The cheekpiece is nicely formed and stands apart from the butt, unlike the Gamo stocks that would follow. They all appear to have been melted, as their cheekpieces are blended into the butt with little transition. The comb has a classic Monte Carlo profile.
There are quick-detachable sling swivel studs on the stock, front and rear. But I must say that a sling on an underlever rifle can easily get in the way during cocking.
The metal parts are all an even dark black with a medium polish. It's midway between a hunter matte and the deep shine of a TX200.
This rifle is .177 caliber; and although they were also made in .22 caliber, I suspect there are many more in this caliber, owing to the times and where they were made. The rifle is loaded through the tap, which must be manually opened after cocking. Don't open it before cocking or the piston will create a partial vacuum when it withdraws. The tap is an extension of the air transfer port and must be aligned with the transfer port and bore (in its closed position) for air to flow though.


This is how far down and back the lever comes.
The rifle weighs 8 lbs. on the nose. The 2-stage trigger is crisp right now, but I see one and possibly 2 screws that might allow some adjustment. There's very little information about these guns on the internet, but I did read that an owner had tried to adjust his trigger with little result. Both screws are headless Allen screws, so they aren't there to secure anything.
I've shot the rifle a few times and can tell you the trigger is crisp, and the firing cycle is smooth and quick. Cocking is a bit on the stiff side, but not as bad as I remember. I think the Gamo Stutzen's cocking linkage was rougher than this one.
Open sights
There are open sights front and rear and not a fiberoptic tube to be seen! It'll be fun to shoot. The rear sight adjusts in both directions, plus it sits at the front of an 11mm scope base. BSA scope bases on rifles of this time are the largest ever produced and actually approach 14mm wide, so care must be taken when choosing mounts. I don't know if I will scope the rifle or not at this time — I just want to test it for you.

The rear sight is mounted on an inclined plane for elevation and a dovetail for sideways adjustment.
The front sight is a post that sits on a ramp. It's very square and matches the rear sight notch well. A removable sheet metal hood covers the post.
Overall evaluation
I originally did the trade deal for this air rifle because it was a good one. But after examining the rifle more closely and after learning that it's actually the Airsporter I have been searching for, I'm very glad I got it. I don't know if I'll keep it or sell it after testing, but at least I will have had the opportunity to closely examine an Airsporter after all these years. This will be a fun test!
by Tom Gaylord, a.k.a. B.B. Pelletier
Part 1
Part 2
Part 3
Part 4
Part 5
This report covers:
• Rifle was set up
• The hold
• Accuracy
• A hunter's rifle
• Comparison with the first rifle
This is accuracy day with the second Benjamin Trail Nitro Piston 2 rifle — the one Crosman sent especially for this test. We've already seen how this second rifle exceeds the power of the first one, so today we'll see what impact that has on accuracy. As with the first rifle, I'll shoot 14.3-grain Crosman Premier pellets exclusively in this test.
Rifle was set up
When I unboxed the scope, I found the rings already installed in the correct location, meaning I could install them directly on the rifle. That proves this rifle has been tested and set up before I received it. The scope went on quickly, and I found it was very close to being sighted-in; but the inability to focus the target as close as 25 yards was a hinderance to aiming. I estimate my groups were a quarter-inch larger than they needed to be because I couldn't see well enough to put the crosshairs on an exact spot. The scope arrived set at 4X, which indicates the rifle was tested at 10 meters or yards before it was sent. At 25 yards, I wanted to see the bull more clearly, so I adjusted it to 9X. But as I said, the focus was off because the scope is parallax-adjusted for a longer distance.
The hold
I refined the sight setting and proceeded to test the hold I thought would do best — based on results from the first rifle's test. I also tried several other holds and hand placements, establishing one thing for certain. The NP2 wants to be held firmly. Do not use the artillery hold. Instead, I found it best to slide my off hand out to almost the end of the stock and grip the forearm firmly. I can feel the forearm screw holds on the tips of my thumb and fingers, so I know my hand is in the same place every time. Any hold that wasn't firm allowed pellets to rise vertically. I fired probably 30 shots testing just the different holds and pressures.

When I used the classic artillery hold, this is what I got at 25 yards — every time! They're all in line but off vertically. The NP2 wants to be held firmly.
Accuracy
I then shot three 10-shot groups using the factory scope. The best of them measures 1.104 inches between centers, and the worst measures 1.168 inches. I really tried to do well, but the blurriness of the target did cause my aim to be off.

The best 25-yard group using the factory scope and the best hold measures 1.104 inches between centers. No, I didn't get the images mixed up. This group is slightly smaller than the one below.

The worst group with the factory scope isn't much different than the best. Ten Premiers went into 1.168 inches at 25 yards.
I felt the factory scope was hindering my best efforts, so I swapped it for an older CenterPoint 3-9X40 with an adjustable objective. This scope is one CenterPoint no longer carries. It's a simple scope without an illuminated reticle; and other than the larger objective lens and the AO, it's close to the scope that came with the rifle.
I allowed a day to pass between the first shooting session and the second because too much concentration makes me lose my edge. The next day, I shot another four 10-shot groups, plus some more sighters to get the scope shooting where I wanted. On this second day, my groups ranged from 0.895 inches between centers to 1.483 inches. I learned as I went, refining the hold that seems to be critical with the NP2. The worst group, for example, came when I experimented with the firmness of the offhand grip.
By the end of the session, I knew what this rifle wants — a firm hold of the off hand as far out on the forearm as you can comfortably hold and a firm hold of the pistol grip. Pull the butt into your shoulder firmly. This is not a death grip — just a firm hold, and it seems to be what the NP2 wants.

The best group with the second scope measures 0.895 inches between centers at 25 yards. The second-best group was almost the same size as this.

The worst group with the second scope measures 1.483 inches between centers at 25 yards. I was experimenting with the firmness of my grasp during this group.
I'm not through with this rifle, yet. Each one of my second-session groups contains a large cluster of shots that are very close, then some strays that wander off — usually down, but not always. I think I'm close to understanding what this rifle wants, but I'm not there yet. I think it needs a very repeatable offhand grasping pressure. I'll give it one more session and also shoot some different pellets next time — to see if I have been missing anything by shooting Crosman Premiers exclusively.
A hunter's rifle
I have seen rifles like the NP2 before. They take some getting used to, but they reward the shooter with incredible accuracy once their secrets are learned. They're rifles for hunters who use only a single rifle for all their needs. For the price this air rifle costs, I don't think you can get one that's any better.
Comparison with the first rifle
The first NP2 also took getting used to; but when I did, it gave me a best 25-yard group of 0.704 inches at 25 yards. So far, this rifle has given a best of 0.895 inches. Both rifles seem to want to do better, but I haven't discovered quite how, just yet.