by Tom Gaylord, a.k.a. B.B. Pelletier
The suggestion for this report came from blog readers ricka and Terd Ferguson, who both expressed concerns over the safety of precharged airguns. That's safety…as in wondering if one can blow up!
It's been a long time since I felt those same concerns, but I did at one time. Before I got my first PCP in 1995, I was quite concerned about keeping a scuba tank filled to 3,000 psi in my house. I'd seen the movie Jaws and was suitably impressed when the shark was blown up by a scuba tank at the end. So, these two readers are probably expressing the same concerns that hundreds of you share. I'd like to address those concerns in what I hope will be a straightforward series of reports that are easy to understand.
Do firearms blow up?
Veteran readers of this blog know the answer to that. Firearms do blow up, and I've shared at least one such personal story with you — my Nelson Lewis combination gun. I overloaded it and blew the percussion cap nipple out of the barrel! You can read that report here. In retrospect, it was my fault, so we can call that experience a stupident.
I've been involved in two other firearm blowups. One was caused by a rim failure in a .17 HM2 rimfire cartridge, and I've since come to find that this cartridge is known for that weakness. When it happened to me, shards of hot brass blew out the ejection port of the 10/22 clone I was testing for Shotgun News. One piece of brass cut my right arm and drew some blood; but aside from that and a lot of extra noise and smoke, no other damage was done. That event was out of my control, so it was an accident.
The other blowup was caused by a squibb round (one without gunpowder that drives the bullet into the barrel but not out again) in a Colt SAA revolver. I was firing very fast; and when the squibb happened, I was unable to stop before I thumbed off the next round. The revolver's barrel was split lengthways when the second bullet hit the first one halfway down the barrel. That wasn't an accident — it was a stupident.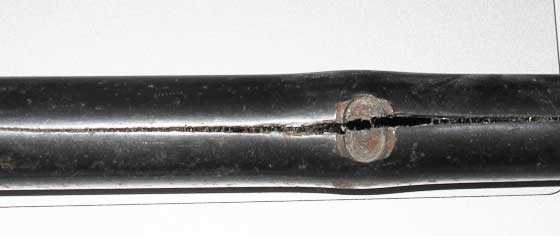 Shooting a round into a bullet that was already lodged in the barrel burst this 7-1/2 inch Colt SAA barrel. The bullet was struck where the ejector housing screw was.
Do precharged airguns ever blow up?
Yes, they do. The causes are as random as they are with firearms, and the results range from sudden surprises all the way to death. The blog readers are entitled to a frank discussion of the kinds of accidents that can happen with precharged guns, and that's what I'm about to give you.
When I bought my first precharged rifle—a Daystate Huntsman—and a brand new 80 cubic-foot aluminum scuba tank, I was properly awed. No, make that frightened. It was not unlike setting off my first charge of TNT in the Army! I respected the power potential of both that dive tank and the airgun I was filling.
Like any new thing, though, this awe and respect lasted only as long as it took me to become comfortable with the technology. If you do something enough times, the edge of respect starts to wear off—I don't care what it is. It isn't good when this occurs, but it's human nature. Familiarity breeds contempt.
Boom!
And then it happened. My gun blew up! Okay, it wasn't actually the rifle; it was the hose that connected the rifle to the scuba tank. And to be honest, it didn't really blow up. The soft wall of the rubber hose ruptured, violently releasing compressed air. The tear in the hose wall was about one inch long, and the warning signs were there before it happened. The hose had developed a noticeable bulge at the point the blowout occurred. That should have told me that the reinforced fabric liner under the outside rubber was failing, but like I said—familiarity breeds contempt. And I didn't want to stop shooting my airgun. I took a risk and the explosion happened.
I was standing in my basement when the hose blew. The noise sounded like a concussion grenade, although I'm quite sure it was nowhere near as loud or forceful. The blast loosened a storm of dust from the floor joists above my head; and my wife, whose office was right above me, jumped out of her seat.
The net result was no injury to me, beyond a bruised ego, and no physical damage to anything other than the now-ruined hose. I was momentarily stunned, and it took about 15 seconds before I regained my bearings, because Edith had already gotten to the basement before I turned off the tank's air flow.
I shared my experience with other airgunners who were more acquainted with precharged airguns and was told I had been lucky the hose hadn't broken off completely, whipping me violently before I could turn off the scuba tank's valve. That was when I discovered that nearly everyone who uses precharged airguns has either had an incident like this happen to them or knows someone who'd had one.
Can this be avoided?
Can this kind of incident be avoided? Absolutely! There are several things you can do to keep this from happening. First, if you use microbore air hoses, the likelihood of blowouts is reduced — not eliminated, just reduced. Microbore hoses carry the same internal air pressure as regular hoses, but the surface against which the air presses is so much smaller that it reduces the amount of stress on the hose material. However, most microbore hoses are stiff and will eventually soften at the point at which they are bent. That's usually up near the tank, where they come out of the tank's air valve. You still have to watch for that, because when they soften, they also weaken at the same spot. The hose I have linked to in this report has springs on both ends to prevent this bending to a large extent — but you still have to look for it.
Another safety measure is to use a hose that has a braided steel sheath on the outside. This sheath keeps the rubber that's underneath from expanding and blowing out. The hose that blew out on me was an early rubber Daystate hose that had just a 3,000 psi rating. It was rated for nearly the same pressure it worked at (2,500 psi), which isn't good. The hoses with braided steel sheaths are rated much higher.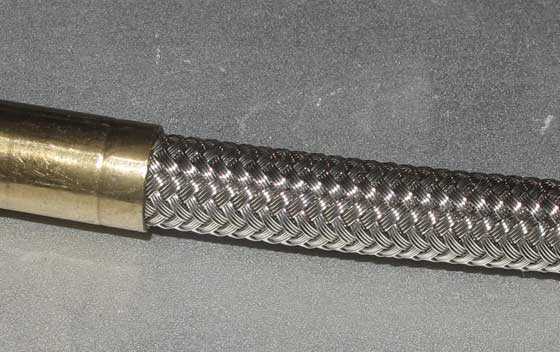 The stainless steel wire braiding on this air hose will prevent it from blowing out.
The most important safety measure is you! Examine your fill equipment every time you use it; and if you spot something like I did, you stop right away.
Another type of stupident
If you fail to fully connect the two halves of the Foster quick-disconnect coupling during a fill, the air pressure will disconnect it for you! It will be accompanied by a small explosion and often by the violent whipping of the air hose. Here's another place where a microbore hose protects you because it doesn't whip as much, plus it's smaller, so it doesn't hurt as much when you get hit. But the best thing is to never get hit at all. When you make the connection, listen for the click of the knurled ring on the larger female fitting as it snaps into position. That indicates that all the ball bearings inside the coupling are now safely inside the groove of the male fitting.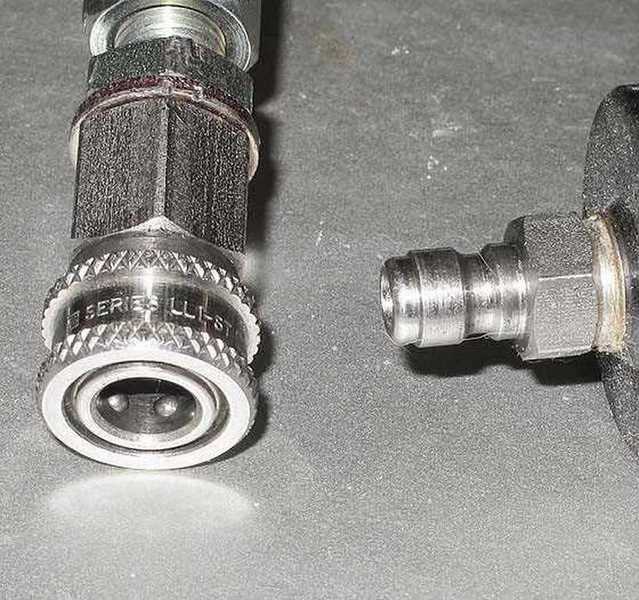 This female Foster fitting (left) has a spring-loaded collar that pulls back to allow the ball bearings to move outward. They go around the flat spot on the male fitting on the right, then the spring pushes them into the groove. They will hold the two fittings together under pressure, but only when the ball bearings are in the groove. It's important to hear the two parts click together.
Summary
That is as far as I will go in this report. I know how important this information is for many of you, so I promise to come back to this quickly for part 2.
For now, however, I want to leave you with this thought. I'm being honest with you about the potential dangers that are present whenever precharged airguns are used. You have to keep an open mind about this because the things I'm presenting are not that common. They do happen and most of them can be prevented by the means and methods that we'll discuss.
Operating a precharged airgun is no more dangerous than having a gas-fired hot water heater in your house or operating a lawn mower. There are things to be aware of; and if you follow the rules, no harm should come your way.
In 2009, I gave Pyramyd Air two articles about the basics of precharged pneumatics:
Introduction to precharged pneumatics/A look at the history and technology of the precharged powerplant
Helpful info for working with precharged pneumatics
While I put a lot into both articles, there will be new things in this series of blog reports.
by Tom Gaylord, a.k.a. B.B. Pelletier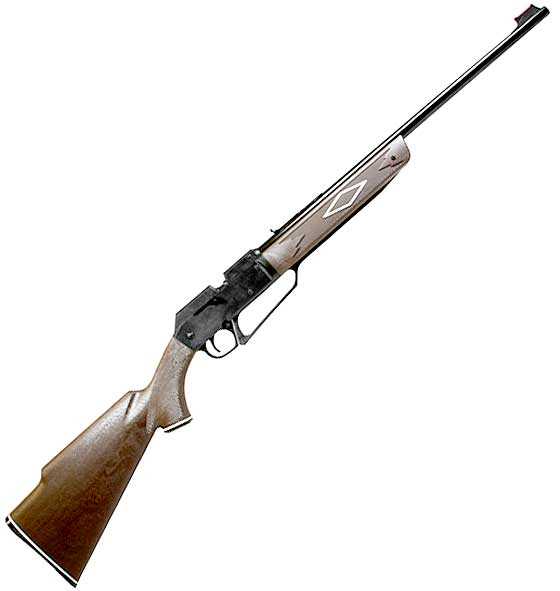 The Daisy 880 multi-pump is a classic.
Blog reader Rob asked for this review. I have reviewed the Daisy 880 before, but that was back in the days when I wrote The Airgun Letter. I doubt many of you will have seen that report. I've reported on the Daisy 22X, as well, but that was long ago and those reports may be difficult to locate. The 22X and 177X are derivatives of the 880 powerplant.
The 880 is a multi-pump pneumatic that has a short pump stroke. As a result, it's relatively easy to pump up to the maximum 10 pump strokes. The useful range of pumps lies between 3 and 10 strokes.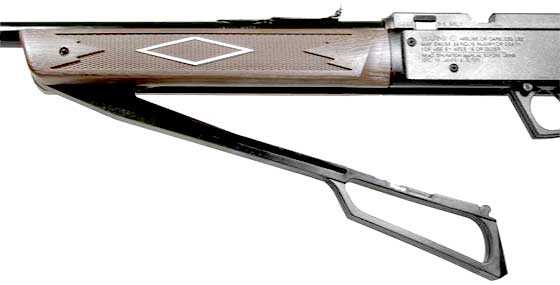 The 880 pump handle is short and also has good leverage to reduce the pump effort as much as possible.
The 880 shoots both steel BBs and lead pellets through its rifled steel barrel. At 10 pumps, Daisy rates the rifle at 715 f.p.s. with lead pellets and 750 f.p.s. with steel BBs. Naturally, I'll test both for you.
The 880 is one of a very few airguns that comes up in conversation whenever airgunners are remembering their favorite guns. It's lightweight, easy to operate and inexpensive, so there are a lot of them out there. But the attraction goes a lot farther than just a rare bargain. There's something about the 880 that inspires fierce owner loyalty.
The rifle I'm testing for you is about 13-14 years old, but it probably has fewer than 500 shots on the clock. After testing it initially, I never really went back and used it much. That's not a comment on the quality — I just never had the time to go back. But I do note that I kept it all these years, and that says something. Every year or so, I get a question about the 880 that makes me drag it out of the closet for a closer look. And this time, I plan to look at it intently, as Rob requested.
My rifle is old, but the specs haven't changed much since it was built. I have the same red fiberoptic front sight that they still put on the gun and a non-fiberoptic rear one. The weight of 3.1 lbs. is still the same. And the basic functions of a single-shot pellet feed (loaded manually into the bolt trough) or a 50-shot BB magazine, with its feed to a magnetic bolt tip when the gun is cocked.
Speaking of cocking the rifle, you must do it to pump the gun. The design is such that if the gun isn't cocked, the pump strokes will not pressurize the reservoir. This means the 880 and all associated models cannot be stored with a pump of air in the reservoir. Theoretically, this can be bad for the seals — exposing them to the dirt in the air — but neither my 880 nor my 22X have ever shown signs of a problem. So, this system works, too.
When you pull the pump handle all the way forward, the pump head is exposed in the slot beneath the forearm. This is where you periodically oil the head to maintain compression. The felt washer behind the pump head evenly spreads the oil around the compression chamber walls.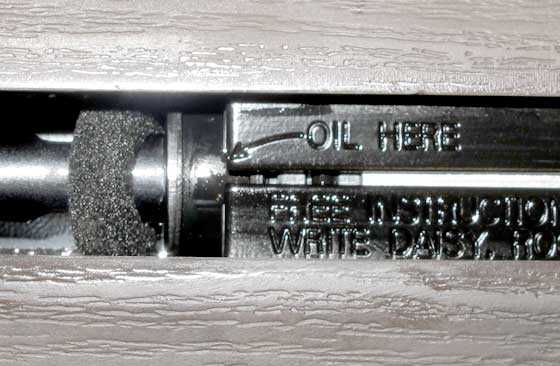 This is where you oil the 880′s pump head. The felt washer to the left keeps the oil spread on the compression chamber walls.
Things people like about the 880
Accuracy is the No. 1 thing owners have to say in praise of the 880. They way most of them talk, I'm expecting something really impressive. The second thing they like is that it also shoots BBs. That's a turn-off for me, but Daisy sells a lot of these rifles, so I'm not the normal customer.
Those who like the BB aspect also like the fact the rifle is a repeater with BBs. So, Daisy listened to their customers when the 880 was designed.
Things people dislike about the 880
A lot of owners criticize the plastic, saying they think that it might break with use. It might break, I suppose; but when you look at customer reviews for the 880, parts breakage isn't one of the big things mentioned. I think this is more a question of perception rather than a real problem. One writer thought the 880 should be made in a higher-quality version for adults; but when Daisy did that (it was called the 22X), it didn't sell well. It's obsolete, while the 880 continues to sell very well. Perception and reality are not the same.
They also criticize the single-stage trigger. Yes, it's heavy and creepy. But no more than the triggers on similar air rifles made with the same level of performance. If you want good triggers, you need to buy the kind of airguns that have them.
Pellets can be difficult to load in the 880. The reason seems to be the hole at the rear of the pellet trough that allows BBs to pass through. It can catch the skirt of a lead pellet and make it hang up.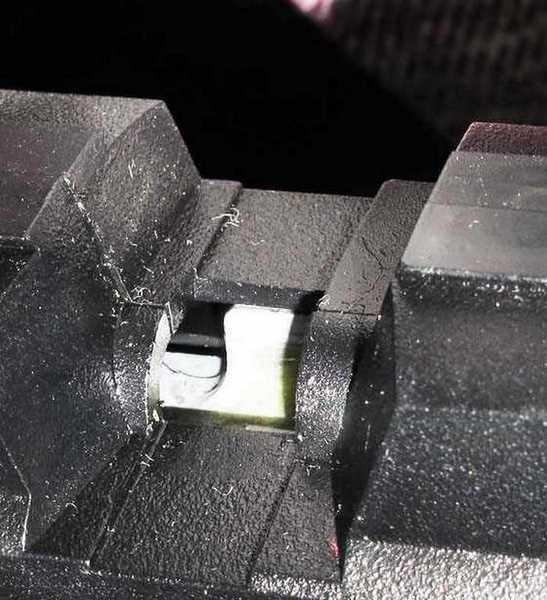 The hole at the rear of the pellet loading trough is where the BBs pass through. It can catch pellet skirts, making them difficult to load.
In general
The rifle is mostly plastic on the outside. That carries through to the inside, as well. To stay in this price range, a lot of economies need to be addressed, and molded plastic parts are one of the solutions. That doesn't mean the plastic is weak or inferior in any way. I'm pretty sure these guns last a long time.
On the other hand, the steel barrel is a very thin tube. It's an insert that's housed inside a plastic sheath that's covered by a thin sheetmetal cover.

Here you can see the sheetmetal jacket over the plastic sheath that houses the actual barrel. The muzzle of the real barrel is the silver crown you see, deep inside the false muzzle shown here.
Overall
We have a real classic pellet rifle to test. There are millions of 880s in circulation, and I expect to hear from a lot of their owners as this report progresses.
by Tom Gaylord, a.k.a. B.B. Pelletier
Got a lot to cover today, so let's get to it.
First up is the Daisy Manufacturing Company, now called Daisy Outdoor Products. Daisy is best-known for the BB guns they make, but did you know they also made firearms? That's correct. In fact, Daisy made 3 different lines of .22 rimfire rifles — though one of them is only a rimfire by common categorization. That would be the Daisy V/L. V/L stands for Van Langenhoven, the last name of the man who invented the caseless cartridge technology Daisy used to make this gun. I've covered this before when I wrote about the new Daisy book published in 2012.
Although it's commonly classified with .22 rimfire rifles, the caseless round does not even have a rim. There's no priming compound in this cartridge. This caseless cartridge was made from a material that combusts when heated rapidly by the compressed air of a spring-piston air rifle. So, the Daisy V/L is, in fact, an underlever spring-piston air rifle that just happens to shoot caseless .22 rounds. Daisy made their V/L rifle in the late 1960s (1968 & '69).
Daisy also made a line of bolt-action rifles called the Legacy line in the 1980s and '90s. These rifles have weird diecast and steel receivers mounted in both plastic and wood stocks. But they're not the guns I want to discuss today.
I have handled both the Legacy and V/L rifles, but I don't know much about them. What I do know something about is a Daisy rimfire that is even less well-known than either of these.
I also wrote about airgun makers who made firearms in 2006.
Daisy model 8
In 1988 and '89, Daisy produced an economical .22 rimfire single-shot rifle for Wal-Mart. They were supposed to have built 30,000 rifles, but the contract was either terminated or somehow not completed; and the actual number of rifles made is something less. The Blue Book of Gun Values says they made 30,000 of them, but Joe Murfin of Daisy told me about the problem with Wal-Mart and said they didn't make that many. Something on the left side of the barrel has been machined off. This is on every model 8 I've seen.

All the Daisy model 8 rifles I've seen (about 10) have had this area of the barrel machined off. Something was stamped there.
This rifle is small. If you know what a Crickett rifle is, this one is just slightly larger. If you don't know what a Crickett is, the Daisy rifle has an overall length of just 32-1/4 inches and a weight of 3 lbs., 1 oz. In other words, it's tiny!
It has a painted action and barrel in a hollow plastic stock. The overall impression is — this gun is cheap.

Daisy rear sight looks a lot like an airgun sight. It adjusts for windage and elevation.
Do you think that airgun companies are loaded with engineers wearing white lab coats? The Daisy model 8 looks more like something that was designed in high school shop class when the teacher was out on his smoke break. The designer is someone you all know — the kid without the eyebrows. The one who couldn't hear out of his left ear. Later on in life, he was known as Stumpy; and before he turned 25, he disappeared completely.
What I'm saying is that this is a bolt-action rifle that's designed with screen-door-latch technology. It began as an exercise to see how cheaply we could make it, and that was followed by two rounds of cost-cutting before corporate council pulled the plug for liability reasons.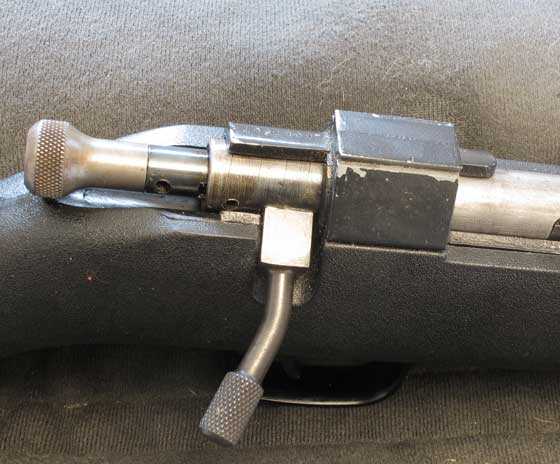 Model 8 bolt handle looks like common hardware! The receiver is a diecast part with a steel tube pressed in for strength.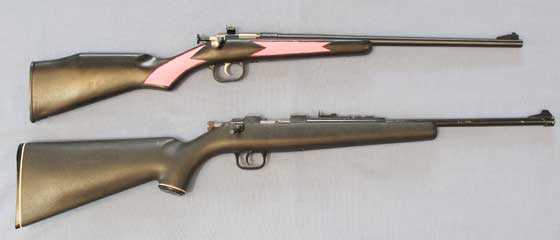 Daisy model 8 (below) is just a little larger than a Crickett.
And I have one! Are they rare? I don't know. Are they scarce? Most assuredly! Have some of them been lost over time? Almost a given! Are they worth anything? Not very much. This is not an heirloom gun — it's a hair-brained gun!
I bought one just because of what it is. I also bought the Crickett to serve a basis for comparison. Both are small, but one (the Crickett) is designed by gunmakers, while the other (the Daisy model 8) looks like it was designed by McGuyver while he was in the throws of an acid flashback.
Yes, I have shot this rifle. No, it doesn't shoot very well. In fact, it misfires about 25 percent of the time, which I attribute to a weak firing pin spring. Accuracy is on the order of 3-4 inches at 25 yards — so far. Maybe I haven't found the right ammo, yet — ha, ha.
The Crickett
I said I bought the Crickett for comparison. I'm just throwing it in here because many more shooters are familiar with it than with the Daisy. Much of its design is similar to the Daisy model 8; but at every turn, you can see where its design exceeds the Daisy. I guess I would say the Crickett is just a small firearm, while the Daisy is more of a small example of what not to do.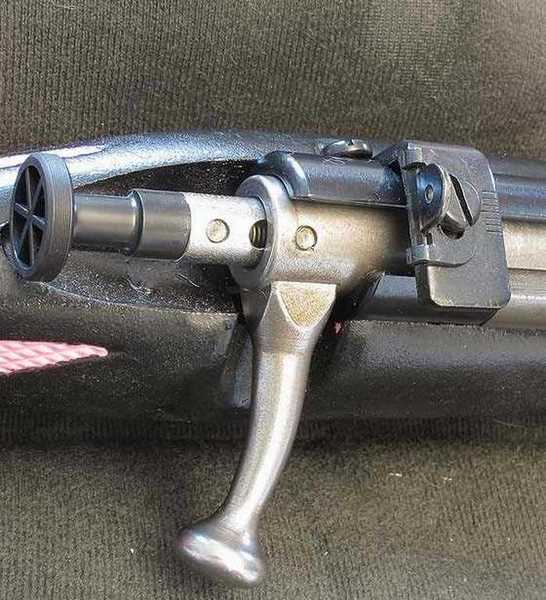 In sharp contrast to the Daisy, the Crickett bolt looks like a firearm bolt and the receiver is all steel. They even put a peep sight at the rear! Didn't cost that much, but this is what designers can do.
I've also shot the Crickett, and it's 100 percent reliable. While it's no tackdriver, it will put its shots into 1.5 inches at 25 yards — and sometimes the groups are even smaller. In my estimation, the Crickett is a small, inexpensive firearm, while the Daisy model 8 is a cheap rimfire wannabe. Having said all that — who have I insulted? I sure hope your favorite .22 is not a Daisy model 8!
So what?
The point of this look is to see what an airgun manufacturer will turn out when they make a firearm. But maybe this Daisy model isn't a fair representation because Daisy built this for their customer. Let's look at another rimfire rifle that was made by a different airgun manufacturer, and this time they made it for themselves.
The Falke single-shot
Yes — that Falke. The same people who made the super-rare and interesting Falke model 80 and 90 underlevers and also the Falke models 10, 20, 30, 40, 50, 60, and 70 breakbarrel spring rifles. We looked at a Falke model 70.

Compared to the Daisy model 8 (top), the Falke single-shot is a full-sized rifle.
This rifle is a confusing firearm. On the one hand, the walnut stock is shaped nicely and hand checkered, the metal polish and bluing is even and deep, and the action is cheap and stiff to operate. What should be the simplest of all actions — a single-shot — is machined very well, yet it functions like it's been rusting in the corner for decades.
Falke was one of those "anything for a buck" companies that arose in Germany after the war. I'm sure they would have disagreed with that assessment, but the fact is they had no plan of succession; and when the founder got sick in the late '50s, the company folded.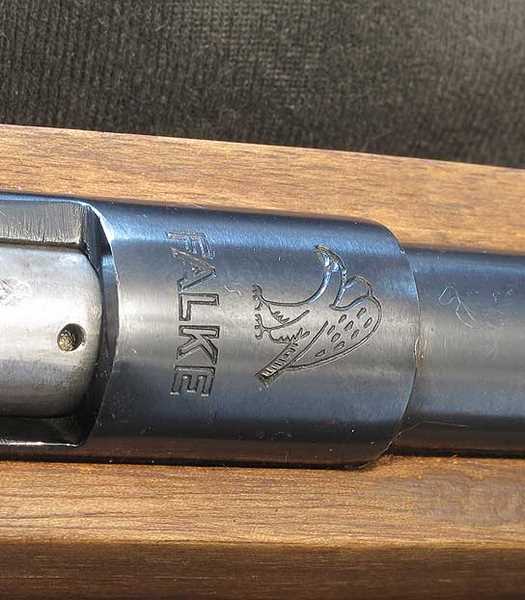 Where have we seen this logo before?
They made at least 2 firearms. This bolt-action rifle is one, and I've also seen a stylized Remington double derringer in .22 rimfire.
I bought this rifle because it's a Falke and because it looked so nice on the internet. When I received it, I found it to be even nicer than the photos portrayed. But the action is stiff and clunky! I never would have bought it if I'd tried it first. However, I believe I can correct most of this with some careful gunsmithing.
The rifle is full-sized at 40-3/4 inches overall, with a 23-inch barrel. The pull length is 13-1/2 inches. The barrel is nicely rifled, and the gun appears to be in 90 percent condition. The wood has been sanded, which is the only detractor from the overall appearance.
The front sight is a common post with a bead, but the rear sight has the same quirky elevation adjustment that we saw on the Falke model 70 air rifle! With luck, this rifle will shoot.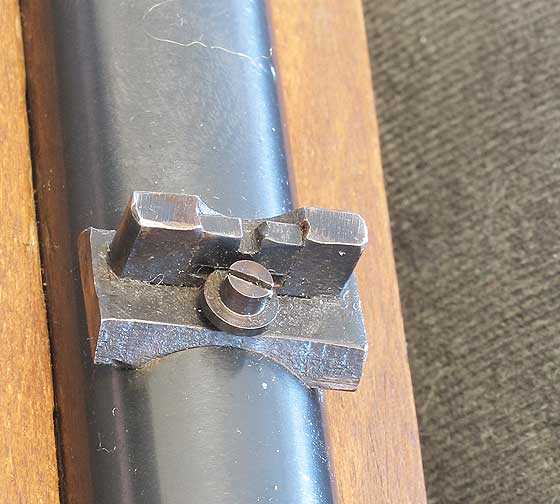 We saw a rear sight just like this on the Falke model 70 air rifle.
This is a bolt-action single-shot. It has a separate cocking piece that will cock the rifle by itself (without the bolt being operated), but right now the sear is under too much tension and the cocking piece cannot be pulled back all the way. The bolt cocks the action on closing.
Again — so what?
I've shown you 2 firearms that were made by 2 different airgun makers. My plan is to shoot both of them and come back to you with the results in the next report. I'll do that as the rifles stand right now, but the Daisy really does need a stronger firing pin spring, and the Falke needs its action smoothed a lot.
Why am I doing this? Perhaps, to show the contrast of firearms and airguns made by the same maker. I think we have that in both these cases.
I know several of you readers probably own Daisy Legacy rimfire rifles, and I would like to hear what you think of them. If any of you own a Daisy model 8, you have both my apologies and my sympathy. And if anyone ownes a Falke firearm, I sure would like to hear about it!
by Tom Gaylord, a.k.a. B.B. Pelletier
Today I want to talk about this blog — what it is and how it operates. Two days ago, several readers got into a flaming war over politics. Each party wanted to have the last word, so the comments kept flying back and forth, getting pettier and pettier as they went. When I booted my computer Wednesday morning, I had 177 emails to read and deal with.
This blog is one of the most popular blogs that deals with the shooting sports. We have many tens of thousands of regular readers. Most of the time, this is a pretty fun place to be. But not yesterday.
Yesterday, a few people ruined the experience for everyone. They got into a political argument, and no party was willing to shut up. Back and forth, they kept zinging their comments, ruining the experience for everyone else.
I don't mind a political statement now and then. I make them myself. But no one is going to hijack this blog just so they can get in the last word. That's what the forums are for — or at least that's how people who are on them behave. Not here.
This blog is successful because it sticks to the topics of the shooting sports. Mostly, it's about airguns, but from time to time it does stray into other areas. I find the mix of topics interesting and stimulating; and from the success of the blog over the decade it's been running, I think that sentiment is shared by a lot of readers.
We were established to educate people about airguns and the shooting sports. Some people think that if you talk about anything other than a pellet or BB gun you've gone off-topic, but then when I use common shooting terms like flyer or double-action in my reports, they start asking all kinds of questions. So, I've expanded my brief to cover the entire range of the shooting sports — just to complete the education process. If you don't understand what rifling does, then how can you appreciate the way a diabolo pellet works?
Spams
Because we're very popular, we get hit with spams. These are commercial messages that have nothing to do with the topics of the blog but provide embedded links to other websites. Since this blog ranks high in the search engines, the spammers are hoping they'll be able to ride our coattails and get some ranking for their sites. Edith and I remove the spams all day long, and every morning we have to clear out a ton of them. We get 30-70 spam messages every 24-hour period, and the rate is increasing. As the blog succeeds, the spams increase.
I don't mind mucking out the blog to get rid of these parasites, but I'm not going to let regular readers spin out of control and muddy the waters at the same time. If you're a reader, you're expected to treat this place like you would the living room of your own home. This isn't an overpass where you can spray paint your frustrations. This is a place where people meet to discuss in a civil way things that interest them. If you can't do that, go somewhere else to vent.
Family blog
This blog gets read by school-aged children. Parents email Edith and me, thanking us for providing an internet site where they can go with their kids to read about the shooting sports without having to worry about foul language. We want that to continue. That includes omitting the foul-language abbreviations that are universally recognized by young people.
Longtime readers know this and abide by it without saying anything. But, sometimes, newer readers have to be advised to clean up their language. Well, now I'm addressing everyone. Foul language will not be tolerated on this blog. That goes for slang, innuendo, abbreviations and acronyms. If you think it's bad, I probably do, too.
Off-topic comments
We allow comments to go off-topic on this blog. A couple years ago, we had an encounter with several readers who had more rigid views of what should be allowed here. We told them our policy, and they elected not to comment on the blog anymore. Several of them still read regularly, but they no longer post under the handles they used during that encounter.
Sales and self-promotion
This blog belongs to Pyramyd Air. They pay for the servers that host it, and they pay me to write it. Yes — I am paid by Pyramyd Air! I'm not their employee, but they do pay me for what I do. At the same time, they make no attempt to censor me, nor to tell me what to write. From time to time, they do suggest topics that will help their sales people get certain messages across, but these are educational — not sales-oriented! You readers suggest 10 times as many topics as they do.
Because the blog belongs to Pyramyd Air, we do not allow links to competing businesses. That may confuse some readers because we will link to some commercial places — as long as they are not in direct competition with Pyramyd Air. Also, if there's a product that Pyramyd Air cannot carry for various business reasons, I won't review that item on the blog. That does limit the range of airguns I can review, but Pyramyd Air is the largest airgun dealer in the United States, so it isn't devastating.
A couple of our readers are promoting themselves right now, but it hasn't gotten out of hand yet, so I've left it alone. They've been subtle about it to this point. If they cross the line, I will take action.
Flaming
We will not allow one reader to verbally attack another. Edith has removed all comments on the report about the EscapeUL rifle that were argumentative. We can't just take out the ones that are bad and leave the others — that only confuses things. And it isn't fair to those who are interested in the EscapeUL to have to wade through a pile of muck to read comments about this rifle.
If we have a problem with a person who just can't stop flaming (insulting or verbally attacking) others, we'll ban that person from the blog. That's a ban on commenting only, not on reading.
This was overdue
I'd planned a different blog for today, but it was put on hold so I could address this issue. We have so many new readers that this was long overdue. I held off because people were behaving themselves, for the most part. But a week ago, we picked up a new reader who went off the deep end almost from the beginning. Then, several other new readers joined him; and yesterday evening it culminated in a hostile food-fight exchange of comments that we had to remove.
So, here are the guidelines. When someone starts off on a personal rant, don't answer him back. If he persists, we'll take care of it. When you answer someone, you help create a thread that can get indexed by the search engines if we leave it up long enough. When that happens, this blog starts attracting the bad people. You don't want that and neither do we.
Edith cleans house
My wife, Edith, is the blog clean-up gal. When the blog gets trashed with comments that don't belong, she has to stop her other duties for Pyramyd Air and tend to the blog. She had to delete 76 comments in yesterday's blog. She had to read all the comments to determine which ones had to be pulled. In some cases, the content of a comment or thread had pertinent/useful airgun info in addition to the bad stuff. In those cases, she threw out the baby with the bathwater and deleted the whole thing. So, if you said something useful or helpful about airguns and it's now gone, that's why. Feel free to repost that info if you like.
Tomorrow
We'll return to regular subjects tomorrow. Just to get your juices flowing, think about firearm companies like Smith & Wesson and Webley that have also made airguns. I don't mean companies that have put their names on airguns like Colt and Dan Wesson — I mean companies that actually produced airguns.
Then, think of the airgun companies that have also made firearms. If I said Weihrauch, what kind of a company are they? Are they an airgun company, or are they a firearm company? We know they make high-quality airguns, but they also make and have made high-quality firearms. But Weihrauch has also made some of the cheapest so-called Saturday night specials that were ever produced! I'm referring to their Arminius line of zinc-diecast double-action revolvers.
When an airgun company makes a firearm, how do they make it? Good? Bad? Indifferent? Be prepared to discuss that.
by Tom Gaylord, a.k.a. B.B. Pelletier

The Lightweight Disco Double in its new stock looks striking!
Today, we'll look at the Disco Double out at 50 yards. I used the best pellets from the 25-yard test to speed up this test. No sense going over the same ground twice.
The first pellet I tried was the JSB Exact Jumbo RS. It did the best at 25 yards, plus it's so light, at 13.43 grains, that it gives the rifle a little extra zing.
The rifle arrived at the range filled to 2,000 psi, so I went right to work. I clicked the scope up 5 clicks in elevation to account for the greater distance and began shooting. The day was surprisingly cold — about 28 degrees F. My trigger finger had very little feeling, yet I was able to feel when stage 2 engaged on the trigger every time. That's important on this rifle because the trigger is very light on stage 2.
There was no wind on the range, which made this a perfect day for shooting a pellet rifle. The first 10 shots went into 1.558 inches between centers. That's not as small as many 50-yard groups you've seen me shoot, but let's keep testing.

This initial 10-shot, 50-yard group of JSB RS pellets measures 1.558 inches between centers. I'd hoped for something smaller.
Crosman Premiers
Next up were .22-caliber Crosman Premiers. The first 3 shots went into 2.269-inches and I stopped shooting. These pellets weren't going to work at 50 yards.
JSB Exact, 15.89 grains
Next up were the heavier 15.89-grain JSB Exact Jumbos that looked promising at 25 yards. They produced a 10-shot group that measured 1.778 inches between centers. It was a little larger than the JSB RS pellet group at 50 yards, just as it was a 25 yards. So far, no prize.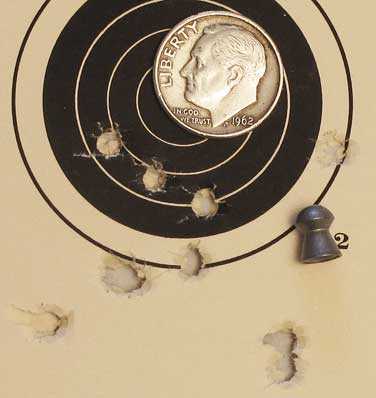 This 10-shot, 50-yard group of JSB Exact pellets measures 1.778 inches between centers.
Beeman Kodiak
The last pellet I tried was the Beeman Kodiak, which just did fair at 25 yards. Here at 50 yards, they put 10 into 2.458 inches. That's hardly accurate! I almost stopped shooting this group when I saw how the shots opened up; but I thought that after doing that with the Premiers, I ought to let one go the distance just to show you what it looked like.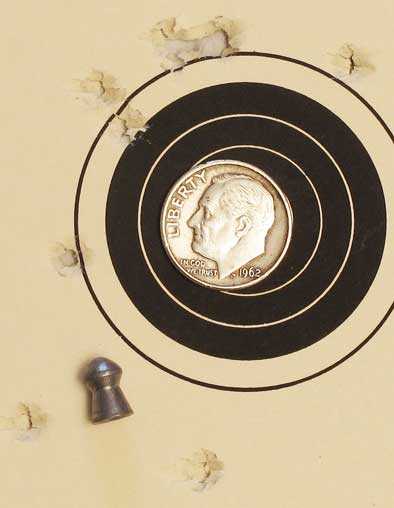 Ten Beeman Kodiak pellets went into 2.458 inches at 50 yards. Not a pellet for this rifle.
Back to the JSB Exact RS
I wasn't finished with the testing just yet. The rifle was topped off at 2,000 psi again, and I went back to the pellet that was giving me the best results — the JSB Exact RS. The next group of 10 was the tightest of the session, at 1.318 inches between centers. I'd adjusted the scope for the Kodiaks, so this one landed below the bull.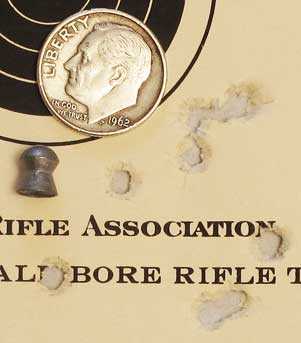 This best 10-shot group of JSB Exact RS pellets measures 1.3418 inches between centers.
I then shot 2 more 10-shot groups with the RS pellet. The first measured 1.522 inches, and the second measured 1.543 inches. When I examined the target after bringing it back from downrange, I saw a pattern. The RS pellet wasn't giving tight groups, but they were very consistent. Out of 4 groups, the total variance was 0.24 inches — from 1.3 to 1.5 and change. That's pretty consistent.
What do we know?
We know this Disco Double can put 10 pellets into 0.365 inches at 25 yards. And with the same pellet, we know that it opens up to about 1.5 inches when the distance is doubled. We know it was warm when the 25-yard target was shot and cold when the 50-yard targets were shot.
And that's about the only difference — other than I did remove the TKO silencer after shooting 25 yards. I think what I will do next is the following.
1. Clean the barrel.
2. Shoot 5 groups at 25 yards with the JSB Exact RS pellet.
3. Clean the barrel again.
4. Shoot another 5 targets at 50 yards.
One last feature I want to show you is the special optional barrel band Lloyd makes for the Disco Double. It has a Picatinny rail on the bottom, allowing you to attach a bipod at just the right spot with very little extra weight added to the gun.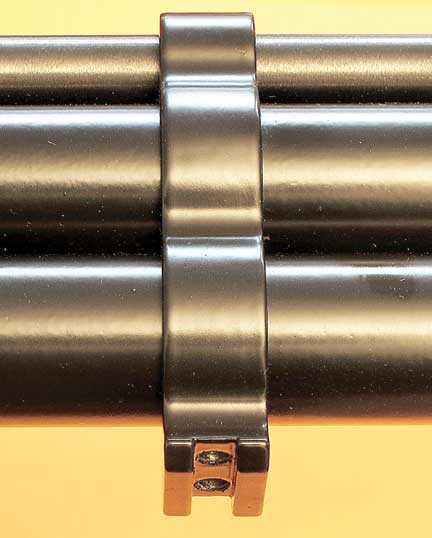 This optional barrel band has a Picatinny rail on the bottom to accept a bipod.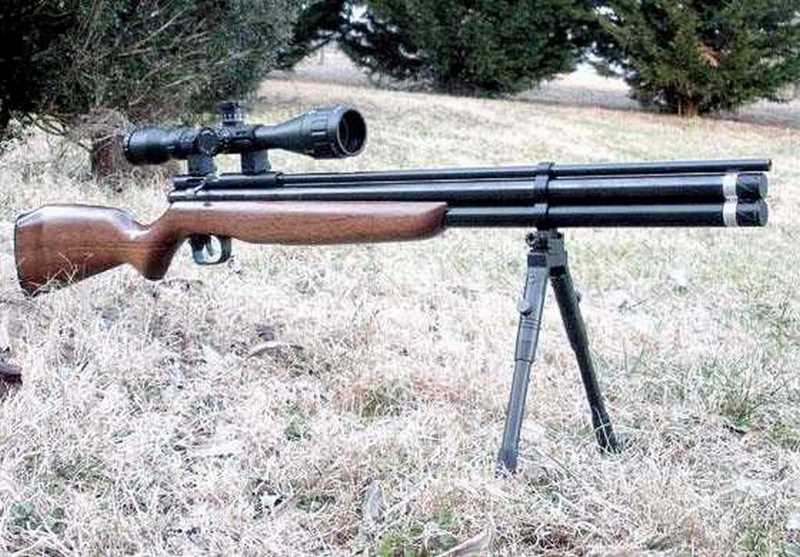 The Disco Double on its bipod. Photo provided by Lloyd Sikes.
Summary
When I originally tested the .22-caliber Benjamin Discovery rifle in 2007, it was a pre-production prototype that was made out of a Crosman 2260. I shot several approximately half-inch groups at 50 yards with Crosman Premier pellets, but they were 5-shot groups. Now, I'm shooting 10-shots groups that I know are going to be larger. I didn't use the JSB Exact RS pellet because it didn't exist back then.
I believe this lightweight Disco Double has more accuracy than we've seen to this point. I think it must be capable of shooting at least one 1-inch group out of 5 at 50 yards. So, the test continues.
by Tom Gaylord, a.k.a. B.B. Pelletier
AirForce Escape: Part 1
AirForce Escape: Part 2
AirForce Escape: Part 3
I'm testing 3 AirForce guns together — the Escape, the EscapeUL and the EscapeSS. All 3 are based on the same powerplant that is derived from the TalonP pistol. That's why I am grouping them together like this. But each rifle has its own unique characteristics, too. And this is our look at the EscapeUL, which is the ultralight version of the rifle. It's the lightest of the 3 air rifles and comes in either .22 or .25 caliber. I'm testing a .25.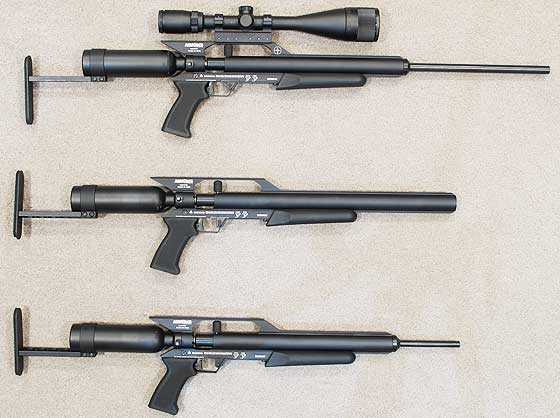 Escape on top, then Escape SS and finally Escape Ultralight on the bottom.
As you will remember, the Escape is a collaboration between AirForce Airguns and Ton Jones, the star of television's Auction Hunters. Ton had the requirement for a survival airgun and came up with the idea of putting a longer barrel on the TalonP pistol action, and AirForce did the engineering and development that turned it into a production rifle.
What does survival mean?
Survival is a word that's charged with emotion, so the definition depends on the person who is using it. For many people, the term connotes a human wave attack with bullets and missiles flying everywhere — a last stand at the Alamo. But is that what survival really means? If you're in the Alamo at that moment, I guess you would agree with that definition, but most of us will thankfully never be in that situation. But every year, millions of people are thrust into real survival situations.
Hurricane Sandy, a force 5 tornado, a blizzard that won't stop or just having your truck break down 20 miles off Old Lincoln Highway outside Ely, Nevada, in the late summertime can all qualify as survival situations. Maybe all you have to do is hold out for 2 days before someone comes looking for you. You were exploring an old ghost town, and now they want to add you to the town rolls!
You don't need a track-mounted machine gun or a Patriot missile launcher, but it sure would be nice to know you could defend yourself if a wild dog showed up! Or, if you had some way of popping one of those elusive prairie chickens that run along the ground and seem to stay just outside throwing distance. So, in your truck, along with the extra water, gasoline, MREs and sleeping bag (with cot, for this is the desert) you have a small canvas bag. Inside is a scoped EscapeUL, a hand pump and a tin of pellets. The rifle has been sighted-in, but you check it with one shot at an MRE wrapper stuck on a creosote bush 40 yards away — just to be sure. Then lay the rifle on top of the bag on the ground and put 10 pump strokes back in — 7 to get the air line up to pressure and 3 for the shot you just fired — and everything is good to go. The bag weighs 12 lbs., total, and has straps for shoulder carry. That's what we mean by a survival airgun.
We took a good look at the Escape rifle for both power and accuracy and found that it can be plenty accurate when you use the right combination of pellets and pressures. Ton has pronounced it good to go, and his logo is on every Escape made.
The EscapeUL, however, is an AirForce idea. Ton knows about it and did test it, but it doesn't bear his logo. It has slightly different features for a person with slightly different needs.
The EscapeUL is designed to remove all unnecessary weight from the rifle, while retaining as much of the power as possible. It has an 18-inch barrel instead of the Escape's 24-inch barrel, so some velocity is lost. We'll see how much in a moment.
The barrel isn't just shorter, it is also thinner. Instead of a nominal 16mm diameter for the Escape barrel, the UL barrel is just 12mm. That diameter is only nominal. Some comes off when the barrel is ground before bluing. The barrel on my test rifle measures 0.477 inches across, which translates to 12.1158mm.
The net weight of the EscapeUL is 4.25 lbs., making it several pounds less than most precharged rifles and even less than some of the lightest ones.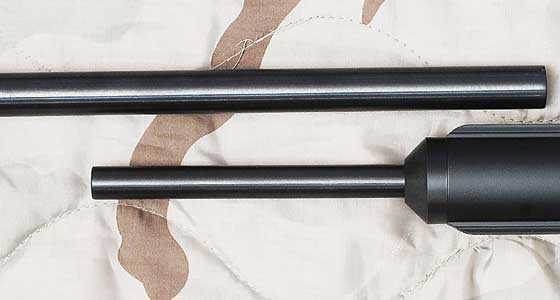 The EscapeUL barrel (bottom) is thinner than the Escape barrel, saving weight.
Of course, we all want to know what a thinner barrel means as far as accuracy goes. That test will be next. But now, let's take a look at power.
The EscapeUL shares the same 213cc Spin-Loc air reservoir as the Escape and TalonP pistol, so the number of shots per fill is going to be about the same. Physics being what they are, we already know what to expect. The powerplant is also the same. The same valve in the tank and same striker weight and spring tension will give similar performance. It's the 18-inch barrel that makes the difference.
With the heaviest .25-caliber pellet, which is the Eun Jin pointed pellet that weighs 43.2 grains, the maximum velocity in the 18-inch barrel is about 910 f.p.s. The 24-inch Escape barrel gave a maximum of 1010 f.p.s. with the same pellet, so the UL barrel loses about 100 f.p.s. In term of muzzle energy, that's 79.46 foot-pounds on the first shot, compared to the 97.88 foot-pounds for the Escape.
As with the Escape, the velocity drops with each succeeding shot. By shot 5, the velocity will be down to 855 f.p.s. That carries an energy of 70.14 foot-pounds.
In .22 caliber, the energies are all lower because the pellets are lighter. With a 28.4-grain Eun Jin dome the maximum velocity is 980 f.p.s. on the first shot. That's 60.58 foot-pounds of muzzle energy. By shot 5, the pellet leaves the muzzle at 900 f.p.s. and generates 51.09 foot-pounds.
You can discuss their performance in several different ways; but to my way of thinking, the Escape rifles are best in .25 caliber. I'm glad that's the way I will be testing this one.

The AirForce EscapeUL is a lightweight PCP with the Escape powerplant. The shorter slender barrel reduces the weight.
The trigger, adjustable stock, automatic safety and scope mounts are identical to those found on the Escape. It's plenty for a scope, scope level, tactical flashlight and laser. There's even enough for a coffee grinder, if you can find one that will fit!
Some thoughts
I've already been asked if the Escape rifles will run on CO2. They should, but it will need to be tested to say for sure. Since they were not designed to operate on CO2, I'll have to find a way of filling the reservoir. No CO2 coupling I know of will mate with an air coupling, so it may take me some time to work it out.
I've also been asked on the back channel how quiet these airguns can be. Quite frankly, I don't know. Given all the technology in the world, they can probably be made quieter than a Marauder; but once I answer that, the next question will be if all that technology can be reduced in size to fit in a pocket! We criticize the U.S. Air Force for asking that everything be made from unobtainium (strongest metal known whose forms weigh nothing and add lift to airframes), yet we do the same thing when it comes to powerful airguns. "Great," we say, "but can they also be quiet and get lots of shots, too?"
There's survival and then there's daydreaming. We're talking survival here.
by Tom Gaylord, a.k.a. B.B. Pelletier

The $100 PCP is built on a Crosman 2100B chassis.
This test was very interesting! It began last week at my outdoor rifle range. Blog reader GunFun1 asked me to try shooting steel BBs in this gun because it was originally built to handle them (when it was in its Crosman 2100B form). I didn't want to do it because this rifle launches the first couple shots at over 900 f.p.s., and steel BBs rebound like crazy (You'll shoot your eye out), but I did relent. Last week, I took this rifle to my outdoor range and stuck a 12-inch Shoot-N-C target on the plywood target backer. I then paced off 10 meters and fired 10 BBs at this target.
I thought the BBs would probably miss the target altogether. I said as much to GunFun1 in my comments a few weeks ago. But they didn't!
I was wrong about this. Shooting offhand with open sights, I put 10 Daisy Premium Grade steel BBs into 1.56 inches. It was actually 11 BBs. I must have miscounted during shooting. I was astounded! This isn't just good — it's great! You don't shoot BB guns at 10 meters when you're shooting groups!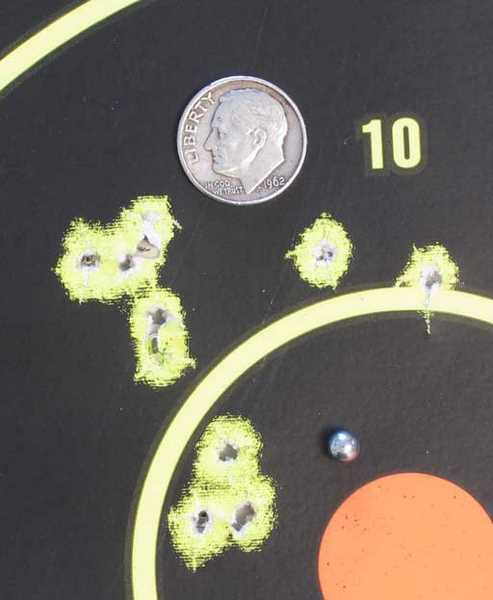 There are actually 11 Daisy BBs in this 1.56-inch group. Shot offhand with open sights at 10 meters.
Incidentally, all 10 BBs apparently went through the plywood target backer. Of course, there are other bullet holes there, so the wood isn't always present or at its thickest; still, it shows those BBs are moving!
That got me wondering just how accurate this rifle could be. I decided to shoot from 25 yards with open sights, only. I'll come back and shoot with an optical sight of some kind, but this test is just open sights.
I filled the gun to 2,000 psi for every 10 shots, including for the BBs shown above. After 10 shots, the gun's pressure has dropped to 1,000 psi.
Crosman Premier lite
The first group of 10 shots was shot with Crosman Premier lites. Based on the 10-meter results for the last test, and also from where the BBs went, I adjusted the rear sight to the right just a little. After the first shot, I looked through the spotting scope to affirm it hit the target. It did, was high above the bullseye and fairly well-centered left and right. So, I left the sights where they were and fired a second shot. When I looked through the spotting scope, I saw it had gone through the same hole as the first! Wow! That was starting out well!
The first 4 shots all went into the same hole. Then shot 5 went higher for some reason.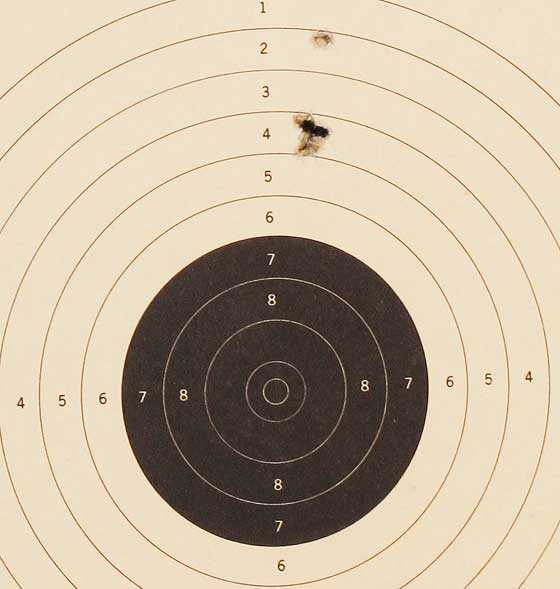 The first 4 shots are in 0.179 inches. Shot 5 opened it up to 0.838 inches.
After taking the picture of the first 5 shots, I shot the remaining 5 shots. That was informative because all the shots spread out to the left. Having the first 5 shots on record allowed me to see that the second 5 were the ones that actually spread out. The 10-shot group measures 1.358 inches between centers.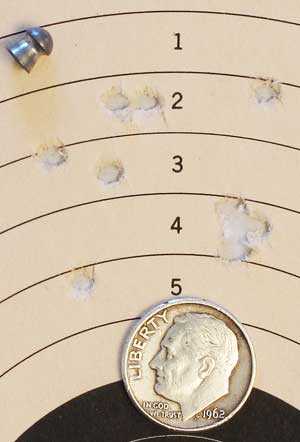 Ten Crosman Premier lites went into 1.358 inches at 25 yards. That's rested and using open sights. See how the last 5 went to the left and opened up?
RWS Hobbys
Next up were RWS Hobby pellets. They did quite well at 10 meters, but 25 yards is about the maximum distance at which wadcutter pellets hold their accuracy.
I adjusted the rear sight down one notch before shooting this group. Once more, I photographed the target after 5 shots.

The first 5 RWS Hobbys looked pretty good. Shot 1 was a 10!

So Hobbys held together fairly well at 25 yards. Ten went into a group measuring 1.144 inches between centers.
Air Arms Falcons
The last pellet I tested was the Air Arms Falcon pellet. This time, the first 5 pellets didn't seem to do that well. And when we see the final 10-shot group, it isn't that much larger.

The first 5 Falcon pellets didn't do so well.

This is one of those rare instances where 10 shots are not much larger than 5. Ten Air Arms Falcons went into 1.912 inches.
Conclusions so far
This experiment is turning out much better than I had hoped. Not only have we demonstrated that it's possible to make a precharged pneumatic rifle that can retail for under $100, we're now showing that it can really perform! Of course, the production gun will get many more shots on a fill than the 10 I'm getting, but I do think the maximum fill pressure should be held to 2,000 psi. That will make it easier to build an affordable hand pump, which Dennis Quackenbush is thinking about right now.
The discharge noise of this rifle is quite loud. I was going to recommend not putting a shroud on the gun, but I'm going to change my mind on that point. The customers for this gun will be suburban shooters who need a quieter air rifle, so some sound dampening is necessary.
The trigger on the rifle is heavy, and I would leave it the way it is. I would also leave the bolt-action exactly the way it is on the 2100B. The same goes for the sights. These are refinements people can pay for on higher-priced PCPs. We want to hold the cost of this gun to less than $100 retail.
I do plan on returning to test this rifle at least one more time with an optical sight. That will show the maximum accuracy potential, although I believe we've already seen a good indication of it in this test.
The $100 PCP will never replace the higher-priced PCPs that are already selling. It isn't supposed to. It's supposed to provide that entry-level step for those who are curious about precharged airguns and don't want to spend a fortune to find out. I think it's a very feasible goal and, quite possibly, a profitable one, as well.