by Tom Gaylord, a.k.a. B.B. Pelletier
Today's report is a guest blog from reader RifledDNA, a.k.a Stephen Larson. He wants to give us his impressions of a new Benjamin NP Limited Edition he recently received.
If you'd like to write a guest post for this blog, please email me. 
Over to you, RifledDNA!
Good-day everybody. Today, we're going to take a look at the Benjamin NP Limited Edition. These are my impressions of this airgun as I've unboxed it. Others may have different results, as no two airguns are the same.
To start, let's look at what the NP Limited Edition is. This is a .22-caliber breakbarrel air rifle powered by Crosman's Nitro Piston, hence the NP designation. The Nitro Piston is a nitrogen gas-filled piston that has many advantages over the traditional coiled steel spring powerplant. First, a gas piston is less affected by temperature. The nitrogen gas continues to compress and expand consistently even when the temperature drops. A steel spring is coated with lubricants that stiffen and do not want to move as fast in cold temperatures.
Another advantage of the Nitro Piston is less wear and tear. The gas piston has straight forward and back motion, so there's no torque on parts. A coiled steel mainspring doesn't just expand when it decompresses — it also twists because it's coiled. That twisting is transmitted to the parts like the piston and spring guide, causing them to bear against other parts as they move.
Finally, the gas in the piston always has the same amount of mass. That means the gas will have the same expansion characteristics, providing long-lasting consistency.
The consistency of a gas piston is shown by the 10-for-$10 test I ordered with the gun. With 11.9-grain RWS Hobby pellets, the velocities were as follows:
Shot   f.p.s.
1       816
2      820
3      817
4      799
5      808
6      799
7      802
8      804
9      797
10    798
After the first three shots, which was burning off the oil, this gun has very tight velocities right out of the box. If we exclude the first three, we get a high of 808, a low of 797, a spread of 11 f.p.s. and a standard deviation of only 5.16. I think that's pretty impressive!
Another thing that impresses me is the cocking effort. It is SMOOTH! I don't have a bathroom scale, but I would estimate it's somewhere close to 28 lbs. My wife can cock it without much of a struggle! That's not something commonly found in a magnum .22 springer.
The downside
Now that we've talked about the pros of this air rifle, lets look at the things that weren't so impressive. When I bought it, the gun cost $179.99. That's extremely affordable for a gun of this quality; but this great gun has to rest somewhere, and that's in the stock. The stock used for this air rifle is the same synthetic stock that carries the Crosman Fury and Phantom. It's an extremely lightweight stock that has a modified Monte Carlo cheekpiece and a long, curved pistol grip. This isn't the right stock for the NP Limited Edition.
The Benjamin NP Limited Edition is really just the Benjamin NPS in a cheaper stock. The problem is that the NPS stock has a very pronounced pistol grip, and the metal parts of the gun are configured for it.
With the Fury's stock, the trigger is noticeably too far forward. The curved pistol grip is also fat; and with the trigger further forward, you are literally reaching for the trigger, which is also boxy and fat. You cannot get a solid purchase on the trigger. All you get is the side of the square trigger blade. So, I decided to do some trigger modification.
Do trigger work at your own risk! That being said, the first thing I did to modify anything on this gun was to shape and thin the trigger blade on a grinding wheel. With that done, and my elbow up above my ear, I can finally get a solid wrap on it.

Here is the NP Limited Edition laying on top of my Ruger Blackhawk Elite. Notice the trigger placement when the grips are lined up.
In a nutshell, the NP Limited Edition is a great , but the price you pay — or rather the money you save — is felt in the stock. I contacted Crosman about options for different stock. The gun is worth finding a new stock that compliments it better.
I don't have the space to do an accuracy test, but the gun is accurate, powerful, quiet and smooth. Overall, I'm satisfied. Based on the reviews of this gun, I knew the money I was saving was in the stock. I'll look into a custom wood stock. It's really worth it.
by Tom Gaylord, a.k.a. B.B. Pelletier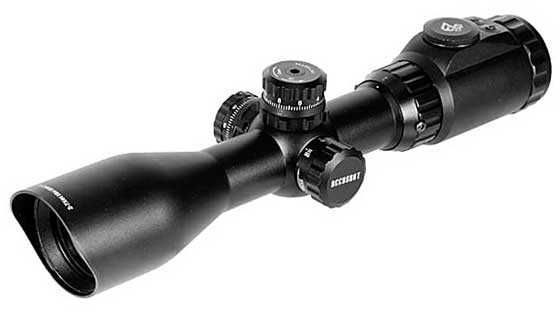 Leapers UTG Accushot 2-7X44 Scout Scope is a remarkable sight!
I'm on the road today to Ohio to Pyramyd Air and the Flag City Toys That Shoot airgun show this coming Saturday. If you plan to be there, please stop by my table and introduce yourself.
And while I'm gone on this huge road trip (there's more driving ahead before I return home), I would ask the veteran readers to help answer the questions posed by the newer readers. I will only have about 3 hours each evening to exercise, answer emails and write the next blog — and I usually get 150-200 emails a day.
Today, I'm testing the UTG 2-7X44 Scout SWAT scope for accuracy. It's mounted on the Crosman MK-177 multi-pump pneumatic that I tested for you awhile back. So, I have the data on that rifle using open sights.
I selected the 3 best pellets from that first test for today's test. The distance was 10 meters because the groups I got before were not that small. Had they been small enough, I might have tested the rifle at 25 yards.
RWS Hobbys
The first pellet I tried was the RWS Hobby wadcutter. In the previous test at 10 meters with open sights, 10 Hobbys gave me a group that measured 0.858 inches. With the scope mounted, I got a group that measured 0.928 inches at the same 10 meters. So, no improvement.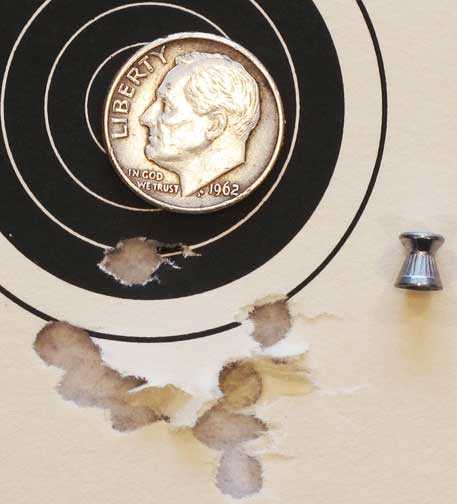 Ten Hobbys fared no better with a scope than with open sights at 10 meters. In fact, at 0.928 inches between centers, this group is larger than the one shot with open sights. But, the scope was much easier to use.
I found the scope's thin reticle quite easy to pick up and hold on target. The optics seem clear and bright, although my test conditions were perfect. I would like to test this scope in the field under variable lighting.
H&N Finale Match Pistol
Next, I tested 10 H&N Finale Match Pistol pellets. In the last test, they gave me a 1.299-inch 10-shot group, but 9 of those went into just 0.399 inches. I suspected at the time that the one pellet was somehow off, so I decided to try this pellet again.
This time, using the scope, 10 pellets went into 0.548 inches. That's better than the last group and not much larger than the 9 pellets that grouped so well on the other test. Up to this point in the test, the scope hasn't improved my results — but it has been much easier to use! My shooting went much faster because I wasn't guessing where the top of the front sight was.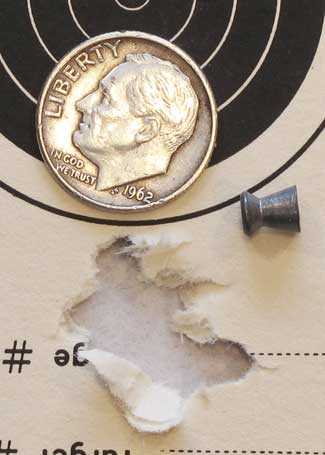 Yes, these 10 H&N Finale Match pistol pellets are in a smaller group than before, at just 0.548 inches. But I feel the one stray shot in the open-sight test may have been a damaged pellet.
After this group, I adjusted the scope to center the group in the bullseye. It's easy enough to do, and the locking ring means there's no fear of anyone messing up the settings.
Air Arms Falcons
The final pellet I tried was the Air Arms Falcon dome — a lightweight dome that has proven very accurate in a number of different airguns. This time, the results were better. Ten Falcons went into 0.839 inches in the first test with open sights and just 0.425 inches in this test. Nine of the 10 pellets went into just 0.154 inches — rivaling a 10-meter rifle!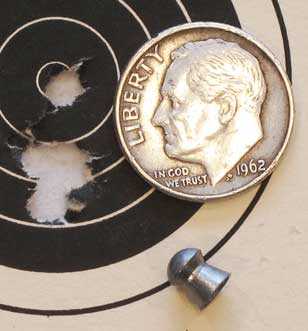 Believe it or not, there are 9 Falcon pellets in the larger hole! The one pellet strayed up a little (shot 7), opened this group to 0.425 inches.
Impressions of the scope thus far
I'm thoroughly impressed with this scout scope. It's clear, sharp and easy to use. I want to test it on something else — maybe a firearm. This is a scope I can recommend if you're looking for a good scope.
The benefit isn't better groups, but a clearer picture of the target. On a rifle with real precision, that can mean something!
I do plan on another test with this rifle ay 25 yards. The Falcon pellets have earned their way into that test, and perhaps some similar premium pellets, as well.
by Tom Gaylord, a.k.a. B.B. Pelletier
A couple weeks ago we had several comments that said there are people who believe all pellets are the same, and it doesn't matter what you shoot in your airgun. Then others chimed in and said the same is true for .22 rimfire ammo. Well, I started a test of .22 rimfire ammo last week and hope to finish it soon, but today I thought I'd start exploring the pellet side of the question.
Today was supposed to be a first look at the accuracy of the BSA Supersport SE; but for the first time that I can remember, I couldn't get the open sights on target at 25 yards! I didn't want to fool with the rifle for a long time, so I set it aside and picked up my super-accurate Beeman R8 Tyrolean. That's a rifle I know I can count on.
My original plan was to buy .177 pellets from wally world and pit them against the best premium pellets I have; but since this was a last-minute test, I just selected some pellets from my supplies. I made this a Part 1 because I still intend doing what was planned.
Today, we'll look at 4 pellets. Two are what I consider premium, though one of them is pointed and I usually don't shoot pointed pellets for accuracy. That should be interesting.
The other 2 pellets are ones I actually bought at a discount store some time ago. They're representative of what's out there right now. One's a wadcutter; but since I'm shooting indoors at 25 yards, I felt it might still do its best. The other is a pointed pellet that Crosman made for Remington several years ago. These 2 pellets are the ones I believe will not do well.
I shot the rifle at 25 yards rested directly on a sandbag, which I've determined works well for this gun. In the entire test, there were no called fliers.
Air Arms Falcon
The first pellet I tested was the Falcon from Air Arms. It's made by JSB on dies owned by Air Arms, so there's no equivalent JSB pellet. There are several that look similar, but testing shows they perform differently. Ten Falcons went into a group that measures 0.667 inches between centers. You can see a single pellet hole to the right of the main group. That was the third shot. Nine of the 10 pellets went into 0.399 inches.

This group of 10 Air Arms Falcon pellets measures 0.667 inches between centers, but 9 of them are in 0.399 inches at 25 yards.
RWS Superpoints
I normally don't recommend pointed pellets for accuracy; but 25 yards isn't that far, and RWS pellets are certainly in the premium category. I didn't expect RWS Superpoints to do as well as the Falcons…and they didn't. But they were close! Ten made a group measuring 0.732 inches. Once again, one pellet was outside the main group, and 9 pellets went into 0.43 inches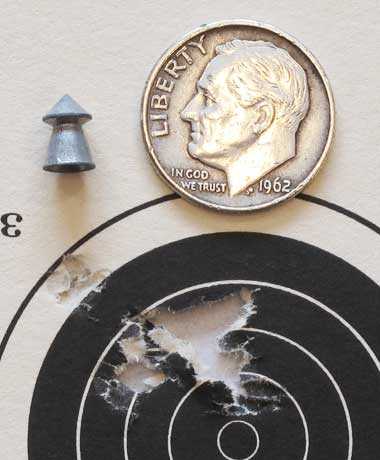 These 10 RWS Superpoint pellets surprised me by going into 0.732 inches. And 9 went into 0.43 inches.
Now, it was time to test the 2 pellets in which I didn't have any faith. I still tried as hard as possible to shoot the best group. Frankly, I'm surprised they did as well as they did!
Daisy Precision Max wadcutter
The next pellet was a older pellet I had that is similar to the Daisy Precision Max wadcutter – a flat-nosed target pellet. I didn't expect it to do much, but 10 of them went into a group measuring 0.804 inches. And, to be fair, 9 of them are in 0.591 inches. While that's not great for this particular rifle, it's a lot better than I expected.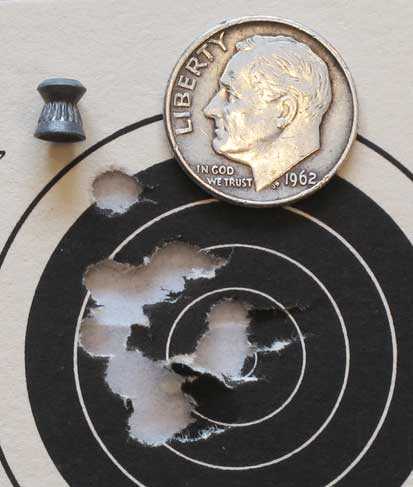 Ten Daisy Precision Max wadcutters made a larger group at 25 yards, but it wasn't as big as I expected. This group measures 0.804 inches, with 9 pellets in 0.591 inches.
Remington pointed pellets
The last pellet I tried was one Remington sold for many years, but one that Crosman made. So, it has a sort of premium heritage, though the discount store pellets that Crosman sells (which is where I got this tin) are not normally as good as the ones they make for their cardboard boxes — by which I mean Premiers, of course. I didn't know what to expect from these pellets. Ten went into 0.821 inches, which is better than I expected, and 8 of them went into a group that measures 0.402 inches. That's hard to argue with.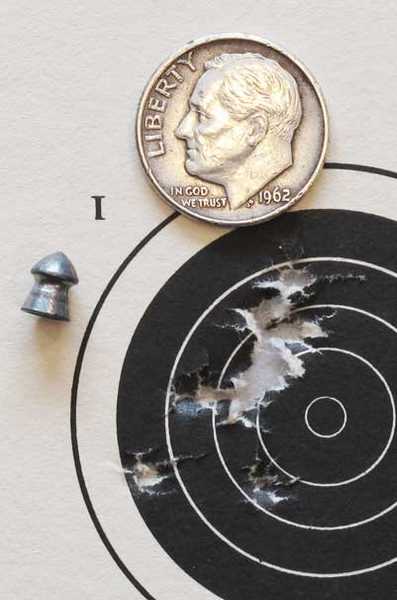 Ten Remington pointed pellets made this 0.821-inch group. Eight went into 0.402 inches.
The results?
This test worked as expected, but it wasn't as conclusive as I'd hoped it would be. Clearly, I need to look harder into these discount store pellets.
The Beeman R8 rifle is really an accurate platform that makes all these pellets look good. I think it's a great testbed, but I won't rule out trying the same test with a different rifle at a later date.
I could run the test at 50 yards, and the groups would all open up a lot — but that isn't what I'm testing. Most airgunners don't often shoot at 50 yards. I think 25 yards is more representative of what they do most of the time. I think I'll just stick to the original plan of buying some representative pellets at a discount store and pitting them against the best premium pellets I have.
by Tom Gaylord, a.k.a. B.B. Pelletier
Daisy 880: Part 1
Daisy 880: Part 2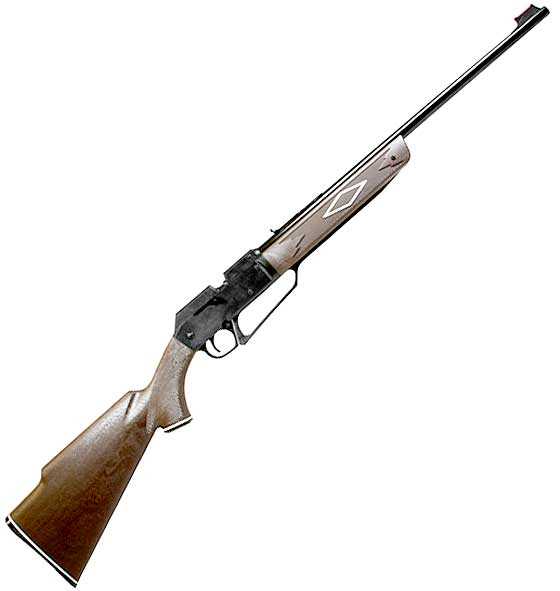 The Daisy 880 multi-pump is a classic.
I was going to shoot my old Daisy 880 at 10 meters with both pellets and BBs, and then again at 25 yards with just pellets, but I figured — what the heck? I have the brand new Daisy 880 on hand, and I've already stated that the accuracy might fall off at 25 yards with my old 880 because of the velocity variance — so why not switch over to the new rifle now?
So, I opened the box and took out the rifle. According to the box, this rifle is made in China, but I can't tell any difference between it and my older rifle, except the lettering on the metal and plastic parts has a slightly different font. Even the front sight is the identical red fiberoptic sight that's on my old 880.
Start the test
This time, I thought I would test the rifle exactly as it came from the box, so I didn't oil it. But I did open the manual and read how Daisy recommends oiling it, when it needs it. Because some of our blog readers have insisted that Daisy only recommends oiling with 30-weight non-detergent oil, I photographed the section in the owner's manual that comes with the new gun. It's shown below.


This is straight out of the manual that came with the new gun. Clearly, Daisy recommends a range of motor oil viscosities.
So, I started shooting without doing anything to the gun. I tested exactly the same way I tested my old 880 before — starting with 7.9-grain Crosman Premier domes.
Pumps Velocity
2           396
3           481
4           538
5           530,   473,   438 —   oil!  –  450,   457,   449
The plan was to shoot the rifle with Premier lites up to 10 pumps. But on pump five, something strange happened. The rifle did not shoot faster — in fact it slowed down. Thinking I'd made a mistake while counting the pump strokes, I did it again, and that shot was even slower than the last. I did it one more time, and once more the gun shot even slower. In fact, it shot slower than it had on just three pumps!
At this point, I assumed the rifle was suffering from a lack of oil on the pump head; and since 20-weight Crosman Pellgunoil is exactly in the middle of Daisy's recommended range of oil viscosities, I used it to oil the pump head. Then, I shot three more shots with five pump strokes each. As you can see, they did increase in velocity; but by the third shot, they were coming back down again.
I decided to start the test all over. The gun was not oiled, again.
Pumps Velocity
2          267
3          351
4          431
5          466
6          474
7          512
8          502,   474,   502
9          529
10        545
This time, the rifle's velocity tapered off at 8 pump strokes. I shot two more shots on 8 pumps and then completed the test so you could see the results. The new rifle was clearly not performing up to snuff.
Next, I decided to try a string of shots on five pump strokes to see what would happen. I got this.
Pumps Velocity
5          428
5          432
5          425
Oiled gun with 30-weight non-detergent oil and retested with 5 pumps:
5          450
5          462
5          475
5          490
5          487
Okay — 30-weight non-detergent oil
When the velocity in the string above was lower than it had been before, I wondered if all the hype about 30-weight oil might have some merit. I stopped in the middle of the test and oiled the gun with 30-weight non-detergent oil. You can see what happened after that.
I decided to rerun the whole test, now that the rifle seemed to be performing better. This is the rifle oiled with 30-weight oil.
Pumps Velocity
2          354
3          427
4          491
5          496
6          488
7          485
8          490
9          512
10        513
Observation
The BRAND NEW Daisy 880 I'm testing is clearly not performing as well as several of our readers have reported. And, just as clearly, it has very little to do with the viscosity of the oil used to lube the pump head. The only slight advantage 30-weight oil seems to have over 20-weight oil (Pellgunoil) in this new test rifle is that it does hold up for a couple additional shots. I think it's obvious that this brand new test gun doesn't live up to the advertised level of performance.
I am returning this rifle to Pyramyd Air. I will think about what I want to do next. I could rebuild my old gun, but I would be doing it with Chinese-made parts that might not work as well as the parts that are in the rifle now. Or I could just continue testing with my old rifle, since it is the best 880 I have.
One thing I AM NOT going to do is to keep chasing after 880s until I get a good one. This evaluation is supposed to resemble what a customer would experience, and I think it may have done just that.
One last comment
I couldn't have done any of this testing without a chronograph. I would have been flying blind if I had no way of timing each of the shots that were taken. And I probably would have enjoyed my new rifle exactly as it was. My point is this: If you can't chronograph the shots, be happy with what you have but stay out of velocity discussions. I think most Daisy 880 owners probably don't chronograph their guns, and they're happier for it.
by Tom Gaylord, a.k.a. B.B. Pelletier
Before I begin, I want to remind you that there are two airgun shows this month. On April 12, there's Flag City Toys That Shoot in Findlay, Ohio. I'll have a table there, so please stop by and say hello if you can. For more information about this show, go to their website at flagcitytoysthatshoot.com.
On Friday and Saturday, April 25 and 26, the Arkansas airgun show will be held in Malvern, which is near Little Rock. Email show organizer Seth Rowland for more info or to reserve a table. I'll also be there and hopefully have a table, too. So, stop by and say hello. Remember, these airgun shows happen just once each year, so they're worth driving the extra miles to see.
Last Saturday, I visited a brand new field target club that started here in Texas. The experience was interesting because I haven't been to a match in years. Many things had changed!
The club was started by Craig Martin in the gated community where he lives. The Pecan Plantation Archery Club allowed him to use their range facilities on this day, and Craig set up 8 lanes.
I was surprised by the turnout. There were 30 shooters on this first day. I remember having less than 15 when we started the DIFTA club in Maryland almost 20 years ago. One of the shooters told me he drove down from Oklahoma just to attend the match, and I know others who drove several hundred miles from remote locations in Texas.
Blog reader David Enoch was there, competing with a .20-caliber USFT. The match was restricted to 20 foot-pounds or less, so some of the powerful PCPs had to be dialed back.
The day began informally, with the opportunity to check the zero of your gun. But when the match began at 10, I was surprised by several shooters who hadn't yet sighted in their rifles.

Shooters could check their zeros at this range before the match began.
Craig set the match up with a minimum of rules. He wanted all shooters to feel relaxed, so he awarded one point for hitting the animal faceplate and two points if you hit the kill zone and knocked it down.
He also squadded those shooters who identified themselves as beginners with a shooter who had some experience with airguns. Not everyone had shot field target before; but once you see a target fall, you get the idea pretty fast.
As I surveyed the crowd, I estimated the average age of the shooters at something north of 45 years. This is in line with what I've seen in other airgun sports. Younger people don't usually want to shoot airguns when there are firearms around; but after a person has satisfied their curiosity, the ease of shooting an airgun becomes more evident.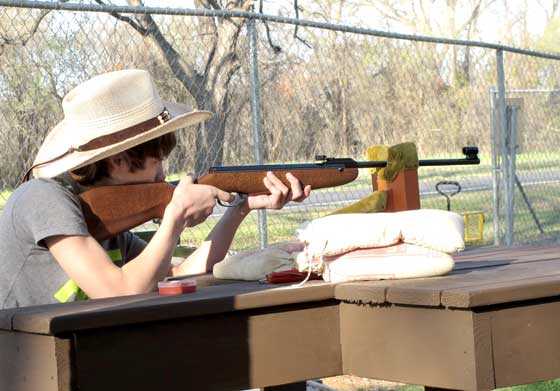 One of only a couple youngsters who attend the match sights in his breakbarrel. No, I didn't tell him about the artillery hold.
One thing that surprised me was the different types of airguns being used by the shooters. Of course, that was due to this being a first-time event for many shooters; but I saw inexpensive spring rifles, air pistols and even one multi-pump pneumatic I'll tell you about in a bit!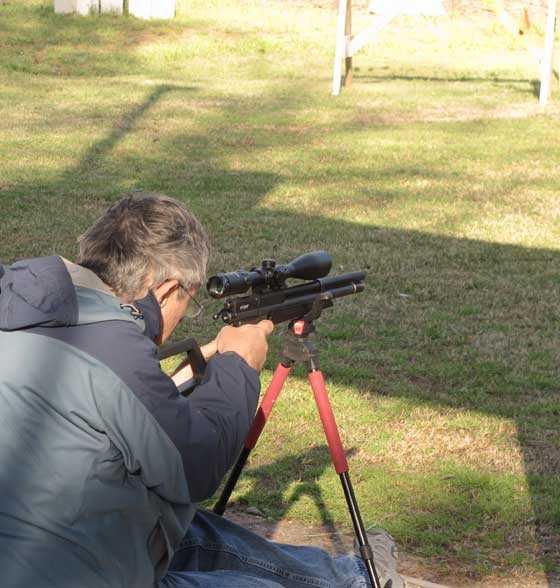 This shooter uses a Benjamin Marauder pistol with the shoulder stock.
Another thing I saw really floored me. Most of the shooters were resting their guns on shooting sticks, and they were sitting in chairs! I'm so ingrained in the old-school AAFTA (American Airgun Field Target Association) rules that the rifle may not be in contact with the ground that I was unprepared for this, but it appeared all the shooters were comfortable with it. I read the current rules and see that bipods (sticks) and seats are now a part of the hunter class. This is certainly an easier way to shoot, and I think it'll appeal to many more shooters than before, when you had to shoot from an unsupported offhand position.
Before the match began, Craig gave all shooters his match director's briefing. It covers the layout of the course, the rules of the match, assembling the shooters into squads and safety.
Since there were 8 lanes, he formed 8 squads from the 30 shooters. Some squads had 4 members while others had 3. Craig wanted all squads to have at least one experienced shooter to help the beginners. Of the 30 shooters, perhaps 12 had placed themselves in the beginner class.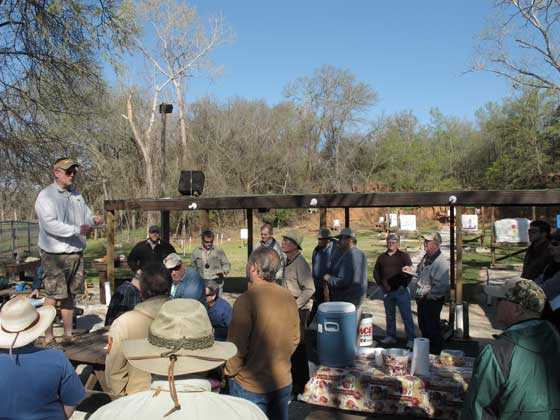 Before the match starts, the director explains the rules to all participants.
Each lane had 3 targets — one close, one at the middle distance and one that was far. The shooters shot twice at each target, so that makes a match total of 48 shots. Hits on the faceplate scored 1 point and targets that fell scored 2 points.
Craig told me afterwards that there were things he forgot to mention in his briefing. I told him that's par for the course. It takes a couple matches before you know what's important and what's not.
One thing he had that was a great idea was a barbecue for the registered shooters. It was part of their $10 match fee. The remainder of the money will go toward the purchase of new targets. That's pretty much par for the course, as well. It's how a club gets formed.
The site had excellent facilities, which is essential. At the DIFTA club we had facilities (restrooms), but they were located several hundred yards from where the shooters were. That was a major complaint I heard at every match.

This shooter is on the course engaging targets. The use of bipods (sticks) was widespread at this match.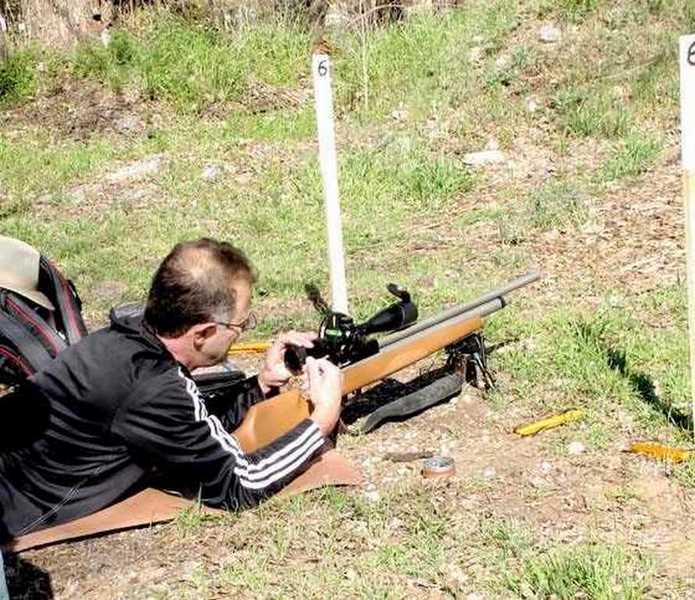 This shooter chose to shoot from the prone position. That can make some of the kill zones hard to see depending on the terrain.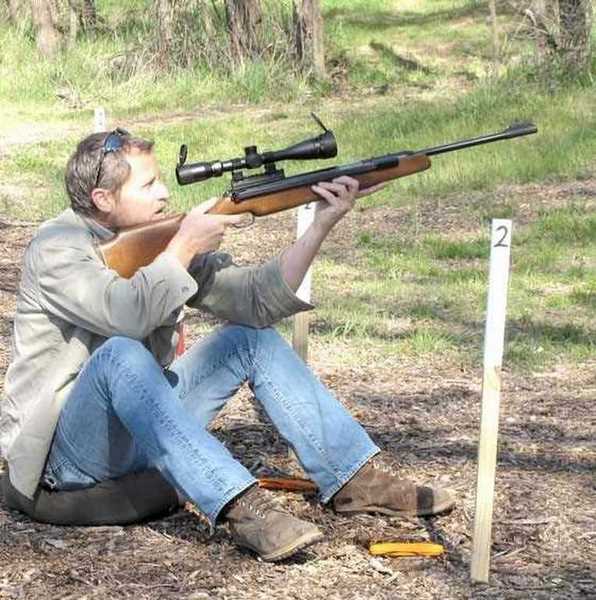 A few shooters used the traditional AAFTA seated position.
Ron Robinson drove all the way up from Dripping Springs, Texas, to support this new club. And he was the guy who shot the multi-pump pneumatic. It was a Sheridan Blue Streak with a rocker safety and a vintage scope. I told him the only other time I had ever seen a Blue Streak in a field target match was back at DIFTA, when airgunner Singson Tiu brought one out. I remember him grabbing the scope as he pumped the rifle and, after a loud chorus of "NO" from the gallery, he decided never again to shoot that rifle in a match.
Ron grabbed the stock at the pistol grip to pump it. He told me that after estimating the distance to the target he consulted a cheat sheet for the proper number of pumps. "That looks like a five-pump shot to me," he said with a sly grin. And then he dropped the target — shooting offhand…unsupported! Okay, remind me to never get into a match against him!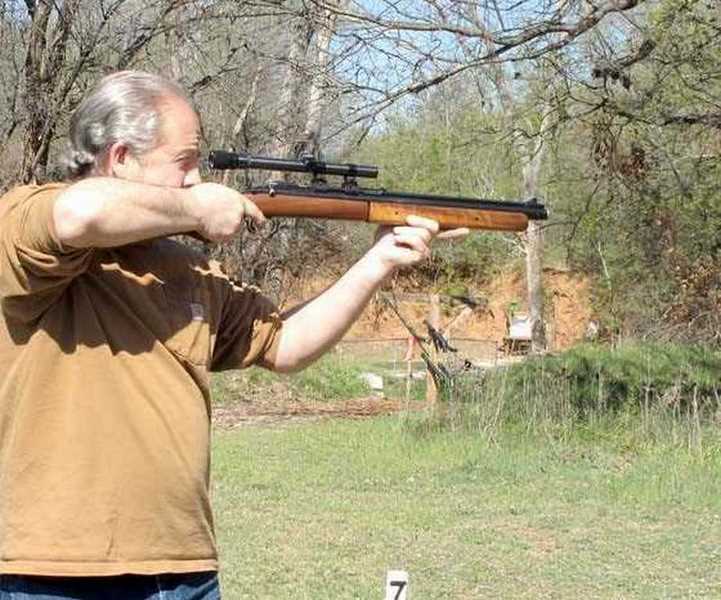 Laugh if you want, but Ron Robinson dropped this target.
But he also had sticks that he used for the longer shots. Through my binoculars, I watched him shoot a split on one target. When I told him about it, he adjusted his aim and dropped the target with the next shot.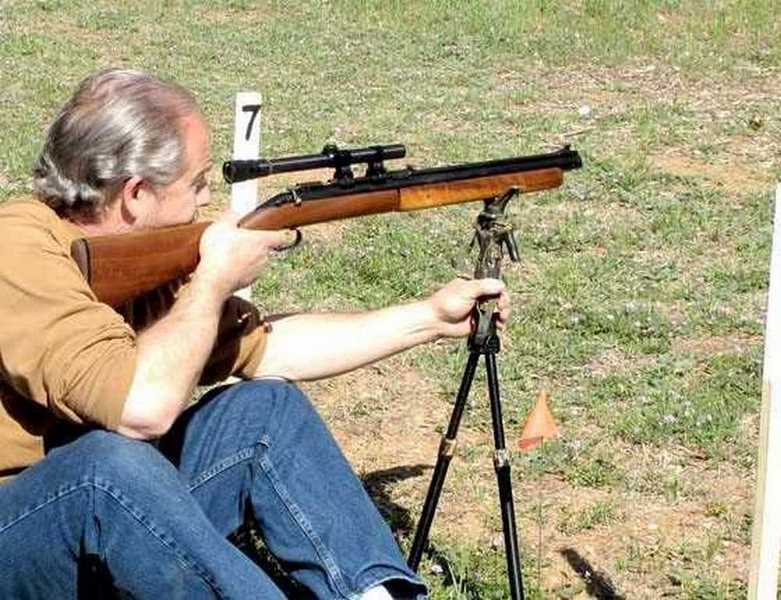 Robinson settled into the sticks for the far shots.
The day was beautiful and the event was a success. The main reason I decided to report on this match is because several of you have asked me how to find a club in your area. It may be field target you seek, or perhaps something else, like 10-meter target shooting. Whatever the case, now you've seen how it's done. When you can't find a club to shoot with, start one!
It takes land, permission, targets–but most of all, it takes people. Many of the shooters attending this match were not airgunners and many more had never seen a field target match. They simply came because they were interested. Craig Martin reached out to whomever he could to get this match (and club, we hope) started, and he found there was interest. Once the word got out, the people came. I seem to remember a similar line from a movie about something like that.
by Tom Gaylord, a.k.a. B.B. Pelletier
You've all heard of airguns that are used as military trainers. We know about the aerial gunnery trainers from WWII and more recently the Daisy Quick Kill BB guns used in Vietnam, but airguns have been out of the military eye for several decades. Or at least that's what everyone thought.
Last week, I learned that Crosman has developed an airgun trainer for the recently declassified implant gun that was developed by the Defense Advanced Research Projects Agency (DARPA) in the late '90s. The military declassified the "arm rifle" after it was shown on the evening news last year. Some of you may have seen it on the special Fox News report just last week, when the Pentagon officially declassified it.
What they've done is replace a major portion of the radius bone in a man's forearm with a breech and rifled barrel. The barrel extends through the index finger of the subject's hand, though it]s not visible or even noticeable to anyone. When the subject is thus "armed" (a term that has a renewed meaning), he simply points his index finger and commands the gun to fire a caseless cartridge. The body's own electrical impulses are sufficient to fire the cartridge. A .30-caliber bullet exits out the tip of the finger, going to wherever the shooter pointed.
All commands to fire the rifle are linked to the subject's brain, so all he needs to do is think and the gun fires. The caseless cartridges feed semiautomatically through a tandem tube embedded in the subject's forearm, and 3 rounds are available before a reload is required. The subject has a port in his forearm through which fresh magazines are inserted, though partial reloads are not yet possible. All 3 rounds must be fired before he can reload.
There are no sights, yet; because of human binocular vision, a shooter can be trained quickly to acquire and destroy a target. Within the first week of training the subjects are hitting 6-inch targets at 50 yards on the first shot. And that was before the advent of the new trainer. The training program should now speed up considerably, plus the possibility for more refresher training means higher proficiency levels will be maintained.
A rumor has spread that the subjects all have reticles etched into the lens of their eyeballs. There are no details about this or even confirmation that it's true.
I've used the masculine pronoun in this report intentionally, for all subjects thus armed (a number that's classified) are men. When signing up for the program, they must sign a release of liability, for their arm bone can never be replaced. Once implanted, the gun must remain until the subject dies. According to the Fox story, the subjects receive hazardous duty pay of up to 30 percent and, best of all, they're excused from paying federal income taxes for the remainder of their lives. Of course, given the kinds of jobs the subjects are asked to do, lifetimes may be abbreviated.
The gun was designed for covert operations such as assassinations, security operations and those times when it's impossible to carry a firearm into the area of interest. The "barrel" that replaces the arm bone is made from a composite of synthetic and ceramic that is constructed at the molecular level on a very specialized 3-D printer. Each shooter receives an implant that's custom-fitted to his body. The index finger of the shooter is covered by a realistic soft flesh-like cap that blends with the natural skin. As a result, the gun is undetectable by any electronic means and without direct examination by a jeweler's loupe. The fingertip can be shot off or simply removed, if there's time.
The arm is actually strengthened by the installation of this weapon. It is not known if there is any pain associated with its use.
Naturally, the flexibility of the index finger is lost, so the subject must be trained to mask this fact by clever posturing. In the beginning it is said there were difficulties, such as losing the ability to scratch certain spots on the body, and the extreme necessity for the mind to be trained not to shoot inadvertently — like when shaking hands. There were some accidents before the importance of this was realized — which is where the Crosman training adapter comes in. Now, for the first time in over 15 years, it's possible for those with the gun implant to train without firing live ammunition.
Crosman hasn't released any technical details but I've been able to learn that the trainer operates pneumatically, and the number of rounds carried is greatly increased. My guess would be that a pneumatic tube is inserted where the cartridge magazine would go, and that the pellet magazine and firing mechanism are somehow included in this insert. Therefore, I've deduced that the caliber of the implant trainer remains at .30. My guess is the air supply stays outside the arm, which is no problem for a trainer.
This isn't Crosman's first rodeo in the black world (slang for the super-secret world of espionage). During WWII, they supplied the OSS with thousands of model 101 pneumatic rifles and one million .22-caliber round lead balls. The cover story for that sale was that they were given to the chiefs of remote Asian tribes to win their loyalty, though rumors of covert assassinations have always surrounded them.
Just when you thought airguns were for fun, something serious like this comes along! And the California school ruling that a person can't make a gun with the fingers of their hands now makes complete sense.