by Tom Gaylord, a.k.a. B.B. Pelletier
Does the pellet matter? Part 1
Today's report is a continuation of the test we started last week, when I asked if the pellet matters (as far as accuracy is concerned). That test wasn't quite as dramatic as I would have liked, and several readers chalked it up to my Beeman R8 being an inherently good shooter. No doubt it is, but that still doesn't explain the good results I got with pellets that I wouldn't normally recommend for that rifle.
Today, I'm using a target rifle that's hands-down the most accurate .22 rimfire I've ever owned, seen or shot. It's a Remington model 37 Rangemaster from before World War II, and it's fitted with the "miracle trigger" that Remington once sold. This trigger has no perceptible movement and releases with just an increase in finger pressure. It's much like an electronic trigger, only this one is all mechanical.
The rifle has a Redfield 3200 target scope. It magnifies 24X and has parallax corrections down to extremely small increments out to 50 yards.


Remington's model 37 is a world-class target rifle.
I've put 5 shots from into a quarter-inch at 50 yards with this rifle using peep sights.
But this time, I'll shoot 10-shot groups because they're the ones that show a rifle's true potential. For this test, I used 13 different .22 rounds. Most of them weren't target rounds, but that doesn't matter. They're all different, and that will address today's title question.
Best round first
I had no idea how this test would turn out. I knew certain ammo shot well, but this was the first time I'd shot 10-shot groups with the rifle at 50 yards. The best round turned out to be CCI's .22 Subsonic Hollowpoint. Ten of them went into a group that measures 0.504 inches at 50 yards. That's as good as some top-quality air rifles at the same distance, and I was pleased with it.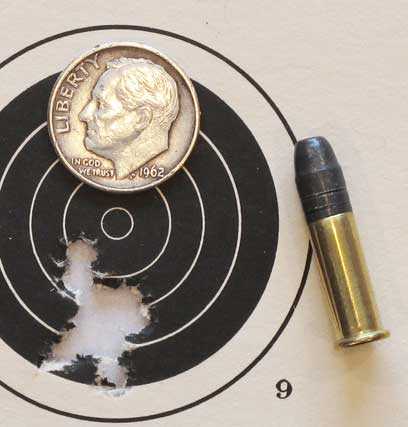 Ten CCI Subsonic HPs went into 0.504 inches at 50 yards.
Worst round
The worst round was Remington's Target ammo — a standard-speed round that Remington recommends for formal target shooting. How's that for irony? Ten of them went into 1.766 inches at the same 50 yards from the same super-accurate rifle! If that doesn't make believers out of you, nothing else I can say will. Look at this group. These bullets didn't even attempt to go to the same place!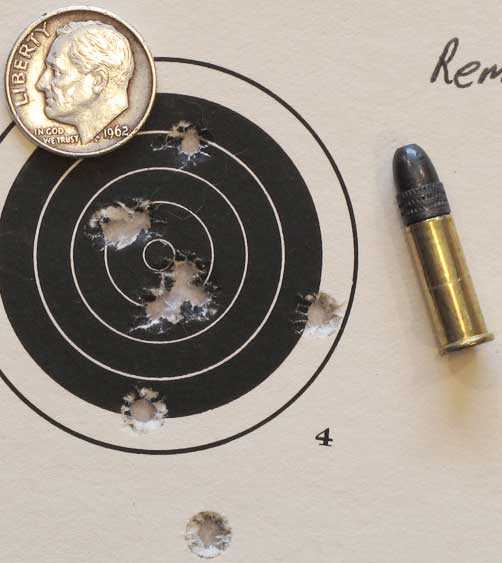 Ten Remington Target rounds went into 1.766 inches at 50 yards.
Another poor round was Winchester's Wildcat high-velocity ammo. Ten of them went into 1.395 inches at 50 yards.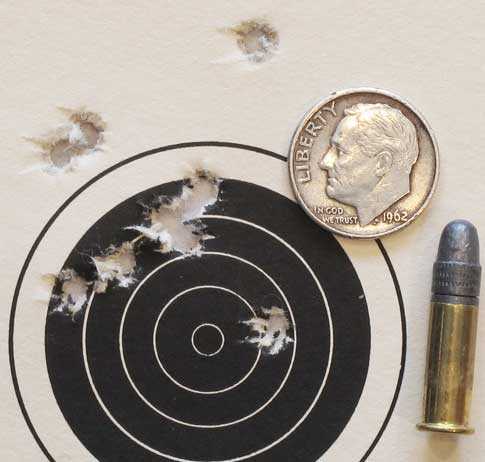 Ten Winchester Wildcats went into 1.395 inches at 50 yards.
Surprise!
I expected the high-velocity ammo to do worse in this test because that's what everyone says. They say once you break the sound barrier, .22 rimfire ammo loses its potential. So, the large Wildcat group didn't surprise me. But the Remington Viper group that measures just 0.924 inches does. Vipers are hyper-velocity rounds whose 36-grain lead bullets leave the muzzle of a 24-inch barrel at 1,410 f.p.s.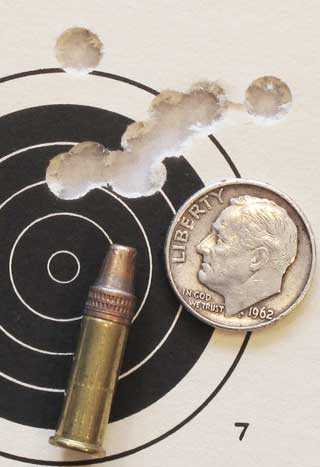 Ten Remington Vipers made this 0.924-inch group. This was not expected.
Remington Cyclone rounds are also hyper-velocity. They leave the muzzle at 1,410 f.p.s. — yet, 10 of them went into just 0.882 inches. According to popular belief, these should have been among the least accurate round in any .22 rimfire rifle.

Ten Remington Cyclones made this 0.882-inch group. Another unexpected result!
Close, but no cigar
Another subsonic round almost made the second-best group. Ten Remington Subsonic Hollowpoints went into 1.206 inches, but 9 of those bullets made a 0.548-inch group. The one round that's not in the group is below it, and this tells me what probably happened. Rimfire ammunition has one big weakness. The priming material is sometimes not evenly deposited around the rim, and that causes misfires and poor ignition. This shot looks like it came from a round that wasn't ignited well and probably went slower than the others. Of course, I can't prove that without velocity data that I don't have, but poor ignition is the bane of .22 rimfire target shooters.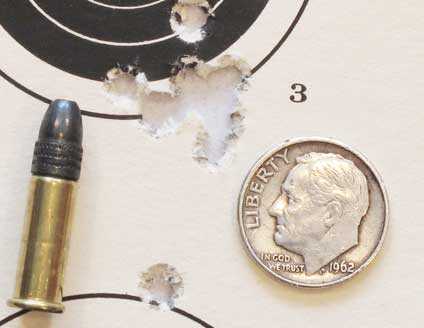 Ten Remington Subsonic Hollowpoints went into 1.206 inches, with 9 of them going into just 0.548 inches.
The Subsonic was the most accurate round in my 10/22, which I tested for Shotgun News years ago, but the Remington Target round that was the worst in this rifle was also among the top 5 in that test. So, each rifle is different, and the ammo definitely does make a huge difference!
I shot a total of 13 different rounds in this test. I've shown you the best and worst in today's report. Besides the 3 bad groups I have shown, there were 4 other rounds that made groups larger than one inch. One inch for 10 shots is small for most .22s, but not for a Remington model 37. Of 13 different rounds, 7 made groups larger than one inch, leaving 6 that made groups under an inch.
Conclusion
Obviously, the ammo does make a difference in .22 rimfires — just as pellets make a difference in pellet rifles. I'm still going to do the test of discount-store pellets versus the best premium pellets. From the comments I've received, I believe I'll test them in 2 different rifles. It should be interesting.
by Tom Gaylord, a.k.a. B.B. Pelletier
Best airgun show I have been to in a very long time! Not because I sold a lot — I didn't. But I met a lot of nice blog readers, got to see some airguns that are extremely rare and got to acquire a couple nice vintage guns for future blogs.
Dennis Quackenbush told me this show would be a good one, and he was right. As soon as the doors opened to the public, the place was packed. From what I saw, people had money to spend and weren't afraid to pull it out.
The Findlay show is very heavy into vintage BB guns; so if that's what you like, it's one of the 2 best shows for that. But they weren't all Daisys. There were many other rare models, including a super-rare Quackenbush Lightning.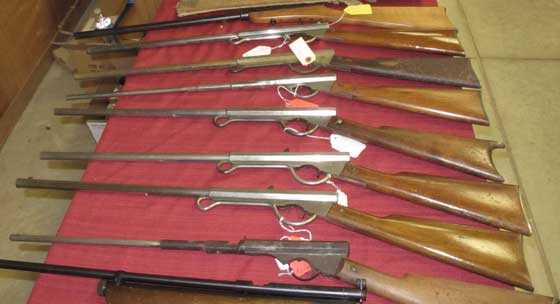 A table loaded with Quackenbush airguns! John Groenewold, who wrote the book "Quackenbush Guns," had tables at the show.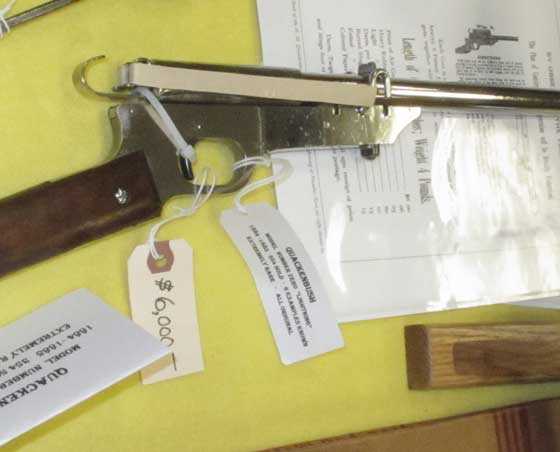 The Quackenbush model zero, also called the Lightning, uses rubber bands to power the sliding compression chamber that moves on the fixed barrel. It's the rarest model, with fewer than 10 complete guns known.
I mentioned there were rare airguns at this show. That Quackenbush Lightning was one of them, but there was another that I was shown privately. It is a Giffard Deluxe Target model that, until I saw it, was unknown to me. The owner, who is an advanced collector and asked for privacy, graciously allowed me to photograph the rifle.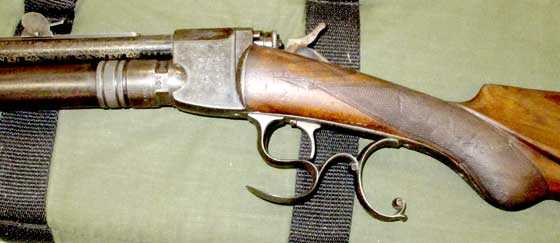 You're looking at the action of an 8mm Giffard Deluxe Target rifle that may be the only one in the U.S. Giffards are not common, but this one is virtually unknown!
This rifle is almost entirely hand made. Gold inlays on the barrel tell you the care they put into it. A rifle like this cost three times what a regular Giffard cost at the time (1870s & '80s)!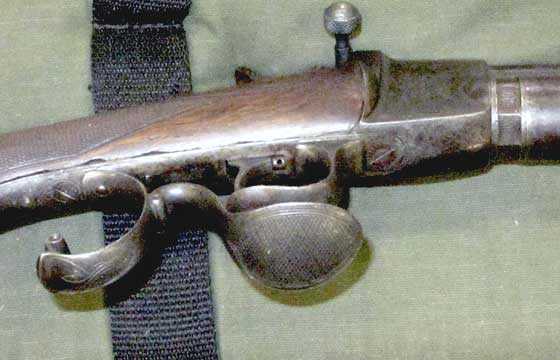 The bottom of the triggerguard of this special target rifle is actually a palm rest for offhand shooting!
They went on and on…
Being at this show was like taking a stroll through Dr. Arni Dunathan's book, The American B.B. Gun. At every turn, you saw cast iron and folded-metal BB guns from the genesis of the sport/hobby! You had to be there to appreciate it completely, but trust me when I tell you this show was a treat for the American BB gun collector.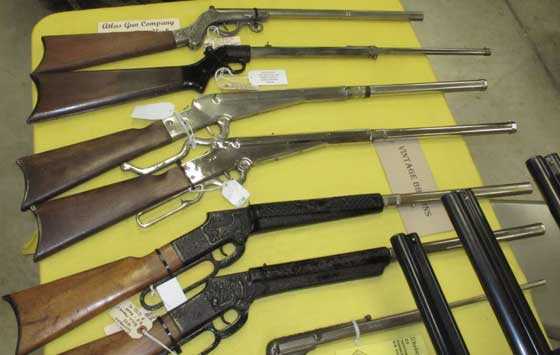 Atlas, Matchless, Columbians — the guns in this photograph are worth a fine used car!
Not everything was old
Toward the end of the show, Dennis Quackenbush asked me to come to his table and photograph a rifle he had just delivered. When I got there, I saw a rifle unlike anything Dennis has ever made. It's a muzzleloader that he usually will not produce for reasons of safety — a slight air leak at the breech could fire the bullet into the shooter as he is loading it in the barrel, or anytime afterward.
Dennis did make the metal parts for this airgun, but the entire design was the brainchild of Mike Paulus. Mike took the design to Dennis and asked him to build the gun, while Mike made the stock on his own. Then the two were married into what looks for all the world like a vintage muzzleloading black powder rifle. Good job, Mike!


This muzzleloader designed by Mike Paulus and built by Quackenbush is stunning! Mike put a vintage-looking Malcom scope on top to complete the image.
Old friends
I recently shared with you a story about my first AirForce rifle. It had no power adjustment wheel, so I put an o-ring under the top hat to "tune" it. Those were the days. Well, imagine my surprise to see the old girl on a friend's table at this show! He had added a wood stock to her, and it was like seeing your old girlfriend necking in the back seat of a convertible with somebody else!


This was my first AirForce rifle. It has no power adjustment and the wood stock parts are new; but underneath, I still recognize her.
Then, my friend told me something wonderful. He said that I could have my old Air Arms Schamal back for what he paid! Some of you know this rifle is one of the most accurate air rifles I've ever shot, plus it has a gorgeous walnut stock with presentation grain.
My wife, Edith, has promised that she will buy back the Shamal for my birthday later this year. Naturally, I'll give you a complete report!
Good friends
Besides the guns, the best thing about this show was the people I met. When he introduced himself as Twotalon, I walked around the table and hugged the man we all know so well through the pages of this blog. He was there with Mrs. Twotalon, who was gracious enough to smile and put up with the boring minutiae us two old codgers shared.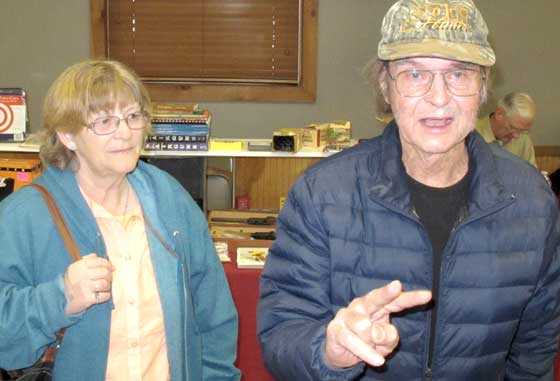 Twotalon and his wife stopped by my table and introduced themselves.
That triggered a rush of blog readers, who came so fast and furious that I failed to keep track. But Derrick is one reader I met years ago at a Pyramyd Air function. He updated me on what he's doing these days. Before he left the show, he laid two air pistols on my table and told me to give them to young shooters! Shades of my late friend, Mac, who often did the same thing.
Derrick — I gave those guns to the show organizer, Dan Lerma, who knows a lot of deserving young people, several of whom were helping run this very show! I know they will find a good home.
As the crowd was building at my table, Mitchell from Dayton came by and introduced himself. He wanted an autograph on his Blue Book of Airgun Values, which I was happy to do. But he told me he was at this show to find his longtime dream gun — an FWB 300! There were several on different tables, and I pointed him toward them; but when he returned in half an hour, it wasn't an FWB he was carrying. He had an Anschütz 380 in his hands! Now, that's a fine target rifle, as well; but then he flipped over the rifle and showed me the real reason he bought it. Someone had skillfully carved a ram's head on the right side of the butt, and he was completely taken with the art!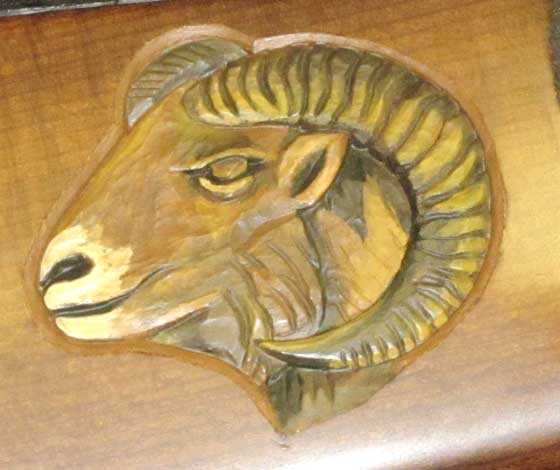 This ram's head carving on the stock of the Anschütz 380 clinched the deal for Mitchell of Dayton. I can understand the attraction!
Before I go…
There will be at least one more section of this report, but I want some time to process all that happened at the show. However, if I can leave you with one key memory, it would have to be just prior to the opening of the doors when all the dealers stood as the Boy Scouts installed the National and Ohio State flags in the hall — and then several hundred Americans pledged allegiance to the flag. That was followed by a brief prayer of thanksgiving for this wonderful event that was about to unfold.
Sort of says it all, doesn't it?
by Tom Gaylord, a.k.a. B.B. Pelletier
Today, I'm starting a long series on lubricating airguns. Blog reader Joe asked for this; but as I was researching the subject, I stumbled across another request that came in through the customer reviews on the Pyramyd Air website:
"I wish that RWS or Pyramydair would explain the process and frequency of oiling these RWS rifles in particular the RWS mod 48. Everyone I talk with says the RWS owners manual is outdated and that with the new seals they use does not need to be lubed maybe for years….I purchase the RWS chamber and cylinder oil at a cost of almost $30.00 and now am told I probably will never need it? This topic should be cleared up once and for all by the manufacturer."
Perhaps this customer is referring to RWS Chamber Lube and RWS Spring Cylinder Oil as the two products he purchased. And they do add up to $28 before shipping. Are they necessary? Should he have bought them? That's the question I'll start answering today.
This subject is so vast and complex that I cannot address it in a single report. In today's report, I'm only going to look at lubricating the piston seal. That constitutes about half of the lubrication requirements for many airguns, in my opinion. In the next installment, I'll address all other spring gun lubrication, including the mainspring and piston.
Leather piston seals
In a spring gun, the piston seal is what compresses the air when the gun fires. As the piston goes forward, the seal keeps the air in front of the piston, where it gets compressed because the only escape is blocked by the pellet sitting in the breech. If the gun's working properly, all other avenues for the compressed air to escape have been blocked.
In the past, pistons were sealed with a leather pad or cup. Leather is an ideal material for this job. It's rugged, lasts a long time and will conform to the shape of the compression chamber after a few shots — much like a leather shoe that eventually fits your foot perfectly.

This cup-shaped leather piston seal is for a Chinese spring rifle.
To do its job, a leather seal has to stay soft and pliable, and oil is the best thing for this. As the spring gun operates, a little of the oil is consumed with each shot, so a leather seal needs to be oiled frequently to stay soft. How frequently? In some older guns, I've found that oiling every few weeks is necessary if they're shot a lot. Certainly, all guns with leather seals need a couple drops of oil at least once each month if they're to be shot. You can leave a gun with leather seals unoiled for years if you don't shoot it; but before you start shooting it again, that seal needs to be oiled. When I start shooting an older gun that I know has leather seals (I use references for finding out things like this), I put about 10 drops of oil through the air transfer port and let it soak into the seal for at least an hour, although a half day is even better.
What oil to use?
The type of oil you use depends on the velocity of the gun. Guns that shoot less than 600 f.p.s. in both .177 and .22 caliber will be oiled with regular household oil. Any petroleum-based lubrication oil will do. Yes, gun oil will also work. For guns that shoot faster than 600 f.p.s., I use silicone chamber oil, like the product listed above. The spring cylinder oil is not for chambers and should not be used on the piston seals of these guns.
Synthetic seals
Starting in the 1950s, manufacturers began experimenting with piston seals made from synthetics. Some of them, like the ones used by Anschütz and Falke, worked well and lasted for many decades. But others, such as the seals used by Walther on all their airguns and the seals that Feinwerkbau used on the 121 and 124/127 sporting rifles, were made from a material that dry-rotted within about 20 years. If they were oiled by anything, they failed even faster. These seals started out as a light beige color, but as they absorbed oxygen and oil, it turned them dark yellow and brown until they began to break apart in waxy chunks.
Diana was one of the last companies to switch from leather to synthetic, and they had the benefit of watching the others. They were still using leather seals in their powerful model 45 rifle in the late 1970s, at a time when that airgun had broken the 800 f.p.s. "barrier." When they started making synthetic piston seals, they used a blue-colored material that was tough and long-lasting. It's interesting to note that the others adopted similar piston seal material when they finally realized their seals were perishing in use.

The blue Diana parachute seal is so rugged that hobbyists use it for many other airguns. It needs very little oil!

These 2 FWB 124 seals are made from modern synthetic material, yet they look like the original ones. The one on the right has been inside a rifle for a few thousand shots. It looks bad but is still in great shape and will last for many decades.
Don't fixate on the color blue for piston seals! These synthetics can be colored any way and still be fine. I have modern FWB 124 seals that look similar to the old seals in color, yet they'll last indefinitely. It's the material, not the color.
Which oil to use?
With synthetic seals, I always use silicone chamber oil. That's SILICONE CHAMBER OIL — not brake fluid, silicone spray lubricant or any other concoction. Chamber oil is for piston seals. It does not lubricate metal parts because the viscosity is too low. It'll ruin metal parts if you use it that way. On the other hand, nobody knows what will happen to a gun that's lubed with anything other than SILICONE CHAMBER OIL.
Diana recommends using two drops of chamber oil on the piston seal every 1,000 shots, and one drop on the breech seal at the same time. That's it. To answer the person who asked if he needs the chamber oil, the answer is yes. But one small bottle will last a long time. I've observed that most Diana airguns can get by with even less oiling than what's recommended. One diagnostic for when a gun need its seal oiled is when the seal honks like a goose as the gun is cocked.
Silicone chamber oil has a high flashpoint. Since the air in a spring-piston gun reaches about 2,000˚F with every shot, this is important. This heat is adiabatic — it doesn't heat the gun because the interval is too brief.
Overlubing vs. underlubing
It's almost impossible to overlube a leather piston seal. And it does not harm the seal if you do.
On the other hand, overlubing a synthetic seal can start the gun detonating. Not dieseling — most spring guns diesel. When you smell burning oil, your gun's dieseling. Dieseling is just a few oil droplets vaporizing with each shot. It's perfectly normal in a spring gun.
Detonation is when a lot of droplets vaporize and cause an explosion. That will damage your piston seal if it's allowed to continue for a long time. It can also break your mainspring.
So, dieseling is okay, but detonations are bad. And overoiling synthetic seals causes detonations.
Do you see why I had to cover just the piston seals today?
by Tom Gaylord, a.k.a. B.B. Pelletier
Part 1
Part 2
Part 3
Part 4
Part 5
Part 6

The Lightweight Disco Double in its new stock looks striking!
This is a third look at the Disco Double shooting at 50 yards. All I've managed to do so far is demonstrate the Disco Double is very consistently mediocre with the best pellets — JSB Exact Jumbo RS domes. However, the last time I was out at the range with this rifle, I finally did what the builder, Lloyd Sikes, has been telling me to do all along. He said to tighten the 6 screws on the 2 barrel bands or hangers, and this time I followed his directions. Guess what? Four of the 6 screws were loose! Imagine that! I tightened them and knew the rifle would reward me for the effort.
It was no surprise when shot the best 10-shot group ever with the rifle. Ten RS pellets went into 1.195 inches at 50 yards. But I was 3 shots into a second group when the bolt handle broke off in my hand during cocking. That ended the day for this rifle.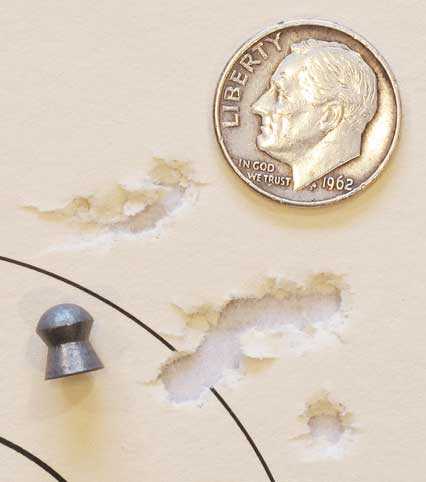 Ten shots went into 1.195 inches at 50 yards. This is the tightest group this rifle has fired to this point, and all I had to do was tighten a few screws.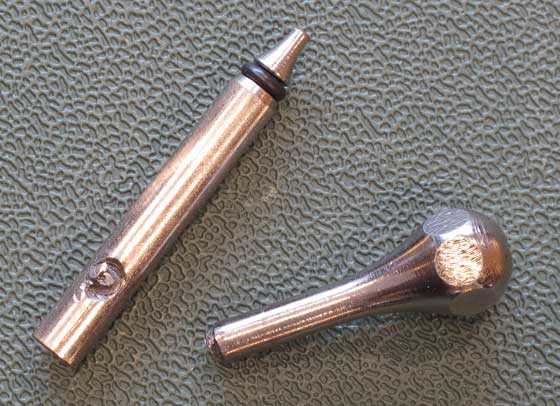 The bolt handle broke off during cocking. This isn't common, but it can happen.
As soon as I returned home, I emailed Lloyd, who put a new bolt and handle in the mail right away. I really wanted to finish the test before leaving for the Ohio airgun show (which is this Saturday), so I disassembled the rifle. I ran into a problem getting the old bolt out, but a call to Lloyd set me on the right path and soon the job was done.
The new parts arrived the following week, and I had them in the rifle inside an hour — though another call to Lloyd was necessary. He was most helpful, and I resolved my problem with a minimum of fuss. The rifle went back together, and I was ready to return to the range.
This time, I took the opportunity to mount a new UTG 6-24X56 scope scope in place of the UTG True Hunter 3-9X40 scope I took off. Naturally, the target image was much larger with this scope, which just made my job easier.
I tried several pellets that I've tried before, but once more this rifle demonstrated that it likes the JSB Exact Jumbo RS pellets the best. Since the rifle had been taken apart for the bolt repair (i.e., both barrel bands had been removed), I was back at the beginning on the first group. I had the front band about where it had been before (from the screw marks in the paint), and the first group of 10 went into 1.28 inches at 50 yards. That was marginally better than the 1.317-inch group I'd gotten during the previous full test, but not quite as good as the one group I shot just before the bolt broke (1.193 inches). All the screws were tight, so now it was time to move the front barrel band.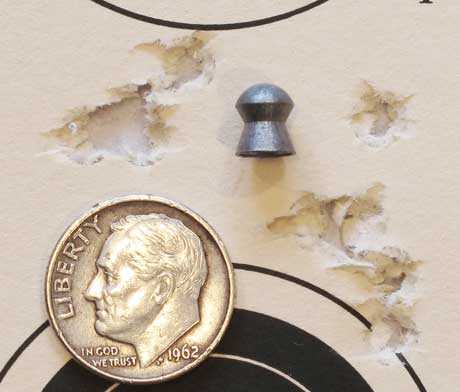 After the barrel bands were reinstalled but before the front band was moved, I put 10 JSB RS pellets into this 1.28-inch group at 50 yards.
Harmonics
In case you don't understand what moving the front barrel band has to do with accuracy, it comes down to harmonics. By changing the location of where the barrel is anchored, I changed how the barrel vibrates during the shot. I did a huge 11-part test of this effect a few years ago. You can read about it here.
I moved the front barrel band backwards about a half inch and tightened the 3 screws once more. Then, I fired another group of 10 shots. This time, 10 RS pellets went into 0.816 inches. That's pretty telling, don't you think? Of course, I have no way of knowing if I have the barrel band adjusted perfectly — all I know is that it's better than it was before.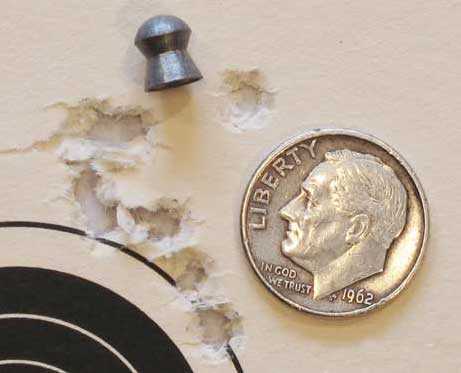 After moving the front barrel band, I put 10 RS pellet into 0.816 inches at 50 yards.
A second 10-shot group went into 1.506 inches. Oops! Was that supposed to happen? Its difficult to say, but perhaps I wasn't concentrating while shooting this group. I simply don't know. Stuff happens to me, just like anyone else!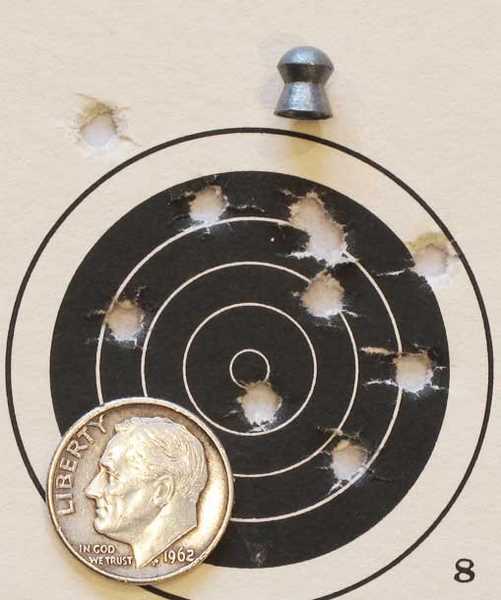 The next 10 RS pellets made this 1.506-inch group.
So I shot a third 10-shot group. This one measures 0.961 inches between centers. That's better.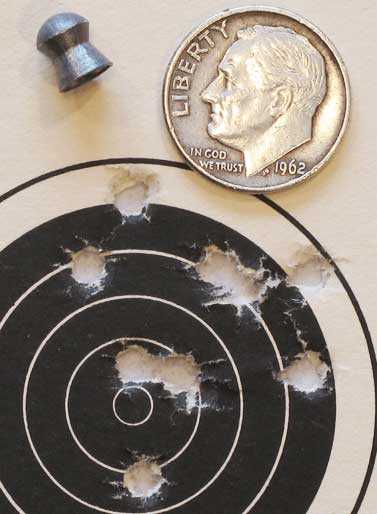 A final 10-shot group of RS pellets went into 0.961 inches.
The results
What I can tell you now is the that Disco Double is able to put 10 pellets into less than an inch at 50 yards under ideal conditions. I've shown you everything that's happened, and I could go on and continue to test this rifle until I have it shooting its best. I probably will, in fact. But the lesson is what I've shown you today.
The Benjamin Discovery is an inexpensive PCP that can put 10 pellets into less than one inch at 50 yards under ideal conditions. The Disco Double I am testing for you here has a lot of extra work done to it and is not as inexpensive as the basic Discovery. However, this is the air rifle I wanted. It's small, it's accurate, it has a wonderful trigger and this one gets a load of shots on a fill of just 2,000 psi. That's everything I wanted in a PCP.
Best of all, this rifle weighs no more and is no larger than a standard Discovery. Despite the additional air capacity, I had to sacrifice nothing. That was the real reason I had this air rifle built. Lloyd Sikes has a wonderful thing going here. If you're interested in what he can do for you, find him at Airgun Lab.
by Tom Gaylord, a.k.a. B.B. Pelletier
Today's report is a guest blog from reader RifledDNA, a.k.a Stephen Larson. He wants to give us his impressions of a new Benjamin NP Limited Edition he recently received.
If you'd like to write a guest post for this blog, please email me. 
Over to you, RifledDNA!
Good-day everybody. Today, we're going to take a look at the Benjamin NP Limited Edition. These are my impressions of this airgun as I've unboxed it. Others may have different results, as no two airguns are the same.
To start, let's look at what the NP Limited Edition is. This is a .22-caliber breakbarrel air rifle powered by Crosman's Nitro Piston, hence the NP designation. The Nitro Piston is a nitrogen gas-filled piston that has many advantages over the traditional coiled steel spring powerplant. First, a gas piston is less affected by temperature. The nitrogen gas continues to compress and expand consistently even when the temperature drops. A steel spring is coated with lubricants that stiffen and do not want to move as fast in cold temperatures.
Another advantage of the Nitro Piston is less wear and tear. The gas piston has straight forward and back motion, so there's no torque on parts. A coiled steel mainspring doesn't just expand when it decompresses — it also twists because it's coiled. That twisting is transmitted to the parts like the piston and spring guide, causing them to bear against other parts as they move.
Finally, the gas in the piston always has the same amount of mass. That means the gas will have the same expansion characteristics, providing long-lasting consistency.
The consistency of a gas piston is shown by the 10-for-$10 test I ordered with the gun. With 11.9-grain RWS Hobby pellets, the velocities were as follows:
Shot   f.p.s.
1       816
2      820
3      817
4      799
5      808
6      799
7      802
8      804
9      797
10    798
After the first three shots, which was burning off the oil, this gun has very tight velocities right out of the box. If we exclude the first three, we get a high of 808, a low of 797, a spread of 11 f.p.s. and a standard deviation of only 5.16. I think that's pretty impressive!
Another thing that impresses me is the cocking effort. It is SMOOTH! I don't have a bathroom scale, but I would estimate it's somewhere close to 28 lbs. My wife can cock it without much of a struggle! That's not something commonly found in a magnum .22 springer.
The downside
Now that we've talked about the pros of this air rifle, lets look at the things that weren't so impressive. When I bought it, the gun cost $179.99. That's extremely affordable for a gun of this quality; but this great gun has to rest somewhere, and that's in the stock. The stock used for this air rifle is the same synthetic stock that carries the Crosman Fury and Phantom. It's an extremely lightweight stock that has a modified Monte Carlo cheekpiece and a long, curved pistol grip. This isn't the right stock for the NP Limited Edition.
The Benjamin NP Limited Edition is really just the Benjamin NPS in a cheaper stock. The problem is that the NPS stock has a very pronounced pistol grip, and the metal parts of the gun are configured for it.
With the Fury's stock, the trigger is noticeably too far forward. The curved pistol grip is also fat; and with the trigger further forward, you are literally reaching for the trigger, which is also boxy and fat. You cannot get a solid purchase on the trigger. All you get is the side of the square trigger blade. So, I decided to do some trigger modification.
Do trigger work at your own risk! That being said, the first thing I did to modify anything on this gun was to shape and thin the trigger blade on a grinding wheel. With that done, and my elbow up above my ear, I can finally get a solid wrap on it.

Here is the NP Limited Edition laying on top of my Ruger Blackhawk Elite. Notice the trigger placement when the grips are lined up.
In a nutshell, the NP Limited Edition is a great , but the price you pay — or rather the money you save — is felt in the stock. I contacted Crosman about options for different stock. The gun is worth finding a new stock that compliments it better.
I don't have the space to do an accuracy test, but the gun is accurate, powerful, quiet and smooth. Overall, I'm satisfied. Based on the reviews of this gun, I knew the money I was saving was in the stock. I'll look into a custom wood stock. It's really worth it.
by Tom Gaylord, a.k.a. B.B. Pelletier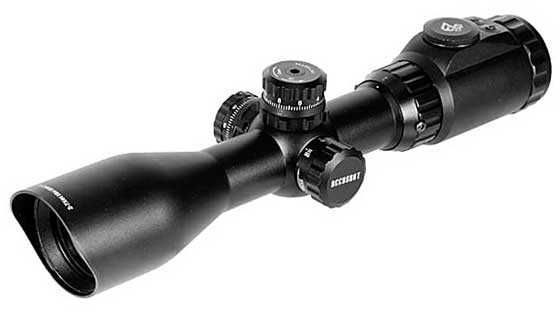 Leapers UTG Accushot 2-7X44 Scout Scope is a remarkable sight!
I'm on the road today to Ohio to Pyramyd Air and the Flag City Toys That Shoot airgun show this coming Saturday. If you plan to be there, please stop by my table and introduce yourself.
And while I'm gone on this huge road trip (there's more driving ahead before I return home), I would ask the veteran readers to help answer the questions posed by the newer readers. I will only have about 3 hours each evening to exercise, answer emails and write the next blog — and I usually get 150-200 emails a day.
Today, I'm testing the UTG 2-7X44 Scout SWAT scope for accuracy. It's mounted on the Crosman MK-177 multi-pump pneumatic that I tested for you awhile back. So, I have the data on that rifle using open sights.
I selected the 3 best pellets from that first test for today's test. The distance was 10 meters because the groups I got before were not that small. Had they been small enough, I might have tested the rifle at 25 yards.
RWS Hobbys
The first pellet I tried was the RWS Hobby wadcutter. In the previous test at 10 meters with open sights, 10 Hobbys gave me a group that measured 0.858 inches. With the scope mounted, I got a group that measured 0.928 inches at the same 10 meters. So, no improvement.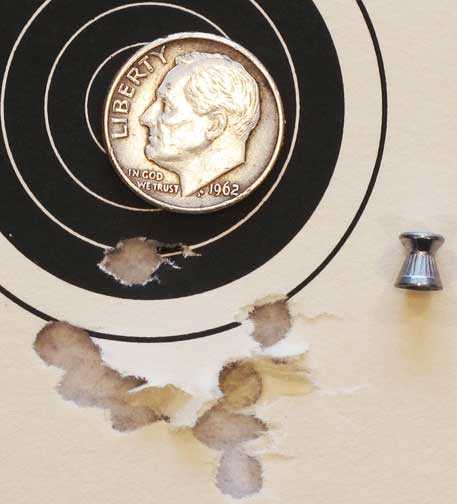 Ten Hobbys fared no better with a scope than with open sights at 10 meters. In fact, at 0.928 inches between centers, this group is larger than the one shot with open sights. But, the scope was much easier to use.
I found the scope's thin reticle quite easy to pick up and hold on target. The optics seem clear and bright, although my test conditions were perfect. I would like to test this scope in the field under variable lighting.
H&N Finale Match Pistol
Next, I tested 10 H&N Finale Match Pistol pellets. In the last test, they gave me a 1.299-inch 10-shot group, but 9 of those went into just 0.399 inches. I suspected at the time that the one pellet was somehow off, so I decided to try this pellet again.
This time, using the scope, 10 pellets went into 0.548 inches. That's better than the last group and not much larger than the 9 pellets that grouped so well on the other test. Up to this point in the test, the scope hasn't improved my results — but it has been much easier to use! My shooting went much faster because I wasn't guessing where the top of the front sight was.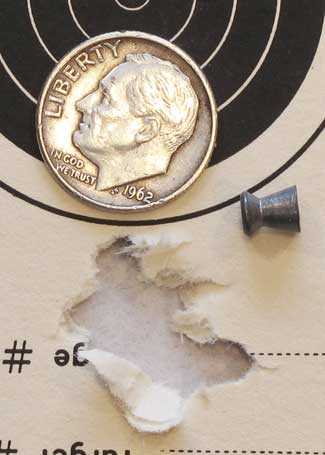 Yes, these 10 H&N Finale Match pistol pellets are in a smaller group than before, at just 0.548 inches. But I feel the one stray shot in the open-sight test may have been a damaged pellet.
After this group, I adjusted the scope to center the group in the bullseye. It's easy enough to do, and the locking ring means there's no fear of anyone messing up the settings.
Air Arms Falcons
The final pellet I tried was the Air Arms Falcon dome — a lightweight dome that has proven very accurate in a number of different airguns. This time, the results were better. Ten Falcons went into 0.839 inches in the first test with open sights and just 0.425 inches in this test. Nine of the 10 pellets went into just 0.154 inches — rivaling a 10-meter rifle!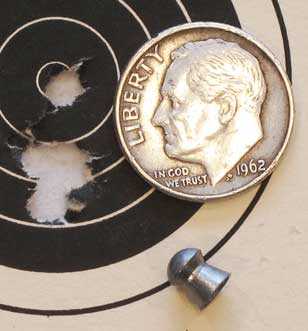 Believe it or not, there are 9 Falcon pellets in the larger hole! The one pellet strayed up a little (shot 7), opened this group to 0.425 inches.
Impressions of the scope thus far
I'm thoroughly impressed with this scout scope. It's clear, sharp and easy to use. I want to test it on something else — maybe a firearm. This is a scope I can recommend if you're looking for a good scope.
The benefit isn't better groups, but a clearer picture of the target. On a rifle with real precision, that can mean something!
I do plan on another test with this rifle ay 25 yards. The Falcon pellets have earned their way into that test, and perhaps some similar premium pellets, as well.