Posts Tagged '10-meter target rifles'
by B.B. Pelletier
Today's report was requested by blog reader NotRocketSurgery. He's been watching the NSSF videos on You Tube about shooting in the Olympics, and the subject of dry-firing comes up repeatedly. He wanted to know why. I'll address this subject with enthusiasm, because this is something with which I actually have some experience.
Have you ever watched the Olympics and seen a slalom racer standing at the top of the course with his or her eyes closed, swaying as they envision running the course? We might have made fun of such behavior in the 1960s, but today we know that's what all the winners do. They're conditioning their minds to respond correctly to the course ahead of them.
Dry-firing a gun is like that, but it's more than a century older. We don't close our eyes, nor do we sway about, so onlookers don't have quite as much to comment on. When we shoot our guns without discharging a shot (dry-firing), we're conditioning our brains and many muscles to work together.
I don't suppose there's a machine the downhill skiers can get on to simulate the experience of skiing while standing still, but all world-class target air rifles and air pistols do have a dry-fire mechanism built in. To not have one automatically eliminates the gun from serious consideration.
Top target shooters spend much more time dry-firing their airguns than they do shooting pellets. How much more differs from shooter to shooter, but I've heard one Olympic air pistol shooter say the number is five times as much. So, for every shot that makes a hole in paper, the shooter has also fired five more shots without discharging the gun. And it's very common for a world-class shooter to shoot a full match every day, which would be 60 shots for a man or 40 for a woman. And five times that much dry-firing.
How do you dry-fire a gun?
You don't just pick up the airgun and start shooting. Practice in the dry-fire mode must be identical to shooting a match, though a target doesn't have to be in a bullet trap or even the correct distance from the shooter, since it's all a simulation. I am going to describe this from an air pistol shooter's perspective, but what I say applies equally to air rifle shooters. The moves are just different.
For those who are interested, I wrote an extensive blog on the subject of shooting a 10-meter target pistol. Part 3 demonstrates raising the pistol and sighting. You do it this way with both live-fire and dry-fire.
When you dry-fire, you first go through all the motions of raising the pistol and settling on the target. That is not a random movement! The gun is held on the shooting table in front of the shooter in a certain and repeatable way, and is raised to the same height each time. Some shooters like to raise the sights above the bull and then settle back down until the sights are aligned with it. Others like to raise the gun until the sights come in line with the bull on the way up and go no higher. Each shooter has a preference; but whatever it is, they always do it the same way.
Once the sights are on target, the shooter has up to about five seconds to get the shot off. Much longer and the gun will start to wander more than a little, so timing is very important. An amateur might hold out for the perfect sight picture for twice as long as a world-class shooter, but you'll see the top shooters lower their guns if they don't get the shot off within the time limit.
Many shooters, including me, take up the slack of the trigger's first-stage pull as the gun is settling into position. To someone who is not trained, this sounds dangerous, and it actually is — because their guns will go off at a time that is not entirely of their choosing. But a top competitor knows exactly where the trigger releases, and they can wait until the sights are perfectly aligned before applying the final few grams of pressure that cause the sear to release.
When the sear releases, the shooter continues to aim at the target, noting where the sights are. With some practice they learn to call their shots — which means they know exactly where each pellet went without seeing the hole it made in the target. This is something you can read about and never understand. As you train, it comes to you all at once. And when that happens, you never forget it. You'll be able to call your shots from that point on.
After the shooter has called the shot (to himself), the gun is lowered to the shooting table, reloaded and the cycle begins again. There are 90 seconds for every shot in a formal match. It sounds like a rush, but it's actually more than enough time for a well-trained shooter. You don't lower the gun without taking a shot more than a handful of times in a match, if that much, so time is never your enemy unless you have an equipment problem. I never thought about the time remaining in a match. What I concentrated on was how many pellets remained in my pellet tray, because that told me where I was in the match.
The dry-fire mechanism
I told you that all world-class airguns have a dry-fire mechanism, but now I'll tell you that some are better than others. Most of them have some sort of switch that is set one way for live fire and another way for dry fire. The guns that have that usually have a very realistic trigger-pull in the dry-fire mode.
I shoot a SAM M10 that was made through cooperation between Anschütz and Caesare Morini. I've never shot a full formal match with it; but back in the late 1990s, I did shoot it for the record several times. That was when I was shooting at my peak, so I noticed things more acutely than I do today. I found the trigger to be very nice, though by that time I'd tested enough FWBs, Steyrs and Walthers to know what a world-class trigger should feel like. The M10 has a good trigger, but it's not as nice as an FWB P34 trigger, which was the last FWB target pistol I tested.
The dry-fire mechanism on the SAM 10 is a lever on the right side of the action. Pull is straight back and the trigger is cocked, but the hammer isn't. When you pull the trigger, it releases the sear without releasing the hammer to strike the firing valve — hence the dry-fire. Those who own a gun with double-set triggers know the feeling of the set trigger breaking is not the same as the feeling of the gun actually firing. With an airgun, which doesn't recoil or make a lot of noise when it fires, this feeling is much more noticeable.

On the SAM 10 target pistol, the dry-fire lever at the top of the receiver is pulled back each time to cock the trigger. You can feel the sear release when the trigger is pulled; but since the hammer was not cocked, it doesn't strike the valve and no air is exhausted.
As nice as the M10 trigger is, the dry-fire device isn't as nice as the FWB or Steyr dry-fire devices. Both of those guns feel as though the hammer is dropped when they fire in the dry-fire mode.
Other 10-meter guns have to resort to a gimmick of some kind to get into the dry-fire mode. The IZH 46M, for example, requires the shooter to actually cock the trigger by pulling the breech up, then locking it back down. By omitting the pump stroke, there's no compressed air in the gun. When it fires, there's nothing to release. The effect is the same, but a little more work is needed for each dry-fire shot.
Other guns require the shooter to unscrew the compressed-air tank part way. They can be cocked and fired and the hammer will fall, but there's no air in the firing valve because the compressed-air reservoir has been disconnected.
What benefit does dry-firing provide?
Hold on to your hats, apartment dwellers! Dry-firing allows you to train in a tiny apartment without making any noise or having to stop any lead pellets. Do people really do that? You bet they do! Dry-firing can get you ready for a match just as well as shooting live ammo. It's probably good to shoot a few pellets from time to time; but if you can't, there will be at least a chance to shoot them when you sight-in before the match.
Another benefit of the dry-fire mechanism is that the trigger can be cocked for testing before a match without firing the gun. The trigger on every air pistol must pass a minimum 500-gram weight test before it can be permitted in a match.
But the biggest benefit of dry-firing is the practice it affords. When you do the same thing thousands of times in repetition, your muscles and nervous system become synchronized to a degree you must experience to understand. That's why competitive shooters can release the sear at the exact instant they desire.
Follow-through is the name of the game
You've read the phrase "follow-through" many times. What does it mean, and why do we talk about it so much? Follow-through is when the shooter continues to watch the target through the sights after the shot's been fired. If the gun is gentle enough, like an airgun or a rimfire, then follow-through lets the shooter see where the sights were in relation to the target at the instant of firing.
Follow-through is at the root of dry-firing. We dry-fire to train ourselves to follow-through; and it's follow-through — and all that it entails — that makes a better shooter. Dry-firing the gun many times is what reinforces follow-through in a shooter.
by B.B. Pelletier
Part 1
Part 2
Part 3
Part 4
Part 5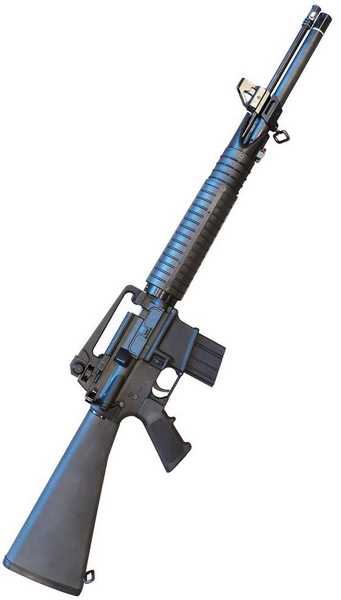 Crosman's new MAR177 upper is big news!
Today's test is shooting the Crosman MAR177 at 25 yards, both with and without the magazine. We'll also shoot it with the best wadcutter target pellets and the best domed pellets to see what differences there are.
Rather than shoot the rifle myself, I let Mac shoot it this time. He is the better rifle shot between us, and I just wanted to see what the rifle would be like in his hands. He shot it off a bag rest at 25 yards indoors. Ten pellets were shot from the magazine, then another 10 of the same pellet were shot using the single-shot tray. Mac tested both domed and wadcutter pellets, so we get to compare the relative accuracy of both today. And the results did not turn out as I expected.
Magazine
I'd noted in an earlier report that the particular 10-shot magazine I've been using has two chambers with tight entrances. Mac found the same thing without being prompted by me. I had him use the same magazine as I did so I could compare his results with all other variables remaining the same.
You'll recall that I mentioned not liking magazine guns because of how they handle the pellets. So, today was also a test between the magazine and loading each pellet as you shoot. I'm not saying that all pellets have feeding problems, but that some magazines may have a problem. But when you load each pellet singly, you have less chance of damaging the pellet.
Single-load tray
That said, the MAR177 has a gap at the front of the single-load tray that can catch the nose of certain pellets and make it very difficult to load. The H&N Field Target pellets that were the most accurate in an earlier test had this problem and had to be exchanged for a different domed pellet. The H&Ns have a semi-wadcutter rim around the head that just catches in the gap on the tray and causes the pellets to flip up and possibly get damaged on loading. I substituted 7.3-grain Air Arms Falcon pellets that fed perfectly through the tray.
On to the shooting
Let's get right to today's test. First, Mac tested the domed pellets at 25 yards.

Through the 10-shot magazine, 10 Falcon pellets made this 0.667-inch group at 25 yards. This is very good!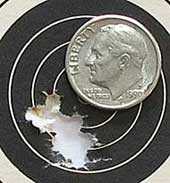 When the single-shot tray was used, 10 Falcon pellets made this 0.429-inch group at 25 yards. This is clearly better than the group made using magazine-fed pellets.
Mac tried the H&N Field Target pellets first, and they were very accurate, but a couple of them refused to feed through the magazine. But the Falcon pellets fed flawlessly, so we changed the test to use them as the domed pellet of choice. Once again, I want to say that in another magazine this pellet might have fed better, but this is a quirk you get with mags that you don't get when loading singly.
Clearly the single-loaded pellets are more accurate than those loaded by the magazine. That may not hold from magazine to magazine; but for this one mag, you're better off loading the pellets one at a time. Let's see how the rifle does with wadcutters at 25 yards.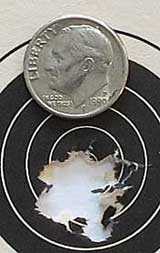 Using the magazine, 10 RWS R10 7.7-grain pellets (an obsolete weight for the R10) grouped in 0.484 inches at 25 yards. That's great performance.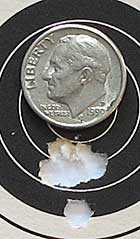 When each pellet was loaded singly, the R10s grouped 10 in 0.402 inches. This was the best group of the test!
The trend continued with the wadcutter pellets. The R10s grouped even tighter than the Falcons at 25 yards, and those that were loaded singly did much better than those that fed through the magazine.
What have we learned?
First, we've learned that some magazines do influence the accuracy of the gun with all ammunition — or at least with the pellet types used in this test. A different magazine might well give different results, but one thing it will never do is outshoot loading the pellets by hand, one at a time. As a 10-meter shooter, I knew this going into the test. But it was nice that we were able to demonstrate it so clearly.
Next, we see that wadcutters were more accurate than the domes in this test. Even though both pellets were very accurate, the wadcutters had the edge. That was the part that surprised me. I'd expected the domes to take over at 25 yards.
The bottom line
The Crosman MAR177 is a valuable addition to an AR and a wonderful target rifle in its own right. It was held back in this test by the use of an AR National Match trigger, which is by no means as good as a target trigger on an air rifle. Even so, we see accuracy that any 10-meter precision rifle would be proud of.
I think Crosman has made a winning rifle in the MAR177. And when they bring out more powerful versions of it in the future, it'll be all the greater justification for owning an AR! My thanks to Crosman for the loan of this MAR177 for both this test and for the feature article I am writing for Shotgun News!
by B.B.Pelletier
Every airgun show is unique. I've said that many times before, but it's always true — and this one was no different. What I look for when I try to describe an airgun show is how it stood out from all the others. That's what I'll do today.
An airgun show is small, in comparison to0 a regular gun show, but there are more airguns on a single table then you'll see at most big gun shows. And the guns range from inexpensive Daisys and Crosmans to then most exotic airguns imaginable. So go to gun shows for and crowded aisles, but to airgun shows to find airguns.
I didn't get away from my table for the first half of the first day. When I finally did, the show immediately began to reveal itself. It was jam-packed with big bore air rifles! I mean jammed! Dennis Quackenbush and Eric Henderson are always the mainstays of the show; but this time I met Robert Vogel, whose business is Mr. Hollowpoint. Robert casts each bullet by hand from lead as pure as he can make it. His bullets mushroom on game perfectly and rip huge holes in living flesh, making the most humane kills possible. I bought a bag of 68-grain .308-caliber hollowpoints for the Quackenbush .308 test I'm conducting, and he threw in a second bag of .22 pellets for free. These will have a special debut in a smallbore test in the near future.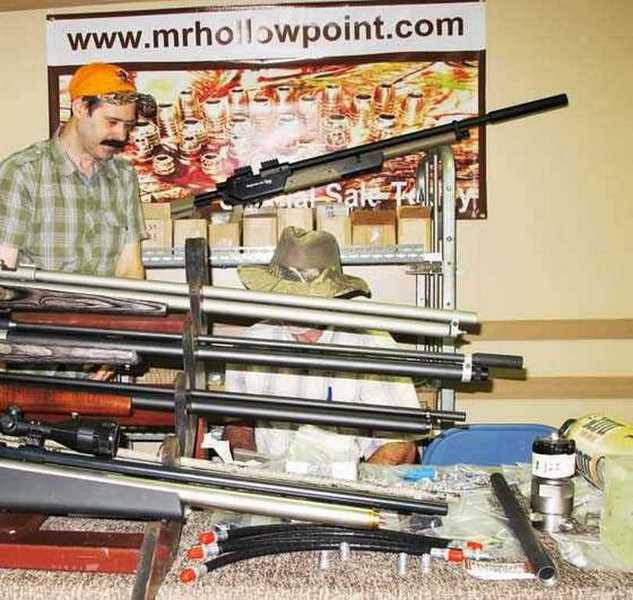 Robert Vogel (standing) is Mr. Hollowpoint. He has thousands of different bullets for big bore shooters to try.
But Mr. Hollowpoint wasn't the only bullet maker at the show. Seth Rowland, the show's host and promoter, also supplies the big bore airgunning community with cast bullets in numerous sizes and shapes. And their customers can hardly appreciate the untold hours they spend at the lead pot, casting and sizing these silver slugs one by one.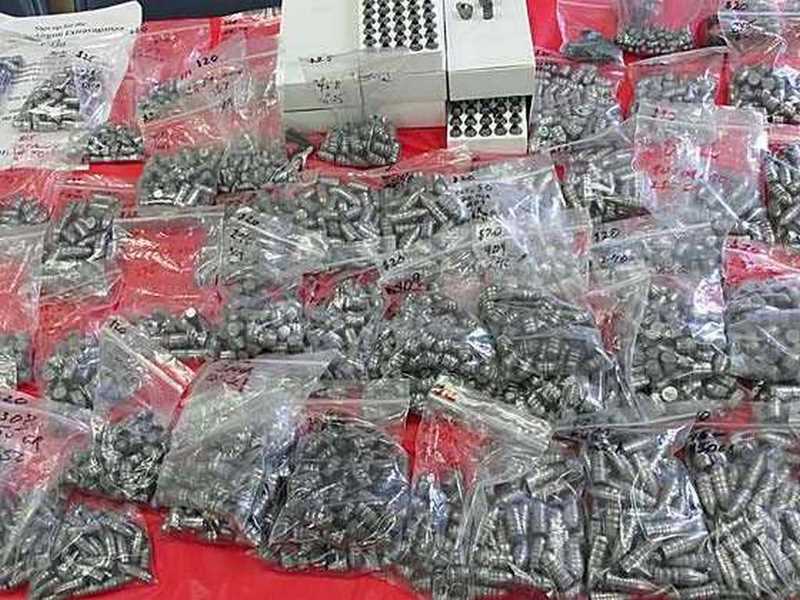 Need bullets? Seth Rowland has them in different sizes, shapes and weights.
10-meter guns
Another theme that's common to all airgun shows is 10-meter target guns. This year's Arkansas show had plenty of them, both from dealers like Scott Pilkington of Pilkington Competition Equipment in Tennessee, as well as numerous private individuals. I mentioned several weeks ago that Mac was bringing some recently overhauled FWB rifles to this show, and on day one an interested buyer sought him out. This man was serious about buying a target rifle, and he had done his research on the internet. But this was the first time he'd seen, felt and shot these rifles.
Mac took him out to the shooting range to try out an FWB 150 and a 300; and from his testing, he decided the 300 was the gun he wanted. Because it lacks the barrel jacket, it's lighter than a standard 300S. He was buying the rifle for his wife to shoot in competition. They made a deal, and he went home with the exact target rifle he wanted — an overhauled ex-club rifle at a price that was several hundred dollars below what he would have paid for a gamble on the internet. For this man, driving all the way to Arkansas made good sense.
I'm sure that same scenario was played out numerous times at this show, because that's what happens at an airgun show that also has a shooting range. You get to try out the guns before you buy — something that's impossible at a regular gun show.
The odd and wonderful
You never know what you're going to see at one of these shows, but there are a few people who always seem to have interesting things. Larry Hannusch, the top airgun writer for the past 30 years, is one person who can always surprise you. This year, our tables were together, giving me the opportunity to look at his guns more closely than normal. He had a Crosman 113 bulk-fill CO2 rifle, which isn't unusual, except the owner of this one had inlet a pellet box into the right side of the stock — much like the patchbox found on certain muzzleloading rifles.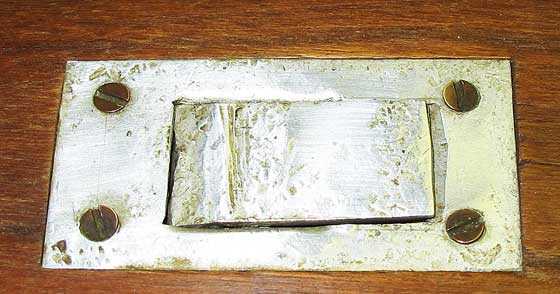 Some owner made this patchbox in the stock of his Crosman 113 bulk-fill rifle.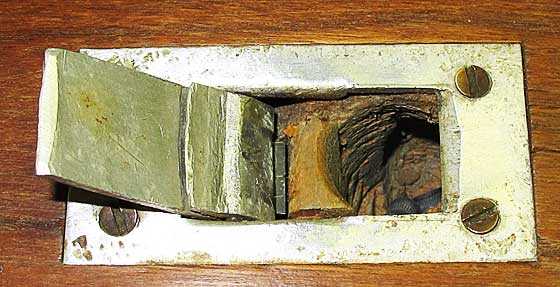 He built the "patchbox" with a built-in spring. There were pellets inside.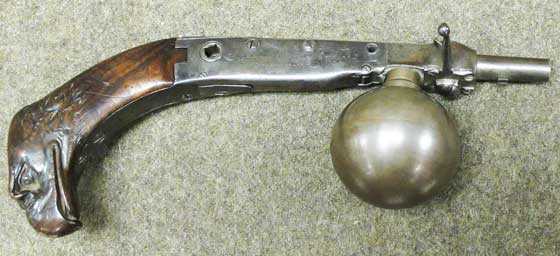 When was the last time you saw one of these? A French ball-flask pistol from the 1700s.
The big find
Often there will be a big find of some certain airgun that shows up at a particular show. I remember one year someone was selling piles of brand-new-in-the-box S&W 78G and 79G pistols. There were at least 50, but as my memory serves there might have been as many as 100 brand-new guns that were at least 20 years old at the time. Another year, it was Scott Pilkington who brought almost 300 club target guns for sale. You could buy an FWB 300 for $150-$200! Of course, it would have been a beater and would have needed to be resealed, but it certainly was the budget way into a 10-meter gun.
Then there was the year that someone had over 20 Johnson Target Guns, the submachinegun-looking plastic catapult BB gun from the late 1940s. They were all new in the box, and the cloth backstop that was in the box to stop the BBs inside the box lid that also served as a backstop had turned to dust. But they were complete. To collectors, they were a wonderful find. I actually saw two of these at this year's Arkansas show; so even after more than 10 years, they're still slowly dissolving into the collector population.

Two brand-new Johnson Target Guns in the box with all the literature and accessories.
When I walked into the second large room in this show and turned the corner, I ran into Randy Mitchell's booth, where he was selling a pile of recently discovered TS45 sidelever air rifles for $20 each! I blogged this rifle several years ago, and Vince also wrote a guest blog about the same rifle. Until now, there were no new guns you could buy. You had to find one by chance and would always be one somebody had owned and possibly modified. Now, Randy Mitchell, who runs his Adventures in Airguns store, has a huge pile of these rifles to sell. They aren't very safe and are the very guns that chopped off thumbs when their anti-beartraps failed; but if you cock them safely and load while restraining the sidelever, they're fun to shoot and are often accurate.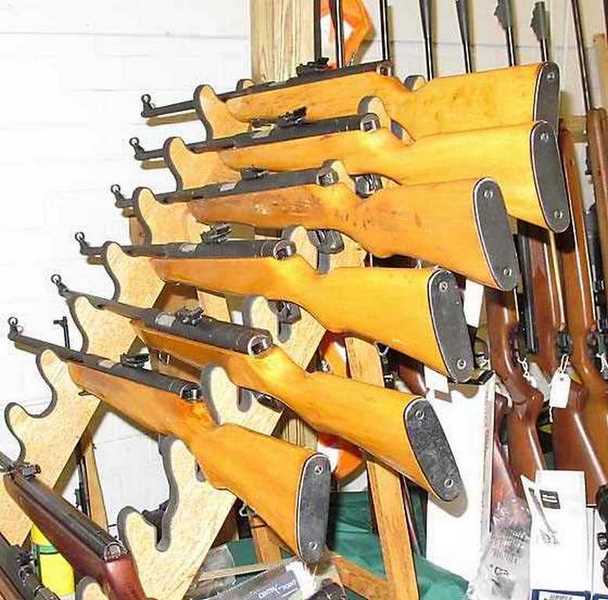 Randy Mitchell found these old/new TS45 sidelevers and brought them to the show. It's stuff like this that keeps me going to every airgun show I can make!
Collectibles
Of course, there are too many modern guns to name here, but know that at any show you'll find almost every modern classic airgun for sale. If you're looking for good TX200s or old R7s, they're usually available — and they were at this show, too. But what you also see are airguns that are so rare and hard to find that some of them won't even be seen in airgun books. This yearm Ingvar Alm had both a Winsel CO2 pistol in the box and a Giffard CO2 pistol from the 1870s on his table. Giffard invented the application of CO2 for gun use, and Winsel made only 50 guns in the early 1950s. Neither gun is represented well in any airgun book I know.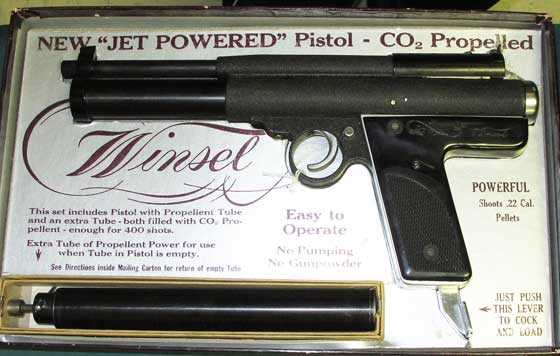 The Winsel pistol was a bulk-filled CO2 pistol that required the owner to mail his tank back to the company to be filled. Yeah, that's going to work! They made 50 and quit. Today, they're a prized collectible.

Giffard pioneered the use of CO2 in guns in the 1870s. His pistols are many times rarer than his rifles. The empty pop bottle is for contrast — like Cindy Crawford's mole.
Big bores
There were more big bores at this show than I see at other shows. Perhaps, that's because the focus of big bore airgunning seems to center around Texas, where the LASSO match is held. Dennis Quackenbush delivered his guns to eager buyers, but the only rifle he had to show was his own .308, which he doesn't want to sell. Eric Henderson and Big Bore Bob Dean were both there with some guns to sell, as well as Robert Vogel. But the one maker with a lot of guns on display was Jack Haley, whose table was a rainbow of laminated stocks.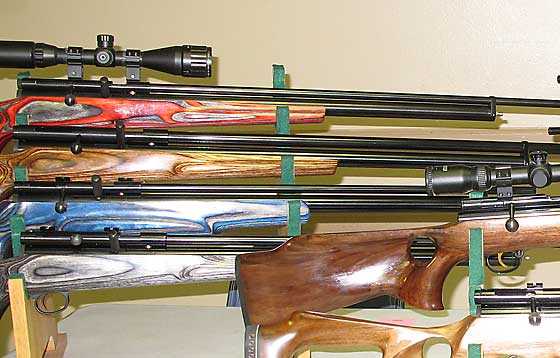 Jack Haley's table was a colorful display of big bore rifles.
Oops!
Then there was the big bore that has been a joke in the airgun community for many years. The gun itself is fine. It was made back in the 1980s by Ben Patron, whose name is clearly on the side of the receiver. Somewhere along the line, some person got ahold of it and displayed it at the Springfield, Missouri, gun show as a "U.S. military .50-caliber sniper air rifle." The label for that display was still inside the guitar box that held the gun, and Dennis Quackenbush remembers seeing it at the Springfield show. After that, it somehow ended up in an Arkansas pawn shop where Big Bore Bob found it and bought it.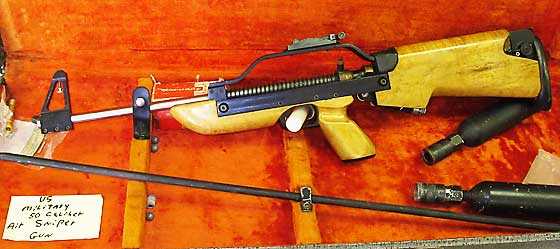 Some previous owner had concocted a colorful background story for the Patron big bore of the 1980s.
The drawing
Many shows have a drawing, but airgun shows are so lightly attended that you actually have a chance of winning! This year, they gave away several very nice prizes at the close of the show, including a scoped TalonP pistol from AirForce! Then came the drawing for the frame-extended silencer for the Talon SS. I knew before the little girl picked my ticket that I would win it. How ironic is that? I'm testing a Talon SS with a bloop tube right now, so of course I'm going to win another one! But the supreme irony came when Randy Mitchell, a big bore hunter, won the .50-caliber Dragon Claw donated by Pyramyd Air.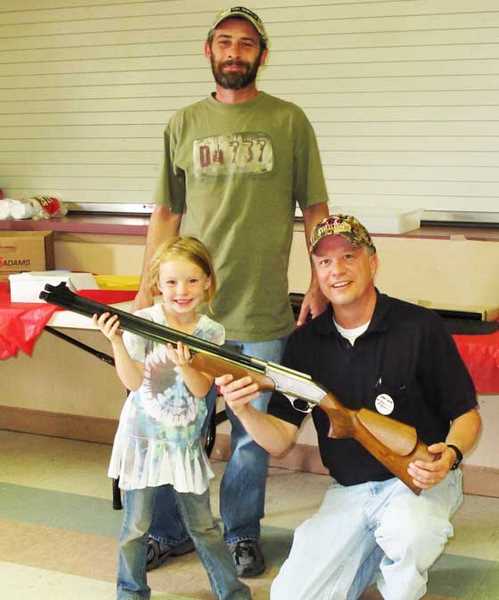 Randy Mitchell (right) won the Dragon Claw. Show host, Seth Rowland, standing, ran the drawing. The young lady added a lot of sparkle and enthusiasm to the show. I see an airgunner in the making!
On the trip home, Mac and I relived the show many times. That's another benefit. I can remember snippets from most past shows, and this one will now be filed away in the library.
by B.B. Pelletier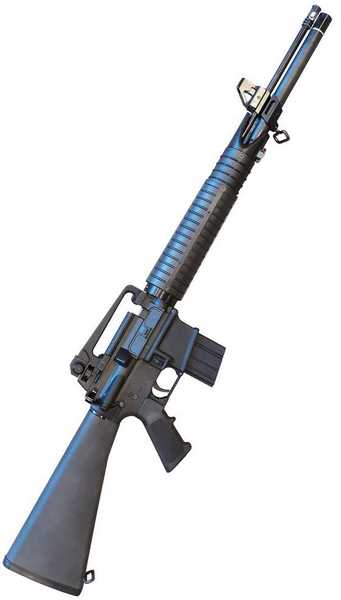 Crosman's new MAR177 upper is big news!
Today, we'll look at the Crosman MAR177 upper shooting domed pellets at 25 yards. I'll be using the 10-shot magazine, so we'll get to see that in action, as well. I'll tell you right now that today was a learning day that spawned another report that's still to come. Read on to learn what it is.
As you know, the Crosman upper receiver is attached to a lower receiver that I built on a Rock River Arms lower receiver shell. I used Rock River parts, and the trigger is an upgraded two-stage National Match trigger, also from Rock River.
National Match?
To the uninitiated, the term National Match sounds like the finest possible precision. Well, it isn't! A National Match trigger in an AR is about like a John Deere tractor — strong and effective, but as far from real precision as it is possible to get and still have a good trigger. My trigger has a light first stage and a crisp release in stage two, but it's not what any target shooter would call precision. The break point is right at 5 lbs. My Trapdoor Springfield, which was made in 1875, has a trigger just as nice. My 1879 Argentine rolling block's trigger is lighter and crisper, now that I have replaced the heavy service-grade trigger return spring. So understand that National Match does not mean the same as precision. You owners of Rekord triggers don't know how good you have it.
The National Match AR trigger is quite a bit better than the single-stage trigger that comes standard on a military or civilian AR, but it isn't a target trigger by any stretch. I tell you that so you'll understand what I had to deal with in this test.
10-shot magazine
The MAR's magazine is the same one that a .177 Benjamin Marauder uses. It's wound under spring tension as it's loaded and advances by spring power as the bolt is worked for each shot. Remember that on the MAR, the bolt is retracted by pulling back on the charging handle — the same as all other ARs.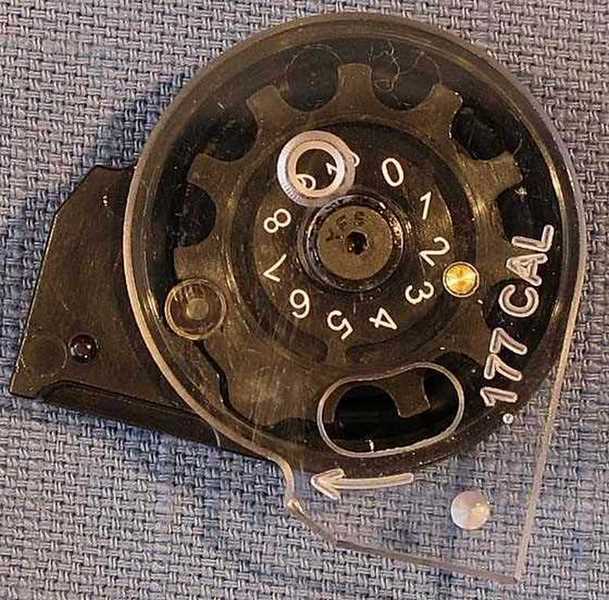 The 10-shot magazine comes from the Benjamin Marauder and is completely reliable, as well as quick and easy to load. Here the last shot is in the magazine, holding it in place. The clear plastic cover is rotated to drop in the other 9 pellets.

To cock the MAR the charging handle is pulled back.
The mag loads easy once you know the right procedure. A couple of the chambers were tight, so I used a mechanical pencil to push in the pellets. Once they cleared the lips of the tight chambers, they dropped into place easily. There were no feeding problems throughout the test, which entailed about 90 pellets, give or take.
The scope
I mounted a Leapers 4×32 mini scope on the rifle. It's not a scope that Pyramyd Air stocks, but it would be similar to this Leapers scope. You may criticize my choice for some lack of aiming precision; but when you see how good the little scope looks on the rifle, I think you'll understand why I went with it. It allowed me to use medium scope rings and still clear the magazine that stands proud of the receiver top. If I were hunting feral hogs with a 300 AAC Blackout or a .50 Beowulf cartridge, this is the scope I would use. No, it doesn't magnify as much as a good 3-9x scope, so we may have to take that into consideration when we look at these groups.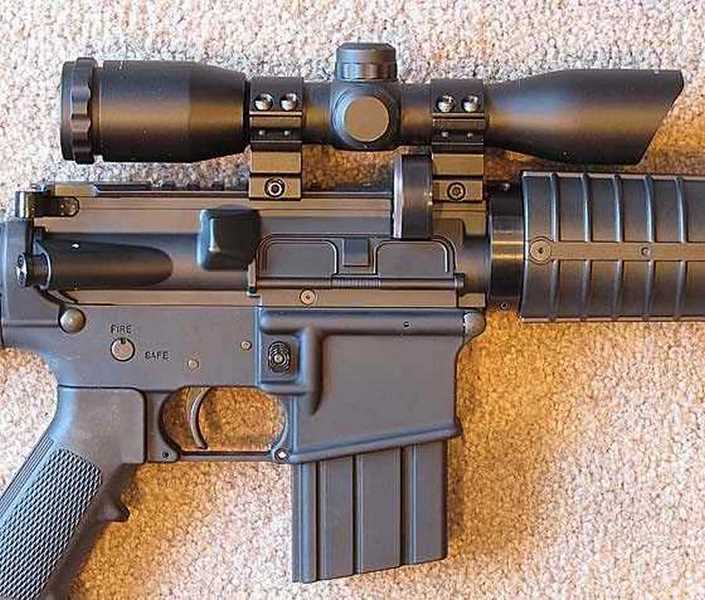 This mini-Leapers scope looks perfect on the MAR. The two-piece rings have to be close to each other because the scope tube is short.
Sight-in
I sighted-in at 12 feet, using my 10-minute sight-in procedure. If you haven't tried this yet, you need to. It took just three rounds to get on target; and although a bit of luck was involved, this sight-in procedure always cuts time from the front-end of my scope tests.
Air Arms Falcon
I used the 7.3-grain Air Arms Falcon pellet to sight in. The scope seemed right on for elevation, but off to the right. I dialed in some left correction and shot again. Almost there, but not quite. One more adjustment put me at 6 o'clock, as far below the aim point as the center of the scope was above the bore axis (approximately). I knew I was safe to back up to 25 yards and start shooting.
The next 7 shots made a group measuring 0.422 inches between the centers of the holes farthest apart. It was an auspicious beginning for the test!

Three shots to get on target, then a great 25-yard, 7-shot group of Air Arms Falcons.
It was also the best group I shot with the Falcons. The other two opened up to over three-quarters on an inch, so although they made a good first impression, Falcons were not the best domed pellet in the rifle I'm testing.
JSB Exact 8.4-grains
I also tried JSB Exact 8.4-grain domes. They put 9 pellets into 0.495 inches, but threw the tenth shot low and right, opening the group to 1.047 inches. I detected no reason for this wild shot, so I'll have to chalk it up to the pellets — maybe.
BSA Wolverine
Next I tried some BSA Wolverines. This is yet another JSB dome that sometimes out-performs anything else. But in the MAR, they were just satisfactory, putting 10 into 0.642 inches.
JSB Exact RS
Another tantalizing group was made by JSB Exact RS pellets. We've learned over many tests that the RS is one of the best pellets for low- to medium-powered springers, and the MAR177 shoots at the same velocity, so I wondered how well it would do. Nine shots went into 0.474 inches, but the tenth shot opened that to 0.874 inches. It was a second instance in which 9 shots were tight and the tenth was a flier. I cannot say where in the string the wild shots occurred, though, because the scope couldn't see the pellet holes as they were made.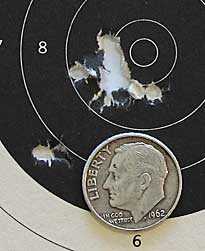 Nine were tight, then a tenth opened the group. JSB Exact RS pellets
H&N Field Target
Next, I tried H&N Field Target domes. A reader recently asked me why I don't try these, as he had good success with them. I responded that I had, and had not experienced the same success; but when I checked my pellets, I discovered that I'd been shooting H&N Field Target Trophy pellets. The Field Target pellet tin was unopened. See what confusion a small name change can make?

Best group of the day was shot with 10 H&N Field Target pellets. It measures just 0.441 inches across.
These 8.5-grain domes gave me the best 10-shot group of the test — a stunning 0.441 inches between centers! This is a pellet I will work into future tests, you can be sure. This also serves to demonstrate that although the scope only magnifies four times, that's good enough.
I was starting to tire from all the concentration, so this was the place to stop. I would say that the MAR177 made a good showing, but also raised some questions.
What comes next?
The performance of the rifle in this test was so intriguing that I want to reshoot the same test, only using the single-shot tray next time. Then I will know for sure whether or not the magazine has any influence over the group size. I've always had reservations about magazines in any rifle, and I really want to see if there's any discernible difference. If there is, I may have to do a lengthy test of magazines vs single-shot operations in PCPs.
The next test that will also offer an opportunity to pit wadcutter target pellets against the best domes at 25 yards. I've always maintained that 25 yards is about the maximum distance at which wadcutter pellets are accurate, and we even shot a segment on the American Airgunner TV show in which we put that to the test. The domes were clearly superior to wadcutters at 35 yards, so this test will be at a closer distance and indoors. It should prove interesting.
by B.B. Pelletier

The FWB 300S is considered the gold standard of vintage target air rifles.
This is a test I said I would do the next time I got a calm wind day at the range. That day came last Friday, and I took the opportunity to test the FWB 300S at 50 yards with a scope. This test was designed to see if there is any discernible accuracy difference between pellets that are sorted by weight and those selected at random from the tin. If you read part 4, you'll see that I was surprised to find that these JSB Exact RS pellets I selected for their accuracy had such a variation in weight. I sorted through almost 40 pellets to find 20 that weighed exactly 7.3 grains. Though the weight difference was only four tenths of a grain, it was more than expected and more pellets were affected than I thought.
The JSB Exact RS pellet was chosen because of previous performance demonstrated in part 3. And I had to choose a domed pellet because out at 50 yards no wadcutter can possibly be accurate — I've proven that on many occasions in the past.
In part 4, I tested the rifle at 50 yards using the target sights that come on it, and I got two groups of 10 shots each. One was with random pellets taken from the tin. That group measured 1.689 inches between the centers of the two widest shots, while the other was 10 weight-sorted pellets that grouped in 1.363 inches. I didn't feel that test was conclusive, so I wanted to return with the rifle scoped to see what it could do.
Not only did I mount a scope on the rifle, I also installed a scope level, and on every shot the bubble was leveled. That eliminated the possibility of any cant, so the rifle was always shooting in the same orientation.


The scope hangs over three-quarters of the loading port, making loading a chore. Notice how close together the scope rings are, yet they occupy the entire length of the dovetails. The 300S is not made for a scope! Notice, also, the scope level that was consulted on every shot.
I mounted a Leapers 3-9×50 scope with AO. It's an older version of the one I linked to, but the specs are mostly the same. Notice in the photo that this scope was almost too long for the rifle, even though it was mounted at the extreme rear of the spring tube.
Where I had used a 3-inch bull target with the aperture target sights, I switched to the smaller 10-meter target when using the scope. The pellets were falling off the target paper anyway and onto the plain backer paper attached to the target frame, because of the large drop of this pellet at 150 feet.
Perfect day
I couldn't have asked for a better day in which to shoot. Since I was at the range very early, there was absolutely no breeze. The sun hadn't risen very high, so I didn't need to shield my non-sighting eye. The rifle rested in the bunny bag dead calm, so altogether this was as perfect a test as I could have run.
Bore already seasoned
Because the bore had been shooting JSB Exact RS pellets last, it was already seasoned for this test. Still, I did shoot the rifle a few times to wake up the action. Then, I began the first group of unsorted pellets.
This time, the pellets did very poorly — grouping 10 shots into 3.152 inches at 50 yards. The group is very elongated, looking like a large velocity swing. The group measures just 1.178 inches wide, which is less than half the height.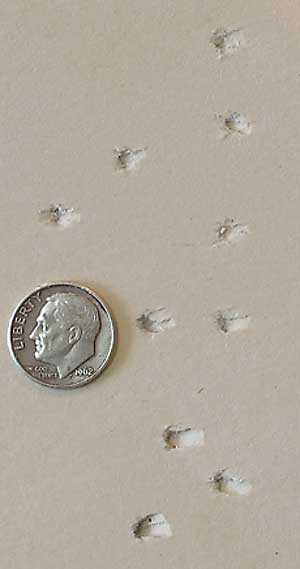 Ten unsorted JSB Exact RS pellets strung out vertically at 50 yards. The rifle shot much better with target sights! Should I have warmed the gun more?
Next, I shot the pellets that were sorted by weight. Ten went into a group measuring 1.606 inches across. This group is fairly round and well-distributed, so it makes me wonder all the more about the first group. Perhaps the gun needed longer to warm up for the first group than I allowed?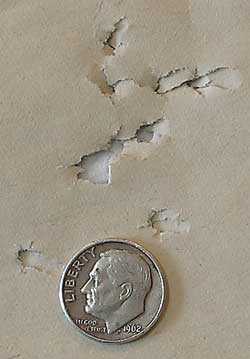 This group of 10 weight-sorted RS pellets is much rounder, but it's no better than the best group shot with target sights.
Test is not conclusive
I'm declaring this entire test invalid. I think I've stretched the FWB 300S beyond its capability, and the results are not telling me what I need to know. I'm aware that others have shot 10-meter rifle at 50 yards and say they've gotten good results, but clearly I've not been able to do the same with this rifle.
I think the test itself is worth pursuing, but with a rifle better-suited to accuracy at 50 yards. Pushing the FWB 300S outside its comfort zone was not a good idea. But I have several accurate air rifles that are all capable of grouping well at 50 yards. That's what I need to rerun the test.
by B.B. Pelletier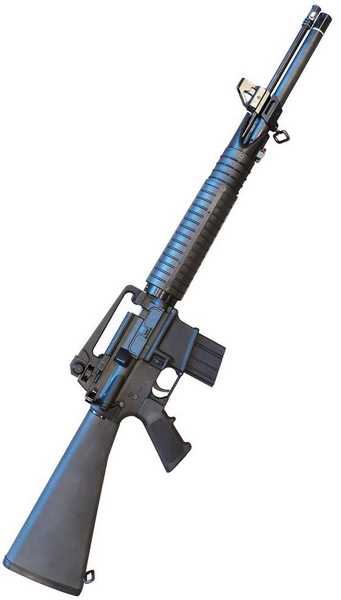 Crosman's new MAR177 upper is big news! This view shows the front sight properly oriented.
Today is the first accuracy test day for the Crosman MAR177 upper, so let's see how this baby shoots. Blog reader Darth Cossack pointed out that I had mounted the front sight backwards in the last report, so I fixed that for today's photo. It wouldn't have mattered from a shooting standpoint, but we do want the gun to look right.
On this AR-15, both the front sight and the rear sight adjust for elevation, while the rear sight also adjusts for windage. The front sight requires a sight adjustment tool that I don't have and didn't see packed with the upper. You can also use the point of a 5.56mm military round, which I have an abundance of, but doing it that way is very laborious. I'm hoping the rear sight adjustments will take care of everything that's needed.
And one more time for those who didn't read it — the MAR177 is purpose-built for the new sport of National Match Air Rifle (NMAR). NMAR can be shot with traditional 10-meter rifles (using the CMP classifications of Precision and Sporter) and the course is three positions — standing, kneeling and prone. You can continue to use your shooting glove, sling and shooting jacket for this sport, as well. Shooting trousers are not permitted.
The benefit of the AR-15 type rifle that the MAR177 is a part of is that it helps shooters transition over to National Match highpower shooting, because the lower that includes the trigger can be the same for both rifles. And from a competitive standpoint, the MAR177 is very affordable. The only other AR-type air rifle that's suitable for this sport is made by Anschütz and sells for $1,850.
It cost me $450 to build my lower receiver, and half of that was the National Match trigger. If I wanted to build a lower on a budget, I could do it for under $200 by careful shopping. And I just saw a complete lower advertised in a local sale for $250. But the trigger would then be single-stage and heavier, though there are ways to gunsmith the pull weight down to the legal range of 4.5-5.0 lbs. And when I say the legal range, I refer to high-power competition, only. An air rifle has no trigger-pull limit, because Precision-class target rifles, which are the Olympic target air rifles, are permitted to compete in NMAR.
Why did Crosman make the MAR177 upper for a firearm lower?
This question is being asked by many airgunners. Why would Crosman knowingly make their upper to fit a lower that then classifies the whole rifle as a firearm under federal law? The answer lies in the tens of millions of AR rifles now in the hands of shooters and the extreme popularity of the model. Crosman is building for a market that is more than a hundred times larger than the current active airgun market in the U.S. Even if only a few percent of those owners decide to buy a MAR177, they represent more than all the active airgunners in the United States at this time.
But Crosman isn't blind to the potential for sales of an MAR that's not classified as a firearm. I have no doubt they're working hard on a lower that will accept a modified MAR upper that will not be classified as a firearm. But these things take time. I would expect such a project to be on the fast track right now, but how long it might take before we see it is unclear.
The difficulties are enormous!
You probably think the MAR was easy to develop. After all — every AR is the same (they're all held to certain specs), so don't they just have to develop a gun for one lower that will automatically work on all the rest? Actually, no. When your upper has to interface with all the lowers on the market and all possible combinations of triggers in those lowers, there are bound to be some problems. Crosman did their due diligence in designing a universal upper, but there are bound to be some combinations of lower receivers and triggers that experience temporary problems. That would be true for any company designing any new AR-15 upper from scratch.
As I mentioned in Part 2, my Rock River lower and National Match trigger worked fine from the first moment I assembled the rifle, so every new owner can expect success, but there are bound to be some hiccups. There are synthetic lower receivers on the market that are being sold on a price basis that are known to have interchangeability issues with firearm uppers, and this is going to carry over to the MAR177 as well.
I'm not going to list those brands here, but if you do a search for AR-15 lower receiver problems, you'll come up with a good list of what to avoid. The problems are both the lower receivers, themselves, and the separate parts kits to complete them. People are buying these receivers and parts based on price, alone, and they're running into problems when one brand of lower won't accept another company's parts kit and then work with those three other uppers.
Somebody asked me why I chose a Rock River lower receiver and a Rock River parts kit, and I'm telling you why. There are other brands that are just as good, and a few that are even perhaps better, such as the Giessele National Match trigger that one of our readers mentioned, but you have to be aware of the fact that not all AR-15 uppers fit all AR-15 lowers.
What I'm testing
One final comment I want to make. Building a gun like this is full of decisions. You are free to choose whatever appeals to you; but once you choose, your path is determined by the decisions you make. As I said before, there's no trigger-pull weight restriction in the NMAR class for air rifle shooting, but if I were to want to use the same lower in a match with a firearm, I would be restricted to a weight range for the trigger release and also the style of pistol grip. While I'll probably never compete in a high-power military-style match, I wanted to shoot a gun that would qualify. It was a choice I made, and one that you do not have to follow. But that choice led me to a certain level of performance in the rifle I am now about to test.
I'm also shooting the military-style post front sight. An aperture front would allow more aiming precision; but if you want to use the MAR as a training tool for your high-power competition rifle, you'll stick with the sights that come on the upper.
The test
I shot 5 shots per group off a rest at 10 meters with each pellet I tested. Since there's going to be more testing with this gun, I didn't try to test all the pellets I have, but I did try eight different ones.
Sighting in was done with the Crosman Premier Super Match target pellets that Crosman packed with my test gun. And they were astonishingly good! The group fired for record measured 0.144 inches between centers. That's in the range for CMP (Civilian Marksmanship Program) and NRA Sporter class 10-meter rifles that have much lighter triggers and aperture front sights. I was impressed.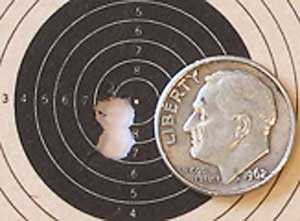 Crosman Premier Super Match pellets are great in the MAR177. Five shots went into a 0.144-inch group between centers at 10 meters.
Loading is not perfect
I used the single-shot tray for all this testing. This is the same tray that the Benjamin Marauder uses, and there's a small gap just before the breech of the barrel. If you try to load the pellet tentatively, the head drops into the gap and binds. If you slam the bolt home too fast, the pellet jumps up in front and also jams. It takes a while to get the right closing speed so the pellet feeds smoothly. Not all pellets jam this way, but a couple are particularly bad. You'll have to try it for yourself if you use the tray. I was able to get the feed right for every pellet I shot, so it's not a problem — you just have to spend some time to learn the peculiarities of the gun with the ammo you choose.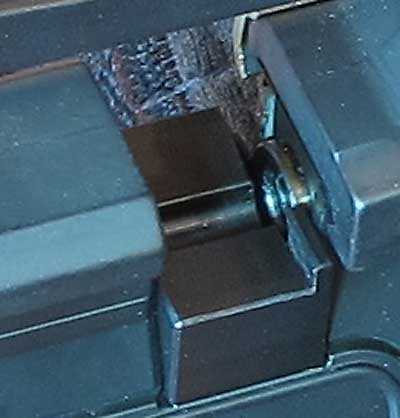 You can see the gap at the front of the single-shot loading tray. You have to learn how fast to load pellets to get wadcutters past that gap.
Number two
The second-best pellet in the test was the Gamo Match. While the group they made looks large, it's so round that it doesn't take up that much room. In reality, this probably means they're not really second best, but I may have made a small aiming error with one of the other pellets. However, it's surprising that such an inexpensive pellet is also this capable.

Five Gamo Match pellets made this 0.136-inch group. Second best of the test, though it appears open.
Best group
RWS R10 7.7-grain pellets that are no longer available gave the best results, with a group size of just 0.106 inches between centers. I shot them early in the test and was probably more rested than I was later, so my eyes were working at their best.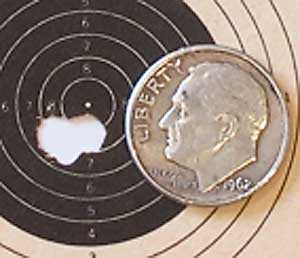 RWS R10 7.7-grain pellets made this five-shot group measuring 0.106 inches. It was the best of this test.
The other pellets
Besides these three, I tried five other target pellets. They were all very equal to the Crosman Super Match, and the largest group fired during the test was 0.162 inches with RWS Hobbys.
JSB S100 Match
Conclusions
One test like this is not enough to determine the most accurate pellet. If I were to do the same test again, the results would no doubt change. Lots more testing is needed to find that one best pellet for this competition air rifle. However, one test was sufficient to prove that the MAR177 has everything going for it. It's accurate, easy to use and conserves air like a free diver. It mates to an AR lower perfectly to become the best possible training system for AR shooters.
I have more plans for this rifle. Next, I plan to mount a scope and test the rifle with accurate domed pellets at 25 yards. I believe the MAR177 has more to show us.
by B.B. Pelletier


Crosman's new MAR177 makes a fine tactical target rifle when attached to an AR-15 lower.
Today, we're going to see how the new Crosman MAR177 upper performs! Because this rifle is a precharged pneumatic, I used my Shooting Chrony Alpha chronograph to analyze the power curve. Though not absolutely necessary, a chronograph can eliminate a lot of shooting time and let you know how the rifle shoots on the first session.
The test rifle was showing a charge of just less than 1,800 psi when I started the velocity test. I chronographed Crosman Premier Super Match target pellets that Crosman sent with the upper for testing the rifle.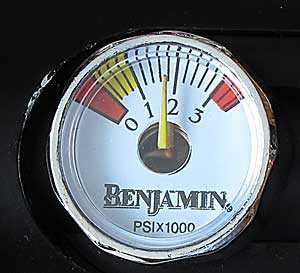 Pressure gauge is located underneath the end of the forearm. This is the pressure that was in the gun as it came from the factory — minus a couple of test shots. It reads just under 1,800 psi.
The first shot went 582 f.p.s., which sounded to me as though it might still be within the power curve. So I fired 16 more shots and the velocity ranged from a low of 559 f.p.s. for the final shot to the 582 f.p.s. that was the first shot. At that point 17 shots had been fired and the pressure gauge was reading 1,600 psi, so I guessed that the gun had fallen off the power curve. The average for these 17 shots was 569 f.p.s.
I filled the reservoir until the gun's pressure gauge indicated 2,000 psi. I then fired five shots that ranged from a low of 580 f.p.s to a high of 585 f.p.s. It seemed the gun was certainly now on the power curve and that it hadn't been that far off the curve on the first 17 shots.
But just to be sure, I filled the reservoir to 2,200 psi and fired another five shots. This time, the velocity ranged from a low of 578 f.p.s. to a high of 586 f.p.s. That's not much different than the reading on the 2,000 psi fill, so the rifle is clearly on the power curve and has been since at least 2,000 psi. But then it wasn't that far off at 1,600 to 1,800 psi, either.
To see if these assessments were correct, I filled the rifle to 3,000 psi — the top of the white sector on the onboard pressure gauge. If the gauge was calibrated correctly, the rifle should now be at the top of its power curve.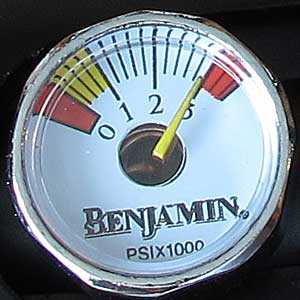 Filled to the top of the white sector, the onboard gauge now reads that 3,000 psi is in the reservoir.
Too much pressure
If you ever needed to see a demonstration of what over-pressurizing a pneumatic gun will do, this is it. The first shot after the fill went out at 549 f.p.s. and the next one went 537. In fact the first 11 shots were all below 550 f.p.s. Shot 12 went out at 551 f.p.s., and the pressure gauge on the gun read 2,900 psi. I accepted that this is the maximum fill pressure for this rifle. More than that shuts the firing valve too fast and costs velocity.
I then fired 33 more shots, for a total of 34 good shots (so far) on the 2,900 psi fill. The lowest velocity was 534 f.p.s. and the highest was 562 f.p.s., for an average of 552 f.p.s. At that velocity with this pellet, the rifle generates 5.39 foot-pounds of muzzle energy.
Having established the top fill pressure, I proceeded to test the rifle's velocity with other pellets without refilling the gun. I tested only target pellets, but the test was more for the weight of the pellets than for their shape.
RWS R10 Match 7.7 grains
I tried the RWS R10 Match pellet that weighs 7.7 grains. This one is now off the market, and there is no replacement. It is in-between the RWS R10 Match pistol pellet that weighs 7 grains and the RWS R10 Match Heavy pellet that weighs 8.2 grains.
This one averaged 588 f.p.s. for 10 shots with a 13 f.p.s. spread from 581 to 594 f.p.s. That generates an average of 5.91 foot-pounds at the muzzle.
H&N Finale Match Rifle
H&N Finale Match Rifle pellets weigh 8 grains, even, and averaged 575 f.p.s. in the MAR177. The velocity spread went from 571 to 585 f.p.s. This pellet generates an average of 5.87 foot-pounds of muzzle energy.
RWS Hobby
The final pellet I tried was the 7-grain RWS Hobby. They averaged 609 f.p.s., but the velocity spread was larger than the other two pellets. It ranged from 593 to 625 f.p.s. At the average velocity, this pellet generates 5.77 foot-pounds of muzzle energy.
Back to Premier Super Match
After these three pellets had been tested, there were a total of 64 good shots on this fill. Remember — I'm counting the start of the fill from where it passed 550 f.p.s. for the first time. That was when the gun registered 2,900 psi on its gauge. I shot another 10 Crosman Premier Super Match pellets, and this time they averaged 567 f.p.s. The spread went from 559 to 571 f.p.s. At the average velocity, this pellet generates 5.64 foot-pounds of muzzle energy.
How many shots per fill?
I fired 74 good shots on the first fill, and stopped with 2,200 psi remaining in the reservoir. If I continued to shoot until 1,600 psi, as the testing indicates is possible, that would add another 50 shots, minimum, to the shot count, taking the total to 124 shots on a fill. That's more than enough, but what I now know is that the gun likes the range of 2,900 down to 1,600 psi on the onboard pressure gauge.
The dynamics of the MAR177
The MAR177 is unregulated, so it relies on just the action of the firing valve to control the velocity of the pellet. In the data I've shown here, the lowest velocity for a Premier Super Match pellet that's still on the power curve is 534 f.p.s. The highest velocity within the curve is 585 f.p.s. I'm getting the high velocity from the string fired on the 2,200 psi fill. So, this rifle has a large velocity spread ranging from 534 to 586 f.p.s. to get those 124 shots that I maintain are in the power curve. That's 52 f.p.s., and normally we wouldn't consider a range that large to be good. But this rifle is meant for 10-meter target shooting, and for that reason I doubt we will see any group enlargement due to velocity. However, I'll conduct a test to see if there's any vertical stringing, which is what large changes in velocity can cause.
If we were shooting the rifle at 25 yards and farther, then I would recommend using a smaller section of the power curve. It's apparent that, as the air pressure drops below 2,000 f.p.s., the velocity rises to the highest it's going to be with a particular pellet.
If the large velocity spread bothers you, you can limit the fill to 2,800 psi, and your slowest shot will be 535 f.p.s. Or limit it to 2,700 psi and the slowest shot will be 549 f.p.s. If you decide to do the latter, your total shot count will be 104 shots, and the total velocity spread will be 37 f.p.s. For my money, the 2,900 psi fill looks best, so that's what I'm going to use to test this gun.
This discussion would be impossible without the use of a chronograph. You would just load the rifle and shoot until the point of impact started to wander. By using the chronograph, you can look at the performance from shot to shot and also understand that there are always going to be some anomalies in the data.
If a different pellet is used to baseline the rifle, things could change dramatically. Premiers are made from a hardened lead alloy, where the other three pellets are closer to pure soft lead. That will have an effect on the numbers you get.
A major lesson demonstrated
This test demonstrates clearly why you cannot simply act as though the pressure gauge on a PCP is reading correctly, and the valve is responding according to the specifications. I've said in the past and I'm saying it again — these small gauges can easily be off by 300 psi yet still be considered accurate. The same is true of the firing valve — it may operate at a slightly different range of air pressures than the spec states. If you want to know for sure, you have to use a chronograph.
What we have seen here is the fact that this gun operates on less peak reservoir pressure and also continues to operate to much lower ending pressure. Without these tests, that information would not be known, because you certainly can't tell from the sound of the discharge. Instead of obeying the owner's manual in rigid lockstep, we've used a diagnostic to learn how our particular gun performs. Knowing that, we can get the best performance that this individual airgun has to offer.
The muzzle compensator
I mentioned the compensator in an earlier report, but I wanted to show it to you here. You'll see that the turbulent air gets stripped off and cannot follow the pellet downrange after it leaves the muzzle because of how this compensator is designed.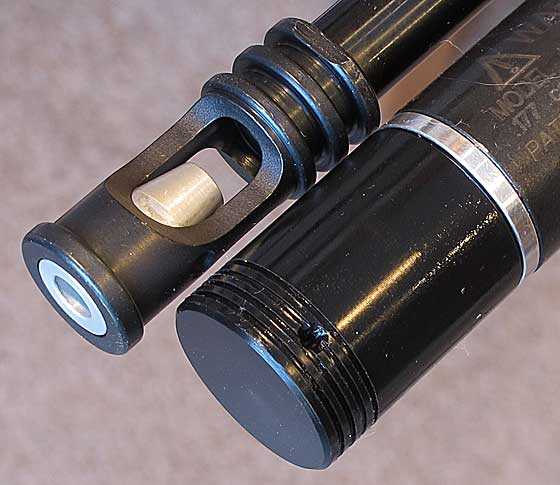 When the pellet leaves the muzzle, it passes through a separate piece that strips off the turbulent air and directs it to the side. The pellet is free to fly straight without the turbulent gasses acting on its skirt.