Posts Tagged 'accuracy test'
by Tom Gaylord, a.k.a. B.B. Pelletier
Today's report is Part 2 of the guest blog from Tyler Patner, a Pyramyd Air customer sales and service representative and enthusiastic field target shooter. He's finishing his report of a BSA Scorpion SE, and today's blog is all about accuracy.
If you'd like to write a guest post for this blog, please email me.
Over to you, Tyler.
by Tyler Patner
This report covers:
• Accuracy at 20 yards
• Accuracy at 40 yards
• Trigger and safety
• How loud is it?
• Final thoughts

BSA Scorpion with beech stock.
In the first report, we used a chronograph to measure the velocity of the .25-caliber BSA Scorpion SE. Just looking at the chrony numbers, I would guess that .22 caliber is really optimal for the Scorpion SE. I'd bet a rifle in that caliber could put out the same energy as the .25 and maintain the same or better shot count. But don't discount the .25-caliber Scorpion SE. While clearly underpowered, today's accuracy testing will show just why the this rifle should be on your short list.
Accuracy testing was done at 20 and 40 yards. Normally, I would do 25 and 50 yards, but my current range has a max of 40 yards. The Bushnell Elite 8-32X40 scope was set on 16X, and the shooting began. I should note, I was using only a front bag rest and shooting off a very wobbly plastic table, but even those hindrances could not keep the Scorpion SE from impressing me! A .25-caliber hole is a bit bigger than I'm used to seeing. I shot 3 groups to warm up and then refilled for the 20-yard test.
Accuracy at 20 yards
The first pellet shot at 20 yards was the JSB King. They stacked 5 into a tight 0.43-inch group, starting things out nicely.

Five JSB Kings went into this 0.43-inch group at 20 yards. This is a good start.
Next was the Benjamin Destroyer pellet at 27.8 grains. This is shaped similarly to their Destroyer in .177 and .22 calibers. Four shots went into a 1.30-inch group, with the fifth shot flying high about 2 inches. The overall size came to 2.60 inches for 5 shots, which is beyond poor. The Benjamins were not included in the 40-yard test for that reason.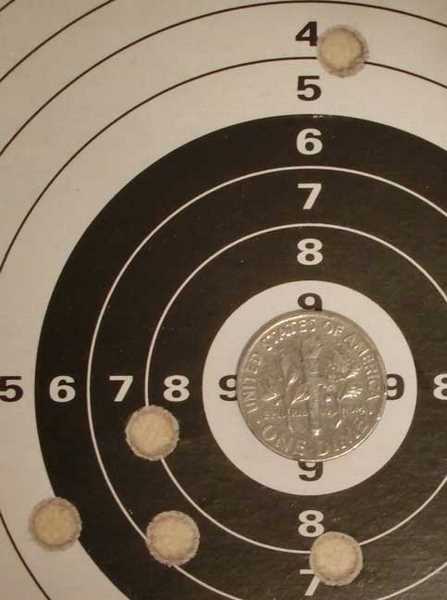 Five Benjamin Destroyers went into 2.60 inches at 20 yards, with 4 in 1.30 inches. This isn't the pellet for this rifle.
The Predator Polymags did surprise me a bit. Not only did they just barely squeeze into the magazine, but they actually grouped pretty well. A 0.54-inch group of 5 at 20 yards made a nice-sized hole that would certainly be adequate for small game. The Polymags have proven, time and time again, that they're the premier hunting-specific pellet and can smack small game with devastating results.

Five Predator Polymags went into 0.54 inches at 20 yards. This is another good pellet for the Scorpion SE.
The lighter-weight H&N Field Target Trophy grouped decently, with 5 in 0.79 inches. I pulled the fourth shot a bit, as my wobbly table wasn't quite stable. I did shoot them at 40 yards, as well, but the results were not worthy of showing here.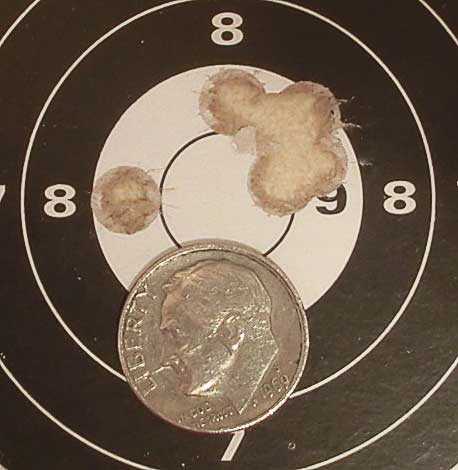 Five H&N Field Target Trophys went into 0.79 inches at 20 yards. This is another good pellet for the Scorpion SE.
The pellet that surprised me the most was the H&N Baracuda Hunter Extreme. With a cross cut on the head of the pellet, it's certainly eye-catching, with major accuracy to back it up! A 0.35-inch, 5-shot group (basically one single hole) was more than enough to get my attention. Twenty yards is not a long distance for PCP guns; but when you lace 5 shots in a row through a single hole, it immediately gets your attention!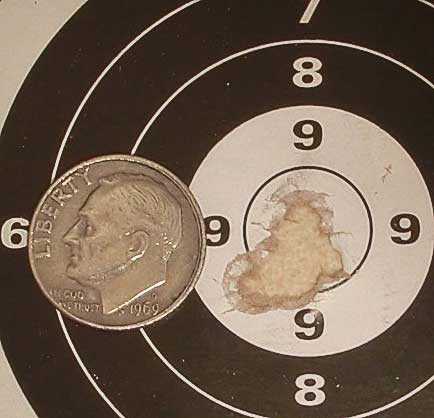 This is what I wanted to see — 5 H&N Baracuda Hunter Extremes went into 0.30 inches at 20 yards.
Next up were the Beeman Kodiaks. Being made by H&N, I was pretty confident they'd group similarly to the Baracuda Hunter Extremes, and they did. A 0.32-inch group of 5 bettered the mark set by the Hunter Extremes at 20 yards. The two pellets are very similar in terms of shape; and aside from the cut out in the head of the Hunter Extreme, they showed little difference in accuracy at 20 yards.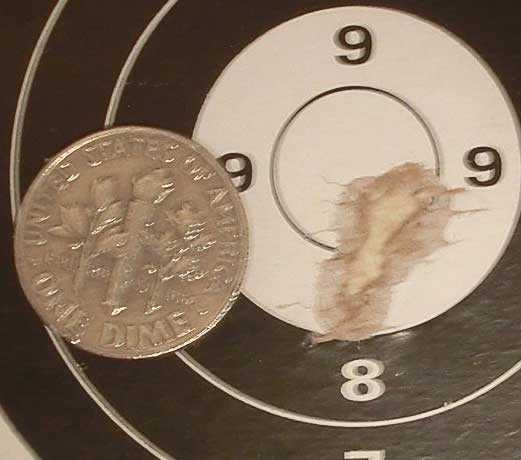 Beeman Kodiak pellets put 5 into 0.32 inches at 20 yards.
Accuracy at 40 yards
I chose to go with the Kodiaks, Hunter Extremes, Predator Polymags and JSB Kings for 40-yard testing. The results were all very good, which shows the versatility of the BSA barrel. This is something I've come to appreciate about the BSA guns I've owned. They all seem to be very even-tempered in terms of pellet selection. All too often, I test guns that will shoot only one pellet, and everything else groups horribly. That's all well and good, but only if the pellet the barrel likes is accessible, consistent from die to die and not too far on either side of the weight spectrum so your trajectory is reasonable. For testing at 40 yards, I shot two groups just to try to remove the potential for human error because we all know the gun is rarely the problem. It's the jerk behind the trigger!
First up were the Beeman Kodiaks, and they did not disappoint — giving a 0.50-inch group. Bear in mind the pellet is half the size of the group, so you are looking at two holes at the end of the day.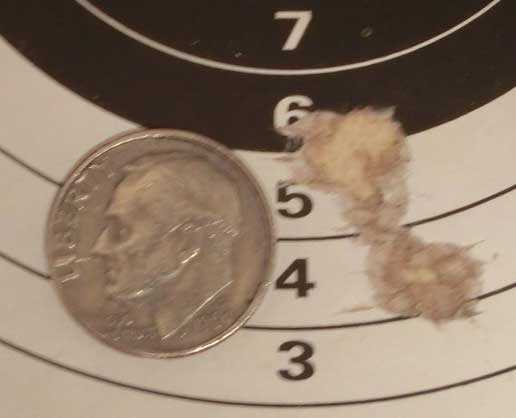 At 40 yards, 5 Beeman Kodiaks went into 0.50 inches.
The Predator Polymags at 26 grains grouped very well at 40 yards, making a 5-shot group that measured 0.65 inches. I would be very confident with a magazine of these in the Scorpion SE if I was going out after squirrels or pest birds. Raccoons and opossums would also be well within the Scorpion SE's game menu. Accuracy like this will pretty much assure you of a clean head shot or vital organ shot if you do your part. The extra bit of expansion the Predators offer would also come in handy.

Five Predator Polymags went into 0.65 inches at 40 yards.
The overall best group of the day (and not just at 40 yards) was made with JSB Kings. After looking like the H&N/Beeman pellets would run away with the accuracy testing, the Kings came back in a big way. I managed to put 5 shots into a single hole measuring 0.27 inches. Basically, that's the size of the pellet. The next group opened up ever so slightly, but it was clear that the Kings are the way to go.

JSB Exact Kings made the best group of the day, with 5 in just 0.27 inches! This is great for 40-yard accuracy.
The Baracuda Hunter Extreme was the last pellet tested at 40 yards, and they grouped well also at 0.42 inches for 5. That was the best I could manage; and if the expansion of the Hunter Extremes is better than the average domed pellet, then I would say they're the most accurate hollowpoint I've ever shot in any gun past 10 yards. Generally, hollowpoints suffer a bit in the accuracy department; but I think that because the Hunter Extremes are not a complete hollowpoint, they fly just a bit better. Either way, these pellets work well, so H&N has a definite winner with them.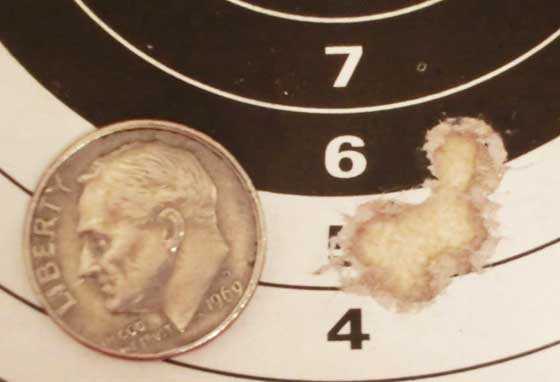 Five H&N Baracuda Hunter Extremes made the best group of the day for hollowpoints, with 5 in just 0.42 inches!
Trigger and safety
The trigger on the BSA Scorpion SE was unadjusted since it came out of the box crisp and relatively light for a hunting trigger. It measures an average of 2 lbs., 2 oz. over five pulls. I know the trigger can be adjusted much lighter than this; but for the hunting crowd, that won't be necessary.
The manual hunter-style safety is located on the left side of the action. I've seen the triggers adjusted so light that an engaged safety won't stop the gun from firing when the trigger's pulled. So, be careful when adjusting this trigger — or any trigger for that matter. Test it before you load the gun and make sure the safety still stops the gun from firing after adjustments are made.
How loud is it?
On the subject of noise, the Scorpion SE is pretty loud. It's not backyard friendly, and I would rate it a 7 out of 10 (10 being the loudest). If this were a 45-50 foot-pound gun, then the noise would be up in the 9-10 range; but at 30 foot-pounds, it's fairly tame for an unshrouded gun. That said, the air stripper on the muzzle also doubles as a thread protector covering the 1/2-inch UNF threading that could accept a more useful air stripper or muzzlebrake if you choose to add one.  [Editor's note: Silencers are subject to federal legislation. If an airgun silencer can be attached to a firearm and quiet the report, it must be licensed.]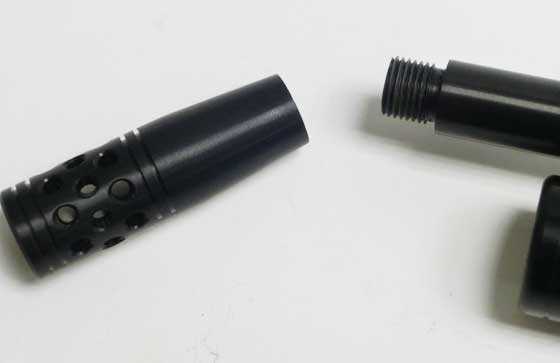 The air stripper/muzzlebrake covers 1/2X20 threads.
Final Thoughts
The Scorpion SE represents a step forward for BSA airguns. The new features like the redesigned magazine and gauge show that they're listening to what their customers want and need. All the while, they're not changing the things they know are proven to work. Their barrels are still some of the best out there, and their overall quality and precision shines through.
There are a lot of options in the mid-priced PCP realm, and the BSA may be overlooked because of its relatively low power level; but if you're looking for a precision shooter with adequate power for small game, then I would highly recommend taking a look at the BSA Scorpion SE. My experience with BSA products has been stellar over the course of many years, and I'm confident you'll come to the same conclusion after just a few shots behind the trigger of their PCP works of art!
by Tom Gaylord, a.k.a. B.B. Pelletier
Part 1
Part 2
Part 3
Part 4
Part 5
This report covers:
• Rifle was set up
• The hold
• Accuracy
• A hunter's rifle
• Comparison with the first rifle
This is accuracy day with the second Benjamin Trail Nitro Piston 2 rifle — the one Crosman sent especially for this test. We've already seen how this second rifle exceeds the power of the first one, so today we'll see what impact that has on accuracy. As with the first rifle, I'll shoot 14.3-grain Crosman Premier pellets exclusively in this test.
Rifle was set up
When I unboxed the scope, I found the rings already installed in the correct location, meaning I could install them directly on the rifle. That proves this rifle has been tested and set up before I received it. The scope went on quickly, and I found it was very close to being sighted-in; but the inability to focus the target as close as 25 yards was a hinderance to aiming. I estimate my groups were a quarter-inch larger than they needed to be because I couldn't see well enough to put the crosshairs on an exact spot. The scope arrived set at 4X, which indicates the rifle was tested at 10 meters or yards before it was sent. At 25 yards, I wanted to see the bull more clearly, so I adjusted it to 9X. But as I said, the focus was off because the scope is parallax-adjusted for a longer distance.
The hold
I refined the sight setting and proceeded to test the hold I thought would do best — based on results from the first rifle's test. I also tried several other holds and hand placements, establishing one thing for certain. The NP2 wants to be held firmly. Do not use the artillery hold. Instead, I found it best to slide my off hand out to almost the end of the stock and grip the forearm firmly. I can feel the forearm screw holds on the tips of my thumb and fingers, so I know my hand is in the same place every time. Any hold that wasn't firm allowed pellets to rise vertically. I fired probably 30 shots testing just the different holds and pressures.

When I used the classic artillery hold, this is what I got at 25 yards — every time! They're all in line but off vertically. The NP2 wants to be held firmly.
Accuracy
I then shot three 10-shot groups using the factory scope. The best of them measures 1.104 inches between centers, and the worst measures 1.168 inches. I really tried to do well, but the blurriness of the target did cause my aim to be off.

The best 25-yard group using the factory scope and the best hold measures 1.104 inches between centers. No, I didn't get the images mixed up. This group is slightly smaller than the one below.

The worst group with the factory scope isn't much different than the best. Ten Premiers went into 1.168 inches at 25 yards.
I felt the factory scope was hindering my best efforts, so I swapped it for an older CenterPoint 3-9X40 with an adjustable objective. This scope is one CenterPoint no longer carries. It's a simple scope without an illuminated reticle; and other than the larger objective lens and the AO, it's close to the scope that came with the rifle.
I allowed a day to pass between the first shooting session and the second because too much concentration makes me lose my edge. The next day, I shot another four 10-shot groups, plus some more sighters to get the scope shooting where I wanted. On this second day, my groups ranged from 0.895 inches between centers to 1.483 inches. I learned as I went, refining the hold that seems to be critical with the NP2. The worst group, for example, came when I experimented with the firmness of the offhand grip.
By the end of the session, I knew what this rifle wants — a firm hold of the off hand as far out on the forearm as you can comfortably hold and a firm hold of the pistol grip. Pull the butt into your shoulder firmly. This is not a death grip — just a firm hold, and it seems to be what the NP2 wants.

The best group with the second scope measures 0.895 inches between centers at 25 yards. The second-best group was almost the same size as this.

The worst group with the second scope measures 1.483 inches between centers at 25 yards. I was experimenting with the firmness of my grasp during this group.
I'm not through with this rifle, yet. Each one of my second-session groups contains a large cluster of shots that are very close, then some strays that wander off — usually down, but not always. I think I'm close to understanding what this rifle wants, but I'm not there yet. I think it needs a very repeatable offhand grasping pressure. I'll give it one more session and also shoot some different pellets next time — to see if I have been missing anything by shooting Crosman Premiers exclusively.
A hunter's rifle
I have seen rifles like the NP2 before. They take some getting used to, but they reward the shooter with incredible accuracy once their secrets are learned. They're rifles for hunters who use only a single rifle for all their needs. For the price this air rifle costs, I don't think you can get one that's any better.
Comparison with the first rifle
The first NP2 also took getting used to; but when I did, it gave me a best 25-yard group of 0.704 inches at 25 yards. So far, this rifle has given a best of 0.895 inches. Both rifles seem to want to do better, but I haven't discovered quite how, just yet.
by Tom Gaylord, a.k.a. B.B. Pelletier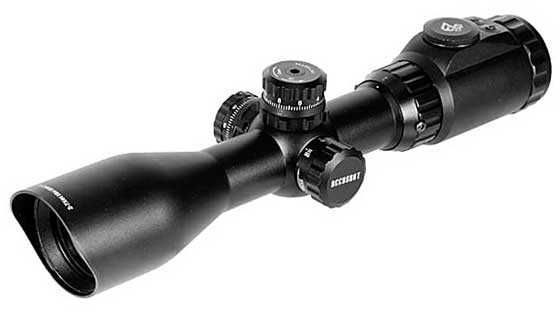 Leapers UTG Accushot 2-7X44 Scout Scope is a remarkable sight!
This report covers:
• What is a scout scope?
• Magnification
• Bright!
• The test
It's been a long time since we looked at this UTG 2-7X44 Scout SWAT scope, and I want you to know that it isn't because the scope isn't interesting. It's very interesting. But other questions and products always seemed to get in the way of this third report. Today that ends, as we'll take another look at this great scout scope.
What is a scout scope?
Scout scopes are scopes that have very long eye relief. Where a normal long eye relief scope might allow you to position the eyepiece 4-5 inches from your eye, a scout scope lets you get back 9-11 inches. This scope we're looking at today has an eye relief of 9.5 to 11 inches, so it spans almost the entire length that all scout scopes provide.
You use scout scopes when there's a reason. Either the rifle's action has parts that get in the way of a scope being mounted in the normal place — such as the Mosin Nagant bolt-action rifle family whose straight bolt handles rise 90 degrees when the bolt is opened, or there needs to be some clearance for cartridge ejection — such as with the M1 Garand and Winchester model 94 rifles. While there are other ways of mounting scopes on these guns, with the left side mounts being the most popular, a scout scope allows you to look straight ahead, so there will never be a problem adjusting the side angle of the scope's optical axis to coincide with the bore.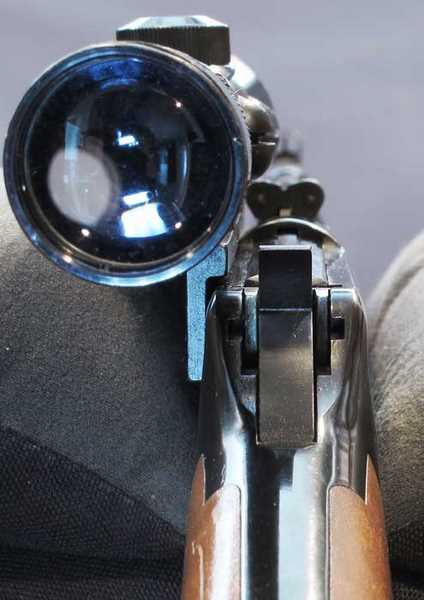 If the scope can't be mounted above the receiver, such as on this Winchester model 94 lever-action rifle that ejects straight up, a side-mounted scope has been the traditional solution. The scout scope puts the scope above and in line with the bore, making alignment issues less critical.
Magnification
Scout scopes typically don't have much magnification. That's their weak spot. I guess it's technically difficult to provide such a long eye relief and also magnify the target image, or perhaps they don't do it because of how much the field of view diminishes as the scope goes out farther from the eye. What I do know is that Leapers gives us 2-7 magnifications with this UTG scope, which puts it at the top end of today's scout scopes.
Bright!
A second big plus with this scope is its brightness. I was able to see the target clearly and make fine aiming adjustments at 7-power. That comes in very handy when you're putting the thin mil-dot reticle on the target. This Leapers scope has reticle lines fine enough to shave with.
On top of that, this reticle is illuminated; so if the black lines are hidden by the target, they can be lit. All things considered, this is one fine hunting scope. I'll say more about that in a bit, but let's now test it at 25 yards.
The test
The scope is mounted on a Crosman MK-177 Tactical multi-pump pneumatic rifle. While that rifle doesn't need a scout scope, it's one of the few airguns that has a Picatinny rail long enough to mount such a scope at the correct distance from the eye.
I learned in the last test at 10 meters that this rifle does well with Air Arms Falcon pellets, so I used them exclusively in this test. Since I was shooting from 25 yards, I decided to begin with 6 pumps per shot. That should give a muzzle velocity of about 600 f.p.s. With multi-pumps, I've found that 5 or 6 pumps are sufficient for good accuracy at 25 yards indoors.
The first group was shot with the scope as it was left adjusted after the 10-meter test in April. The pellets landed high and to the right, with the group's center being 2 inches high and .75 inches to the right. The first 10 pellets went into a group that measures 0.837 inches between centers. While that isn't a wonderful group for most air rifles, it's pretty good for an inexpensive multi-pump like the MK-177.
The first group of 10 Falcons went into 0.837 inches at 25 yards.
Following this group, I adjusted the scope 6 clicks to the left 6 and 14 clicks down for the second group. This was also shot with 6 pump strokes per shot. Ten pellets went into 1.063 inches. Again, not the best group but still pretty good for one of these rifles. Note that the pellets did hit lower on the target following the adjustment.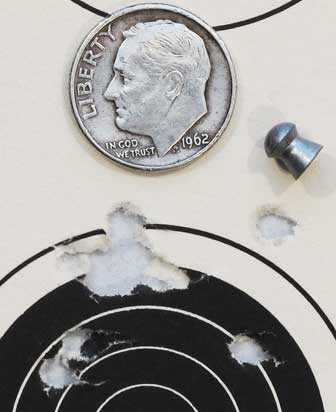 Following a scope adjustment, group 2 put 10 Falcon pellets into 1.063 inches at 25 yards.
I adjusted the scope down 6 more clicks and shot the next and final group. This time, I decided to pump the rifle 8 times for each shot — just to see what difference it might make, if any. Ten more shots went into 0.958 inches. The group was lower but also moved to the left. I must not have the scope leveled on the rifle. And that also makes me wonder if a scope level would help decrease the size of the groups. Several times, I found myself wondering if the gun was canted. The MK-177 doesn't have the clues that a conventional rifle stock would have. It's like holding a plank in your arms.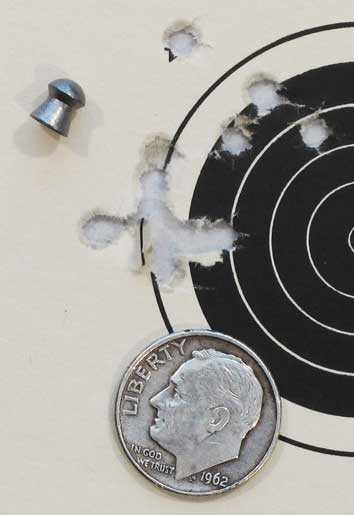 For the third group, I adjusted the scope again and also pumped the rifle 8 times for each shot. It put 10 into 0.958 inches at 25 yards.
Okay, that's today's test. Remember, I was really testing the scope and not the rifle. I found it to be clear, sharp and very easy to use. The adjustments moved the reticle positively every time. Maybe a scope level could help accuracy, but that remains to be seen. I don't think I've done this wonderful scope justice, yet.
I will now look into mounting this same scope on one of my firearms, so we can continue to look at it. This scope can take some of the budget-priced firearms like the Mosins and SKS/AKs and turn them into useful hunting arms for a fraction of the cost of a new rifle. If you're in the market for a good scout scope, I think you better look at this one!
by Tom Gaylord, a.k.a. B.B. Pelletier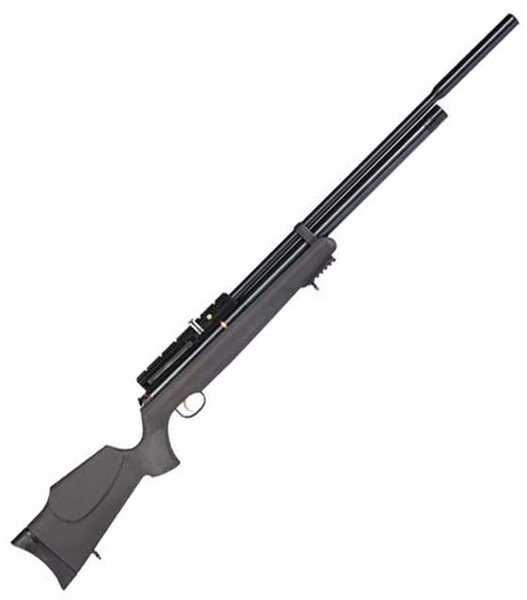 Hatsan's AT44S-10 Long QE is packed with features for airgun hunters and long-range shooters.
This report covers:
• Most accurate test ever conducted!
• Scope and mounts
• Scope base design
• On to the range
• Airgunners…just like golfers!
• What happens next?
You waited for this report. I told you it was going to be a good one. I even advised a couple people to just buy this rifle if they wanted a quiet and powerful PCP that was also accurate. Today, you're going to see why I said that.
Best test ever conducted!
To cut to the chase, this was the best test of an air rifle I've ever conducted at 50 yards. I won't go so far as to say that the Hatsan AT44S-10 Long QE is the most accurate air rifle I've ever fired, because you've seen in recent days that I seem somewhat variable. I refer to yesterday's good test of the Air Arms Shamal after a pervious mediocre test.
However, if I can repeat today's results at some future date, then I'll conclude that this rifle is the most accurate air rifle I've ever tested at 50 yards. But I'm getting way ahead of myself. Let's see what happened.
If you're a regular blog reader, you already know that I was having a good day because the Shamal had just turned in several great groups — including one stunner that measured 0.818 inches for 10 shots at 50 yards. Now, it was the Hatsan's turn on the bench, and the weather was still perfect.
Scope and mounts
I had mounted an AirForce 4-16X50 scope on the rifle using UTG 2-piece Max Strength high Weaver rings for a 1-inch scope. One of our readers heard that the Hatsan scope base that allows both Weaver and 11mm scope rings to be mounted has problems with Weaver rings, so he asked me specifically to use rings that have a Weaver dovetail on their base. I did, and the UTG mounts fit well, though I will say that the Hatsan base is at the wide end of acceptable width.
But I think I see what the reader has heard about, and I want to share it with you. There are some shooters who feel that all mounts must look attractive and squared away or they don't fit right. What these people don't understand is that mount makers use base jaws that will fit as many different configurations of dovetail cuts as possible — because gun manufacturers do not use many standards when making their cuts.
Scope base design
I'm going to explain something here, and I want you to try to understand it because it will make all the difference if you do. Weaver bases are a standard that specifies the width and height of the dovetail, and the width of the cross groove that accepts the locking bar on the mount. But the angle of the cuts that shape the dovetail grooves are not as certain. No doubt, Weaver specifies them, but mount makers don't always conform to that spec. They use dovetail cutters with varying angles. To deal with this inconsistency, many mount makers, including Leapers, cut the jaws of their ring base clamps with rounded points, so they'll grip most dovetails, regardless of the angle of the cut.
If there was only one rounded point on the clamp base, the ring would sit cockeyed on the rifle; but when the other end of the same clamp also has a rounded point that engages a special cut in the scope ring and the two cockeyed points cancel each other. The result is a scope ring clamp jaw that looks cockeyed, yet the ring sits squarely on the gun.
In the 1990s, B-Square owner Dan Bechtel and I did a project to determine the standard width of 11mm airgun dovetails. This is where we discovered that those dovetails vary between 9.5mm and almost 14mm in width. The angles of cuts ranged from 45 degrees to 60 degrees. The Weaver base is more standardized, but the cut angles still vary and have to be addressed.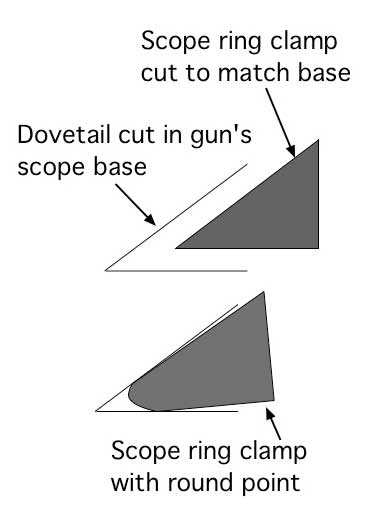 Here you see how the rounded point of the scope ring clamp jaw allows it to fit into a wide variety of rifle dovetail base cuts. Having a rounded point on the other end of the same clamp will cancel this odd angle and allow the scope ring to sit squarely on the rifle.
The genius of this clamp design is lost on many people who see the cockeyed part as a flaw or mistake. Actually, it's a compensating part that assures an exact fit on a variety of different gun bases. The picture shows this clearly.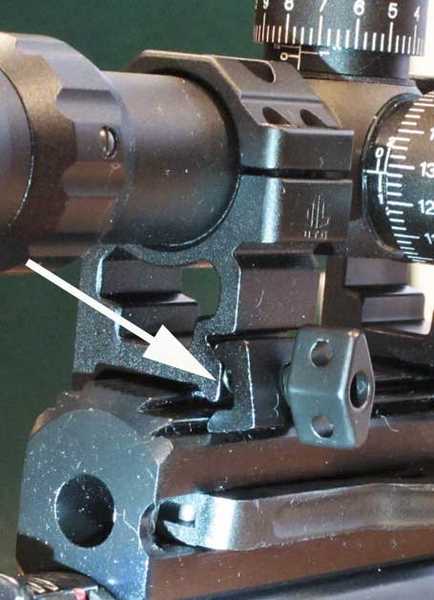 This photo shows how the compensating clamp jaw works. The jaw sits at an off angle, but the scope ring is perfectly level.
For that reason, my answer to the reader who asked whether the Hatsan bases will accept a Weaver ring is — yes. Many ring manufacturers make their ring base jaws this way. If you can tolerate the odd appearance, this solution works perfectly.
On to the range
I was at the range on a perfect day, so this test would be conclusive if a good pellet was found. In the past, you've seen me work through a list of pellets, looking for the best one. Well, on this day I happened to find that pellet on the second try. At least, I think that's the case because that pellet did so well that I didn't bother trying any others.
I filled the rifle to the manufacturer's recommended 200 bar (2900 psi) and loaded the 10-shot magazine. The first pellet I shot was the 14.3-grain Crosman Premier dome. I put 10 into 1.463 inches, but I'm not going to bother showing you that group because of what happened next. I knew from the velocity test we did in Part 2 that this rifle probably gets at least 20 good shots per fill when shooting at 50 yards. The velocity does decline with every shot; but as you'll soon see, that doesn't seem to matter much.
The second pellet I tried was the 16-grain Air Arms Diabolo Field pellet. It's a dome that sits comfortably in the middle of the .22-caliber pellet weight range. Although it resembles the 15.9-grain JSB Exact Jumbo and although JSB does produce this pellet for Air Arms, they do so on proprietary dies owned by Air Arms; so, the two pellets are not the same and should not be confused with each other. On other tests, I've seen different results from these two pellets.
These 10 pellets were fired on the same fill as the Premiers, so the rifle's internal pressure was down around 2500 psi when I started shooting. Every pellet went to the same place on the target. It was like they were being guided, or something. The result was 10 shots into a group that measures 0.681 inches between the two centers that are most distant. I was stunned when the group was finished! I've probably shot a couple other groups that small with airguns before — certainly with my Talon SS and probably also with a Benjamin Marauder — but this still ranks as one of the best groups I've ever shot at 50 yards with an air rifle. And the day was just beginning!

Ten Air Arms 16-grain domes made this 0.681-inch group at 50 yards. This is a screamer.
Following that, I refilled the rifle, for 20 shots had now been fired. The pressure had dropped to below 2000 psi, and I think to as low as 1750. I filled it back to 2900 psi and went back to the bench.
The next 10 shots were with the same Air Arms pellets, only this time we started at a full fill instead of only a partial. Ten pellets went into 0.992 inches this time — a little larger, but still in good territory.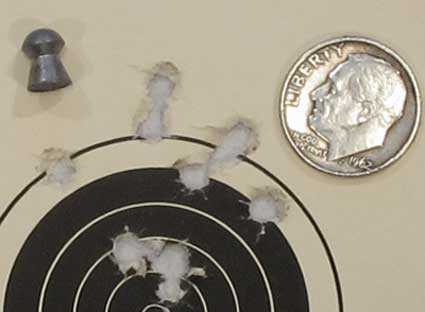 Ten more Air Arms 16-grain domes made this 0.992-inch group at 50 yards when the rifle was filled to the maximum. This isn't a screamer; but coming on the heels of the previous group, it's pretty good!
Now the rifle was back down to where it had been for the first great group. So, I loaded 10 more Air Arms pellets into the rotary clip and settled down to shoot another group. This time, all 10 went into 0.624 inches. A definite screamer; and with the first group, pretty good proof that the Hatsan AT44-10 Long QE I'm testing is a shooter.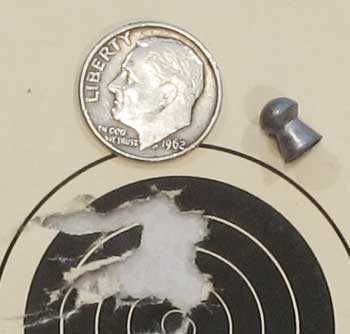 Ten more Air Arms domes made this 0.624-inch group at 50 yards when the rifle was fired on a partial fill. This is the best group of the session and also one of the best 50-yard 10-shot groups I've ever shot with an air rifle.
Airgunners…just like golfers!
Like a golfer who shot a sub-par game in which he also got a hole-in-one, I decided that my good luck had probably run its course this day. Besides the 40 shots fired with this rifle, I had also tested the Shamal and shot an additional 40 shots there because there were some adjustments to the scope that had to be made. In all, I'd shot 80 precision shots this day. That's tiring.
What happens next?
I've never had an air rifle that would shoot this many consistently small groups in succession. Either I was having the best shooting day of my life, or this Hatsan rifle can really shoot. I want to return to the range under similar shooting conditions and see if I can repeat this. And I'll continue to shoot the Air Arms pellets.
I just want to make sure this test was a valid one. It isn't every day that you shoot the most accurate air rifle you've ever seen. I told several readers not to worry but to just buy the rifle if that was what they wanted. Now you see why.
After seeing what can be done with the Air Arms pellet, I want to explore some other pellets in this Hatsan. Hopefully, it'll do well with several brands so there's a choice.
After that, who knows? Maybe I'll try this one at 100 yards. You may remember that I shot a one-inch group of 10 at 100 yards with a CondorSS last year. I wonder if this rifle can do as well?
by Tom Gaylord, a.k.a. B.B. Pelletier
Today's report is a continuation of the guest blog from HiveSeeker. Today, he tells us about accuracy
If you'd like to write a guest post for this blog, please email me.
Over to you, HiveSeeker.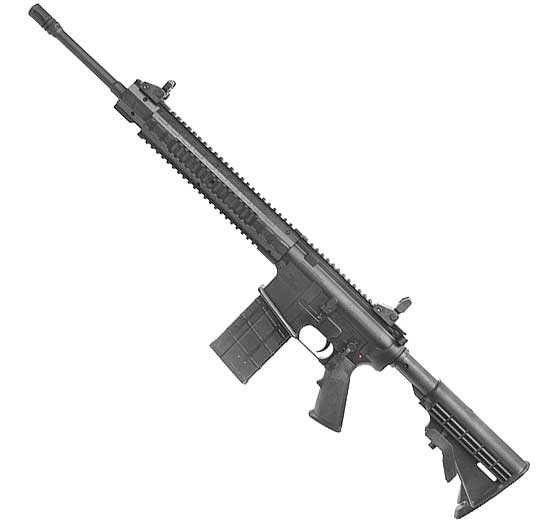 Winchester MP4 is a realistic and fun-to-shoot military replica pellet rifle.
This report covers:
• Shots per fill
• Heavy trigger
• Best results
• The normal grouping
• Bug Buster
• Summary
• The Dallas Field Target Club inaugural shoot
• How the blog changed my life
Shots per fill
While testing pellet accuracy, I shot at 6 bullseye targets (60 shots), swapping CO2 cartridges after each set, and did not notice any decline in performance at 10 yards. I also did a lot of enjoyable spinner silhouette shooting and started noting an increase in misses only as I approached the 80-shot mark (you go through pellets fast with this semiauto!). In conclusion, shooters can expect at least 60 accurate shots before swapping CO2 cylinders, depending on temperature.
It doesn't matter how good the Winchester MP4 CO2 rifle looks with that bipod or red dot scope on it while you're reconnoitering the backyard. How well does it shoot? A gun is only fun if you can hit what you're aiming it at, and the Winchester MP4 does reasonably well in the accuracy department.
Heavy trigger
My rifle does not appear to be suffering from the reported loose barrel problem (which can ostensibly be remedied by removing the 6 screws holding the Picatinny forearm and hand-tightening the barrel). However, the trigger-pull on this rifle is a conspicuously heavy 7.6 lbs. according to my hand scale. My wife and brother-in-law, who is former military (both ends of the spectrum, and both experienced shooters), singled this out as a major complaint. This is no youth rifle. I agree that accuracy would be better without having to exert so much pressure to get a pellet off. However, after some limited travel, the trigger — heavy as it is — breaks clean and crisp.
I shot outdoors at 10 yards from a benchrest using the aforementioned Bug Buster scope and a Leapers Golden Image 30mm red dot sight. All pellets tested grouped right around 1″ — give or take a little. Results were slightly better using the BugBuster. This rifle is not a tackdriver but is certainly a solid performer as long as you keep the range at 10 yards.
Best results
The following pellets gave the smallest 10-shot groups. At least one out of three measures 7/8″:
Crosman Destroyer
Crosman Destroyer EX (the slightly different version sold only in discount stores)
Crosman Premier Hollowpoint
H&N Finale Match Pistol
Air Arms Falcon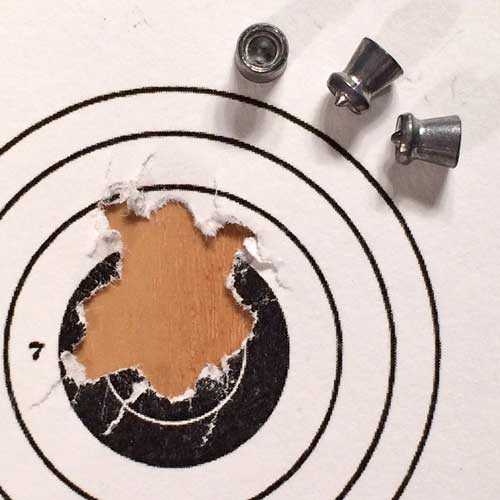 Ten Crosman Destroyer EX pellets (a slightly different version of the Destroyer pellet sold at discount stores) went into 7/8″ at 10 yards.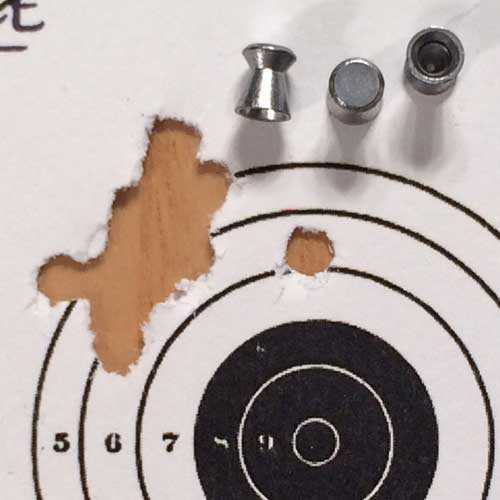 Ten H&N Finale Match Pistol pellets made this 7/8″ group at 10 yards.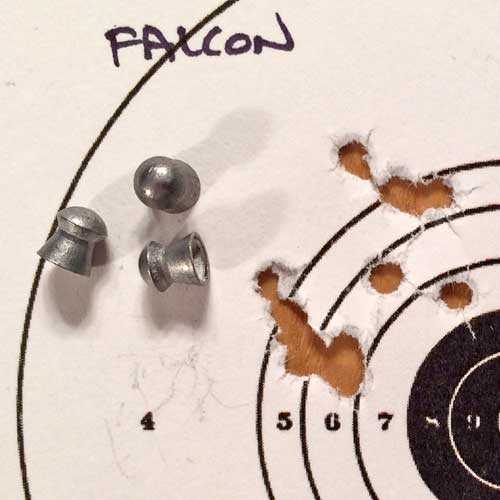 These Air Arms Falcons also grouped in 7/8″ at 10 yards.
These three pellets gave at least one 10-shot group out of three as small as one inch between centers:
Crosman Competition Wadcutter
Crosman Premier Super Match
Gamo Tomahawk
The worst pellet tested was the JSB Match Diabolo Light Weight. They gave a best group that measured 1-1/8″ between centers.
The normal grouping
Most groups were erratic and inconsistent, with more pellet scattering than clustering. Nevertheless, the largest groups I got were still a reasonable 1-1/2″ (for the Crosman Destroyer EX and Gamo Tomahawk). Since each group was 10 shots, I filled one drum of the magazine completely (8 pellets) and then put only 2 pellets in the drum on the other side of the mag.
One interesting and frustrating observation was that my final 2 shots, after flipping the magazine around, almost always opened up the group, in some cases by a full half-inch or so. At least part of the time, though, this gun is capable of significantly tighter groups than I'm reporting here.

On the left is the only really tight group I got — 7/8″ for the Crosman Destroyer EX. Nearly every other group looked a lot more like the Crosman Premier Hollowpoint group on the right, with hardly 2 pellets in the same hole anywhere.
Bug Buster
I mentioned that I shot this gun with a Leapers UTG 3-9×32 Bug Buster scope. When I first started sighting in at 10 yards, my initial POI was a very low 5″ under the bullseye. I had to do a lot of clicking to get the POI near the bullseye; and by the time I was finished, I noticed a fair amount of blurring in the bottom quarter of the scope's field of view. I suspect I'm approaching the limit of adjustment on this sight. The amount of blurring worsens at higher magnifications. I own another Leapers UTG 4-16×40 scope that I just love, but field of view and eye relief on the compact Bug Buster are not nearly as forgiving or comfortable. Both my wife and brother-in-law (again, each an experienced shooter) complained about how difficult it is to sight through this scope. Although the Bug Buster has performed reliably and adds to the military look of this gun, I'm going to try a 40mm or larger compact scope on it at a later date.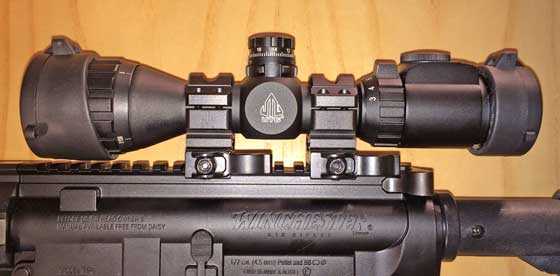 The Leapers UTG 3-9×32 Bug Buster was much better to look at than to look through. The scope showcased the drawbacks of a small-objective compact.
A couple minor notes before wrapping up: Although Pyramyd Air rates this rifle a 4 out of 5 for loudness, I didn't find it to be especially noisy outdoors. On my screened porch, the report was definitely loud, but that depends on how the sound is bouncing off the walls. Shooting noise from inside a bedroom was only average, which is how I would rate this gun for sound.
Also, the manual states that you should store this gun uncocked. Every time you fire, the bolt is re-engaged by CO2 pressure for the next shot. After you've finished shooting and have removed the CO2 clip, remember to point the rifle in a safe direction and squeeze the trigger one last time before casing it.
Summary
In conclusion, the Winchester MP4 is an authentic- looking and handling military replica with some known issues but enough accuracy to make it quite enjoyable for casual shooting. For plinking around the yard while looking like a commando, this rifle fills the bill — and does so nicely.
The Dallas Field Target Club inaugural shoot
Bob Dye submitted the following report and photos of the first Dallas Field Target Club shoot.
Twenty-six shooters appeared on a beautiful June 14 day for the event, some traveling from as far as Oklahoma and Louisiana.

The first Dallas Field Target Club match was well-attended.
Everyone had fun with friendly competition in all the usual AAFTA competition classes. Among them were 6-7 new shooters. Some chose to participate in one of the regular AAFTA classes, while four others participated in a Fun Rifle category, where basically anything goes concerning shooting style and equipment choices.
Great scoring latitude was offered, scoring one point for simply hitting the animal faceplate and two for a knockdown. This appeared to be a great way to let the novice shooters have fun scoring points plinking lead against steel, along with the extra satisfaction when the target falls over. It also served as a fun change of pace among the experienced shooters.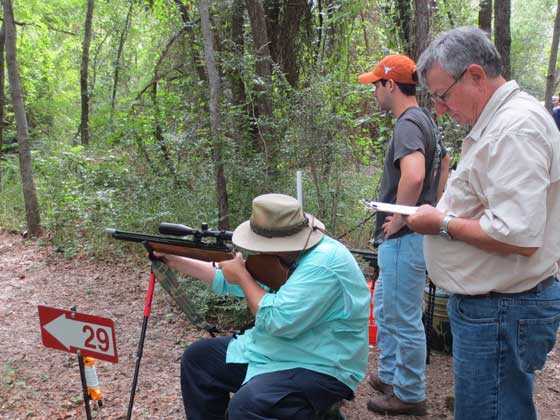 Shooters enjoyed the relaxed pace of the day.
While the facilities have lanes long enough to create a challenging Troyer difficulty of 36 or more, this first, 50-shot match was built on 9 lanes to a 23 Troyer, again to put some smiles on faces the first time out. [Editor's note: Brad Troyer devised a way to rate the difficulty of a field target course based on the size of the kill zones; the distances at which they're placed; and the difficulty of the shot based on placement, light and shooting position.]
Accordingly, two of the seasoned veterans rose to the challenge to ace the course. David Alsup shot a perfect 100/100 in Open PCP. And, while I told him I thought he was a shoo-in to do this, David asked to keep his score card, indicating it was a special day for him, too. Great shooting, David!
Likewise, perennial Hunter Class leader Ron Robinson also shot 100/100 with his brand new TM1000 rifle. I haven't seen such a big grin on Ron's face is some time. Or at least since last weekend in Pulaski. Ask him how he likes his new rig and be prepared for 5 minutes of superlatives. Excellent match with a new rifle, Ron!
Altogether, 17 of the 26 competed in one of the two Hunter Classes, including two in Hunter Piston. Four people posted scores in Open PCP — rather unusual in these parts.
The mostly sunny weather cooperated for a mid-June day, with a high of only 85 degrees F during the match, which made the humidity bearable. The turnout was superlative for this first ever club match.
Thanks to members Kevin Enzian, Jeff Latimer and Jerry Cupples for helping me set up the course the afternoon before. I couldn't have done it by myself.
Next match is in August. Stay tuned. Visit the Dallas Field Target Club website.
How the blog changed my life
I initially published this section on the May 30, 2014, blog. I'm going to repeat it at least once a week during June and July so it doesn't get lost or forgotten.
From the comments many of you make, I believe the blog may have positively impacted your lives. I invite you to send me an email telling me about that impact.
Were you a firearms shooter who accidentally discovered airguns through this blog? If so, tell me how this blog has helped your understanding of airguns.
Were you already an airgunner, but you thought what you saw in the big box stores was all there was? If so, how has this blog helped you understand more about airguns?
I've gotten quite a few responses already, but I want to make sure you know that I'm not looking for "attaboys," pats on the back or personal recognition. I'm looking for real feedback on what you've learned so I can target my blogs to what you feel is important, what you'd like to know and what you're still unsure of. This blog is written for its readers, and I want to share your stories with others who may be where you were before you found this blog.
Pyramyd Air has created a special temporary email address for this. I'll be the only person to get these emails, and we're not going to generate any lists from the addresses.
My plan is to publish one or more blog reports with the more interesting comments. If you want, I will use your real name or blog handle; but you can be anonymous, too. I won't use your name or handle unless you give me written permission to do so.
This email address will be live for only a few weeks. We have tens of thousands of readers worldwide. Even if you've never commented on the blog, you can email me your message if you like. If you're reading this blog after July 2014, email submissions will no longer be forwarded to me, and you may get an auto-reply email stating that or your email might bounce back to you.