by Tom Gaylord, a.k.a. B.B. Pelletier
Benjamin Marauder .177 caliber Part 1
Part 2
Secrets of loading the Benjamin Marauder magazine
Part 3
Part 4
Part 5
Part 6
Fixing a Marauder magazine
Part 7
Benjamin Marauder .25 caliber Part 1
Benjamin Marauder .25 caliber Part 2
Part 3
Part 4
Benjamin Marauder .22 repeater with synthetic stock Part 1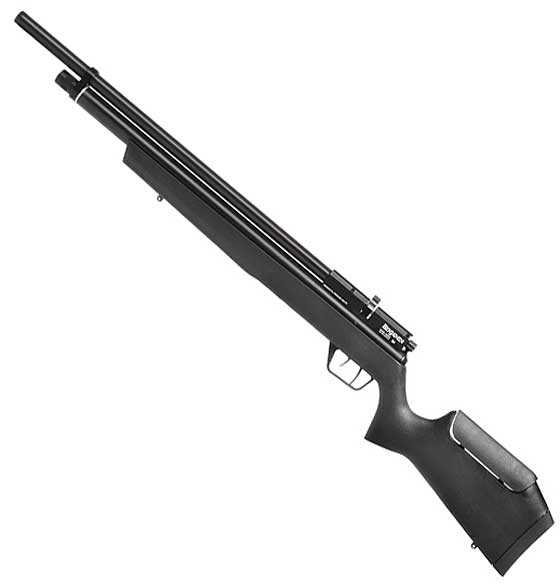 New Benjamin Marauder with synthetic stock has all the features of the classic Marauder in a lighter, trimmer package.
Today is our second look at the .22-caliber Benjamin Marauder with synthetic stock. We have a new log reader who goes by the handle AirrifleRatHunter, and he just bought a synthetic Marauder and it's his first PCP, so I want to help him with his rifle.
Baffled?
ARH said his rifle wasn't as accurate as he thought it should be. We found that he was using substandard pellets and corrected that, but I also mentioned to him that the baffles inside the shroud could be involved. He asked me what baffles are, so I'm now showing them to everyone. The test Marauder has 7 Delrin washers (the baffles) that are shaped to strip away the compressed air behind the pellet once it leaves the rifle's muzzle, which is buried deep within the shroud. I've laid out these parts for you to see how they work. If the pellet were to touch one of these baffles as it passes through, it would destroy accuracy.

Here you see all the baffles that are held inside the shroud under spring tension, so they don't rattle around.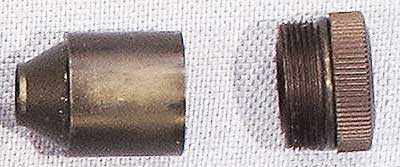 Looking at a single baffle shows that the compressed air that's behind the pellet gets stripped to the sides by the shape of the baffle (on the left) as the pellet passes through its center. This happens 7 times in succession before the pellet leaves the gun. The end cap that pushes the baffles against the coiled spring at the back has an o-ring to keep the air from escaping around its threads.
One other accuracy tip is to ensure that the shroud is not touching the forward barrel band on any side. Mine was touching on one side when I got the rifle, so I loosened the 2 set screws on the bottom of the band and repositioned it.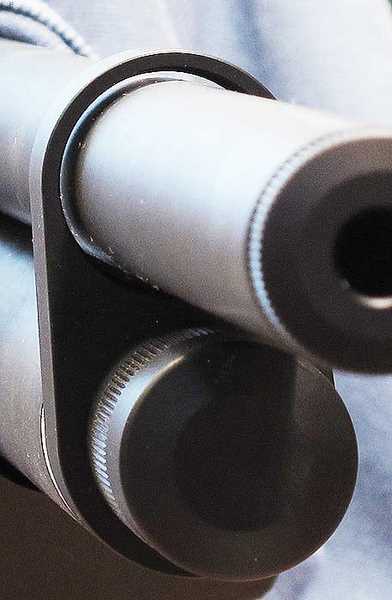 I have repositioned the front barrel band so it clears the barrel shroud around its entire circumference.
Today is setup day, where I will adjust the rifle to suit myself. The first thing I did was select a scope and mounts. Marauders have a low receiver, which means you need to select a higher scope mount if the objective bell of your scope is a large one. I chose a Leapers UTG 4-16X50 scope with illuminated reticle, but mine is an older model than the one I linked to. Nevertheless, it's a big scope with a large objective bell that needs height to clear the barrel shroud.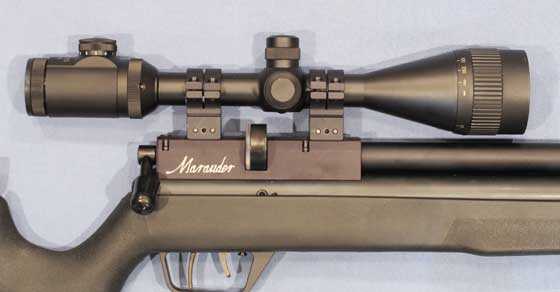 See how close the objective lens comes to the barrel shroud — despite my using high mounts? Also note that the magazine needs clearance, so the scope mount must be 2-piece.
You have to either use a 2-piece mount or a cantilever 1-piece mount that will clear the magazine sticking up above the receiver, so keep that in mind when looking at mounts. I chose BKL one-inch mounts with double straps that are high enough for the gun and scope combination. The double straps mean that you don't need to worry about the torque sequence when you tighten the screws in the scope caps because each strap is independent.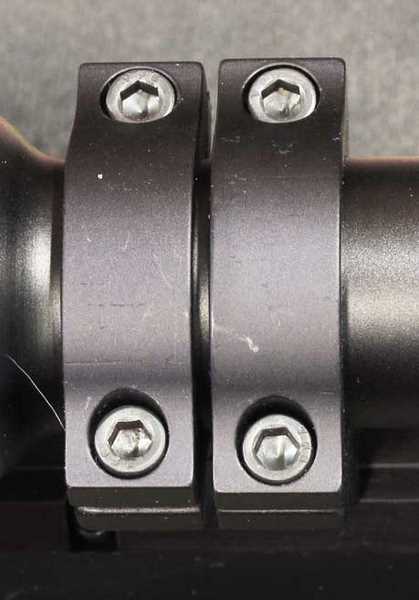 These clever BKL scope caps relieve you of the need to follow a torque procedure when tightening the cap screws.
Adjust the cheekpiece
Usually, I have to just adapt to whatever gun I'm testing because most of them don't have any ergonomic features. But the new Marauder synthetic stock does have an adjustable cheekpiece. I was able to raise it up so my eye in in line with the scope's exit pupil when I shoulder the rifle normally. What a convenience that is!
The new trigger
The Marauder's trigger has been moved back in the receiver by about one-half inch, which brings the blade closer to the pistol grip. The result is a nicer feeling when you hold the rifle because your hand doesn't have to stretch to reach the trigger. I never noticed it until I shouldered the new rifle the first time, but it certainly feels much better now.
Moving the trigger back meant that several internal trigger parts had to be redesigned. In essence, this trigger is the same one that's always been on the Marauder, but there are small differences inside. So, the next thing I did was adjust the trigger.
To properly adjust the trigger, you remove the action from the stock. It's only necessary to remove one stock screw for this, and the action comes right out.
As the rifle came from the box it had a heavy first stage pull of 2 lbs., 6 oz. This can be reduced by adjusting a screw counterclockwise to take tension off the trigger return spring. When I backed the screw out entirely so no spring tension remained, the first-stage pull dropped to just under 11 oz., so there's another spring inside the trigger group that also helps return the trigger blade.


The large round screw at the left adjusts the trigger-pull weight. Behind the trigger blade the two small screws adjust the first- and second-stage pull length. And the screw behind those 2 allows for slight repositioning of the trigger blade.
I put the adjustment screw back in the hole and tightened it just enough to keep it from falling out. That raised the first-stage pull to just over 14 oz., which is fine for a sporting rifle; but I must note that it's heavier than the triggers in the other 2 Marauders I've tested. They both break at 11 oz., and this one has a first-stage pull greater than that.
Next, I adjusted the first-stage pull a little shorter, and the second-stage pull to start sooner. Those were 2 separate adjustments; but each affects the other, so the manual tells you to do them together. The owner's manual also warns you that these screws adjust the amount of sear contact, so go slow and be careful to not get the trigger to the point that it won't hold the sear or will only hold it dangerously close to firing. After making these adjustments, I assembled the action in the stock once more and cocked the rifle. Then, I bumped it hard from several directions, and the sear did not slip off and fire.
Before the adjustment, the rifle fired at 3 lbs., 4 oz. That's pretty good for an air rifle trigger, given the lawyerly influences in companies these days; but a Marauder is not an average air rifle. After adjustment, it fired at 1 lb., 7 oz. but still had a bit of creep in stage 2, so I adjusted the stage-2 screw one last time. This time, I didn't take the action out of the stock. The small Allen wrench used on these 2 screws (a .050-inch wrench is used for both stage-1 and stage-2 screws) is small enough to reach through the triggerguard and fit into the socket of the screw.
The final adjustment took another half-ounce off the pull and eliminated most of the creep. I wouldn't call this trigger glass-crisp…but the way it's adjusted now, it's quite good!
Now the rifle is set up for me. Next, I'll shoot it for velocity and decide whether to leave the fill limit at the factory-set 2,500 psi or increase it for more shots. And I may adjust the velocity, depending on what I find.
by Tom Gaylord, a.k.a. B.B. Pelletier
I was getting ready to go to the range yesterday to shoot several airguns for this blog. When I go to the range, I usually try to take a couple of firearms along, just to justify the time and inconvenience of loading the truck and driving all the way out there. The range doesn't cost anything, but the time spent getting there, setting up and getting back home again seems like an expense.
Anyway, I decided to take my Desert Eagle .357 Magnum pistol along this time, to find a good long-range cartridge for it. Up to this point, I've just function-fired the gun for a couple hundred shots or so at shorter distances because I read on the internet that this gun is unreliable with lighter bullets. Well, I've shot only 125-grain bullets that are considered light for a .357 Magnum, and to date the gun has never malfunctioned once. So, that much of what I read turned out not to be true!
Monday morning, I'm was online looking for some good accurate loads, and this is what I found:
"I don't own a Desert Eagle .357, but I have read that they are unreliable boat-anchors. They are way too heavy and they recoil too hard! I don't need that. They also cost three times as much as my Taurus wheelgun. Why would I spend that kind of money, just to have a gun that jams?"
So, you DON'T own a Desert Eagle? Then why are you commenting on its performance? I'm all for open discussions; but when you don't have any experience, why not just say what you've heard and ask whether or not it's true?
I DO own a .357 Magnum Desert Eagle and here are the facts. They DON'T kick very hard. They feel about like a 1911 pistol shooting Plus P ammo when they shoot full-house .357 loads. And they DON'T malfunction! At least mine has never failed to feed — ever! They ARE heavy, but I don't find it debilitating to carry a 5-lb. pistol from my truck to the firing line — a distance of about 20 feet.
Then, I found another website with guy who lists all the factory ammo brands that don't work well in his Desert Eagle. Excuse me, but who said anything about shooting factory ammo? I reload! Why would I care if one brand that does function costs more than another brand that has feeding failures? I'm going to make up loads for my gun that ALL WORK. Who buys an expensive handgun like a Desert Eagle and then shops in discount stores for the cheapest ammo? That's like going to a 5-star restaurant and looking for their dollar menu. If you want to save money so bad, cut a slot in your head and become a bank.
Finally I find the worst one of all. I swear I am not making this up:
"When I shoot targets, I shoot Winchester White Box (a type of commercial ammo) in my DE. It's the cheapest stuff I can find locally. I used to shoot some Lapua imported stuff that was really accurate, but it cost a lot more than the U.S. stuff. I can't tell you how accurate any of this is, but most of the really hot stuff cycles the action fine."
WHAT!!??
Is the last writer shooting his gun just to hear the sound? Is it News Year's Eve and this is his noisemaker? What is he doing? He says he shoots targets, but he can't tell me how accurate any of the ammo is. Is he closing his eyes when he shoots? Does he just shoot at the targets and then never looks to see if he hits them?
Applying this to airguns
I know what this guy is really trying to say, but he can't find the words. He's saying that he uses his Desert Eagle as a bragging-rights gun, and he doesn't care how accurate it is. He doesn't shoot it to hit things — he wants to be seen shooting it and to be able to tell his buddies that he shoots a Desert Eagle.
I've seen enough guys like this at the range to know what I'm talking about. A couple weeks ago, a man at my range was warning everybody on the line that he was about to shoot a .300 Winchester Magnum, and everyone should be careful of the blast! When he shot his rifle, it was anticlimactic because the guy next to me had been shooting a 7mm Remington Magnum for the previous hour that made just as much noise. But Mister Win Mag wanted to be noticed, and he needed to draw attention to the fact that his rifle was a tactical nuclear weapon!
And this is how it applies to airguns. These same folks buy those 1,600 f.p.s. breakbarrel cannons and shoot ultralight lead-free pellets in them. If they do shoot at anything specific, they aren't paper targets — they're probably metal plates. Then, they can determine how much mild steel their pellet gun is able to penetrate, and at what distance.
Everything they do is a weird science experiment. They're the ones who wind up on You Tube with blood pouring out of their ears while their friends laugh maniacally in the background.
That's not airgunning! That's being back in the fourth grade and trying to light…well, you know what I mean. And if you don't, you're probably still doing it. And you aren't reading this blog, either, because people like that don't read much of anything longer than the label on a beer can or a juicy tweet on Twitter.
I shoot airguns to augment my shooting experience. And the point of that experience is to maintain and perhaps improve my shooting skills. Small groups are important to me, but so is standing on my feet and shooting the center of a target offhand — as I have done in front of witnesses several times.
I'm in this game to place my shots where I call them, or to know that I haven't whenever something goes wrong. I'm in this partly to keep my shooting skills sharp and partly to find guns and pellets that can shoot better than I can.
And that's what's behind all my reviews. Sure, I like a nice trigger; but without accuracy, a good trigger is like a rusted-out car that has a deep, resonating tone coming from the tailpipe. HEY — I once owned a VW bug with a stinger exhaust that was just like that! It sounded like an expensive sports car and ran like a model A Ford delivery truck.
So, manufacturers, I am warning you here and now — send me your guns and you can expect me to shoot them for accuracy first, and all other things second. I will use every trick I know to make your guns shoot well…and with luck, they will. But if they don't after I've exhausted all attempts to the best of my ability, you can expect me to tell everyone about how it really performed.
So, send me your mega-magnums. Just make sure they're also accurate. Send me your gilt-edged light sabers, but expect me to turn them on and attempt to use them. I can put up with a lot of things when I shoot, but missing the target because my gun is throwing curveballs isn't one of them.
The lesson of the wise barber
The wise barber said you can cut a man's hair every month, but you can only scalp him once. Marketing departments and airgun manufacturers need to internalize this wisdom because putting a bone-jarring air rifle into a customer's hands may be the ticket to losing him forever. On the other hand, give him a gun so good he'll want more, and you have created a loyal customer. His business won't just be worth the $300 he spends today, but tens of thousands of dollars that he'll spend with you over the next 40 years as he enjoys his hobby.
by Tom Gaylord, a.k.a. B.B. Pelletier
Today's blog is going to be fun for me, and I hope for all of you, as well. I'm going to talk about one of my favorite subject — the accurate gun. You have to be a shooter to know what I'm talking about because non-shooters assume that all guns are accurate. They assume that it's the skill of the shooter that makes guns work like they do.
That's like saying all violins are the same, and a master can make a student instrument sound like a Stradivarius. Or a NASCAR driver can make a minivan perform like a Ferarri. But it doesn't work that way. While expert handling can extract all the performance from anything, no matter what it is, there's also no way to get more than it has to offer, regardless of who wields the bow or sits behind the wheel. Or, in today's case, is on the trigger!
Accuracy is something that lives in the gun. And, in my experience, a really accurate gun isn't that common. Though I shot a lot starting in my late youth, it wasn't until I acquired a custom .458 Winchester Magnum in my twenties that I encountered my first really accurate gun. I bought…or more likely, traded…for the rifle at a local gun show when I was living in El Paso, Texas, in the early 1970s. It was a 1903 Springfield that had been rebarrelled to .458 Winchester Mag.; and it came with the reloading dies, a bullet mold, a batch of empty brass and even a recommended load. The seller/trader told me if I loaded it with his load, the rifle would be phenomenally accurate. I'd heard that before, but not as many times back then as I have today. In spite of my doubts, I did the deal.
I cast up some of the 558-grain lead bullets and loaded up the exact formula the seller had recommended, which I recall was 24 grains of 2400 powder and a greased but unsized bullet seated to a certain depth in the case. Then, I went to the range. Since this was a .458 Winchester Magnum, I was prepared to be kicked hard, but that load was so soft that it was very pleasing to shoot from the bench. When I checked the first 5-shot group at 100 yards and saw that it was only an inch across, I was thrilled!
That's when I began shooting 10-shot groups, because, try though I might, I could not get those big lead slugs to go anywhere but through the same hole. In fact, the accuracy of that rifle became downright boring after awhile. I would load up 40 rounds and shoot 4 groups that were all less than 2 inches across at 100 yards. Big whoop! There was no challenge.
I didn't know then that I would never again have a rifle so inherently accurate. I just assumed that was the way of things, so I eventually sold or traded that rifle…and have lamented the decision ever since.
Ballard
This is why I want so much for my Ballard rifle to shoot well — because I believe that it can! If that old put-together Springfield sporter could lob them all through the same little hole, there's no reason a purpose-built target rifle made in 1876, when American gunmaking was at its zenith, shouldn't do the same.

My Ballard rifle is beautiful. If only it shot like it looks!
So far, the Ballard has been a heartbreaker. She taunts and teases me with her looks and then puts 7 out of 10 bullets through the same hole, while scattering the other 3 wherever she pleases! Time after time, I thought I found the secret and was about to turn the Ballard into the thoroughbred she is, and just as many times I've been disappointed. When that happens, I get so discouraged that I have to abandon shooting the rifle altogether and do something else. There have even been times when I've thought of selling the rifle just to get it out of my sight. But, then, I look at her and realize that I have to keep trying.
My latest theory is that the rifle needs a shorter bullet because the twist rate is very slow. It's 1:20, where a normal .38-55 twist is 1:18. That would mean the 255-grain bullets I've been shooting are too long to stabilize. Please understand that I'm using smokeless powder in my reloads, and this rifle was designed for black powder. With black powder, you fill the case as full as it will go so there's no empty space between the powder and bullet. If there were space, the powder would develop a shockwave that would destroy the rifle!
But smokeless powder doesn't fill the case, and the pressure rises faster than black powder, so I have to keep the charges low. As a result, the gun cannot fire the bullet fast enough, even though it was designed to shoot that bullet. Because of that, it can't stabilize it properly. At least, that's my guess.
Another problem is that there's no leade ahead of the chamber. The rifling rises up at the end of the chamber and that's it. A bullet with a fat nose won't chamber properly, as the rifling will prevent the bullet from being seated.
What I need is a custom bullet for this rifle and to own the mold made for it. I'm working on that right now.
Springfield O3A3
I got an O3A3 Springfield from my buddy Mac a couple years ago. Most Springfield rifles are accurate in the general sense, but this one is special. It lays them in there better than it should. I can pull a sub-2-inch group at 100 yards when I do my part, and that's with the battle sights that came standard on the rifle.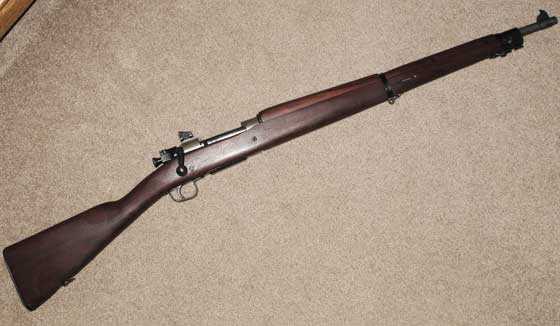 They made millions of them, but this one is special. It's more than accurate — it doesn't like to miss.
The O3A3 was the last incarnation of the famous 1903 Springfield bolt-action battle rifle. It was made during World War II to fill the need for rifles until Springfield could catch up with the Garand production. What made it an O3A3 were several minor design changes that substituted stamped and welded assemblies for machined parts. Oh, the hue and cry about that was great! Even in the 1960s, old soldiers still bemoaned the cheapening of the Springfield rifle!
But there was a funny side to it, as well. The cheaper rifles were also often more accurate! Instead of the antiquated Buffington peep sight that had been around since 1884, the O3A3 has a modern rear peep sight that adjusts for both windage and elevation. And mine has a 4-groove Remington barrel that's renowned for accuracy. Put the package together, and you have an American battle rifle that shoots like a target gun. The one I have does even better than most.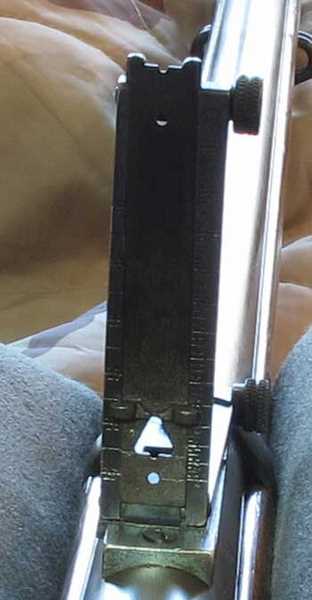 For 1884, the Buffington rear sight that combined a peep with an open notch was high-tech. It was used on all U.S. rifles through the M1903 Springfield, but it's dated today!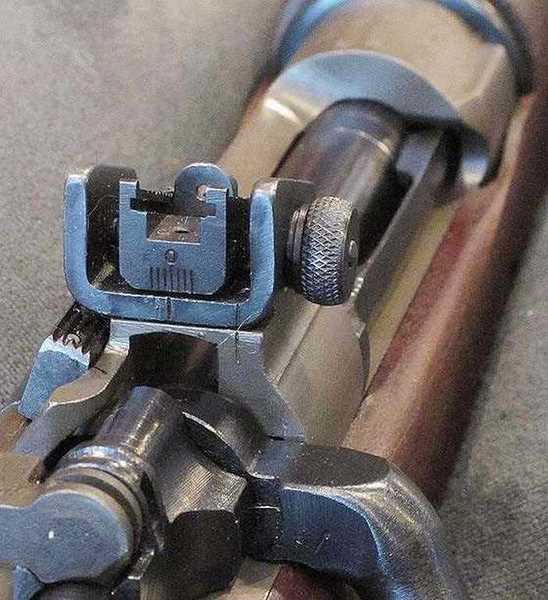 The O3A3 rear peep modernized the Springfield rifle during WWII. It made the rifle easier to shoot accurately.
It's a natural shooter! For some reason unknown to me, my O3A3 puts all its bullets where I want them — with iron sights! When Mac traded it to me, he apologized for the Social Security number that some former owner engraved on the receiver with an electric pen. It's barely visible, but its presence makes this 99-percent rifle a $600 shooter rather than an $1,100 collectible. But there's also an upside to that. I don't have to worry about the wear I'm causing by working the bolt because all the value has already been taken away.
I've owned six 1903-type Springfield rifles in my life. All of them were accurate, but this one is special. It goes beyond being accurate and crosses into a realm that's hard to define. Those readers who own accurate guns will understand what I'm saying.
Handguns, too!
I've owned super-accurate handguns, too. One of them is a revolver I got just recently in a trade. It's a gun I never would have considered before shooting 12 rounds offhand into pretty much one hole at 15 yards a few months ago. And the caliber — .32-20, which is also called .32 WCF — is a caliber I thought I would never own.
The gun is a Smith & Wesson Hand Ejector with target sights. It's from the 1930s and shows it's heritage proudly. It was carried for years in a handmade leather holster until the owner, my pal Otho, finally decided the gun had become too valuable to carry anymore. He no longer shoots handguns for medical reasons, so he was kind enough to let me try his pride and joy earlier this year. When he saw that I shot it well, too, he offered it to me.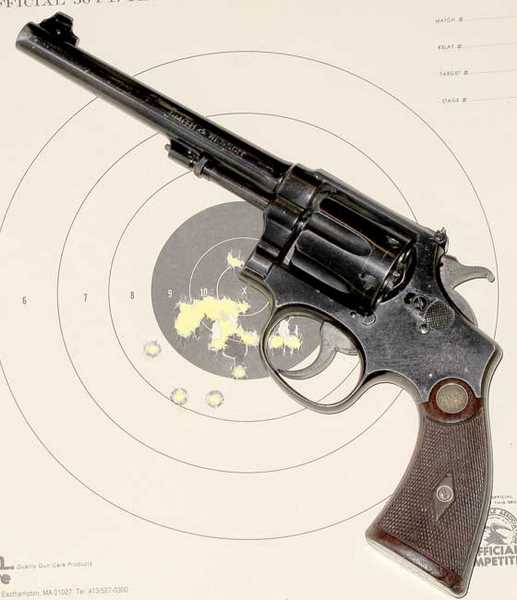 This 32-20 S&W Hand Ejector looks dated, but it shoots like the target pistol that it is.
Most revolvers have one chamber that's just a little out of line with the barrel and shoots just a little off. This one has six good chambers that you can't tell apart downrange. But that's understandable; because when it was made, Smith & Wesson used skilled craftsmen to fine-tune their revolvers — especially those with adjustable sights.
Summary
I own lots of accurate firearms and airguns, but today I've been discussing something more than that. The guns I've mentioned, with the exception of the Ballard, are beyond accurate. They have something that's hard to define and harder to give a name to. When I pick up one of them, I know where my shot will be going — every time! I don't know what to call this thing I'm talking about, but it does warm my heart to shoot one of these special guns.
by Tom Gaylord, a.k.a. B.B. Pelletier
This is an ongoing series about scope questions and issues. Blog reader David Enoch asked for it originally, but many other readers have jumped in since it began. Today, I'll talk about adjustable scope mounts.
First things first
Why do we need adjustable scope mounts? Aren't the scopes, themselves, supposed to adjust? Yes, they are, but 2 things quickly become a problem. First, the scopes don't adjust as far as we need them to; and second, when a scope adjusts toward its upper and right limits, it loses its precision. I will address the second problem because it's really the principal one.
When we look at a scope, we see that it has a range of adjustability and assume that it'll work as it should throughout this range. But that's not the case. Inside each modern scope there is a smaller tube called the erector tube. The erector tube often contains the reticle; and as the tube moves up, down, left and right, so does the reticle. So, moving the erector tube is what moves the reticle.
There is a spring or springs that press against the erector tube, making it press against the adjustment knobs, in turn. That spring has a range of movement it goes through as the tube moves. When the tube is up high or far to the right, then a spring or springs that press it against the adjustment knob or knobs are relaxed and can allow the erector tube to move when the gun vibrates, such as with a shot. This is one of the chief causes for "scope shift." You fire the gun, and the erector tube moves slightly, taking the reticle along with it, of course. On the next shot, the scope will be aiming at a slightly different place. It'll appear that your scope is wildly throwing the shots around.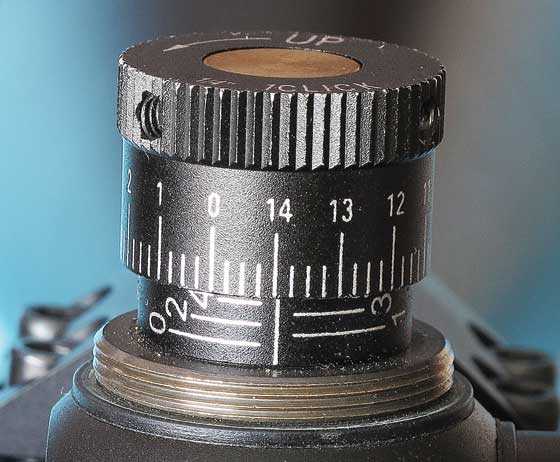 This elevation knob is adjusted up to its maximum limit. I recommend not adjusting it higher than the number 3 line on a scope like this to avoid scope shift.
I tell folks that a good rule of thumb is to not adjust their scopes above the 3/4 mark on the elevation knob or past the 3/4 mark on the right windage adjustment. Some scopes can adjust farther than this without a problem; but the closer you stay toward the middle of the range, the better. If your scope doesn't have knobs like these, you may have to count the actual clicks of adjustment to know where you are.
Is adjusting the scope in the opposite direction (i.e., down or to the left) a problem? No, it isn't. You can adjust all the way until the adjustments run out in the down and left directions. It doesn't hurt the scope, nor does it affect accuracy.
So, the scope that you thought had a huge adjustment range turns out not to have as much as you believed. Yet, your airgun (or firearm) needs more adjustment than you have. How do you compensate for the adjustment you no longer have but may need? With a scope mount that adjusts, of course.
Adjustable scope mounts
The purpose of an adjustable scope mount is to align the axis of the scope in a direction different than the scope base on the gun dictates. If all scope bases were aligned with the axis of the barrel, there wouldn't be a problem, but they aren't. Adjustable scope mounts can compensate for this, leaving the scope's internal adjustments to serve the ballistic requirements of the gun in question.
Up and down, left and right
A barrel can point off from a gun's scope base in any direction, but the most common direction is down. The barrel "looks" down, in relation to where the scope tries to look. The other 3 directions are also possible, with left being the second most common. After that, the other 2 directions happen pretty infrequently.
So, if you're going to need extra adjustments, it will most likely be extra "up" that you need, followed by extra "right." Adjustable scope mounts have to provide extra scope movement in all directions, with up and right being needed most often.
Scope tube integrity
The scope tube is a hollow, rigid tube that must maintain its integrity to keep the lenses in alignment. If the tube were to bend, it could seriously damage or even break the scope. Adjustable scope mounts must either move the scope as a whole without putting any stress on the tube, something that only a 1-piece mount can do; or they must adjust in such a way that when the rear mount moves, the front mount can relieve the stress on the scope tube. Only the B-Square AA adjustable scope mounts were able to do that; and when B-Square sold the company several years ago, the new owner moved the manufacture of the AA adjustable mount to China, where the quality control was soon lost. You cannot buy new AA adjustable scope mounts any more.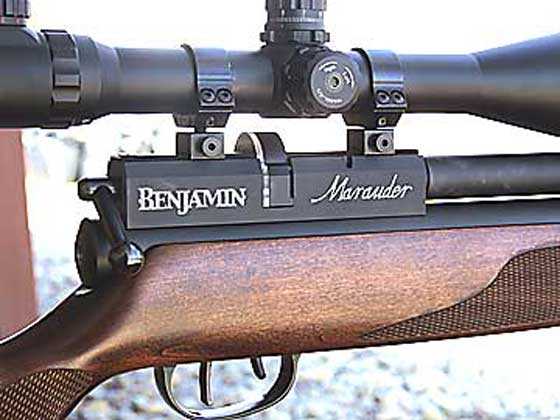 When the rear mount is raised above the front mount, if the front mount doesn't move to compensate, the scope tube will be strained. These B-Square 2-piece AA adjustable mounts have rings that pivot forward to allow the scope tube to remain straight.
Sports Match has 2-piece adjustable mounts on the market; but as far as I can see, they make no provisions for relieving the stress on the scope tube when the rings are adjusted separately for elevation. I guess I need to test them to learn their operational parameters. I don't see how they can avoid stressing the scope tube when the front and rear mount are at different heights, but I'm willing to hold my opinion until I've examined them.
I've tested several 1-piece adjustable scope mounts and found all of them to work well in this regard. Most recently, I tested the BKL adjustable mount and found that it moved well in both directions.
What about precision?
To date, no one has made an adjustable scope mount that adjusts with precision for a modern scope. Such mounts do exist for vintage scopes that have no erector tubes because the entire scope has to be moved by the mount. I have shown you this kind of adjustable scope mount a couple times.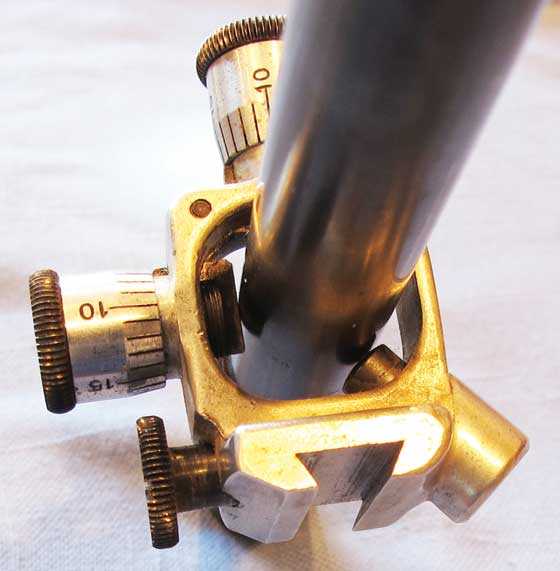 This Unertl scope ring adjusts to move the entire scope. It has the same precision as the adjustments on a modern scope.
Slippage is common with adjustable scope mounts
The most common problem is the adjustable scope mount that does not hold its position. That's why the Chinese-made B-Square adjustable mounts failed. Their screw holes had sloppy threads that tore out under stress, and the mounts couldn't hold in position. So, whatever adjustable mount you get, it must hold its position once it's been adjusted, or it won't work.
And slippage happens soonest on spring guns because of their recoil and vibration. Ironically, spring guns are the very ones that need the adjustable mounts most often. There's nothing that can be done about this, but you must understand that you don't want a scope mount that can't hold its position.
Firearms shooters need adjustable scope mounts more today than ever before. I think that's because modern guns are being assembled faster and with less precision than they were in the past. The thing is that firearms shooters are not as aware of scope problems as airgunners, so they tend to have more of them; and when they do, the problems are harder for them to resolve. I've tried to help people who I knew were having some common problems such as adjusting too high in the scope's range, but they just looked at me like I was crazy. Surely, no scope manufacturer would field a scope whose adjustments were not 100 percent useable?
That's all I have for you today. How about telling me your other unresolved scope issues?
by Tom Gaylord, a.k.a. B.B. Pelletier
I don't know about the rest of you, but this blog is teaching me things. I'm learning a lot more things by doing all these little tests and experiments than I ever learned by reading about airguns. Of course, that's partly because there aren't that many good books around, but it's more because of the excellent discussions we have here. And more often than not, something really special comes from all this study.
Yesterday, I was finishing an article for my monthly column in Shotgun News when I happened to spot something interesting. I was writing about the Chinese KL-3B Fast Deer sidelever spring-piston air rifle and I showed two targets — one shot with RWS Hobby pellets at 10 meters and another shot with the same pellet at 25 yards. The 10-shot group at 10 meters measured 0.38 inches between centers, and the 10-shot group of the same pellet that was shot at 25 yards measured 1.918 inches. That was certainly a huge increase for just moving the target 14 yards farther! But it was more than that. I had seen something similar recently — something that really stuck in my mind.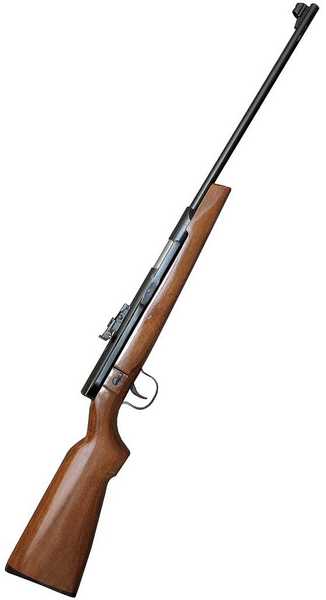 Fast Deer sidelever rifle has a quality look, but the accuracy falls off fast after 10 meters.

At 10 meters, the Fast Deer put 10 Hobbys into 0.38 inches.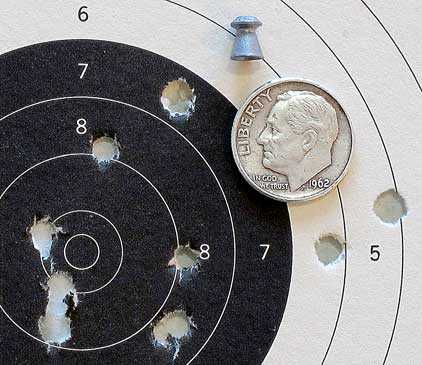 But at 25 yards, another 10 Hobbys went into 1.918 inches.
Then I wrote something in the column that jogged my memory. I said the Fast Deer was acting like it was a smoothbore because it shot great at 10 meters but lousy at 25 yards. That was just how the Diana model 25 smoothbore had shot when I tested it last year! And that's when it hit me. As I remembered it, it was performing EXACTLY like the Diana model 25 smoothbore!

The 1940 Diana model 25 smoothbore performed exactly like the Fast Deer air rifle.
So I looked it up, and I was right. With JSB Exact RS pellets the Diana 25 put 10 into 0.337 inches at 10 meters, and at 25 yards it put the same JSB Exact RS pellets into 2.421 inches after I played with the seating to find the best place.

At 10 meters, the Diana 25 smoothbore put 10 JSB Exact RS pellets into 0.337 inches.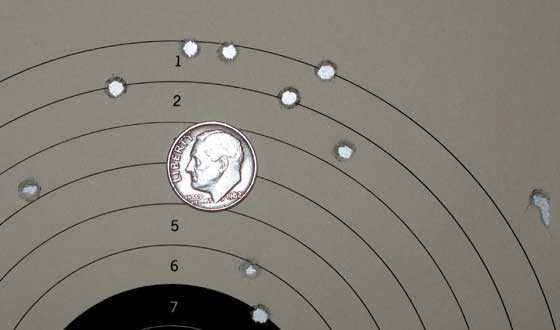 But at 25 yards, the best the Diana 25 could do with 10 JSB Exact RS pellets was 2.421 inches.
Ah-ha!
Learning has occurred! I now know that I'm getting the same results from a gun with a rifled bore as I got from one that is a smoothbore. Or, to put it another way, the rifled gun shoots like the pellets aren't being stabilized by the rifling. It shoots like a smoothbore.
Is the Fast Deer even rifled?
Then I wondered if the Fast Deer is really rifled. So, I ran 2 different pellets down the bore from muzzle to breech — have to go that way because the barrel is fixed. Both pellets (RWS Hobby and an old Tech Force Chinese pellet) showed good engraving around the bases of their skirts, but only one showed any contact with the pellet head. Unfortunately, the RWS Hobby that I'd used when testing the rifle did not have any marks on its head. Instead, it was the domed Tech Force pellet made years ago that had engraving. However, I never shot the Chinese pellet when testing the gun for accuracy. Pyramyd Air used to carry them, but they no longer do. The point is, they may solve the longer-range accuracy problem. If they don't, I will look around for another fat .177 pellet that will.
So what we have is a Part 6 test coming up for the Fast Deer rifle. I said I would scope it and shoot it at 25 yards for Part 6, but if it doesn't shoot accurately with open sights at 25 yards, that seems like a big waste of time.
by Tom Gaylord, a.k.a. B.B. Pelletier
Testing the effect of hold on an accurate spring-piston air rifle: Part 1
Calling the shot and follow-through
Settling into a firing position
I thought this was going to be a one-time report. I would show how the hold affects the accuracy of a spring-piston rifle and that would be it. Well, the best-laid plans…
Blog reader Slinging Lead said he thought that lower-powered breakbarrels shoot just as accurately when rested directly on a bag as they do when shot with the artillery hold. I had to admit that the TX200 does shoot well off a bag, although that rifle is an underlever — not a breakbarrel. And it's certainly not lower-powered. Then, blog reader BG_Farmer entered the conversation and requested this test.
While all this was transpiring, blog reader Kevin Lentz sent me 2 tins of Air Arms Falcon pellets to try in my R8. He said his R8 shot them slightly better than it shot the JSB Exact RS pellets that I normally use in my R8.
Now, we had a multivariate discussion going on! On one hand we wondered which pellets were the most accurate in my R8; and on the other hand, we wondered if the gun was as accurate when rested directly on the bag as it was when held with the artillery hold.
How do you test all that? Do you start by testing one of the 2 pellets, or do you first find the best hold? My approach in situations like this has always been to just start testing and let the methodology work itself out as I progress.
This time, I started by shooting the gun with both pellets. I shot them with the artillery hold the way I always had, then I rested the gun directly on the sandbag and shot both pellets again. The first day's results were not very good, but they did illuminate something that helped me structure the second day's shooting. It turns out that, although the R8 is a very accurate springer, it's still ultra-sensitive to hold. I guess I'd forgotten that, but on the first day's shooting it slapped me in the face. I found that even the slightest variation in hold would throw the pellet sideways with a vengeance, and that held true for both the Falcon pellets and the JSB Exact RS pellets.
Ten-shot groups are the way to go
Once again, I must sing the praises of 10-shot groups over 5-shot groups. When you shoot 10 shots, you allow the gun to do its thing; and that tells you what the real accuracy is. People say they don't shoot 10 shots because something can go wrong — that it's easy to hold the rifle steady for 5 shots, but close to impossible to hold it right 10 times in a row. I say that's just a lie we tell ourselves because 5-shot groups look so much better. Yes, it's hard to hold a gun correctly 10 times in a row; and yes, you'll make mistakes. I make them all the time. But if you get into the habit of shooting 10-shot groups, you'll also KNOW when you make those mistakes; and in time, you'll make fewer of them.
The first results — JSB Exact RS pellets
The rest of this report will be mostly the photos of the groups. I'll start with the JSB Exact RS pellets.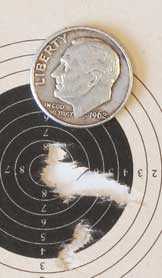 On the first day, this is what my artillery hold did with 10 JSB RS pellets at 25 yards. Group measures 0.647 inches.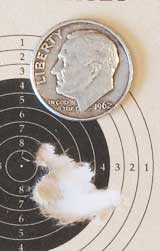 On the second day, my artillery hold was more precise shot-to-shot, and I got groups that were smaller and rounder. Here are 10 JSB RS pellets from the artillery hold at 25 yards. Group measures 0.503 inches.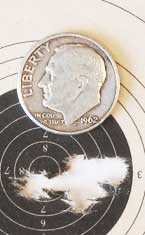 Resting directly on the bag on the first day produced a slightly smaller group than the handheld one. Ten JSB RS pellets rested on a bag went into 0.571 inches between centers at 25 yards.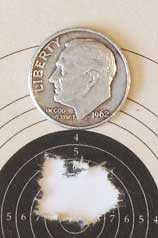 Resting directly on the bag on day 2 also beat the handheld group on that day.Ten JSB RS pellets rested on a bag went into 0.379 inches between centers at 25 yards. This is the smallest group of this test.
Clearly, these results show that the groups of JSB Exact RS pellets fired off the bag are smaller than the handheld groups on both days. The day 1 groups are larger than the day 2 groups, but the relationships of the group sizes between bag-rested and handheld remained constant on both days.
Air Arms Falcon pellets
Now, let's see what happened with the Air Arms Falcon pellets. These were also shot on both days and using both resting methods.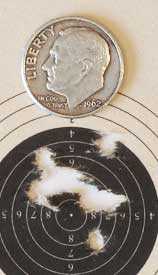 On the first day, this is what my artillery hold did with 10 Air Arms Falcon pellets at 25 yards. Group measures 0.63 inches. It's slightly better than the handheld JSB RS group shot on the same day.

On day ,2 the group shot with my artillery hold and 10 Air Arms Falcon pellets at 25 yards measures 0.466 inches. It's considerably better than the handheld JSB RS group shot on day 1.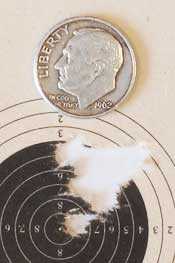 On the first day, 10 Air Arms Falcon pellets at 25 yards shot with the rifle rested directly on the sandbag went into 0.627 inches. It's slightly better than the handheld Falcon group shot on the same day.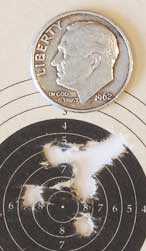 On the second day, 10 Air Arms Falcon pellets at 25 yards shot with the rifle rested directly on the sandbag went into 0.603 inches. It's much worse than the handheld Falcon group shot on the same day. I know this group APPEARS larger than the group above, but I measured it several times and it really is slightly smaller.
Conclusions
I conclude that these 2 pellets perform so close to each other that there's no measurable difference — at least not in my Beeman R8. The group sizes do slightly favor the JSB pellets over the Falcons, but it's too close to call.
But this test does demonstrate one thing very clearly. This rifle is capable of shooting groups just as tight when rested directly on a sandbag as when held with the artillery hold. That's big news, I think. I'll remind you that this test required the utmost in precision holding — whether in the hands or on the bag. There could be absolutely no tension on the rifle, and the gun had to be settled in properly before firing. It, therefore, took nearly as long to get each shot ready on the bag as it did holding the gun.
Don't try to go too far
This is all well and good, but don't sit in judgement of these results. It would be far too easy to get sucked into a destructive discussion of how much better you think this rifle can really shoot.
Many years ago, I worked for an engineering firm that developed specialized telecommunications systems. Our client was always pushing past the edge of technological possibility, so we were, too. That's admirable except it sometimes gets you into problem areas. Let's look at one example. The client wanted a mass storage device that stored a huge amount of data. They also wanted the data to be retrievable within a very short time. You can do one thing or the other; but when you try to do both simultaneously, there are problems.
Our problems can be seen in the movie Patriot Games, when the main character is attempting to do voice recognition in real time from a cell phone intercept. There's a glass wall behind him, and the mass storage device behind the wall is very much like the one we were asked to design. As you watch the film, you'll see robot arms moving fast to retrieve digital storage devices and plug them into readers. The arms move very fast! But they're slow compared to the speed our robots had to move. Our arms had to move faster than the speed of sound, yet stop at precisely the right spot for the storage devices to be inserted into the readers. That is a physical impossibility just due to the physics of the problem. You cannot decelerate a mass from fast to zero without some consequences.
We had a problem that was unsolvable at the time we were attempting to do it. Today, however, it can be done, and the footprint of the system that does it is a fraction the size of what we were working on. Mass storage technology caught up with our technological requirement and then surpassed it.
You run into the same problem when you attempt to test something like the rifle we're looking at today. You can get a spring-piston gun to a remarkable level of precision, and then the technology and physical limitations stop all further progress.
Put another way, you can take a $500 spring gun and invest another $500 to get it shooting 10 times better than before. But after you do, maybe no amount of additional money can get that more accurate airgun to shoot another 10 times better!
I could probably continue to test this rifle and get different results. Some would be better than what is seen here, and others would be worse. I believe this test does show the relationship quite well of the gun to the 2 pellets and 2 different holds.
by Tom Gaylord, a.k.a. B.B. Pelletier
Calling the shot and follow-through
Settling into a firing position
Today's report is one of those serendipitous events that happen when I think I'm investigating something simple and it turns out to be a treasure trove of shooting information. I thought today's test was a demonstration of how settling into a firing position and following through would give a better group from an air rifle of proven accuracy. What I got was that and more!
I chose the .177-caliber Beeman R8 air rifle and JSB Exact RS pellet for this test because, in the past, this has proved to be a great combination. I shot 10-shot groups at 25 yards, which should show any differences if they really exist. Initially, I'd thought to shoot the rifle in a deer-hunter hold (meaning that I grasped the stock and pulled it firmly into my shoulder), an artillery hold without the tension being taken out of my hold (in other words, holding the rifle lightly, but held on target by muscle power and not by relaxing and adjusting the hold) and finally by settling in properly with an artillery hold. However, as I started this test, I thought that I'd also shoot the rifle directly off the sandbag to show how that affected the group size.
As I started the test, I realized that one group would have to be shot last, which would be at the time I was getting tired. I didn't want to bias the results, so I put the neutral hold (the potentially best hold) at the end of the test.
Directly rested on sandbags
The first shot off the bag went through the center of the bull, and shot 2 went through the same hole. At that point, I thought this test was going to prove that I was wrong and that this gun really could be shot directly off a bag. Because of that, I knew that bias could creep in at this point. So, shot 3 was taken with the greatest care; yet, shot 3 went way to the right, and I knew the wisdom of not resting directly on sandbags was holding true.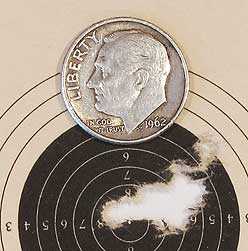 Ten JSB Exact RS pellets went onto 0.593 inches at 25 yards when the rifle was rested directly on the sandbag.
Deer hunter
This hold is one where you grasp the rifle tightly, pulling it into the shoulder the way a hunter might hold a powerful rifle. This was the most difficult hold to execute because the rifle was twitching around from the tight muscles. I didn't have a death grip on it — just a firm hold; but through the scope, the movement was disconcerting.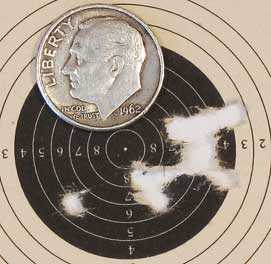 Ten JSB Exact RS pellets went onto 0.949 inches at 25 yards when the rifle was held firmly like a hunting rifle. The horizontal spread is due to tense muscles.
Artillery hold without settling-in
This hold just felt wrong with every shot because I knew I hadn't settled in. Were I to relax before the shot while using this hold, the crosshairs would invariable move to the right. And see what kind of group I got? There's one large hole surrounded by 4 wild shots. This is the kind of group that will drive a shooter nuts because it looks so good in general but still has those few wild shots. You wonder what's wrong and want to blame the rifle, the barrel crown and the pellet. But in actuality, it all came down to the hold.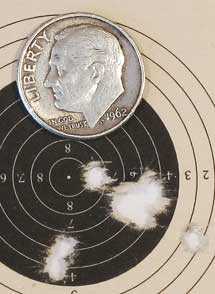 Ten JSB Exact RS pellets went onto 0.728 inches at 25 yards when the rifle was held using the artillery hold but not settling in. The wild shots are caused by tense muscles.
Now comes the big lesson!
Here is where the test turned around and taught me more than I anticipated. By the time I got to this point, I'd already fired 30 good shots without a single called flier. The dispersion you see on the targets above is entirely due to the holds that were used to create them. But taking 30 good shots is very tiring. And it showed on my next attempt to shoot a good 10-shot group.
What happened was I didn't relax as completely as I should have. There was still a bit of tension in my muscles. Part of that is because my R8 has a Tyrolean stock whose high cupped cheekpiece is horrible for shooting off a bench rest because it forces you to put your cheek against the stock. But knowing that these shots were fired with a bit of tension in this case turned out to be a wonderful thing because I got 2 distinct groups!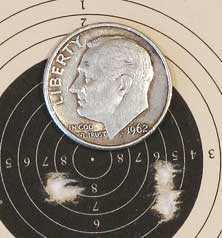 Four JSB Exact RS pellets went onto 2 distinct groups at 25 yards when the rifle was held using the artillery hold, but I still didn't settle in as completely as I should have. The "group" on the left looks like a single shot, but I know for a fact that it contains 2 pellets. The group on the right is very obviously two pellets. The distance between the centers of these 4 shots is 0.574 inches.
Why is this bad target such a good thing? Because it clearly shows a phenomenon that happens to all shooters. A small change in the hold sends the pellets/bullets to 2 distinctly different places. How many times have I seen this on the rifle range and blamed my ammunition or rifle? Here's the proof that it can be caused by just a small change in the hold.
But the learning wasn't over! The next target I shot was with a fully relaxed artillery hold, but it's still larger than I would like. What went wrong? Well, perhaps, where I'd my off-hand was the problem. It was back, touching the triggerguard. Maybe, it needs to be more forward with this rifle.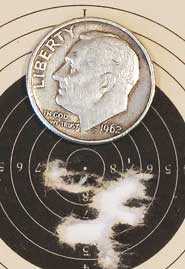 Ten JSB Exact RS pellets went into 0.475 inches at 25 yards when the right artillery hold was combined with the correct settling in. This is the best of the 5 groups fired thus far, but I felt the rifle had more to give.
I slid my hand forward to almost the end of the stock. Then, I shot the final group, which was the best one of the day. Fifty-four shots had been fired before this group was started; yet, when I settled in correctly and used the artillery hold as I was supposed to, this hold produced the best group of the session — 10 shots into 0.405 inches between centers.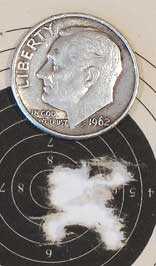 This is what happens when everything is done right. Ten JSB Exact RS pellets went into 0.405 inches at 25 yards.
Summary
This little test turned out to be one of the most important things I've done in months because it demonstrates not just the importance of the right hold and settling in but also what can happen when even one of those things isn't done exactly as it should be.