Posts Tagged 'Air Arms Falcon pellets'
by Tom Gaylord, a.k.a. B.B. Pelletier

The $100 PCP is built on a Crosman 2100B chassis.
This test was very interesting! It began last week at my outdoor rifle range. Blog reader GunFun1 asked me to try shooting steel BBs in this gun because it was originally built to handle them (when it was in its Crosman 2100B form). I didn't want to do it because this rifle launches the first couple shots at over 900 f.p.s., and steel BBs rebound like crazy (You'll shoot your eye out), but I did relent. Last week, I took this rifle to my outdoor range and stuck a 12-inch Shoot-N-C target on the plywood target backer. I then paced off 10 meters and fired 10 BBs at this target.
I thought the BBs would probably miss the target altogether. I said as much to GunFun1 in my comments a few weeks ago. But they didn't!
I was wrong about this. Shooting offhand with open sights, I put 10 Daisy Premium Grade steel BBs into 1.56 inches. It was actually 11 BBs. I must have miscounted during shooting. I was astounded! This isn't just good — it's great! You don't shoot BB guns at 10 meters when you're shooting groups!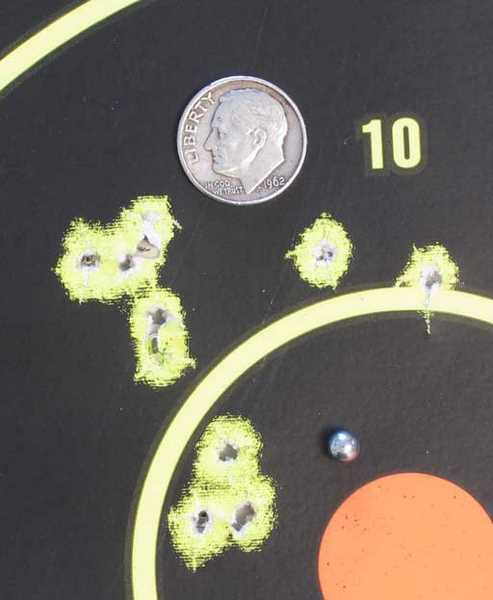 There are actually 11 Daisy BBs in this 1.56-inch group. Shot offhand with open sights at 10 meters.
Incidentally, all 10 BBs apparently went through the plywood target backer. Of course, there are other bullet holes there, so the wood isn't always present or at its thickest; still, it shows those BBs are moving!
That got me wondering just how accurate this rifle could be. I decided to shoot from 25 yards with open sights, only. I'll come back and shoot with an optical sight of some kind, but this test is just open sights.
I filled the gun to 2,000 psi for every 10 shots, including for the BBs shown above. After 10 shots, the gun's pressure has dropped to 1,000 psi.
Crosman Premier lite
The first group of 10 shots was shot with Crosman Premier lites. Based on the 10-meter results for the last test, and also from where the BBs went, I adjusted the rear sight to the right just a little. After the first shot, I looked through the spotting scope to affirm it hit the target. It did, was high above the bullseye and fairly well-centered left and right. So, I left the sights where they were and fired a second shot. When I looked through the spotting scope, I saw it had gone through the same hole as the first! Wow! That was starting out well!
The first 4 shots all went into the same hole. Then shot 5 went higher for some reason.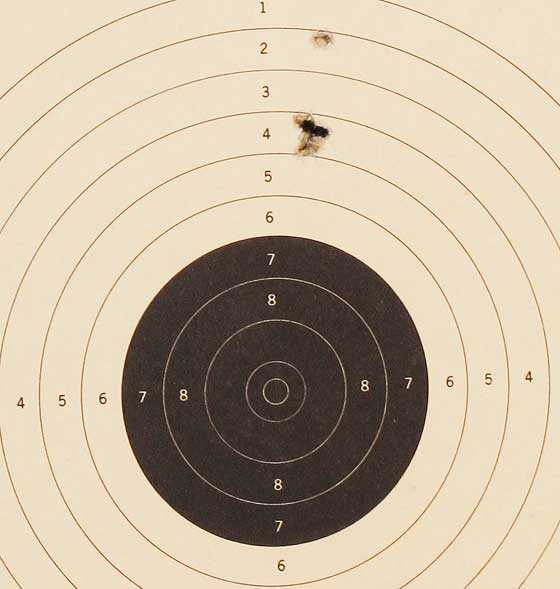 The first 4 shots are in 0.179 inches. Shot 5 opened it up to 0.838 inches.
After taking the picture of the first 5 shots, I shot the remaining 5 shots. That was informative because all the shots spread out to the left. Having the first 5 shots on record allowed me to see that the second 5 were the ones that actually spread out. The 10-shot group measures 1.358 inches between centers.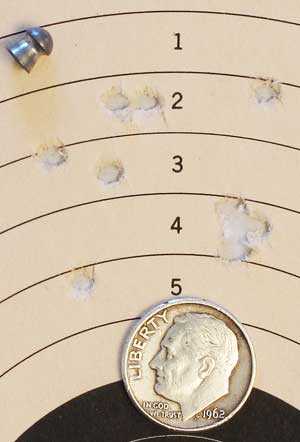 Ten Crosman Premier lites went into 1.358 inches at 25 yards. That's rested and using open sights. See how the last 5 went to the left and opened up?
RWS Hobbys
Next up were RWS Hobby pellets. They did quite well at 10 meters, but 25 yards is about the maximum distance at which wadcutter pellets hold their accuracy.
I adjusted the rear sight down one notch before shooting this group. Once more, I photographed the target after 5 shots.

The first 5 RWS Hobbys looked pretty good. Shot 1 was a 10!

So Hobbys held together fairly well at 25 yards. Ten went into a group measuring 1.144 inches between centers.
Air Arms Falcons
The last pellet I tested was the Air Arms Falcon pellet. This time, the first 5 pellets didn't seem to do that well. And when we see the final 10-shot group, it isn't that much larger.

The first 5 Falcon pellets didn't do so well.

This is one of those rare instances where 10 shots are not much larger than 5. Ten Air Arms Falcons went into 1.912 inches.
Conclusions so far
This experiment is turning out much better than I had hoped. Not only have we demonstrated that it's possible to make a precharged pneumatic rifle that can retail for under $100, we're now showing that it can really perform! Of course, the production gun will get many more shots on a fill than the 10 I'm getting, but I do think the maximum fill pressure should be held to 2,000 psi. That will make it easier to build an affordable hand pump, which Dennis Quackenbush is thinking about right now.
The discharge noise of this rifle is quite loud. I was going to recommend not putting a shroud on the gun, but I'm going to change my mind on that point. The customers for this gun will be suburban shooters who need a quieter air rifle, so some sound dampening is necessary.
The trigger on the rifle is heavy, and I would leave it the way it is. I would also leave the bolt-action exactly the way it is on the 2100B. The same goes for the sights. These are refinements people can pay for on higher-priced PCPs. We want to hold the cost of this gun to less than $100 retail.
I do plan on returning to test this rifle at least one more time with an optical sight. That will show the maximum accuracy potential, although I believe we've already seen a good indication of it in this test.
The $100 PCP will never replace the higher-priced PCPs that are already selling. It isn't supposed to. It's supposed to provide that entry-level step for those who are curious about precharged airguns and don't want to spend a fortune to find out. I think it's a very feasible goal and, quite possibly, a profitable one, as well.
by Tom Gaylord, a.k.a. B.B. Pelletier
Part 1
Part 2
Part 3
Part 4
Part 5
Part 6
Part 7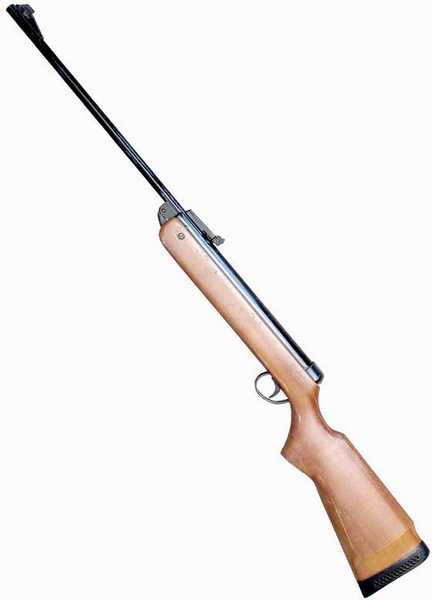 My rifle is actually a BSA Super Meteor.
Today, you'll see how I fixed the bad muzzle crown on the BSA Super Meteor, and then we'll see if that had any effect on the rifle's accuracy. You might want to read Part 7, again, just to remind yourself of what I faced.
The BSA project has been just that — a project from the start. All I wanted to do was test another vintage spring-piston air rifle for you and report the results, but this particular air rifle has challenged me at every turn. From the time I bought it at the Roanoke airgun show last September, it's been nothing but a prolonged learning scenario. I won't bore you by recapping all that's happened; but if you want to find out, read Parts 1 through 7.
At the end of Part 7, I showed you a nasty muzzle crown, which I surmised was the reason that all the pellets were leaving the barrel with a yaw to their axis. They weren't tumbling, because every one of them struck the target paper in exactly the same orientation. They were yawing, or traveling forward while pointing off to one side. Because the barrel is rifled, they were spinning on their long axis, but that axis didn't happen to coincide with their flight path.

The BSA Meteor crown has some serious nicks in it. The dark spot at 10 o'clock is the deepest. Compressed air could escape through this channel before any other part of the pellet leaves the bore, and the jet of air could push the pellet over on its side.
The solution was to crown the bore; but as you can see in the picture, the Meteor's muzzle is counterbored by more than an inch. In other words, it isn't where it appears to be from the side. It's deep inside the barrel, where the theory says it shouldn't get damaged as easily. Only this one was — perhaps from over-zealous cleaning through the muzzle. Who knows? The point is that it had to be fixed.
My shooting buddy Otho suggested a piloted counterbore to face off the crown true and square to the axis of the bore. And he volunteered to make the pilot, so I slugged the bore for him and found it was a diameter of 0.176 inches. That seemed odd to him because it's larger than the bore of a .17-caliber rimfire bullet that's about 0.172-inches. But that's the difference between .17 caliber and .177 caliber — which is important for airgunners and firearms shooters to know. The pilot he made measures 0.1745 inches and fits the Meteor's muzzle comfortably.

Otho made the pilot for this counterbore.
The counterbore chucked up perfectly in my portable electric drill. I allowed extra length for the bore to go down into the barrel and touch the muzzle without the drill chuck touching the barrel.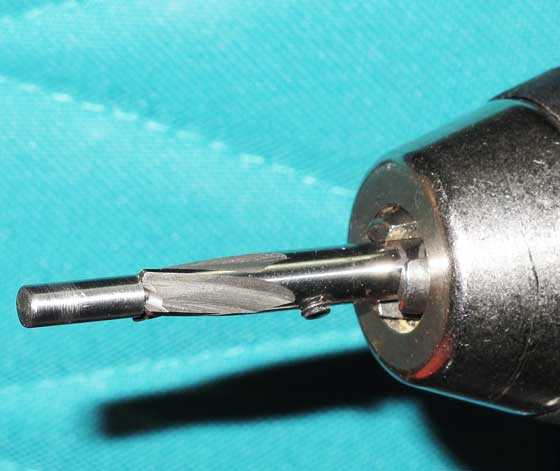 The counterbore is chucked in the drill and set to run true. It sticks out far enough to cut the crown without the drill chuck touching the barrel.
Plugging the barrel
Before starting the work, I pushed 3 fat pellets into the breech and then pushed them with a cleaning rod to within 2 inches of the true muzzle. These will keep the metal chips from dropping down the bore.
I oiled the counterbore and pilot with a good grade of light machine oil before inserting it into the muzzle of the gun. The drill was set on a slow speed, but I can also control the speed by how hard I squeeze the trigger. I wanted a slow steady turn without putting much pressure on the drill. The counterbore is sharp enough to cut the soft barrel metal without a lot of encouragement.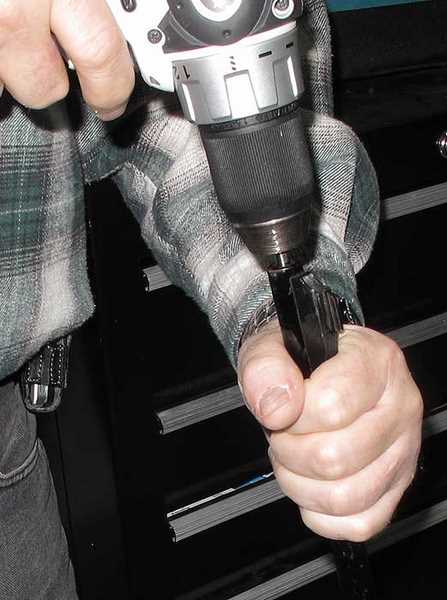 The drill is set to run slow, and I'm also slowing it more with the trigger. You don't need speed for a cut like this.
After about 10 seconds of cutting, I removed the counterbore and cleaned the new crown with a cotton swab. There was a band of bright metal around the muzzle where the counterbore had cut. Upon close examination, I could still see gouges in the bright band. The gouges were deeper than the first cut.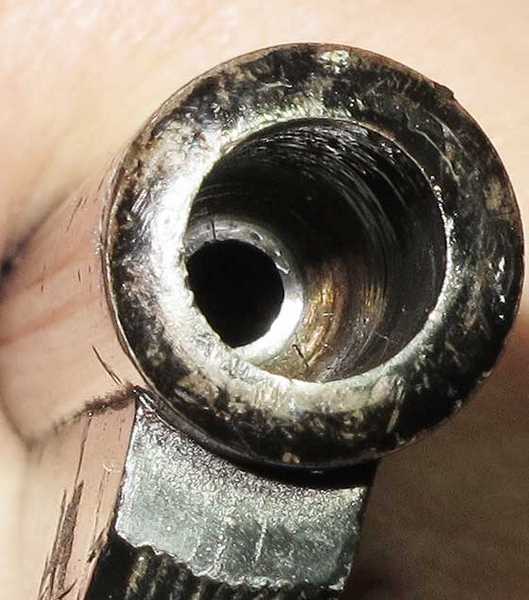 The new crown is bright after the first cut, but there are still gouges that need to come out.
I cleaned the counterbore with a swab and oiled it again. Then, I made a second cut on the crown. This time, I felt the drill pulse as the cutter removed the uneven metal. It became smooth, and I knew the cut was finished. When I cleaned and inspected the new crown this time, it appeared smooth and even. The job was done.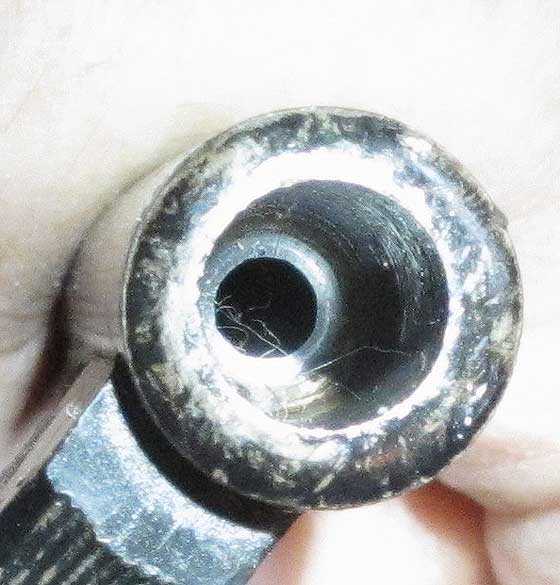 I apologize for the blurriness of this picture. Focusing on the crown is very difficult when I'm also trying to light it from the same axis as the lens is pointing. The lens is about one inch from the end of the barrel, and this was the best picture I got. There are still some faint marks on the crown. After examination with a loupe, I didn't think they would be a problem.
At this point, I felt the crown was as clean as I could get it. And there was a simple way to see if this had made a difference. I drove the pellets in the bore out the muzzle and a few steel chips came with them. Next, I shot two RWS Hobby pellets offhand from 12 feet. If the crown was good, they would cut the paper perfectly instead of hitting sideways. And that's what happened.
So, I backed up to 8 yards and shot 2 more shots from an improvised rest. These 2 pellets landed very close to each other and also showed no signs of tipping. I felt the job was done.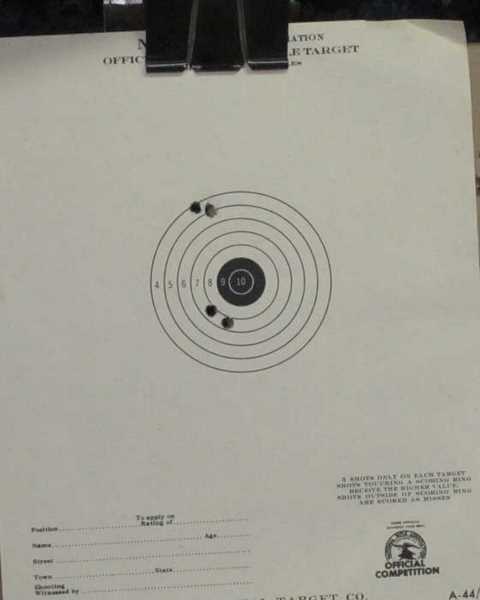 The two lower shots were from 12 feet. They confirmed the pellets were hitting the paper straight-on. The two upper shots were from an improvised rest at about 8 yards. They told me the crown is probably working.
Now for the test!
The test is a rerun of the Part 7 accuracy test. I used every pellet from the last accuracy test and shot at the same 10 meters.
Pellets:
Eley Wasp
Crosman Premier lite
Air Arms Falcon
RWS Hobby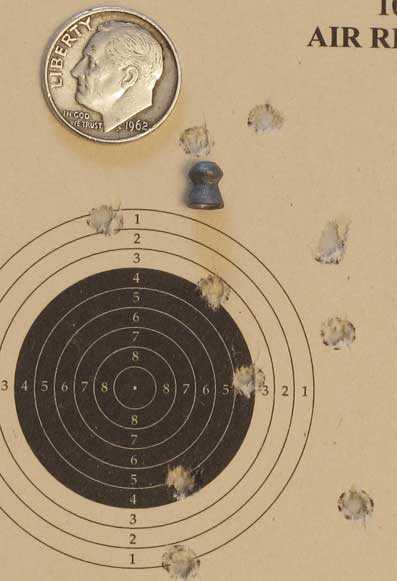 Ten Eley Wasps went into 2.256 inches at 10 meters.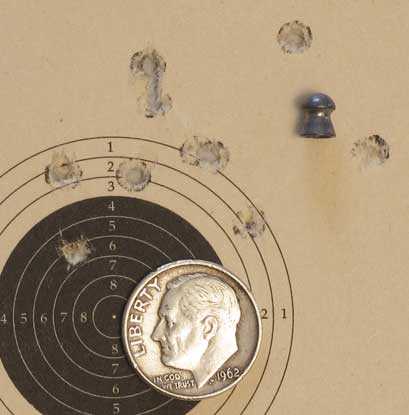 Ten Premier lites went into 1.522 inches.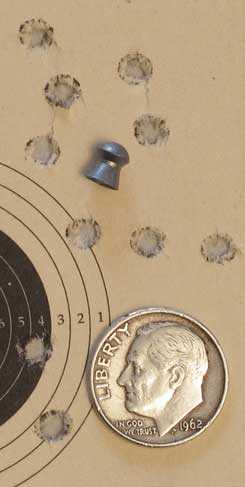 Ten Air Arms Falcons went into 1.941 inches.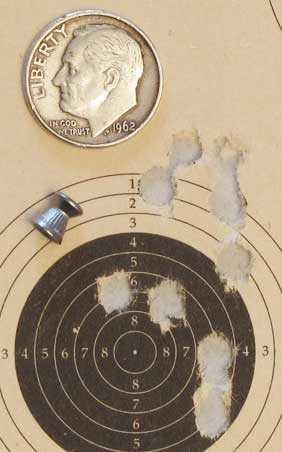 Ten RWS Hobbys went into 1.361 inches.
Conclusions
If you compare these targets to those in Part 7, one thing jumps out at you. None of these pellets tipped when they went through the paper. So, crowning seems to have solved that problem!
But the accuracy seems no better. The Hobbys did group better in this test, but the Falcons grouped worse. With groups this large at 10 meters, I'm not willing to say anything has improved. I've had cheap Chinese air rifles group better than this.
I have one trick left up my sleeve. I've noticed that the Meteor rear sight seems hinky and difficult to adjust, and I suspect it jumps around as I shoot. It's not loose to the touch, but I don't trust it to hold zero.
I'll do one more test of this rifle with either a dot sight or with the See All Open Sight if I can get it mounted to the Meteor. If that doesn't work, I'll probably abandon this air rifle as a bad investment.
by Tom Gaylord, a.k.a. B.B. Pelletier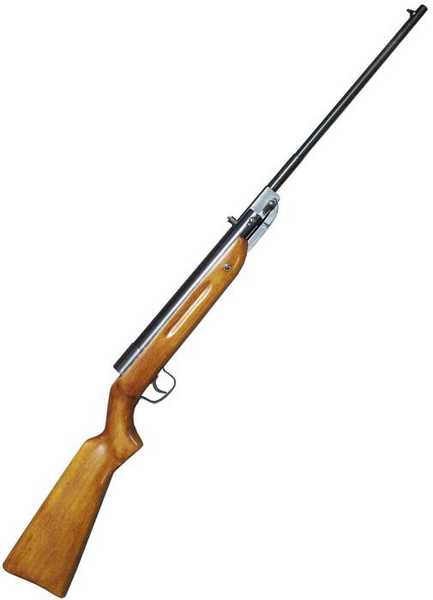 Falke model 70 is a quality breakbarrel spring-piston rifle from the 1950s.
Today is accuracy day for our Falke model 70 breakbarrel. I tested this one at the same time I tested the BSA Meteor Mark IV; and after that horrible test, I was praying that this rifle wouldn't let me down. When I bought the rifle at last year's Roanoke airgun show, the seller told me it shot pretty well. I was hoping to see that — especially after what happened with the Meteor! It did okay in the velocity test, so there was no reason to suspect it wouldn't also be accurate.
The Falke did not disappoint, though it's important to bear in mind that this is a vintage spring rifle made by a company that went out of business a half century ago and not some tackdriver made by a target gun manufacturer. When you shoot one of these air rifles, think in terms of a vintage Diana model 27 rather than a Walther model 55.
The Falke has open sights, so I like to start testing guns like them at 10 meters. They're usually right on target; but if they're off, 10 meters is close enough that they won't be off that much. Open sights seldom have the same kind of problems as optical sights.
Eley Wasps
The Falke is a vintage airgun, so I felt it deserved a vintage pellet — at least for starters. The first pellet I tried was the Eley Wasp. Of course, I also tried Wasps with the Meteor and look where that got me! But the Falke was far more forgiving. In .177 caliber, the Wasp pellet is medium-sized — nothing like the oversized 5.56mm (.22 caliber) Wasps pellets we use in guns that have large bores. Wasps fit the Falke 70 breech well, but they weren't tight. They didn't fall out, but they also didn't need to be pushed into the rifling. They went in easily.
When I saw the group, I was amazed! Eight of the ten Wasps were in a tight group that measures 0.276 inches between centers. The 2 pellets that aren't in the main group open it to a much larger 0.862 inches, but I'm thinking those 2 shots might have been due to small sighting variations.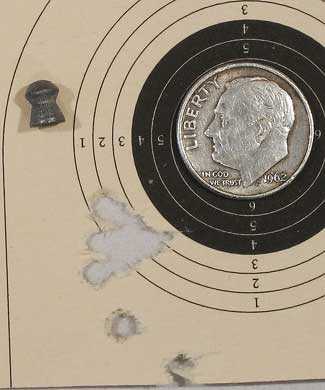 Eight of ten Eley Wasps went into a tight 0.276 inches, but the final 2 opened it to 0.862 inches.
Trigger
The rifle has a comfortable feel when shooting. I'd called it a single-stage trigger, but it's actually 2-stage. Stage 2 is very subtle and takes some time to get used to it to feel it every time, but it breaks cleanly enough for good work. The post-and-bead front sight is somewhat difficult to use precisely; but at 10 meters against a black bull (with a 6 o'clock hold), it's good enough.
I like the way the breech locks when it closes. The spring-loaded lock breech jumps into position. After it does, you cannot feel any movement in the breech.
RWS Hobbys
After the Wasps, I adjusted the rear sight higher to get into the bull. Then, I started a group with RWS Hobby pellets; but after just 3 shots had gone into 1.371 inches, I gave up. No sense finishing a group like that! Hobbys are often a very accurate pellet in vintage airguns of the same power as this Falke model 70; so it was worth a try, but when things go that wrong that fast it's time to move on.
Crosman Premier lites
Next, I tried the 7.9-grain Crosman Premier lite pellet. This is another pellet that often does well in lower-powered spring guns like the Falke 70. But not this time! Ten went into a group that measures 1.164 inches between centers. You might wonder why I was so quick to abandon Hobbys yet stuck with Premier lites to the end. Well, this group just kept growing larger with each shot. It wasn't until close to the end that I saw how large it was going to be.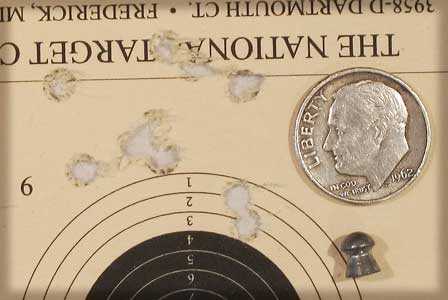 Ten Crosman Premier lites went into 1.164 inches at 10 meters. This is not the pellet for this rifle.
Air Arms Falcons
Next, I tried some Air Arms Falcon pellets. The Falcon is a 7.33-grain domed pellet made for Air Arms by JSB on dies that Air Arms owns, so it's unlike anything else JSB makes. It's too simple to say the Falcon is just a JSB Exact RS under another label; for although both pellets weigh exactly the same and are both domed pellets, they don't perform the same. Often Falcons will shoot well when Exact RS pellets won't.
In the Falke 70, they did pretty good! Of course, I didn't miss the irony of shooting a falcon pellet in a falcon rifle!
For starters, they went to the exact center of the bull. I know this thrills some folks who need to see the pellets impact there; but like I always say, I'm looking for the smallest groups — then, I'll adjust the sights later. But when luck happens and I get this result, I can't deny that it thrills me a little. Ten pellets went into 0.762 inches, which is okay but not great. But within the main group there are 7 pellets that made a much smaller group measuring 0.387 inches. Like the Wasps, I cannot help wondering if I could do better.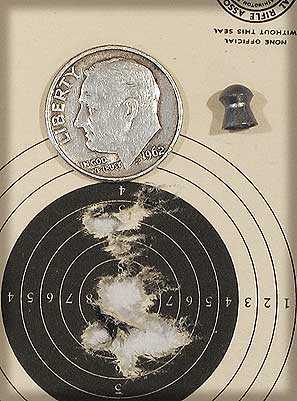 Ten Air Arms Falcon pellets went into 0.762 inches at 10 meters, but 7 of them went into just 0.387 inches. This pellet is worth pursuing.
H&N Baracuda Match
The last pellet I tried was the H&N Baracuda Match. While this seems like an overly heavy pellet for such a low-powered spring rifle, I've found they often do quite well in some guns. They were certainly worth a try. Although the rear sight was adjusted up for most of the other pellets, the Baracudas hit low on the target. But they did put 8 of 10 into 0.44 inches, which is very good. And, again, there are 2 pellets that didn't want to go into the main group. They opened the group to 0.742 inches, making this pellet the most accurate of those tested.

Ten H&N Baracuda Match pellets went into 0.742 inches at 10 meters, with 8 of them going into just 0.44 inches. This is the best pellet of the test.
Should I test at 25 yards?
The Falke model 70 will never have a scope. I sense the accuracy potential of the rifle exceeds the precision of the sights. Two and perhaps even 3 of these groups should have been one small hole, but for sighting errors. I am tempted to back up to 25 yards and have a go. We shall see.
by Tom Gaylord, a.k.a. B.B. Pelletier
Part 1
Part 2
Part 3
Part 4
Part 5
Part 6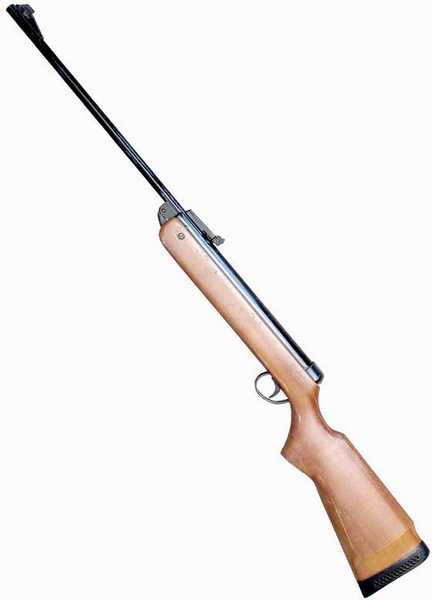 My rifle is actually a BSA Super Meteor.
I'm headed to Las Vegas this weekend for the 2014 SHOT Show, so I'm asking veteran readers to help the newer readers more than usual. And I thank you in advance.
Tuesday's blog will have something very important. It's the first day of the SHOT Show, and I'll show you something brand-new. It's a pretty big deal, so it's worth a look. Now, let's get to today's report.
Today, we'll look at the accuracy of the BSA Super Meteor Mark IV that I've been working to restore. This report was never supposed to be an ongoing saga. It was supposed to be a quick 3-part look at a vintage air rifle, but the Meteor that I bought at the Roanoke airgun show last September turned out to need almost one of everything. So, I hunkered down and went to work.
I said in one of the earlier parts that fixing up an old spring-piston rifle is a lot like rebuilding an old tractor. Man, was that ever a prophesy! I had no idea that I would have to get down into the guts of the rifle to get it shooting again; but if you've followed along on all the earlier parts, you know that's exactly what happened. Now that the old girl is shooting like she should, let's see how accurate she is.
This is a vintage spring rifle with open sights, so I like to begin shooting those at 10 meters. Since I have no idea how accurate or inaccurate they are, it's best to start close. If the groups show some promise, I can always back up to 25 yards and shoot a second test.
Eley Wasp
I figured a vintage airgun deserves a vintage pellet, so I broke out some obsolete Eley Wasps in .177 caliber as the first pellet. The first 2 shots were to sight in, and shot #1 was low, so I tried to adjust the rear sight up using the adjustment wheel. Alas — it didn't move the sight! The backup plan was to loosen the rear sight blade and slide it higher. I also noted that the whole rear sight unit needed to be snugged down, so that was also done.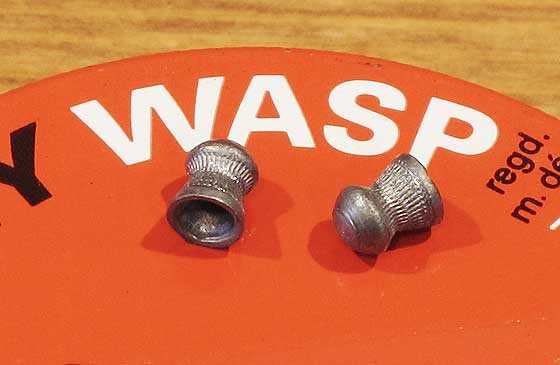 These .177 Eley Wasps are from the same timeframe as the Meteor rifle.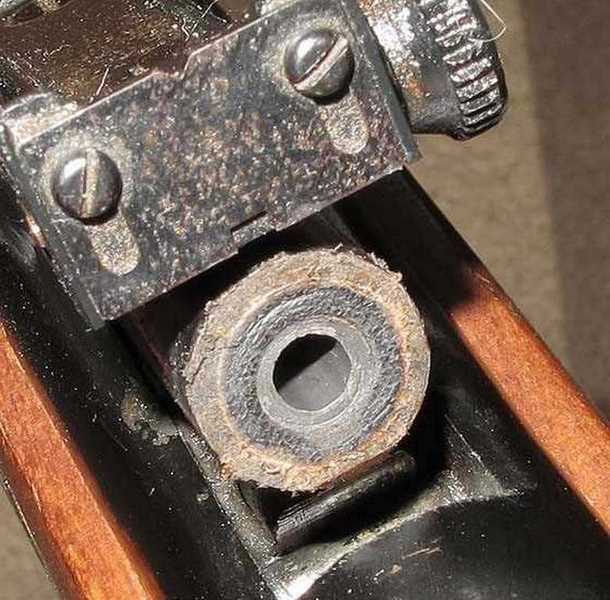 Loosen the 2 screws and slide the sight blade up to raise the point of impact.
Before we proceed, a word about .177 Eley Wasps is in order. Many of you know that the 5.56mm (.22-caliber) Eley Wasp is a particularly fat .22-caliber pellet. It's often the best in vintage airguns whose bores are on the large side. But the .177-caliber Wasp is not an oversized pellet — at least not the ones I have. I often choose these pellets for guns with larger bores such as the Meteor, forgetting that these aren't the best or biggest .177 pellets around.
I shot only 8 pellets at the target because the group grew to 3.559 inches between centers, and it didn't seem worth my time to finish. But that wasn't all I noticed. Most of the pellet holes are ripped out to the right, as if the pellets were not traveling straight. We know from the previous velocity test that this rifle now shoots fast enough to not tear target paper when the pellets pass through, so this tearing had to have been caused by the pellet's orientation and not its velocity.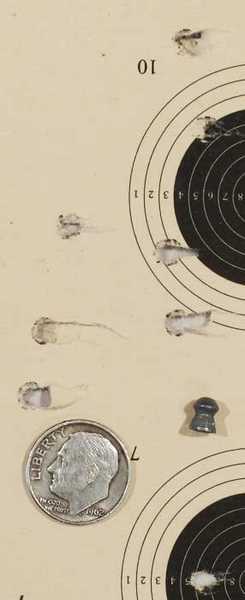 It only took 8 Eley Wasp pellets to convince me that this was not the right pellet for the Meteor. Notice the tearing of the paper! It's all in the same direction. I'm cutting off parts of the bulls in this photo because they contain another group from another pellet.
Crosman Premier lite
These results were enough to convince me to use modern pellets in the Meteor. The next pellet I tested was the Crosman Premier lite. This time, I fired all 10 pellets, and the group was much smaller than before, but it still measured 1.73 inches between centers. That's horrible for any air rifle at 10 meters!
What was even more surprising is the fact that the Premiers also tore paper to the right of the main pellet hole. In fact, they tore in exactly the same place!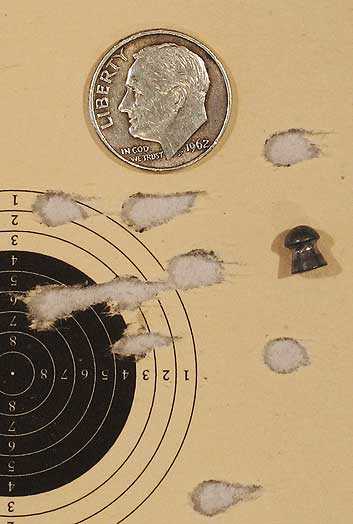 It looks like 9 holes, but there are 10 Crosman Premier lite pellets in this group. It measures 1.73 inches between centers…and notice the tearing of the target paper in exactly the same way that the Eley Wasp pellets tore it.
If the pellets were tumbling in flight, the tears would be randomly scattered around the main hole because the tumbling pellet would change its orientation all the time. But because they are all in the same place, it looks like the pellets are tipping as they exit the muzzle and flying straight to the target in that tipped orientation. Hmmm! Have to think about that.
Air Arms Falcon
The next pellet I tried was the Falcon from Air Arms. I selected this pellet because the heads were sized large, at 4.52mm. They have the largest heads of any .177 pellets I have.
They put what looks like 9 shots into 1.863 inches between centers. Once again, several of the holes are torn on the right side.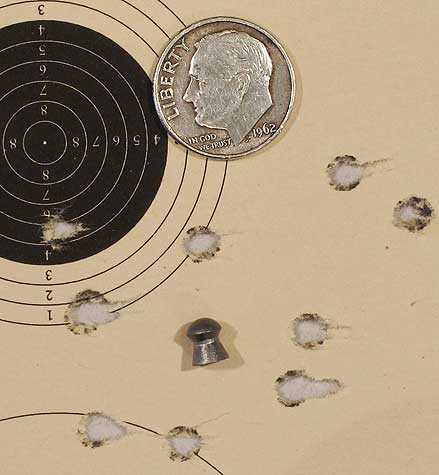 Nine holes (I swear I shot 10!) went into a 1.863-inch group at 10 meters. And, again, several of the holes are torn out on the right.
RWS Hobby
The final pellet I tested was the RWS Hobby. This is a large wadcutter that sometimes is very accurate at 10 meters. But not this time. Ten went into a group that measures 2.05 inches between centers. They also tore the paper to the right of the main pellet holes.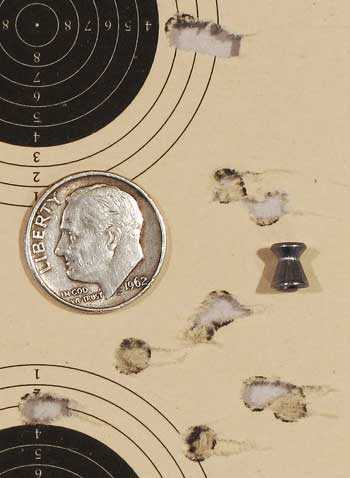 Ten RWS Hobbys went into this vertical group that measures 2.05 inches between centers. They also tore the target paper on the right of the pellet hole.
What's up?
I knew something was wrong with the rifle because these pellets all fly at different speeds. There's no way a tumbling pellet can tear the paper in exactly the same place when they all get there at different times. For even one single type of pellet to do that is hard to believe, but for 4 different types…it's impossible. The pellets have to be leaving the muzzle tipped on their edge and remain in that orientation all the way to the target.
I know that most of you have guessed what's wrong with the rifle by this point, but I hadn't. Of course, I didn't have someone pushing my nose into the facts like you have in this report. It wasn't until my buddy Otho came by for a visit. I showed him the targets (because he has an interest in the Meteor, as you recall), and he said, "I'll bet that barrel needs to be recrowned."
Oh, my gosh! How could I fail to see that? Of course that was the problem. When I brought out the Meteor for him to look at, he saw it right away. I bet you will, too. The muzzle is backbored by more than an inch; but with a tactical flashlight, we were able to look down inside.

See the dark spot at 10 o'clock? It appears to be a nick in the muzzle. How it got there I don't know, but it should be fixed.
The saga continues!
Yep, this Meteor is like an old tractor, all right. Just when you think you have the thing running and looking spiffy — the magneto quits. These days, there's only one old man in Kansas who can repair them. Actually, I protesteth too much because I really enjoy working on this gun. It wasn't made in China, yet it has turned out to be even worse than most of the very poor-quality Chinese airguns I've tested in the past.
In truth, there's a lot of great engineering in this rifle, as well as a ton of abuse. You BSA Meteor owners out there know that I'm not purposely beating up your favorite airgun. It's just that it challenges me at every turn. But that's a large part of what makes this hobby interesting. After all is said and done, I'm not upset.
OK, take that report on a Friday and run with it! Remember, I'm on my way to Las Vegas and cannot answer as many comments as normal.
by Tom Gaylord, a.k.a. B.B. Pelletier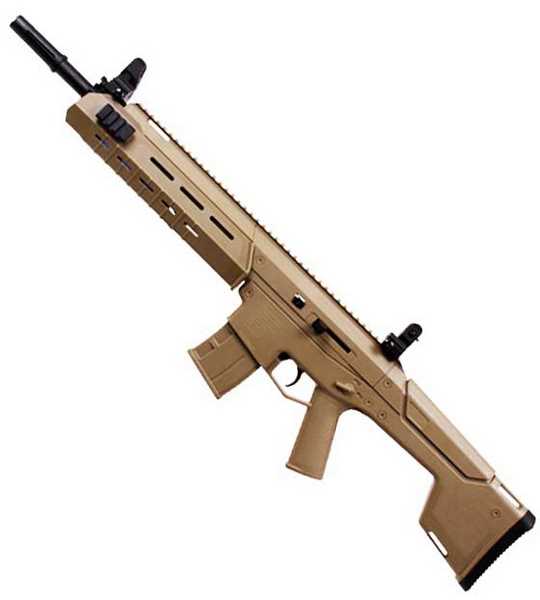 Crosman MK-177 is a multi-pump version of FN's SCAR.
Today, we'll begin testing the accuracy of the Crosman MK-177 multi-pump pneumatic. Because this rifle shoots both pellets and BBs, I'll test both, but not at the same time and not in the same way. Today's test of lead pellets was done at 10 meters, using the iron sights provided with the rifle.
I decided to use 5 pumps per shot for the entire test. That was both easy to do and was also pretty quick. According to the velocity test we did last time, Crosman Premier lites were averaging just over 500 f.p.s. on 5 pumps.
It took five shots to sight in the rifle. The first shot was 3 inches high and 2-1/2 inches to the right. Crosman supplies a sight adjustment tool with the MK-177, and I had to use both ends of it. One end is a flat-bladed screw driver that moved the rear sight to the left. The directions are printed on the sight, so there's no confusion.
The front sight had to be raised because the rifle was shooting too high, so I unscrewed the front sight post several turns. Shot 2 was about three-eighths of an inch too high and three-eighths of an inch too far to the right. The hole was in the black bull, but it wasn't centered. So, I made small adjustments to both the front and rear sights and fired again. This shot cut the 9-ring, which was close enough for me. I fired the other 2 shots, and they landed near the third shot. Sight-in was finished.
Crosman Premier lites
This is a Crosman rifle, so the first pellet I chose to test was the Crosman Premier lite. The first pellet hit the 10-ring of the bull, so I stopped looking through the spotting scope and just shot the gun. After the 10th shot, I looked at the target and saw a disappointing horizontal group that measured 1.173 inches between centers. None of the shots had been called as pulls (meaning the sights were off target when the gun fired), so this group surprised me.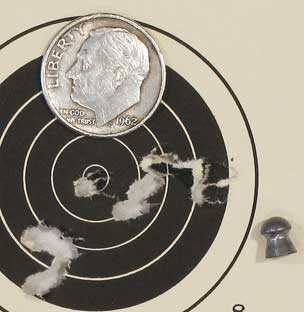 Ten Crosman Premier lites made this 1.173-inch group at 10 meters with the Crosman MK-177 pneumatic. It is surprisingly wide for 10 meters.
Air Arms Falcons
Next to be tried were the Falcons from Air Arms. They're domed pellets made by JSB and weigh 7.33 grains. Once, again, the first shot cut the 10-ring, and I never looked after that. This time, the group was much better, measuring 0.839 inches between centers. It's also much rounder than the Premier lite group, leading me to think the rifle likes this pellet better.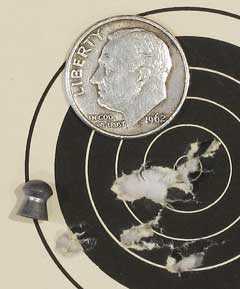 Ten Air Arms Falcons made this 0.839-inch group at 10 meters. This group is rounder than the first, which is a good sign.
The rifle's behavior
At this point, I'll comment on how the rifle performs. Shooting for accuracy I found the left-mounted cocking handle to be less of a problem than it had been when I tested the velocity. My procedure was to cock the bolt, advance the magazine, close the bolt, then pump the gun. This became a routine after a few shots, and it went surprisingly fast.
I rested the rifle on a sandbag for the shooting. Though it's very light, the rifle was dead calm on the bag. The sights did not move one bit. And the MK-177′s trigger is so light and smooth that I found it very easy to shoot this way.
Pump effort identical to the 760
A reader asked me last time how this rifle compares to the 760 Pumpmaster in pumping effort. Silly me! I should have realized that the MK-177 is a 760 in another skin, but I tested my 40th Anniversary 760 just to make sure. The pumping effort is identical; or if there's a small difference, the 760 is slightly harder because the MK-177 pump arm is a little longer.
RWS Hobbys
The next pellet I tried was the RWS Hobby. These fit the clip a little tighter, and I could feel some resistance when the bolt pushed them into the breech. Again, I checked the target after the first shot then never again until I was through. I noted that this pellet moved over to the left side of the bull with no change to the sights. There's a lesson to remember!
Hobbys grouped very close to Falcons, with the difference being due to measuring error more than any real practical difference. Ten Hobbys went into 0.858 inche…again, the group is fairly round.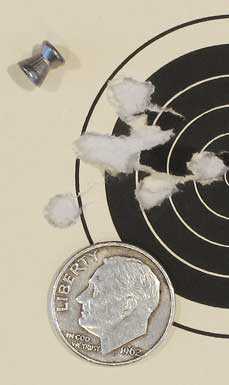 Ten RWS Hobbys made this 0.858-inch group at 10 meters. This is so close to the Falcon group that it's too close to call. Hobbys are wadcutters which cut cleaner holes, and may have lead to their group measuring slightly larger.
H&N Match Pistol
At this point, I was ready to declare the MK-177 to be an accurate multi-pump, but I had one more pellet on the table to test. And that one was the H&N Match Pistol pellet — another wadcutter. I've had remarkable results with H&N Finale Match Pistol pellets in some target rifles, but the straight Match Pistol pellet has never done better than average. Until this test!
Ten pellets went into a group that measures 1.239 inches between centers. No record there! But look at the tiny group that 9 of those 10 pellets made! It measures just 0.399 inches and is very round! Ladies and gentlemen, I think we have a winner!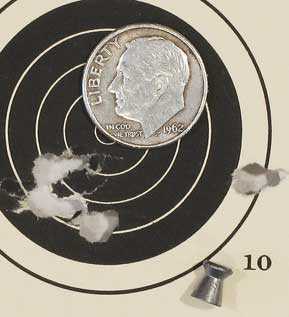 Ten H&N Match Pistol pellets went into a 1.239-inch group, but 9 of them went into 0.399 inches! I think this pellet might be the best one for this rifle.
From the results seen here, I think the MK-177 is a very accurate air rifle. It's worthy of a 25-yard test with an optical sight. I'm thinking the red dot sight I'm using on the TX200 Mark III would be good for that. Before I do that, though, I'll test the rifle with BBs at 25 feet.
So far, the MK-177 is a real winner! I enjoy the ease of use and the accuracy. If I didn't already own a 760 and an M4-177, I would, perhaps, buy this one.
by Tom Gaylord, a.k.a. B.B. Pelletier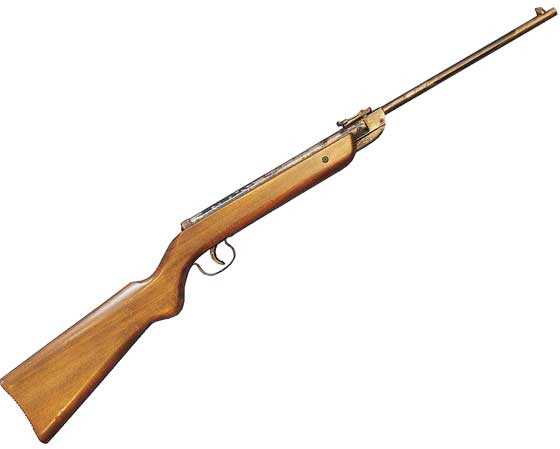 Not as pretty as I would like. This Diana 23 has led a hard life. I'll refinish it.
Today, we'll return to an oldie we haven't looked at in close to 2 months — the Diana 23. You may remember this is a rifle I bought for very little from an online auction — and when it arrived, I found it was better than expected. The finish is gone, but I plan to refinish it. And Larry Hannusch generously donated a brand-new old-stock Diana 23 barrel for the project, so I'm farther along than might be expected.
Last time, we tested the rifle at 10 meters and found that it showed decent accuracy for such a low-powered air rifle. Today, I'm pushing that out to 25 yards with 2 of the best pellets from the last test, plus a new one I've thrown into the mix. The goal is to see if this little vintage springer is accurate enough for general plinking duty out to 75 feet.
Days like this are always relaxing for 2 reasons. The first is that I'm testing something that's no longer available, so there are no company reputations on the line. I enjoy testing airguns, but it's disturbing to read all the sniping negative comments we receive when things don't go exactly perfect. It makes me feel like I have failed the gun somehow, and that's nerve-wracking.
The second reason a day like today is a pleasure is that the gun, itself, is such a little sweetie. The Diana 23 is lightweight and easy to cock. The trigger is certainly not world-class, but it releases with a reasonable pull; and, if the gun is also accurate with open sights, all the better.
The hold
I find when I shoot light low-powered airguns like the 23, the artillery hold isn't so important. I grasp the rifle tighter than a real artillery hold, though not as tight as I would hold a recoling centerfire. Maybe something more like a rimfire hold. The rifle seems to respond okay to this treatment.
JSB Exact RS
The first pellet I tried was the JSB Exact RS dome. They did well in the 10-meter test that I read before starting this one. I noted that deep-seated pellets did best in that test, so all pellets in this test were seated with the Air Venturi Pellet Pen and Pellet Seater. The RS pellets fit the bore very well and were not tight going into the breech as they were seated. They hit the target high and just a little to the right when I held the tip of the front sight on the 6 o'clock spot of the black bull. I used the standard 10-meter pistol target because it appears large enough for open sights all the way out to 50 yards.
The group I got measures 1.16 inches between the 2 furthest centers. I'm quite satisfied with that group, except for the centering. The way the 23′s sights are made, I'll have to drift either the front or rear sight in their dovetails to correct where the pellets land; and since I'm going to change the barrel, I decided to wait and see where the new one shoots.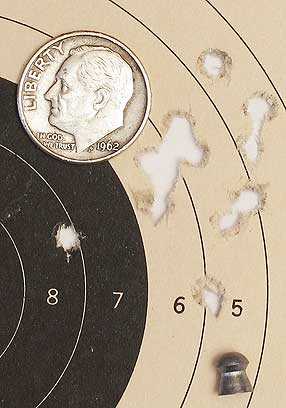 Ten JSB RS pellets made this 1.16-inch group at 25 yards. It's a little large; but for such a small rifle — and with open sights, I'm satisfied.
Air Arms Falcon
The second pellet I tried was the Air Arms Falcon that blog reader Kevin Lentz likes so much. They're made by JSB and weigh the same as the RS pellets, so the temptation is to think they're RS pellets under a different name. But I don't think that's the case. The late Bill Saunders of Air Arms told me that Air Arms owns the dies for all their pellets; and even though JSB makes them, they're not simply rebranded pellets. If anything, Falcons fit the bore a little looser than RS pellets.
At any rate, Falcons didn't do as well as RS pellets in the Diana 23. Ten of them made a group that measures 1.568 inches between centers. This group appears not to have 10 shots in it, but several pellets must have gone through the same hole at the top of the group because I counted each shot carefully.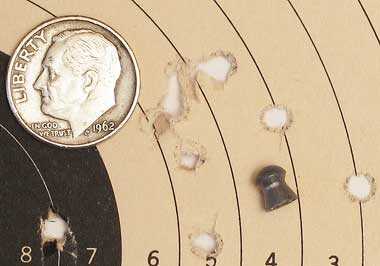 Ten Air Arms Falcon pellets made this 1.568-inch group at 25 yards. This is larger than I would like. I think I'll stick to the RS pellets for this rifle.
RWS Hobby
The final pellet I tried was the RWS Hobby wadcutter. They fit the bore very snug and popped in when seated. Though they were at the outside limit of distance for accuracy (wadcutters start to spread apart after 25 yards), they performed very well — delivering the smallest group of this test. Ten pellets went into 1.014 inches at 25 yards. With that kind of accuracy, I would stick with the Hobbys that are less expensive than the other premium pellets anyway. Sure, the accuracy falls off as the distance increases, but how much farther do I expect to shoot this rifle? Not much!

Ten RWS Hobby pellets went into 1.014 inches at 25 yards. This is great accuracy for such a small rifle and open sights.
That's all I'm going to test for now. Next comes the refinish and then whatever I do as I put the rifle back together. It's a fun little gun. I wish there were more like it!
by Tom Gaylord, a.k.a. B.B. Pelletier
Today, we'll test the Umarex Fusion CO2 rifle at 25 yards. And today was also supposed to be the day I tested how long you have to wait to remove the CO2 cap after exhausting the gas. That's not going to happn, though; because when I took off the CO2 cap to install 2 fresh CO2 cartridges, I noticed the o-ring was damaged pretty bad. So bad, in fact, that it might not work any longer. I switched it for a common black Buna o-ring of the same size and then charged the gun. At the end of this report, I'll tell you how that works.

The original o-ring had these two damaged spots. I thought it might leak, so I replaced it.
JSB Exact RS
When I tested the rifle at 10 meters, the best pellet was the JSB Exact RS dome, so that was the first pellet I tested this time. As I predicted after shimming the rear scope ring, the rifle was hitting too high at 25 yards. I had to drop it about 2-1/2 inches and move it to the right about three-quarters of an inch.
The first 10-shot group I fired measures 0.523 inches between centers. It's nice and round, also. Remember, I'm using the 4x scope that came with the rifle, so the bullseyes looked pretty small at 25 yards. Also keep in mind that this shooting was done indoors, so wind is not a factor.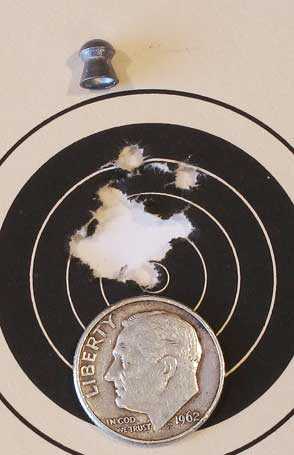 These 10 JSB Exact RS pellets made a 0.523-inch group at 25 yards.
The first group looked so good through my spotting scope that I shot a second one with the same RS pellets. This time, 9 of the pellets went into 0.455-inches, but one shot opened the group to 0.688 inches. That wild shot was not a called flier; it just went astray.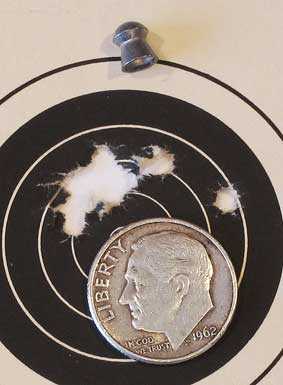 This second group of JSB Exact RS pellets measures 0.688 inches between centers.
H&N Baracuda Match
The second-best pellet at 10 meters was the H&N Baracuda Match, so that was the next pellet I tried. Ten landed in a 0.625-inch group that's open but fairly round at the same time. Looking through the scope, this group didn't look very promising; but I see upon inspection that it isn't much worse than the first 2 groups.

Ten H&N Baracuda Match pellets went into 0.625 inches at 25 yards.
Air Arms Falcon
The final pellet of the day was the Air Arms Falcon dome, which is made by JSB. Sometimes, this pellet surprises me with stellar accuracy. This time, 10 pellets made a group that measured 0.56 inches between centers. It's very close to the first group of JSB Exact RS pellets, which turned out to be the best group of the day.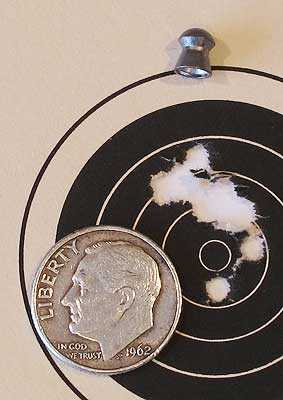 Ten Air Arms Falcon pellets went into 0.56 inches. It was the second-best group of the day.
The new o-ring
The new o-ring worked, but there was some leakage when I pierced the cartridges. The gas exhaust screw wasn't the culprit this time — it was the o-ring that leaked. I suspect I selected a ring that is too thin for the job. When I removed the cap, I saw that this ring had also absorbed the gas and swollen quite large. I took a picture of it 5 minutes after taking it out of the gun and again after 45 minutes, so you can see the dramatic difference as the o-ring outgasses and shrinks back to normal.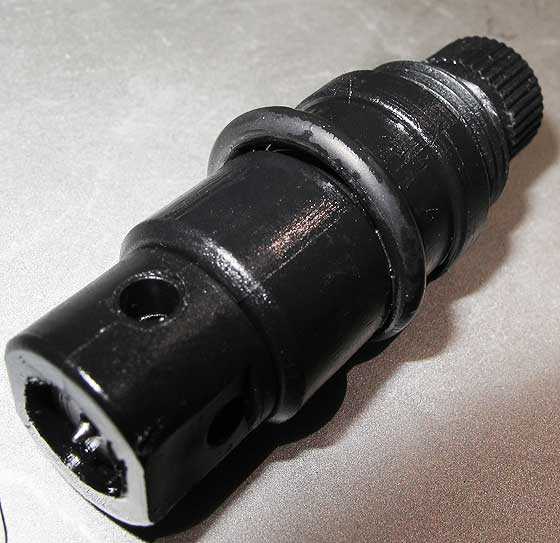 The o-ring after 5 minutes out of the gun. It's still swollen with absorbed CO2.

The o-ring after 45 minutes out of the gun.
Final evaluation
There's a lot to like about the Fusion air rifle. It certainly is accurate, and it fully delivers on the promise of quiet operation. There aren't many other air rifles in this price range that can compete. Even the scope that comes with the rifle seems to be up to the task.
While today's groups are not stunning, they're all good.  It's interesting to note they're all under three-quarters of an inch and some approach a half inch.
I do think the o-ring that comes with the rifle needs to be changed to something that doesn't swell. And it would be nice if the trigger was more adjustable. But those are small points. If you're looking for a fun plinker that's both quiet and accurate, put this one on your list!