Posts Tagged 'Air Arms Falcon pellets'
by Tom Gaylord, a.k.a. B.B. Pelletier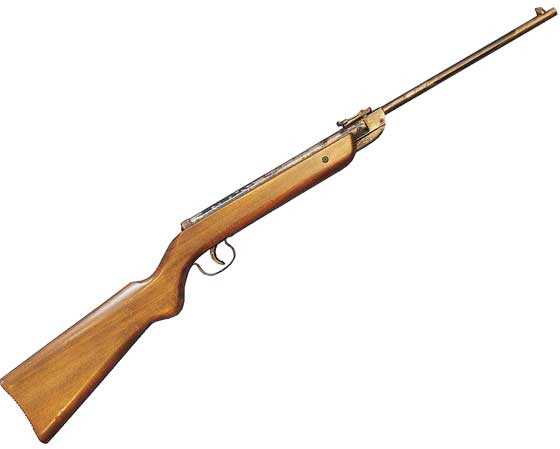 Not as pretty as I would like. This Diana 23 has led a hard life. I'll refinish it.
Today, we'll return to an oldie we haven't looked at in close to 2 months — the Diana 23. You may remember this is a rifle I bought for very little from an online auction — and when it arrived, I found it was better than expected. The finish is gone, but I plan to refinish it. And Larry Hannusch generously donated a brand-new old-stock Diana 23 barrel for the project, so I'm farther along than might be expected.
Last time, we tested the rifle at 10 meters and found that it showed decent accuracy for such a low-powered air rifle. Today, I'm pushing that out to 25 yards with 2 of the best pellets from the last test, plus a new one I've thrown into the mix. The goal is to see if this little vintage springer is accurate enough for general plinking duty out to 75 feet.
Days like this are always relaxing for 2 reasons. The first is that I'm testing something that's no longer available, so there are no company reputations on the line. I enjoy testing airguns, but it's disturbing to read all the sniping negative comments we receive when things don't go exactly perfect. It makes me feel like I have failed the gun somehow, and that's nerve-wracking.
The second reason a day like today is a pleasure is that the gun, itself, is such a little sweetie. The Diana 23 is lightweight and easy to cock. The trigger is certainly not world-class, but it releases with a reasonable pull; and, if the gun is also accurate with open sights, all the better.
The hold
I find when I shoot light low-powered airguns like the 23, the artillery hold isn't so important. I grasp the rifle tighter than a real artillery hold, though not as tight as I would hold a recoling centerfire. Maybe something more like a rimfire hold. The rifle seems to respond okay to this treatment.
JSB Exact RS
The first pellet I tried was the JSB Exact RS dome. They did well in the 10-meter test that I read before starting this one. I noted that deep-seated pellets did best in that test, so all pellets in this test were seated with the Air Venturi Pellet Pen and Pellet Seater. The RS pellets fit the bore very well and were not tight going into the breech as they were seated. They hit the target high and just a little to the right when I held the tip of the front sight on the 6 o'clock spot of the black bull. I used the standard 10-meter pistol target because it appears large enough for open sights all the way out to 50 yards.
The group I got measures 1.16 inches between the 2 furthest centers. I'm quite satisfied with that group, except for the centering. The way the 23′s sights are made, I'll have to drift either the front or rear sight in their dovetails to correct where the pellets land; and since I'm going to change the barrel, I decided to wait and see where the new one shoots.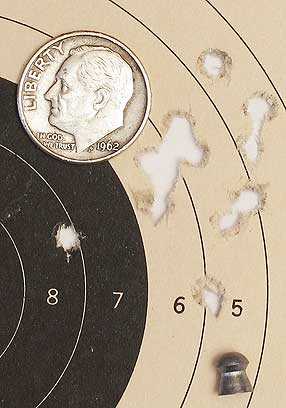 Ten JSB RS pellets made this 1.16-inch group at 25 yards. It's a little large; but for such a small rifle — and with open sights, I'm satisfied.
Air Arms Falcon
The second pellet I tried was the Air Arms Falcon that blog reader Kevin Lentz likes so much. They're made by JSB and weigh the same as the RS pellets, so the temptation is to think they're RS pellets under a different name. But I don't think that's the case. The late Bill Saunders of Air Arms told me that Air Arms owns the dies for all their pellets; and even though JSB makes them, they're not simply rebranded pellets. If anything, Falcons fit the bore a little looser than RS pellets.
At any rate, Falcons didn't do as well as RS pellets in the Diana 23. Ten of them made a group that measures 1.568 inches between centers. This group appears not to have 10 shots in it, but several pellets must have gone through the same hole at the top of the group because I counted each shot carefully.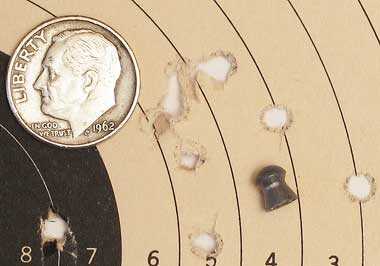 Ten Air Arms Falcon pellets made this 1.568-inch group at 25 yards. This is larger than I would like. I think I'll stick to the RS pellets for this rifle.
RWS Hobby
The final pellet I tried was the RWS Hobby wadcutter. They fit the bore very snug and popped in when seated. Though they were at the outside limit of distance for accuracy (wadcutters start to spread apart after 25 yards), they performed very well — delivering the smallest group of this test. Ten pellets went into 1.014 inches at 25 yards. With that kind of accuracy, I would stick with the Hobbys that are less expensive than the other premium pellets anyway. Sure, the accuracy falls off as the distance increases, but how much farther do I expect to shoot this rifle? Not much!

Ten RWS Hobby pellets went into 1.014 inches at 25 yards. This is great accuracy for such a small rifle and open sights.
That's all I'm going to test for now. Next comes the refinish and then whatever I do as I put the rifle back together. It's a fun little gun. I wish there were more like it!
by Tom Gaylord, a.k.a. B.B. Pelletier
Today, we'll test the Umarex Fusion CO2 rifle at 25 yards. And today was also supposed to be the day I tested how long you have to wait to remove the CO2 cap after exhausting the gas. That's not going to happn, though; because when I took off the CO2 cap to install 2 fresh CO2 cartridges, I noticed the o-ring was damaged pretty bad. So bad, in fact, that it might not work any longer. I switched it for a common black Buna o-ring of the same size and then charged the gun. At the end of this report, I'll tell you how that works.

The original o-ring had these two damaged spots. I thought it might leak, so I replaced it.
JSB Exact RS
When I tested the rifle at 10 meters, the best pellet was the JSB Exact RS dome, so that was the first pellet I tested this time. As I predicted after shimming the rear scope ring, the rifle was hitting too high at 25 yards. I had to drop it about 2-1/2 inches and move it to the right about three-quarters of an inch.
The first 10-shot group I fired measures 0.523 inches between centers. It's nice and round, also. Remember, I'm using the 4x scope that came with the rifle, so the bullseyes looked pretty small at 25 yards. Also keep in mind that this shooting was done indoors, so wind is not a factor.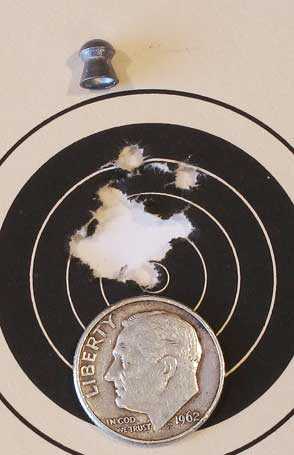 These 10 JSB Exact RS pellets made a 0.523-inch group at 25 yards.
The first group looked so good through my spotting scope that I shot a second one with the same RS pellets. This time, 9 of the pellets went into 0.455-inches, but one shot opened the group to 0.688 inches. That wild shot was not a called flier; it just went astray.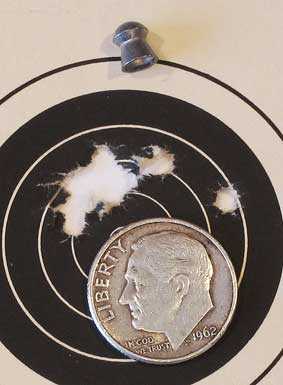 This second group of JSB Exact RS pellets measures 0.688 inches between centers.
H&N Baracuda Match
The second-best pellet at 10 meters was the H&N Baracuda Match, so that was the next pellet I tried. Ten landed in a 0.625-inch group that's open but fairly round at the same time. Looking through the scope, this group didn't look very promising; but I see upon inspection that it isn't much worse than the first 2 groups.

Ten H&N Baracuda Match pellets went into 0.625 inches at 25 yards.
Air Arms Falcon
The final pellet of the day was the Air Arms Falcon dome, which is made by JSB. Sometimes, this pellet surprises me with stellar accuracy. This time, 10 pellets made a group that measured 0.56 inches between centers. It's very close to the first group of JSB Exact RS pellets, which turned out to be the best group of the day.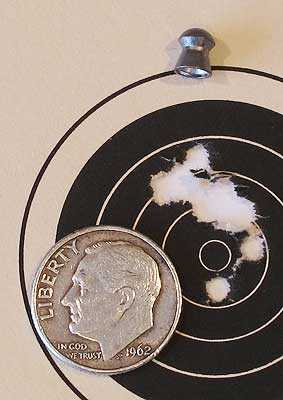 Ten Air Arms Falcon pellets went into 0.56 inches. It was the second-best group of the day.
The new o-ring
The new o-ring worked, but there was some leakage when I pierced the cartridges. The gas exhaust screw wasn't the culprit this time — it was the o-ring that leaked. I suspect I selected a ring that is too thin for the job. When I removed the cap, I saw that this ring had also absorbed the gas and swollen quite large. I took a picture of it 5 minutes after taking it out of the gun and again after 45 minutes, so you can see the dramatic difference as the o-ring outgasses and shrinks back to normal.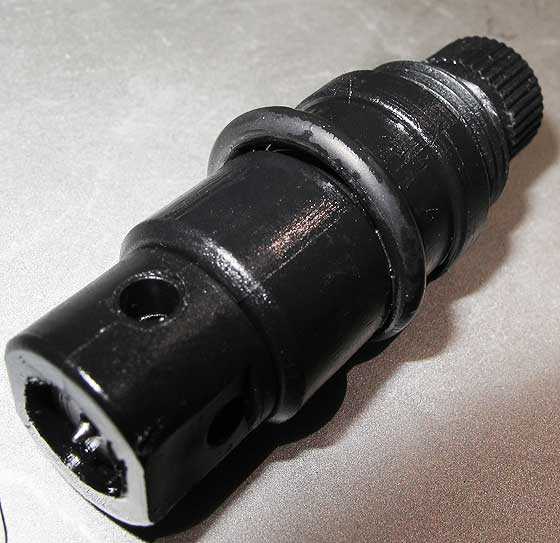 The o-ring after 5 minutes out of the gun. It's still swollen with absorbed CO2.

The o-ring after 45 minutes out of the gun.
Final evaluation
There's a lot to like about the Fusion air rifle. It certainly is accurate, and it fully delivers on the promise of quiet operation. There aren't many other air rifles in this price range that can compete. Even the scope that comes with the rifle seems to be up to the task.
While today's groups are not stunning, they're all good.  It's interesting to note they're all under three-quarters of an inch and some approach a half inch.
I do think the o-ring that comes with the rifle needs to be changed to something that doesn't swell. And it would be nice if the trigger was more adjustable. But those are small points. If you're looking for a fun plinker that's both quiet and accurate, put this one on your list!
by Tom Gaylord, a.k.a. B.B. Pelletier
Part 1
Part 2
Part 3
Part 4
Part 5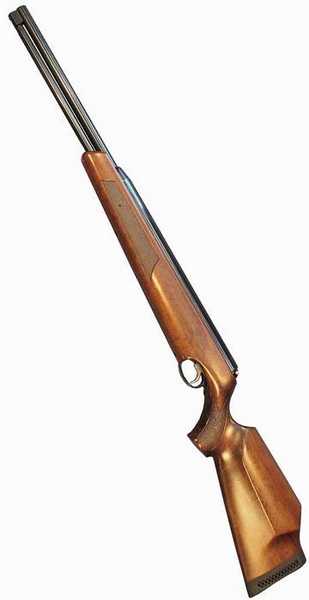 BB's TX200 Mark III.
This is my second trip to the rifle range to shoot the TX200 Mark III at 50 yards. Last time, I shot only heavy pellets; today, I'll shoot the hopefully more-accurate lightweight pellets, plus one JSB medium-weight pellet that several blog readers have had success with.
I also shot the rifle laying across the sandbag, instead of in the long groove down the center. Several readers said that was the best way to rest the rifle directly on the bag.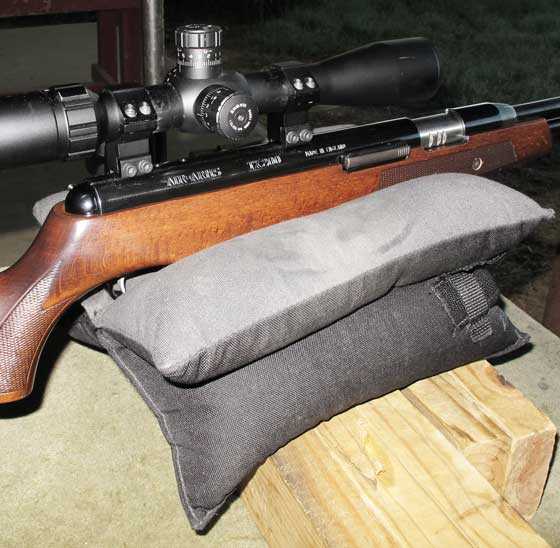 When I tested the rifle last time with heavy pellets, this is how it laid on the sandbag.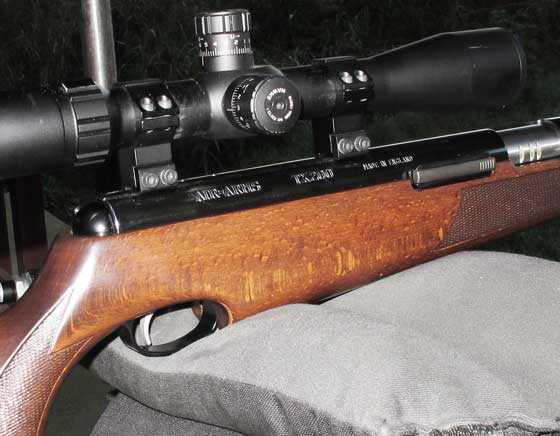 For most of today's test, the rifle laid sideways on the bag.
The day was perfect for shooting pellet guns at long range. There wasn't a breath of air during the entire session.
Crosman Premiers
The first pellet I tested was the Crosman Premier lite — a 7.9-grain dome that some say is the most accurate pellet of all in the TX200. The group landed about 2-1/2 inches above the aim point because the rifle was still sighted for heavy pellets. But it was centered perfectly, and 10 pellets made a group measuring 1.077 inches between centers. That's not a bad group, but I've seen TX200s do better at 50 yards.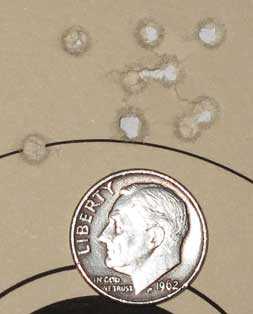 The first group was 10 Crosman Premier lites. It measures 1.077 inches between centers.
That was a good start. The group was only slightly larger than the smallest group fired in the session before, which was 1.042 inches.
Following the first group, I adjusted the scope down several clicks. I wanted to keep the shots on or near the bull at which I was aiming.
JSB Exact 8.4-grain dome
Next up was the JSB Exact 8.4-grain dome, a pellet that several readers said was the most accurate one in their TX200s. Alas, that wasn't the case in my rifle. When the first 5 pellets landed in a very vertical 2.40 inches, I stopped shooting. There's no way the last 5 shots can improve things. Clearly, this isn't the pellet for my rifle!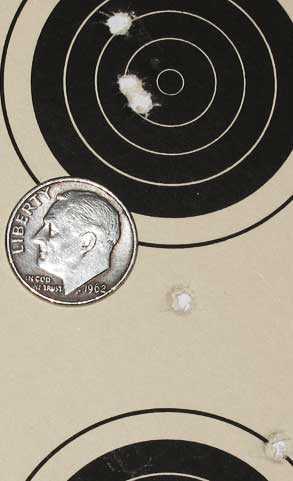 Five JSB Exact 8.4-grain domes landed in 2.4-inches between centers. This is not the pellet for this rifle.
JSB Exact RS
The next pellet I tried was one I had high hopes for — the 7.3-grain JSB Exact RS dome. It does so well in so many spring rifles; but, once again, the TX200 Mark III is not one of them. Ten pellets made a group that measured 1.957 inches. It's a vertical group, as well.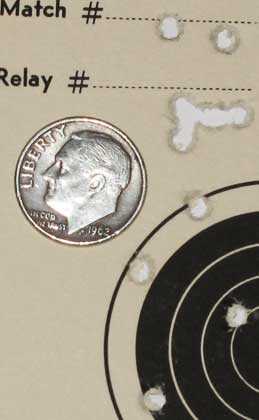 Ten JSB Exact RS domes made this 1.957-inch group. Another non-starter for my TX200.
Air Arms Falcon
About this time I was suspecting that the rifle does not like lightweight JSB domes. The next pellet up was the Air Arms Falcon, another lightweight domed pellet that's also made by JSB. While Falcons are great in many air rifles, the first 5 landed in an open group measuring 1.658 inches, and I stopped right there. It looked like this pellet wasn't for my TX, either.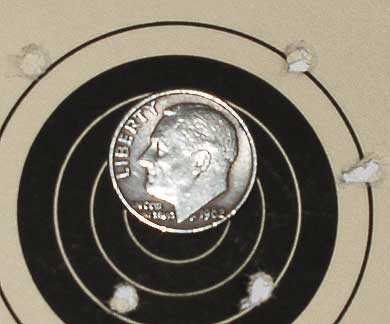 Five Air Arms Falcons spread out to 1.658 inches, so I stopped. No sense finishing the group.
What was happening?
Three out of 4 pellets I brought to the test were not good. Had I made a mistake with the Premier lites, as well? Was that good first group just a random event? I decided to shoot another one to see. This time, though, I laid the rifle the long way in the bag to see if there was any discernible difference.
Ten pellets went into a group measuring 1.241 inches this time. That is much closer to the first group than any of the other 3 pellets tried on this day, though it's still larger. Maybe, laying the rifle lengthways made the difference? I don't think so.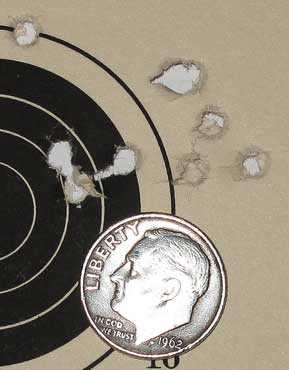 Ten Premier lites went into 1.241 inches when the rifle was laid lengthways on the bag.
I decided to shoot another group with the rifle laid lengthways, again, just for comparison. This time I hit the jackpot and all 10 pellets went into 0.658-inches.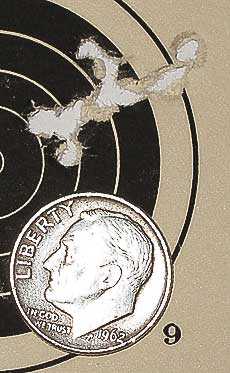 Now, that's a group! Ten Premier lites in 0.658 inches. The rifle was laid lengthways, once again. This is what I was expecting to see from my TX.
Lessons learned
The TX 200 Mark III is capable of phenomenal accuracy at 50 yards, even when rested on a sandbag. From the limited testing I did I can't say laying it crossways or lengthways is better. It works well both ways.
My rifle seems to shoot best with 7.9-grain Crosman Premier lite pellets. It does not seem to like any light pellets made by JSB.
This is not the end of our testing. Pyramyd Air has sent me a new TX200 Mark III that I promised you I would test right out of the box. Some of you have been concerned that my rifle is too well broken-in, and you think it may not reflect what you will get if you buy one. So, we shall see!
As a final note, I'd like to point out that I got several groups that were okay with the Premier lites and one group that's exceptional. That's the way it goes with any airgun — I don't care which one you're talking about. All the talk about half-inch groups at 50 yards has to be taken with this firmly in mind. You're going to shoot larger groups most of the time.
That being said, Premier lites seem to be the most accurate and also the most forgiving pellet we've tested in my TX200. They may not always shoot into a super-tight group, but they'll always shoot where you want them to. That's what's important.
by Tom Gaylord, a.k.a. B.B. Pelletier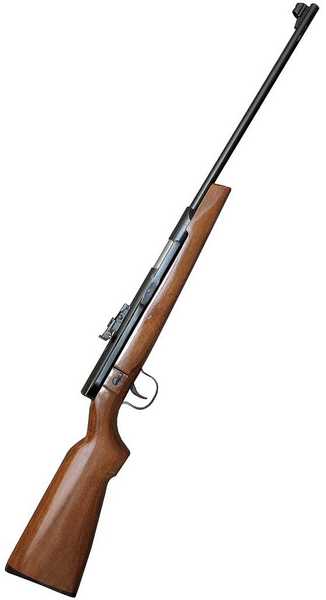 The Chinese Fast Deer sidelever air rifle is attractive. Does its performance live up to its looks?
It's been a long time since we looked at the Fast Deer sidelever. The last report was in December of last year! At that time, I was unsatisfied with the results of the 25-yard targets because of how well the rifle seemed to do at 10 meters. I said we might come back to it, but the gun got put on the back burner to simmer while I did other things.
It was those other things that bring you today's report, and surely the ones that must follow. I've spent a lot of time this year exploring the fundamentals of airgun accuracy. Of course, I've barely scratched the surface, but some of the things that have popped up have been surprisingly helpful in ways I couldn't imagine when they happened. One of them was the test of the Diana model 25 smoothbore that we finished way back in March of this year. In Part 4 of that test, I saw that while the smoothbore was very accurate at 10 meters, it was pretty bad at 25 yards. From those results, I deduced that spin is important to stabilizing a pellet over longer distances, while the high drag of the diabolo pellet is sufficient for accuracy at close range.
It wasn't until I wrote a column about the Fast Deer for Shotgun News this month that I noticed the Fast Deer's 25-yard targets resembled those of the Diana 25 smoothbore more than a little. The Fast Deer was also accurate at 10 meters but not at 25 yards. So, here was a rifled bore that performed like a smoothbore. Could we learn something from this? Is the Fast Deer capable of better accuracy than we saw in Part 4?
I was so impressed by these results that I wrote a special report titled Advanced airgun diagnostics: Part 1, in which I showed you the comparison between the 2 airguns. Yesterday I tested the Fast Deer again at 25 yards, but this time I did so believing that it was the fault of the pellet that made the groups so large. Turns out I was only partly correct, and therein lies the meat of today's report.
The test
I had one pellet that fit the Fast Deer's bore well…both the skirt and the head. It's a Tech Force domed pellet that Pyramyd Air used to sell but no longer does. That makes it a Chinese pellet, and I've seen only one other Chinese pellet that was worth a darn. That one was a hand-sorted wadcutter that I used to compete with in 10-meter pistol.

These Tech Force domed pellets are larger than most. They fit the bore of the Fast Deer rifle well.
The subject pellet fits the bore well, but not tight. Many other pellets just fall out of the breech, indicating a too-large bore, which is characteristic of Chinese air rifle barrels. I knew from the last test that the rifle was at least on paper at 25 yards, so I set up at 25 yards indoors and commenced firing. The first 10 pellets all landed to the right of the aim point, but they were all on paper, so I finished the first 10-shot group with the sights set where they were. This group measures 1.428 inches between centers. That's not great, BUT — it's actually smaller than the best group I had fired in the entire last report! In that session, the best group was shot with Air Arms Falcon pellets, so I knew I had to try them again for comparison; for now, I stayed with these Chinese domes.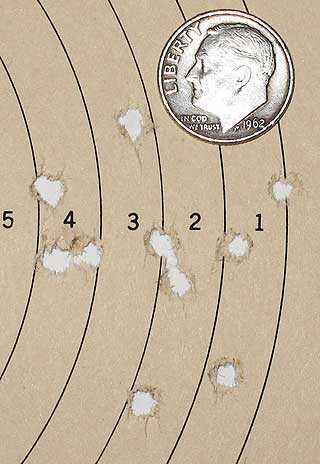 Ten pellets made this first 1.428-inch group. It may not look good, but this is the best 25-yard group this rifle has made so far.
After the first group was completed I adjusted the rear sight to the left. You may remember that I had flipped the sight backwards in response to a suggestion blog reader Vince gave me. That gives a sharper rear notch when aiming, and any little thing like that will help. So, all adjustment had to be done backwards; but since this sight has a very visible index mark to watch, the adjustment was no problem.
As I adjusted the sight, I also discovered that the entire unit is loose. It's mounted on the gun securely enough, but the very construction of the sight itself is a sheetmetal tangle of parts that will always be loose and subject to movement.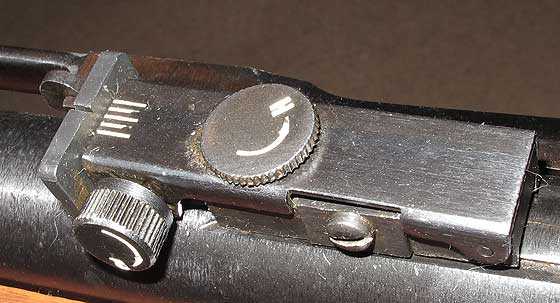 The rear sight is clearly marked and easy to adjust, but it's always going to be loose because of how it's made.
I decided that I had to push the sight to the left before every shot. That would hopefully return it to the same place every time, giving me the best chance to get good results from it despite its looseness. Then, I shot the next group with more Chinese domes. I forgot to move the sight for 2 of the 10 shots. Nevertheless, this group measures 1.328 inches between centers, which is a significant improvement.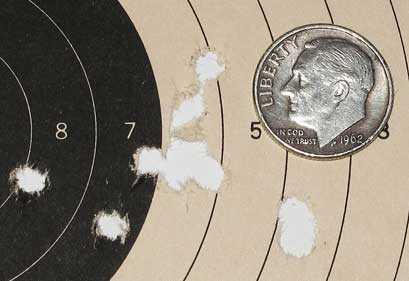 Ten shots went into 1.328 inches at 25 yards. I never thought I'd be happy with a group like this, but I am! It's interesting that perhaps 6 of the pellets in this group went into a much smaller cluster near the center of the main group.
After this target, I adjusted the rear sight once more and then shot a third 10-shot group with the Chinese pellets. I only forgot to push the sight once this time, on shot 9. The group measures 1.597 inches between centers, which is the largest group shot this day with this pellet. Perhaps I was tiring?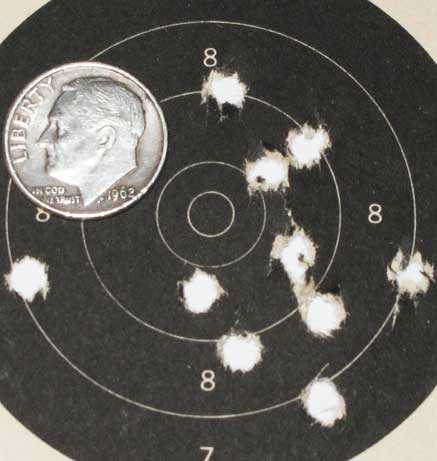 Ten shots went into 1.597 inches at 25 yards. I never thought I would be happy with a group like this, but I am! While it's tempting to think that the shot on the left was the one that I didn't push the rear sight for, I cannot say that for certain.
Falcon pellets
It was time to try the Falcon pellets again. In the last test, 10 Falcons made a group that measured 1.497 inches between centers at 25 yards. This time, 10 went into 1.783 inches. Obviously that's a lot larger; but if you examine the group, you'll see that 7 of the pellets went into just 0.692 inches. Taking that and the other group-within-a-group that I shot with the Chinese domes, I came to the conclusion that this Fast Deer may really be accurate but is being hindered by its open sights. The next test of this rifle must therefore have a scope mounted.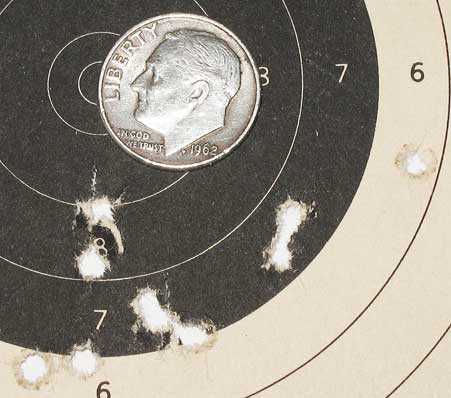 Ten shots went into 1.783 inches at 25 yards. While that isn't very good, look what 7 of those shots did! That's a 0.692-inch group.
Summary
I do not like testing airguns that have been given every chance and still haven't performed. Every once in awhile, something anomalous like this Fast Deer jumps out at me and needs to be investigated further. If it hadn't been for my going over the results of this rifle so close to the time I reported similar results from the Diana 25 smoothbore, I might never have given this rifle its second chance today. Now, we'll all get to see if that was worth it.
I admitted up front that this test demonstrated that the pellet was only part of the reason the Fast Deer has been inaccurate at 25 yards. From today's test, we might conclude that the poor rear sight that moves is also affecting the outcome. In the next test, I need to make sure that the scope is locked down solid, so the rifle is free to be as good as it can be.
by Tom Gaylord, a.k.a. B.B. Pelletier
Testing the effect of hold on an accurate spring-piston air rifle: Part 1
Calling the shot and follow-through
Settling into a firing position
I thought this was going to be a one-time report. I would show how the hold affects the accuracy of a spring-piston rifle and that would be it. Well, the best-laid plans…
Blog reader Slinging Lead said he thought that lower-powered breakbarrels shoot just as accurately when rested directly on a bag as they do when shot with the artillery hold. I had to admit that the TX200 does shoot well off a bag, although that rifle is an underlever — not a breakbarrel. And it's certainly not lower-powered. Then, blog reader BG_Farmer entered the conversation and requested this test.
While all this was transpiring, blog reader Kevin Lentz sent me 2 tins of Air Arms Falcon pellets to try in my R8. He said his R8 shot them slightly better than it shot the JSB Exact RS pellets that I normally use in my R8.
Now, we had a multivariate discussion going on! On one hand we wondered which pellets were the most accurate in my R8; and on the other hand, we wondered if the gun was as accurate when rested directly on the bag as it was when held with the artillery hold.
How do you test all that? Do you start by testing one of the 2 pellets, or do you first find the best hold? My approach in situations like this has always been to just start testing and let the methodology work itself out as I progress.
This time, I started by shooting the gun with both pellets. I shot them with the artillery hold the way I always had, then I rested the gun directly on the sandbag and shot both pellets again. The first day's results were not very good, but they did illuminate something that helped me structure the second day's shooting. It turns out that, although the R8 is a very accurate springer, it's still ultra-sensitive to hold. I guess I'd forgotten that, but on the first day's shooting it slapped me in the face. I found that even the slightest variation in hold would throw the pellet sideways with a vengeance, and that held true for both the Falcon pellets and the JSB Exact RS pellets.
Ten-shot groups are the way to go
Once again, I must sing the praises of 10-shot groups over 5-shot groups. When you shoot 10 shots, you allow the gun to do its thing; and that tells you what the real accuracy is. People say they don't shoot 10 shots because something can go wrong — that it's easy to hold the rifle steady for 5 shots, but close to impossible to hold it right 10 times in a row. I say that's just a lie we tell ourselves because 5-shot groups look so much better. Yes, it's hard to hold a gun correctly 10 times in a row; and yes, you'll make mistakes. I make them all the time. But if you get into the habit of shooting 10-shot groups, you'll also KNOW when you make those mistakes; and in time, you'll make fewer of them.
The first results — JSB Exact RS pellets
The rest of this report will be mostly the photos of the groups. I'll start with the JSB Exact RS pellets.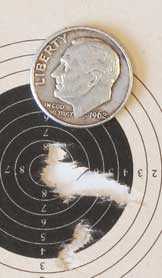 On the first day, this is what my artillery hold did with 10 JSB RS pellets at 25 yards. Group measures 0.647 inches.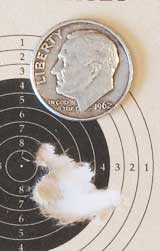 On the second day, my artillery hold was more precise shot-to-shot, and I got groups that were smaller and rounder. Here are 10 JSB RS pellets from the artillery hold at 25 yards. Group measures 0.503 inches.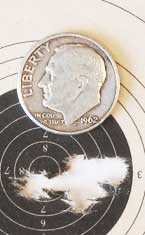 Resting directly on the bag on the first day produced a slightly smaller group than the handheld one. Ten JSB RS pellets rested on a bag went into 0.571 inches between centers at 25 yards.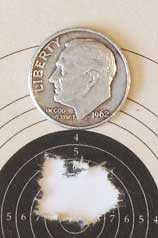 Resting directly on the bag on day 2 also beat the handheld group on that day.Ten JSB RS pellets rested on a bag went into 0.379 inches between centers at 25 yards. This is the smallest group of this test.
Clearly, these results show that the groups of JSB Exact RS pellets fired off the bag are smaller than the handheld groups on both days. The day 1 groups are larger than the day 2 groups, but the relationships of the group sizes between bag-rested and handheld remained constant on both days.
Air Arms Falcon pellets
Now, let's see what happened with the Air Arms Falcon pellets. These were also shot on both days and using both resting methods.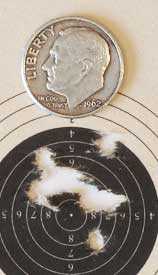 On the first day, this is what my artillery hold did with 10 Air Arms Falcon pellets at 25 yards. Group measures 0.63 inches. It's slightly better than the handheld JSB RS group shot on the same day.

On day ,2 the group shot with my artillery hold and 10 Air Arms Falcon pellets at 25 yards measures 0.466 inches. It's considerably better than the handheld JSB RS group shot on day 1.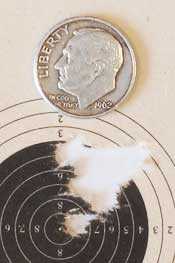 On the first day, 10 Air Arms Falcon pellets at 25 yards shot with the rifle rested directly on the sandbag went into 0.627 inches. It's slightly better than the handheld Falcon group shot on the same day.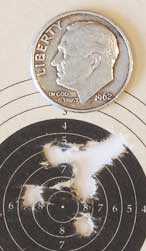 On the second day, 10 Air Arms Falcon pellets at 25 yards shot with the rifle rested directly on the sandbag went into 0.603 inches. It's much worse than the handheld Falcon group shot on the same day. I know this group APPEARS larger than the group above, but I measured it several times and it really is slightly smaller.
Conclusions
I conclude that these 2 pellets perform so close to each other that there's no measurable difference — at least not in my Beeman R8. The group sizes do slightly favor the JSB pellets over the Falcons, but it's too close to call.
But this test does demonstrate one thing very clearly. This rifle is capable of shooting groups just as tight when rested directly on a sandbag as when held with the artillery hold. That's big news, I think. I'll remind you that this test required the utmost in precision holding — whether in the hands or on the bag. There could be absolutely no tension on the rifle, and the gun had to be settled in properly before firing. It, therefore, took nearly as long to get each shot ready on the bag as it did holding the gun.
Don't try to go too far
This is all well and good, but don't sit in judgement of these results. It would be far too easy to get sucked into a destructive discussion of how much better you think this rifle can really shoot.
Many years ago, I worked for an engineering firm that developed specialized telecommunications systems. Our client was always pushing past the edge of technological possibility, so we were, too. That's admirable except it sometimes gets you into problem areas. Let's look at one example. The client wanted a mass storage device that stored a huge amount of data. They also wanted the data to be retrievable within a very short time. You can do one thing or the other; but when you try to do both simultaneously, there are problems.
Our problems can be seen in the movie Patriot Games, when the main character is attempting to do voice recognition in real time from a cell phone intercept. There's a glass wall behind him, and the mass storage device behind the wall is very much like the one we were asked to design. As you watch the film, you'll see robot arms moving fast to retrieve digital storage devices and plug them into readers. The arms move very fast! But they're slow compared to the speed our robots had to move. Our arms had to move faster than the speed of sound, yet stop at precisely the right spot for the storage devices to be inserted into the readers. That is a physical impossibility just due to the physics of the problem. You cannot decelerate a mass from fast to zero without some consequences.
We had a problem that was unsolvable at the time we were attempting to do it. Today, however, it can be done, and the footprint of the system that does it is a fraction the size of what we were working on. Mass storage technology caught up with our technological requirement and then surpassed it.
You run into the same problem when you attempt to test something like the rifle we're looking at today. You can get a spring-piston gun to a remarkable level of precision, and then the technology and physical limitations stop all further progress.
Put another way, you can take a $500 spring gun and invest another $500 to get it shooting 10 times better than before. But after you do, maybe no amount of additional money can get that more accurate airgun to shoot another 10 times better!
I could probably continue to test this rifle and get different results. Some would be better than what is seen here, and others would be worse. I believe this test does show the relationship quite well of the gun to the 2 pellets and 2 different holds.
by Tom Gaylord, a.k.a. B.B. Pelletier
Part 1
Part 2
Part 3
Part 4
Part 5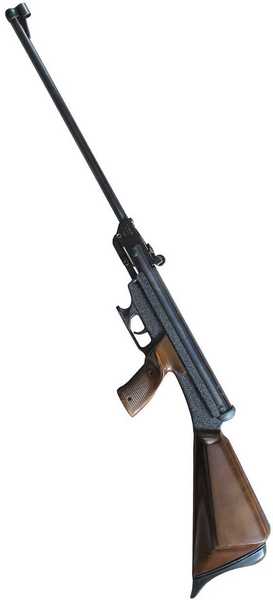 El Gamo 68 is a futuristic breakbarrel from the past.
I last reported on this rifle on August 8 of last year. And that was Part 5! I had just tuned the rifle with a new mainspring and proper lubricants and was wondering what the changes would be. I was ready to report on it several months ago when I discovered that it wouldn't cock. After fiddling with the trigger adjustments awhile with no success, I set it aside and moved on — thinking that the gun would need to be disassembled.
I disassembled it last week and discovered there was nothing wrong! The sear was working properly, or at least it seemed to be when I played with it as the gun was disassembled. I relubricated everything and put it all back together and was going to write Monday's report on it. But the trigger still didn't work! ARRGH!
This time, I remembered that when I got the gun the trigger was also a bit iffy, so I fiddled with the adjustments WAY outside the normal realm and, presto! I got it working again. Oh, it took a couple hours and there were some accidental discharges when the barrel was closed (direct sear!), but I solved all that by giving the sear way more contact than it needs.
Now the trigger releases at about 12 lbs., but at least it's safe. Today, I'll share with you how the tuned gun does at 25 yards — heavy trigger and all.
One other thing I did to the rifle was lubricate the leather piston seal with 10 drops of 3-in-One oil, leaving the rifle standing on its butt for two days afterward. The oil was allowed to slowly soak into the leather, which it did, but to protect the carpet and walls (Edith–Are you listening?) I put a long drop cloth in front of the rifle when I shot it.
Today's test is a deviation from my normal pattern. I've tuned this gun and not yet reported the new velocities, and yet here I am shooting for accuracy. I decided to do it that way; and if I got good results, I would test the velocity next. I'm not changing the usual way of doing things — this is just an exception.
RWS Hobby
The first pellet I tested was the RWS Hobby. I chose it for its light weight and because it's often accurate in lower-powered spring rifles and pistols. Sitting 25 yards from the target, I have to admit that I was wondering if the rifle had enough power to hit that target — let alone shoot a decent group.
Five of the first 10 pellets were detonations from the oiled piston seal. And the smell of burning oil was in the air. The Hobbys landed in a vertical group that was pleasingly tight from side to side. I was prepared to blame the verticality on the dieseling, but the truth is, that wasn't the problem. The gun just doesn't want to shoot Hobbys at 25 yards. That's not too surprising since 25 yards is about the maximum distance for any wadcutter pellets, in my experience.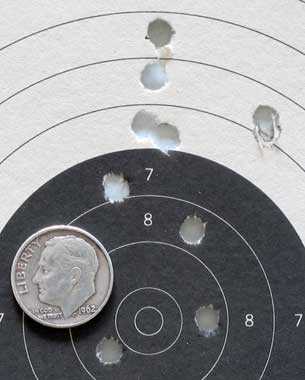 Ten Hobbys made this 2.151-inch group at 25 yards.
Air Arms Falcon
The second pellet I tested was the Air Arms Falcon, a 7.3-grain dome that's often accurate in spring rifles. I used the spotting scope only on the first shot, which was a detonation, to make sure it was on the paper. There were 4 detonations in the 10 shots. I didn't look at the target again until I walked down to change it. Boy, was I surprised by what I saw! To paraphrase Crocodile Dundee, "Now, THAT'S a group!" For open sights at 25 yards and 65-year-old-eyes, it ain't too bad!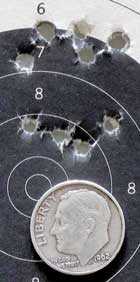 Ten Air Arms Falcons went into 0.898 inches between their two widest centers. This is an acceptable group for this rifle at 25 yards.
Remember, I'm shooting 10 shots — not 5. So this kind of group really proves the rifle can shoot. It also proves this old man can still hit things when the rifle does its part! So much for the problems of the droopers and gas springs! I needed this validation after some of the disappointing tests I've done recently.
The heavy trigger apparently is not causing much of a problem for me. I think that's because the rifle is rested. If I were shooting offhand, I'd want a lighter trigger-pull.
JSB Exact RS
Next, I tried JSB Exact RS pellets. This is another 7.3-grain dome from JSB (JSB also makes Air Arms Pellets) and is very often accurate in many different airguns. And this is one of them. The group is slightly larger than the Falcon group, but the two are so similar that I would call it a tie.

Ten JSB Exact RS domes went into 1.028 inches. Though not quite as small as the Falcon group, I would rate both pellets about equal in this rifle.
RWS Superdome
The last pellet I tried was the RWS Superdome, which often does well in lower-powered spring rifles. This time, however, it didn't. Ten pellets produced a 1.765-inch group. It didn't disappoint me, though, because the Falcon and JSB RS groups looked that much better. It showed that the earlier Hobby group wasn't just a fluke of bad luck — the gun simply likes what it likes.

Ten RWS Superdomes made this 1.765-inch group.
Evaluation
This test was calming for me. It was slower than many of the tests I've run in the past month, and the results were more based on me as a shooter rather than on the equipment. I find that I like that a lot!
The El Gamo 68 XP is operating well right now, except for the heavy trigger that I'll probably keep just as it is for a while. The tuned powerplant is now smoother with less of a jolt. I noticed in this test that each pellet has a firing characteristic of its own. The two JSB pellets were definitely the smoothest of the four tested, and the Hobbys were the roughest.
This is such an odd airgun, with the fat heavy butt and no forearm to hold. Yet, it shoots like a thoroughbred. With the new tune, it cocks smoothly and just feels good to shoot — I don't have any better way of describing it. I wish you could all try one, but since you can't, I will, again, recommend the Air Venturi Bronco, which is the closest thing still being made today.
BSOTW
by Tom Gaylord, a.k.a. B.B. Pelletier
Announcement: Bill Cardill is this week's winner of Pyramyd Air's Big Shot of the Week on their airgun facebook page. He'll receive a $50 Pyramyd Air gift card. Congratulations!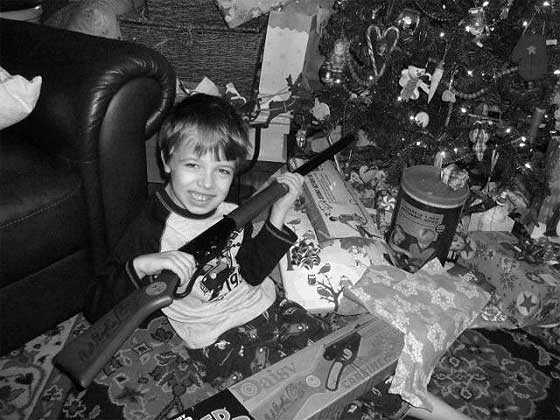 Bill Cardill is the Big Shot of the Week on Pyramyd Air's facebook page.
This same scenario will be repeated in countless homes this coming Christmas!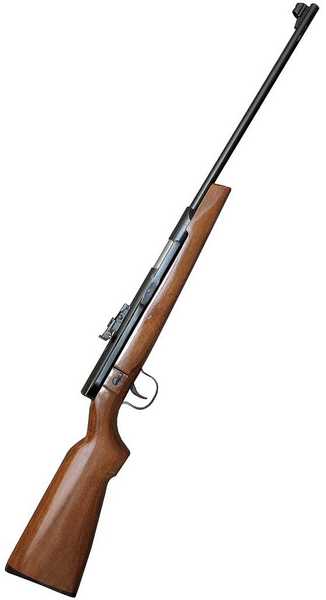 The Chinese Fast Deer sidelever air rifle is attractive. Does its performance live up to its looks?
This is a fourth look at the intriguing KL-3B Fast Deer sidelever from China. We saw some pretty good 10-meter results in Part 3, and I said I'd be back to expand on that. I didn't mention a scope was coming in part 4, but that's what I had in mind. However, when it came time to shoot the gun, I decided to see how well I could do with the same open sights I used last time.
Today, I backed up to 25 yards which always reveals things that were perhaps masked when I shot at 10 meters. Twenty-five yards is a middle distance for a spring gun — at least for one in this power range — and you can count on the shots opening up.
The first thing I noticed right away was that heavy trigger! I'd forgotten about it. I don't think it disturbed my accuracy, since I shot from a rest, but neither did it enhance my shooting.
The second thing I noticed was the size of the rifle's breech. Three times in 55 shots the pellet fell out, and I didn't notice it. The result was always a surprising detonation, and once I found a squashed pellet still in the receiver, where the sliding compression chamber had flattened it.
Other than those two distractions, the Fast Deer is a nice rifle. The stock is the right length and size, and everything fits me quite well. If I could mount a peep sight on the gun, I think it would be just about perfect. In fact, I'm going to look into the possibility of doing just that!
RWS Hobbys
The first pellet I tested was the RWS Hobby that did so well at 10 meters. After confirming they were still on target at 25 yards with the same sight setting as 10 meters, I stopped looking through the spotting scope and just shot the group. But Hobbys didn't do so well at 25 yards. Ten of them made a group that measures 1.918 inches between centers. As you can see, the shots are scattered and show no tendency to go anywhere, in particular. I noted that Hobbys were loose in the breech. Also, the Hobby is a wadcutter pellet, and wadcutter accuracy usually starts falling off around 25 yards.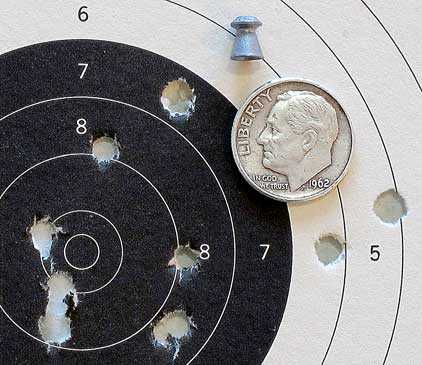 Ten RWS Hobbys made this 1.918-inch group at 25 yards.
Baracuda Green
The next pellet I tried was that remarkable lead-free dome, the H&N Baracuda Green. They've surprised me on more than one occasion, and they looked good at 10 meters in the Fast Deer. At 25 yards, they were a little better than the Hobbys, but not that much better. Ten of them made a group that measures 1.815 inches between centers. The Baracuda Greens fit the breech rather well.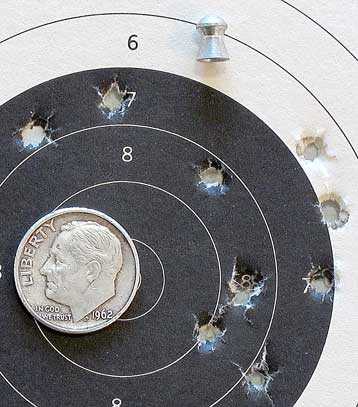 H&N Baracuda Greens were slightly better than Hobbys, but not much. Ten went into 1.815 inches.
JSB Exact RS
I tried JSB Exact RS pellets next, and I got an interesting result. First of all, this was one of the pellets that fell out of the breech. When I tried to compensate for the lost rounds, I shot 11 rounds instead of 10. The entire group was large, at 1.918 inches between centers. Before you comment, I'm aware that's exactly the same as the RWS Hobby group, but please remember that there's always a built-in margin of error when measuring these groups. So, they probably aren't exactly the same size — that's just how it looked to me.
The interesting result was that 6 of the 11 shots were in a smaller group that measures 0.475 inches between centers. That hints that this pellet might actually be the best one for this rifle, though the overall group doesn't show it.

This group of 11 JSB Exact RS pellets is large, at 1.918 inches between centers; but within it, 6 pellets are grouped in just 0.475 inches.
Beeman Kodiak
Next I tried the heavyweight Beeman Kodiak pellet. Although many would not try it in a rifle as low-powered as the Fast Deer, I've often found that Kodiaks are some of the most accurate pellets in lower-powered spring guns. Not this time, however. Ten went into a group that measures 2.134 inches between centers. That was the largest group of the test.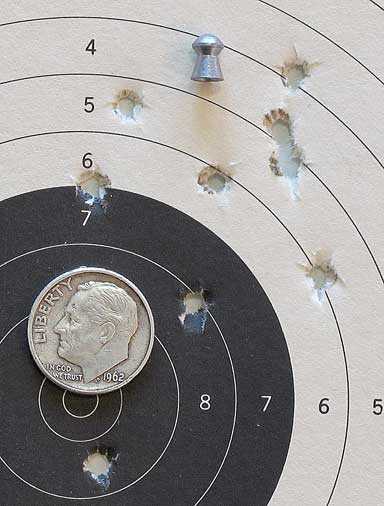 Beeman Kodiaks didn't do so well in the Fast Deer. Ten went into 2.134 inches — the only pellet to go over the two-inch group size.
Air Arms Falcon
The final pellet I tried was the Air Arms Falcon. These are made by JSB; and, often, if other JSB pellets do well, these will, too. Ten Falcons made a group that measures 1.497 inches between centers. It's the smallest group of the test, though it doesn't have the same tantalizing group-within-a-group that the JSB Exact RS pellets had.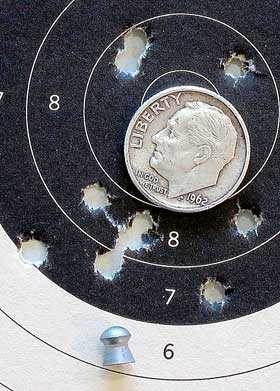 Air Arms Falcons made the smallest group of the test, with 10 going into 1.497 inches at 25 yards. They also hold some promise for greater accuracy if the sighting was more precise.
Overall evaluation
I don't think we've seen the full potential of the Fast Deer, yet. The groups from the JSB Exact RS and Air Arms Falcons seem to promise a higher lever of accuracy if things were somehow different. I'm going to think about that for a while and see what I can do about it. Yes, I think there will be a Part 5 of this report at some point.
One thing is very interesting and that is what the 25-yard shooting and 10-shot groups have taught us about this rifle. Some things to think about in the future are better sighting possibilities and perhaps expanding the skirts of the two most accurate pellets — to see if that has any bearing on the outcome.