Posts Tagged 'Air Arms TX200 Mark III'
by Tom Gaylord, a.k.a. B.B. Pelletier
This report covers:
• Silly exercise
• What's the point?
• Airguns I like
• My one airgun
• Firearms
• See where this is going?
• My one firearm
• What this tells me
• How my life has changed
…what would it be? Not long ago, blog reader Kevin asked me this question and I promised to get back to him with an answer. Today, I'm keeping that promise, although I'm not at all positive that in a year my answer won't be different.
Kevin asked what airgun and what firearm I would keep. There were no other guidelines beyond the number one — of each. This isn't the first time he's asked a question like this. Earlier this year, he asked me what guns I enjoyed shooting, and I wrote a blog titled What would B.B. shoot?
Here is what he asked me this time.
"B.B.,
Some of us have gone through difficult financial times, some of us are going through difficult financial times and some of us will go through difficult financial times in the future.
For this reason I'm very interested to hear what the ONE airgun is that you would keep and the ONE firearm is that you would keep while you would endure a financial crisis.
This is not a "WHAT GUNS I KEPT AND WHY" this is a ONE airgun and ONE firearm question.
kevin"
Silly
This is such a silly exercise — don't you think? At least it is until you try to form an answer. Because to do that, you have to think about all the airguns and firearms you own, as well as the ones you have owned in the past — and I suppose you can throw in any you might like to own but never have. Once you have all of them in front of you, it's time to weed through the mass and see what comes out the other side.
What's the point?
There is no point to this. Nobody is ever going to be confronted with this decision in quite this way, so why bother thinking about it? Well, it does force you to think about things at a fundamental level — a sort of giant who-do-you-love-and-why game. And Edith and I did actually go through it — not once but twice.
Airgun first
Because I write about airguns, you probably think it's harder for me to pick a single airgun, but it's not. It's actually much easier. When all the facade of accuracy, power and performance is stripped away and I'm no longer thinking about survival on a desert island or how many pellets I can carry in a backpack, the choice of a single airgun becomes simple. I shoot airguns for fun, when all is said and done.
Shooting for fun means I don't have to justify an airgun based on its power, long-range accuracy, nostalgia, value or anything beyond how much fun I derive from shooting it. That narrows it down a lot, but not to a single gun. I suppose there are at least a dozen, but probably more like 25 nice airguns that I really enjoy shooting.
Airguns I like
For example, I like to shoot my Beeman R8. It isn't powerful, but at 25 yards I know I can put a pellet within a quarter-inch of the aim point every time. The trigger is light and crisp, and the Burris 4.5-14×32 scope is so clear and sharp that the rifle is a delight to shoot. But it's not my one airgun!
I also really like my Crosman Mark I target pistol that holds so well and has such a beautiful trigger. But it's not my one airgun, either.
My one airgun
The one airgun I would keep, after having to get rid of all others, is my little .22-caliber Diana model 27. It's not really powerful enough to hunt with, but that's not why I'm keeping it. I'm keeping it because it's simple and accurate, light and easy to cock. It's an all-day airgun that I just enjoy shooting very much.


The Diana model 27 — this one badged as a Hy-Score 807 — is my favorite airgun. It isn't powerful, but it's light, accurate and has a great trigger. That's all I need.
I've owned several Diana 27s over the years. The first one was a rust bucket that I bought for $18 in a pawnshop in Radcliff, Kentucky, while stationed at Ft. Knox in the late 1970s. It looked terrible. You needed a tetanus shot just to hold it! But it shot like a dream, cocked smoothly and was accurate. I fell in love with it and the love has endured.
The second .22-caliber Diana 27 I ever owned is the one shown in the above picture. I bought it from the late Richard Schmidt at the Winston-Salem airgun show (the forerunner of the Roanoke show) in 1993. I paid $110 for it, which was way too much; but for some reason, they all went for way too much back then — and they still do today.
I pulled that rifle apart and lube-tuned it for my Airgun Letter and learned how to assemble the squirrel-cage of parts that Diana calls a ball-bearing trigger. I later pulled the gun apart a second time and tuned it, again, for a different magazine article. Since then, it's never been apart. That was more than a decade ago.
Some time in the late 1990s, I wrote an article about how to adjust the ball-bearing trigger. Diana triggers can be adjusted very fine if you know what you're doing; and, oddly enough, all you need is the owner's manual to learn how. Or you can just read the blog I wrote about it.
Every time I chronograph this rifle, I'm reminded of just how weak it is (under 500 f.p.s.). But that doesn't matter. I don't shoot airguns for their power — that would be futile. I shoot them for fun, and the Diana 27 has more fun per pound than any other airgun I know of. When I worked on the Bronco project, the Diana 27 was my inspiration.
The third Diana 27 I owned was a Winchester model 427. It's now owned by one of our readers. Why did I sell it? Because I didn't need two perfect airguns.
Don't think that I don't love many of my airguns a lot, because I really do. My Air Arms TX200 Mark III gives me immense joy, and of course I love my Whiscombe JW75. But the last airgun I'll sell is the Diana 27.
Firearms
What was far more difficult was to choose from all my firearms. I have been quite blessed at this time of my life to own some of the finest firearms that exist. My Wilson Combat CQB is especially dear to me, not only because of what a wonderful shooter it is, but also because it was a very special gift from Edith. I have a Dillon press permanently set up to reload .45 ACP ammo, and I cast all my own bullets for the round. While the rest of the world pays inflated prices for ammunition, I'm set to reload tens of thousands of rounds at less than a nickel a round. I can't shoot .22 rimfire as cheaply as I can shoot this pistol. But it isn't the one firearm I would keep.
Speaking of gifts, the readers of this blog gave me a Single Action Army revolver that means the world to me. I remember coming home from the hospital several years ago and seeing that revolver for the first time. I wasn't strong enough to hold it up to shoot, and my eyes would need another year to regain their strength, but I got out to the range with that revolver just as soon as I could. Every time I look at it, I think of you blog readers.
I shoot that handgun several times a year, and it always makes me smile when I do. The gun has an authentic fire blue finish that Colt put on their guns during the 19th century, and mine looks brand new. It's a gorgeous handgun, but it's not the firearm I would keep.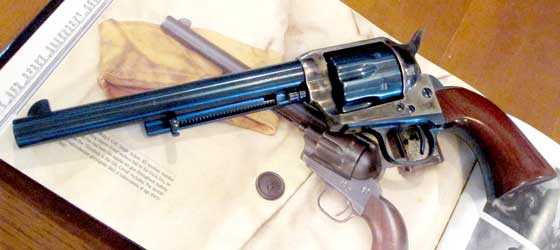 The single-action revolver I received from the readers of this blog is one of my favorite firearms. It shoots as nice as it looks.
I could go on and on with this thought process. Certainly, I would keep the Ballard. I certainly would not! While it's intriguing and a beautiful rifle, there's nothing practical about a Ballard built in 1876. The one firearm I keep has to be practical.


The Ballard rifle is beautiful and accurate, but it isn't the all-around firearm I need.
What about a nice .22 rimfire? I certainly own several of them, and lots of various kinds of ammo that would last me a long time — no? No. A .22 rimfire is not universal enough for me. Since I reload, I can turn almost any firearm into a .22 rimfire if I want to. What I need is a firearm that can be something more than a rimfire if the occasion calls.
See where this is going?
I am heading for a firearm that is as universal as it can be. Through reloading, it can be made to plink or pop squirrels, but it can also kill a grizzly bear if needed.
It has to be reliable, so complex is out and simple is in. That eliminates all semiautomatics.
It has to be accurate; but in my gun collection, there are no inaccurate arms. I just don't keep them. On the same note, I don't need my universal firearm to be suited for target use, so super-accurate guns with big scopes are also out. In fact, the scopes would eliminate the guns all by themselves.
My one firearm
The one firearm I would keep if all the others had to go would be my 1903A3 Springfield. It has a rugged bolt-action that has been proven over more than a century, and this one has adjustable peep sights that maximize the potential for accuracy. I've shot 5-shot groups under 2 inches at 100 yards, so the accuracy is all that I need.
When I reload, I have a choice of 5 lead bullets I can cast to produce everything from a .32 automatic up to a full-blown .30-06, if I need it. The cheapest rounds I make cost around 5 cents, and the most expensive costs under 50 cents. That's so much better than anything I can buy; but if I do buy, this caliber is certainly ubiquitous throughout most of the civilized world.
I have around a thousand empty cartridges; and with my reduced loads I'll get several hundred firings from each of them. And with reduced loads, I can use pistol powders and primers. So, ammunition will never be a problem.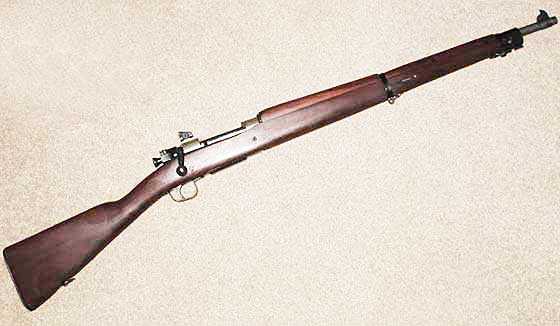 The O3A3 Springfield is a plain-jane rifle, but it's everything I need if I can only have one.
I got this rifle from my friend, Mac, but that's not why I'm keeping it. He sold it because it kicks pretty hard. But I discovered the secret. Soldiers wore field jackets and coats in the field, and the short pull of their rifles was compensated for by the thick clothing. When I shoot this rifle with powerful loads, I always wear a heavy jacket. The rest of the time a t-shirt is all I need. I can hit a pop can at 100 yards every time with my reloads, shooting from a prone or supported position.
What does this tell me?
Kevin forced me to look at my shooting from a very practical standpoint today. It wasn't sentimentality that helped me decide. And it wasn't value or beauty. It was utility.
I hope I never have to make a choice like this, because it would break my heart to say goodbye to many of my airguns and firearms. But now I know the two I would keep under any circumstance.
How the blog changed my life
Kevin's question prompted me to do more than just think about guns. This blog has had a major impact on my life. And from the comments many of you make, I believe it's also impacted your lives.
If you want to help me better understand my readers, I invite you to send me an email telling me the impact that this blog has had on your life. Pyramyd Air has created a special temporary email address for this. I'll be the only person to get these emails, and we're not going to generate any lists from the addresses.
My plan is to publish one or more blog reports with the more interesting comments. If you want, I will use your real name or blog handle; but you can be anonymous, too. I won't use your name or handle unless you give me written permission to do so.
This email address will be live for only a few weeks. We have tens of thousands of readers worldwide. Even if you've never commented on the blog, you can email me your message if you like. If you're reading this blog after July 2014, email submissions will no longer be forwarded to me, and you may get an auto-reply email stating that or your email might bounce back to you.
This could be interesting. I have no idea what will happen.
by Tom Gaylord, a.k.a. B.B. Pelletier
Part 1
Part 2
Part 3
Part 4
Part 5
Part 6
Part 7
Part 8
Part 9
Part 10
Part 11
Part 12

Brand new TX200 Mark III. It's very similar to my TX; but the checkering is different, and the line of the forearm is more scalloped.
I didn't plan on this test, but a big goof made during the last test of the red dot sight on the Air Arms TX200 Mark III forced me to rerun the test. The dot sight I used wasn't anchored and was loose on the rifle at the end of the test. As long as I'm doing this again, I decided to make some lemonade. So, I'm going to show you a quick tip I use to anchor a scope or other optical sight when the mounts I choose have no stop pin built in. I may have covered this in the past, but bear with me as this is important to today's test.
I want to get this test completed to clear the TX200 Mark III for the next test of the See All Open Sight. It turns out that the See All folks knew all about the problems their sight has with straight-line rifles like the M4, and they cover it in their FAQ section on their website. I didn't read the FAQs before testing the sight; I just read the owner's manual, so I missed that. But I thought you should know that they're aware of the problem.
A quick fix to the scope stop situation
I often have to improvise things, and scope stops can give me problems. Since I have 25+ scopes on as many rifles, with a few extras sitting in the cabinet waiting to be mounted, I often run into a situation where the mounts that fit the scope I want to use (as well as the airgun I'm testing) don't have the right stops. If the rifle has vertical scope stop holes like those on the TX200, the problem is solved by this quick tip.
The pictures show everything, but here's what's happening. A recoil pin is selected to fit in one of the rifle's vertical scope stop holes. It doesn't need to be attached to the scope mount — just dropped into the hole. Once it's in the hole, slide the mount against it and tighten down the mount. As the rifle recoils, the mount tries to slide back, but that only jams it harder against the stop pin.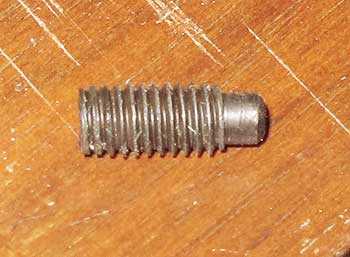 I used a real scope stop pin, but anything this size will work.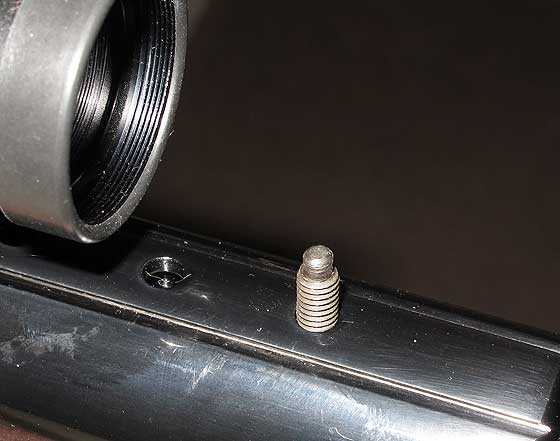 Drop the pin into the vertical scope stop hole on top of the rifle. Yes, this is upside down on purpose. It fits the hole better that way.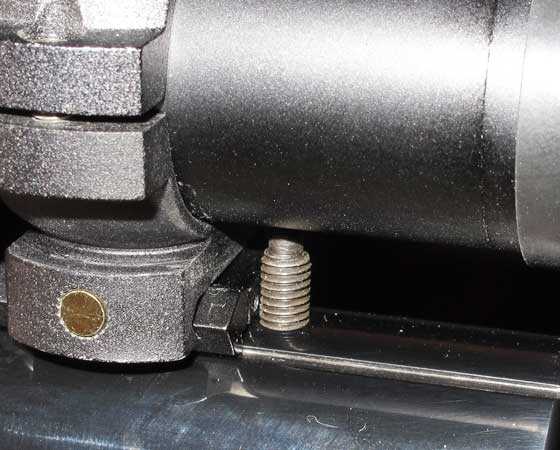 Slide the scope mount against the pin and tighten down the mounts. As the rifle recoils, it will just try to slide back and wedge against the pin tighter, so there will be no movement. The UTG Weaver-to-11mm adapter can be seen at the bottom of the mount. It's the dark thing jammed against the pin.
Now that the fix is in place, we can begin the test. Since the red dot sight was off the rifle, I need to sight-in again. Hopefully, the sight will be pretty close this time! All shooting was from 25 yards with the rifle rested directly on a sandbag.
It took 3 shots to get on target this time. The sight was farther off than I expected.
Baracuda Match
The first pellet I tried was the H&N Baracuda Match. They did well in the last test when the sight wasn't well anchored, so I figured they would continue to do well today. And they did. Ten shots went into 0.753 inches, and 9 of those went into 0.477 inches. That group is very round and uniform.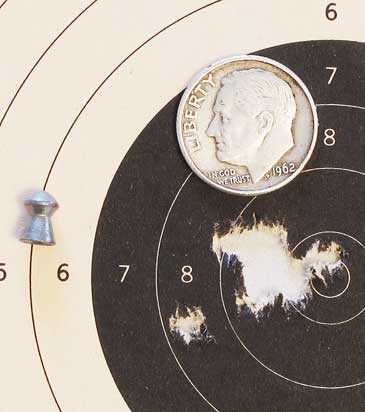 Ten in 0.753 inches and 9 in 0.477 inches. The H&N Baracuda Match pellets shot well using a dot sight.
JSB Exact RS
Next up were JSB Exact RS domes. At just 7.33 grains, they're very light for a rifle having this much power. But they sometimes give surprising accuracy. Not in the TX200, however. The group was open and was the largest of the 4 pellets I tested. Ten RS pellets went into 1.071 inches at 25 yards.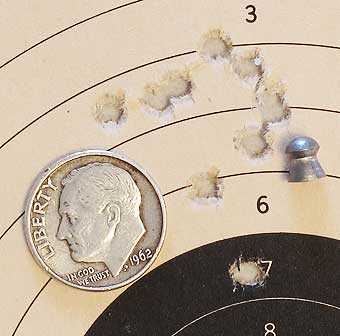 Ten in 1.071 inches at 25 yards. The JSB Exact RS dome is obviously not the right pellet for the TX200 Mark III.
Crosman Premier 7.9 grains
Then, I tried a group with the Crosman Premier lite. Ten went into 0.641 inches, with 9 making a 0.397-inch group. So, this light pellet that I didn't know could shoot in the big TX turned in the second best group of the day — besting the Baracuda Match pellets!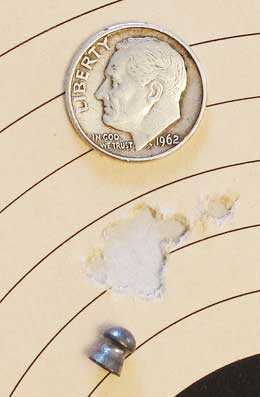 Ten in 0.641 inches at 25 yards, and 9 in 0.397 inches. This is a great group!
Crosman Premier heavy
The last pellet I tried was the 10.5-grain Crosman Premier heavy. I expected them to beat the Premier lites, and that's how it turned out. Though the group appears larger than the Premier lite group, it isn't. Ten heavys went into 0.583 inches at 25 yards and this time there were no fliers. The group is elongated but has no one pellet apart from the group.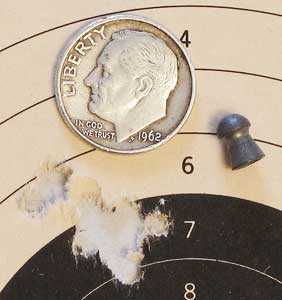 Ten Premier heavys went into 0.583-inches at 25 yards, with no stragglers. This was the best group of the day!
Results
This test was conducted correctly, with the red dot sight anchored firmly to the rifle. I inspected the mounts after the shooting was finished, and the scope stop pin is still holding the rear scope mount firmly. These groups are representative of what I can do with a dot sight on a TX200. But how do they compare with the same rifle when it's scoped?
With Baracuda Match pellets, the scoped rifle put 10 into 0.417 inches at 25 yards, while the same rifle and pellet made a 10-shot group measuring 0.753 inches with a dot sight. With Premier heavy pellets, the scoped rifle put 10 into 0.333 inches, while the same rifle and pellet made a 0.583-inch 10-shot group using a red dot sight. Clearly, the scoped rifle is more accurate than the same rifle with the red dot, although it's still very accurate with the dot sight.
The question now is what will happen when I mount the See All Open Sight on this airgun? Can the groups be as small as those made by the red dot sight? Can they be smaller? We'll find out next week.
by Tom Gaylord, a.k.a. B.B. Pelletier
Part 1
Part 2
Part 3
Part 4
Part 5
Part 6
Part 7
Part 8
Part 9
Part 10
Part 11

Brand new TX200 Mark III. It's very similar to my older TX, but the checkering is different and the line of the forearm is more scalloped.
Today, I'll use the new Air Arms TX200 Mark III to test how a red dot sight works on a precision air rifle. This test was requested more than a year ago by blog reader Mannish in Mumbai.
Going into the test, I thought about the recent test of how high and low scope magnifications affect accuracy on the same air rifle. That test was suggested by blog reader duskwight from Moscow; and not only did I test the premise (in Part 11), he also tested it with a special guest blog. Both of us discovered that the magnification has no bearing on accuracy, and duskwight's test was skewed toward favoring the lower-powered magnification!
I'm shooting the new TX200 Mark III with a Tasco Pro Point 30 red dot sight. The sight does not magnify the target at all; so, in essence, I'm shooting with open sights. I chose 25 yards indoors for the test, feeling that was enough range to show the trend. From the past testing of this rifle, I selected the H&N Baracuda Match pellet because I thought that it had demonstrated the best grouping at 25 yards. It was only after the test was completed that I discovered I'd selected the results of the other TX200 that's my personal rifle. Oh, well! I do make mistakes from time to time.
Baracudas are still very accurate pellets in a TX200, and today's test was not invalidated by their use. When you see the results I got, you'll agree that this test is valid.
Dot sights in general
A dot sight is one that projects a red light in the center of the lens on the inside of the sight. No light leaves the sight, so this is not the same as a laser. Only the shooter sees the dot.
The dot is adjusted to shoot the pellet to the place you want it to go. The adjustments are the same as for a scope, but there's no erector tube involved. Think of the dot as the intersection of the crosshairs. Canting the rifle is still possible and has the same affect. And, on a quality sight like this one, the brightness of the dot can be varied. That's important because, as the dot grows brighter, it also appears to grow larger — covering more of the target. You want to cover as little of the target as possible, while still being able to clearly see the dot in the light you have. The Tasco Pro Point has a rheostat with 11 different brightness settings.
I adjusted the setting to No. 8, which gave me a dot I could see, yet was smaller than the black bull on the 10-meter pistol target I was using. I found that using the dot was the reverse of using a precision target aperture sight with an aperture front insert. There, you encircle the bull with the front aperture — with the dot you place the red dot inside the black bull, so the black encircles the red. Once I figured this out, I was satisfied that I could aim with precision.
Sight-in
The first shot was fired from 12 feet and landed at 6 o'clock, just below the bull. I was on paper, so it was safe to move back to 25 yards, where I fired a second shot. This one landed at about the same height as the first, but 2 inches to the right. I adjusted the sight up and to the left (the adjustments work just like the ones on a scope) and shot again. The third shot landed more to the left but was too high. The sight was adjusted again and the next shot nicked the 10-ring of the bull, so sight-in was completed.
I fired 9 more shots with this sight setting and never once looked through the spotting scope. The rifle was rested on a sandbag because we've learned the TX200 does very well that way. With each shot, I paid particular attention to centering the red dot inside the black bull. That was easy to do because I had the dot sized perfectly against the bull. But on shot 7, I noticed that the sandbag had moved forward by several inches, so the rifle wasn't always resting at the same spot. I would correct that when I shot the second group.
When the group was finished I walked down to the trap to change targets. The first time I saw the group was when I entered my garage and saw one ragged hole! Holy cow! I did it! The dot sight is incredibly accurate!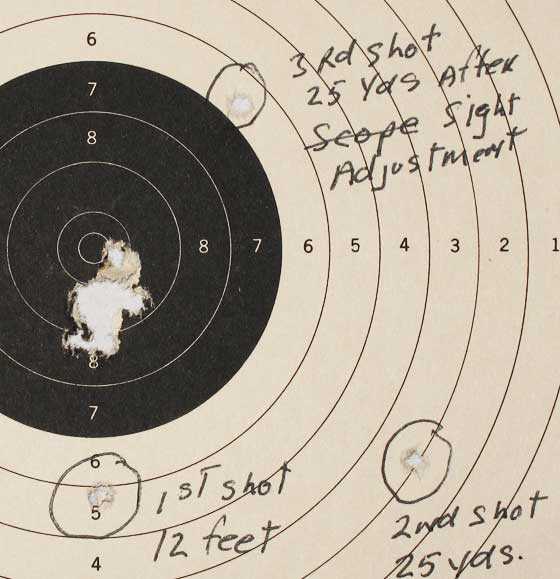 Here's the first target. You can see how the pellets landed during the sight-in, plus you can see that first 10-shot group!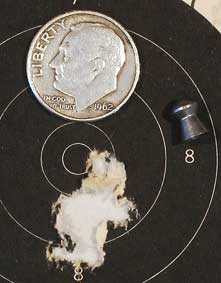 Ten H&N Baracuda Match pellets made this 0.619-inch group at 25 yards using a red dot sight.
While this group looks very good, it's almost double the size of the 0.336-inch group I shot from my own rifle at 25 yards with this same pellet while using a scope. So, it does appear that using no magnification has opened the group just a little. The next group would tell for sure.
Back I went to 25 yards to fire a second group. This time, I paid attention to the exact spot that the rifle was rested on the bag, and I was also careful to center the dot every time. I really thought this group would be smaller than the first. When I walked down to see it, however, it was not only clearly larger — at 1.177 inches between centers — but it was also very horizontal. The first group had been vertical, if anything. I wondered what had happened.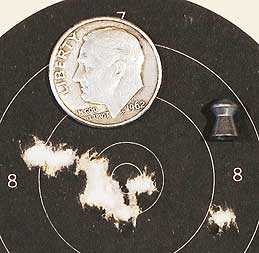 Ten H&N Baracuda Match pellets made this very horizontal 1.177-inch group at 25 yards. This is clearly not as good as the first group, plus what's with that flier on the right? There were no pulled shots in this string!
The first group had satisfied me that the dot sight was accurate. Perhaps I was losing concentration by the second group, which really wasn't that many shots. Only 24 shots in all had been fired. And why had the rifle thrown a shot wide to the right like that? It was almost as if the sight was loose or something.
Oh, no!
That was when I remembered that I had done nothing about installing a vertical scope stop with this dot sight! I preach about scope mount slippage all the time to you readers, but apparently I can't be bothered to do it right myself.
Sure enough, an examination of the mounts revealed they had slipped backwards on the rifle by 2 full inches! The Tasco mounts are 11mm; but being made for firearms, they have no provisions for a vertical scope stop, and so the inevitable had occurred. Naturally, I didn't discover this until the range was completely knocked down and put away.

All that work for nothing because I didn't use a scope stop. The rear mount is only on the rifle by about a quarter inch! No amount of clamping pressure, alone, can hold a scope mount or this dot sight mount from moving, unless you're using BKL mounts.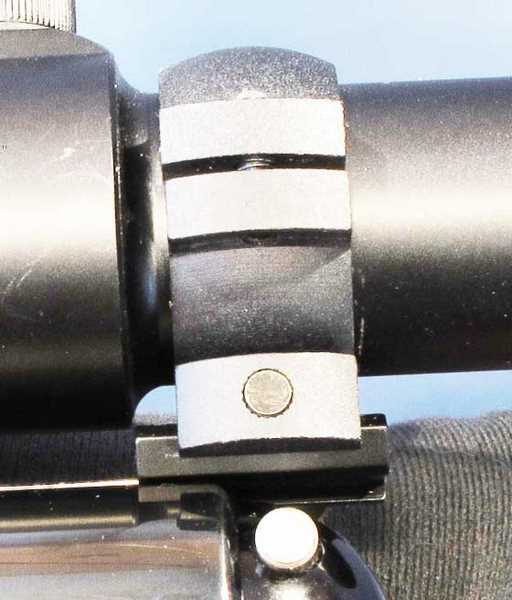 This enlargement makes the rear mount easier to see. It's almost off the rifle!
I don't think this is so bad. After all, the rifle and sight turned in a good performance, even when the mount was not locked down. Imagine what it might do if it was solid.
What do I do?
There's only one thing to do — rerun this test. I will install a vertical scope stop next time, and I'll show you how easy that is to do. Then, I'll shoot the same pellets at the same distance, and we'll see exactly what a red dot sight can do. Since this was supposed to be the final test of the new TX200 Mark III, it seems I have a reprieve. I can't argue with that!
by Tom Gaylord, a.k.a. B.B. Pelletier
Part 1
Part 2
Part 3
Part 4
Part 5
Part 6
Part 7
Part 8
Part 9
Part 10
Brand new TX200 Mark III. It's very similar to my TX; but the checkering is different, and the line of the forearm is more scalloped.
Today, we'll look at the accuracy of the Air Arms TX200 Mark III at 50 yards. I can tell you that I learned a lot from this test. But that will all be summarized as we go. Let's get started!
I shot the new TX directly off the same sandbag that was used at 25 yards. As you remember, I showed (after much coaxing from you readers!) that the TX shoots as well or better when rested directly on sandbags as it does with an artillery hold. The bag was crossways to the rifle, so the contact with the stock was minimized.
The day was perfect for the test. Not a breath of wind the entire time I was on the line!
The rifle is mounted with the AirForce 4-16X50 scope, which was selected so I could conduct another test for reader Duskwight after the regular test was completed. This scope is clear and sharp; and at 50 yards, I was able to bisect the small bullseyes with the reticle.
Sight-in
The rifle was still zeroed for 25 yards, so it had to be adjusted for 50 yards before anything else could happen. The first shot landed 3-1/4 inches low and 1-1/2 inches to the left. It then took another 2 shots before I was reasonable on the target. Then, I fired the first group with H&N Baracuda Match pellets. Ten landed in a group measuring 1.562 inches. It's a fairly round group, but not as small as I would like from this rifle. So, I switched pellets.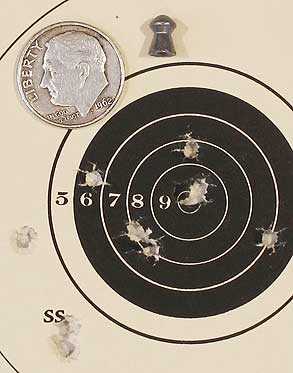 Ten H&N Baracuda Match pellets made this 1.562-inch group. It's a bit large for a TX200.
JSB Exact Monsters
Next I tried some JSB Exact Monsters, which weigh 13.4 grains in .177 caliber. They went all over the place. When I went dowrange to retrieve the target, I saw that they were tumbling or yawing. They must be too heavy for the velocity the TX is able to generate.
Crosman Premier heavy
The third pellet I tried was the Crosman Premier heavy. I meant to bring Crosman Premier lites, but I grabbed the wrong box when loading up for the range. Fortunately, the heavy pellet was wonderful! Ten of them gave me a group that measured 0.658 inches between centers — or about as good as a top-flight PCP can do at the same distance! This is phenomenal accuracy for any air rifle at 50 yards!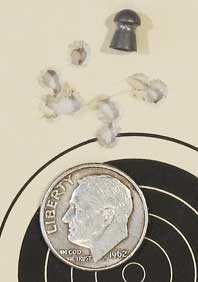 Ten Crosman Premier heavies went into a tight 0.658-inch group at 50 yards. This one is a screamer!
First lesson learned
The new TX200 Mark III is every bit as accurate as my TX that's well broken-in. No accuracy has been lost over the years, and the rifle can shoot this well right out of the box!
With lesson one under my belt, I adjusted the scope to lower the point of impact and moved to the next bull. The first shot landed where the last group was, then the pellets moved to the new sight adjustment.
Second lesson learned
Some scopes have stiction. After adjusting them, it's best to shoot a couple shots to vibrate the reticle to its new location. I knew that, but made the mistake anyway. So, I've included the first shot, along with the group, to show you what it looks like. If this group had been as small as the one before, that first shot would really stand out. But I lost my concentration on this one and wasn't holding the rifle as softly as I might have. This group of 10 measures 1.435 inches between centers, which isn't that far from the first group of H&N Baracudas!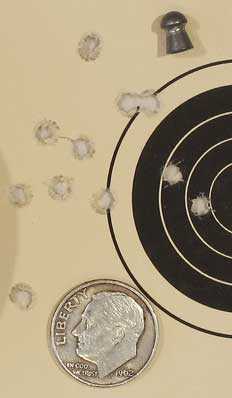 The second group of Premier heavies opened to 1.435 inches. That's more than double the size of the first group! Top hole to the left of the pellet was the first shot, which I disregarded, after the scope was adjusted.
Third lesson learned
While a rifle may be capable of shooting 10-shot 50-yard groups smaller than one inch, it may not do it every time! That small group may represent what the rifle is capable of, but not what it will always do.
Special test
Duskwight, our blog reader from Moscow, asked me to test the difference between a rifle shot with a low-power scope and the same rifle shot with a high-power scope. In other words, does magnification improve a rifle's ability to group?
Well, common sense tells us that it does. Right? I mean, surely, if you're able to parse the target to a finer degree, you must be able to group your shots closer together. Right? That's what this test will determine.
That's why I used a 4-16x scope on this rifle. I'd been shooting with 16x to this point, so now I dialed the power back to 4x and shot another group.
Wow! At 4x, the intersection of the crosshairs almost completely covers the small bullseye at 50 yards. As I shoot, I'm almost certain how this test is going to turn out. And it does. Ten shots on 4x with the same Premier heavy pellets landed in 2.208 inches. Looks like I was right about what low magnification would do.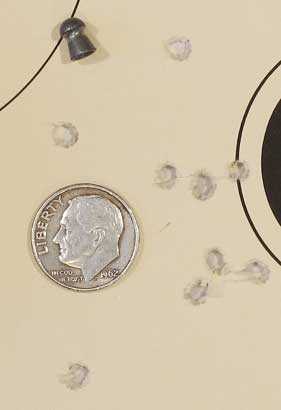 The third group of Premier heavies — shot with the scope set to 4x — was 2.208 inches between centers at 50 yards. That's quite a difference from the previous group, even though that group was already admittedly large.
But something nagged me about this group. I knew in my heart that I'd not given the rifle my best. I knew this group was going to be bigger than the last one while I was shooting it, so I was even sloppier with my hold.
It probably sounds like I need medication to suppress my dual personalities while at the range, but I assure you I'm not talking to myself — at least not loud enough for others to hear. What I'm doing is a little soul searching while I'm still out at the range and have the time to do something about it.
I adjusted the scope back to 16x and shot another 50-yard group. This time, I did everything the way I should have. The hold was completely relaxed. I fully expected to be rewarded with another of those sub-inch groups, but that didn't happen. This time, I shot a 10-shot group measuring 1.935 inches between centers. Oh, well! I was probably tiring out from all the concentration.

Ten shots at 50 yards with the scope set to 16x netted this 1.935-inch group.
Fourth lesson learned
Sometimes, you just can't will the results to happen the way you would like. I put my whole heart into this group, and this is what I got. Maybe that's what it feels like to be 66, dried-out and ready for the old-folks home!
Fifth lesson learned
I called that first great group of Premiers a screamer. Now you see why that is.
Nevertheless, I owed it to Duskwight to try the rifle on low scope magnification one more time, and this time to do my very best. So I did. This time, 10 pellets went into a group that measures 1.481 inches between centers. That's right, it's SMALLER than the group shot on 16 power! I noticed that the bull was just visible behind the crosshairs; and if I really tried, I could hold on the target in exactly the same way every time. Apparently, I did, because this group fired on 4x is smaller than the previous group that was fired on 16x.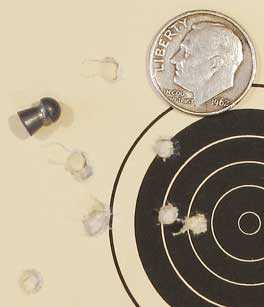 Ten shots at 50 yards with the scope set to 4x made this 1.481-inch group.
Sixth lesson learned
Although it isn't conclusive, it looks like you can shoot just as accurately on low scope magnification as you can on high magnification if you take the time to do things right.
Seventh lesson learned
Looking at both groups fired on 16x and both groups fired on 4x, it sure looks like the point of impact never changed! Some of you have asked about that in the past. The design of the scope determines whether the impact point will move when the scope's power is changed, but these days a lot of variable scopes stay right where they were when the power's adjusted.
Eighth lesson learned
Of the five groups fired with Premier heavy pellets on this day, only one is smaller than one inch. And it's significantly smaller! When you see those great groups in the future, you must ask yourselves what the rest of the groups look like.
Ninth lesson learned
I may be old and dried-out, but I can still shoot — a little. I get tired as the shot count increases, so that needs to be factored in to my tests from now on.
Summary
I'm very pleased with what this new TX200 Mark III has done so far. I think the rumors that the TX quality may have slipped are just that — rumors! Individual guns may have problems; but overall, the TX200 is one fine air rifle. Next, I plan on mounting a red dot sight and testing it for accuracy, again, to see what the differences are.
by Tom Gaylord, a.k.a. B.B. Pelletier
Today is Thanksgiving, here in the U.S., as well as the first full day of Hanukkah, which started last evening. I want to wish my Jewish readers a happy Hanukkah and all my U.S. readers a Happy Thanksgiving Day. Today I'd like to take some time to acknowledge those airguns that are worth remembering.
Benjamin 107
It was my first airgun — though I didn't acknowledge it at the time. I was whining at my mom to let me buy a BB gun, when all the while I had a beauty right there in front of me.
The 107 was a front-pump .177 smoothbore pistol that shot BBs, darts and pellets — none very accurately. But compared to a common BB gun, it wasn't too bad. I got it when I turned 10 or 11 after my father died. It had been his. I remember seeing him shoot it once, but that was all.
All the black nickel finish was gone, and the gun was worn to silver nickel in most places, with a hint of brass showing though some of the edges. It was a real bear to pump, and I think I could manage only three strokes when I applied all my weight. After that, I was the one having the stroke!
I could hold about one inch at 20 feet with darts, which was the ammo of choice since I had them and they could be reused. There were some Benjamin pellets that came with the thing, too, but I don't remember them being very accurate.
Once I secured my Daisy No. 25 pump BB gun, I don't think I ever looked at the old Benjamin, again. But that was the first airgun I ever shot, and it started the fascination that's lasted until now.
Diana model 10
Fast-forward 14 years, and I'm married (to my first wife) with a child and living in Germany. In the walled city of Rothenberg ob der Tauber, I find a gun store that sells high-end airguns. They have Walther LGVs and LGRs that I can't afford as a family man. But they also have a Diana model 10 target pistol that the owner claims is stunningly accurate. He's a good salesman, and we decided we could afford it; so I buy it plus 5,000 RWS Meisterkugeln pellets.
I learned how to shoot 10-meter pistol with that airgun — heck, I learned that there WAS such a thing as 10-meter pistol! And I got passably good. Good enough to stand on the line at formal matches while better shooters won. I did that for the next 20 years and got better and better until I was what, in technical terms, is known as a duffer. That's a guy who shows up and shoots without embarrassing himself, while others rule the day.
I also taught my gun-hating father-in-law how to shoot with that air pistol. He got so interested that he shot up a lot of my 5,000 pellets! I finally sold that pistol when I left the Army in 1981.
FWB 124
This is the air rifle I bought after returning from Germany in 1977. I scoped it with a Tasco firearm scope and never had a lick of trouble with it. It had the plastic trigger that the early rifles came with, but I loved it just as it was. It taught me what a precision adult air rifle could be. I had been reading about these rifles for the last 2 years I was in Germany; and, of course, I failed to realize that I lived in Erlangen, the home of the BSF factory! No, I read the Airgun Digest in the last 2 years of my tour and I wanted a 124, so that's what I got.

One of many FWB 124s I've owned over the years. Each one is a classic!
Then the R1 came out and took all the wind out of my sails. My 124 was no longer the baddest airgun on the block — despite the fact that no one on my block owned any air rifles at all. No sir! Dr. Beeman said the R1 was the gun to own, and I wanted one with all my fiber! I had to sell that 124 to pay off debts when I left the Army, but it left a seed deep inside me and I've owned several since that time.
Diana 27
The Diana 27 I'm referring to is not the one you have seen me write about. No, it's a gun I bought for $18 in a pawn shop in Radcliff, Kentucky, in the late 1970s. I didn't even know what it was at the time. It was a Hy Score 807 in .22 caliber and rough as a cob. The rust was deep all over, making the metal surface bumpy. Had it been removed, there would have been deep pits left behind. But the gun still shot very well. I marveled at how light and smooth the powerplant was. It shot slow compared to the 124, but out to 20 yards it held its own. I gave that one to a friend when I left the Army.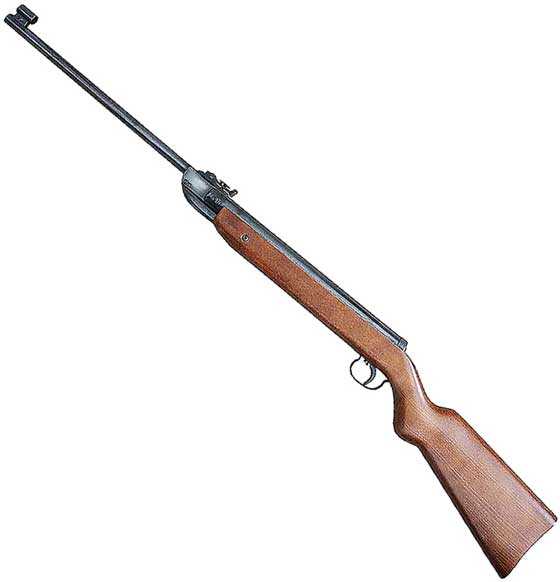 Diana 27 isn't a pretty air rifle, but it shoots like a dream!
Sheridan Blue Streak
This was an air rifle I had coveted since I was a Tenderfoot in the Boy Scouts and read all the ads in Boy's Life. It could shoot through an inch of wood — the ads said so! And it was accurate. But I never had the money to buy one as a kid. In 1978, a year after returning from Germany (and fast becoming a real airgunner), I finally bought one. The price had risen from $19.95 to $39.95 in the time that had passed, but I purchased what is today recognized as the high-water mark of Sheridan production — a 1978 Blue Streak with the rocker safety!

The Blue Streak I bought in 1978, and the rifle on which Edith learned to shoot.
That gun stayed with me after I left the Army. It wasn't worth enough to sell, so I kept it and still have it today. Edith learned to shoot with it and killed 9 rats around our Maryland home — not to mention various mice in the house and snakes in the garden. She put a yellow twist tie around the triggerguard to remind her the pellets were the ones in the yellow plastic box. This was before the days of The Airgun Letter and field target. Edith was still learning about airguns.
Beeman R1
We really didn't have the money at the time, but Edith gifted me with a new Beeman R1 for Christmas in 1991. The Airgun Letter was still 3 years in the future, so the only reason I got this gun was because I told her how long I had desired it. I had purchased a Beeman C1 a couple years before, but it just didn't scratch the itch.
But the real surprise was the used HW 77 carbine that was also under the tree that year. That was Edith at her best — giving me a gift I had no idea I was getting. We even had a scene from A Christmas Story, as a final long box with my name on it appeared after all other gifts had been opened!
The R1 scratched my itch alright; but what I discovered about airguns is that the more you scratch, the more the itch spreads. You think I'm an enabler? Remember, folks, I do everything to myself before I do it to all of you.
Beeman R8
It was the day I returned from the hospital in 2010. I was sitting on the sofa and had just enough strength to sit up for awhile. Edith pulled out a long cardboard box and told me that one of our blog readers had sent me something for when I come home. I couldn't stand or even open the box. She had to do it for me. Inside was a black hard case and inside that was the most beautiful Tyrolean air rifle I've even seen. It was a Beeman R8 with a custom stock and a fresh tune. A personal note told me who had done the work and how nice it shot.

This beautiful Tyrolean Beeman R8 was waiting for me when I returned home from the hospital.
As weak as I was, I had Edith hand me the rifle and I found that I could cock it. Oh boy! Here was a spring rifle I could shoot real soon, even when I couldn't cock most other air rifles. My friend, Mac, was still testing spring guns for me for several months as my strength returned, but that R8 was mine from the moment I first held it.
Edith and I were showered with gifts from the members of this blog when I got out of the hospital, and we were stunned at the outpouring. But that R8 is my favorite spring rifle because of how nice it is, how great it shoots, and most of all what it meant to me at a time when I could barely raise my head off a pillow.
What about the others?
Sure, there have been plenty of other airguns I'm thankful for. My Whiscombe has been a dream test bed for numerous experiments. Both the Benjamin Discovery and the Air Venturi Bronco are guns I personally was involved in developing. So, of course, they meant a lot. The AirForce Talon SS with a 24″ barrel is probably the gun I shoot more than any other…and you all know how I feel about the TX200! I could go on and on, but where do I stop? These guns have all been pivotal in my development as an airgunner.
I'm thankful
Back when I wrote The Airgun Letter, I allowed myself to get sucked into several bad arguments over trivial airgun issues. When we started this blog, I insisted on using a pen name rather than my own. I didn't want to spoil things with old baggage from the past. I also reinvented myself at the same time. I learned to curb my temper and to listen to what others have to say — even when it runs contrary to what I believe.
Some of you suspect this, but now I'll tell you all that Edith is half of Tom Gaylord, the writer. She keeps me on an even keel and lets me vent privately when I have to. She has a much better memory than I do and sometimes she suggests things that I wish I had thought of (and accept credit for when they show up in print). If I didn't have her, the veneer of who I am would quickly peel back and expose the unpleasantness underneath.
The airguns I have written about today were all pivotal in shaping my life as an airgunner. But it is Edith and you readers who have really had the greatest influence. Through thick and thin, you continue to inspire me and make me glad to have this job.
A few weeks ago, blog reader David Enoch asked me to write a report about the airguns that I never warmed to. I tried doing that and quickly found all the bad old stuff leaking out. So, I stopped writing and focused on only the good things that have happened with airguns. There are so many of them; and when I focus on them, I become the person I want to be.
Today's report came as a result of a disaster I had while testing a gun yesterday. Nothing went right, several optical sights failed and I put some new dents in the wall of our bedroom. I then sat on the couch complaining about everything. Knowing that I was losing it, Edith suggested today's topic. I hope this piece does some good for all of you because it has made my day! Happy Thanksgiving!
by Tom Gaylord, a.k.a. B.B. Pelletier
Part 1
Part 2
Part 3
Part 4
Part 5
Part 6
Part 7
Part 8
Part 9

Brand new TX200 Mark III. It's very similar to my older TX, but the checkering is different and the line of the forearm is more scalloped.
I'm writing this extensive report to fully explore the fabulous Air Arms TX200 Mark III, which is without a doubt one of the finest spring-piston air rifles in the world! The good news is that it's still available today. The better news is that it's everything it's cracked up to be! Writers have a few trite phrases to convey quality in the airgun world. "As good as a TX 200″ is one of them, and it's very high praise.
There are 9 links above that will take you all the way back to the beginning, when I started by testing my own well-broken-in TX 200. But now I've shifted over to a brand-new rifle that Pyramyd Air sent to me to test. Some readers wondered if my rifle, which is so well-used that it might be performing above the bar, so to speak, because of the use it's had. They wanted to see a rifle that's being made today, and also one without all the wear on the parts. That's what we're testing now — a brand-new TX whose only shots are the ones you have witnessed on this blog.
Scope
The TX has no sights and must be either scoped or have some other kind of optical sight mounted. One of the tests we're going to do with this rifle is to mount a red dot on it and see what that does for it. Blog reader Mannish from Mumbai asked for that test a long time back.
We're also going to test the effects of shooting the gun at 4X and again at 16X with the same scope. Reader Duskwight asked for that — to see if the increased magnification would affect the group size. I also want to see if changing the magnification changes the point of impact, so that test will be a twofer.
I'm leading up to the scope I chose for this test. I might have selected the same Hawke 4.5-14X42 Tactical Sidewinder that was on my TX when I tested it, but that didn't give me all the magnification I wanted for Duskwight's test. So, I selected a vintage AirForce 4-16X50 scope, instead. Mine is older than the model being sold today, but the specifications are essentially the same. For a mount, I selected a nondescript 1-piece mount. I chose it because it has a vertical scope stop pin for the TX scope stop holes, plus it has the height needed for the scope's objective bell to clear the spring tube. I have no idea who made it.
The test
I started sighting-in at 12 feet, putting 3 pellets into the target and adjusting until they were in line with the center of the bull, more or less. They were high, so I cranked down about 4 complete turns on the elevation knob, knowing that back at 25 yards the gun would be shooting higher than at 12 feet.
When I shot the first pellet at 25 yards, it was still about 1.5 inches high, so a couple more turns down on the elevation knob brought it to the center of the bull. As always, I tried to intentionally keep the pellets from striking the center of the bull, as that erases my aim point very quickly. The sight-in was now complete with about 7 shots being expended.
All of today's shooting is at 25 yards, which is really close for a TX. I rested the rifle directly on my sandbag, with the bag turned sideways, so the rested area touched about 5 inches of the forearm. I used an ultra-light hold, and the groups showed the results. I selected a couple pellets that had done well in the test of my personal TX and one that had never been tested for accuracy before.
H&N Baracuda Match
The first pellet was the one I used to sight-in the rifle — the H&N Baracuda Match. It was landing to the left of the aim point and in the center of the bull for elevation. Ten shots landed in a group that measures 0.417 inches between the centers of the 2 pellets farthest apart. That's well within the range fired by my personal TX at 25 yards.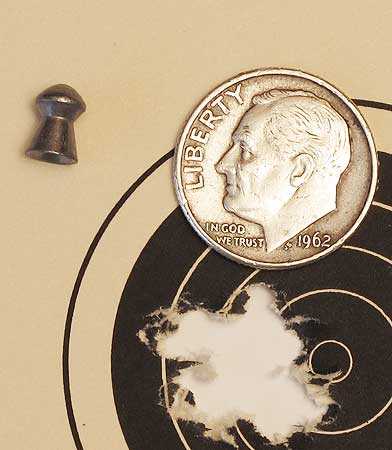 Ten H&N Baracuda Match pellets went into 0.417 inches at 25 yards. The rifle was rested directly on the bag.
JSB Exact RS
Next, I tried a pellet I haven't tried for accuracy in the TX — at least not that I can remember. The JSB Exact RS dome is a very lightweight pellet for a rifle this powerful. The first shot landed about 1.5 inches above the spot where the Baracudas were hitting, but it was still on paper, so I continued to shoot. Each shot that followed seemed to drop a bit lower on the paper, and as I was shooting I discovered something important. The rifle shoots this pellet very well, but it is extremely hold-sensitive. Moving the rifle a quarter-inch on the sandbag makes a tremendous difference. So, I was able to adjust the hold carefully and get the pellets to land closer together.
I think the RS pellet can be made to shoot, but it isn't worth the effort when there are other pellets that shoot even better without all the fuss. The 10-shot group I got measures 1.501 inches between centers, which is terrible; but 6 of those pellets were the ones I took special pains to hold exactly the same, and they measure just 0.496 inches between centers. That's the potential of this pellet when you handle the gun like it's a soap bubble!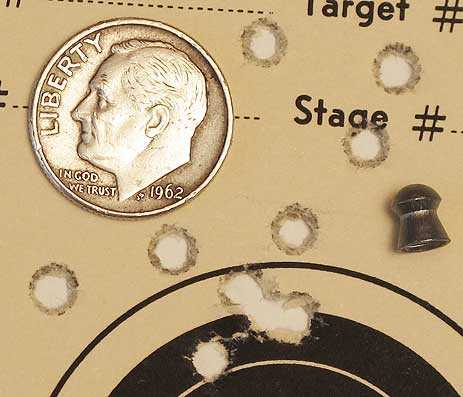 Ten JSB Exact RS pellets went into 1.501 inches at 25 yards, but 6 of them are in 0.496 inches. It's too much trouble to shoot that carefully, if you ask me, but the rifle can do it.
Crosman Premier heavy
The last pellet I tested was the Crosman Premier heavy. The group was a phenomenal 0.333 inches between centers! That's slightly better than the best group I shot with my own TX at 25 yards, but the difference is only 3 one-thousandths of an inch and could easily be hidden by an error in measurement. So, the 2 rifles are equivalent.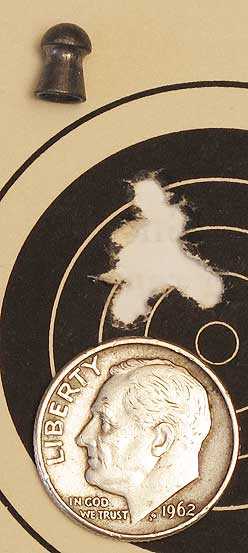 Ten Crosman Premier heavys made this 0.333-inch group at 25 yards. Clearly, the new TX 200 Mark III is a tackdriver!
I could have shot other pellets and shown you more targets, but by now you're getting the picture. The new TX is the same as it has always been — one of the finest and most accurate air rifles on the market.
Next
Next, I'll test this rifle at 50 yards. I'll do essentially the same test that I did with my own TX at that distance, but then I'll add the 4-16X test. That will tell us if there's an advantage to more magnification, and it will also show if the point of impact changes as the magnification changes.
After that test, I plan on mounting a red dot sight on this rifle and testing it at 25 and 50 yards. I think that will end the test of this rifle, unless something else comes up.
by Tom Gaylord, a.k.a. B.B. Pelletier
Part 1
Part 2
Part 3
Part 4
Part 5
Part 6
Part 7
Part 8

Brand new TX200 Mark III. It's very similar to my TX; but the checkering is different, and the line of the forearm is more scalloped.
This report is getting long and perhaps a little confusing, so let me explain what I'm doing. We've been looking at the Air Arms TX200 Mark III underlever air rifle. I used my own TX for the first 6 parts of the report. In Part 7, I introduced a brand new TX that Pyramyd Air sent for me to test. Many of you were concerned that the rifle had changed somehow over the years since mine was made, and perhaps what's shipped today isn't the same rifle…so I agreed to test a new one for you. The first look at that rifle came in Part 7 of the report, and in Part 8 we looked at the velocity.
Today ,I'm going to show you the trigger in detail, describe how to adjust it and explain why I always say the TX trigger is an upgrade of the Rekord trigger that Weihrauch introduced back in the 1950s. To get to the trigger adjustments, the triggerguard must be removed. But today I'm going farther into the gun to show you the entire trigger assembly. That will help me explain how the trigger functions.
The stock needs to come off to get into the rifle, so I did that first. Just remove 2 forearm screws and 2 more triggerguard screws.
Once out of the stock, the action and trigger can be seen clearly.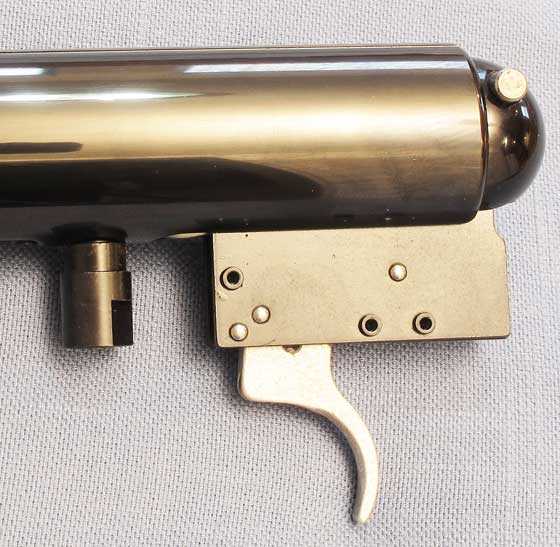 The trigger unit is inside the spring tube with seemingly no way to come out. The rifle must be partially disassembled to remove the trigger.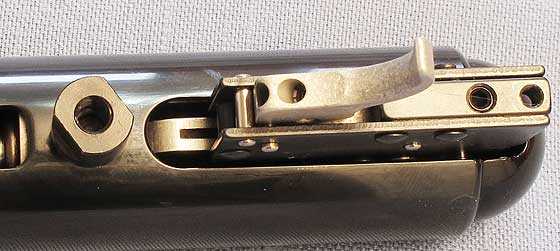 Here you see the disassembly bolt  (all the way to the lef). Turn it out, and the rifle comes apart. You can also see the 3 trigger adjustment screws. On the trigger blade are screws to adjust the first-stage length and adjust the sear contact area. Behind the trigger blade is an Allen screw that adjusts the trigger pull weight. Behind that is the threaded hole the rear triggerguard screw goes into.
If I were just adjusting the trigger I wouldn't need to go even this far. Just remove the triggerguard and start by adjusting the trigger return spring tension. I found that was all I needed to do on the test rifle, as the first-stage length and sear contact area were right as they came from the factory. But you can adjust either of them or both.
To take the trigger unit out of the gun, I removed the disassembly bolt. As it turned, I pressed down on the entire barrelled action with the end cap resting on a soft cloth pad. When the bolt was free, the mainspring decompressed less than 2 inches.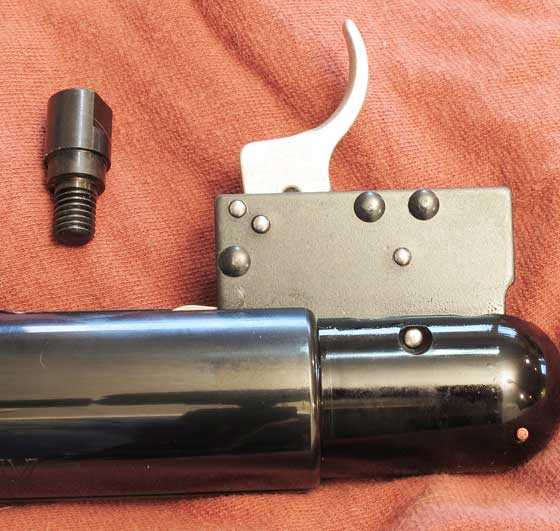 The disassembly bolt is out, and the mainspring has relaxed. The trigger unit moved less than 2 inches. A mainspring compresser was not used.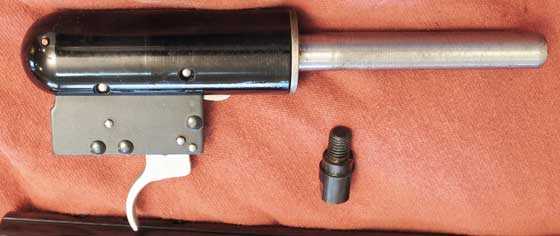 When the trigger unit comes out of the rifle, it's still pinned to the end cap and spring guide like this. Now, the trigger unit looks familiar to Rekord owners because the 2 pins that hold it to the end cap are visible.
Because I want to show you how this trigger works, I'm going to continue to disassemble the end cap. The 2 pins that hold the trigger unit in the cap are driven out. They are several times harder to remove than Weihrauch trigger pins. This unit is together very tight!
Once the trigger assembly is out, we can see how it differs from the Rekord.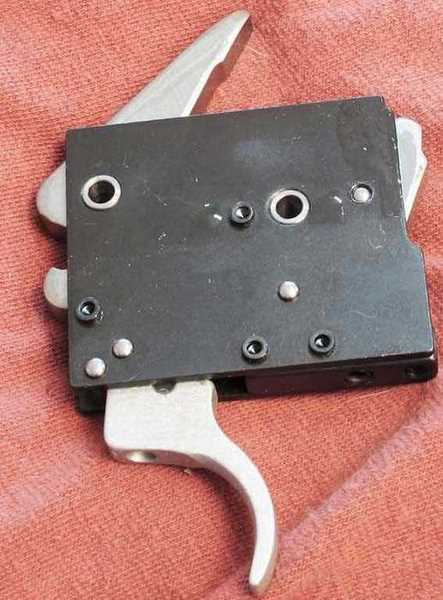 The trigger assembly is similar to the Rekord — but also different. The box is riveted together instead of being a folded sheet metal structure. There's an additional pin, forward of the trigger blade, and internally there are bearings where the Rekord parts just turn on pins.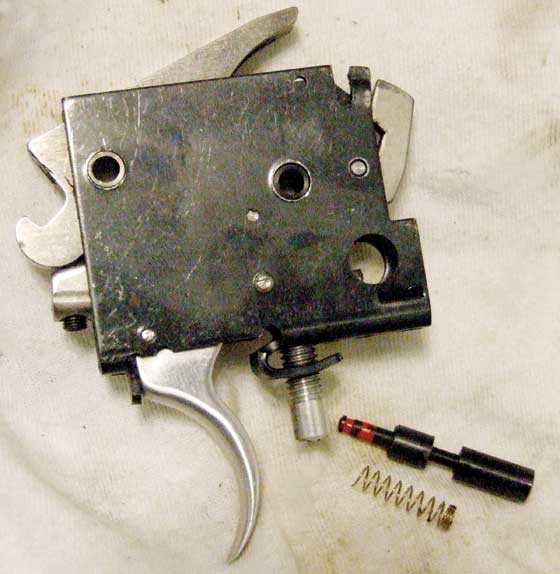 A Rekord trigger for comparison. Weihrauch did more with sheet metal stampings.
So far, I've shown you the differences but not described how they work. For starters, the Air Arms trigger has adjustments for the first-stage pull and for the sear contact area, as well as for trigger-pull weight. The Rekord has the sear engagement adjustment and the pull weight adjustment but not the first-stage adjustment. But that isn't what makes the Air Arms trigger better.
What makes the Air Arms trigger better is the presence of bearings instead of just pins. The parts are also more finely fitted, which has to be done during manufacture because there's no money in the gun for costly hand-fitting. And the trigger isn't the only place that's different. The piston is also different.
Circular piston
The TX200 has what I will call a circular piston. All pistons are circular, of course, but most of them are held from rotating by the cocking shoe. Because of that, the piston can have a hook that's engaged by the trigger when the gun's cocked. That's how the Weihrauch rifles that use the Rekord trigger are made. But what if the piston was free to rotate on its axis?


TX200 piston has bearing surfaces front and rear.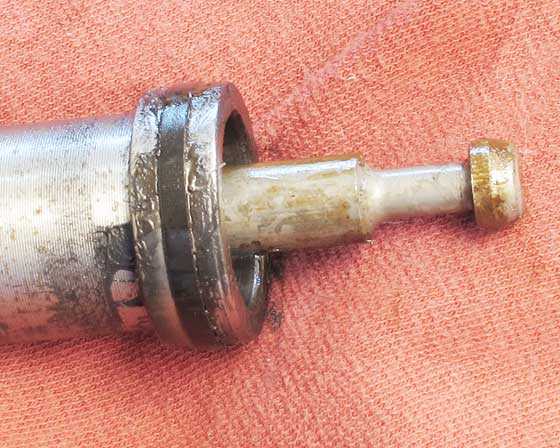 Detail of the rear piston bearing. Also, note how far the piston rod sticks out the rear of the piston. Weihrauch pistons don't have bearings front and rear, so they tend to vibrate more when fired.
Blog reader RidgeRunner asked how the TX piston was cocked by the sliding compression chamber. The answer is that the chamber pushes the piston back until the trigger catches it. The piston rod is so long that it can be caught by the trigger while the piston is still inside the compression chamber.
When the gun is cocked, the piston rod comes back and pushes the trigger parts into lockup. As they lock up, a hook catches the rear of the piston rod and holds it until the sear releases it.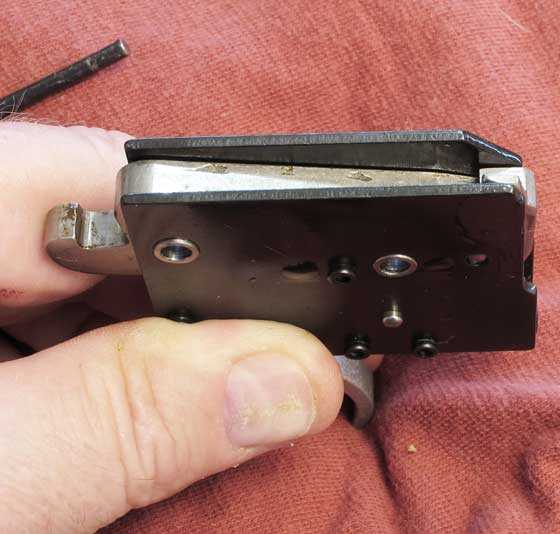 I have manually cocked the trigger the same way the piston does.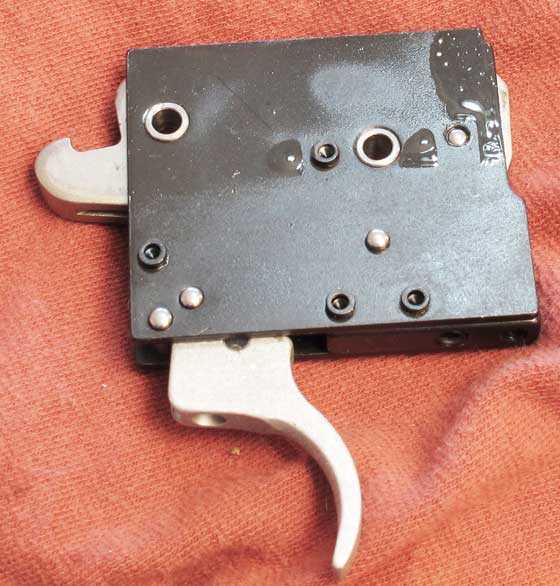 This is what the cocked trigger looks like with my hand out of the way.

And this is how the trigger holds on to the piston, no matter how it turns inside the gun.
The ability of the piston to turn on its long axis while being supported front and rear by bearings adds smoothness to the powerplant without sacrificing power. A centrally located air transfer port that's centered on the piston boosts the air scavenging efficiency and therefore the available power. The TX200 Mark III is giving all the power it can from a powerplant that's still smooth and easily cocked.
How is the trigger after adjustment?
Before I adjusted the trigger, it released crisply at 1 lb., 12 oz., which is 28 oz. All I adjusted was the trigger return spring tension and now the trigger breaks cleanly at 12 ounces. So the adjustment dropped one entire pound. And, yet, the sear still has the same contact area, so it's just as safe as before.
A good tuner can adjust a Rekord just as light, but the sear contact area won't be as great as it is at 3 lbs. The Air Arms trigger allows for this adjustment without sacrificing any safety. That's what I meant by the TX trigger being more finely adjustable that a Rekord.
By the way, the work done here, including taking the pictures, took a total of 30 minutes.