Posts Tagged 'air pistols'
by Tom Gaylord, a.k.a. B.B. Pelletier
Part 1
Today, we'll look at the velocity of the Beretta model 84 FS BB pistol. We'll also look at the trigger and the shot count.
Of course, the first step to shoot a CO2 BB pistol like this one is to install a fresh CO2 cartridge. And when you do, never forget to put a drop of Crosman Pellgunoil on the tip before piercing. The oil will be blown through the gun, coating every seal on the inside and sealing it tight for a long time. I found the cartridge sealed immediately after it pierced, so this pistol is conventional in that respect. Remember — once the cartridge is pierced and the gas stops hissing, you don't want to tighten the screw any more or you'll soon tear the face seal that the cartridge butts against, creating a leak.
The BB magazine holds 17 BBs comfortably, and 18 can be forced in. I loaded them one at a time, but in this mag, they load easily.
Umarex Precision BBs
Thye first BB I tested was the Umarex Precision BB. In past tests I have found this BB to be one of the 2 top BBs on the market for precision and size uniformity. They tend to be larger in diameter, which means they give the best velocity.
These BBs averaged 368 f.p.s. for 10 shots, but I did notice the gun is very susceptible to velocity dropoff if the shots are fired fast. When I waited at least 10 seconds between shots, the velocity held steady; but if I fired 2 shots quickly, the second one was always much slower. In one test, the first shot went 372 f.p.s. and the next shot…fired a second later…went 358 f.p.s.
The fastest shot in the string went 385 f.p.s. and the slowest went 356 f.p.s., so the spread was 29 f.p.s. However, the first 3 shots on a new cartridge always go much faster than the average. If we eliminate those 3 shots from this string, the average drops to 363 f.p.s., which seems like a more reasonable average.
Daisy Premium Grade BB
Next I tried the Daisy Premium Grade BB that's the other top BB on the market. These BBs are also very uniform and very consistently sized. Ten of them averaged 357 f.p.s., with a spread from 350 to 373 f.p.s. That's a 23 foot-second spread.
The Daisy Premium Grade BB is as good as BBs get, unless you opt to buy the special Avanti Precision Ground Shot that are the finest BBs available today. But they only show their advantage when used in the equally superior Daisy Avanti Champion 499 BB gun. If you shoot them in anything else, you're wasting money as sure as someone who loads target rimfire ammo into a semiauto sporter.
Crosman Copperhead BB
The final BB I tried was the Crosman Copperhead BB. This BB is not as consistent as the other 2 because the diameter varies, causing velocity variations. You probably won't find any flat spots on these BBs, but the diameter inconsistency puts it into the second rank for both velocity and accuracy.
In the 84 FS, Copperheads averaged 348 f.p.s., but the spread is very revealing. The low was 314 f.p.s., and the high was 375 f.p.s. That makes the spread 61 f.p.s.
After shooting 64 BBs (there were many that didn't register on the chronograph, plus I filled the magazine with each type of BB and then shot the rest of them without recording the velocity), the next few Daisy BBs went 317, 306, 301 and 294 f.p.s., respectively. So, the liquid CO2 was exhausted at this point, and the gas pressure was dropping.
Shot count for a CO2 cartridge
I continued to shoot the pistol until the blowback no longer worked. That happened at shot 78, so that's the number of shots you can get from the gun. By that time, the gun is shooting the Daisy BBs in the mid-200s, meaning that about 100 f.p.s. have been lost since the cartridge was fresh.
Blowback
The blowback on this pistol is faster than the blowback on most air pistols, because the slide doesn't come back as far. When the CO2 cartridge is fresh, you just feel an impulse when the gun fires, but I wouldn't call it realistic recoil. But as the gas pressure lowers, the slide starts cycling slower and you do feel the recoil.
Trigger
Remember that I told you in Part 1 that the trigger felt strange? I said it felt like a double-action-only trigger instead of the single-action trigger that it is. Well, this time I tested it and proved that's how it feels. Despite the slide cocking the hammer for each shot, the trigger is still very long and heavy.
The first-stage pull runs about 4 lbs., and stage 2 breaks at 9 lbs., 9 oz. every time. Pull the trigger slowly, though, and stage 1 becomes creepy, plus stage 2 increases by a full pound. This will be an interesting handgun to shoot for accuracy!
Evaluation thus far
I like how the 84 FS holds. It's small, but not tiny. It fills the hand with its wide grip frame. But that trigger will be something to contend with. The trigger on my Micro Desert Eagle .380 firearm pistol is also DAO and also challenges me when I shoot farther than 20 feet; but it's smoother near the end of the pull. This trigger stacks up a lot at the end of the pull. We'll see!
by Tom Gaylord, a.k.a. B.B. Pelletier

Beretta model 84 FS BB pistol.
Fabbrica d'Armi Pietro Beretta is one of the oldest companies in the world. They were founded in 1526, at a time when wheellock guns were high-tech and the flintlock was still a century in the future. On top of that, the company has remained under family control all that time!
Before the U.S. military adopted the model 92 as their sidearm, all I knew about Beretta was that they made some odd-looking handguns in small pistol calibers and they made fine shotguns. Since the 92 became the M9 pistol, Beretta has forced its way into the limelight in the U.S. gun culture. Still, what I know about the handgun models they make is very limited. So, when I first saw a picture of the Beretta model 84 FS BB pistol, it looked like a rehash of the 92 FS to me.
Well, it isn't! The 84 FS is two-thirds the size of the 92 and more closely related to a pocket pistol, though the width of the frame that accommodates a double-stack magazine makes it too fat for such a role. The firearm is called the Cheetah and comes in .380 a.c.p. caliber. Given the width of the grip frame, it must be a mild gun to shoot with such a light cartridge. The double-stack magazine holds 13 rounds, so buyers living in states with magazine capacity limits have to either get a smaller mag, or avoid this gun altogether. Or, they can enjoy it in this BB gun version!
The BB gun
I am looking at the BB gun, which is powered by CO2 and has blowback that moves the slide and cocks the hammer for the next shot. The trigger operates only in the single-action mode, so the hammer must be cocked every time for the gun to fire — you can't just pull the trigger and fire the gun unless the hammer is cocked.
The trigger-pull is unusual for single-action. It's a long pull that has an increasing resistance as the blade nears the back of the triggerguard. It feels more like a smooth double-action pull; except that with the hammer being cocked by the slide, it cannot be by definition. There's no pause before the sear releases, so the double-action pull metaphor holds all the way until the sear releases.
The safety is ambidextrous and is a thumb-actuated lever at the top rear of the slide. As small as this pistol is, the safety is easy to put on and take off with just the thumb of the firing hand.
The magazine is a drop-free design with the thumb-release button on the left side of the frame, behind the triggerguard. The bottom black portion is synthetic, while the silver top portion that contains the firing valve is metal.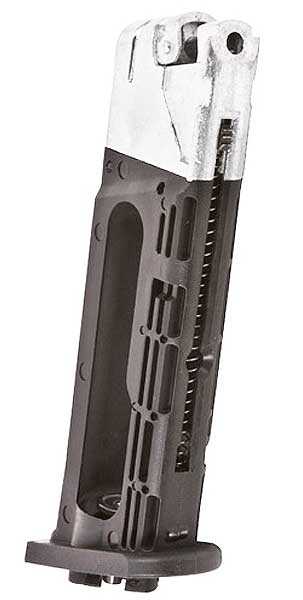 Beretta model 84 FS BB pistol magazine.
At the bottom of the magazine, the CO2 tensioning screw handle is spring-loaded to cling tight to the floorplate of the mag until you need it. Although it's visible from the outside of the gun, the designers have taken steps to ensure that it isn't obvious. This is a big red flag to BB pistol buyers, and it looks like the designers knew that.
I said this pistol is small, so the weight of 1.4 lbs. is lighter than that of a larger handgun. The overall length is 7 inches, and the smoothbore barrel is 3.6 inches. The single-stack BB magazine (single-stack for BBs, double-stack for .380 cartridges) holds 17 BBs plus the CO2 cartridge.
The sights are a fixed post in front and a fixed notch in the rear. The rear sight is cast with details to look like it drifts side-to-side, but it doesn't. Given that the 84 FS is a self-defense type pistol, the sights are in keeping with that theme.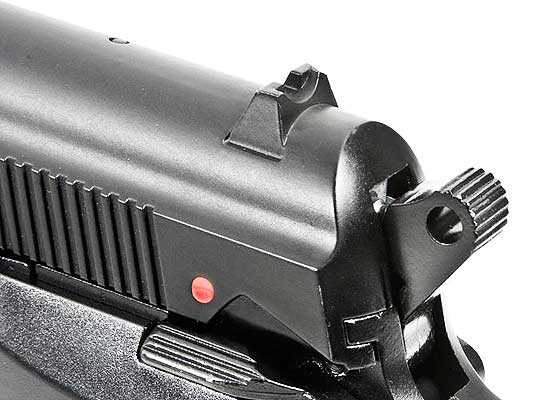 The rear sight looks like it slides in a dovetail, but it's really just a sharply detailed casting.
The majority of this gun is made of metal; and the grips are plastic, held on by two steel screws, each. Besides the safety, the slide hold-open lever and the disassembly lever are both functional. And that's all the controls there are on this handgun.
The Beretta 84FS is at the high end of the price spectrum for a BB pistol. It has blowback, which shooters desire, but the rest of the gun is as basic as the firearm it copies. It will take this review to determine if this will be a desirable BB gun for the target consumer.
Another thing buyers want to know is the gun's pedigree. The gun is made in Taiwan and distributed by Umarex. Those are 2 positive marks, because Umarex is known for distributing realistic airguns, and Taiwan is known for making many other fine airguns.
by Tom Gaylord, a.k.a. B.B. Pelletier
Today is Thanksgiving, here in the U.S., as well as the first full day of Hanukkah, which started last evening. I want to wish my Jewish readers a happy Hanukkah and all my U.S. readers a Happy Thanksgiving Day. Today I'd like to take some time to acknowledge those airguns that are worth remembering.
Benjamin 107
It was my first airgun — though I didn't acknowledge it at the time. I was whining at my mom to let me buy a BB gun, when all the while I had a beauty right there in front of me.
The 107 was a front-pump .177 smoothbore pistol that shot BBs, darts and pellets — none very accurately. But compared to a common BB gun, it wasn't too bad. I got it when I turned 10 or 11 after my father died. It had been his. I remember seeing him shoot it once, but that was all.
All the black nickel finish was gone, and the gun was worn to silver nickel in most places, with a hint of brass showing though some of the edges. It was a real bear to pump, and I think I could manage only three strokes when I applied all my weight. After that, I was the one having the stroke!
I could hold about one inch at 20 feet with darts, which was the ammo of choice since I had them and they could be reused. There were some Benjamin pellets that came with the thing, too, but I don't remember them being very accurate.
Once I secured my Daisy No. 25 pump BB gun, I don't think I ever looked at the old Benjamin, again. But that was the first airgun I ever shot, and it started the fascination that's lasted until now.
Diana model 10
Fast-forward 14 years, and I'm married (to my first wife) with a child and living in Germany. In the walled city of Rothenberg ob der Tauber, I find a gun store that sells high-end airguns. They have Walther LGVs and LGRs that I can't afford as a family man. But they also have a Diana model 10 target pistol that the owner claims is stunningly accurate. He's a good salesman, and we decided we could afford it; so I buy it plus 5,000 RWS Meisterkugeln pellets.
I learned how to shoot 10-meter pistol with that airgun — heck, I learned that there WAS such a thing as 10-meter pistol! And I got passably good. Good enough to stand on the line at formal matches while better shooters won. I did that for the next 20 years and got better and better until I was what, in technical terms, is known as a duffer. That's a guy who shows up and shoots without embarrassing himself, while others rule the day.
I also taught my gun-hating father-in-law how to shoot with that air pistol. He got so interested that he shot up a lot of my 5,000 pellets! I finally sold that pistol when I left the Army in 1981.
FWB 124
This is the air rifle I bought after returning from Germany in 1977. I scoped it with a Tasco firearm scope and never had a lick of trouble with it. It had the plastic trigger that the early rifles came with, but I loved it just as it was. It taught me what a precision adult air rifle could be. I had been reading about these rifles for the last 2 years I was in Germany; and, of course, I failed to realize that I lived in Erlangen, the home of the BSF factory! No, I read the Airgun Digest in the last 2 years of my tour and I wanted a 124, so that's what I got.

One of many FWB 124s I've owned over the years. Each one is a classic!
Then the R1 came out and took all the wind out of my sails. My 124 was no longer the baddest airgun on the block — despite the fact that no one on my block owned any air rifles at all. No sir! Dr. Beeman said the R1 was the gun to own, and I wanted one with all my fiber! I had to sell that 124 to pay off debts when I left the Army, but it left a seed deep inside me and I've owned several since that time.
Diana 27
The Diana 27 I'm referring to is not the one you have seen me write about. No, it's a gun I bought for $18 in a pawn shop in Radcliff, Kentucky, in the late 1970s. I didn't even know what it was at the time. It was a Hy Score 807 in .22 caliber and rough as a cob. The rust was deep all over, making the metal surface bumpy. Had it been removed, there would have been deep pits left behind. But the gun still shot very well. I marveled at how light and smooth the powerplant was. It shot slow compared to the 124, but out to 20 yards it held its own. I gave that one to a friend when I left the Army.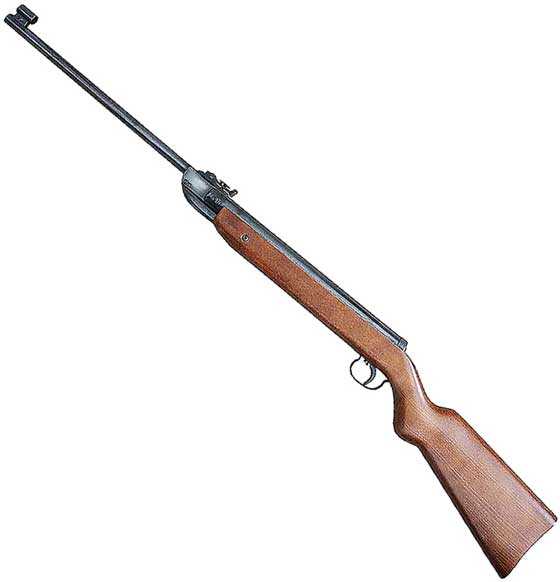 Diana 27 isn't a pretty air rifle, but it shoots like a dream!
Sheridan Blue Streak
This was an air rifle I had coveted since I was a Tenderfoot in the Boy Scouts and read all the ads in Boy's Life. It could shoot through an inch of wood — the ads said so! And it was accurate. But I never had the money to buy one as a kid. In 1978, a year after returning from Germany (and fast becoming a real airgunner), I finally bought one. The price had risen from $19.95 to $39.95 in the time that had passed, but I purchased what is today recognized as the high-water mark of Sheridan production — a 1978 Blue Streak with the rocker safety!

The Blue Streak I bought in 1978, and the rifle on which Edith learned to shoot.
That gun stayed with me after I left the Army. It wasn't worth enough to sell, so I kept it and still have it today. Edith learned to shoot with it and killed 9 rats around our Maryland home — not to mention various mice in the house and snakes in the garden. She put a yellow twist tie around the triggerguard to remind her the pellets were the ones in the yellow plastic box. This was before the days of The Airgun Letter and field target. Edith was still learning about airguns.
Beeman R1
We really didn't have the money at the time, but Edith gifted me with a new Beeman R1 for Christmas in 1991. The Airgun Letter was still 3 years in the future, so the only reason I got this gun was because I told her how long I had desired it. I had purchased a Beeman C1 a couple years before, but it just didn't scratch the itch.
But the real surprise was the used HW 77 carbine that was also under the tree that year. That was Edith at her best — giving me a gift I had no idea I was getting. We even had a scene from A Christmas Story, as a final long box with my name on it appeared after all other gifts had been opened!
The R1 scratched my itch alright; but what I discovered about airguns is that the more you scratch, the more the itch spreads. You think I'm an enabler? Remember, folks, I do everything to myself before I do it to all of you.
Beeman R8
It was the day I returned from the hospital in 2010. I was sitting on the sofa and had just enough strength to sit up for awhile. Edith pulled out a long cardboard box and told me that one of our blog readers had sent me something for when I come home. I couldn't stand or even open the box. She had to do it for me. Inside was a black hard case and inside that was the most beautiful Tyrolean air rifle I've even seen. It was a Beeman R8 with a custom stock and a fresh tune. A personal note told me who had done the work and how nice it shot.

This beautiful Tyrolean Beeman R8 was waiting for me when I returned home from the hospital.
As weak as I was, I had Edith hand me the rifle and I found that I could cock it. Oh boy! Here was a spring rifle I could shoot real soon, even when I couldn't cock most other air rifles. My friend, Mac, was still testing spring guns for me for several months as my strength returned, but that R8 was mine from the moment I first held it.
Edith and I were showered with gifts from the members of this blog when I got out of the hospital, and we were stunned at the outpouring. But that R8 is my favorite spring rifle because of how nice it is, how great it shoots, and most of all what it meant to me at a time when I could barely raise my head off a pillow.
What about the others?
Sure, there have been plenty of other airguns I'm thankful for. My Whiscombe has been a dream test bed for numerous experiments. Both the Benjamin Discovery and the Air Venturi Bronco are guns I personally was involved in developing. So, of course, they meant a lot. The AirForce Talon SS with a 24″ barrel is probably the gun I shoot more than any other…and you all know how I feel about the TX200! I could go on and on, but where do I stop? These guns have all been pivotal in my development as an airgunner.
I'm thankful
Back when I wrote The Airgun Letter, I allowed myself to get sucked into several bad arguments over trivial airgun issues. When we started this blog, I insisted on using a pen name rather than my own. I didn't want to spoil things with old baggage from the past. I also reinvented myself at the same time. I learned to curb my temper and to listen to what others have to say — even when it runs contrary to what I believe.
Some of you suspect this, but now I'll tell you all that Edith is half of Tom Gaylord, the writer. She keeps me on an even keel and lets me vent privately when I have to. She has a much better memory than I do and sometimes she suggests things that I wish I had thought of (and accept credit for when they show up in print). If I didn't have her, the veneer of who I am would quickly peel back and expose the unpleasantness underneath.
The airguns I have written about today were all pivotal in shaping my life as an airgunner. But it is Edith and you readers who have really had the greatest influence. Through thick and thin, you continue to inspire me and make me glad to have this job.
A few weeks ago, blog reader David Enoch asked me to write a report about the airguns that I never warmed to. I tried doing that and quickly found all the bad old stuff leaking out. So, I stopped writing and focused on only the good things that have happened with airguns. There are so many of them; and when I focus on them, I become the person I want to be.
Today's report came as a result of a disaster I had while testing a gun yesterday. Nothing went right, several optical sights failed and I put some new dents in the wall of our bedroom. I then sat on the couch complaining about everything. Knowing that I was losing it, Edith suggested today's topic. I hope this piece does some good for all of you because it has made my day! Happy Thanksgiving!
by Tom Gaylord, a.k.a. B.B. Pelletier
This topic was received well last week, so I'm doing the second list today. Several readers have reminded me of other gifts I should mention, and some of them will make today's list. If I don't list something you suggested, there's a reason. These are the things I recommend without question.
Stocking stuffers/small, neat gifts
Gifts in this category don't cost a lot but will have great meaning to airgunners. Some of them are things that shooters won't buy for themselves.
Air Venturi Pellet Pen and Seater
Someone suggested the Air Venturi Pellet Pen and Seater, and I have to agree. This is a great gift, and it's one that a lot of shooters won't buy for themselves.
EyePal Peep Sight Master Kit
The EyePal Peep Sight Master Kit is another gift that people may not think about; but when they have one, they'll love it. I chose the Master Kit so you can use it with both rifles and pistols (and bows if you're an archer, too). Even if you don't wear prescription glasses, the EyePal is a great aid for your safety glasses to sharpen your vision and make that front sight clear!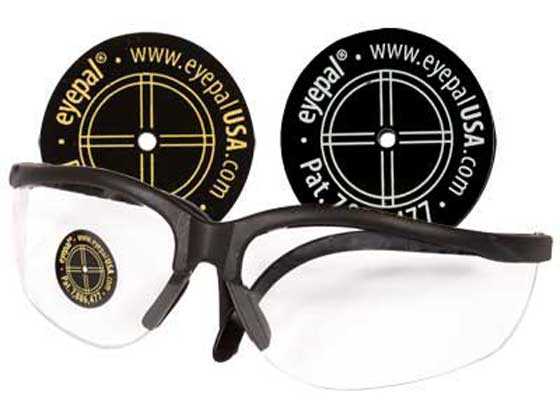 The EyePal makes the front sight appear razor sharp. Use it on prescription glasses and non-prescription safety glasses, alike.
Pellet selection
Here's a gift I'm putting in this section, although it will cost you some money. Pyramyd Air offers 4 tins of pellets for the price of 3. Your favorite airgunner has pellets he or she really likes, but they don't buy them all the time because they may cost too much.
Consider this gift similar to one of those fancy boxes of candies or Christmas smoked meats that are given this time of year. Nearly everybody likes them, but we don't spend money on them for ourselves. So, this is an opportunity to buy something your airgunner wants but will never buy himself. The one problem you have is finding out which pellets to buy. Rather than try and guess what your airgunner wants, I'm going to leave this up to you. You need to do a little investigation, maybe look at the pellets that he has on the shelf, or just talk to him and find out what he really wants but hasn't bought.
Gifts under $50
Crosman 357
For a pistol shooter the Crosman 357W is a great idea. It's a revolver, so you get multiple shots per loading; and for the money, it's an accurate little air pistol.
Walther Multi-Tac tactical knife
If your airgunner is a gadget junkie, you can't do much better than a Walther Multi-Tac tactical knife. It's a tool kit for your pocket. And it has a 440C stainless steel blade to cut whatever you need.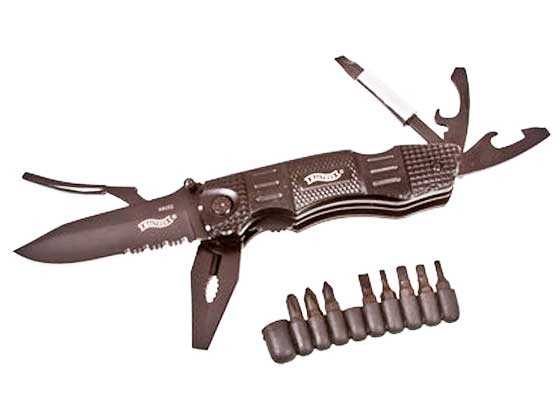 Walther's Multi-Tac knife is a toolkit in your pocket!
Walther Xenon Tactical flashlight
Can't have too many flashlights! Not when you need one! The Walther Xenon Tactical flashlight uses two CR123A batteries to cast a 60-lumen light. That means you get both good battery life and a powerful light.
Gifts under $100
Some of these gifts are just over the $50 mark, so look at them carefully. This category holds some of the most surprising values in airguns.
Legends Makarov
The Makarov from Umarex is a wonderful BB pistol that I just can't stop talking about. I bought one for myself after testing it! It's extremely accurate for a BB pistol, which means you really can use it for target practice. It runs on CO2, so don't forget to get some CO2 cartridges if you give this gun as a gift.
Simply one of the best BB pistols you can buy at the price, the Legends Makarov is accurate, well-made and inexpensive.
Crosman 2240
Another fine CO2 pistol is the single-shot Crosman 2240. It's a .22-caliber, bolt-action pistol that's powerful and accurate, plus it serves as the basis for many aftermarket modifications.
Ruger Mark I
The Ruger Mark I air pistol is powered by a spring-piston. It isn't very powerful, but it's a great companion for the handgun shooter who only wants to poke holes in targets and plink with a pistol that's easy to cock and accurate.
Stoeger X5 air rifle
The Stoeger X5 air rifle is a wonderful, youth-sized, spring-piston rifle that has enough quality to make my list. The trigger is a little stiff, but the accuracy is there. It reminds me of the Hämmerli 490 that is, sadly, no longer available.
Gifts a little over $100
I created this category for those items that are a few dollars over $100 but are still within the realm of economy. Sometimes, the things you want are just over the line — no matter where you arbitrarily draw it.
Shooting Chrony Alpha chronograph.
The Shooting Chrony Alpha chronograph is the instrument I use to document 98 percent of the work I do. I use it because it's small, portable and very reliable. Sure, there are reasons to use my Oehler 35P chrono, sometimes; but most of the time, this is my choice.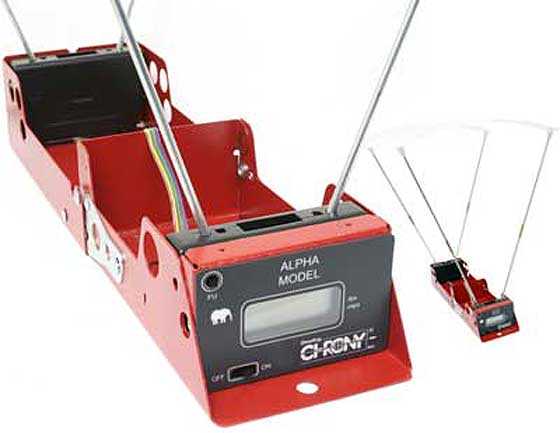 Though it's just $10 over a hundred, the Shooting Chrony Alpha has everything you need!
Daisy Avanti Champion 499 BB gun
I have to recommend the Daisy Avanti Champion 499 BB gun because it is the target shooter's dream. Where other BB guns will put 10 shots into three-quarter of an inch at 16 feet when all is right, this one will put 10 into a quarter-inch at the same distance. This is a shooter's tool, not a hunting gun or bragging-rights gun. Be sure to stock up on the special Avanti Precision Ground Shot if you get this gun because it definitely adds accuracy! And order some special 5-meter BB targets that are sized right for this gun!
IZH 60 air rifle
I am also going to put the IZH 60 air rifle on my list this year. Though the accuracy slipped when the gun's design was changed several years ago, this is still a delightful youth rifle that's easy enough for even smaller kids to cock. It has reasonable accuracy, and the sidelever design means that fingers can't be pinched in the mechanism like they would on guns having sliding compression chambers. I recommend the single-shot over the repeater for reasons of safety.
Daisy 953 TargetPro
I normally don't recommend combo guns, but I'll make an exception for the Daisy 953 TargetPro. It's a pellet rifle with enough accuracy to get you into the game without spending a bundle.
Gifts under $300
Gifts in this category start to take on the aura of personal taste. My recommendations may not be what your airgunner wants, so you need to find out if they are before you buy anything.
Benjamin 392 pump
This one is very personal. You airgunner will either like it or not. So, check first. The Benjamin 392 pump is the best multi-pump rifle going, these days. Its heritage dates back to the late 19th century, so there's a lot of history there. I also chose the .22-caliber 392 for its power; but if your airgunner only wants to shoot at targets, then the 397 is the same rifle and shoots cheaper .177 pellets.
Daisy Avanti 853
The Daisy 853 is right at $300, but its a great buy even at that price. It features a Lothar Walther barrel and has been used by millions of kids for competition in the decades it's been around. The trigger is rough, but there are several websites that tell you how to fix it. To get anything with better accuracy, you're going to need to spend several hundred dollars more.
Diana RWS LP8
Want an air pistol that shoots like a rifle? The Diana RWS LP8 is the one to get. It just may be the best value in a really good air pistol these days. It has plenty of power and is very accurate. The breakbarrel cocking is on the heavy side, but an adult male shouldn't have a problem.

For the price, the Diana RWS LP8 air pistol can't be beat.
Gifts without limit
Now, we can spread our wings a little. This is where many of the better airguns live.
HW 30S
Let's start with the HW 30S. You know this rifle as the Beeman R7 when it's in a different stock, but airgunners know the HW 30S has the same powerplant and the same adjustable Rekord trigger as the R7. If your airgunner likes the styling of the HW 30S, it's less expensive; but if he wants an R7, it's also a wonderful spring-piston air rifle.
Diana RWS 48
If you want a big bruiser spring-piston air rifle, the Diana RWS 48 is one I would recommend. And, I recommend it in .22 caliber, where you get all the power it can develop. The 48 is a sidelever that's surprisingly easy to cock, despite the level of power it delivers. It's also very accurate. One thing, though, the 48 is a big air rifle, so be sure your shooter knows what he's in store for. Definitely for adults, only.


Diana 48 sidelever from RWS is large and in charge!
TalonP air pistol
There's no other smallbore air pistol that can hold a candle to the TalonP air pistol from AirForce Airguns. It comes in .25 caliber and has 10 shots per fill at over 50 foot-pounds of muzzle energy! Many rifles can't equal it! When I tested it for accuracy, I got sub-one-inch groups at 50 yards. It's a hunting air pistol extraordinaire.

The TalonP pistol from AirForce Airguns leads the pack for power and accuracy.
Walther LGV Challenger
If you want a really fine breakbarrel spring rifle, you can't do better than the Walther LGV Challenger. I recommend the .22-caliber gun because it was so smooth when I tested it.
by Tom Gaylord, a.k.a. B.B. Pelletier
Today I'll show you more of the airgun show that was held in Roanoke, Virginia, last Friday and Saturday. I'm going to jump around just like you would if you walked the aisles at the show.
Let's begin at Larry Hannusch's table. Larry has been an airgun writer since the 1970s, and he has a great collection of fine guns. This year, he displayed some of his ball-flask guns, giving show attendees a chance to see airguns that no American museum has.

Not many people have ever seen this many ball reservoir airguns in one place. Larry Hannusch collection.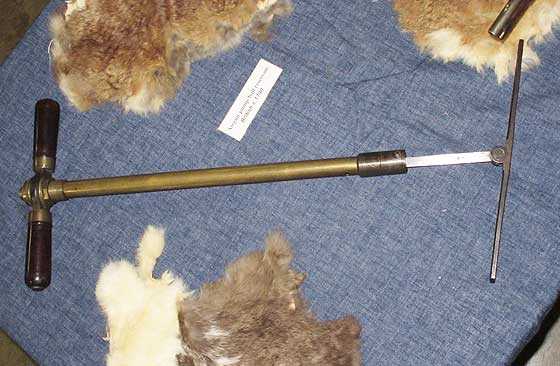 How do they fill those ball reservoirs? With vintage hand pumps like this one. Dennis Quackenbush and I experimented with these pumps and learned they can develop up to 1,000 psi when the right technique is used. And they don't have piston seals — just lapped steel pistons!
Larry also had a sales table with some fine vintage guns that were actually for sale. One was a BSF S54 underlever target rifle with a peep sight the size of a satellite dish. The one thing you can count on with guys like Larry is that they always bring out the rare and wonderful guns that most of us have only seen in books.
Across the aisle from Larry was Lloyd Sikes — the man who invented the electronic valve that went into the Benjamin Rogue. In fact, it was at a Roanoke airgun show years ago where Lloyd shared his idea for that valve with me. And the rest is history.
Lloyd has made quite a name for himself by producing Benjamin Marauder pistols with dual air reservoirs. His company, Airgun Lab, started making the P-Rod Double last year and then moved to the Disco Double — a Benjamin Discovery with 2 reservoir tubes. This year, he's bringing out a Disco Double with 2 aluminum reservoirs that, as far as I can tell, is as light or even lighter than the original Benjamin Discovery rifle on which it is based.
When I picked up the prototype lightweight Disco Double at his table, I was amazed! It can't weigh much more than 5 lbs.!
I'd promised to do a project with Lloyd last year and never got around to it, but this year a wonderful thing happened. A man who had purchased a new Discovery last year from Mac came to my table and wanted to return it. I explained that Mac had passed away, but then I thought that this might make the perfect rifle for a project with Lloyd. It was leaking, but that's not a problem because it will have to be sealed anyway after the conversion. And with the 2 aluminum reservoir tubes, I should get about twice the number of useful shots per fill. And that's a 2,000 psi fill, mind you.
So, I bought the gun and gave it to Lloyd for the conversion. As we talked and refined the details, I decided to also install a Marauder trigger on the rifle, which will give me what I always wanted — a single-shot rifle with lots of shots, a great trigger and superior accuracy. There — that's 1 of the 4 airguns I bought out of the way!


Mac sold this Benjamin Discovery at the show last year, and I bought it back this year. It's one of the early ones with a walnut stock, and it also came with the hand pump.
I was also located next to Ingvar Alm, a collector/dealer from Minnesota who always has wonderful stuff at these shows. He's one of the major contributors to the Blue Book of Airguns. I could spend an entire blog on just the stuff on his table; instead, let me share with you the one gun that really caught my eye. It's a dart gun from 1887!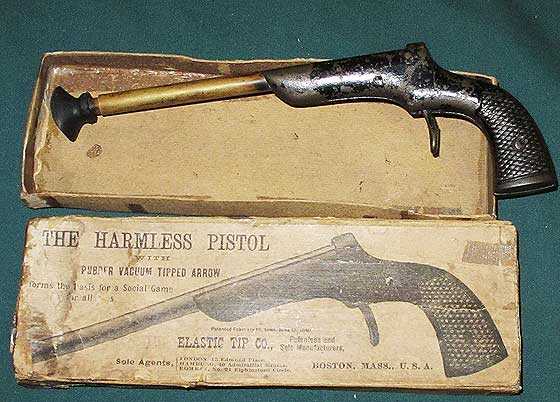 The "Harmless" pistol. Wouldn't you just love to see this at a Congressional hearing on toy safety today? This was on Ingvar Alm's table, and he let me load and cock it for this picture!
Lest you BB-gun collectors feel left out, there were also plenty of desirable guns that you love at this show. I saw at least one model 40 with a bayonet, and I believe there was also a scarce model 140 Defender on the same table.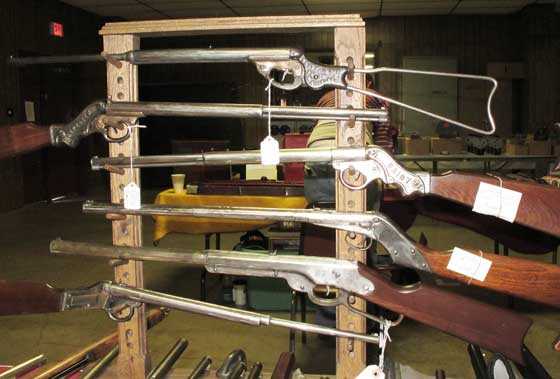 Yes, there were plenty of rare collectible BB guns at Roanoke, too. And the prices were just as reasonable as the rest of the airguns.
What's REALLY rare? How about a 1923 first model Crosman pneumatic with a front pump? There are seldom any at a show, but at this show there were at least 2! One of them had a price tag of $1,250, which is almost half what I've seen them bring in the past.


There were 2 of these 1923 Crosman front-pump pneumatics at the show, and both were for sale. This is something that's seldom seen.
Okay, I guess it was blog reader Bradly who asked if there were any air shotguns at this show. Yes, there were. I saw a Farco air shotgun on one table. That's the 28-gauge shotgun from the Philippines that Davis Schwesinger (the Roanoke show promoter) used to kill a wild pig several decades ago.

Gun on the left is a Farco air shotgun. Gun on the right is a Crosman 102 repeater. Yawn. That's what happens when you're surrounded by riches.
What guns did B.B. buy?
You already know about the Disco, so what other airguns did I get at Roanoke this year? The first one was something I just couldn't pass up. A Diana model 25 for $75! It's the model without the ball-bearing trigger and the cosmetic condition isn't that great, but it's all there and seems to have a powerful mainspring. I felt the gun was undervalued, so I paid a little more than was asked but still got a great bargain.


This Diana 25 was a real bargain! You'll see it in the future.
Before I came to the show, I was thinking about buying a BSA Meteor. I've always heard good things about them but have never pulled the trigger on one. This was the time.
At the show, I saw Meteors from $30 (junky) to $125 (excellent condition), and the average price was around $60. I bought one from Don Raitzer and will test it for you in the future.


This BSA Meteor was my only planned acquisition.
The last gun I bought was a flight of pure fancy. My money was mostly spent; but when I saw this rifle laying on the table I really wanted it — not because of its rarity or value, but just for the neatness factor.
It's a Falke model 70, and it's not much like the model 90 underlever I already have. This one is a breakbarrel that comes with an adjustable trigger and a barrel lock. The stock has been refinished, and the metal is mostly patina. But the rifle looks and feels solid. The dealer, Dave Bingham, said it reminds him of a Diana 27. It looks heavier and more powerful than that  to me, but I suppose we'll find out when I test it. I got it for $100, which I think is a wonderful deal.


This Falke model 70 was on the same table as the model 80. This one is intriguing and I will be testing it for you soon.
Davis Schwesinger, the promoter of the show, had several tables full of vintage airguns. I'm going to show just a few that convey what was there.

Dave Schwesinger's tables just went on and on. Here you see a Hämmerli Cadet, a VZ 47, a pre-war Diana model 30 and a Swedish Excellent. Where do you see airguns like these, except at shows like Roanoke?
Jan Kraner had a table displaying the most beautiful wood-stocked rifles. Most of them were not for sale, but they were a feast for the eyes. Jan uses them to showcase his talent as a stock maker, and believe me — it works!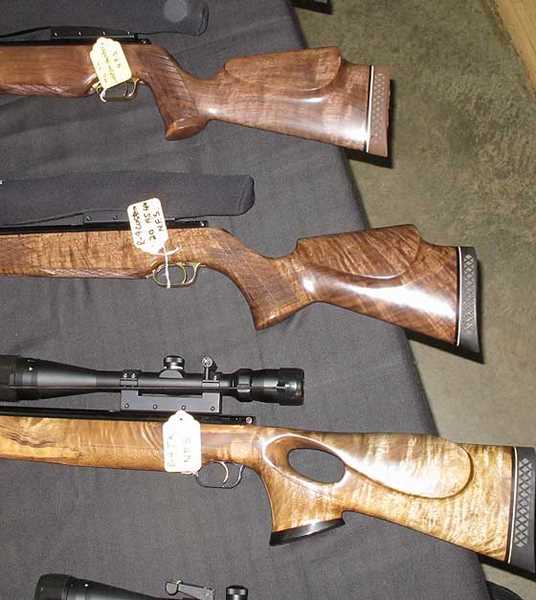 Jan Kraner's stocks stopped people in their tracks.
At last
I saved the best for last. In recent years there haven't been too many Sheridan Supergrade rifles showing up at these events. But this year John Ford had a nice one and the price was just $1,250. That's hundreds under what they have brought in recent years.

A Sheridan Supergrade for sale is a rare thing. And this one was affordable.
The show was over before I knew it, and another year had slipped by. This one was different, as my pal Mac wasn't there to share the excitement. But as I am reminded every time I go to one of these things — nothing is forever. We don't own any of these airguns. We're just their custodians for a time. In the future, these prized possessions of ours will be in someone else's collection. That's how we got them in the first place.
by Tom Gaylord, a.k.a. B.B. Pelletier
Every airgun show has a personality, and this year's Roanoke show was no different. It started slow. Dealers were slow to set up — enjoying talking with each other rather than getting everything ready for the doors to open to the public. That's because we got there at 8 a.m., and the doors weren't opened until noon. So, we knew we had time to converse and to see what everyone had on their tables.
I was seated behind Mike Reames' table. Mike is the man who made the swages I reviewed for you a while back. He always has interesting things on his table, and I took some photos for you to see.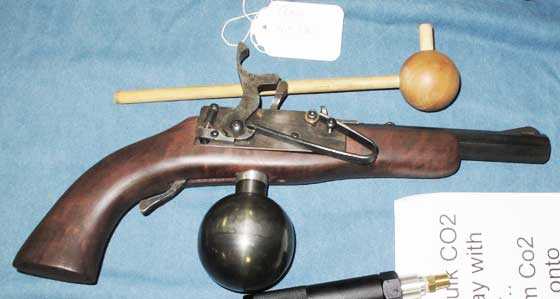 Mike Reames made this outside lock pistol with a ball flask. It's .45 caliber and is charged with CO2.
Each of Mike's creations is unique; and to my knowledge, he's one of only a very few people actively making modern ball flask airguns today. These are not mainstream airguns by any means; but if you want something modern that works and looks like it's 200 years old, he's the man to see.


Reames' ball flask long gun is another unique outside lock airgun that uses CO2.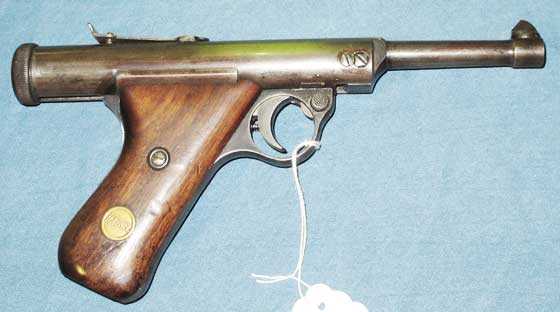 Well-worn Haenel 28 spring pistol was also on Reames' table. These airguns are all-steel and made like firearms. They're built to last forever!
One thing I noticed at this show was a large number of vintage guns had come out of the woodwork. I don't always see many of the older guns at some shows, but this year Roanoke was loaded with them! I'm talking about rare guns from the early part of the 20th century, and some from even earlier.
For instance, there were large numbers of first- and second-model BSA spring guns. BSA invented the model spring air rifle in 1905, and the early ones date from then to 1914. They look old and obsolete until you fire them and discover they perform a lot like the modern guns of today.
There was a special one on Mike Driskill's table. I thought it would be passed over by the crowd (a term I'm using loosely); but on the morning of day 2, our own RidgeRunner came to his senses and bought it. It needs some work, but they're about as complicated as a drinking straw and as rugged as a Harley.


This .177-caliber 1906 BSA underlever may look old, but it can be made to shoot like a modern air rifle. This one dates to one year after BSA first introduced the modern air rifle! Mike Driskill was asking $175! RidgeRunner bought it.
Not everything at this show was vintage, however. Dennis Quackenbush brought several big bore rifles and pistols for customers who had arranged to pick them up at the show, plus he had a couple guns that weren't spoken for. I photographed him unpacking his guns because I knew they wouldn't last long.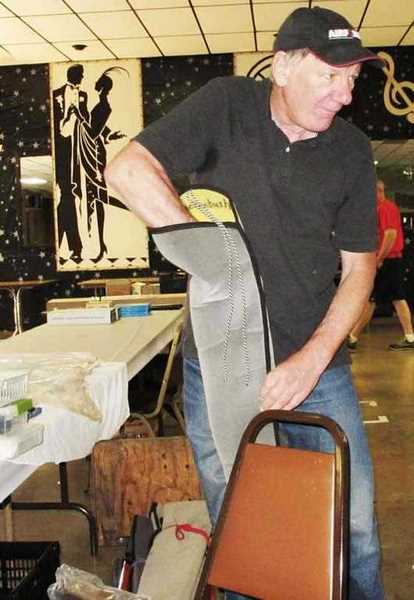 I photographed Dennis Quackenbush unpacking because I knew his guns wouldn't last long on his table.


Quackenbush had a .50-caliber Long Action (top) and a .308 Short Rifle for sale. These were not promised and could be purchased by anyone. They both sold within 2 hours of being unpacked.
Sure enough, when I saw him again a couple hours later, both rifles had been sold, along with 6 big bore pistols that he brought. One guy bought 3!
On day 2, Max, one of our blog readers who hasn't signed in yet, got a .458 Long Action rifle from Dennis. It was a rifle that had been ordered and delivered at the show. Man, was he smiling when the show was over!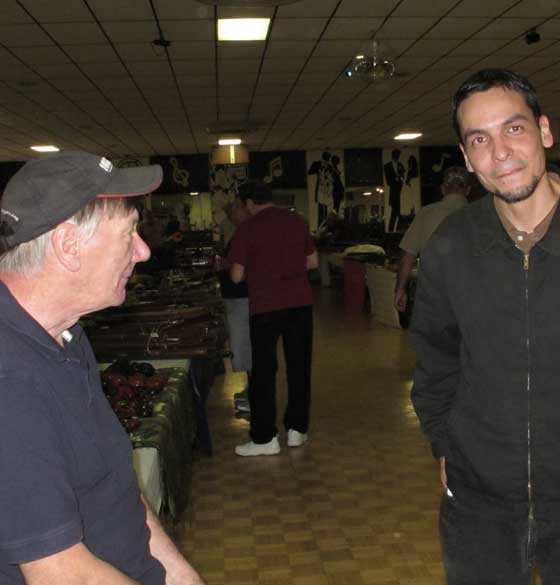 Max and Dennis Quackenbush finalize the deal for a .458 LA rifle.
This show's personality
I figured it out early on the first day. This was the show to attend for killer low prices on fine vintage airguns. Diana 27 rifles? I saw at least 4 of them, ranging from $175 to 250, asking price. But how about a Falke 80 to go with my Falke 90 that I displayed at the show? Dave Bingham had it on his table. Instead of the stock that has a cheekpiece, this one had a plain elm stock. It's believed there are fewer than 300 Falke 80s ever made, and fewer still in existence. Dave had a price of $800 on it, which gives me sort of a ballpark figure to use for mine…although, it's not for sale.


A Falke 80 at the same show as my Falke 90. Notice the absence of a cheekpiece on this one.
But the whole show was like that! How about a Walther LG53 with double-set triggers? The only time I've seen these displayed, they weren't for sale. But here was one for a very reasonable $500. Too many fine airguns — too few ATMs!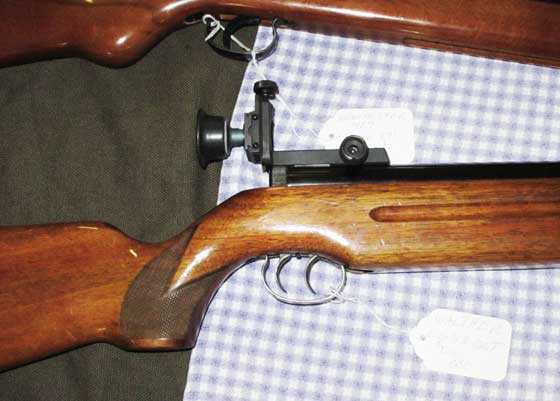 A Walther LG53 with target sights and double-set triggers. It was for sale!
Something new
All you Crosman pistol shooters have a new toy to obsess over. It's an adapter that allows you to connect an adjustable AR buttstock to many of the better Crosman and Benjamin air pistols such as the Marauder. But this device does more than just connect your gun to a stock — it allows you to set the length of pull, the cast-on or cast-off, the height of the butt in relation to the scope line and the cant of the buttpad. In other words, you can now fit the gun to yourself…and, with simple adjustments, fit it to your 9-year-old daughter!
Dave Rensing of www.rarmsinnovations.com invented this all-metal adapter to allow his 8-year-old son to shoot his Marauder pistol, and it works like a charm. The adapter is made of 6061 aircraft aluminum, hard anodized and attaches with no modifications or disassembly of the pistol required. Just attach it to the threaded hole that's already in many of Crosman's top-end air pistols!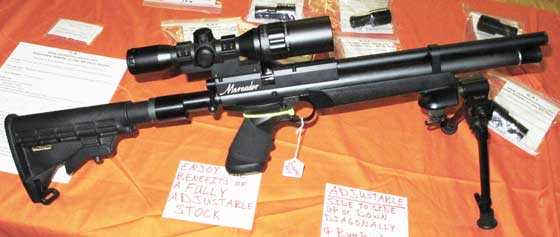 This adapter from R Arms Innovations allows you to connect a collapsible AR stock to several Crosman and Benjamin air pistols. It adjusts for a perfect fit for all sizes of shooters.
More power!
Want to shoot field target with a 150 foot-pound big bore air rifle? A club in Puerto Rico did, so they had Dick Otten of Rhino Targets (formerly After Hours Targets) build them some field targets that can take the abuse.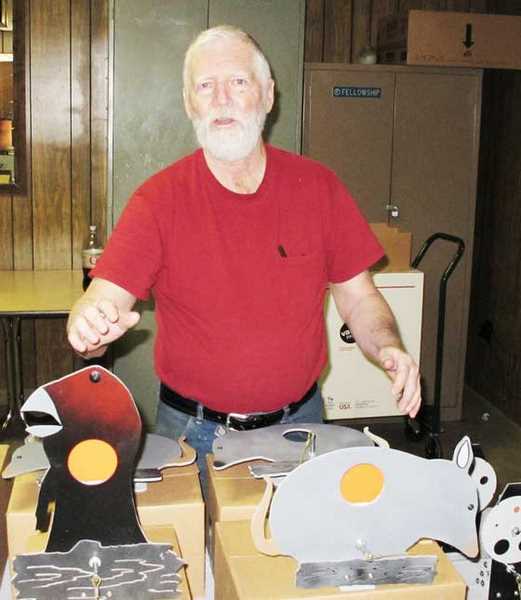 Dick Otten shows several big bore field targets he's made. They can take 150 foot-pounds!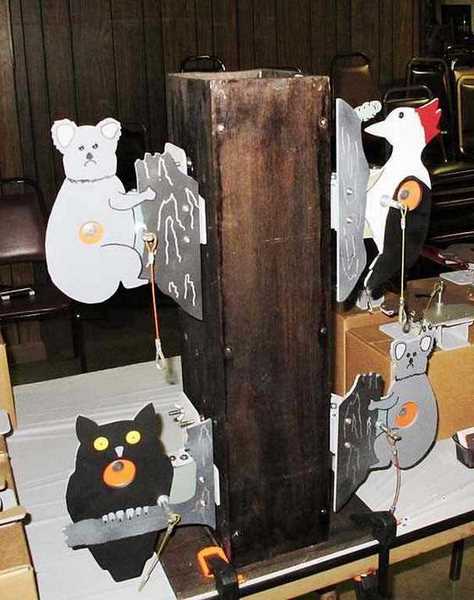 These Rhino Targets are for mounting in trees. They force shooters to shoot up. It's a special challenge.
Otten wasn't at this show last year due to illness. This year, he pulled out all the stops and showed many dozens of different innovative field targets. That crow of mine that you all marveled at a week ago is an Otten creation.
That's all!
No, there's a lot more to report, that's just it for now. The question isn't if there will be a Part 2, but if there will be ONLY 2 parts! This show was that good.
by Tom Gaylord, a.k.a. B.B. Pelletier
It's taken me awhile to get back to this pistol because I injured my hand, so I couldn't fill the Hatsan AT P1 PCP air pistol from the hand pump for a couple of weeks, but last Friday I was at it again — probably for the last time. You may remember that I discovered that the AT P1 likes a fill pressure of 3,200 psi — which is sort of ironic in light of several recent reports I've done. This time, I used the Hill pump to fill the gun to that pressure to see if there are 10 good shots on a fill. That was the problem before — the circular clip holds 10 pellets, but the gun didn't seem to want to shoot more than 7 of them on a single fill of air.
I decided that instead of wasting time with a lot of different pellets, I would concentrate on the one good pellet that I knew gave the best accuracy. That's the Beeman Kodiak. First, I filled the gun to 3,200 psi, then loaded the clip and inserted it into the gun. Someone asked me how I held the gun to shoot it, given that it's scoped with a Leapers UTG 3-9X40 AO rifle scope. The eyepiece has to be held within 2-3 inches of the eye in order to see the image. There's a way to hold the gun that uses the scope as one of the handles, and that's what I did. I photographed it for you, so you can see it as I describe the hold.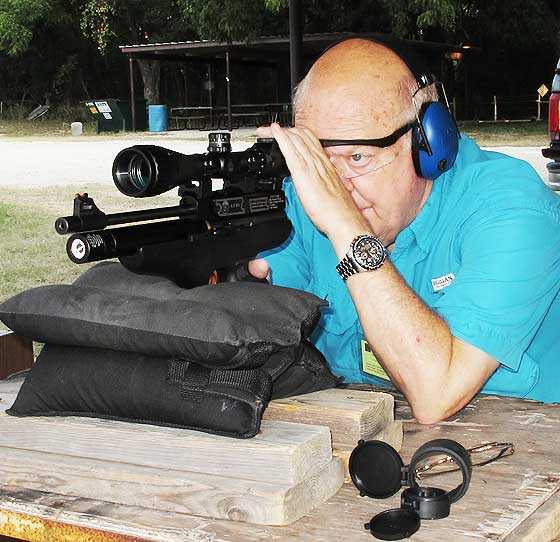 This is how I held the pistol on the bag. My hand is holding the back of the scope and positioning it close to my sighting eye.
I hold the back of the scope at the eyepiece and let my hand separate the rear of the scope from my sighting eye by the required distance. My hand is pressed against my safety glasses to maintain the separation. The weight of the pistol rests directly on the bag, so all my other hand does is keep the pistol steady. With this hold, I can squeeze the trigger without moving the gun.
This hold is one I learned while shooting the LD Mark I pistol from Tim McMurray. That's a Crosman Mark I Target pistol that Tim converts to add a longer bafrrel, a CO2 tank hanging down from the grip and a rifle scope mounted on top — just like this one. With the LD, I rested the external tank on my chest and held the scope like you see here. That gave me near-rifle accuracy.
The result is a steady hold — especially when you consider I'm shooting only 25 yards. I don't recommend holding a recoiling firearm pistol this way, but you can get away with it on a PCP.
First target
All targets were shot at 25 yards. The first target looked very good until the final shot. I could see that the pistol was grouping low and to the left, but all I was interested in was the size of the group. It could always be moved later with a simple scope adjustment. The group that formed looked very encouraging until the last shot, as I said. I could clearly see that one go high and into the center of the bull, ironically enough. But when I walked downrange to examine the target more closely, it wasn't as good as it had seemed. A line of four shots appears to the right of the main group, and they're strung vertically up to the center of the bull. The last one is the highest one. I never saw the other 3 shots in the string, so they could have been any of the preceding 9 shots. All I could see through the scope was the large group that formed at 7 o'clock on the edge of the bull.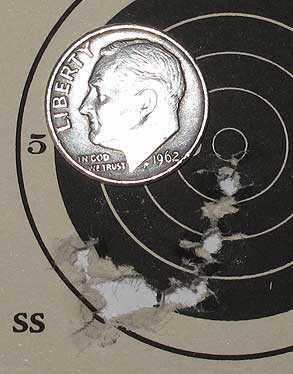 Ten Beeman Kodiak pellets went into this 0.699-inch group at 25 yards.
I guess this first target took the wind from my sails. It was no better than any of the previous targets shot with this pistol. My idea that a higher fill pressure would keep 10 shots in a tighter group was bogus. But I still had time on the range, so I thought something else was in order. I adjusted the scope higher and to the right just a little, to correct for where the Beeman Kodiaks had grouped. Then, I loaded the gun with 10 JSB Exact Monster pellets. The Monster pellet weighs 25.4 grains, making it even heavier than the .22-caliber Beeman Kodiak. And it's a JSB. I wondered if this might be the pellet that turns things around for the AT-P1 pistol.
Target 2
Alas, it wasn't. It turned things around, all right, but not for the better. The pellets were all over the place! In the end, 10 of them printed a group measuring 1.933 inches at 25 yards. It's more of a full-choke shotgun pattern than a group shot from a rifled barrel!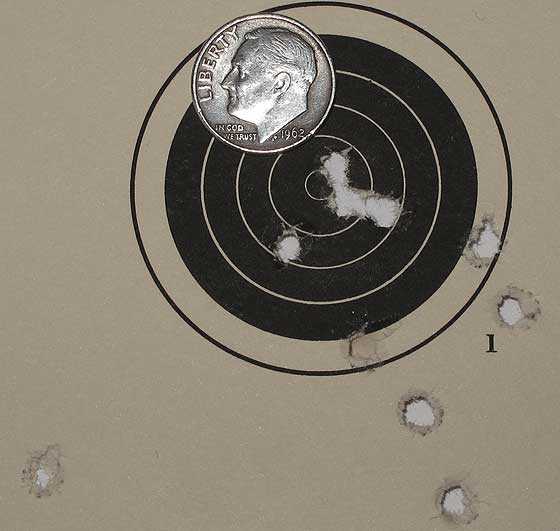 Ten JSB Exact Monster pellets went into this 1.933-inch group at 25 yards. Obviously, not the right pellet for this pistol.
Final target
Now, I was really downhearted. I switched back to the Kodiaks and give them one final try. The gun was, again, filled to 3,200 psi, and 10 more pellets went downrange. This time, the results were not as good as the first time. Ten pellets made a group that measured 1.211 inches between centers. It was higher on the target and also centered better, which proves my earlier statement that the group can always be moved by adjusting the scope, but things were not getting better.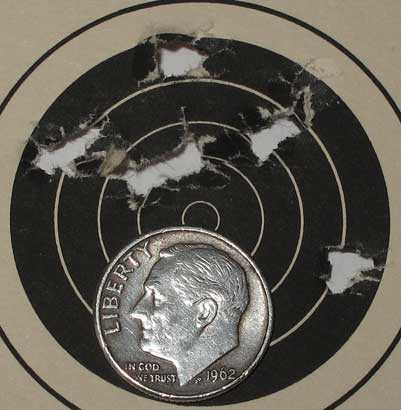 Ten Beeman Kodiak pellets went into this 1.211-inch group at 25 yards. Though they are positioned better on the bull, this group is almost twice the size of the first one.
Outcome and final evaluation
I put a lot of time and energy into testing the Hatsan AT-P1 pistol. The reward was not worth the effort, in my opinion. While I agree that Hatsan does know how to make a fine precharged air rifle, the AT-P1 pistol is not as refined as the rifles they make. It's too large and too coarse for what it delivers. I wanted it to succeed because there aren't that many nice PCP pistols to choose from, but the test results do not live up to the hope.
I think that if you're interested in an airgun like thi,s you should look at the AT-P2 pistol, which comes with a shoulder stock. That way, you won't have to learn how to hold the gun like I did here. As long as you know how few shots you're going to get on a fill of air (7) — and you manage that, you'll be fine.