Posts Tagged 'air pistols'
by Tom Gaylord, a.k.a. B.B. Pelletier
Today, I'll begin testing the R.A.I. AR adjustable stock adapter from rarmsinnovations.com with the UTG Pro 6-position adjustable stock attached to the Benjamin Marauder pistol.
Length of pull
Before we begin, I want to say a word about the length of pull you get with this adapter. I gave the range of lengths in Part 1 as 14-1/8 inches to 17-1/8 inches, and that turned off many readers. In terms of conventional stocks, that pull range is very long! But Dave Rensing, who invented this adapter, made it for his 8-year-old son and his 7-year-old daughter. The son uses it conventionally, but the daughter collapses the stock past the first detent so it's even shorter. Fully collapsed, the pull length measures exactly 14 inches but feels like 11 inches.
The AR adjustable stock is not very ergonomic. It stretches and contracts okay, but it doesn't move in the other directions. It's a one-size fits none kind of deal — at least from a rifle marksmanship standpoint. While it works very well for fast maneuvering and climbing in and out of tight places, your body has to adapt a lot to make it work.
On the other hand, when the R.A.I. adapter is added to it, the stock becomes almost universal! You can adjust the positions of the comb and the angles of the buttstock through a wide range of attitudes and make it fit almost anyone — young or old. I found when shooting from the bench that even the 15-1/8-inch pull I had initially set up was too short. I had to move the stock back until the pull was 15-7/8-inches before it felt natural again. However, in the offhand position, the 15-1/8-inch pull is the right one. That demonstrates why the adjustable stock works so well on this pistol! You can adjust it to whatever you need in the blink of an eye.
I discovered why this is. The AR adjustable stock has no width. The narrow tube is where your cheek rests, so your eye is closer to the centerline of the pistol than it would be with a conventional stock. The stock also does not drop at the butt, so your head thrusts forward farther than it might with a conventional stock. Instead of sticking up to rest on the cheekpiece, your head tilts forward, along the straight tube. Hence, 14 inches feels more like 11 inches. The Marauder's pistol grip and close trigger enhance this feeling.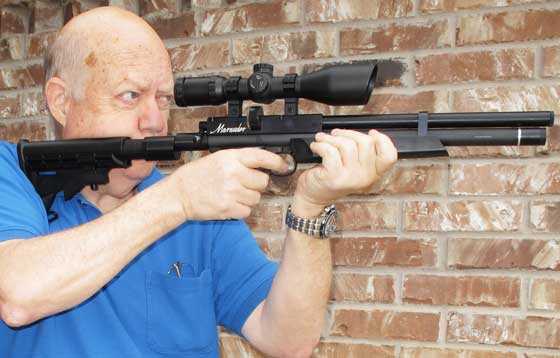 Here I'm holding the carbine offhand. The pull seen here is 15-1/8 inches, and yet the rifle feels perfect. You can see that my head has gone forward on the stock because it's so straight.
Scope and mounts
I wanted to test the pistol with a really good scope; and the last time I tested the Marauder  I used a CenterPoint 3-12X44 compact scope. Leapers was making CenterPoint scopes back then, so this time I attached a UTG 3-12X44 compact scope. My scope is older than the one I linked to, but the optics and overall size are the same. Not only does this scope fit the carbine very well, it gives a crystal clear sight picture that makes aiming so easy.
I needed to get the scope high off the receiver because the Marauder pistol has a circular 8-shot magazine that sticks up above the receiver top. You can see it in the above photo. Also, the stock's straight line puts my head higher than it would normally be. So, high scope rings are in order. I selected a pair of BKL 30mm high rings that have a single-screw top strap. The Marauder pistol doesn't recoil, so these rings can be made thinner and still be strong enough to hold this scope. Once they were mounted, I noted they brought the scope's exit pupil directly to my eye, making them the perfect height.
Testing the Marauder carbine
I tested this Marauder pistol extensively, back in 2010/2011. I already knew the right fill pressure (2,900 psi), the best pellet (.22-caliber Beeman Kodiak) and the effective number of shots per fill (32). Since it has an 8-shot magazine, I shot 8-shot groups instead of 10.
Sight-in went quick, and then I backed up to 25 yards and started shooting. The first group of Kodiaks was the second-best of the session, putting 8 into 0.554 inches. Looking back at the tests I did years ago, I wasn't shooting as well on this day as I did back then. I shot a total of six 8-shot groups, and the largest one was 0.607 inches, while the smallest was 0.504 inches between centers.

The first group was 8 Kodiaks into 0.554 inches at 25 yards.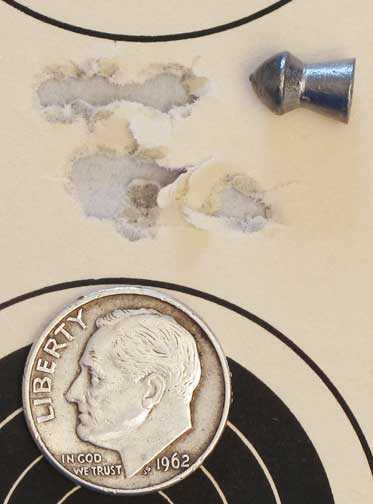 The worst group of the day was 8 Kodiaks in 0.607 inches at 25 yards.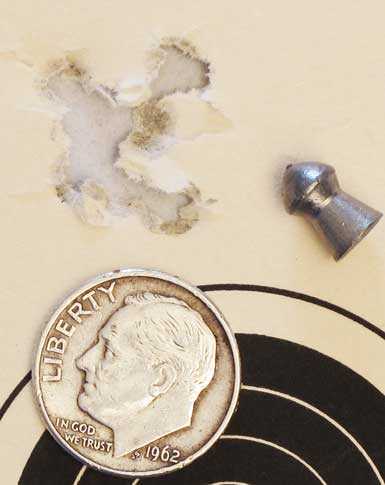 The best group of the day was 0.504-inches for 8 Kodiaks at 25 yards.
While these groups are okay, they aren't as small as the groups I shot previously. I don't think it was me or the gun. In this case, I think it was the pellet. I used a different tin of Kodiaks in 2010, and they grouped much tighter in this pistol than these did. The best group back then was 0.405 inches between centers. Maybe they had larger heads, or maybe they were just different in some unquantifiable way.
Other pellets
I tried a number of different pellets in the Marauder pistol, but none of them did very well. JSBs of various weights, which I thought would do well, sprayed all over the place. I know from testing the gun that it wants a fat pellet, and the Kodiak is a good one for that. It's slow, at an average 584 f.p.s., but even at that it produces about 16 foot-pounds of muzzle energy. That's pretty good for an air pistol! Certainly enough for some hunting and pest elimination.
The rest of the test
I plan to take this pistol to the 50-yard range, so you'll see the results of that. But I don't think that's quite the right way to test the R.A.I. adapter and adjustable stock. We already know how well the pistol performs. Now, we want the focus to be on the adapter and the stock.
Maybe I can put the gun in the hands of some other shooters and see how well it fits them. Perhaps, that's the best way to evaluate this item. I don't know, but I guess we'll see.
by Tom Gaylord, a.k.a. B.B. Pelletier
Blog reader Kevin asked me this question recently, and I embraced it because I usually don't even have time to think about which airgun I would prefer to shoot. There's always another blog, a feature article and 5 other deadlines pressing on my time…so thinking like this is not a luxury. It's a fantasy! Then, Kevin asked this question and "forced" me to stop and think about it for today's report. Ahh! Happy Friday!
The first gun that pops into my head when I ask this question is the Diana model 27 rifle. It's just such a simple, uncomplicated airgun that I guess it serves as my happy place. But as I think about it, other guns pop up. The Air Venturi Bronco, the Falke model 70, the Diana model 25 are 3 more that come to mind immediately. They all share the model 27′s chief attribute — ease of operation. In short, they're all fun airguns.

Diana's model 27 breakbarrel is so light, smooth and easy to operate that it epitomizes everything that's good about airgunning in my eyes.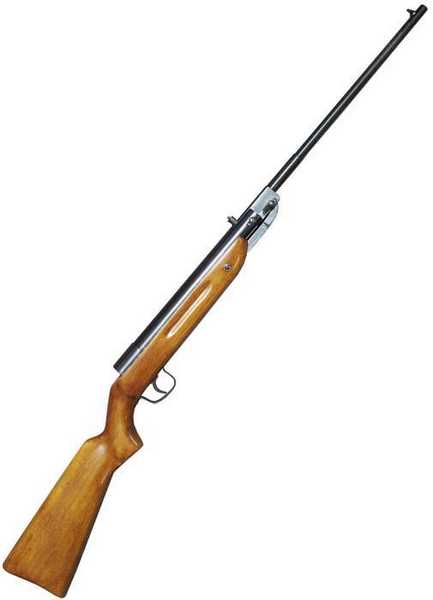 Falke model 70 is another vintage breakbarrel that's light and smooth like the Diana 27.
To take the fantasy a little farther, have these guns always been the ones that do that, or have there been others? Yes! There have been others!
My straight-grip Webley Senior pistol is exactly like the Diana 27 in this respect. It's small and easy to operate. I still own this pistol, although there's seldom any time to actually shoot it. But it's right there in the drawer where I can put my hands on it whenever I want. I guess that's good enough. I guess it will have to be.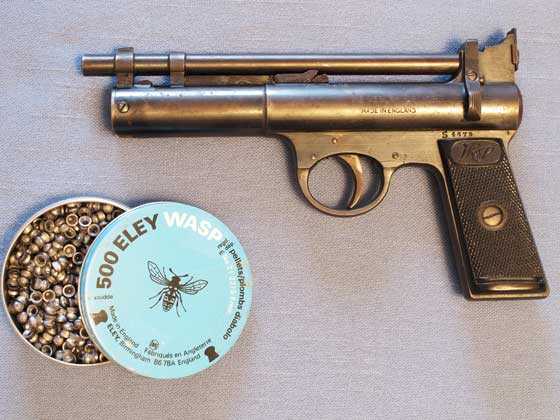 I've owned this straight-grip Webley Senior since the early 1970s. It's easy to cock, has a nice trigger and is fun to shoot. Not terribly accurate, but it's one of those rare guns I let slip by because everything else works so well.
When I think a little longer and harder, my Beeman R8 pops into view. It comes in later because it has a scope, and scopes do complicate things. So do target sights, but my Walther LGV Olympia 10-meter target rifle now comes to light. And with it comes the new .22-caliber LGV. The target rifle took longer to pop up because it's a heavy gun. The .22 took longer because of its power. When I want to play, power is the farthest thing from my mind.
Firearms?
Kevin didn't ask me what my favorite firearms were; but since this is Friday, I'll take a little license and include them, as well. Right now, my new PO8 Luger is a favorite because it's accurate, recoils very little and it eats my handloads like they were candy! And when I think of that gun, I cannot overlook my Ruger Single-Six in .32 H&R Magnum. It has great power and almost no recoil. For cutting out the center of a bullseye, that little Ruger wheelgun is a dream.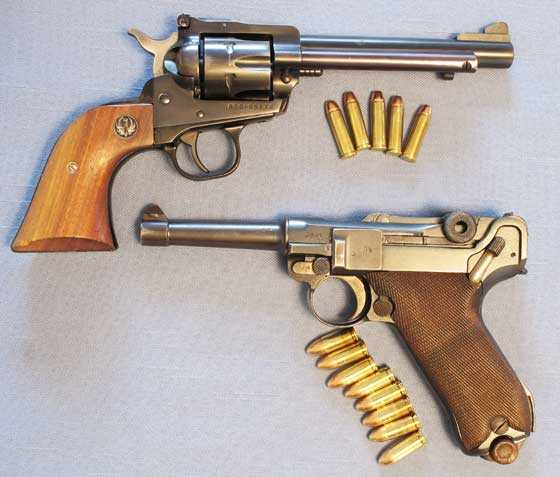 The Ruger Single Six is chambered for the .32 H&R Magnum. It's light, yet very powerful and will out-penetrate a .357 Magnum on a steel target. The 1917 Luger is such a smooth shooter that it's like eating peanuts — I can't stop! Both guns are very accurate.
Then, I think of my O3A3 Springfield. It's one of the few military rifles that gives me an honest sub 2-inch group at 100 yards. If it didn't recoil so much, I'm sure it would have popped up even sooner.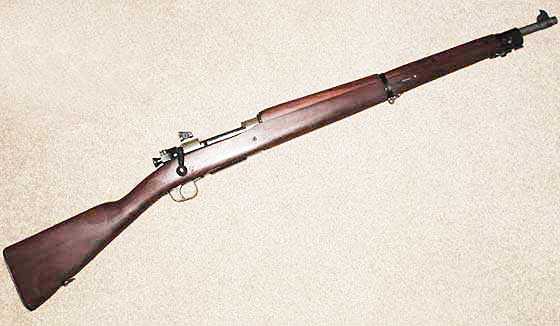 This O3A3 Springfield will smack you with recoil when you're shooting full-house loads. The short stock gives it a running start at your shoulder. But the accuracy is stunning!
My M1 Carbine is also a favorite — not for its accuracy, which is just average — but for the fact that it drops the empty cases on top of the shooting bench! Most autoloaders throw their cases a country mile, but this little sweetie piles them up for me. With more training, I'm sure I can get it to put them back in the box!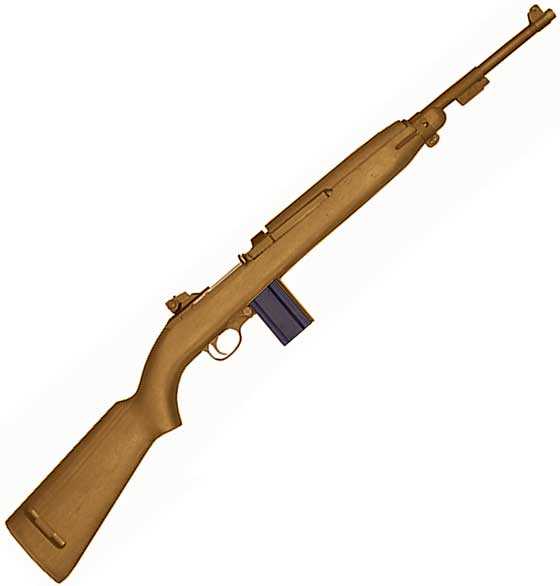 My M1 Carbine is well-behaved. Next, I'm going to teach it to put the fired cases back into the box!
Guns I wish I still had
Now comes the Great Lament — the ones that got away! I had a Bernardelli Baby in .25 ACP that would put 3 shots into the bottom of a soda can offhand at 30 feet. Most .25s are lucky to hit dinner plates at that distance, but this little pistol was a good one. I let it get away. I recently bought another Bernardelli Baby in the hopes of doing the same thing. Alas, this one is a dinner-plate special.
Ruger .44 Magnum Blackhawk with 10-inch barrel
They're very collectible now; but when I had my 3-screw Ruger Blackhawk, they were just good guns. I was too stupid to know that the one I had was an exceptional shooter. I figured I could always get another one.
Custom .458 Winchester Magnum
I have written about this rifle many times. I shot it with a 550-grain cast lead bullet, and it would put 10 shots into less than 2 inches (outside measurement) at 100 yards. It was like owning a target-grade 45/70. Stupid me — I thought I would always be able to find another one just as good. Haven't yet!
What kind of shooting do I like to do?
I'm pretty easy to please. I like whatever kind of shooting I happen to be doing at the time — usually. The things I hate are magnum spring rifles that buzz like bottles of hornets, slap me in the face and have no accuracy. I also disdain black rifles that can't group in less than 3 inches at 100 yards. In fact, I dislike almost anything that isn't accurate.
I enjoy shooting a .45 Colt Single Action Army with accurate loads and feeling the plow-grip roll in my hand during recoil. I like shooting a nice 1911 and feeling the slight burp of recoil when I hold my thumb over the manual safety. I shot a Walther P38 recently that had a nice trigger and is very accurate. My experiences with P38s aren't that good, but this one was memorable. I could burn up a lot of 9mm ammo in that one.

When I came home from the hospital several years ago, I received this Single Action Army as a gift from the readers of this blog. It is a favorite of mine because it mimics the feel of a Gen 1 Colt perfectly!
Same for the PO8 I got for Christmas. The ergonomics are legendary and the trigger is extremely good for a Luger (their trigger linkages usually make for poor triggers). My handloads are moderate enough that I can shoot this pistol for the rest of my life and not put any wear on it!
I enjoy holding a 10 with a target air pistol and seeing the pellet hit the pinwheel. I love seeing 10 shots from an accurate rifle sail through the same hole at 100 yards, knowing the hole they made is smaller than half an inch. I love shooting 5 shots from a 10-meter rifle and seeing a group smaller than a tenth of an inch.

Holding a 10 with a pistol is very enjoyable!
I love shooting my Daisy Avanti Champion 499 offhand and making quarter-inch groups. My shooting buddy Otho bought one for himself this past December and has been doing the same thing ever since.
I enjoy shooting a Garand and hearing the shot go off but not feeling the recoil. I know it's there, but the push is so slow that it doesn't seem to count. The same holds true for my .357 Magnum Desert Eagle. It's got enough power to drop a steer, but the soft recoil feels like a 1911 shooting +P ammo.
Best of all
But the thing I like above all is when I solve some problem of inaccuracy and turn a bad gun into a real shooter. It doesn't happen as often as I'd like, but from time to time I do hit one out of the park. I'm hoping to do that with my Ballard someday. And maybe my Meteor, as well.
by Tom Gaylord, a.k.a. B.B. Pelletier
Wives, I want to warn you — today, I'm going to be The Great Enabler! Last year, I was sent a product to test for Pyramyd Air — an AR stock adapter for certain Crosman pistols by R.A.I. It lets you turn a pistol like the Benjamin Marauder into a carbine by adding an M4 telescoping stock to the back of the gun.
Why?
But why would you want to do that? Well, Dave Rensing, the owner of R. Arms Innovations — rarmsinnovations.com — wanted to do it so his young son could shoot his Marauder pistol. The big pistol is heavy for a youngster, especially when it has a scope mounted; but with an adjustable carbine stock, the youngster can size it to fit and then rest it on any convenient place and shoot it like a rifle. And because the M4 stock adjusts for length of pull, Dave can adjust it for himself in seconds. If 2 or more people can shoot the same airgun, the $400 price tag gets spread around and diluted.
The Marauder pistol does come with a factory shoulder stock that turns it into a carbine, so what does this adapter do that the factory stock doesn't? It all comes down to adjustability. The R.A.I. adapter allows the adjustment of the stock to a wide range of positions that should fit most shooters. Not only is the pull length adjustable because of the M4 extendable stock, you can also raise and lower the stock line (the amount of comb drop), which affects the height of the butt; and you can have a wide range of cast-off and cast-on stock positions (where the stock angles away from you or toward you). And it doesn't end there. You can also rotate the angle of the butt from straight up and down to where the toe is slanted in toward you or out, away from you.
The R.A.I. adapter helps make the Marauder pistol (and some others others I'll mention later) into a small carbine that fits the shooter. And let's not forget that it attaches to a telescoping M4 stock. What that does will differ with each brand; but for this test, I'm mounting a UTG PRO 6-position mil-spec stock assembly that has 6 different lengths of pull. On my test pistol, the length of pull runs from 14-1/8 inches to 17-1/8 inches. This is a rare occasion where I find the length of pull is adjustable to my liking!
The R.A.I adapter
The R.A.I. adapter is made in 3 pieces. Two are machined aluminum, and the third is the bolt that holds everything together, plus attaching it to the gun.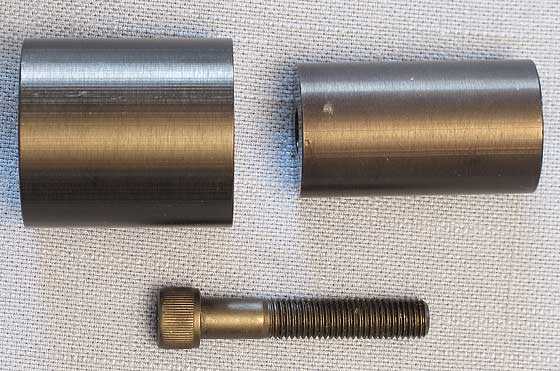 The R.A.I. adapter consists of these 3 parts.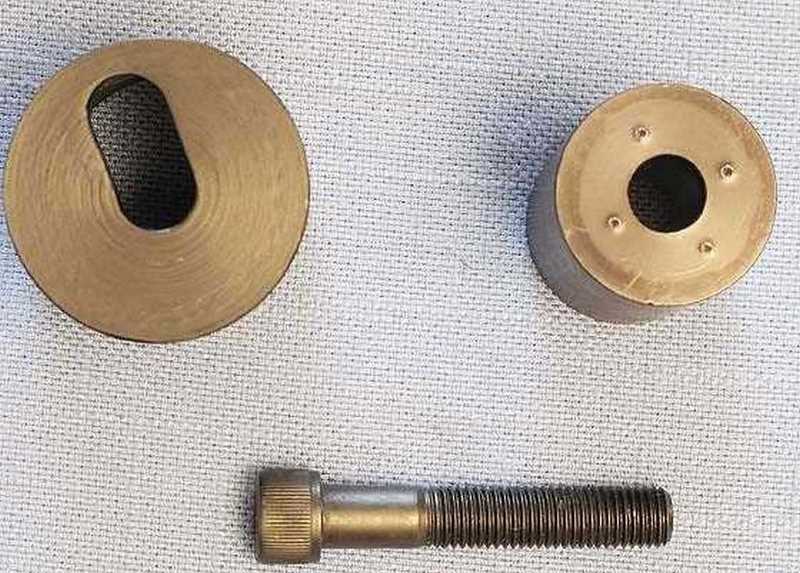 This view reveals the essence of the R.A.I. design. That elongated hole, which can be positioned at any angle around a full circle, allows the smaller piece to slide out to the edge of the larger piece.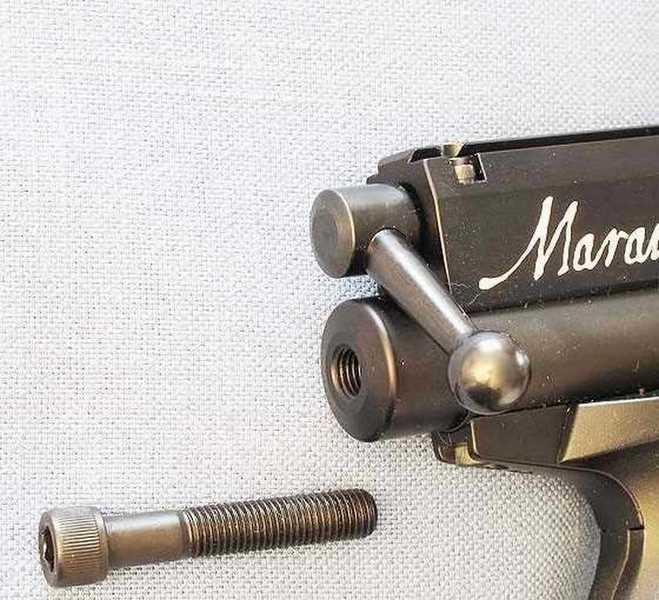 The bolt fits through both machined pieces and threads into the hole at the back of the Marauder.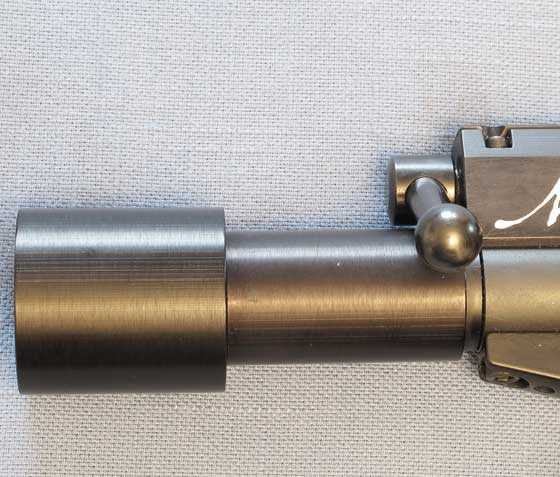 Here, the adapter is installed. The bolt runs through both machined pieces and fastens them to the pistol. The smaller piece fits over the Marauder end cap.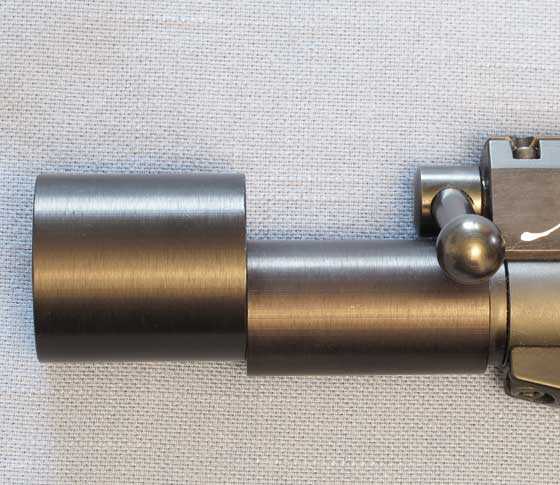 That elongated hole in the large piece allows the adapter to be rotated up.

Here the adapter is shown rotated down. It can be rotated to any position around a full circle!
The stock
Now that you understand how the adapter works, let's look at the stock that attaches to it. I used a UTG PRO mil-spec stock assembly that has 6 positions for length. The mil-spec designation means the stock tube size conforms to military drawings.
This stock comes from Leapers as a complete package that's ready to install. The buffer and buffer spring are shipped inside the stock but are not needed for the airgun application. The flange that locks the stock to the AR receiver to prevent it from rotating on the firearm can also be removed.

The Leapers UTG extendable AR stock comes complete and ready for an AR. The buffer, buffer spring and stock flange can be eliminated for this application.
When the stock is screwed into the adapter, the castellated locknut that tightens the stock can be used to lock it in any orientation you want. Regardless of how the adapter is positioned, the stock can be snugged down. This makes the R.A.I. adapter a very adjustable item!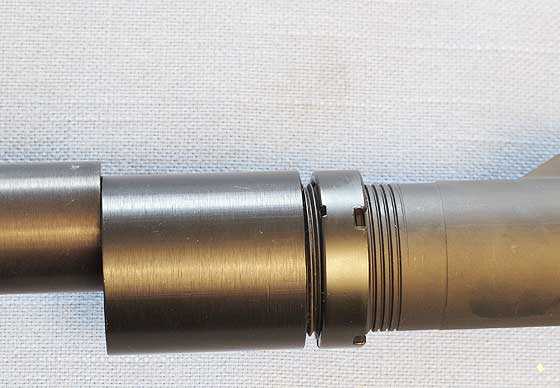 This castellated locknut allows you to lock the stock in any position. The adapter can be rotated however it suits you, and the stock can then be locked to it in any position.
I found this adjustability to be a blessing! As I've mentioned more than once, I usually have to adapt to the rifle I'm testing because not many rifles adjust. Most stocks are too short for me, and most combs are too low. I've learned to put up with just about anything to get the job done, but it's rare that I get to shoot a rifle that actually fits me. This R.A.I. adapter may change that with the Marauder pistol.
I've now adjusted the stock so the gun comes up fast and feels fine against my shoulder. I won't know for sure if I have it adjusted right until I shoot the carbine several times — so guess what's coming?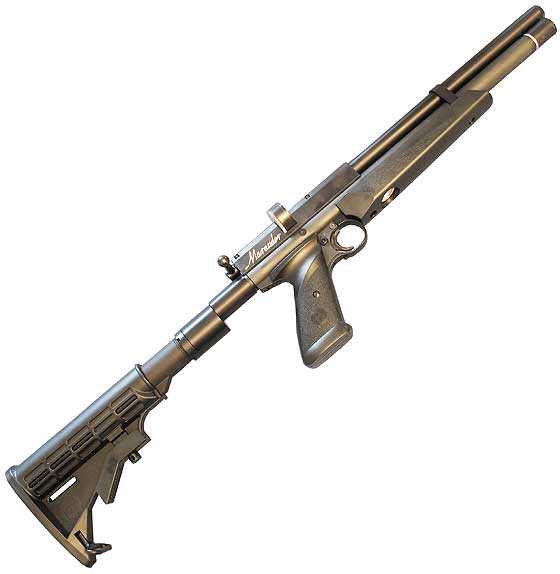 With the stock mounted, I find that I can position it exactly as I like it. This might work!
I was surprised to find that the stock's pull was 15-1/8 inches when I had it adjusted the way I like. I always knew that I liked a longer pull, but this was even longer than I'd suspected.
I also have the comb's drop set at the maximum; but since this is a straight-line stock, it's perfect. The cast is set straight for me. And I have the toe of the butt canted into my collarbone. It will require some shooting to establish if this is the best fit for me, but right now it feels good.
What else will it fit?
Besides the Benjamin Marauder this adapter also fits the Crosman Silhouette pistol, the Crosman 1720T PCP Target air pistol, and the Benjamin Marauder Woods Walker. These PCP pistols are all expensive, so the R.A.I. adapter offers a way to expand the utility of each of them across a wide spectrum of shooters.
Is it worth it?
The R.A.I. adapter costs extra, and so does any extendable AR stock you'll need to purchase with it. The Marauder already comes with a shoulder stock, so is this setup worth the extra expense? It is if you want your carbine to fit a lot of different shooters. If you want to share your carbine with your wife or your children, then this adapter makes that possible, with the gun adjusting to fit everyone. It's also something to consider if the regular stocks don't fit too well. I can't say this one is universal, but it does cover a pretty wide ranges of needs.
What's next?
This accessory is unlike what I usually test. I'll be shooting the Marauder pistol to see if I like how the stock makes it shoot for me. That's a little different than my normal type of test, but I think it should be very interesting and perhaps even informative. Stick around — there's more to come!
by Tom Gaylord, a.k.a. B.B. Pelletier
Today is a special test of the C96, requested by blog reader RidgeRunner and seconded by several others. You want to see if the pistol will be more accurate with Daisy's Avanti Precision Ground Shot, which is made expressly for the Avanti Champion 499 BB gun. More accurate than what? More accurate than the best BB tested in Part 3, which turned out to be the Daisy Premium Grade zinc-plated BBs that shot the tightest groups with this pistol?
Velocity first
We know that the Daisy Premium Grade BB averaged 395 f.p.s. with a total velocity spread of 18 f.p.s. (from 386 f.p.s. to 404 f.p.s.). RidgeRunner suspected the Precision Ground Shot would be faster in this pistol because it's usually slightly larger and also more uniform. So, I first shot it over the chronograph.
Avanti Precision Ground Shot averaged 381 f.p.s. on a fresh CO2 cartridge. The velocity spread was 19 f.p.s., with a low of 371 f.p.s and a high of 390 f.p.s. The spread was 1 f.p.s. larger with this shot than with the Daisy Premium Grade BBs, and the average velocity was 14 f.p.s. slower. So, that part of the theory didn't test out.
On to the accuracy test
I offered to do a blind test, but RidgeRunner trusted me to try my hardest with each BB: and that's good because there's a definite difference in appearance between the Premium Grade BBs and the Precision Ground Shot. The latter are not as shiny and appear more silver than steel in color than the Premium Grade BBs. I would have known which BB I was shooting.
The distance was the same 5 meters that was used for the first test, and I used the back of a chair to steady my hands as I held the pistol, just like I did before. This resulted in a very stable hold for every shot.
Daisy Premium Grade BBs
I shot 2 groups of 10 with each BB. The first group of Daisy Premium Grade BBs measured 1.115 inches between centers. Two BBs landed outside the black bull. The second group measured 0.644 inches between centers. That's almost half the size of the first group, so you can see how much latittude there is with BBs — even at 5 meters.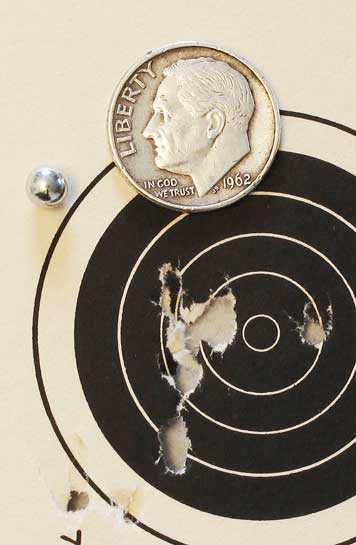 Ten Daisy Premium Grade BBs went into this 1.115-inch group at 5 meters.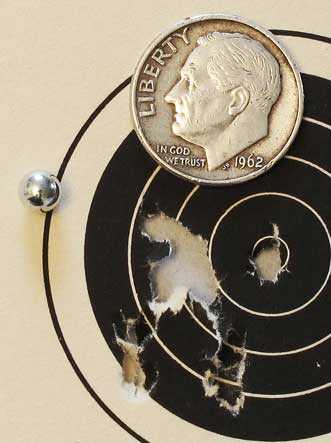 These 10 Daisy Premium Grade BBs went into a tight 0.644-inch group at 5 meters. This is the second-best group in this series.
Avanti Precision Ground Shot
Now, it's time to test the Avanti Precision Ground Shot. This shot is ground to work best in the 499 BB gun, only. But you readers wondered if it would also be more accurate in the C96 BB pistol. To test that theory, I shot another 2 groups of 10 shots each at the same 5 meters. The first group measured 0.954 inches between centers. One BB was outside the black, and 2 more were right on the edge.
The second group I shot with this ammunition measured 0.556 inches between centers. It's the smallest group of this session and would seem to lend credence to the Precision Ground Shot being more accurate than the Daisy Premium Grade BBs. However, the difference in group sizes of the 2 different BBs is not so great as to be overwhelming. Yes, both groups with Precision Ground Shot are tighter than the corresponding 2 groups made with the Daisy Premium Grade BBs, but the differences are not large. I don't think they justify shooting the Precision Ground Shot in the pistol since they cost roughly 2.5 times more.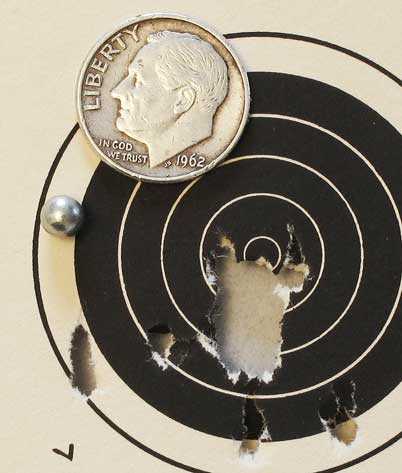 These 10 Daisy Avanti Precision Ground Shot went into a 0.954-inch group at 5 meters.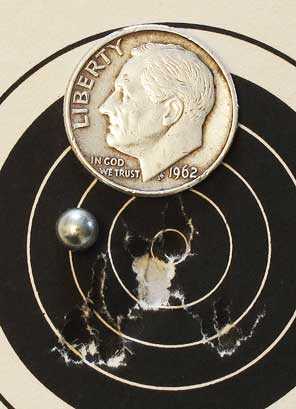 These 10 Avanti Precision Ground Shot went into an ultra-tight 0.556-inch group at 5 meters. This is the best group in this series.
Conclusions
The Avanti shot went slower than the Daisy Premium Grade BBs and also varied more. However, the difference wasn't much in either category.
The Avanti shot also appears to be slightly more accurate than the Daisy Premium Grade BBs. Again, the difference is very small, but it is there.
I'm surprised by these results. I predicted the Avanti shot would be faster because of its slightly larger size, but that it wouldn't be any more accurate. So, I was wrong on both counts. I don't think the difference between the two types of ammunition weighs in favor of using the Avanti shot in this gun, but it's really a call the owner of the gun needs to make.
My thanks to RidgeRunner and others who asked for this test.
by Tom Gaylord, a.k.a. B.B. Pelletier
Today, we'll look at the accuracy of the Legends C96 CO2 BB pistol, and I can sum it up in a single word: Spectacular! Those who like accurate BB pistols will want to put this one on their list.
I shoot all BB guns at 5 meters, which is about 16 feet, 5 inches. While that sounds incredibly close, it is the distance at which the Daisy National BB Gun Championship is shot; and if it's good enough for the champions, it's good enough for me. Besides, testing all BB guns at the same distance gives consistent results that can be compared across many tests.
I shot this test with my forearms rested on the back of a wooden chair, and the gun held in 2 hands. That eliminated as much of me as possible, giving the pistol a fair chance to shoot its best.
I used 50-foot smallbore rifle targets whose black bulls are almost 1.5 inches across. At 5 meters, they make perfect aim points for open sights. The C96 has a tapered post front sight and a V-notch in the rear. When the target is illuminated with 500 watts of halogen light, the sight picture becomes sharp and crisp, and sighting can be precise.
Daisy Premium Grade BBs
The first target was shot with Daisy Premium Grade zinc-plated BBs. The very first shot hit at the extreme bottom of the paper target, and I discovered one of the great features of this pistol. It has a tangent rear sight like the firearm it copies, and it was easy to raise the rear notch up just a bit. By sheer luck I got the elevation almost perfect on the first try, so I left the sights alone after that.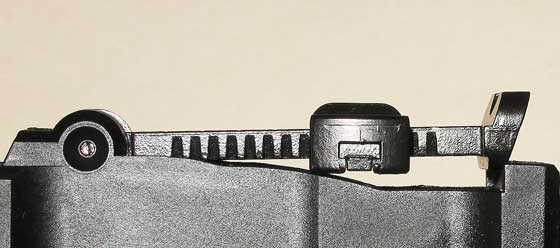 The rear ramp is easy to elevate, just like on the firearm. You can see the sloped surface the sight adjuster rides up as it moves forward.
The next 9 BBs went into a shockingly small group, so I loaded one more BB into the magazine to make up for the first shot that was low. When I fired it, it was the only Daisy BB to hit outside the black after the sight adjustment. The 10-shot group measures 0.852 inches between centers. I think you'll agree this is a very nice group of 10 from any BB pistol!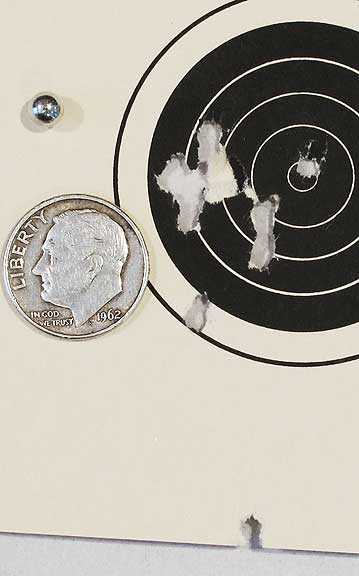 Ten Daisy Premium-Grade BBs made this 0.852-inch group at 5 meters. Notice the first BB that landed very low.
Crosman Copperhead
Next up were Crosman Copperhead BBs. They hit the target in the same place as the Daisys, and the 10-shot group measures 0.937 inches, which isn't much different than what the Daisy BBs did.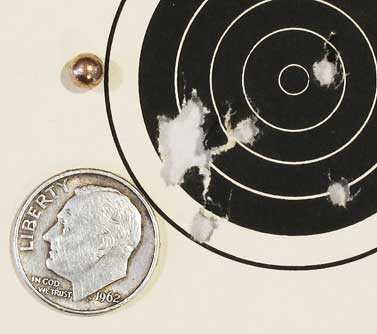 Ten Crosman Copperhead BBs made this 0.937-inch group at 5 meters. As with the Daisys, one BB is outside the black bull.
Umarex Precision Steel BBs
Finally, I tried the Umarex Precision steel BBs. They rival the Daisys in precision and this time that was evident. Ten of them went into 0.863 inches, with nine of them in a much tighter bunch. Like the other 2 BBs, these also threw a single BB into the white.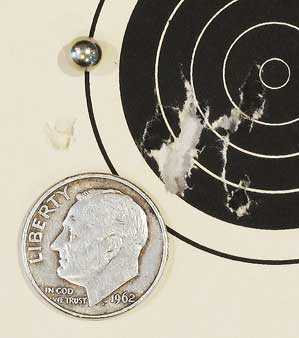 Ten Umarex Precision Steel BBs made this 0.863-inch group at 5 meters. It's only slightly larger than the Daisy group.
Sight adjustment
Like the Mauser firearm it copies, this BB pistol has no provision for windage adjustments. Both the Mauser firearms I owned shot about a foot to the left at 25 yards, so I'm used to this. Some older pistols have sights that can at least be drifted to the side in dovetails, but not the Mauser. With this gun, you soon learn to apply Kentucky windage to lay your shots where you want them.
But let's face it, this isn't a realistic test for a BB pistol. BB gun shooters plink at cans. They don't shoot groups at paper targets — at least not often. This pistol is easily a minute-of-Coke-can handgun out to 20 yards.
Firing behavior
I found 2 things about the trigger pull when conducting this test. The first is that the trigger blade is located too close to the grip. That's a part of the lack of ergonomics that the Broomhandle family of pistols all share, and there's nothing to be done for it. This BB pistol is a faithful copy of the firearm, including a less-than-optimum grip.
The second thing I noticed was how hard the 2-stage trigger seemed to pull. Looking back at Part 2, I see that I did not measure the pull, so I got out the electronic gauge and measured it this time. Stage 1 requires between 2 and 3 lbs. to complete, and stage 2 breaks at an average of 7 lbs., 11 ozs. The range went from 7 lbs., 1 oz. to 8 lbs., 3 oz.; and the slower and more deliberate the pull, the greater the force required.
Even with that, though, the pistol is blisteringly accurate. And the blowback is pleasant. It's nothing like the snapping recoil of a 7.63mm Mauser cartridge. So, there's a benefit of shooting the BB gun over the firearm.
Overall evaluation
Umarex has a winner, here. Their Legends airguns are all remarkable guns, and the C96 takes its place among them proudly. Not only is it realistic-looking, it gets an astounding number of shots per CO2 cartridge; and, as we now see, those shots all go to the same place.
Let's look at the velocity of the Legends C96 CO2 BB pistol. It's advertised at 380 f.p.s., and we know that it has blowback. So, it'll be interesting to see just how powerful this pistol really is, as well as how many shots it gets.
Crosman Copperhead
The first BB I tested was the Crosman Copperhead. They were tested when the CO2 cartridge was fresh, which boosted their average velocity a few f.p.s. They averaged 402 f.p.s, with a spread from 392 to a high of 409 f.p.s. At the average velocity, Copperheads generated 1.83 foot-pounds of muzzle energy.
I found the magazine very easy to load. Pull the follower all the way down and twist the tab into a slot to lock it back, then the BBs are dropped into a trough where an opening dumps them into the single stack slot in the mag. Release the follower, and the gun is loaded. I found the rated capacity of 19 BBs to be spot-on.
Daisy Premium Grade zinc-plated BBs
Next up were Daisy Premium Grade zinc-plated BBs. I though they might be a little faster than the Copperheads, but they weren't. They averaged 395 f.p.s., with a low of 386 and a high of 404 f.p.s. At the average velocity they produced 1.77 foot-pounds of muzzle energy.
All the time I was chronographing the gun I was also counting all the shots. I noticed that when you load a new magazine, the first shot will always be a blank. That's because of how the gun's feed mechanism works. I did count those shots in the total because they used up gas the same as if a BB had been shot.
Umarex Precision steel BBs
The final BBs I tested were the Umarex Precision steel BBs. They averaged 394 f.p.s. with a low of 385 and a high of 404 f.p.s. That parallels the Daisy BBs pretty close. At the average velocity, these BBs produce 1.76 foot-pounds of energy at the muzzle.
During the chronographing session, I was waiting a minimum of 10-15 seconds between shots to allow the gun to recover from the cooling effects of the gas. But after the 3 test strings were finished, I continued shooting Umarex steel BBs to see how many good shots there are on one CO2 cartridge. I went much faster during this shooting, with less than a second between each shot. I think this is closer to the way most shooters will use the gun.
I kept expecting the pistol to run out of gas at any time, and it kept right on shooting and surprising me. Finally, at shot 103, I chronographed an Umarex BB going out at 336 f.p.s. While that is slower than the recorded average, you have to take into account the fact that I was now firing the pistol very fast and allowing it no time to warm up. So, an unexpected finding was that this pistol doesn't suffer as much from the cooling of the gas as most CO2 guns. There normally would be at least a 100 f.p.s. velocity drop when shooting this fast.
Shot count
Finally, after shot 123, the hammer didn't cock for the first time. I cocked it manually and kept on shooting, but it failed to cock again after a few more shots. The gun was now out of gas. Had I wanted to get more shots from it, all I needed to do was slow down my shooting to allow more time for the gun to warm up. I think the shot count could easily be stretched out to 140-150 shots that way.
So, the pistol shoots a little faster than advertised, and it gets a very respectable number of shots from a CO2 cartridge. That's 2 big plusses for the gun.
Next on the schedule is accuracy testing. I'm looking forward to that! I have to tell you that this C96 is a very neat CO2 BB pistol. Of course, it isn't ergonomic, but neither is the C96 firearm it copies. It's not supposed to fit you well — it's supposed to look like the real deal, and I think it does that very well.
by Tom Gaylord, a.k.a. B.B. Pelletier
Let's cut to the chase. The title of this report says Legends C96 CO2 BB pistol, but Americans are going to call this a Broomhandle Mauser because of the shape of the pistol grip. The Legends part comes from the Umarex line of replica air pistols.
Before we continue, I want to express my concern about the Umarex lookalike airguns. I got a CO2 Colt M1911A1 pellet pistol when they first came out, and soon I had 4 different M1911/1911A1 firearms to go with it. Then the PPK/S BB pistol hit the market, and I got one of those. Not long after that, I added a .22 rimfire PPK/S to my firearms collection. Then came the Walther Lever Action rifle. Good, I thought. I'll never buy the Winchester 30/30 1894 that it is patterned after. But I didn't need to, because Edith did.
Then came the Magnum Research Desert Eagle pellet pistol. I knew I would never own the firearm version of that big hand cannon, but 2 years ago I got an IMI .357 Magnum Desert Eagle.
Of course there was the Makarov BB pistol that I used to train Crystal Ackley to shoot on American Airgunner. I say "train" advisedly; because after her first magazine, she was out-shooting me! That pistol spawned the purchase of both a 9mm Bulgarian Makarov, as well as the genuine Makarov firearm that the Russians at IZH turned into a BB pistol.
And just last year, Umarex came out with the Parabellum P08. I had already owned a junker Luger in the early 1970s, and I swore that I would never own another one. Well, my resolve being what it is, this past Christmas, Edith gifted me with a 1917 Erfurt P08 that is definitely not a junker!
And, now, I must confess that in my youth I've owned not 1 but 2 different low-grade Broomhandles. Both were in 7.63mm Mauser caliber, and neither one was particularly accurate. I reloaded for the last one, which might have been a large part of its problem. And here's the Legends C96 Broomhandle! Lordy, I can't afford to keep this up! I just hope they don't bring out a Colt Walker next!
Is it a C96?
Technically, this pistol is not a C96. It is a copy of the M32/712 Schnellfeuer (German for rapid fire) pistol that has a selector switch on the left side of the gun for semi- and full-automatic operation, but it's just a cast detail and is entirely non-functional. It also has a detachable magazine hanging down in front of the triggerguard, just like the 20-shot Schnellfeuer.
The C96 never had the detachable magazine or the selector switch. It has an internal 10-round magazine that's loaded from the top of the gun through the ejection port with 10-round stripper clips. The bottom of the C96 magazine is flush with the bottom of the triggerguard. It's true that the C96 magazine floorplate can be removed and a separate, detachable magazine can be installed, but these were never a popular option for the C96. I suppose only collectors and students of history will know the difference, so I'll call this pistol the C96 from this point on.
The pistol
The Legends C96 is a 19-shot BB pistol powered by CO2. The CO2 cartridge and BB magazine are housed together in a single removable magazine unit that's located in front of the triggerguard. Press a button on the right side of the receiver to release the mag.
There's a lower magazine cover that hides the CO2 screw and the CO2 cartridge. This is something BB gun shooters are very sensitive about, so it was a necessary feature that completes the look of the gun.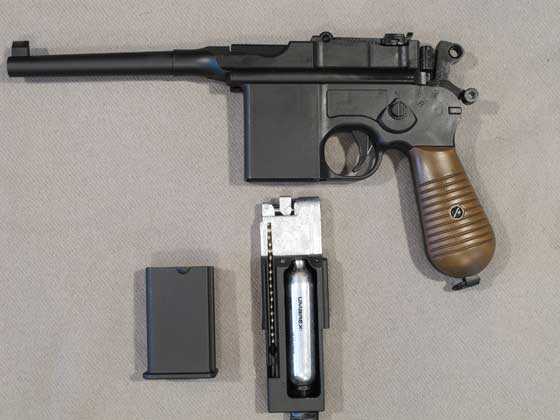 The magazine has been removed, and the lower cover is off. You can see the selector switch in this photo.
When the CO2 cartridge is installed and the magazine is loaded, you might think the pistol would be muzzle-heavy like the firearm, but I don't find that to be the case. This BB pistol is light enough that there's very little muzzle heaviness. And it's light because it's made with a lot of synthetics. But this stuff is dense, strong and difficult to tell from metal. A matte finish makes it even more difficult to identify.
The pistol grip butt is slotted for a shoulder stock, just like the firearm. Those stocks are hollow wooden holsters with steel attachments that lock into the pistol at this point — forming a small carbine. However, since the gun is made of synthetic, I'm guessing a shoulder stock will not be an option since it would invite fractures at this slot.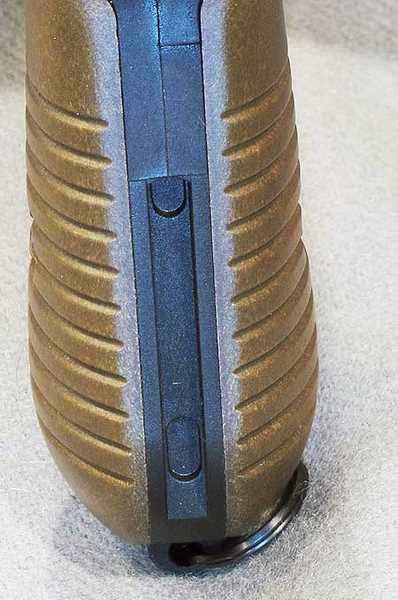 The pistol grip is slotted for a separate shoulder stock.
Not having a shoulder stock is not a great loss, though. I've fired the Broomhandle as a carbine and found it to be very inaccurate. Of course, that could just be the ammo I used, once again. But any pistol/carbine is a compromise, and none of them have a reputation for accuracy or even utility. It would be nice to have an authentic holster in which to carry the pistol, though.
Since the pistol is made to also be a carbine, the rear sight is an adjustable tangent leaf that adjusts up to 1,000 meters. The BB pistol has the same markings on its tangent sight leaf, though no shooter should ever expect to shoot a BB that far unless it's downward from a high platform. But it does give you the option of elevation for close-range shooting. There's no windage adjustment on this BB pistol or on the Mauser firearms.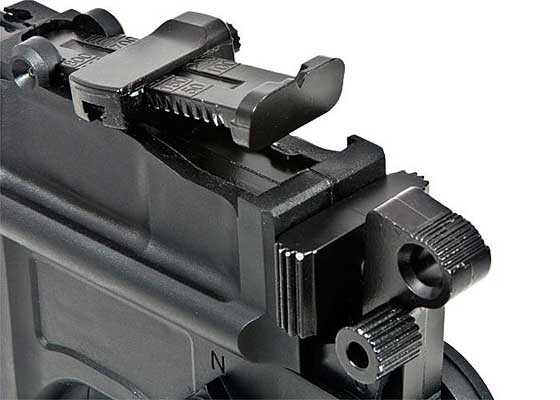 The rear sight adjusts up and down for distance.
Blowback!
This pistol has true blowback! Just like the firearm, the bolt handle comes back with each shot and cocks the hammer, so every shot is single-action. You must cock the hammer for the first shot. Some writers have suggested this is not a blowback pistol, but I think they're not familiar with the C96 Mauser action. It doesn't have a conventional slide like many autoloading pistols. The bolt is what moves to cock the hammer; and on the firearm, it also ejects the spent cartridge and strips a fresh one from the top of the magazine.
So, the Legends C96 is a true semiautomatic CO2 pistol. The trigger-pull is light and crisp. Unfortunately, unlike the firearm, the bolt does not stay open after the last shot's been fired, so it's up to the shooter to know when the last BB has been fired. You can continue to pull the trigger without BBs if you like.
The barrel of the Mauser firearm is dovetailed to the frame and does move when the gun recoils. It's how the designers delayed the opening of the bolt until after the high-pressure gasses were exhausted. It also allows the pistol to tolerate ammunition with a wider range of power. The BB pistol looks the same as the firearm, but that's just the casting details. The barrel does not move.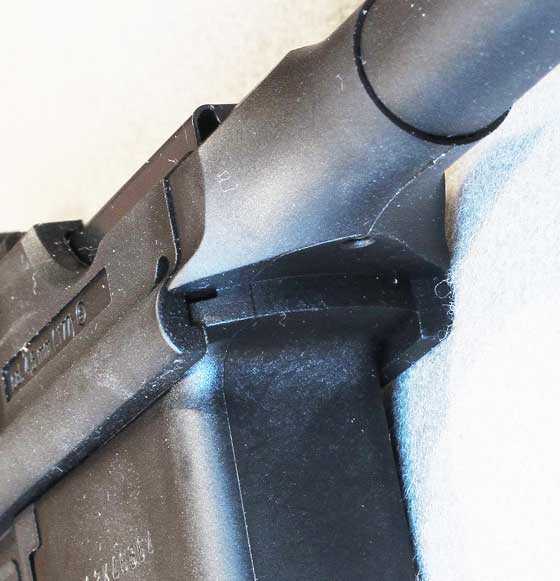 The barrel appears to be dovetailed to the frame, but this is just a casting detail.
Although it has blowback, this BB pistol will not recoil like the firearm. A Broomhandle Mauser really snaps your hand back, despite being chambered for light cartridges like the 7.63 Mauser and the 9mm Luger. That's because the bore is high above the grip, so the recoil has nothing to slow it down. I remember the recoil as one of the bad points of a Broomhandle.
Yes, the blowback of this BB pistol does give the shooter a sense that the gun has fired, but there's no heavy snap to your wrist. Trust me, this is better!
The safety is identical to the Mauser firearm part and works the same way. I found it to be positive and much easier to apply than the firearm safety.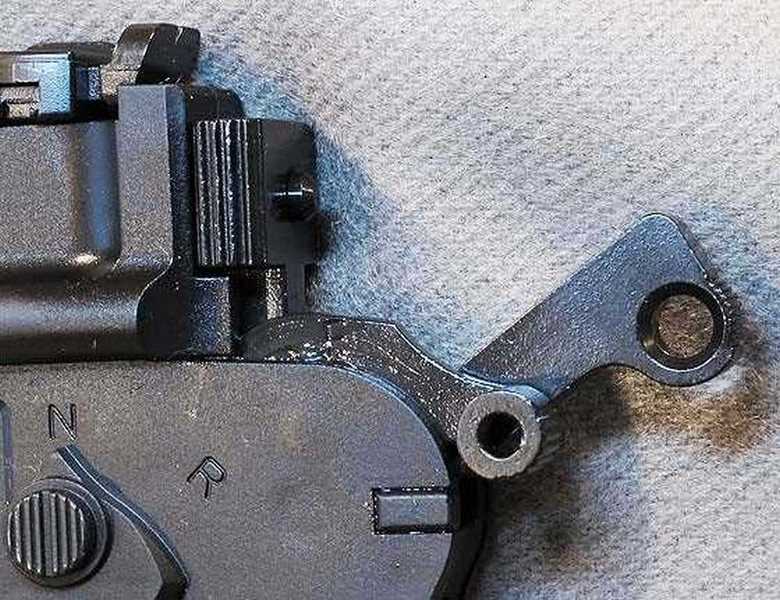 The safety is rotated to the rear and the hammer is cocked, making the pistol ready to fire. You can see the selector switch clearly in this photo.
Summing up
When Herr Wonish of Umarex told me last February this pistol was coming, I told him I was eager to see it. Now it's here, and I intend examining it thoroughly!