by Tom Gaylord
Writing as B.B. Pelletier
TexanSS
Silenced?
New BKL mount
Gamo
Leapers
New 3-12X32 Bugbuster
T4 Tactical Compact Prismatic scope
The incredible shrinking dot sight!
Defense LED Light
Steel scope rings
More from Air Venturi
TexanSS
Here we go, starting at the AirForce booth, where the big news was the TexanSS, That's right, kids, AirForce is giving us a silenced big bore!
Silenced?
Can you silence a big bore airgun? Maybe, but not in a package that's small enough to hunt with. What you can do is reduce the report to the point that it becomes more manageable in a built-up area, and that is what has been done.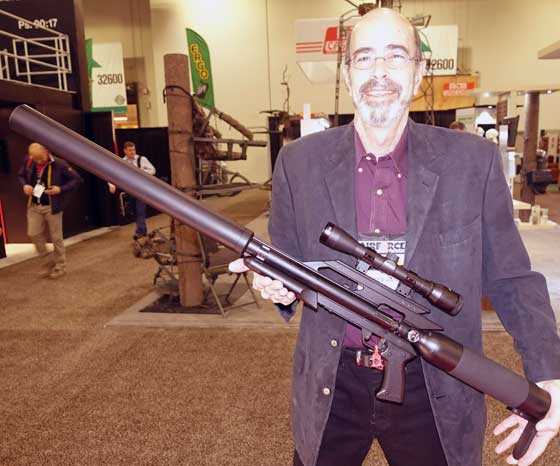 AirForce representative, Keeva Segal, holds the new Texan SS.
The TexanSS is an entirely new air rifle. The first offering will be in .45 caliber, but other calibers are sure to follow. The barrel length is 24.75-inches to fit inside the shroud. A shorter barrel means less velocity, and the rifle develops up to 400 foot-pounds, compared to the 500 foot-pounds of the unsilenced Texan that carries the title, "The world's most powerful production air rifle." You trade almost a foot of barrel for the quieter operation and still get more power than many big bores can offer.