Posts Tagged 'Air Venturi Pellet Pen and PellSet'
by Tom Gaylord, a.k.a. B.B. Pelletier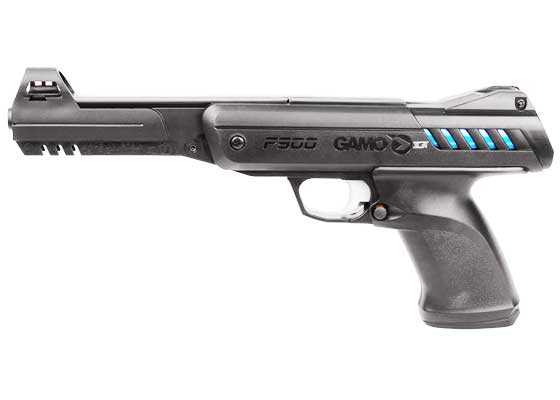 Gamo P900 IGT pistol
This report covers:
• Velocity
• RWS Hobby pellets
• Gamo Match pellets
• Gamo Raptor PBA pellets
• Trigger
• 2014 Ft. Worth airgun show update
Velocity
Let's get right into the report. Today, we'll look at the velocity of this Gamo P900 IGT air pistol. A number of comments were made about how underpowered this air pistol is, but I disagree. They're condemning it without testing it — from just reading the numbers. We'll set that straight today.
RWS Hobby pellets
The first pellet I tested was the 7-grain RWS Hobby wadcutter. This pure lead pellet is probably just right for the P900 powerplant. Gamo advertises the P900 as getting 400 f.p.s. with lead-free alloy pellets, so we expect the Hobbys to be slower because they're heavier. And slower they are! When I seated them flush with the breech, Hobbys averaged 332 f.p.s. with a range from 321 to 340 — a spread of 19 f.p.s. They developed 1.71 foot-pounds, on average.
Because this pistol is lower powered, I decided to see what effect deep-seating the pellet would have. I used the Air Venturi Pellet Pen and Seater to seat the Hobby pellets deep in the breech. This time, the pellet averaged 365 f.p.s. — a gain of 38 f.p.s. The low velocity was 358 and the high was 373, so the spread was 15 f.p.s. Seated this way, they developed 2.07 foot-pounds, on average. I think it's clear this pistol likes the pellets to be seated deep, so that's how I will proceed with the test.
Gamo Match pellets
The next pellet I tested was the 7.56-grain Gamo Match wadcutter. I didn't even try them seated flush. Seated deep, they averaged 360 f.p.s. with a spread from 358 to 363 f.p.s., so this time just 5 f.p.s. separated the slowest from the fastest pellet. At the average velocity, this pellet generated 2.18 foot-pounds of energy at the muzzle.
Gamo Raptor PBA pellets
The last pellet I tested was the Gamo Raptor PBA. This lead-free domed pellet weighs just 5.4 grains and is used to extract high velocity from airguns. Remember — Gamo advertises the P900 as getting up to 400 f.p.s. Well, that turns out to be quite conservative! This pistol I'm testing averaged 490 f.p.s. The range was from a low of 457 f.p.s. to a high of 508 f.p.s. So the spread was 51 f.p.s. At the average velocity this pellet generates 2.88 foot-pounds of muzzle energy.
Just to see what the differences are, I also shot 4 Raptor pellets loaded flush with the breech. They ranged from a low of 439 f.p.s. to a high of 455 f.p.s.; so even loaded normally, this pistol still exceeds its advertised velocity. I may have an example that's on the hot side, and maybe you won't get quite as much velocity as you see here, but I think they should all get at least 400 when shooting PBA pellets.
You naysayers can revise your arguments, now. This pistol exceeds its advertised expectations by a lot. I still like the firing behavior and the trigger, though I'm sure there will be critics.
Trigger
The non-adjustable 2-stage trigger on the test pistol breaks crisply at 3 lbs., 15 oz. to 4 lbs., 1 oz. It's a fine trigger and just what I need to shoot this pistol accurately.
2014 Ft. Worth airgun show update
This report was short, so I'll use the space to update you on the 2014 Ft. Worth airgun show that will be held on Saturday, September 6.
The following dealers and manufacturers are expected to have tables:
Pyramyd Air
Umarex USA
AirForce Airguns
Dennis Quackenbush
Flying Dragon Air Rifles (Mike Melick)
Hatsan USA
The following dealers and manufacturers are considering attending or have indicated they may attend:
Airgun Depot
Daisy
Crosman
Scott Pilkington
Neal Johnson
Also attending will be:
American Airgunner TV
Steve Criner — TV's Dog Soldier
Eric Henderson — big bore airgun hunter and guide
Jim Chapman — writer for Predator Extreme magazine and airgun hunter
I'm making a big push to get the smaller private dealers now. These are the guys who have vintage airguns for sale. The club has a communal table for members to display and sell their airguns. This club is where I recently purchased the BSA Airsporter Stutzen I've been reporting on, a BSA Scorpion pistol and a Schimel gas pistol from the 1950s.
I am going to really shake the trees, because I know there are many airgunners who will come to this one-day show. The sheer volume of people though the door will make it worth their while to attend. Who knows what unusual airguns are going to walk through the doors?
If you have some unusual airguns to sell, this show is the place to sell them! We should get a number of advanced collectors who are attracted to this brand new airgun show because of the curious guns they may find. We're also attracting those who are new to airguning and are looking for the vintage guns they've read about but never seen.
Don't forget our door prize and the three major raffle prizes that have been donated:
Air Venturi Bronco
AirForce Condor SS
Hatsan AT44-10 Long QE
Walther LGV Master Ultra
Other drawings and freebies are also in the works. Lots of guns, lots of freebies, lots of fun!
Mark September 6 on your calendar. You'll want to be at the Ft. Worth airgun show in Poolville, Texas.
by Tom Gaylord, a.k.a. B.B. Pelletier

El Gamo 300 was a low-priced quality breakbarrel from the 1960s and '70s.
Before I begin, blog reader HiveSeeker has asked me for some photography tips. Not that I'm a great picture-taker, but I do have some tips on how to photograph airguns. For starters, he wondered about photographing dark guns like his Winchester MP4. In the past, I've done several reports on airgun photography, but we may have enough new readers that it would be of interest, again. What do you think?
Okay, let's get started. Today, we're looking at the accuracy of the El Gamo 300.
This report covers:
• Poor man's R7
• Trigger
• Firing behavior
• Accuracy
• First pellet
• Summary
A poor man's R7
The El Gamo 300 was supposed to be my "poor man's Beeman R7." It was supposed to have the power and accuracy of the R7 (which is a modified HW 30S) at a cost that was far less. At the time, when the 300 was selling (the late 1970s), the R7 was sold with open sights, so the two airguns were comparable. The HW 30S still does has open sights today; so in that respect, the comparison can still be made.
As it turned out, the 300 is about 100 f.p.s. slower than an R7. The cocking is easier, but this rifle isn't in the same power class, so any comparison suffers.
Adjustable trigger
Alas, the 300′s trigger is much simpler and only minimally adjustable, while the R7/30S both have the famous Rekord, which is one of the finest sporting airgun triggers of all time. I did try to adjust it, but the biggest thing that seemed to change was the length of the first-stage travel. The pull did drop, but only by a little. When the first-stage travel was shortened it did increase the length and creep of stage two; so I guess you could say it does adjust the pull to that extent, but the results were not very encouraging. It's an acceptable trigger for an inexpensive spring rifle, but far below the Rekord for performance and adjustability.
One reason I wanted to get a 300 is because I believed it had the same action and trigger of the El Gamo 68 XP. That rifle's trigger is very adjustable; and, while it gets unreliable when you take it down too light, it's very crisp and positive when adjusted to a normal sporting level (3-5 lb. pull weight). The 300 trigger can be adjusted even lighter with safety, but it still retains some creep in stage two.
Firing behavior
The 300 is a buzzy gun. I could no doubt fix it with a little tuning, but right now the buzz is its most annoying feature. When this gun was new in the 1970s, nearly every air rifle felt the same and there was no basis for comparison. However, in the past 20 years, both airgun design and tuning tricks have improved so much that the vintage guns now suffer in comparison.
Accuracy
For today's test, I shot this rifle at 10 meters from a rested position. I used the traditional artillery hold with the rifle rested on my off hand, back by the triggerguard. As you'll recall from my earlier reports, I felt the rear sight notch was too narrow for the front blade. Well, when the target was illuminated by a 500-watt lamp, it was easy to see the whole front sight and some light on either side. That made aiming precise when I didn't believe it could be.
The rifle cocked easily; and when the barrel closed, the detent locked it tight. One of our readers mentioned that breakbarrels with opposing chisels at the breech seem to lock up tighter and with more authority than do those whose chisel detent rides over a round pin. I have to mention that the 300 has the double chisel arrangement and the reader is right. When this barrel closes, it sounds like a bank vault.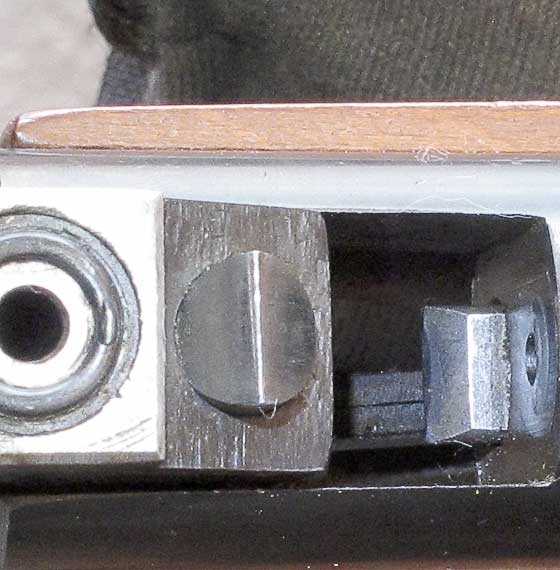 Looking down at the open breech, we see the chisel lock (right) that engages the spring-loaded chisel detent on the baseblock. This arrangement makes the breech lock up more positively than if the chisel detent had to go over a round crosspin. That hole above the chisel lock is the air transfer port.
First pellet
The first pellet I tried was the RWS Hobby wadcutter. I used a 6 o'clock hold and squeezed off the first shot, which surprised me when I saw the pellet had hit the 10-ring almost in the center. After that, I just shot the next 9 rounds without looking again. When I looked after all 10 shots had been fired, I saw a nice round 0.588-inch group in the center of the bull. That was a good start!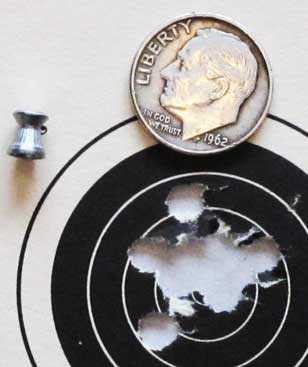 Not only is this 0.588-inch group of 10 Hobbys nice and round, it's also centered in the bull. That makes it appear even better than it is. This is the best group the El Gamo 300 shot at 10 meters.
Next, I shot 10 Air Arms Falcons. The first shot hit the 9 ring, and I didn't have to look again until it was all over. Ten shots landed in 0.629 inches, but 9 of them were in 0.41 inches. While this group is slightly larger than the Hobbys, I would say the Falcons are probably more accurate, just based on those 9 tight shots.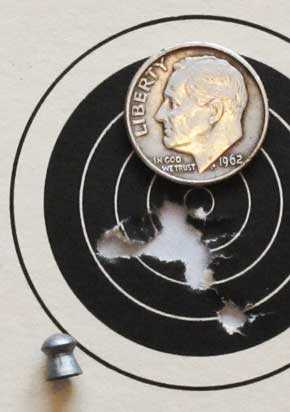 This group of 10 Air Arms Falcon pellets looks amazing, though at 0.629 inches between centers it's larger than the Hobby group. Without that one pellet at the bottom, there are 9 in 0.41 inches.
The last pellet I tested was the 7.9-grain Crosman Premier lite. I saw the first shot go into the 8-ring so I stopped looking until it was over. This time, though, the pellets spread out more, and the group measures 0.771 inches between centers. From the open appearance of this group, I can tell that Premier lites are not the best pellet for the El Gamo 300.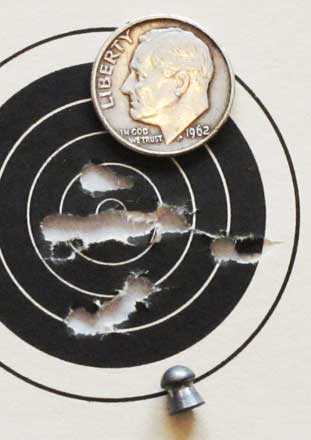 Crosman Premier lites scattered more than the other two pellets. Ten made this 0.771-inch group. The group looks larger than it really is because the pellet on the right tore the target wider than where it penetrated.
Summary
The El Gamo 300 is not a poor man's R7. It is what it is — a nice, inexpensive spring rifle that offers a lot of value for the price. Even today, when the used guns sell for $50-100, they're still a bargain. But they're not in the same class as a CZ Slavia 630/631, which really is a poor man's R7.
I've been fortunate to be able to test several air rifles in this same vintage class over the past few years. Some of them, like the Diana 25 with the ball-bearing sear, are superlative airguns that withstand the test of time. Their very design makes them perform at a higher level than most guns. Others, such as the Falke model 70, promise the moon but fail to deliver. This El Gamo 300 is closer to the latter guns, although its low price does make it an ideal candidate for home gunsmithing for the careful hobbyist.
No doubt the 300 can be modified and tuned to be a wonderful air rifle; and when it is, it'll have the accuracy needed to carry it off. But there are other airguns that are inherently nice just as they come from the factory. A 300 is probably the cheaper way to go, but expect to spend some time and sweat equity to turn it into what you really want.
by Tom Gaylord, a.k.a. B.B. Pelletier

El Gamo 300 was a low-priced, quality breakbarrel from the 1960s and '70s.
I'm out of the office for the next couple days. Will the veteran readers please help the newer readers with their answers while I'm gone? As always, I'll see the blog early in the morning and, again, late at night. Thanks! On to today's report.
This report covers:
• A little more history of the 68-XP
• Velocity testing
• Breech seal
• Retesting velocity
• Cocking effort
• Trigger-pull
• How my life has changed
Today, I'll test the El Gamo 300 velocity. I see that many of you were surprised to learn these were made in both Spain and Brazil. Furthermore, a number of newer readers had missed the 6-part report on the El Gamo 68-XP and were surprised to see it referenced in Part 1 of this report. Here's a little more on that subject.
There was a repeating version of the 68-XP that had the same mechanism as the El Gamo Expomatic. It was a tube above the gun that fed pellets into the breech one at a time as the barrel was broken during cocking. It didn't work too well, and Air Rifle Headquarters refused to carry either repeater. They tested them and found that they jammed too easily. I've tested other air rifles that have a similar repeating system, and that was my experience, as well. That must mean that the repeating version of the 68-XP is very rare because few were ever sold.
Back to the 300. According to the ARH catalog, a broken-in 300 should shoot about 665 f.p.s., and one that's been accurized gets up to 680 f.p.s. They don't mention what pellet was used in testing to obtain these numbers; but given that it was the 1970s, we know it had to be a lead pellet. Lead-free pellets were not on the market at that time.
Velocity testing
The first pellet I tested was the 7.9-grain Crosman Premier. They averaged 503 f.p.s. for 10 shots. The velocity ranged from 490 f.p.s. to 511 f.p.s., so a 21 f.p.s. spread.
I thought that was low, so I tried 10 more that were deep-seated with the Air Venturi Pellet Pen and Seater. This time, the average rose to 506 f.p.s., which is hardly worth the effort. The spread went from 496 f.p.s. to 519 f.p.s., so the spread opened to 23 f.p.s. Deep-seating doesn't seem to be worth the time and effort with this rifle.
The next pellet I tested was the 7-grain RWS Hobby. These averaged 539 f.p.s. The Hobby was the lightweight lead speed demon of its day, so this rifle is not performing to spec. And yes, I did oil the leather piston seal before testing. The spread for Hobbys was from 524 to 547 f.p.s., so 23 f.p.s.
The final pellet I tested was the 7.33-grain Air Arms Falcon. They averaged 519 f.p.s. with a spread from 510 to 523 f.p.s. So the spread was only 13 f.p.s. Falcons fit the breech loosely, where the other two pellets fit snugly.
Breech seal
That puts today's test into perspective. I don't think my test rifle has been shot very much, if at all, because it doesn't have the bluing wear that's usually found on guns that have been used, and the bluing is original. I looked at the breech seal, which looked okay, but it's very difficult to tell by just looking. There was no puff of air to be felt at the breech, but sometimes that isn't conclusive, either.
While the seal looks like an o-ring, it's really a tall synthetic seal that's proprietary. When I removed it, I could see that nothing I could make would work as well, so I made a spacer to fit under it, raising it for a tighter fit.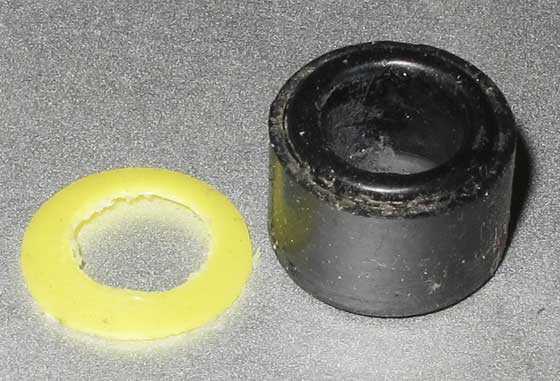 The breech seal (right) and the plastic shim I made to fit under it to raise it higher at the breech.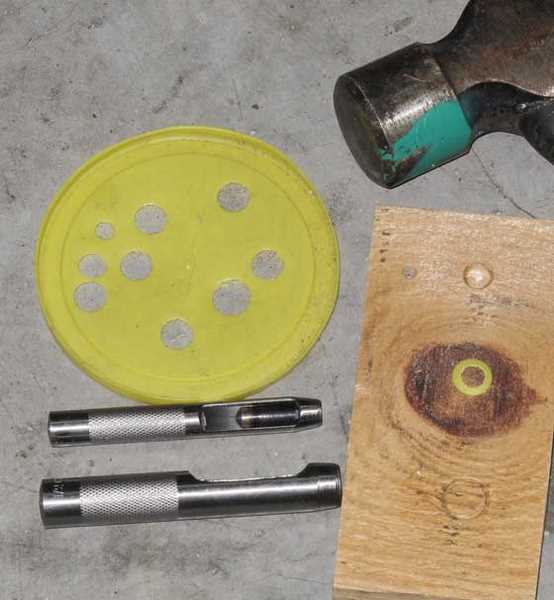 I made the breech seal spacer from a coffee can lid by using hole punches.
Re-testing velocity
The spacer did increase velocity a little. Premiers went from an average of 503 to an average 522 f.p.s., and the spread that had been 21 f.p.s. dropped to 15 f.p.s. Hobbys went from 539 to 568 f.p.s., and the spread went from 23 f.p.s down to 15 f.p.s. Falcons jumped from an average 519 f.p.s. to 553, and the spread that had been 13 f.p.s. dropped to 6 f.p.s.
While these are all improvements, I don't think they're large enough to warrant the work that was done. I would leave the rifle where it is; but now that the spacer is in place, I won't remove it.
Cocking effort
I measured the cocking effort on my bathroom scale. It topped out at 19 lbs., making the 300 a youth rifle by my criteria of a cocking effort of 20 lbs. or less. But the large size of the rifle means that it is for older kids or adults.
Trigger-pull
The trigger was releasing at 3 lbs., 2 oz., with the second stage being very creepy. I adjusted the one screw behind the trigger in both directions. Turned all the way in (clockwise), the first stage is removed entirely, and the pull remained where it was. Turned out as far as it will go, the first stage becomes light and stops positively at stage two. Stage two releases at 2 lbs., 14 oz., so a 4-oz. decrease from where it was.
The rifle is now ready for 10-meter accuracy testing. I may do something about the narrow rear sight notch so I can see some light around either side of the front post. If I do, I'll tell you and show you what I do.
How the blog changed my life
I initially published this section on the May 30, 2014, blog. I'm going to repeat it at least once a week during June and July so it doesn't get lost or forgotten.
From the comments many of you make, I believe the blog may have positively impacted your lives. I invite you to send me an email telling me about that impact.
Were you a firearms shooter who accidentally discovered airguns through this blog? If so, tell me how this blog has helped your understanding of airguns.
Were you already an airgunner, but you thought what you saw in the big box stores was all there was? If so, how has this blog helped you understand more about airguns?
I've gotten quite a few responses already, but I want to make sure you know that I'm not looking for "attaboys," pats on the back or personal recognition. I'm looking for real feedback on what you've learned so I can target my blogs to what you feel is important, what you'd like to know and what you're still unsure of. This blog is written for its readers, and I want to share your stories with others who may be where you were before you found this blog.
Pyramyd Air has created a special temporary email address for this. I'll be the only person to get these emails, and we're not going to generate any lists from the addresses.
My plan is to publish one or more blog reports with the more interesting comments. If you want, I will use your real name or blog handle; but you can be anonymous, too. I won't use your name or handle unless you give me written permission to do so.
This email address will be live for only a few weeks. We have tens of thousands of readers worldwide. Even if you've never commented on the blog, you can email me your message if you like. If you're reading this blog after July 2014, email submissions will no longer be forwarded to me, and you may get an auto-reply email stating that or your email might bounce back to you.
by Tom Gaylord, a.k.a. B.B. Pelletier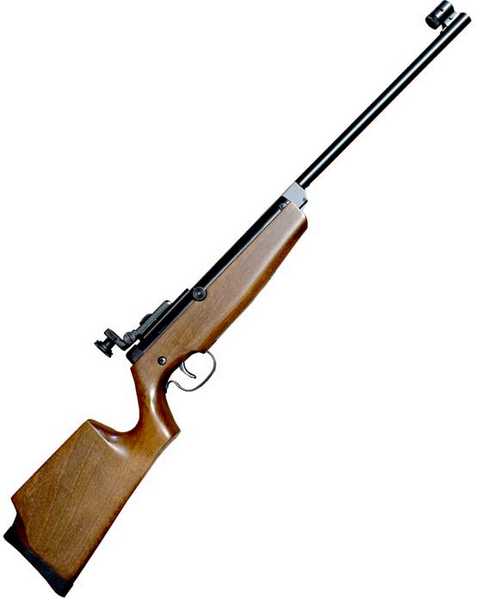 Diana 72 is a youth target rifle from the late 20th century.
This report addresses:
• More on the trigger.
• Accuracy with various pellets.
• Why 5 shots?
• Accuracy with deep-seated pellets.
• Summary.
Today is accuracy day for the Diana model 72 target rifle. We had one extra report in this series, and that was on adjusting the trigger. I want to tell you some more of what I have learned about this trigger.
More on the trigger
During the accuracy test, the trigger failed to work two times. The first time I made a small adjustment and got it running again in a matter of a minute. The second time, however, I worked on it for 15 minutes without success. I finally read Part 3 of this report, to see where the two adjustment screws had been positioned when the trigger was working. The camera angle of that photo isn't the best, so there was still some guesswork involved; but even then I couldn't get the rifle to fire.
Then, I thought of something. I know this rifle has a very protective anti-beartrap mechanism, and I wonderd if it was a little too over-protective. So, I cocked the gun, again (it was still cocked and loaded from when the trigger had failed). I've had other spring-piston air rifles — most notably Weihrauchs and a few Dianas — that would seem to cock but wouldn't quite go all the way. How many people have I talked through cocking their RWS Diana sidelevers because they had not pulled the lever all the way back, and the gun was stuck? Even my Whiscombe has done this often enough that I'm used to it.
When it happens to the 72, the rifle is cocked from the standpoint that the piston is back and the mainspring is compressed, but it also isn't fully cocked in that the trigger isn't in the right position to fire the gun. It's a sort of limbo state that some spring rifles can get into. Think of it as a disagreement between the trigger and the anti-beartrap device, and the designers have allowed the anti-beartrap device to trump the trigger for safety reasons.
All you need to do when this happens is cock the rifle a second time, making sure that the cocking linkage goes all the way back. When I did this, the 72′s trigger began working immediately. So, if you ever get one of these rifles, keep this in mind.
Accuracy
I began this test not knowing where the sights were set. After all, this rifle had been through a complete rebuild, so those sights presumably came off. And the action has been out of the stock several times over the past 2 years. So, the gun needed to be sighted-in.
As a side note, the manufacturing date on the left rear of the spring tube is November 1989. That puts it near the end of the production cycle (1979-1993, according to the Blue Book of Airguns).
Sighting-in with H&N Finale Match Pistol
I started sighting-in with H&N Finale Match Pistol pellets. The first shot was lined up with the center of the bull, but it was too low. It landed at 6 o'clock. Since the sights are target apertures front and rear, I was not using a 6 o'clock hold, but centering the bull in the front aperture.
The first sight-in shot was interesting, but the second was even more so, for it would tell me if this was an accurate rifle or not. It hit above the first shot, in the same line but the 2 holes didn't quite touch. That was good but not what I had hoped for. I had hoped to see a single hole that had barely enlarged with the second round.
Shot 3, however, went into the same hole as shot 2, and shot 4 joined them. So, the rifle was probably accurate, after all. I clicked the elevation up two clicks and proceeded to the first record target.
Shooting for the record
The first 5 shots went into a group that measures 0.221 inches between centers. It's a group you would love to see out of most sporting rifles but not impressive coming from a 10-meter rifle. Just to make sure it wasn't me, I shot a second group with this same Finale Match Pistol pellet. As I shot, I could hear the voices of the newer readers, asking why I only shot 5 shots. So, on just this one target, I put 10 into the next group, which measures 0.269 inches. That's encouragingly close to what just 5 shots did, so it renewed my enthusiasm.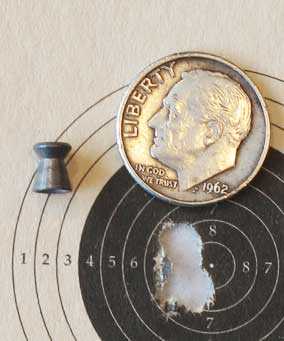 Five H&N Finale Match pellets went into 0.221 inches at 10 meters.

Ten H&N Match Targets made this 0.269-inch group. This is not that much larger than the 5-shot group.
RWS R10 Match Pistol pellet
Next up was the RWS R10 Match Pistol pellet. Five of those made a group that measures 0.244 inches. It's in the same range as the H&N Finale Match pellet, so no cigar.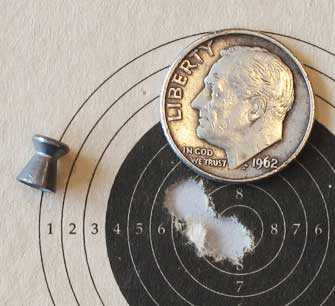 Five RWS R10 Match Pistol pellets went into 0.244 inches.
RWS Hobby
After that, I decided to give the RWS Hobby wadcutter pellet a try. Who knows what they might do? Well, that was a good decision this time, because 5 of them went into 0.194 inches between centers — the smallest group so far.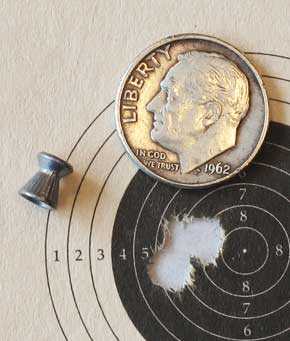 Five RWS Hobby pellets went into 0.194 inches at 10 meters. This is a good group.
At this point, I'd noticed that all the groups were landing off to the left. There's no scope involved, so I can hit the center of the target and not destroy the aim point. I dialed in 3 clicks of right adjustment into the rear sight and continued the test.
JSB Match
Next, I tried JSB Match pellets. Five went into 0.264 inches. That was the second-largest group in this test, so no joy there.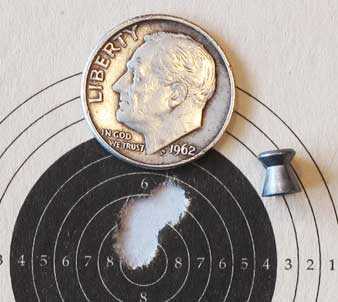 Five JSB Match pellets made this 0.264-inch group. Not that good.
Why 5 shots?
Before someone asks why I shot 5-shot groups, I'll tell you. Accuracy is the reason. Ten-meter guns are generally so accurate that there isn't that much difference between 5 and 10 shots. You only have to look at the first 2 targets to see the truth of that.
H&N Match Pistol
Next, I shot 5 H&N Match Pistol pellets. They're a lower-cost pellet than the Finale Match Pistol, and sometimes they produce good results. This was to be one of those times. Five pellets made a round group that measures 0.166 inches between centers. That's the smallest group of the test; and because it was noticeably smaller, I shot a second group to see if the first was a fluke.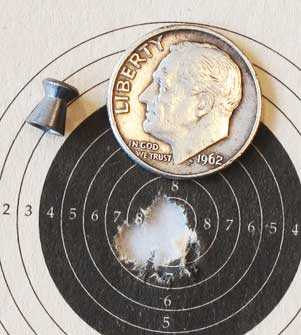 Now, this is a group! Five H&N Match Pistol pellets went into 0.166 inches.
It wasn't a fluke at all, as you can see. The second group was a little larger, at 0.196 inches, but still one of the smaller groups fired in this test.

This second group of H&N Match Pistol pellets was shot to confirm the first one. It measures 0.196 inches, which is larger but still one of the smaller groups of this session.
Seating the pellets deep
Now that I'd tested 4 different wadcutter pellets, three of them being designated as target pellets, I thought I would take the best 2 and test them by seating them deeply in the breech to see if there was any difference. For this, I used the Air Venturi Pellet Pen and Pellet Seater that was also used in the velocity test. We learned then that the 72 doesn't like pellets to be seated deeply where velocity is concerned. Let's see what it does for accuracy.
The first pellet I tested this way was the H&N Match Pistol that proved to be the most accurate in the entire test. When seated deeply, they gave a 5-shot group that measures 0.23 inches between centers. While that isn't bad, it's larger than either of the two groups that were seated flush. They measured 0.166 inches and 0.196 inches, respectively.

When they were seated deeply, 5 H&N Match Pistol pellets went into 0.23 inches. It's larger than either of the 2 groups made with the same pellet seated flush.
And the last pellet I tested was the RWS Hobby. When seated deeply, Hobbys group in 0.252 inches. Again, this was not as small as the one group of flush-seated Hobbys that went into 0.194 inches. That leads me to believe that this rifle likes its pellet seated flush much better.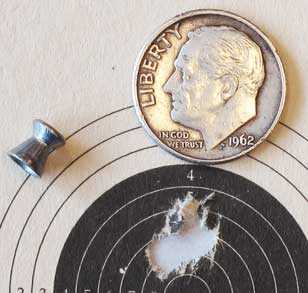 Five deep-seated RWS Hobby pellets went into 0.252 inches. This group appears smaller than it really is because some of the target paper has closed around the holes.
Summary
The RWS model 72 target rifle is a fine example of the quality and ingenuity that Diana can put out. They took a great informal target pistol — the model 6 — and turned it into a youth target rifle. They didn't pour a lot of money into this airgun, with the rear target sight being a conventional, adjustable sight fitted with an aperture, but they did everything right. This is a youth target rifle to covet!
If you want one of these, you'd better start looking right away. There aren't that many of them, and owners tend to hang on to them longer than they do most airguns.
This was a test of the recoilless model 72, but don't forget there's also a model 70 that's based on the model 5 pistol that recoils. There are more of them to be found, and their recoil doesn't amount to much since they were originally an air pistol. Either model is a great airgun that you should certainly look for if this sort of gun interests you.
by Tom Gaylord, a.k.a. B.B. Pelletier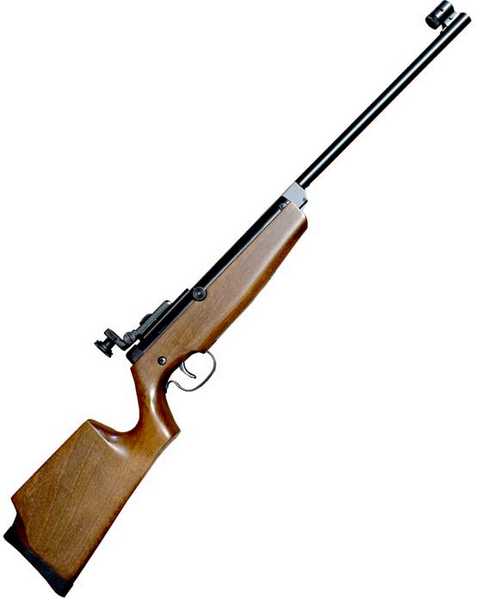 Diana 72 is a youth target rifle from the late 20th century.
This report addresses:
• Examining the Diana model 72 trigger.
• Two trigger adjustments.
• Caution — you may not want to do this!
• Trigger adjustment directions.
• Blog reader Mikeiniowa.
Today, we're going to look at how to adjust the Diana model 72 trigger. I know this report is needed; because when I searched for information on the Diana model 72 target rifle, this blog was at the top of the list! I wish I had an owner's manual for this little rifle, as I'm sure clear trigger adjustment instructions are in there. Lacking that, let's first look at the trigger.
The Diana 72 trigger
As you've learned, the Diana model 72 youth rifle is just a model 6 target pistol in a rifle stock. Most things remained the same, but the trigger is one feature that had to change. People will tell you this rifle trigger is identical to the pistol trigger, but the presence of the long linkage from the trigger blade to the sear adds complexity the pistol trigger doesn't have.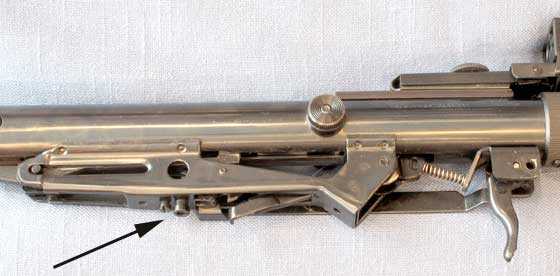 Kind of surprising, no? What looks like the trigger is nothing but an isolated lever. Under the large hole in the flat plate several inches to the left is where the actual trigger lies. The arrow points to the trigger adjustment screws.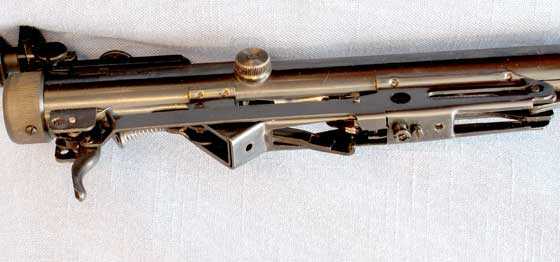 On the right side of the trigger mechanism, we see the trigger linkage (the flat bar above the trigger blade that connects it to the trigger mechanism on the right).
What you thought was the rifle's trigger turns out to be just a lever sitting out by itself and connected to a lot of machinery located several inches away. The linkage that connects the blade to the rest of the trigger mechanism is long and springy. It's why this trigger can never be set to operate as crisply as a true target trigger. But some small amount of adjustment is possible, and this trigger can be very nice.
You can see the trigger adjustment screws in both pictures, but it isn't necessary to take the stock off to access them. The rifle has an oval cut in the bottom of the forearm, and both screws are exposed. Actually, I should say all three screws are exposed, because the adjustment screw is actually two screws — one inside the other. The other screw isn't for adjustment — it's there to lock the larger adjustment screw in place.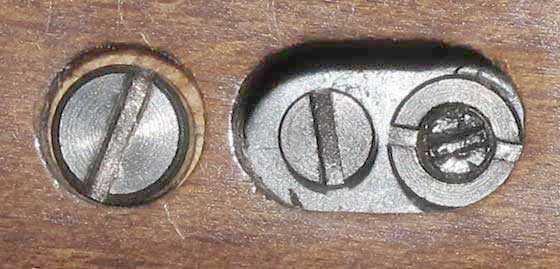 The trigger adjustment screws can be seen through an oval hole in the underside of the forearm when the rifle is assembled. There are three screws. The one on the right is actually 2 different screws. On the left is the locking screw that locks the large screw on the right. Notice the very large screw at the far left of this picture? That's the stock screw and has nothing to do with the trigger adjustment.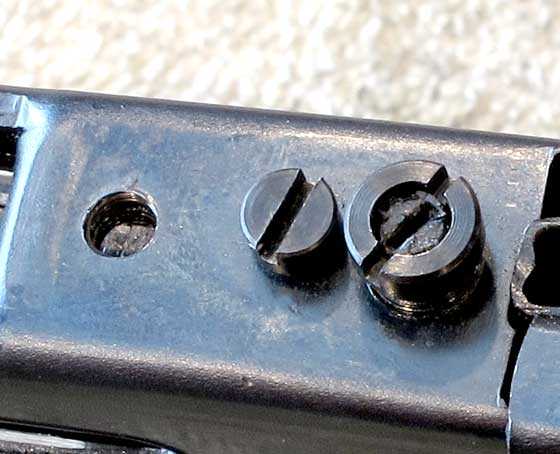 Here you can see the adjustment screws exposed. The screw on the right in this picture is actually two different screws — one inside the other. The small screw inside the large screw on the right will turn at all times. The single screw to the left of the two screws locks the larger screw in place. When you do that, the smaller screw inside can still be turned.
Two trigger adjustments
You can make 2 adjustments to the trigger. You can adjust the length of first-stage travel, and you can adjust the amount of second-stage letoff — which means the weight of the trigger-pull.
BUT — Please read this and believe it. These two screws — one inside the other — act in unison. As one is adjusted, it affects the other. It is extremely easy to adjust them OUTSIDE the safe range, in which case the trigger stops working altogether. When that happens the gun can be cocked, but cannot be fired!
To be safe, when that happened to me several times, I always broke open the action so the anti-beartrap would prevent the gun from firing. Then, I adjusted the 2 screws together until the gun worked once more. I did this several times to learn what each screw does. One time it took a full 10 minutes of working with both screws before I got the gun firing again!
Caution: This is very difficult
If you're afraid of how sensitive this adjustment is — good! Stay away from it! The large hollow screw has a very small range of adjustment and can get out of the range very easily. But if you want to try this, below are the instructions.
Adjustment directions
First adjust the length of first-stage travel (the small screw inside the large one). This can be done with the second-stage screw (the large hollow screw) locked in place. Turning the small screw out (counterclockwise) lengthens the first-stage travel. Turning it in (clockwise) shortens the first-stage travel. I tried to eliminate the first stage altogether because I know some people like it that way, but I was unable to get rid of the last little bit of travel. Formal target shooters use two-stage triggers almost exclusively, so perhaps Diana thought some travel was needed; but it also might be necessary to have some travel in this particular trigger for safe operation.
After you have the first stage where you want it, you can adjust the second stage. First, unlock it by loosening the locking screw to the left. I found the adjustment range of the large, hollow (second stage) screw extremely limited. It was possible to get out of the range with as little as one complete turn of the large, hollow screw.
I played and played with this adjustment mechanism and came to the conclusion that not only are the screw turns limited — the weight range of the trigger release is also very limited. That's because this trigger blade is connected by a springy linkage.
The best I was able to do was reduce the release from 2 lbs., 1 oz. (33 oz.) to 1 lb., 8.5 oz. (24.5 oz.). The first stage takes up about the first pound of that weight, so stage 2 is very light and difficult to feel until you get accustomed to it. There's also some travel in stage 2, but there's no creep (moving and pausing at random points).
Mikeiniowa
If you search the internet for directions on how to adjust the Diana model 72 trigger, you'll discover that a good many folks who are experts with vintage airguns avoid this job. Several of them recommend sending your rifle to our blog reader Mikeiniowa, who apparently knows this rifle quite well. I hope he reads this report and comments.
Status of the rifle
The model 72 is now ready for accuracy testing. Although the trigger isn't match grade, it's as good as it can get– and it isn't that bad.
by Tom Gaylord, a.k.a. B.B. Pelletier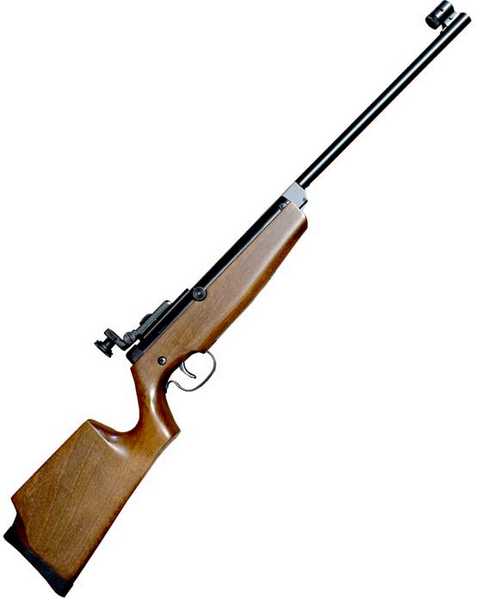 Diana 72 is a youth target rifle from the late 20th century.
This report addresses:
• Cocking effort
• Velocity
• Velocity and consistency comparisons, depending on how the pellet is loaded
• Firing behavior and cocking behavior after oiling
• Trigger-pull
• Impressions so far
Some topics resonate with more readers than others, and this is one of them. I heard from many Diana model 70 and 72 owners when Part 1 was published, and I hope to hear from more with this installment. New blog reader Harryholic from the UK had just received a new-old-stock model 72 when Part 1 was published. Searching for information on his new rifle, he stumbled across our blog.
His new rifle is one that hadn't ever been fired, apparently. It was still in the original Diana packaging based the pictures he published online. Unfortunately, that means it has the old Diana piston seals that dry rot with age. His new gun heeded a resealing before he could even fire the first shot. While he's arranging to have that done, I'll test our 72 that was resealed last year. It should have pretty close to new-gun performance.
Cocking effort
This rifle is a converted air pistol — we learned that in the last report. I recall my Diana model 10 target pistol needing about 35 lbs. of force to cock. The old Air Rifle Headquarters reported the velocity of a broken-in model 10 as close to 500 f,.p.s. with lighter lead pellets. I will presume they mean something like RWS Hobbys.
A model 10 has the same poweplant as the model 6 pistol that on which this rifle is based, so I'll use the cocking effort and velocity for the model 6, as well. I believe a model 6 in good shape should launch a Hobby pellet around 475 f.p.s. That would also be my guess for the model 72 rifle. We shall see.
As for the cocking effort, we learned last time that the 72 has a longer barrel shroud (13-3/4 inches, compared to the 7-inch barrel on the pistol) that extends the lever used to cock the rifle, so I expected the cocking effort to drop off to about 20 lbs. When I measured it on my bathroom scale, it was more like 16 lbs., though some stiffness in the cocking linkage did make the needle spike up to 20 at times. I think this will smooth out as the rifle wears in.
Velocity
I think I learn as much when I chronograph an airgun as I do when shooting it for accuracy. The things I learn aren't always what I expect, though, and today's test demonstrates that.
RWS Hobby
I started the test shooting the 7-grain RWS Hobby wadcutter pellet. I like using Hobbys because not only are they very light and give high velocity numbers, but they're also well-made and often quite accurate.
On the first string, I noticed something remarkable. I'm going to print the string here, so you can see what I saw:
Shot Vel
1     438
2    406
3    391
4    387
5    377
6    366
7    362
8    349
After shot 8, I stopped to evaluate the gun's performance. Each shot was going slower than the last. The 72 is a spring-piston rifle, and it honked a bit when cocked. So, I deduced the piston seal was dry. I oiled the seal with a few drops of RWS Chamber Lube and then returned to the string.
9    414
10    399
The average for this string is 389 f.p.s., but a lot of the reason for that is because of the velocity loss. This rifle was just rebuilt. It came back to my friend Mac just a few weeks before he passed away, so he never shot it. Therefore, I'm the first person to shoot it since it was rebuilt. I'm breaking it in.
After the first string, I oiled the chamber, again, with about twice as much oil as I used before. This time, I shot 10 Hobbys at an average 427 f.p.s. The spread was from 399 to 449, so 50 f.p.s. Obviously, the rifle needed to be oiled. And notice that my original estimate of the expected velocity was too high.
Next, I tried deep-seating the pellets with the Air Venturi Pellet Pen and Pellet Seater. This gave an average velocity of 424 f.p.s. The spread went from 401 to 461, so a total of 60 f.p.s. From this, I have to deduce that deep-seating Hobby pellets does not accomplish anything.
H&N Finale Match Pistol
Next, I tested the rifle with H&N Finale Match Pistol pellets. Seated deep, these averaged 393 f.p.s. The spread went from 376 to 405, so 29 f.p.s. That's a lot tighter than the Hobbys.
I tried these same pellets seated flush. This time they averaged 456 f.p.s. The spread went from 450 to 462, so just 12 f.p.s. They're both faster and more consistent when seated flush with the breech (not pushed into the barrel by a pellet seater).
RWS R10 Match Pistol
The last pellet I tried was the RWS R10 Match Pistol pellets. These weigh 7 grains, just like the Hobbys. Seated deep, they averaged 395 f.p.s., with a spread from 365 to 414. A max spread of 49 f.p.s. Seated flush, they averaged 429 f.p.s., and the spread went from 404 to 446. That's a total of 42 f.p.s. Again, the pellet went faster and the spread was tighter when it was seated flush with the breech.
Note the velocities
A couple days ago, someone asked me if I ever experienced a heavier pellet going faster and with more consistency than a lighter pellet in the same gun. This test demonstrates that phenomenon. The 7-grain Hobbys went an average 424-427 f.p.s., while the 7.56-grain H&N Finale Match Pistol pellets averaged 393-456 f.p.s. When seated flush, these were the fastest pellets in this test, as well as the heaviest pellets.
Firing behavior and cocking effort revisited
I told you the rifle squeaked when cocked. At the end of the test, it still squeaked — but less than before. Also, the cocking effort seems to have smoothed out a bit. I measured it, again, and this time the needle deflected from 16 lbs. up to between 18 and 19 lbs., but it was so close I can't tell if there has been a real reduction or not.
The rifle fires dead-calm regardless of which pellet is loaded or how it's loaded. But flush seating seems to be best, so that's what I'll do.
Trigger-pull
The 72 trigger is 2-stage, but not as crisp as I remember the trigger of my model 10 pistol. Stage 1 stops at stage 2, but then stage 2 has movement that can be felt. The net feeling is a trigger that has no second stage, though I know this one does and can feel it if I really try. The trigger breaks at 33 oz. consistently.
There's a good reason for this trigger to be mushy. The linkage is very long because this is a pistol in a rifle stock. I looked for trigger adjustment instructions on the internet and couldn't find any, so in the next report I'll show you the trigger and describe how to adjust it in detail.
Impressions so far
I like the little rifle — not quite as much as I thought I would, but perhaps I'm objecting to the stiffness of the rebuild that just needs to be broken in. Once I get the trigger where I want it — if that's possible, I may warm to it some more.
by Tom Gaylord, a.k.a. B.B. Pelletier
Part 1
Part 2
Part 3
Part 4
Part 5
Part 6
Part 7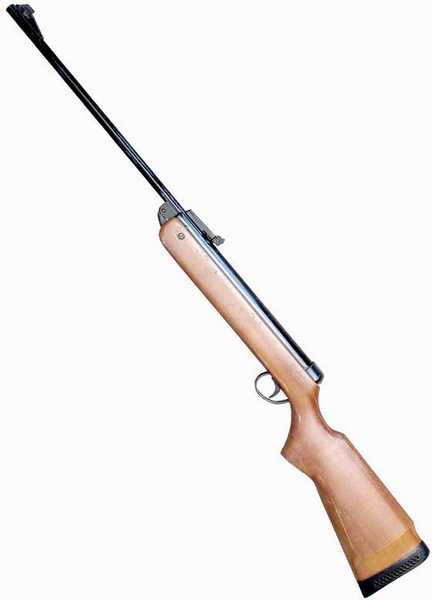 My rifle is actually a BSA Super Meteor.
Today, you'll see how I fixed the bad muzzle crown on the BSA Super Meteor, and then we'll see if that had any effect on the rifle's accuracy. You might want to read Part 7, again, just to remind yourself of what I faced.
The BSA project has been just that — a project from the start. All I wanted to do was test another vintage spring-piston air rifle for you and report the results, but this particular air rifle has challenged me at every turn. From the time I bought it at the Roanoke airgun show last September, it's been nothing but a prolonged learning scenario. I won't bore you by recapping all that's happened; but if you want to find out, read Parts 1 through 7.
At the end of Part 7, I showed you a nasty muzzle crown, which I surmised was the reason that all the pellets were leaving the barrel with a yaw to their axis. They weren't tumbling, because every one of them struck the target paper in exactly the same orientation. They were yawing, or traveling forward while pointing off to one side. Because the barrel is rifled, they were spinning on their long axis, but that axis didn't happen to coincide with their flight path.

The BSA Meteor crown has some serious nicks in it. The dark spot at 10 o'clock is the deepest. Compressed air could escape through this channel before any other part of the pellet leaves the bore, and the jet of air could push the pellet over on its side.
The solution was to crown the bore; but as you can see in the picture, the Meteor's muzzle is counterbored by more than an inch. In other words, it isn't where it appears to be from the side. It's deep inside the barrel, where the theory says it shouldn't get damaged as easily. Only this one was — perhaps from over-zealous cleaning through the muzzle. Who knows? The point is that it had to be fixed.
My shooting buddy Otho suggested a piloted counterbore to face off the crown true and square to the axis of the bore. And he volunteered to make the pilot, so I slugged the bore for him and found it was a diameter of 0.176 inches. That seemed odd to him because it's larger than the bore of a .17-caliber rimfire bullet that's about 0.172-inches. But that's the difference between .17 caliber and .177 caliber — which is important for airgunners and firearms shooters to know. The pilot he made measures 0.1745 inches and fits the Meteor's muzzle comfortably.

Otho made the pilot for this counterbore.
The counterbore chucked up perfectly in my portable electric drill. I allowed extra length for the bore to go down into the barrel and touch the muzzle without the drill chuck touching the barrel.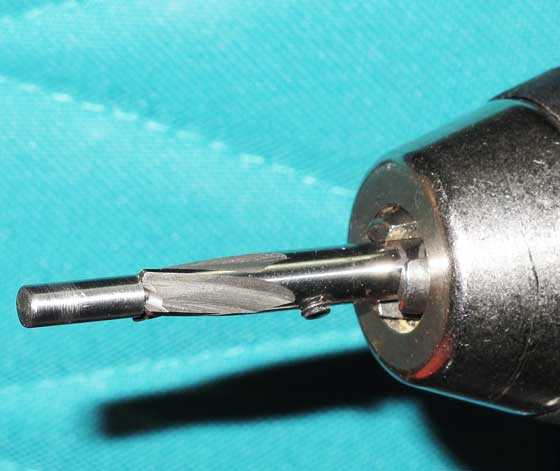 The counterbore is chucked in the drill and set to run true. It sticks out far enough to cut the crown without the drill chuck touching the barrel.
Plugging the barrel
Before starting the work, I pushed 3 fat pellets into the breech and then pushed them with a cleaning rod to within 2 inches of the true muzzle. These will keep the metal chips from dropping down the bore.
I oiled the counterbore and pilot with a good grade of light machine oil before inserting it into the muzzle of the gun. The drill was set on a slow speed, but I can also control the speed by how hard I squeeze the trigger. I wanted a slow steady turn without putting much pressure on the drill. The counterbore is sharp enough to cut the soft barrel metal without a lot of encouragement.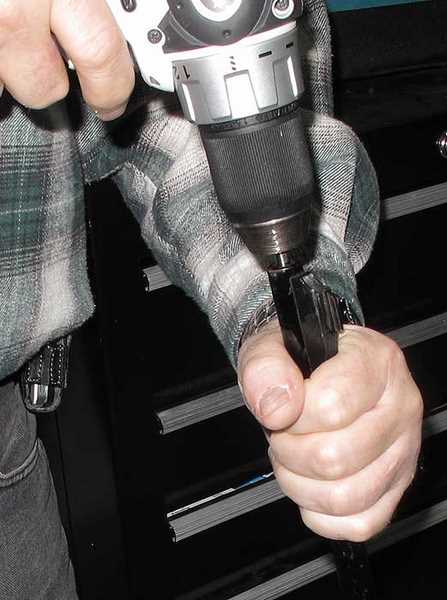 The drill is set to run slow, and I'm also slowing it more with the trigger. You don't need speed for a cut like this.
After about 10 seconds of cutting, I removed the counterbore and cleaned the new crown with a cotton swab. There was a band of bright metal around the muzzle where the counterbore had cut. Upon close examination, I could still see gouges in the bright band. The gouges were deeper than the first cut.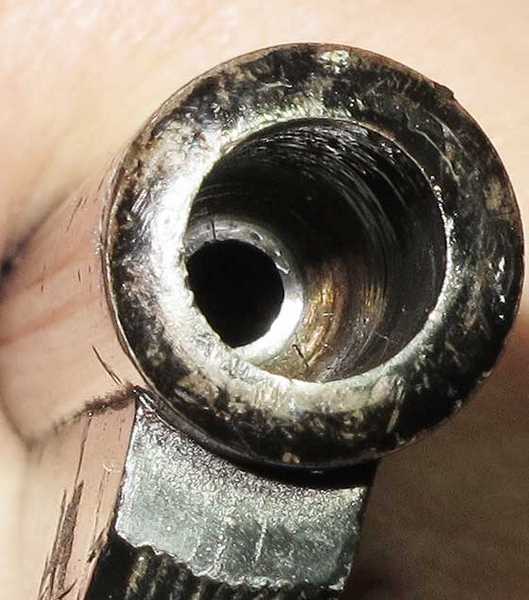 The new crown is bright after the first cut, but there are still gouges that need to come out.
I cleaned the counterbore with a swab and oiled it again. Then, I made a second cut on the crown. This time, I felt the drill pulse as the cutter removed the uneven metal. It became smooth, and I knew the cut was finished. When I cleaned and inspected the new crown this time, it appeared smooth and even. The job was done.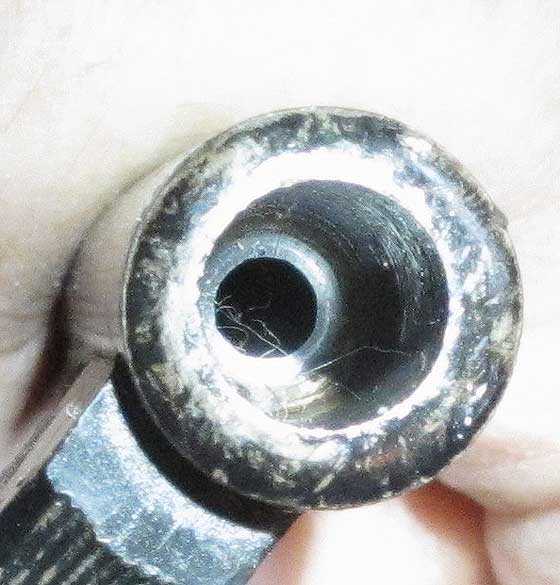 I apologize for the blurriness of this picture. Focusing on the crown is very difficult when I'm also trying to light it from the same axis as the lens is pointing. The lens is about one inch from the end of the barrel, and this was the best picture I got. There are still some faint marks on the crown. After examination with a loupe, I didn't think they would be a problem.
At this point, I felt the crown was as clean as I could get it. And there was a simple way to see if this had made a difference. I drove the pellets in the bore out the muzzle and a few steel chips came with them. Next, I shot two RWS Hobby pellets offhand from 12 feet. If the crown was good, they would cut the paper perfectly instead of hitting sideways. And that's what happened.
So, I backed up to 8 yards and shot 2 more shots from an improvised rest. These 2 pellets landed very close to each other and also showed no signs of tipping. I felt the job was done.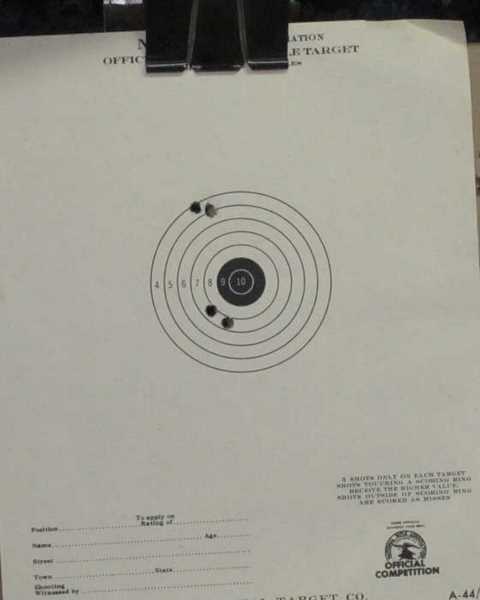 The two lower shots were from 12 feet. They confirmed the pellets were hitting the paper straight-on. The two upper shots were from an improvised rest at about 8 yards. They told me the crown is probably working.
Now for the test!
The test is a rerun of the Part 7 accuracy test. I used every pellet from the last accuracy test and shot at the same 10 meters.
Pellets:
Eley Wasp
Crosman Premier lite
Air Arms Falcon
RWS Hobby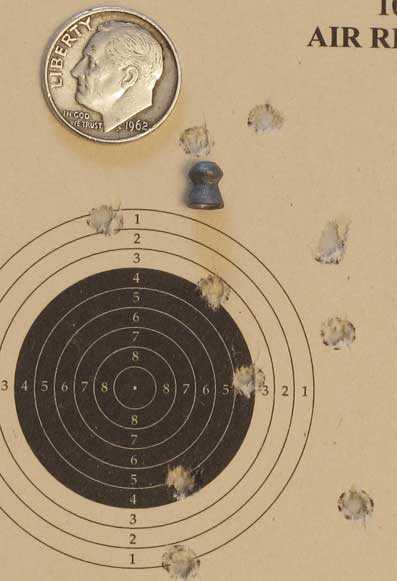 Ten Eley Wasps went into 2.256 inches at 10 meters.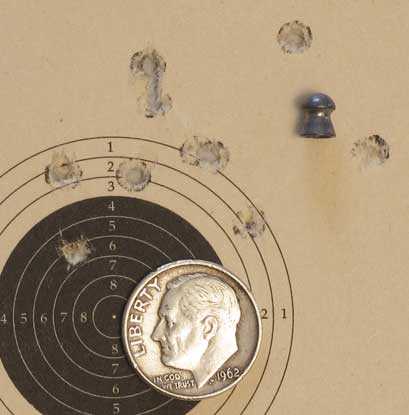 Ten Premier lites went into 1.522 inches.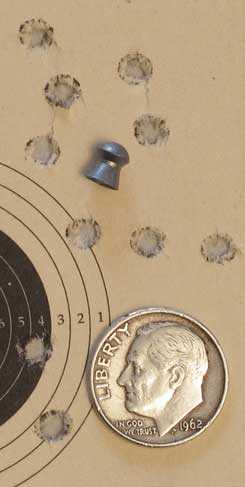 Ten Air Arms Falcons went into 1.941 inches.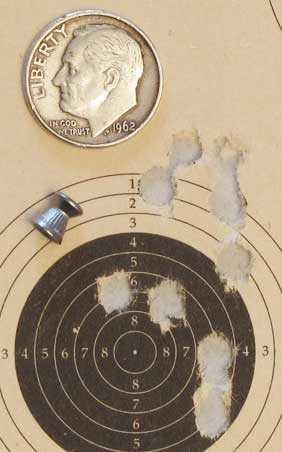 Ten RWS Hobbys went into 1.361 inches.
Conclusions
If you compare these targets to those in Part 7, one thing jumps out at you. None of these pellets tipped when they went through the paper. So, crowning seems to have solved that problem!
But the accuracy seems no better. The Hobbys did group better in this test, but the Falcons grouped worse. With groups this large at 10 meters, I'm not willing to say anything has improved. I've had cheap Chinese air rifles group better than this.
I have one trick left up my sleeve. I've noticed that the Meteor rear sight seems hinky and difficult to adjust, and I suspect it jumps around as I shoot. It's not loose to the touch, but I don't trust it to hold zero.
I'll do one more test of this rifle with either a dot sight or with the See All Open Sight if I can get it mounted to the Meteor. If that doesn't work, I'll probably abandon this air rifle as a bad investment.