Posts Tagged 'Air Venturi Pellet Pen and PellSet'
by Tom Gaylord, a.k.a. B.B. Pelletier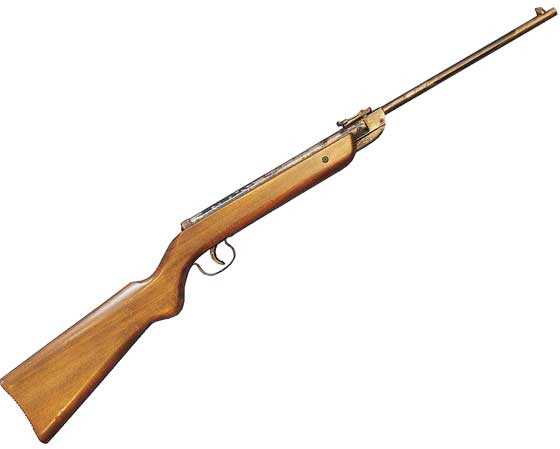 Not as pretty as I would like. This Diana 23 has led a hard life. I'll refinish it.
Today, we'll return to an oldie we haven't looked at in close to 2 months — the Diana 23. You may remember this is a rifle I bought for very little from an online auction — and when it arrived, I found it was better than expected. The finish is gone, but I plan to refinish it. And Larry Hannusch generously donated a brand-new old-stock Diana 23 barrel for the project, so I'm farther along than might be expected.
Last time, we tested the rifle at 10 meters and found that it showed decent accuracy for such a low-powered air rifle. Today, I'm pushing that out to 25 yards with 2 of the best pellets from the last test, plus a new one I've thrown into the mix. The goal is to see if this little vintage springer is accurate enough for general plinking duty out to 75 feet.
Days like this are always relaxing for 2 reasons. The first is that I'm testing something that's no longer available, so there are no company reputations on the line. I enjoy testing airguns, but it's disturbing to read all the sniping negative comments we receive when things don't go exactly perfect. It makes me feel like I have failed the gun somehow, and that's nerve-wracking.
The second reason a day like today is a pleasure is that the gun, itself, is such a little sweetie. The Diana 23 is lightweight and easy to cock. The trigger is certainly not world-class, but it releases with a reasonable pull; and, if the gun is also accurate with open sights, all the better.
The hold
I find when I shoot light low-powered airguns like the 23, the artillery hold isn't so important. I grasp the rifle tighter than a real artillery hold, though not as tight as I would hold a recoling centerfire. Maybe something more like a rimfire hold. The rifle seems to respond okay to this treatment.
JSB Exact RS
The first pellet I tried was the JSB Exact RS dome. They did well in the 10-meter test that I read before starting this one. I noted that deep-seated pellets did best in that test, so all pellets in this test were seated with the Air Venturi Pellet Pen and Pellet Seater. The RS pellets fit the bore very well and were not tight going into the breech as they were seated. They hit the target high and just a little to the right when I held the tip of the front sight on the 6 o'clock spot of the black bull. I used the standard 10-meter pistol target because it appears large enough for open sights all the way out to 50 yards.
The group I got measures 1.16 inches between the 2 furthest centers. I'm quite satisfied with that group, except for the centering. The way the 23′s sights are made, I'll have to drift either the front or rear sight in their dovetails to correct where the pellets land; and since I'm going to change the barrel, I decided to wait and see where the new one shoots.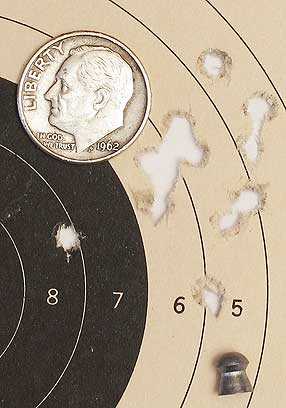 Ten JSB RS pellets made this 1.16-inch group at 25 yards. It's a little large; but for such a small rifle — and with open sights, I'm satisfied.
Air Arms Falcon
The second pellet I tried was the Air Arms Falcon that blog reader Kevin Lentz likes so much. They're made by JSB and weigh the same as the RS pellets, so the temptation is to think they're RS pellets under a different name. But I don't think that's the case. The late Bill Saunders of Air Arms told me that Air Arms owns the dies for all their pellets; and even though JSB makes them, they're not simply rebranded pellets. If anything, Falcons fit the bore a little looser than RS pellets.
At any rate, Falcons didn't do as well as RS pellets in the Diana 23. Ten of them made a group that measures 1.568 inches between centers. This group appears not to have 10 shots in it, but several pellets must have gone through the same hole at the top of the group because I counted each shot carefully.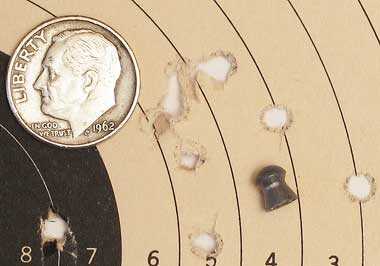 Ten Air Arms Falcon pellets made this 1.568-inch group at 25 yards. This is larger than I would like. I think I'll stick to the RS pellets for this rifle.
RWS Hobby
The final pellet I tried was the RWS Hobby wadcutter. They fit the bore very snug and popped in when seated. Though they were at the outside limit of distance for accuracy (wadcutters start to spread apart after 25 yards), they performed very well — delivering the smallest group of this test. Ten pellets went into 1.014 inches at 25 yards. With that kind of accuracy, I would stick with the Hobbys that are less expensive than the other premium pellets anyway. Sure, the accuracy falls off as the distance increases, but how much farther do I expect to shoot this rifle? Not much!

Ten RWS Hobby pellets went into 1.014 inches at 25 yards. This is great accuracy for such a small rifle and open sights.
That's all I'm going to test for now. Next comes the refinish and then whatever I do as I put the rifle back together. It's a fun little gun. I wish there were more like it!
by Tom Gaylord, a.k.a. B.B. Pelletier
This topic was received well last week, so I'm doing the second list today. Several readers have reminded me of other gifts I should mention, and some of them will make today's list. If I don't list something you suggested, there's a reason. These are the things I recommend without question.
Stocking stuffers/small, neat gifts
Gifts in this category don't cost a lot but will have great meaning to airgunners. Some of them are things that shooters won't buy for themselves.
Air Venturi Pellet Pen and Seater
Someone suggested the Air Venturi Pellet Pen and Seater, and I have to agree. This is a great gift, and it's one that a lot of shooters won't buy for themselves.
EyePal Peep Sight Master Kit
The EyePal Peep Sight Master Kit is another gift that people may not think about; but when they have one, they'll love it. I chose the Master Kit so you can use it with both rifles and pistols (and bows if you're an archer, too). Even if you don't wear prescription glasses, the EyePal is a great aid for your safety glasses to sharpen your vision and make that front sight clear!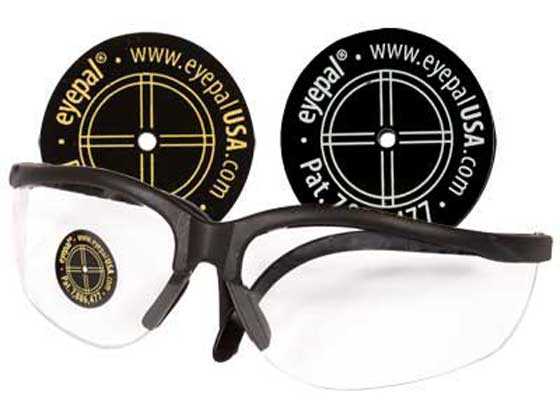 The EyePal makes the front sight appear razor sharp. Use it on prescription glasses and non-prescription safety glasses, alike.
Pellet selection
Here's a gift I'm putting in this section, although it will cost you some money. Pyramyd Air offers 4 tins of pellets for the price of 3. Your favorite airgunner has pellets he or she really likes, but they don't buy them all the time because they may cost too much.
Consider this gift similar to one of those fancy boxes of candies or Christmas smoked meats that are given this time of year. Nearly everybody likes them, but we don't spend money on them for ourselves. So, this is an opportunity to buy something your airgunner wants but will never buy himself. The one problem you have is finding out which pellets to buy. Rather than try and guess what your airgunner wants, I'm going to leave this up to you. You need to do a little investigation, maybe look at the pellets that he has on the shelf, or just talk to him and find out what he really wants but hasn't bought.
Gifts under $50
Crosman 357
For a pistol shooter the Crosman 357W is a great idea. It's a revolver, so you get multiple shots per loading; and for the money, it's an accurate little air pistol.
Walther Multi-Tac tactical knife
If your airgunner is a gadget junkie, you can't do much better than a Walther Multi-Tac tactical knife. It's a tool kit for your pocket. And it has a 440C stainless steel blade to cut whatever you need.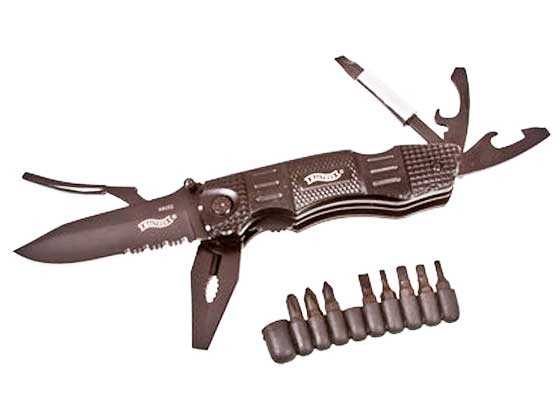 Walther's Multi-Tac knife is a toolkit in your pocket!
Walther Xenon Tactical flashlight
Can't have too many flashlights! Not when you need one! The Walther Xenon Tactical flashlight uses two CR123A batteries to cast a 60-lumen light. That means you get both good battery life and a powerful light.
Gifts under $100
Some of these gifts are just over the $50 mark, so look at them carefully. This category holds some of the most surprising values in airguns.
Legends Makarov
The Makarov from Umarex is a wonderful BB pistol that I just can't stop talking about. I bought one for myself after testing it! It's extremely accurate for a BB pistol, which means you really can use it for target practice. It runs on CO2, so don't forget to get some CO2 cartridges if you give this gun as a gift.
Simply one of the best BB pistols you can buy at the price, the Legends Makarov is accurate, well-made and inexpensive.
Crosman 2240
Another fine CO2 pistol is the single-shot Crosman 2240. It's a .22-caliber, bolt-action pistol that's powerful and accurate, plus it serves as the basis for many aftermarket modifications.
Ruger Mark I
The Ruger Mark I air pistol is powered by a spring-piston. It isn't very powerful, but it's a great companion for the handgun shooter who only wants to poke holes in targets and plink with a pistol that's easy to cock and accurate.
Stoeger X5 air rifle
The Stoeger X5 air rifle is a wonderful, youth-sized, spring-piston rifle that has enough quality to make my list. The trigger is a little stiff, but the accuracy is there. It reminds me of the Hämmerli 490 that is, sadly, no longer available.
Gifts a little over $100
I created this category for those items that are a few dollars over $100 but are still within the realm of economy. Sometimes, the things you want are just over the line — no matter where you arbitrarily draw it.
Shooting Chrony Alpha chronograph.
The Shooting Chrony Alpha chronograph is the instrument I use to document 98 percent of the work I do. I use it because it's small, portable and very reliable. Sure, there are reasons to use my Oehler 35P chrono, sometimes; but most of the time, this is my choice.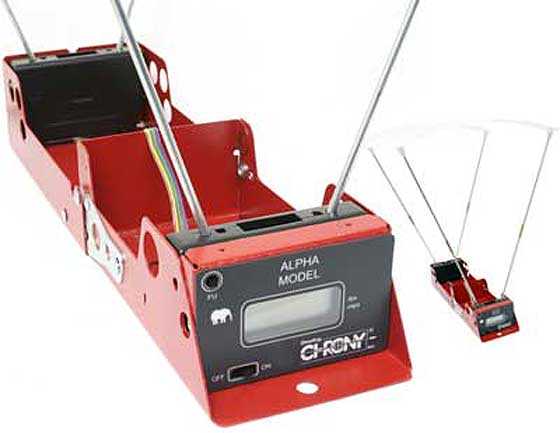 Though it's just $10 over a hundred, the Shooting Chrony Alpha has everything you need!
Daisy Avanti Champion 499 BB gun
I have to recommend the Daisy Avanti Champion 499 BB gun because it is the target shooter's dream. Where other BB guns will put 10 shots into three-quarter of an inch at 16 feet when all is right, this one will put 10 into a quarter-inch at the same distance. This is a shooter's tool, not a hunting gun or bragging-rights gun. Be sure to stock up on the special Avanti Precision Ground Shot if you get this gun because it definitely adds accuracy! And order some special 5-meter BB targets that are sized right for this gun!
IZH 60 air rifle
I am also going to put the IZH 60 air rifle on my list this year. Though the accuracy slipped when the gun's design was changed several years ago, this is still a delightful youth rifle that's easy enough for even smaller kids to cock. It has reasonable accuracy, and the sidelever design means that fingers can't be pinched in the mechanism like they would on guns having sliding compression chambers. I recommend the single-shot over the repeater for reasons of safety.
Daisy 953 TargetPro
I normally don't recommend combo guns, but I'll make an exception for the Daisy 953 TargetPro. It's a pellet rifle with enough accuracy to get you into the game without spending a bundle.
Gifts under $300
Gifts in this category start to take on the aura of personal taste. My recommendations may not be what your airgunner wants, so you need to find out if they are before you buy anything.
Benjamin 392 pump
This one is very personal. You airgunner will either like it or not. So, check first. The Benjamin 392 pump is the best multi-pump rifle going, these days. Its heritage dates back to the late 19th century, so there's a lot of history there. I also chose the .22-caliber 392 for its power; but if your airgunner only wants to shoot at targets, then the 397 is the same rifle and shoots cheaper .177 pellets.
Daisy Avanti 853
The Daisy 853 is right at $300, but its a great buy even at that price. It features a Lothar Walther barrel and has been used by millions of kids for competition in the decades it's been around. The trigger is rough, but there are several websites that tell you how to fix it. To get anything with better accuracy, you're going to need to spend several hundred dollars more.
Diana RWS LP8
Want an air pistol that shoots like a rifle? The Diana RWS LP8 is the one to get. It just may be the best value in a really good air pistol these days. It has plenty of power and is very accurate. The breakbarrel cocking is on the heavy side, but an adult male shouldn't have a problem.

For the price, the Diana RWS LP8 air pistol can't be beat.
Gifts without limit
Now, we can spread our wings a little. This is where many of the better airguns live.
HW 30S
Let's start with the HW 30S. You know this rifle as the Beeman R7 when it's in a different stock, but airgunners know the HW 30S has the same powerplant and the same adjustable Rekord trigger as the R7. If your airgunner likes the styling of the HW 30S, it's less expensive; but if he wants an R7, it's also a wonderful spring-piston air rifle.
Diana RWS 48
If you want a big bruiser spring-piston air rifle, the Diana RWS 48 is one I would recommend. And, I recommend it in .22 caliber, where you get all the power it can develop. The 48 is a sidelever that's surprisingly easy to cock, despite the level of power it delivers. It's also very accurate. One thing, though, the 48 is a big air rifle, so be sure your shooter knows what he's in store for. Definitely for adults, only.


Diana 48 sidelever from RWS is large and in charge!
TalonP air pistol
There's no other smallbore air pistol that can hold a candle to the TalonP air pistol from AirForce Airguns. It comes in .25 caliber and has 10 shots per fill at over 50 foot-pounds of muzzle energy! Many rifles can't equal it! When I tested it for accuracy, I got sub-one-inch groups at 50 yards. It's a hunting air pistol extraordinaire.

The TalonP pistol from AirForce Airguns leads the pack for power and accuracy.
Walther LGV Challenger
If you want a really fine breakbarrel spring rifle, you can't do better than the Walther LGV Challenger. I recommend the .22-caliber gun because it was so smooth when I tested it.
by Tom Gaylord, a.k.a. B.B. Pelletier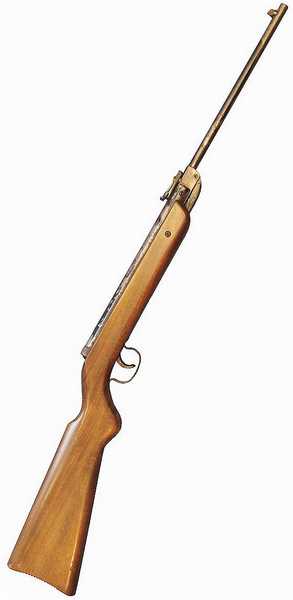 This Diana 23 has led a hard life.
Today, we'll see how accurate the Diana model 23 is. This report was supposed to be published just before the Roanoke airgun show, but so many things popped up at the last minute and got in front of it that I held off on this one til now.
Before we begin, let me give you a little update on the rifle. At Roanoke, Larry Hannush, the owner of all those beautiful ball reservoir airguns, came over to my table and handed me a brand new barrel for the model 23. He had read that I was going to refinish it with Blue Wonder and he thought a new barrel would shorten my time on the project. In fact the barrel of the gun was the only part where rust had done some more serious work. The old barrel would have either had pits in it, or I would have had to draw-file them out. This new barrel solved a problem for me, so thanks, Larry!
I decided to test accuracy at 10 meters because of the small size of the rifle. I selected 3 different pellets for this test, but none of them was the 7.9-grain Crosman Premier pellet. I would like to tell you why. Crosman pellets are made from a lead alloy that's hardened with antimony. As a result, their skirts don't deform as easily as pellet made from pure lead. In a lower-powered rifle like the 23, that means they may not seal all the air behind the pellet.
The second reason I usually don't select Crosman pellets for guns like the 23 is that they're often right at or just under the required dimensions. They work very well in repeaters where their smaller size and harder lead are an advantage. In more powerful guns, their skirts can be blown out into the rifling; but in a single-shot spring-piston air rifle of low power, neither of these things is an advantage. So, I seldom select them for guns like the 23.
Now, let's begin the test. The rifle is rested at 10 meters, and I'm using a classic artillery hold — though as light as the 23 is, it isn't easy to hold this way. I had to grip it more than I would have liked just to control it.
RWS Hobby flush-seated
The first pellet I tried was the venerable RWS Hobby wadcutter. At just 7 grains, it seemed perfect for the power of the 23. I seated these pellets flush, but as I did something in the back of my mind sent up a red flag. After all the testing of deep-seated pellets in air rifles of lower power, I reckoned I had to come back and also try this pellet seated deep.
Ten flush-seated Hobbys went into a 0.792-inch group at 10 meters. The group looks okay, but it's a little on the large side — even for shooting a light rifle with open sights.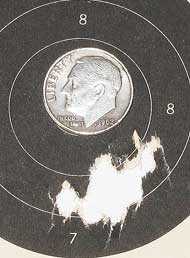 Ten flush-seated RWS Hobby pellets went into 0.792 inches at 10 meters. Not the best group for 10 meters, but a good start.
At this point, I knew I had to try seating these pellets deep in the breech. I was going to give you a link to the one report where I showed that deep-seating improves accuracy with guns of lower power, but some searching turned up about 20+ reports that all show the advantages of deep-seating! That kind of overwhelmed me. I guess I've been doing this for a lot longer than I thought!
The next 10 pellets were seated deep into the breech, using the Air Venturi Pellet Pen and Pellet Seater. Of course, you can also use a ballpoint pen to seat pellets; but this seating tool allows you to adjust the depth to which you seat the pellet, and that can be beneficial.
This time, 10 Hobbys made a group measuring 0.52 inches between centers. Not only was it significantly smaller than the first one, the point of impact shifted up about an inch and the group became very vertical. The gun was definitely shooting this pellet differently, and all that had changed was the seating depth.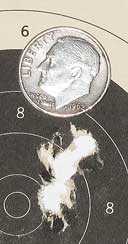 Ten RWS Hobby pellets seated deep into the breech went into 0.52 inches at 10 meters. This is good proof of the need to seat pellets deep in this rifle.
After seeing the results of this test, I decided to seat the rest of the pellets deep. It seems like that's what the 23 wants.
JSB Exact RS
Next, I tried the JSB Exact RS dome. In the velocity test of this rifle, you'll remember that this pellet exceeded both the other pellets in velocity and muzzle energy. I was anxious to see how it did for accuracy. This time, I didn't fool around with flush-seating — I just assumed deep-seating was the way to go. Ten of them went into 0.618 inches.

Ten deep-seated JSB Exact RS domes made this 0.618-inch group. It's not as tight as I'd expected, but it's still pretty good.
Shooting behavior of the Diana 23
Like I said before, the Diana 23 is a light rifle, and holding it with the artillery hold is difficult. On top of that, add a trigger that breaks at almost 7 lbs., and you can see that I was fighting the rifle's physical characteristics for accuracy. When I break down the rifle for refinishing, I think I'll take a look at lightening the trigger. Dropping a few pounds of pull could have a major impact on accuracy.
The rifle does discharge without much vibration. The feel of each shot is very solid and quick.
Beeman Devastator
The last pellet I tried was the Beeman Devastator hollowpoint. I'm aware that Beeman refers to this pellet at a pointed pellet, so I'm showing you an enlarged view here. It sure looks like a hollowpoint to me — and it's designed to perform like one, too.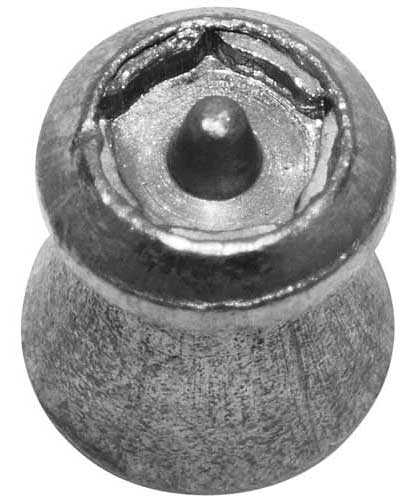 I think the image speaks for itself. The Devastator is a hollowpoint that has a short point in the center. It's not a pointed pellet.
I decided to try Devastators because of how surprising they were in the Pellet velocity versus accuracy test I did back in December of 2011. They proved that vibration and not velocity alone is what destroys accuracy in a pellet. In this test, 10 deep-seated Devastators made a 0.667-inch group, which is on the high side. I don't think this is the right pellet for this rifle.

Ten Beeman Devastators went into 0.667 inches at 10 meters. That's not as good as I would like.
Overall evaluation
I guess I'm surprised by the accuracy potential of this little spring rifle. It looks so small that I thought its performance would also be small. But it wasn't. Of course, I've learned that this one is shooting a bit slow, so maybe there's even more to see. I think this rifle deserves a 25-yard test before I strip it down and begin refinishing.
by Tom Gaylord, a.k.a. B.B. Pelletier

Walther LGV Olympia was a top-quality 10-meter target rifle in the 1970s.
The weather cooperated yesterday and gave me a perfect day at the range, so I was able to shoot the Walther LGV Olympia at 50 yards. I also shot the Talon SS with the 1:22″ twist barrel before the wind kicked up and stopped all airgun shooting, so I'm on the way to the final test of the different twist rates.
I knew the LGV Olympia was never going to hit the target no matter what I did to the rear sight, so I placed two 3-inch bulls on a 2×4 piece of target paper and used them for sighting. The shots landed far below these bulls, of course. How far is an eye-opener. I took a picture so you could see.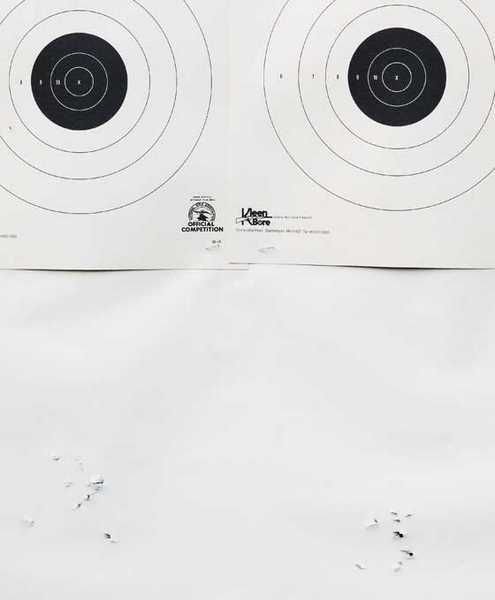 The pellets landed about 18 inches below the aim point at 50 yards. The sights had the pellets hitting the center of the target at 25 yards, so this is how far they drop in the second 25 yards. Notice that the center of the group of JSB Exact Jumbos on the right is about 2 inches lower than the center of the RWS Superdomes on the left.
I fully expected this to happen, so I stapled the bullseye targets to a huge piece of target paper so the pellet holes would show. Knowing they could well go to the same point, I used two separate bullseyes as aim points; and from the picture, you can see that was a good idea.
I selected the two best pellets from the 25-yard test for this. They were the JSB Exact Heavy, which was the best pellet at 25 yards, and the RWS Superdome that took second place.
I shot off a sandbag with the rifle rested on the flat of my hand in the classic artillery hold. The flight time of both pellets was extreme. Although I couldn't see them in flight, the flight time told me they were dropping rapidly as they moved downrange.
JSB Exact Heavy
The first pellet I tried was the 10.34-grain JSB Exact Heavy. It's by far too heavy for the LGV Olympia powerplant; but in the 25-yard test, 10 Exact Jumbos went into a group that measures 0.354 inches between centers. A novice might expect that, since the range was doubled, the group size would be as well. That would give us something like a 0.70-inch group for this pellet.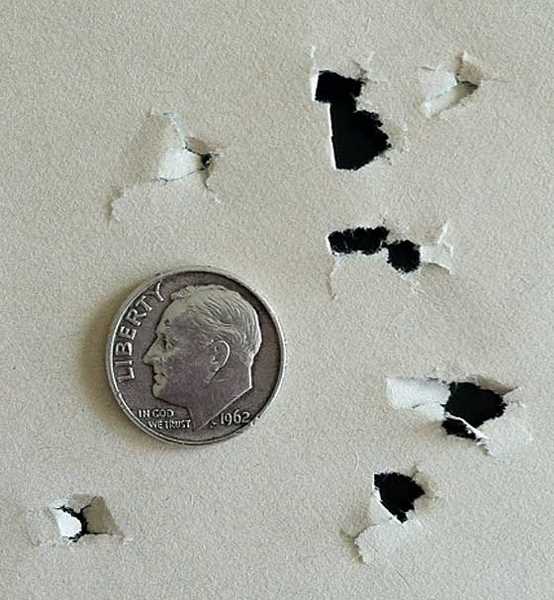 The 50-yard group was larger than expected. Ten JSB Exact heavys went into 2.285 inches.
What I actually got was 2.285 inches between the centers of the two pellets that were farthest apart. That's roughly 6 times larger than the 25-yard group and more than 3 times the expected size if you simply tried to extrapolate straight from 25 yards to 50 yards. This is why you have to be careful when making generalizations about accuracy.
The shooting conditions were perfect for this test. There was no breeze to speak of; and if I felt something, I always waited it out. I also had no shots that were called as anything but perfect. What you see here represents the best I was able to do with the LGV Olympia at 50 yards with this JSB pellet.
RWS Superdome
The second-best pellet at 25 yards was the RWS Superdome, which gave me a 10-shot group measuring 0.695 inches. Multiply that by 6, and you'll get an anticipated group size of 4.17 inches. I'm doing that because of what happened with the JSB Exact Jumbos.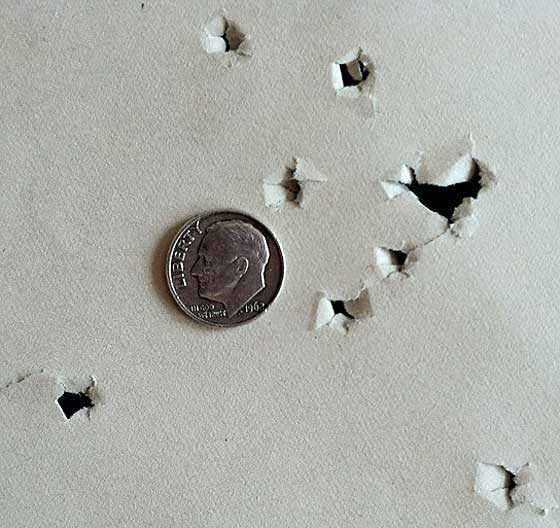 RWS Superdomes opened up even more than JSB Exact Jumbos. This group measures 3.062 inches between centers.
What Superdomes actually did was put 10 shots into 3.062 inches, so it was better than predicted (if you use the 6x predictor) but certainly much larger than simply double the 25-yard group size.
The lesson here is that group size does not simply increase linearly with distance. We hear that all the time. If a certain gun shoots 1-inch at 100 yards, we say it should shoot 2 inches at 200 yards. I'm saying that rarely happens. The group usually opens faster as the distance increases. Not always, but usually.
Evaluation
The Walther LGV Olympia is a remarkable airgun. Out to 25 yards, it's extremely accurate, plus it's very easy to cock and quiet to shoot.
Beyond 25 yards, though, the LGV Olympia quickly gets outside its comfort zone. There just isn't enough power pushing the pellet to hold the group size to what you might expect.
These results are consistent with the results I got when shooting the FWB 300S at 50 yards. Installing a scope helped in that test, but only marginally. So, I'm not going to put a scope on this rifle. I'm satisfied and that's as far as I'm going to test this rifle in a field setting.
by Tom Gaylord, a.k.a. B.B. Pelletier
Part 1
Part 2
Part 3
Part 4a
Part 4b
Part 5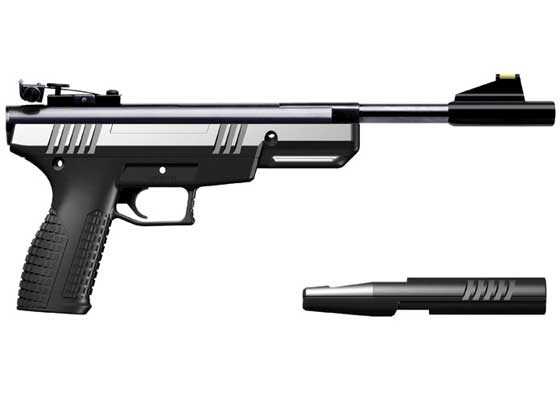 Benjamin's new Trail NP breakbarrel pellet pistol, with cocking aid removed.
We're certainly getting a good look at the Benjamin Trail NP pistol! While the title says this is Part 6, it's actually the 7th report because Part 4 was so large it had to be broken into two parts.
Let's look at the performance of the pistol after break-in. This test pistol has been shot so much that it's now broken in, so today we'll look at the velocity. Crosman says in the owner's manual that the pistol needs several hundred shots before it's fully broken-in, and this gun certainly has that many shots through it.
They also say the gun will become quieter after a break-in, and the test pistol is certainly quiet now. Apparently, some guns have detonated and surprised their owners, so Crosman is being conservative in its explanation. The test Trail NP pistol has never been very noisy.
I'll report the velocity of each pellet before and after the break-in period, so you can compare them.
RWS Hobby
The first pellet I tested was the 7-grain RWS Hobby. It's normally the fastest lead pellet in almost any airgun.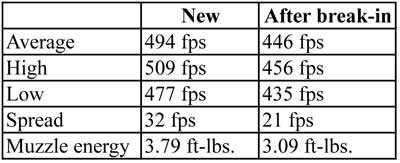 Crosman SSP hollowpoint
The Crosman SSP hollowpoint is a 4-grain, lead-free pellet that's shaped like a wadcutter but with a deep hollow point. Being so light, it's a real speed demon.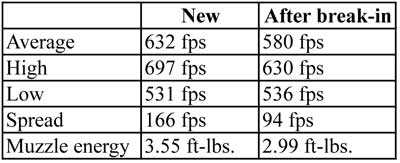 Crosman Powershot Penetrators
Crosman Powershot Penetrators are synthetic-jacketed pellets that have a metal core. They weigh 5.4 grains and loosely fit the bore of the Trail NP pistol.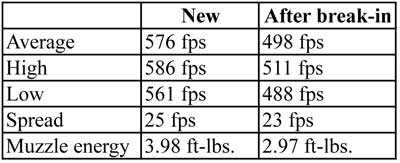 Crosman SSP pointed
Crosman's SSP pointed pellet is another 4-grain, lead-free pellet. You'd expect it to have about the same performance as the SSP hollowpoints, but this pellet isn't sized as well as the hollowpoint. Consequently, they fit the bore variably, which affects the velocity.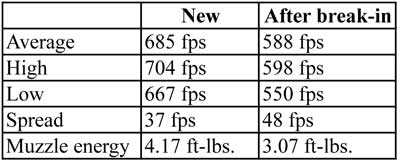 JSB Exact RS dome
The last pellet I tried was the JSB Exact RS dome. It weighs 7.3 grains and fits the bore loosely.
So there you have it. All 5 of the pellets shot slower after the break-in, and all but one had more consistent velocity spreads. Clearly the Benjamin Trail NP pistol does break in as the company states in the owner's manual.
This report has been a look into the performance of a spring-piston air pistol as it breaks in. We've seen the way to maximize the accuracy of the airgun, and we've learned how to overcome the too-tall front sight post. I hope this experience has been of benefit to the new shooters and perhaps provides a template of how a spring gun breaks in.
by Tom Gaylord, a.k.a. B.B. Pelletier

Walther LGV Olympia was a top-quality 10-meter target rifle from the 1970s.
It's play time again, today, for this is the day we shoot the Walther LGV Olympia target rifle at 25 yards in preparation for shooting it at 50 yards. This report is a look at the vintage Walther LGV platform as a sporter, rather than the 10-meter target rifle that it is. With Walther bringing out the new LGV models, I thought it would be nice to see how the original LGV did in the same test.
I have no idea which pellet to choose for shooting at 25 yards — to say nothing of shooting twice as far. So, today's test was nothing beyond my best guess of what might work well. Because I'll be shooting at a fairly long range with this relatively low-powered spring rifle, I knew the pellets had to be domes. Wadcutters start to fall off in accuracy after 25 yards, and pointed ones aren't that accurate to begin with. But good domes can be as accurate as good wadcutters, and they hold their accuracy a heck of a lot longer.
I'm shooting 10-shot groups off a rest at 25 yards, using the target sights that belong on the rifle. Ten shots should show which pellet or pellets are the best. I'll also try each pellet seated flush and seated deep, so there will be 2 groups shot with each pellet.
JSB Exact Express
The JSB Exact Express pellet is a fairly lightweight domed lead pellet that's new to me. I tried it in the velocity test for the first time and learned that flush-seated pellets leave the muzzle faster than deep-seated pellets. That was the reverse of what 2 other pellets did in that test.
The first 10 shots were with flush-seated pellets. They made a group that measures 0.657 inches between centers; but within that group, there are 8 shots in a 0.257-inch group. What can we say about that? There were no called fliers, and I feel the 2 shots that strayed from the main group did so on their own, without the rifle contributing. I'm looking at the entire group size and ignoring the smaller group-within-a-group. However, this pellet does merit another chance at 50 yards.

Ten JSB Exact Express pellets seated flush went into 0.657 inches, but 8 of them made a 0.257-inch group. Maybe I should try this pellet at 50 yards.
Next, I shot another 10 JSB Exact Express pellets, only these were seated deep with the Air Venturi Pellet Pen and Seater. This time, the group measured 0.778 inches, and you can clearly see the dispersion of the shots. Deep-seating does not suit this pellet.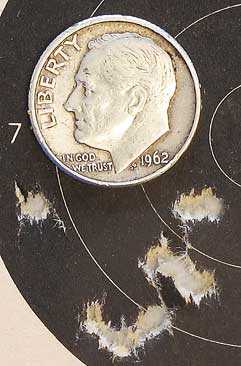 You don't have to use calipers to see that this group of 10 JSB Exact Express pellets that were seated deep are scattered all over the place. Group size is 0.778 inches.
RWS Superdome
The next pellet I tried was the RWS Superdome, which so many shooters love. I had no idea how Superdomes would do in the LGV Olympia, and this test would be the way to find out. First, I shot them seated flush. Ten pellets made a group that measures 0.695 inches between centers. The group was fairly round, which I took to be a good thing, because it means the pellets are fairly evenly distributed.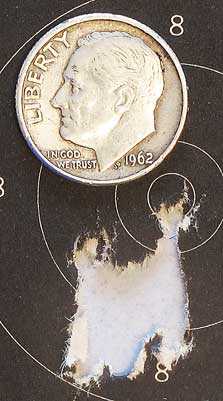 Ten flush-seated RWS Superdomes went into 0.695 inches at 25 yards.
Next, I shot 10 Superdomes seated deep in the rifling. This time, the group wasn't as pretty, but it did measure only 0.649 inches, which is slightly better than the flush-seated group. It's a toss-up between the different seating methods, though deep-seating does seem a trifle better. Perhaps the difference would be greater at 50 yards.

Superdomes seated deep made the better group by a small margin. Ten went into 0.649 inches.
JSB Exact Heavy
The final pellet I tested in the LGV Olympia was the JSB Exact Heavy that I included in the velocity test. We wouldn't normally select a 10.34-grain pellet for a rifle of the LGV's limited power; but when you shoot out to long distances, the weight of the pellet is more important than its starting velocity.
The first group was shot with the pellets seated flush. It measures 0.354 inches, making it the best group thus far. This group is also very round, which is another point in its favor. I think I've found the best pellet to shoot in this rifle at 50 yards!

Ten JSB Exact Heavy pellets seated flush made this remarkable 0.354-inch group at 25 yards.
I now wondered if could this get any better. The next 10 pellets were shot deep-seated and, alas, the answer was…no. I'd gone as far as I was going in this test. Ten deep-seated Express pellets made a 0.79-inch group.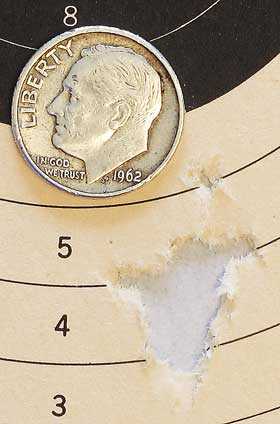 When seated deep, the Heavy pellets opened up to a 0.79-inch group at 25 yards. There's one pellet hole above the main group that may be hard to see, but it's there.
So, here at the end of the test we have a very clear example of one seating method triumphing over the other. The Express pellets wants to be seated flush in this rifle.
We also have a clear example of one pellet standing apart from the others. The flush-seated Express pellet made a group that was significantly smaller than all the other pellets I tried. That doesn't mean it's the best pellet in the LGV — just the best of these 3 that I tested. When I go to the 50-yard range, I need a day with zero wind — and I'll try the JSB Exact Express first.
Considerable drop
You may have noticed that the groups were all below the bullseye. That was with the rear sight cranked up pretty high. There's still some room for more height; but at 50 yards, I know the gun will be printing its groups low. I'll have to compensate for that.